Yap's Noodles found at Yishun Park Hawker Centre
Update: Yap's Noodles will be temporarily closing down until further notice from 20 September 2020.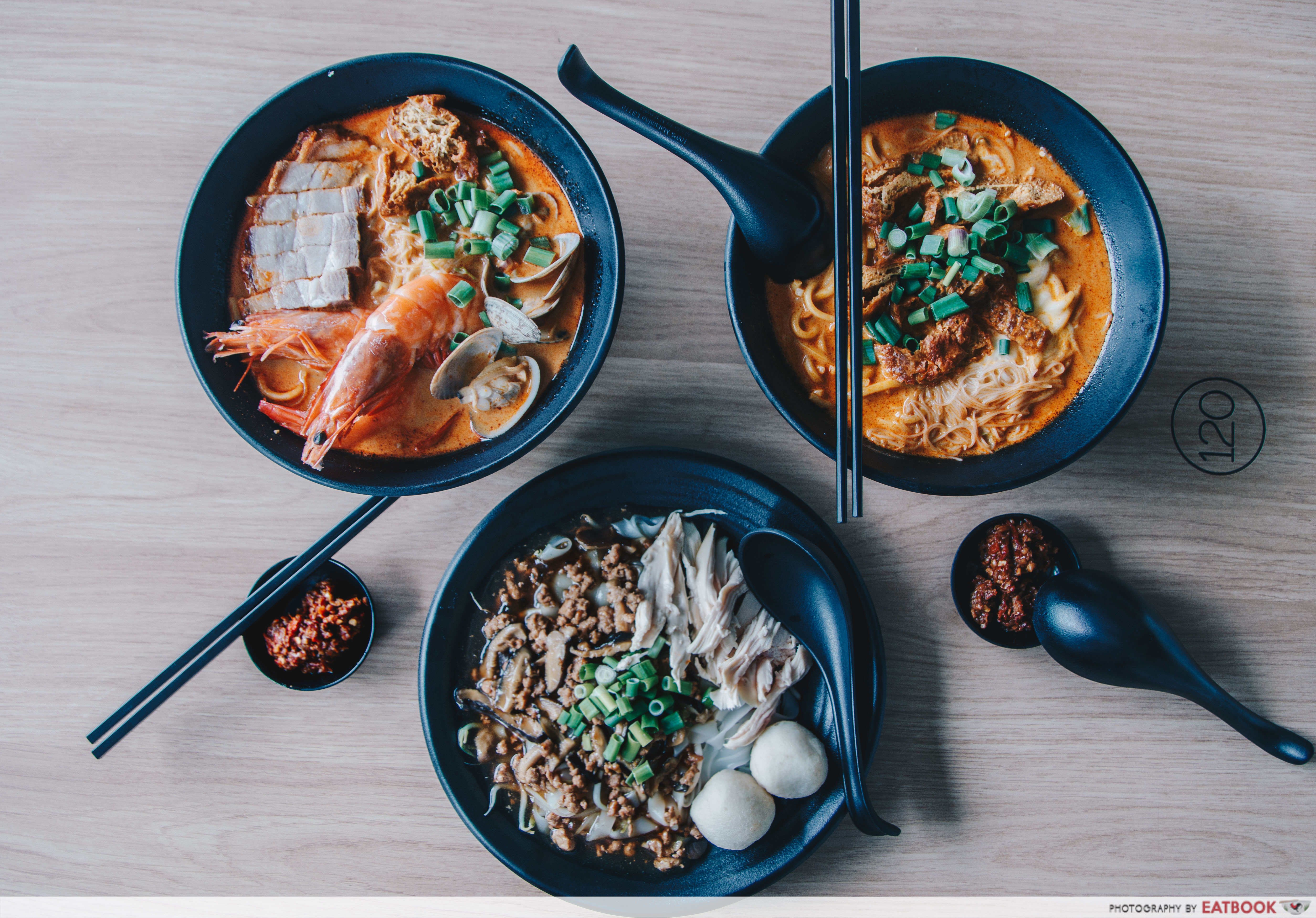 Watching Eatbook's vlog episode on Yishun Park Hawker Centre got my mouth watering at the feature of Yap's Noodles in the beginning of the video. The hawker centre is a relatively new addition to the food scene, but it already boasts stalls serving hipster and must-try dishes such as the curry noodles from Yap's Noodles. With the information that only 50 bowls are sold each day, I dragged my colleague down on an early Monday morning to get hold of them before they get sold out.
Food at Yap's Noodles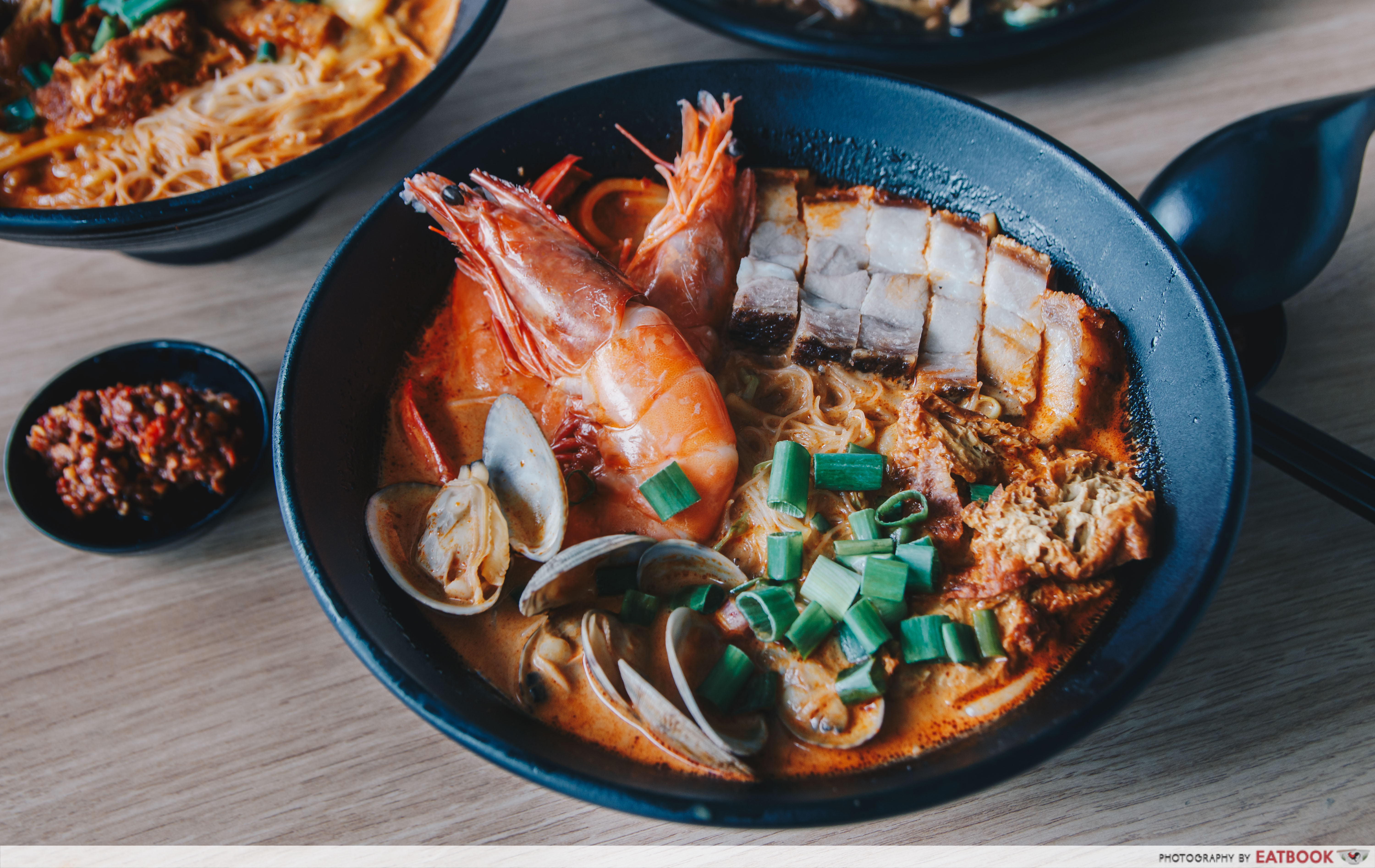 A first look at the piping hot bowl of Curry Seafood Roasted Pork Noodles ($6.50) made my jaw drop. It features a variety of ingredients rarely seen together in a bowl, especially not at a hawker centre. There were two huge prawns, a row of roasted pork slices, a handful of clams, and pieces of tau pok.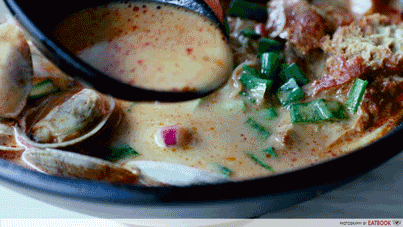 The broth was a whole new flavour to me. It didn't taste like laksa or yellow curry. The closest thing I can compare it to is the hearty bowl of curry fishball noodles I used to enjoy from my primary school's canteen. The first thing that came to mind was "creamy", but totally unlike the overpowering coconut milk taste we find in laksa. The broth was also slightly sweet and aromatic from spices such as dried shrimp, garlic, shallots, and lemongrass. It was simply rich and moreish, a bowl that I can finish to the last drop.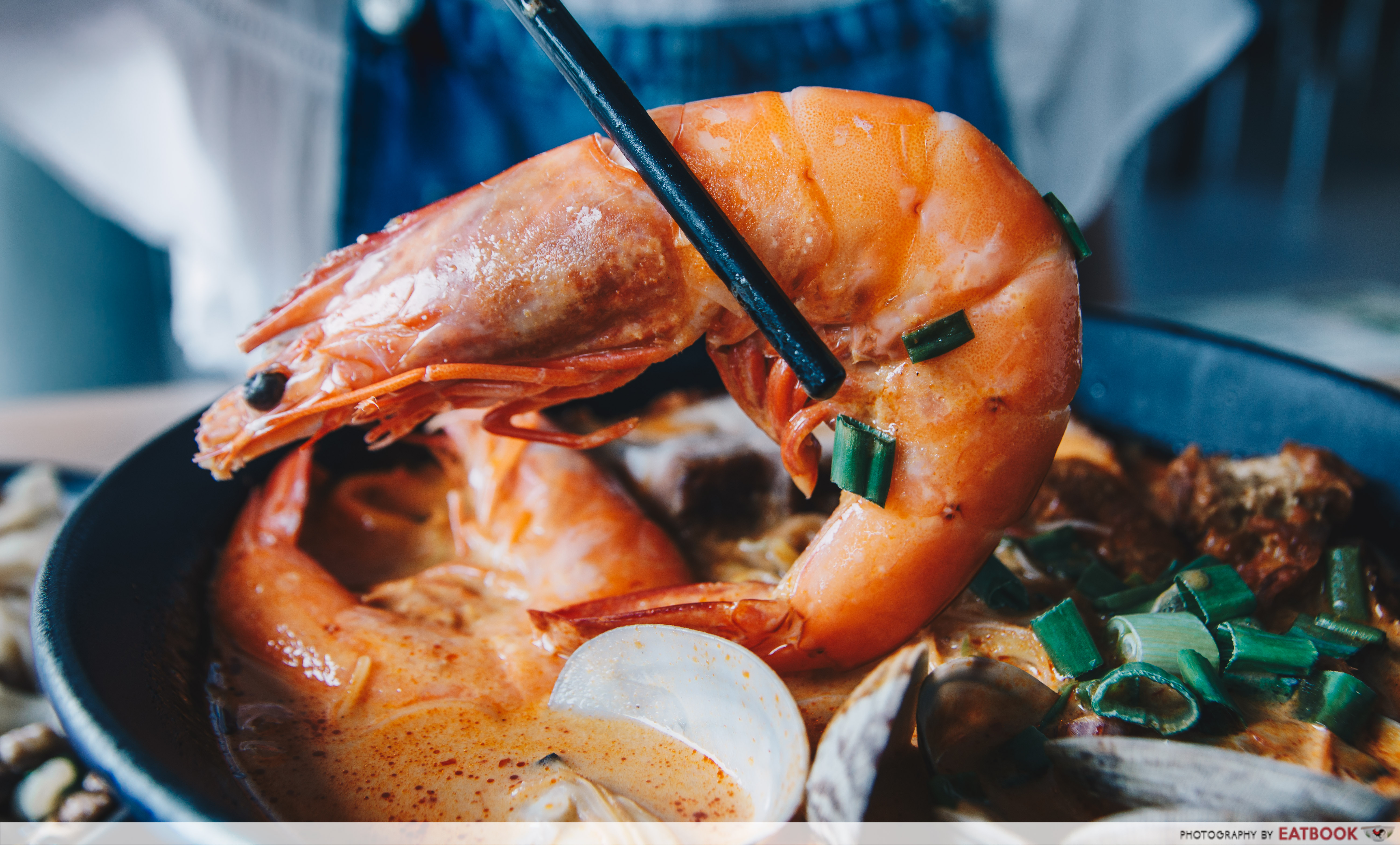 I was spoiled by an ex who used to shell my prawns when we were dating, so now I avoid prawns with shells, unless I'm game to use my fingers unglamourously. However, looking at the jumbo-sized prawns, I made an exception – and was glad I did. The meat was plump and sweet, and had a good bite to it. I greedily wished for more than just two in each bowl.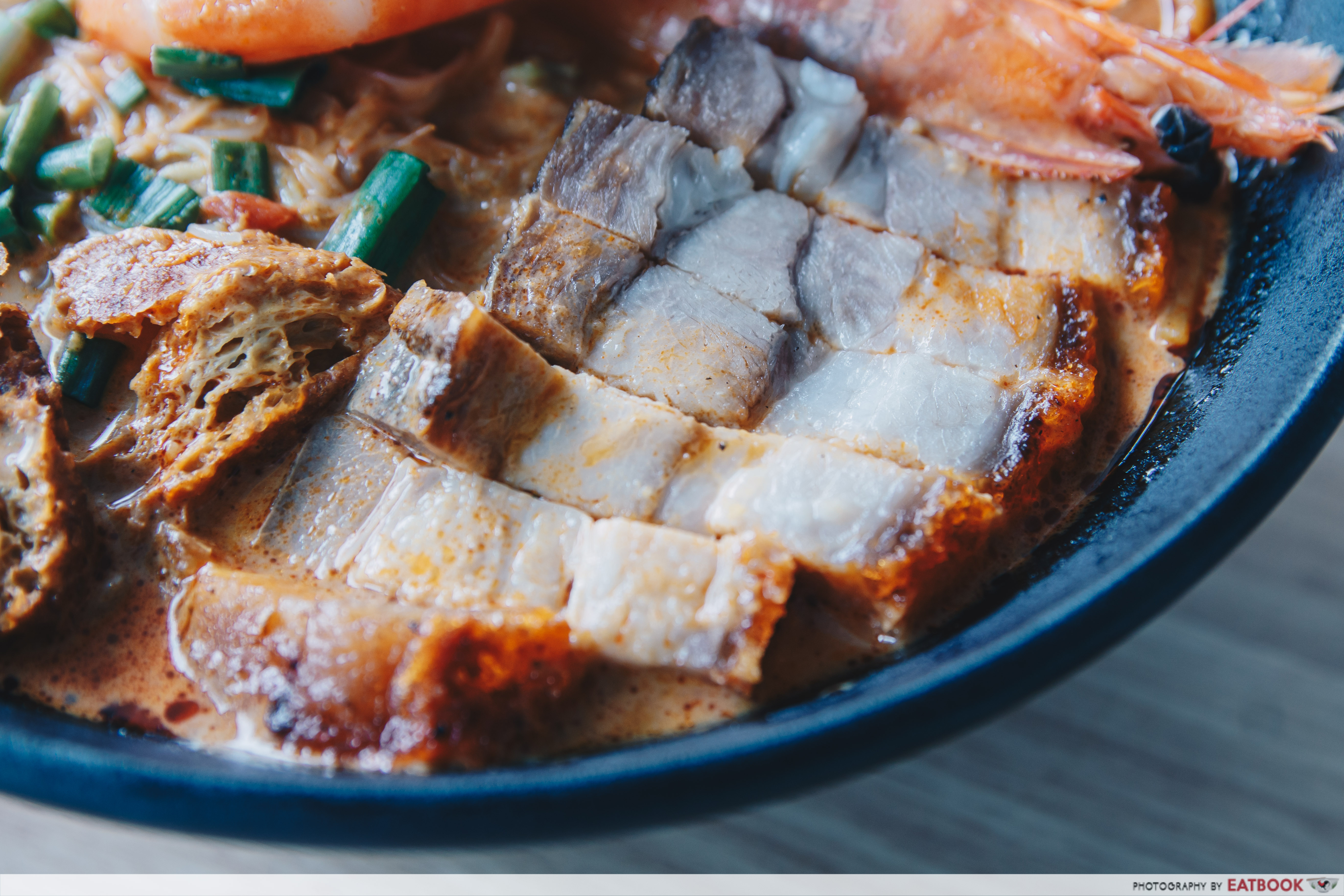 The roasted pork was a clever addition to the curry noodle dish. It was less fat and less salty than those you find at a chicken rice or char siew stall, but a great accompaniment to the already rich curry broth.
The clams were also a nice touch as they gave a better mouthfeel to each spoonful of noodles. There were also chewy pieces of pork skin which looked almost similar to the tau pok slices included in the dish as well. These pork rinds turned from a crisp to a fish maw-like texture as they bloated up from being soaked in the broth.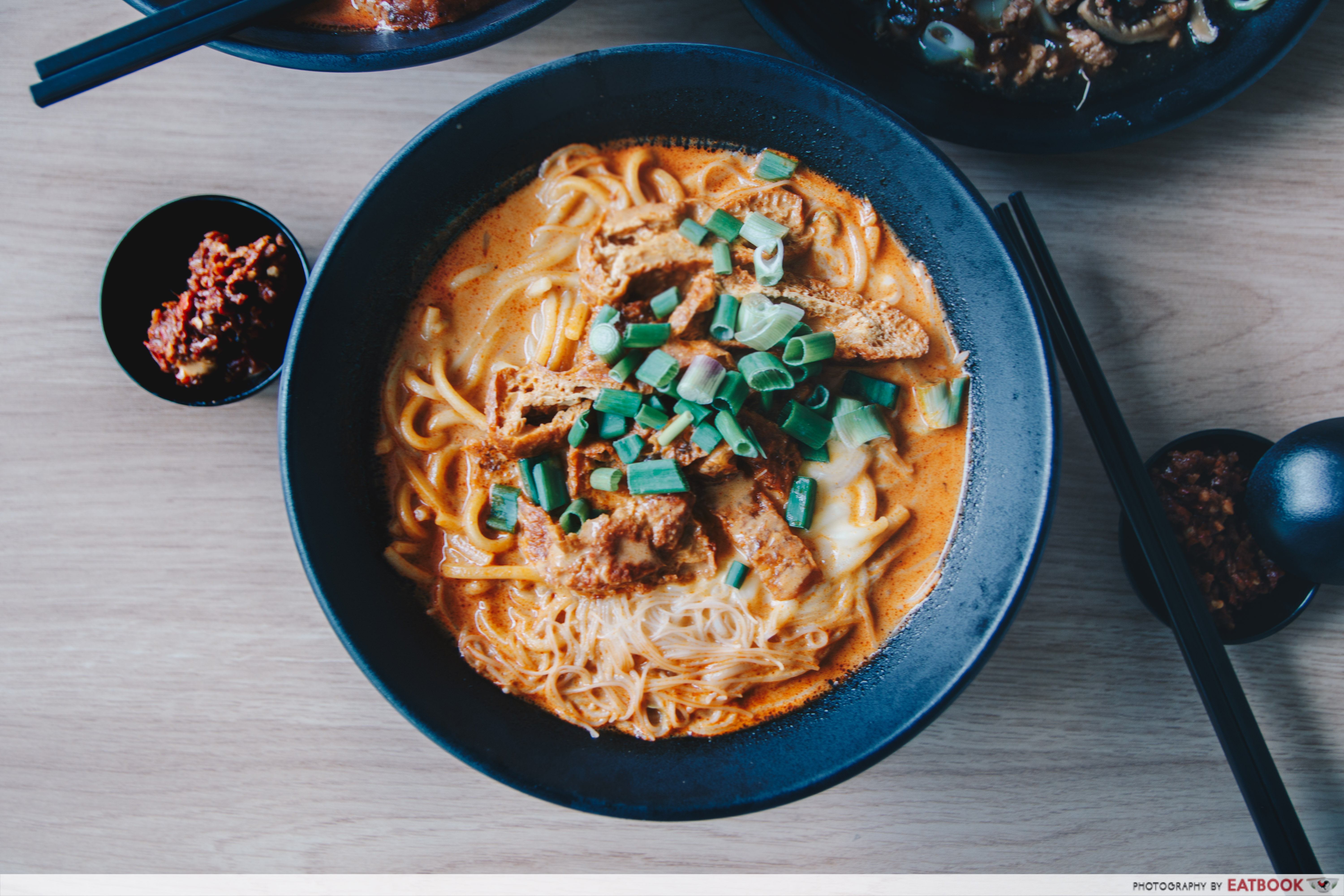 The next dish we got was Classic Curry Noodles ($3.30) with Cheese ($1). A portion of cheese was added on top of the mountain of noodles, followed by tau pok and pork rinds.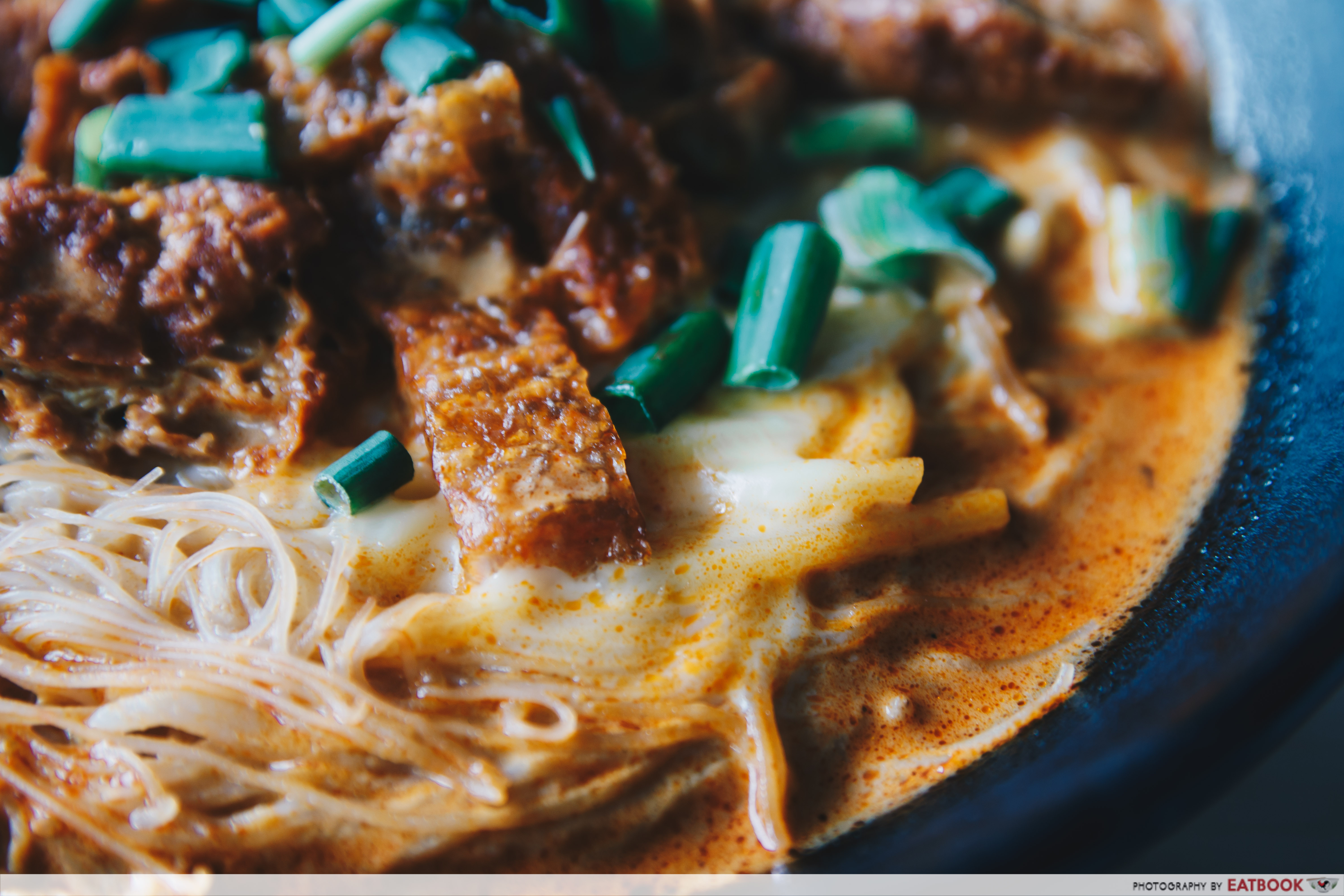 I'm an avid fan of all things cheese. When I saw the option to make the curry noodles a cheesy one, I could not pass it up. I highly recommend adding the cheese as it gave a buttery texture and tinge of saltiness to the noodles. When mixed into the soup, it toned down the level of spiciness and surprisingly made it sweeter as well!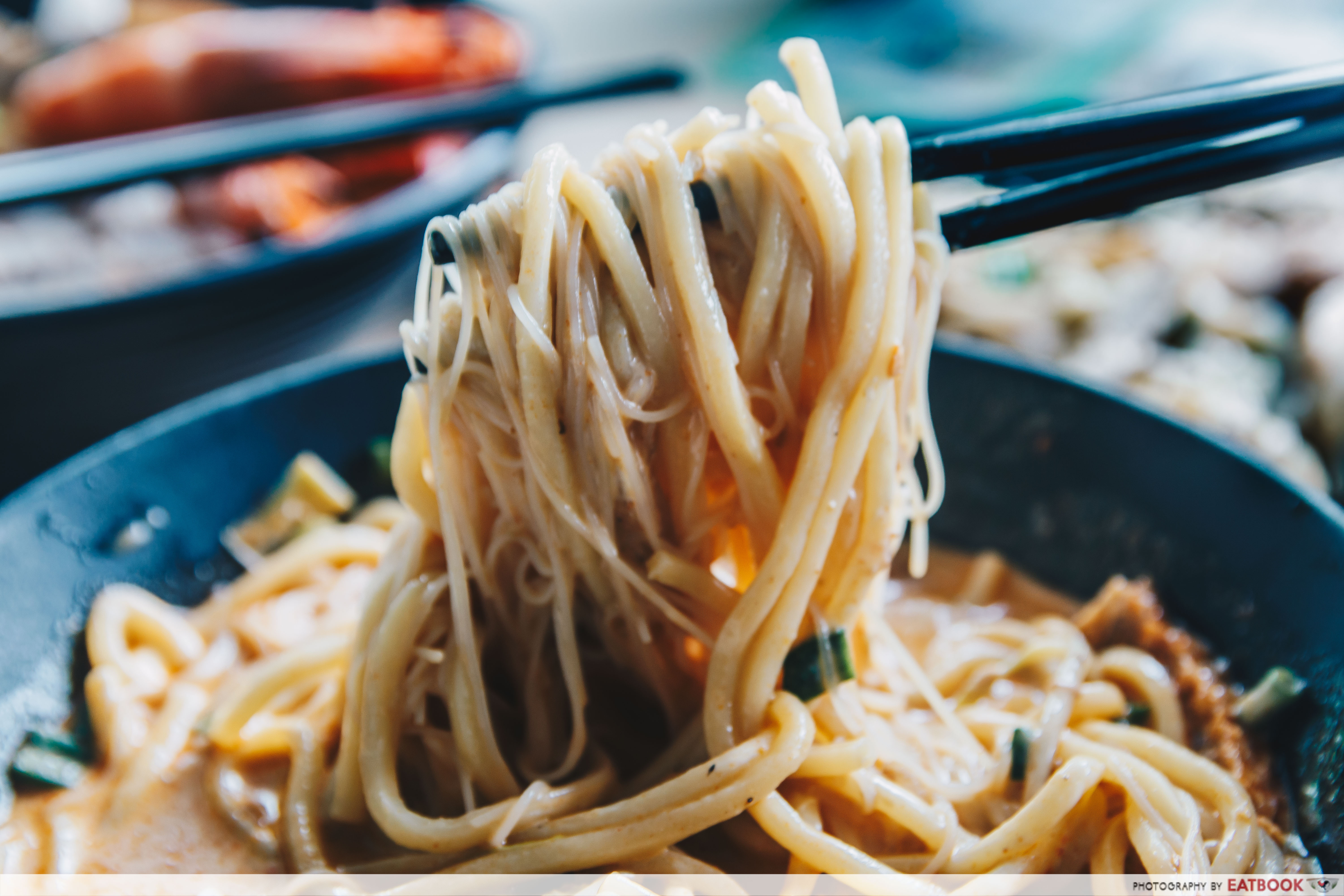 For both bowls of noodles, we got it with a mix of bee hoon and yellow mee. Chef-owner Henry suggested this mix out of the other choices of noodles offered, because it was the same style the people in Ipoh ate their curry noodles. It is also good to know that the portion of noodles was generous. If I were to make a second trip down and order a bowl for myself, I still would not be able to finish it all.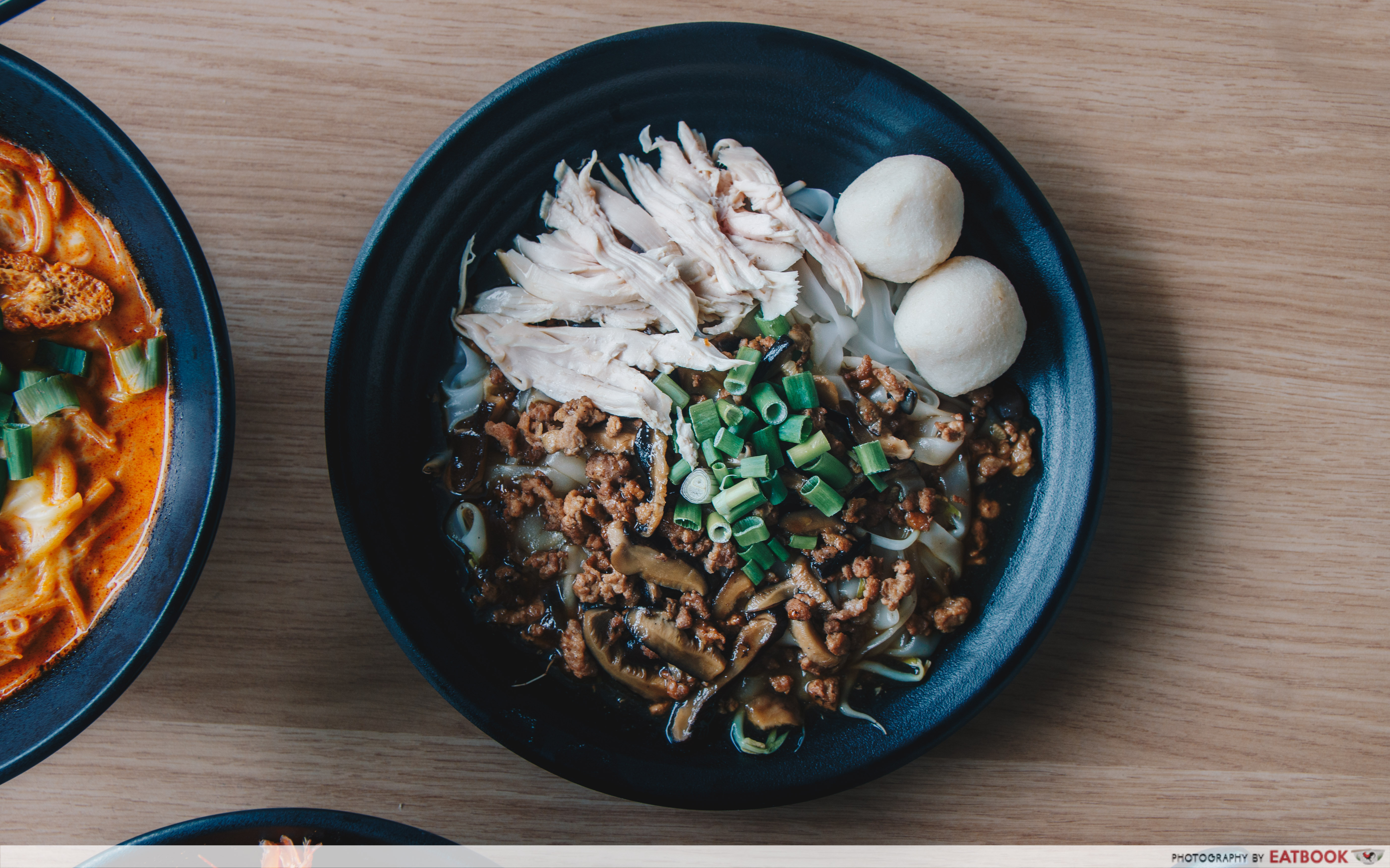 Other than curry noodles, Yap's Noodles also offers Ipoh Hor Fun ($3). It features a bed of white hor fun covered almost entirely by a braised mushroom and minced meat sauce, chicken meat, and fishballs.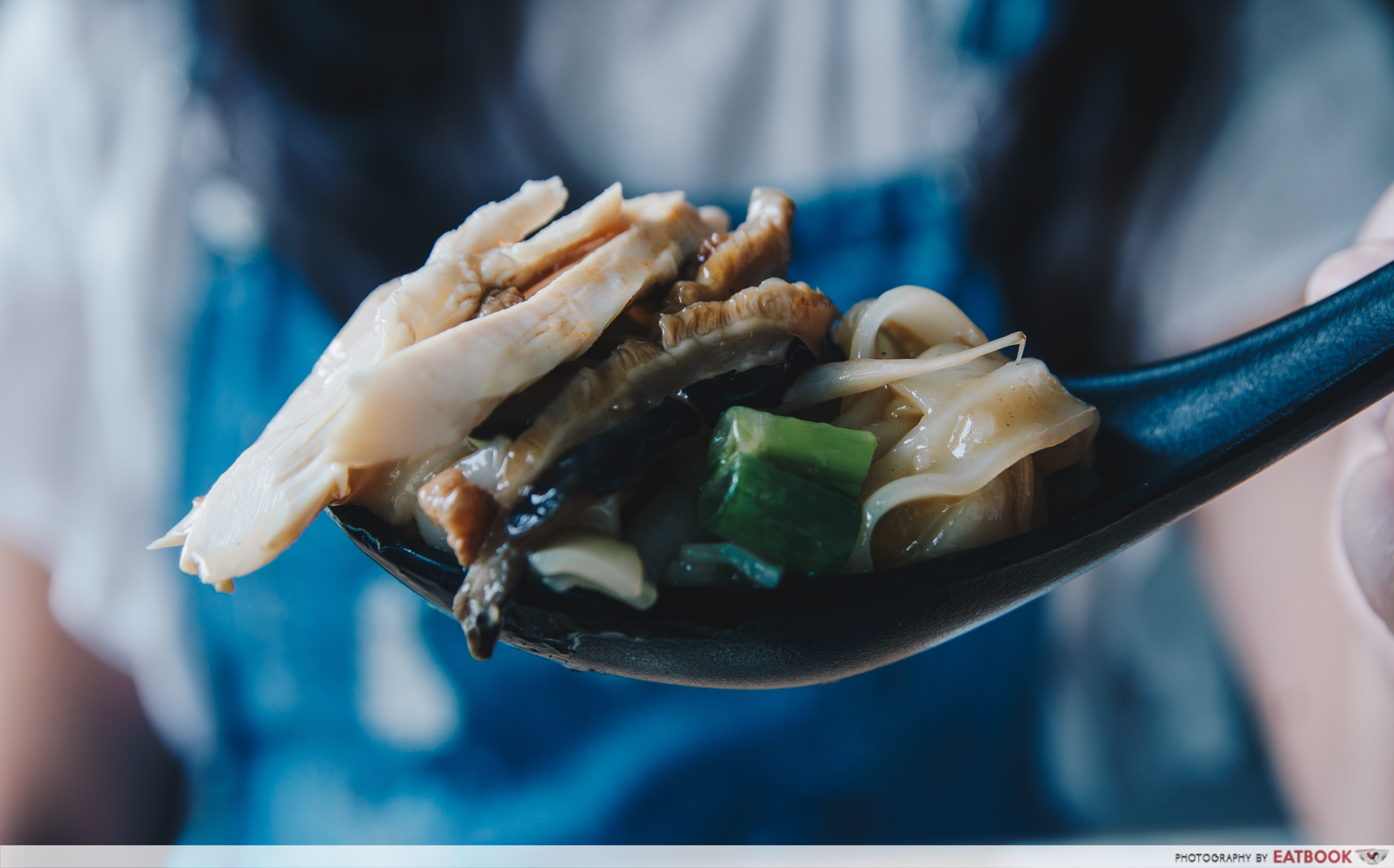 This Ipoh hor fun is a good dish to have when you're looking for something easy on the stomach. It was slippery smooth from being coated with the starchy brown sauce flavoured with braised mushrooms and minced meat. The fishballs were deliciously salty and mouth-watering, but just like the two prawns, were something I wanted more of as well.
Ambience at Yap's Noodles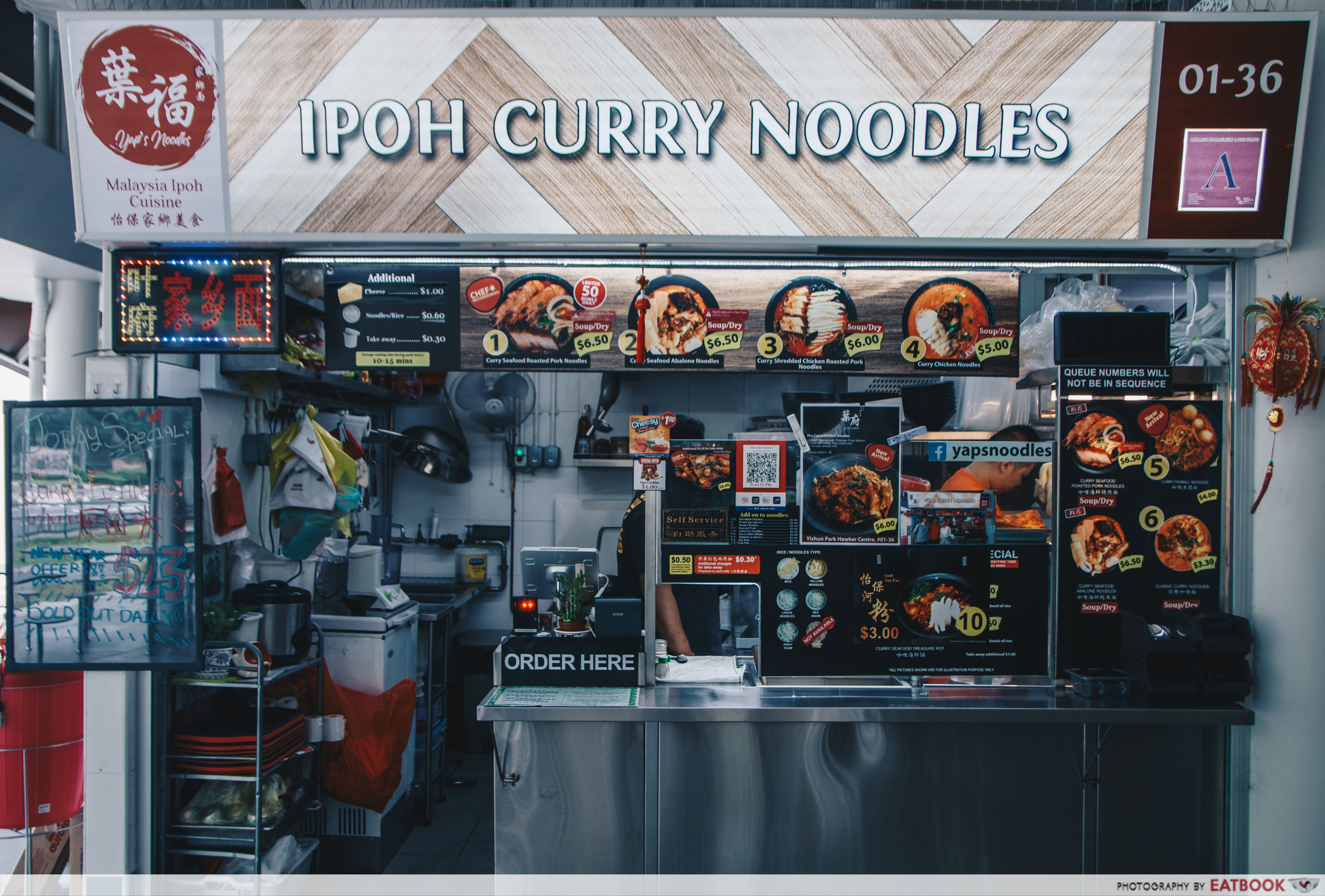 Yap's Noodles is located at Yishun Park Hawker Centre. It is clean and new, with a constant cool breeze from good ventilation. When we were there at 12pm, there were still plenty of seats. Jio a friend down to the Yishun Pond Park nearby and refuel with some curry noodles after a nice stroll.
The verdict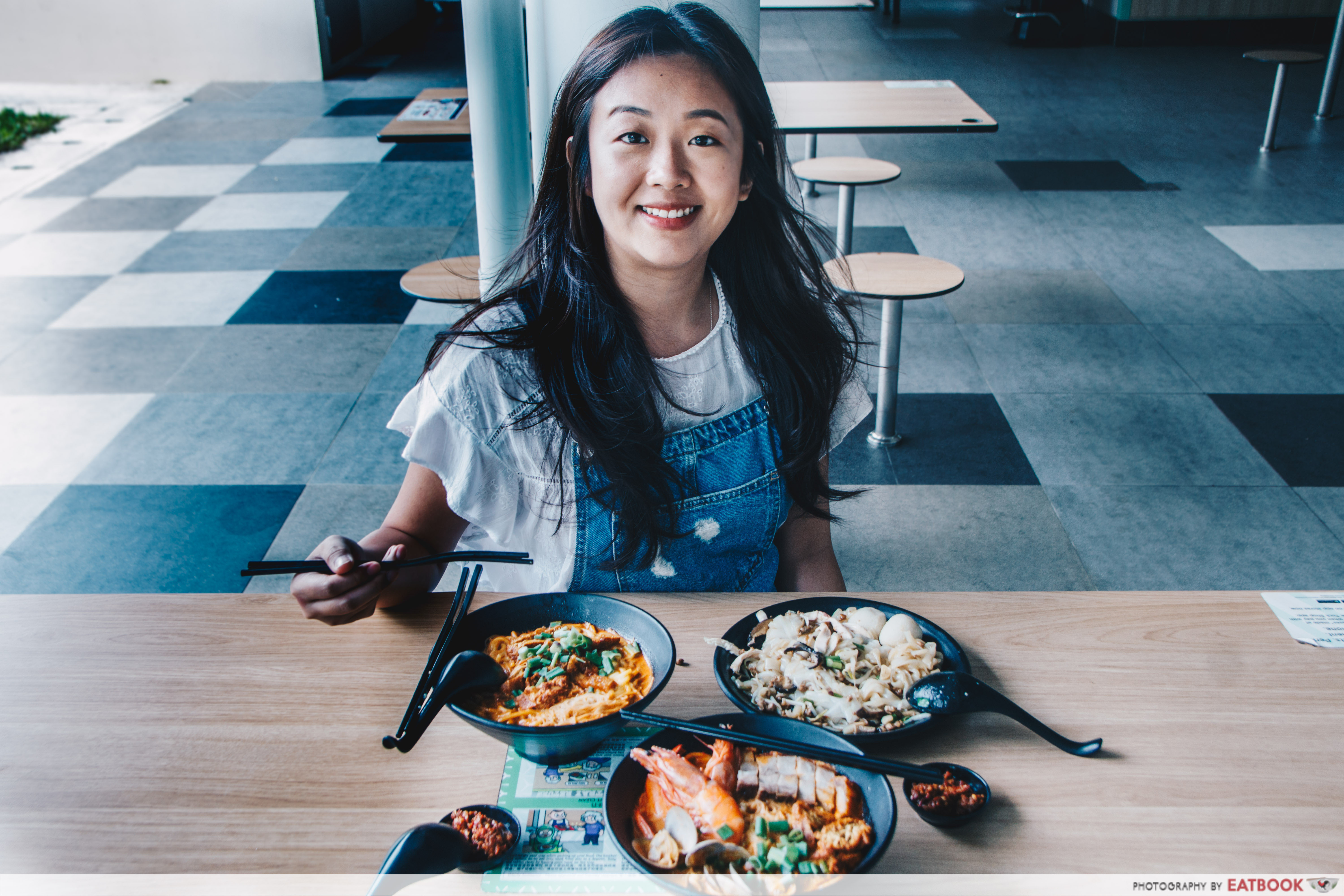 The dishes from Yap's Noodles surpassed my expectations so much that I can say I would be back for them again. The noodles offered are different and novel. Most curries come with a strong coconut milk taste, but the curry here has a fragrant mix of aromatic spices that makes each bowl appetising to the last drop.
If you're all about the noodles, check out this list of soup bak chor mee or seafood white bee hoon to satisfy your cravings.
Address: 51 Yishun Avenue 11, #01-36, Yishun Park Hawker Centre, Singapore 768867
Opening hours: Daily 9am to 9pm
Tel: 9670 4328
Website
Yap's Noodles is not a halal eatery.
This is an independent review by Eatbook.sg.
Summary
Pros
– Quality ingredients
– Well-flavoured dishes
– Value-for-money
Cons
– Inconvenient location
Recommended Dishes: Curry Seafood Roasted Pork Noodles ($6.50), Classic Curry Noodles ($3.30) with Cheese ($1)
Opening Hours:
Daily 9am to 9pm
Address: 51 Yishun Avenue 11, #01-36, Yishun Park Hawker Centre, Singapore 768867