---
"There's nothing to eat at Orchard Road"… Or is there?
---
Orchard Road is a convening point for all Singaporeans. There's just one problem though – where exactly do you eat in Orchard? Especially if you want to avoid subpar restaurant chains, fast food, or overpriced food courts.
Well, you no longer have to fret whenever someone asks for dining suggestions in town. Eatbook reveals ten secret places you never knew about in Orchard, where they serve delectable dishes at competitive prices. So the next time you're in town, just whip out this list and go forth and have an amazing meal!
Each of these places feature a couple of main courses below $20 but we've also thrown in some value picks that are slightly above the budget. 
---
1.Ollie's Cafe at Orchard Gateway
---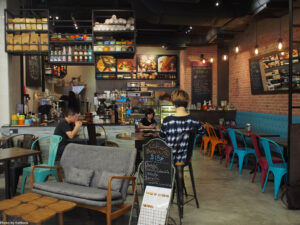 Tucked away in a quiet corner of Orchard Gateway's basement is this eclectic space serving brunch, burgers, and coffee. Despite the space restrictions, Ollie can accommodate bigger groups of 6 – 8 people in addition to people dining in pairs.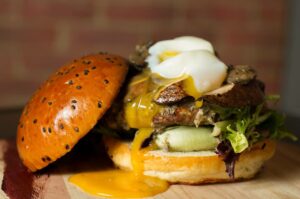 Source
You won't find gourmet burgers at Ollie's, but their burgers impress with size, and generosity. Ollie's best-seller, the Woody Wood Piper ($18.90), features a tantalising combination of a grilled portobello mushroom, monterrey jack, mesclun greens, mushroom ragout, quattro cheese, and a juicy beef patty topped with a 63˚c egg.
Other must-tries include the vintage cheese ($17.90), which is basically the Woody Wood Piper without the mushrooms, and the Muddy ($19.90), which has avocados and jalapenos in the burger. The best part is all burgers come with a side of truffle fries! While the food is not top-notch, it's hearty and will leave you extremely satisfied.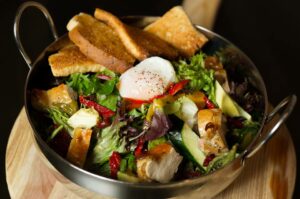 Source
If you're a small eater, Ollie's also has a range of salads available. Their signature salad ($11.90) is a delectable mix of grilled chicken, mesclun leaves, avocado, beetroot, and tomato confit served alongside a 63˚c egg and toast.
Opening hours: Daily 10am – 10pm
Address: 277 Orchard Road B2-10, Orchard Gateway Shopping Mall, Singapore 238858
---
2.Hob Nob at Far East Shopping Centre
---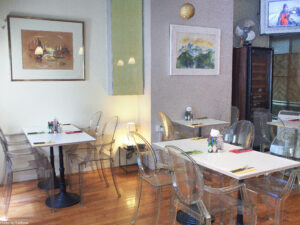 People know Far East Shopping Centre to be the home of Shashlik or the other Far East Plaza. But behind its run-down facade lies a hidden gem –  a simple and clean space serving homely western cuisine at pocket-friendly pricing.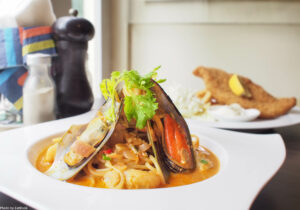 I wasn't expecting much from Hob Nob initially, but this plate of Seafood Tomyum Pasta ($16.80) blew me away with its rich flavours. The tomyum gravy was thick with a fragrant myriad of tangy, buttery, and spicy notes, while the pasta was perfectly al-dente. The use of frozen seafood was barely discernible as everything was well-executed and came together beautifully.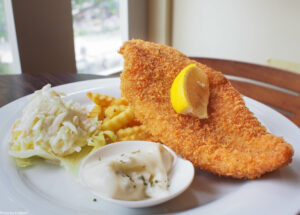 Likewise, the Fish & Chips ($11.80) was also done faultlessly, with a crispy breadcrumb coating encasing a tender dory fillet. Other menu highlights to look out for include the BBQ Tenderloin Pork Ribs ($18.80) and the Creamy Baked Dory ($15.80).
Opening hours: Mon – Sat: 1130am – 11pm
Address: Far East Shopping Centre #03-18/19, 545 Orchard Rd, Singapore 238882
---
3.Jtown at Midpoint Orchard
---
Midpoint Orchard is pretty obscure compared to the other swanky malls in the Somerset area. However, if there's any reason to visit this mall, it's the authentic Indonesian noodle stall at the basement.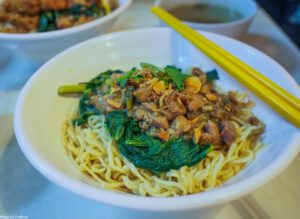 Jtown's Bakmie Cabe Ijo Ayam ($4.50)  consists of chewy egg noodles tossed with a fiery green chili and chicken sauce. This is for people who love to feel that burn in their tummies, but if you're not up for the blazing challenge, try their non-spicy Bakmie Ayam ($4) instead.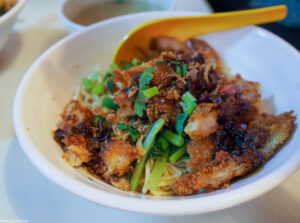 Jtown also provides a modern twist on traditional Indonesian fare like the Crispy Chicken Bakmie ($5), where the noodles are topped with a succulent deep-fried chicken cutlet. Don't miss out on their Murtabak – an indonesian pancake with a crispy exterior and fluffy insides filled with various toppings like peanut and cheese. You'll have to go early though, as these scrumptious pancakes are often sold out by 7pm.
Opening hours: Mon – Fri: 12pm – 9pm Sat & Sun: 11am – 9pm
Address: B1-04&05 Midpoint Orchard, 220 Orchard road, Singapore 238852
---
4.Fukuichi at Hotel Chancellor
---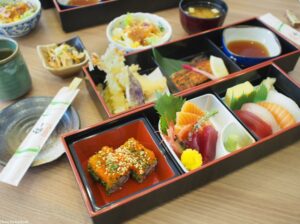 Part of Fukuichi's allure is how hidden it is, despite being in the heart of our bustling shopping district. Their newest outlet at Hotel Chancellor is located right behind Concorde Hotel and is almost impossible to find unless you're looking really closely.
Not only does Fukuichi do great dinner bentos, they also have a decent selection of economical lunch sets from the Bara Chirashi Teishoku ($18) to Gyu Niku Shogayaki Teishoku ($18). Rather than settling for mediocre Japanese restaurant chains in Orchard, visit Fukuichi for a good quality Japanese meal!  You can read about our recent review on Fukuichi here.
Opening hours: Daily 12p – 3pm, 6pm – 12am
Address: Hotel Chancellor @ Orchard, #01-05, 28 Cavenagh Road, Singapore 229635 #01-05
---
5.New Station Snack Bar at Far East Plaza
---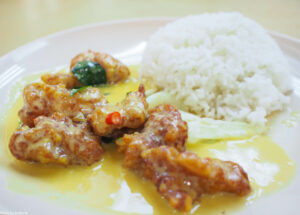 This small 40-seater tze char place on the fifth floor of Far East Plaza may seem a little dodgy, but the food they serve is tasty and comforting. If you're dining alone after running errands, a delicious, fuss-free option would be the salted egg yolk pork ribs rice ($6).
Opening hours: 11am – 845pm
Address: Far East Plaza #05-95, 14 Scotts Road (S)228213, Singapore 228213
---
6.Milagro at Orchard Central
---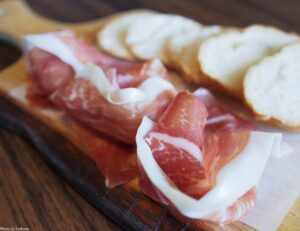 It's a pity people don't really go to Orchard Central because of the complex spatial layout, because it's a treasure trove of great eats. Milagro in particular is a relatively obscure spanish restaurant located at a quiet section of this vertical mall.
Not only do they have an extensive selection of tapas, they also have a value for money set lunch where you can have 2 courses at $19.90 and 3 courses at $27.90. The lack of GST and service charge makes their prices even more appealing.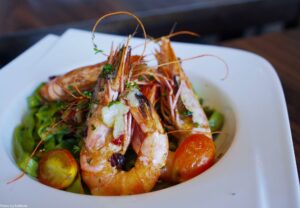 Despite the reasonable pricing, the serving portions are generous. The quality of food was also surprisingly excellent. Although the handmade spinach pasta in the tiger prawn aglio olio could have been a little more firm, the fragrant garlicky flavours were spot on. It also came with four juicy tiger prawns that were fresh and well-seasoned.
Milagro's is also a great place for group outings as the restaurant is spacious, and the food is great for sharing. If you're coming in a larger group, opt for some tapas and paellas to share amongst your friends.
Opening hours: Mon – Fri: 12pm – 3pm / 6pm – 10pm, Sat & Sun: 12pm – 10pm
Address: 181 Orchard Road, Orchard Central, #08-06/07, Singapore 238896
---
7.Alfero Gelato at Orchard Gateway
---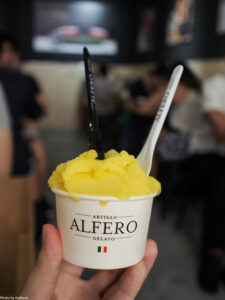 Craving for a sweet afternoon snack after a long afternoon of shopping? Try the amazingly rich gelatos at Alfero ($4.50 for 1 flavour, $6.50 for 2 flavours, and $8 for 3 flavours). The pistachio, and durian come highly recommended for their creamy consistency and intensity of flavour. If you prefer a lighter option like I do, go for the tart and refreshing passionfruit.
Opening hours: 12pm – 10pm
Address: Orchard Gateway #B2-06, 277 Orchard Road Singapore 238858
---
8.Benjamin Browns Bistro & Bakery
---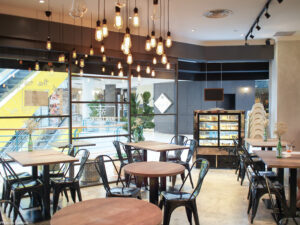 While this cafe in a secluded spot of Forum shopping mall has been getting tons of attention on social media thanks to its over the top milkshakes, it remains a relatively quiet place for a meal.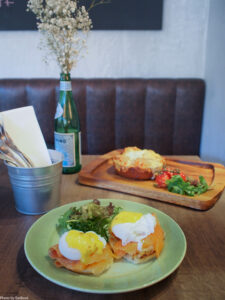 The star of this cafe would definitely be the Avocado Coffee Milkshake ($16), or the Nutella Banana Milkshake ($16), but Benjamin Browns also serves decent cafe grub. The salmon eggs benedict ($21) comes with salmon and poached eggs on two pieces of lightly toasted english muffins, and a side of mesclun salad.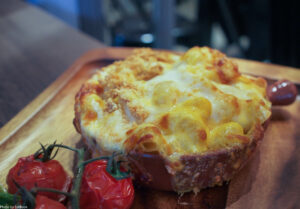 Benjamin Brown's mac and cheese ($14) was a delightfully sinful treat to dig into with all that oozy mozarella and a crispy cheese crust. The roasted tomatoes on vine helped to give a burst of sweetness to combat the richness of the pasta.
Opening hours: Mon – Thu: 10am – 9pm, Fri: 10am – 10pm, Sat: 9am – 10pm, Sun: 9am – 9pm
Address: Forum Shopping Mall #01-20/21, 583 Orchard Road, Singapore 238884
---
9.Tang's Market
---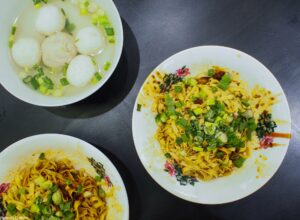 Food courts in the Orchard stretch are notorious for their hefty price tags. Thank goodness for Tangs market where you can enjoy traditional hawker dishes at a convenient, air-conditioned location without being ripped off.
One of my favourite stalls here would be the Redhill 85 Fishball noodles ($4). The fishballs are always bouncy and fresh, while the noodles have just the right amount of firmness, acidity, and spice.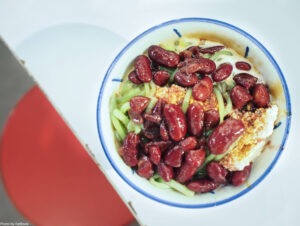 The chendol ($2.50) from Famous Penang Road Chendol also gives you an authentic taste of Penang street food right in the middle of Orchard. The generous red beans here are huge and not too mushy, and there's just the right balance of gula melaka and coconut milk.
Other mouth-watering dishes to look out for include Penang Yong Kee's char kuey teow ($5), Petaling Street KL's hokkien mee ($6), and Queenstown traditional popiah ($3.50).
Opening hours: 1030am – 930pm
Address: B1, Tangs, 310 Orchard Rd, Singapore 238864
---
10.Mon Bijou at Claymore Connect
---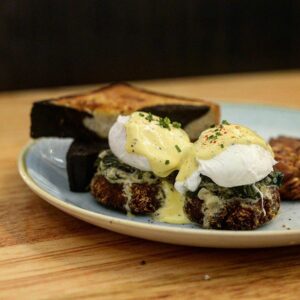 Source
Mon Bijou is one of the newest kids on the Orchard block serving up French entremets and unique brunch offerings. One of the things that instantly caught my eye was their Crab Cake Benedict ($20), where two poached eggs are delicately arranged atop sauteed spinach and two moist crab cakes.
Their Sliders Trio ($22) is yet another one-of-its-kind creations featuring three different patties: a crab cake, a beef patty, and a chicken ngo hiang. Besides these appetising mains, Mon Bijou also specialises in French desserts and pastries like Yuzu Lemon Tart ($6.80), Raspberry & Lychee Macaron ($7.80), and an assortment of chocolate bon bons and pate de fruit.
Opening hours: Daily 11am – 8pm (last order at 7pm)
Address: Claymore Connect #01-19/20, 442 Orchard Road, Singapore 238879