Limau Thai Kitchen offers cheap Muslim-friendly Thai food
Updated on 28 October 2021: Limau Thai Kitchen is permanently closed.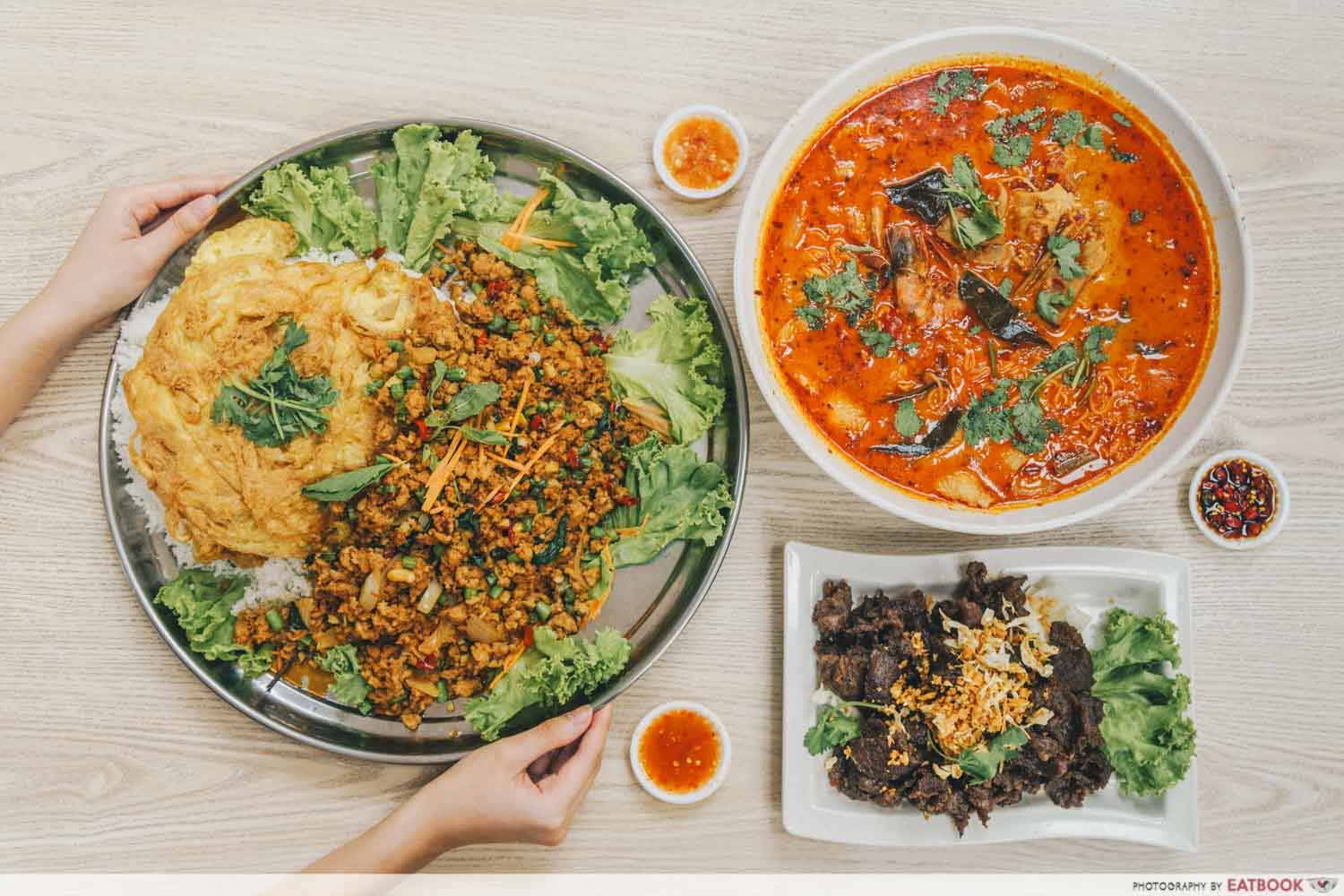 Thai cuisine has always been one of my favourites. So when I learnt that a new Thai hawker stall had opened in the North, I was excited to give them a try.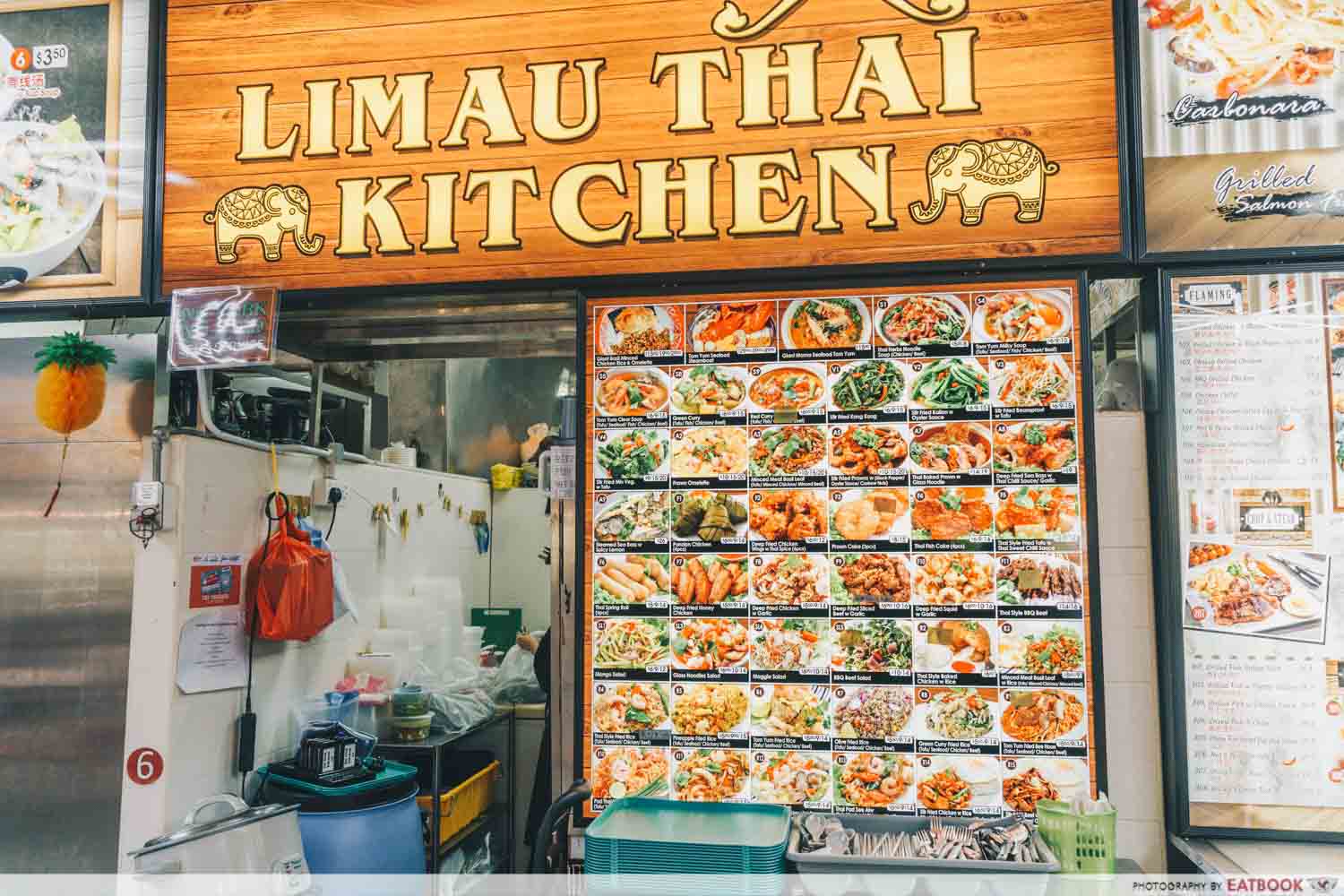 Limau Thai Kitchen is essentially a Muslim-friendly version of Im Thai Kitchen, known for their large portions of Thai food. Also run by the same Thai immigrants, Limau Thai Kitchen offers a menu similar to that of their non-halal counterpart, with the addition of some new dishes. They are currently in the process of applying for a halal certificate so Muslim diners should be able to dine here soon.
Food at Limau Thai Kitchen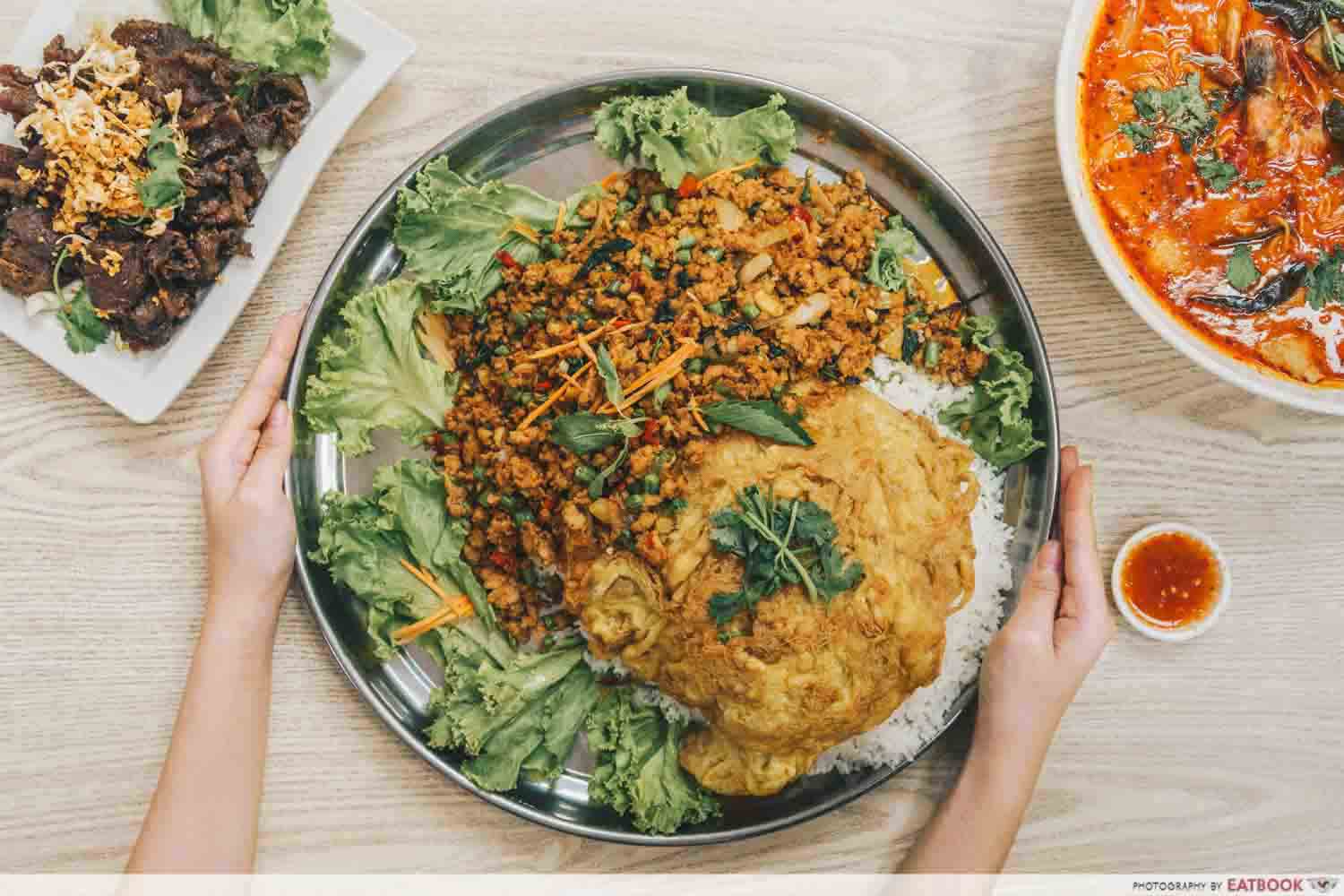 The first thing we had to try was definitely the Giant Basil Minced Chicken Rice & Omelette (from $15.90). A generous mountain of rice blanketed with minced chicken reached us, served on a huge 40cm plate. We were impressed by the sheer size of the dish even though it was the smallest portion available.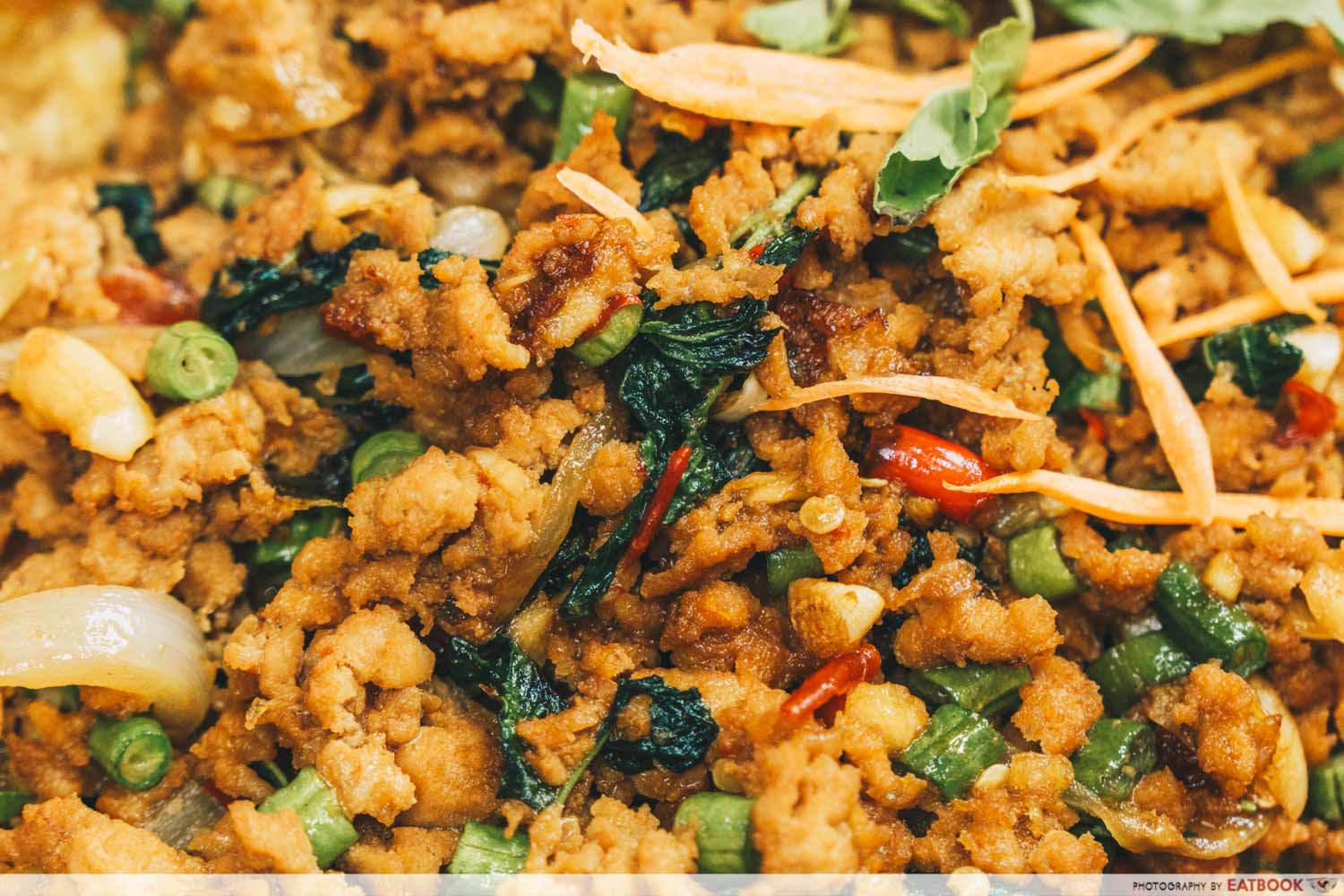 Liberal amounts of minced chicken mixed with chopped long beans covered the rice. While we expected the spicy aroma and peppery taste from Thai holy basil, the meat was instead distinctly sweet with a hint of pepperiness. In fact, there was also a fresh and sweet fragrance from the minced chicken.
It seems that sweet basil was used to give the minced chicken a pleasantly sweet and refreshing taste, instead of the usual peppery flavour from other basil choices. I definitely enjoyed it but I can see how some may prefer their basil rice to be more peppery.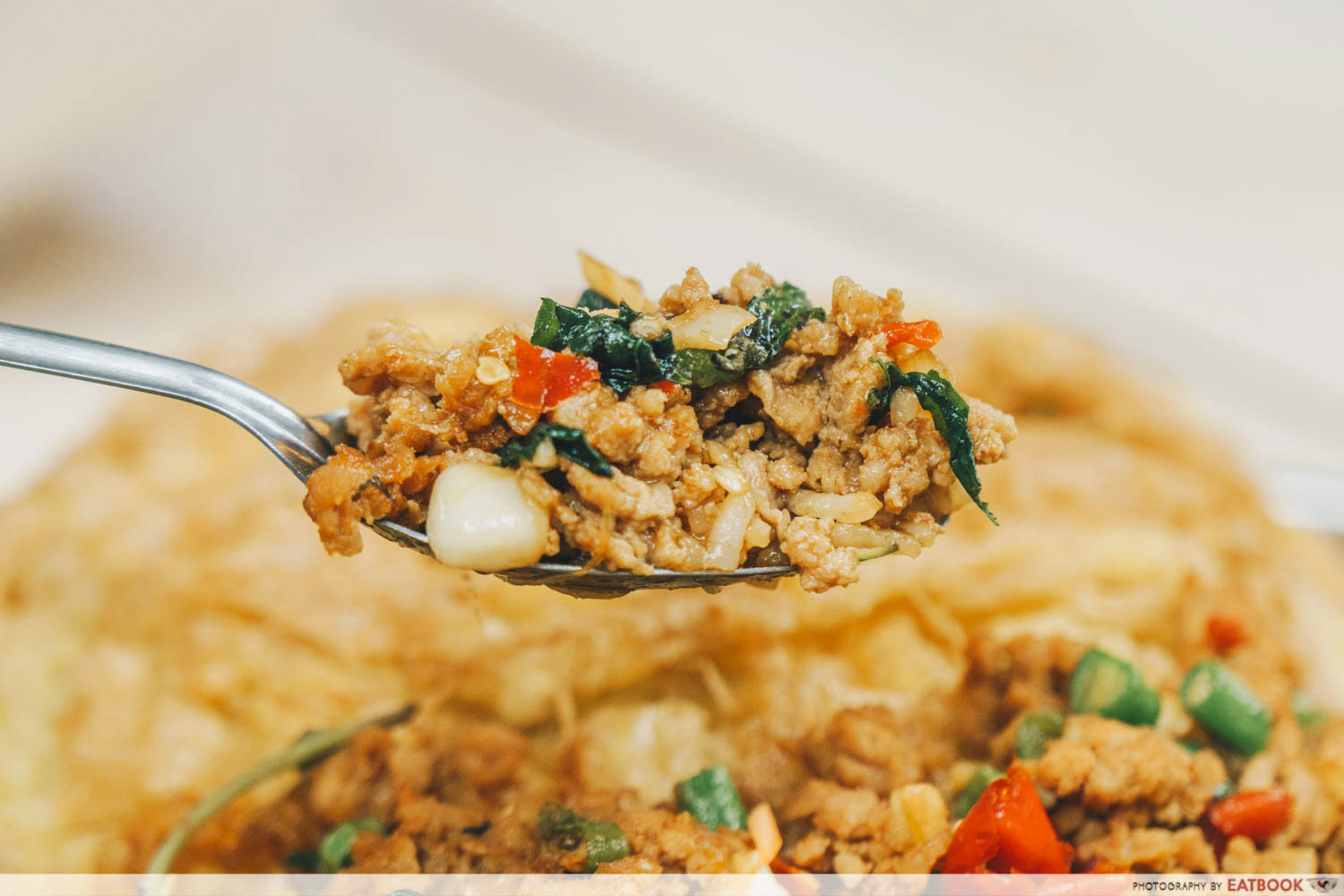 The rice also shared the same sweet aroma from the minced chicken.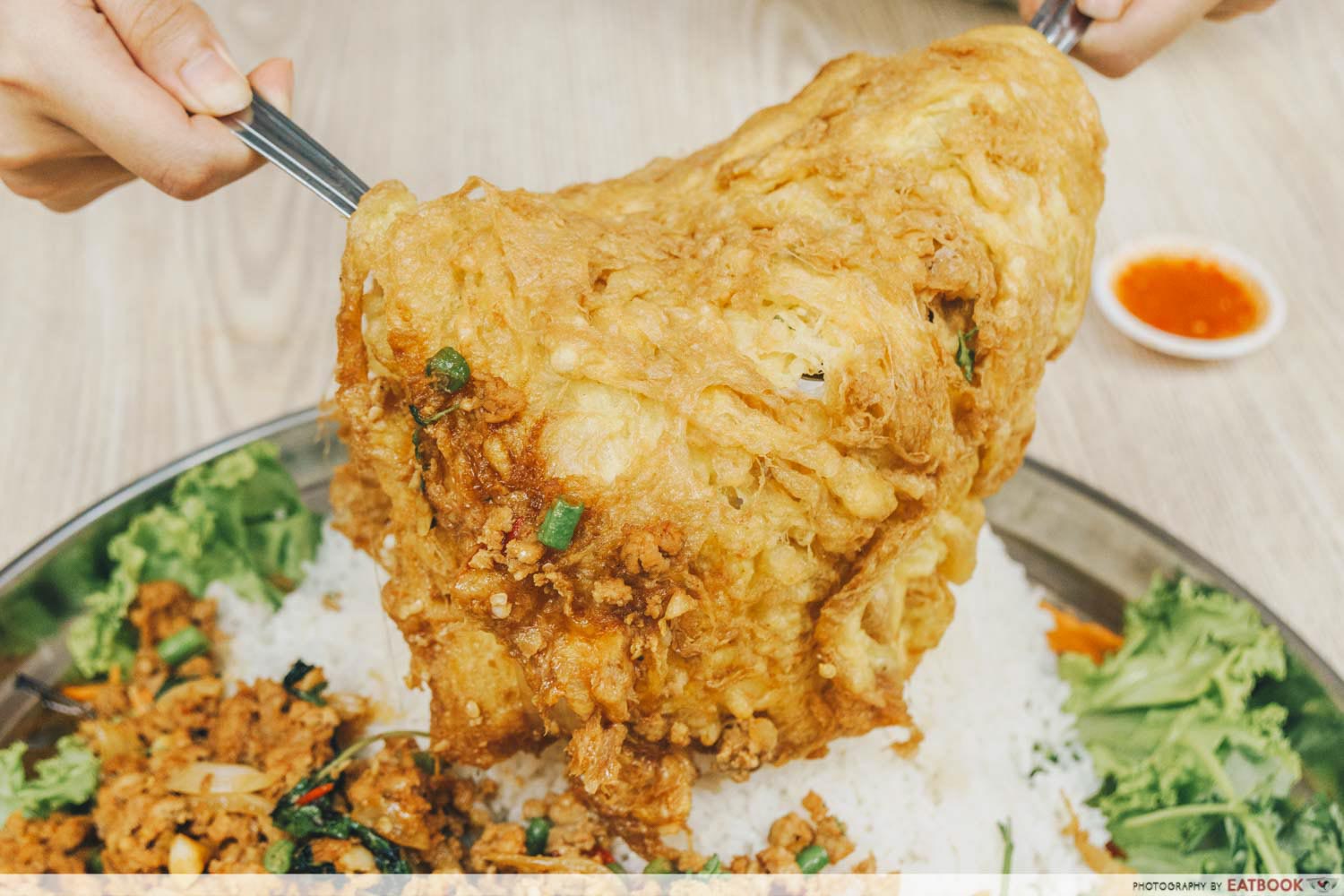 A huge omelette was served as well, and we tore it apart with ease to reveal a fluffy interior. Despite the large size of the omelette, it was airy and soft, making it easy to eat. Truth be told, we finished the egg instantly.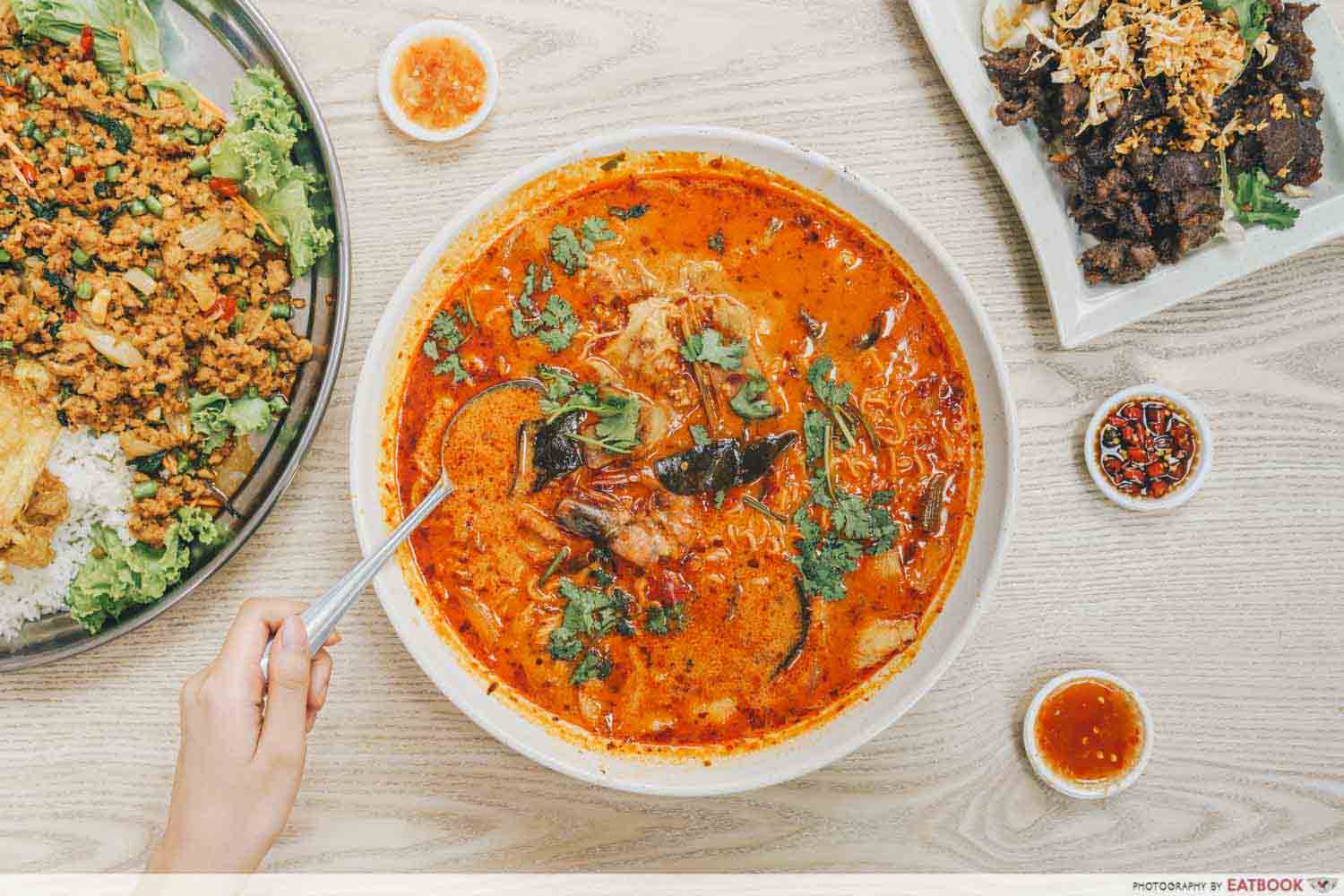 Impressed by the size of their XXL basil chicken rice, we decided to continue to try another huge-sized dish. When we think of Thai food, tom yum definitely comes to mind. Thus, we had the Giant Mama Seafood Tom Yum ($15.90), served piping hot in a large bowl.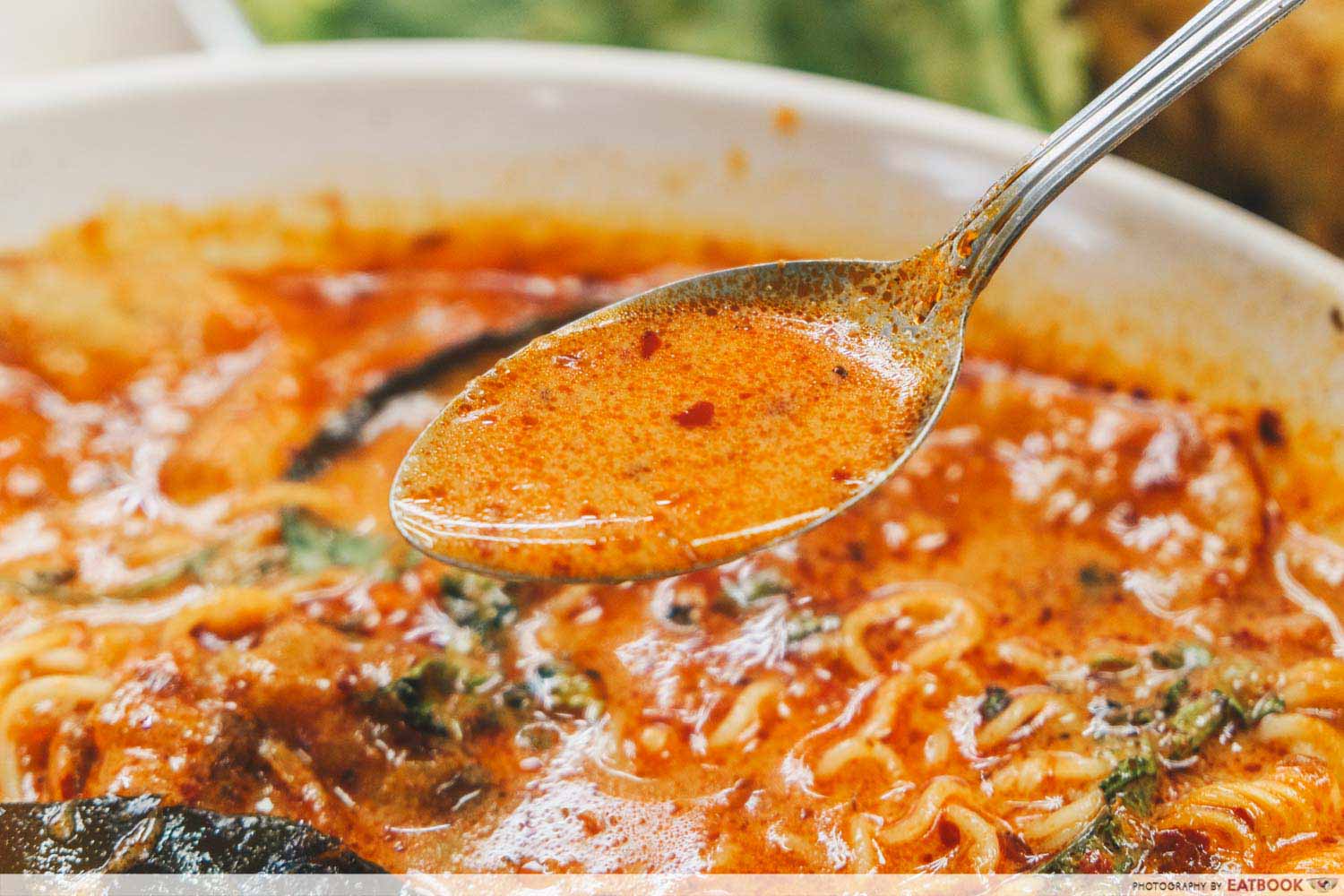 The broth was bright orange and we could clearly see chunks of chilli floating around. The broth was slightly spicy but had an overpowering sourness. It also had a grainy texture and a sip of the orange soup alone actually choked us up slightly. Personally, I would prefer my tom yum a tad spicier.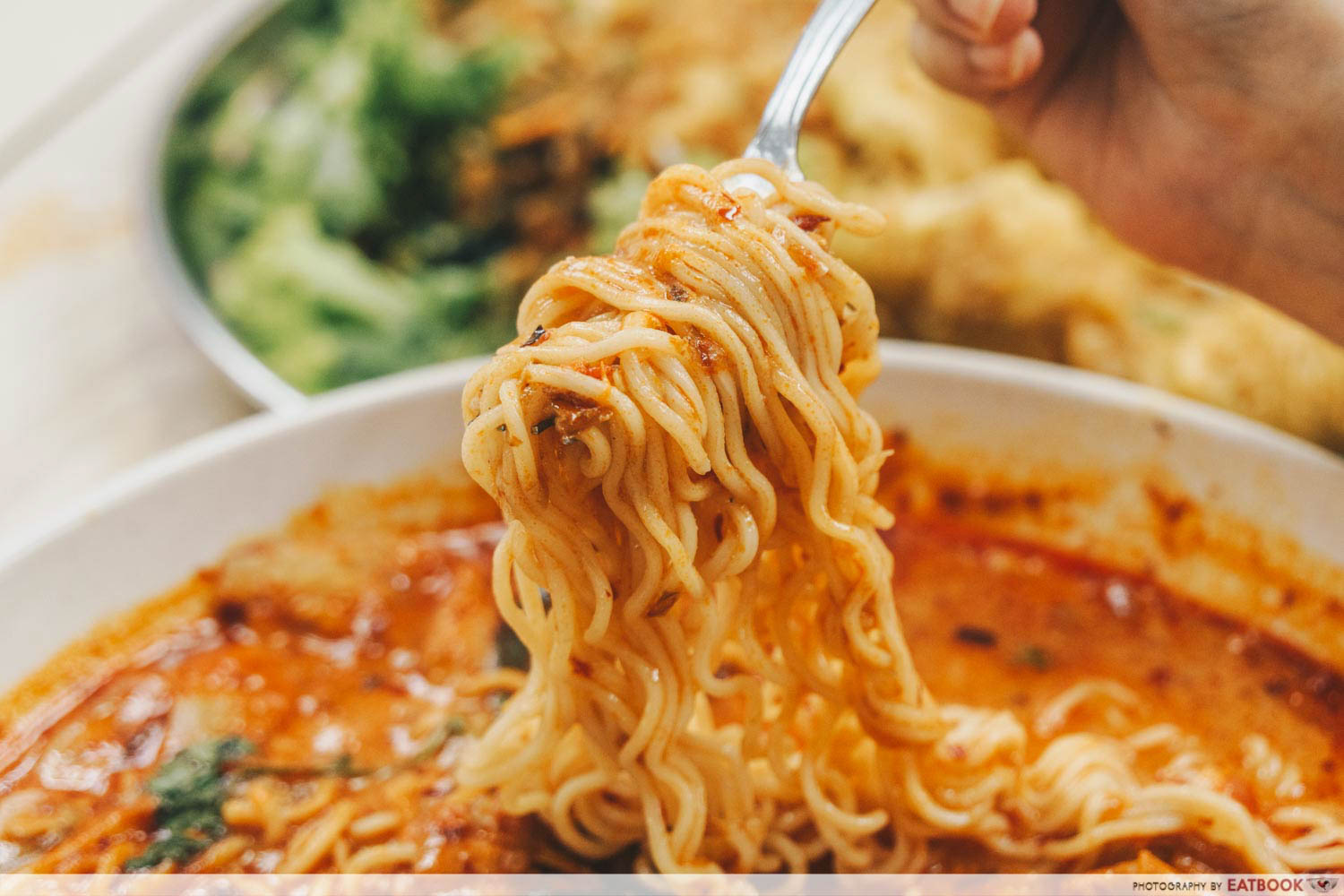 The seafood tom yum also came with a huge bunch of springy instant noodles submerged in the thick broth. However, they were pretty average. Along with the noodles were some prawns and fish slices as well. The seafood was nothing spectacular and didn't taste particularly fresh either. Overall, the dish was unimpressive.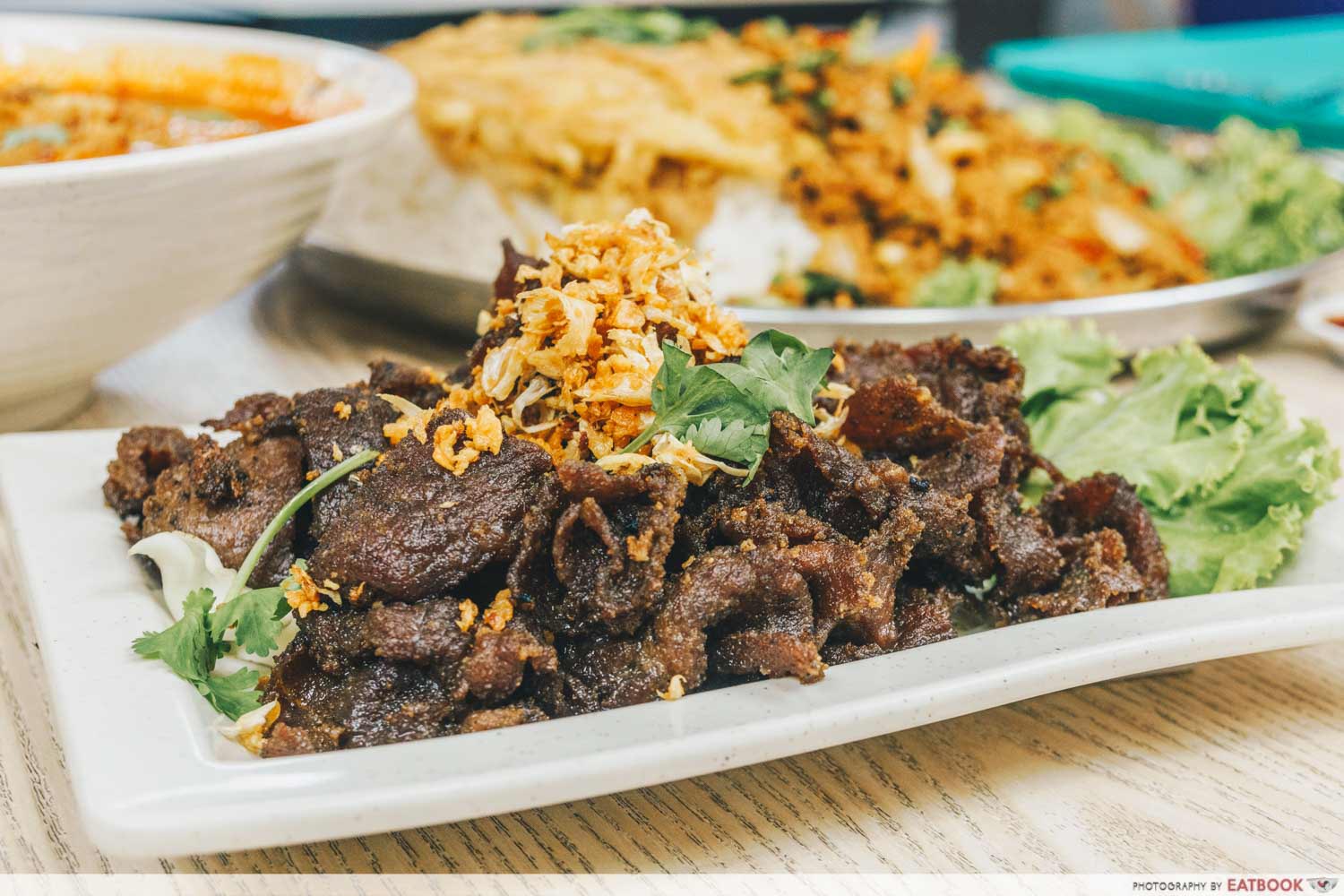 Apart from mains, side dishes are also available at Limau Thai Kitchen. Seeking a break from the XXL carbs, we decided to try the Deep Fried Sliced Beef With Garlic (from $10). Being extremely dark in colour, the beef did not look the most IG-worthy.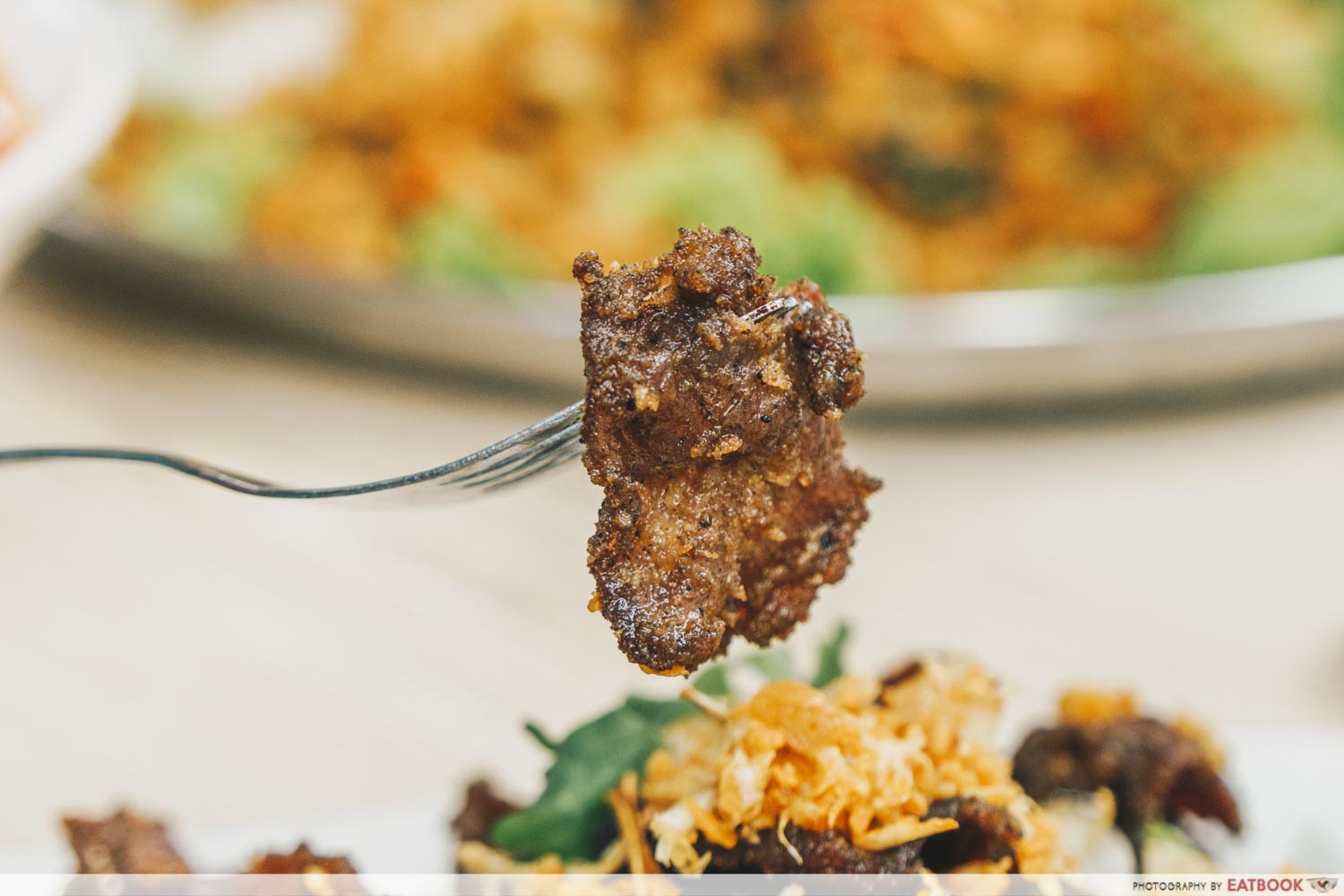 The beef was rather tough and difficult to chew through. While the dish had a fragrant tang from the garlic, its overpowering saltiness greatly dominated its flavour profile.
Ambience at Limau Thai Kitchen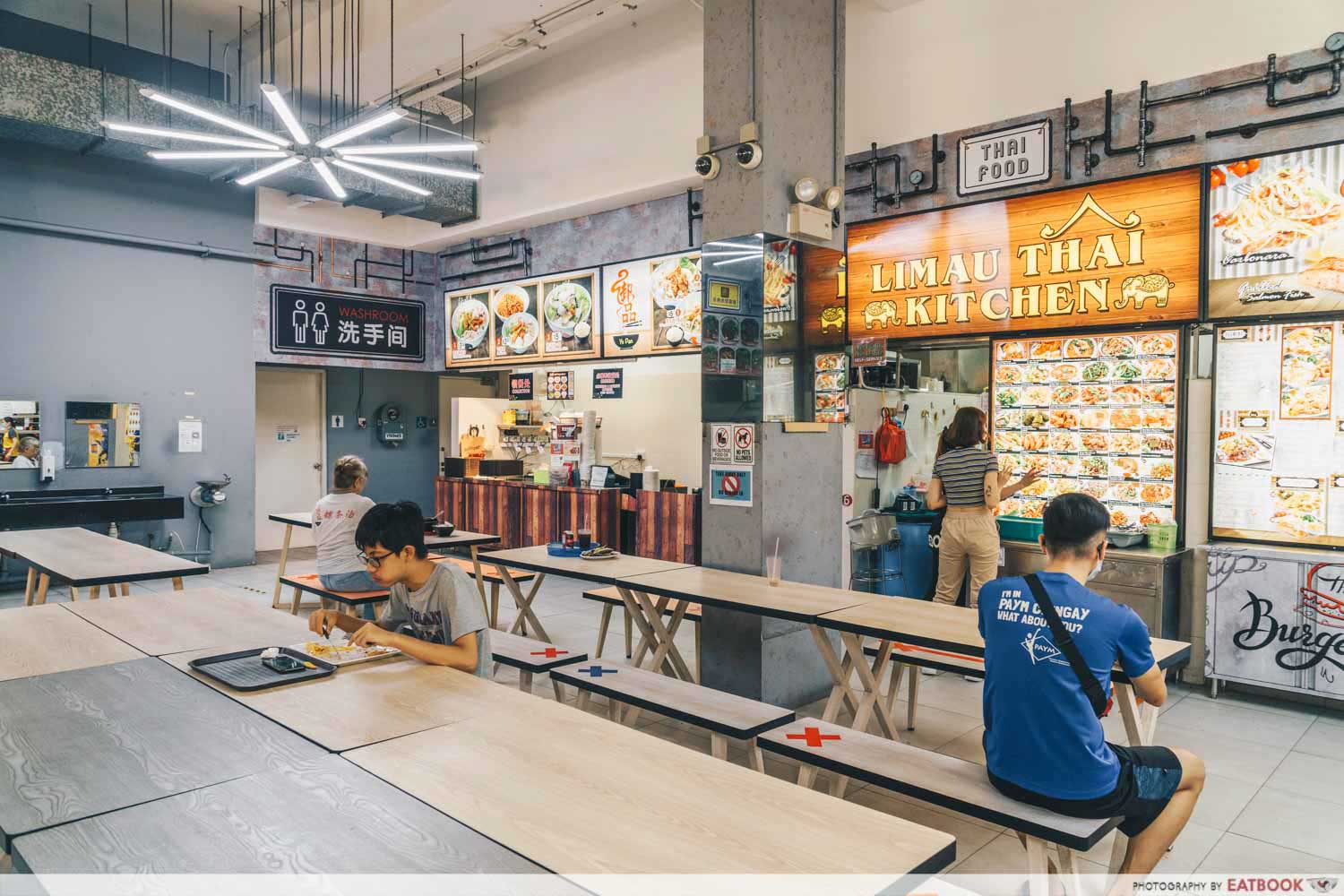 Buried deep in Woodlands, Limau Thai Kitchen is rather inaccessible, requiring a 10-minute bus ride from Sembawang MRT Station. The hawker centre itself has an interior similar to that of a food court, being spacious, brightly lit, and very clean. It was overall a comfortable place to enjoy our meal.
The verdict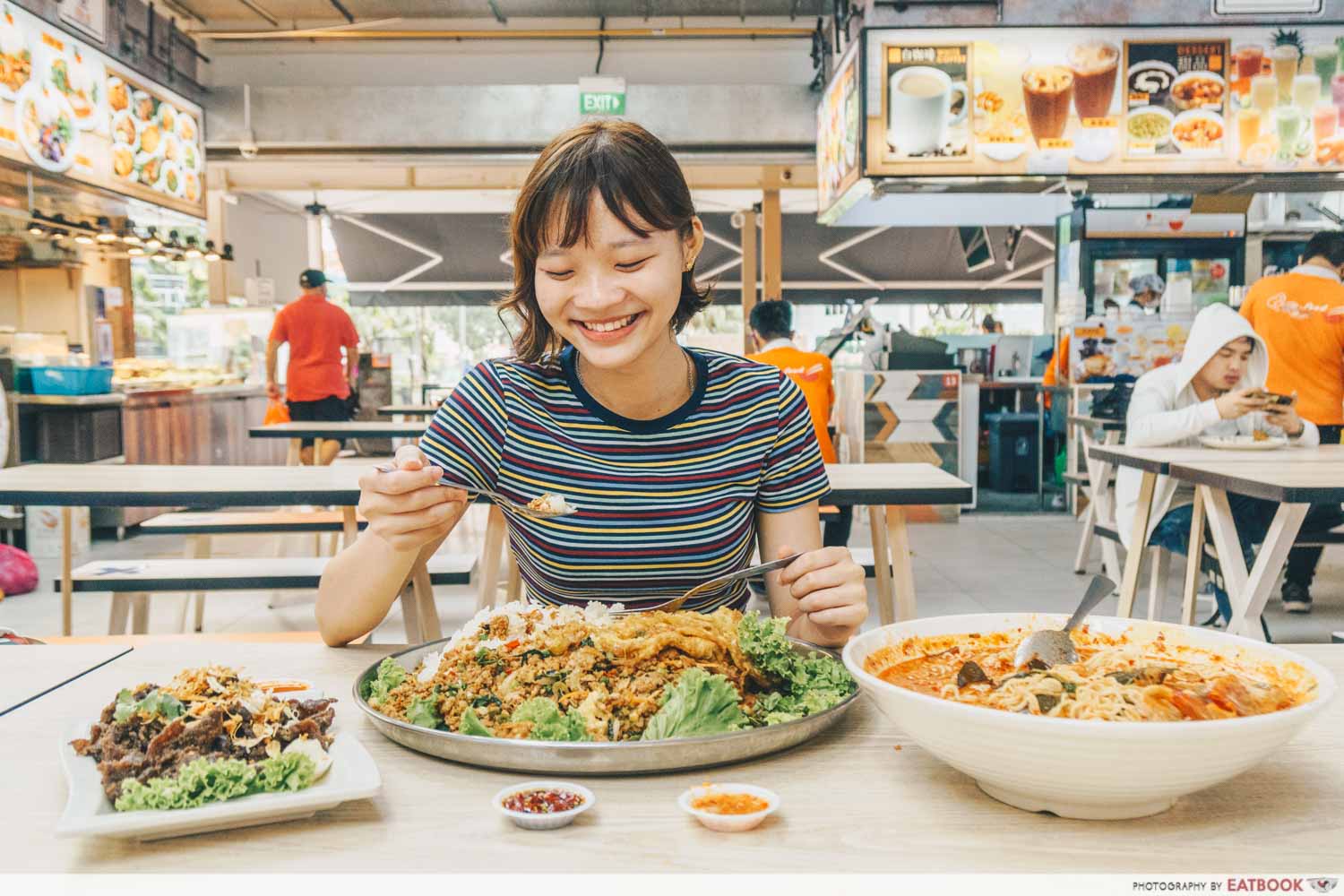 Limau Thai Kitchen has an extensive menu with a variety of reasonably priced items. Their XXL items are definitely well-worth your money, with the basil chicken rice being my personal favourite. However, the other dishes fell flat in taste, in spite of their generous portions. As a Northie, I would probably visit again, though it would be solely for their XXL basil chicken rice.
If you prefer to enjoy your fix of Thai food in the comfort of your home, do check out our list of Thai food delivery places.
Address: 785E Woodlands Rise #01-16, Food Paradise Woodlands, Singapore 735785
Opening hours: Daily 11am to 9pm
Tel: 9224 5992
Website
Limau Thai Kitchen is in the process of getting halal-certified.
Photos taken by Hay Thi.
This is an independent review by Eatbook.sg.
Summary
Pros
– Huge portions
– Cheap
– Delicious basil chicken rice
Cons
– Other dishes weren't great
Recommended dishes: Giant Basil Minced Chicken Rice & Omelette (from $15.90)
Opening hours: Daily 11am to 9pm
Address: 785E Woodlands Rise #01-16, Food Paradise Woodlands, Singapore 735785