Dong Fang Hong Sotong Ball Seafood Soup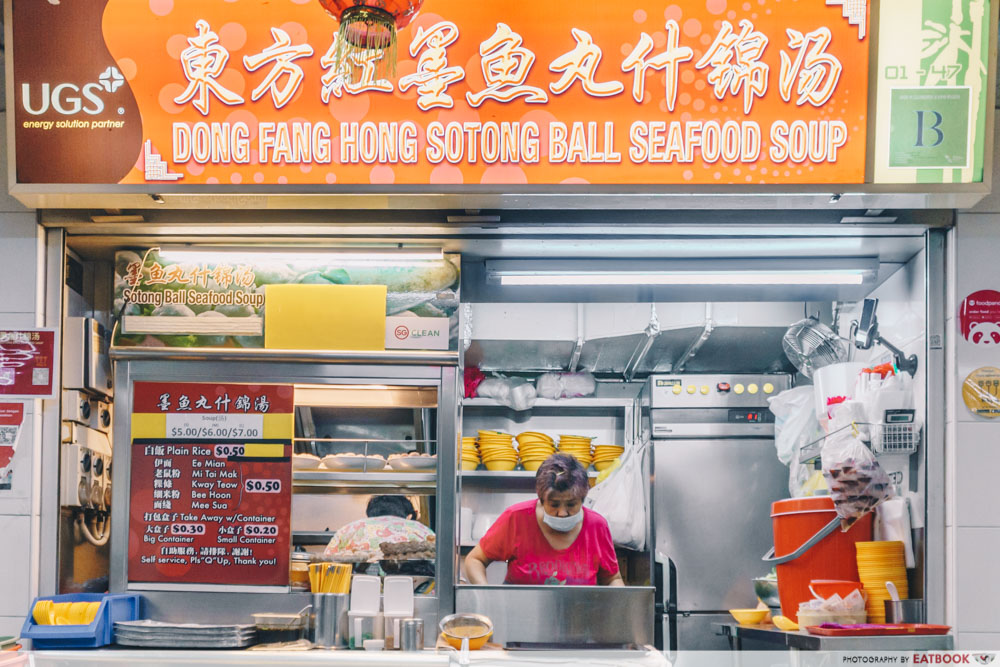 I'll admit, handmade ingredients have always compelled me, for all the handiwork that goes into them. So I was thrilled to find Dong Fang Hong Sotong Ball Seafood Soup, with its handcrafted sotong, meat, and fish balls in Chinatown.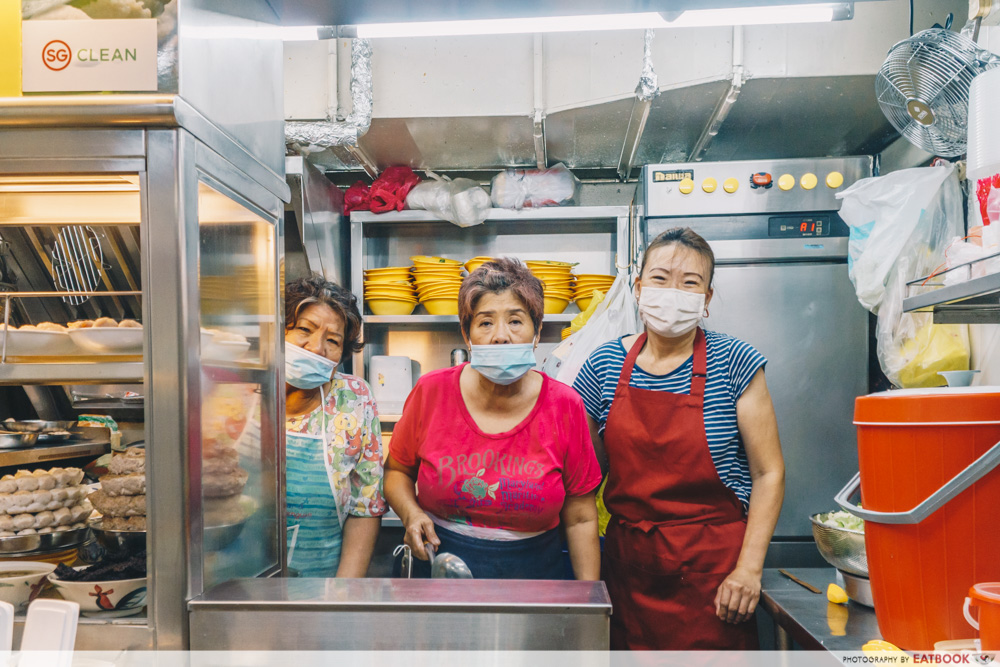 Running the stall are three sisters, who prepare their ingredients as early as 3am every day. Intrigued by their beginnings, I spoke with them and learned that they started helping out at their parents' street stall from a young age. This was before hawker centres were even constructed. Today, they continue this legacy at their humble location in Hong Lim Food Centre.
Food at Dong Fang Hong Sotong Ball Seafood Soup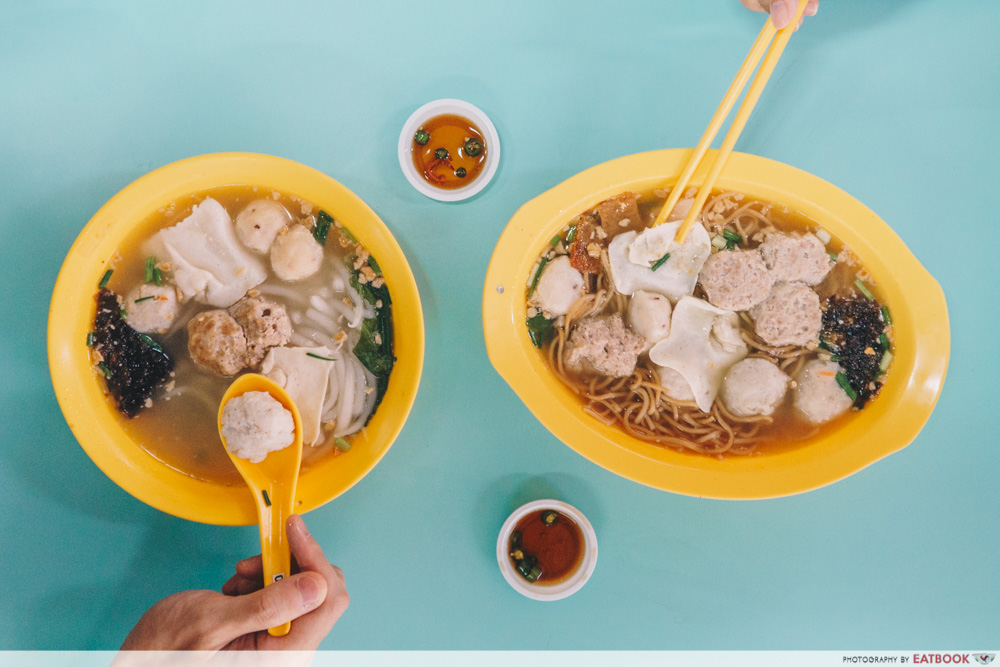 They only sell one item here—their signature Sotong Ball Seafood Soup. You can customise it with your preferred carb, be it ee mian, mee tai bak, kway teow, bee hoon, mee sua, or just a bowl of plain rice.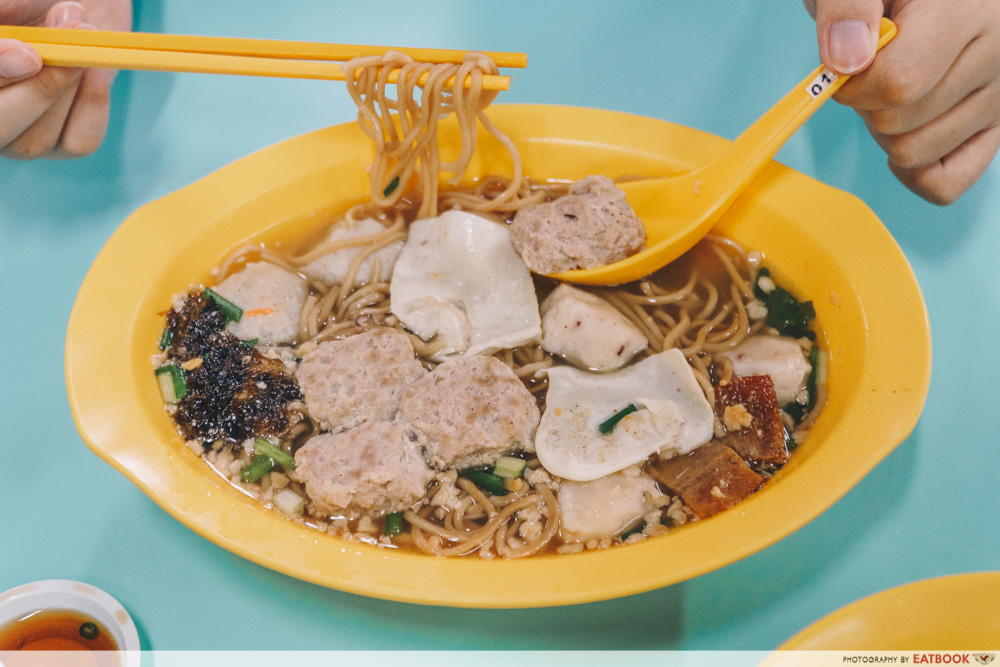 We got the Large Sotong Ball Seafood Soup ($7) and topped up $0.50 for ee mian. The bowl was brimming with squid, meat, and fish balls, as well as fish dumplings. Lettuce and seaweed were also included for a more balanced meal.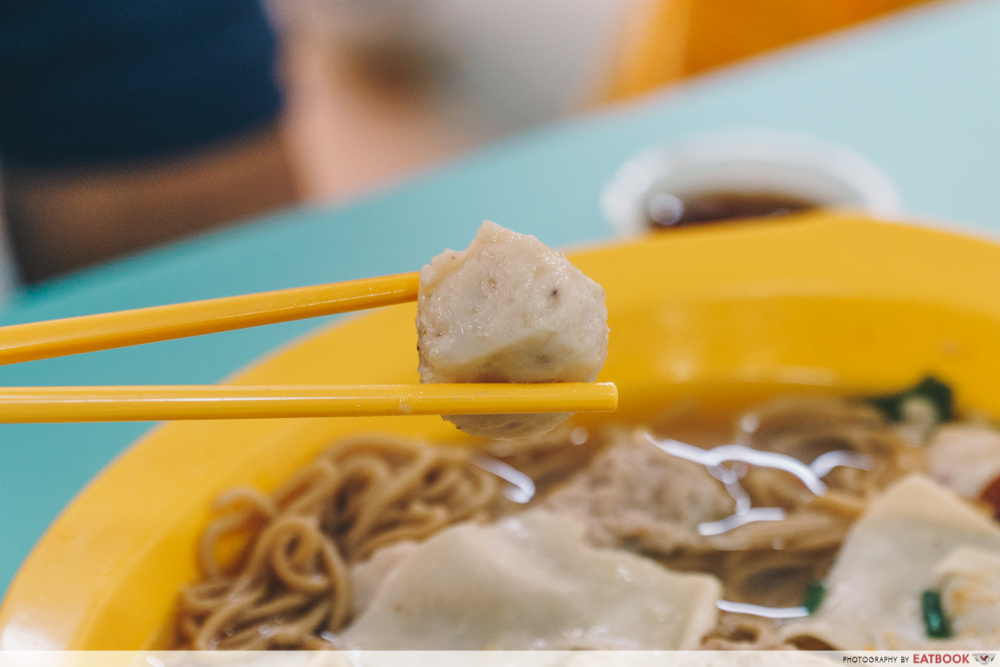 Using squid paste that is specially sourced from a Jurong market, their sotong balls were speckled with little bumps, a display of the sisters' handicraft. They gave a satisfying bite, and I enjoyed their briny flavour.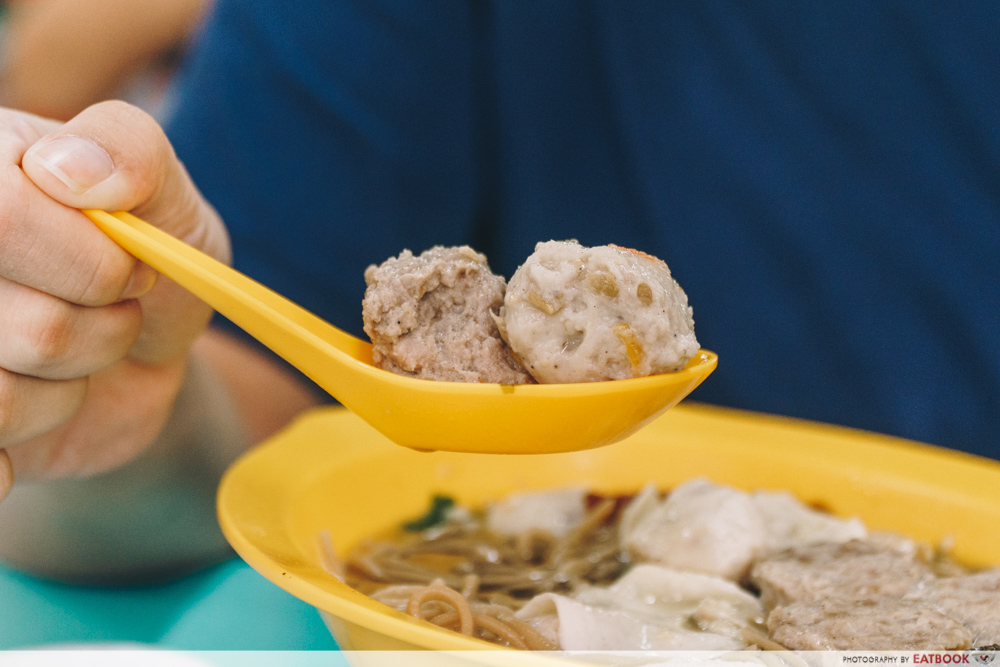 The fish balls are shaped from freshly ground fish meat, translucent instead of the opaque white, machine-made counterparts I was used to. You can taste the separate chunks of fish throughout the ball, and its natural sweetness.
Stuffed generously with minced pork, these meatballs were a level up from the frozen ones I get at the supermarket. What's more, they were well-seasoned, with hints of white pepper. For those with lighter taste buds, these might be too salty though.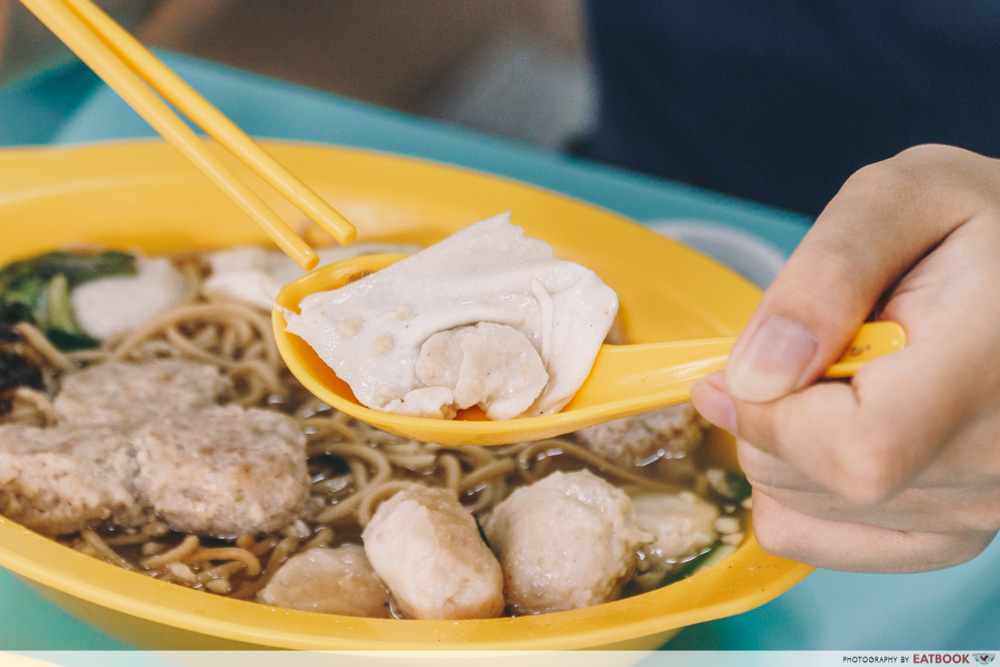 Recalling past CNY steamboats, my experiences with fish dumplings have been poor, with rubbery skin and mushy fillings. Here, though outsourced, they consisted of thin wrappers encasing juicy fish paste. The dumplings burst with flavour when I bit into them.
Equally as good as their handmade balls were the soup, which is boiled with flower crabs, fish, and chicken meat. Despite the variety of ingredients, they combined to form a coherent, clean-tasting broth.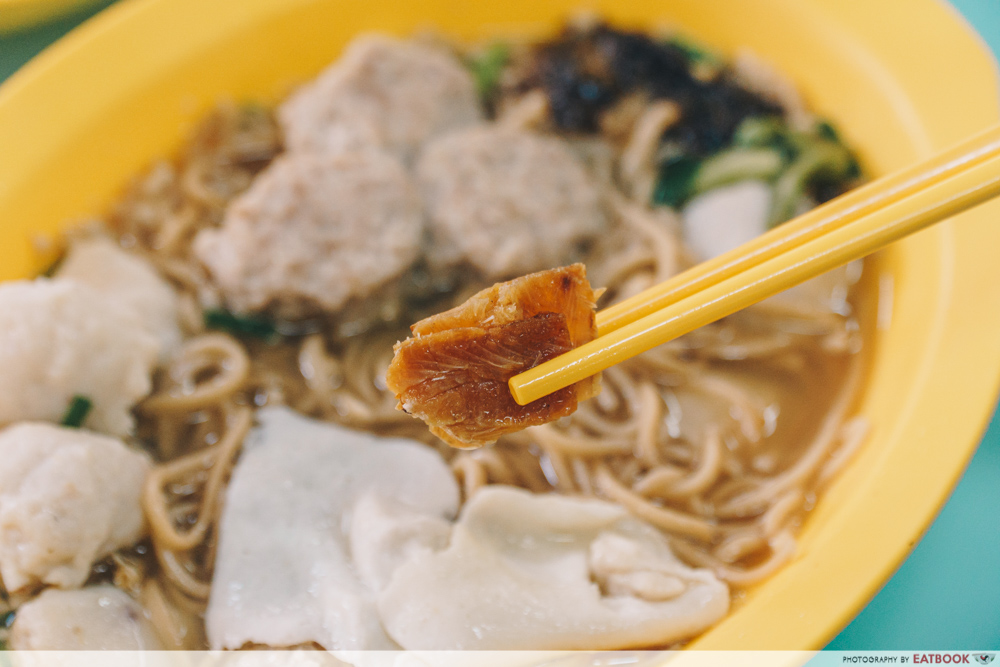 Dried sole fish pieces were also tossed inside for bursts of umami.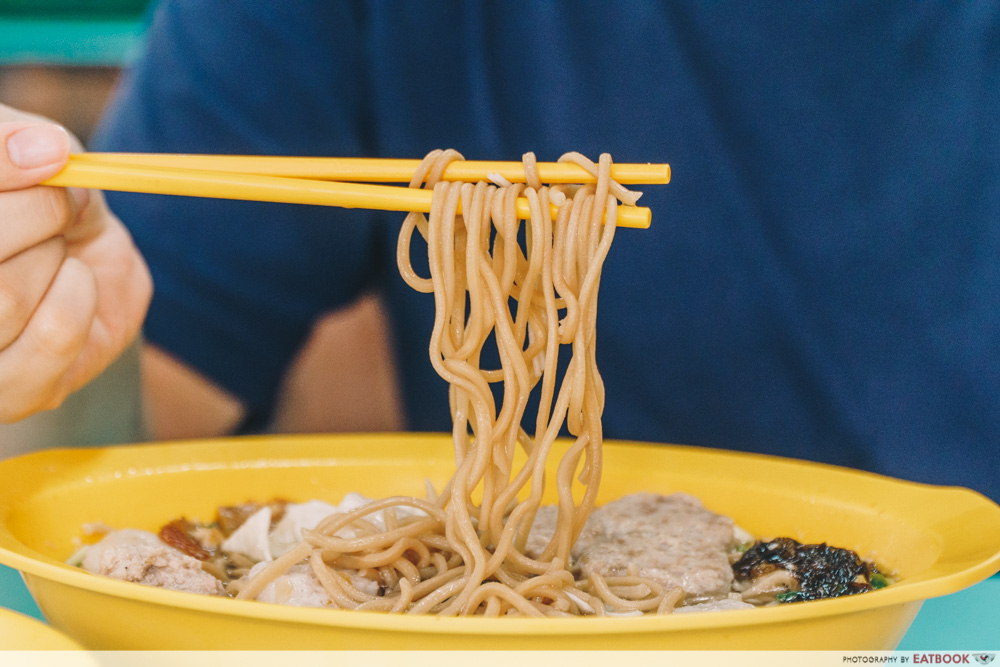 Our choice of ee mian proved to be a good one, as the eggy noodles complemented the soup. We recommend eating them quickly though, as they can taste rubbery when left out for too long.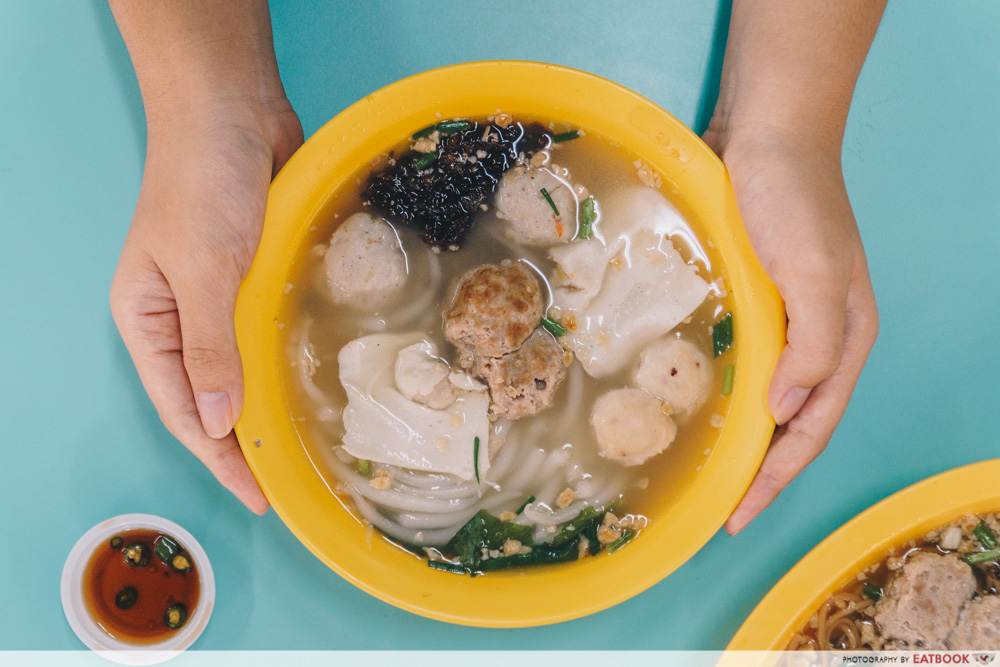 We also got the Small Sotong Ball Seafood Soup ($5) with added mee tai bak for $0.50.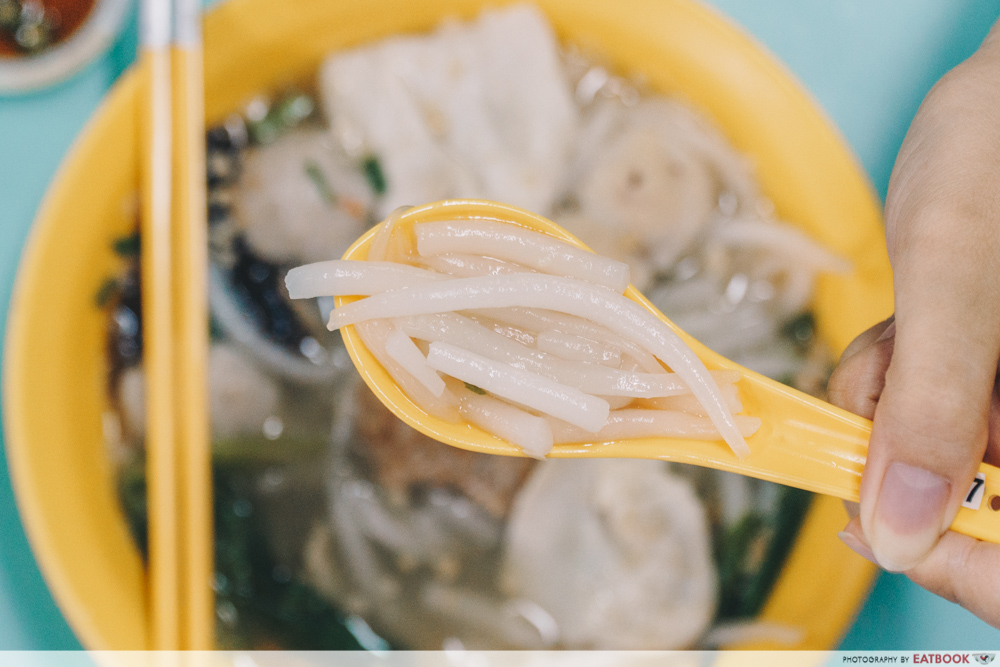 If you are a fan of chewy textures, mee tai bak is the carb for you. These slippery rice noodles absorbed the soup well, and provided a good bite.
Ambience at Dong Fang Hong Sotong Ball Seafood Soup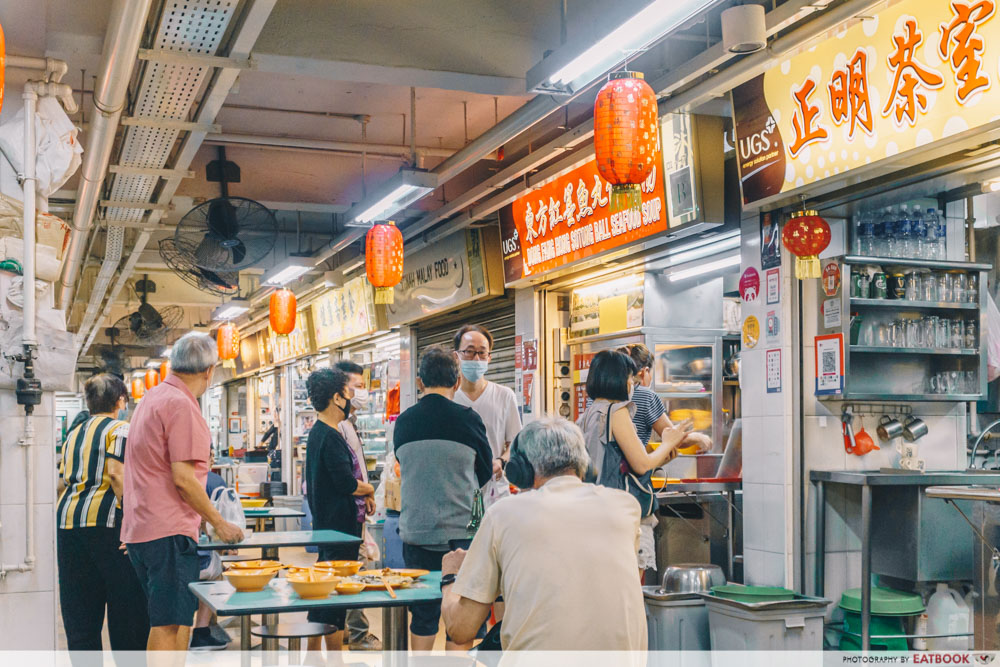 Conveniently located a five-minute walk from Chinatown MRT station, Hong Lim Market & Food Centre is no stranger to many, sporting large crowds and snaking queues any time of the day.
Though well-ventilated, the inner area where the stall is located can get rather claustrophobic, so we recommend sitting outside. As the tables are cleaned regularly, the environment is hygienic and comfortable for dining.
The verdict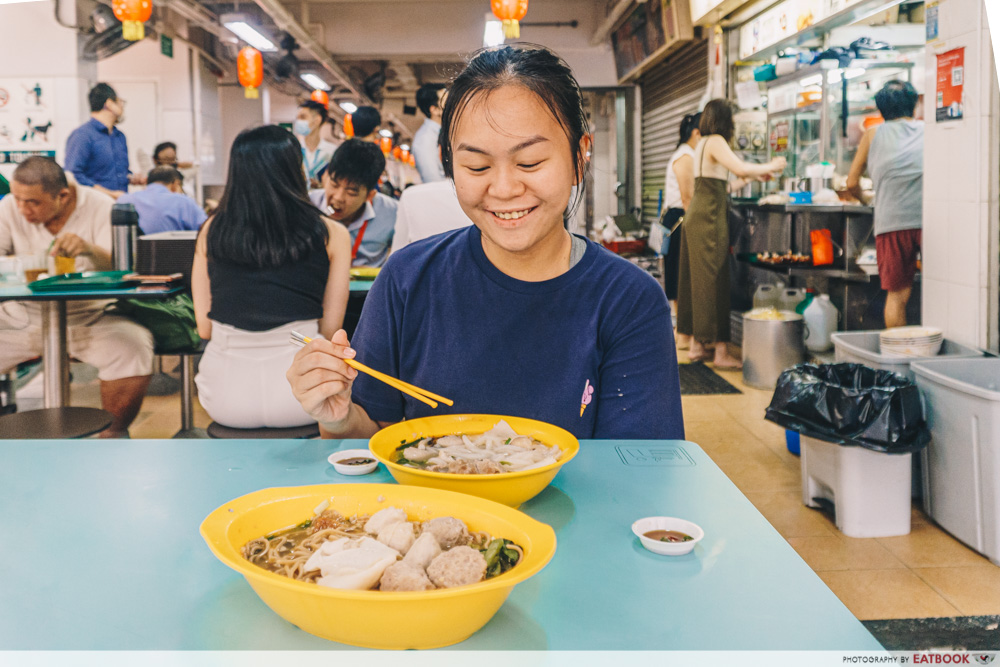 On the whole, Dong Fang Hong Sotong Ball Seafood Soup proved to be a stand-out, amidst the treasure trove of popular food stalls in Hong Lim. They embody everything I love about hawker cuisine—affordable prices and honest food. Do note that their opening hours can be unpredictable though. With that, I'll definitely come back to enjoy another bowl of seafood soup.
If you are looking for more Chinatown hawker options, check out our Mian Zhuang review where we try QQ handmade ban mian, or our Really Something review for cheap Taiwanese food.
Address: Blk 531A Upper Cross Street, #01-47, Hong Lim Market & Food Centre, Singapore 051531
Opening hours: Mon-Thurs 11am to 2pm
Dong Fang Hong Sotong Ball Seafood Soup is not a halal-certified eatery.
Photos taken by Natalie Ng.
This is an independent review by Eatbook.sg.
Dong Fang Hong Sotong Ball Seafood Soup Review: Handmade Fishball Noodles By Three Sisters In Chinatown
Summary
Pros
– Delicious handmade ingredients
– Clean-tasting broth
Cons
– Ee mian can get rubbery when cold
– Long queue
Recommended dishes: Sotong Ball Seafood Soup (from $5)
Opening hours: Mon-Thur 11am to 2pm
Address: Blk 531A Upper Cross Street, #01-47, Hong Lim Market & Food Centre, Singapore 051531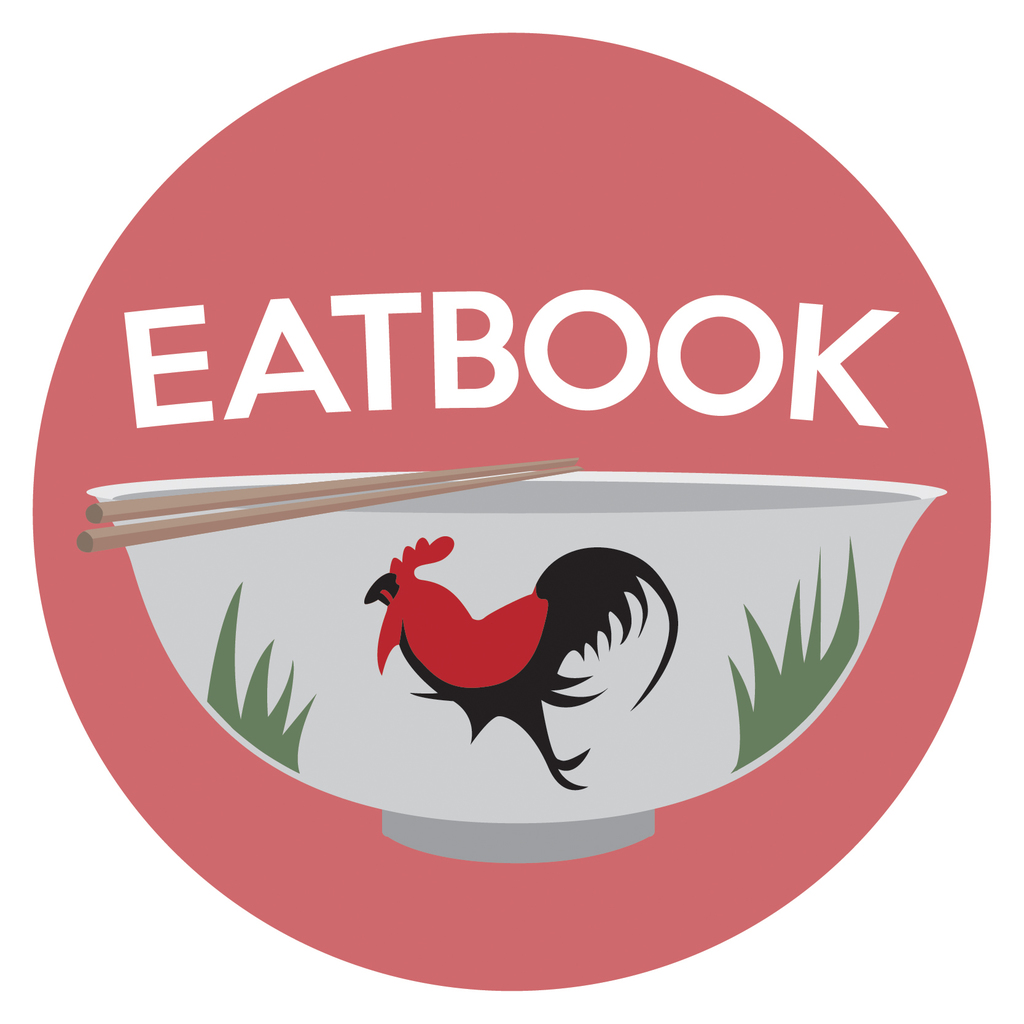 Drop us your email so you won't miss the latest news.