Abang Curry has fusion curry rice at JEM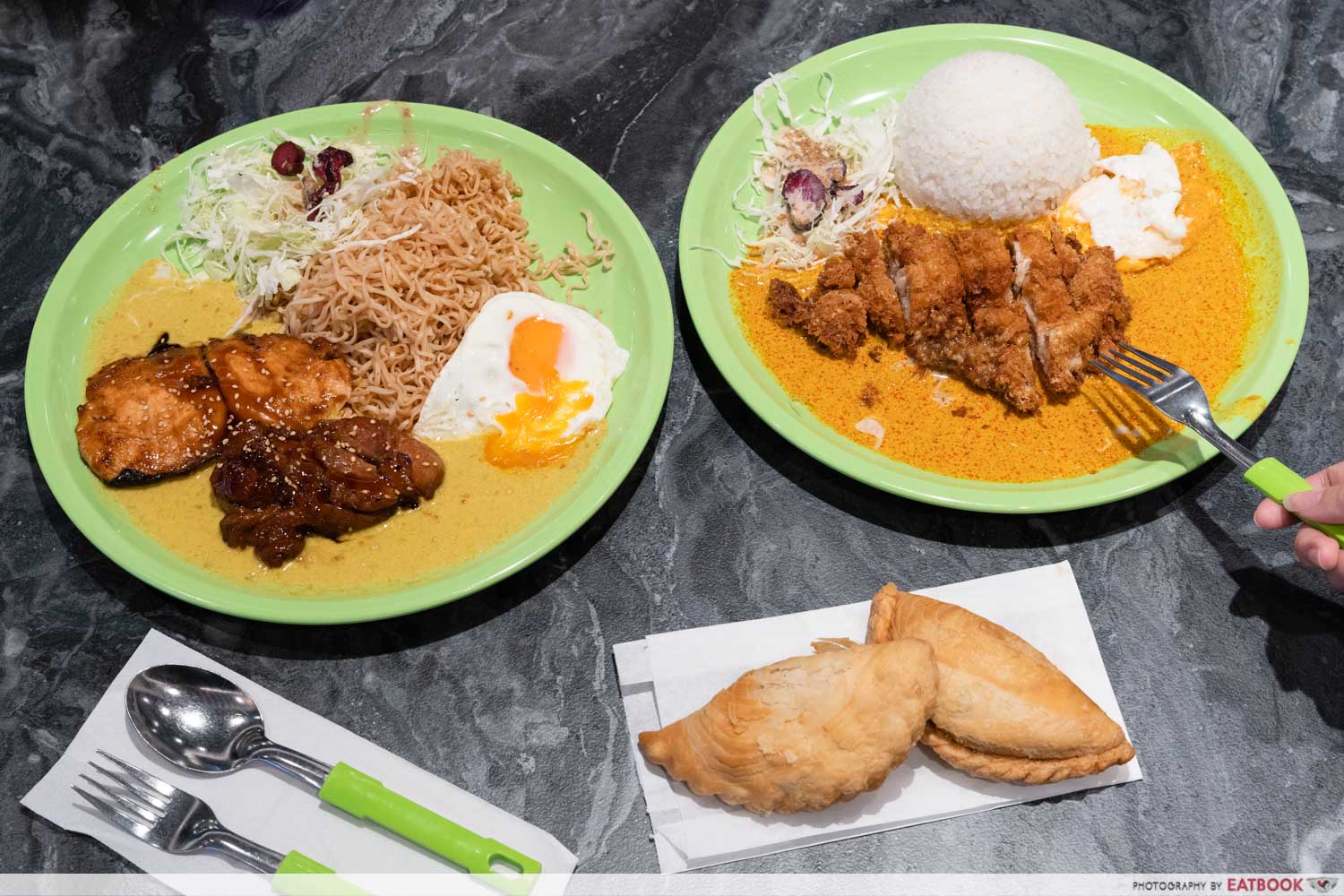 I like visiting Jurong East for its big three: JEM, Westgate, and IMM. Not only can you get lots of shopping done, but it's also my personal food heaven, housing a number of my favourite food places. Recently, we covered a guide to JEM's new Kopitiam Food Hall! Joining this list is Abang Curry, known for their curry dishes that combine Japanese and Singaporean flavours.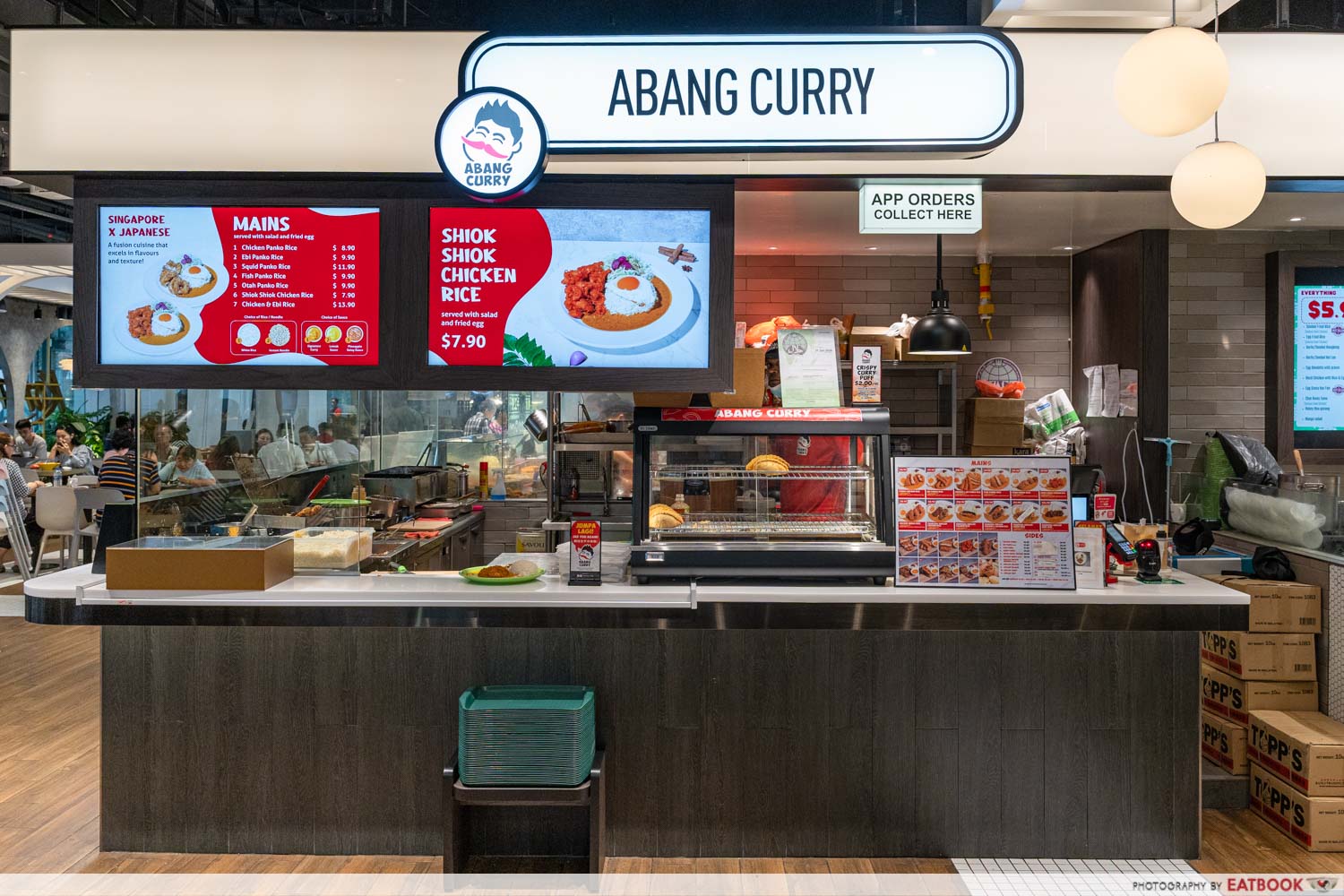 Abang Curry's dishes feature ingredients such as panko, charcoal-grilled meats, and locally-inspired sauces. Their Muslim chef, Kak Wati, started learning to cook from her mother when she was 12 and has been cooking ever since. 
Additionally, their curry puff recipe originates from the 1970s. Today, these puffs are still handmade and supplied by a central kitchen run by Sakura Forte, which is also known for their catering services. 
Food at Abang Curry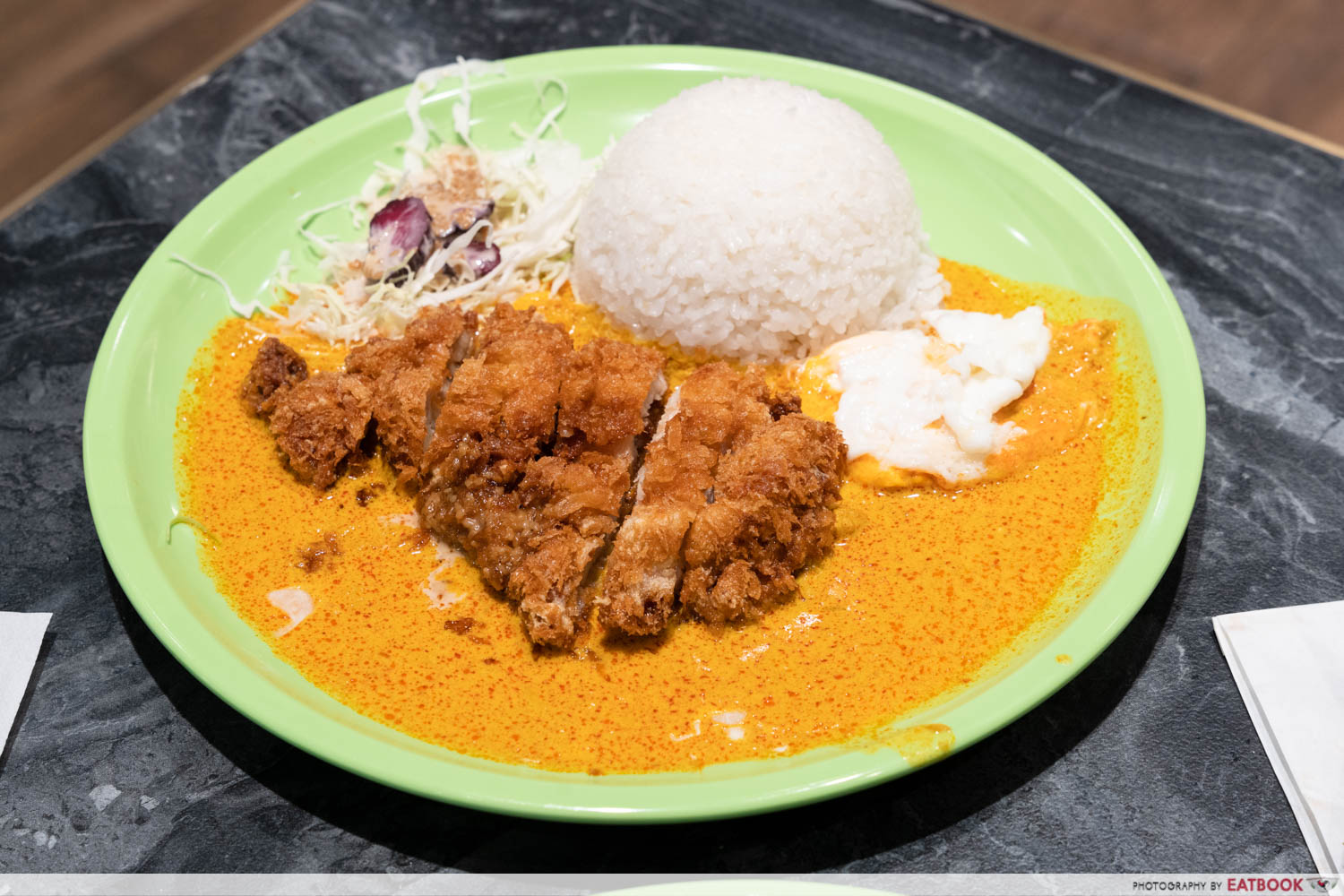 Here, you get to choose from three types of sauces to accompany your rice dish, including Nanyang Curry, Lemak Sauce, and Pineapple Satay Sauce. Each rice dish also comes with a fried egg and a small salad, splashed with sesame dressing. 
We started with their signature dish, Panko Chicken Rice ($7.90), which stars a deep-fried chicken cutlet, and chose to pair it with Nanyang Curry. Upon trying the chicken, I found the panko-coated exterior really crispy. The reasonable batter-to-meat ratio also allowed me to fully enjoy the juicy, well-marinated meat.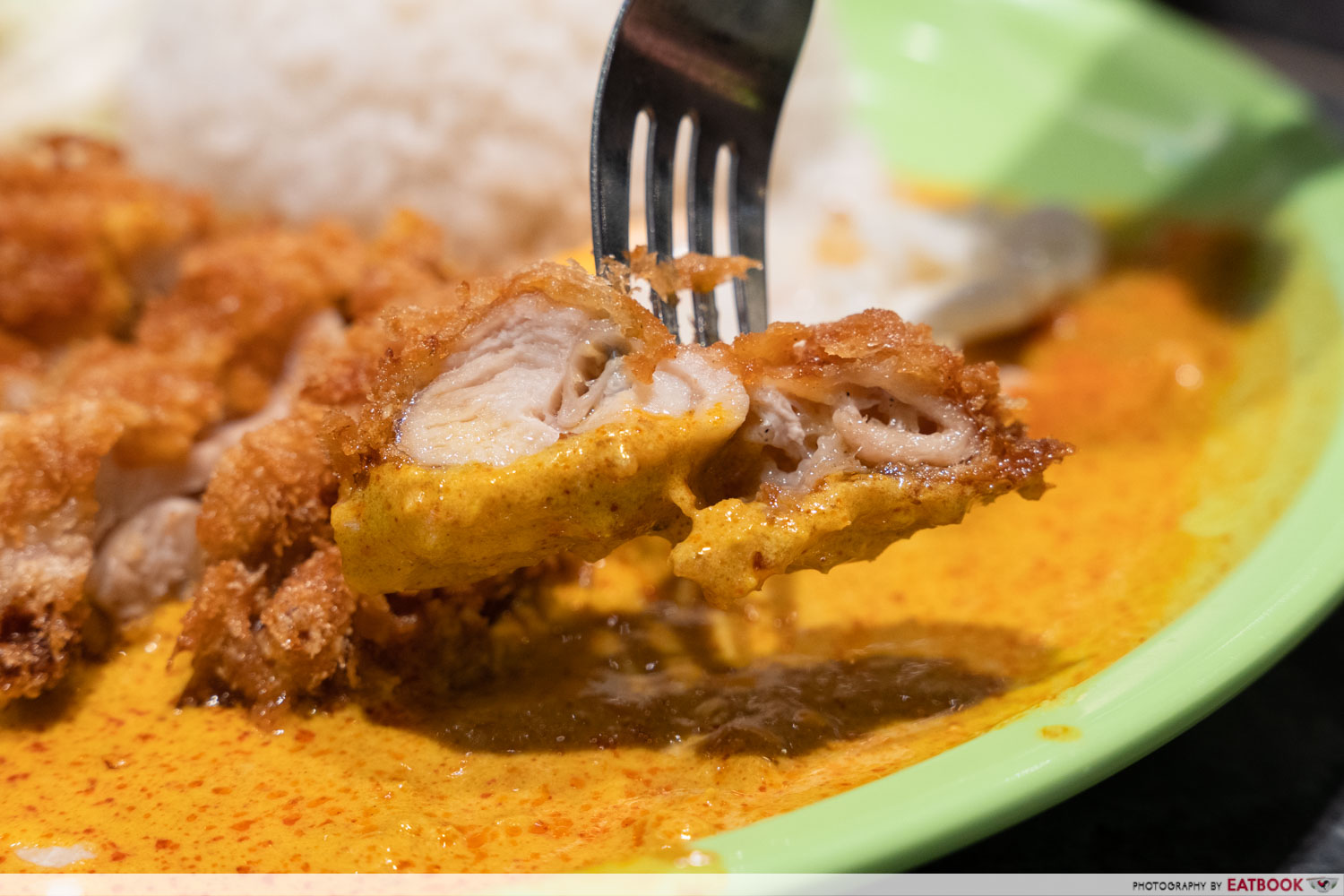 I found the thin curry quite tasty, but my dining companion wished it could have been more gao and spicy. While I didn't mind the curry being on the lighter side, since it meant it didn't get jelak, this could be underwhelming for those who prefer stronger flavours such as my dining companion. They do provide house-made belacan, which you could potentially add to the curry for extra punch and flavour.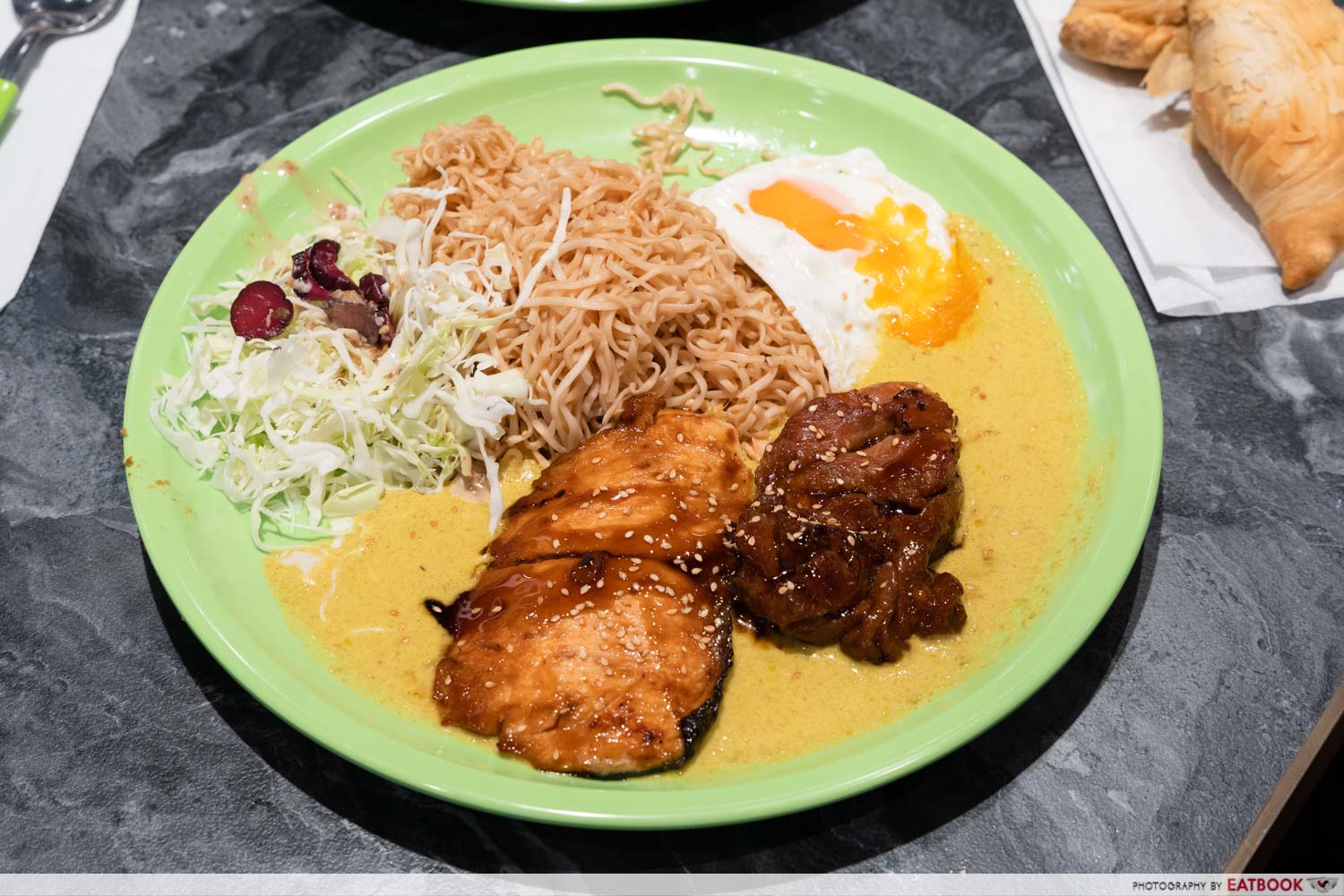 Moving on, we had Charcoal Grilled Chicken & Salmon ($14.90) which came with grilled chicken and salmon, and which we requested to have with Lemak Sauce. I also asked to swap the rice for stir-fried Maggi noodles. 
The grilled chicken was tender and relatively easy to cut through, with a nice balance of sweet and savouriness. I also liked how it was moist and tender, but would have preferred a crispier skin.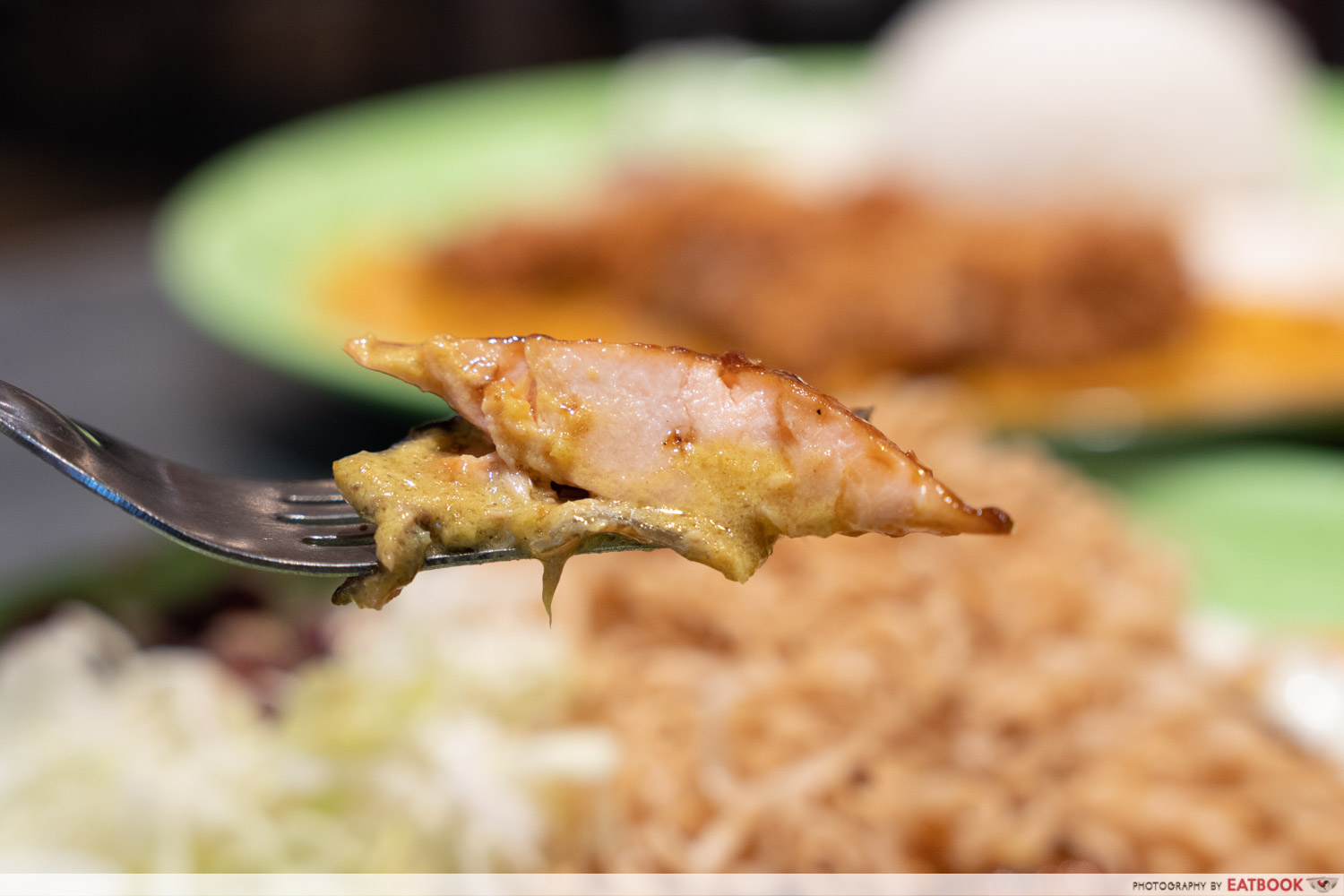 Likewise, the salmon was moist and well-cooked. It tasted fresh too, and not at all fishy. In turn, the accompanying Lemak Sauce was lighter and sweeter, but less spicy as compared to the Nanyang Curry. However, my colleague remarked that the combination of sweet teriyaki sauce on the salmon and Lemak Sauce tasted slightly off-putting. You could perhaps try this with a different gravy instead.
I requested to try some of the Pineapple Satay Sauce afterwards, which one of Abang Curry's employees poured generously onto my plate. I found this quite sweet and nutty on its own, so you could choose to pair this with the salmon instead!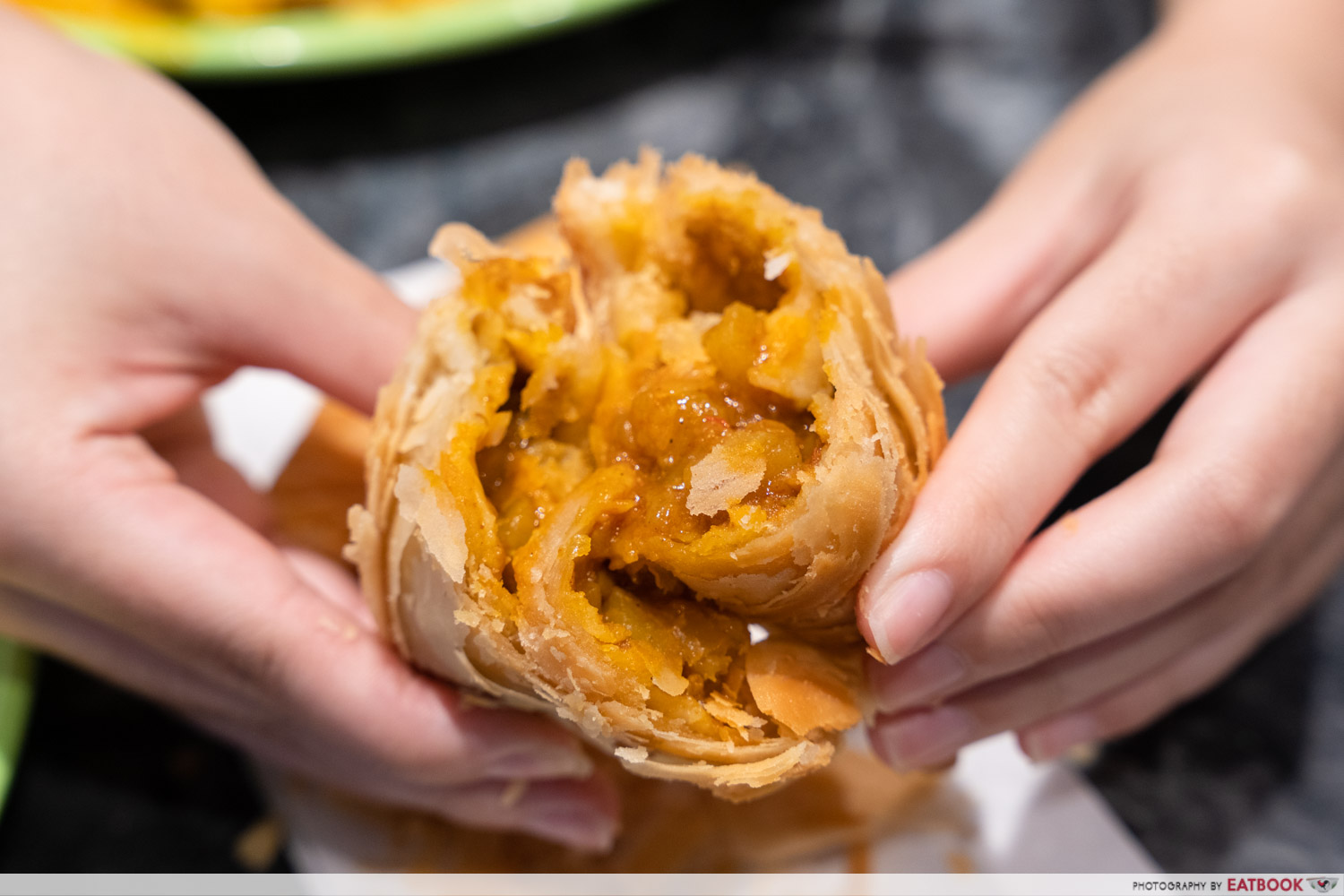 We ended our meal with two pieces of their Crispy Curry Puff ($2). I ordered them with a filling of chicken curry, but you also have the choice of two other flavours: potato curry and sardine. The crust was ultra flaky and crispy, which made breaking into this quite messy, but wasn't as buttery as I would have liked.
The filling was generous with tasty, tender potato chunks, and flavourful curry that wasn't too spicy. Instead of a chunky, dry curry, you'll find this curry puff contains a centre of creamy curry, which I prefer. However, the chicken bits were quite small and unmemorable.
Ambience at Abang Curry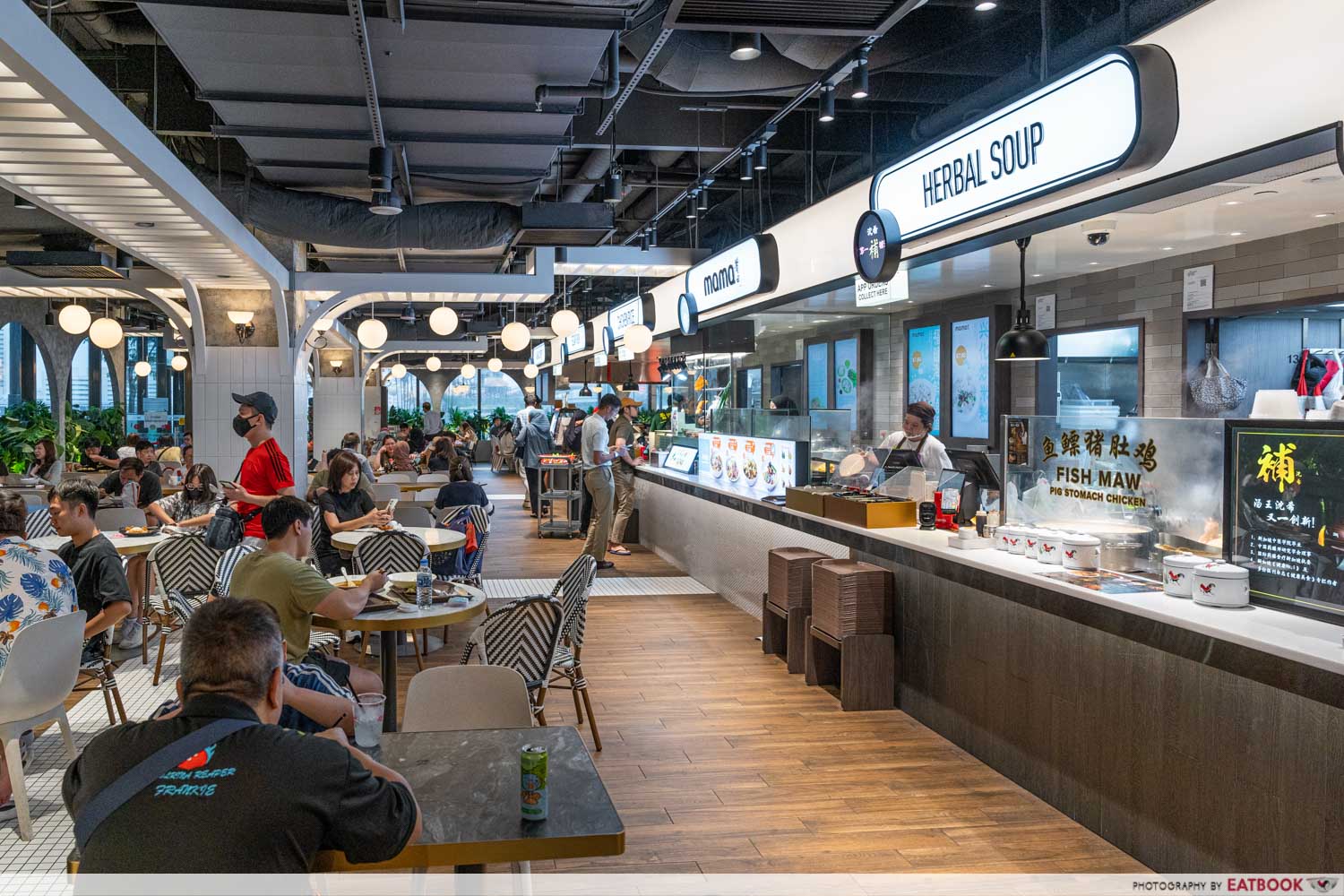 Abang Curry is located a short four-minute walk away from Jurong East MRT Station. We were there at lunchtime, so the kopitiam was packed with people. I'd recommend that you visit the stall before or after the lunchtime peak period for a better dining experience, as I noticed that the crowd was significantly reduced outside of the lunch hours. 
We encountered a short queue at the stall, but ordering is quite efficient. You'll get a buzzer so you know when your order's ready. I had to wait about 20 minutes for the bulk of my food, though they did give me my curry puffs first. You can even ask them for extra sauce and belacan! 
The verdict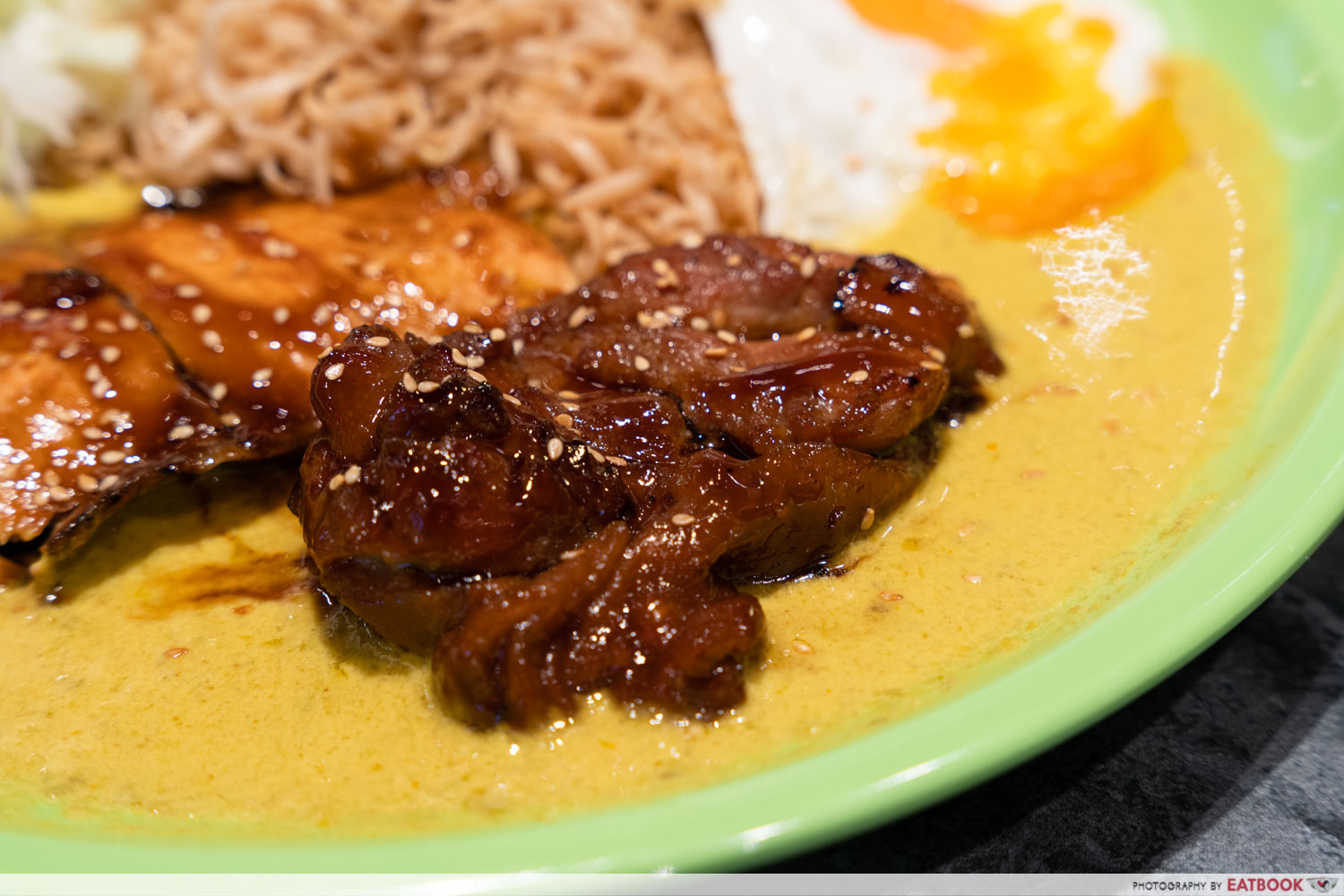 I liked the hearty portions and how well-cooked the different meats were at Abang Curry. I felt that the two curry sauces were not robust enough to be memorable, but the Pineapple Satay Sauce was quite appetising. The plates here are pretty value-for-money, and even though some elements could be better, I would still put Abang Curry on my list of food spots in Jurong East. 
If you want more curry rice dishes, check out Beach Road Scissors Cut Curry Rice that's now open in VivoCity too! Alternatively, read our guide to the most famous curry rice spots in Singapore! 
JEM
Address: 50 Jurong Gateway Road, #05-01, JEM Shopping Mall, Singapore 608549
Opening hours: Daily 10am to 10pm
Bedok South
Address: Blk 152A Bedok South Road, #01-01, Singapore 461152
Opening hours: Daily 10am to 9:30pm
Website
Abang Curry is a halal-certified eatery.
Photos taken by Melvin Mak.
This was an independent review by Eatbook.sg
15 Most Famous Curry Rice Spots In Singapore For Cheap And Shiok Curry Rice
Abang Curry Review: Halal Japanese Fusion Curry Rice In Jurong East
Abang Curry Review: Halal Japanese Fusion Curry Rice In Jurong East -

7/10
Summary
Pros
– Tasty salmon and chicken dishes, reasonable portions
– Meats were well-cooked
– Convenient location
Cons
– Nanyang Curry and Lemak Sauce were not robust in flavour
– Some sauces do not complement the dishes
– Difficult to find seats during lunchtime
Recommended dishes: Panko Chicken Rice ($7.90), Crispy Curry Puff ($2)
Opening hours: Daily 10am to 10pm
Address: 50 Jurong Gateway Road, #05-01, JEM Shopping Mall, Singapore 608549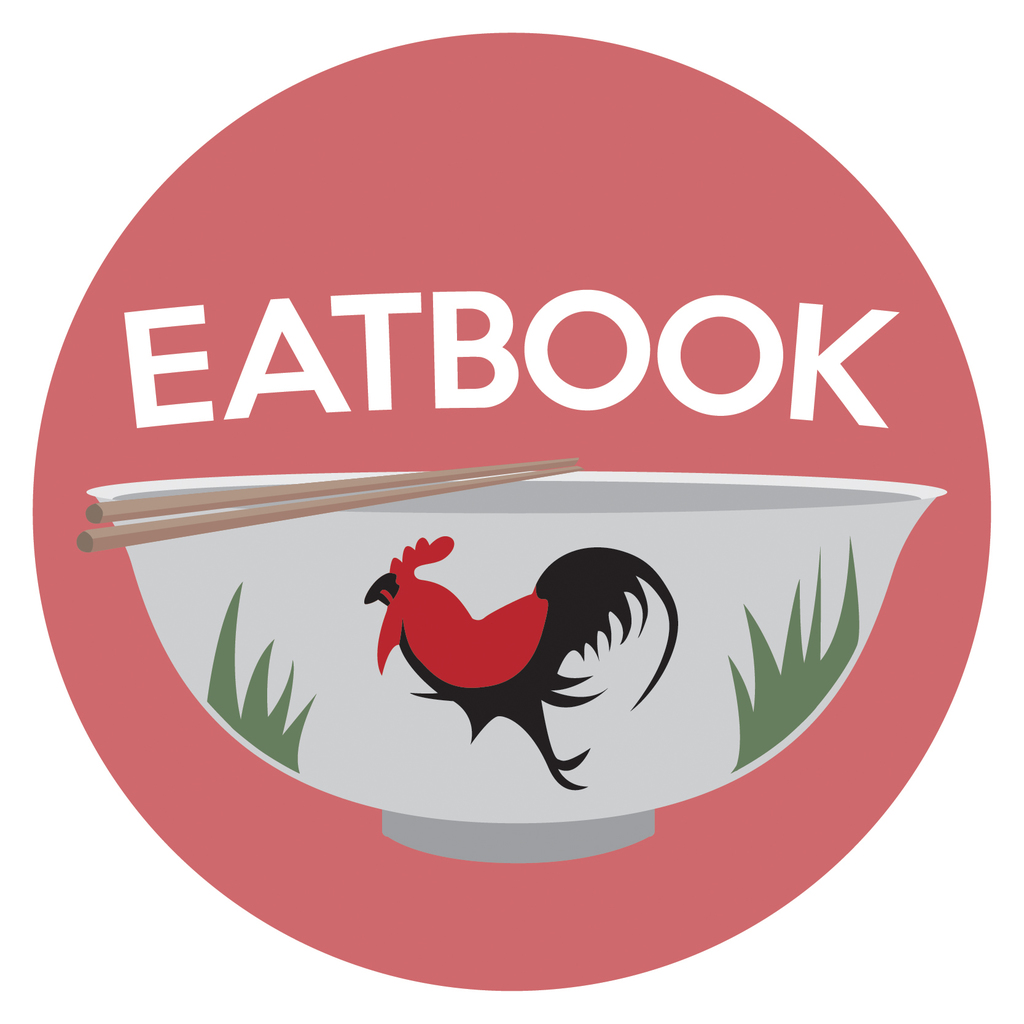 Drop us your email so you won't miss the latest news.