Peri Peri Grille And Pasta has Louisiana-style po'boy and more in Potong Pasir

I'm a huge fan of Hainanese Western food—I often reminisce about its nostalgic, old-school taste, and I'm always on the hunt for new places to satisfy these cravings. Recently, during one of our trips to Potong Pasir, we stumbled upon Peri Peri Grille and Pasta, which is well known for their extensive Western food menu, including po'boys, which you don't see often here. 
13 Old-School Western Food Stalls In Singapore For XXL Chicken Cutlet And Fish And Chips From $6
Food at Peri Peri Grille and Pasta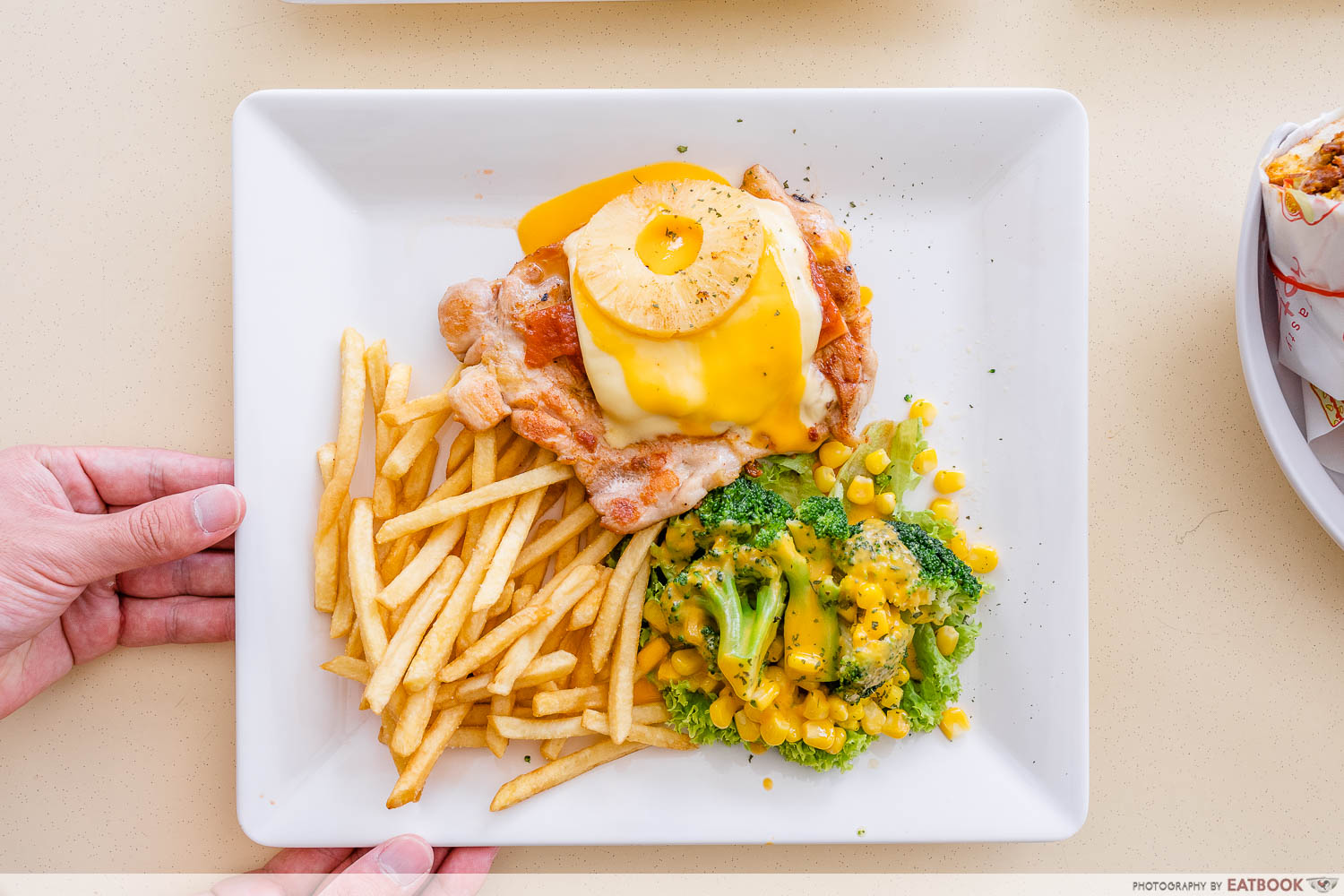 I was excited to start with the Hawaiian Chicken ($9.80), which looked sinfully delicious with a slice of melted cheese, pineapple, ham, and cheddar cheese sauce slathered over a whole piece of grilled chicken. We chose fries and broccoli with corn as our sides, which gave our dish a pop of colour.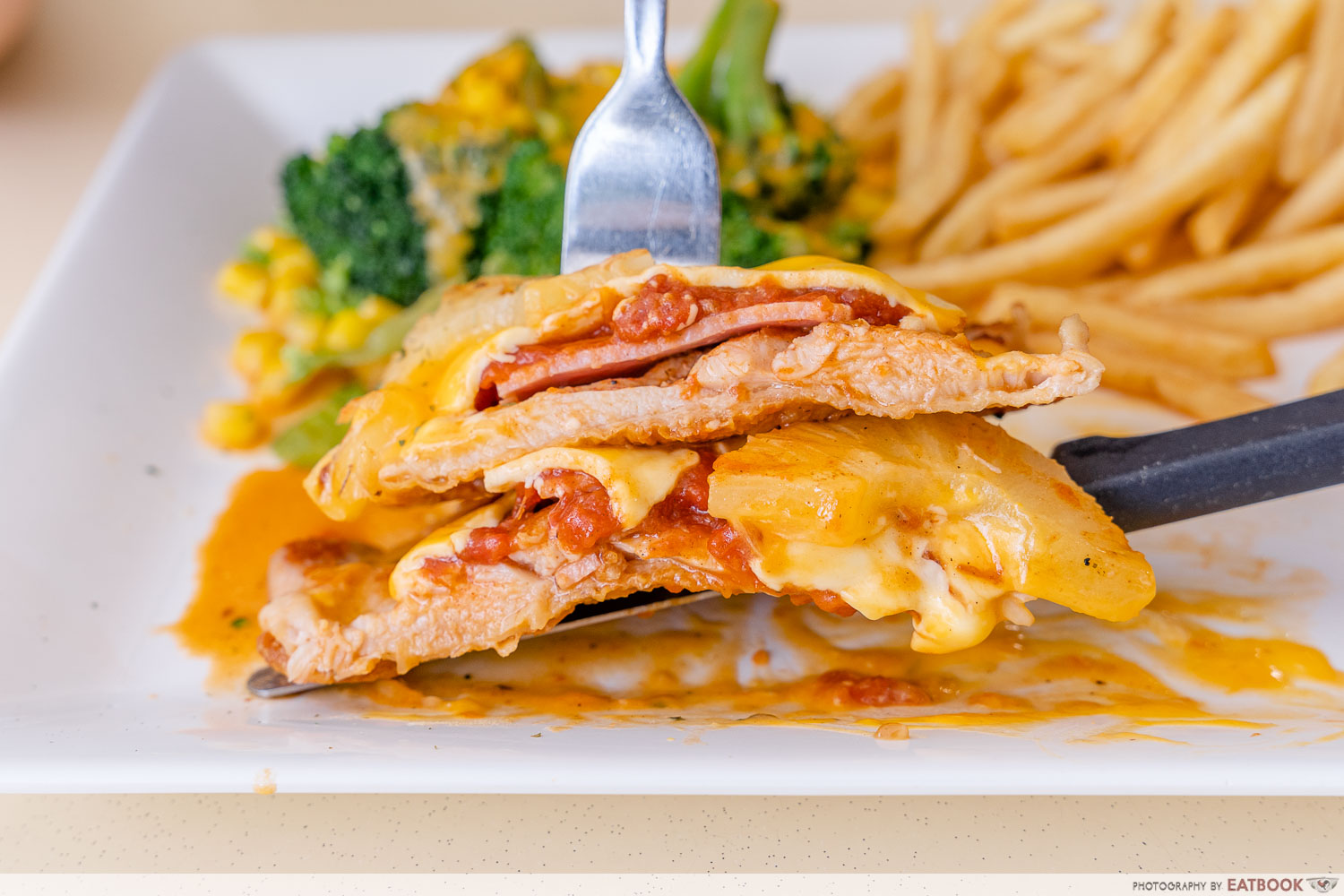 The mount of toppings added a medley of flavour to the grilled chicken. There was a good bit of sweetness from the tomato sauce, a touch of saltiness from the ham, and a rich depth of savouriness from the grilled chicken itself. The slice of pineapple also gave a sweet, juicy crunch, and a note of fruity tartness. This was undoubtedly an addictive dish which I enjoyed.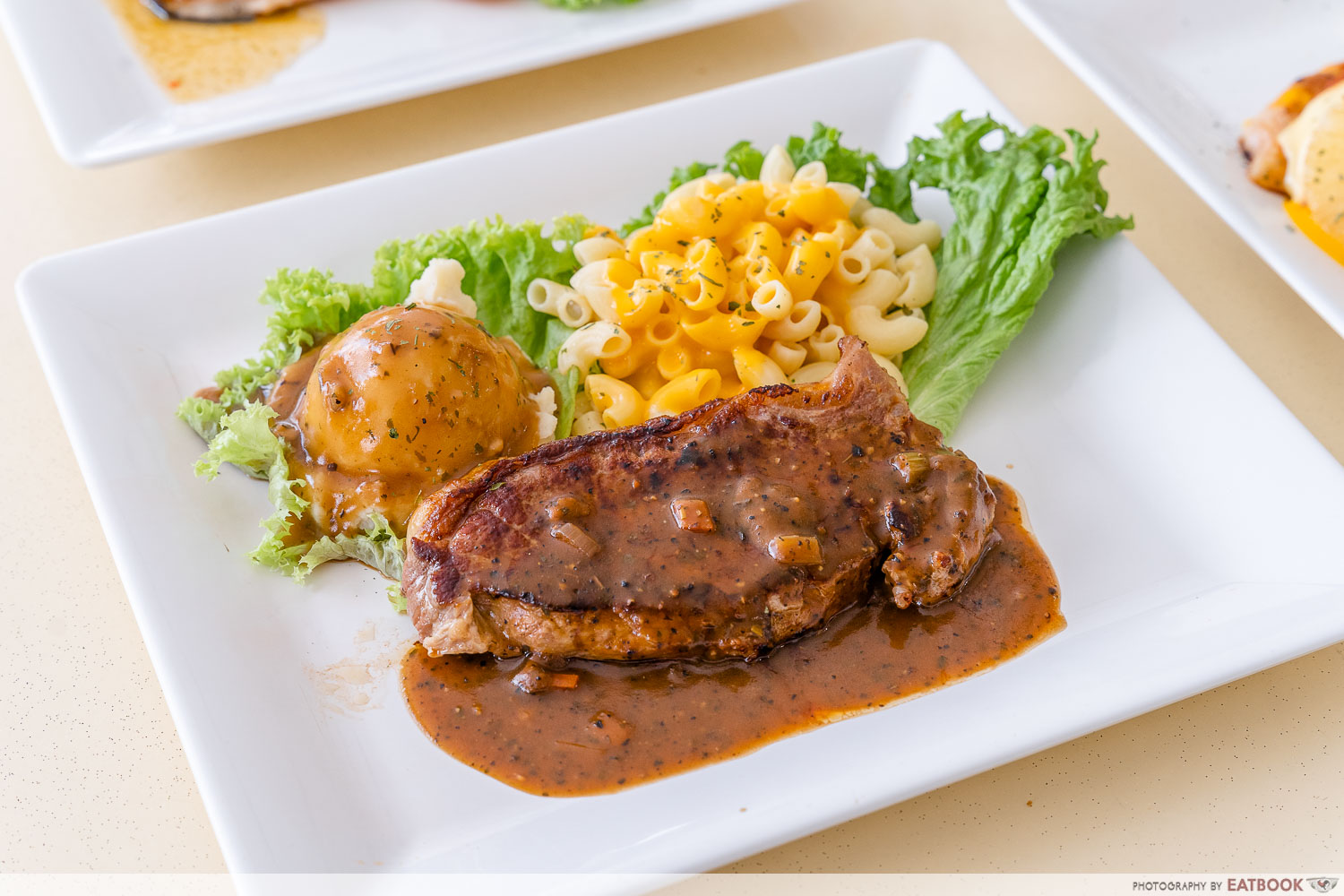 Next, we tried their Black Pepper Steak ($13.90). We ordered our steak medium-rare, and it was served slathered in their house-made black pepper sauce. Here, we got mashed potatoes and mac and cheese to be paired with our steak.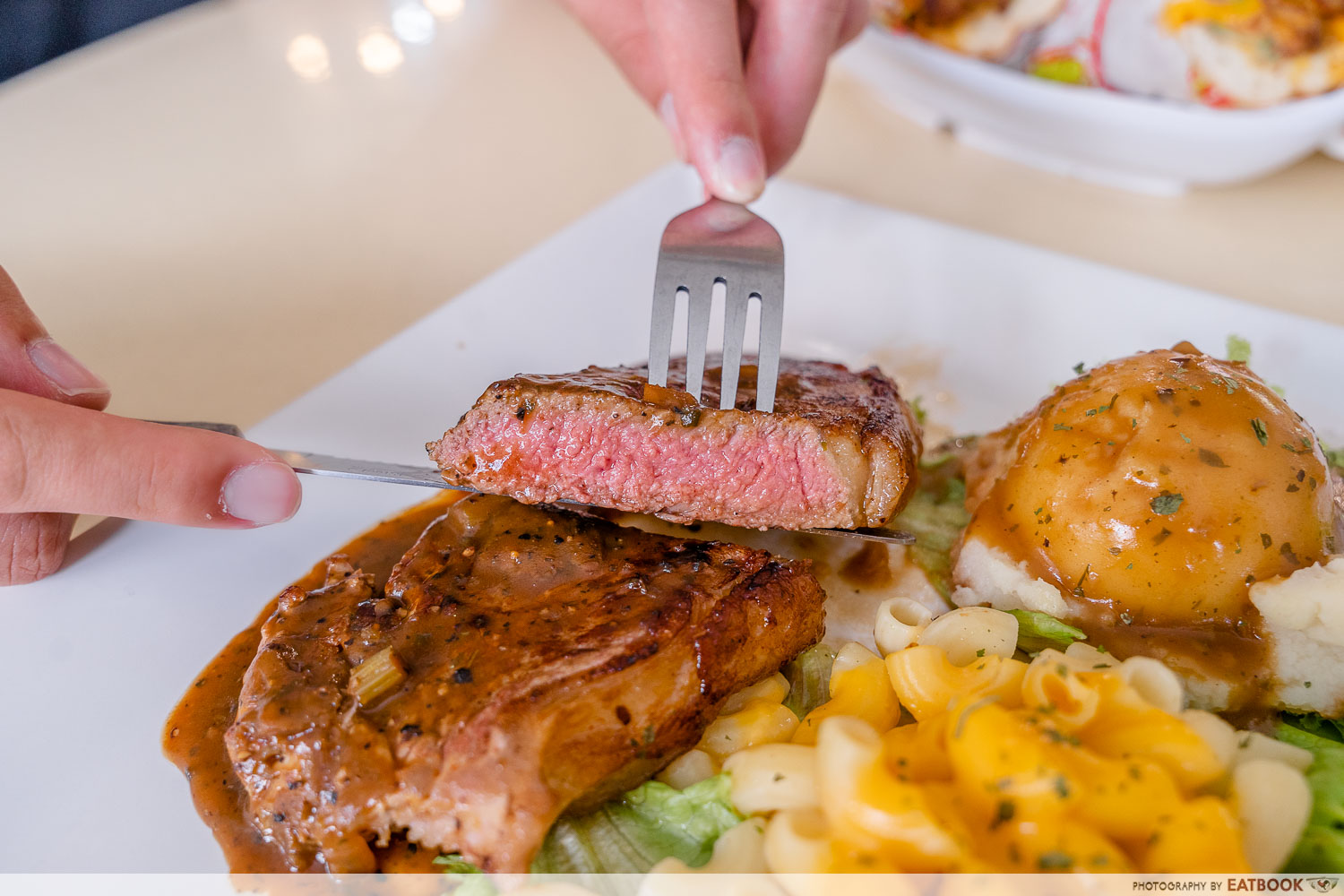 Based on my previous experiences with steaks served in hawker centres, the quality of the steak is often a hit or miss, depending on how well the meat is prepared. Cutting into the steak revealed a bright pink cross-section, which was a mark of well-cooked steak. It was indeed tender, but I found it to be slightly dry. 
Thankfully, the black pepper sauce added some much-needed moisture to the steak, which made it more palatable. It was only a tad unfortunate that the black pepper sauce didn't boast the rich, spicy flavour that I expected, and was not as thick as I wished it to be.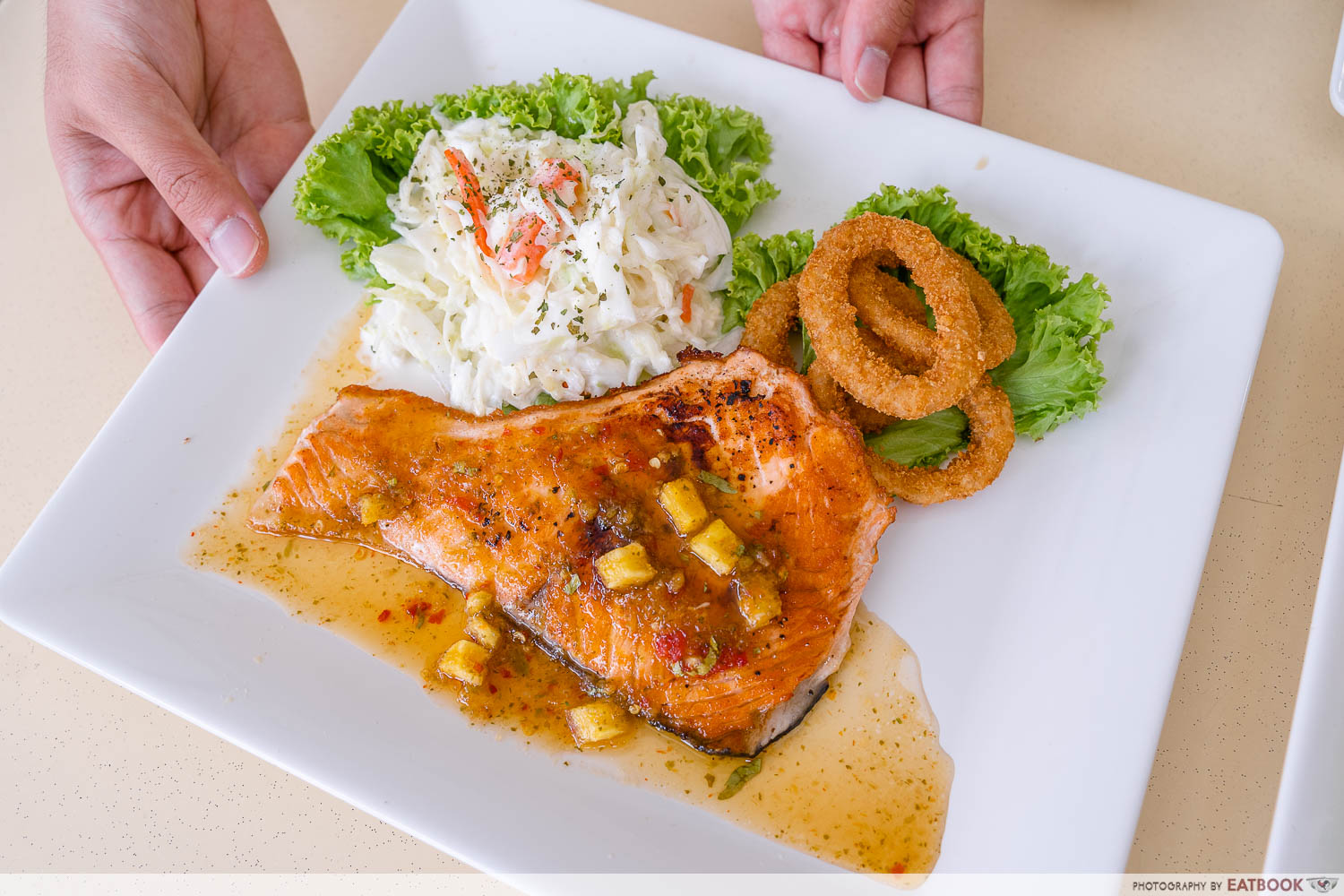 Another protein we got was Grilled Salmon With Spicy Hot Pineapple Salsa ($13.90), and we got coleslaw and onion rings for our sides. It's a well-known fact that my spice tolerance isn't the best, so I felt a shiver down my spine on hearing the phrase 'spicy hot'.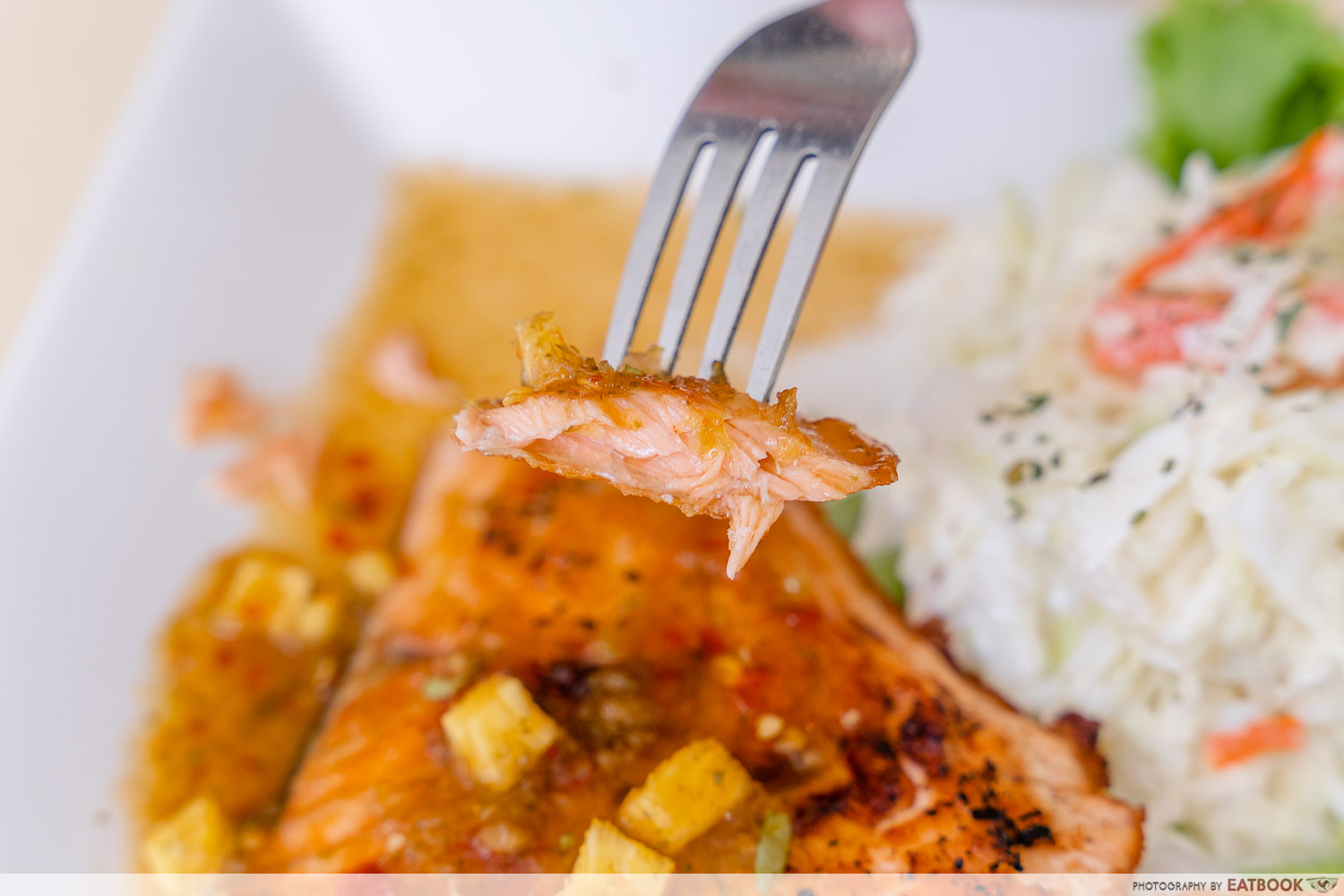 To my immense relief, the pineapple salsa sauce wasn't fiery hot as the name suggested; its spiciness was mellowed by the sweet pineapple notes, with light fruity notes in its aftertaste. For the salmon itself, my colleague found it to be overcooked. I'd wished the salmon to be thicker too, for a fuller bite.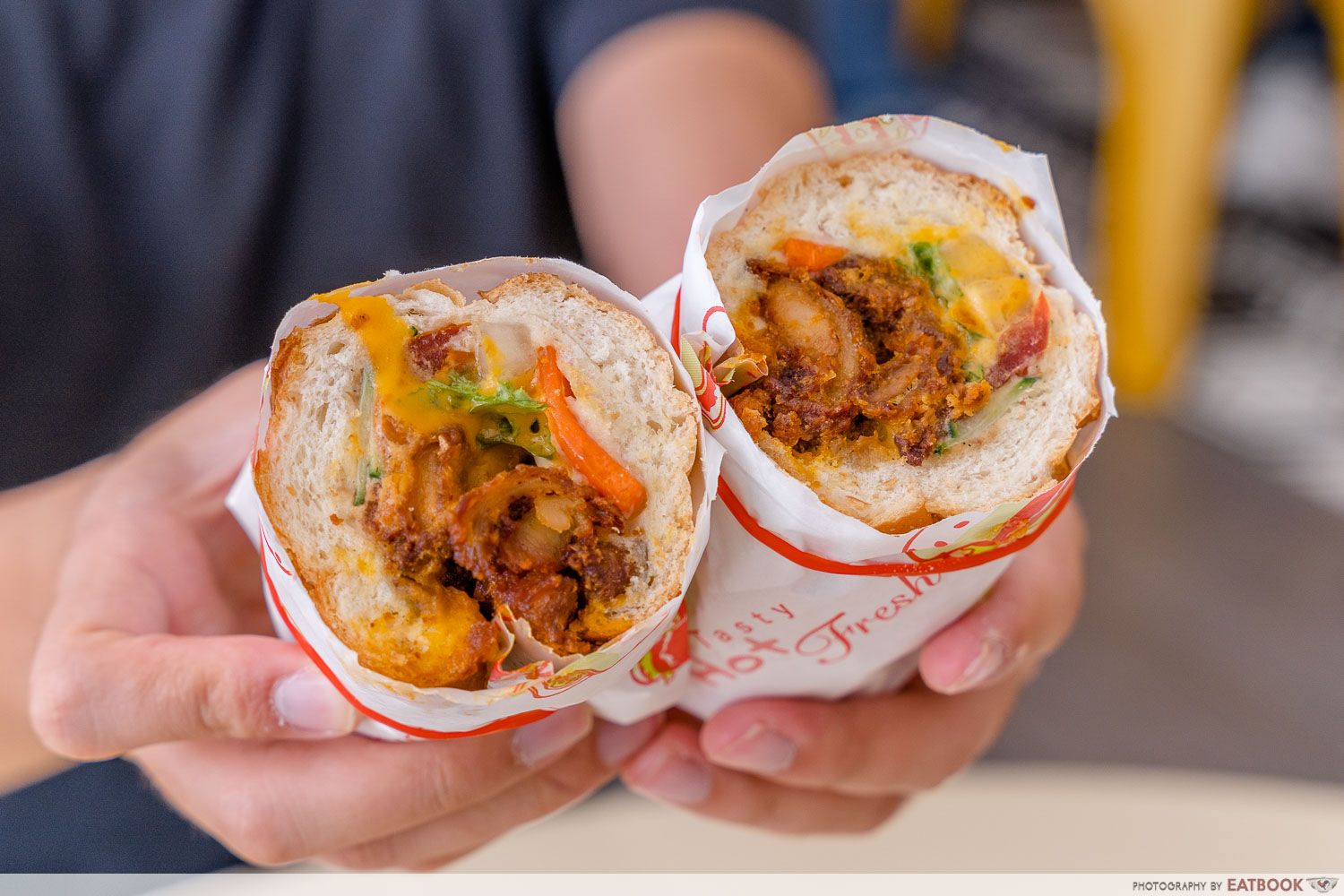 A unique item that caught my eye was the Po' Boy. If you didn't know, po'boys are sandwiches that originated in Louisiana, USA, which almost always contain roast beef or some sort of seafood. We tried their Lava Crispy Chix Po' Boy ($7.50), which sees the iconic New Orleans sandwich stuffed with crispy chicken, lettuce, tomatoes, and cheddar cheese.
At first, the Po' Boy seemed promising with its crispy crust and soft centre. However, it was a pity that the bread was too dry. I was hoping that molten cheddar cheese would ooze out as I bit into this, but I was left disappointed by the measly amount of cheese within, which fell short of its name.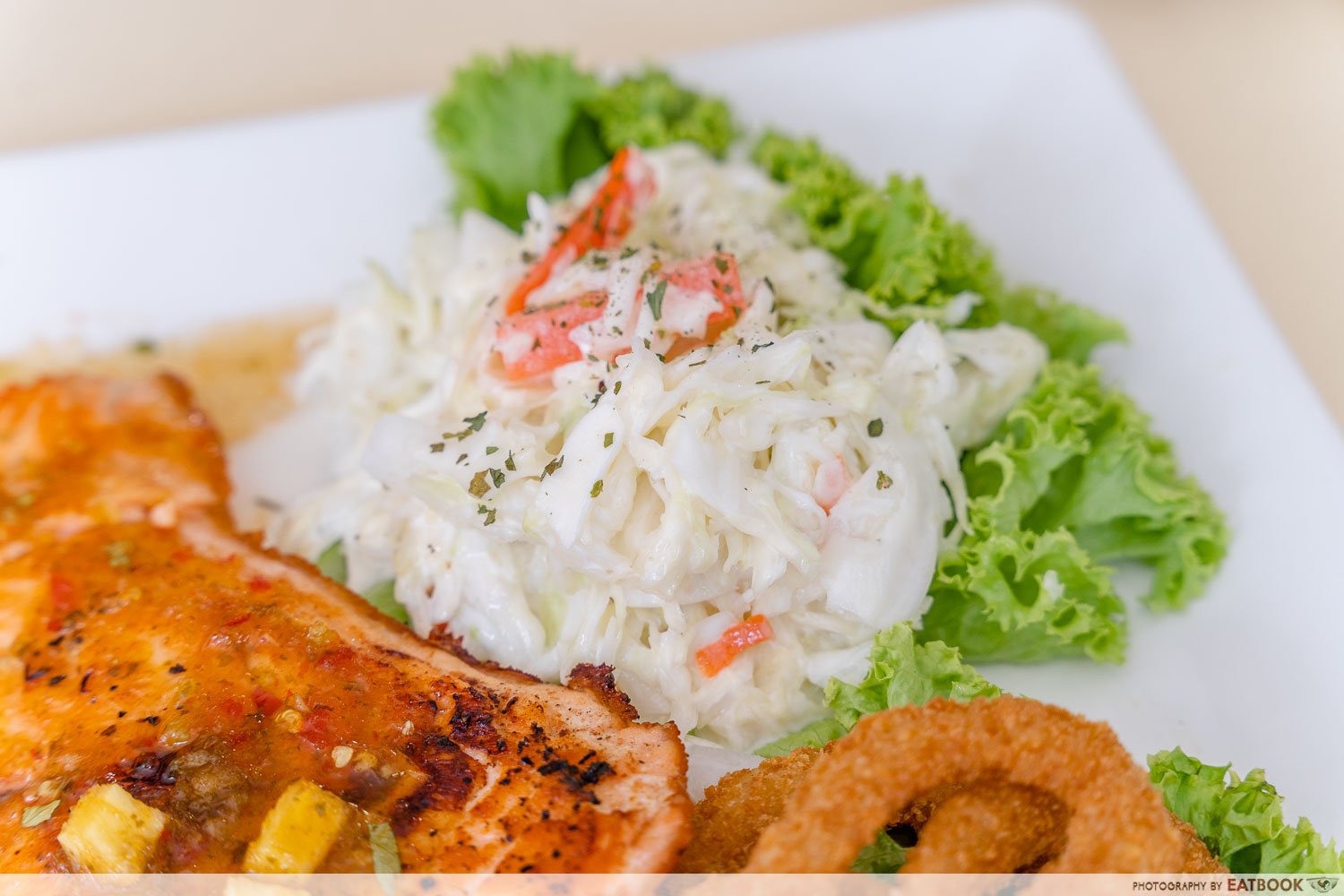 Out of all the sides we tried, the coleslaw was undisputedly our favourite. Soaked in mayonnaise, the coleslaw was refreshingly sweet and crunchy from the julienned carrots and cabbage. This made it a perfect complement to any of the mains.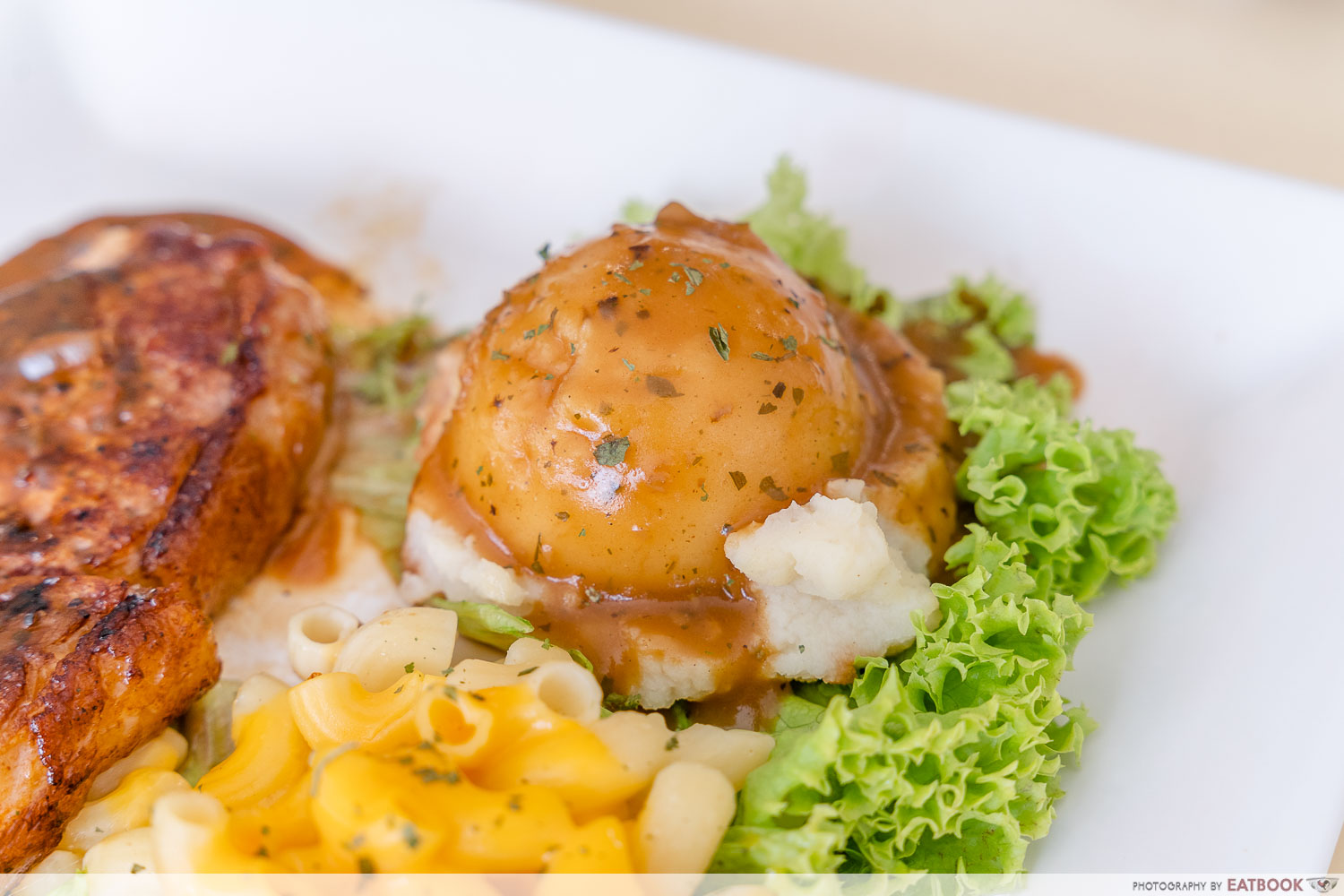 If coleslaw is not for you, then we'd recommend sticking with mashed potatoes. You'll get a generous scoop here, which comes well-balanced with sweet, buttery notes. It is also slathered with their house-made gravy for an additional layer of richness. 
Ambience at Peri Peri Grille and Pasta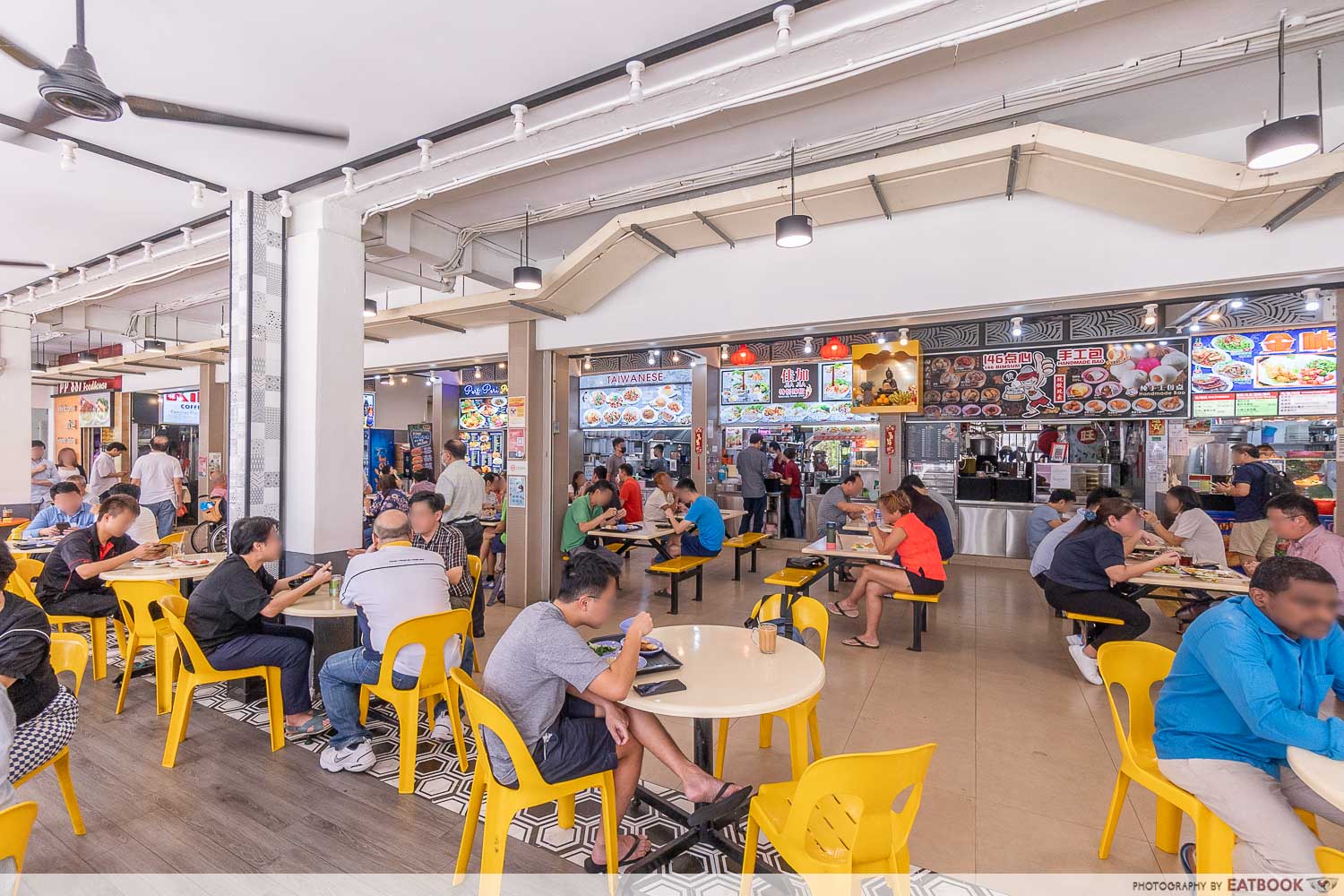 We visited Peri Peri Grille and Pasta's OG outlet in Potong Pasir, which is located at PP 881 Food House. It's difficult to miss them with their bright and vibrant storefront, which prominently displays their array of signature items. The food centre is spacious and airy, and there are plenty of seats for you to choose from. 
It's worth noting that the food centre starts to get packed close to lunch hours, so you might want to drop by earlier to avoid the long waiting time. Good news for supper hunters: they are open till 2:30am daily, so they are a great place to satisfy your midnight hunger pangs at. 
 Peri Peri Grille and Pasta is a two-minute walk from Potong Pasir MRT Station. 
The verdict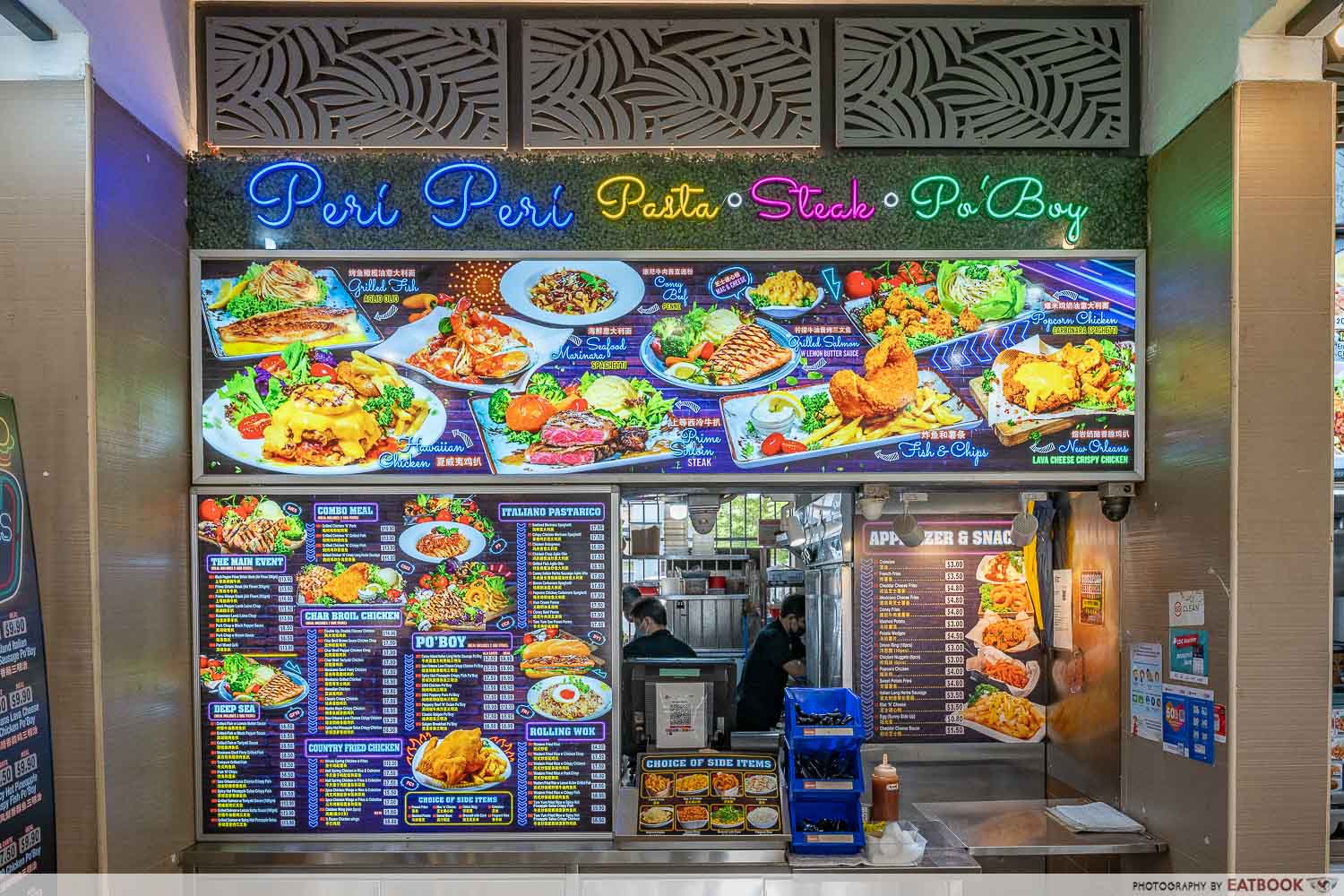 Peri Peri Grille and Pasta is definitely a place worth visiting if you're ever craving Western food. Thankfully, their outlets are spread across the island, so you don't have to make a painful trip down to Potong Pasir if you live far from this neighbourhood. Their food items are affordable too, so you won't be breaking your wallet for your meal.
For more Western food to check out, check out Western Barbecue, which has Hainanese Western food that comes with house-made garlic sauce! Alternatively, you can visit The Flying Pan, which has XXL portions of Western food in Hougang!
Address: 146 Potong Pasir Avenue 2, PP 881 Food House, Singapore 358362
Opening hours: Daily 10:30am to 2:30am
Website
Peri Peri Grille and Pasta is not a halal-certified eatery.
The Flying Pan Review: $5.50 XXL Pork Chop With Three Side Dishes And More In Hougang
Photos taken by Aldrich Tan.
This was an independent review by Eatbook.sg
Peri Peri Grille And Pasta Review: Hawaiian Chicken, Po' Boy And More In Potong Pasir
Peri Peri Grille And Pasta Review: Hawaiian Chicken, Po' Boy And More In Potong Pasir -

7/10
Summary
Pros
– Hawaiian Chicken had a good mix of flavours
– Coleslaw was sweet and crunchy
Cons
– Lava Crispy Chix Po' Boy was too dry
– Grilled Salmon could be thicker
Recommended dishes: Hawaiian Chicken ($9.80), Black Pepper Steak ($13.90)
Opening hours: Daily 10:30am to 2:30am
Address: 146 Potong Pasir Avenue 2, PP 881 Food House, Singapore 358362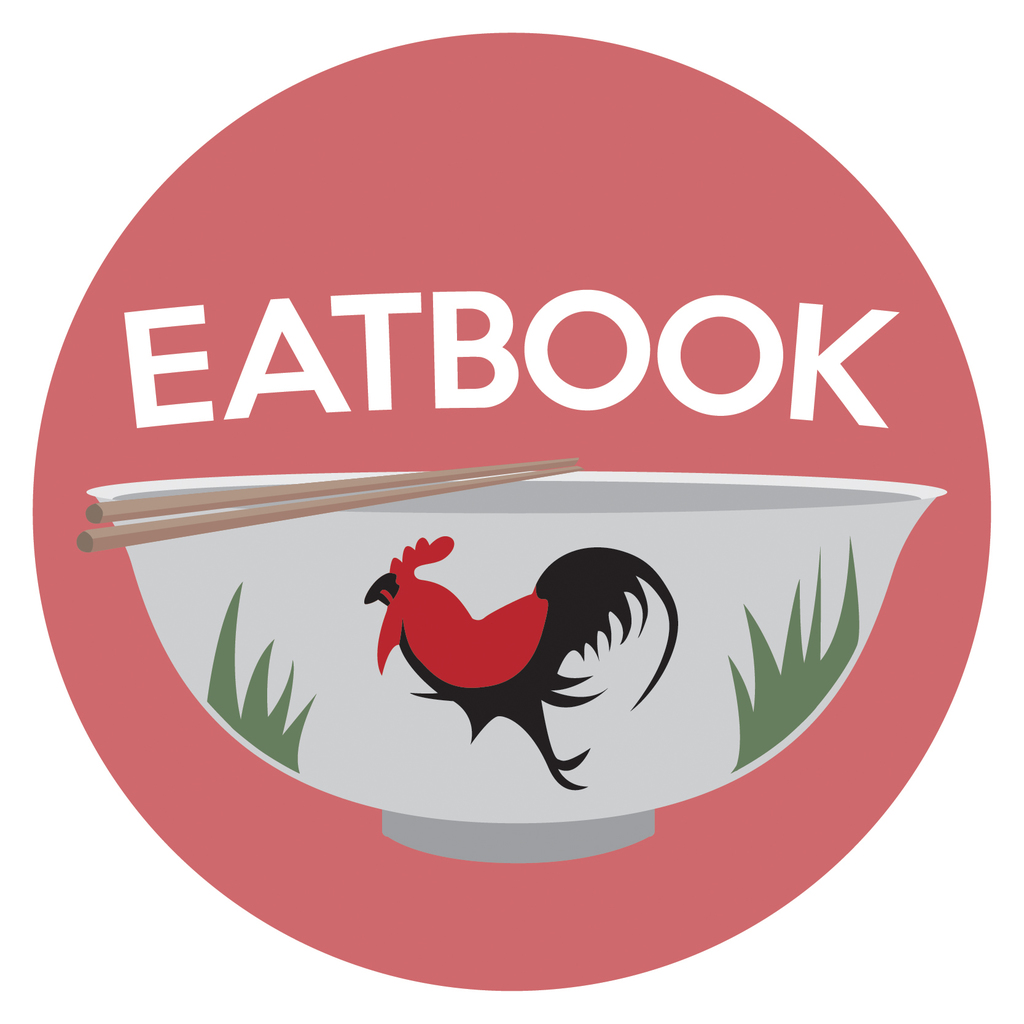 Drop us your email so you won't miss the latest news.