Mian Zhuang at Hong Lim Food Centre
Update: Mian Zhuang is permanently closed.
Hong Lim Food Centre is a treasure trove of hawker food stalls, a favourite lunchtime haunt amongst office folk in the CBD. Mian Zhuang is a relatively new player to the multi-level hawker centre, run by a young couple serving ban mian made with a heritage family recipe.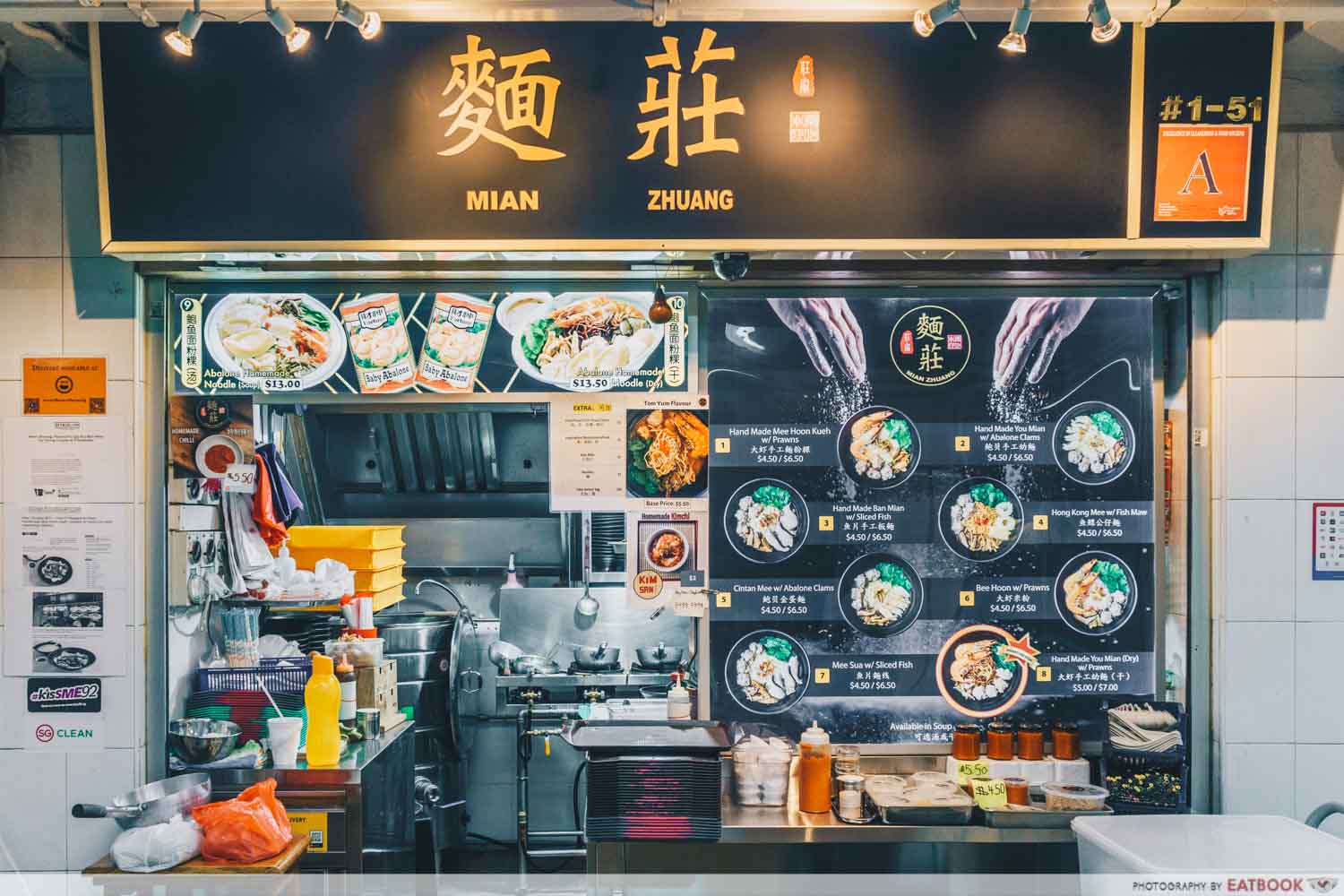 Jonathan and Vanessa, the young couple behind the stall, gave up their corporate jobs to start the business a year ago, just before the COVID pandemic hit. I curiously asked why they had picked this rather obscure unit in Hong Lim Food Centre, and was told they had put in multiple failed bids at better locations prior to finally accepting this one.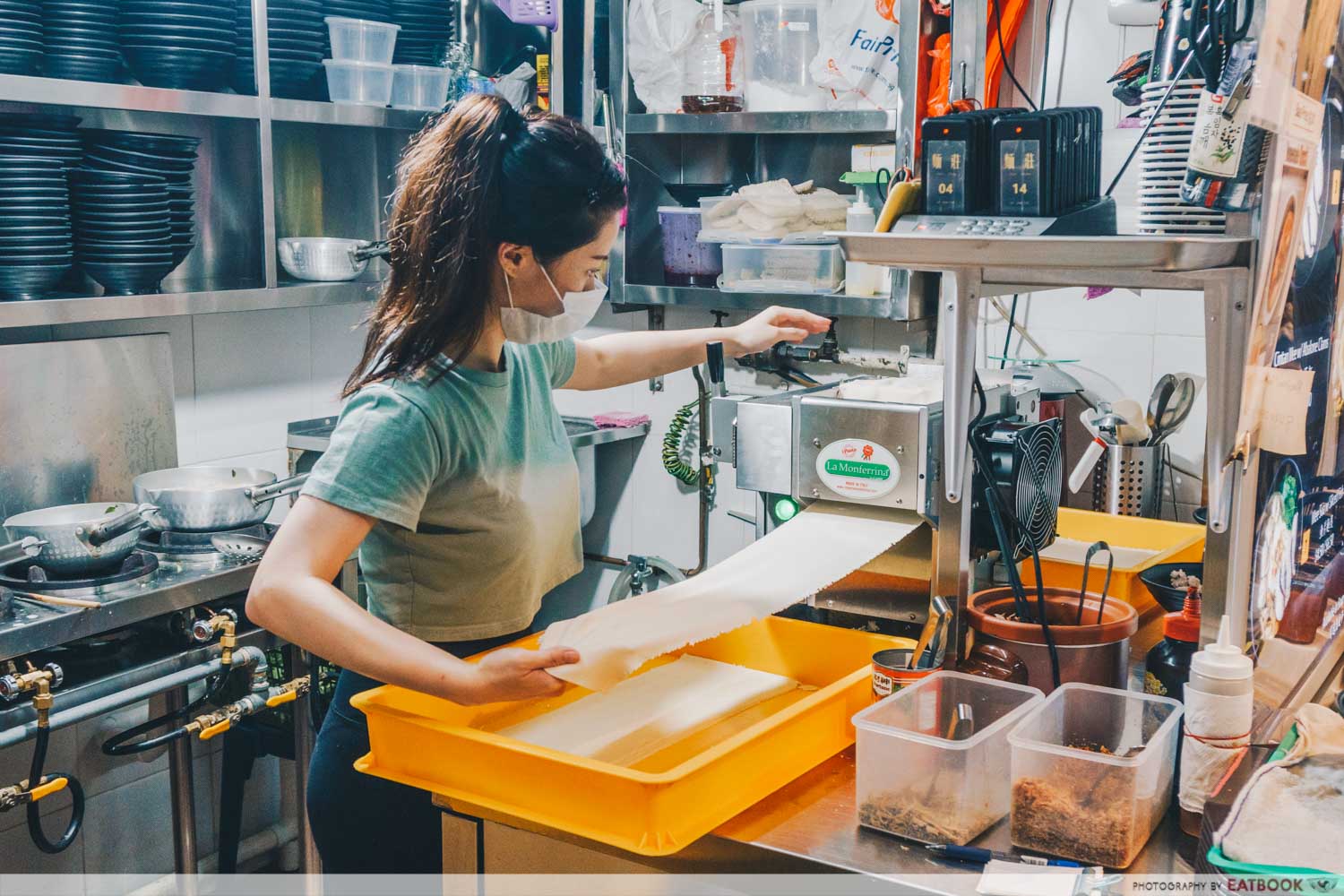 Ban mian is in the blood for Jonathan, whose extended family has long been in the handmade noodles business, with stalls across the island. Besides the QQ noodles and the soup, which are all made on the premises daily, the pork balls and their speciality chilli are also made in-house.
10 Hong Lim Food Centre Stalls To Visit After Exploring Chinatown Like A Tourist
Food at Mian Zhuang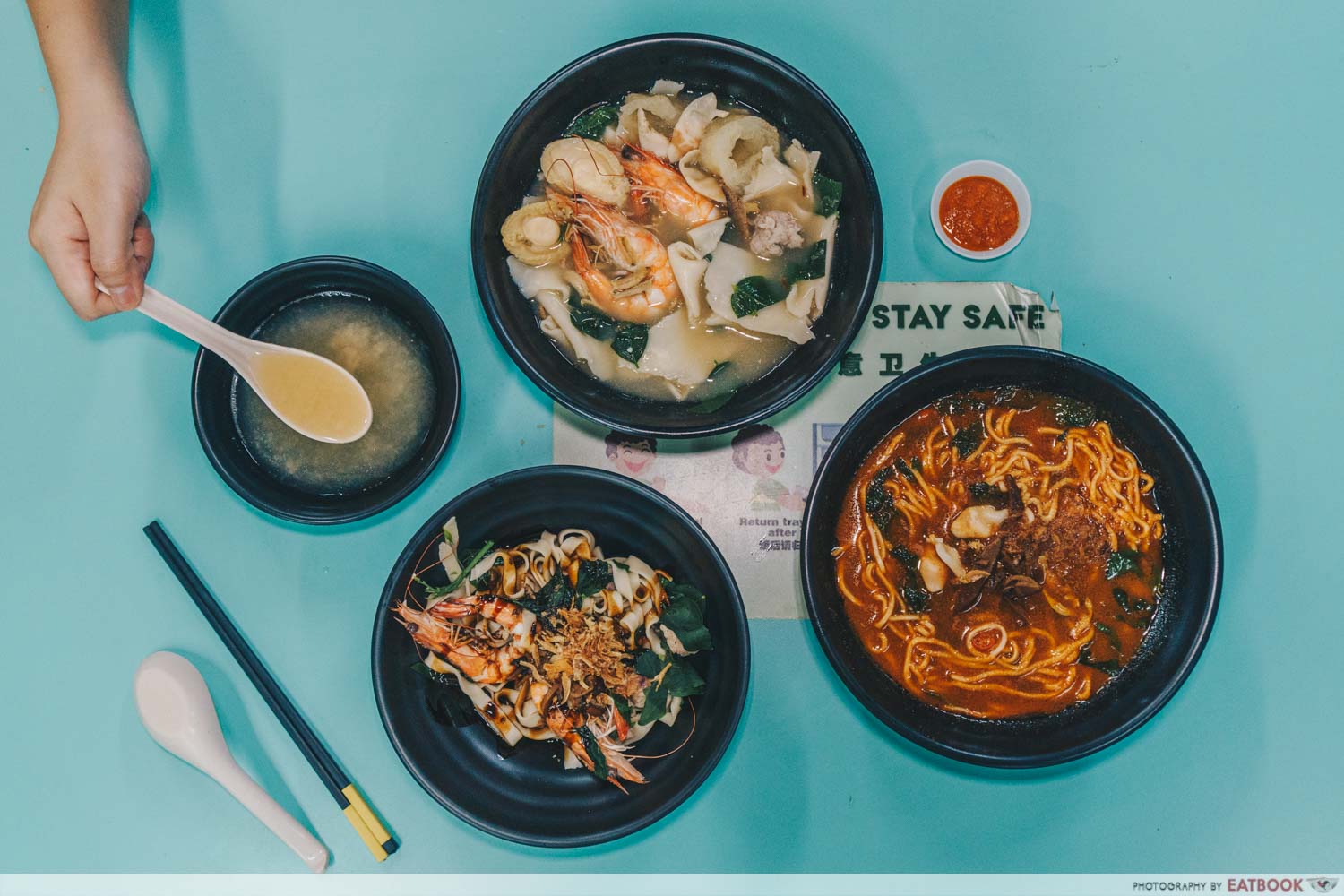 We went with the three handmade noodle variants: ban mian, you mian, and mee hoon kueh. To try everything on the menu, we also opted for each matched with a different base and various different ingredients. If you prefer, there's also the option to mix and match seafood toppings to fully customise your bowl.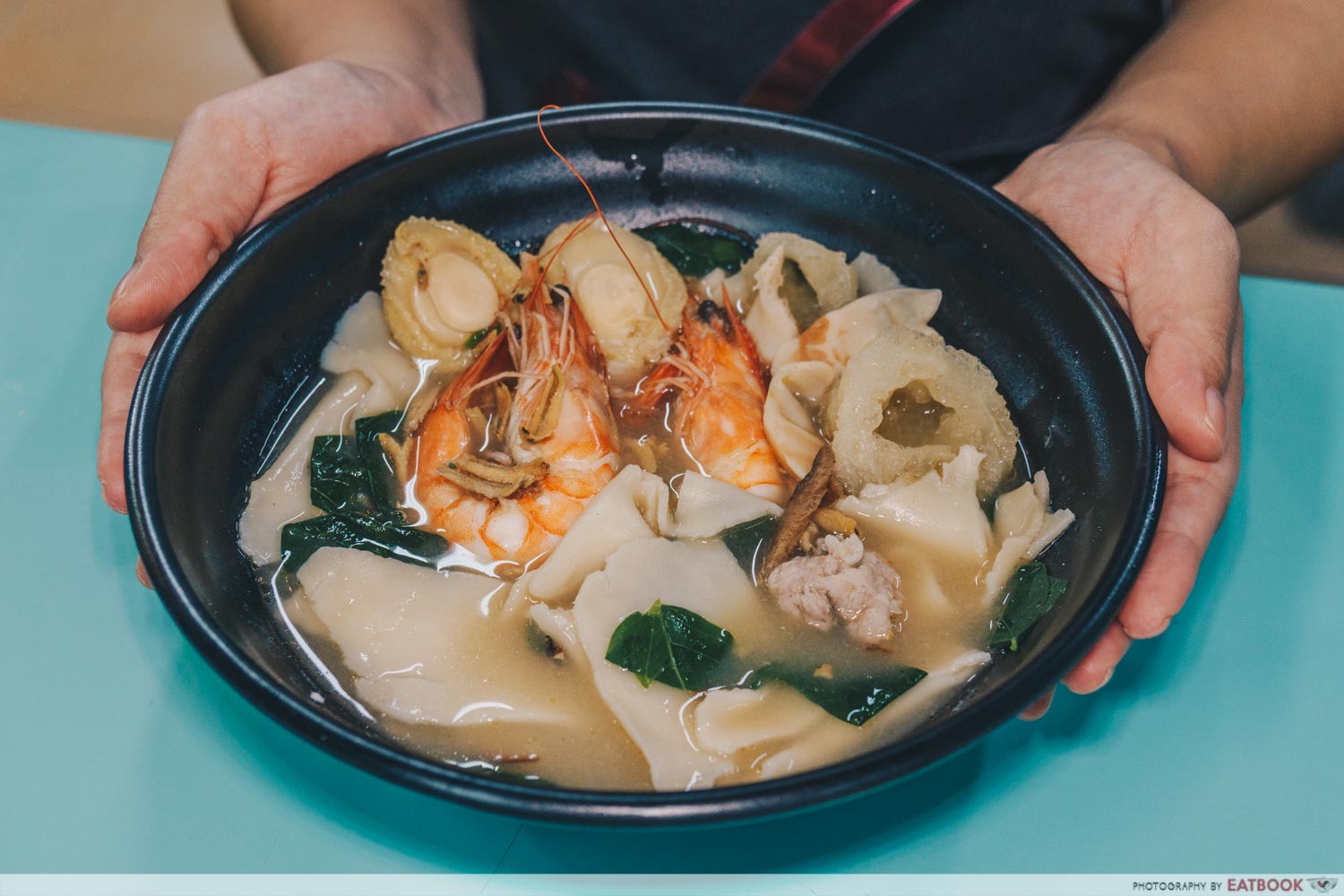 First up, the stall's signature Abalone Hand Made Noodle Soup ($13) came generously topped with a selection of fresh and canned seafood, as well as their homemade meatballs, and spinach.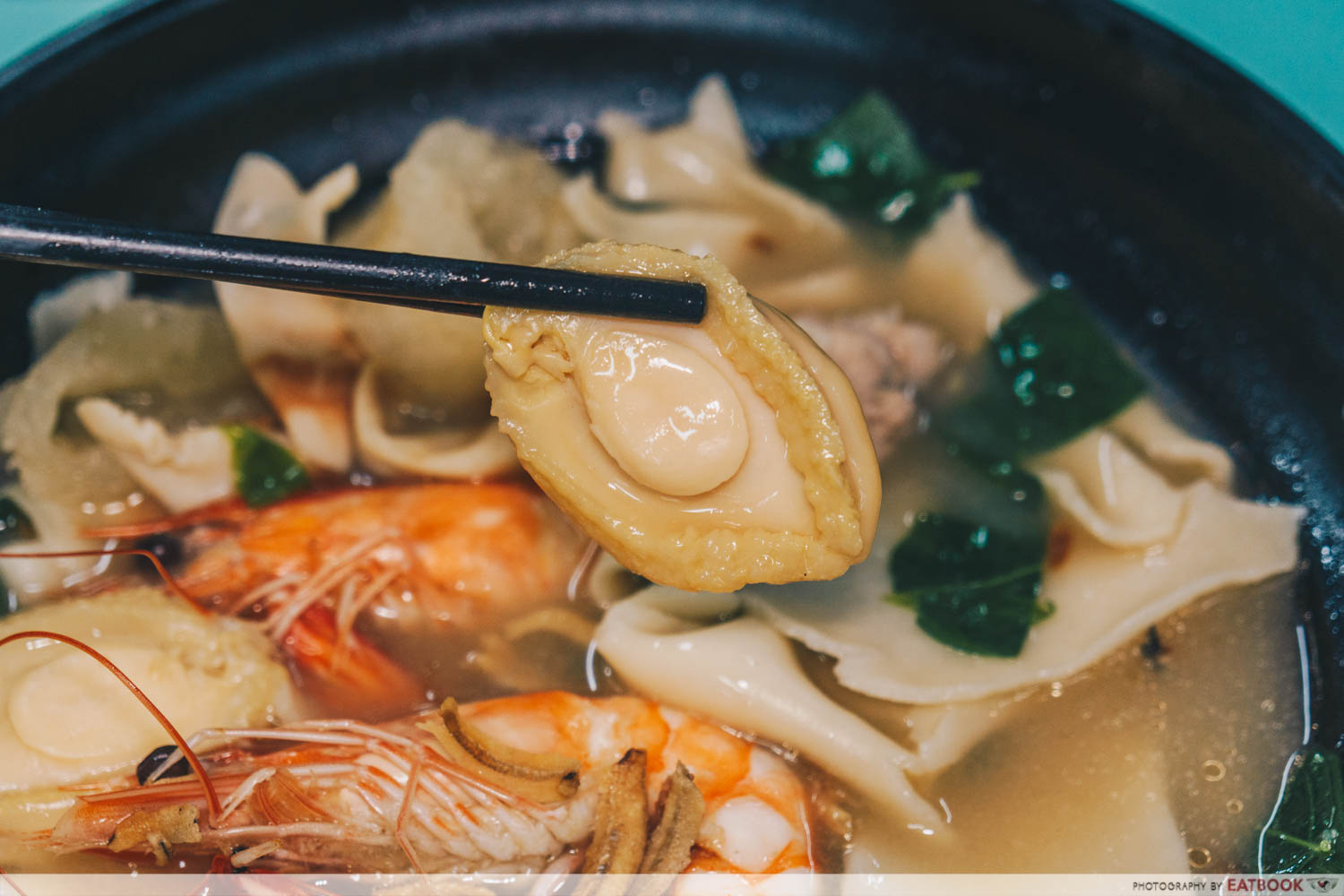 It's definitely indulgent to have abalone in your ban mian. There was also fish maw, and I especially appreciated how the fresh prawns are deshelled for convenient eating. Prawn head-eating readers will be pleased to know the heads are left intact.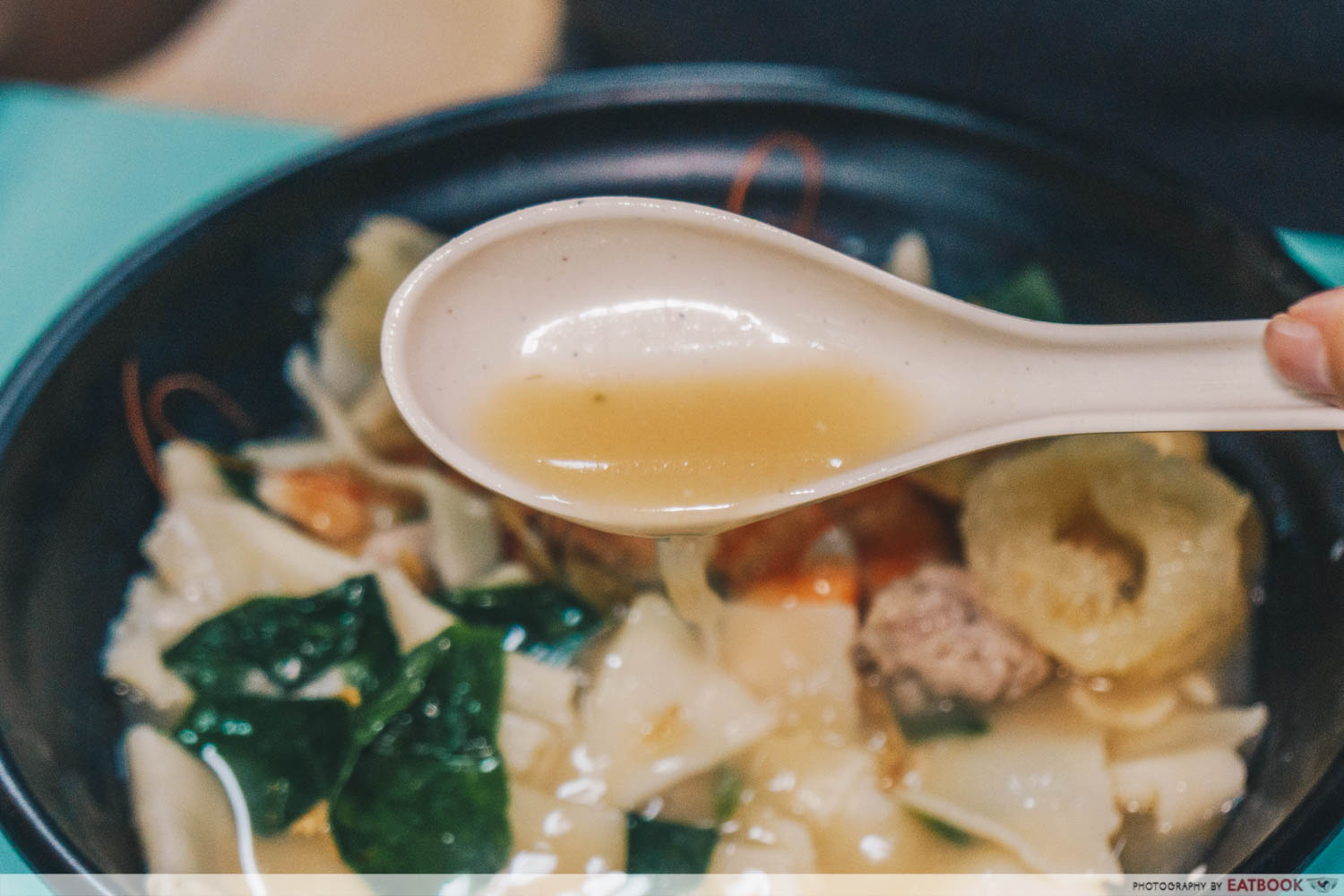 I enjoyed the soup, which was robust with the taste of anchovies and soybeans. Since ban mian noodles themselves taste simply of flour, a good stock is key to a great bowl. Vanessa shared that there is no MSG added, so the sweetness that I tasted was naturally derived.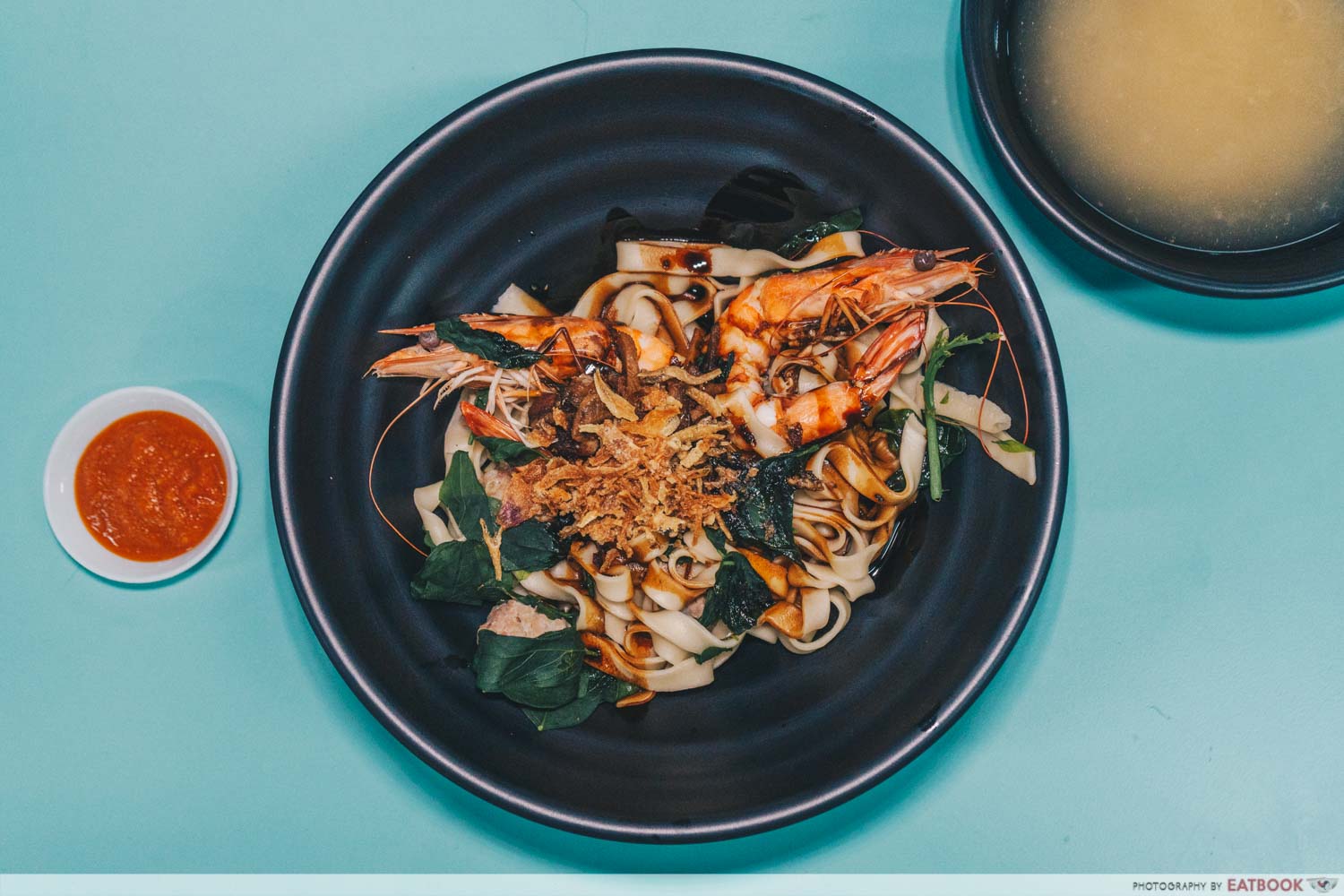 Another hit for me was the Hand Made Ban Mian (Dry) with Prawns ($5), which you can add Mian Zhuang's housemade chilli sauce to. It's rather spicy, so you can do it at your own discretion.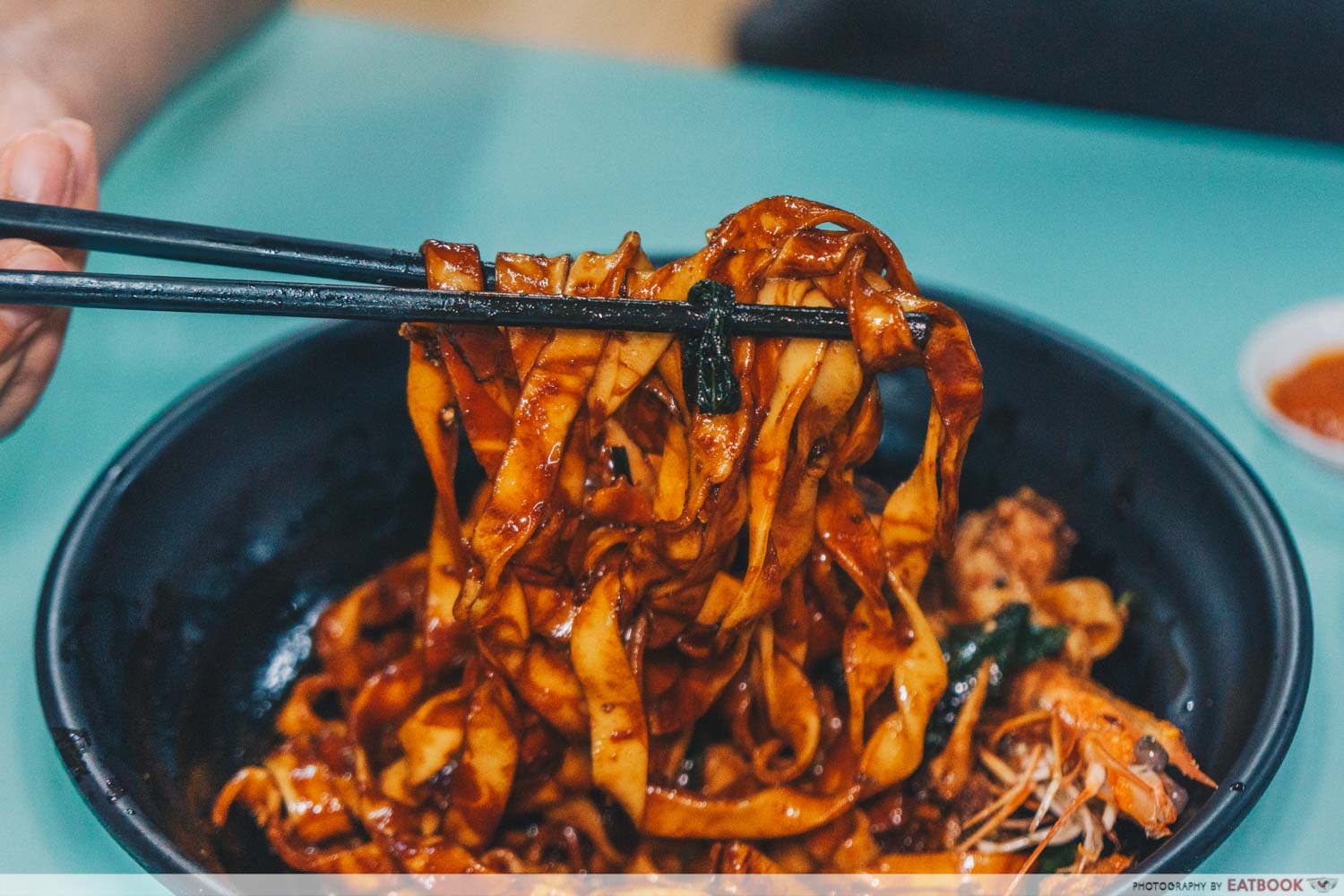 The dark sauce mix drizzled on the noodles was thick and moreish. Coupled with the kick from the chilli sauce, it clung to the strands of ban mian to create a bowl of appetising, tasty noodles. The topping of fried shallots also gave it extra flavour.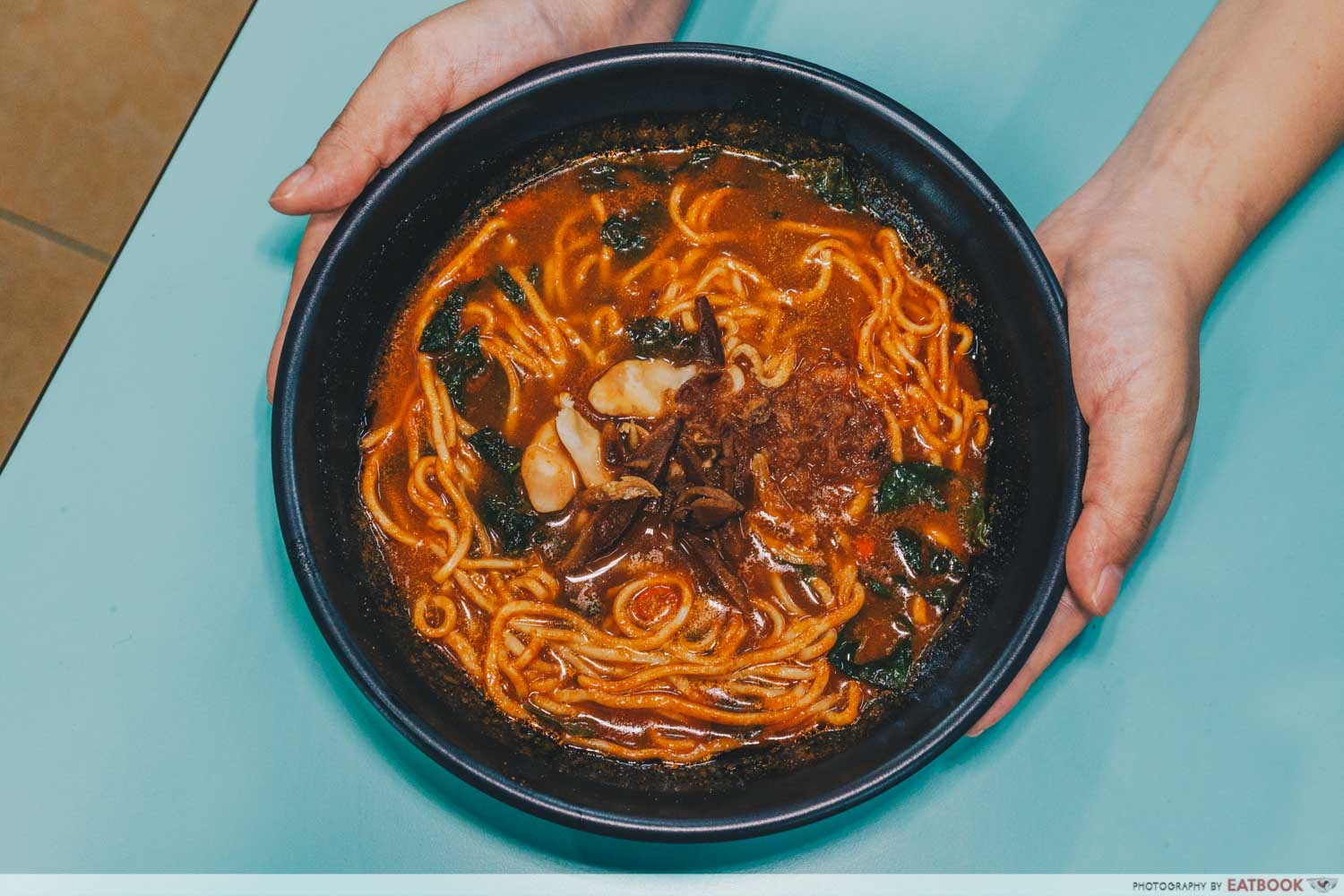 After two satisfying bowls, the Tom Yum You Mian with Abalone Clams ($5.50) proved to be a bit of a disappointment. While we enjoyed the abalone clams and meatballs that came with the noodles, this was an overall letdown.
I typically like heavy flavours, but the tom yum soup, although gao, was not the sour, slightly spicy soup I had been expecting. It leaned towards being sweet and flat, without the recognisable flavours of tom yum. This is through no fault of Jonathan's and Vanessa's, though, because it's a paste that they sourced from the supplier. It would be great if they switched to a different tom yum paste.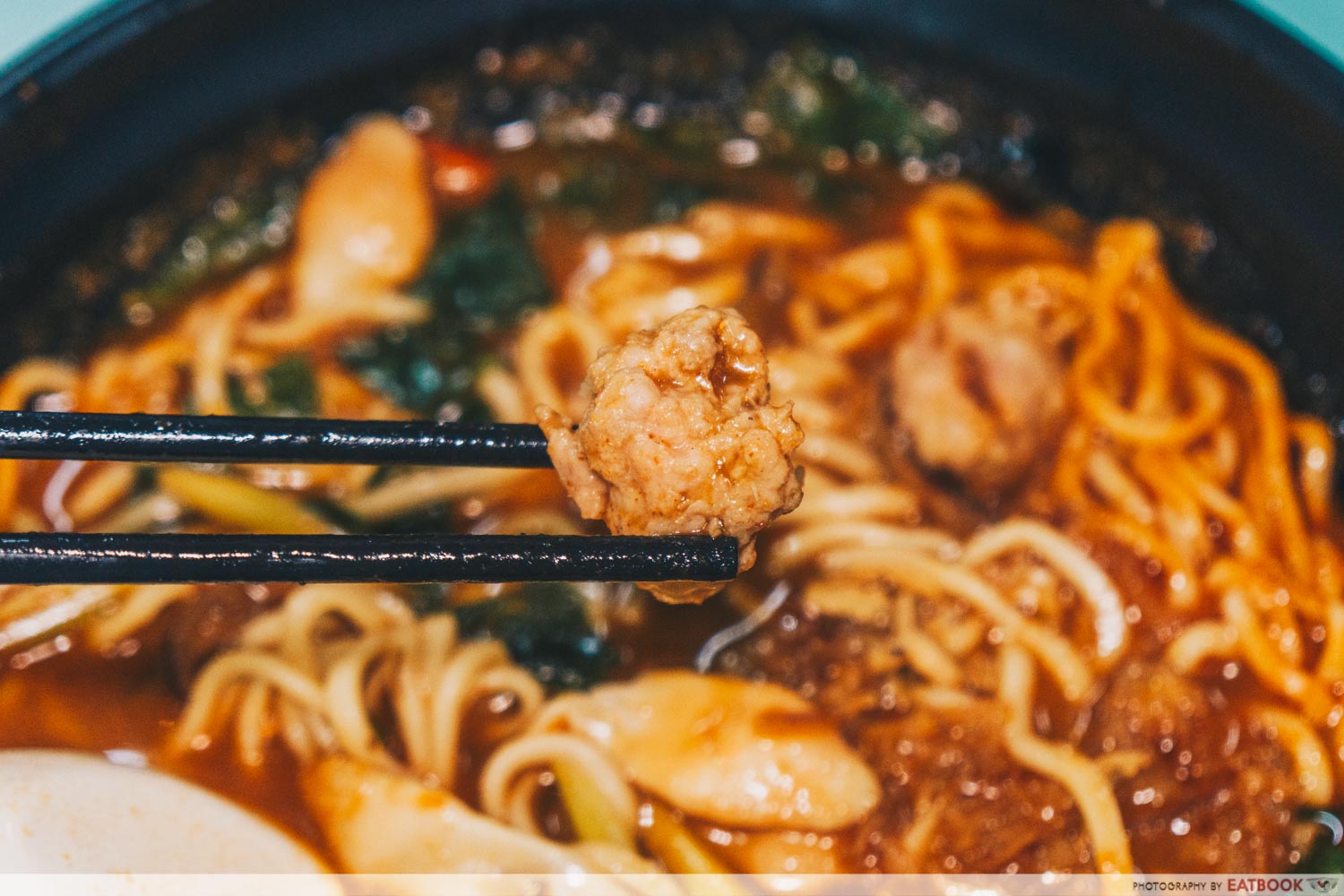 I also wished the meatballs were bigger. These tasty morsels came in itsy bitsy balls that were almost lost amidst the noodles and other ingredients in the bowl.
Ex-MasterChef Singapore Contestant Opens Jiak Song Mee Hoon Kway At Telok Blangah
However, it's worth noting that in spite of the time we took to photograph the food before we ate it, all the noodles across the three bowls remained springy, without having turned soggy.
Ambience at Mian Zhuang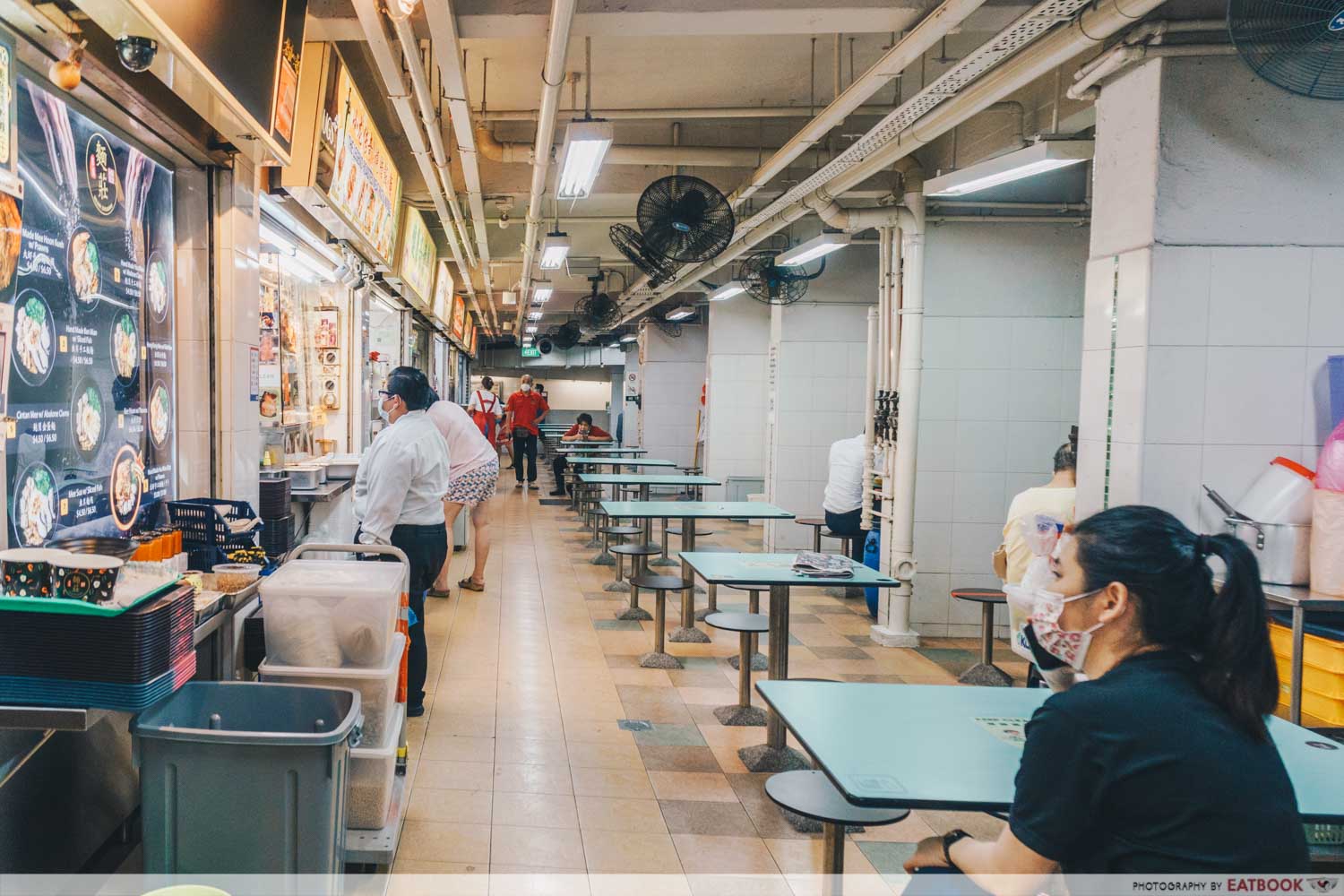 Mian Zhuang is in a narrow central aisle on the first floor of Hong Lim Food Centre, just behind Chinatown Point and Chinatown MRT Station. It's very convenient to get to, but it may feel a little claustrophobic for some, where the stall is located. Hong Lim Food Centre is quite an old building, so facilities here aren't the most modern. However, there are plenty of powerful fans ventilating the area.
The verdict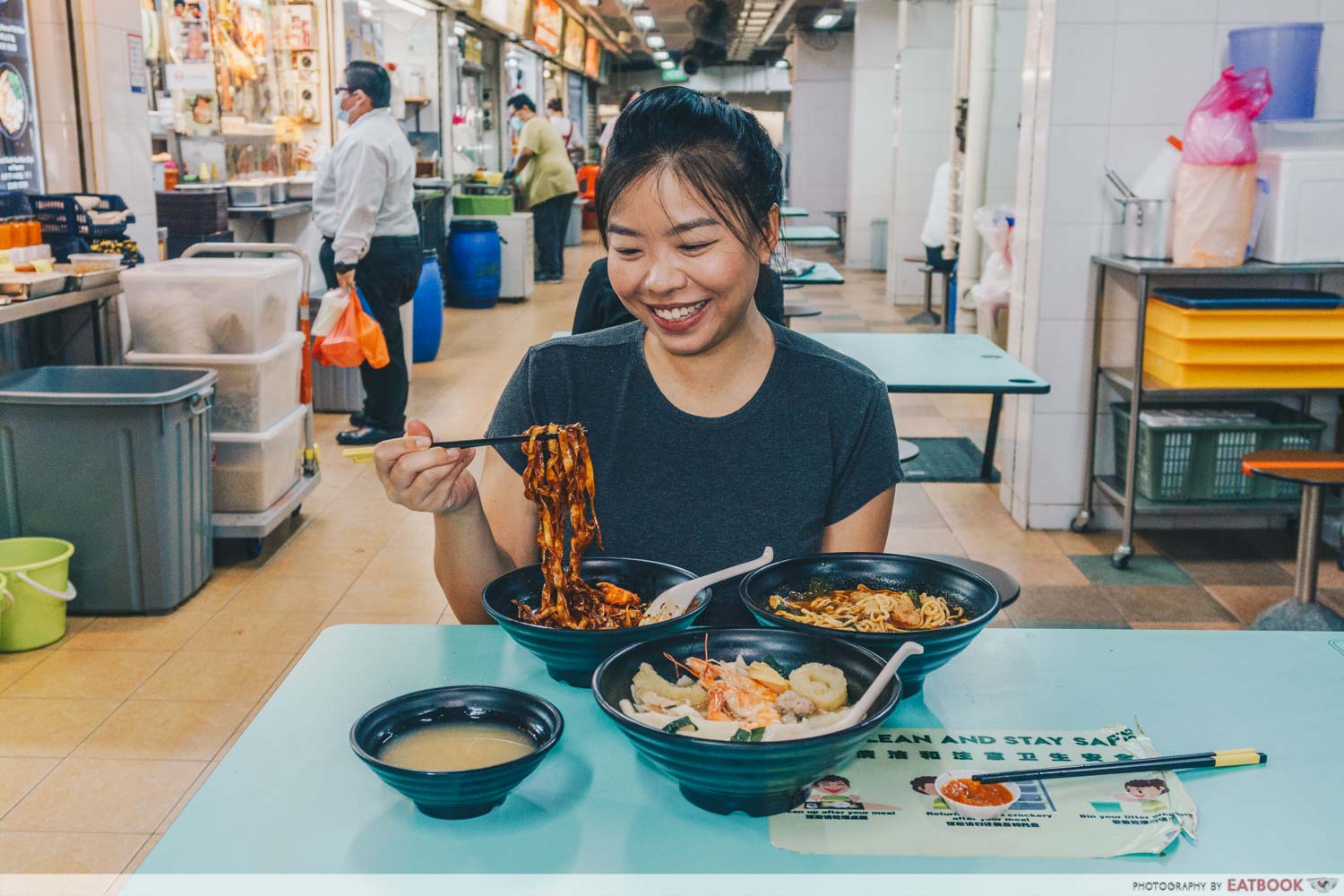 If I were in the area and looking for a lunch option, I'd come to Mian Zhuang. While the prawns were fresh and the seafood a nice addition, I'm happy to just have QQ ban mian with a great soup base and meatballs, all three of which are present in the bowls here.
For sure, the tom yum soup base is in need of fixing, but on the whole, Mian Zhuang serves up a pretty decent bowl of handmade noodles. The hawker life isn't easy, and it speaks of courage to see young hawkers take up the mantle of preserving traditions.
15 Ban Mian In Singapore Including Masterchef Ban Mian, $2 Ban Mian And More
If you like ban mian, Jiak Song Mee Hoon Kway is another handmade noodle stall run by an ex-Masterchef contestant. Also, here are 10 ban mian stalls you can check out!
Address: 531A Upper Cross Street, #01-51, Hong Lim Food Centre, Singapore 051531
Opening hours: Mon-Sat 9am to 3pm
Tel: 8488 7898
Website
Mian Zhuang is not a halal-certified eatery.
Photos taken by Hay Thi.
This was an independent review by Eatbook.sg
Mian Zhuang Review: Young Couple Sells QQ Ban Mian Made From Family Recipes In Chinatown
Mian Zhuang Review: Young Couple Makes QQ Ban Mian With Family Recipes In Hong Lim Food Centre -

7.5/10
Summary
Pros
– Springy, QQ noodles
– Dry ban mian sauce was well made
Cons
– Tom yum soup didn't taste like tom yum
Recommended dishes: Hand Made You Mian (Dry) with Prawns ($5), Hand Made Ban Mian with Abalone Clams ($4.50)
Opening hours: Mon-Sat 9am to 3pm
Address: 531A Upper Cross Street, #01-51, Hong Lim Food Centre, Singapore 051531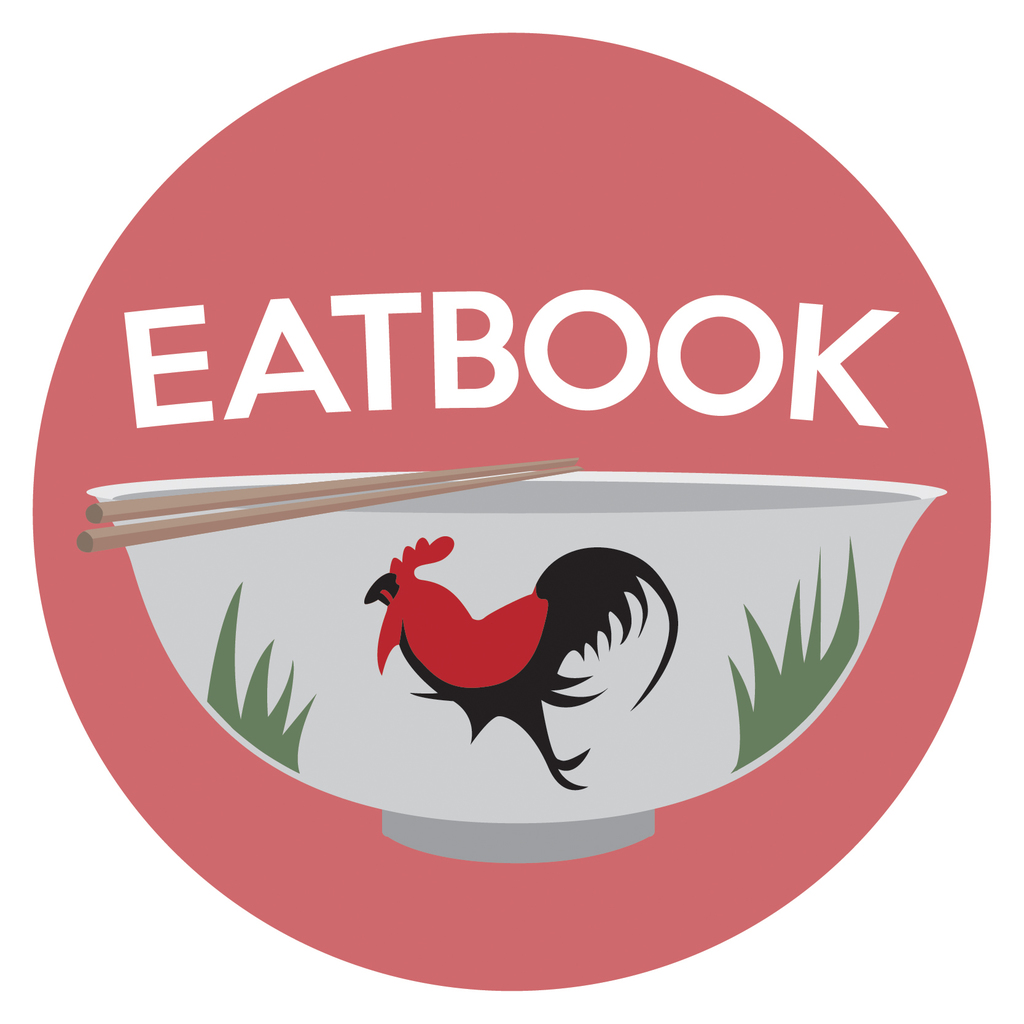 Drop us your email so you won't miss the latest news.