Steamov can be your next supper spot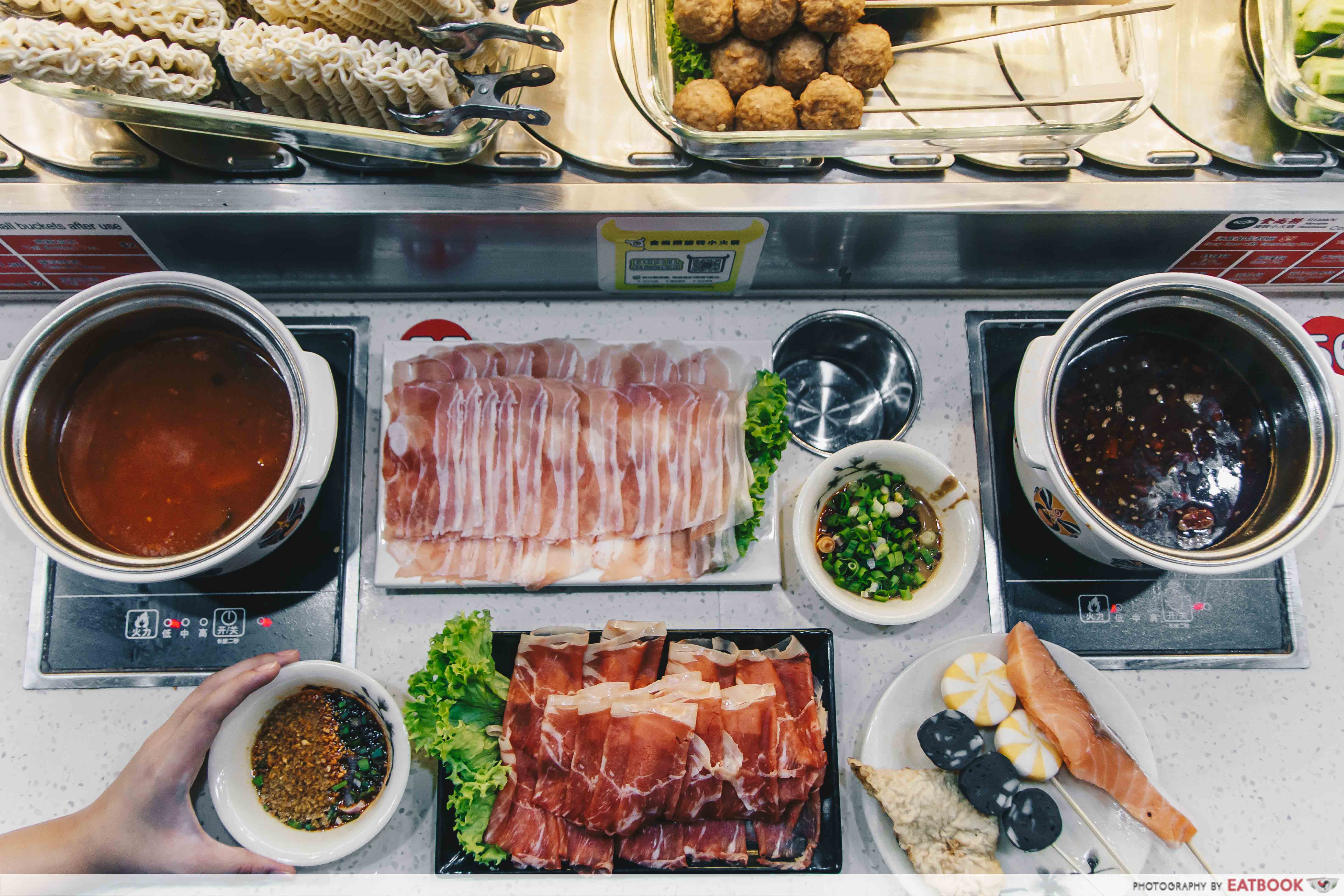 The hot pot craze has been going strong for my friends and I since last year. It never really stopped even after Chinese New Year steamboat dinners, and has now snowballed to biweekly feasts at the same few restaurants. My ears perked up when I heard about Steamov – a conveyor belt concept restaurant near Outram Park MRT Station. Open until 4am daily, this hotpot spot has the potential to be the next supper place to head to with friends.
Food at Steamov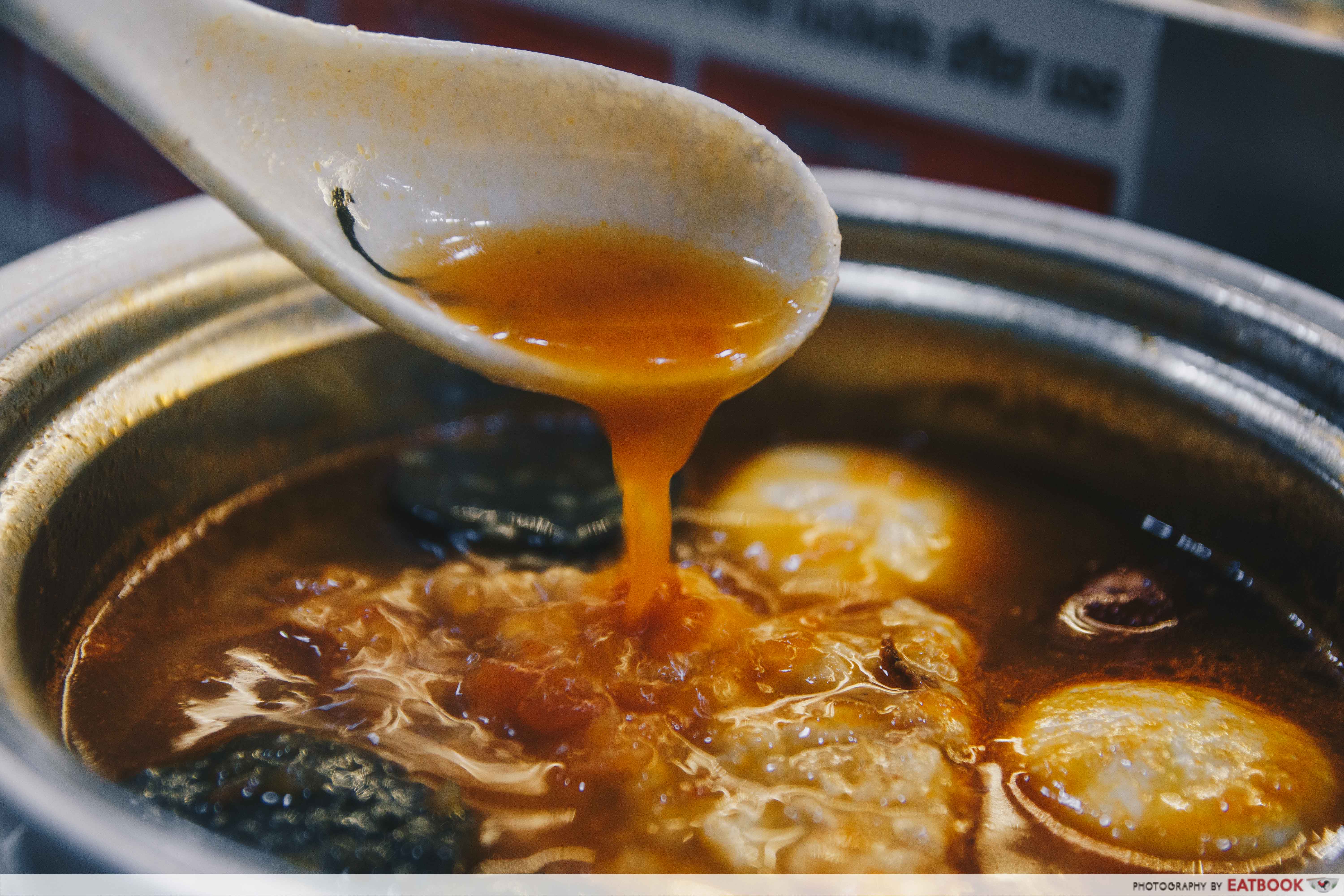 Here at Steamov, you get to select a soup base at $5. The best thing about this place is that you get your own individual hot pot. This means no more nagging from saliva-conscious friends! Choices for your soup include Tomato Pot, Spicy Pot, Mushroom & Black Chicken Pot, Herbal Duck Pot, Sour Vegetable Fish Pot and more.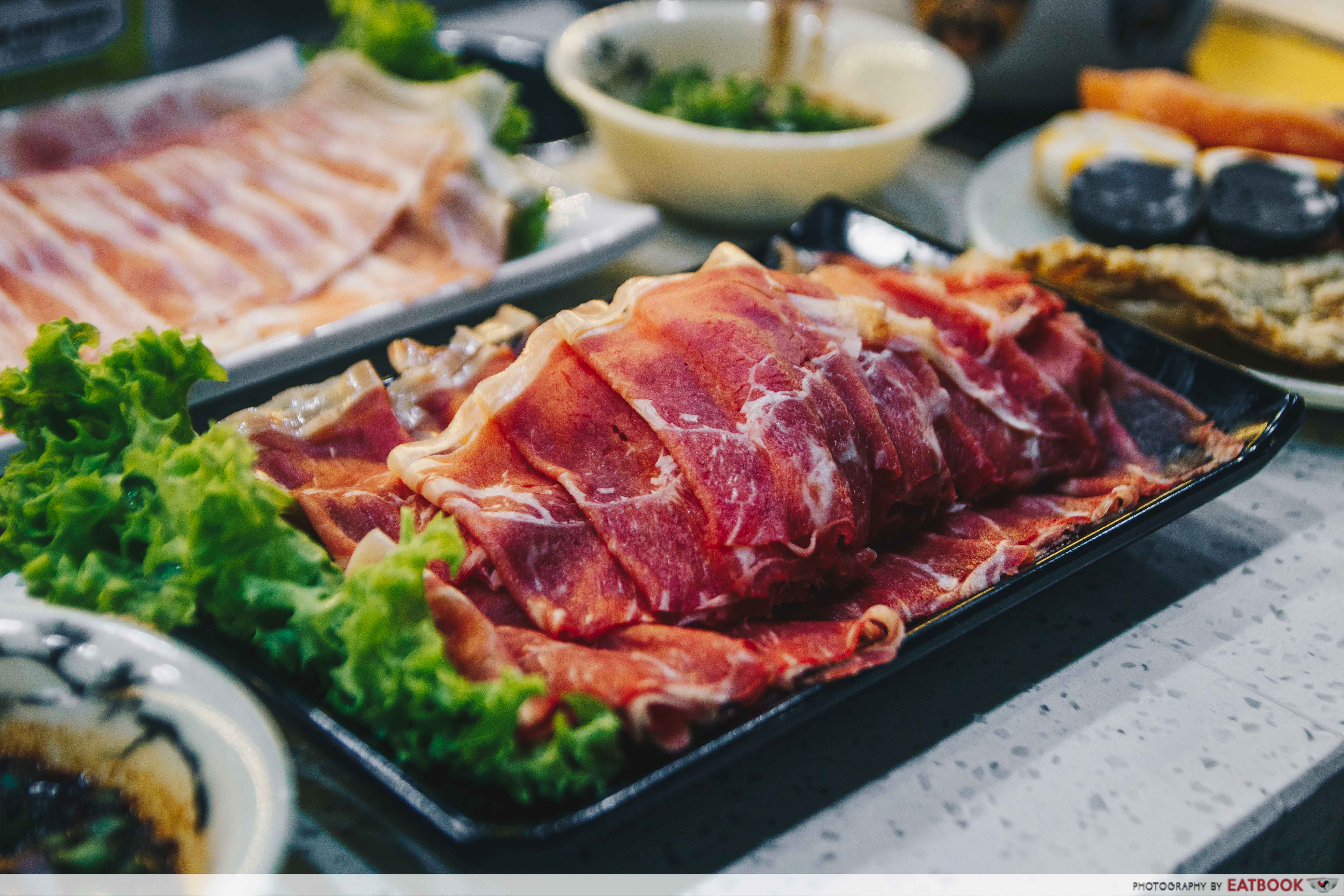 My ma la xiang guo addiction never stopped so I selected the Spicy Pot, while my colleague opted for the classic Tomato Pot. We ordered a plate of Beef Rolls ($10) and Pork Bellies ($8) for some shabu shabu action as well.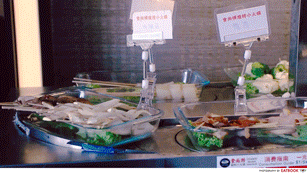 The conveyor belt was moving at a crawling pace. There was a wide variety of ingredients to choose from. Each skewer or clipped item sets you back $1, but look out for sticks which have a flat end – those go at $3. You can also find your ma la xiang guo favourites such as lotus root, beancurd skin, and even the low-carb Japanese konjac noodles which only the better ma la stalls serve.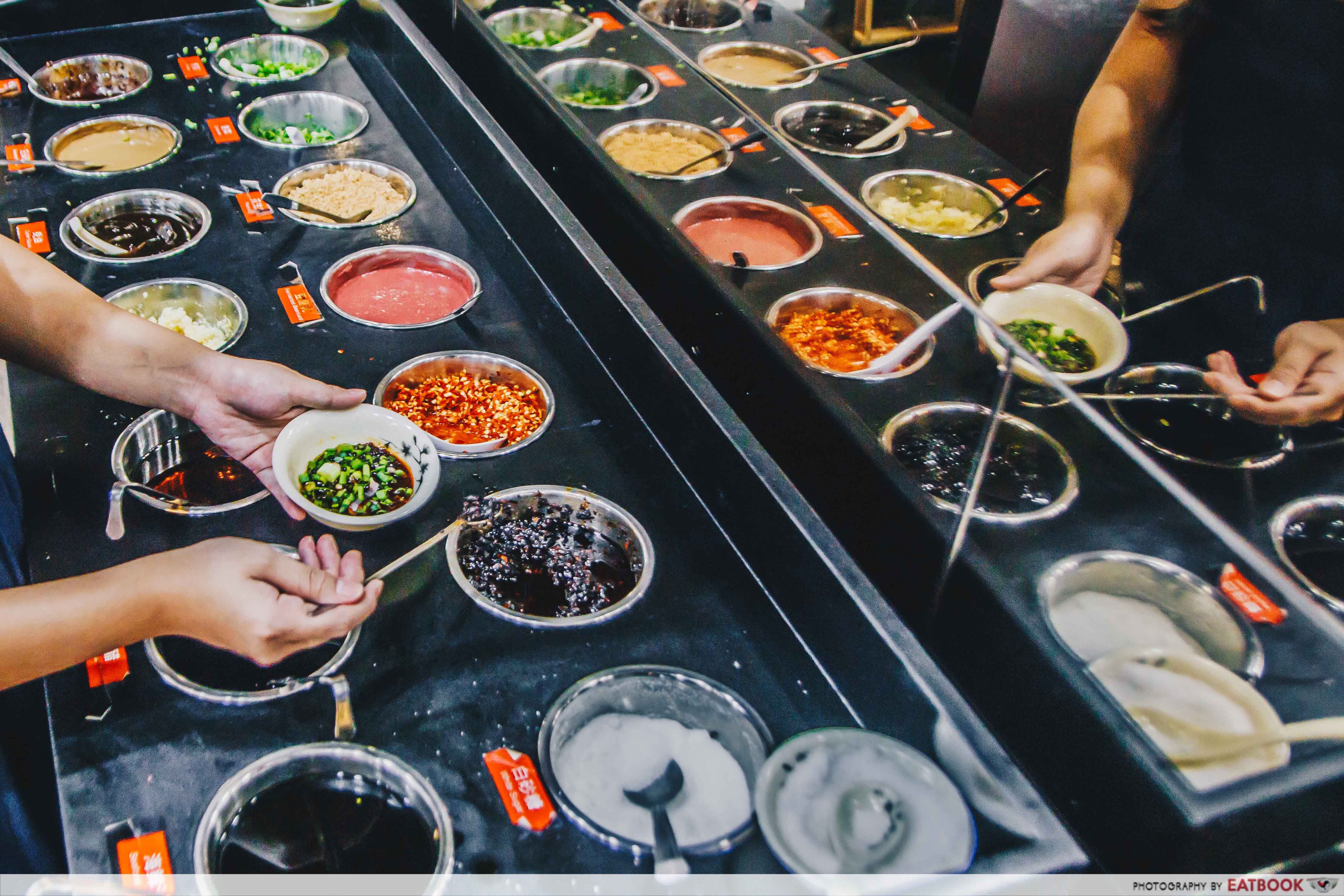 Like many hot pot restaurants, Steamov has a free-flow sauce station. It features over 10 sauces and condiments. You would be spoilt for choice with sesame sauce, oyster sauce, spicy fermented bean paste, mashed garlic, chopped spring onions, chopped peanuts and more. Try the pink sauce if you dare to. It is a blend of fermented beancurd, which is piquant and better left for the adventurous souls.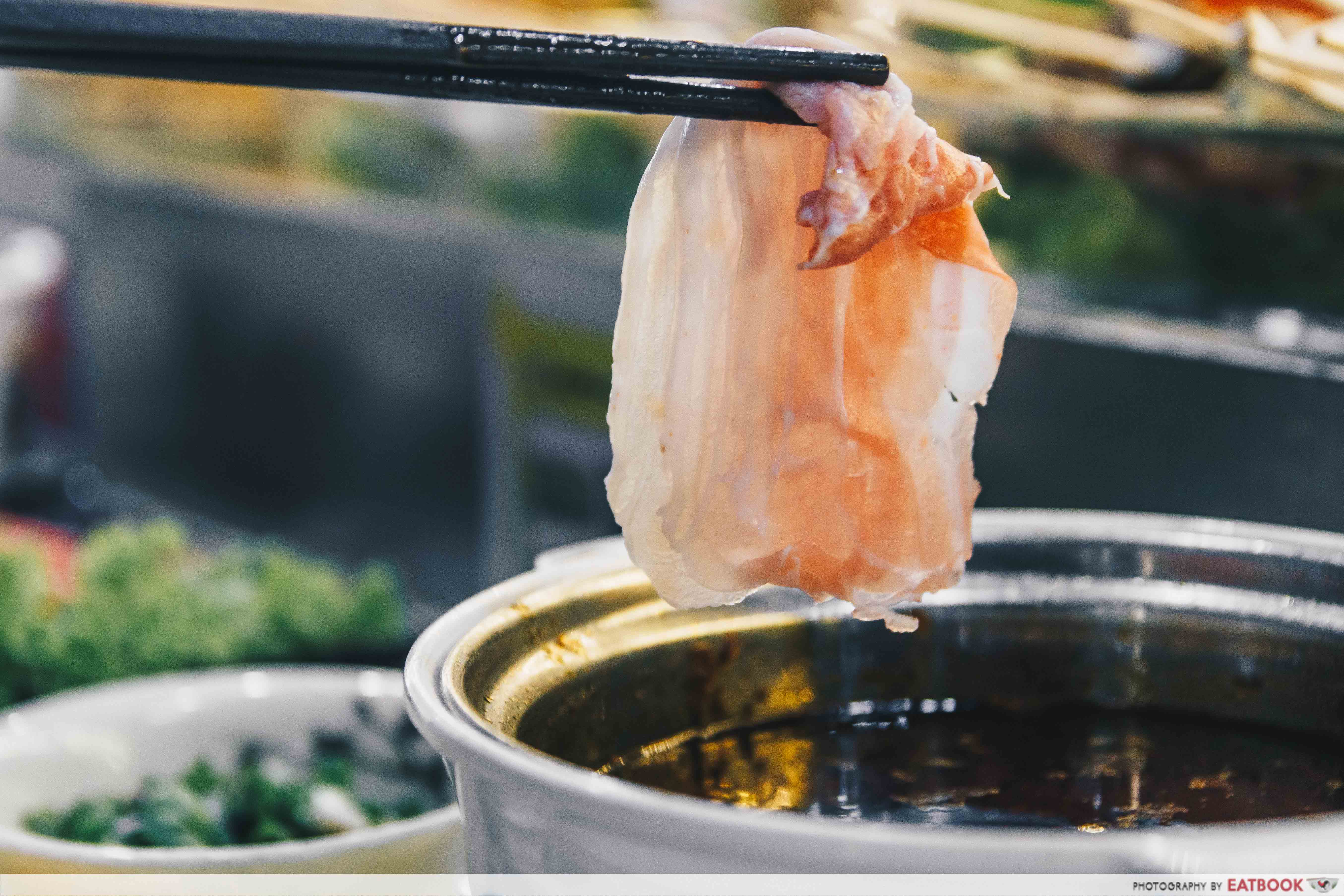 When the beef rolls and pork belly were served, my colleague and I both looked at each other in wide-eyed amazement – in a bad way. The slices were so thin to the point that some parts were close to being translucent. Picking them up with chopsticks even proved to be a challenge as they started to fall apart. Colour-wise, they were less vibrant than those from other restaurants I've eaten at as well.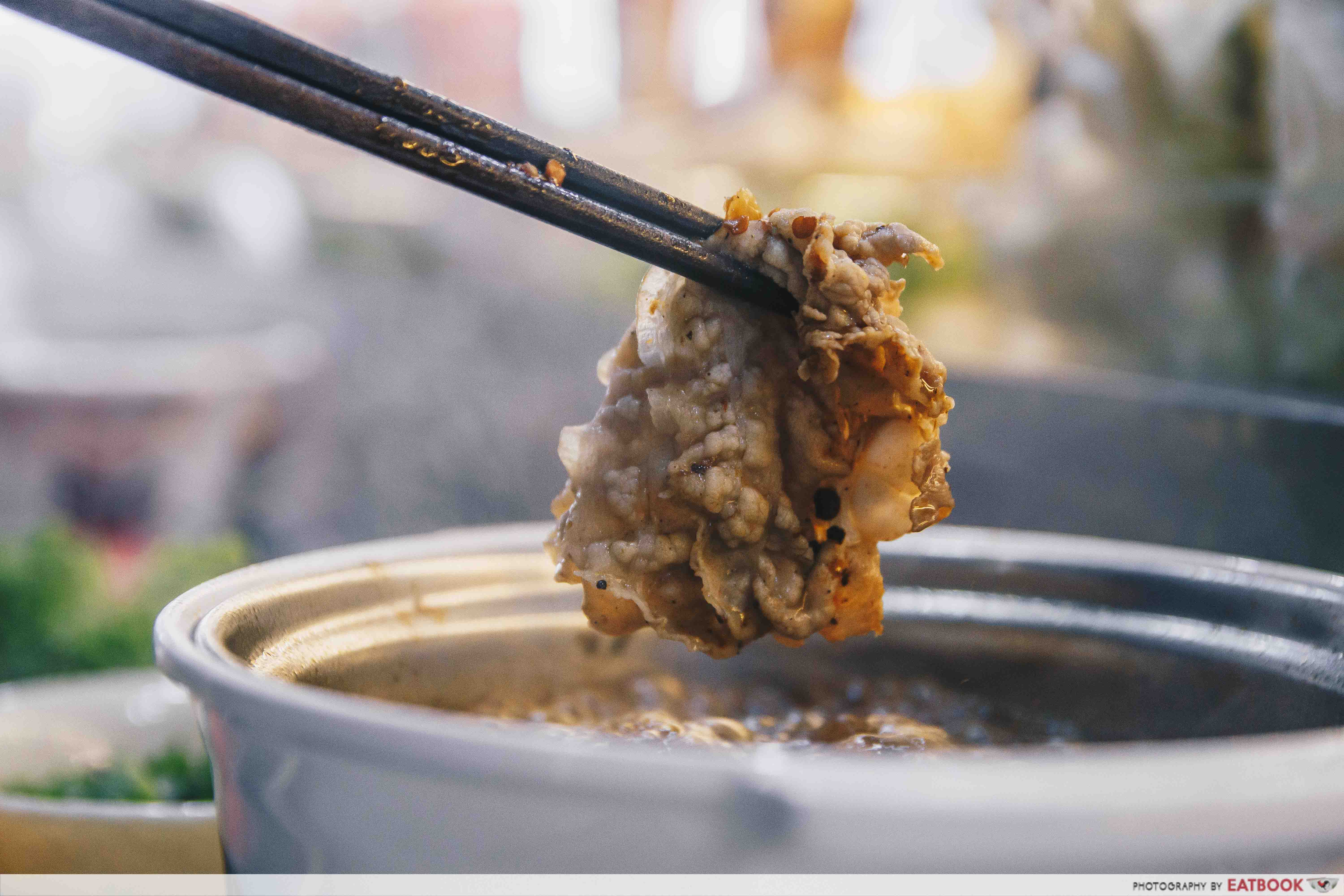 When our hot pots started to boil, we dumped the skewers and some slices of beef and pork in. In an instant they were ready. The beef and pork belly slices were extremely tender, somewhat justifying how thinly sliced they were. Though the portions seemed big to the eyes initially, the meat, when cooked, became small. The tomato pot was a good mix of sweet and sour flavours, while the spicy pot expectedly induced familiar numbing sensations.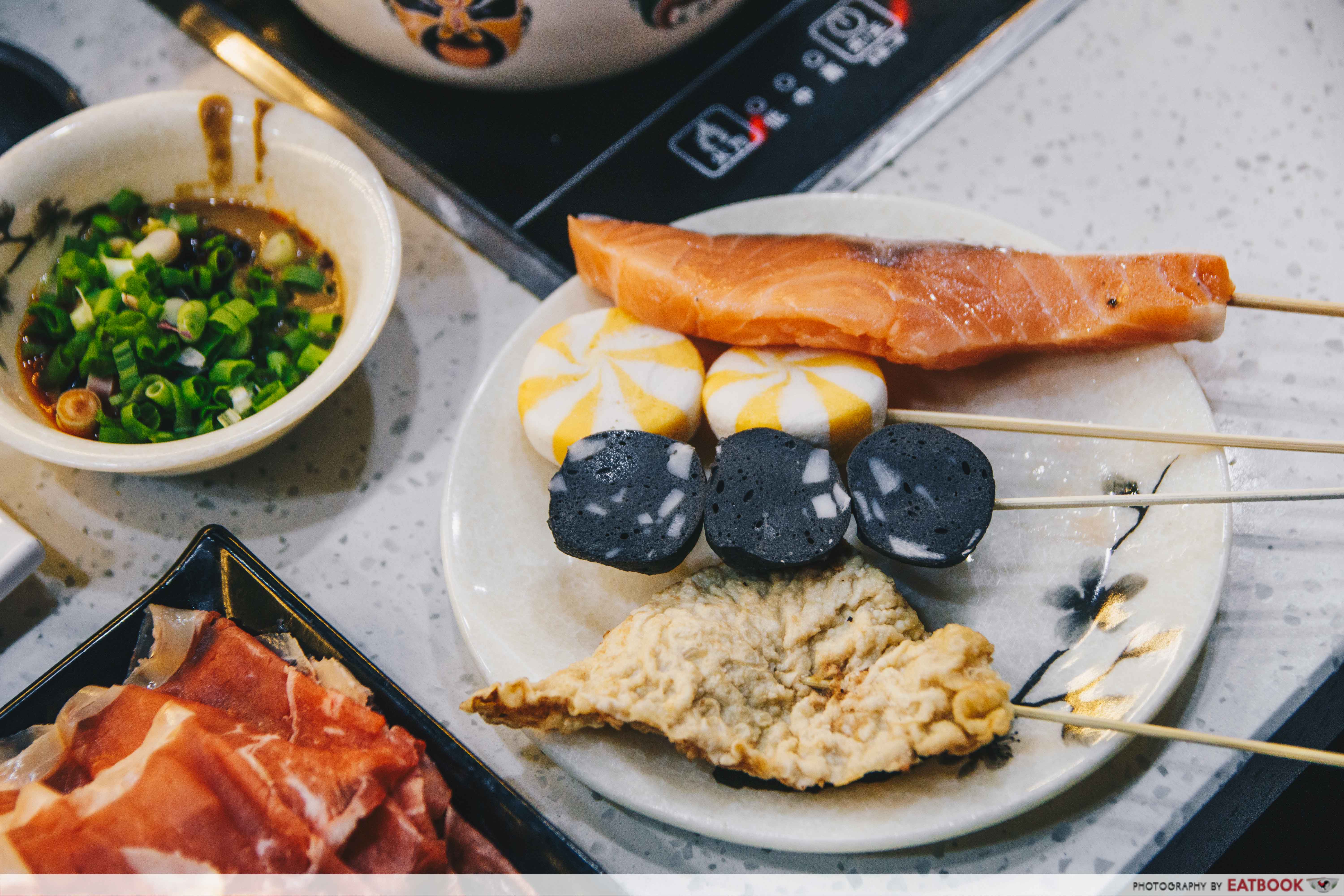 Some must-haves are the salmon skewer ($3) and salmon balls with roe in the centre ($3).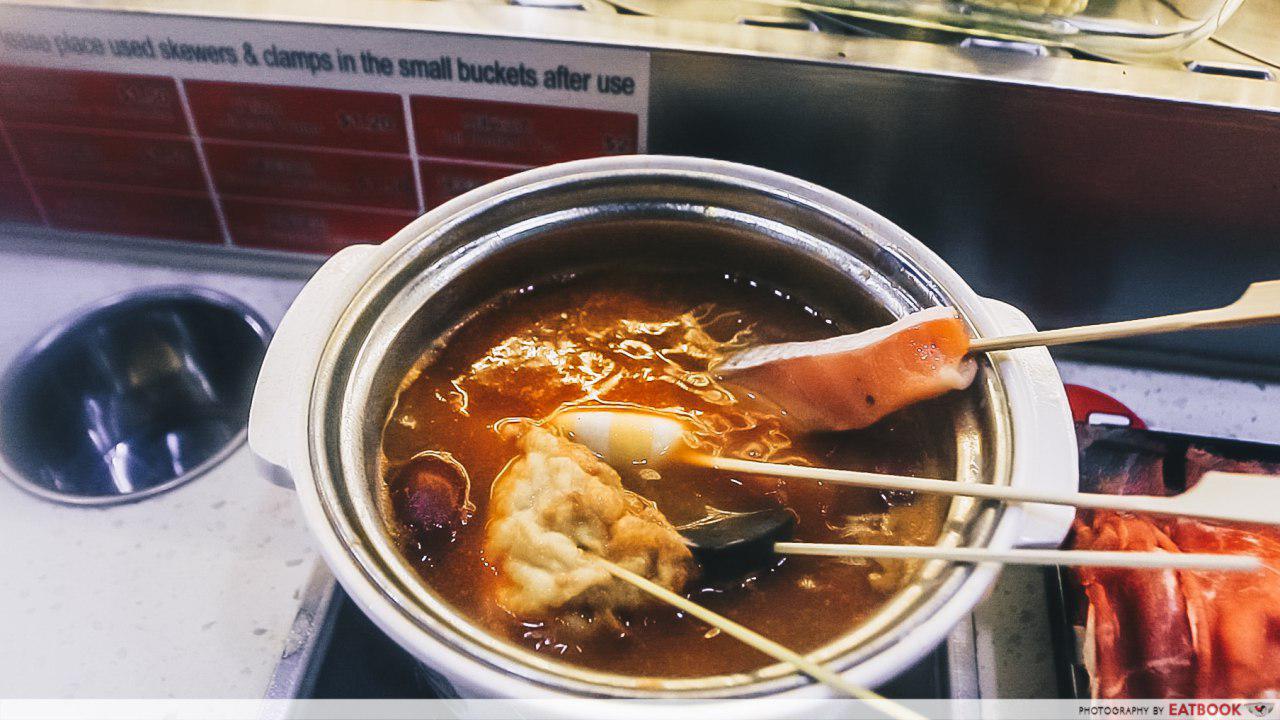 The salmon was plump and fresh. It also tasted sweet after we cooked it in the tomato pot. Adding the ingredients made the broth richer. Take caution not to greedily drink the soup straight from the pots like we did! Scoop it into a bowl to cool first. My mom would probably berate me if she knew that I drank the ma la broth. They are usually concentrated and meant more for cooking than drinking.
Ambience at Steamov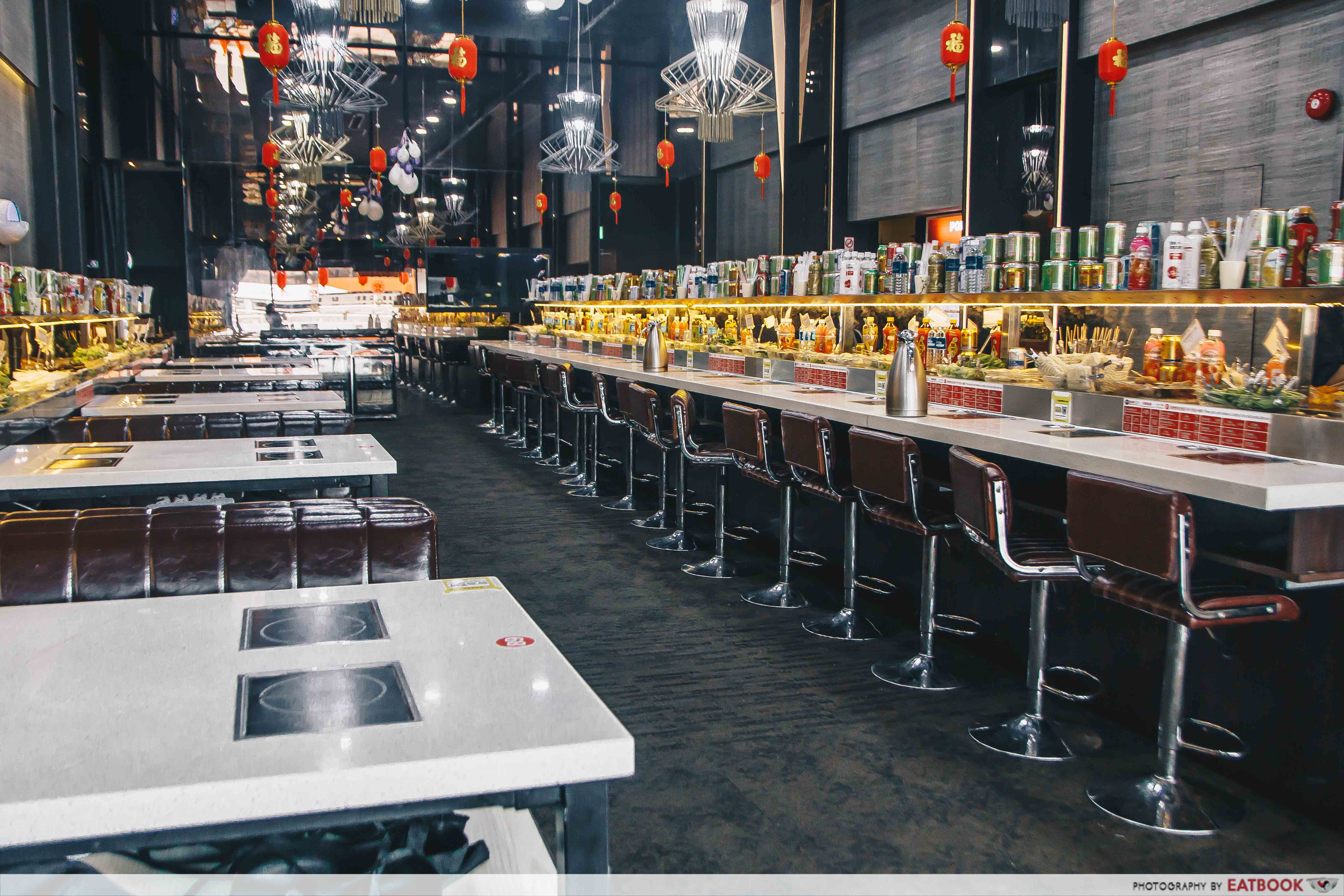 At first glance, the restaurant looked different and fun. At lunchtime there wasn't much of a crowd either. Hot pot for supper probably sounds like a better idea than lunch. Sitting down waiting for our food to arrive, we noticed flies in the air-conditioned restaurant. We were alarmed when we eyed some as they flitted around the food on the slow-moving conveyor belt.
The verdict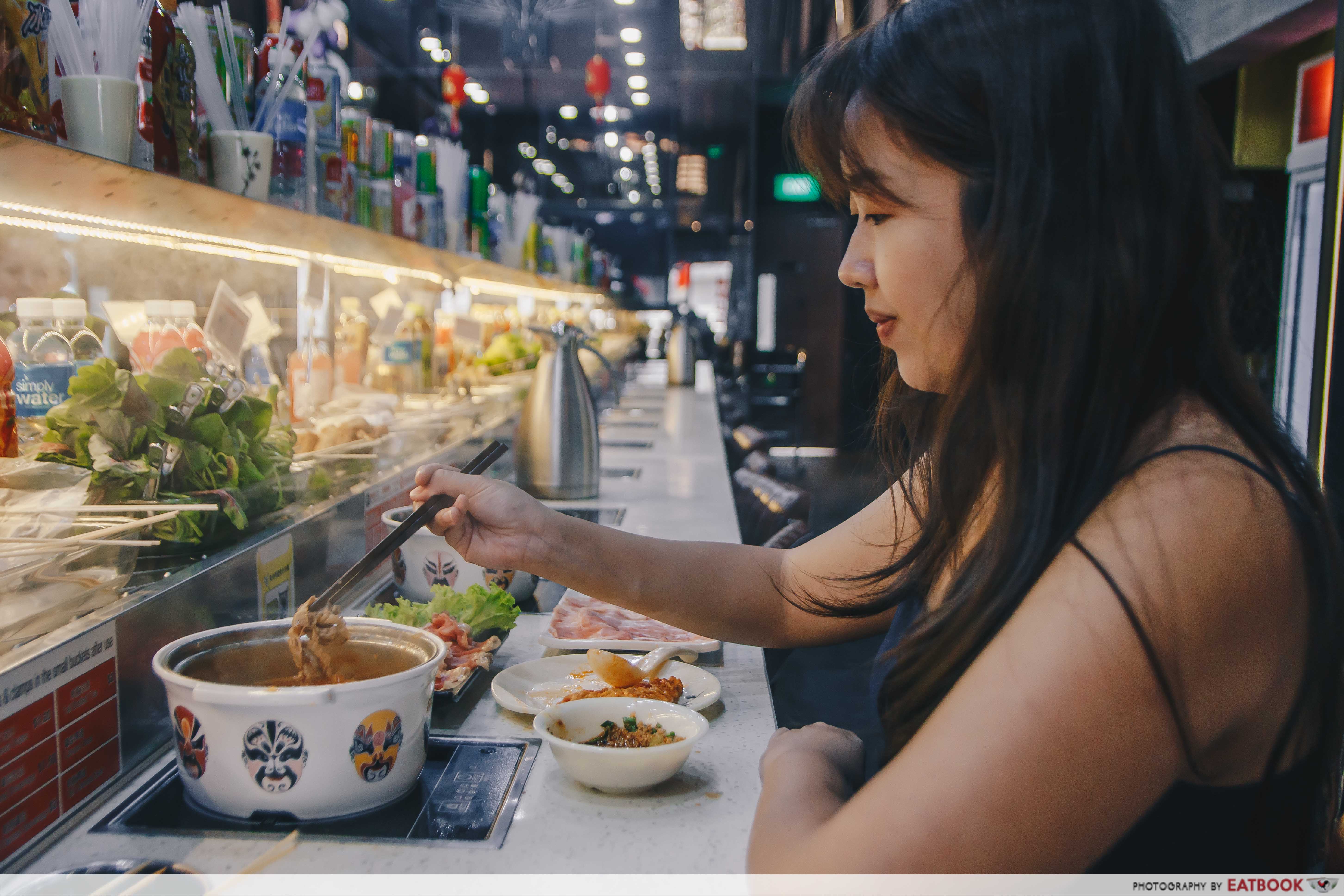 Beyond the fun idea of a conveyor belt hot pot, Steamov is just another typical Chinese hot pot restaurant. The cleanliness of the restaurant can be slightly off-putting for some as well. If you're around the area or are looking for a more wallet-friendly and quick hot pot option, give Steamov a go.
If you are looking for more wallet-friendly places to eat at, check out our lists of hawker meat platters and fish head steamboat you can head to with friends or family!
Address: 325 New Bridge Road, Singapore 088760
Opening hours: Daily 11am to 4am
Tel: 8858 0543
Website
This is an independent review by Eatbook.sg.
Summary
Pros
– Nett prices
– Fun concept
– Wide variety
Cons
– Insects were flying around the food
– Portions are small
Recommended Dishes: Tomato Pot ($5), Spicy Pot ($5), Salmon Skewer ($3)
Opening Hours:
Daily 11am to 4am
Address: 325 New Bridge Road, Singapore 088760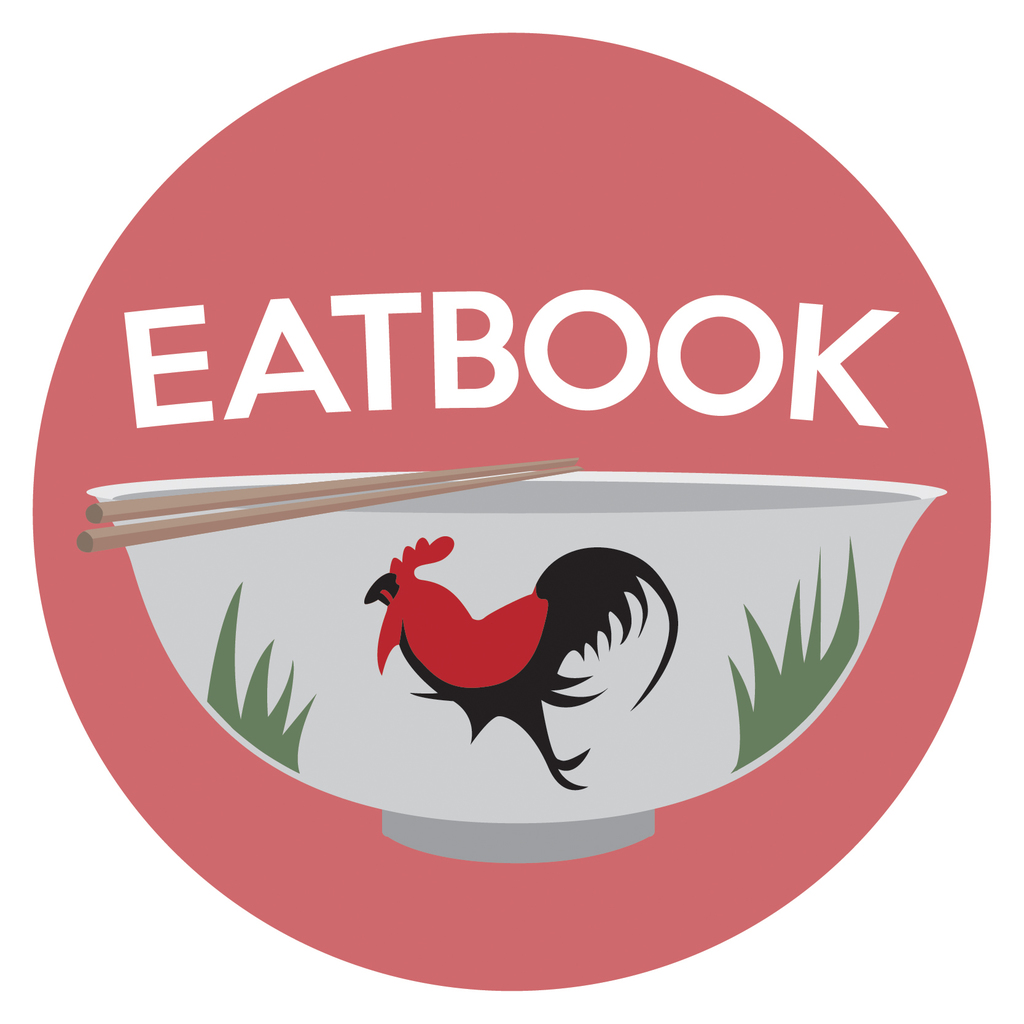 Drop us your email so you won't miss the latest news.