May Pho Culture in Chinatown serves legit Vietnamese food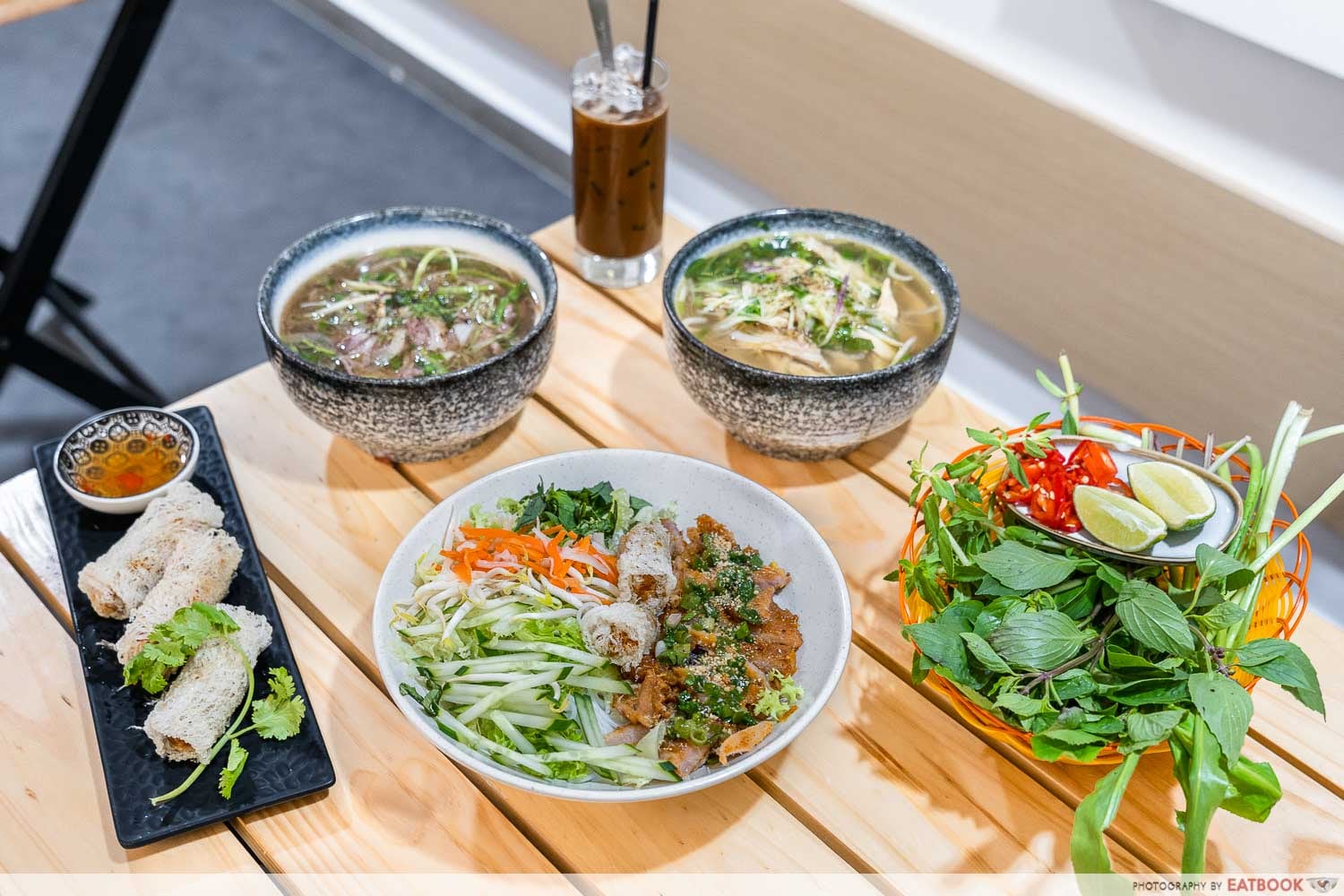 There has been a recent rise in popularity of Vietnamese food, with banh mi and pho stalls popping up across the island. Joining in the fray is May Pho Culture in Chinatown, a several-month-old eatery in an inconspicuous corner behind Hong Lim.
Behind May Pho Culture is May, a native Vietnamese who hails from Ho Chi Minh City. Previously a homemaker after having moved here, she decided to set up her own eatery after she taught herself to recreate the dishes from home during the repeated COVID lockdowns.
Your Deli Bite Banh Mi Review: Fresh Banh Mi With BBQ Beef Cheese And More From $5
Food at May Pho Culture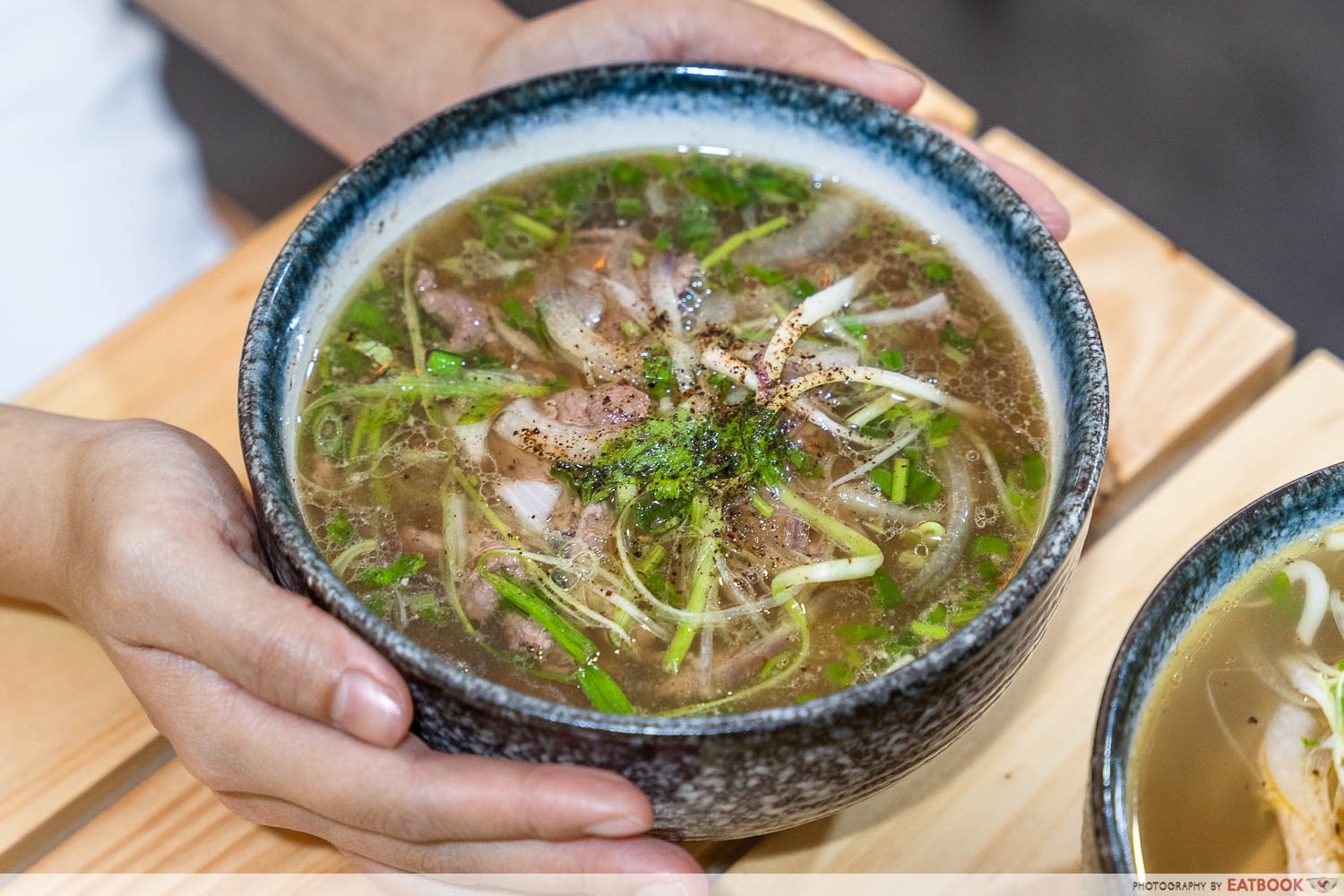 Prepared daily by May herself, the food at May Pho Culture contains no MSG. We started with a duet of pho—Tenderloin ($17.90) and Chicken Meat ($8.90).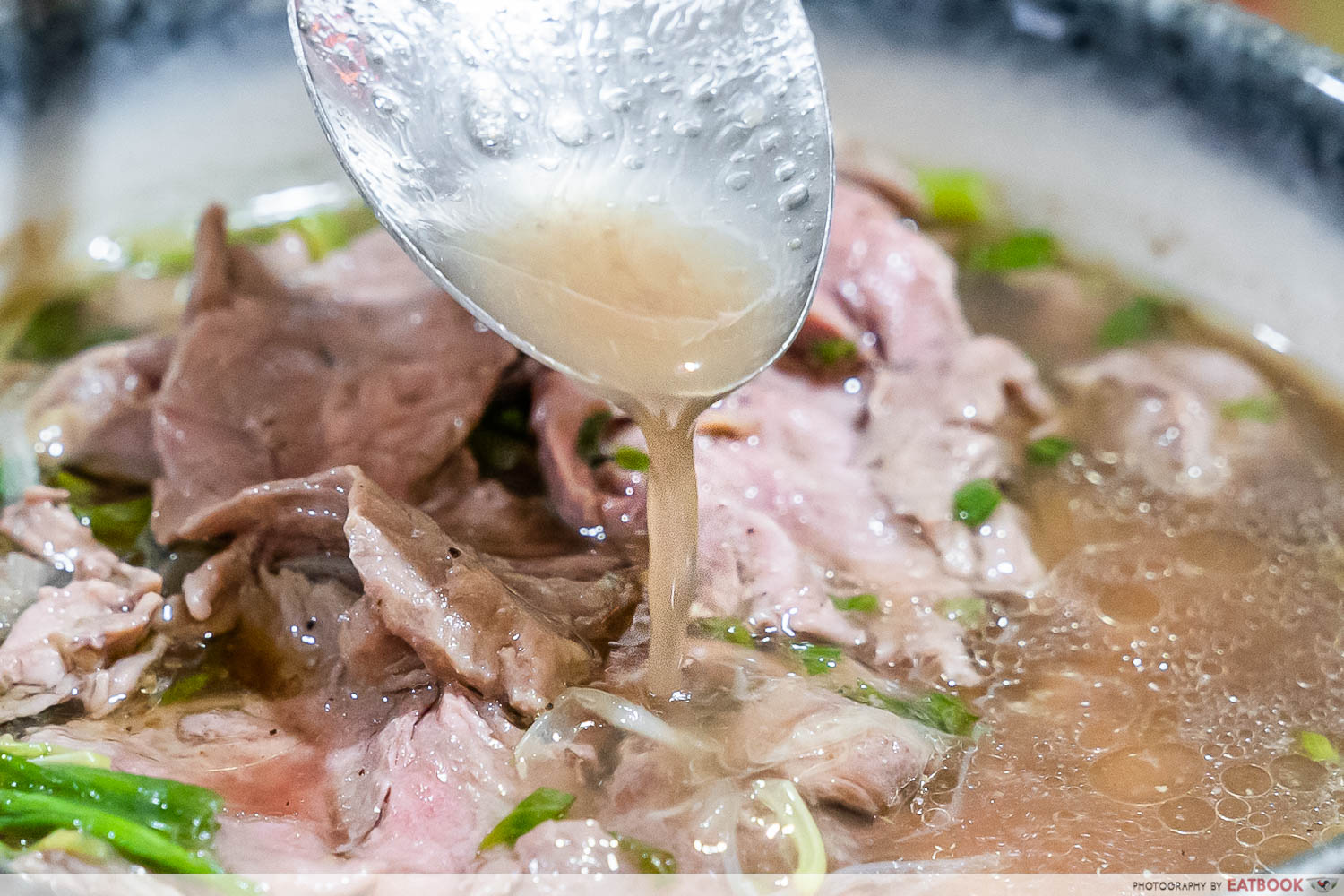 Of these, our preferred bowl was the beef version, which sported a delicate, savoury broth, glistening with the oils from the pink slices of beef. It's literal comfort in a spoon, and it's no wonder that CNN ranked beef pho as the number two best soup in the world.
In case you were wondering, May Pho Culture serves Pho Nam, which has a more flavourful broth that's touched with sweetness, as opposed to the cleaner-tasting Pho Bac from the Northern regions of Vietnam.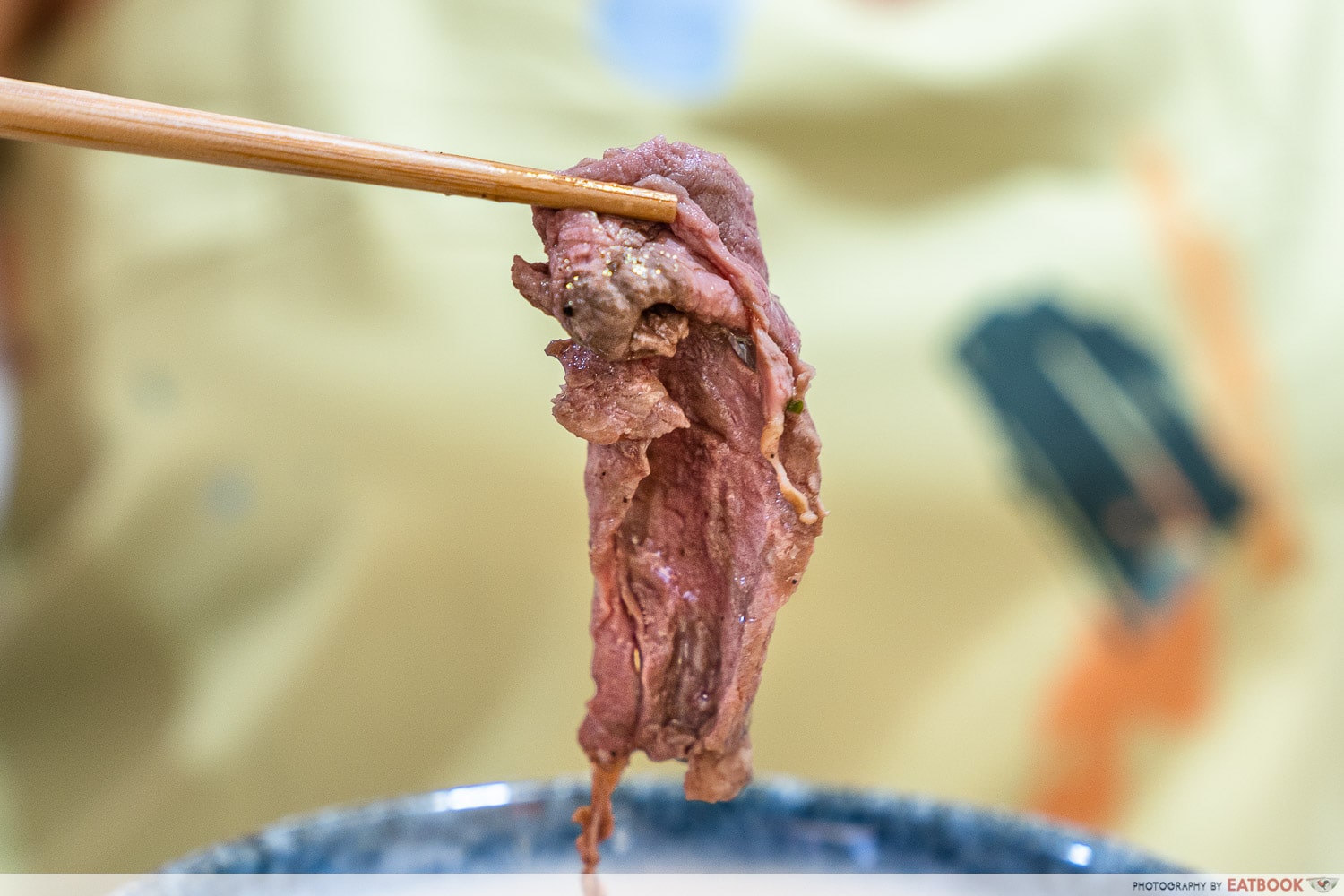 If your concern is the rareness of the beef slices, the steaming hot soup cooks it through soon enough. So dig into these first if you prefer them a touch more rare—which is how I enjoyed them, and found exceedingly tender.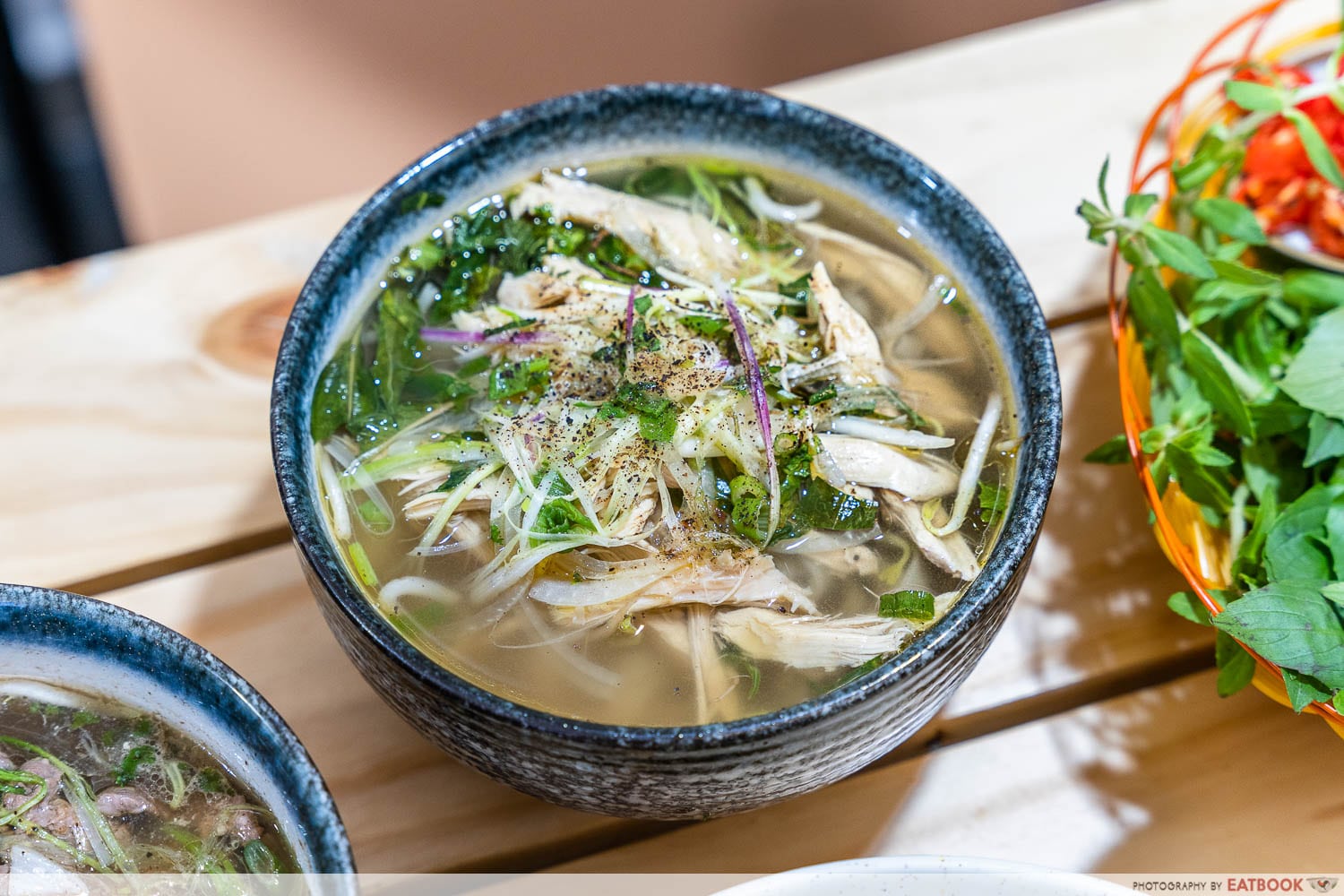 After the Tenderloin pho, the Chicken Meat Pho didn't fare as well on the flavour front. You can also opt for Chicken Thigh ($9.90), or Chicken Supreme ($11.90), which comes with both shredded chicken breast and thigh meat.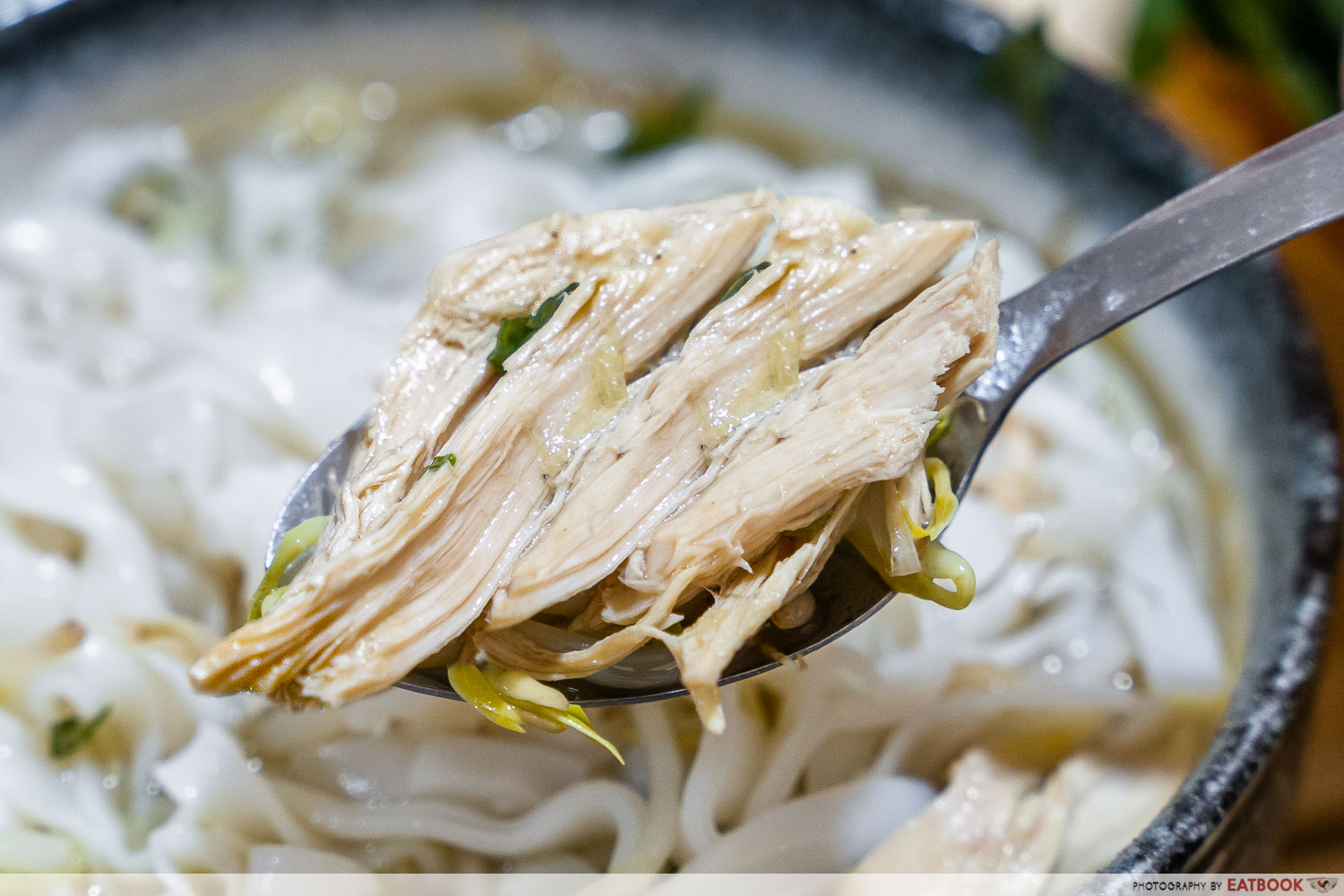 At under $10 for a very big bowl of noodles, it's hard to complain that the meat was on the tough, drier side of things. I'd definitely go for the chicken thigh if I could redo this order.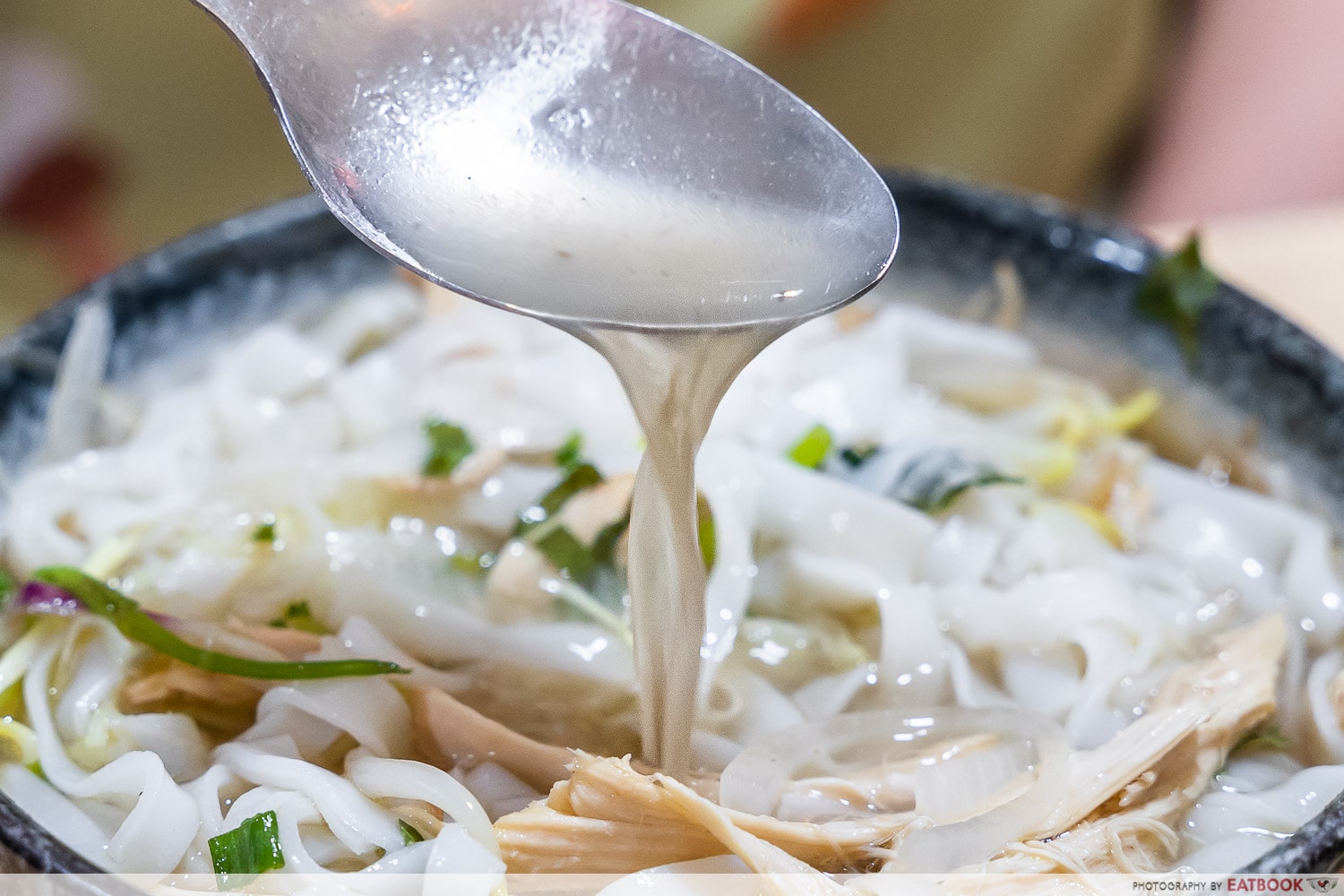 While we kept spooning up the beef broth, my dining companion and I both felt the chicken broth was, by contrast, too light. Around us, however, there were many other diners who seemed to thoroughly enjoy theirs, finishing up all their soup as well.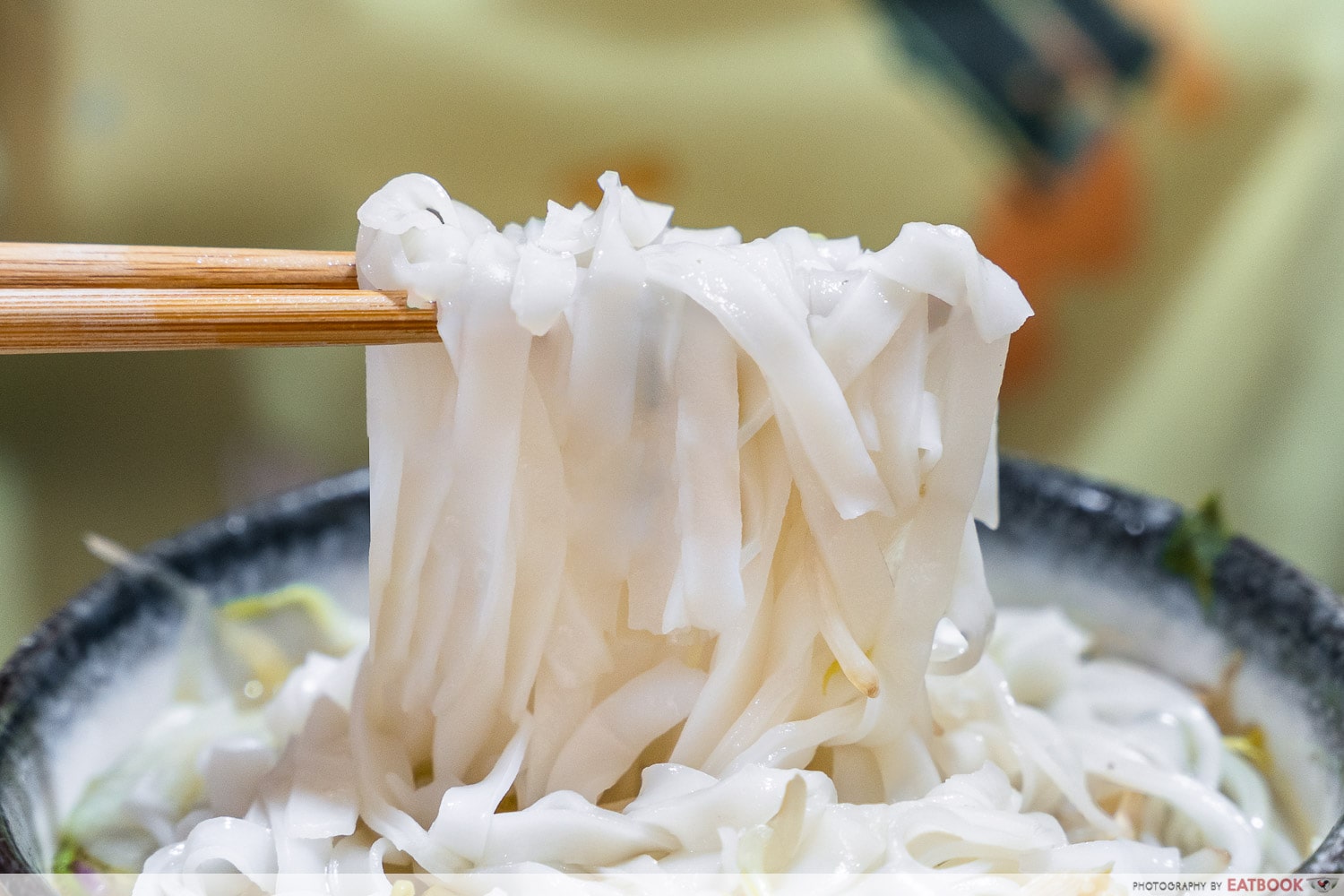 My main gripe about the chicken broth was that it couldn't be carried by the thick rice noodles; it didn't have enough body to give the noodles flavour even after it had been absorbed. It could really just be us being spoiled by the tasty beef broth, but on the plus side, both bowls had humongous servings of the extra-smooth noodles.
For a most legit finish, the bowls of pho also come with a veritable garden of bright, fresh greens—Thai basil, sawtooth herb, and rice paddy herb—that you can further customise your noodles with.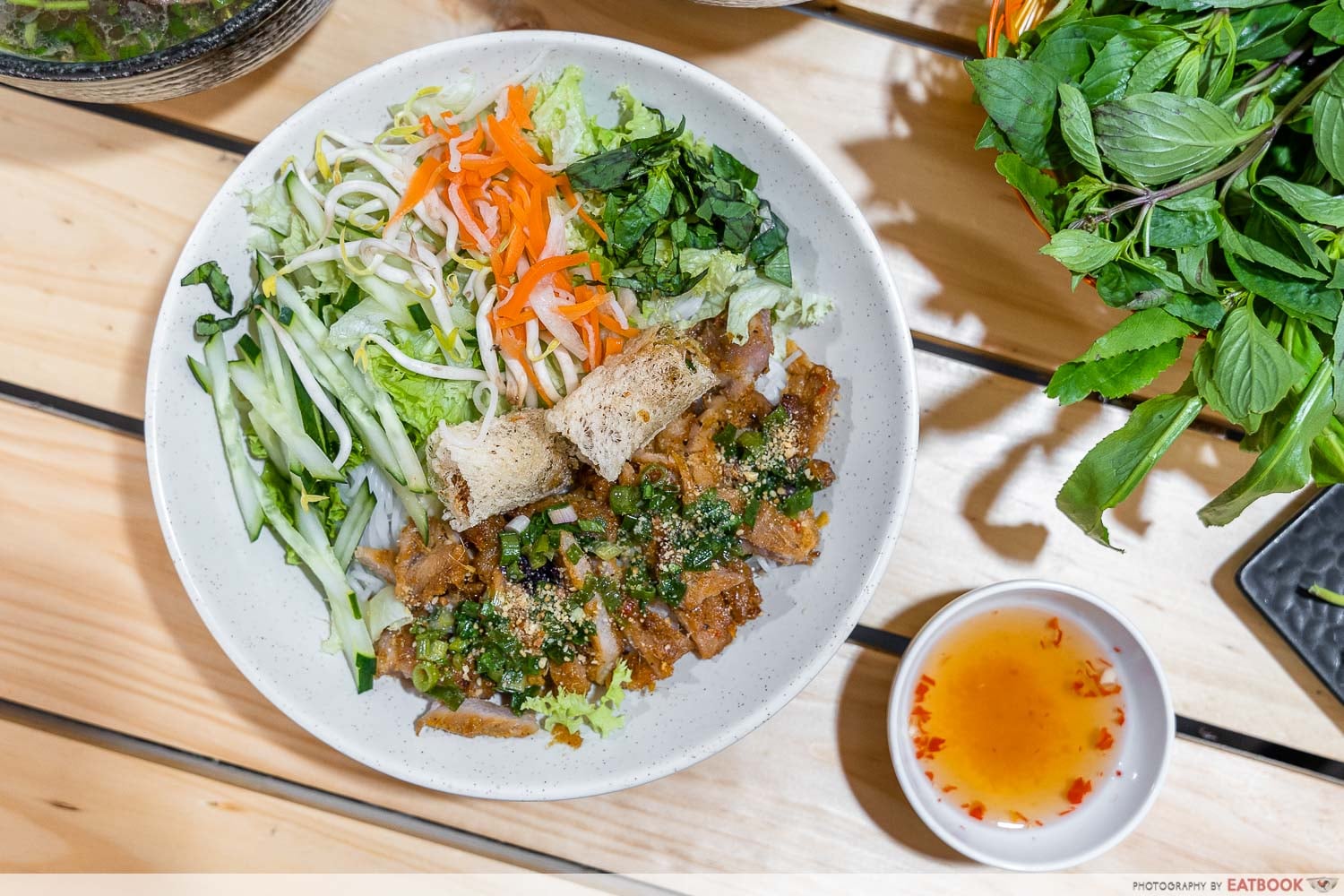 After the soupy dishes, we went for Pork Bee Hoon ($11.90), a dry-tossed bee hoon dish that's topped with more vegetables, a spring roll, and a sliced pork cutlet.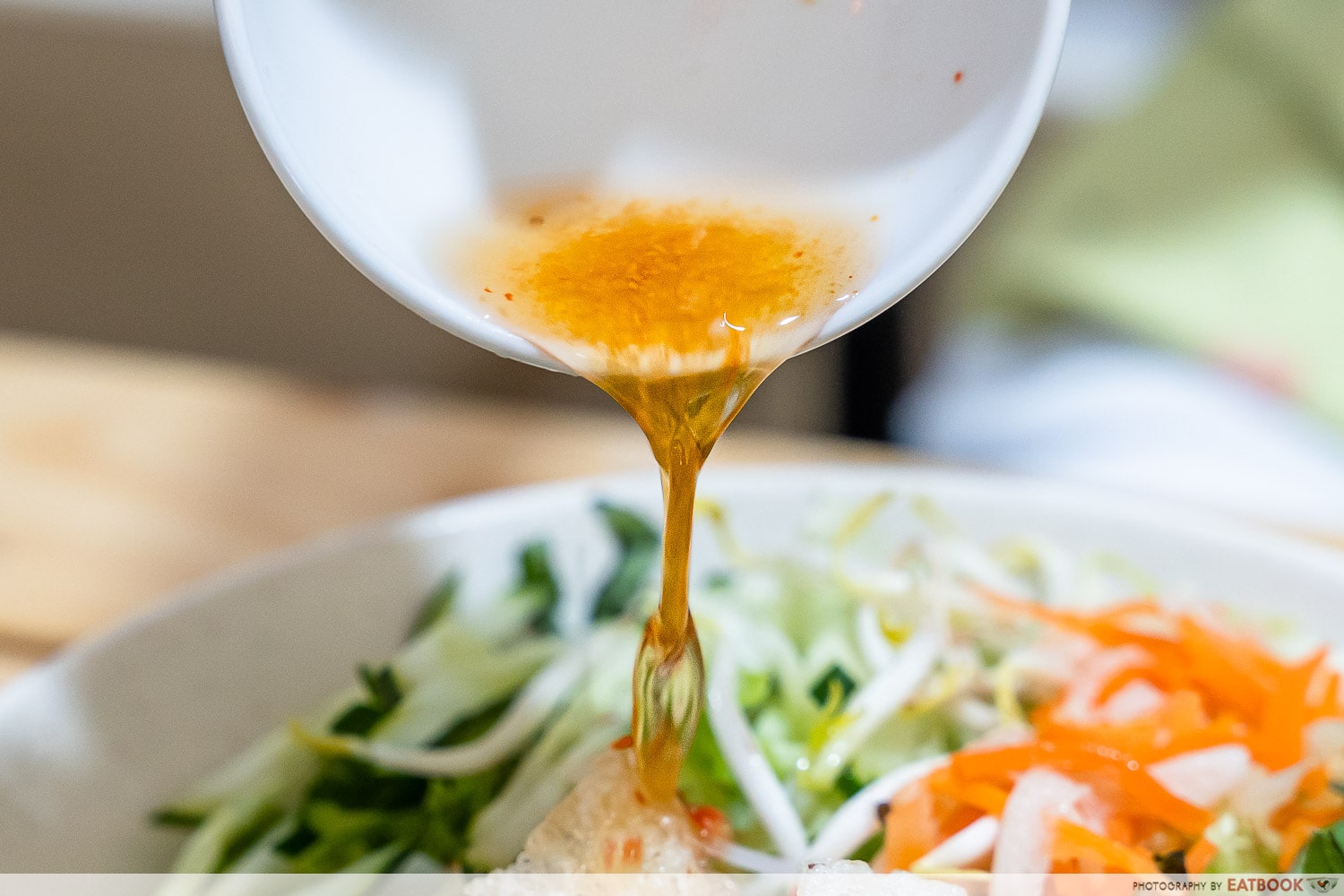 We thoroughly enjoyed the bright, sweet-tangy flavours of the sauce, which is served on the side. Pour it over and give it a good toss before you dig in; you also have the option to add more fish sauce and flavourings to taste. Thanks to the mountain of greens, it does taste rather clean if it's not evenly tossed—we did wish there was more of it.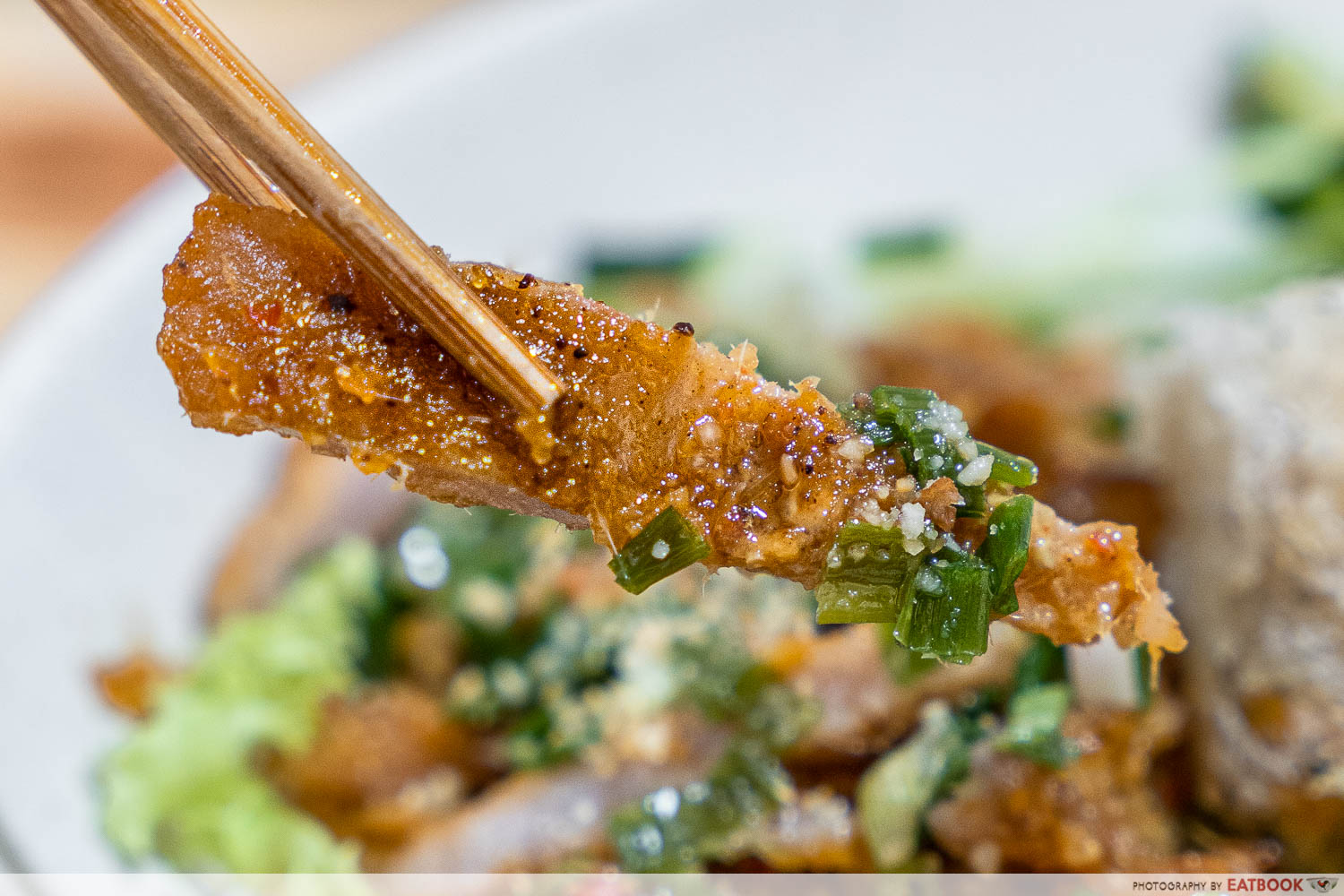 What cleanness of flavour the dish otherwise has is offset by the super tasty pork cutlet, fragrant with lemongrass, that was easily one of my favourite things at this meal.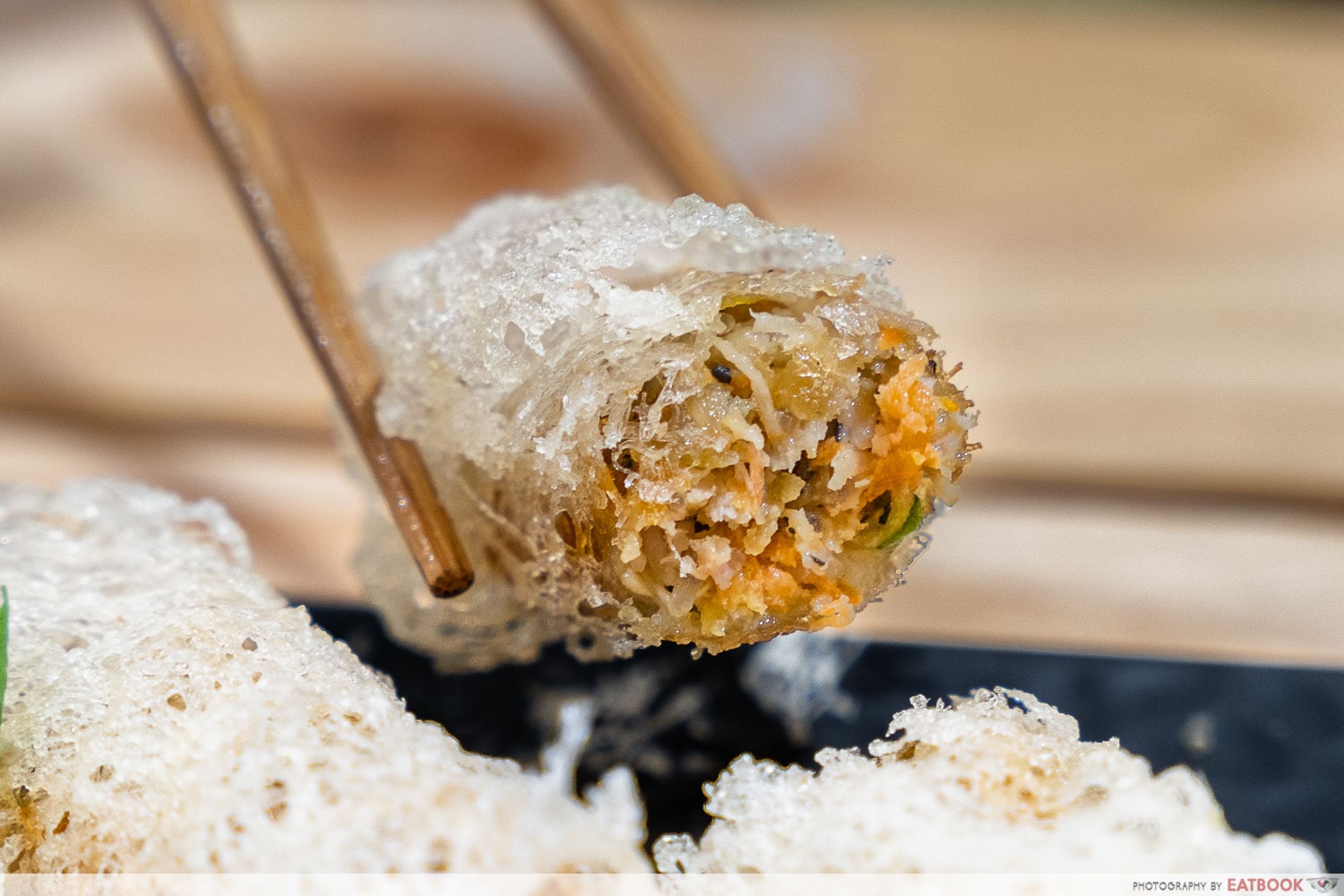 Besides the lemongrass pork, another top-tier item for me at May Pho Culture was the Spring Rolls ($6.90). There's a larger portion which is priced at $11.90, that I'd probably order the next time I'm here.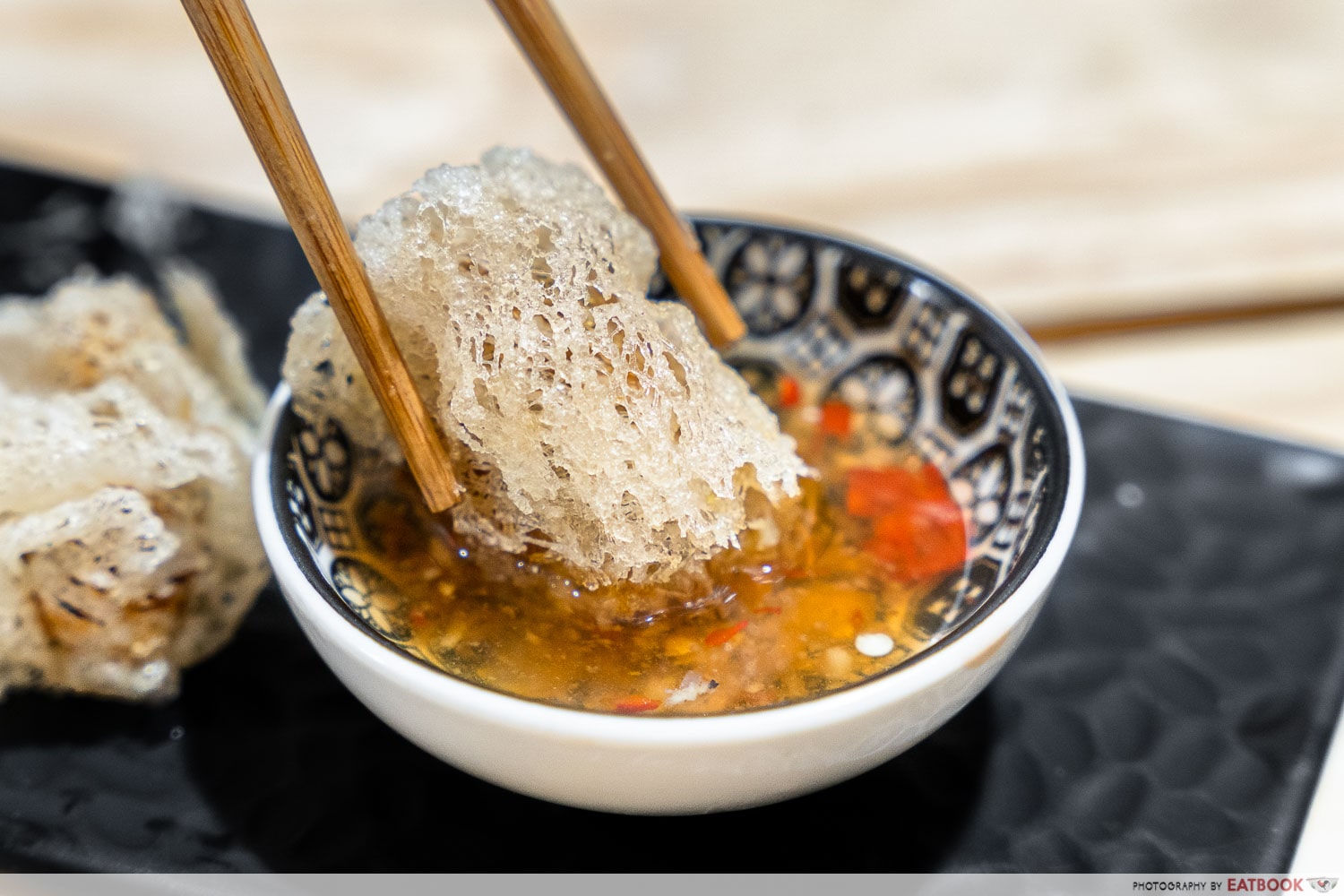 Insanely crispy and flaky even after we'd left them out for the duration of the shoot, these spring rolls were stuffed with a well-seasoned meat filling. They're already good on their own, but dipping them into the house-made chilli elevates them further.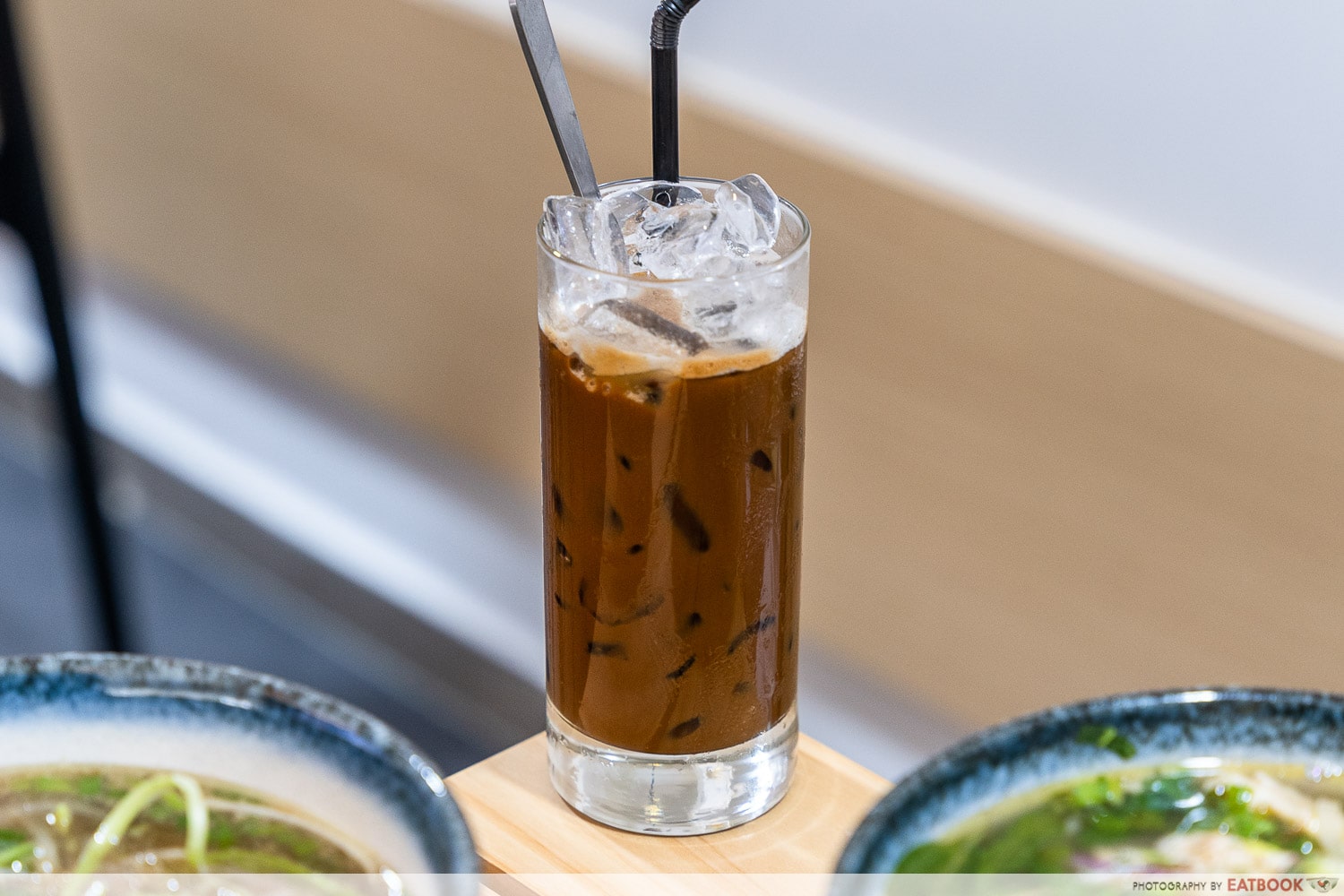 It's hard to visit a Vietnamese place without ordering some of the country's famed coffee. Here, you get to choose if you want it Iced ($3.80) or Hot ($4.80). With our weather, the cold version is undeniably more appealing, but you won't get it in the drip filter at your table. Nonetheless, my dining companion gushed over how rich and smooth it was, and just the right amount of sweet.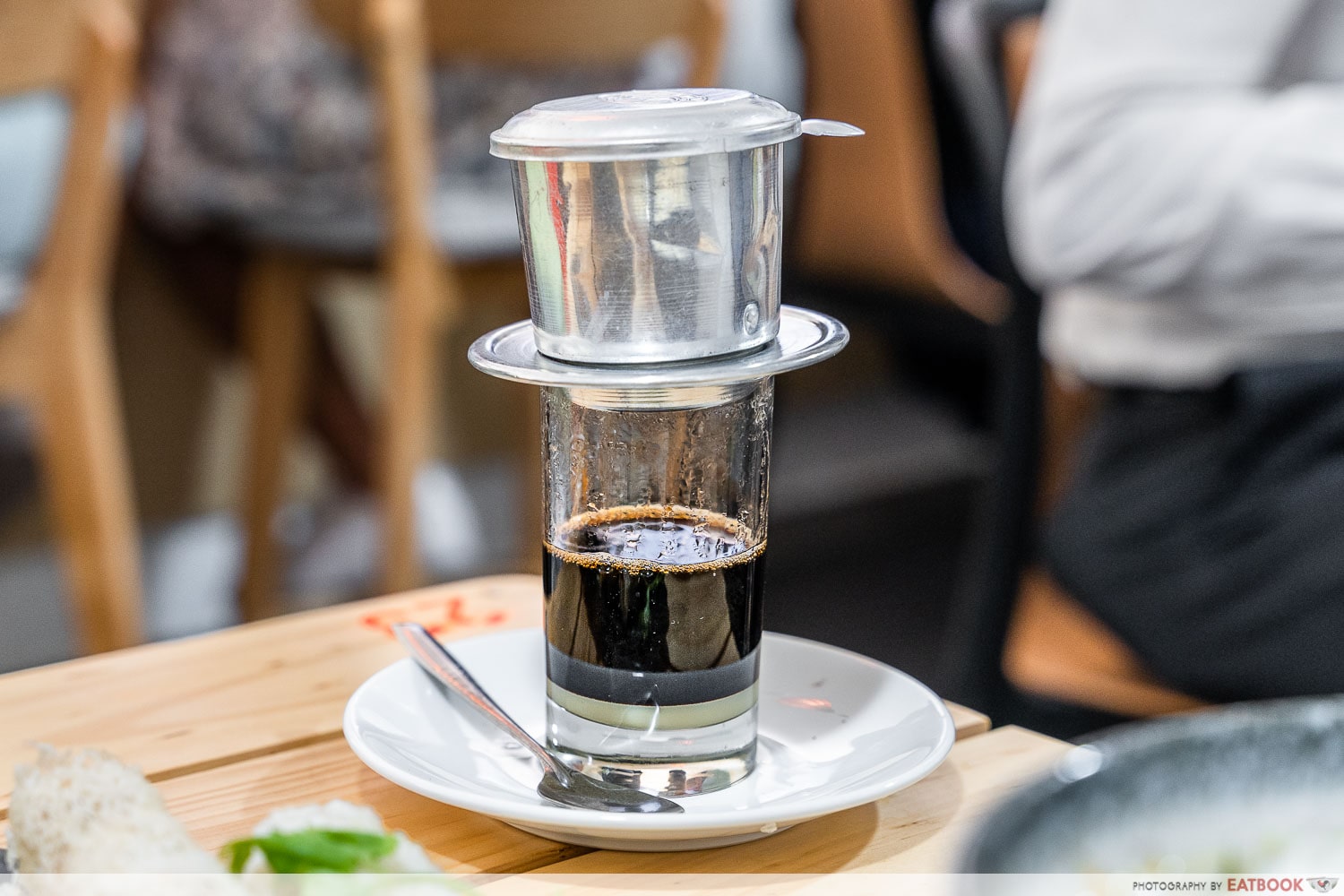 I went for the hot cuppa, which doubtless took a while to be done dripping. It was worth the wait, though, strong but not overly so, with the condensed milk bringing the perfect note of sweetness and creaminess. I hadn't intended to finish it all, but I did.
Chef Minh Vietnamese Pho Review: Ho Chi Minh-Style Pho By Ex-Wynn Palace Chef
Ambience at May Pho Culture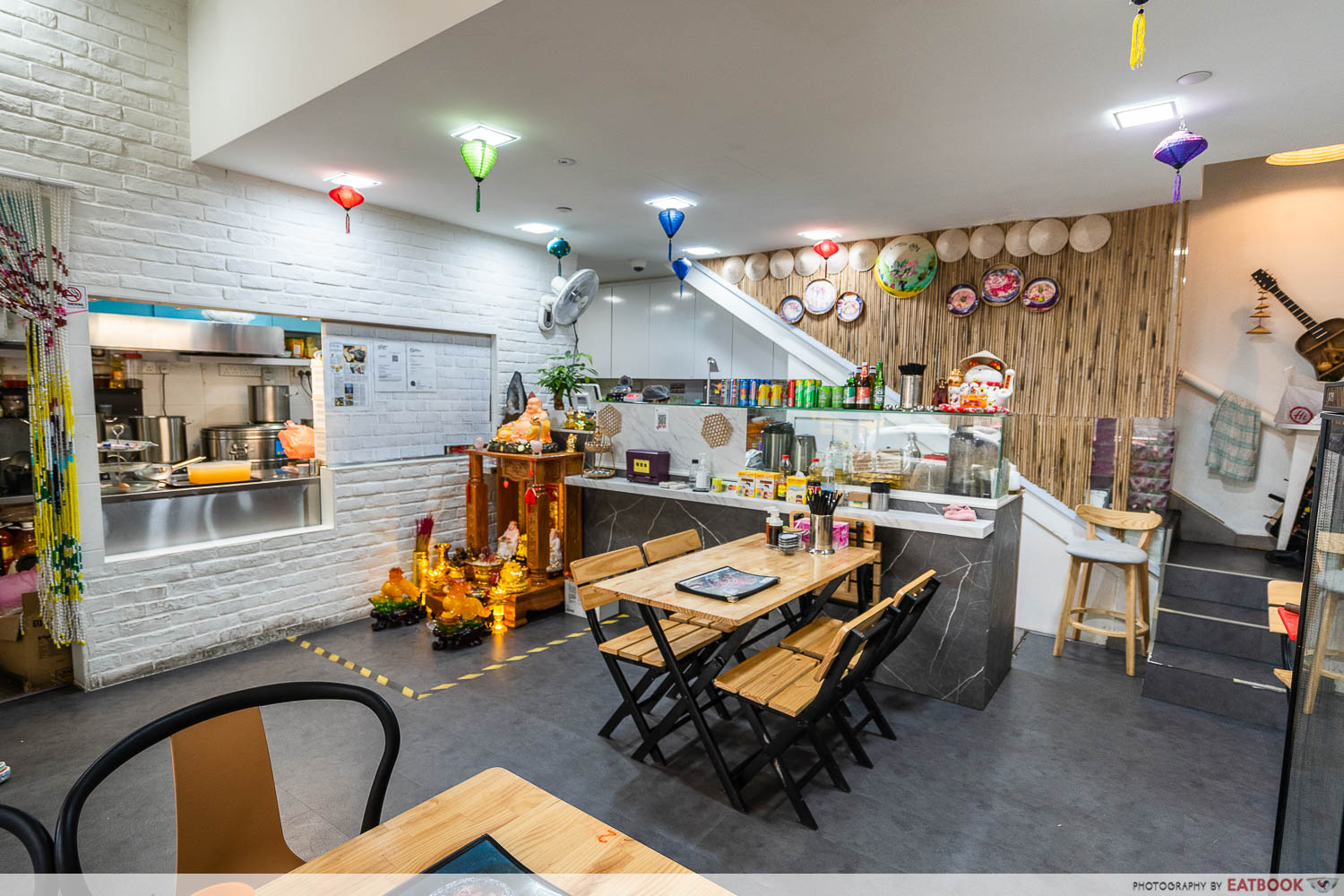 There are three dining areas at May Pho Culture: a small patio outside the restaurant, a cosy area inside, in front of the kitchen, and a mezzanine level above with counter seatings that overlook the first floor.
They're a seven-minute walk from Clarke Quay MRT Station, Chinatown MRT Station, and Telok Ayer MRT Station, though you might find yourself getting a little lost walking around Fook Hai Building to locate them. The restaurant gets very busy at lunchtime, so it's best to come at 11:30am when they open, or later in the early evening, before the dinner crowd gets in. We tried visiting at 3pm on a previous occasion, and they'd already run out of broth for lunch!
Banh Mi Sai Gon Review: 123 Year-Old Banh Mi Recipe With Pig's Ear Filling And More
The verdict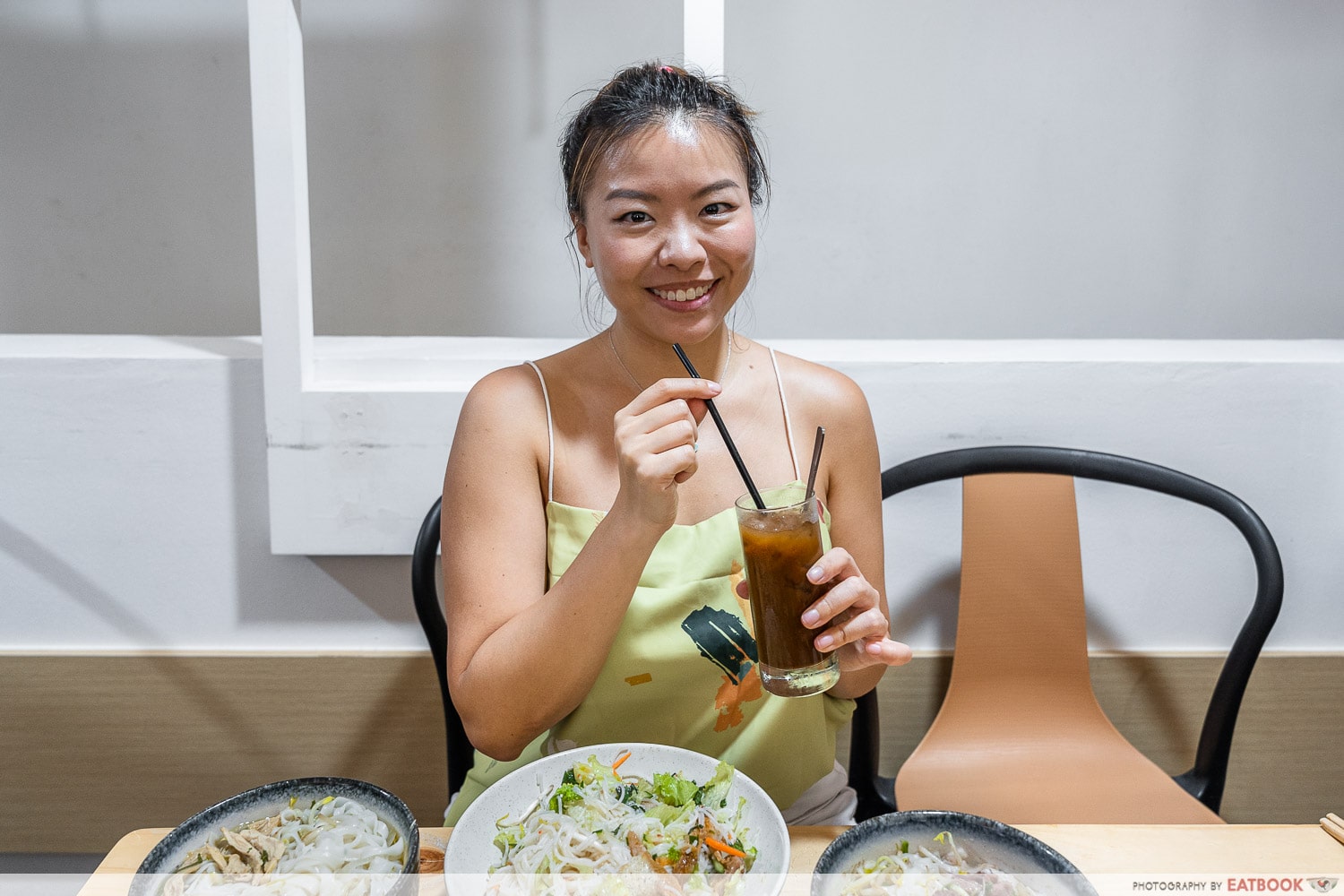 You can be sure that May Pho Culture is on my list of go-to places for the Pork Bee Hoon, Spring Rolls, and Vietnamese coffee. They're not the cheapest, especially with Hong Lim Food Centre right in front, but the portions are generous enough, plus it's cooked from the heart, and there's lots of greens and no MSG, allowing me to feel slightly less guilty about dining out.
For more Vietnamese eats, Banh Mi Sai Gon is a takeaway-only stall that serves up legit banh mi with lesser-known pork cuts; otherwise Chef Minh Vietnamese Pho is a Bukit Batok stall with pho by an ex-Wynn Palace chef!
Address: 150 South Bridge Road, #01-16, Fook Hai Building, Singapore 058727
Opening hours: Wed-Mon 11:30am to 9pm
Tel: 9646 2589
Website
May Pho Culture is not a halal-certified eatery.
Photos taken by Tan Zi Hui.
This was an independent visit by Eatbook.SG 
May Pho Culture Review: Legit Pho And Vietnamese Food In Chinatown
May Pho Culture Review: Legit Pho And Vietnamese Food In Chinatown -

8/10
Summary
Pros
– Generous portions
– Spring roll was delicious
– Vietnamese coffee was rich
Cons
– Slightly costly
– Chicken Pho was a little bland
Recommended dishes: Pork Bee Hoon ($11.90), Hot Coffee ($4.80), Spring Roll ($6.90), Tenderloin Pho ($17.90)
Opening hours: Wed-Mon 11:30am to 9pm
Address: 150 South Bridge Road, #01-16, Fook Hai Building, Singapore 058727