Chef Minh Vietnamese Pho in Bukit Batok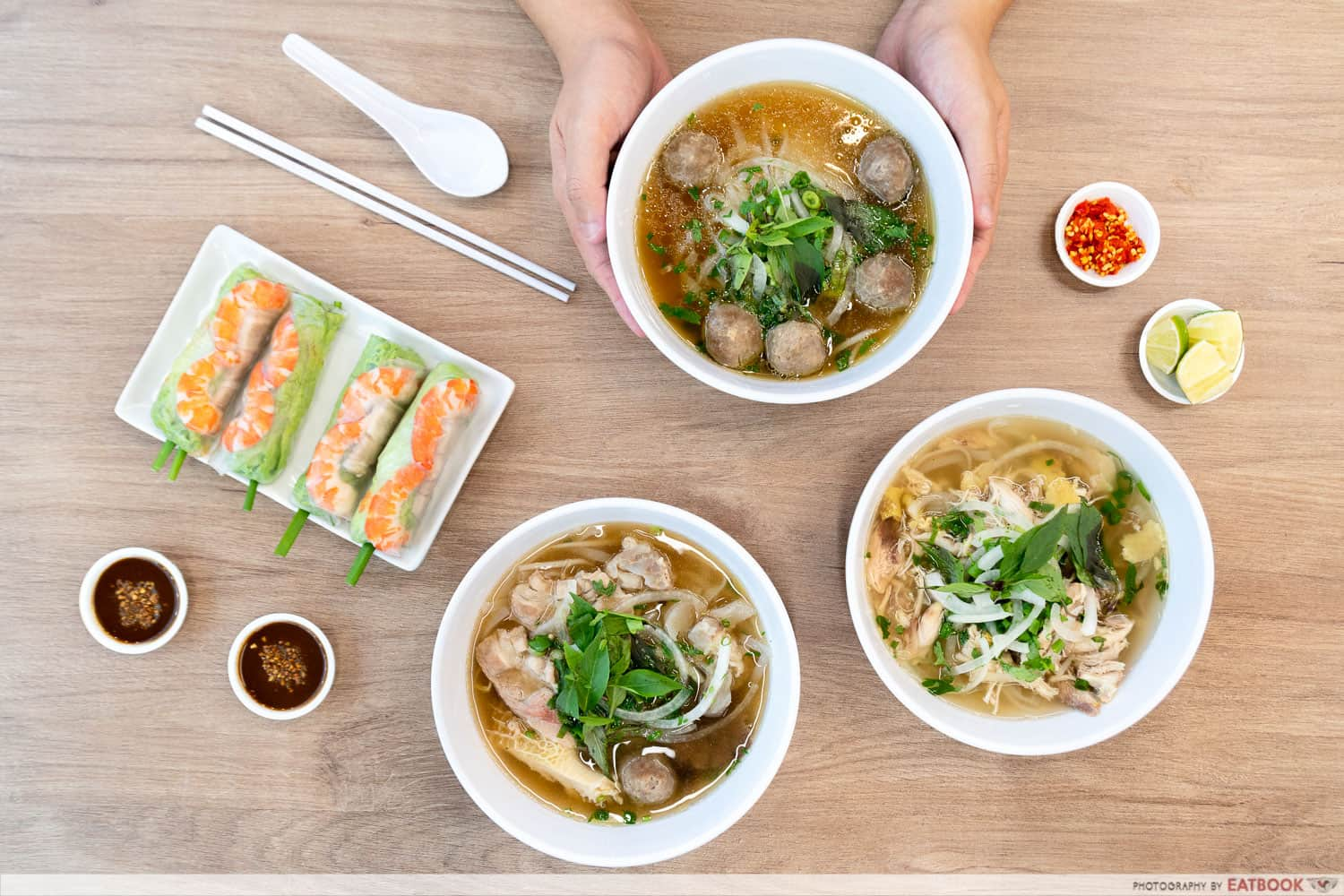 Although Vietnam offers numerous specialty dishes from the South to the North, pho still invariably comes to mind whenever we think about Vietnamese food. In spite of the many pho places we have in Singapore, I'd yet to find myself satisfied by any pho I've had here. Hence, when we were invited to the newly-opened Chef Minh Vietnamese Pho in Bukit Batok, I approached the meal with caution.
Food at Chef Minh Vietnamese Pho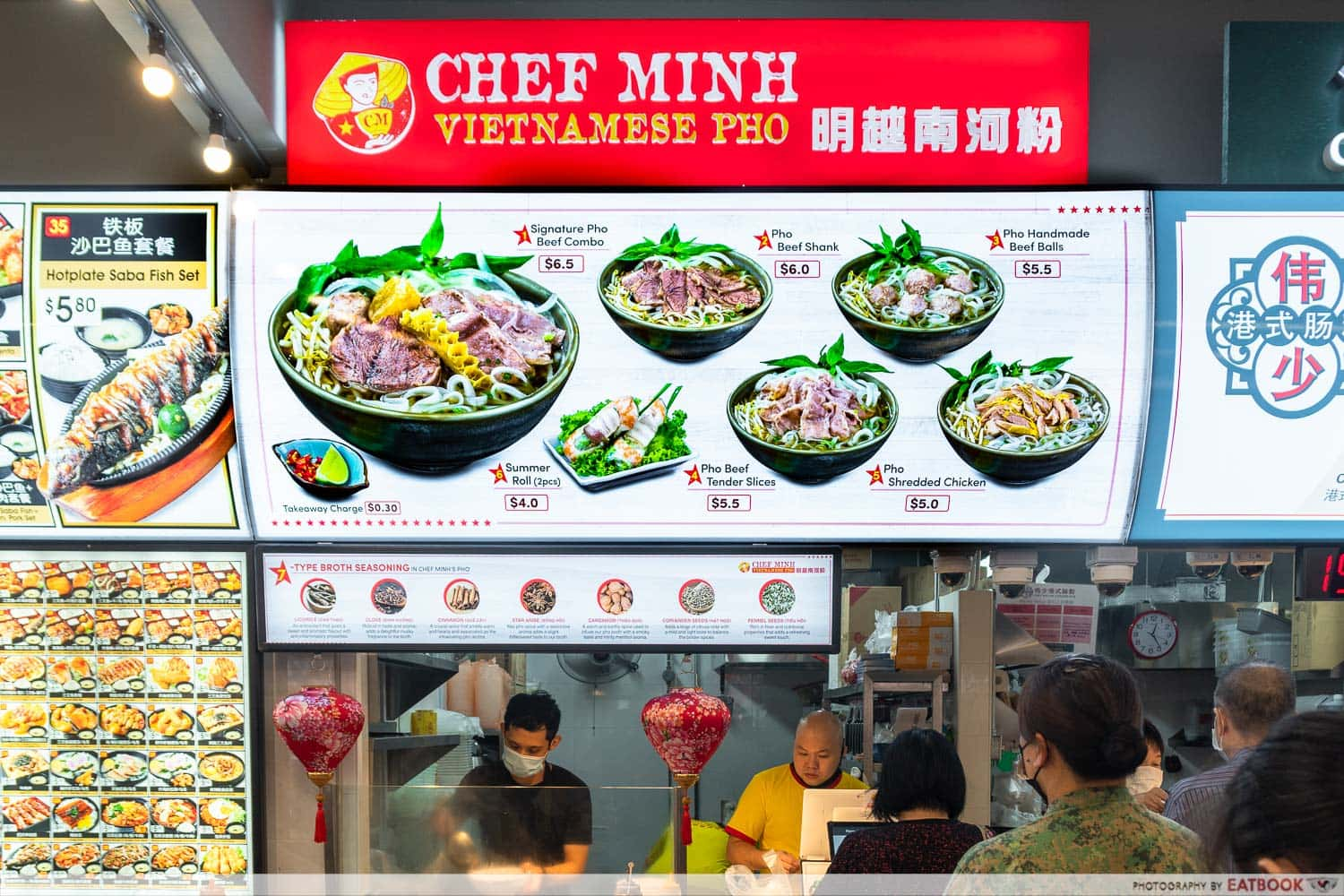 Chef Minh Vietnamese Pho is the heart and soul of Vietnamese Ngo Nhu Minh, an ex-hotel chef whose experience includes a stint at Macau's Wynn Palace. The pho here is done in the Ho Chi Minh City-style, which is richer and thicker compared to the Hanoi version we're more familiar with in Singapore, as an homage to his hometown.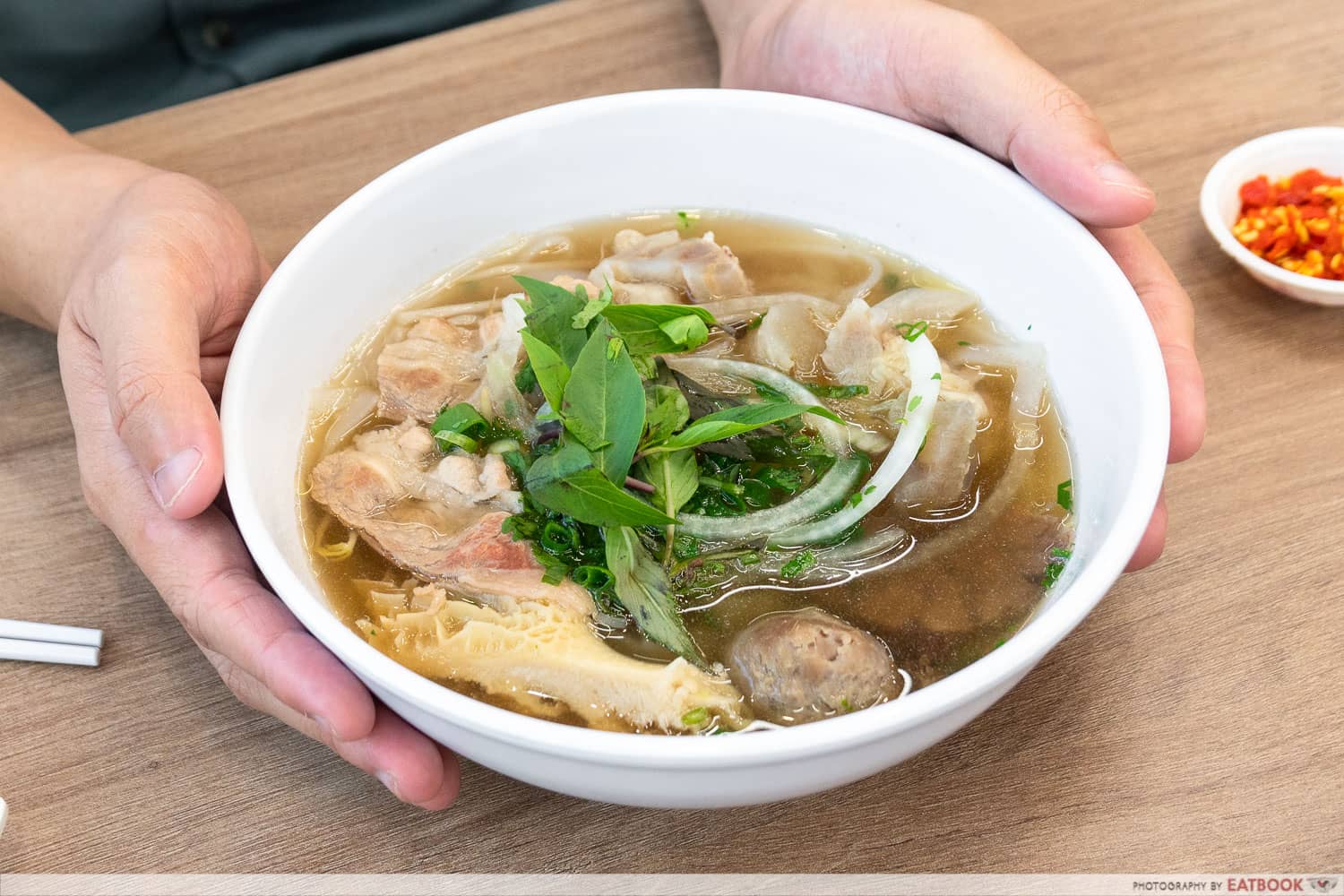 A queue had started to form even though we were there before lunchtime, so we wasted no time tucking into the Signature Pho Beef Combo ($6.50). It was definitely a big bowl of noodles, with tripe, tendons, beef shank, beef slices, and even a handmade beef ball.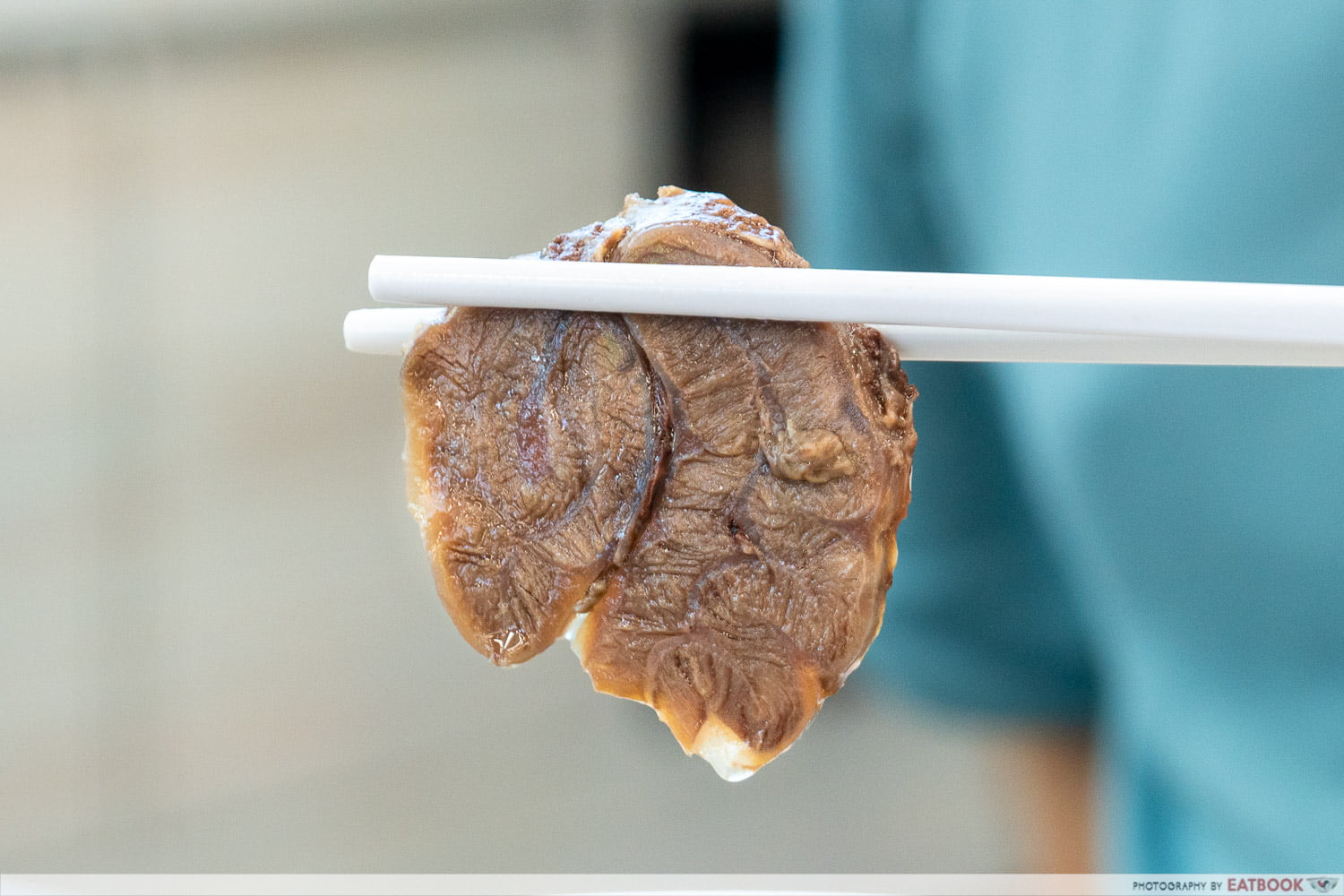 Although my favourite cut of beef is usually the gelatinous beef tendon, the shank here was hands-down the best ingredient. The beef shank is slow-cooked for 16 hours, which leaves it so tender, it falls apart at the slightest agitation.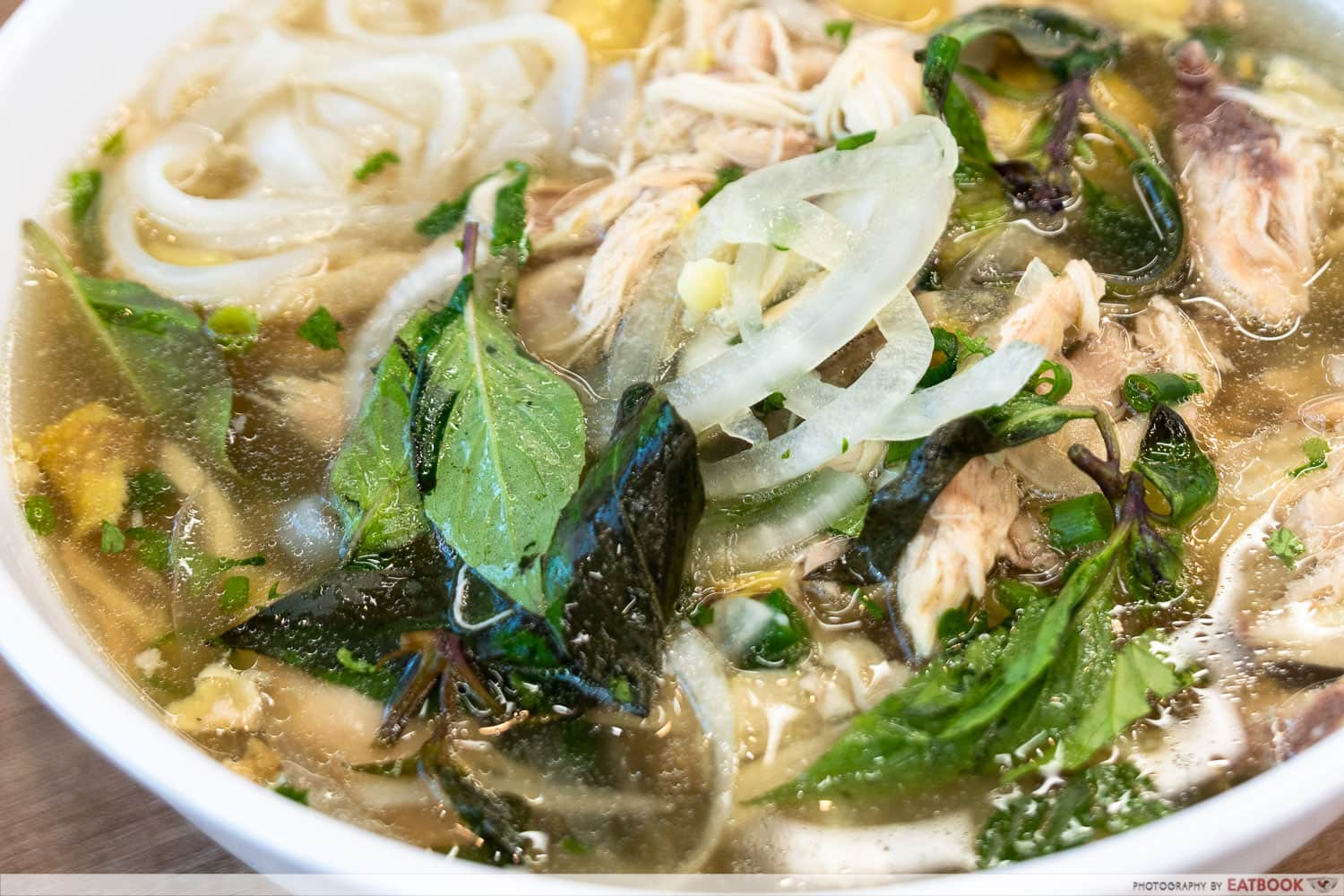 Chow down on the shredded radish and basil in between mouthfuls of pho to cleanse your palate.
Beef slices here can be served rare on request, but they're usually cooked through to cater to the elderly residents that patronise the stall.
I couldn't get enough of the bouncy beef ball, so I ordered a bowl of Pho Handmade Beef Balls ($5.50) as well. These balls are not made in-house, but instead sourced from Minh's friend. These large balls were not only chewy, but also very fragrant, which complemented the robust soup well.
In true HCM fashion, the soup carries a dark brown hue, with a bittersweet taste and slight spiciness that I reckon come from dried liquorice and star anise. While delicious, the soup became a little too gao for me after some time.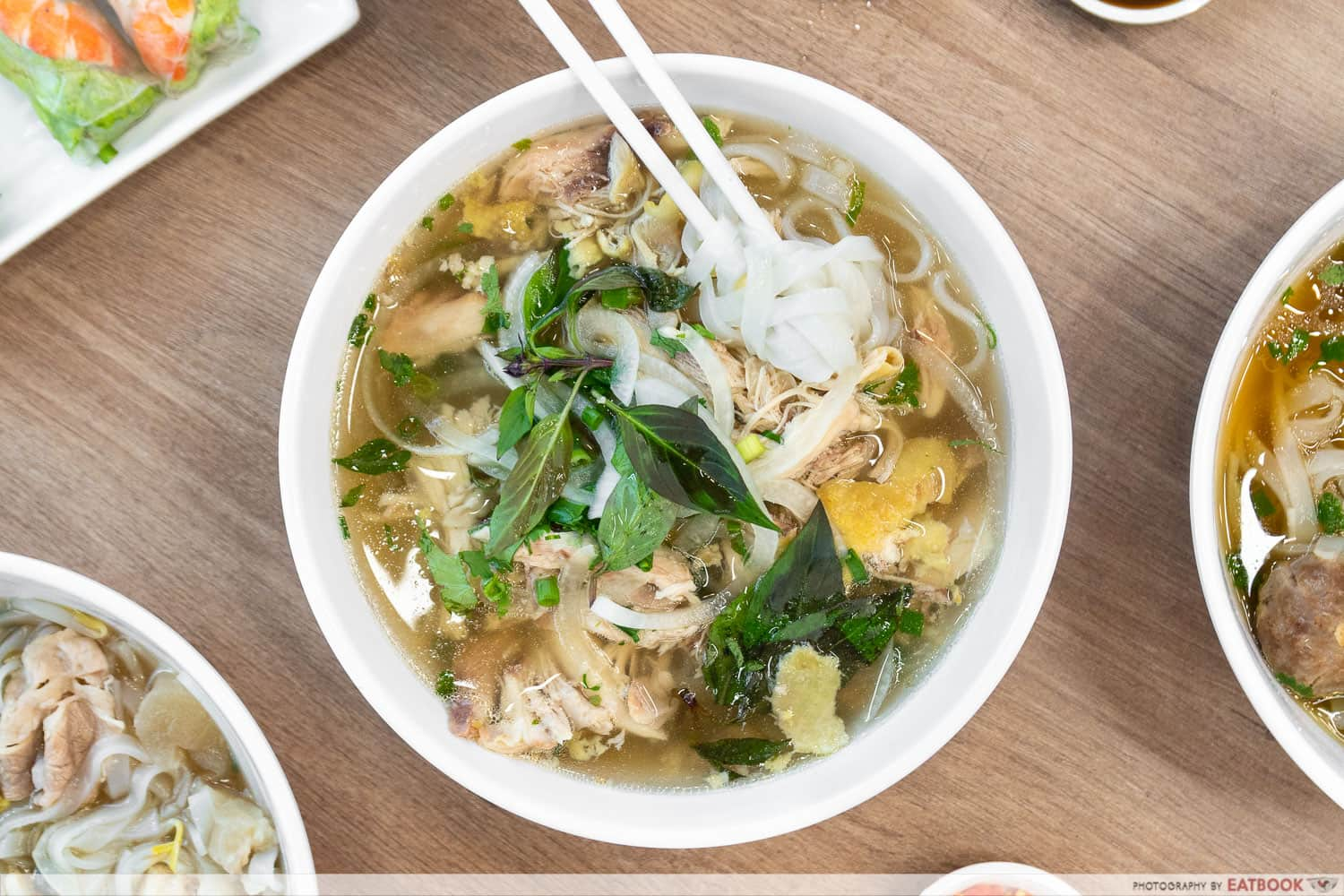 Get the Pho Shredded Chicken ($5) if you prefer something lighter. They only use kampong chicken here, as you can probably guess from the telling yellow chicken skin.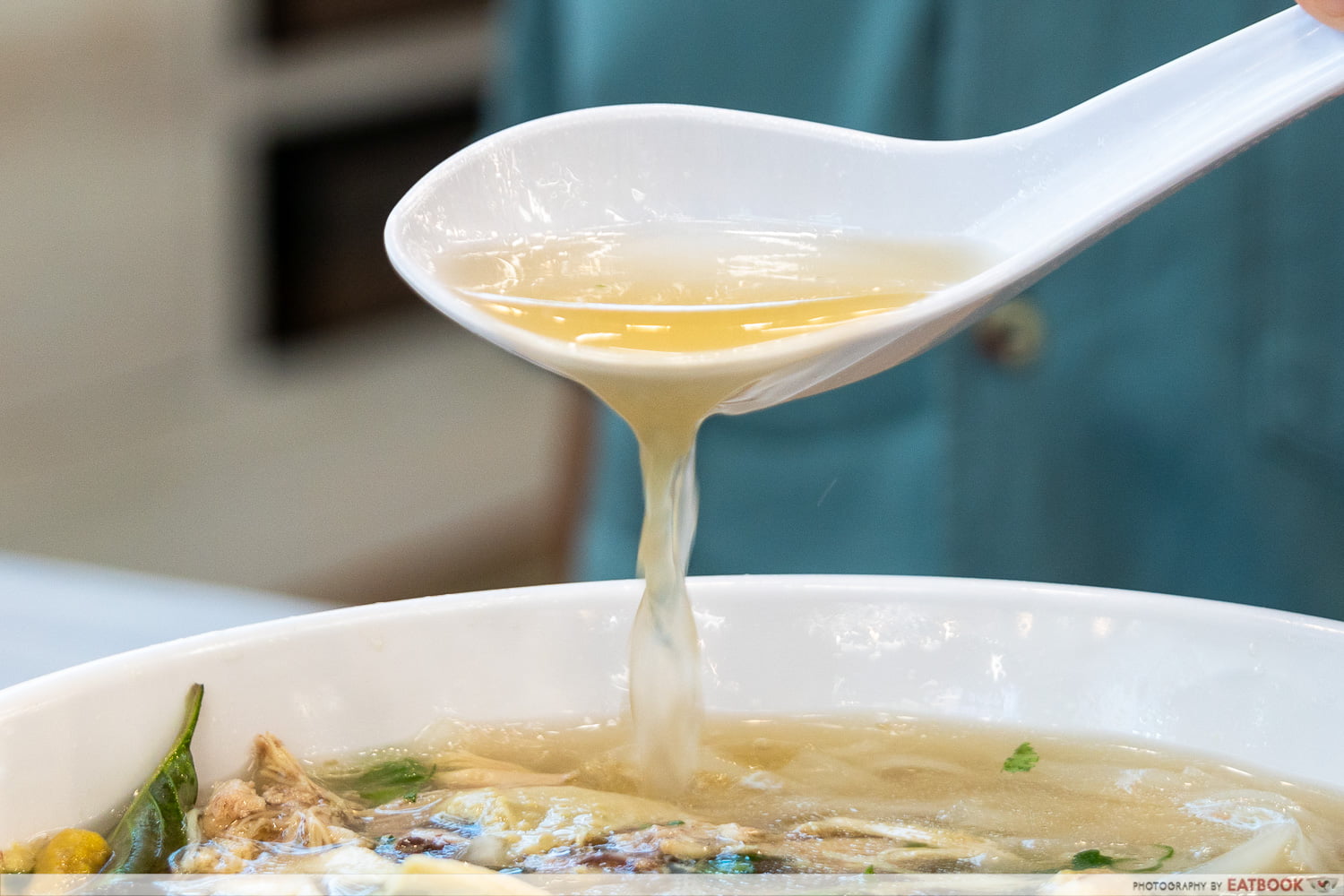 As a result, the chicken soup is incredibly sweet and moreish, making this perfect for when you're ill. I was a tad disappointed that the chicken breast was dry, but this was a minor blemish in an otherwise superb pho.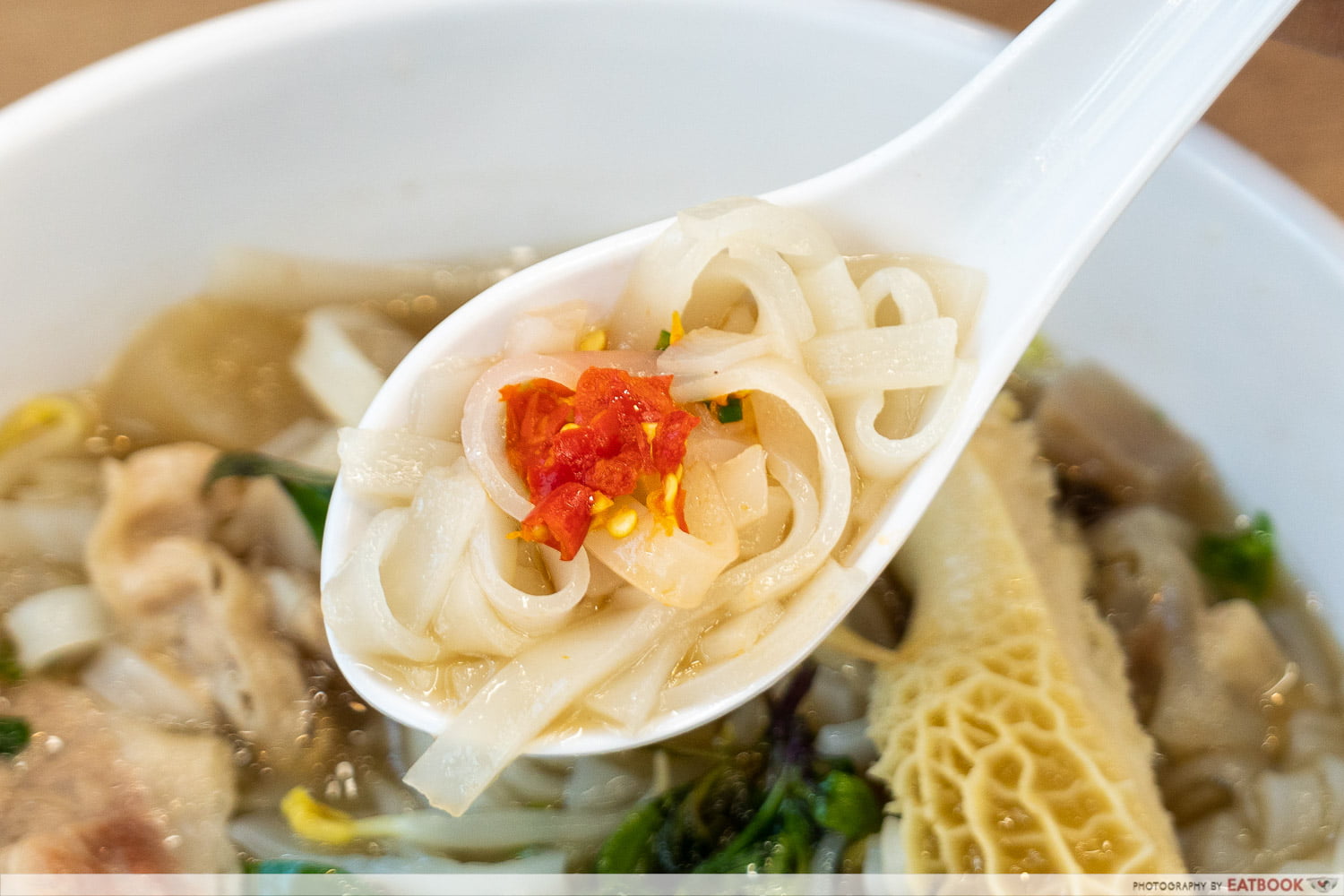 Across all three bowls of pho, the flat rice noodles were chewy and not soggy, which gave Chef Minh Vietnamese Pho brownie points. I prefer having my pho as is, but if you like, you can also add Sriracha, sliced chilli, and fish sauce.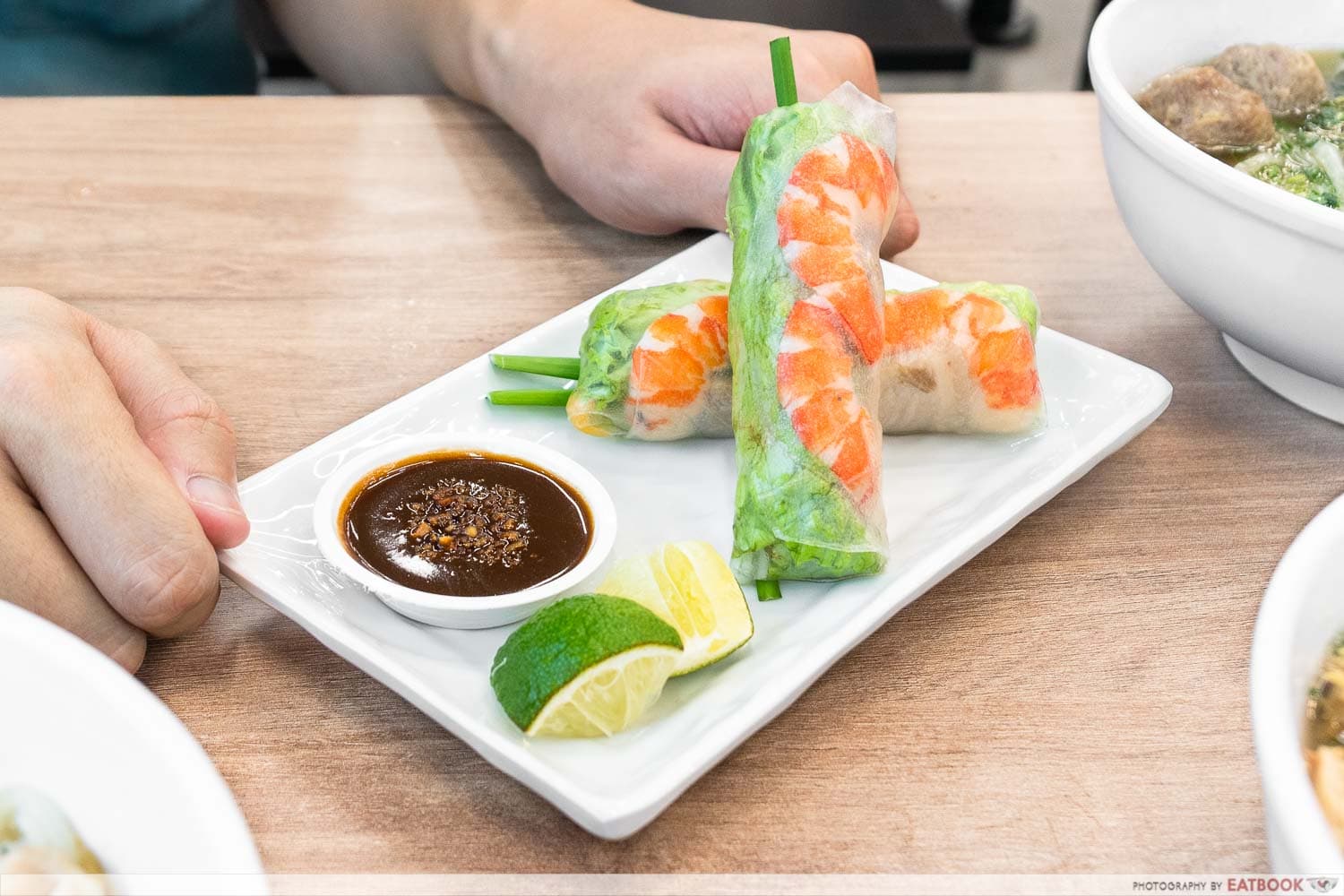 Other than the classic pho options, Chef Minh Vietnamese Pho also has the Summer Roll. These spring rolls are $4 for two, and are best enjoyed with the hoisin sauce, chilli and roasted peanut dip.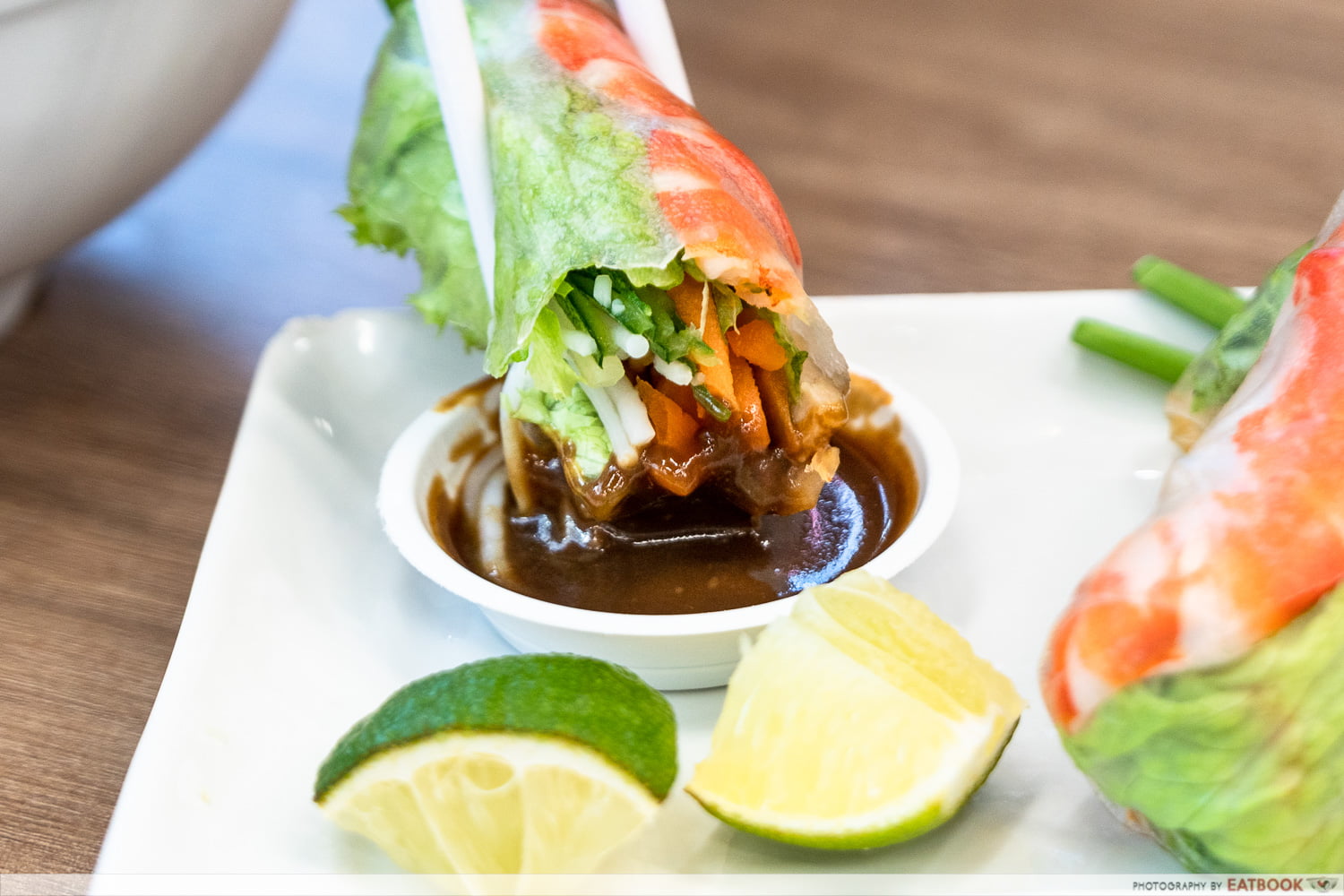 Bun, or rice vermicelli, is wrapped with fresh prawn, pork belly, lettuce, and carrots in a thin sheet of rice paper. I liked the crunchiness and umami notes of the Summer Roll but would have appreciated it even more if it were tangier.
This Vietnamese Cafe In Tai Seng Serves Legit Egg Coffee, Beef Stew Banh Mi And More
Ambience at Chef Minh Vietnamese Pho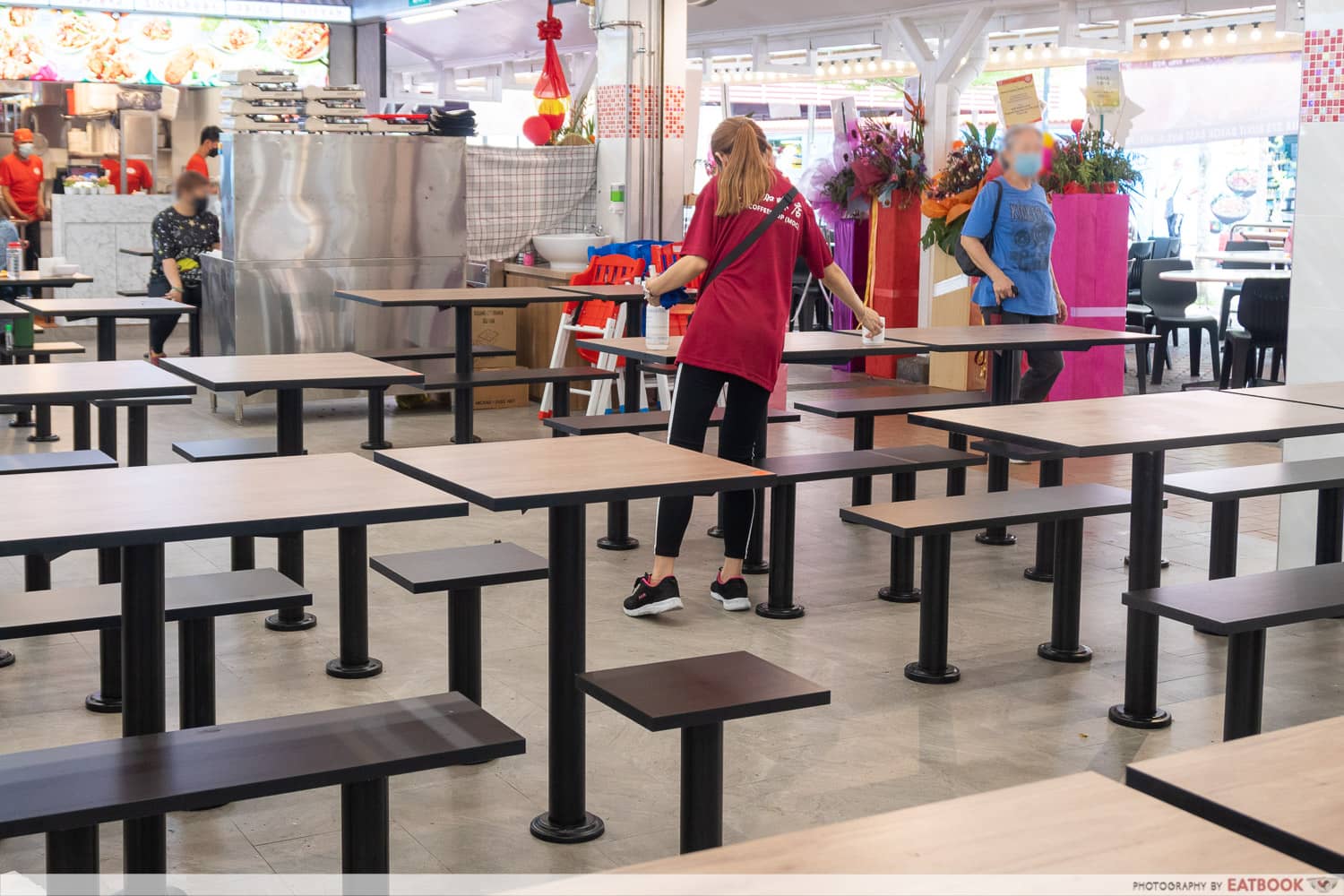 Chef Minh Vietnamese Pho is a short 10-minute bus ride from Beauty World MRT Station, and some 1.3km away if you're alighting at Bukit Batok MRT Station. You'll find the stall right smack in the middle of this swanky new coffeeshop, drawing some of the longest lines there. 
Seating here is abundant, as with the number of ceiling fans. However, it can still get relatively balmy come lunchtime, when the crowd starts streaming in.
The verdict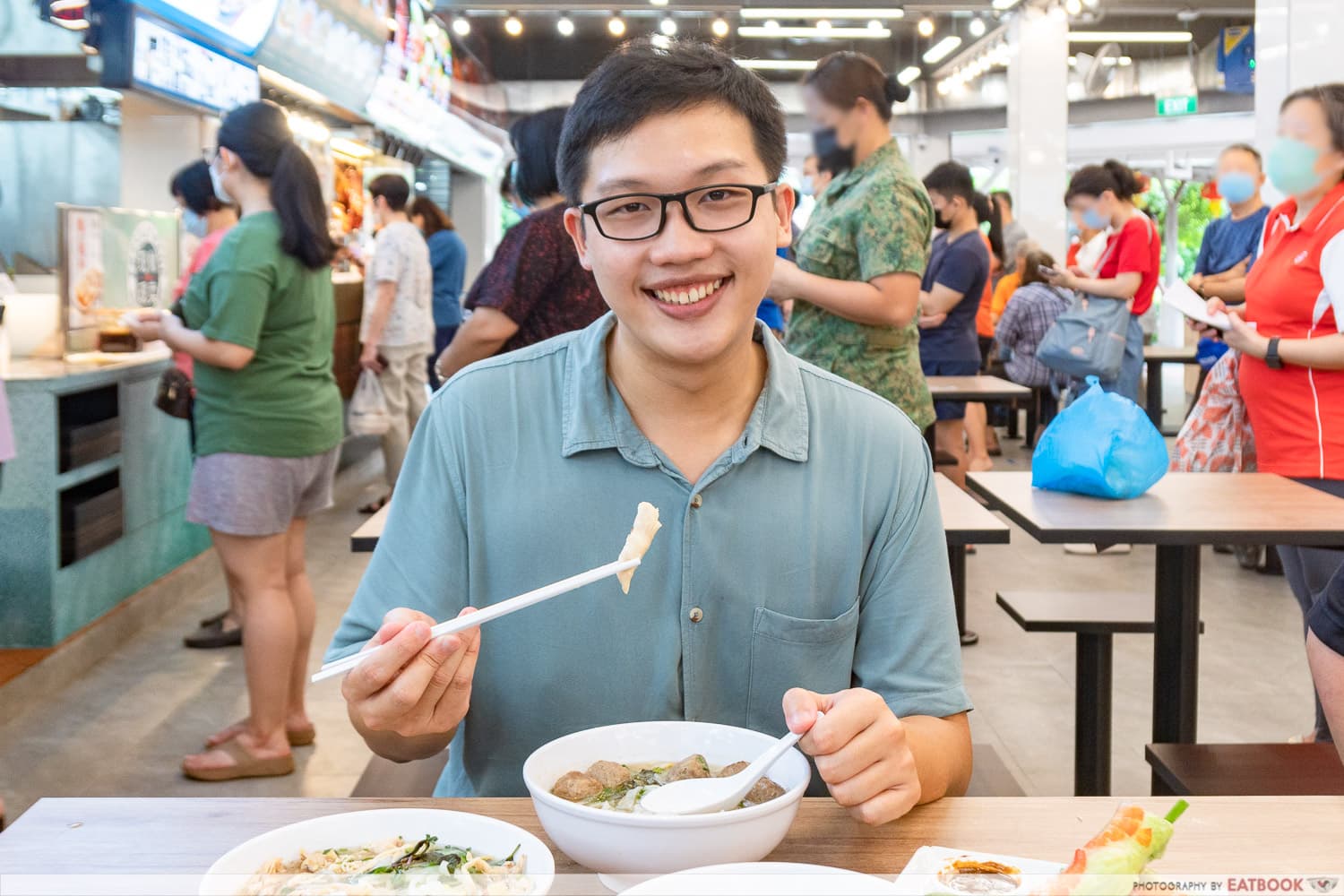 Though nothing can quite rival the experience of slurping down pho, huddled on a stool by the streets of Saigon, Chef Minh Vietnamese Pho is certainly one of the better options if you're craving the rice noodle dish in Singapore. Their beef broth that's prepared with seven different herbs is heartwarming, while their chicken pho is light and clean-tasting.
For more Vietnamese food in Singapore, check out Le Café Vie5 for their uncommonly-found egg coffee and beef stew banh mi. If you want more beef noodles, visit Bugis Long House Lim Kee Beef Noodle at Golden Mile Food Centre for their beef noodles with a 70-year history!
Address: 279 Bukit Batok East Avenue 3, Mei De Coffeeshop, Singapore 650279
Opening hours: Daily 10am to 9pm
Tel: 9614 6995
Website
Chef Minh Vietnamese Pho is not a halal-certified eatery.
Bugis Long House Lim Kee Beef Noodle Review: Traditional Beef Noodles With 6-Hour Broth At Golden Mile
Photos by Tanya Tham.
This was a media tasting at Chef Minh Vietnamese Pho. 
Chef Minh Vietnamese Pho Review: Ho Chi Minh-Style Pho By Ex-Wynn Palace Chef
Chef Minh Vietnamese Pho Review: Ho Chi Minh-Style Pho By Ex-Wynn Palace Chef -

8/10
Summary
Pros
– Beef ingredients were delicious
– Both the beef and chicken broth were fragrant and umami
Cons
– Summer Roll could have been tangier
– Chicken meat was a bit dry
Recommended dishes: Signature Pho Beef Combo ($6.50), Pho Shredded Chicken ($5), Pho Handmade Beef Balls ($5.50)
Opening hours: Daily 10am to 9pm

Address: 115 Bukit Merah View, Bukit Merah View Hawker Centre, Singapore 151115