Thai Boat Noodle dishes out $1 noodles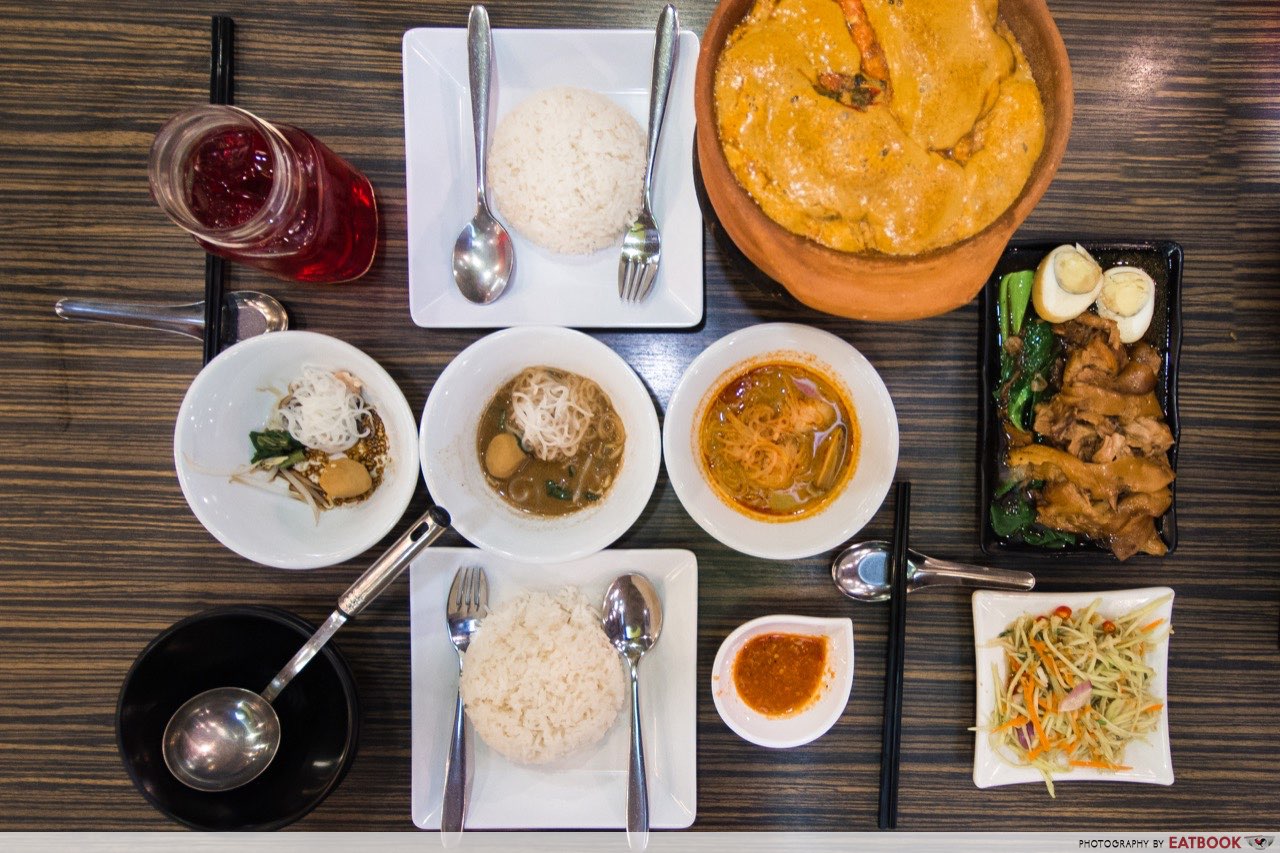 With more places serving Thai boat noodles, we're spoiled for choice when it comes to where we can get a quick Thai food fix. And just when you thought the Thai food scene in Singapore couldn't get any better, Thai Boat Noodle offers – wait for it – Thai boat noodles for only a dollar each! If noodles aren't really your thing, they also have tom yum hot pot and affordable weekday set lunch deals that can leave you feeling satisfied.
Food at Thai Boat Noodles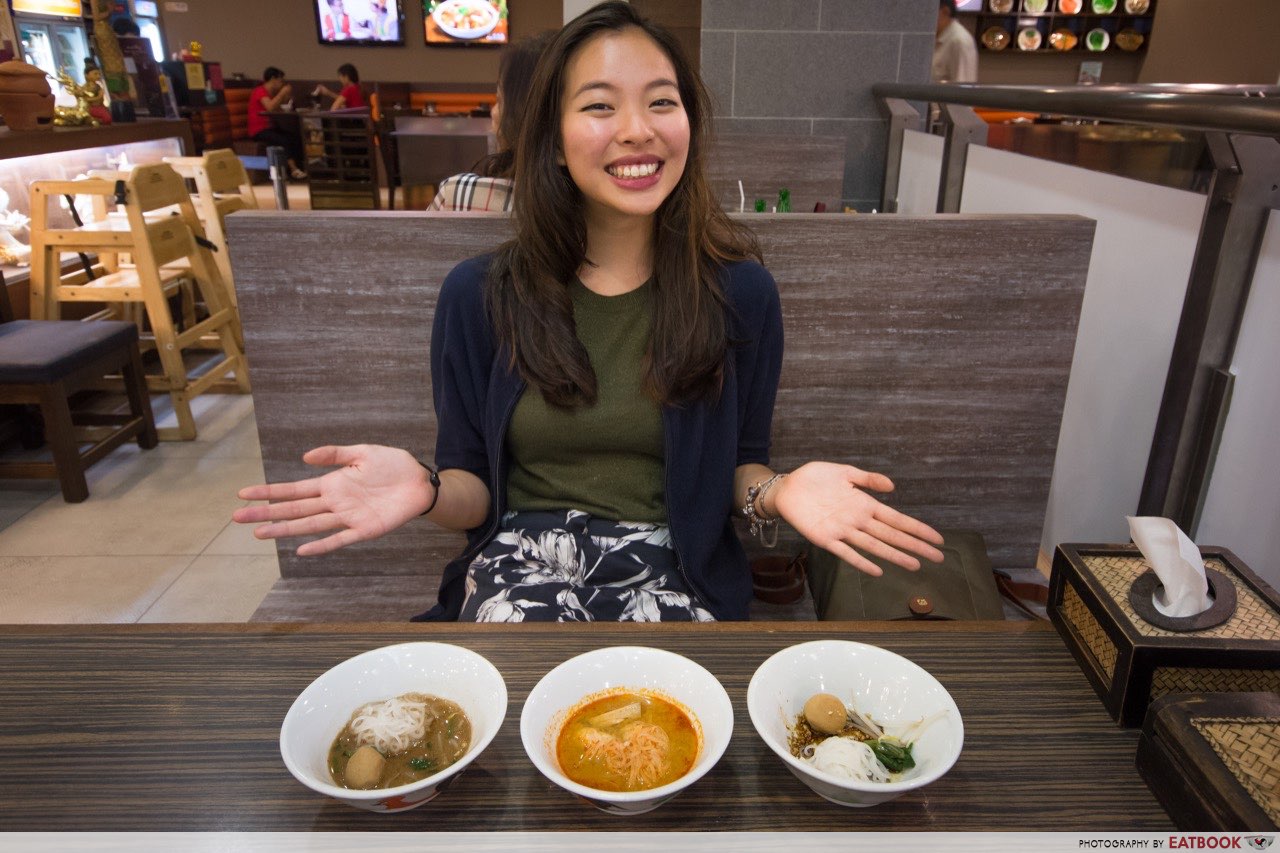 The first thought that ran through my mind when I saw these was, "Boy, they weren't kidding when they said they serve mini boat noodles". Traditionally, Thai boat noodles came in small portions as they were served on moving boats. These small portions thus prevented any spills for the sake of customers and vendors.

You'd probably get two solid mouthfuls from each bowl at Thai Boat Noodle, or possibly gulp it down in one shot if you like noodles as much as I do. But at only a dollar a pop, you can order as many as your heart desires without worrying too much about the cost. Since they have a few options on the menu, you can also try all of them to see which you enjoy best.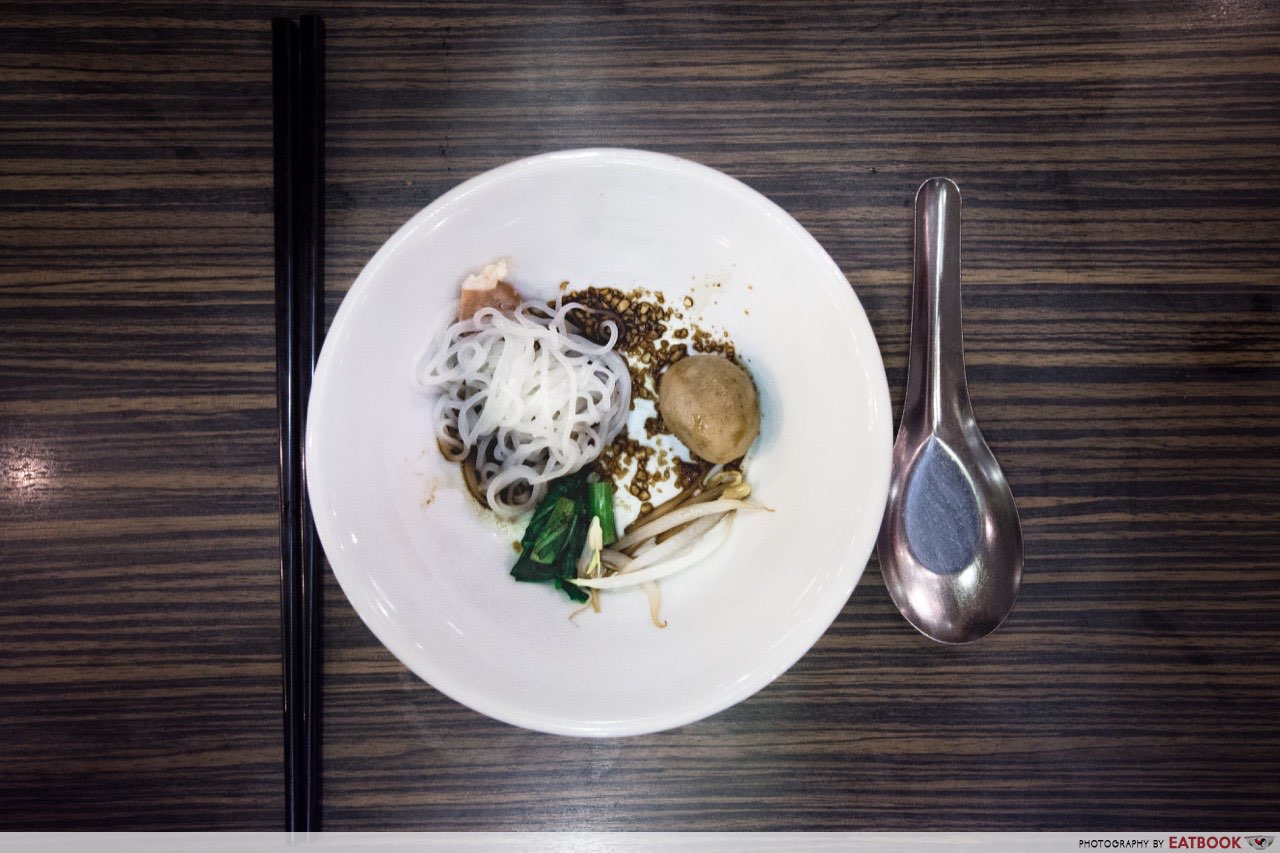 All the Thai boat noodle dishes are made with a small portion of springy rice noodles. Try to mix them into the sauce as soon as possible before the noodles get too dry and stiff. Mini Boat Noodle Dry ($1+) came with a pork ball and a dark, savoury sauce.
The pork ball had a nice mouthfeel and was not as heavily spiced as what I'm used to. This worked out well since the sauce had a strong salty flavour with a hint of sweetness. The dish also came with chopped peanuts, which I thought were quite out of place. Since the portions were small, the amount of chopped peanuts given was too generous and overpowered the other flavours in the dish.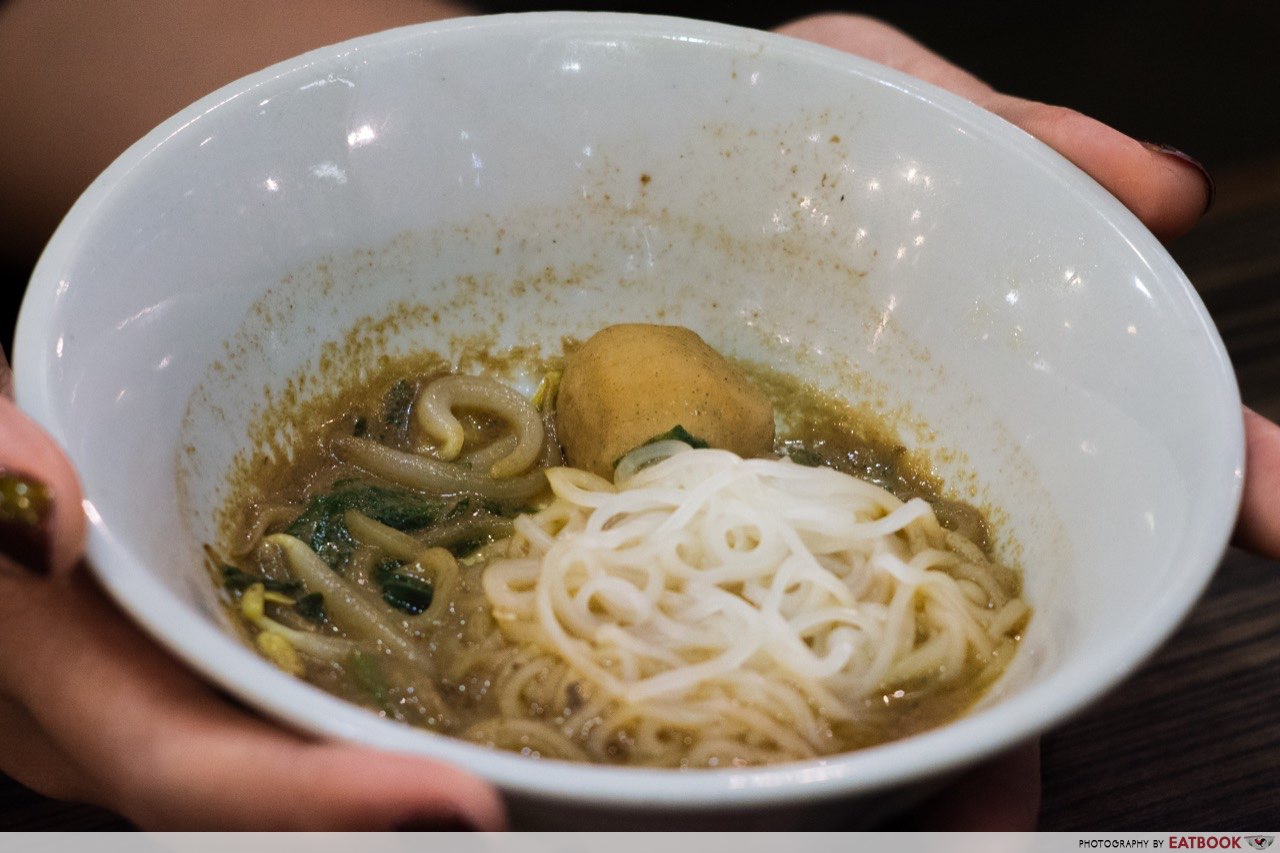 I preferred Mini Boat Noodle Soup ($1+) as the flavours were more balanced. This dish was similar to the dry version, only that it came with beef broth instead, as well as a slice of beef and some bean sprouts. The soup had a robust, umami taste which went well with the plain noodles. The bean sprouts also added a refreshing crunch.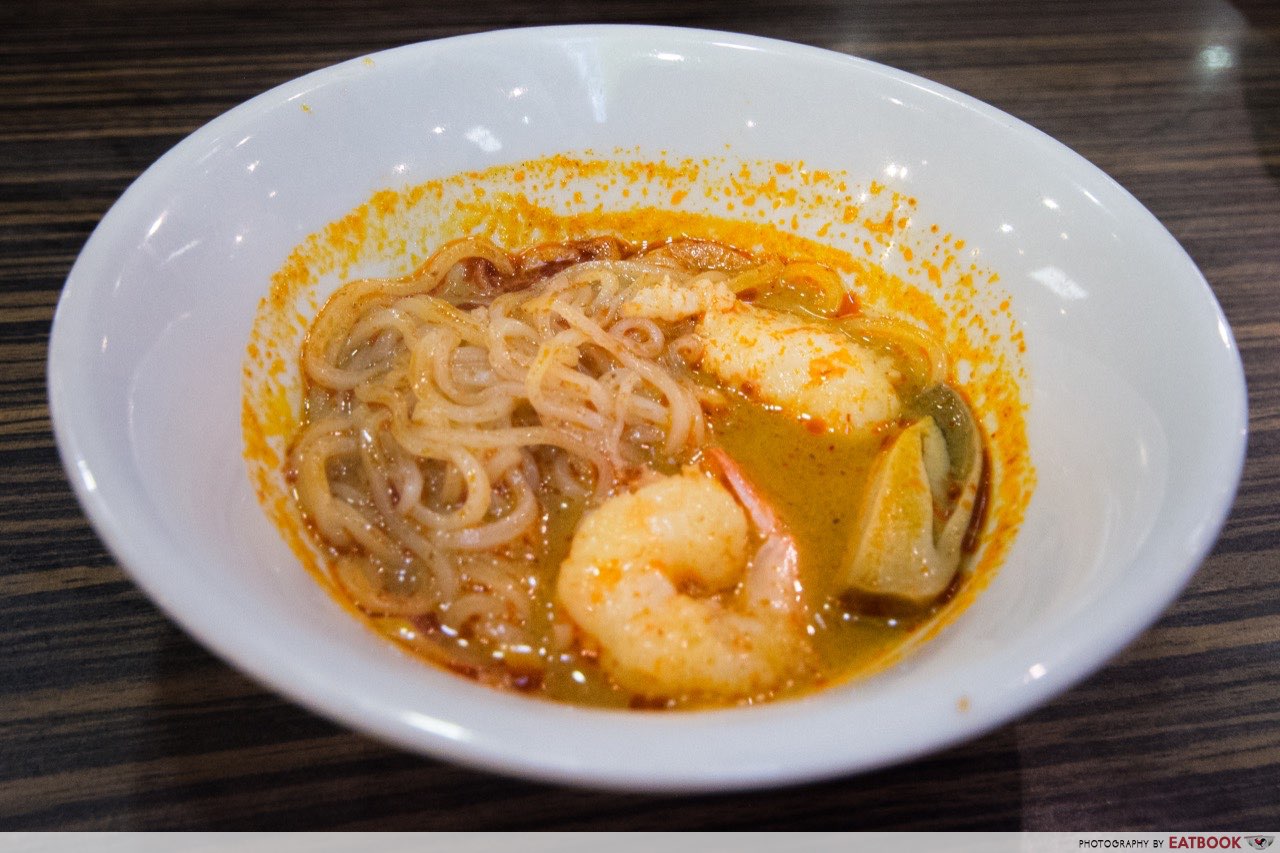 Those of you who enjoy a spicy kick should get a couple of their Mini Tom Yum ($1.50+) bowls. This was the most satisfying of the lot as the noodles came with a piece of straw mushroom, a fresh prawn and a slice of fish. Tangy and tasty, the tom yum broth was not overly spicy, which meant we could enjoy these flavours better.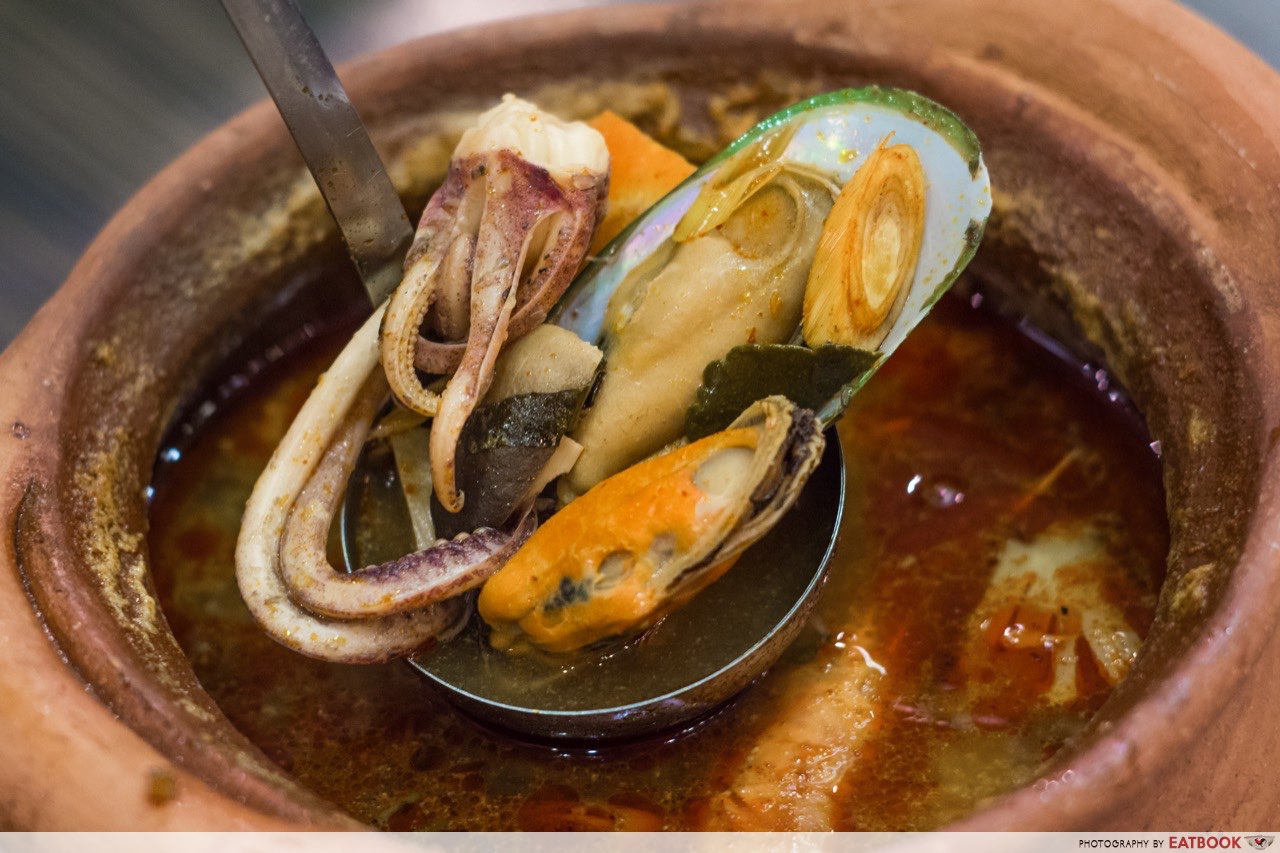 If that's not enough to satiate your need for spicy food, they also offer Tom Yam Seafood Hot Pot ($14.80+). This dish came in a tall clay pot, chock-full of various seafood. A plate of rice was also served on the side.

The tom yum broth was much more spicy and potent compared to the noodle version. There were a couple of prawns, clams, mussels and squid, which all gave the soup a briny, savoury taste of seafood. This increased depth in flavour made the meal more satisfying.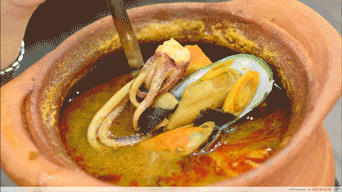 That being said, the mussels were slightly overcooked and tough while the prawns and squid were nothing to shout about. The clams were the highlight. They were easy to bite through and retained some of their natural sweetness.

On weekdays, except on public holidays, from 11:30am to 5pm, Thai Boat Noodle offers a few set meals. Each meal comes with a main dish, mango salad, a soft drink, and a dessert. Options include Green Curry Set Lunch ($12.80+), Phad Woon Set Lunch ($12.80+), and more.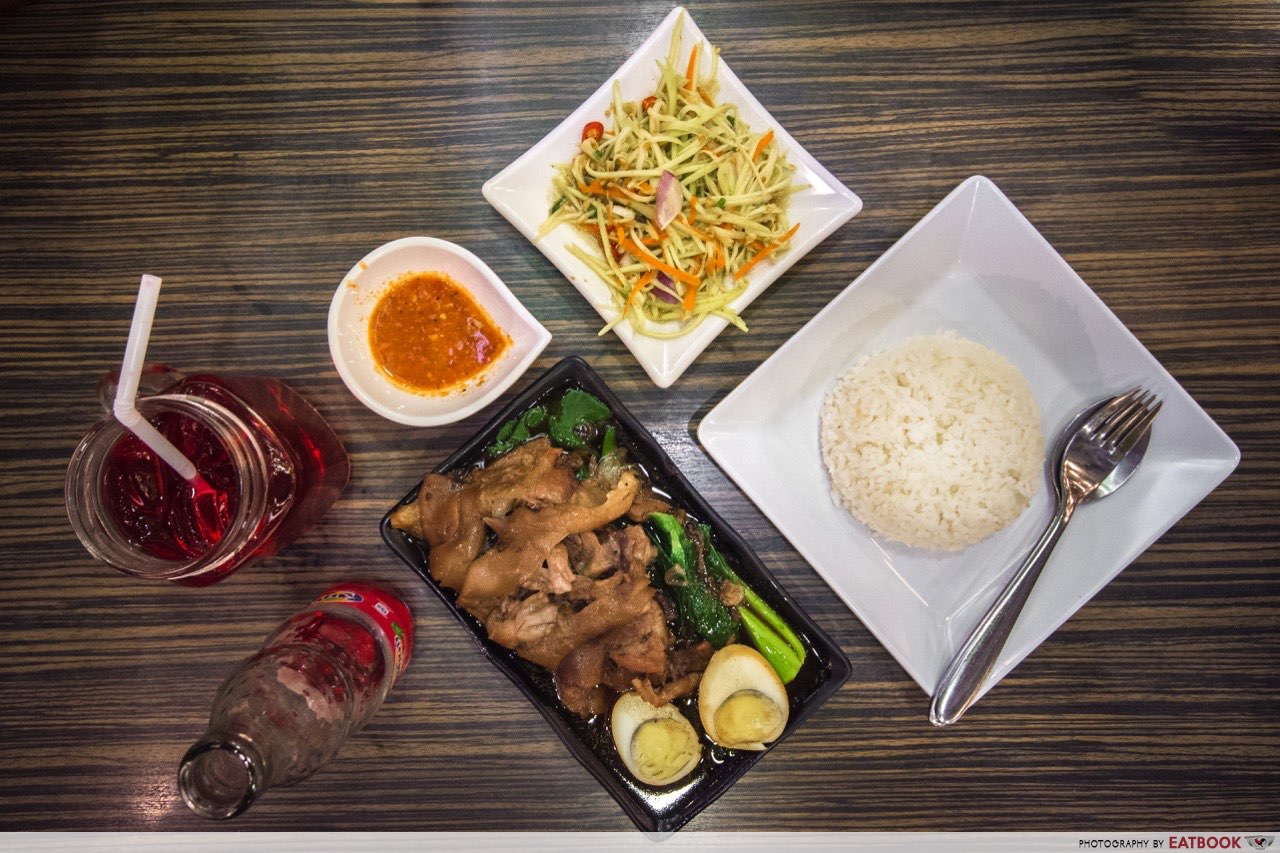 We decided to go with Ka Moo Set Lunch ($13.80+). Ka moo is braised pork leg done Thai-style. To make this dish, pork is first marinated in five-spice sauce before being braised for hours until tender.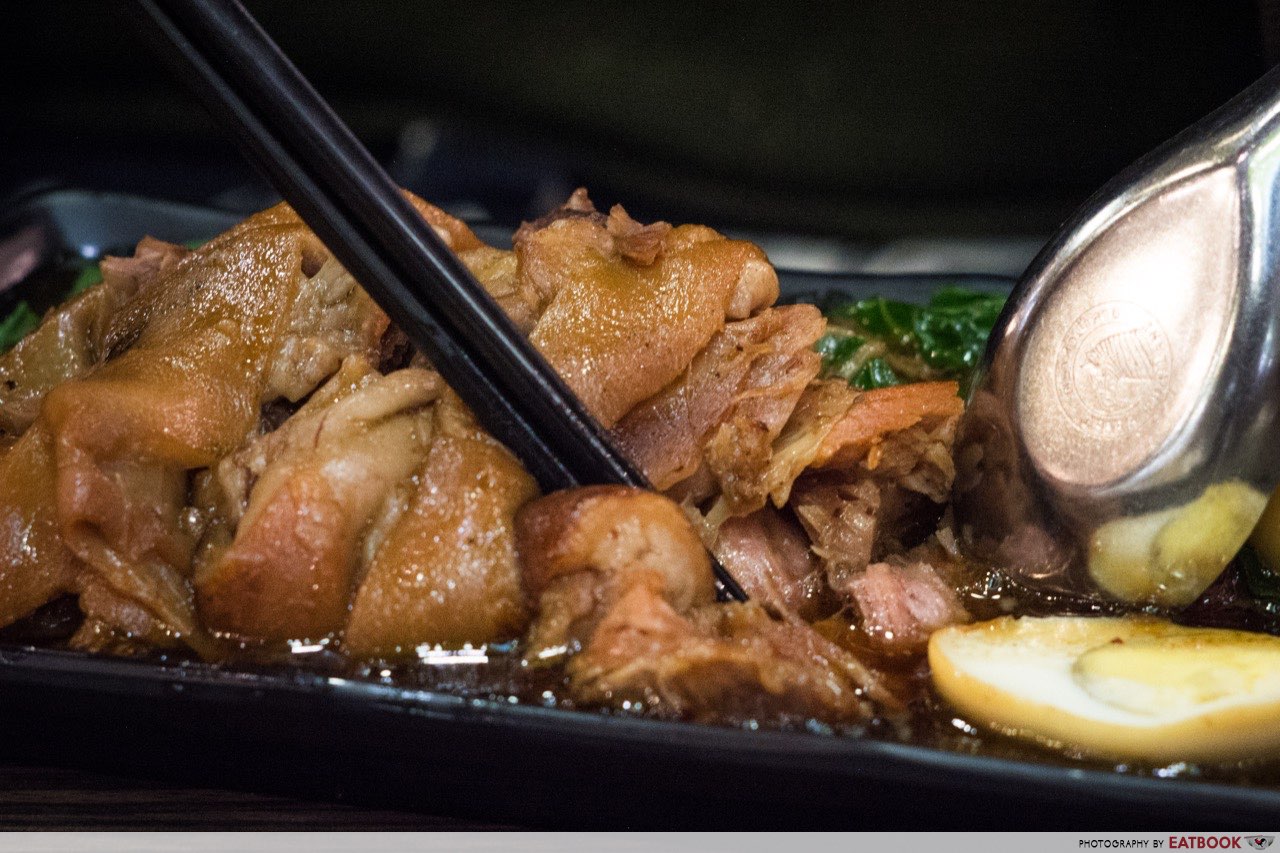 The ka moo from Thai Boat Noodle was so tender that it did not cling to the bone and could be pulled apart without any effort. If you want to indulge even more, try some of the pork skin. The skin was very fatty and took on flavour from the sauce without losing its own richness. The braised vegetables and boiled egg that came with the dish went well with the flavourful sauce and reminded me of Chinese-style cooking. It also made the meal less cloying to the palate. This came with a plate of white rice as well.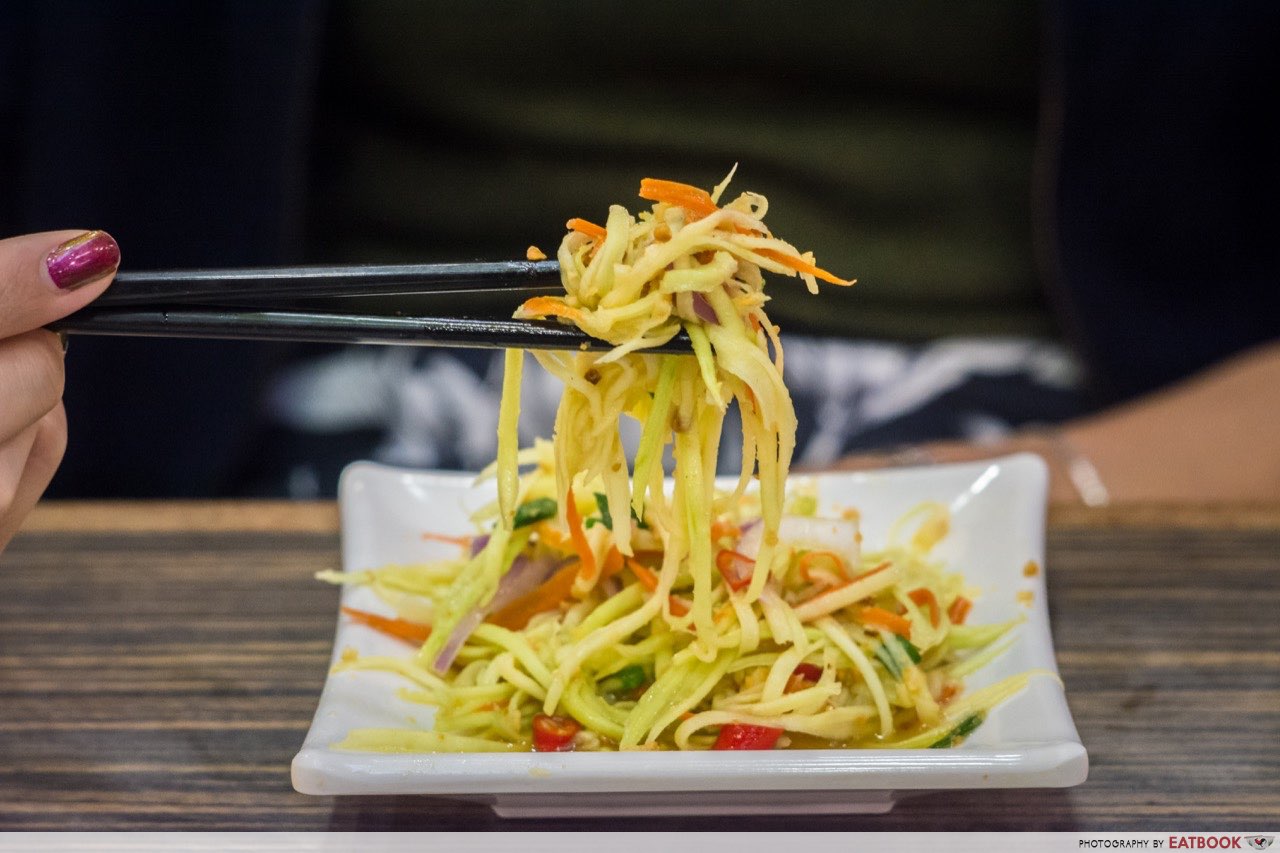 The mango salad that came on the side was very tangy and refreshing. Made with crunchy Thai green mangoes, this salad had a great crunch. There were even small chilli slices that added a slightly spicy kick.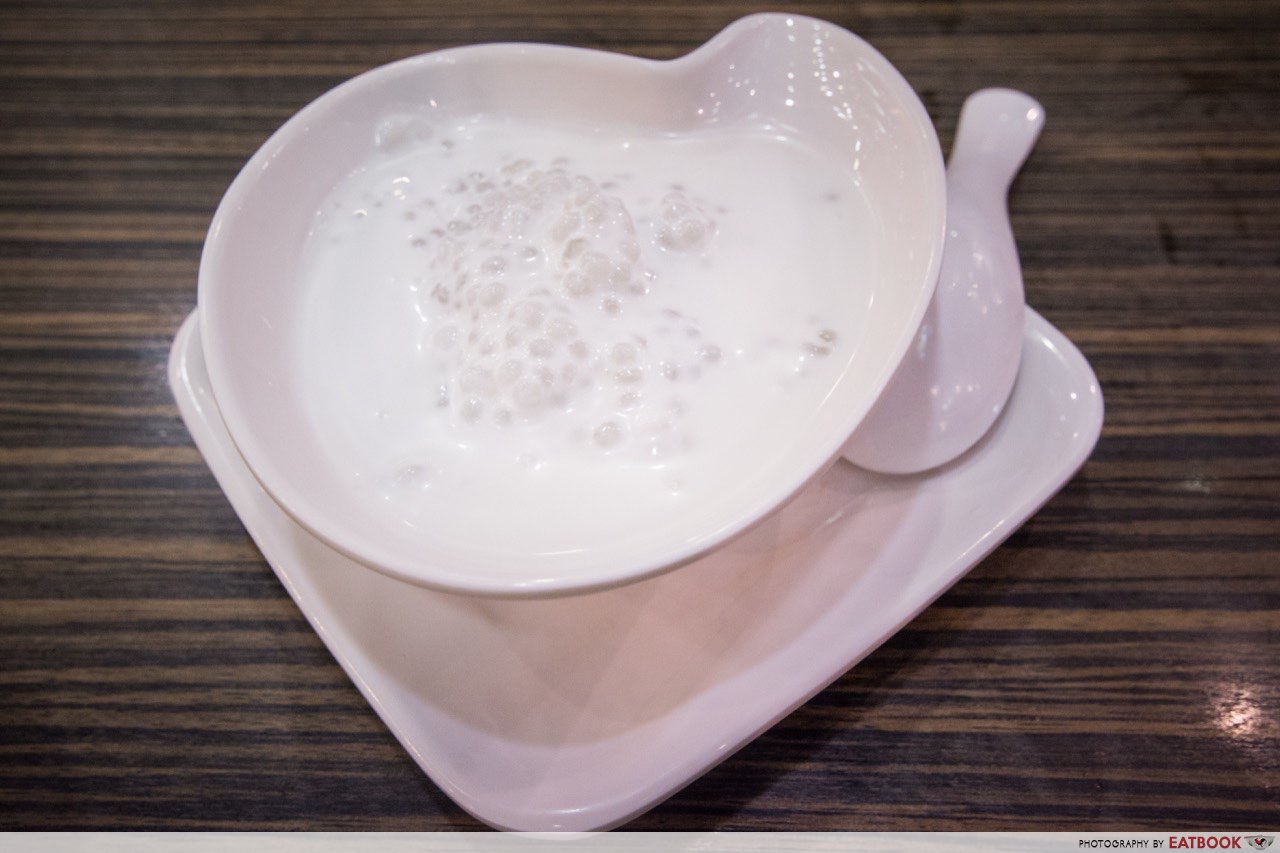 We ended the meal with Thai Sago with Coconut Milk, but you can go for ice-cream if you prefer a cold dessert. The sago and coconut milk were served slightly warm, making it extra comforting. The sago had a pleasant, soft texture, which complemented the creamy coconut milk quite well. At first, I was quite surprised that the coconut milk was slightly savoury, but it mellowed out a couple of spoonfuls later. Overall, it was a good dessert even though it was on the plain side.
Ambience at Thai Boat Noodle
Thai Boat Noodle is located in Bedok Point, which is a five-minute walk from Bedok MRT Station. Since it is an open-concept restaurant, the atmosphere was very casual and laid back, great for small gatherings and meet-ups. Wicker cage lanterns dangling from the ceiling also added a nice touch.
The verdict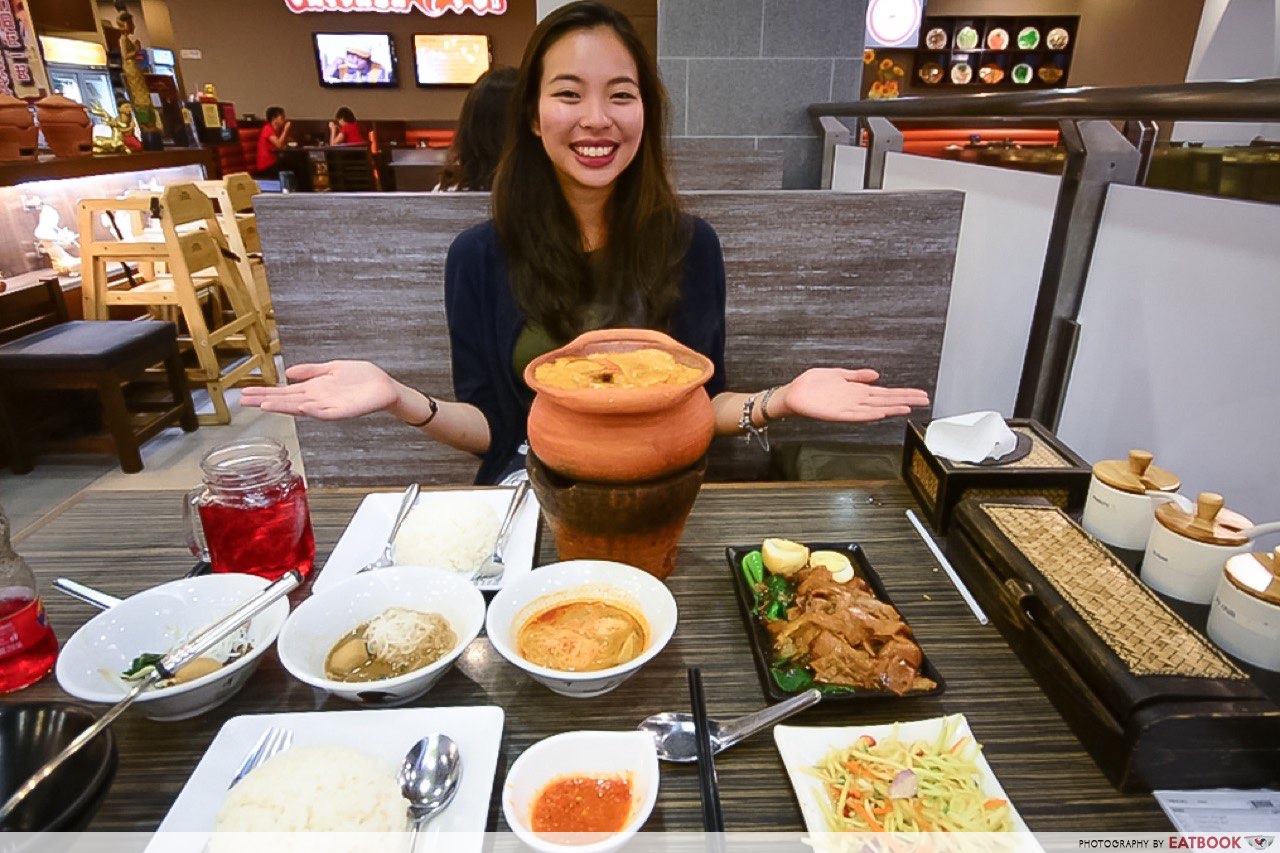 Overall, Thai Boat Noodle is great for a quick, affordable Thai food fix. Though I wasn't particularly impressed by their boat noodles, their other dishes are definitely worth trying, especially the ka moo!
Summary
Summary
Pros
– Affordable
– Tasty Thai dishes
Cons
– Noodles were not impressive
Recommended Dishes: Ka Moo ($8.80+), Tom Yum Hot Pot ($14.20+), Thai Boat Noodle Soup ($1+)
Operating Hours:
Daily 11:30am to 10pm (last order 9:15pm)
Tel: 6445 9932
Address: 799 New Upper Changi Road, #02-32/34, Bedok Point, Singapore 467351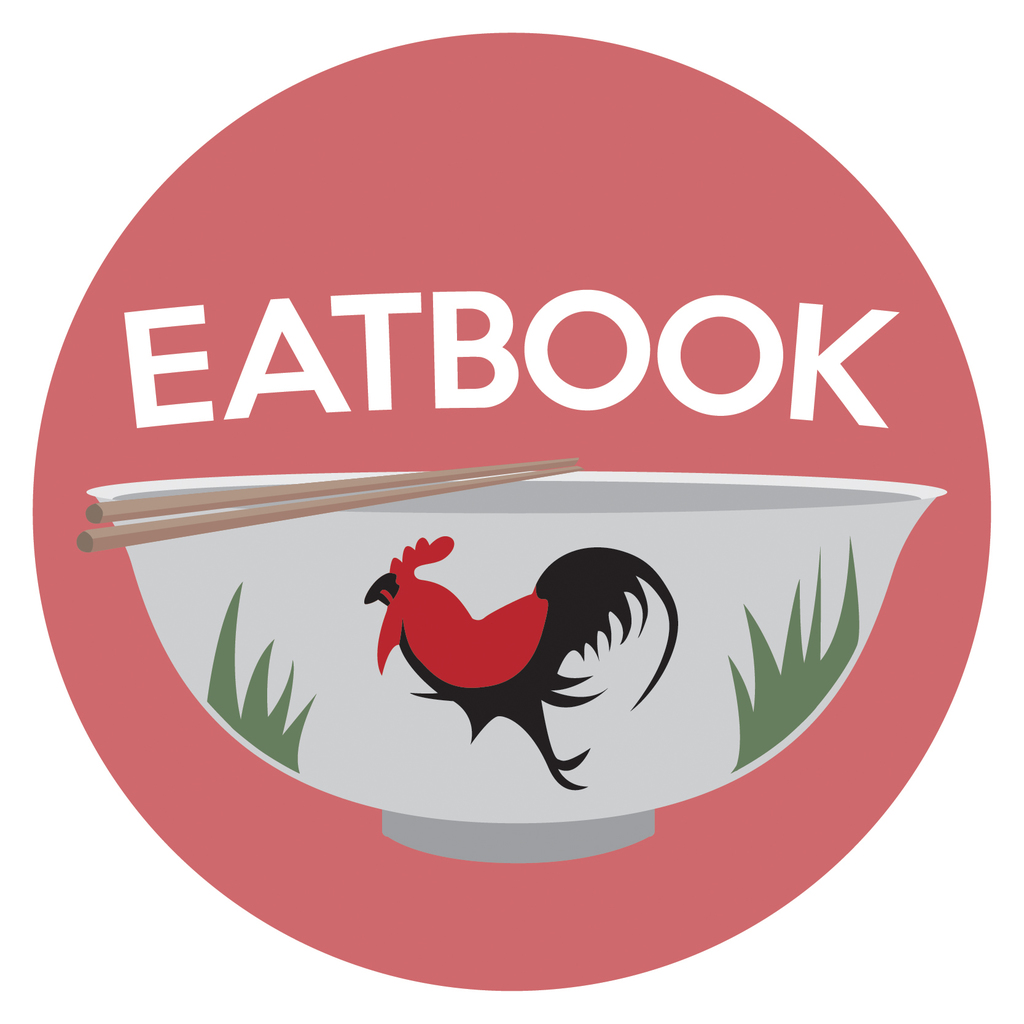 Drop us your email so you won't miss the latest news.