Siamese Cat serves up hearty Thai food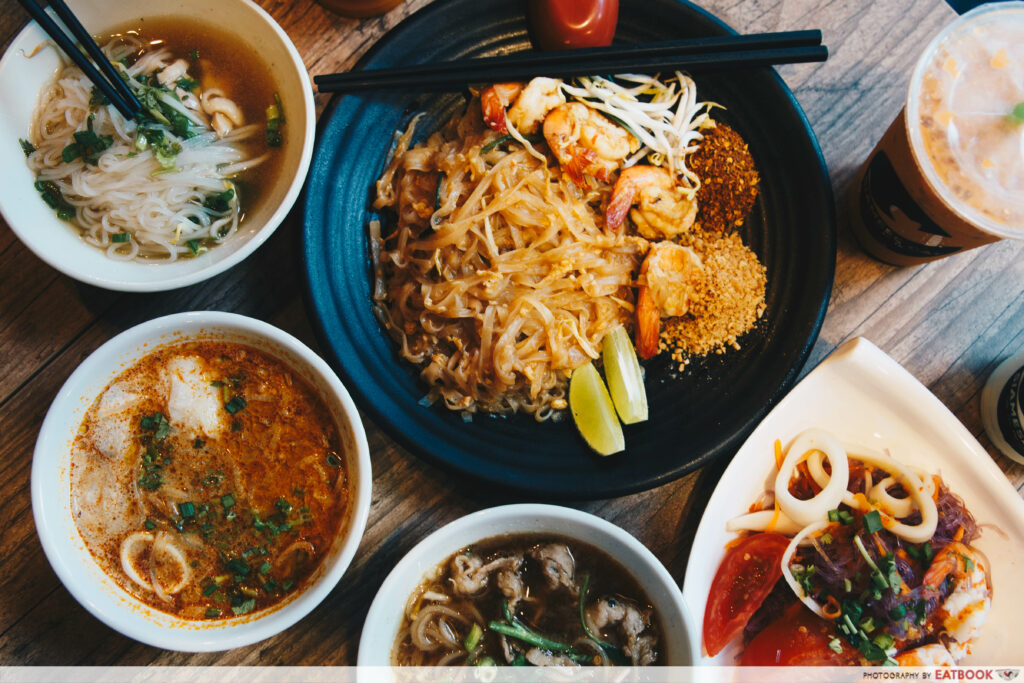 For years, it was a routine for me to pass by Novena's Tuk Tuk Cha and get hungry on my way home. Recently, however, I realised the outlet changed. It came as a shock to me when I saw Siamese Cat standing where Tuk Tuk Cha was. Due to a partnership fall out, the boss of Siamese Cat, Ms May Ngiam, converted some Tuk Tuk Cha outlets into her own brand. I checked out the new cafe to see if it's better than what it was before.
Food at Siamese Cat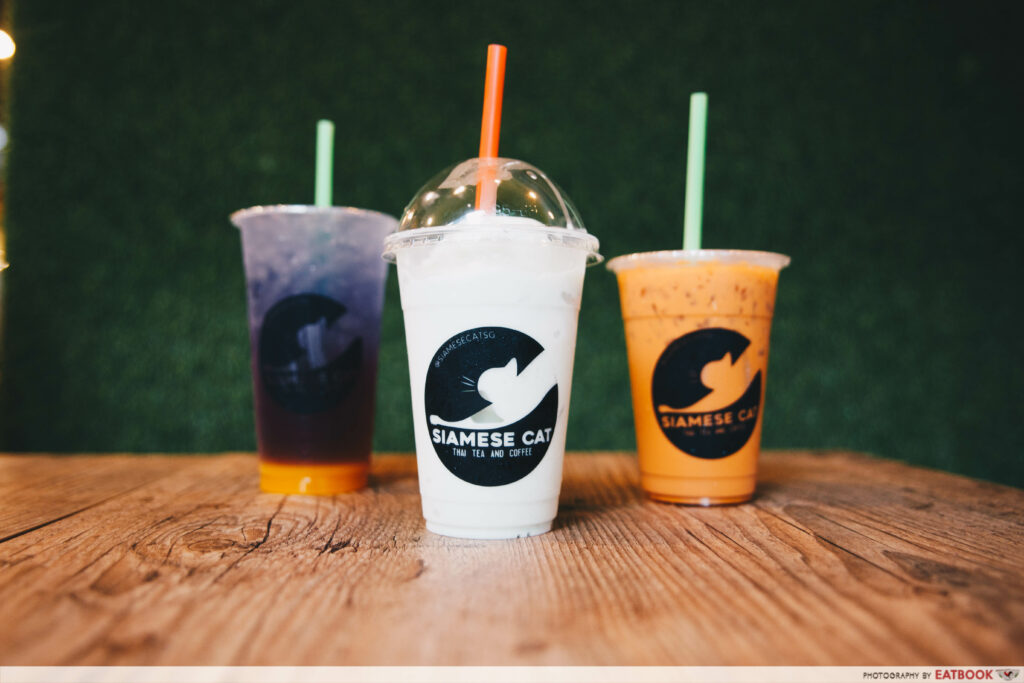 We started our meal with these drinks: Passionfruit Butterfly Pea ($3/$3.50), Avocado Coco ($5.50/$6.70), and the all-time classic, Iced Thai Milk Tea ($2.80/$3.30). After we were done snapping photos, I had a sip of all the drinks and was pleasantly surprised. I am a pretty loyal person, so I had no doubt I would stick to my Thai milk tea. However, I found myself reaching for the Avocado Coco throughout the meal.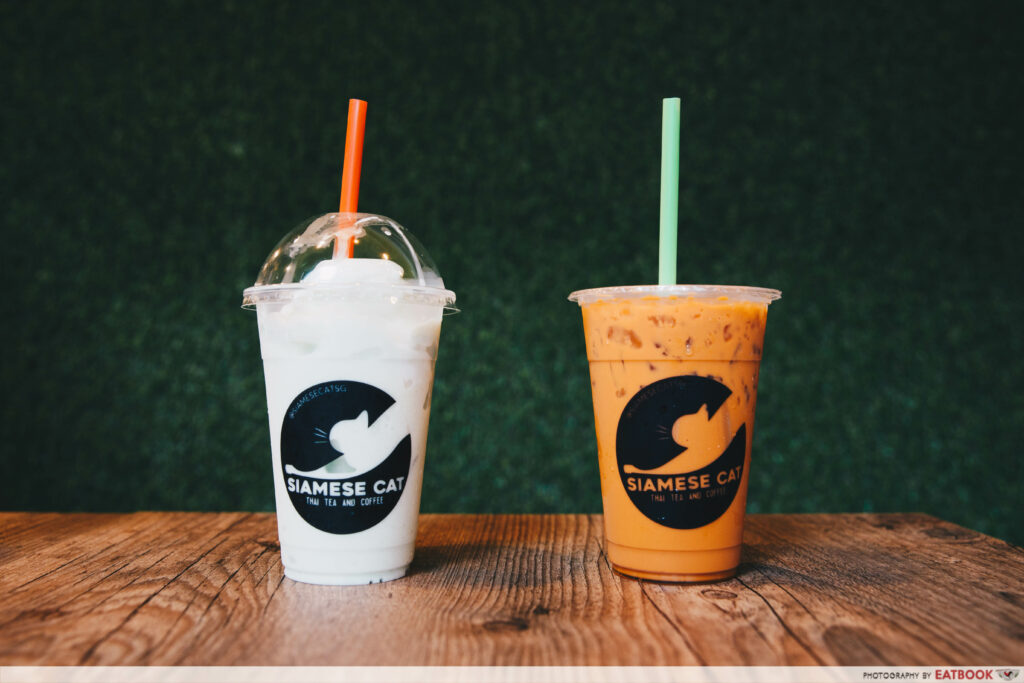 I am not an avocado fan. So when I realised what I was doing, I was shook. But then again, it wasn't hard to understand why. The avocado added a creamy texture to the smoothie, while enhancing the refreshing coconut flavour. It acted as a palate cleanser, which is great when having a Thai meal as the dishes usually have stronger flavours.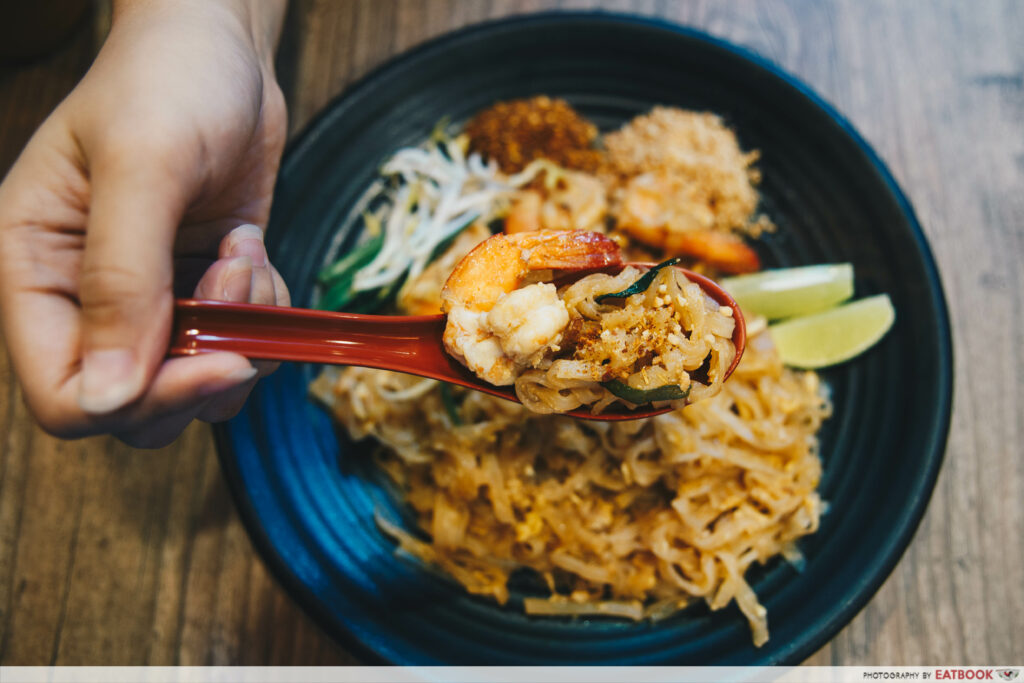 Let's move on to a classic: Pad Thai Prawn ($7.80). I was impressed by the portion of this dish! It came with rice noodles stir-fried with prawns, eggs, and bean sprouts, and was topped with crushed peanuts and half a lime.
The wok hei present in this dish was undeniable. Don't make the same mistake as us and let your phone "eat" for too long; the noodles will clump together if you allow it too cool down over a long period of time. Squeeze the lime in for an added oomph.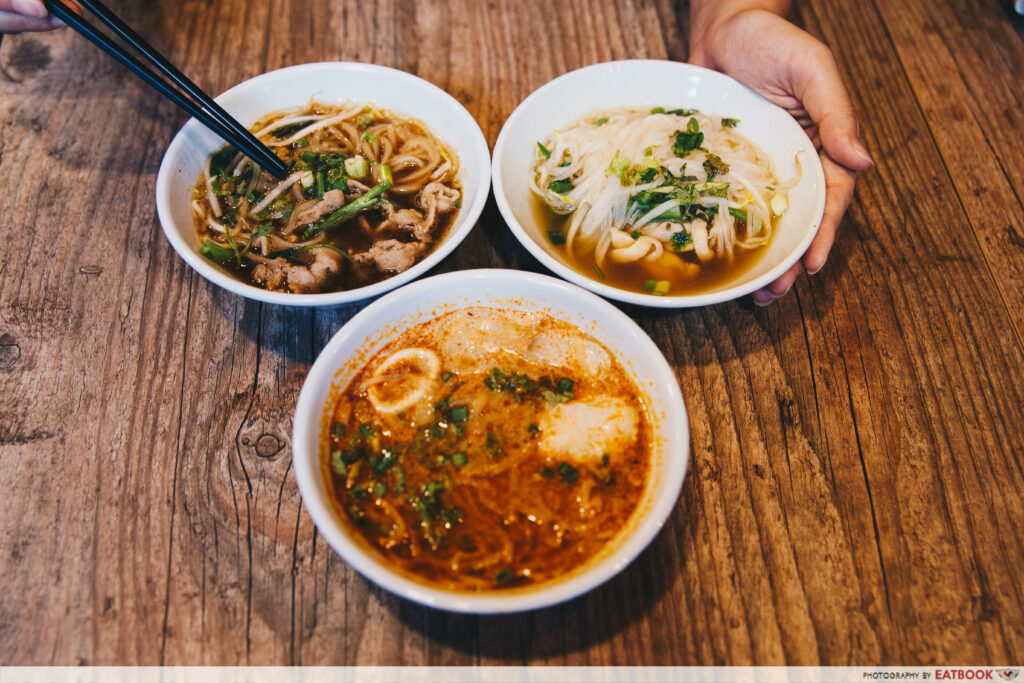 My colleague and I couldn't decide which bowl of noodles to get, so we got one of every mini noodle bowl there is: Mini Chicken Noodle ($1.90), Mini Tom Yam Noodle ($1.90), and Mini Beef Noodle ($1.90).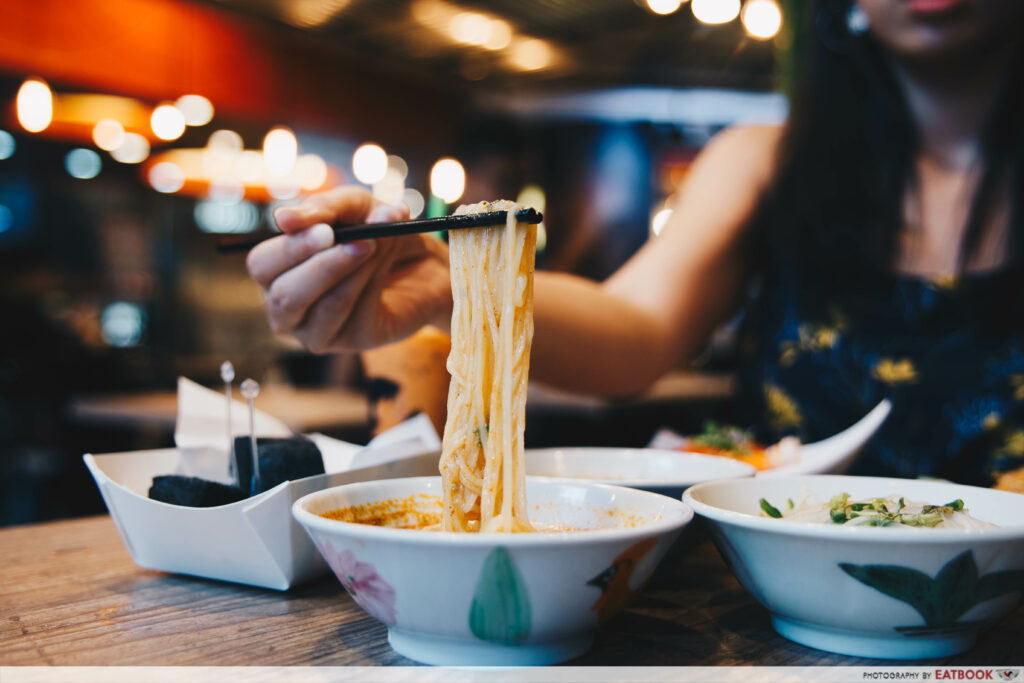 My favourite bowl has got to be the Mini Beef Noodles. It was a delight lapping up the herby broth, and I was sad to see it all gone. The beef slices were tender and the noodles were so silky smooth, it took no effort to slurp it all up. The Mini Chicken Noodles had a lighter flavour and the Mini Tom Yam Noodle was missing something I couldn't really put my finger on; it just wasn't as spicy or sour as I wished.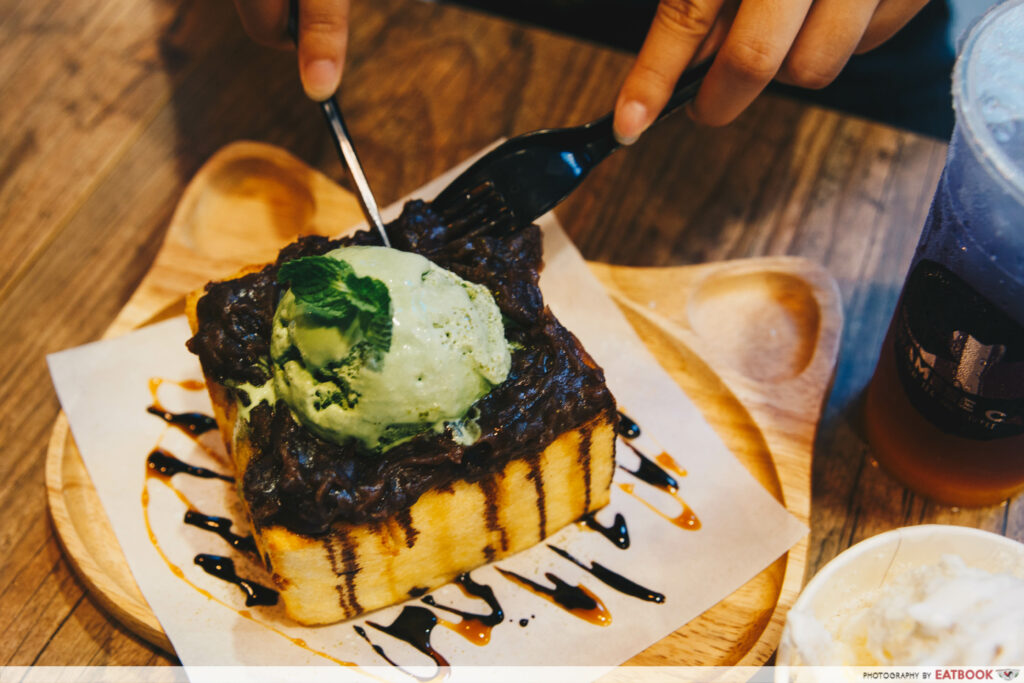 I'm not into matcha desserts, so when the Matcha Shibuya ($11.20) arrived, I didn't share the same excitement as my matcha-loving colleague. But after my first mouthful, I almost didn't want to share it.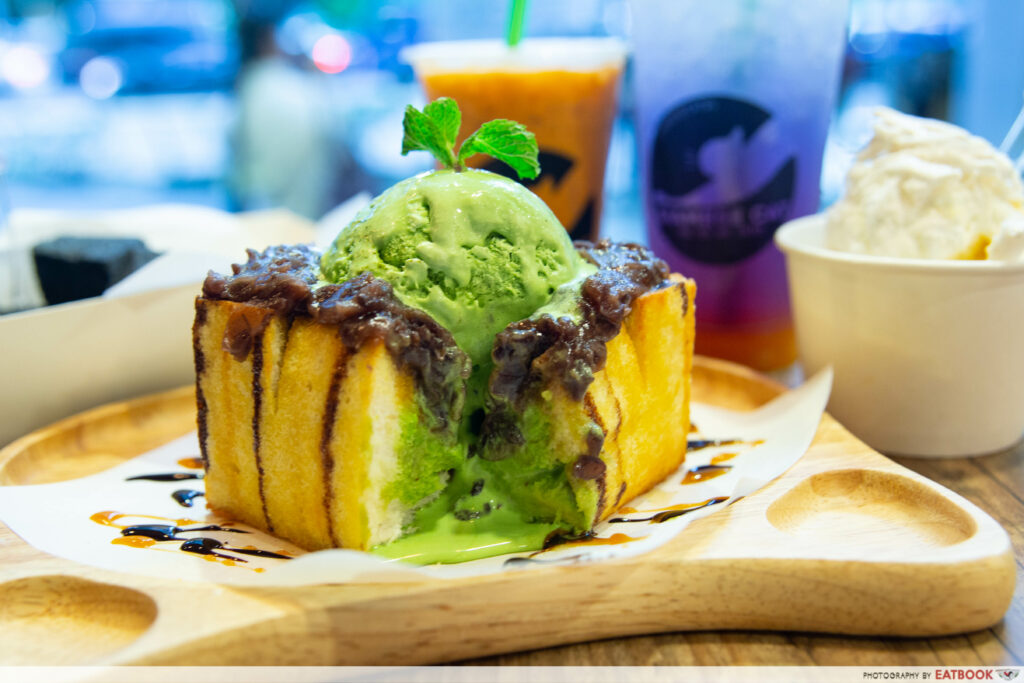 Biting into the toast, I was met with the bread's crisp exterior and then its soft, fluffy inside, which soaked up the matcha ice-cream. The sweetness of the azuki beans paired with the bittersweet matcha teased my taste buds and got me hooked on this dessert. Plus, they are super generous with their toppings, the dessert was overflowing with red beans and ice-cream! Do share it with a friend or two if you are looking to try other dishes, as it is very filling.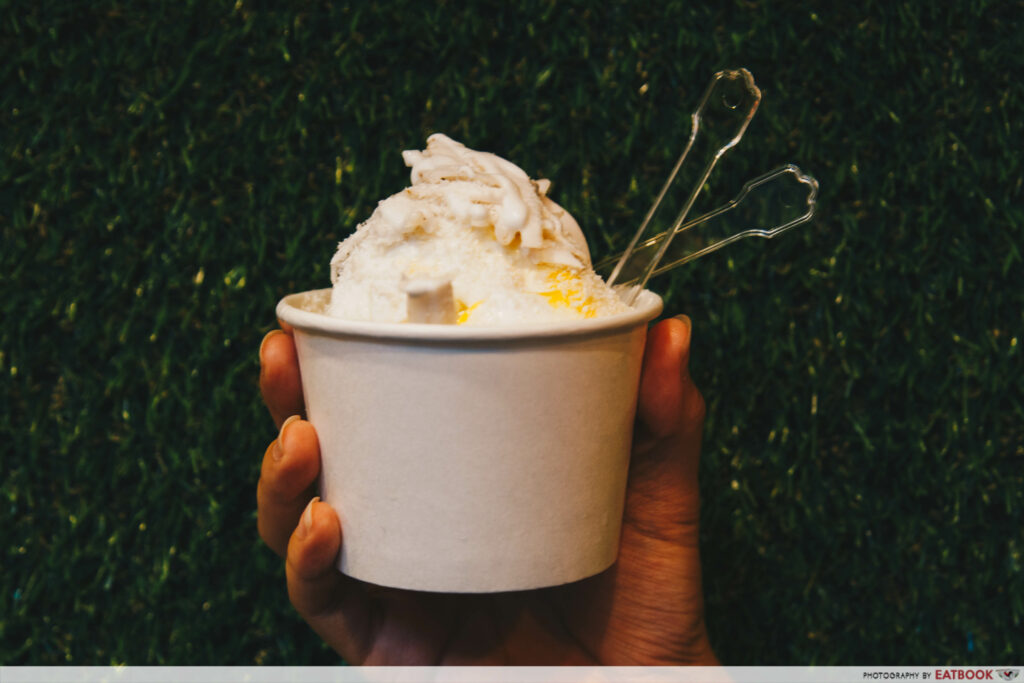 Let me bring your attention to their Coco Yolk ($4.80). You'd be shocked to know that the folks at Siamese Cat churn half-cooked egg yolk into coconut ice-cream. This freezes the yolk in the process.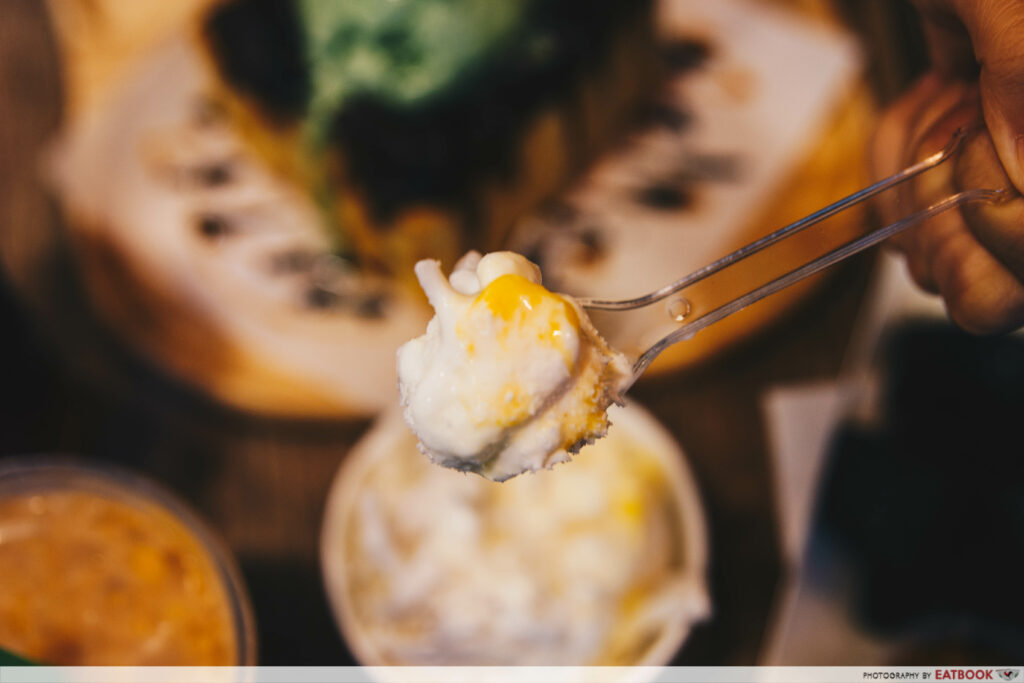 I had my reservations about trying this, but eventually decided to do it anyway. While the yolk added a certain richness to the refreshing coconut ice-cream, the dessert still tasted prominently like coconut! The yolk didn't add much taste, but it did make the dessert creamier. However, it is not something I would get again. 
Ambience at Siamese Cat

Siamese Cat has taken over the Tuk Tuk Cha outlets at Suntec City (Tower 3), Causeway Point, and Novena Square. The latter is very cosy and great for a catch-up with a friend, or even some alone time with a good drink! It may get slightly crowded during meal times, as they have a lunch set that starts at $9.80 for a drink, a main, and mango salad. This means that finding seats may be an issue.
The verdict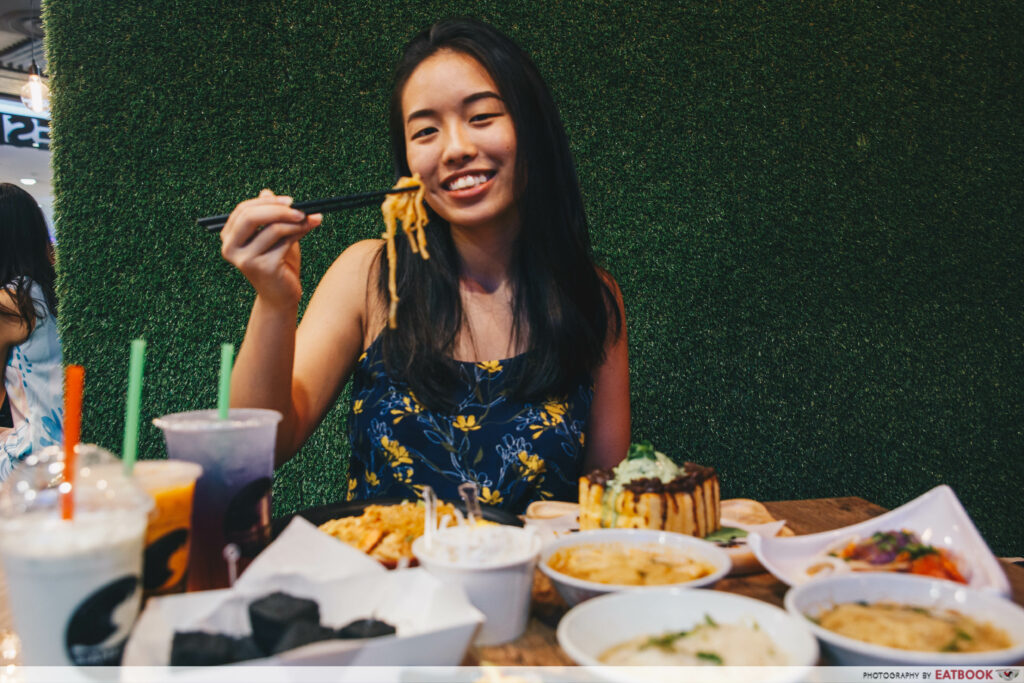 Siamese Cat is a place I would go to for sweet drinks and desserts. Their Matcha Shibuya really blew my mind, and I would love to try other flavours as well. If you are a Thai food lover, you may check out Took Lae Dee, which offers cheap and good Thai dishes!
Address: 238 Thomson Road, #01-68/69, Novena Square, Singapore 307683
Opening hours:  Daily 10am to 10pm
Tel: 6252 6563
Website
Menu
Full list of outlets
This was a media tasting at Siamese Cat.
Summary
Pros
– Good desserts
– Convenient location
Cons
– Outlet is quite small
– Some dishes are expensive
Recommended Dishes: Matcha Shibuya ($11.20), Avocado Coco ($5.50/$6.70)
Operating Hours: Daily 10am to 10pm
Address: 238 Thomson Road, #01-68/69, Novena Square, Singapore 307683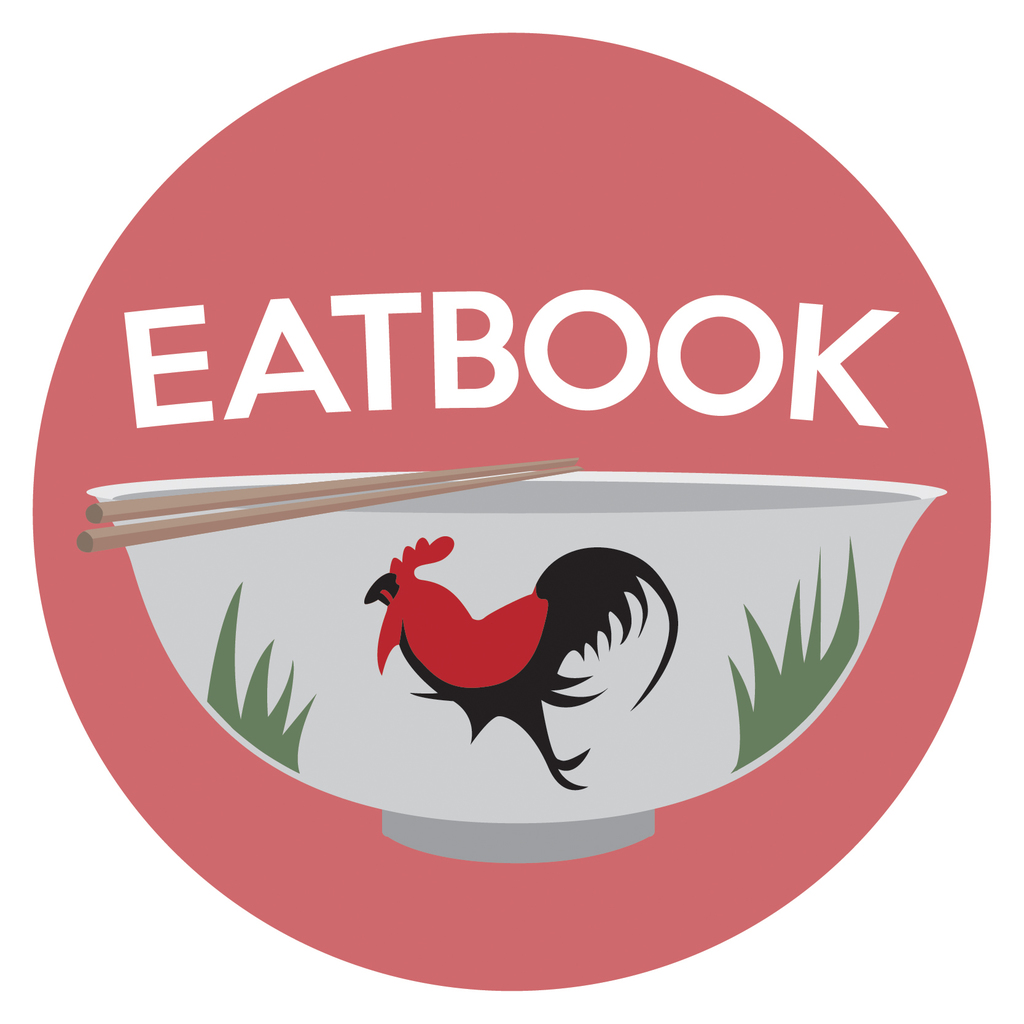 Drop us your email so you won't miss the latest news.