Bubble's Kitchen offers tasty Thai dishes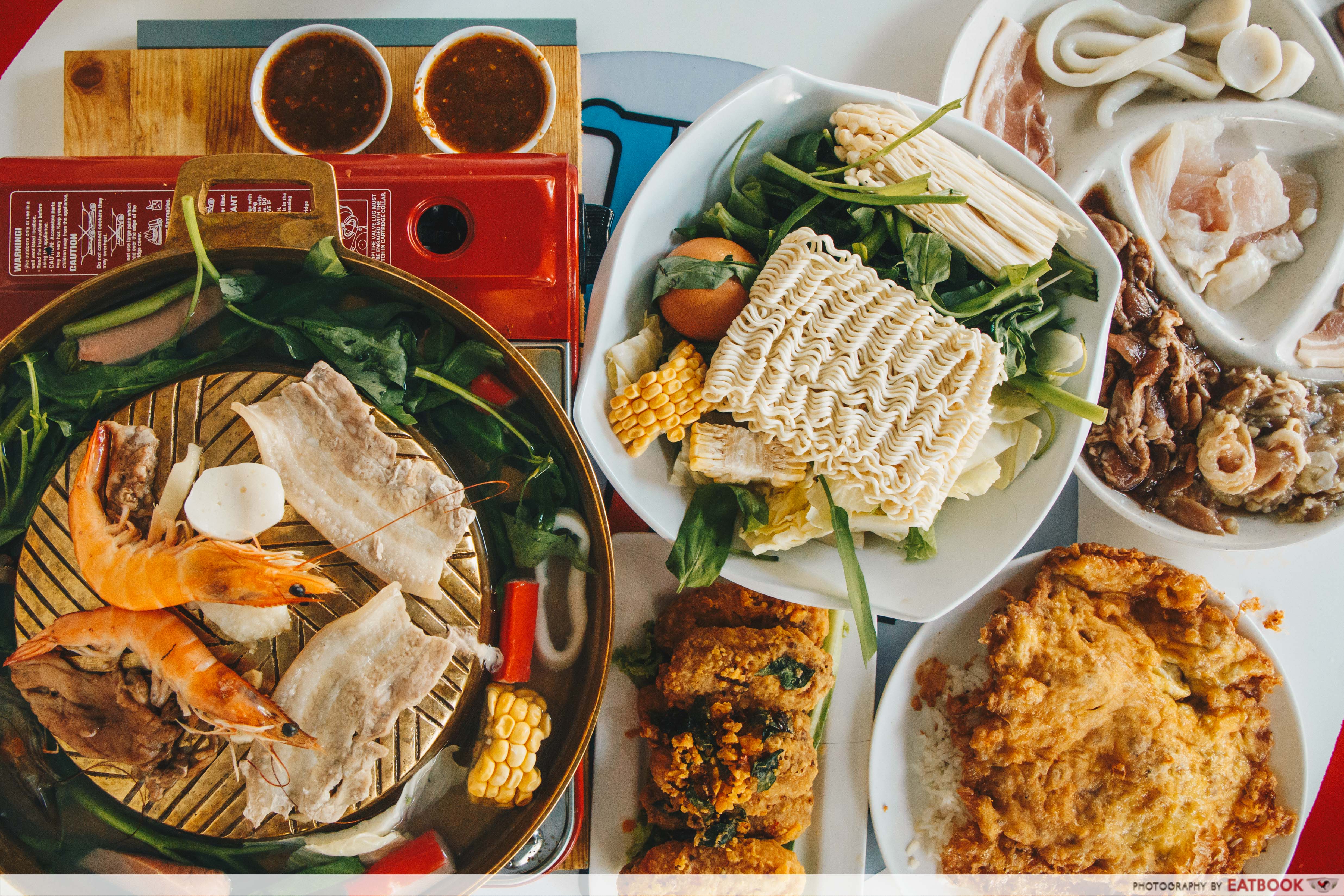 I've kept this place a secret for as long as I can. But alas, in a last-ditch effort to pitch an interesting food place, I finally caved in. The Thai food at Bubble's Kitchen has been a personal favourite of mine ever since it opened near my place last year. At first, Bubble's Kitchen sold only Thai dishes. It was only until a while later that stall owner, Miss Bubble, started offering mookata as well.
Before heading down with my colleagues to review the place, I'd already tried a couple of things at the stall. Do be warned that this place has its hits and misses, although the good stuff is so delicious, I'm always left wanting more.
Food at Bubble's Kitchen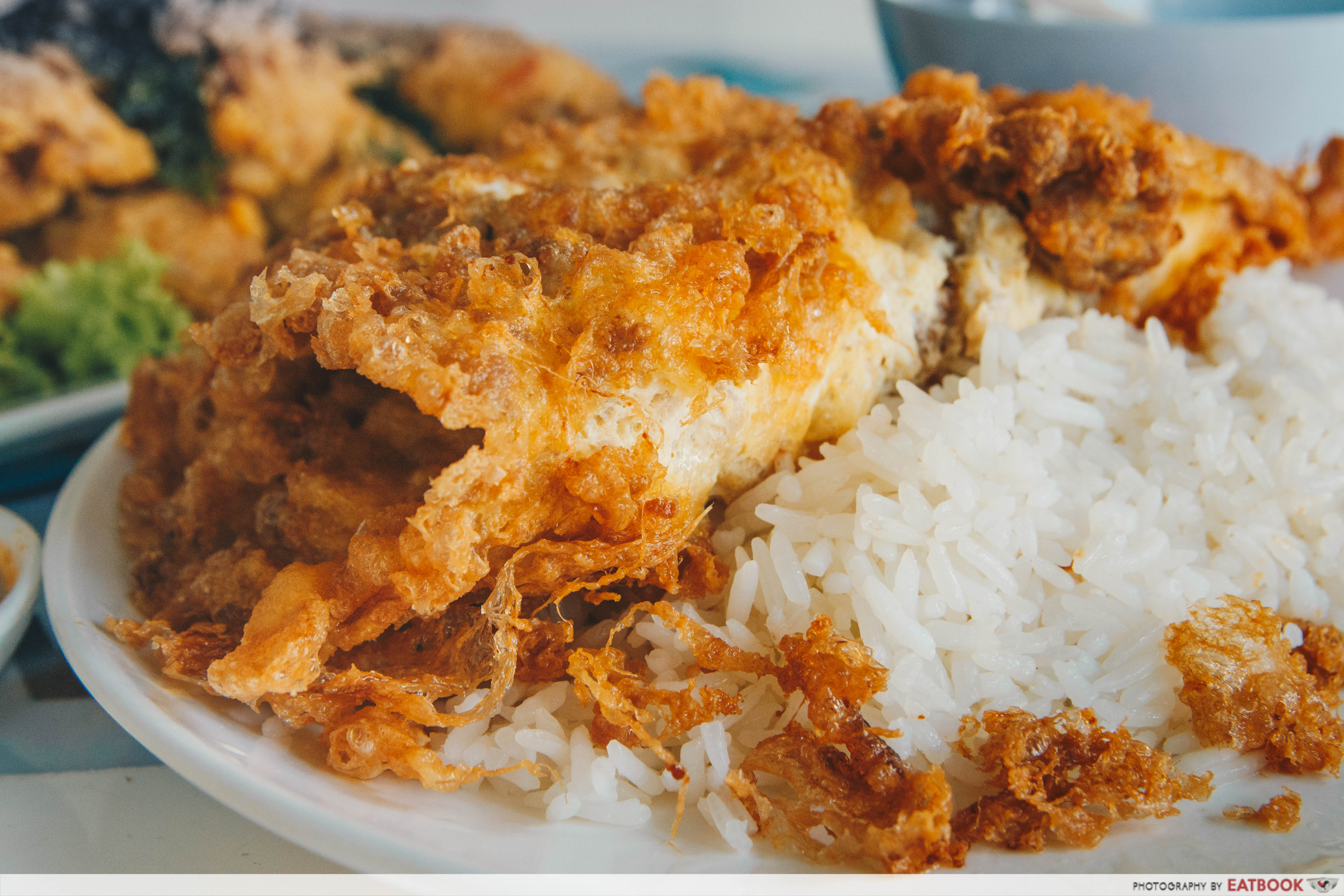 I've got a lot to gush about this beautiful plate of Thai Omelette Rice ($5). I get this dish at least twice a month because it's really so good. I remember my first time trying the omelette and thinking I'd never had an egg cooked better than this. My colleague and I couldn't help ourselves from pinching off some of the crispy edges before snapping a photo.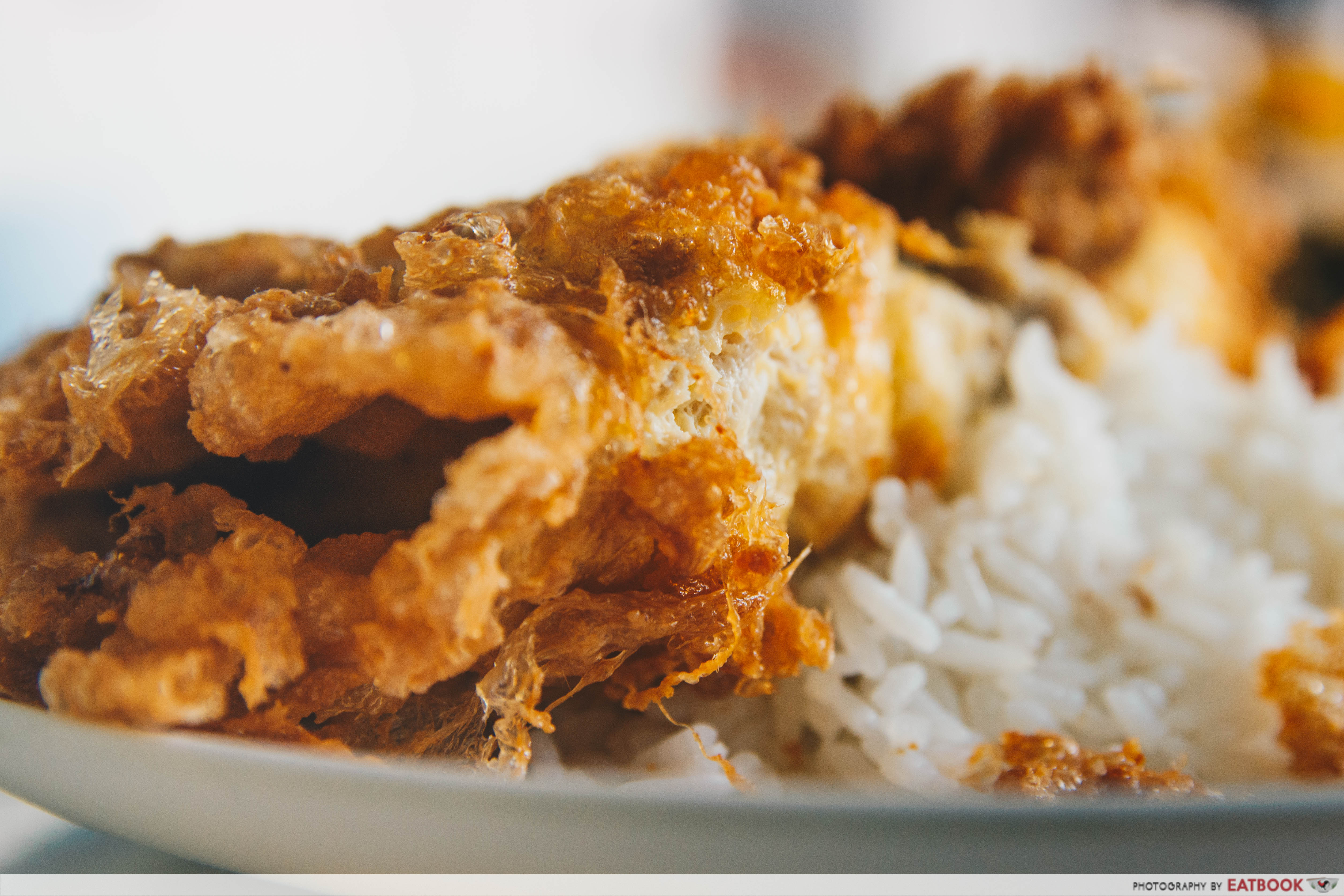 Aside from being super crisp on the outside and fluffy inside, the omelette was also stuffed with minced pork. The whole cloud of an egg was just oozing umami. It can be a little salty, but nothing a spoonful of rice can't balance off. I like to order a bowl of Tom Yum Soup ($6) with this dish because the egg can get a tad jelak.
I hadn't had the opportunity to order their highly recommended Salted Egg Chicken Wings ($8) before, so I was both curious and excited to try them. The minute they were served, the aroma of salted egg wafted into all our noses. We couldn't wait to dig in!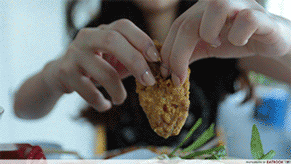 Small, grainy pieces of salted egg yolk coated every piece of chicken wing. The batter was crispy and piquant. It wasn't too rich, which was just how I liked it. Upon biting into the meat, my taste buds were hit by a sharp tinge of spiciness from the addition of red chilli. The wings were rather greasy, to the extent that oil trickled down my fingers at one point.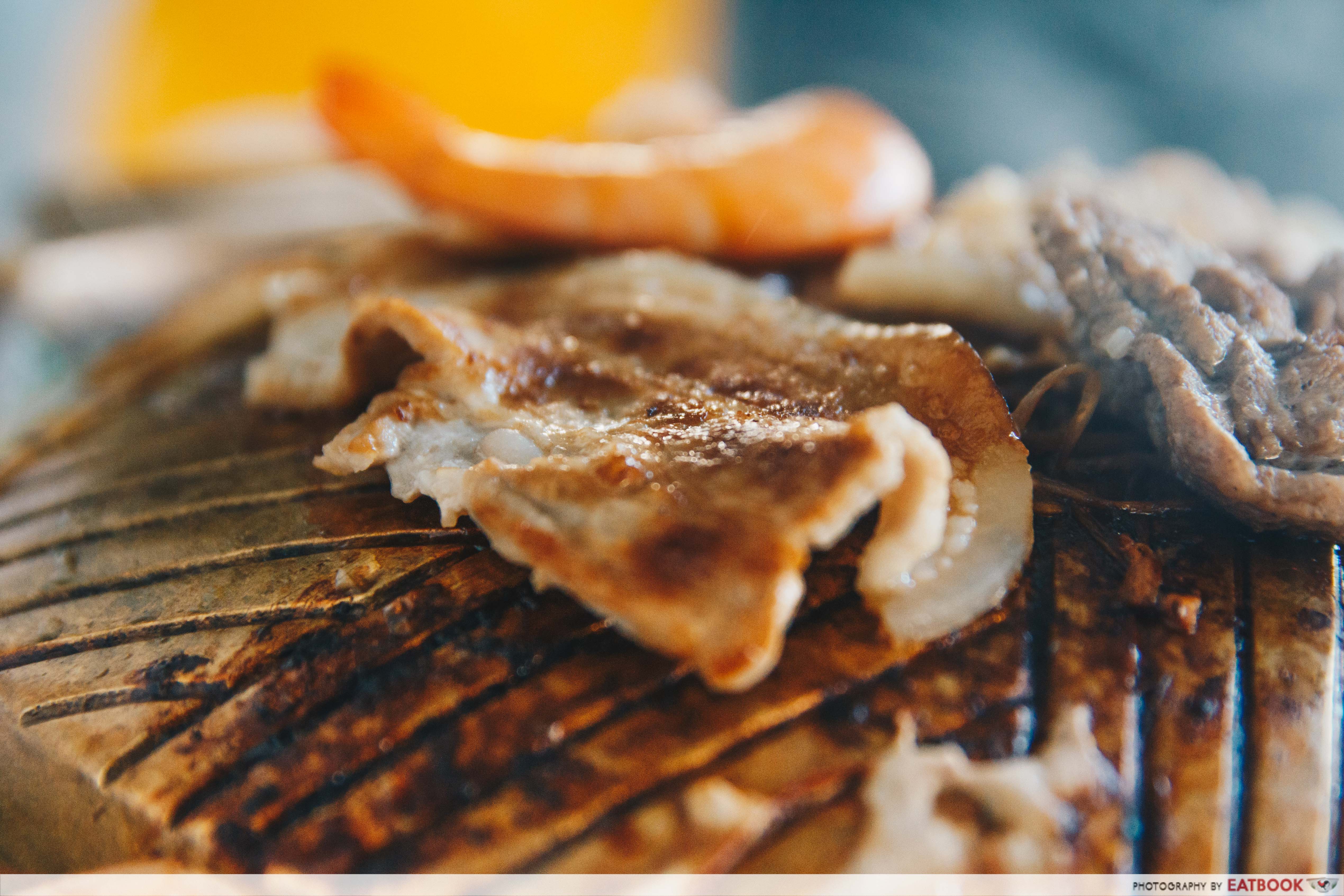 I couldn't wait to start the fire and get the Mookata ($28.80 for two people) feast running! The mookata also came with an option for a Tom Yum Soup Base at an extra $3.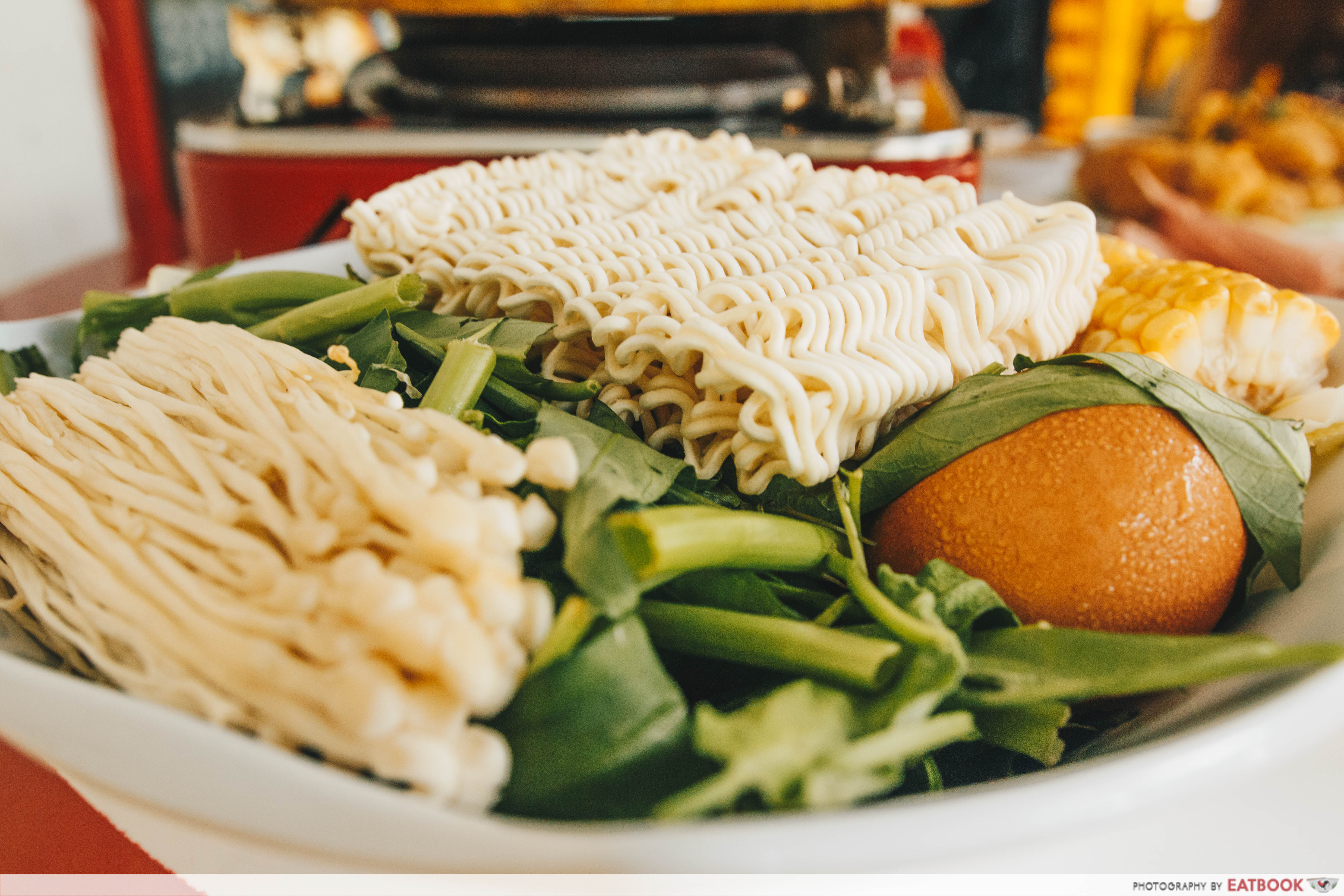 The mookata for two includes a vegetable platter containing enoki mushrooms, instant noodles, corn, cabbage, spinach and an egg.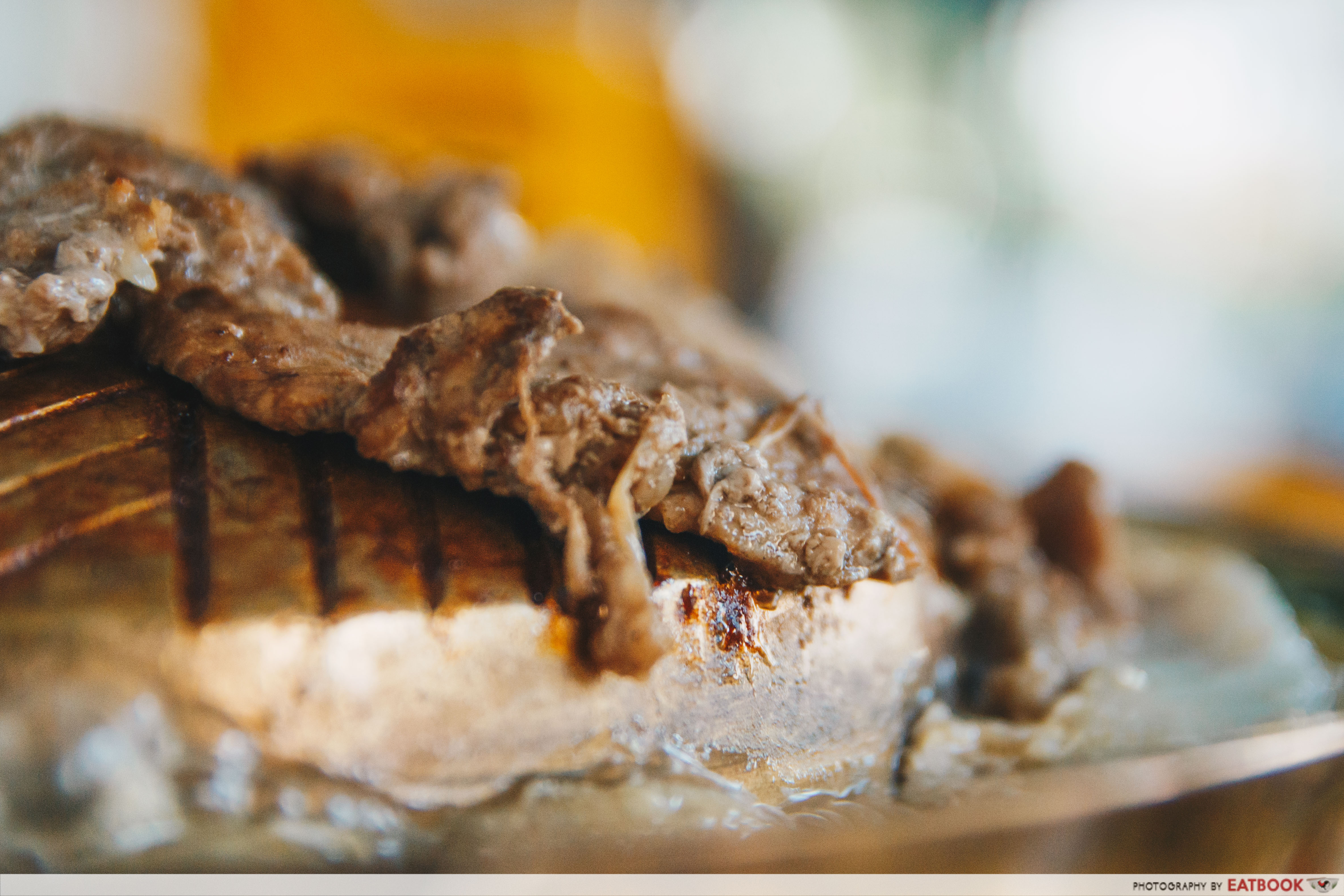 We had to quickly get started on cooking the raw meats, as they were beginning to attract flies. This didn't come across as a surprise, really. After all, we were in an open-aired coffee shop.
The meat platter came with fish, crab meat, pork belly, prawns, sausage, marinated chicken and pork, fish balls, and lard.  Snapping our chopsticks apart, we got to work, spreading lard across the grill and pouring in the plain broth provided to us in a flask.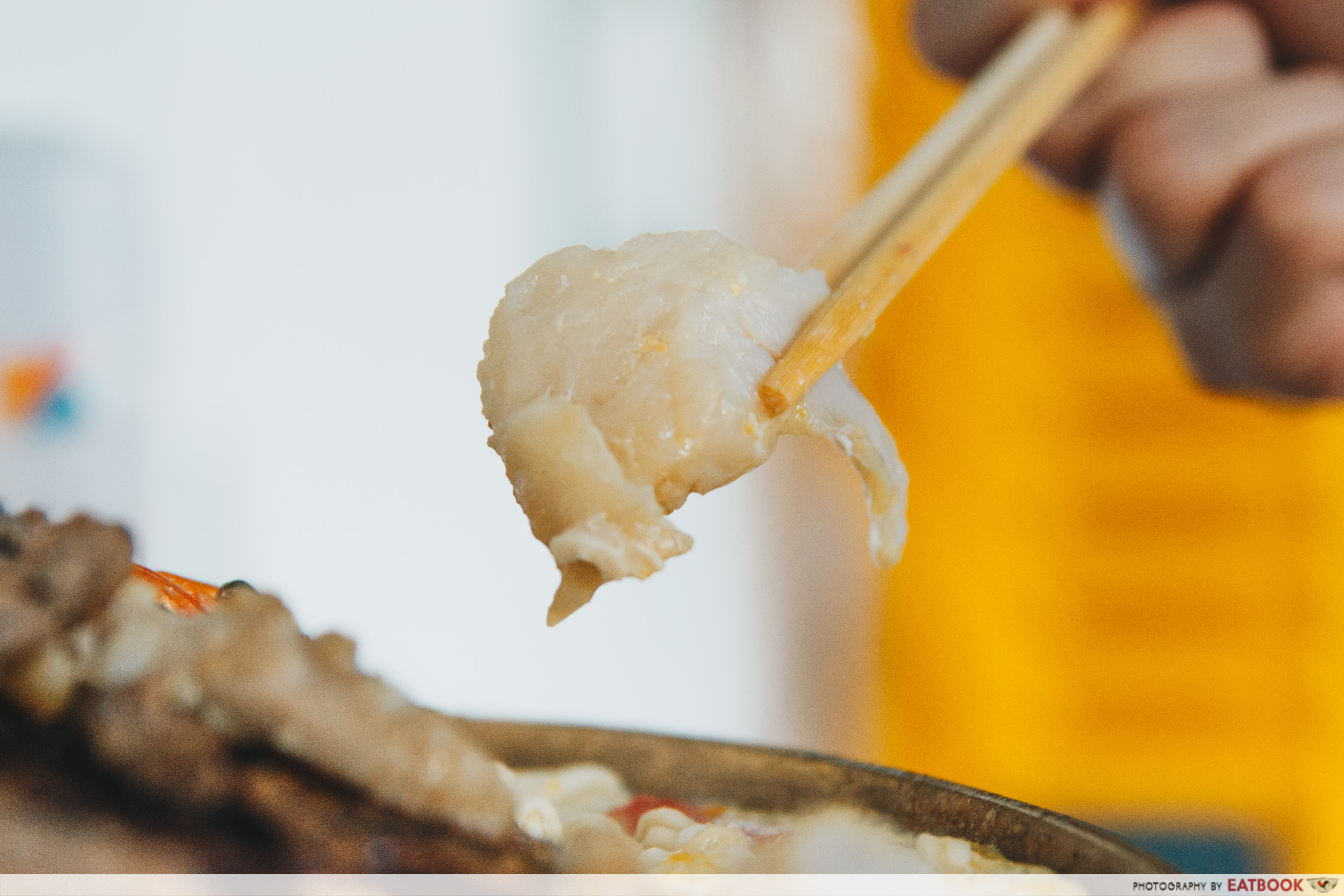 The fish was the highlight of the platter. It was a little sad that only a small portion was provided. It was so smooth, tender and had a springy texture. There was also hardly any traces of fishy taste.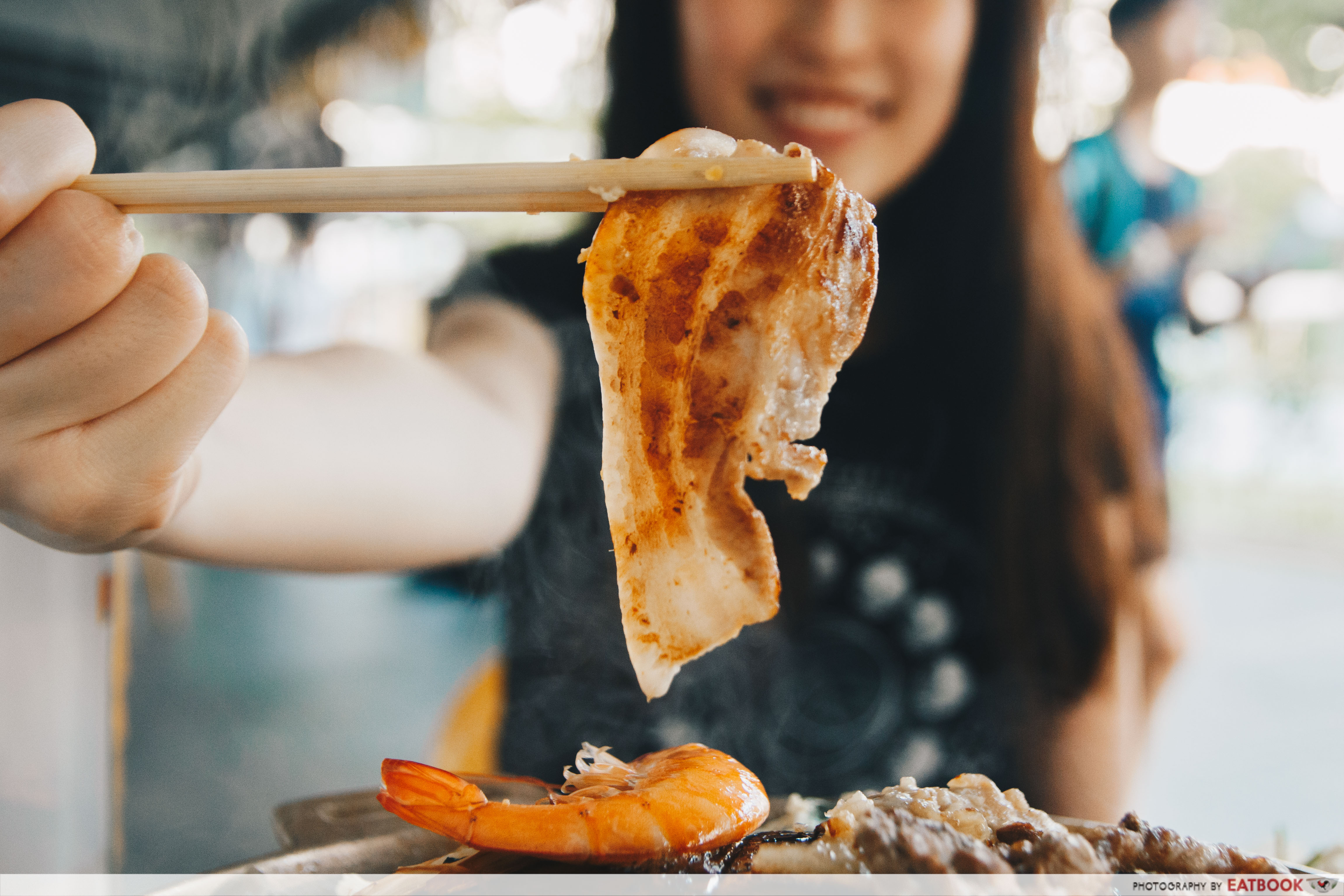 I also enjoyed the long strips of pork belly. I cooked them until they turned a tantalising golden brown. The meat was sweet, fatty and a little smoky from being charred on the grill.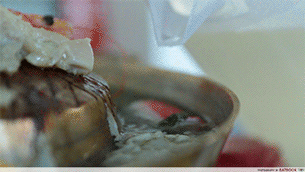 I didn't have any expectations of the soup, because it looked really simple. However, it sweetened considerably and tasted really wholesome after the addition of all the ingredients, to the point that I found myself drinking spoonfuls after spoonfuls of the hearty broth. We had to continuously refill the pot though, because the soup dried up pretty fast.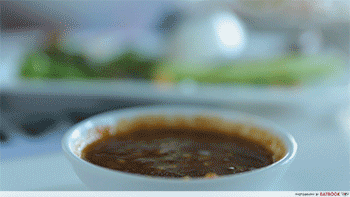 My family and I love the Thai chilli dip at Bubble's Kitchen with a fiery passion. The tangy dip is housemade and packs a sour punch. It actually only comes with the mookata set, but I always ask for some to takeaway with my Thai Omelette Rice, to spice things up a little.
Ambience at Bubble's Kitchen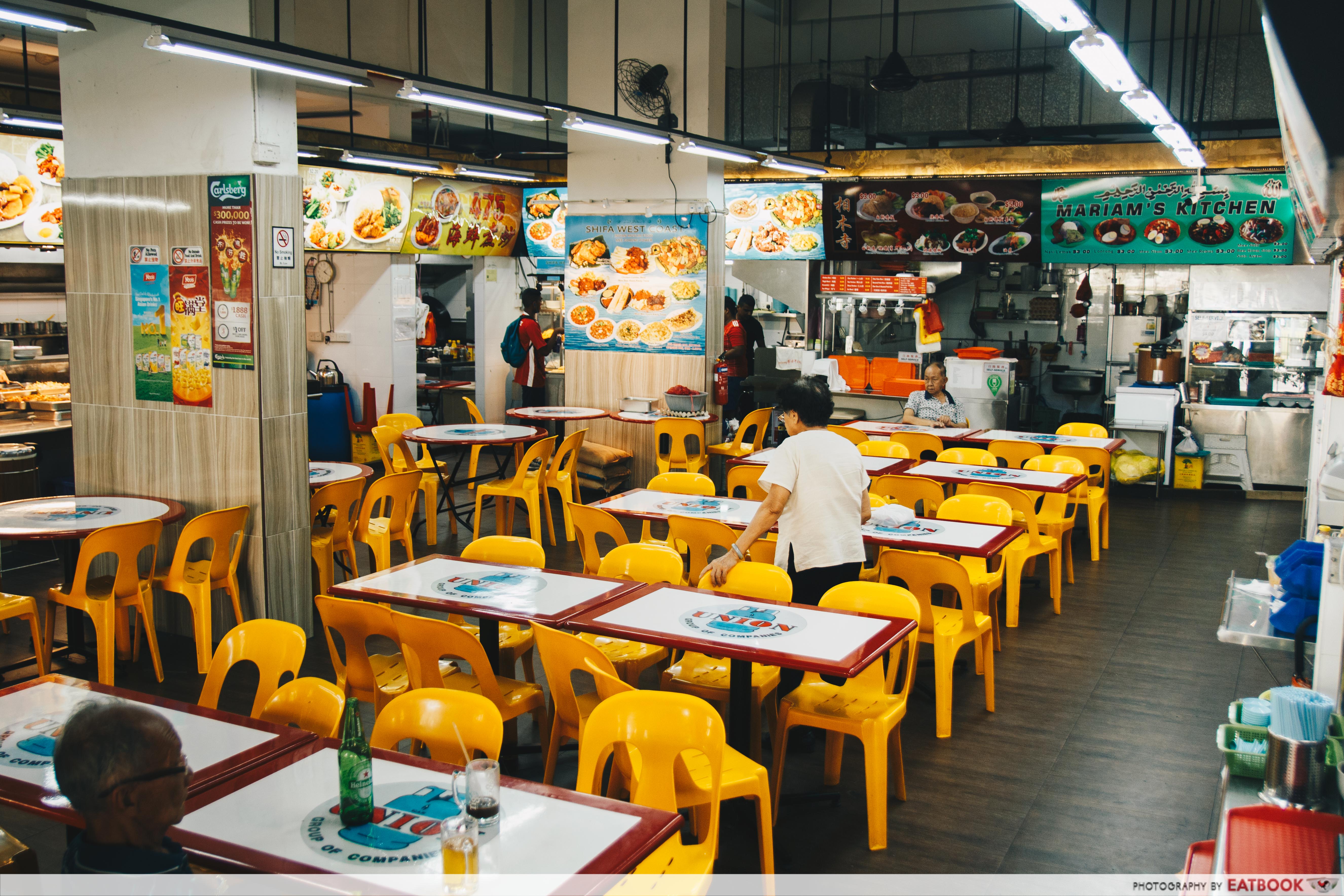 Bubble's Kitchen is located in a small coffee shop opposite Serangoon Secondary School. The sad story is that this coffee shop has closed down two times before, so here's hoping that with the presence of stalls such as Bubble's Kitchen, the coffee shop, on it's third opening, will stay open for good.
The verdict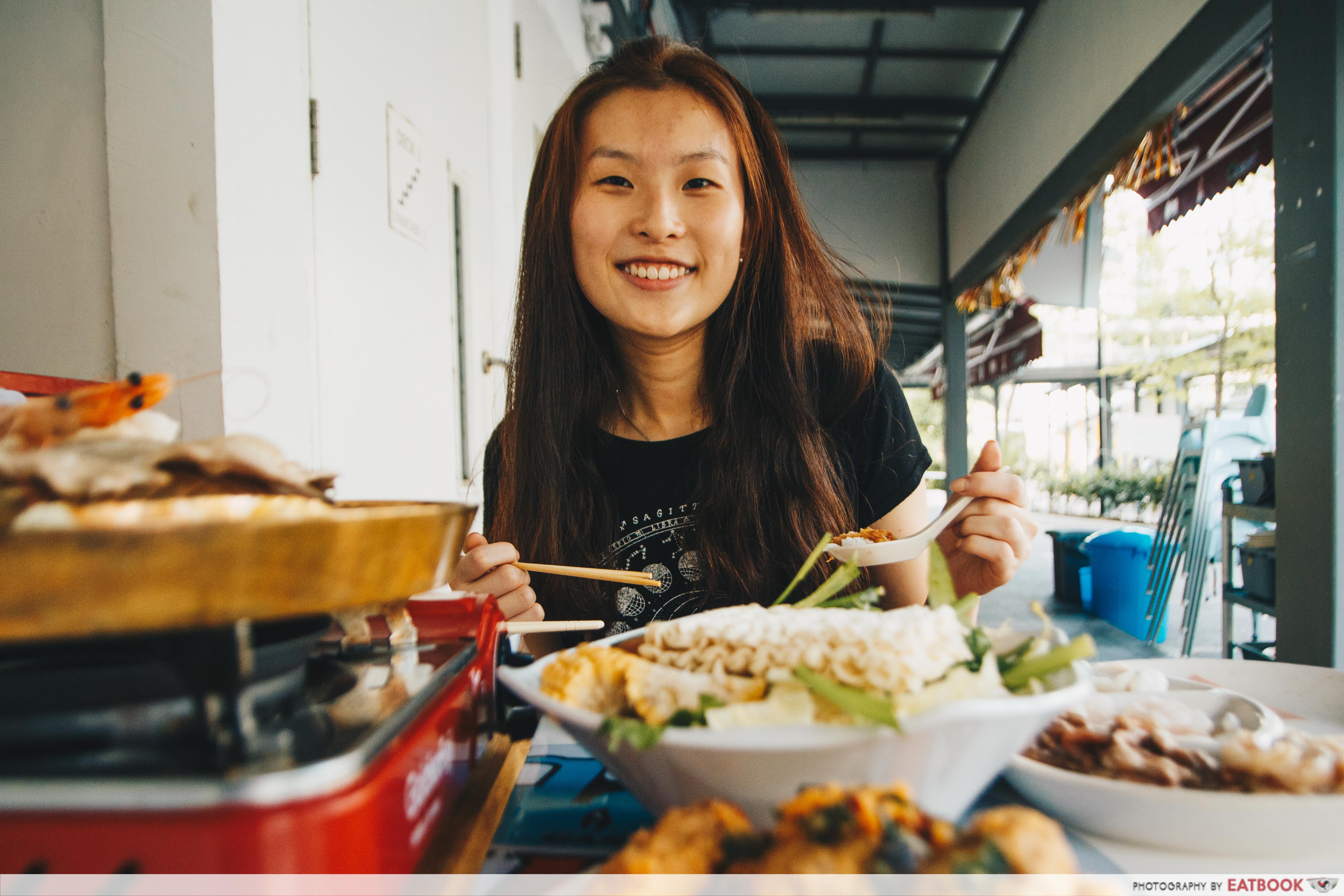 It goes without saying that I'm a fan of many of the dishes down at Bubble's Kitchen. I live nearby, so I'll definitely keep coming back for more. Another dish worth trying is their Thai Basil Minced Meat Rice ($5), which I order often as well. They also have an interesting recommended item called Fried Laksa ($5), which appears to be laksa in a dry form. Unfortunately, it is not always available, so give the store a ring if you're planning on coming down for this.
I thought the mookata offers value for money. My colleagues and I made a team of three and we all went home with satisfied bellies. I only wished that there could've been a little more variety in the vegetable and meat platters.
For more mookata found at kopitiams, check out The Talking Cow's cheese mookata! Here's a list of affordable mookata as well, for the next time your belly's craving for loads of meat.
Address: 475 Upper Serangoon Crescent, #01-01, Singapore 530475
Opening hours: Daily 11am to 9pm
Tel: 8160 8111
Website
This is an independent review by Eatbook.sg.
Summary
Pros
– Affordable
– Tasty
Cons
– Mookata lacks variety
Recommended dishes: Thai Omelette Rice ($5), Salted Egg Chicken Wings ($8), Mookata ($28.80 for two people)
Address: 475 Upper Serangoon Crescent, #01-01, Singapore 530475
Opening hours: Daily 11am to 9pm