The Talking Cow is a Muslim-owned mookata stall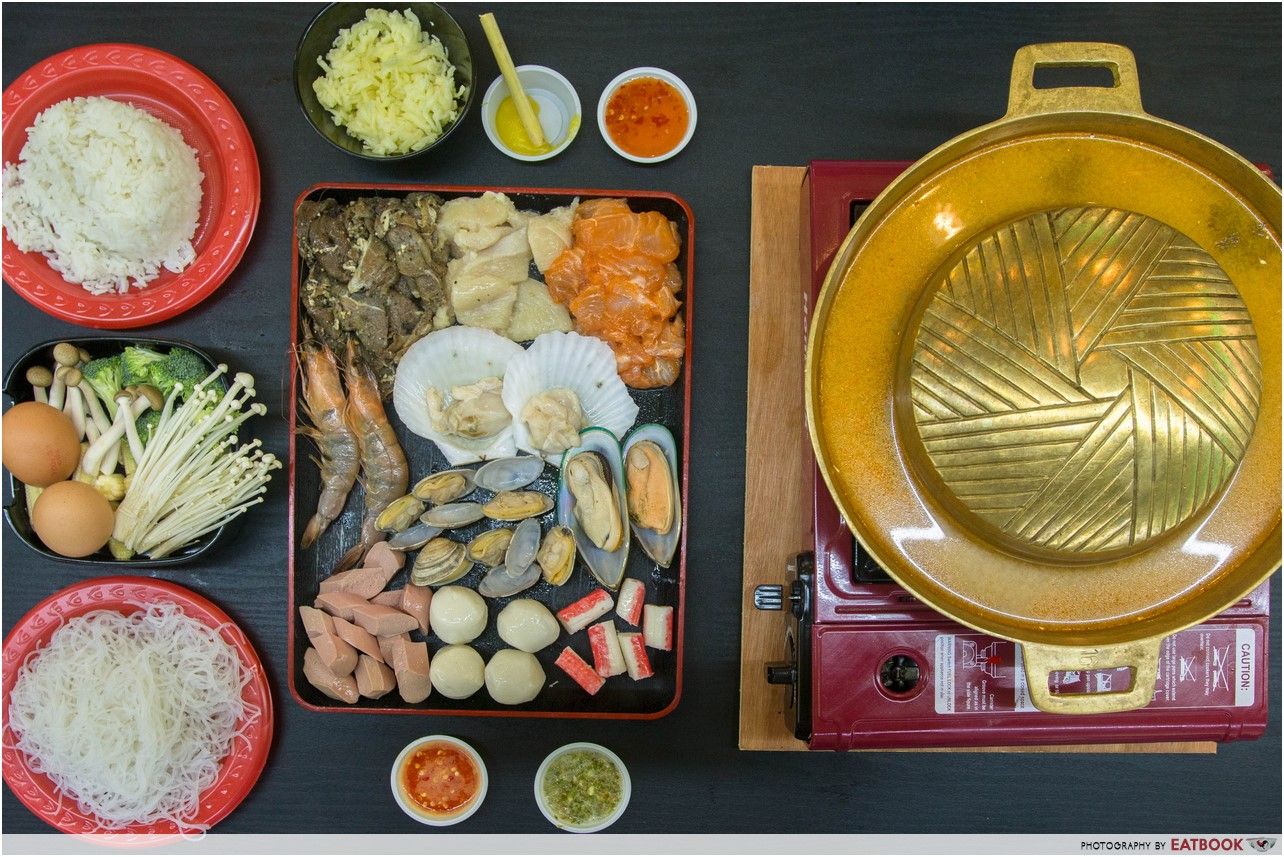 Fellow Easties, you can now rejoice with me. When I first heard about The Talking Cow's launch at Bedok, trust me, I was over the moo-n. I finally have a chance to experience Thai mookata. And to tell you the truth, I was actually jealous of my friends who always seem to be feasting on sizzling hot meat, and sharing their joyous moments on their Instastories. I'm starting to get all antsy, let's move on to the food!    
Food at The Talking Cow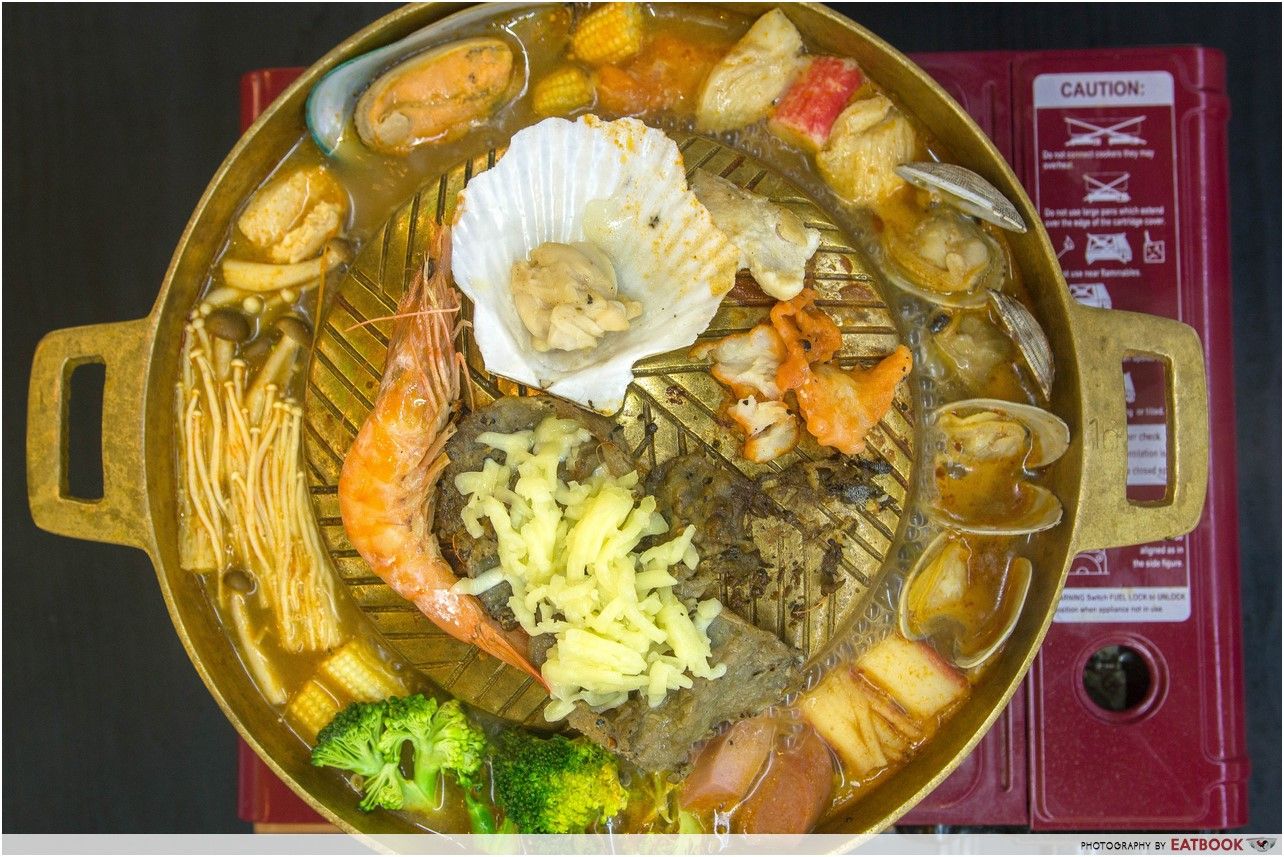 Combo Set ($13.80 per person) requires a minimum of two people to dine in. The platter consisted of black pepper beef, garlic chicken, marinated sliced fish, tiger prawns, scallops, mussels, fish balls, sausages, crab sticks, cabbage, enoki mushrooms, broccoli, baby corn, and eggs. For your carbs, you have an option of rice, tanghoon, or instant noodles. I obviously opted for the grains 'cause rice is life.
As for our soup, we could choose tom yum, chicken, or singgang which is a sour and savoury soup made with tamarind. We decided to go for the tom yum soup. Add $2 and you'll get free-flow soup. The platter was already prepared and cling-wrapped in their fridge so it didn't take long for us to get our food and the gas-operated mookata grill.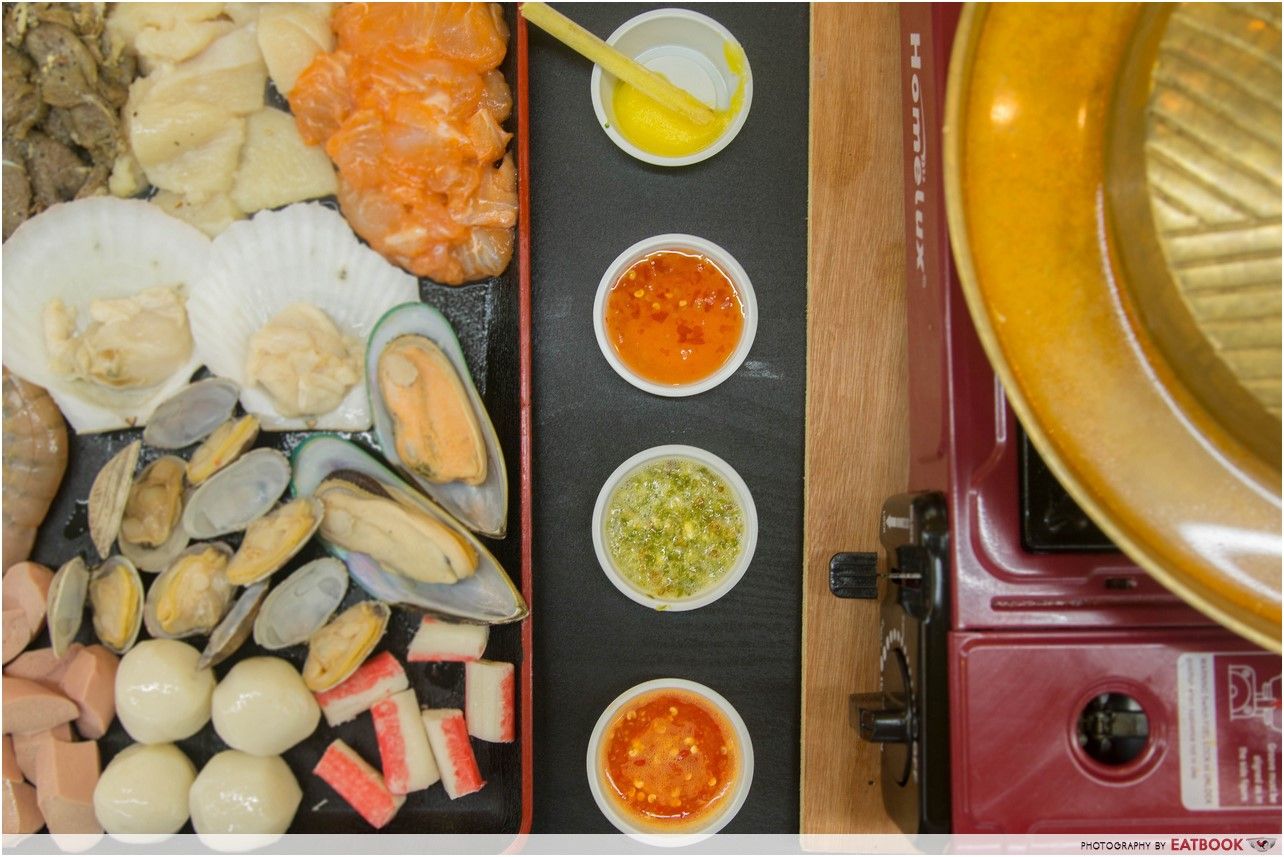 The platter came with three dips – sweet Thai chilli sauce, green chilli, and red chilli. They also included a saucer of butter for us to oil the grill. The Thai chilli sauce was sweet so it went well with the savoury beef.
As for the red and green chilli sauces, it was great for seafood as the spiciness helped to cut through any fishy taste. All the ingredients were placed on one platter, which I think isn't a good idea. While picking up the ingredients, we found that our fish balls were quite slimy and smelled a little off. We separated the other ingredients to prevent them from coming into contact with the fish balls.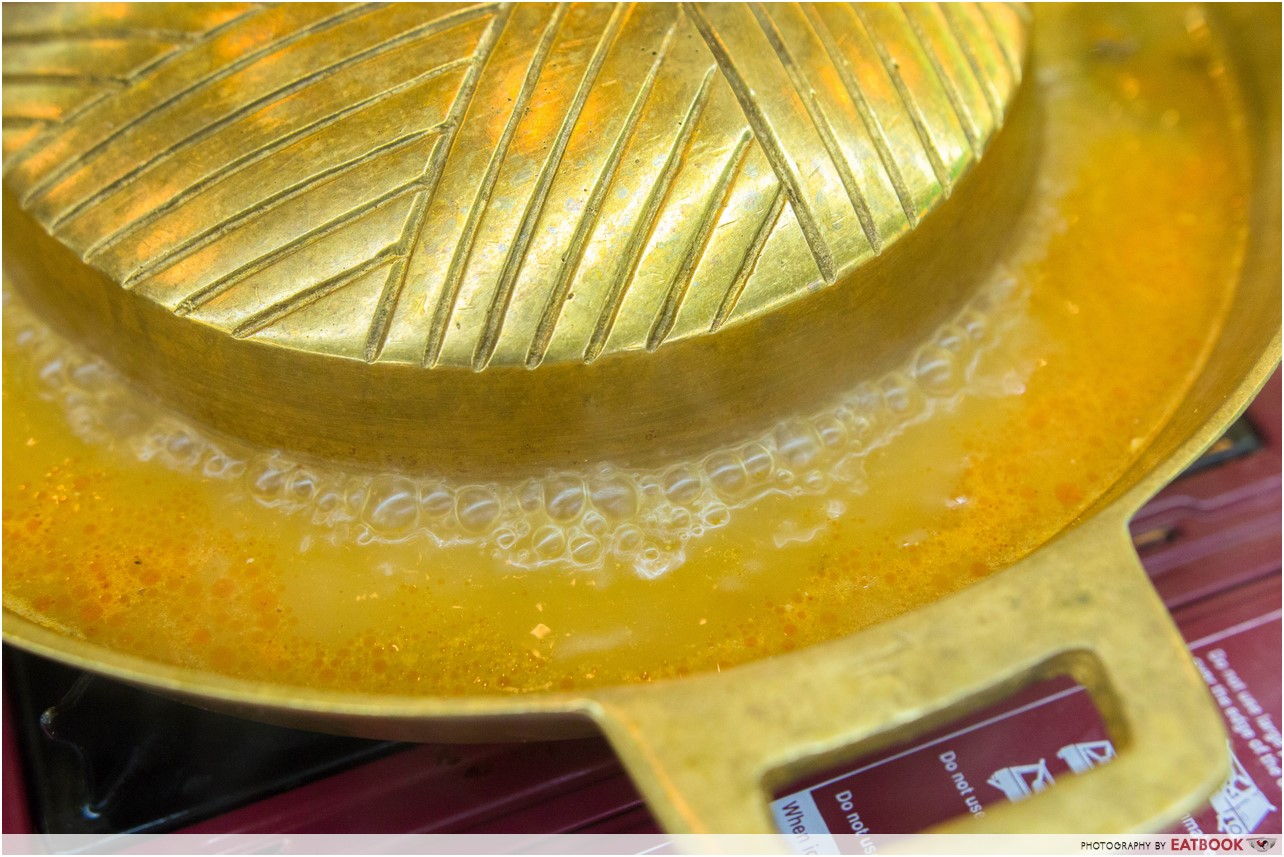 A staff member was kind enough to help us pour the soup into the pot, which reminded me of a moat protecting its castle from intruders. We put some of our sausages, crab sticks, broccoli, and mushrooms into the soup to let it cook as we patiently watched the orange river boil in anger over time. As tiny bubbles rose up hurriedly onto the surface, I took a spoonful of the soup and blew it carefully to prevent my tongue from getting burnt. Taste-wise, it was quite light on the palate – a little spicy and sour. But as we let it boil, its flavour got more concentrated, making it quite salty. We decided to throw in some clams and mussels to add umami flavour into the soup.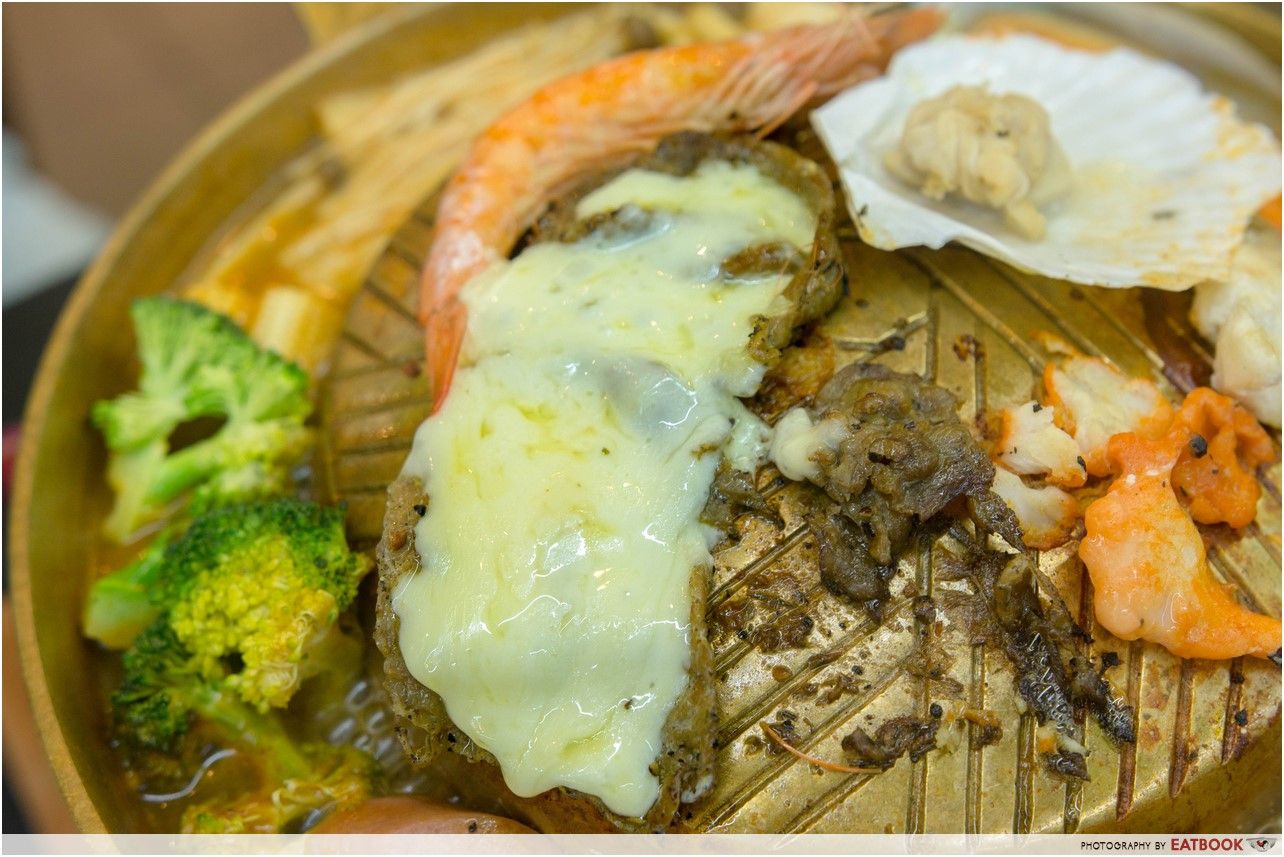 I painted the grill with the butter by using a lemongrass stalk that was included. Call me weird but I get a sense of euphoria when I hear meat getting seared. We flipped it every now and then to prevent it from getting burnt. The pieces of beef were nicely sliced, they were neither too thick nor thin. The black pepper was a little sharp for us, a little lesser would have done more good. The meat, however, was well-seasoned and tender. It would have been better if they trimmed away the gristles.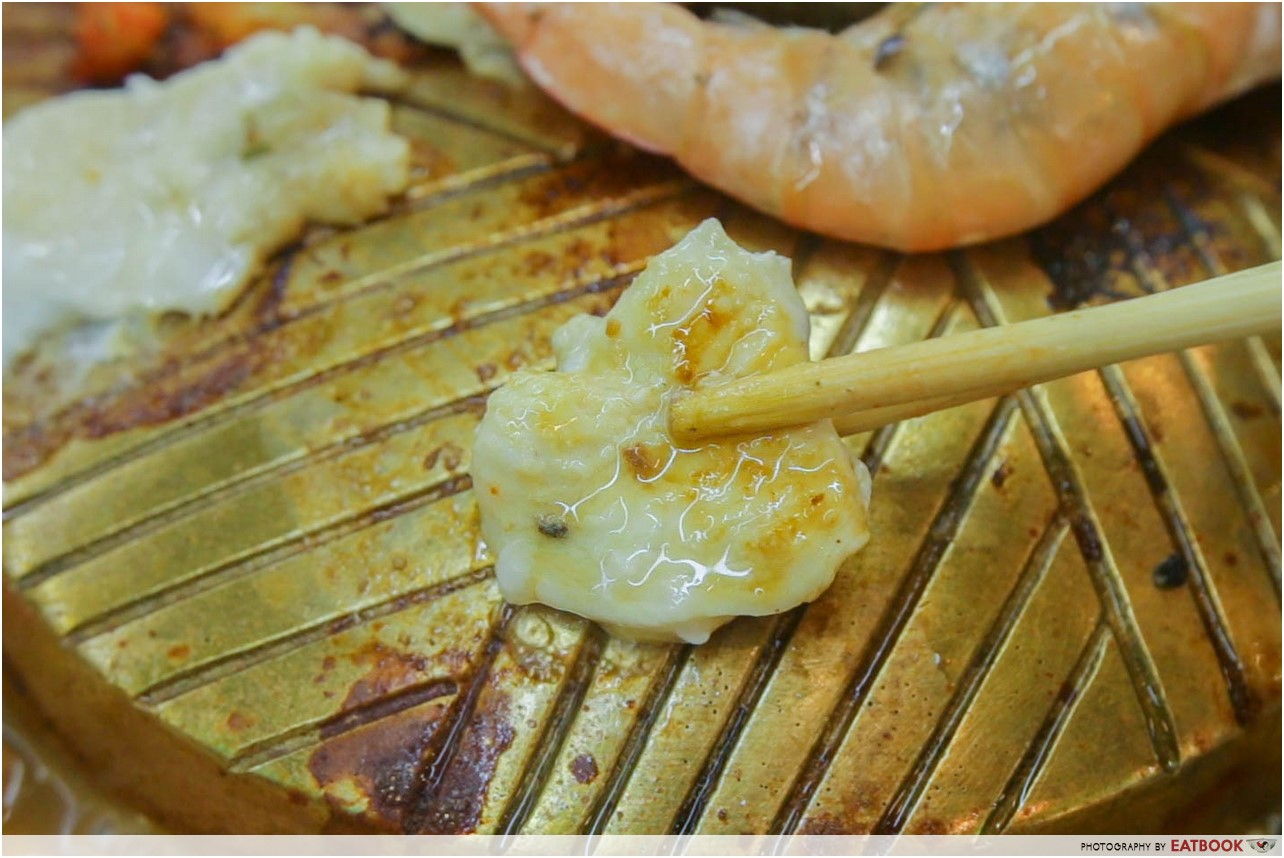 I legitly thought I was cooking marinated fish but it turned out to be garlic chicken. It was firm and tender, but nothing to shout about. The green chilli dip – sour and spicy – made a great accompaniment to the chicken. It was piquant and I found myself constantly dipping the chicken into the sauce because it was that addictive.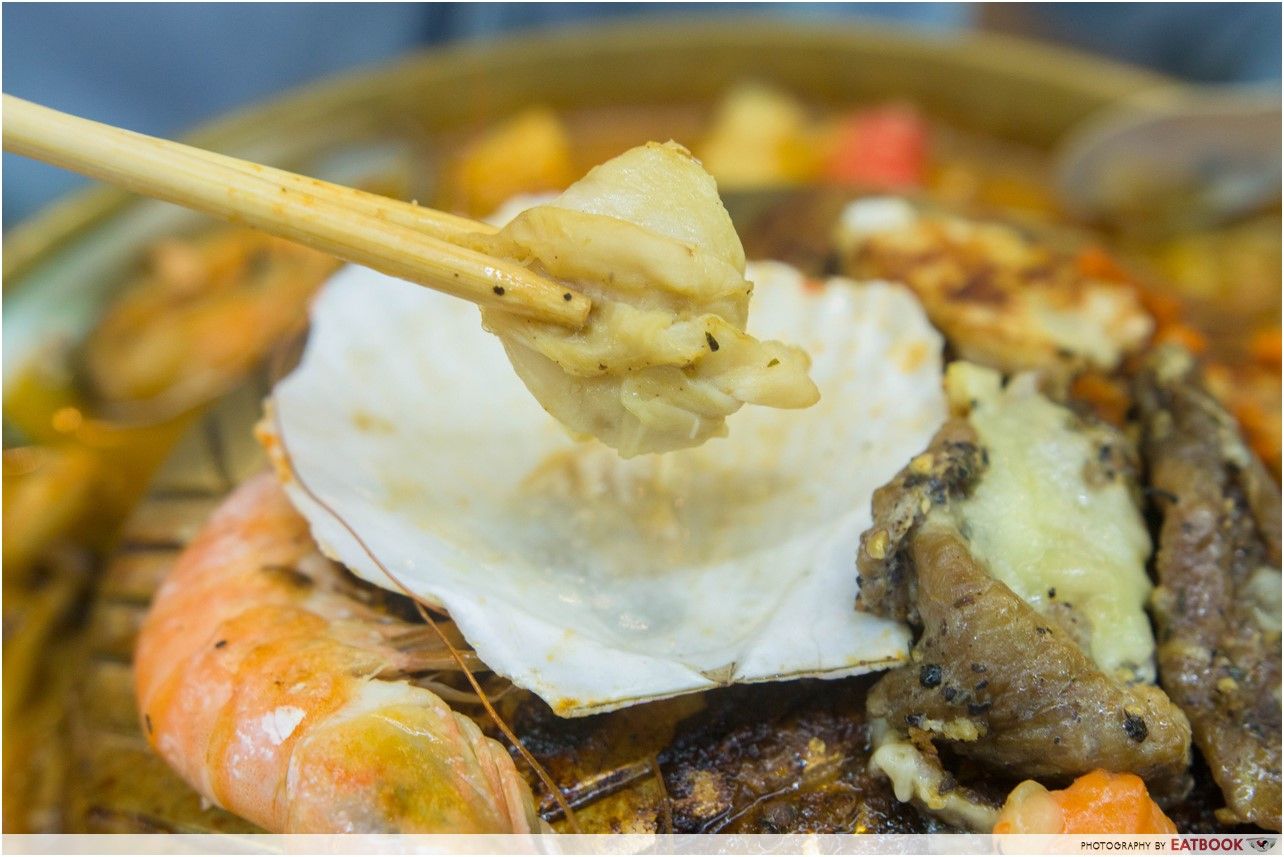 I like scallops but most of the ones I have eaten so far are all treated with a chemical so they swell and appear bigger. As we grilled the ones here, we noticed that water started escaping. They shrunk but only by a marginal difference. Mine wasn't rubbery and had a pleasant texture. Sadly, there was only one piece for each of us.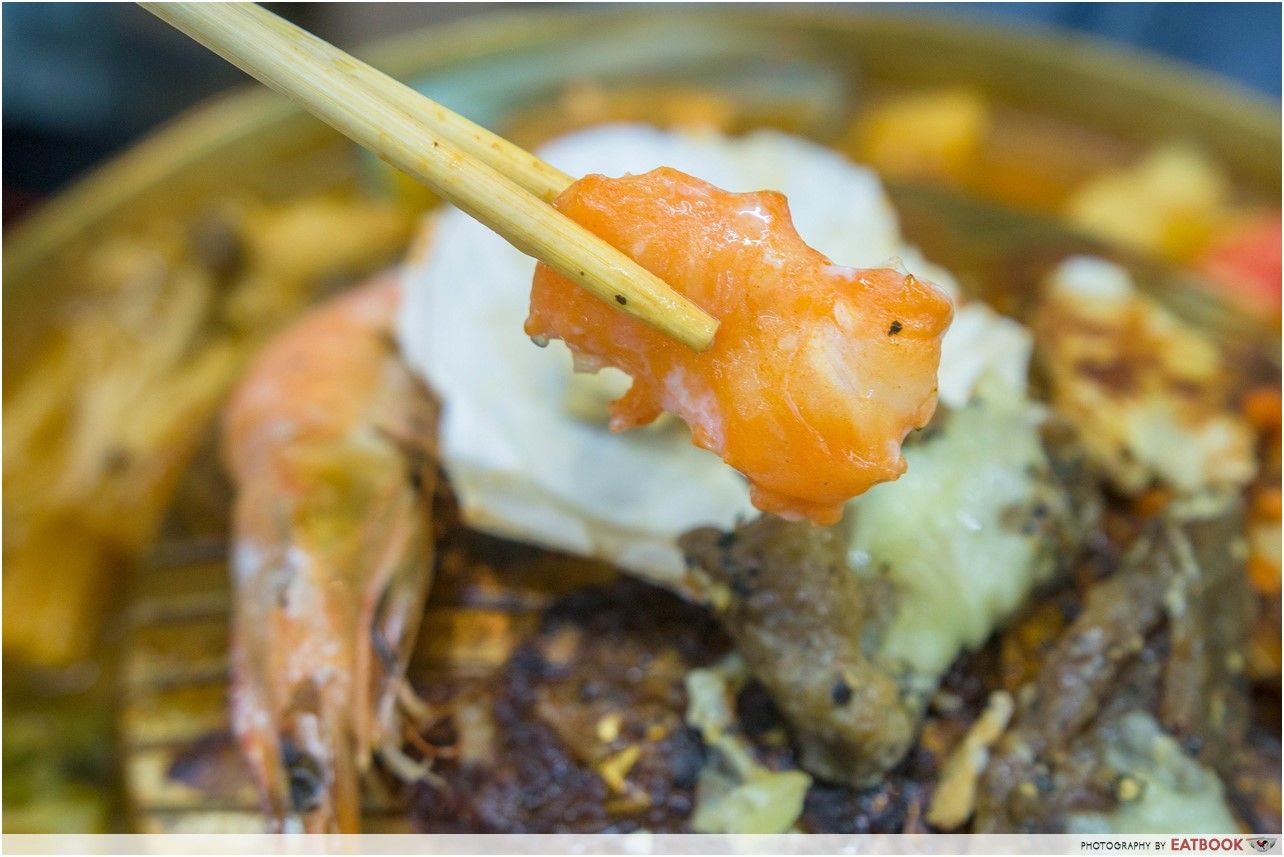 At first glance we thought this was sashimi but it turned out to be the colour of the marinade smeared onto the fish. The meat was soft and flaky, but that's all there was to it. I wanted to sear it to get a crusty side but it ended up sticking onto our pot. We had to have it with a dip to enjoy it to the fullest. Unsatisfied, we put the remaining fish slices into the soup instead. TFW we realised we've been doing it wrong; it was so much better in the soup. It retained its moisture and soaked up the tom yum flavour. It was so much softer yet still firm, and didn't fall apart even though I picked it up with a pair of wooden chopsticks.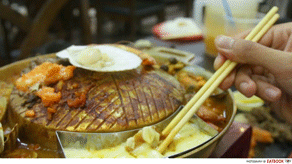 Make way for the cream of the crop – Cheezy Cheese ($6). If you dine here, you must get this mozzarella cheese. It was initially served in a bowl but we were later given a metal compartment that fit perfectly into the moat. I constantly stirred it so that it would melt faster and it did. I plunged my chopsticks into it and gave it a good pull. It was so gooey, velvety, and stringy that I needed extra hands to help me cut off the trail of cheese. I could see that every table around us were gawking at this grandiose sight. The mozzarella cheese had milky notes, which made a great dip for the black pepper beef. I took a piece of it and ate it with relish.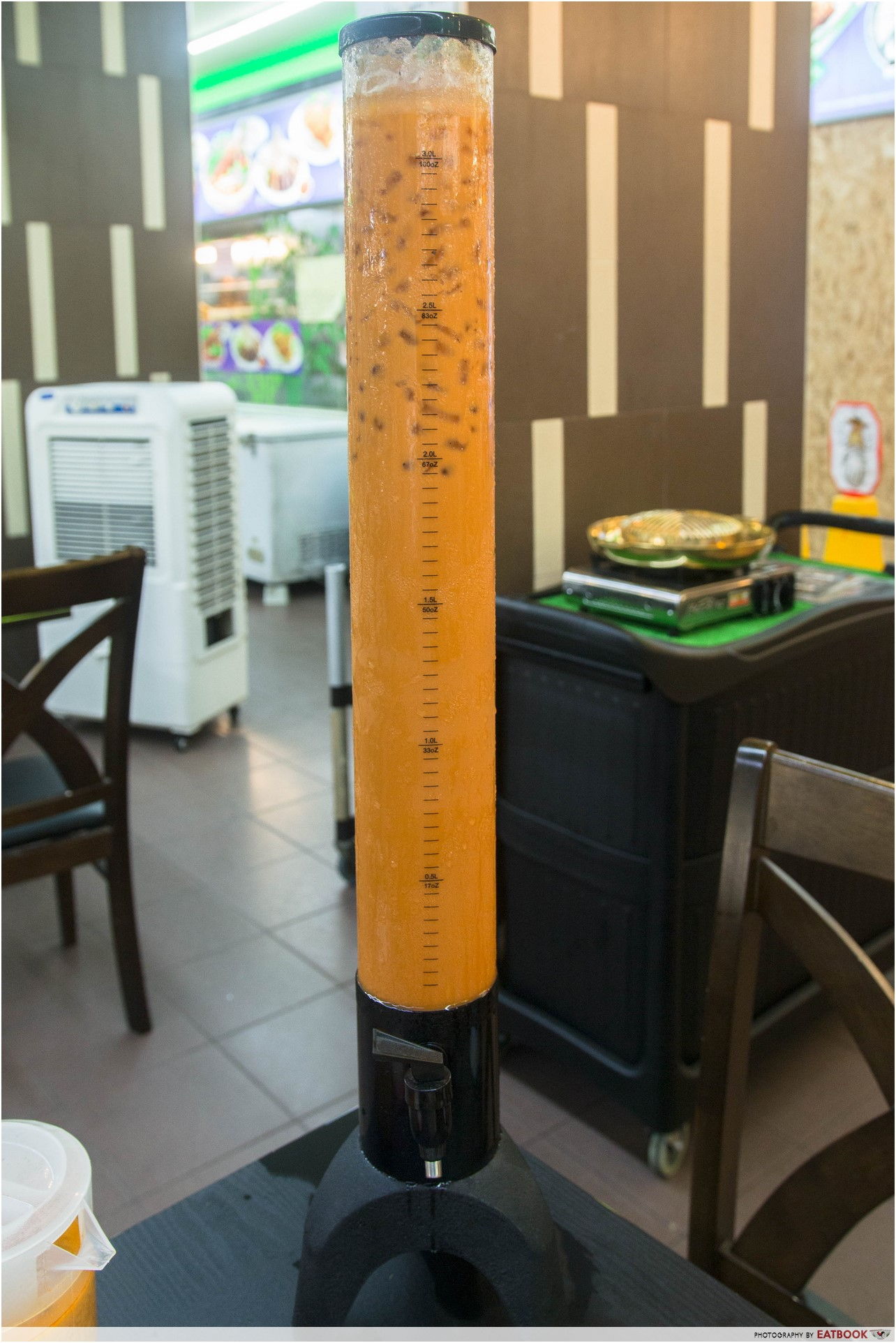 There is a drinks stall nearby in the same coffee shop as well but if you'd like to have their Thai Milk Tea Tower ($25), you'll have to inform the cashier and he'll write a note on your receipt. Proceed to the drinks stall, show them your receipt, and they'll bring it to your table. Our faces changed when we saw this three-litre tower. I have to admit, we kinda overestimated ourselves thinking that the two of us could finish it since we both love milk tea. Boy were we wrong. We could barely finish a litre. It had that strong flavour of Thai milk tea but it was a tad too sweet. We asked for a cup of ice each to dilute the drink. Not wanting to waste it, I took out my water bottle and filled it up. It was such an auntie moment but hey, I didn't want this to go down the sink.   
Ambience at The Talking Cow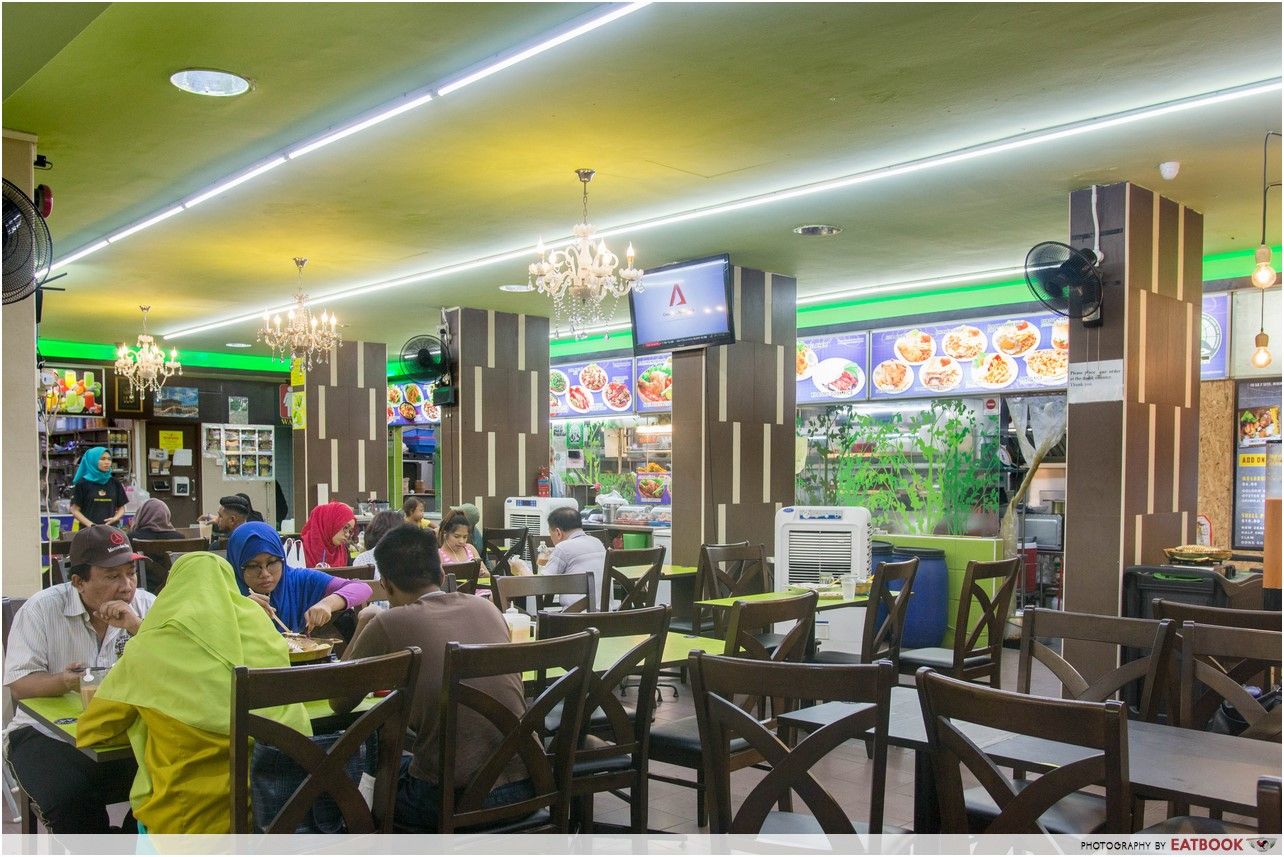 I was surprised to find The Talking Cow located in a coffee shop five minutes away from Bedok Point. It was pretty spacious and you can choose to sit anywhere you want to. Do note that they only accept cash at the moment as they are newly opened. As with regular hawker stalls, there is no GST or service charge. The staff members are very helpful and informative, so don't be afraid to approach any of them.
The verdict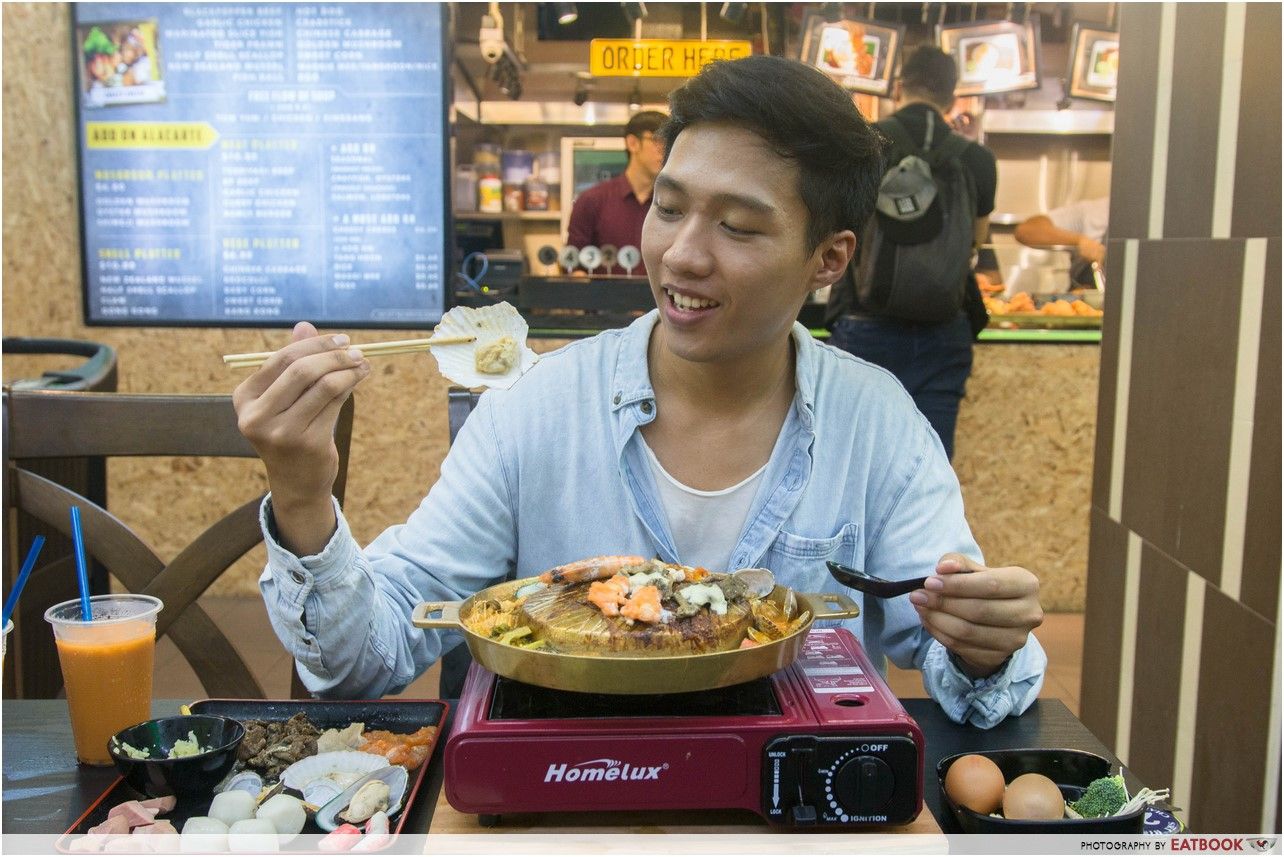 Overall, it was a great experience at The Talking Cow. I totally enjoyed my very first mookata experience. Had it not been for them, I would still be living in FOMO. Price-wise, I would say that it was okay but the portions can be improved on. I would definitely bring my friends and family here for dinner. It has a laid-back atmosphere, where you can chill and have a nice conversation over a hearty meal. For more hearty food around Bedok, check out these Bedok hawker stalls or Bedok North food places! Alternatively, this list of cheap halal food with huge portions can help fill you up without burning a hole in your pocket.
Address: 418 Bedok North Avenue 2, #01-55, Singapore 460418
Opening hours: Mon-Fri 5pm to 11pm, Sat-Sun & PH 12pm to 10pm
Tel: 8139 4958
Website
The Talking Cow is a Muslim-owned stall.
This is an independent review by Eatbook.sg.
The Talking Cow Review: Muslim-Owned Cheese Tom Yum Mookata At Bedok
Summary
Pros
– Mozzarella cheese
– Hearty meal
Cons
– Cash only
– Fish balls were slimy
– Portions can be better
Recommended Dishes: Cheezy Cheese ($6), Combo set ($13.80)
Operating Hours: Mon-Fri 5pm to 11pm, Sat-Sun & PH 12pm to 10pm
Address: 418 Bedok North Avenue 2, #01-55, Singapore 460418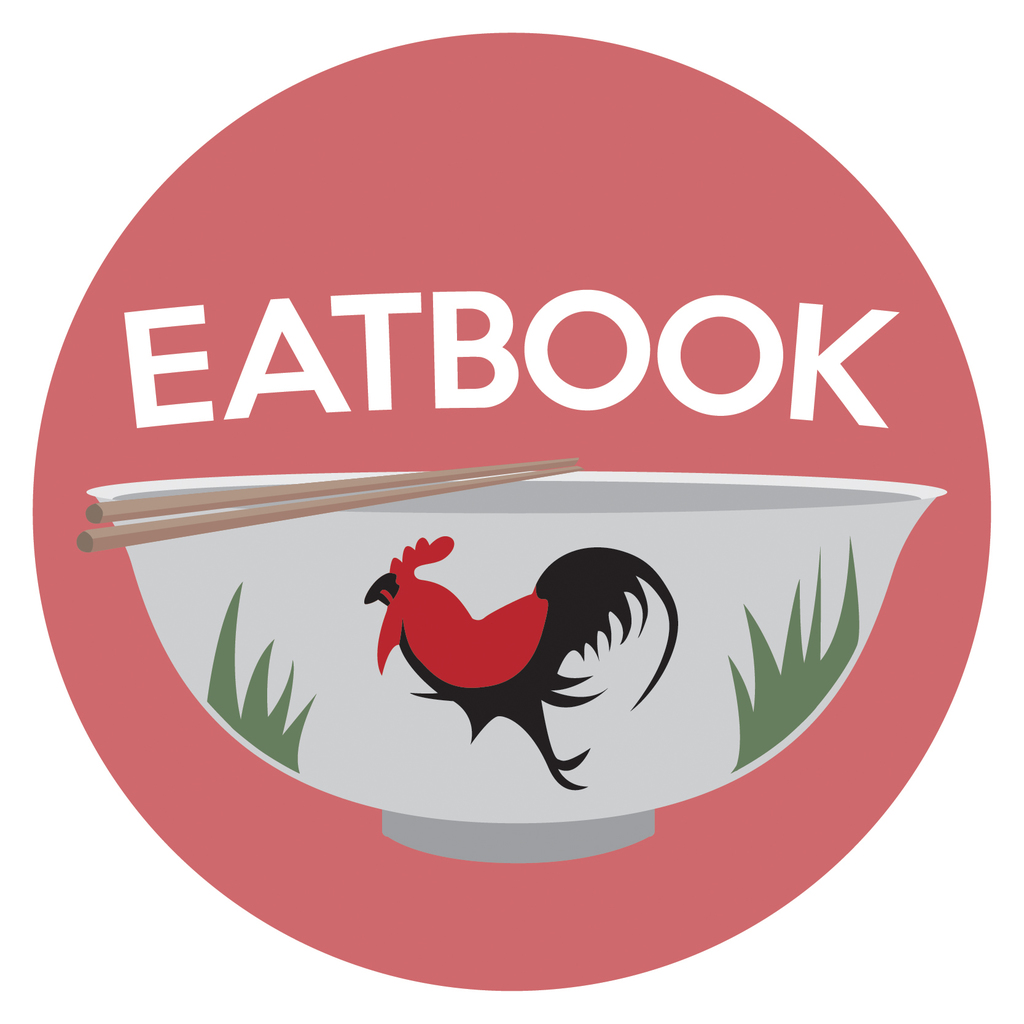 Drop us your email so you won't miss the latest news.