Around Cafe in Tampines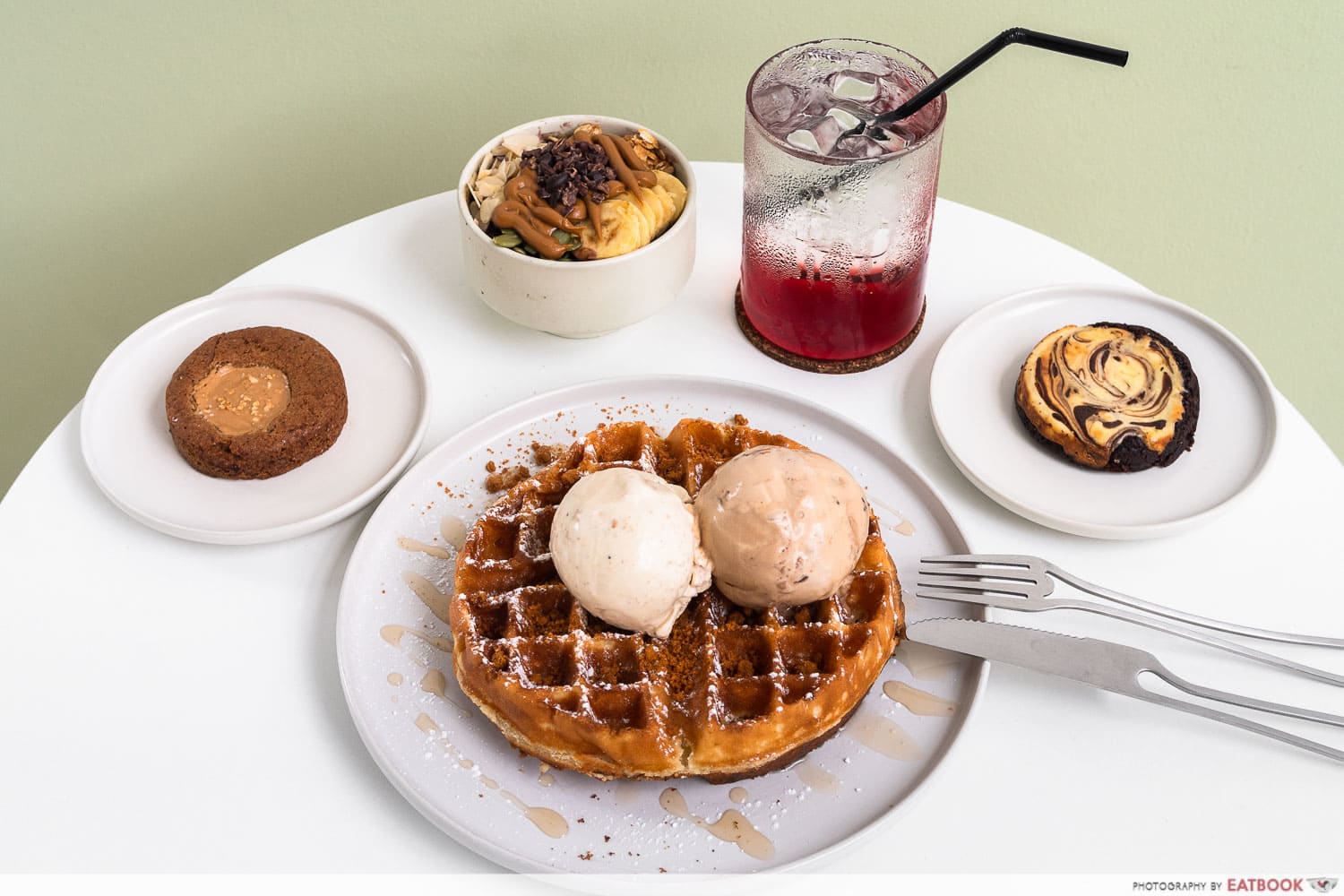 Being a resident of Tampines, I have walked by this hipster-looking cafe many times on my way home. Surrounded by glass panes, Around Cafe has been hot on many cafe hoppers' radar, not only for its unique architectural structure, but also for its late closing time of 2am.
Glacier Review: Minimalistic Cafe Opens Till 1am With Mochi Waffles, Matcha Brioche And More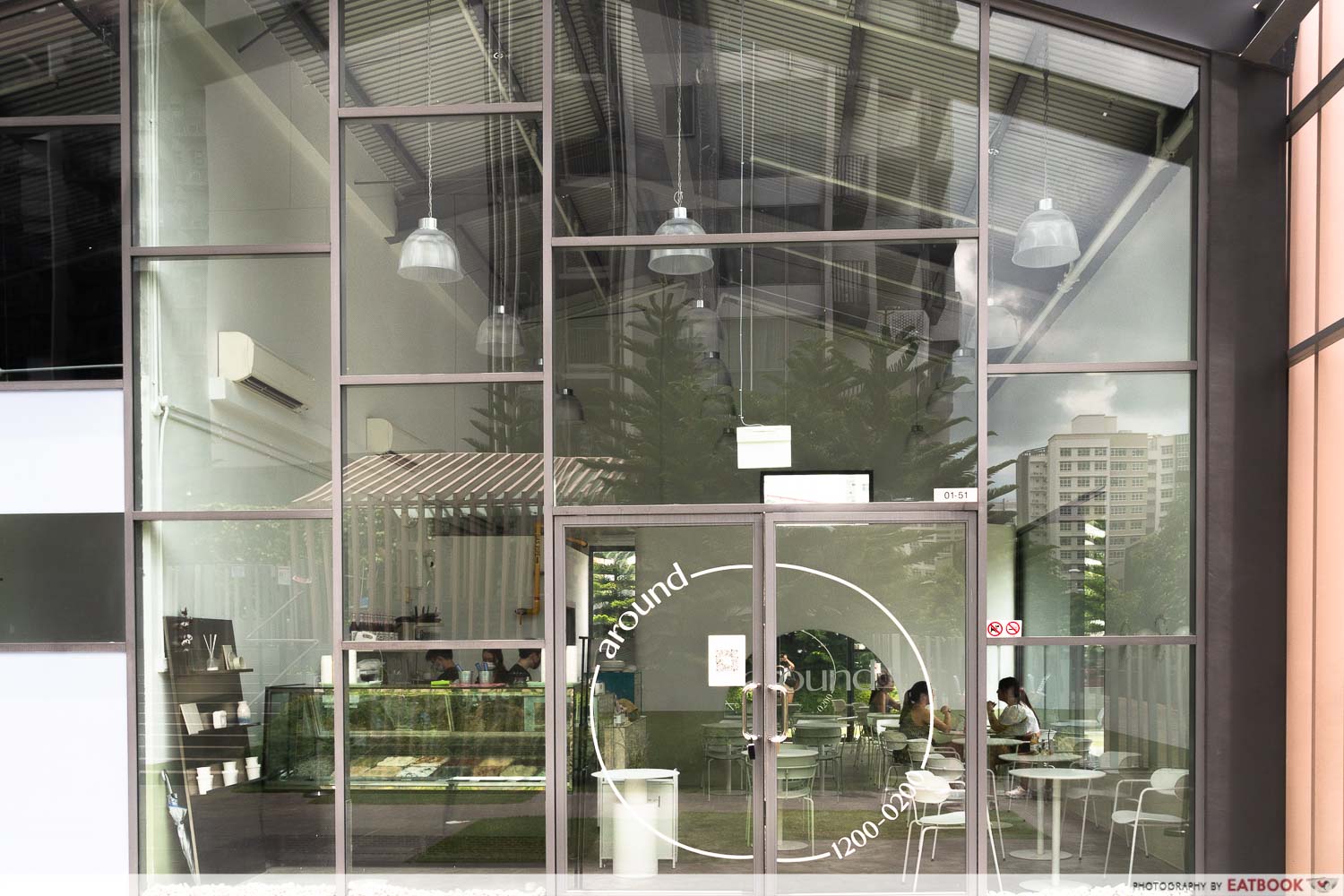 Located right next to The Alps Residences, this cafe is frequented by many residents in the area. Wait till the sun sets, and you'll start seeing the supper crowd making a long line outside the cafe, waiting to get their fix of waffles and ice cream. 
Food at Around Cafe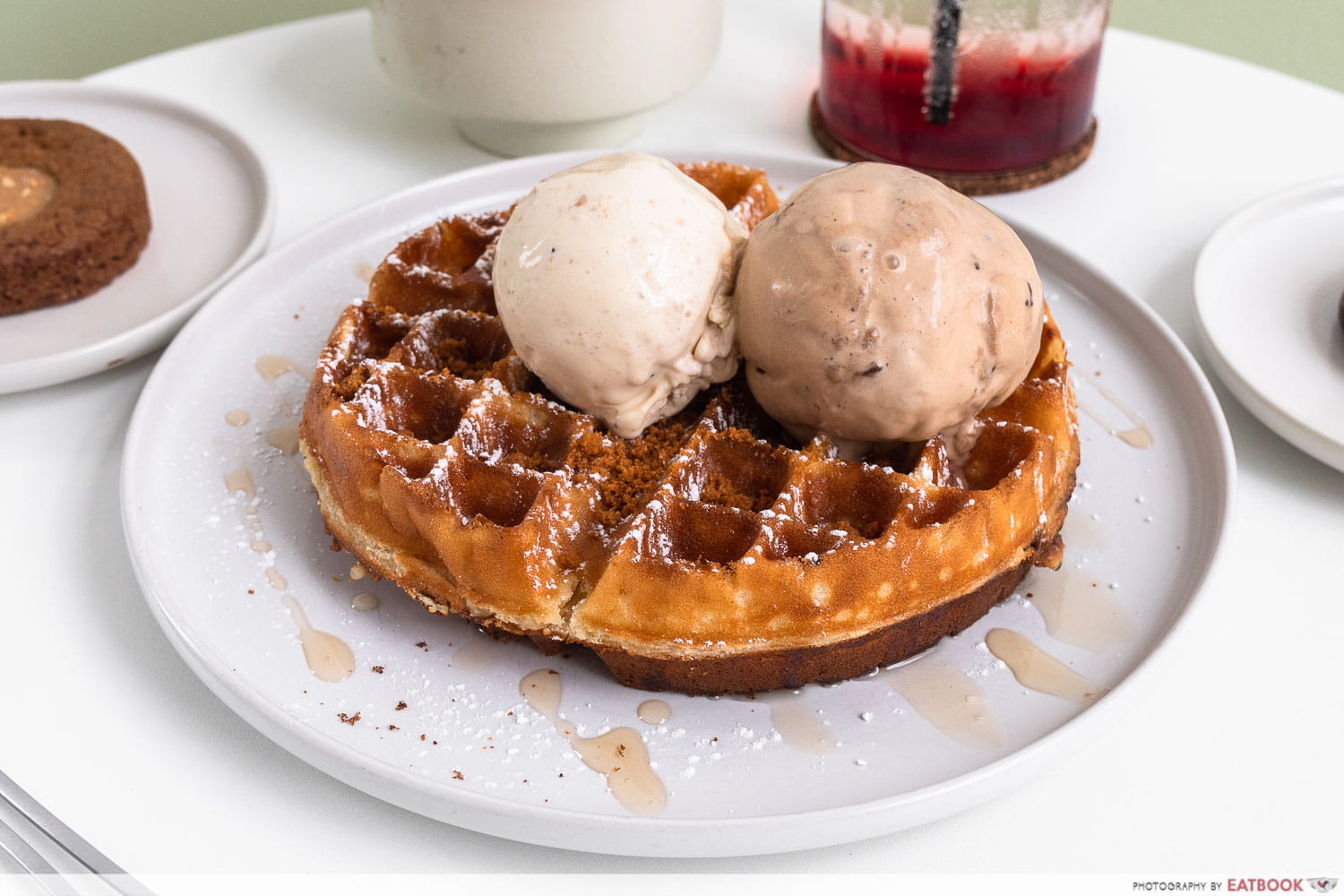 Curious to find out if this glasshouse cafe was worth the hype, I went straight for the Waffles With Two Rounds ($14.90): waffles with two scoops of ice cream. I opted for two of their popular gelato flavours, the Hazelnut Rocher and Strawberry Cheesecake. 
The aromatic waffles are topped with fine icing sugar and Lotus Biscoff biscuit crumbs for an added crunch. Additionally, they give you the option of drizzling them with either maple or chocolate syrup.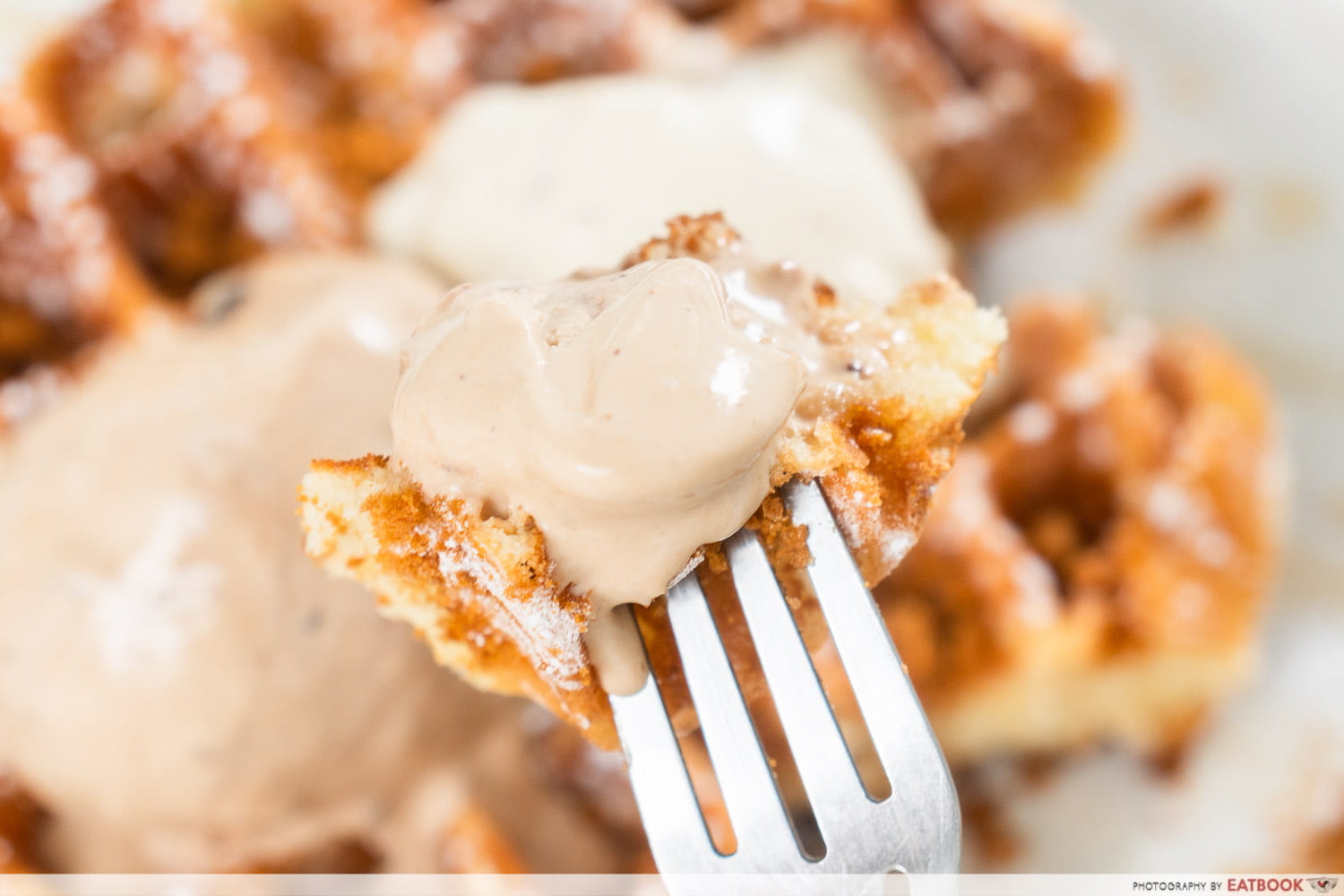 To my disappointment, the waffles were not as fluffy as they looked. Nevertheless, they were still crispy on the outside and soft on the inside. The Hazelnut Rocher gelato tasted exactly like a delicious piece of Ferrero Rocher, with a stronger nutty aftertaste. The icy-cold gelato atop the piping-hot waffles was a contrasting yet addictive pairing.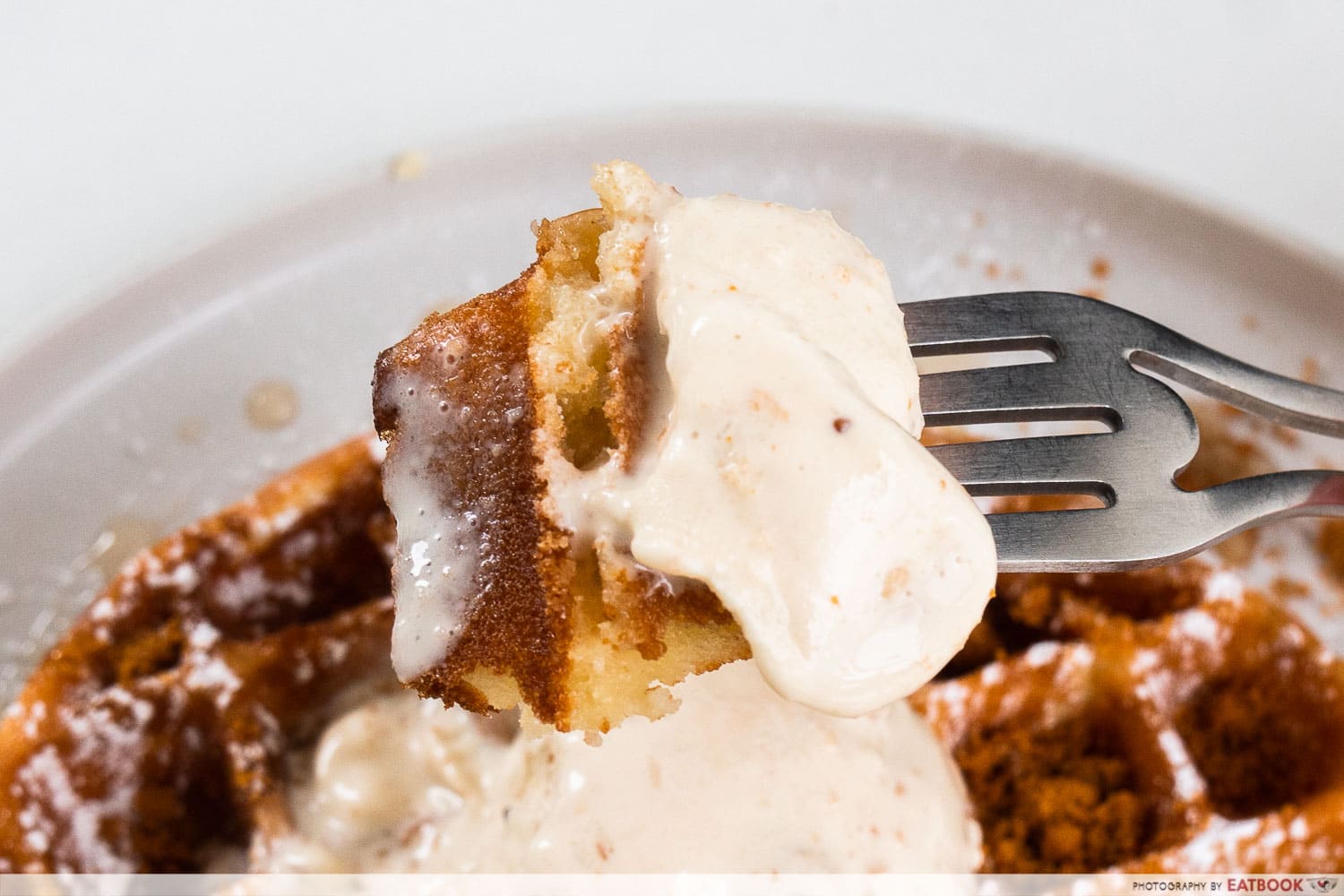 The Strawberry Cheesecake gelato saw a hint of fruity tang, amidst its creamy cheesiness. The slightly sour notes made this ice cream more refreshing, and less jelak. I highly recommend this flavour for those who don't fancy overly sweet treats like myself.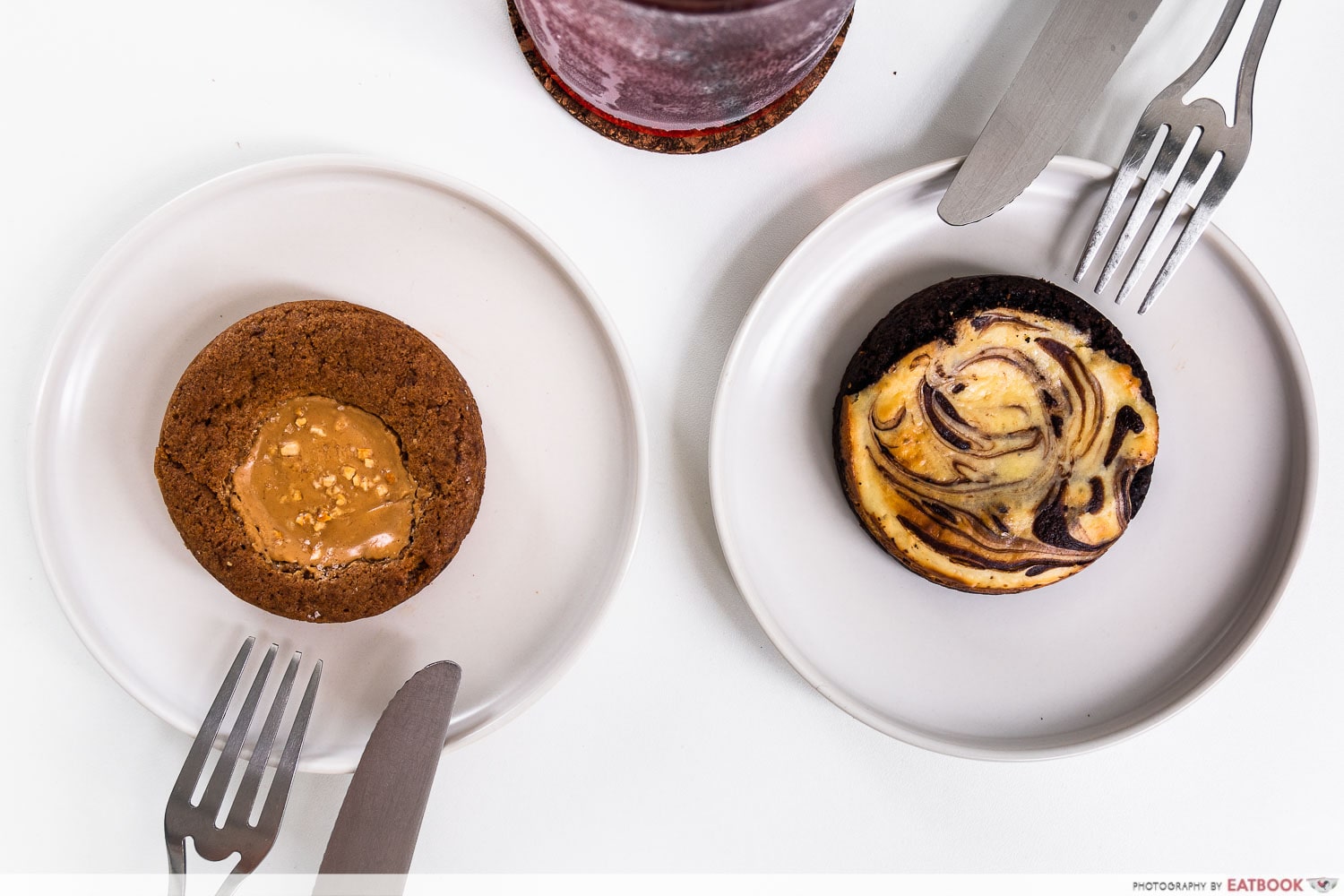 Unlike its minimalist decor, the cafe boasts a menu of more than just ice cream and waffles.
I moved on to the chunky cookies. Heated up right before serving, these chunky cookies were warm to the touch, making me yearn for a glass of cold milk to dunk them in.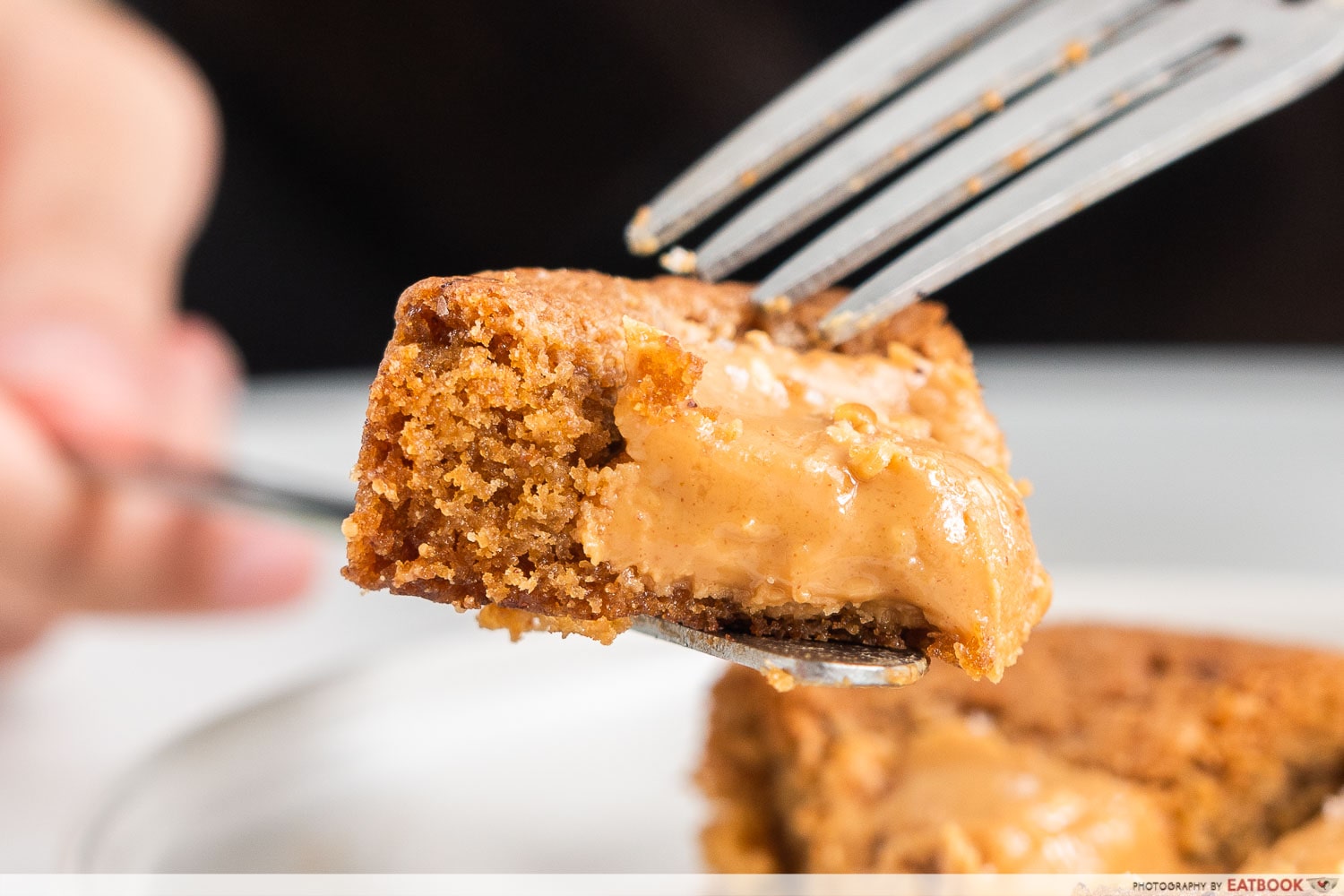 The Roasted Peanut & Brown Butter Cookie ($5.90) was filled with a thick layer of peanut butter. As a huge fan of peanut butter, I enjoyed the heavy nuttiness that perfumed this dessert, but still felt that it was too one-dimensional for my liking. The cookie base itself was purely sugary and sweet, lacking the signature caramelized char of brown butter, which I usually love in my cookies.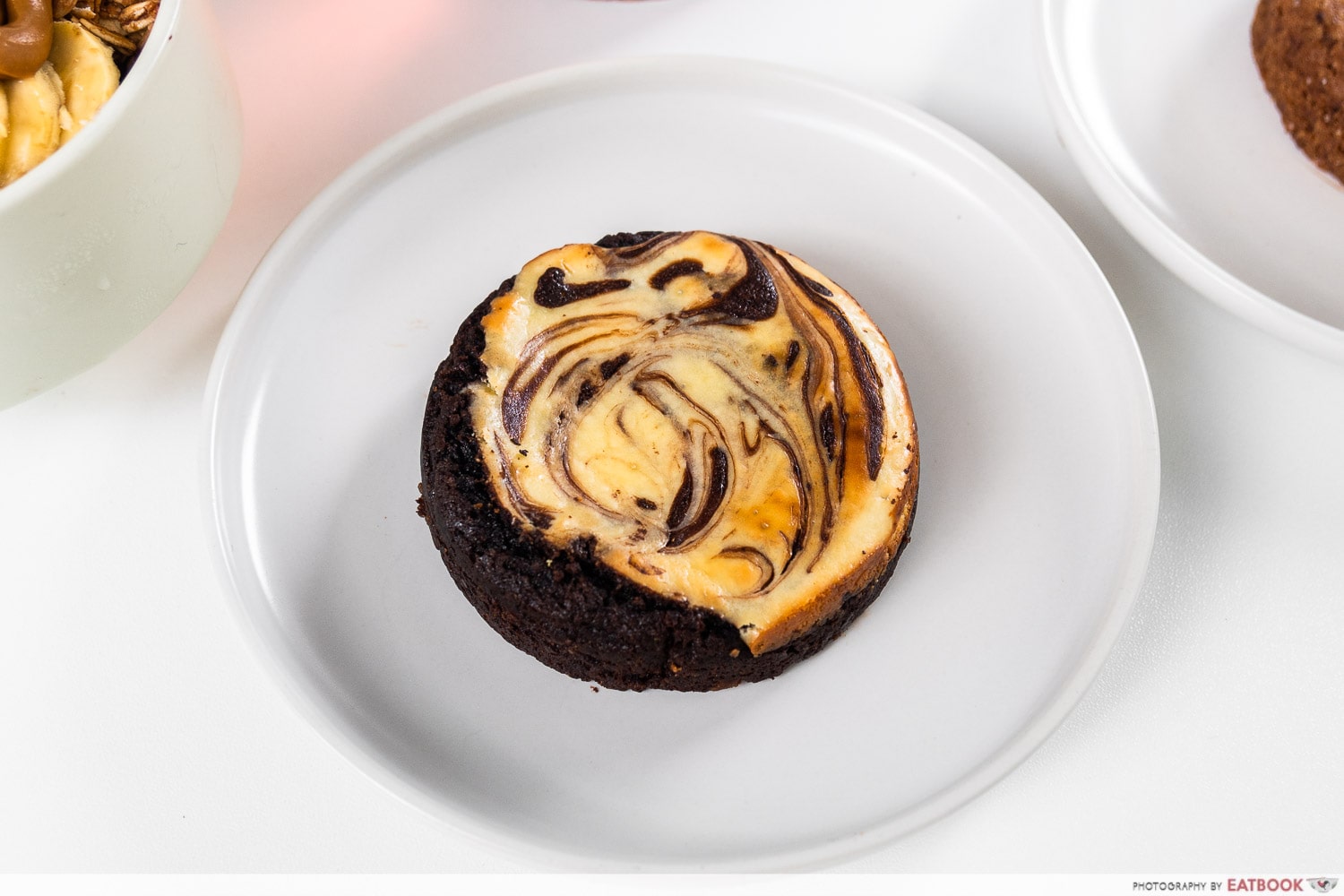 The Dark Cheesecake Cookie ($5.90) brought about a slightly greater depth of flavour, with an added savoury touch from the cheese. Contrary to its dark colour, the chocolate was not as gao as it looked, but this will definitely appeal to those who prefer milk chocolate instead of dark chocolate.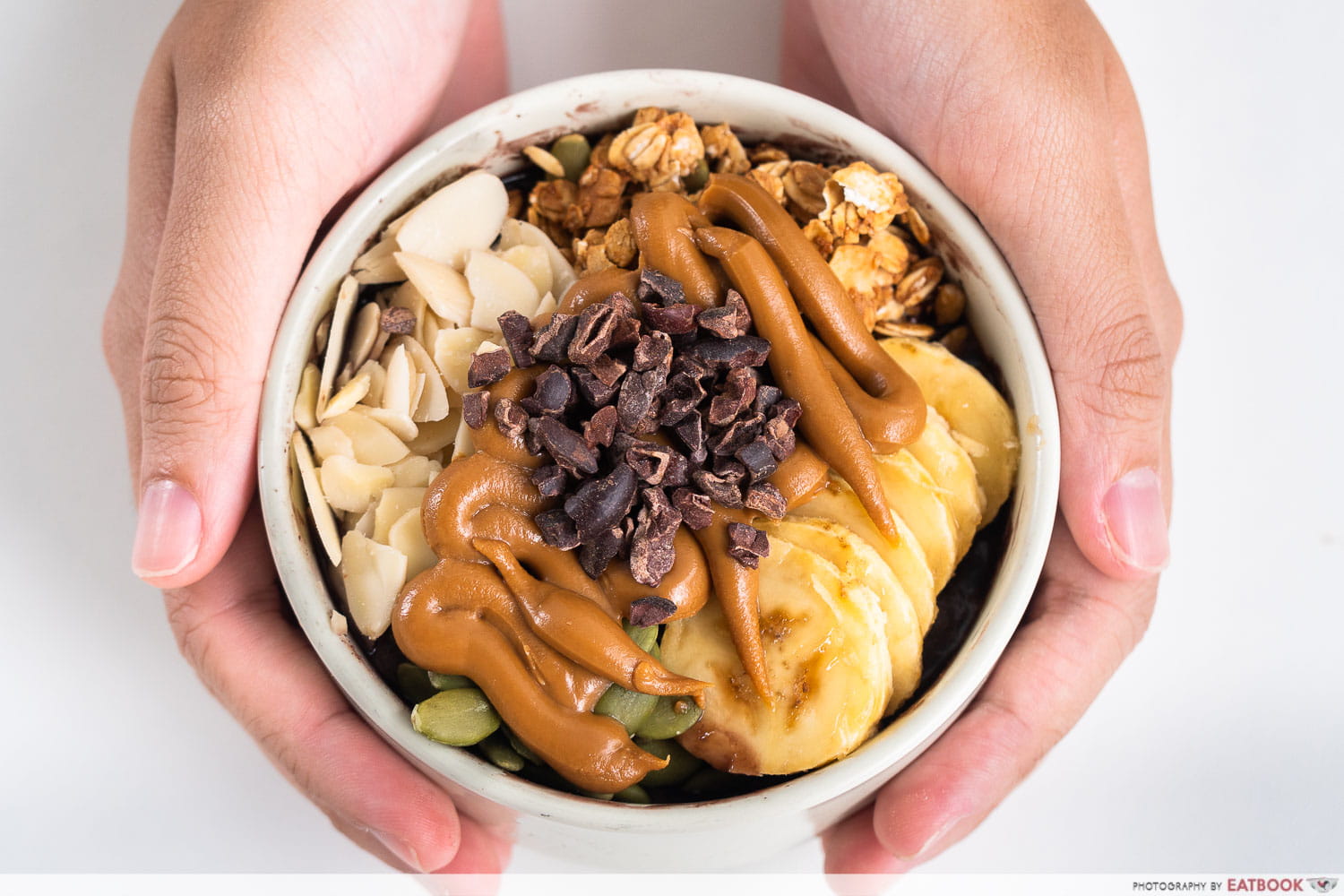 Since acai is one of the more trendy desserts these days, I went for nuttin but around u ($9.90), featuring acai topped with granola, cacao nibs, pumpkin seeds, almond flakes, banana, chocolate bits, and a generous portion of cookie butter.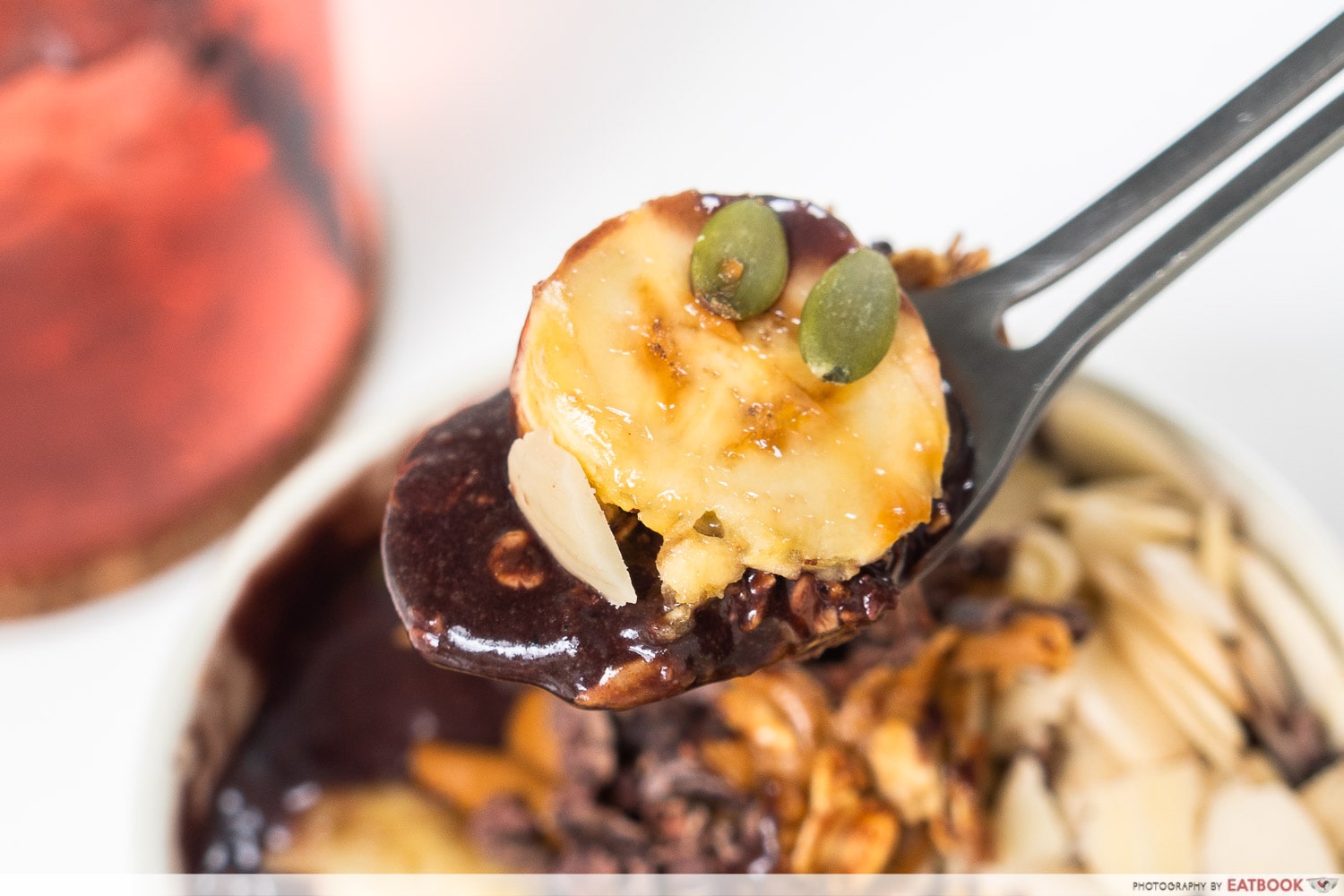 I enjoyed the variety of textures provided by the crunchy nuts, the mushy banana, and the earthy acai base. However, my colleague and I both agreed that the cookie butter was a little too overpowering, as we could no longer taste much of the other ingredients.
I would recommend opting for less cookie butter especially if you are a big fan of this popular Hawaiian dessert, in order to get a stronger taste of the earthy acai.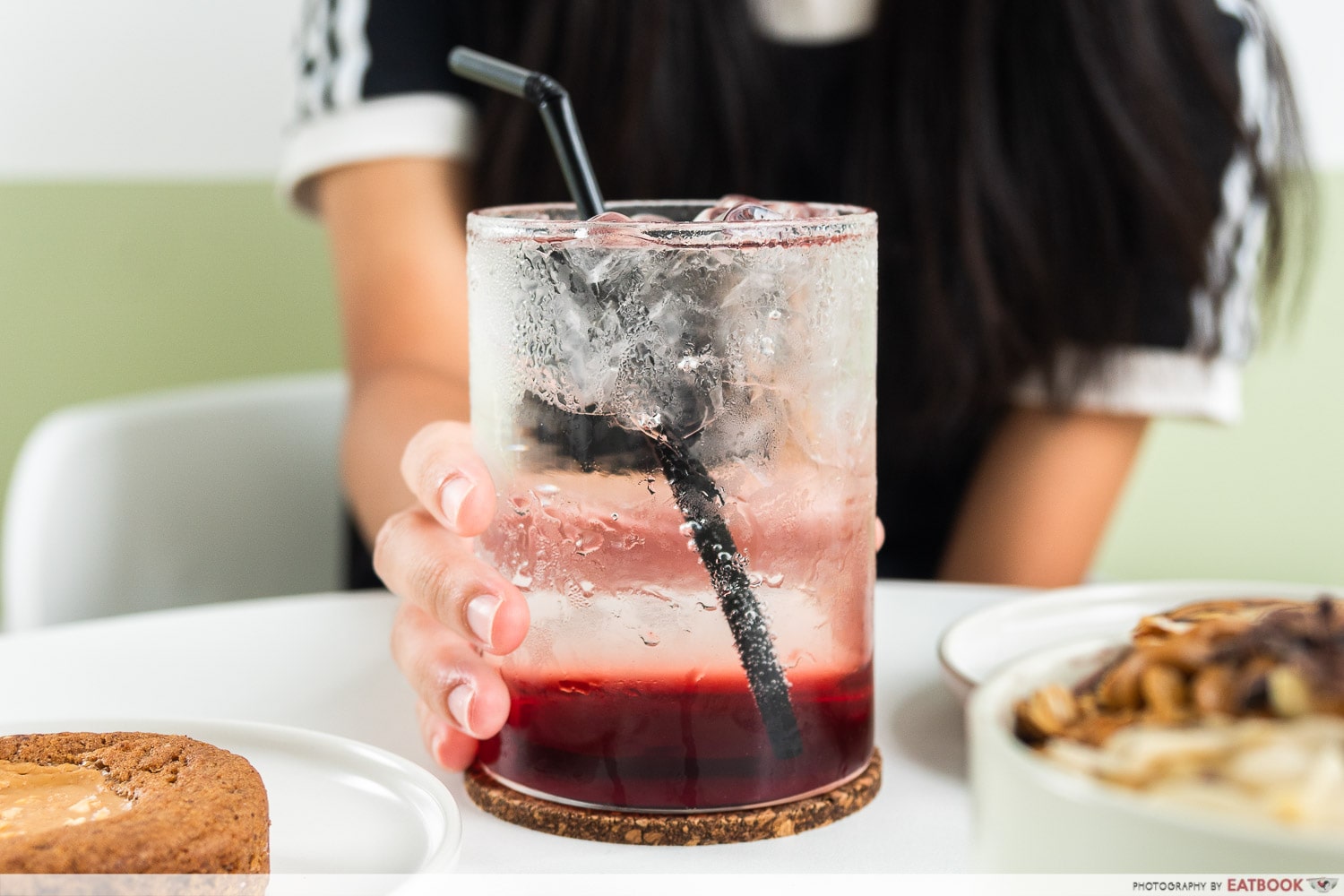 To wash down everything, I went for the pretty-looking Floral Hibiscus ($6.90) mocktail made with roselle syrup and bubbly soda water. Albeit simple, I found this drink extremely refreshing and particularly enjoyable in the sweltering heat. 
Having said that, I do find this 'gram-worthy drink slightly pricey considering the fact that I could probably make this at home. 
Ambience at Around Cafe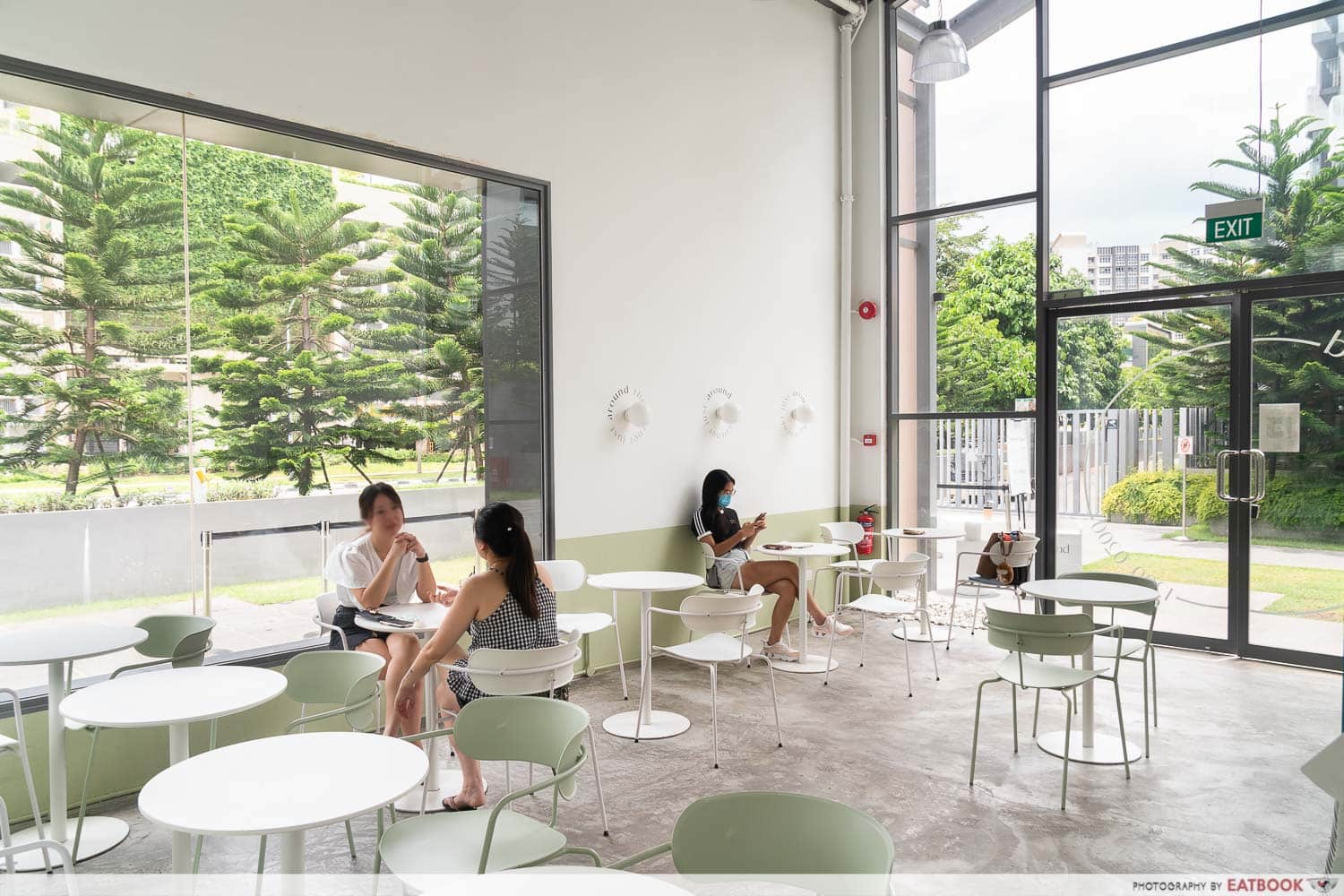 In terms of accessibility, Around Cafe is not exactly the most convenient place to get to if you are not getting here by car. The nearest MRT station is Tampines West MRT Station, but it will take you at least a 20-minute walk, or a 10-minute bus ride. 
Although well hidden, those who pass by will definitely not miss the cafe due to its unique exterior. Walking up the stairs towards the main entrance will make you feel like you're entering a secret garden, especially when you make a trip down during the night. 
The verdict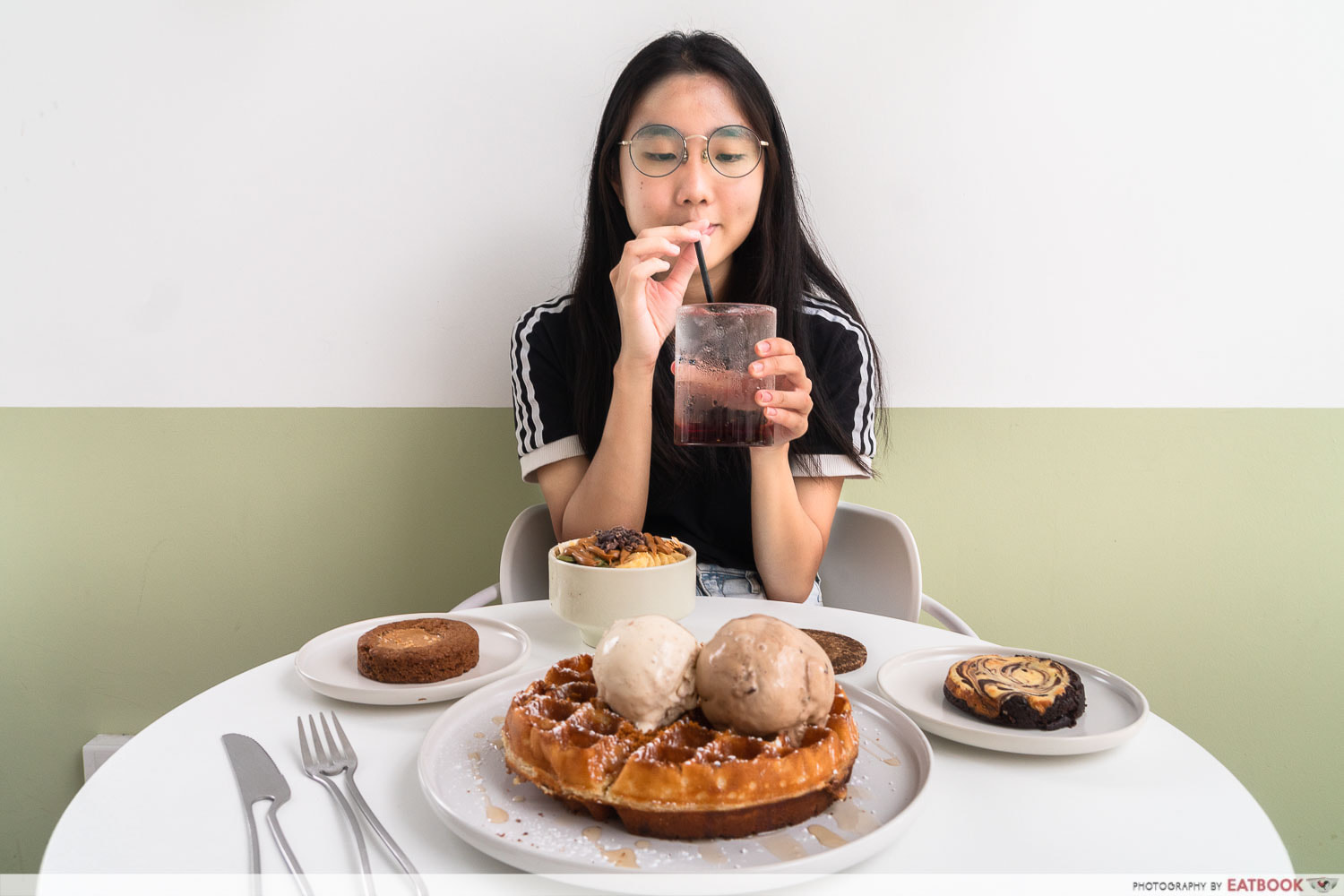 Although I was slightly disappointed by the desserts here at Around Cafe, I would still recommend coming down for some ice cream amidst the botanical-like ambience. The desserts looked better than they tasted, but the experience here was relaxing and therapeutic. It's also quite rare to find such a nature-focused gem here in Singapore. 
Sticks 'N' Bowls Review: $1 Lok Lok And Mentaiko Salmon Don In Tampines Coffee Shop
For more food in the area, check out our Ah Lemak review for premium nasi lemak with unagi, soft shell crab, spam fries and more! If not, there Sticks 'N' Bowls review, for $1 lok lok, and mentaiko salmon don.
Address: 117 Tampines Street 86, The Alps Residences, Singapore 528538
Opening hours: Daily 12pm to 2am
Around Cafe is not a halal-certified eatery.
Photos taken by Lim Yu Hui.
This was an independent review by Eatbook.sg.
Around Cafe Review: Glasshouse Cafe Opens Till 2am, Serving Gelato And Chunky Cookies At Tampines
Around Cafe Review: Glasshouse Cafe Opens Till 2am, Serving Gelato And Chunky Cookies At Tampines -

6.5/10
Summary
Pros
– Unique ambience
– Opens till 2am daily 
Cons
– The prices are steep
– Cookies were lacklustre
Recommended dishes: Strawberry Cheesecake Ice Cream ($4.20), Hazelnut Rocher Ice Cream ($4.20)
Opening hours: Daily 12pm to 2am
Address: 117 Tampines Street 86, The Alps Residences, Singapore 528538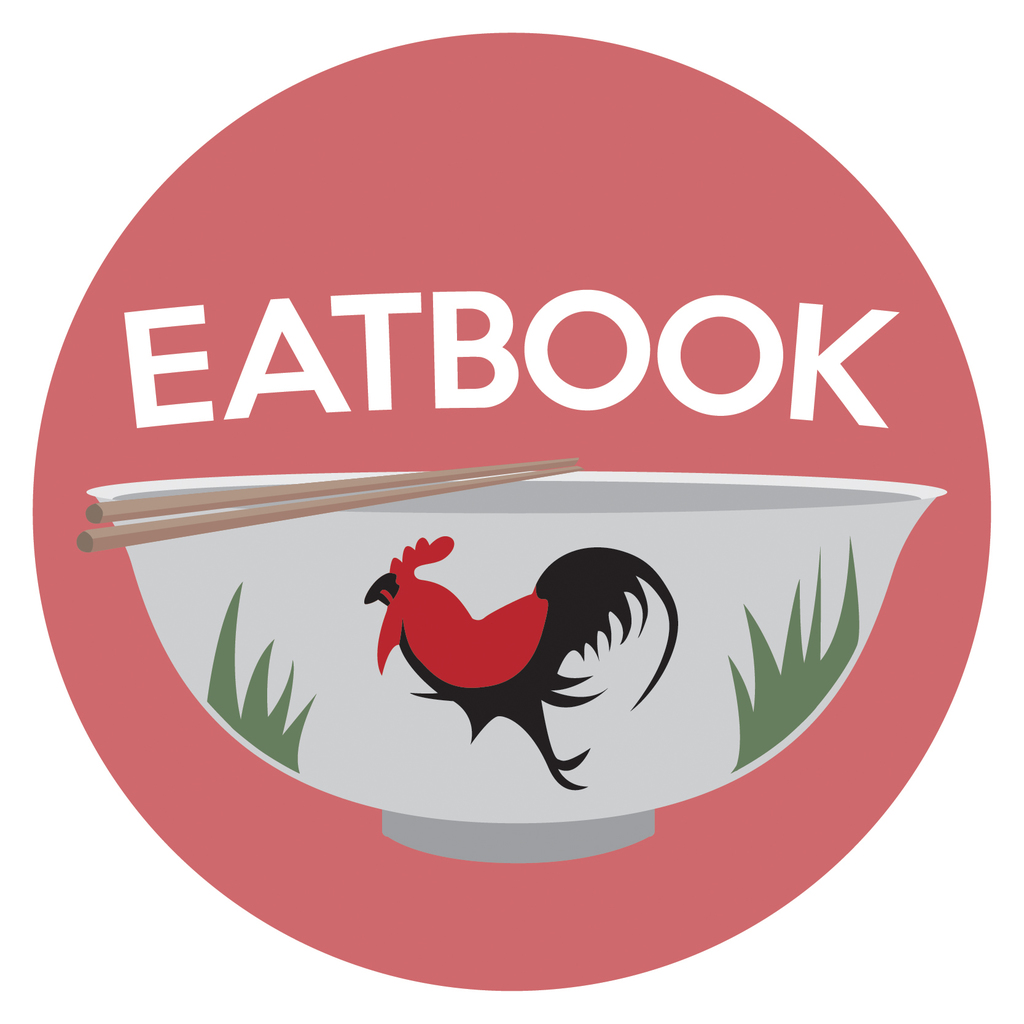 Drop us your email so you won't miss the latest news.