Glacier in Jalan Besar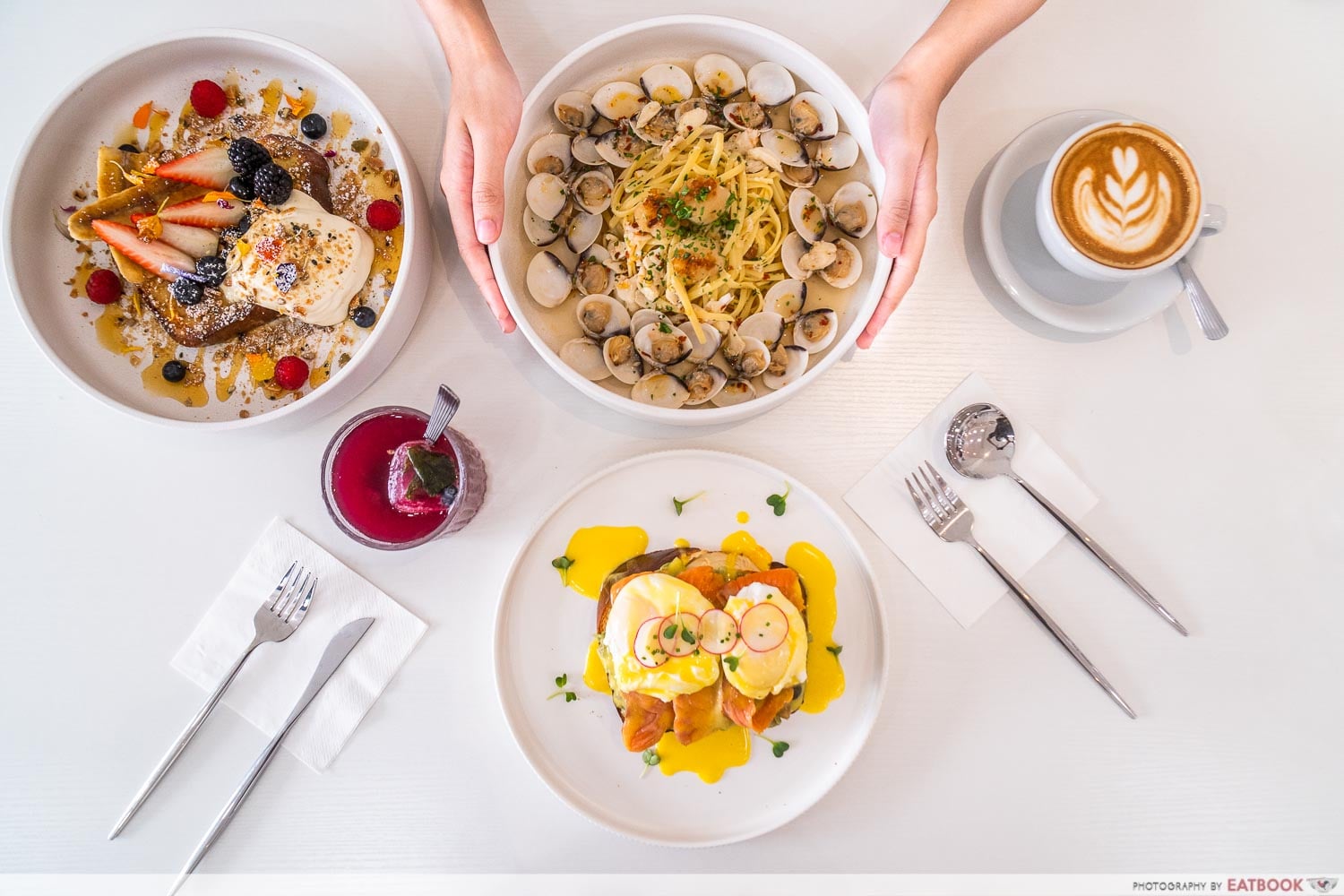 Being quite a huge fan of mochi-filled delights such as mochi buns at MuYoo+, I had high hopes for the much-raved-about pandan mochi waffle at Glacier. Being a stone's throw away from our office, getting to the cafe for a brunch fix was extremely convenient. 
10 New Restaurants In September 2021—Wagyu Burgers, Matcha Souffle Pancakes And More
Food at Glacier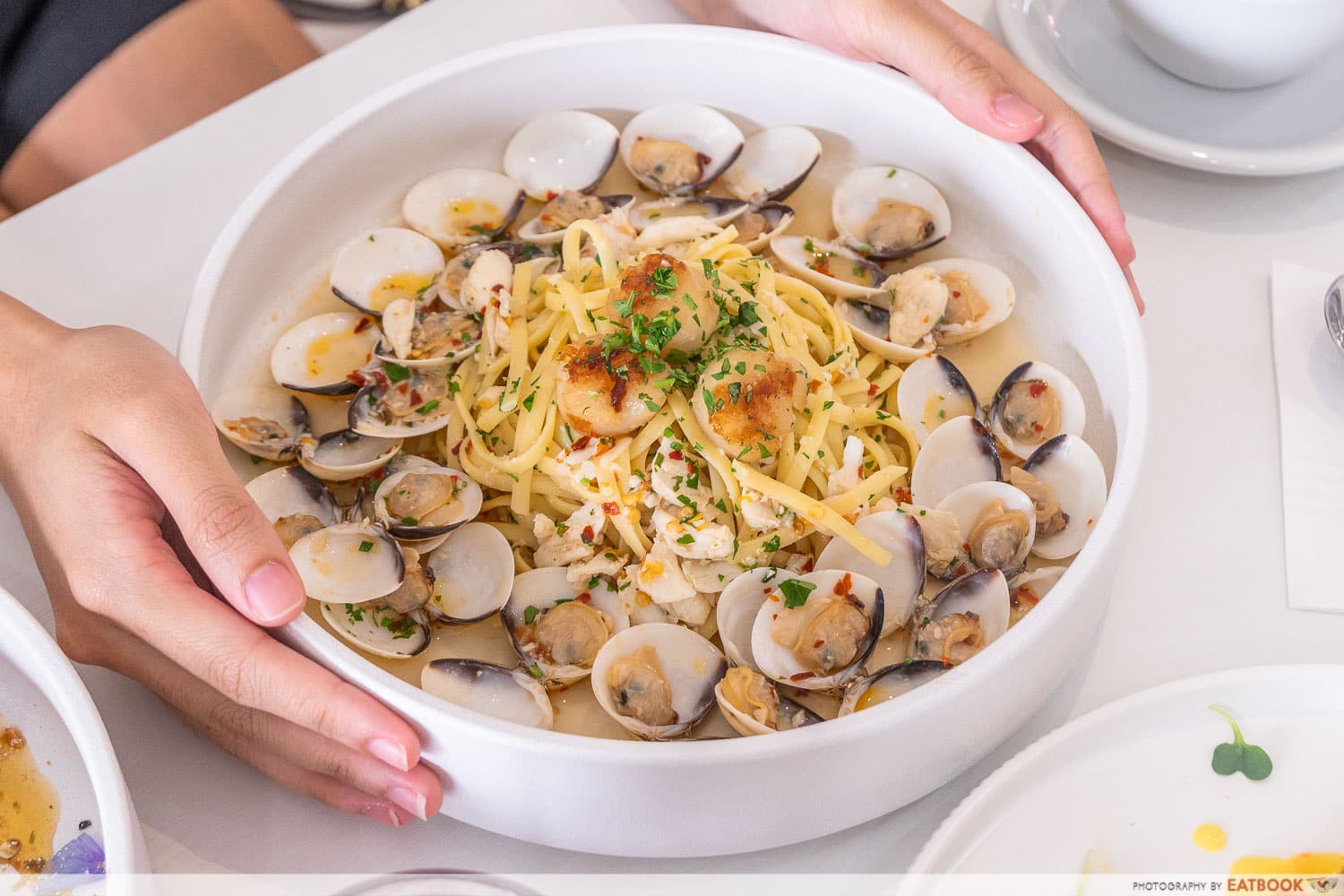 I started off with one of my favourite pasta flavours—Seafood Vongole ($23). The vongole here appeared different from the kind that I normally see, in that it was piled on with a good variety of seafood. There were a handful of clams, three decently sized scallops, and fat chunks of crab meat.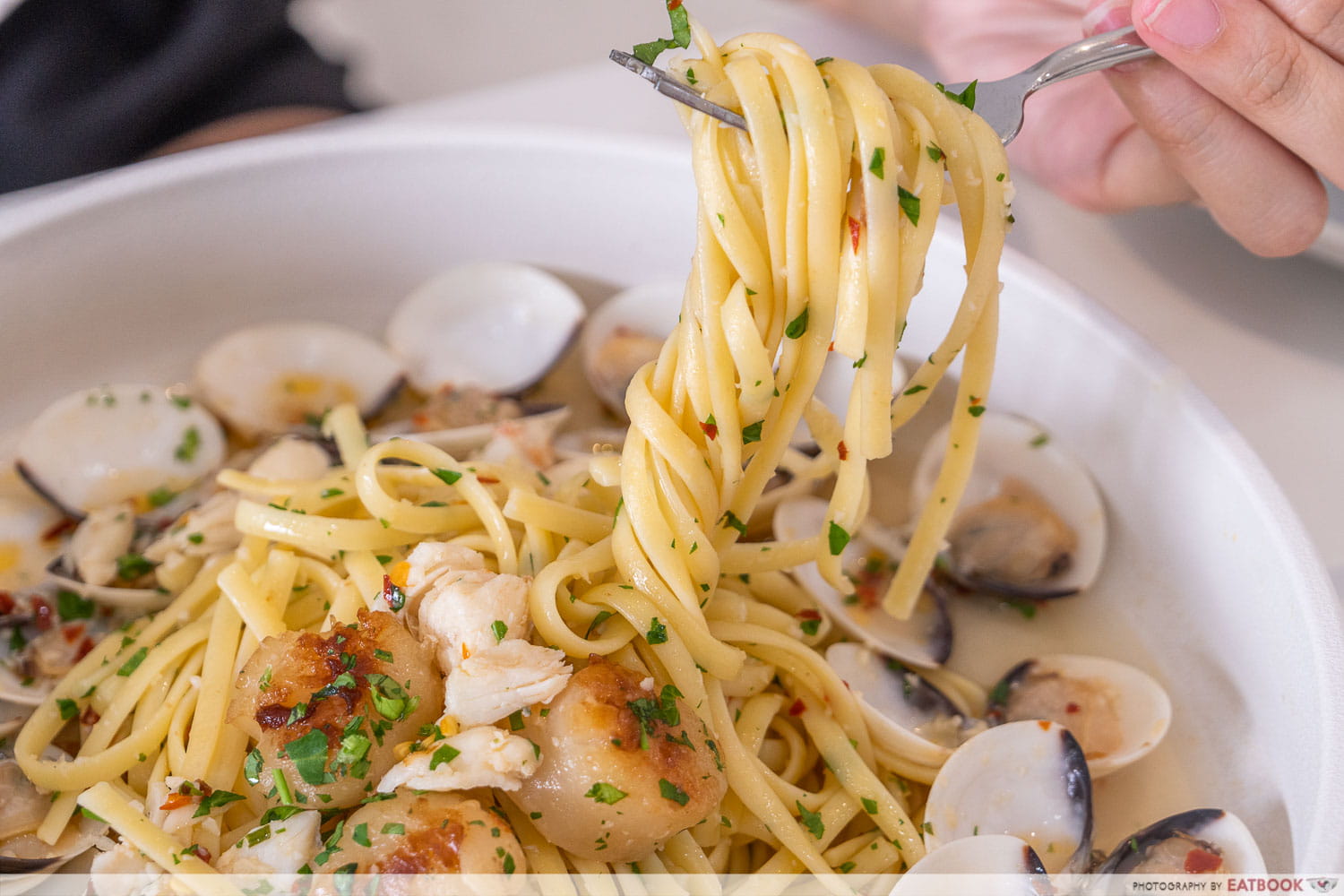 The linguine was cooked to al dente with a springy texture, and perfumed with the white wine-infused sauce. 
I particularly enjoyed the juicy clams that soaked up all the zhup and burst with a fresh seafoody flavour. The scallops were seared on the top, giving them crispy crust, while the substantial pieces of crab meat were succulent and sweet.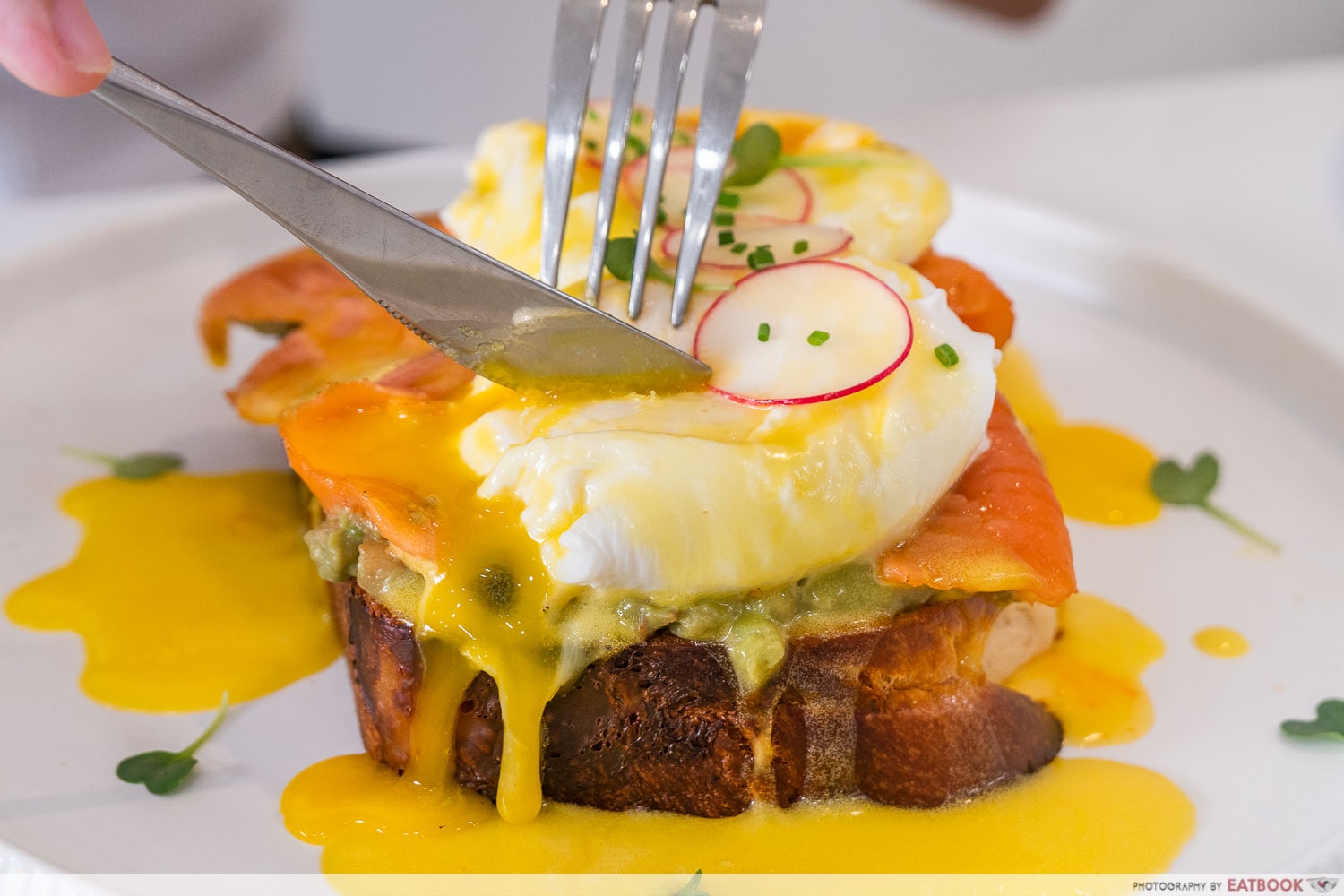 Looking like a delicious mess was the Smoked Salmon and Avocado Toast ($19). It features guacamole, thick cuts of smoked salmon, and two poached eggs covered in a house-made hollandaise sauce—all atop a house-baked brioche slice. Looking at this dish, I couldn't wait to get my knife into the runny eggs for a yolk-breaking shot.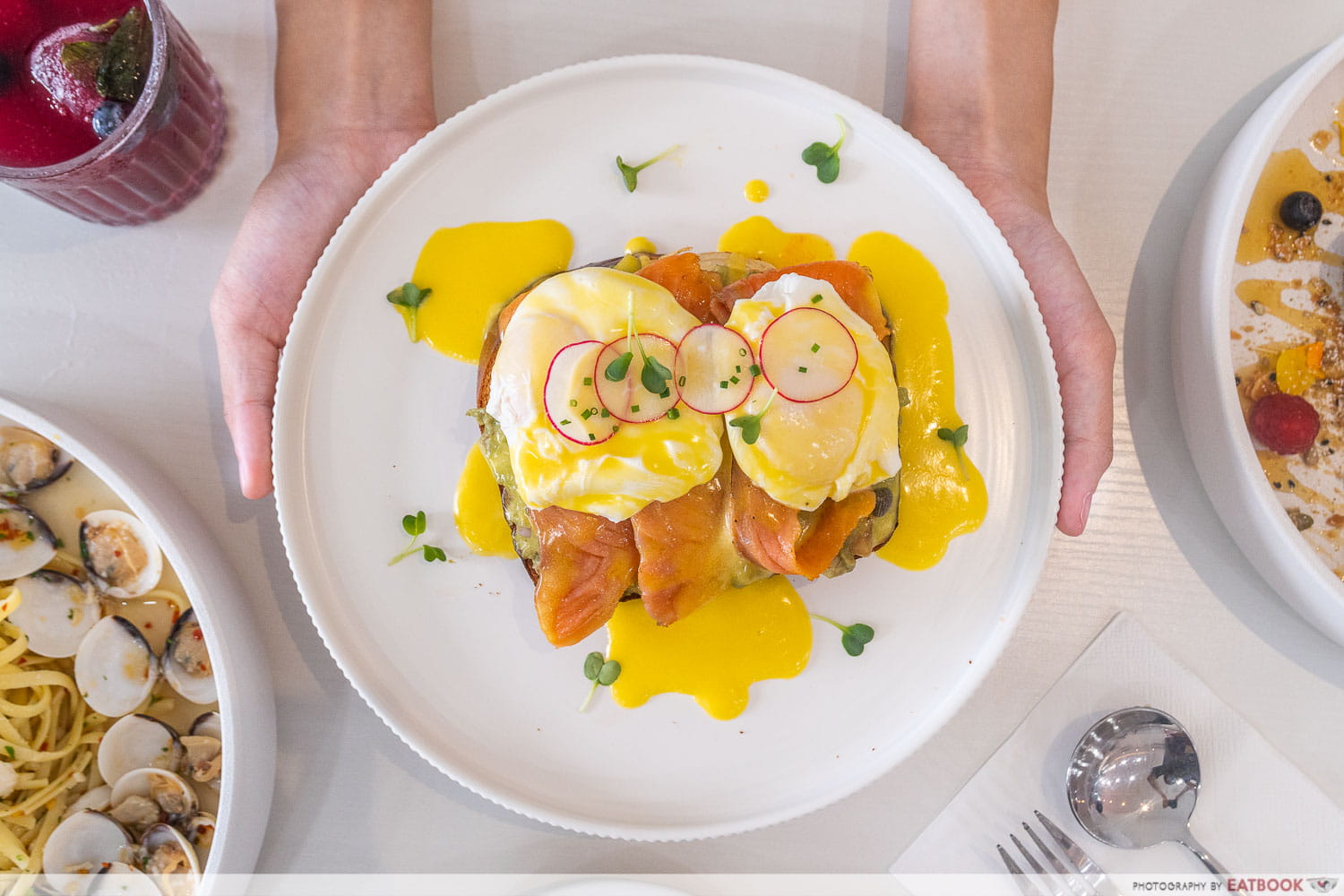 The smoked salmon had impeccable quality, as it was neither fishy nor too savoury. The hollandaise sauce was relatively light on the palette and did not overpower the other components of this dish, allowing me to clear the plate with minimal trouble. 
Overall, this was a well-balanced dish that will leave your stomach room for dessert, as it was not too heavy or jelak.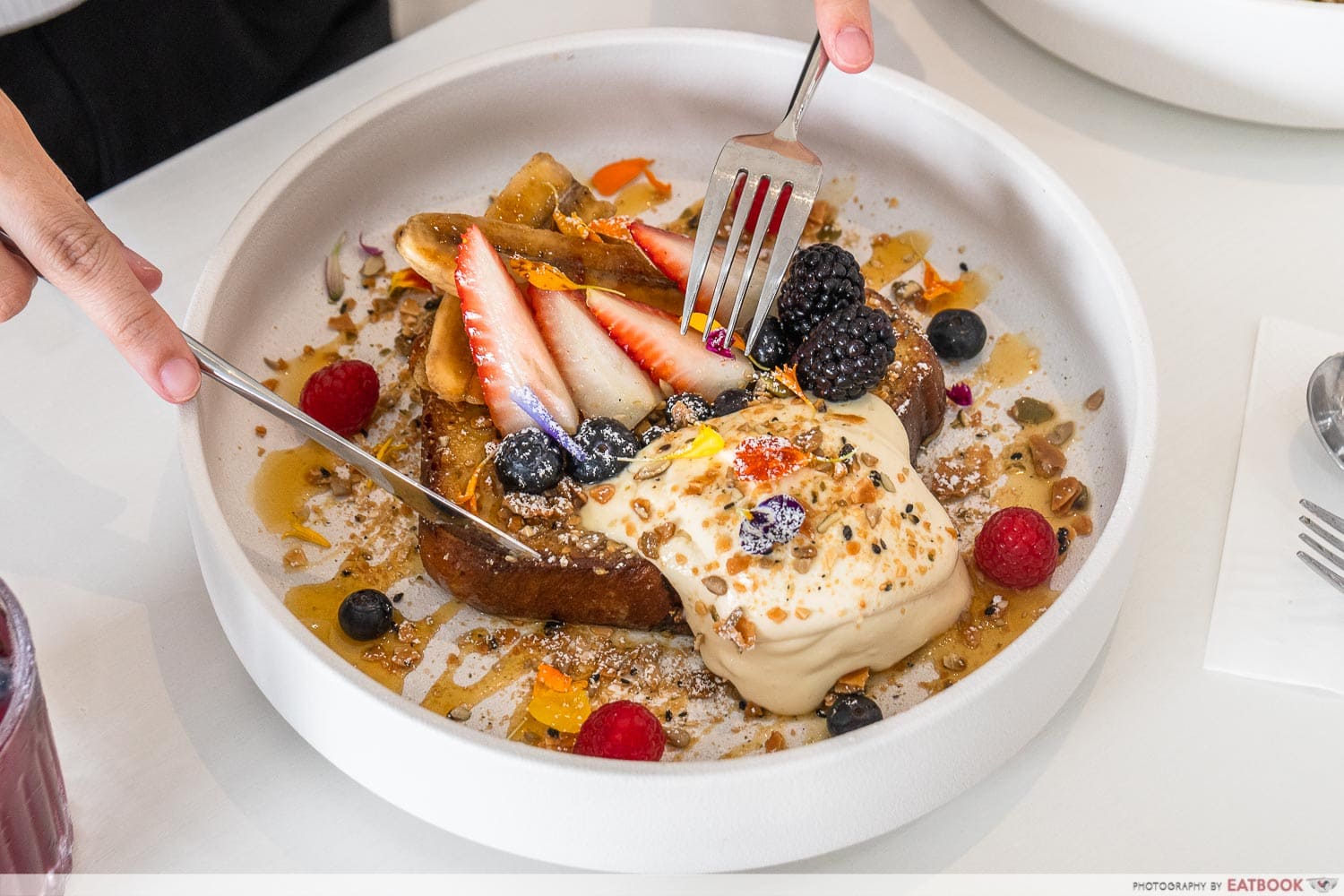 We finally moved on to the sweeter treats, starting with the Glacier French Toast ($16). It came with a huge dollop of honey mascarpone cream, a slice of brioche, along with a plethora of fruits including caramelized bananas and berries. Further drizzled with honey and topped with various nuts, there sure was a lot going on in this dish. 
The star of the plate was the savoury-sweet mascarpone, which had a fluffy texture akin to whipped cream that complemented the dense toasted brioche.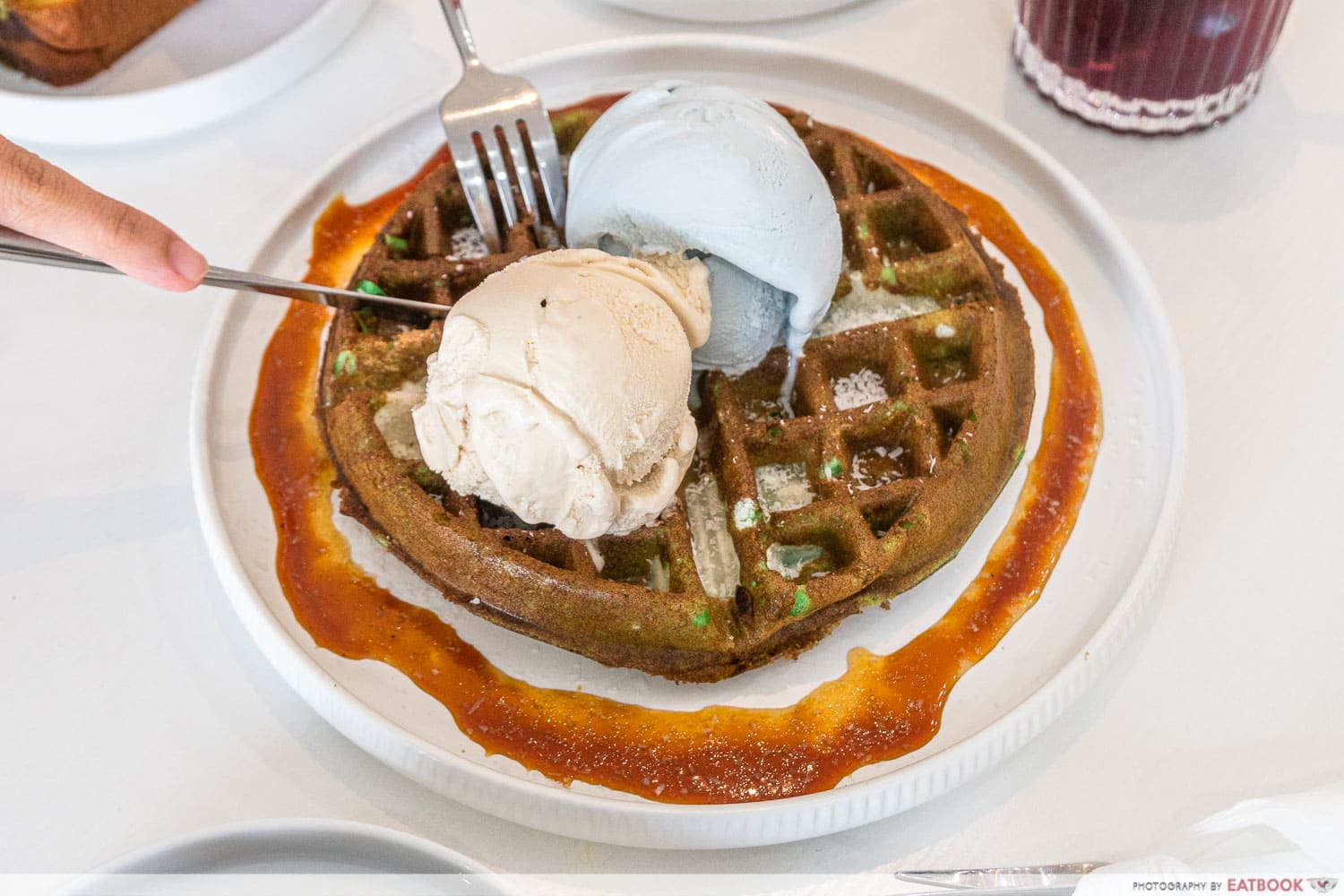 Next, I went for the most popular item here at Glacier, which is the Pandan Mochi Waffle ($8). I topped this with a scoop of Blue Pea Lemongrass Pandan ($5) gelato, and another scoop of Oolong Osmanthus ($5). The fibrous coconut shavings and brown sugar syrup led me to infer that this dish was inspired by a local-favourite kueh—ondeh ondeh.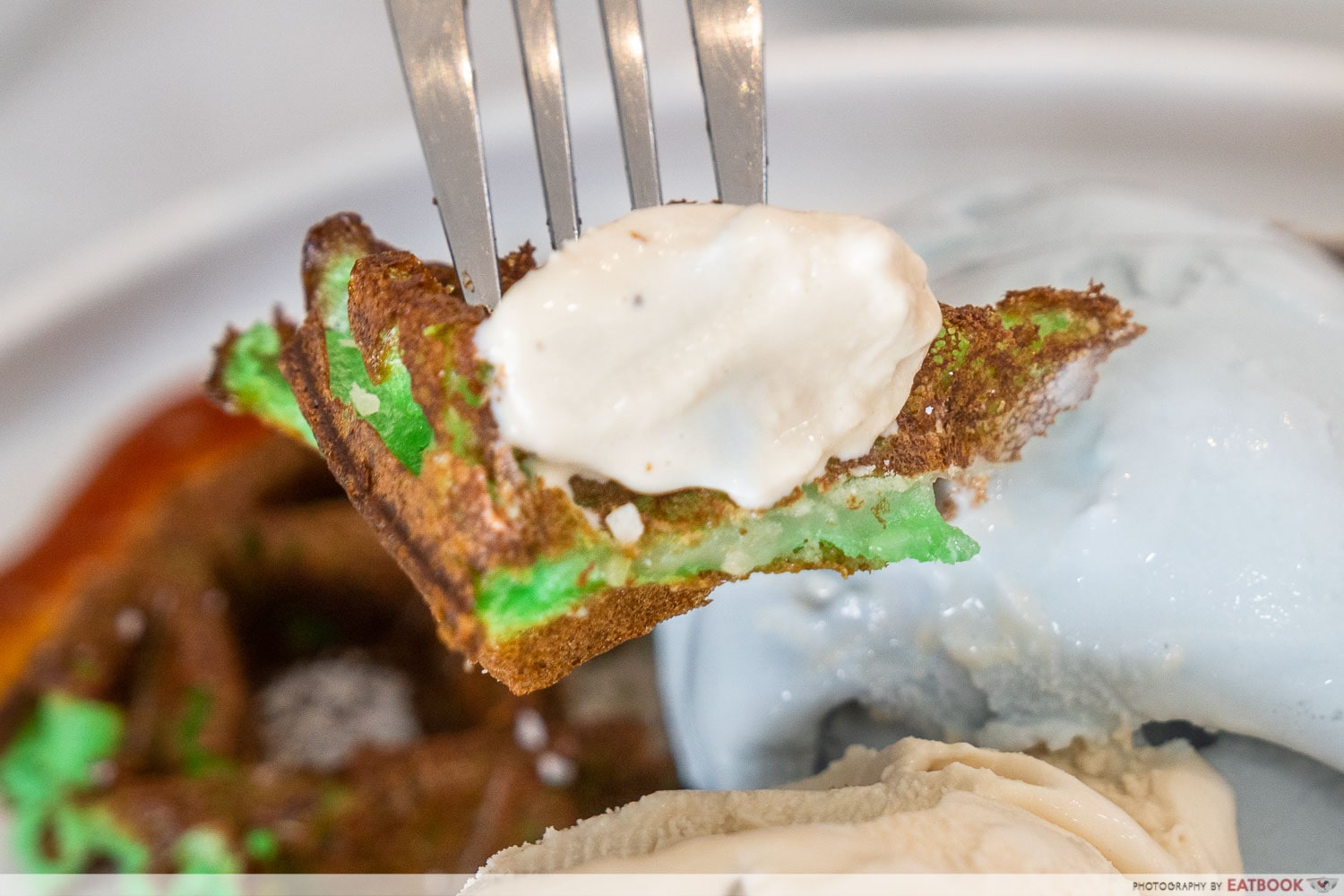 The pastel blue Blue Pea Lemongrass Pandan gelato was packed with flowery notes, while the Oolong Osmanthus flavour had a subtle hint of osmanthus and a stronger oolong tea fragrance. I appreciated how almost every piece of waffle I cut out hid some stretchy mochi within, elevating the crispy and airy pandan-infused waffles with a QQ texture.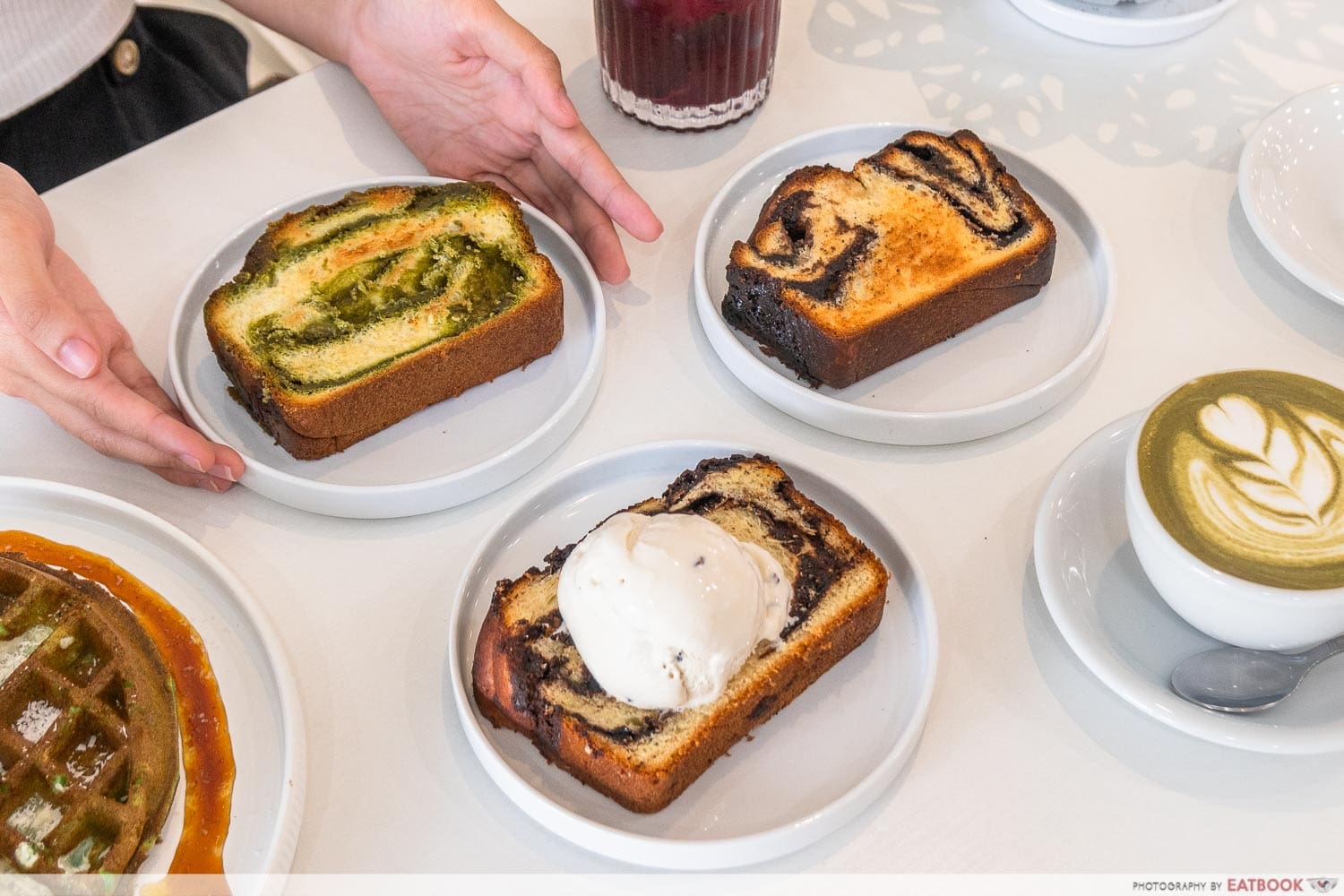 Finally, we ended our meal here with three different flavoured babkas, including Black Sesame ($3.50), Matcha White Chocolate ($3.50), as well as Chocolate ($3). Opt to add a scoop of ice cream to turn this into a cheat day-worthy dessert. The lightly toasted babkas were a little dry for my liking, but their flavours did not disappoint. 
My favourite was the chocolate babka that came with swirls of nutty chocolate spread within the buttery brioche. Pairing this with their refreshing house-made mint Kombucha ($9) made this an ideal afternoon tea set. 
Softhaus Review: Janice Wong's Ice Cream Bar Has Flavours Including Popcorn Caramel Sea Salt, And Avocado Banana
Ambience at Glacier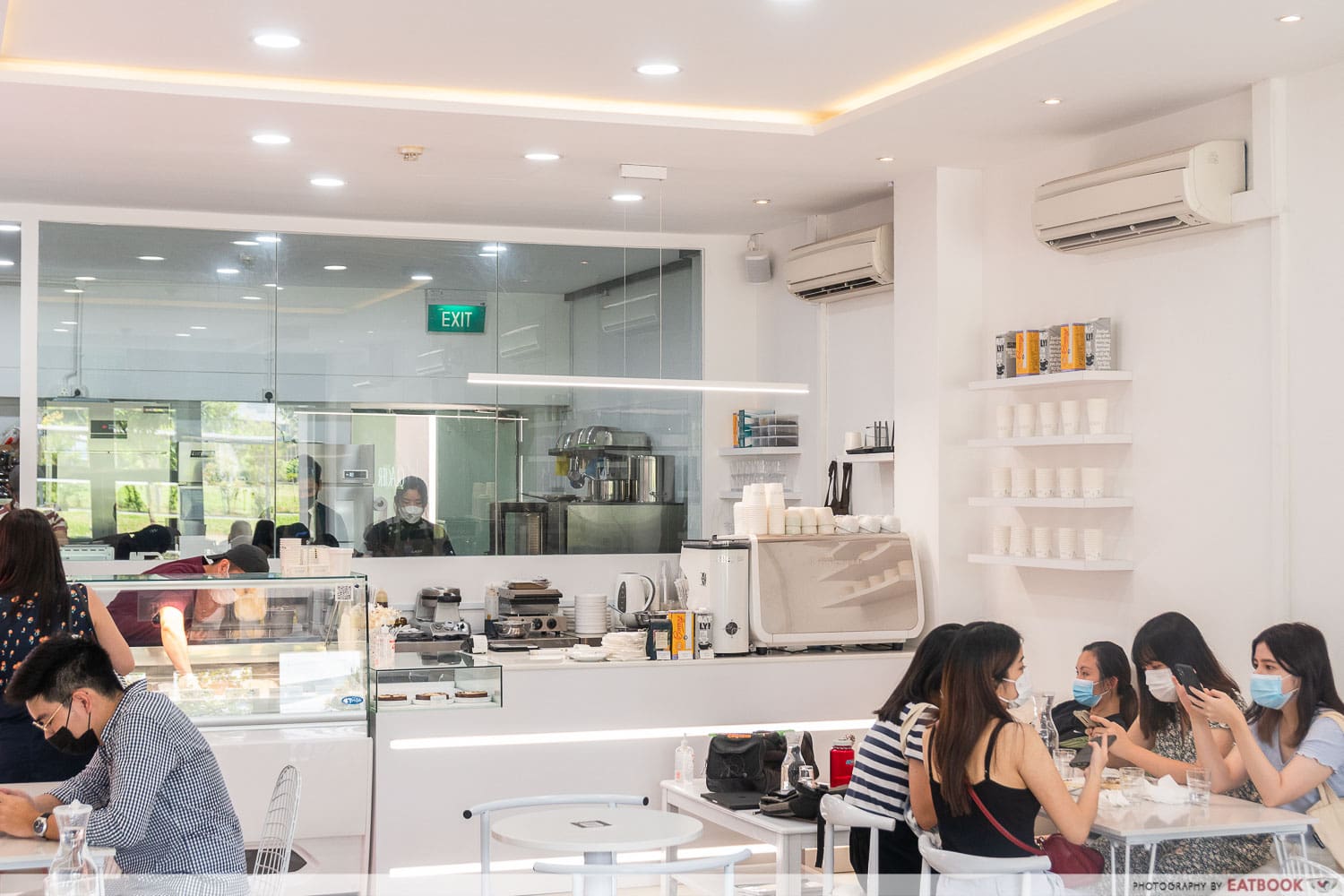 Located at Jalan Besar and next to Bendemeer MRT Station, this cafe is extremely accessible. The cafe is painted white throughout, allowing you to take cute IG-worthy photos that portray minimalistic vibes—a trendy theme amongst millennials.
A unique feature that you should check out if you head down to Glacier is the shelf next to the ice cream display, filled with a variety of herbs and plants used not only to make their kombucha, but also to garnish many savoury items on their menu! 
The verdict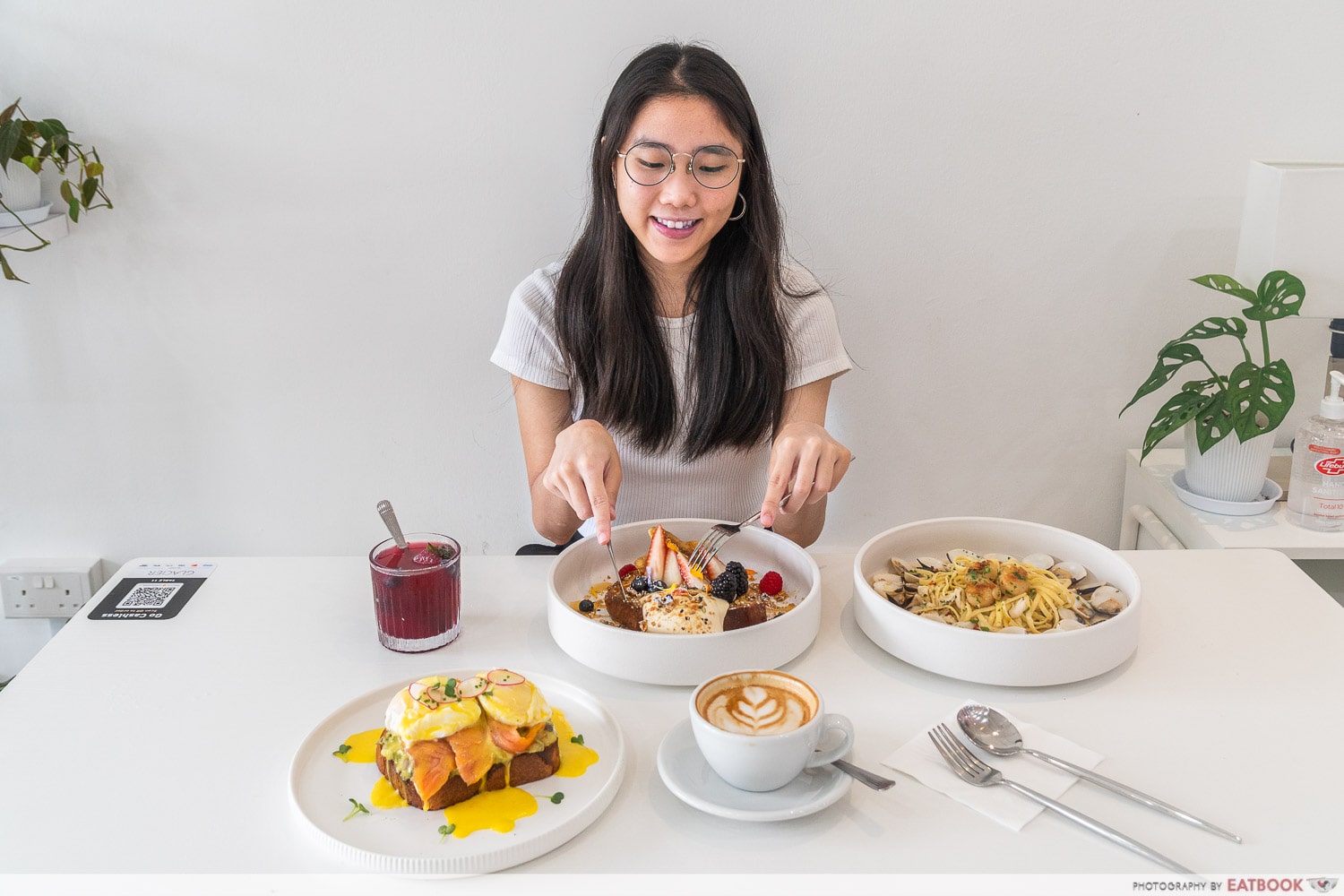 After hearing many good reviews about Glacier, I must say that my high expectations were met after making this trip down myself. I truly appreciated how almost every component of their dishes were handmade and well thought out. I definitely see myself bringing my friends down to this chill environment for brunch or dessert. 
La Vie Review: Minimalist Dessert Cafe At Jalan Besar with IG-Worthy Lychee Boba Cake, Baileys Tiramisu And More
If you're looking for more food around Jalan Besar, check out our La Vie review for lychee boba cakes, baileys tiramisu and more! If not, check out these new restaurants that opened in September.
Address: 161 Lavender Street, #01-09, Singapore 338750
Opening hours: Sun-Thurs 10am to 10pm, Fri-Sat 10am to 1am
Tel: 6993 5148
Website
Glacier is not a halal-certified eatery.
Photos taken by Emily Teu.
This was a media tasting at Glacier.
Glacier Review: Minimalistic Cafe Opens Till 1am, Serving Mochi Waffles, Matcha Brioche And More
Glacier Review: Minimalistic Cafe Opens Till 1am, Serving Mochi Waffles, Matcha Brioche And More -

8/10
Summary
Pros
– Unique dishes 
– IG-worthy ambience 
Cons
– Slightly pricey 
Recommended dishes: Chocolate Babka ($3), Oolong Osmanthus Gelato ($5), Glacier French Toast ($16)
Opening hours: Sun-Thurs 10am to 10pm, Fri-Sat 10am to 1am
Address: 161 Lavender Street, #01-09, Singapore 338750