---
Grilled cheese sandwiches for the ultimate cheesepull
---
Instagram has been through waves of different #foodporn moments, including exploding lava cookies and oozing lava cakes. However, if there is one thing I can say for certain, it would be that the #cheesepull shots are here to stay. There is something extra tantalising about stretchy, stringy strands of cheese between two slices of toasted bread that drives me crazy. A good grilled cheese sandwich is tough to nail, for it has to have three components: something crispy, something creamy, and something flavourful. So here are 10 grilled cheese sandwiches that meet all three criteria!
---
1. Shortrib Grilled Cheese
---

Image credit: @alteregosg
Alter Ego is the naughtier sister of A Poke Theory, and it dishes out both healthy poke bowls as well as indulgent treats. Shortrib Grilled Cheese ($16++) is a level up from your traditional grilled cheese sammie, with the addition of braised beef short ribs between toasted bread. The winning combination of gruyere and taleggio cheese guarantees long and thick cheese strands that are sure to get everyone's phones out of their pockets. To add another level of flavour, dip the sandwich into the tomato soup that comes with it!
Address: 8 Raffles Avenue, #01-13D, Singapore 039802
Opening hours: Mon-Thur 12pm to 3pm, 6pm to 11pm, Fri & eve of PH 12pm to 3pm, 5pm to 1am, Sat 11am to 1am, Sun 11am to 11pm
Tel: 6327 9301
Website
Menus

---
2. Charcoal Toast
---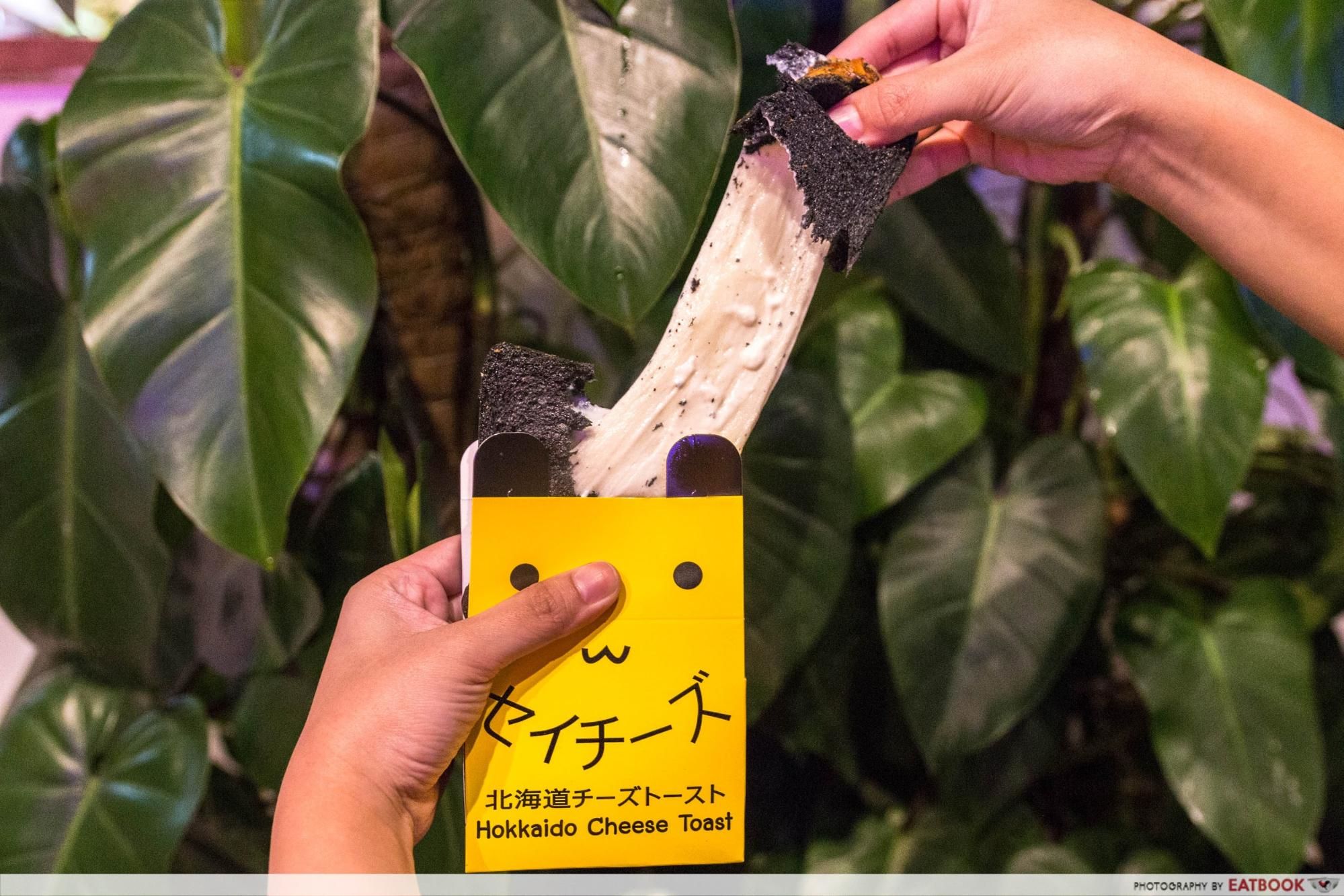 Hailing from the shores of BKK, Say Chiizu has finally opened its doors here. With a simple menu comprising three flavours of toasts – charcoal, original, and chocolate – at $3.80 each, it was easy to come up with a favourite – charcoal. Crispy toast crumbles apart to reveal a blend of buttery sweet yet savoury cheese, contrasting beautifully against the black toast. Be prepared for snaking queues, as crowds are swarming to try this highly-Instagrammable toast!
Check out our full review of Say Chiizu!
Address: 313 Orchard Road, #B3-49, 313@Somerset, Singapore 518457
Opening hours: Daily 10am to 10pm
---
3. 52 Grilled Cheese
---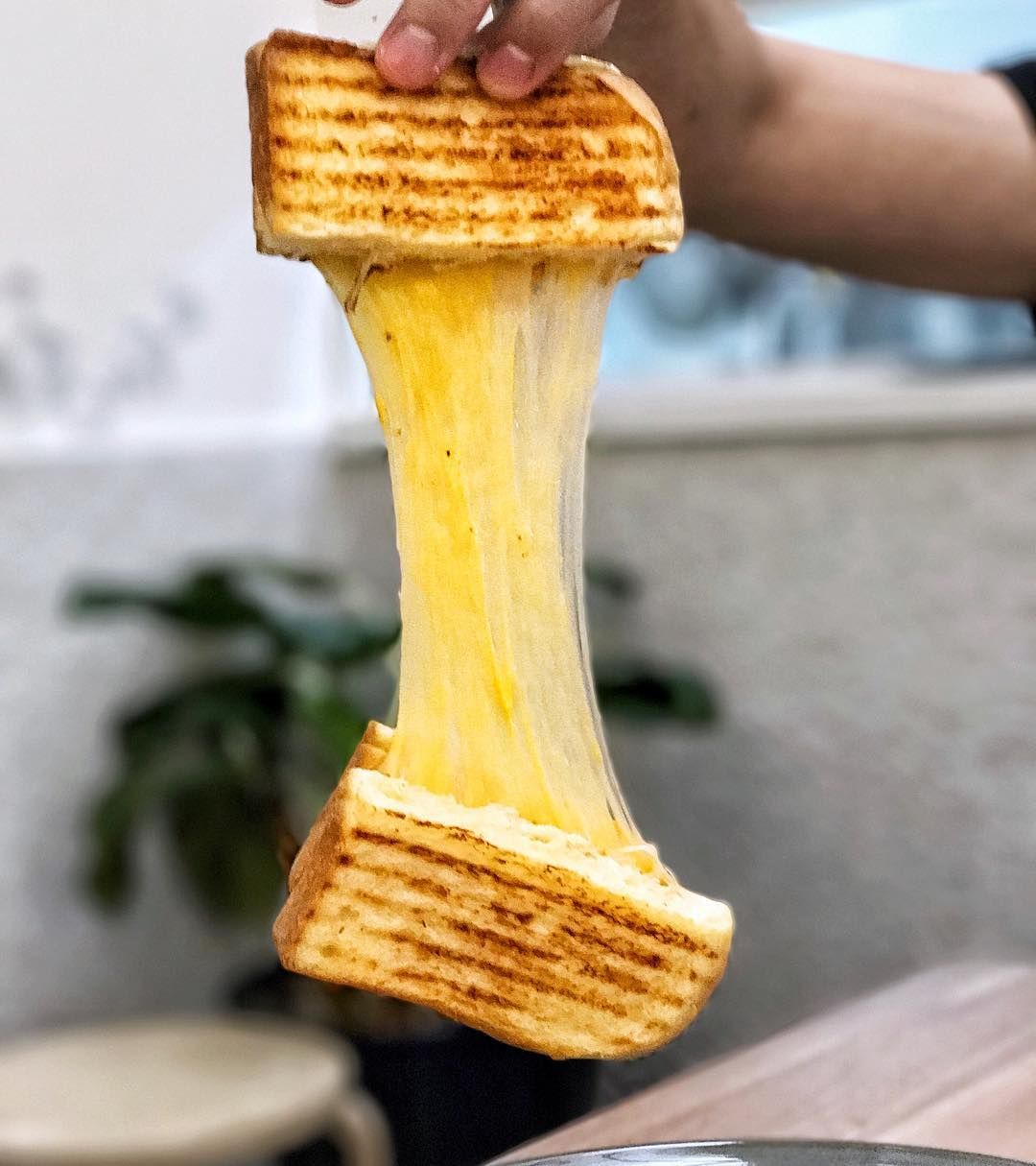 Image credit: @thechoyalicious
52 Sandwich Shack dishes out a variety of IG-worthy sandwiches, including their 52 Grilled Cheese ($6.90). A trio of cheeses – mozzarella, fontina and cheddar – is sandwiched between buttery brioche bread, creating the ultimate blend of savouriness without being overly jelak. If you're on a carb-venture, opt for Bacon Mac 'N' Cheese ($7.90) which has smoky bacon bits mixed into macaroni and cheese prior to being stuffed into toasted brioche.
Address: 252 North Bridge Road, #B1-54, Raffles City Shopping Centre, Singapore 179103
Opening hours: Daily 9am to 9pm
Tel: 6920 2922
Website | Menu | Full list of outlets

---
4. Grandma's Classic
---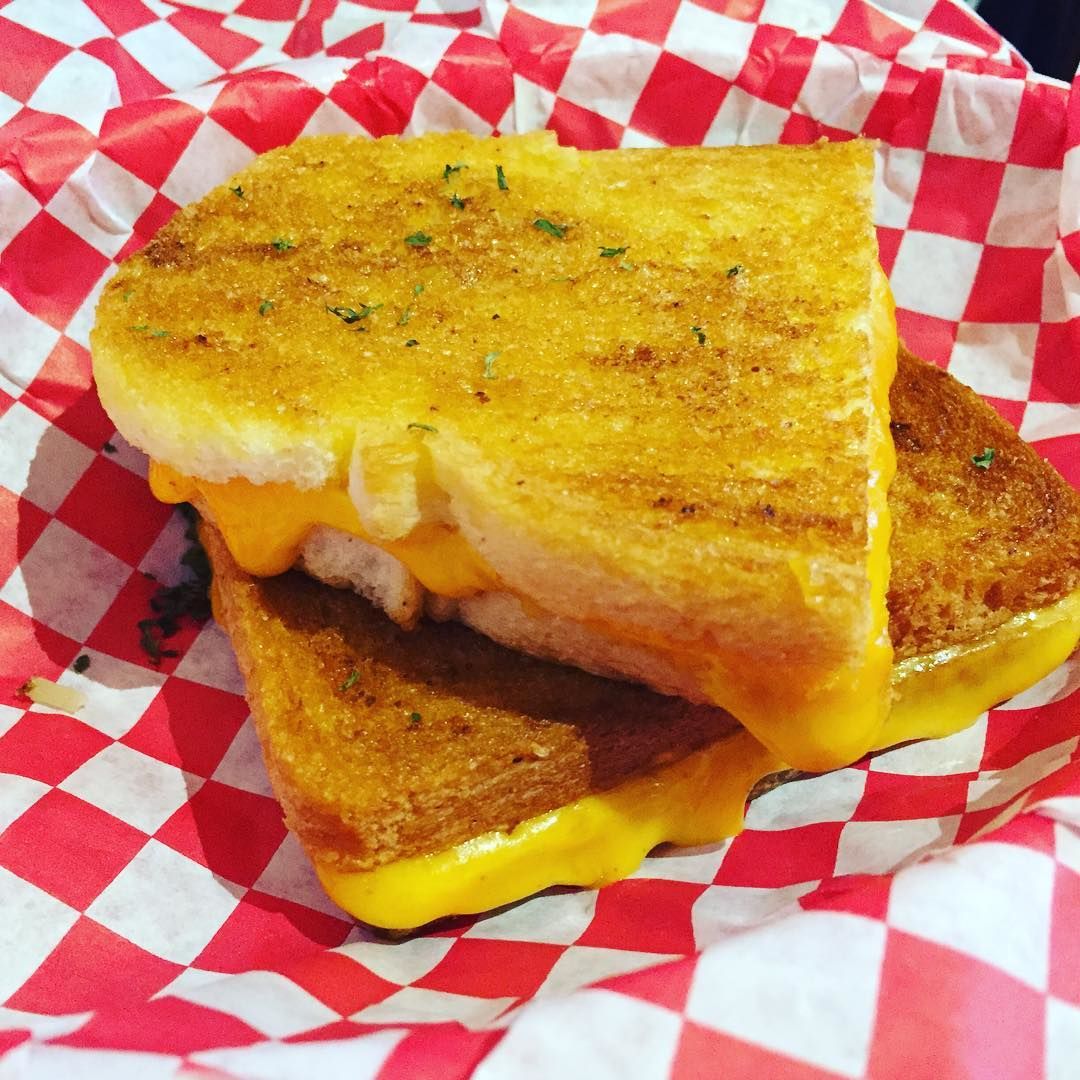 Image credit: @3fatbees
From the folks behind Once Upon A Milkshake, The Rösti Farm specialises in rosti, finger food and grilled cheese sandwiches. Go back to basics with Grandma's Classic ($7/$10), which comes with ooey-gooey cheddar cheese sandwiched between toasted white bread. Or, be adventurous and go for Fig & Earl Grey Spread ($10/$15) which has cheddar and house-made fig and Earl Grey jam combined to create a sweet and savoury combination.

Address: 83 Punggol Central, #B1-K12, Waterway Point (East Wing), Singapore 828761
Opening hours: Daily 11:30am to 9pm
Tel: 9389 4900
Website | Menu

---
5. BCM Grilled Cheese Sandwich
---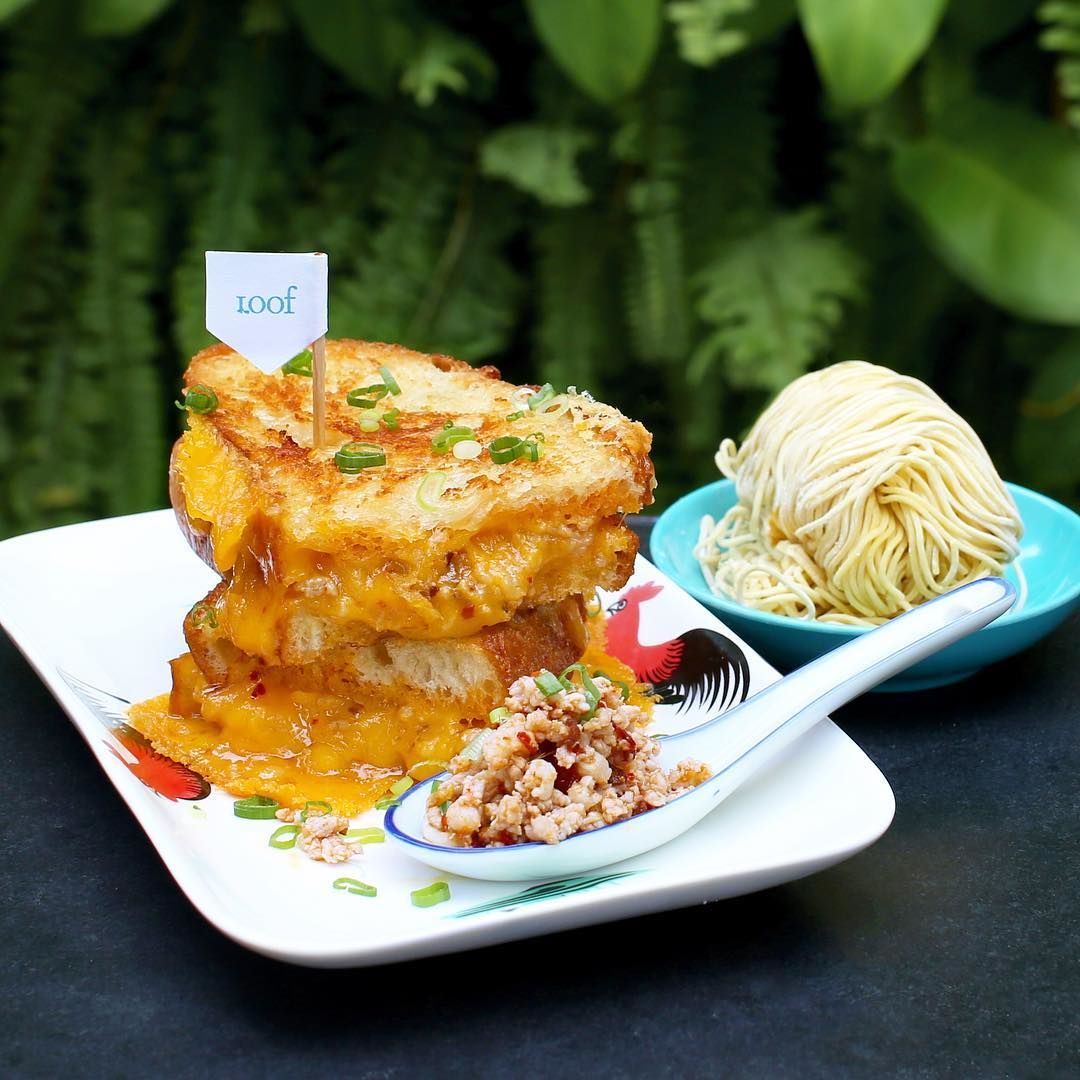 Image credit: @peachmcphee
The brainchild of the folks behind Loof and chef Bjorn Shen, BCM Grilled Cheese Sandwich ($18++) marries the flavours of a staple hawker food and classic American grub. Chunks of minced meat and mushrooms are coated in a dark savoury sauce and laced with stringy cheese, and everything is held together by toasted sourdough bread.
Check out other places to get unique bak chor mee in Singapore!
Address: 331 North Bridge Road, #03-07, Odeon Towers Extension Rooftop, Singapore 188720
Opening hours: Mon-Thur 5pm to 1am, Fri-Sat 5pm to 2am
Tel: 9773 9304
Website
Menus

---
6. Grilled Cheese
---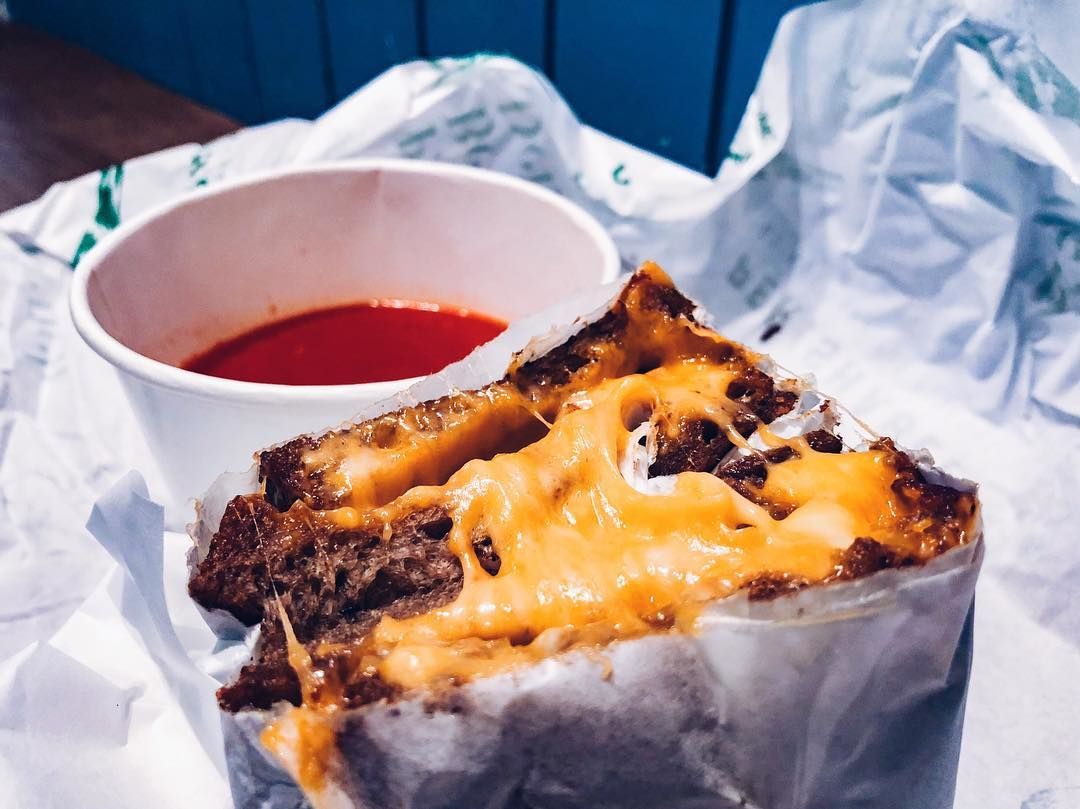 Image credit: @kaiei79
The folks behind Park Bench Deli reinvents sandwiches with their epic creations. Their Grilled Cheese ($14) has an artery-clogging amount of cheddar and Emmental cheese stuffed between crusty toasted rye. Your first mouthful will be filled with crunchy toast, followed by warm and chewy cheese that slowly oozes out, guaranteed to give you some of that #cheesepull action.
Address: 179 Telok Ayer Street, Singapore 068627
Opening hours: Mon-Fri 7:30am to 4pm, 5pm to 10pm, Sat 9am to 4pm (last order at 3:30pm)
Tel: 6815 4600
Website
Menu
---
7. Grilled Three Cheese Sandwich W. Tomato Soup
---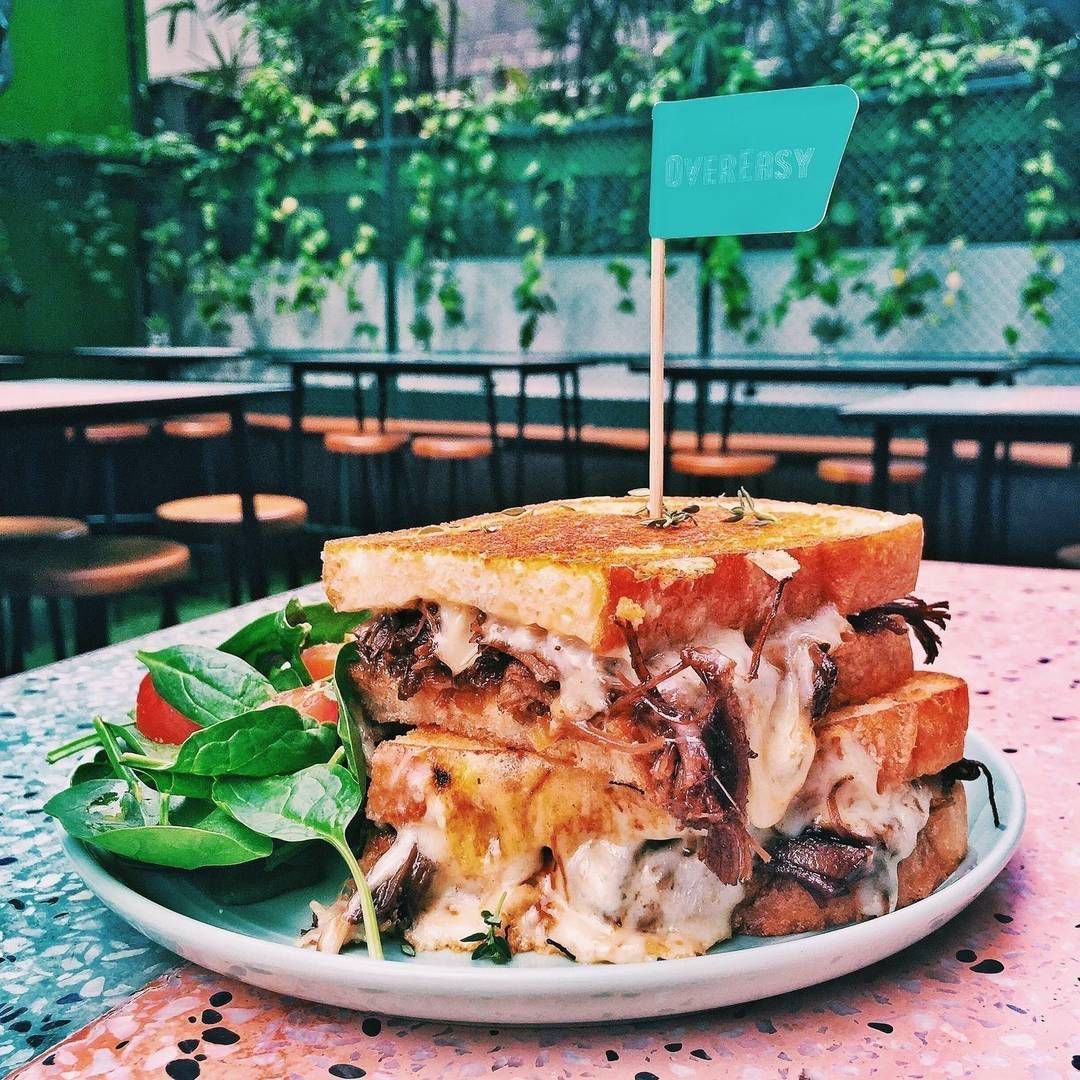 Image credit: @shakeembuns
Overeasy boasts Riverdale-like diner vibes, with neon signs and retro checkered tiles. Besides serving up one of the spiciest chicken wings in Singapore, they also dish out one of the sickest grilled cheese sandwiches. Grilled Three Cheese Sandwich W. Tomato Soup ($20++) comes in a hefty portion, and uses a blend of cheeses – smoked cheddar, gruyère and parmesan. Warning: make your way through this massive sandwich slowly, or risk a major food coma!
Address: 541 Orchard Road, #01-01, Liat Towers, Singapore 238881
Opening hours: Mon 5pm to 11pm, Tue-Thur 12pm to 3pm, 5pm to 12am, Fri 12pm to 1am, Sat 10am to 1am, Sun 10am to 12am
Tel: 6684 1453
Website | Menus | Full list of outlets
---
8. Grilled Truffle Cheese Sandwich
---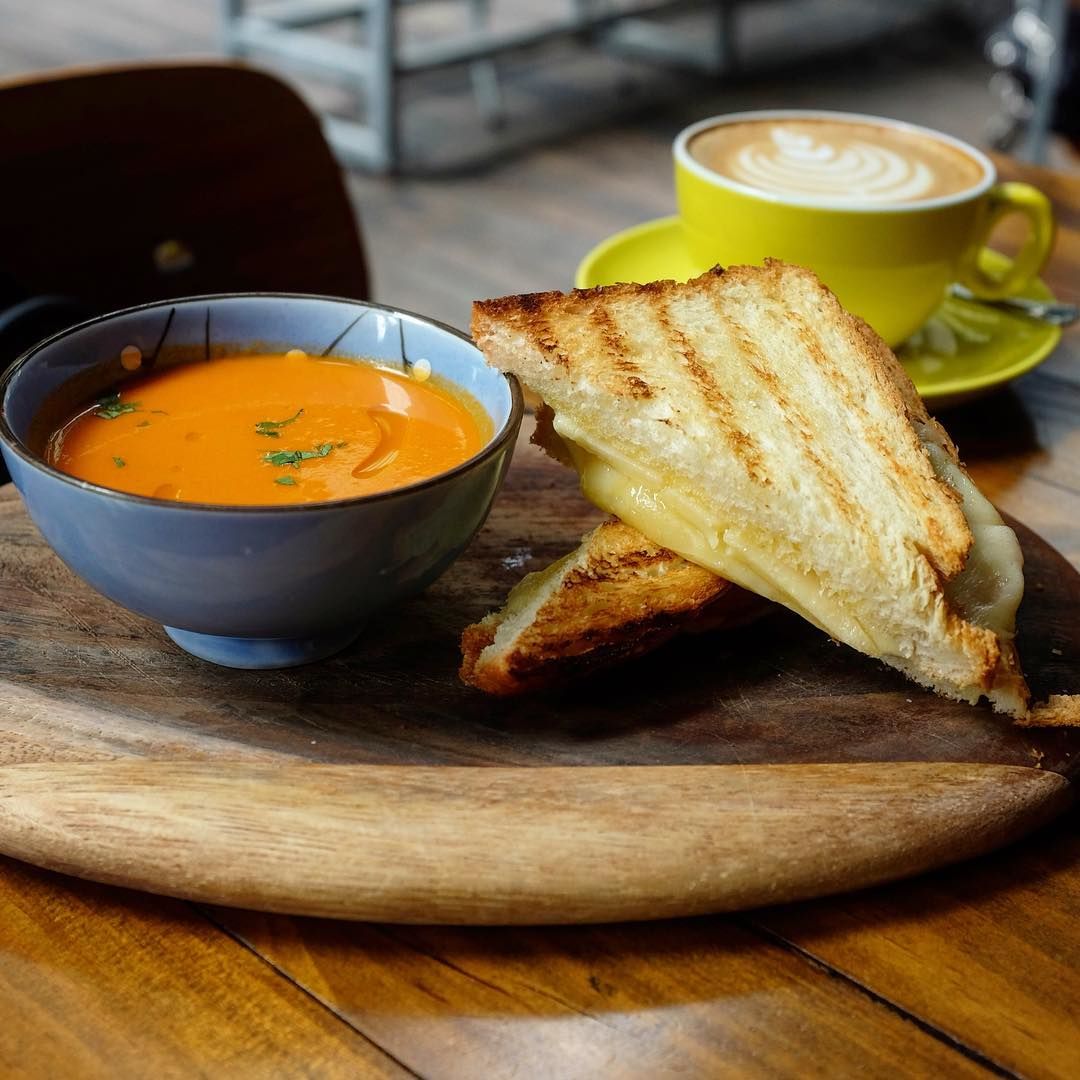 Image credit: @oriolecoffee
Limited to weekends and public holidays, the Grilled Truffle Cheese Sandwich (14++) from Oriole Coffee + Bar proves that truffle dishes are still not passé. Buttery, crispy brioche is filled with a winning trinity of cheeses – truffle cheese, Emmental cheese and oak-smoked cheddar, and served with tomato soup. If coffee is what fuels your day, give their Taisho M.A.D Milk ($9++) a try. This tasty concoction combines their cold brew with macadamia milk and almond milk, and is sweetened with dates. The dairy-free coffee's nutty undertones were enough to win me over!
Address: 96 Somerset Road, #01-01, Pan Pacific Serviced Suites Orchard, Singapore 238163
Opening hours: Sun-Thur & PH 8am to 11pm, Fri-Sat & eve of PH 8am to 12am
Tel: 6238 8348
Website
Menus
Full list of outlets
---
9. Burp Kitchen & Bar
---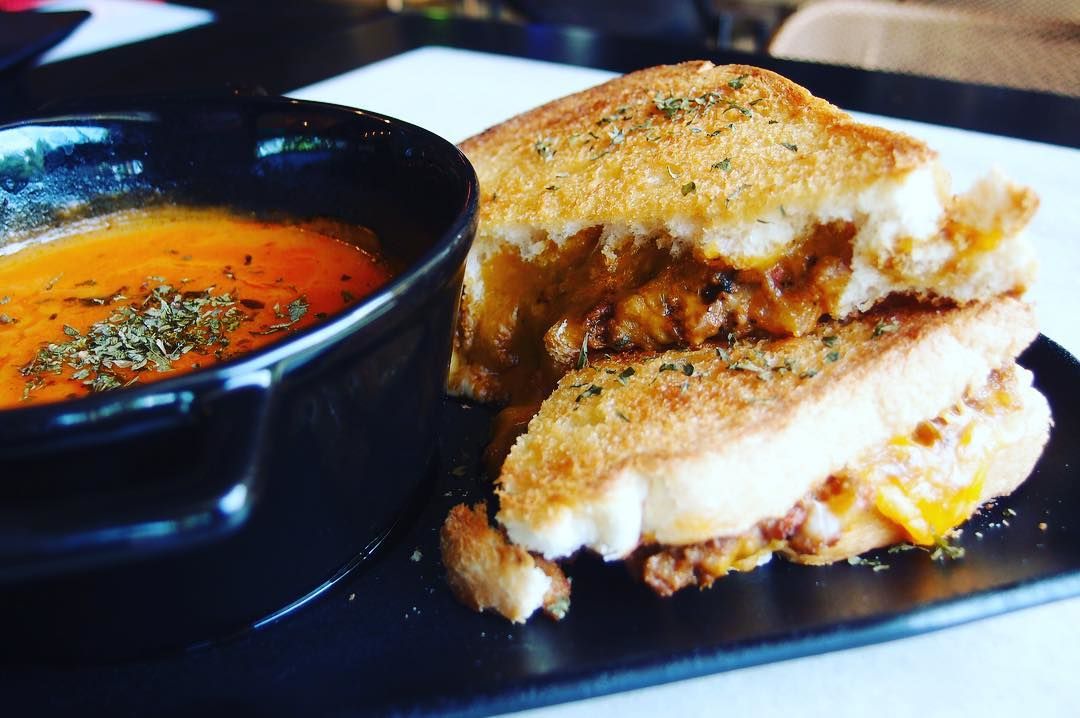 Image credit: @burp.bedokrsv
Burp Kitchen & Bar dishes out affordable bar grub and hearty brunch dishes with some mains priced at $10 or less. Sloppy Joe ($14) is essentially your classic sloppy joe but with white bread instead of the usual burger buns. Jalapenõ pepper is mixed into the chilli beef filling, providing a mild heat, while the cheddar and mozzarella cheese adds creaminess and richness to the dish. Opt for Mushroom Melt ($10) if it is #MeatlessMonday. This grilled cheese sandwich with sauteed mushrooms has the same cheesy goodness sans meat.
Check out other weekend brunch cafes with mains under $10++!
Address: 740 Bedok Reservoir Road, #01-3165, Singapore 470740
Opening hours: Tue-Fri 4pm to 12am, Sat-Sun 12pm to 12am
Tel: 8428 4722
Website
Menu
Full list of outlets

---
10. Kith Cafe
---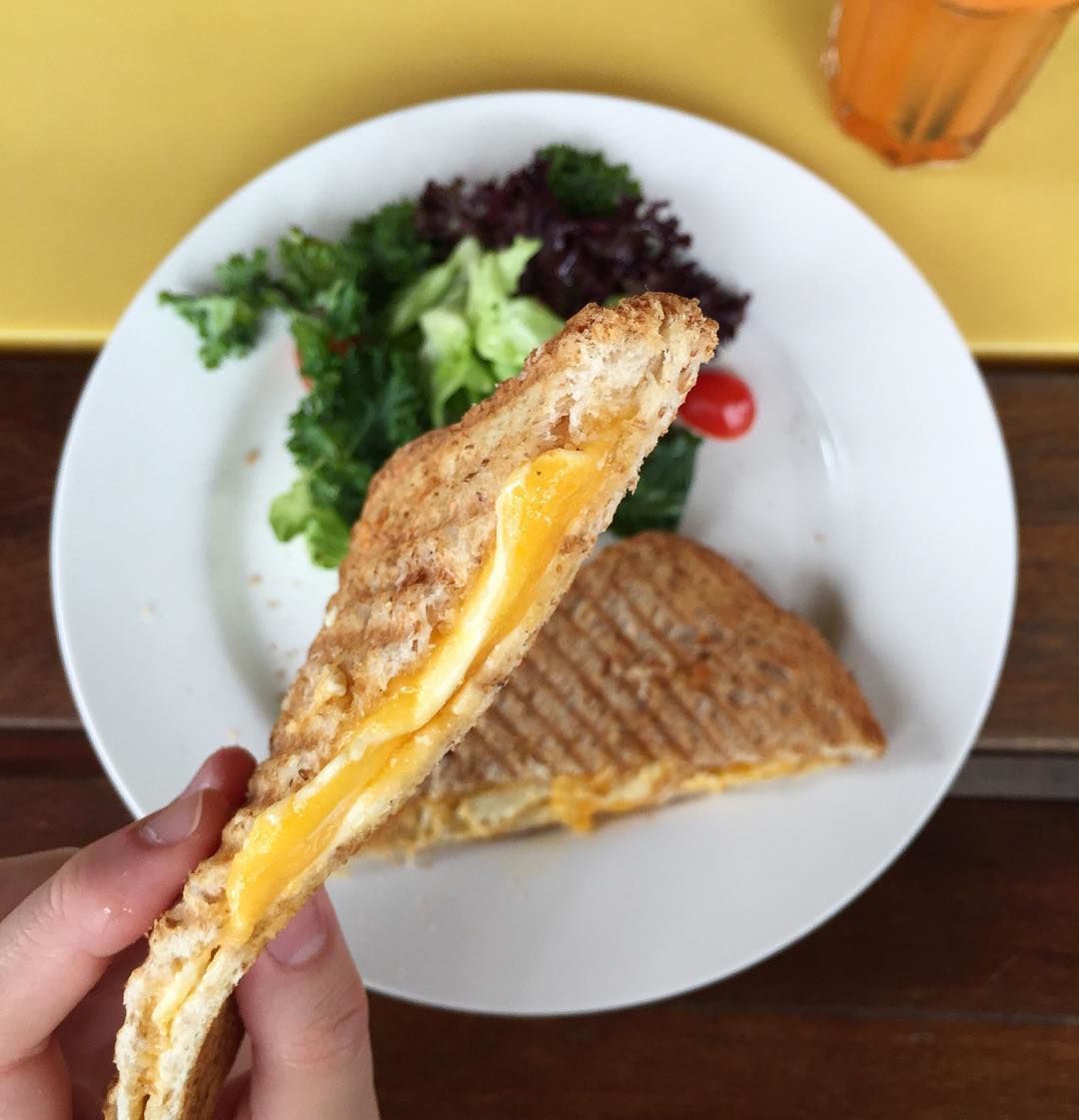 Image credit: @kithsingapore
A popular brunch spot, Kith Cafe has expanded to several outlets from their initial space at Park Mall. Their Grilled Sandwich ($10++) comes in three varieties, but it is the Truffle Cream Cheese, Cheddar one that we are swooning over. Smooth truffle cream cheese and double cheddar are stacked between two thinly sliced and grilled toast – a light meal for those who are not into big, fanciful brunch. Do note that these grilled sandwiches are not available at their Robertson Quay and Shaw House outlets!
Address: 6 Raffles Boulevard, #02-49, Marina Square Shopping Mall, Singapore 039594
Opening hours: Daily 10am to 10pm (last order at 9:30pm)
Tel: 6352 4393
Website
Menu
Full list of outlets

---
Grilled cheese sandwiches for the cheese addict
---
Cheese lovers, go big with these grilled cheese sandwiches and swoon at the cheesy, gooey, beautiful mess with every bite. If your love for cheese goes beyond that of grilled cheese sandwiches, check out other places to get epic cheese dishes! Drop us a comment if we missed out your go-to places for grilled cheese sandwiches.
---
Featured image adapted from Instagram user @shakeembuns' post.