---
Unique bak chor mee that defy tradition
---
Every hawker centre is not complete without a bak chor mee stall. Likewise, my Sunday is never complete without a good bowl of bak chor mee for brunch. Back then, the old coffee shop in my neighbourhood only had two options: mee pok dah (dry) or mee pok tng (soup). Now, this traditional bowl of noodles has been reinvented into many different versions. Here are 10 types of unique bak chor mee worth trying out!

---
1. Seafood Bak Chor Mee 
---
Yong He is opened by the brother of the man behind Ah Lam's Abalone Noodles, and one will see the link after trying their Seafood Bak Chor Mee ($4.50). Mee pok is tossed in braised pork belly and mushroom sauce, topped with clams, prawns, scallops and abalone slices along with minced pork and braised mushrooms. Sweetness from the seafood complements the savoury sauce, and the smooth noodles are almost effortless to chew and swallow.
Address: Block 18, Bedok South Road Avenue 2, 18 Brewcoffee, Singapore 460018
Opening hours: Tue-Sun 7am to 3pm
Tel: 9185 3758

---
2. Bak Chor Mee Pasta  
---
Revolution Coffee is famous for their creative spin on hawker favourites. From fresh tagliatelle to crispy pork lard and five-spice pork confit, everything in this Bak Chor Mee Pasta ($19.90) is made from scratch. The chilli and vinegar sauce packs quite a punch, so do inform the staff to go easy on it if you aren't a fan of spicy food!
Address: 21 Media Circle, #01-03A, Infinite Studio, Singapore 138562
Opening hours: Daily 9am to 6pm
Tel: 6777 2110
Website
---
3. "Bak Chor Mee"
---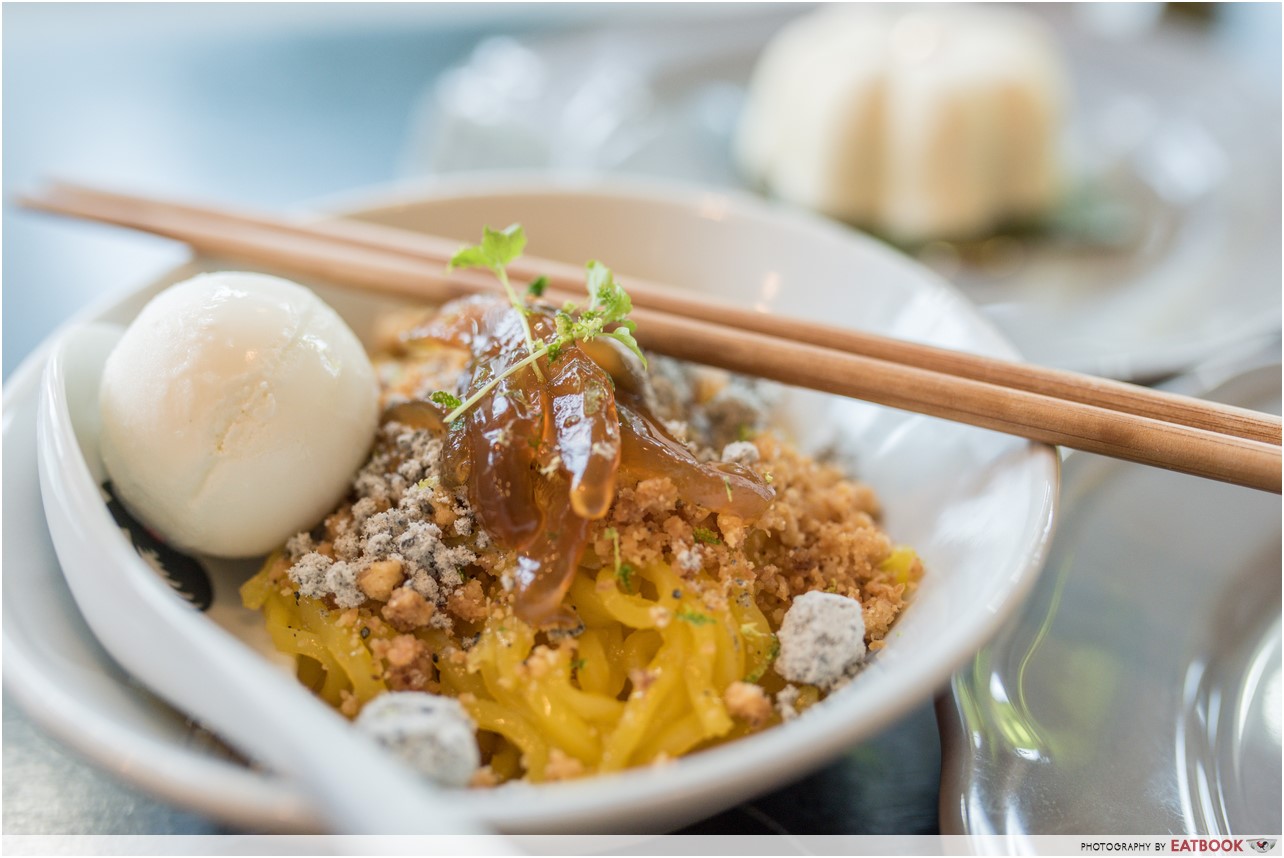 Update: Bak Chor Mee is no longer available at Non Entree Dessert Cafe.
Don't be fooled by its name, this dish is far from the hawker staple we are all familiar with. Bak Chor Mee ($14.90++) by Non Entrée Dessert Cafe is actually a dessert. This sweet bak chor mee is assembled using strips of mango vermicelli atop mango pudding, raspberry reduction 'chilli sauce', balsamic 'vinegar', sesame snow 'minced meat', crushed peanut 'lard', sea coconut 'braised mushrooms' and coconut parfait 'fish ball' speckled with vanilla beans. Warning: your brain and taste buds might get a little confused while eating this.
Check out our full review of Non Entrée Dessert Cafe.
Address: 204 Rangoon Road, Singapore 218451
Opening hours: Tue-Thur 2pm to 10pm, Fri-Sat 2pm to 11pm, Sun 2pm to 10pm
Tel: 9878 6543
Website
---
4. Crayfish Mee Pok 
---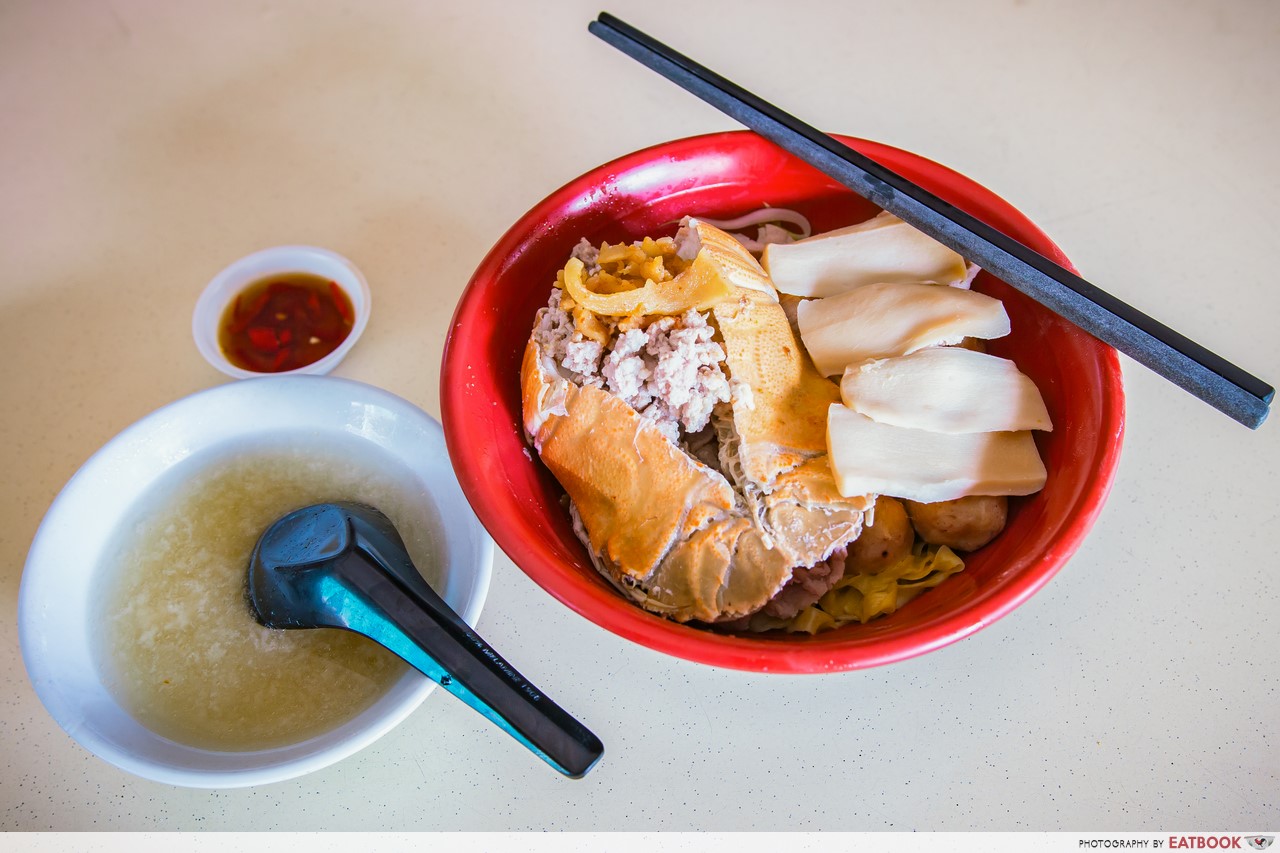 Ah Hoe Mee Pok serves Japanese-inspired bak chor mee that has gained many foodies' attention. Crayfish Mee Pok ($10) stands out most from their menu. The succulent meat of the crayfish absorbed some of the umami mee pok sauce, making it the highlight of the dish. No wonder the crowd keeps going back for more!
Check out our full review of Ah Hoe Mee Pok.
Address: Blk 710 Clementi West Street 2, Weng Kwang Coffee House, Singapore 120710
Opening hours: Thur-Tue 7am to 4pm
Tel: 8742 1341
Website
---
5. Vegan Mee Pok  
Vegans, here's a meatless alternative. Teochew Mee Pok ($8.90++) from Loving Hut is a vegan version of traditional bak chor mee. Mee pok, mock fish cakes and fish balls, bean sprouts and braised mushrooms are tossed in a savoury sauce. This dish tastes so legit, you might not even miss the real deal.
Check out other tasty vegan food available in Singapore!
Address: 229 Joo Chiat Road, #01-01, Singapore 427489
Opening hours: Mon-Fri 11:30am to 3pm, 6pm to 9:30pm, Sat-Sun 11:30am to 9:30pm (last order 9pm daily)
Tel: 6348 6318
Website
---
6. Mee Pok with Yakitori    
---
Guan's Mee Pok stands out thanks to the addition of fish maw and onsen egg in their mee pok. Our favourite is Guan's Mee Pok with Yakitori ($4.50). Springy mee pok is coated in a mixture of lard and vinegar sauce, and topped with minced meat, onsen egg, fish maw and yakitori. The sauce is a mix of four different vinegars, and it blends seamlessly into the smooth noodles. Guan really knows how to make mee pok maw interesting!
Address: 1 HarbourFront Walk, #03-01 Stall 10, VivoCity Food Republic, Singapore 098585
Opening hours: Thur-Tue 7am to 2:30pm
Website
---
7. Bak Chor Mee Grilled Cheese Sandwich

---
Folks behind Loof teamed up with Chef Bjorn Shen to create BCM Grilled Cheese Sandwich ($18++). Minced pork and mushrooms mixed in a dark savoury sauce is sandwiched between gooey cheese, held together by two slices of perfectly toasted sourdough bread. Every bite is a mouthful of stringy cheese accented with chunks of pork and braised mushrooms.
Address: 331 North Bridge Road, #03-07, Odeon Towers Extension Rooftop, Singapore 188720
Opening hours: Mon-Thur 5pm to 1am, Fri-Sat 5pm to 2am
Tel: 9773 9304
Website
---
8. Bak Chor Mee Sua

---
Yan Kee Noodle House replaces traditional flat mee pok for mee sua in their Dry Bak Chor Mee Sua ($5). Each strand of light and chewy mee sua is coated in a thin layer of vinegar and homemade chilli that you can choose to add. Topped with the usual works, this dish proves that replacing one ingredient is enough to create a difference in the final outcome.
Address: 32 South Bridge Road, BK Eating House, Singapore 058667
Opening hours: Daily 24 hours
---
9. Mee Tai Bak Mee Pok 
---
Lai Heng Mushroom Minced Meat Mee dishes out bak chor mee with different types of noodles, with my favourite being Dry Mee Tai Bak Mee Pok ($4 onwards). Each short strand of springy rat-tail noodle is delectable after soaking up the vinegar sauce. Fried sole fish imparts crunch and brininess to the noodles. This stall always has a queue, so go down early to beat the crowd!
Address: Block 51 Lorong 6 Toa Payoh, Singapore 310051
Opening hours: Thur-Tue 8:30am to 4pm
---
10. Hokkaido Scallop Bak Chor Mee 
---
Restaurant Labyrinth has won awards and recognition for their menu, and their 'Hokkaido Scallop Bak Chor Mee' ($20++) explains why. Saffron-infused squid noodles mimic traditional yellow mee pok, topped with seared Hokkaido scallop 'fish cake', dried anchovies, squid and spring onions. This atas version of bak chor mee might cost close to 10 times more than the real deal, but it's one worth the occasional splurge.
Address: 8 Raffles Avenue, #02-23, Esplanade Theatres on the Bay, Singapore 039802
Opening hours: Tue-Wed 12pm to 3pm & 6:30pm to 11:30pm, Thur-Fri 12pm to 3pm & 6pm to 11:30pm, Sat-Sun 6pm to 11:30pm
Tel:  6223 4098
Website
---
Same same but different
---
They might differ from traditional bak chor mee, but these 10 special bak chor mee still have some nostalgic element to them. Leave us a comment if we missed out on other bak chor mee you think should be on this list!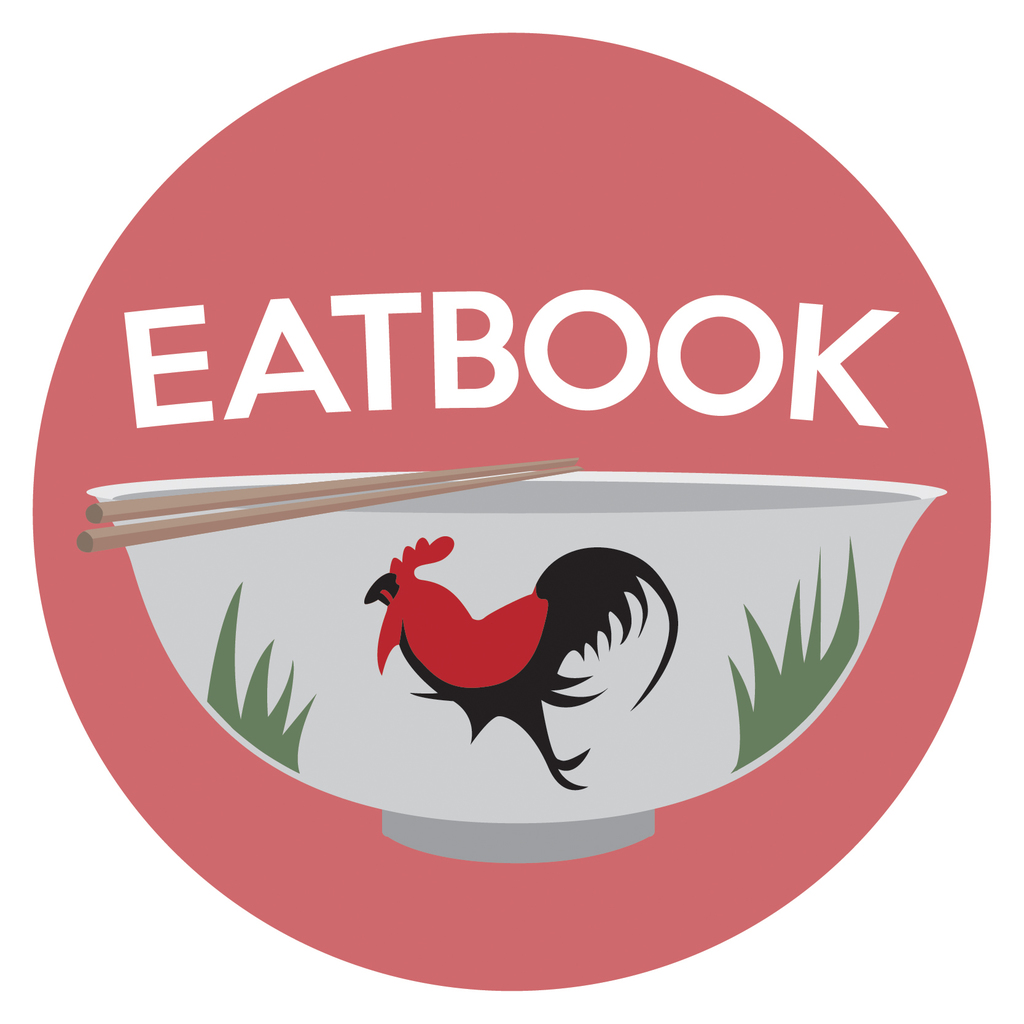 Drop us your email so you won't miss the latest news.