Shiba Roti in Bukit Timah Food Centre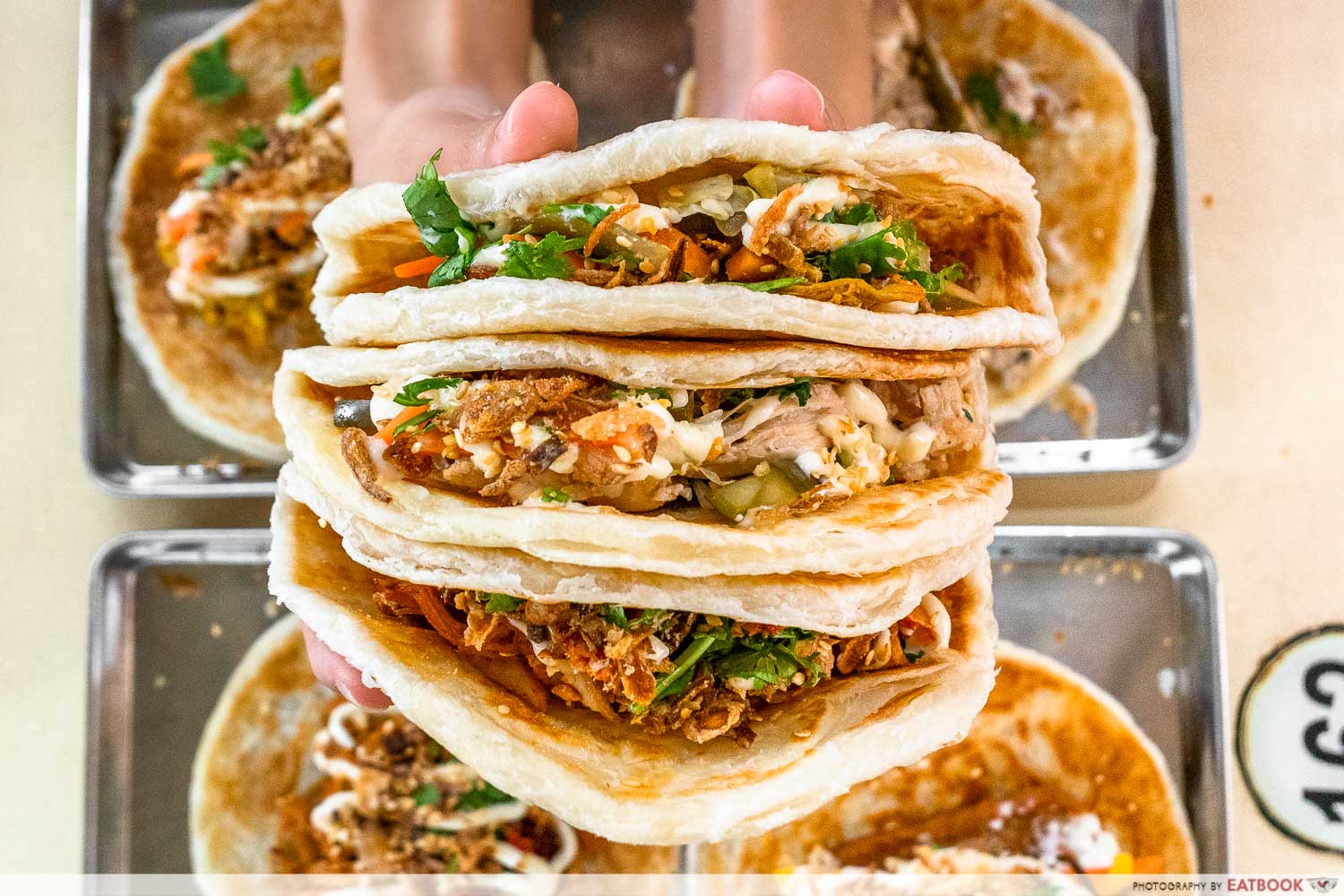 When I first heard about THE innovative prata tacos being served at Shiba Roti, I was quite intrigued by the combinations and was curious to find out how this Mexican-Asian fusion delight would turn out.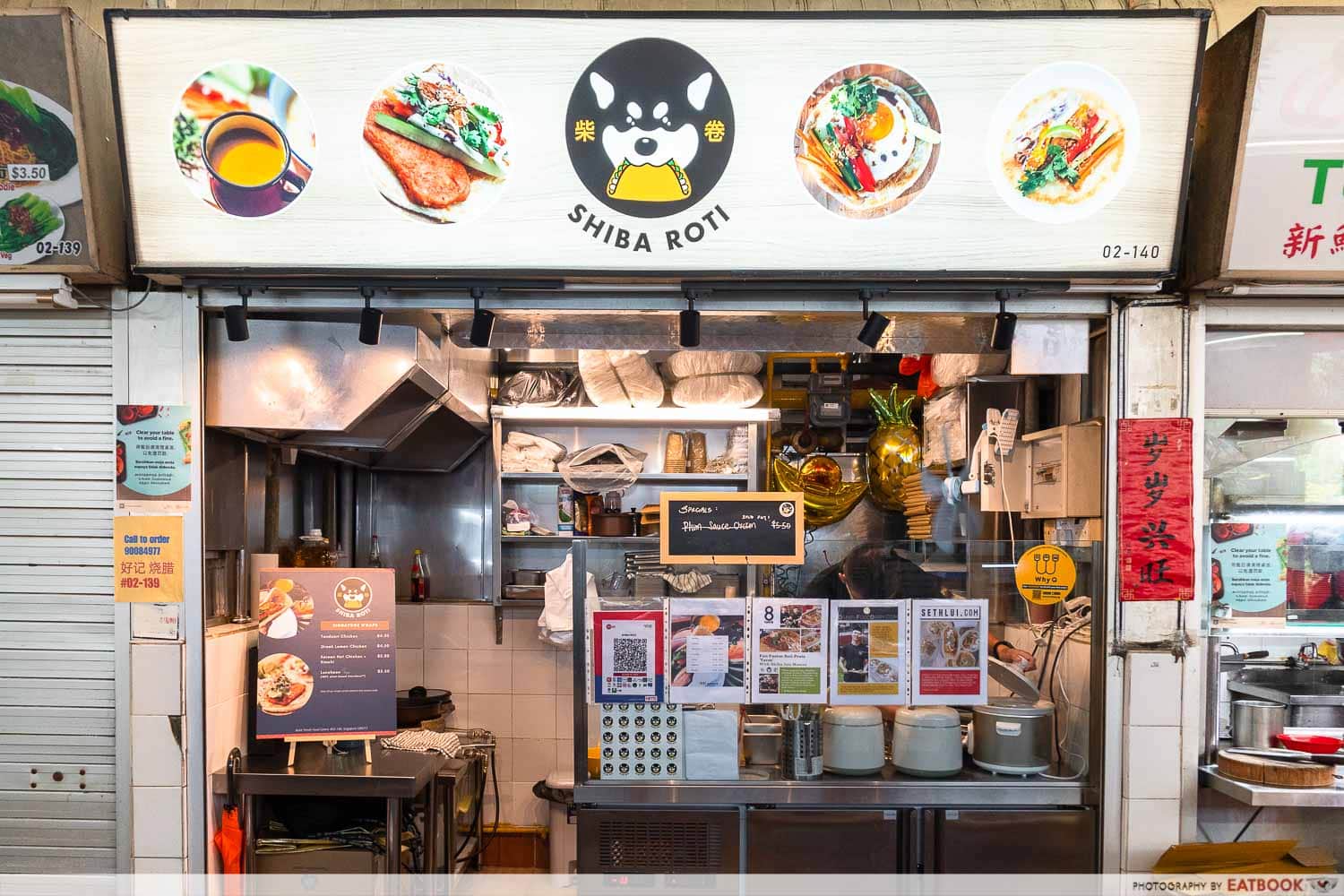 Amongst the many old hawker stalls in Bukit Timah Market & Food Centre, Shiba Roti really stands out with its modern-looking signboard and adorable signature Shiba Inu logo. Besides their regular menu, you will find a daily special written on the mini chalkboard in front of the stall. This daily special is rotatable every day, ensuring that their customers never get bored. 
12 Best Prata Places in Singapore Worth Sacrificing Your Diet For
Food at Shiba Roti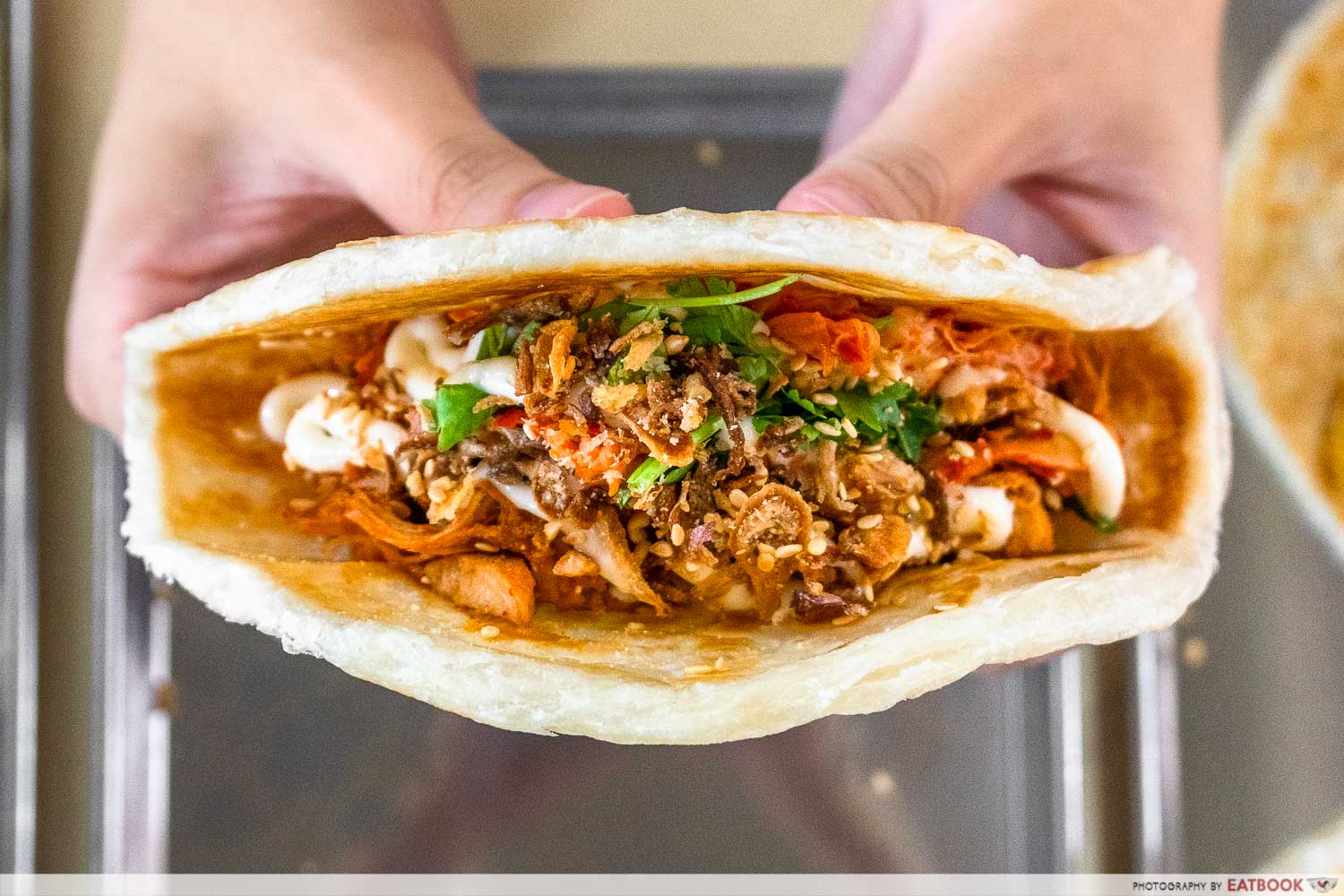 Being the lover of kimchi that I am, I went straight for the Korean Hot Chicken + Kimchi ($5) flavour. At first glance, the wrap was poppin' with a bright red colour and its spice looked slightly intimidating to me. 
This prata-taco is finished with slices of pickled cucumbers and carrots, along with aromatic fried shallots, parsley, sesame seeds, and a drizzle of mayonnaise. The frozen prata is heated up on a hot griddle before serving, so you get a piping-hot and flaky prata wrap.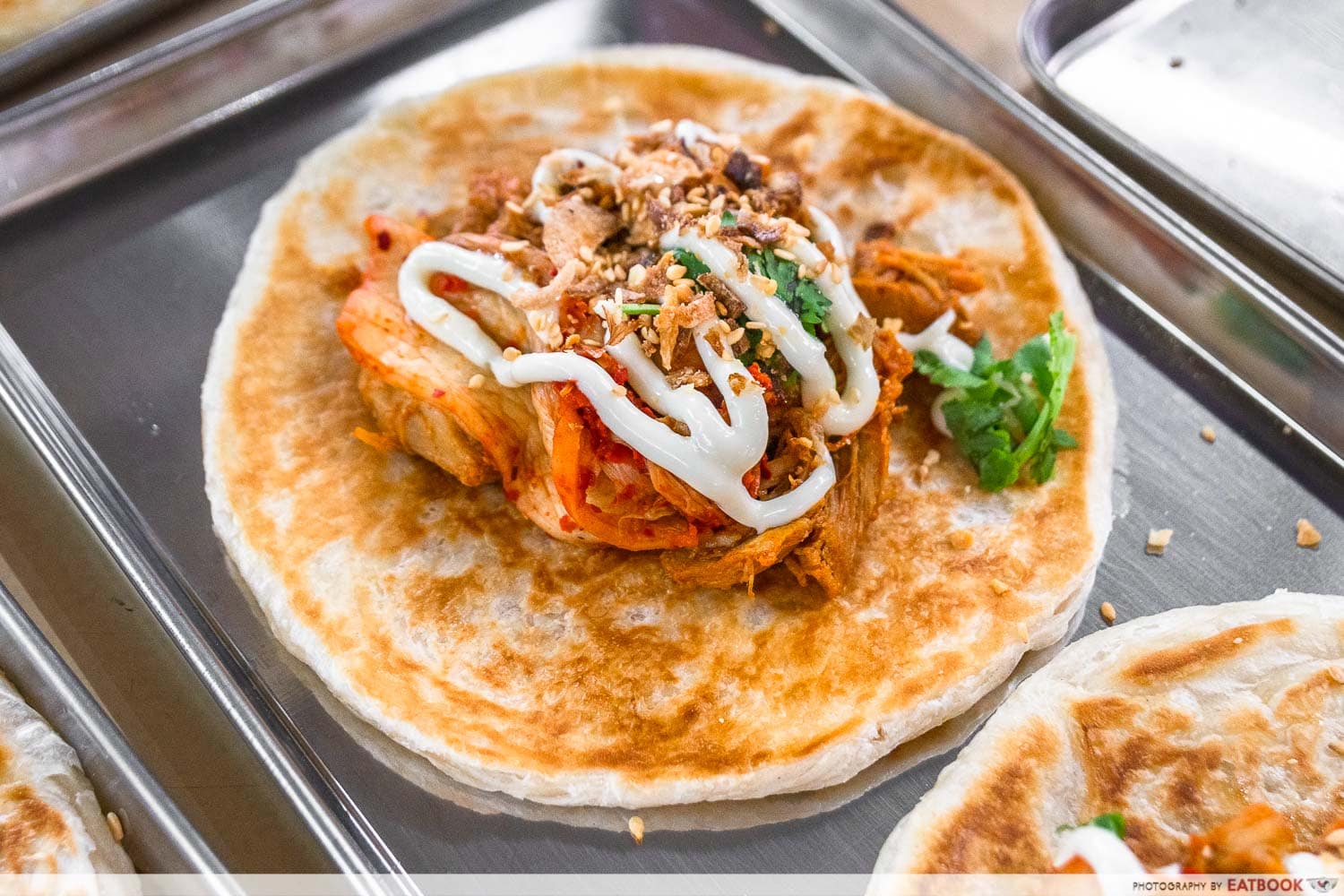 The first taste that hit me was a sour twang from the fermented kimchi, which I enjoyed, as it was rather refreshing. The chicken was marinated in a gochujang sauce, but my colleague and I found it a little under seasoned. These two components only had a mild kick of spice, so this dish is definitely safe for those who can't take spicy dishes well. 
Overall, I appreciated the variety of textures in this dish, from the doughy and chewy prata to the crunchy kimchi, making this dish multi-dimensional.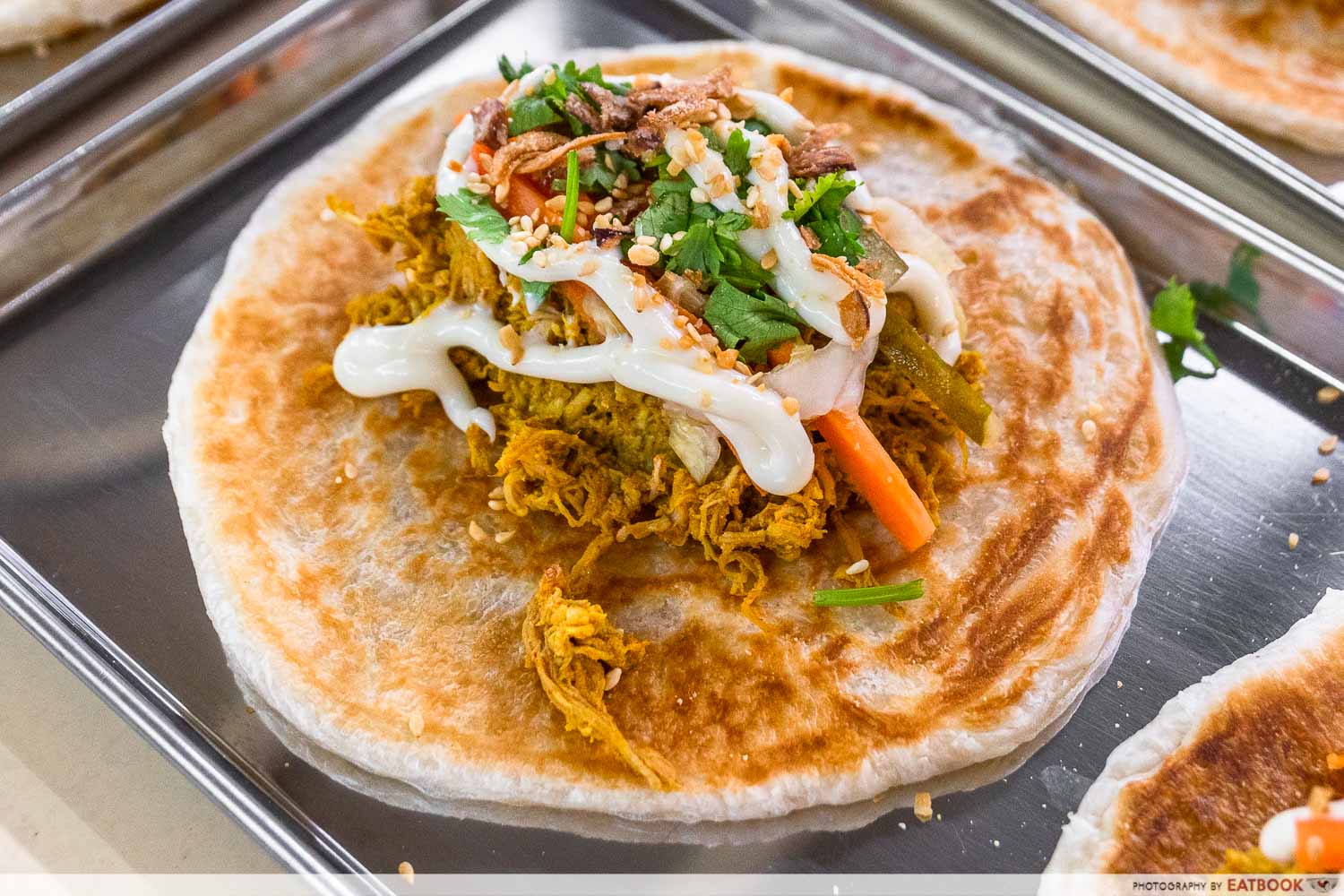 The Tandoori Chicken Wrap ($4.50) is inspired by the classic Indian dish. As I took a bite of this wrap, it reminded me of the familiar combination of prata and curry.
The chicken boasted hints of sourness from the yoghurt or perhaps tamarind in the marinade, but the meat was a little too dry for my liking. Nonetheless, this wrap was aromatic from the plethora of spices massaged into the shredded chicken pieces.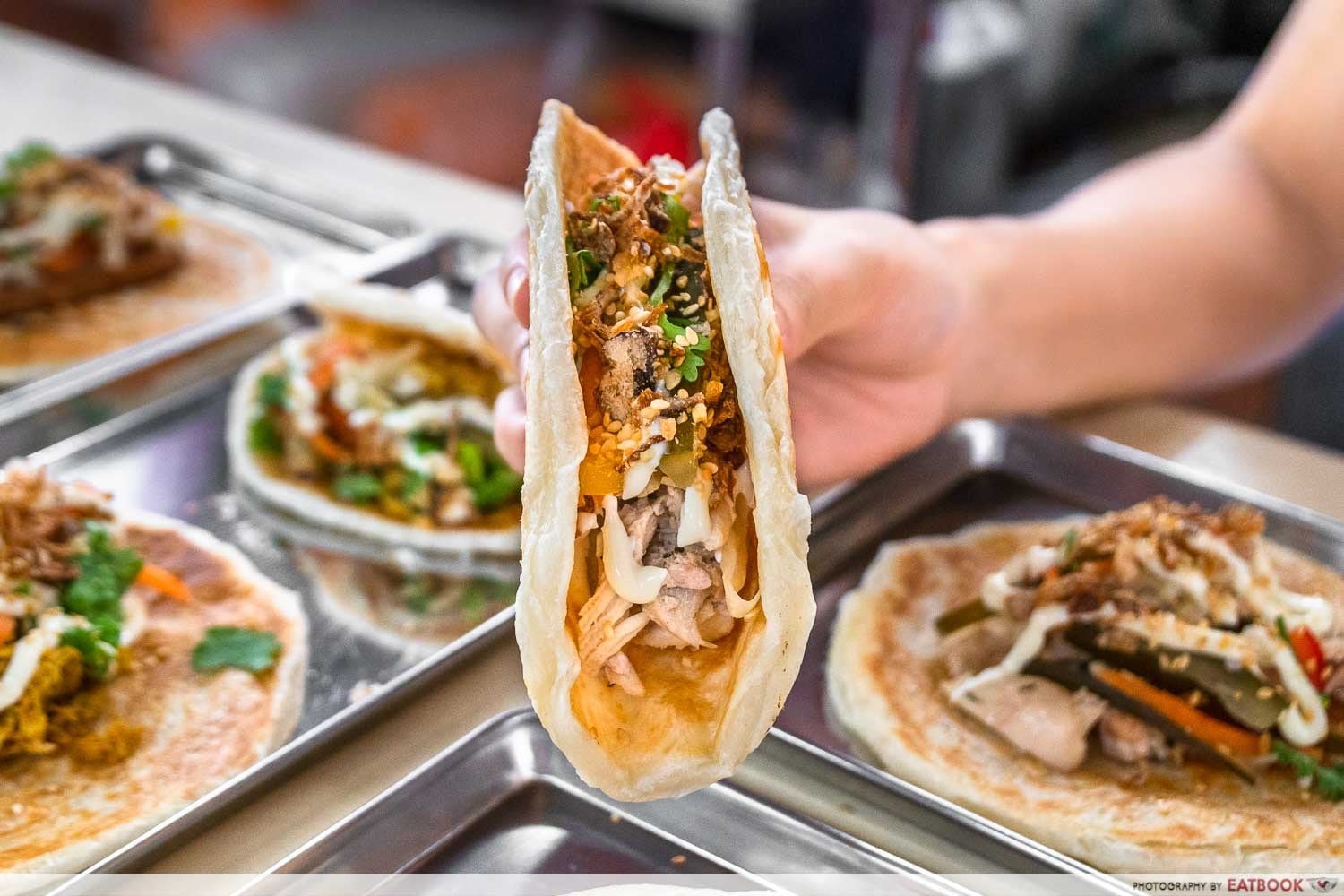 Another unique item I tried was the Greek Lemon Chicken ($4.50). This features meaty chunks of chicken breast, perfumed with hints of tanginess from lemon juice.
The sourness cut through the rich mayonnaise, for a refreshing mouthful. I appreciated how different this wrap was from the rest, as the other wraps were starting to feel slightly jelak.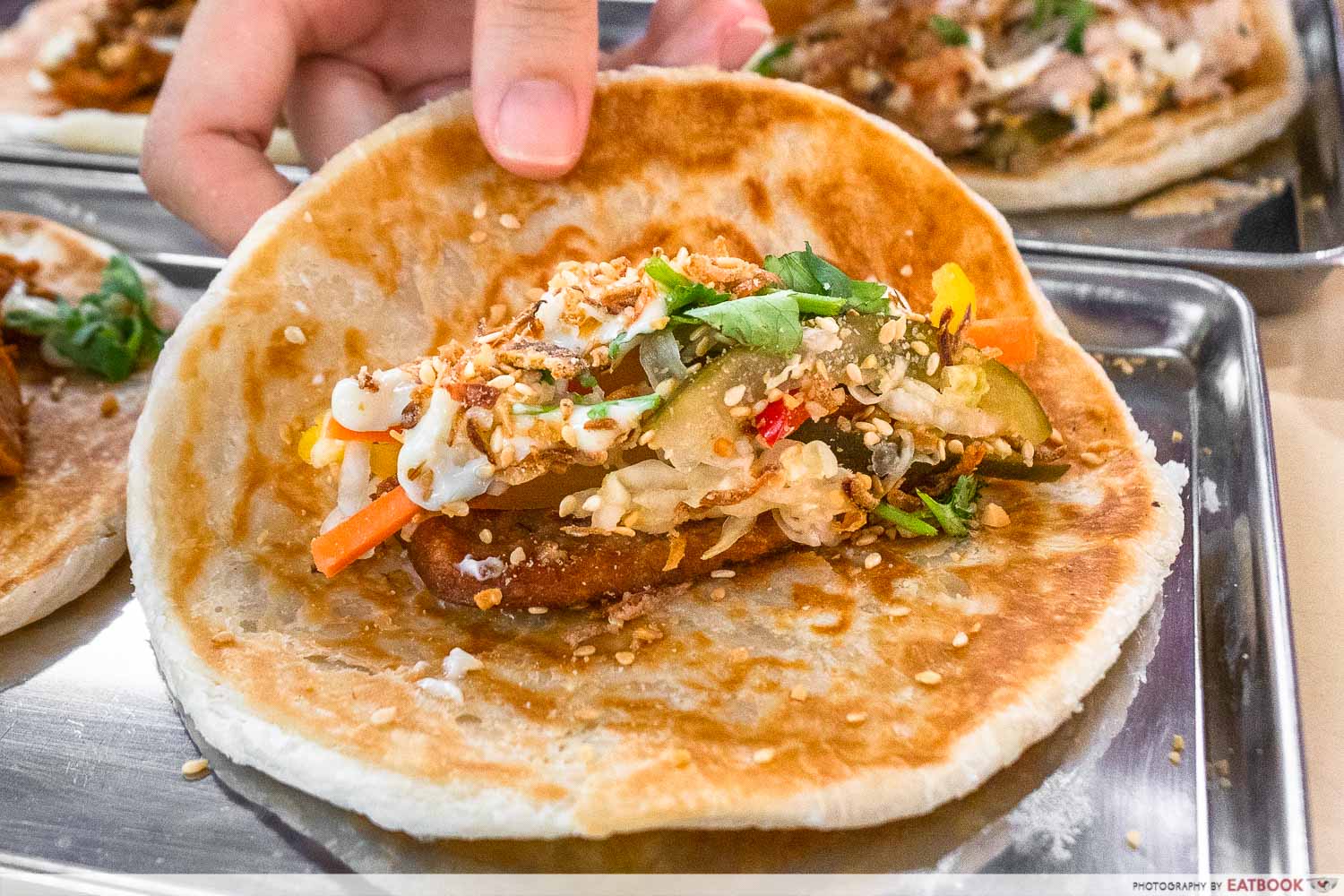 Vegetarians will be pleased to know that they have a Luncheon ($5) wrap made from 100% plant-based ingredients, to mimic a flavourful piece of luncheon meat. Seared before serving, the mock meat had an addictively crispy texture on the outside. 
Although overall savoury, it lacked the kick of umami that is usually present in real luncheon meat. Having said that, it does stay true to its meaty texture, and I can see this as a potential substitute that would satisfy non-meat eaters. 
Little India Food Guide: 10 Indian Food Places For Banana Leaf Rice, Prawn Briyani And More
Ambience at Shiba Roti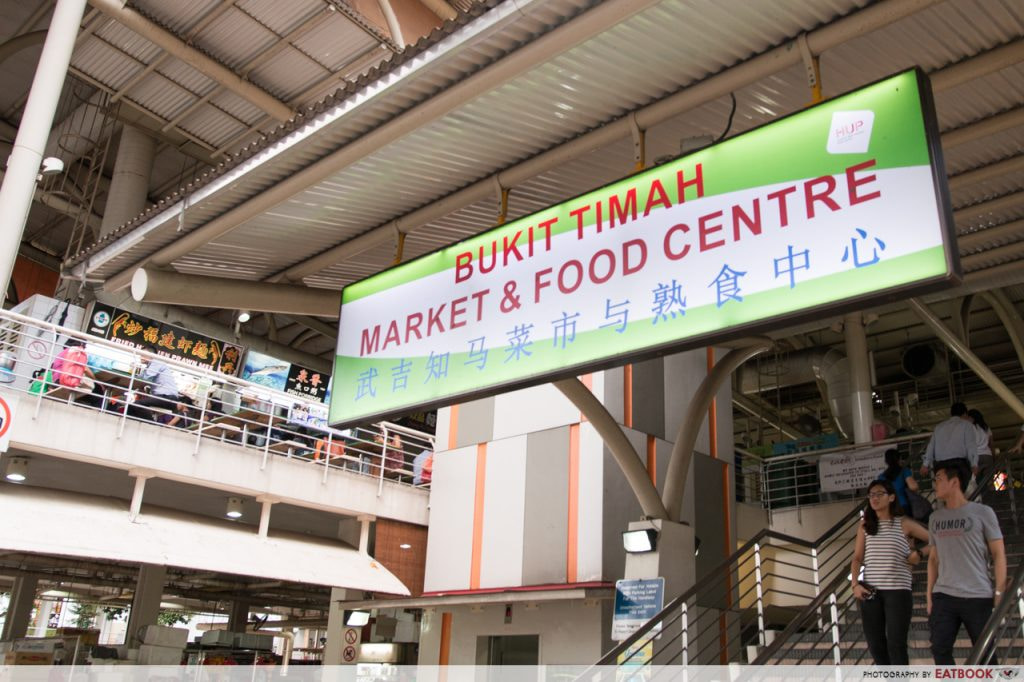 Westies will surely be familiar with Bukit Timah Market & Food Centre, as this well-known food hub houses an abundance of popular hawker stalls that have been around for many years. Just a three minutes walk away from Beauty World MRT Station, those who live around the area have easy access to the prata wraps from Shiba Roti. 
The verdict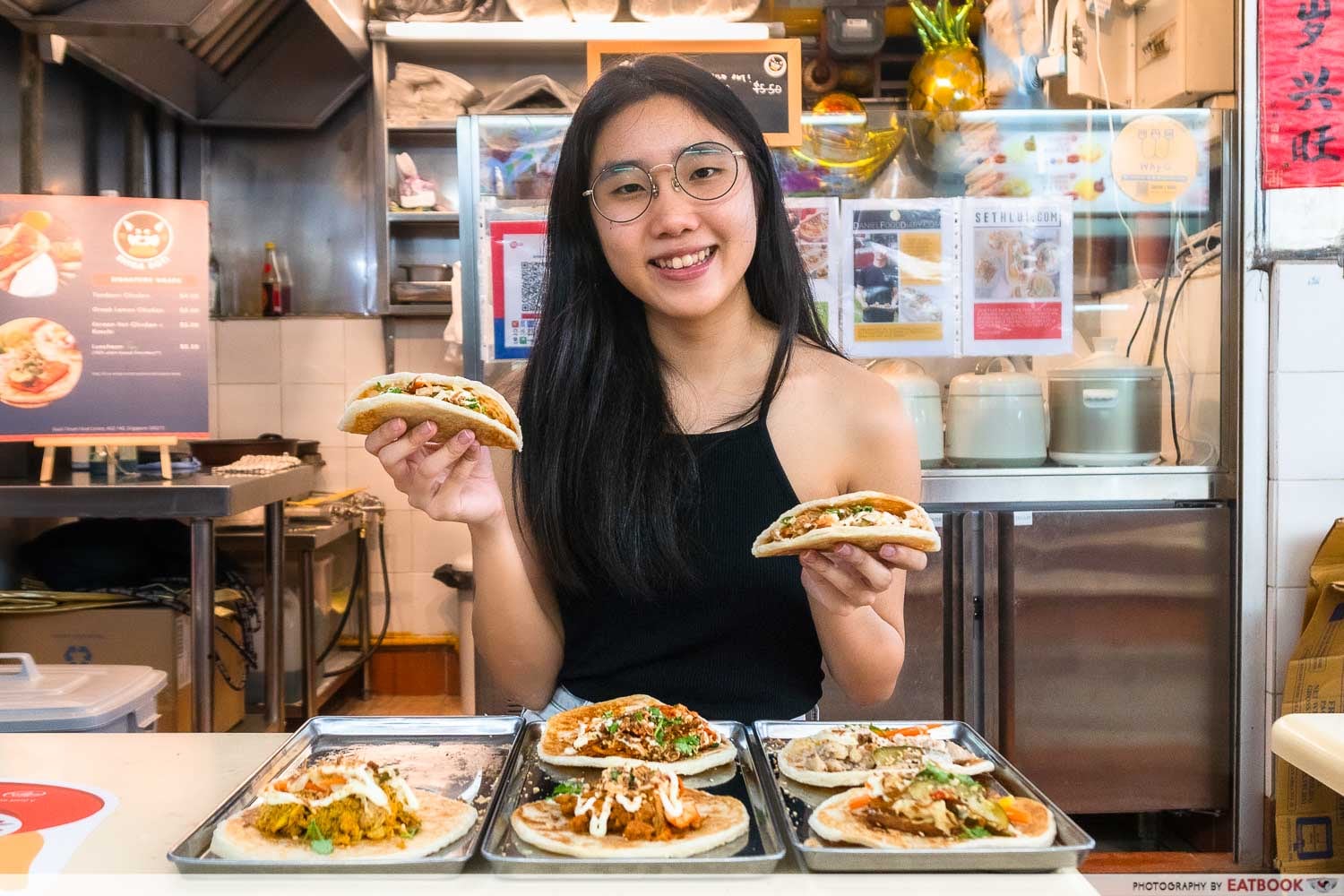 These prata wraps are an innovative creation, and definitely bring something new to the table in the hawker scene. Having said that, they were also slightly underwhelming if you consider the fact that they are made using frozen pratas. 
Comparing the ingredients against the price point, I don't see myself coming back for these prata-tacos that I could possibly make at home. I will probably only return for these wraps if I happen to be around the area. 
For more food in the area, check out our Beauty World food guide.
Address: 51 Upper Bukit Timah Road, #02-140, Singapore 588215
Opening hours: Tue-Sat 10am to 7pm, Sun 10am to 2pm
Shiba Roti is not a halal-certified eatery.
Website 
Photos taken by Lim Yu Hui.
This was an independent review by Eatbook.sg.
21 Beauty World Food Gems Including DIY Okonomiyaki, Cheap XLB And More
Shiba Roti Review: Large Prata Tacos From $4.50 In Bukit Timah With Tandoori And Greek Flavours
Shiba Roti Review: Large Prata Tacos From $4.50 In Bukit Timah With Tandoori And Greek Flavours -

6.5/10
Summary
Pros
– Unique menu items 
– The Tandoori chicken was well coated in spices 
Cons
– The prices are slightly steep 
– Some ingredients are not seasoned enough 
Recommended dishes: Korean Hot Chicken + Kimchi ($5), Greek Lemon Chicken ($4.50)
Opening hours: Tue-Sat 10am to 7pm, Sun 10am to 2pm
Address: 51 Upper Bukit Timah Road, #02-140, Singapore 588215