SODENG Korean Restaurant in Telok Ayer has Singapore's first duck KBBQ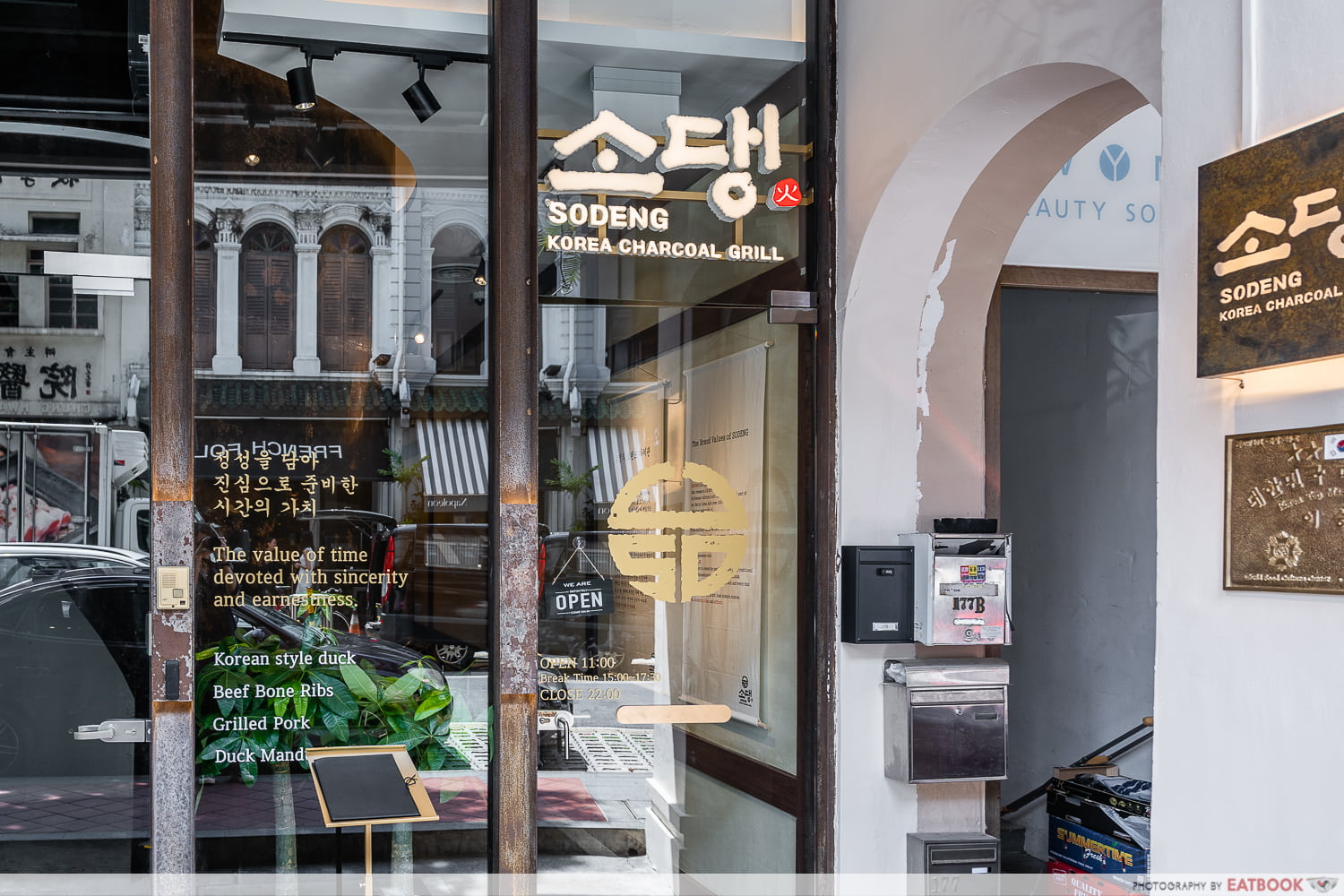 Um Yong Baek is one of those restaurants that has drawn perennially long queues since they first opened a year ago. They're known for their aged pork KBBQ and dwaeji gukbap, or pork and rice soup. When the team contacted us about their latest venture, SODENG Korean Restaurant, we were incredibly surprised to see duck on the menu—and so off we went to Telok Ayer in a hurry.
When you think of Korean food, duck isn't the first protein you'd associate with the cuisine. SODENG claims to be the only restaurant in Singapore to serve it, cooked at the table on a sodaeng (소댕), or the pot lid of an ancient Korean cooking vessel called the gamasot (가마솥).
Um Yong Baek Review: Famous Korean Restaurant With Traditional Busan Pork And Rice Soup, Limited Servings Daily
Food at SODENG Korean Restaurant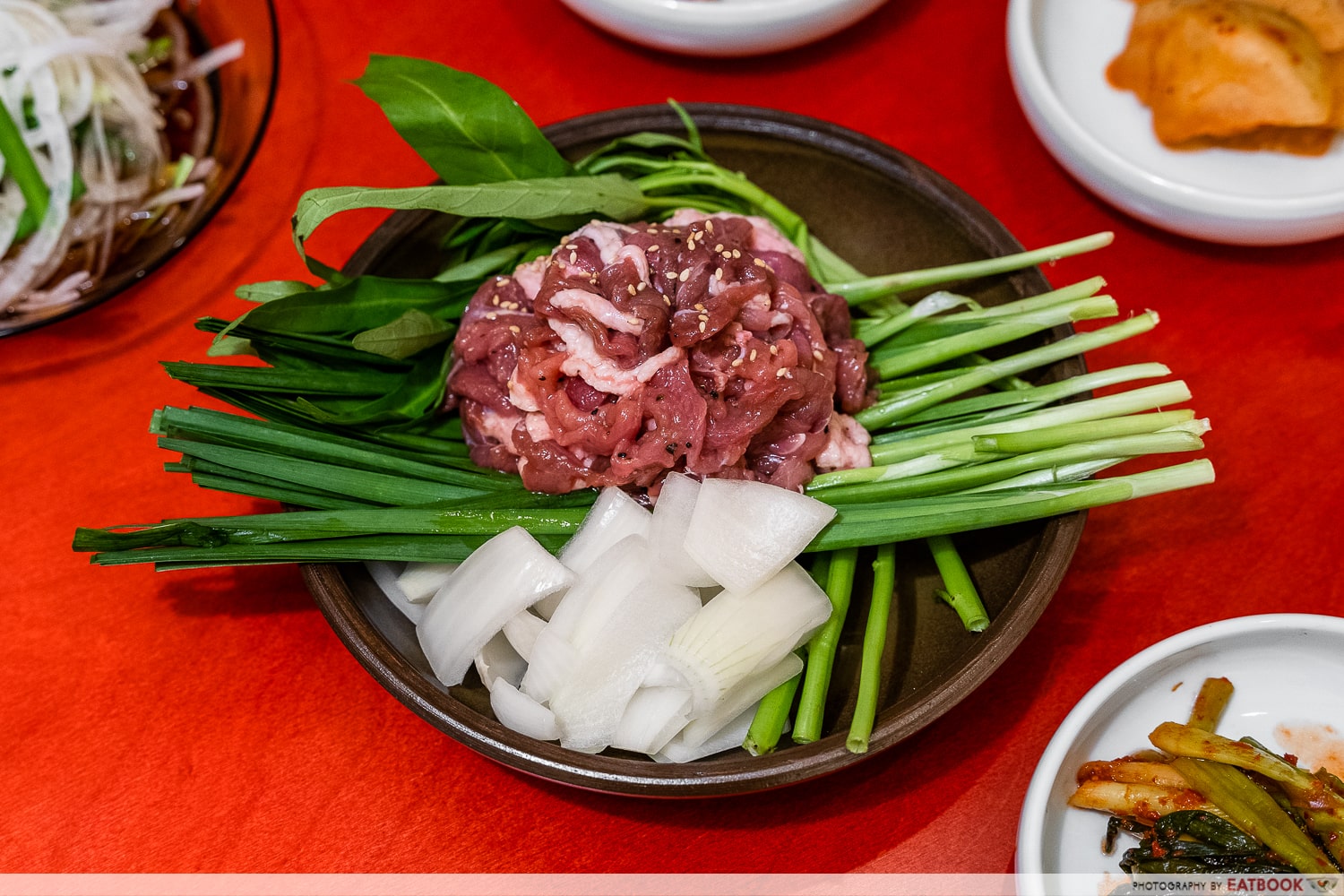 Our meal started with Roasted Duck ($34++), which saw boneless pieces of young duck meat seared on the sodaeng. The first bite of this is served with a whole, house-salted fresh peppercorn so that you can fully appreciate the flavour of the unmarinated meat.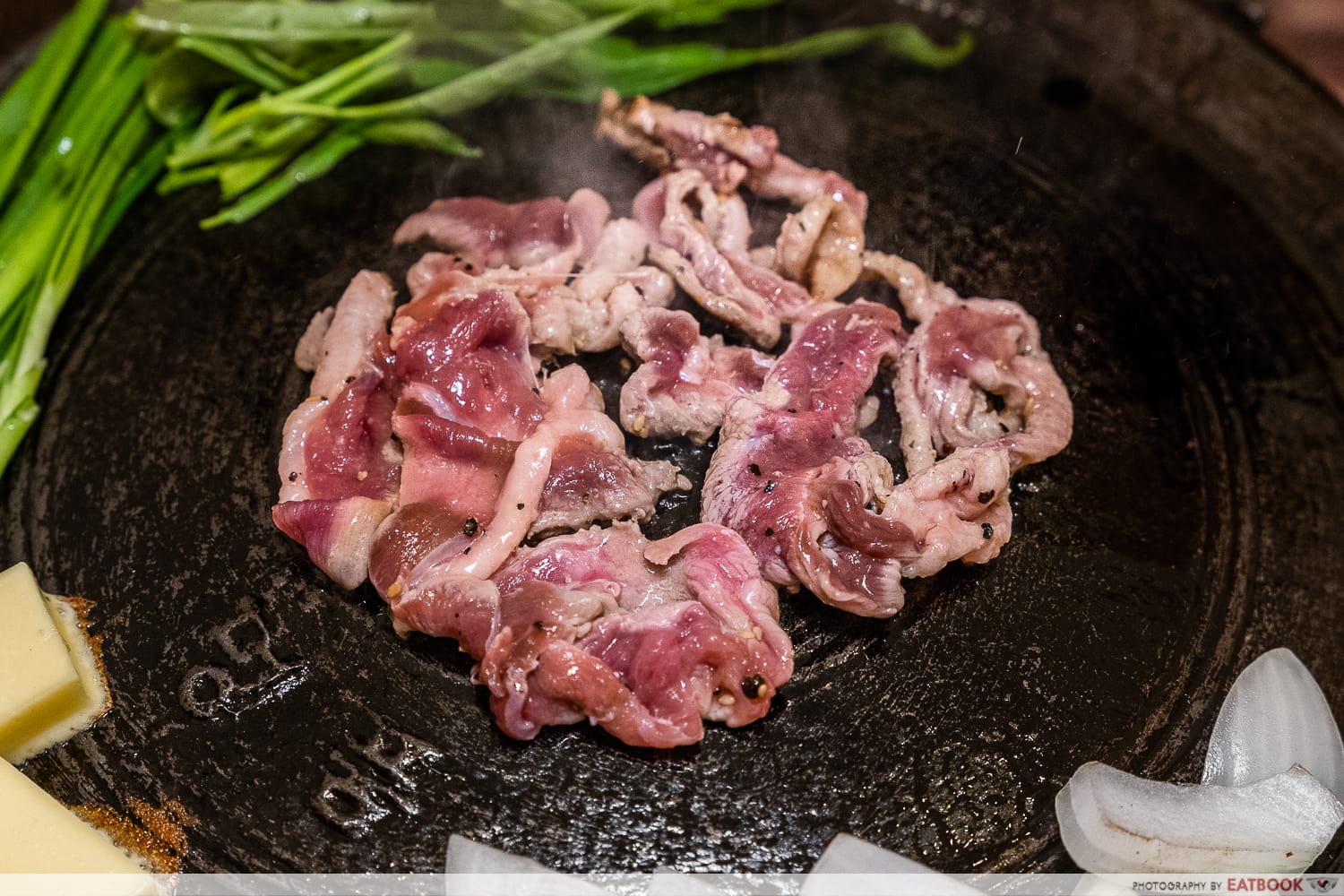 Only fresh young ducks weighing less than 1.5kg each are used in the dishes here. We were taken aback by the lack of gaminess in this; you wouldn't be able to tell that it was duck at all, except for its richer, meatier flavour.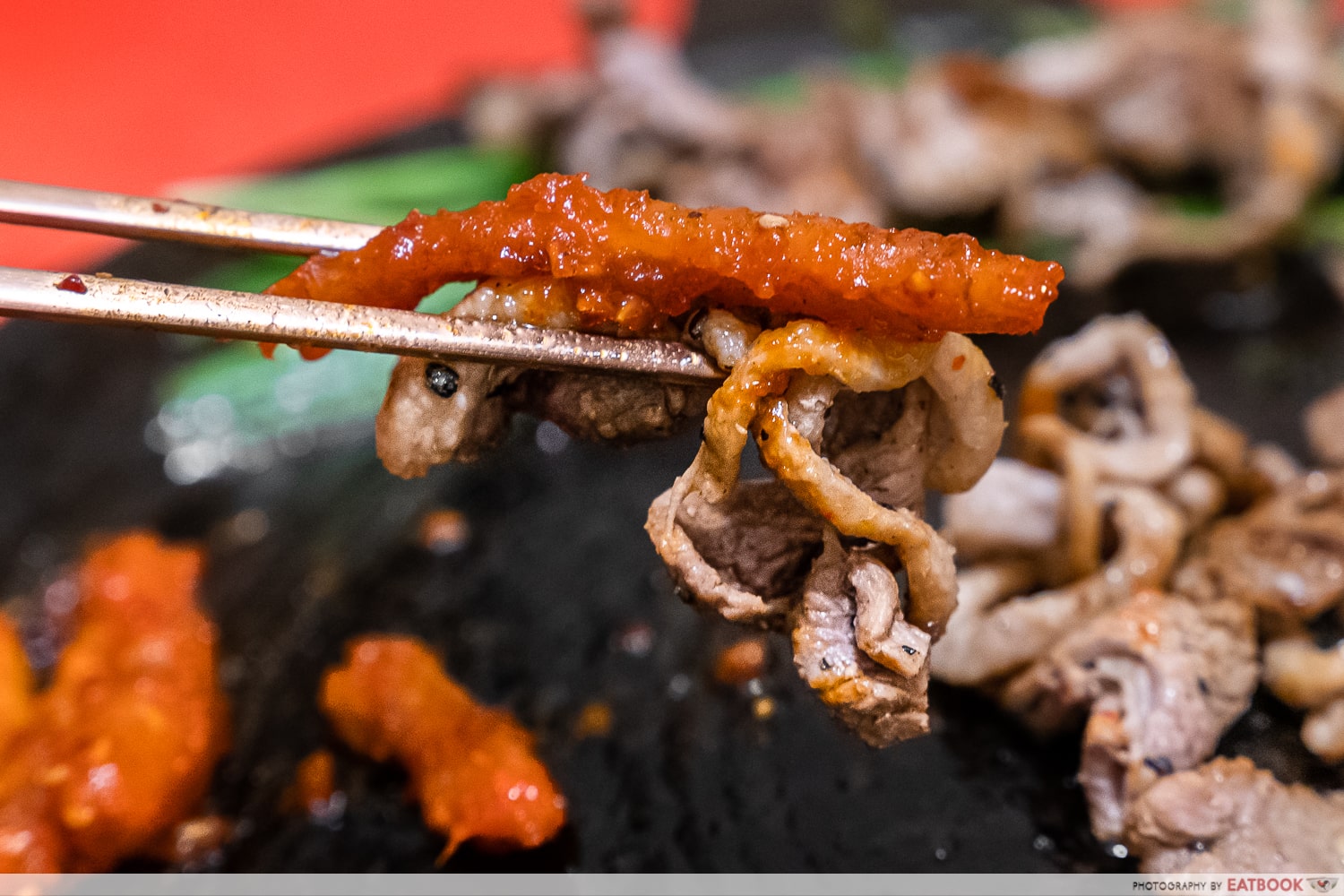 Following the peppercorn, each subsequent piece is served in several different ways with the spread of banchan and pickles on the table—we're told these are all specially made by kimchi and pickle masters in Korea, then flown in.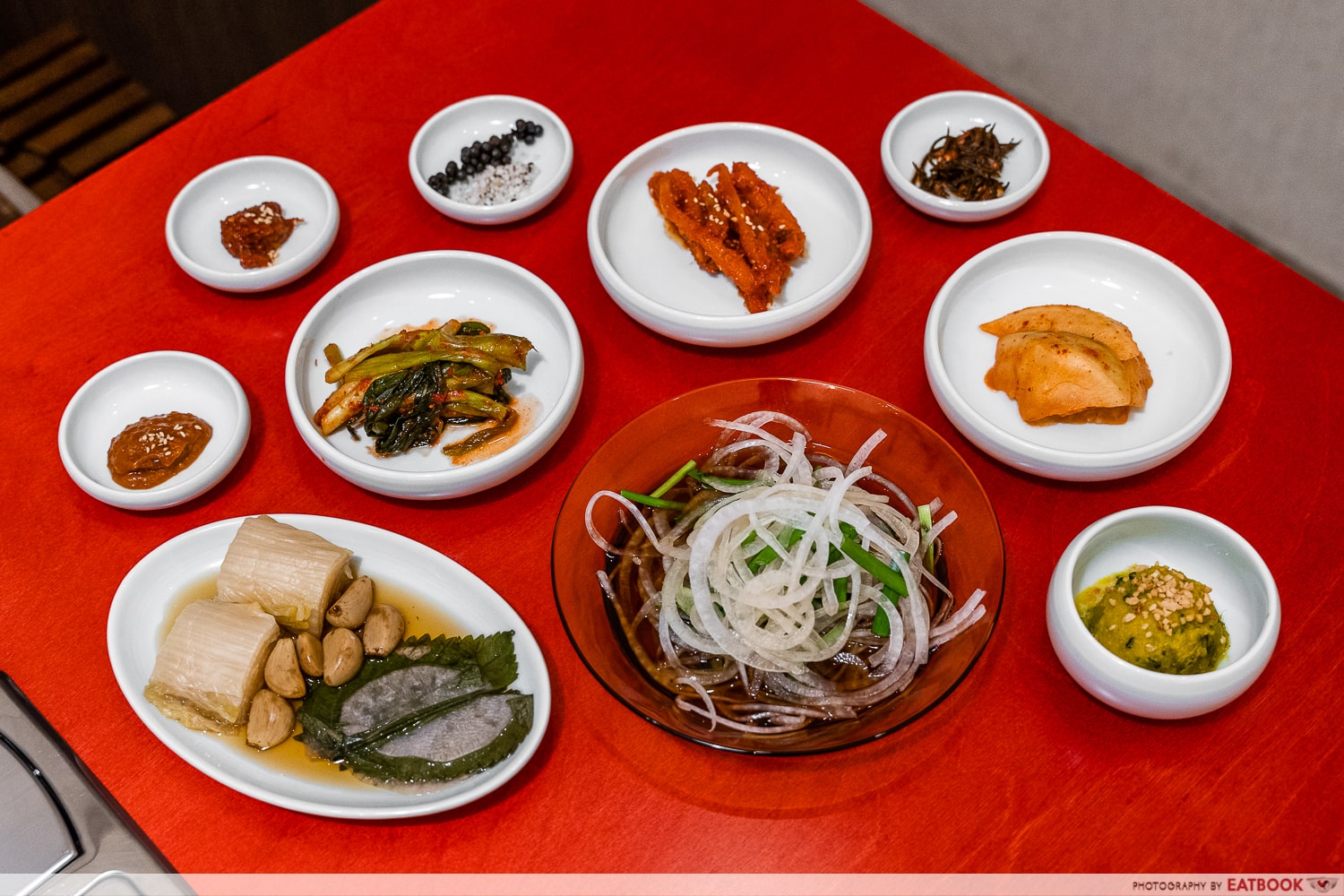 From washed kimchi, to fermented herring roe, deodeok (더덕) AKA Asiabell root kimchi, spicy Jeju kelp, and pickled perilla leaves layered with thin slices of radish, every bite of grilled duck here takes on a different flavour profile.
If you prefer something marinated, go for Hand-rub Duck with Marinade ($35++) instead, where the duck is rubbed in with a gochujang paste that's customised in-house.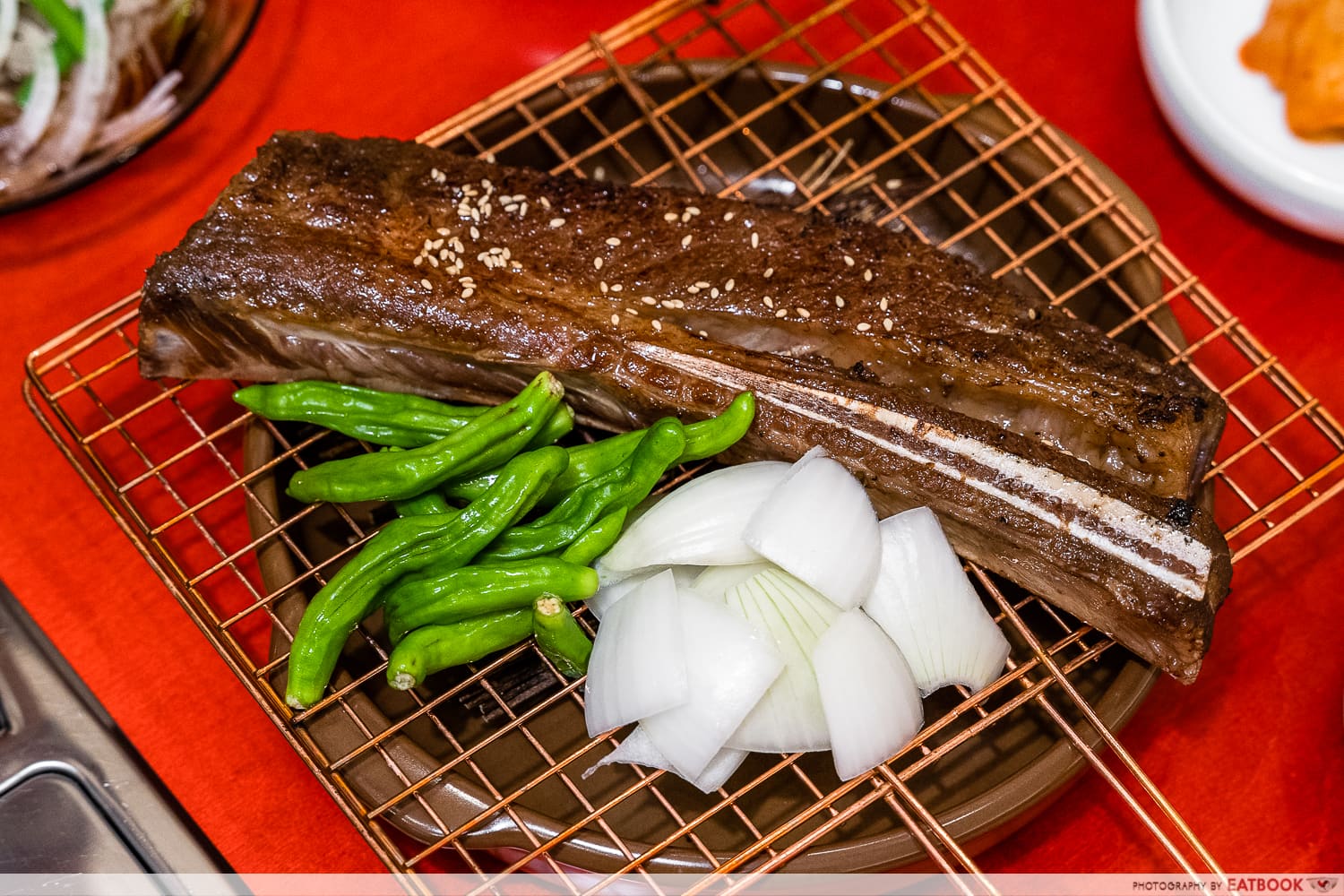 We were very intent on trying all the duck dishes on the menu, but these plans were interrupted by Woo-Dae Galbi ($42++ per person), a course they're extra proud of. Here, whole prime ribs are marinated in a house-made sauce, said to be a secret recipe learned from one of Korea's top bulgolgi restaurants.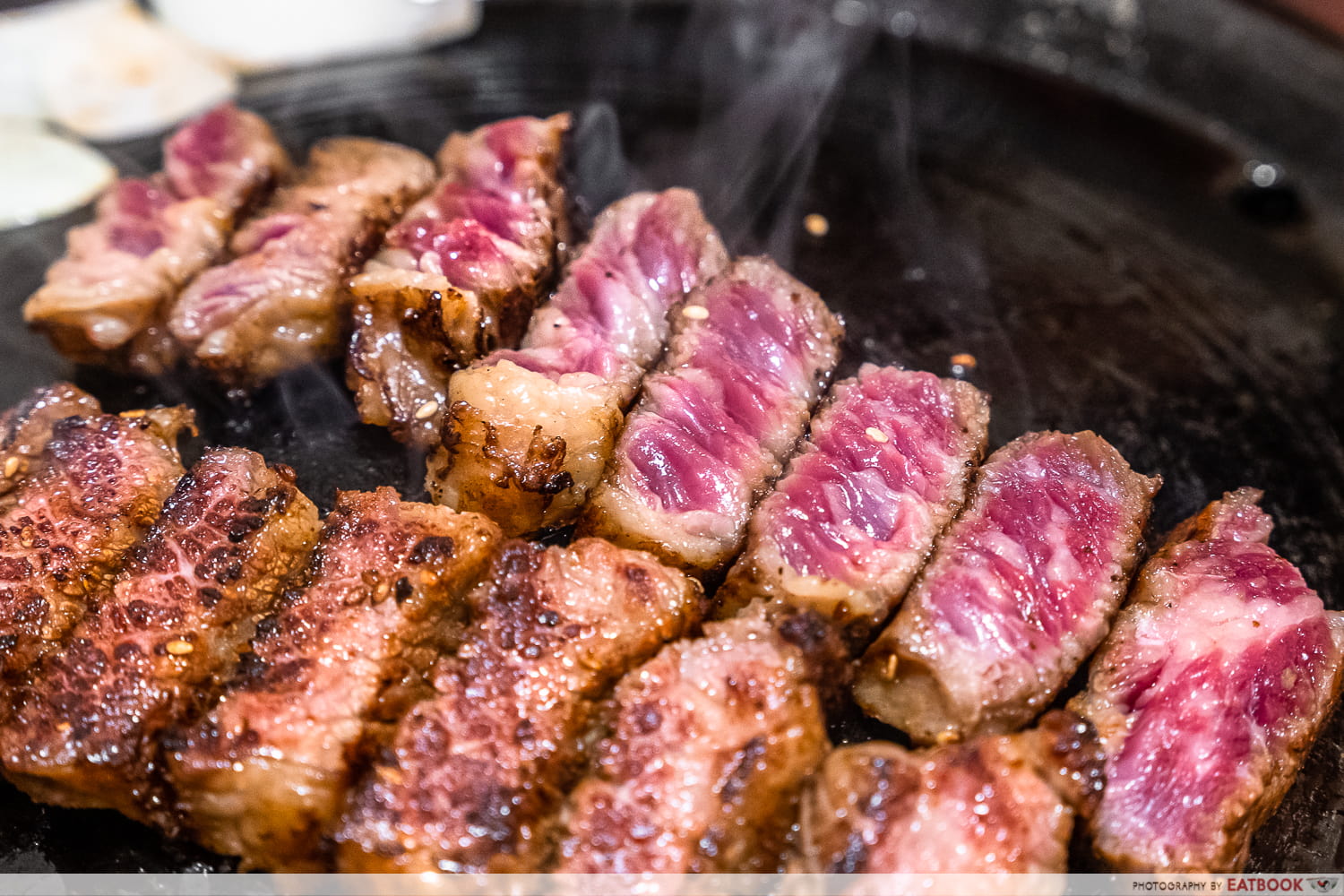 The whole bone-in rib sits in this marinade for 72 hours, and only 30 portions, each good for two to share, are available each day. Lightly charcoal-grilled before it's brought to you, this prime rib is finished on the sodaeng, seared to a charred, crusty finish.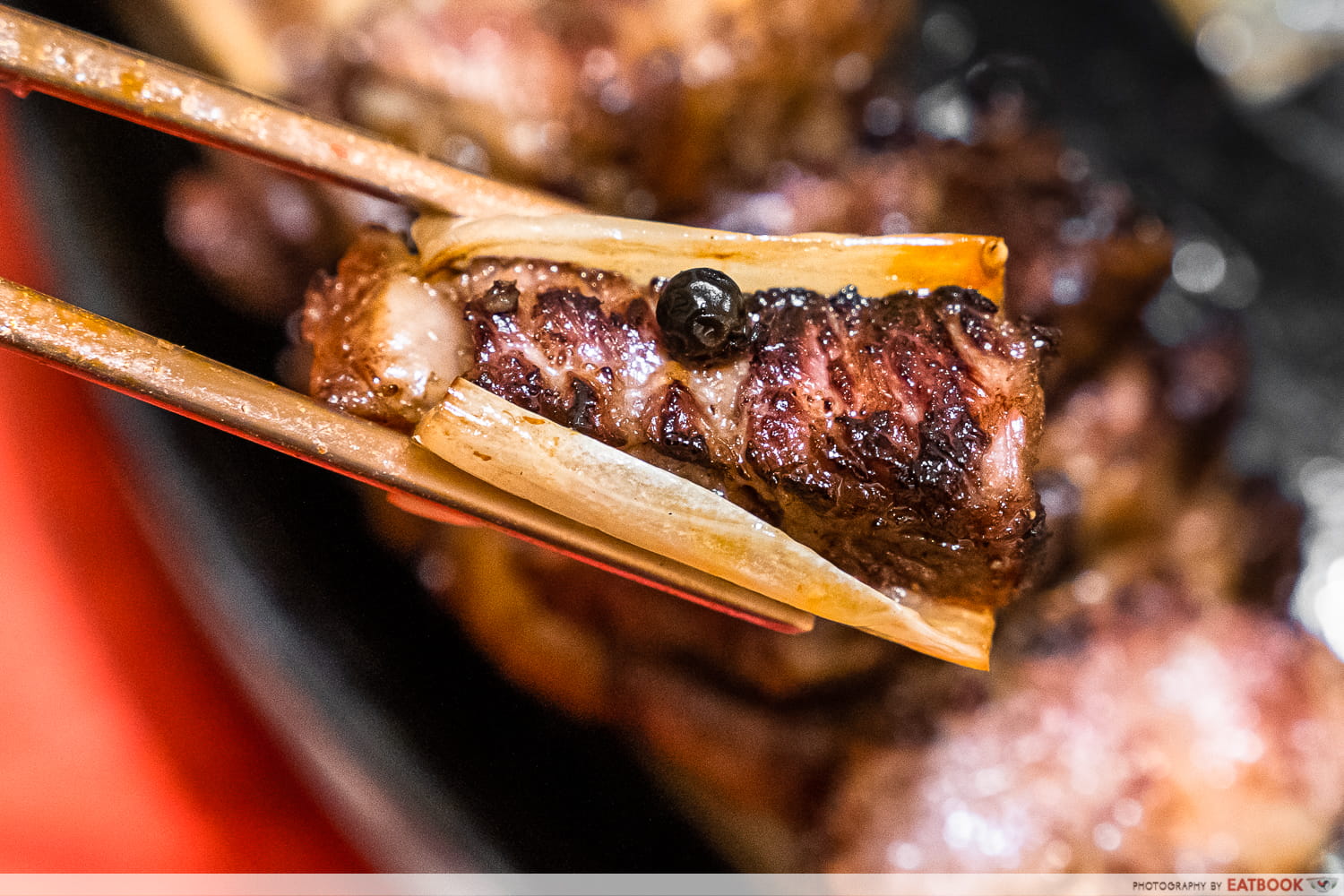 Like the duck, the beef is served in multiple variations, including one with garlic cloves that have been pickled for four years.
I highly recommend adding on an order of Grilled Whole Mozzarella Cheese ($9++). It's almost similar to the raclette cheese I order at my favourite yakitori restaurant, but dipped in condensed milk—it's sweet and savoury, melty and crisp at the same time.
Since SODENG is primarily a duck-centric restaurant, it stands to reason that they've got duck broth on the menu too. It's boiled for more than five hours with whole ducks, ginger, soju and more, the fat skimmed off so what's left is a clear, clean-tasting soup with no hint of gaminess.
This duck broth forms the base of several dishes on the menu: Duck Mandu Jeongol ($45++), Spicy Kimchi Noodles ($17++), Seafood Soybean Paste Stew ($17++), and Duck Kimchi Stew ($17++).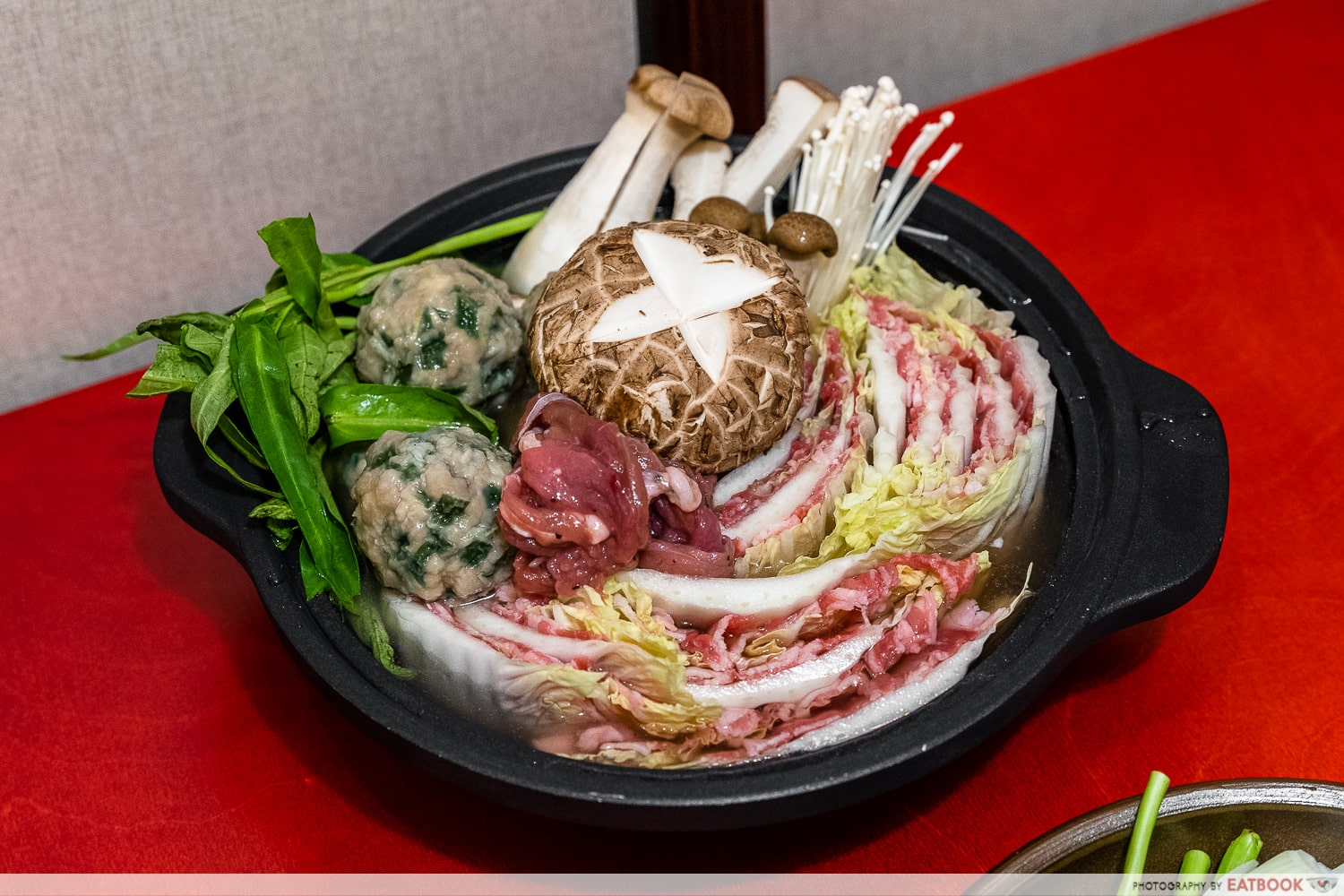 Like the beef, the Duck Mandu Jeongol hotpot comes in super limited serves a day. SODENG is currently in their soft launch phase, so only 10 pots of this labour-intensive dish are up for grabs each day. When they've officially opened, you'll only have 10 extra chances to try it daily.
There are several layers of intricacy in this hotpot—starting with mille-feuille nabe of beef and wombok, fresh duck meat, an assortment of mushrooms, and the star of this show: duck mandu.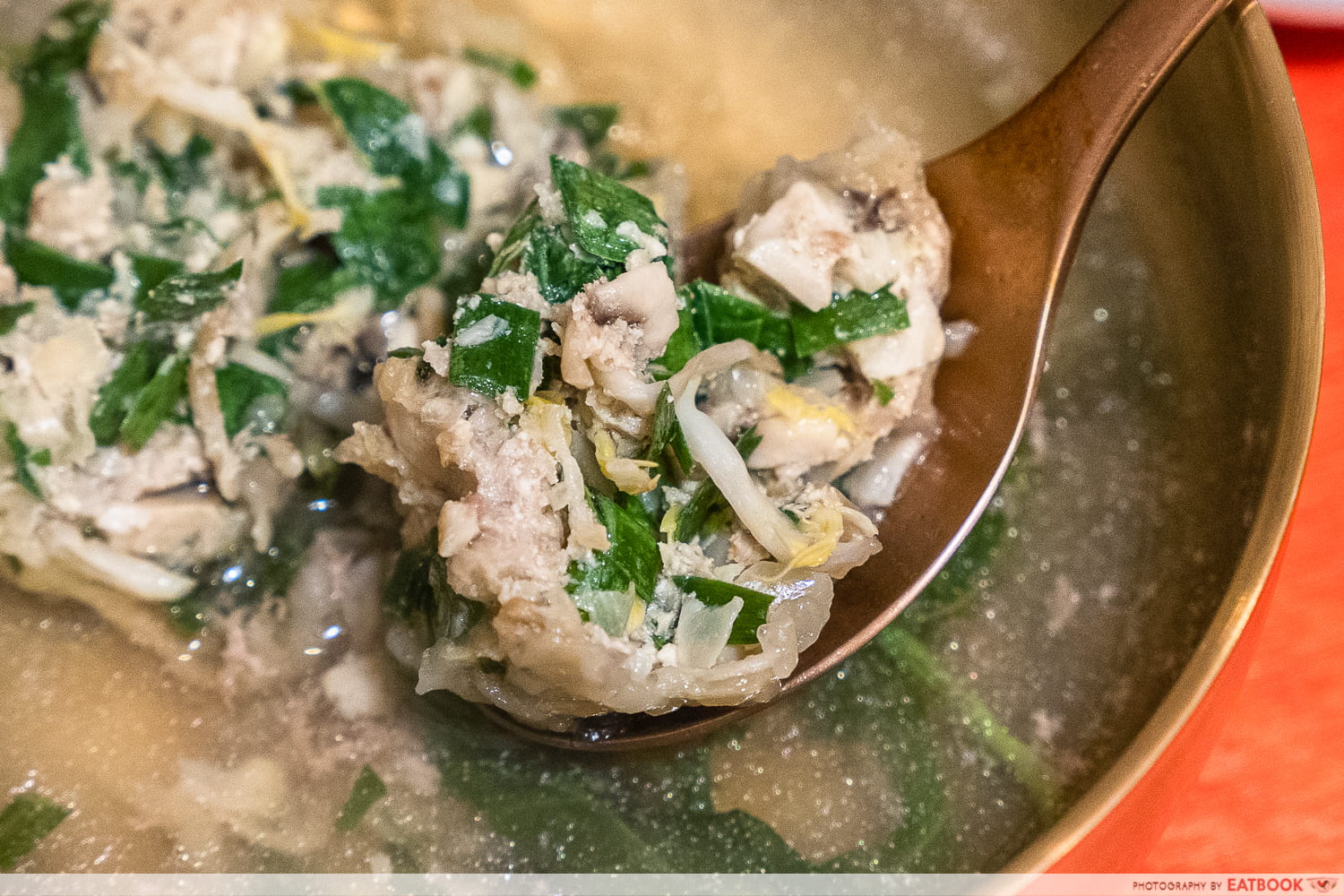 These aren't what typically comes to mind when you think of Korean mandu (만두), or dumplings. Rather, they're hefty balls of minced duck mixed with Korean beansprouts, diced mushrooms, and a lot of chives, then lightly rolled in starch.
For lack of a better description, I'd describe these mandu as a happy marriage between koo chye kueh and the crystal-skinned mushroom dumplings you eat at dim sum, with a pleasant crunch from beansprouts, without the starchy skin.
You're given a small saucer of Korean ganjang (간장), or light soya sauce, with red chilli slices, but we found the mandu flavourful enough. Give it a try anyway, because this ganjang wasn't salty, but still added that touch of umami.
Thanks to all these ingredients in the pot, the soup takes on a multiplex of flavours, though still quite clean-tasting. We both found this ultra comforting, but can see how some might find it a touch bland.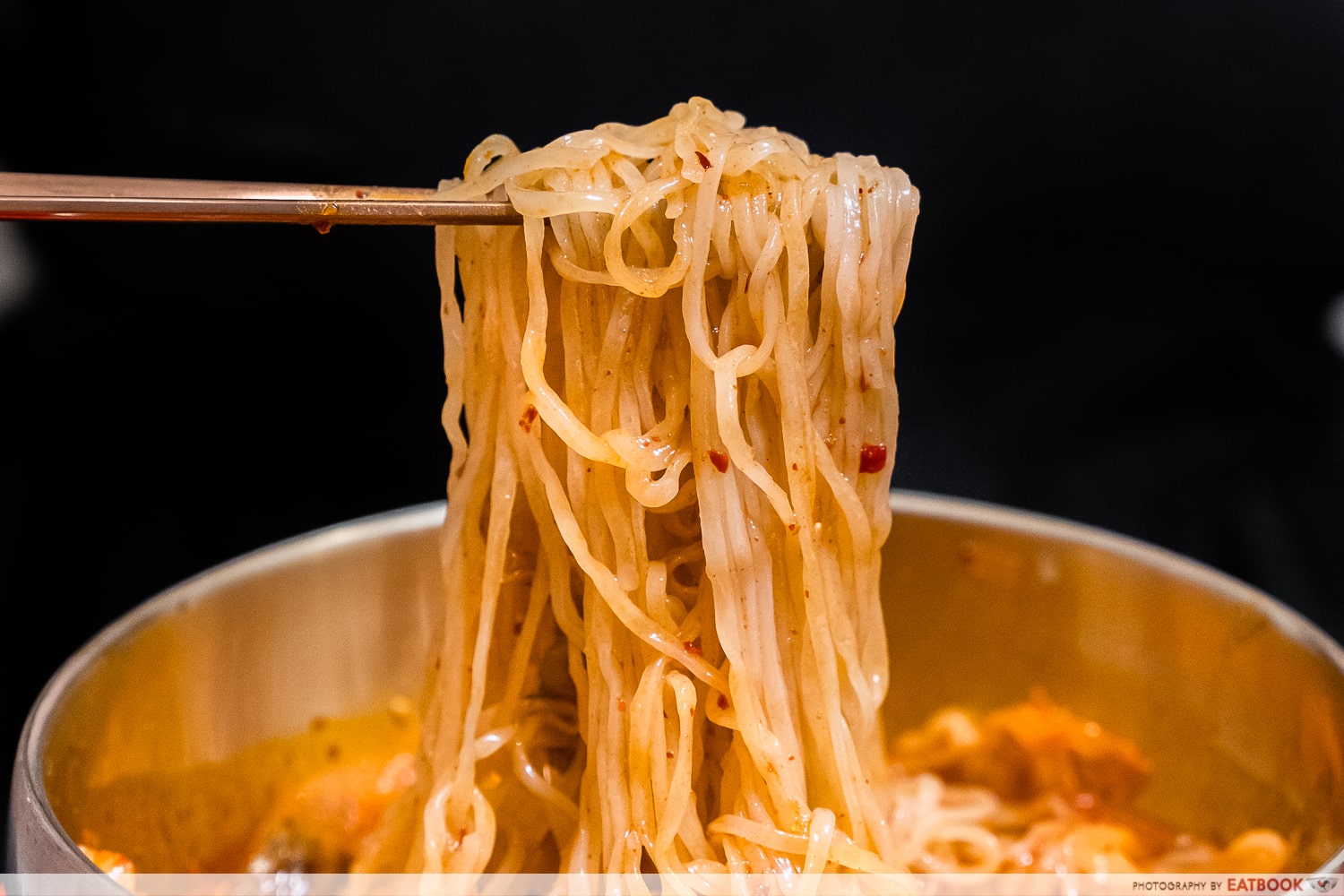 A definite must-order, in our opinions, is Spicy Kimchi Noodles, served cold with a heap of fresh kimchi. The noodles are made fresh by a local supplier, and have a good amount of chewiness.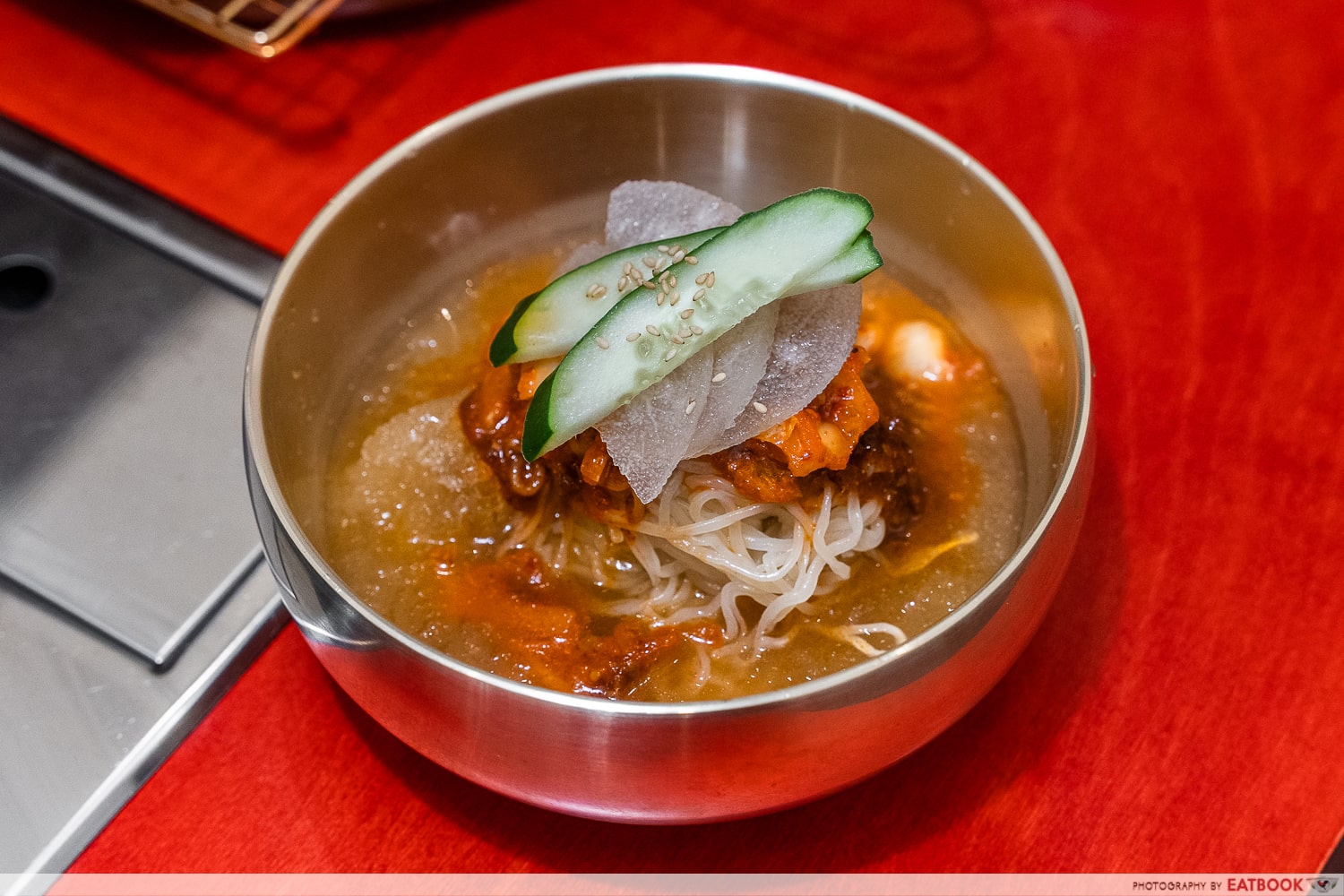 They sit in a bowl of ice-cold duck broth, sweetened with Korean pear.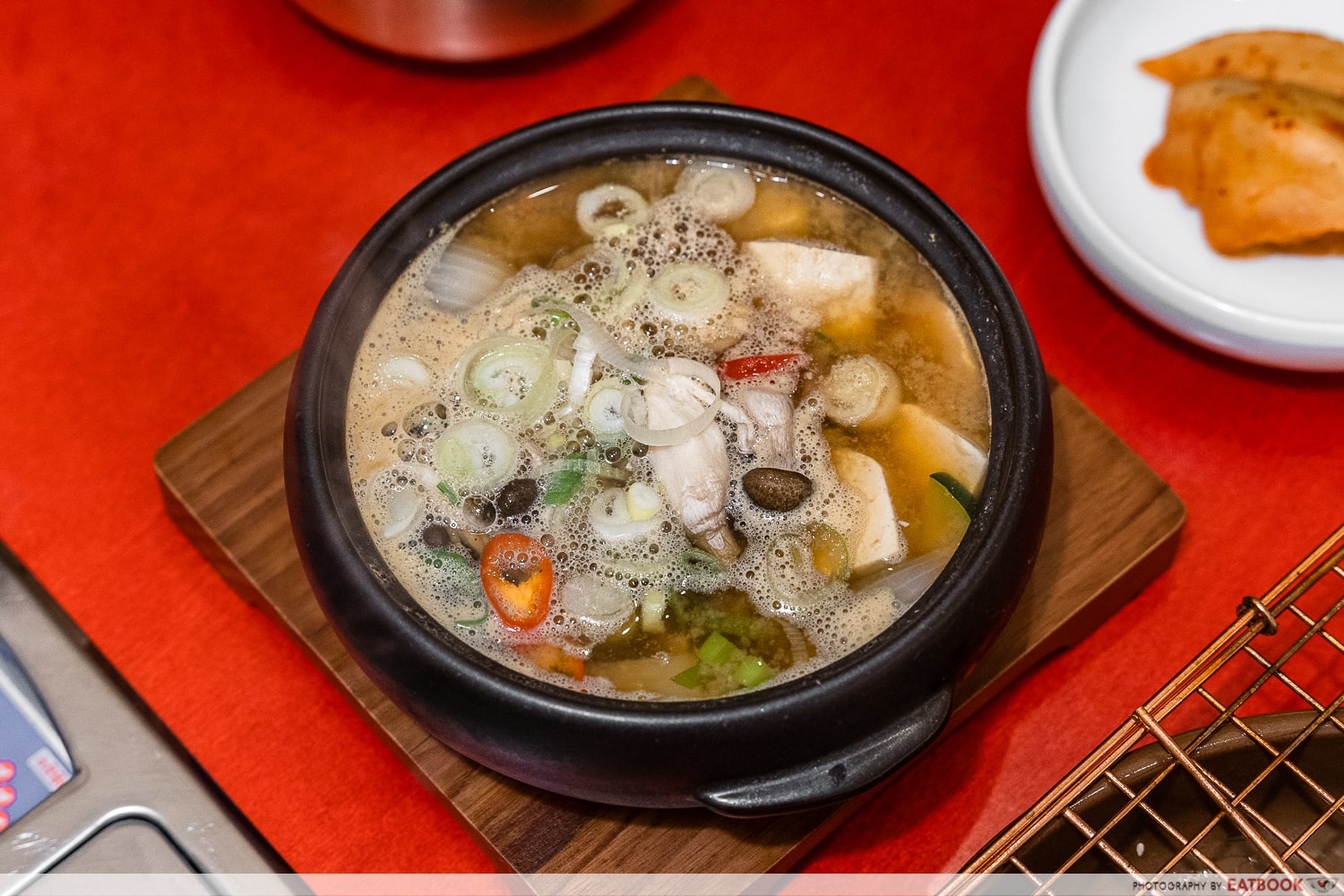 After all that, the Seafood Soybean Paste Stew was a little less impressive, zhnged up with crab and clams, but redolent with the flavour of doenjang (된장), a fermented bean paste.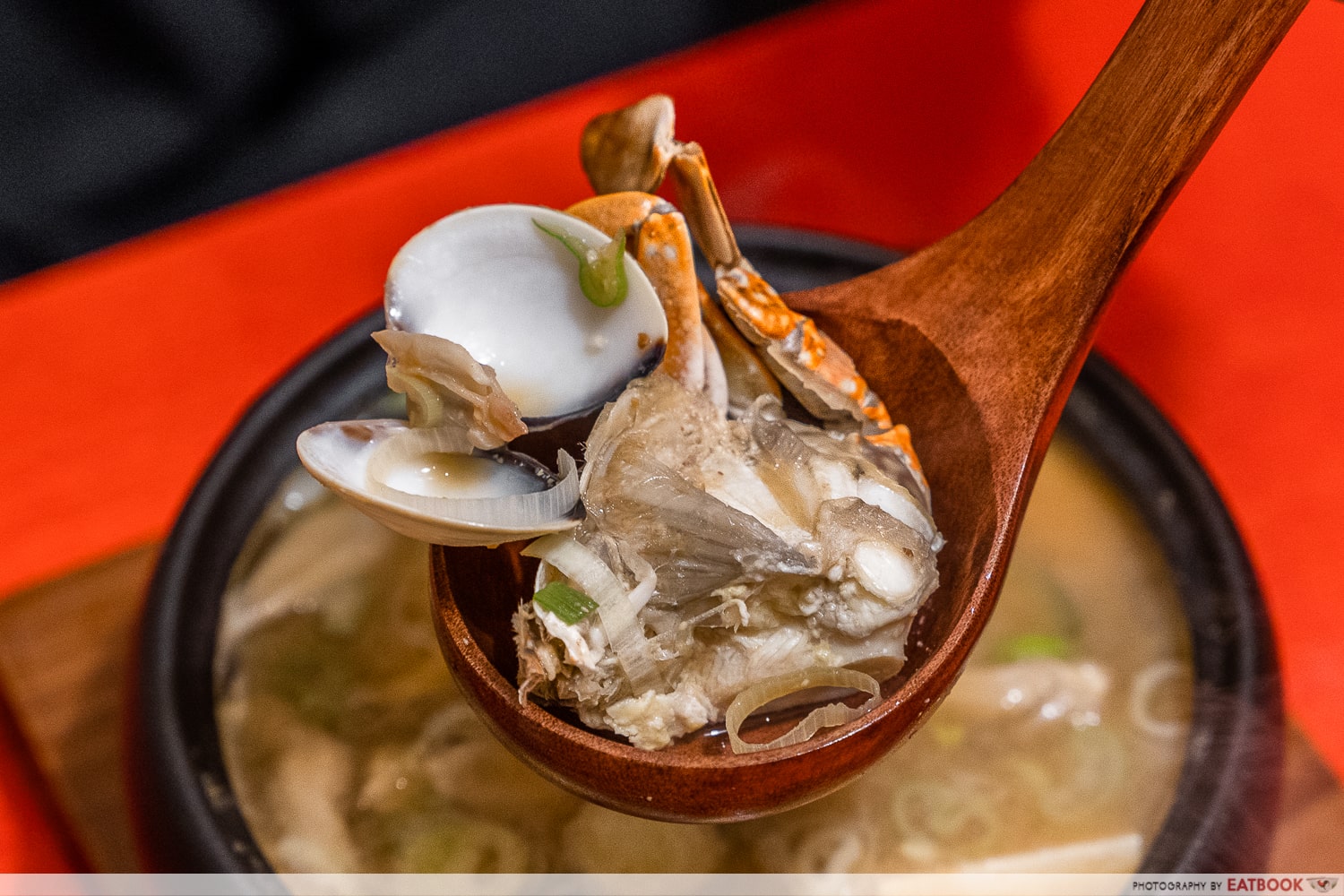 It's also prepared with the same duck broth, so you might find this less briny and seafoody than the versions you get at other restaurants.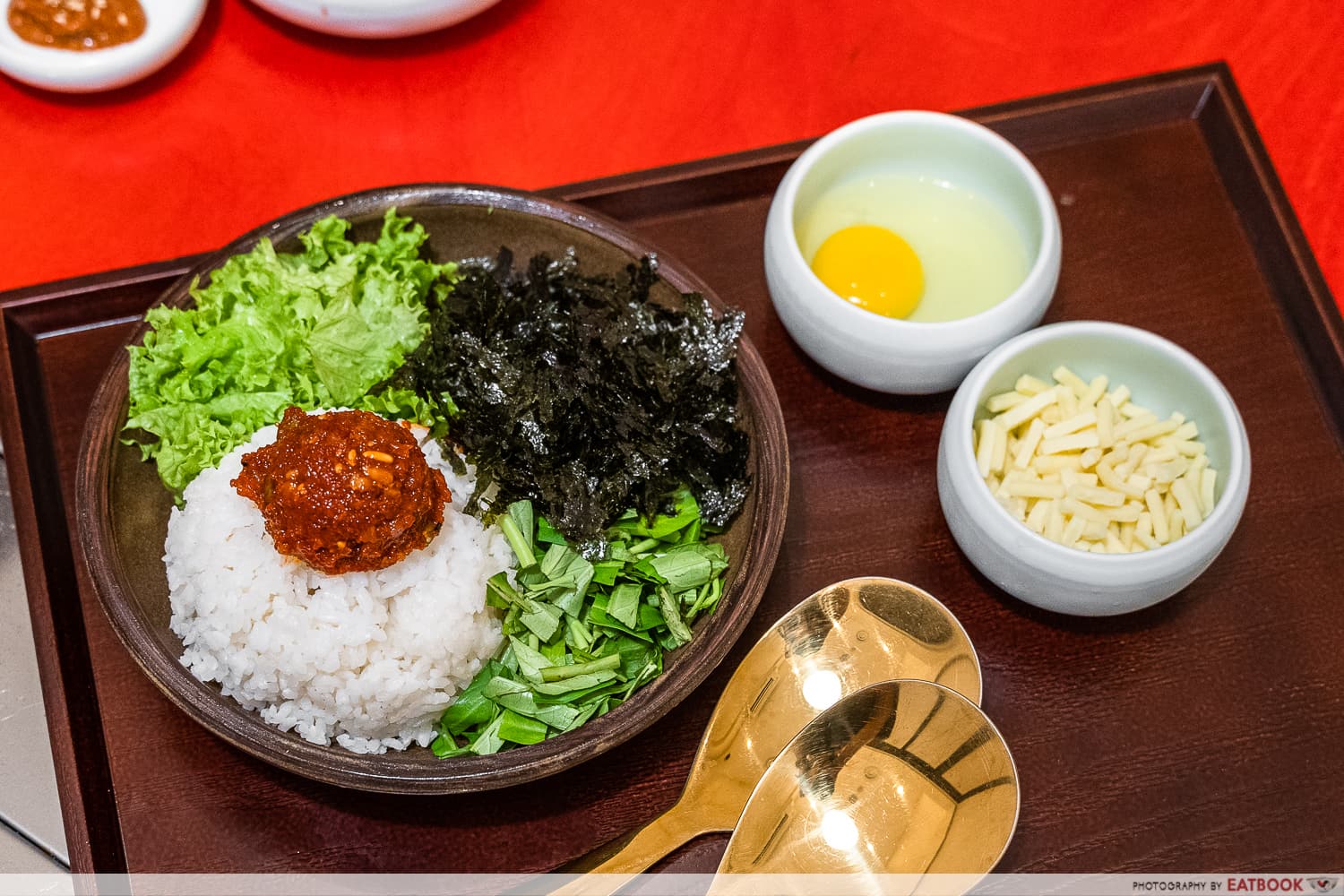 Finish your sodaeng meal with Sodeng's Pot Lid Stir-fried Rice ($15++), fried in the grease from the grilled meats.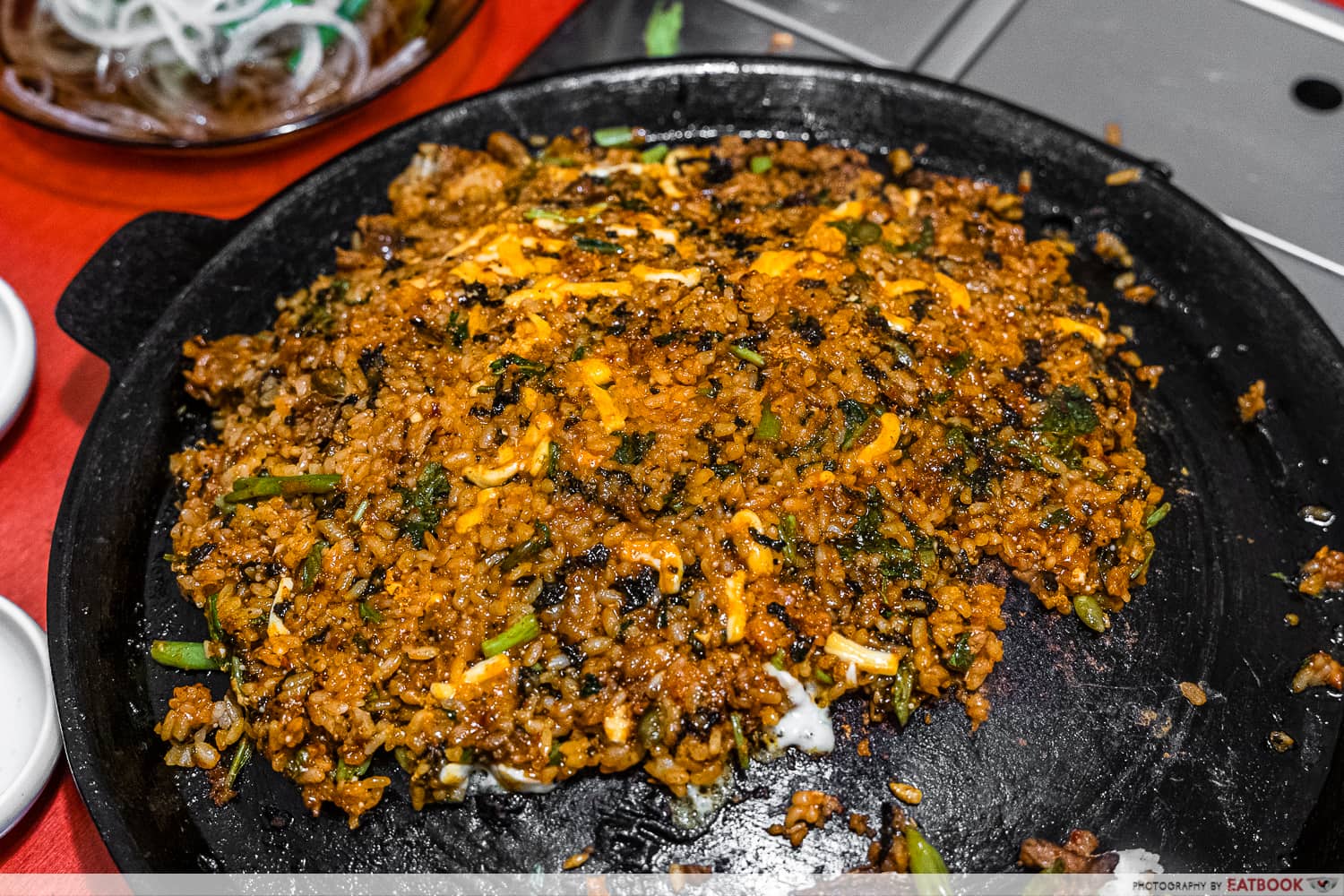 Cheese, egg, seaweed, and some greens are added for a final indulgent touch.
Eonni Korean BBQ Has $18.80 Army Stew And K-BBQ Buffet In Tiong Bahru
Ambience at SODENG Korean Restaurant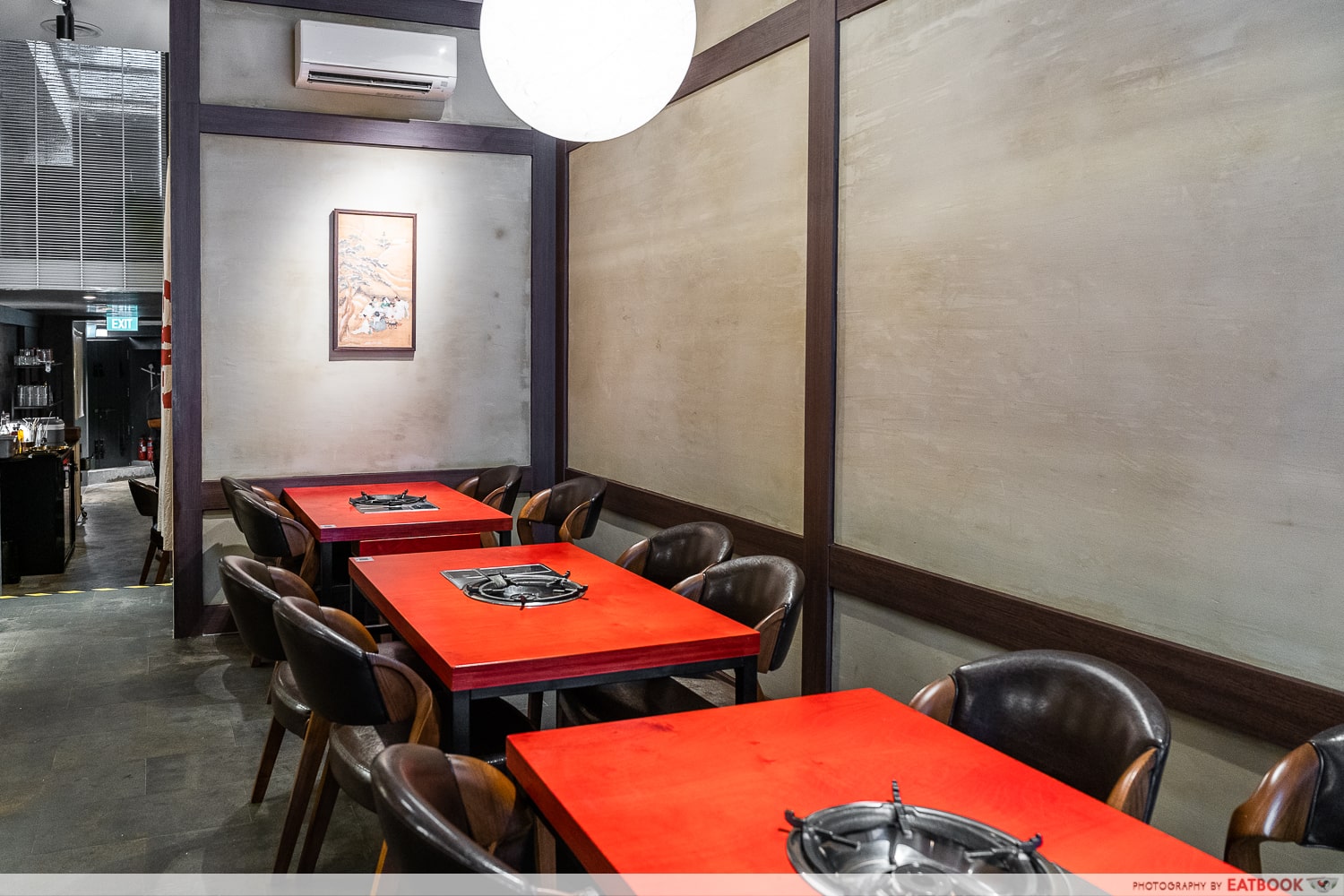 SODENG Korean Restaurant offers four dining concepts within its limited space: an open area just inside the entrance, two private rooms that can be combined into a 12-seater area, an inner sanctum that is meant to resemble a cave, and finally, several tables on the second floor that are inspired by traditional Korean homes, lit in the day by an exposed skylight.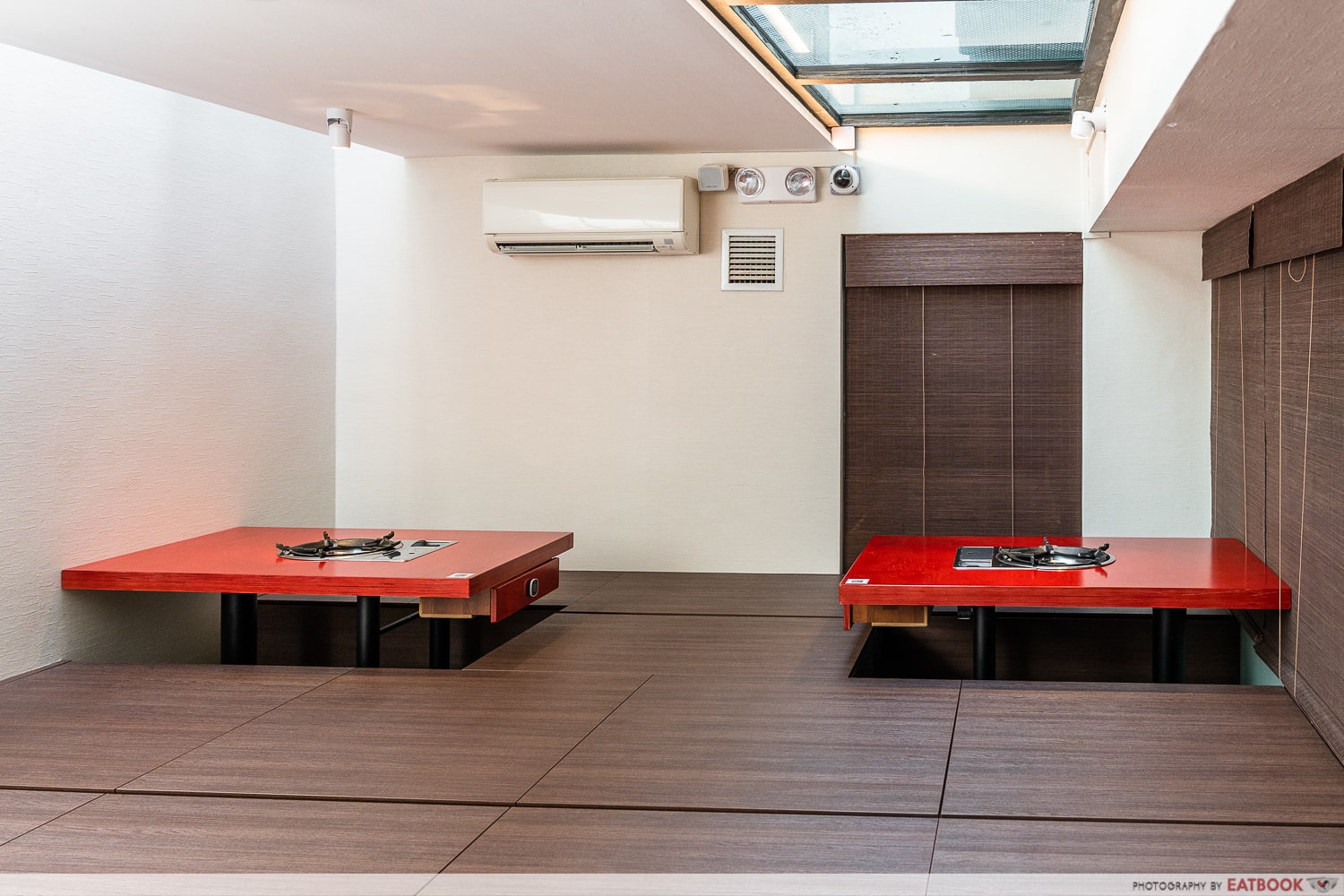 The restaurant is a quick five-minute walk from Telok Ayer MRT Station. Take Exit A for the most direct access to Telok Ayer Street.
The verdict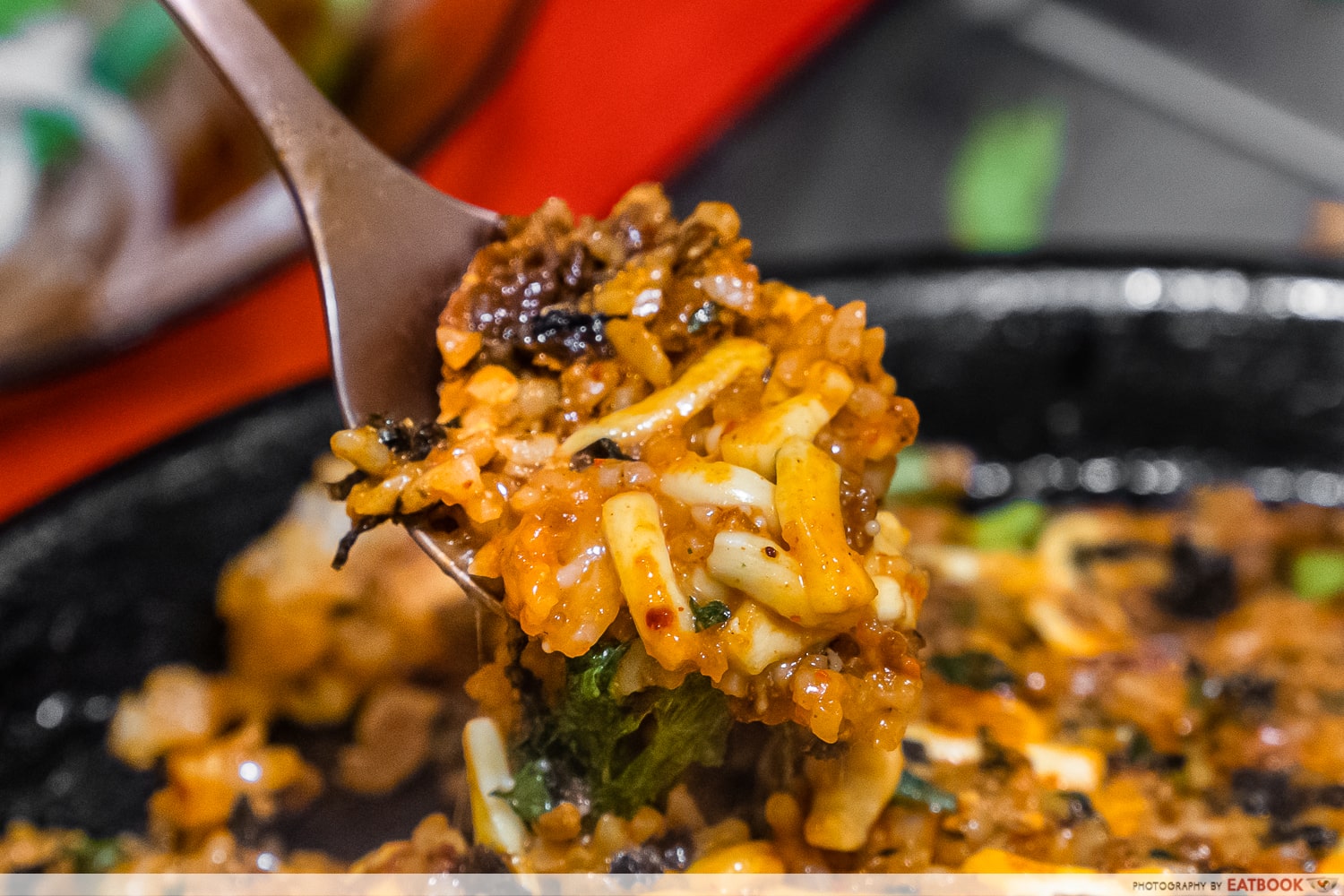 My colleague commented that this meal at SODENG was, without a doubt, the single best one that she'd had in her almost-two years with the team. I'd venture to say that this meal, for me too, would be a highlight of my time here as well, not least for the unique, well-executed Korean barbecue experience, and a bowl of kimchi noodles that I can't wait to return for.
It's not affordable fare, but if you're up for a splurge, I'd definitely recommend coming to SODENG before it hits the same insane popularity as Um Yong Baek.
For a wallet-friendly KBBQ option, check out Eonni Korean BBQ in Tiong Bahru. Another KBBQ buffet option is MIMI Korean BBQ Restaurant, priced from just $29.50+ a person!
Address: 175 Telok Ayer Street, Singapore 068623
Opening hours: Mon-Sat 11:30am to 3pm, 5pm to 10pm
Tel: 8503 8253
Website
SODENG Korena Restaurant is not a halal-certified eatery
MIMI Korean BBQ Restaurant Has K-BBQ Buffet At $29.50+ With Beef Bulgogi, Pork Galbi And More
Photos taken by Tan Zi Hui.
This was a media tasting at SODENG Korean Restaurant.
SODENG Korean Restaurant Review: K-BBQ Duck, Duck Mandu And More In Telok Ayer
SODENG Korean Restaurant Review: K-BBQ Duck, Duck Mandu And More In Telok Ayer, Limited Portions Available Daily -

9/10
Summary
Pros
– Unique K-BBQ duck and Korean duck dishes
– Excellent food
Cons
– Limited portions daily
– A meal here will be pricey
Recommended dishes: Roasted Duck ($34++), Duck Mandu Jeongol ($45++), Spicy Kimchi Noodles ($17++)
Opening hours: Mon-Sat 11:30am to 3pm, 5pm to 10pm 
Address: 175 Telok Ayer Street, Singapore 068623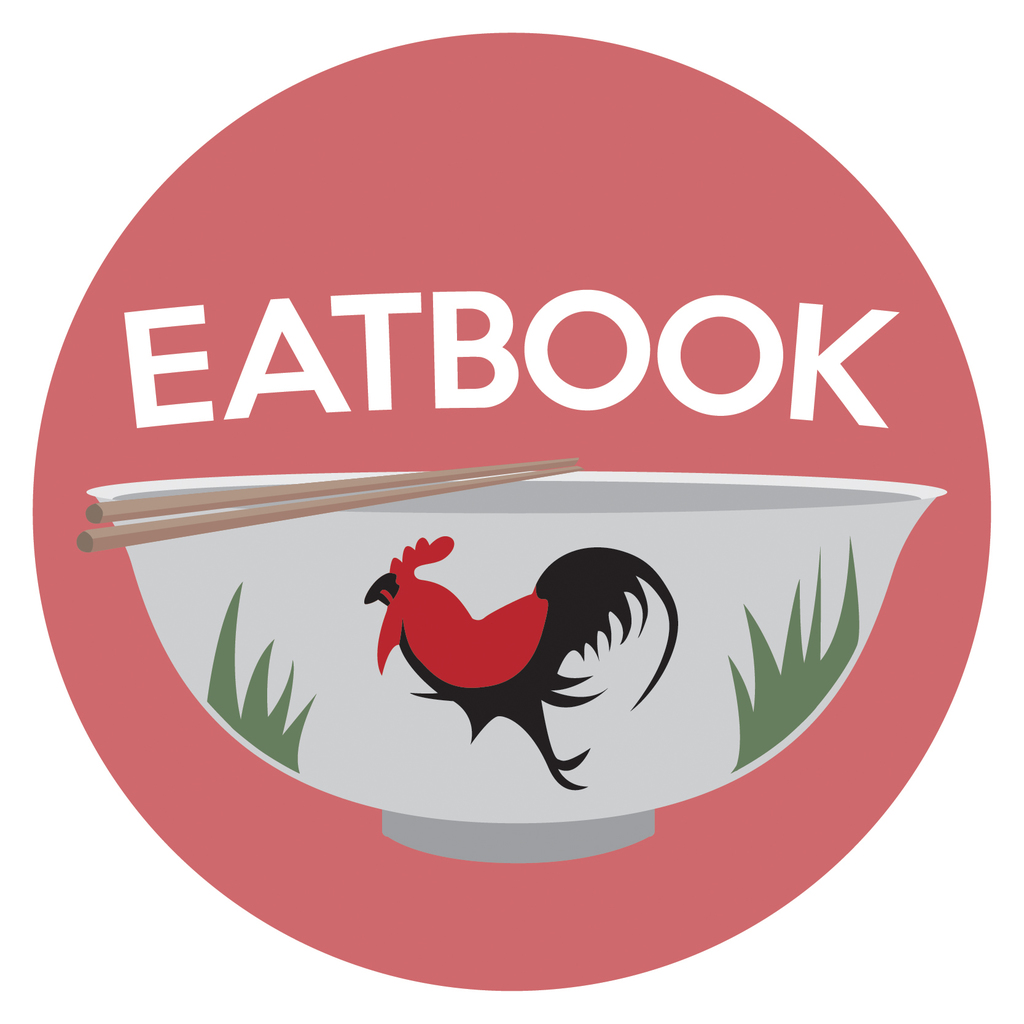 Drop us your email so you won't miss the latest news.