Market Blue is a Korean kopitiam in Tanglin Mall
Tanglin Mall may not be everyone's go-to dining destination given that it is a touch off the beaten track, but if you love Korean food, it's time to make your way down, thanks to Market Blue. This all-new multi-concept lifestyle store is also home to a Korean kopitiam, and has a full-fledged ramyeon library.
There's a lot of exciting things featured at Market Blue, from Korean-style photobooths to apparel collections, even a mini merch store and library.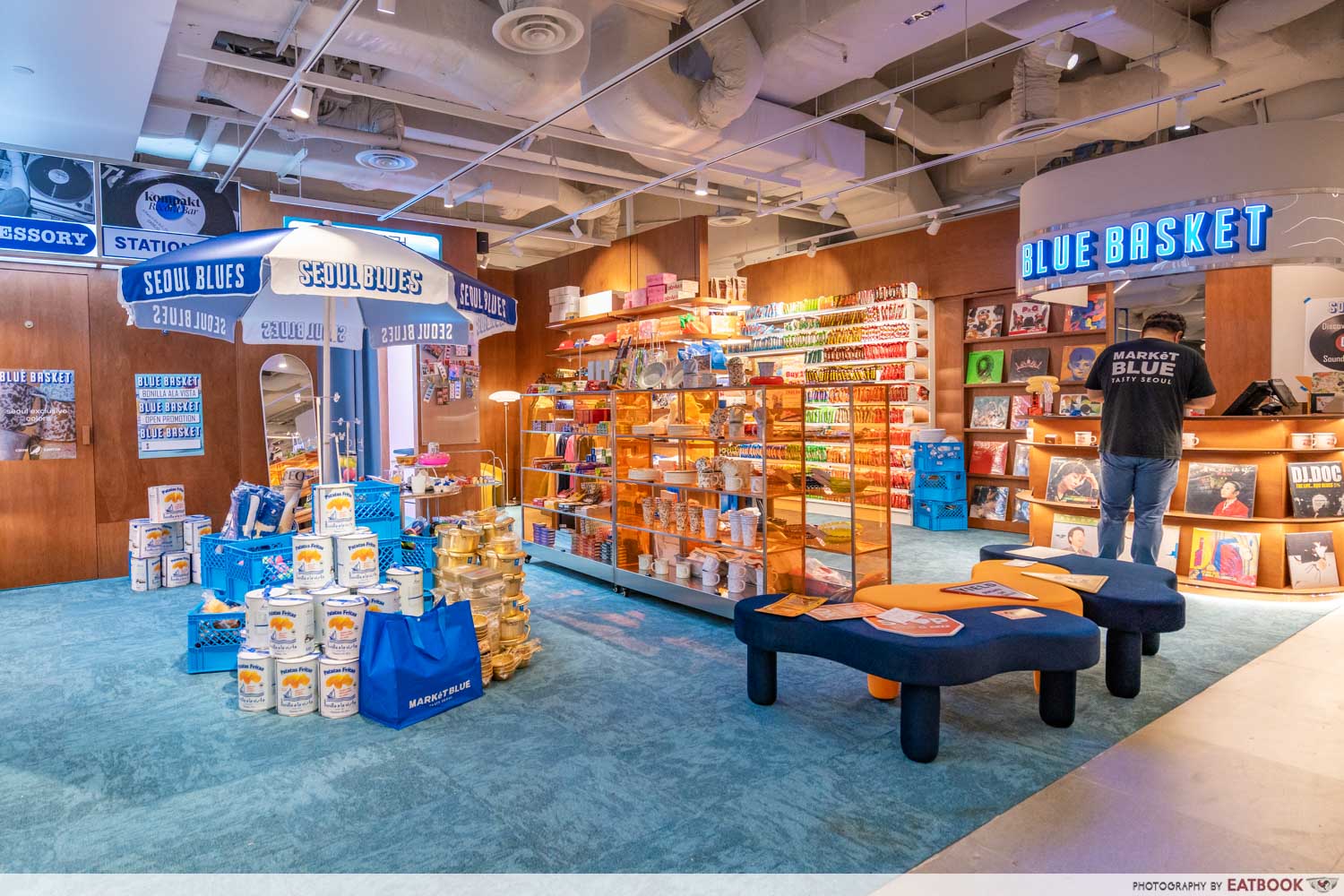 Foodies should zone in on the La Myun Le Chip corner, which has walls full of unique ramyeon flavours sourced from Korea.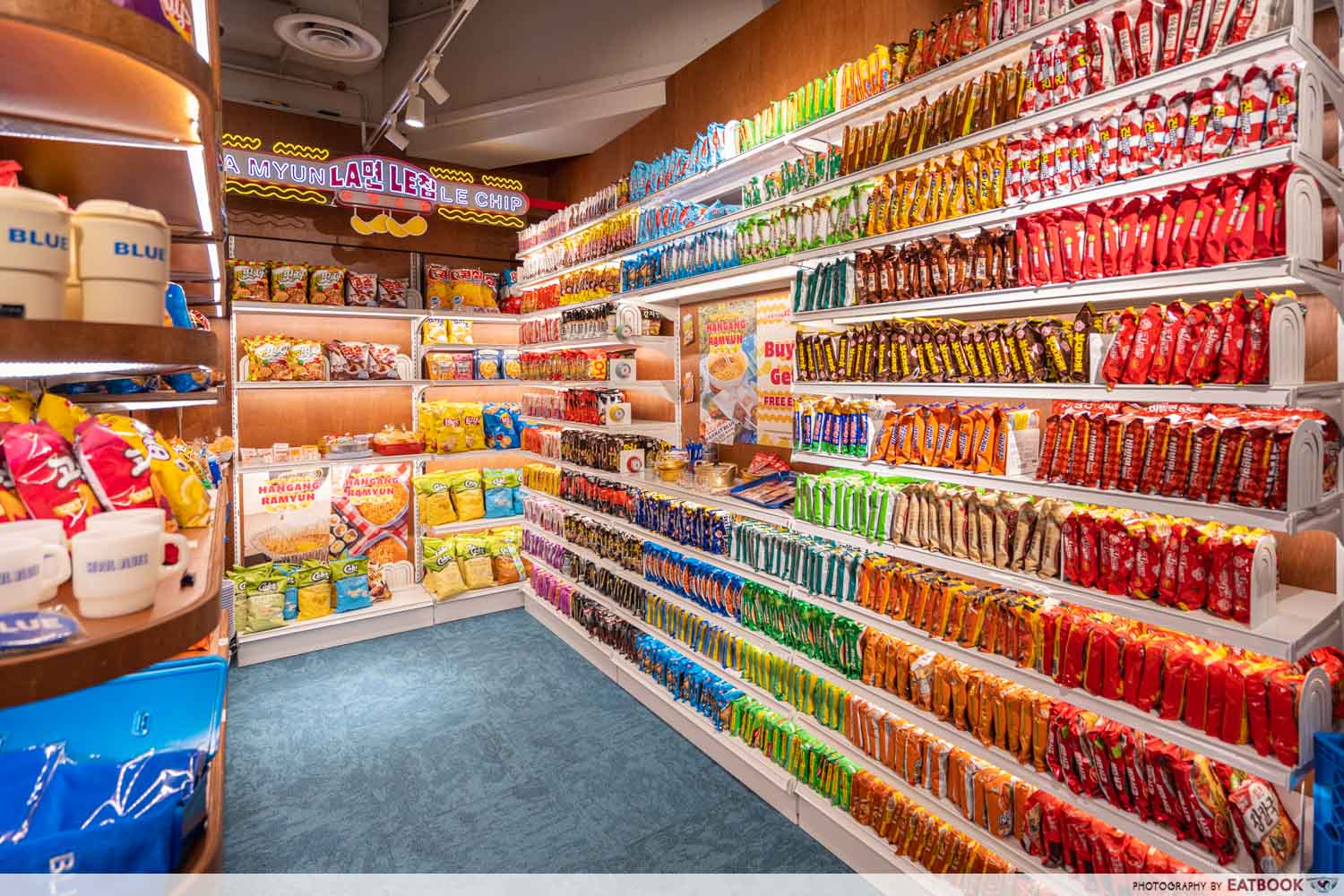 These are not just your usual brands , offering far more than Nongshim and Samyang. Pore over your options and take your pick(s)! One pack goes for $2. Buy 10 packs, and get two free.
La Myun Le Chip also has a range of Korean snacks, including potato chips and more.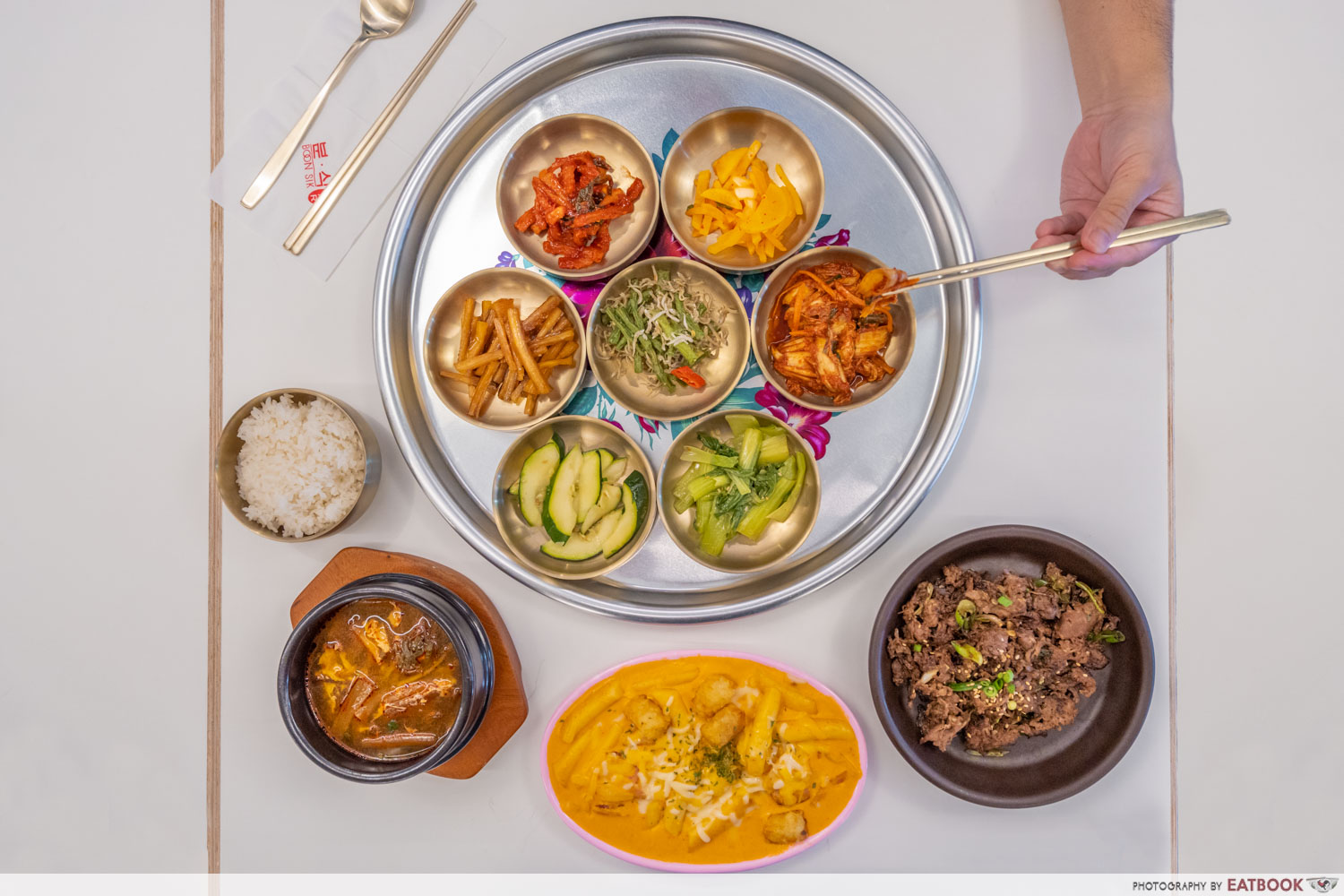 Though you can't eat the ramyeon there, you can choose to dine in at Gogipan, their in-house eatery which specialises in Korean baekban—traditional homecooked dishes.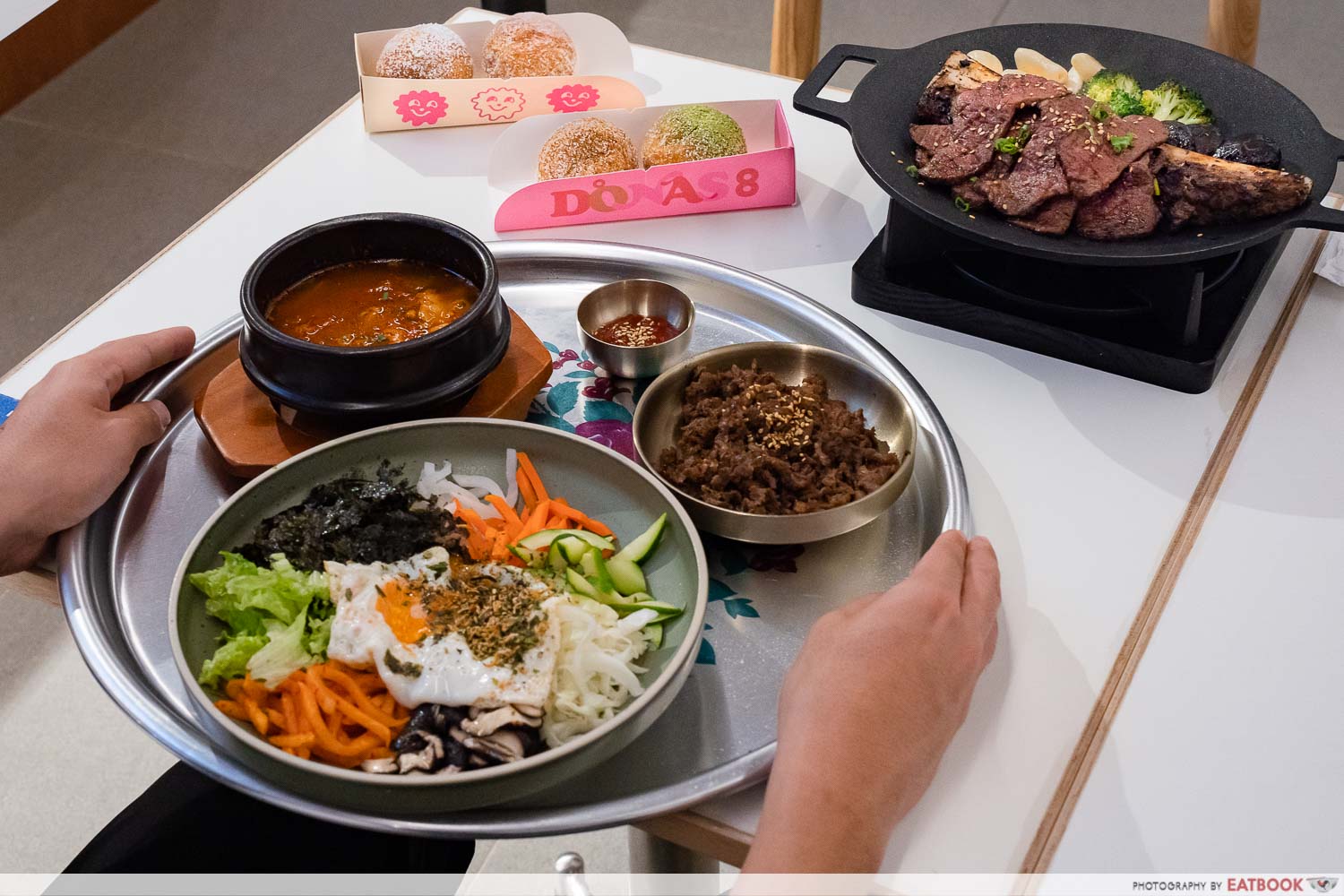 A bibimbap set is typically priced at $18.90 per person, and comes with a kimchi jjigae, bulgogi, assorted vegetables, and banchan dishes which are all made in-house.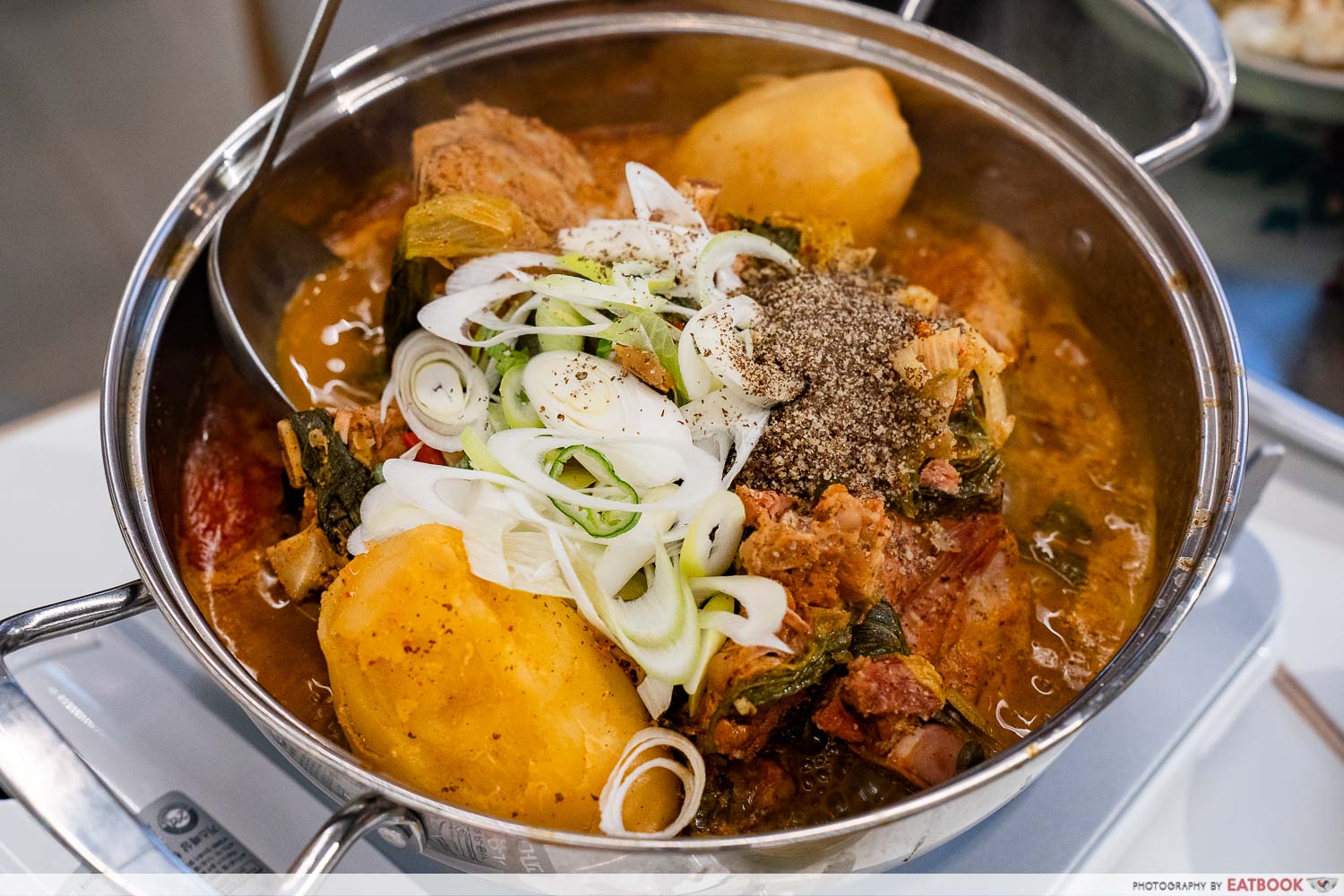 A new item on their menu is the Gamja-tang ($60.90), which translates to pork backbone stew in Korean. This spicy, hearty broth consists of pork neck bones and large potato chunks, cooked with cabbage and then topped with sliced leek and ground sesame seeds—perfect for a cold, rainy day.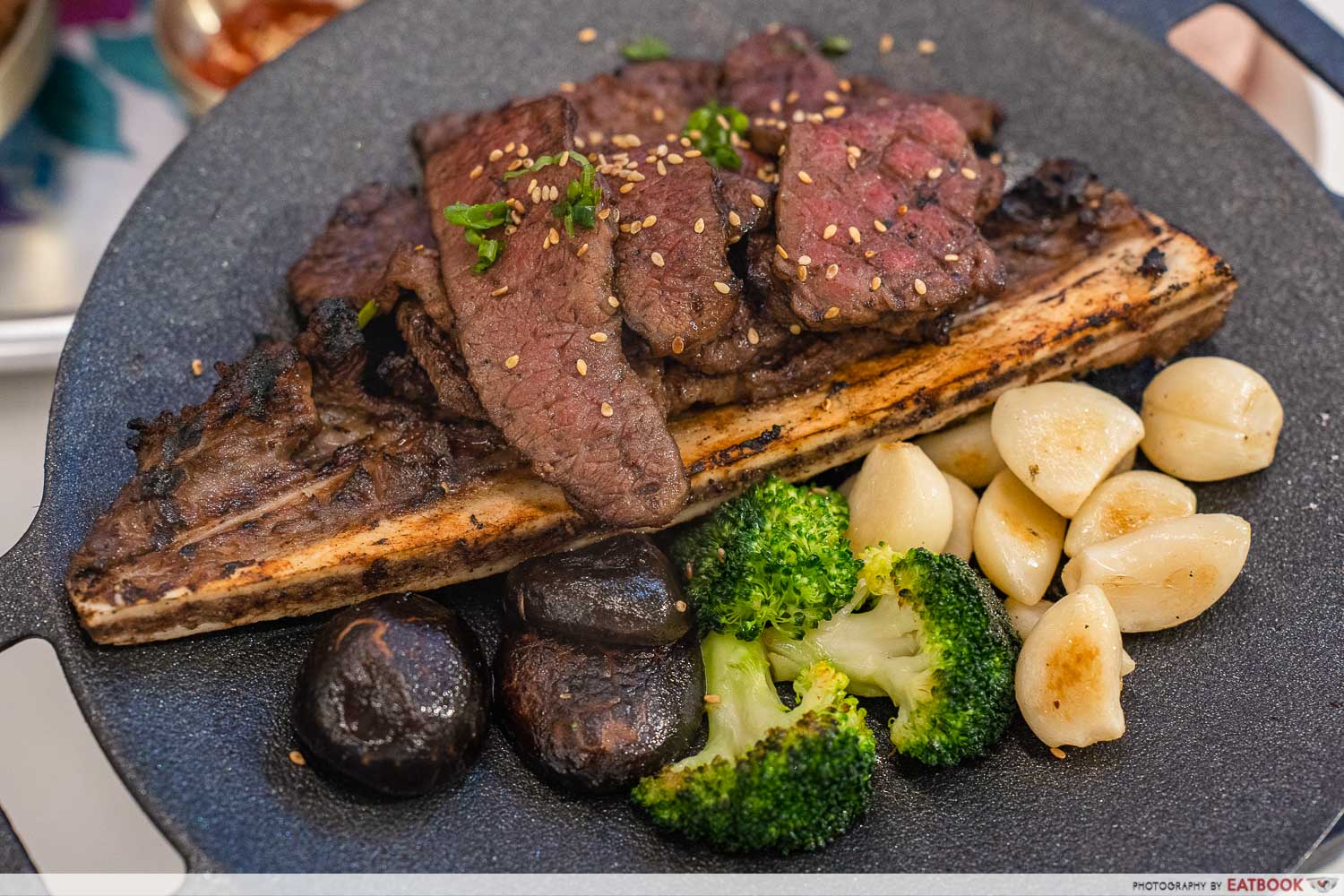 The Charcoaled Rib Galbi ($34.90) also comes highly recommended. It features tender beef short ribs which are marinated with a sweet-savoury sauce, and served with garlic, mushrooms and broccoli on the side.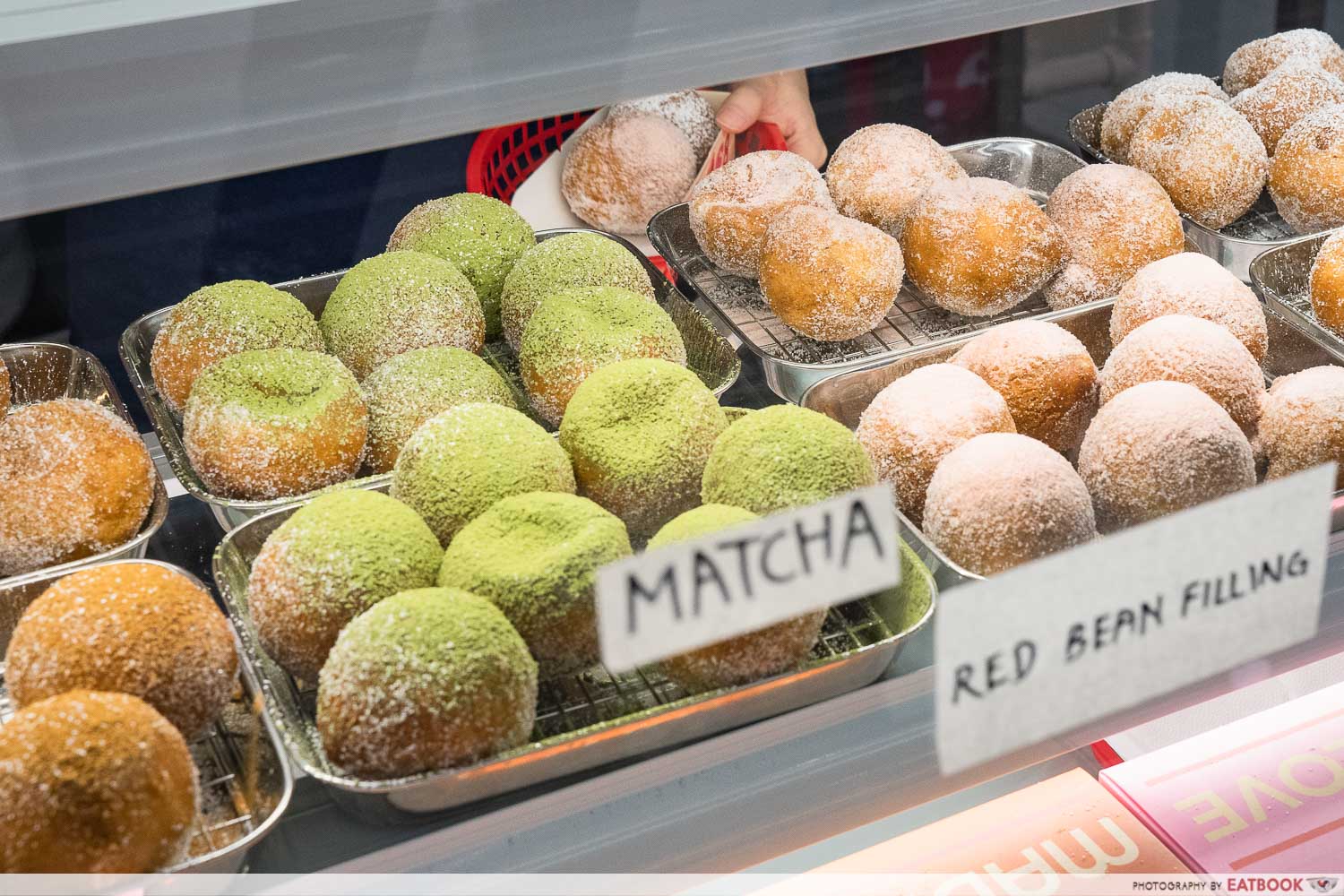 For a sweet treat, head over to the Donas8 stall for their Chapssal Donuts ($3.20), the latest items on their menu. The Korean donuts, made with glutinous rice flour that gives them their characteristic crunchy finish and chewy insides, come rolled with sugar. Get them in different flavours, ranging from Chocolate, Strawberry and Cinnamon, to Matcha.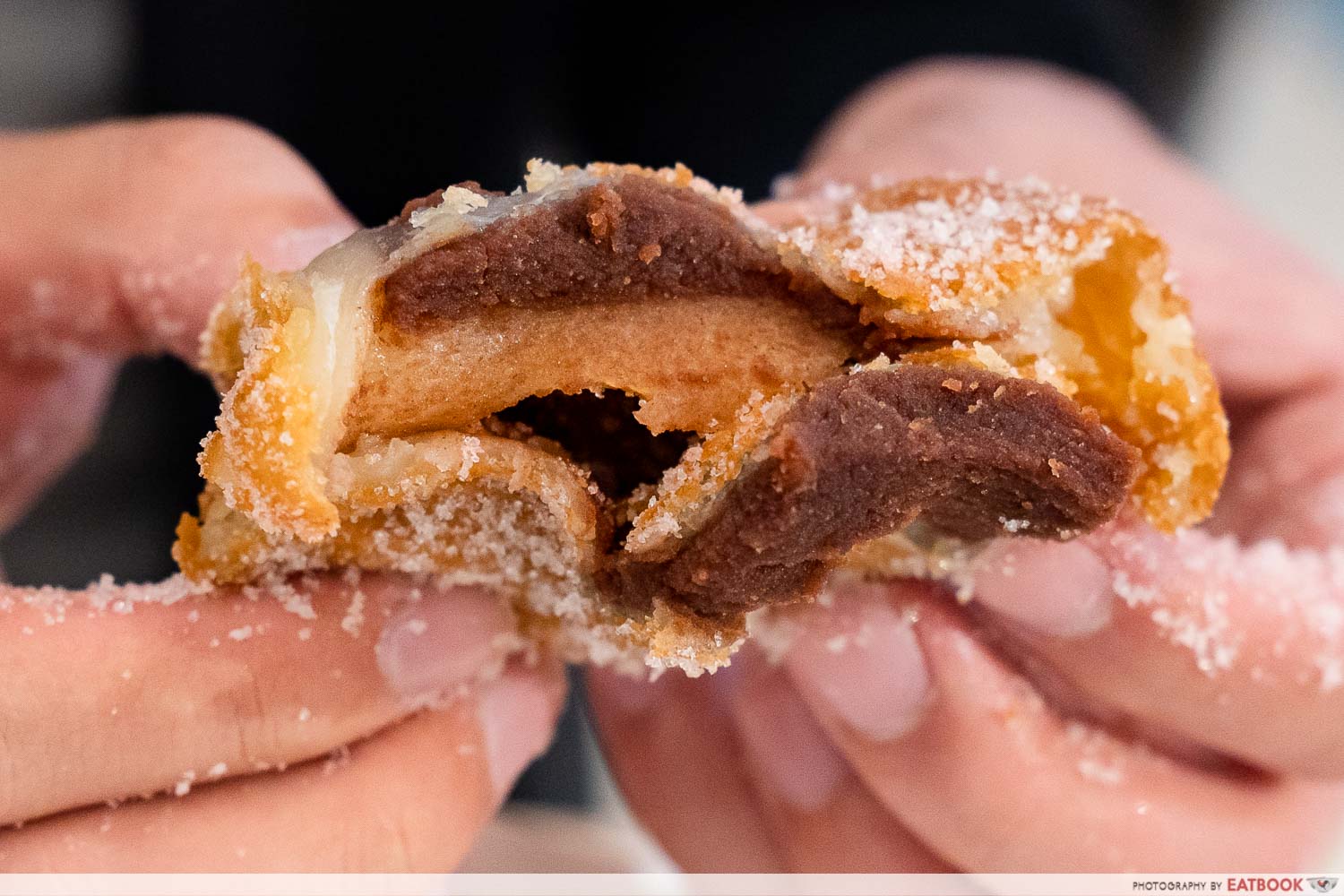 Each comes with a savoury Cream Cheese or the traditional Red Bean filling.
Aside from the set, you can also order ala carte dishes at another eatery in Market Blue, known as Boon Sik Bar. The dishes here are more casual, such as tteokbokki, fried chicken, and fried fritters.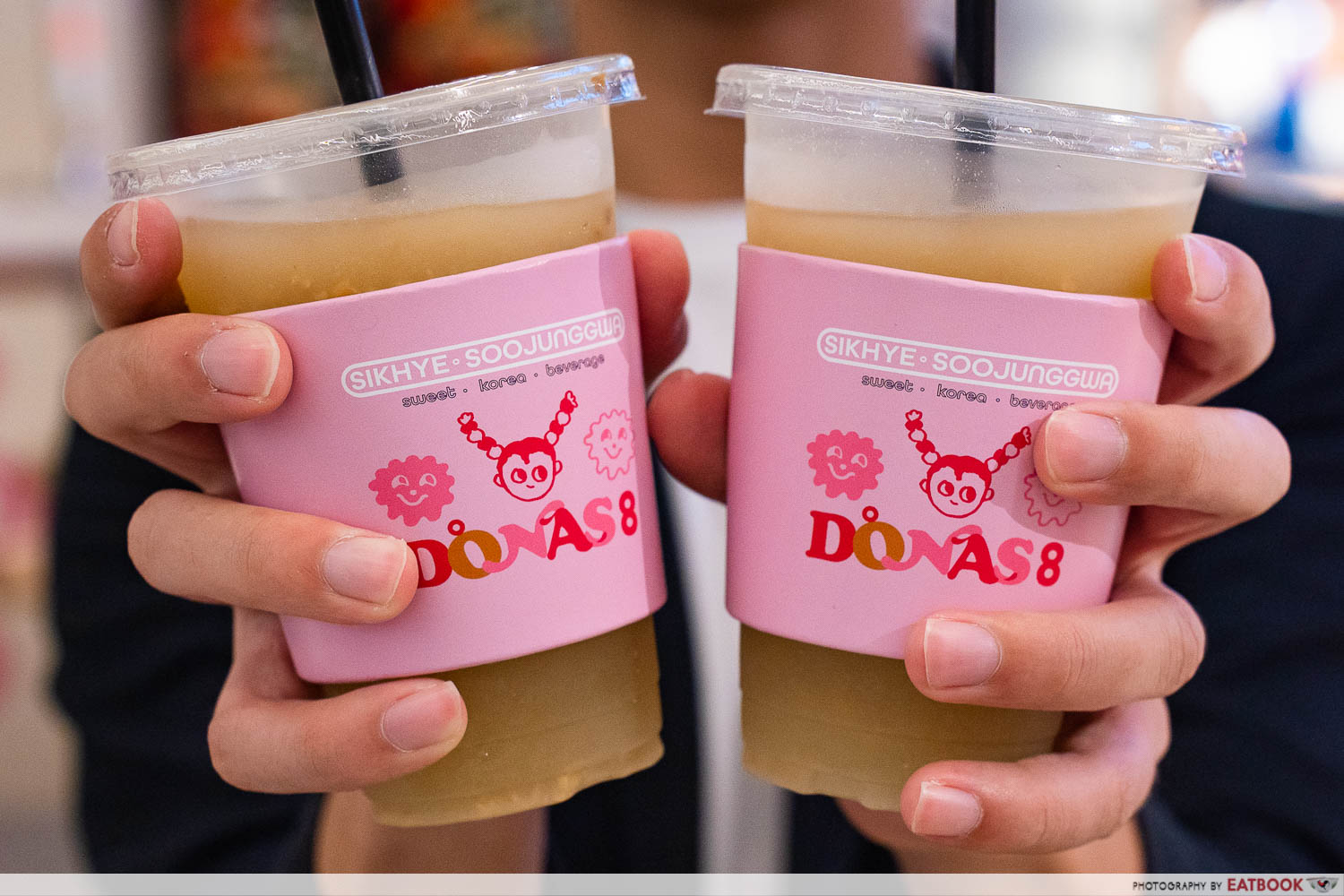 Market Blue offers an extensive range of drinks too, such as makgeolli, soju and more. For non-alcoholic drinks, we recommend the Sikhye Slushie ($3.80), a refreshing Korean sweet rice drink with hints of barley. There are also grains of cooked rice within the drink for some textual variance.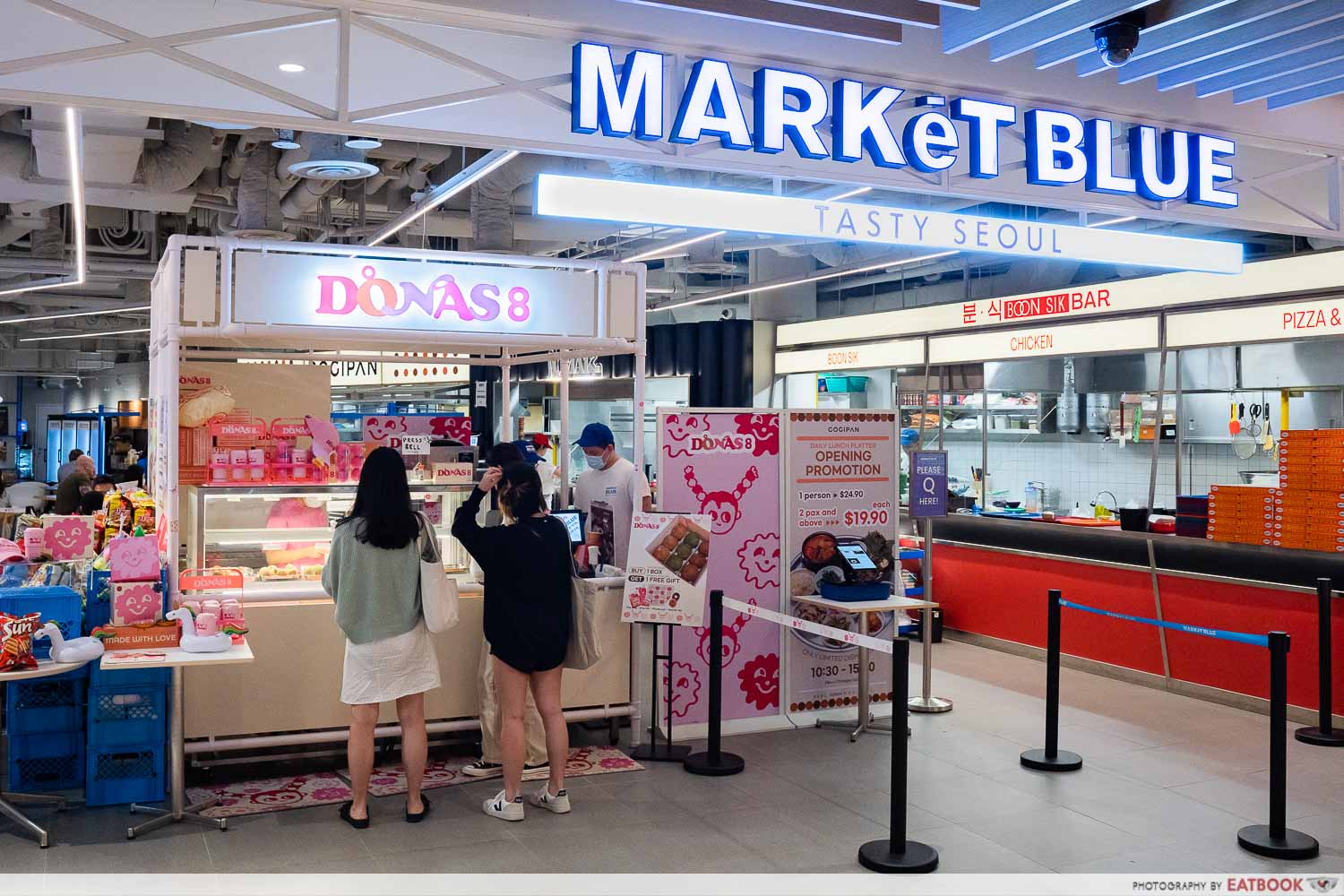 Market Blue is consistently updating their menu, so be sure to check them out for more delectable Korean eats!
If you're looking for more Korean food, read our guide to the best Korean restaurants in Tanjong Pagar and the best Korean fried chicken in Singapore.
Address: 163 Tanglin Road, #B1-122, Tanglin Mall, Singapore 247933
Opening hours: Daily 10am to 5pm
Website
Market Blue's eateries are not halal-certified.
18 Korean Restaurants In Tanjong Pagar And The CBD For Korean Barbecue And Army Stew
Photos taken by Melvin Mak and Casandra Kate Nicholas.
This was a media tasting at Market Blue.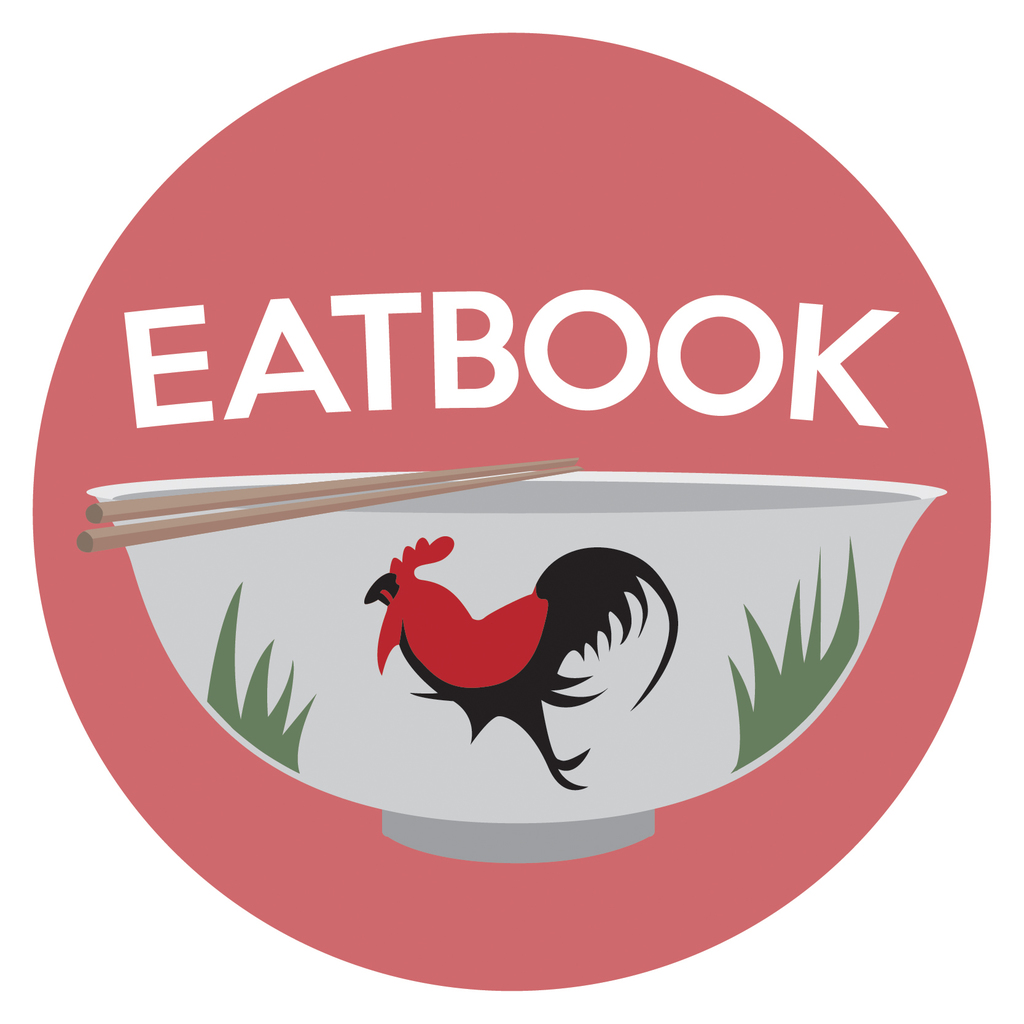 Drop us your email so you won't miss the latest news.