Famous Korean convenience store Emart24 opens in Jurong Point and NEX
Emart24 has been a lifesaver on many of my Seoul trips, whether it be to grab a power bank, an affordable meal, or just a quick drink to quench my thirst. The lifestyle and convenience store is one of Korea's fastest-growing brands, and fans who've visited the store in some capacity during a Korean holiday will be happy to know that Emart24 is making its Singaporean debut on 23 December in Jurong Point, and on 24 December in NEX.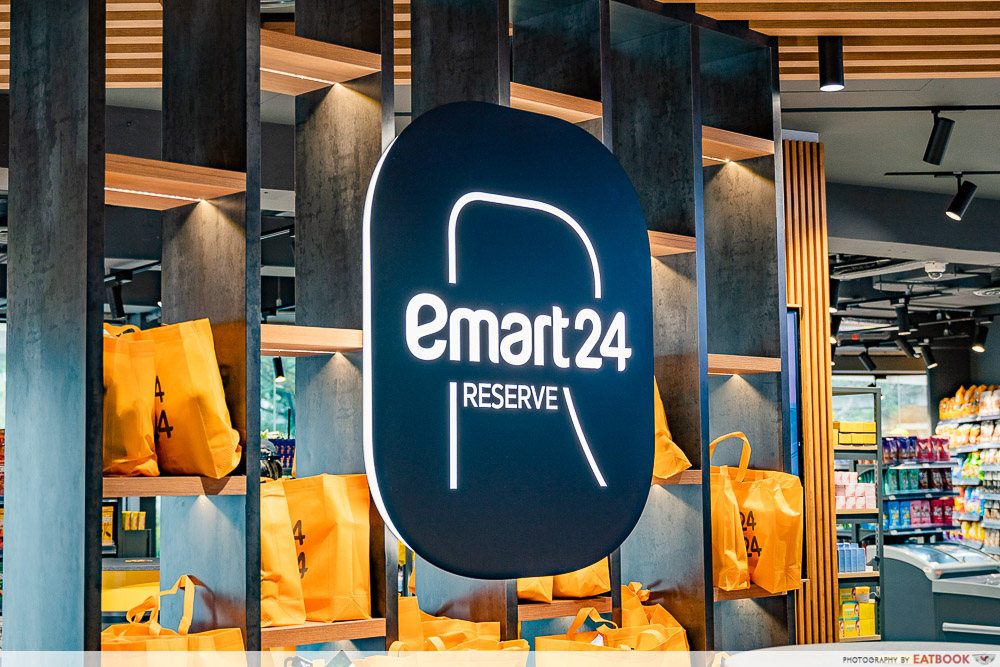 You can now get your hands on legit Korean snacks, from chips to ramyun and banchan, as well as ready-to-eat Korean meals, all without having to board the plane.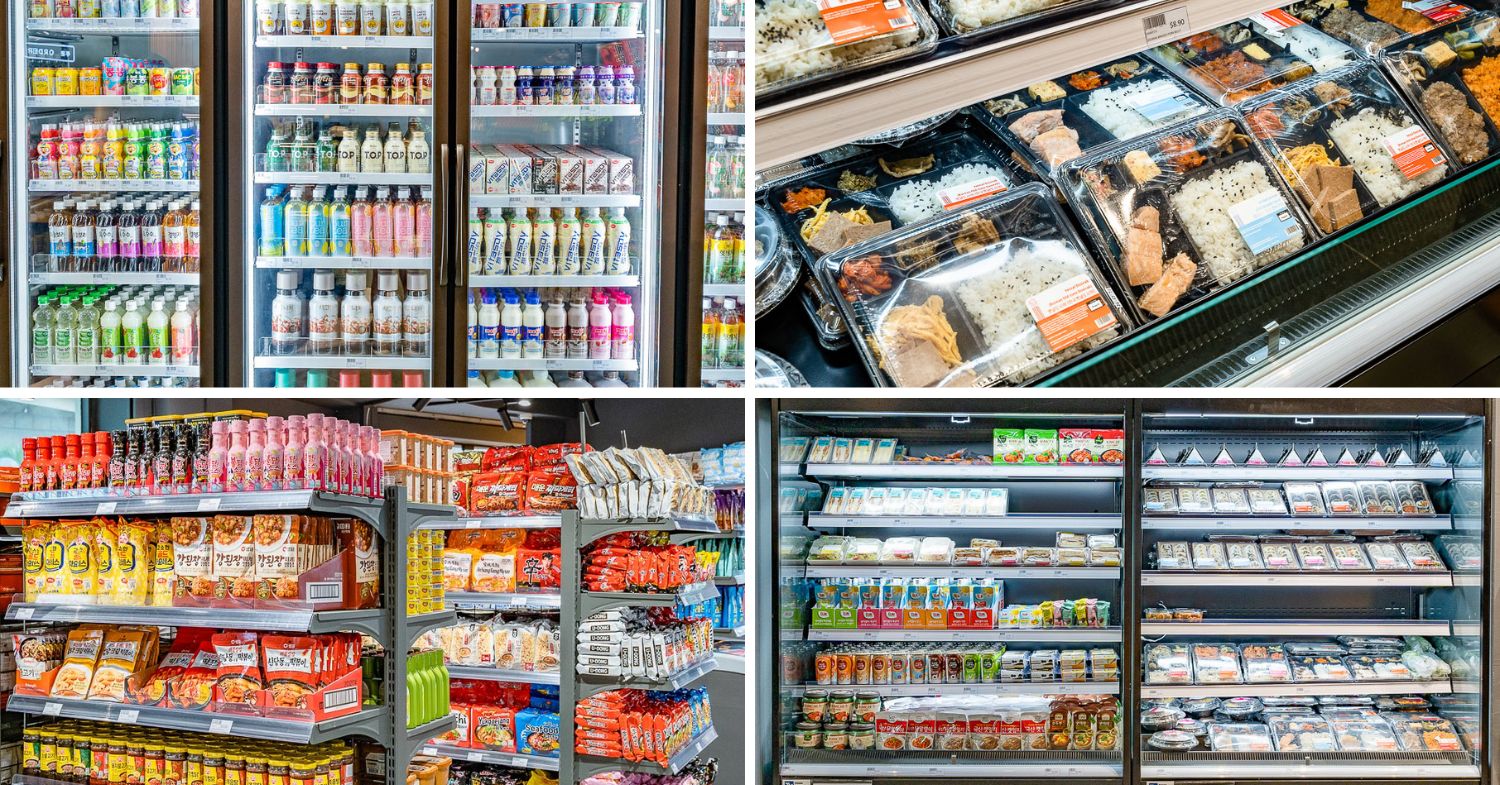 The outlets will have grab-and-go kiosks within, where you can get your hands on some of Emart24's signature food items.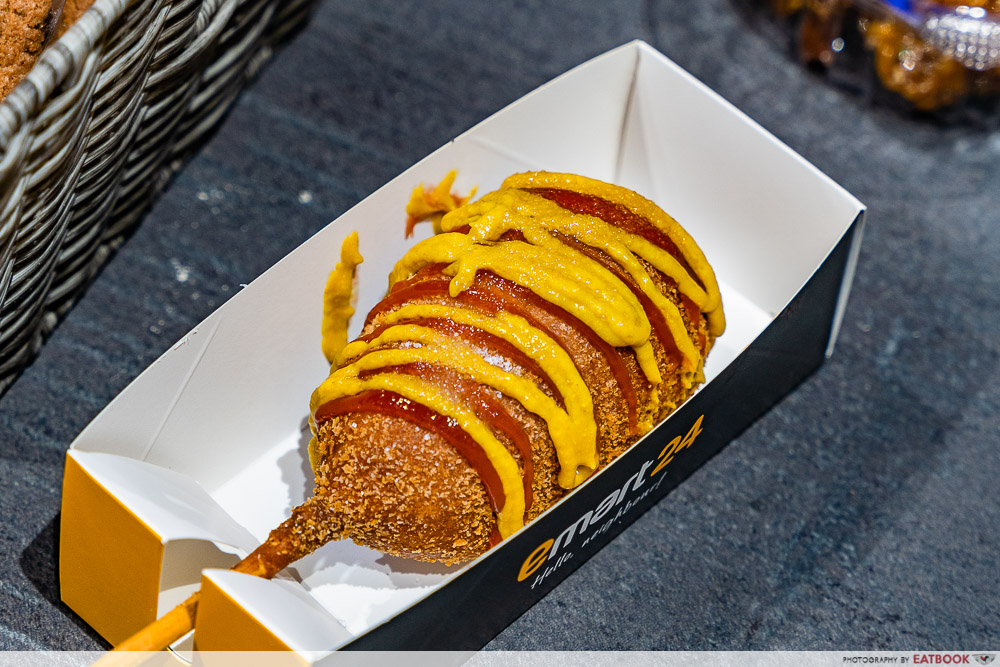 There's their famed Handmade Corn Dog ($4.20), fresh-fried daily with an ultra-crunchy exterior.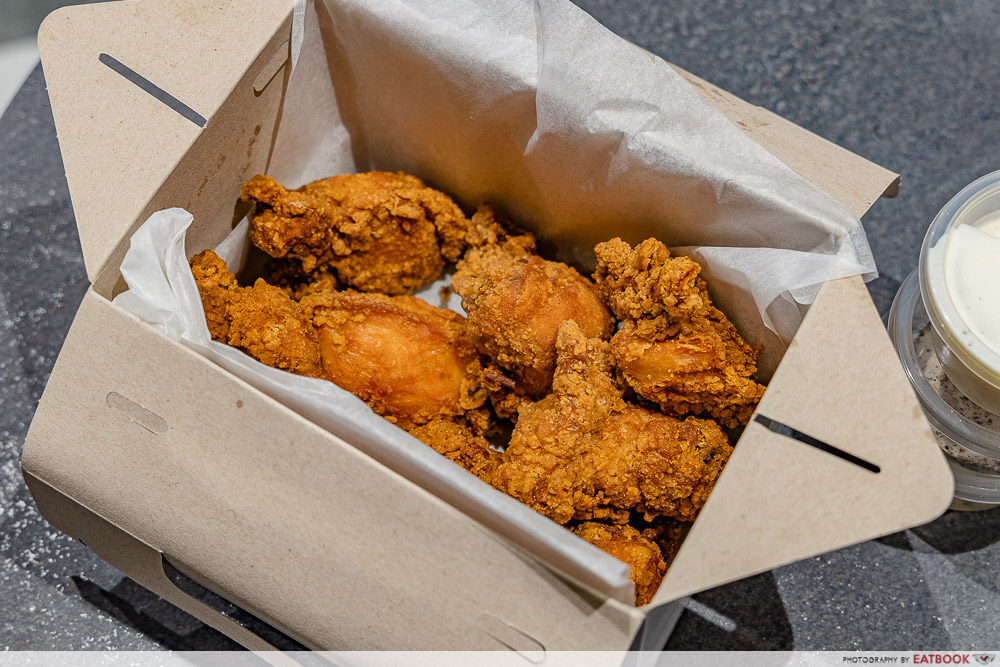 If you prefer fried chicken try their Boneless Fried Chicken (from $15), available in multiple flavours, including Honey Soy and Yang Nyum.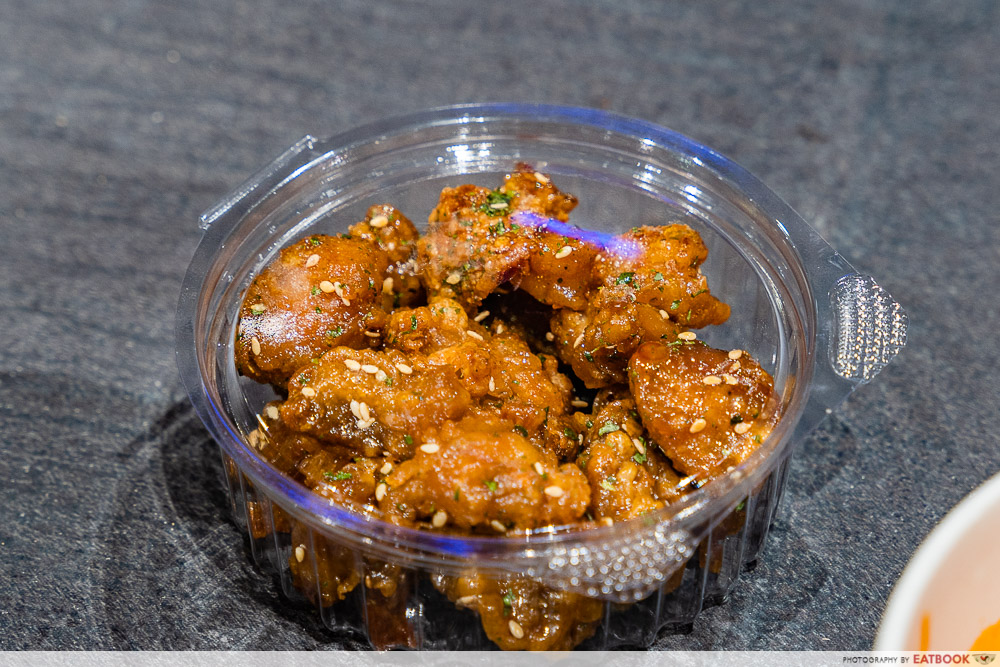 Gimbap and Sam Gak Gimbap (akin to onigiri) are both Korean convenience store staples. Get your hands on them at Emart24 Jurong Point too.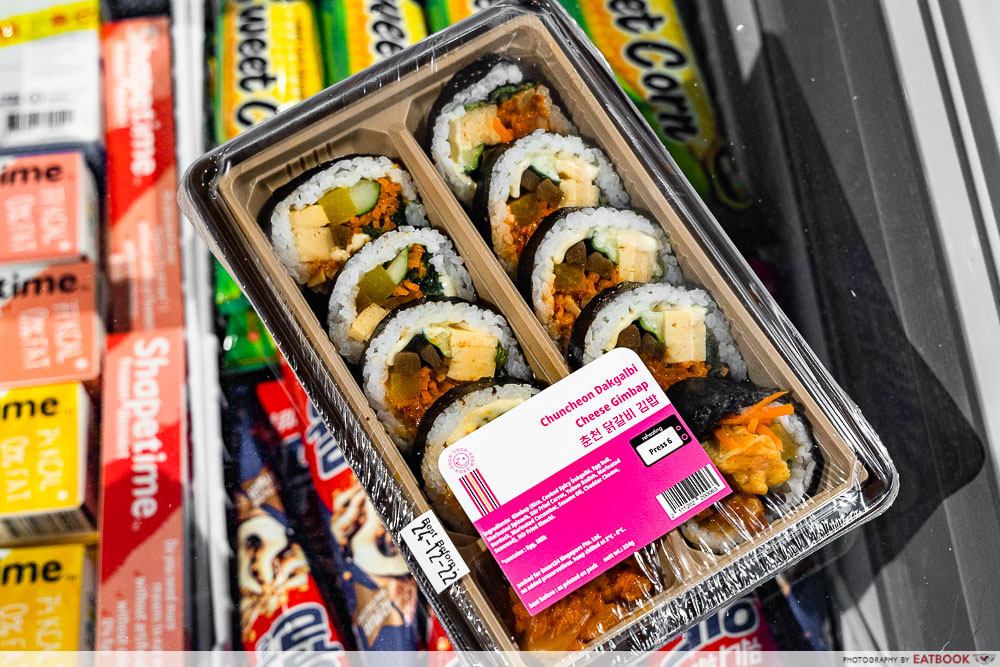 These are made fresh daily and come brushed with sesame oil for added flavour. You can expect fillings such as tuna, luncheon meat, and crabstick, among others.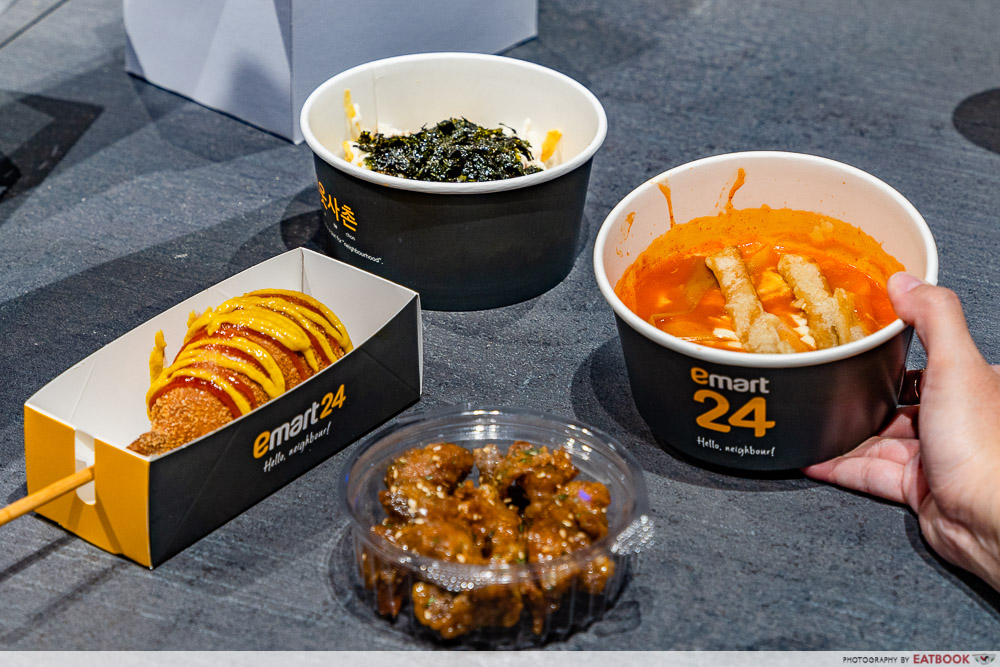 Bibimbap lovers must try Emart24's signature Cupbap ($5.20), snack-sized portions of bibimbap that come loaded with buttered corn, fried kimchi, japchae, rice, and a protein of your choice. You can even pick your preferred sauce to mix in too.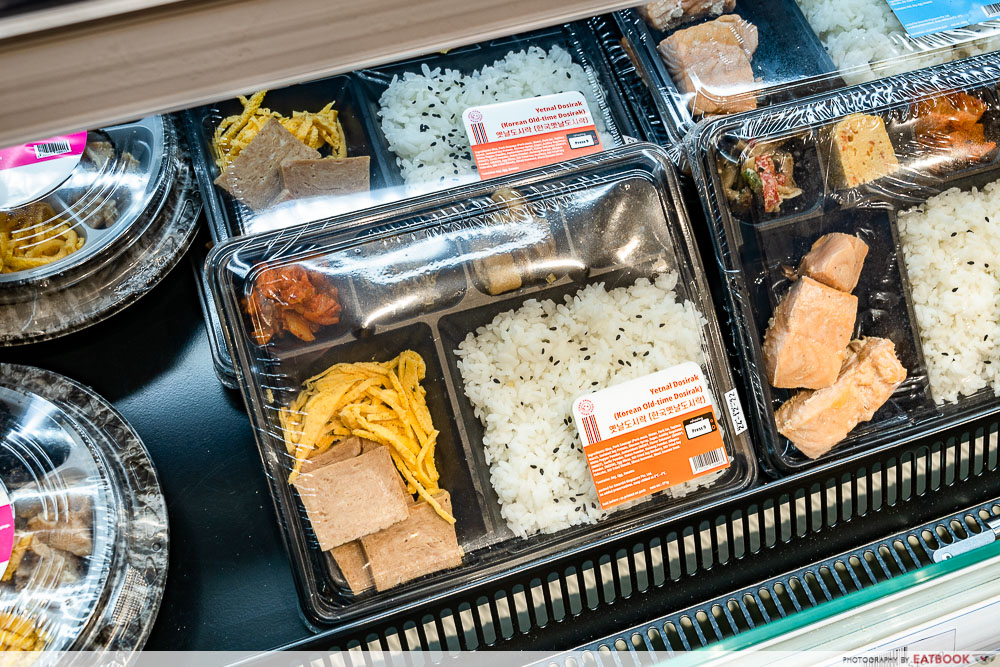 For a full meal, get their Dosirak (from $10.50) AKA Korean lunchboxes. These are similar to Japanese bento boxes, albeit with Korean dishes. All the dosirak are made fresh daily, and come in flavours such as Beef Bulgolgi and Bossam. Each is also accompanied by a selection of banchan to make it a full meal!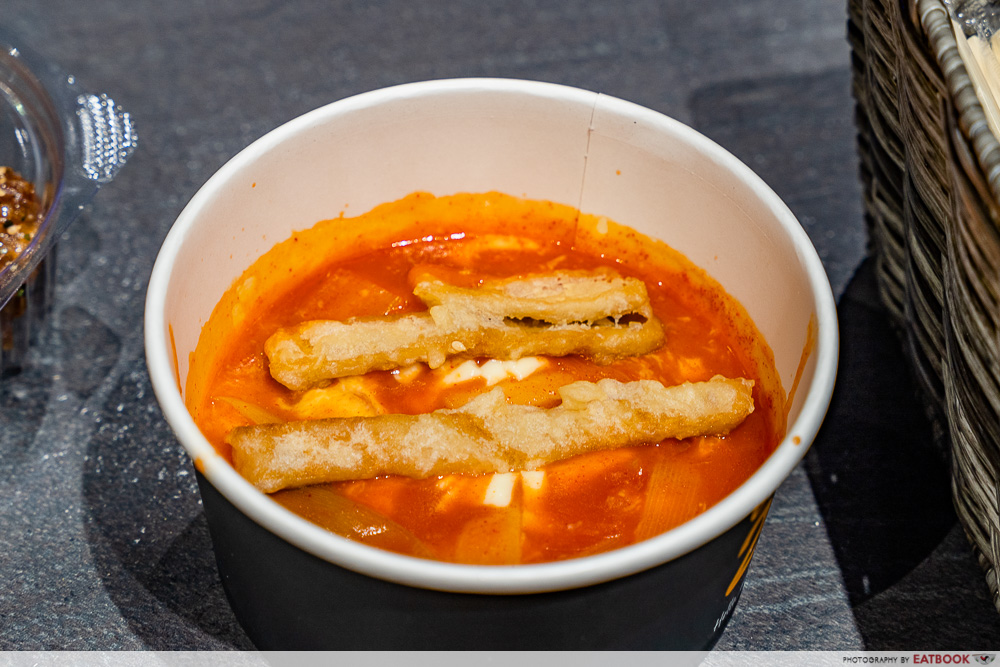 Tteokbokki (from $3.90) is also another must-try at Emart24, especially since the sauce here is one of a kind. Their tteokbokki is simmered for two hours in their secret, spicy gochujang blend, so it's perfectly QQ when you bite into it. You can also add-on toppings such as seaweed chicken, mandu, eggs, and more, for a fee.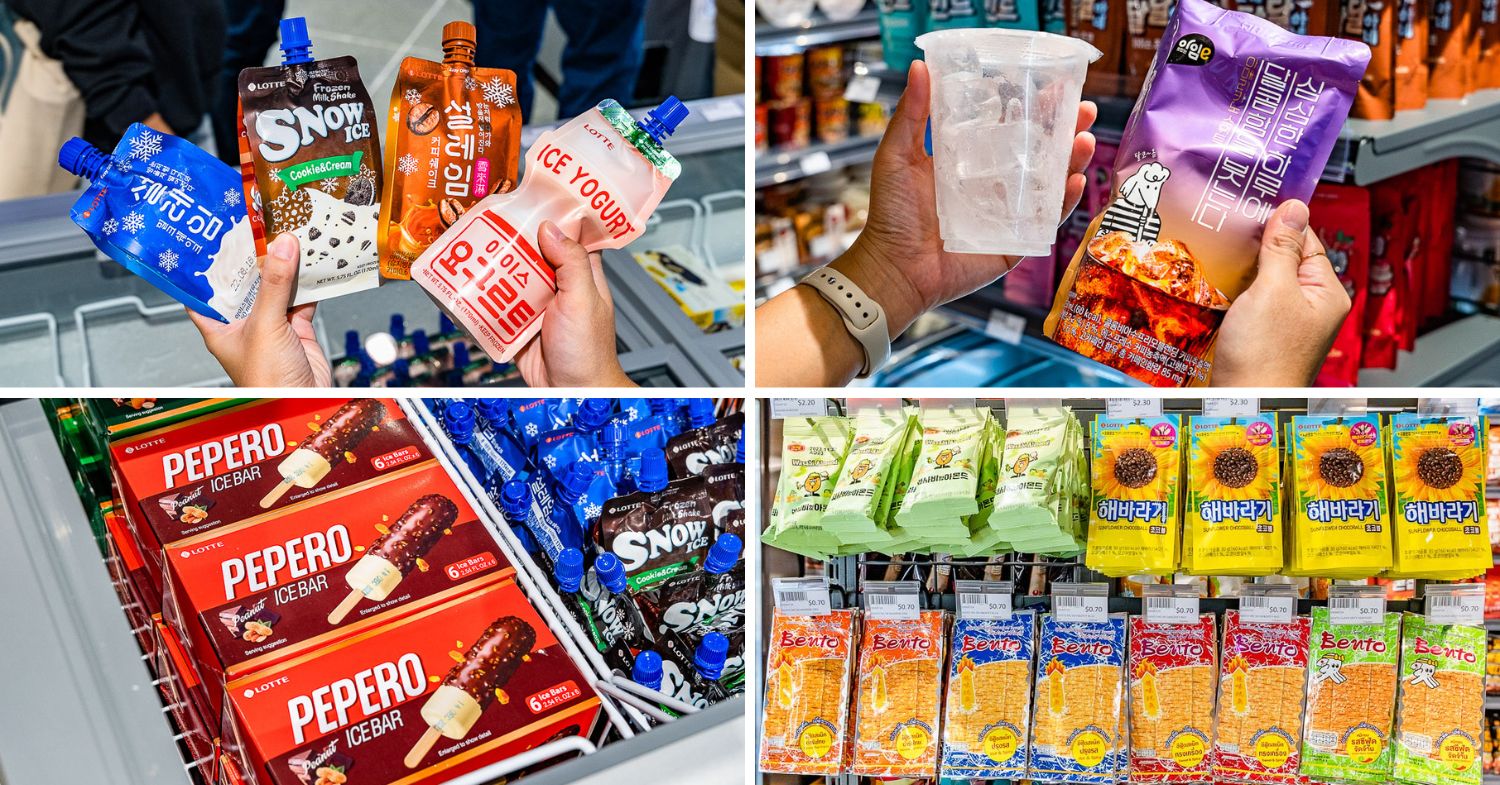 Aside from the dishes mentioned above, look forward to Emart24's house brand of snacks and products, named I'm E. These include coffee blends, even craft beers, and other small bites!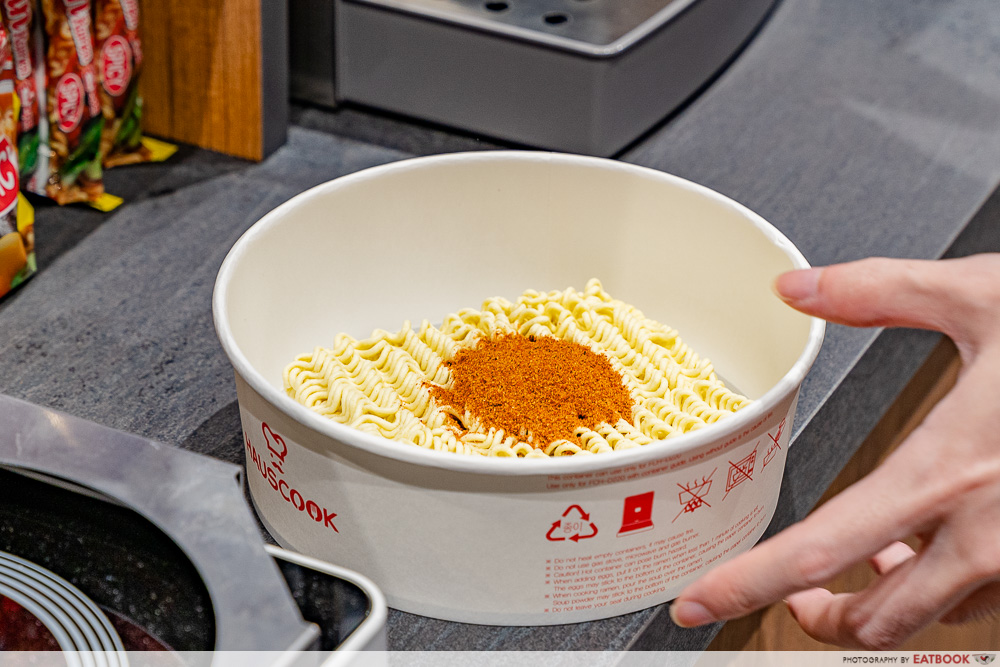 You can also get your hands on ramyun, including classic brands like Nongshim and Samyang. Feel free to create your own food hacks by mixing the ramyun with the tteokbokki for DIY rabboki, or add the fried chicken to your ramyun for a more rounded meal!
They also sell Bingsu to-go, available for $4.90 in flavours such as Injeolmi & Red Bean, Milo, and Strawberry.
For more themed marts in Singapore, check out Rama Bear Thai Mart, a Thai supermarket in Singapore. Otherwise, satisfy your Korean food cravings at our guide to the best Korean restaurants in Tanjong Pagar, Singapore's Little Korea.
Jurong Point outlet
Address: 1 Jurong West Central 2, #01-16G/H/J, Singapore 648886
Opening hours: TBD
NEX outlet
Address: 23 Serangoon Central, #B2-50/51, Singapore 556083
Opening hours: TBD
This was a media tasting at Emart24.
This Thai Supermarket In Singapore Has After You Shibuya Toast, Thai 7-11 Sandwiches And More
Featured image adapted from @shamakemaros,Shinsegae Group, and @mimimumufoodjournal