Jin Hock Seafood offers deep-fried hor fun at Tampines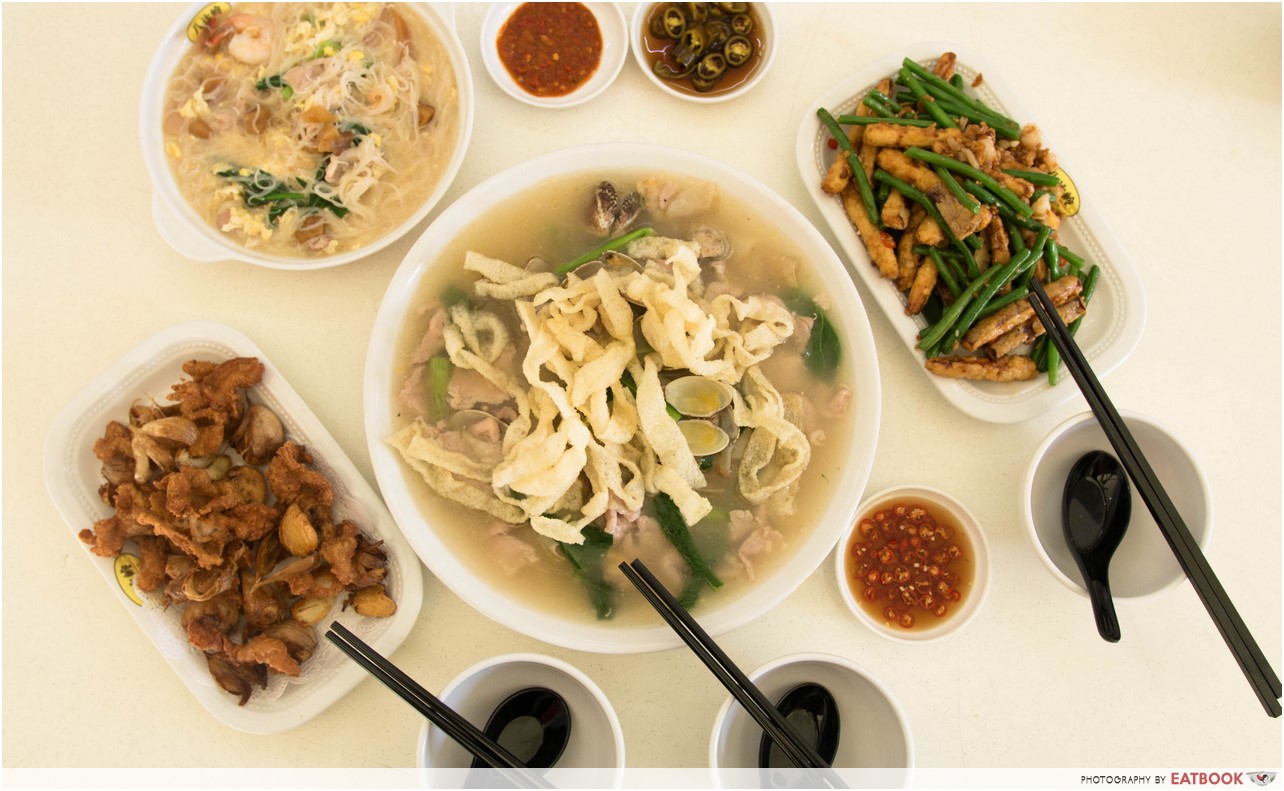 Zi char dinners are one of the rare times my extended family gathers together to catch up on each other's lives. It's also when I get to spend time with my young niece who's always excited to see me. She'll eagerly show off her latest slime or squishy addition as my relatives erupt into laughter over stories about work and family. For an hour or so, I feel like I'm part of the happy ending of a drama.
The affordable variety of dishes are the highlight when it comes to communal dining. But even that gets boring over time, as we tend to order the same old. In the east of Singapore though, Jin Hock Seafood whips up familiar zi char fare with a twist. Tucked away in a kopitiam in Tampines, their list of bestsellers includes some creative dishes that were deliciously satisfying.  
Food at Jin Hock Seafood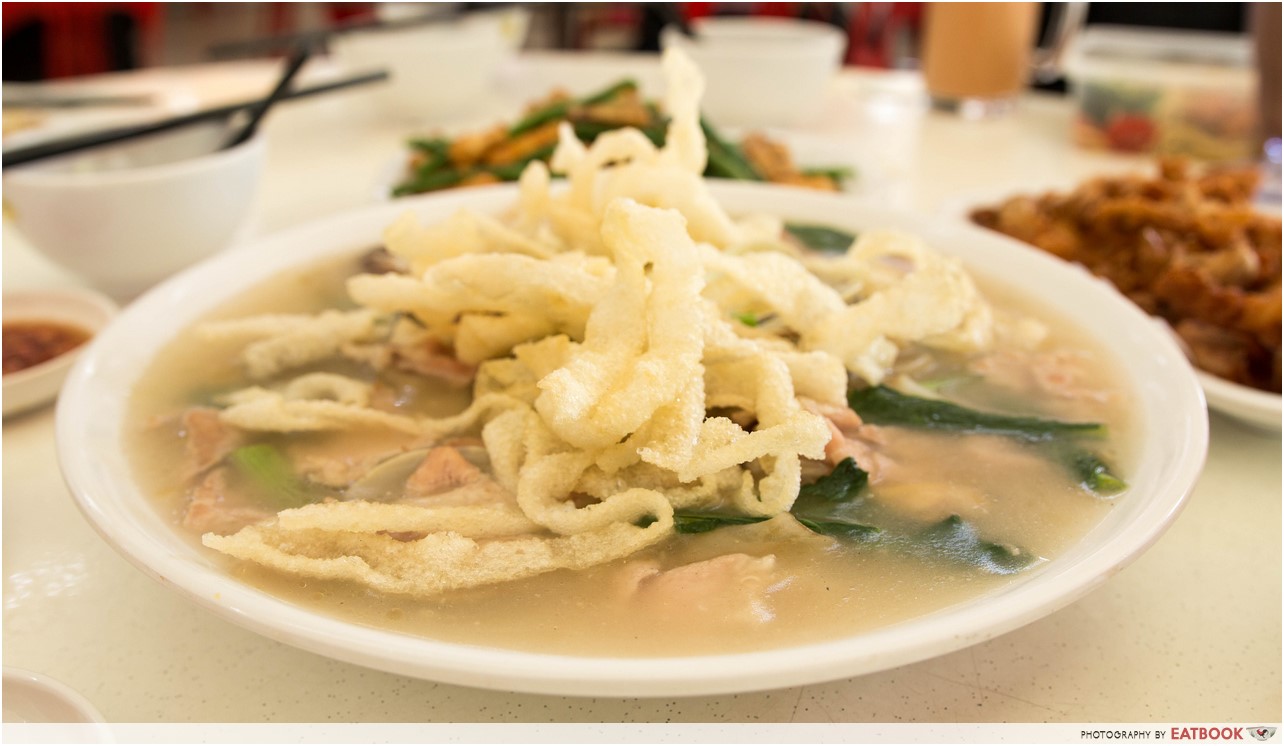 We couldn't miss out on their Double Flavoured Hor Fun ($15), which tops off regular hor fun with a deep-fried version. It came with a generous amount of gravy, pork slices, clams, and chye sim. A larger portion costs $24, but this already looked huge.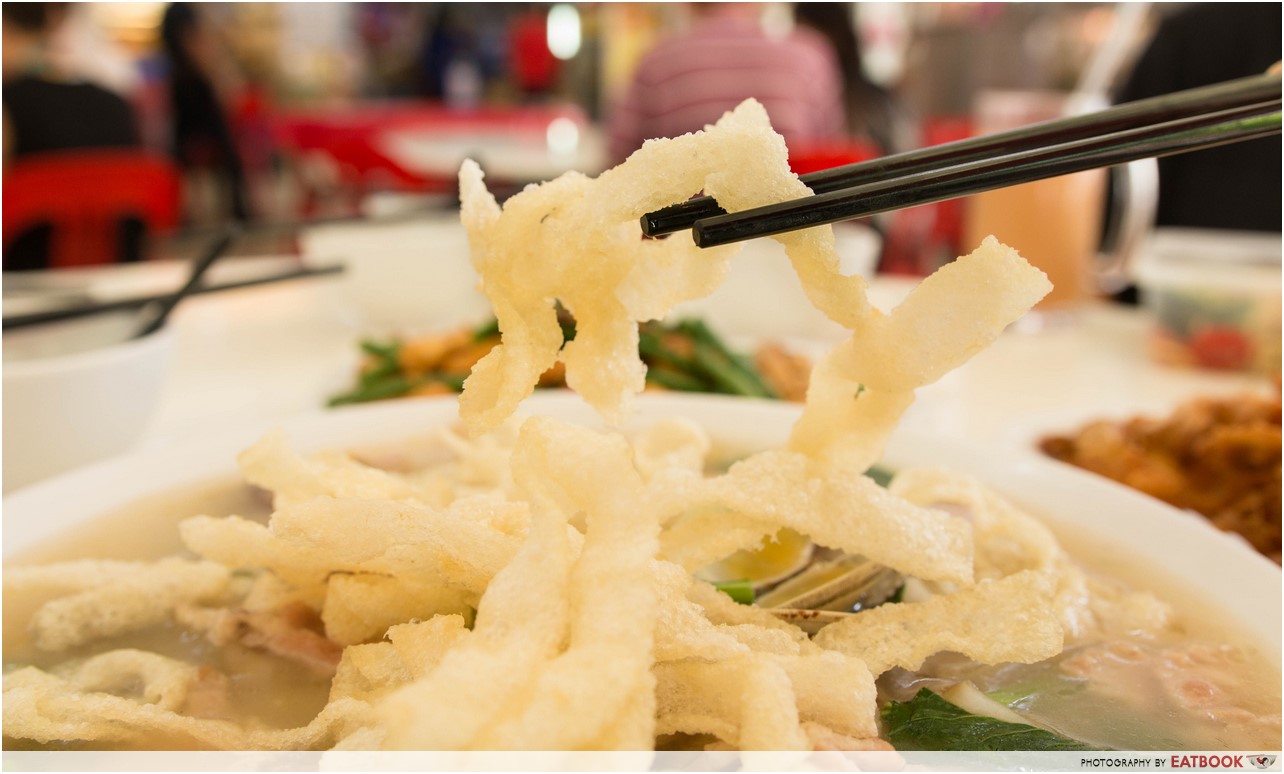 My fingers dived first for a piece of the highlight. The deep-fried hor fun was crispy, and slightly chewy in the middle. It was light, like keropok, reminding me of festive snacks. Eating it on its own was jelak though, so having regular hor fun in this dish was a good balance.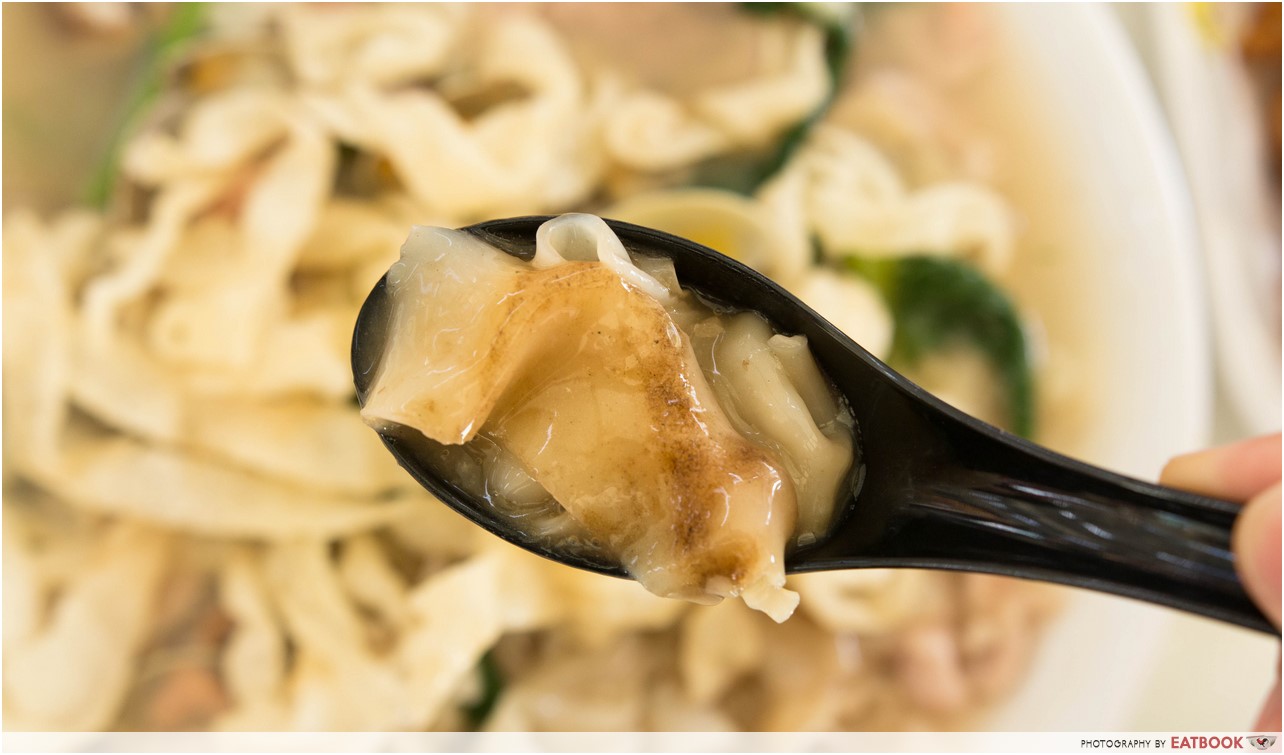 The smooth hor fun was full of wok hei and wasn't too soft. I combined both textures in one mouthful for maximum depth of flavour. Parts of the fried noodles slowly softened from the gravy, and tasted like regular hor fun, but without much flavour. Even so, they were still enjoyable as they stayed chewy, and were easily flavoured by the savoury gravy.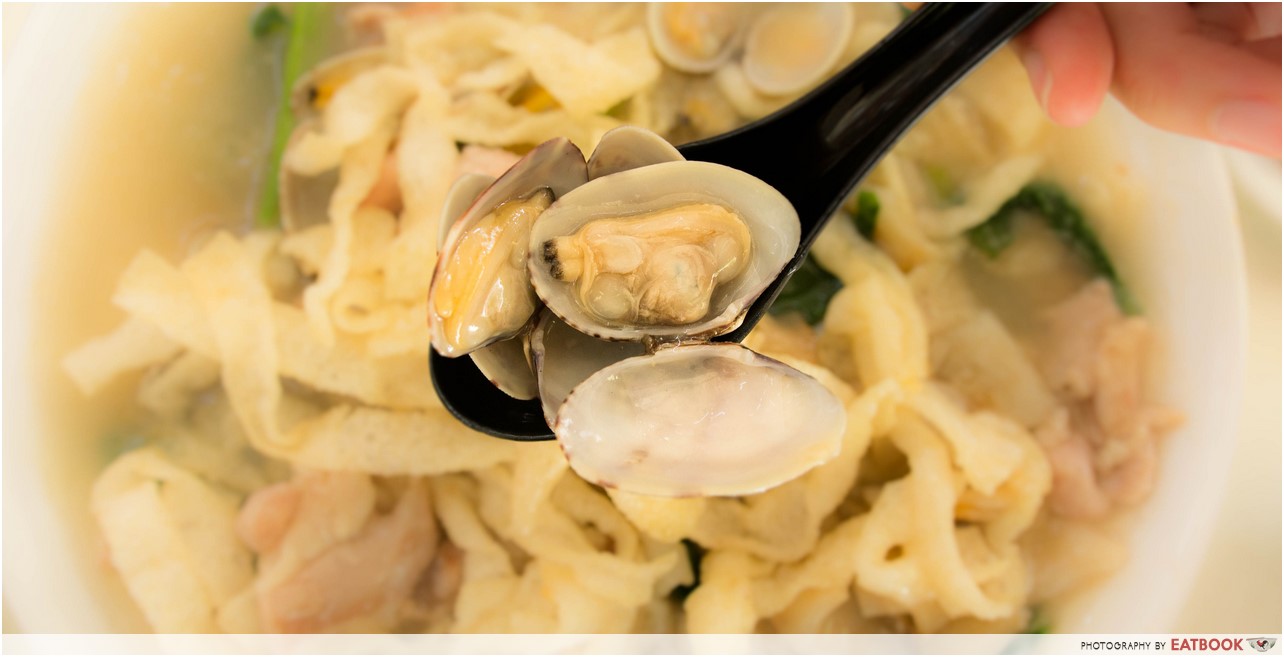 The slices of lean pork were tender, slightly chewy, and fresh, with a pleasant, meaty taste. 11 big clams were scattered within the dish, and they were easy to de-shell. They were slightly chewy, with a light, savoury brininess.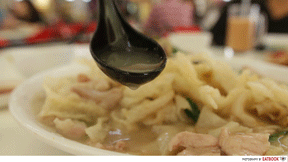 Though the thick gravy appeared starchy, it didn't feel too thick when we ate it. It was savoury and not too salty, with more than enough to go with each spoonful.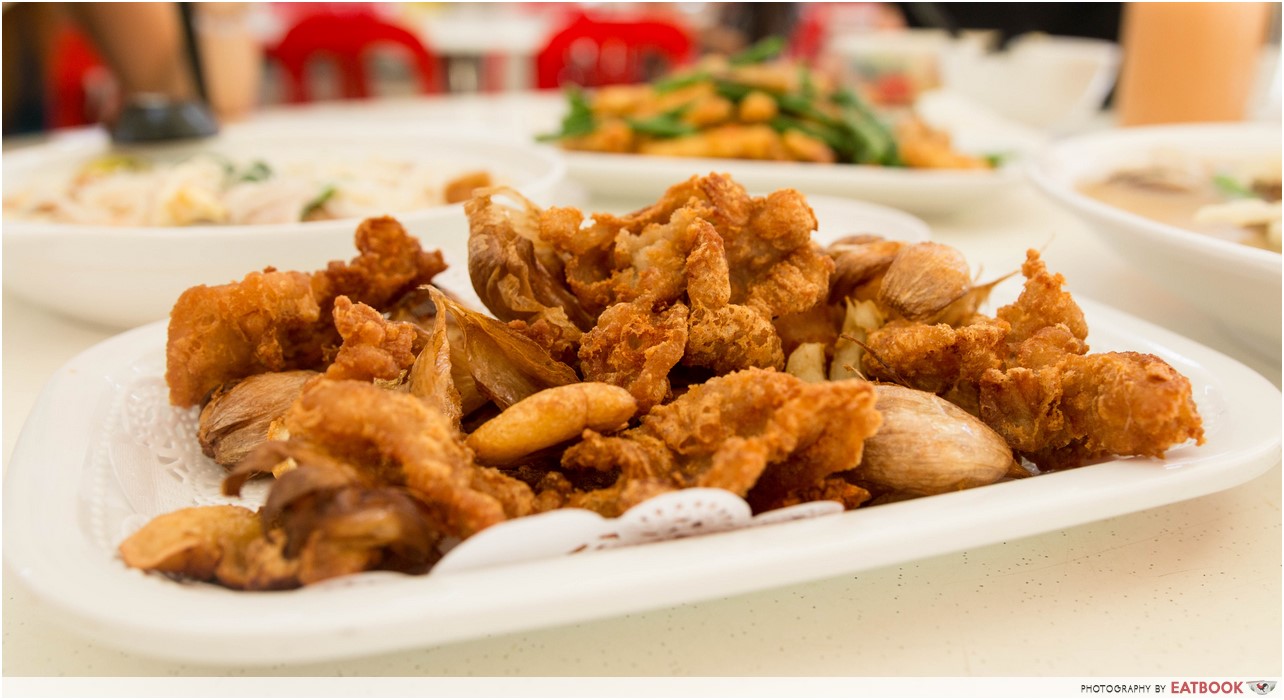 One of the sides we ordered was Crispy Deep Fried Pork with Garlic ($12), which came as battered pieces of pork, and cloves of deep-fried garlic.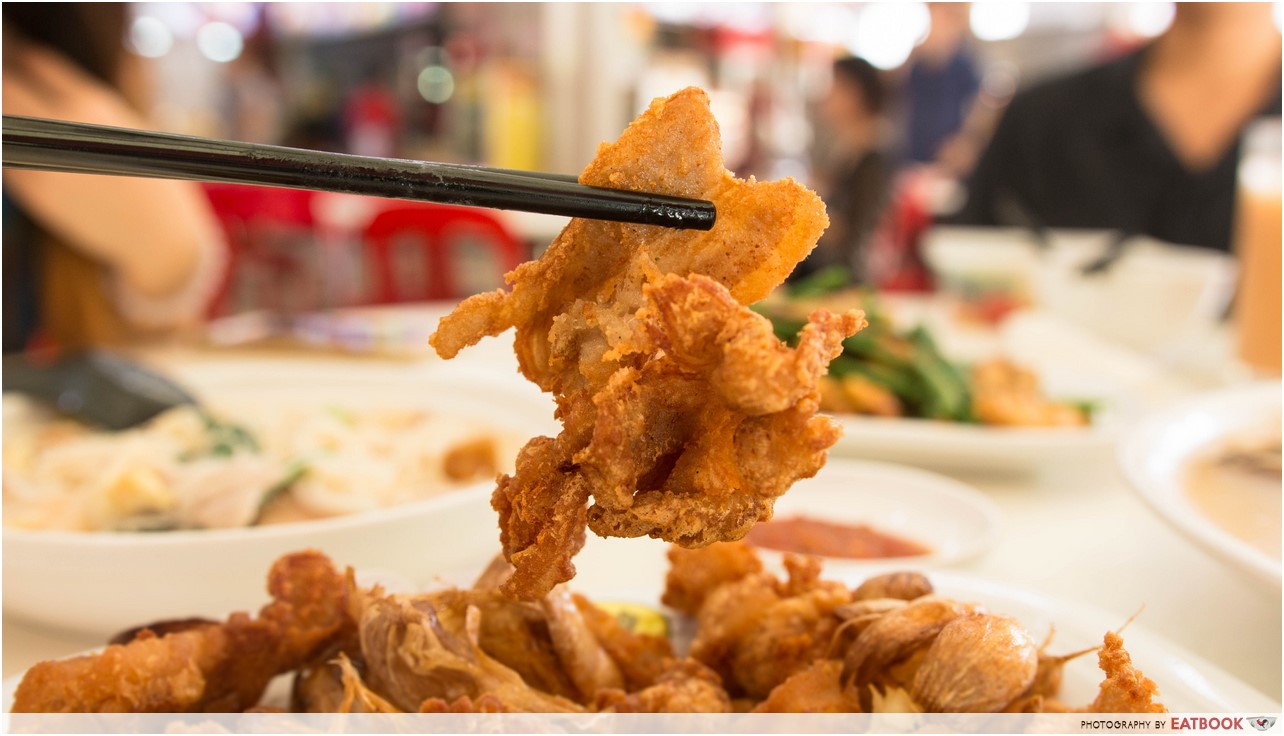 It sounds pretty straightforward, but my first bite into a piece of pork was full of umami goodness. It was crispy on the outside, with a distinct, garlicky fragrance. Inside, it was tender, juicy, and very deliciously fatty. The garlic cloves were neither pungent nor dry after deep-frying.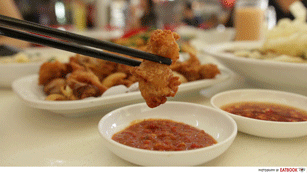 With their house-made belacan that is tangy, and a little spicy, this side dish would go well with rice. If you can't get enough of it though, Jin Hock Seafood sells larger portions at $18 and $24.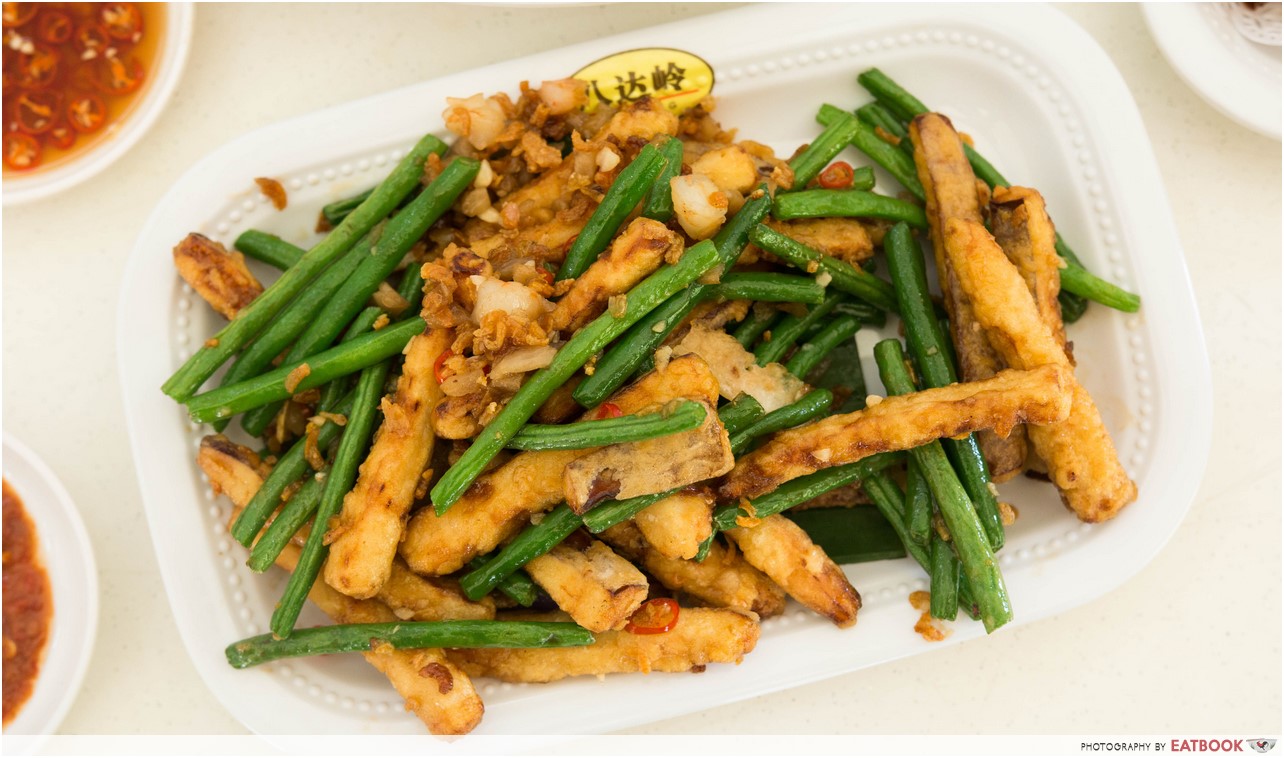 We also enjoyed their Fried Egg Plant with French Bean ($12), which was very mildly spicy. It was flavourful from being fried with lots of chopped garlic, dried shrimp, chopped prawns, and chilli.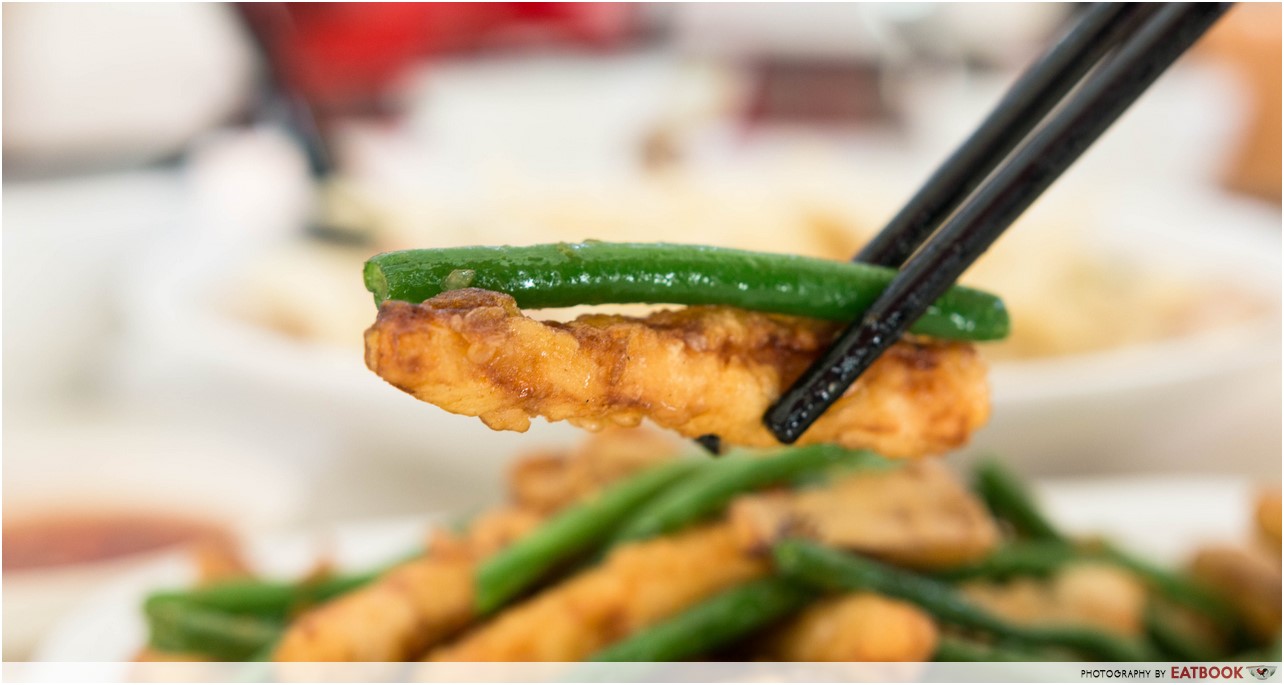 The egg plants looked like fries, and had a crispy coat of batter that went well with its soft insides. The French beans looked appetisingly green, and their crunchiness was refreshing. This dish quickly disappeared from our table, so consider ordering bigger portions at $15 and $20.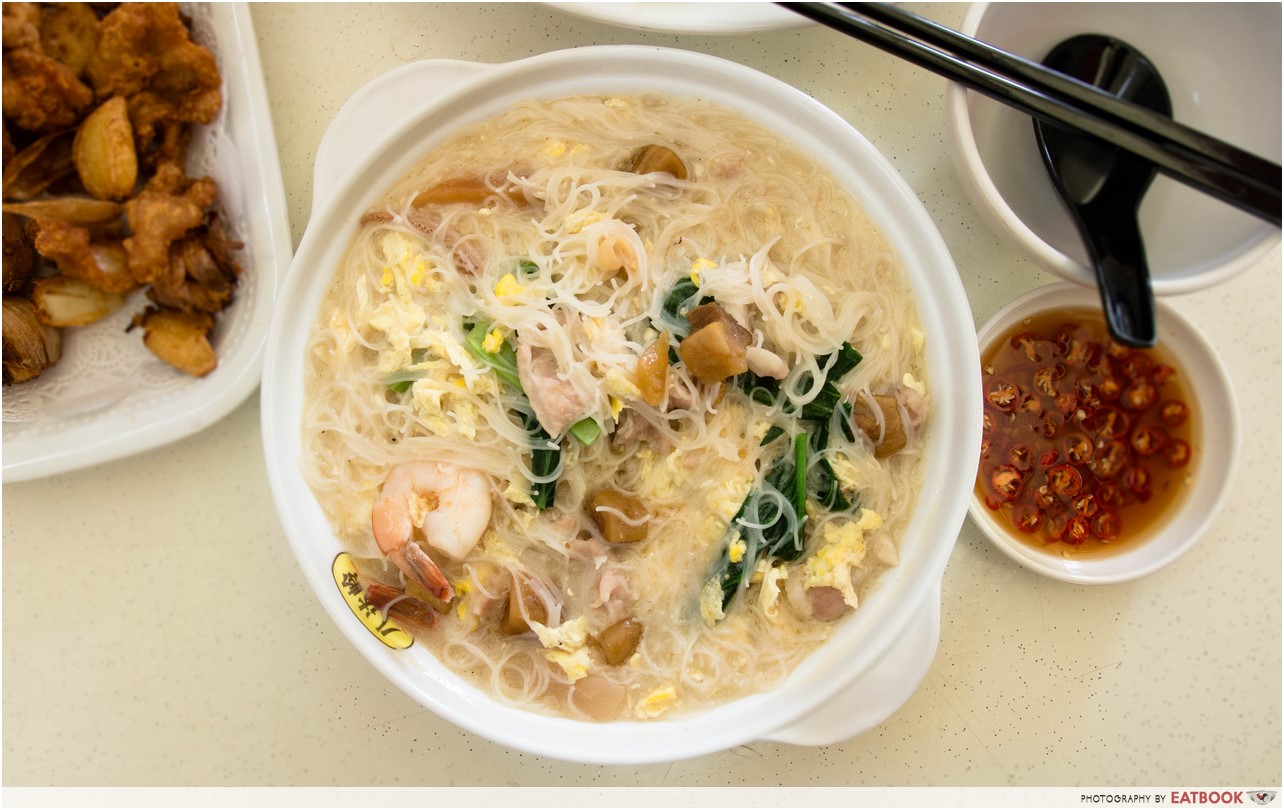 Although we ordered the smallest portion of White Bee Hoon ($5), it came with a generous amount of ingredients. Seasoned chunks of fried omelette, pork slices, sliced cuttlefish, fresh prawns, and large pieces of pork lard were mixed in.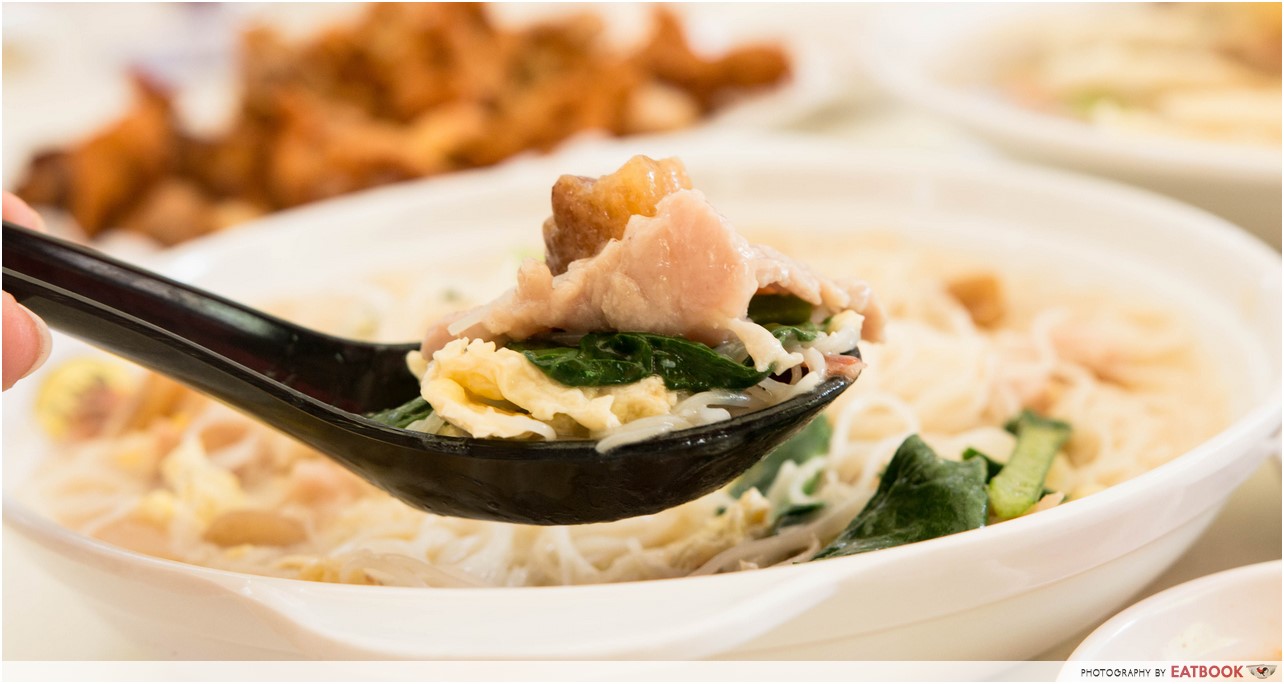 The bee hoon was infused with the flavours of the thick gravy, and wasn't too salty. I easily scooped up plenty of ingredients with each spoonful, and it was an enjoyable mix of textures. The cuttlefish was on the soft side, and the pork slices, which were mostly lean, were quite tender. This white bee hoon wasn't the best I've had, but it was satisfying, and I easily finished it with some belacan.
Ambience at Jin Hock Seafood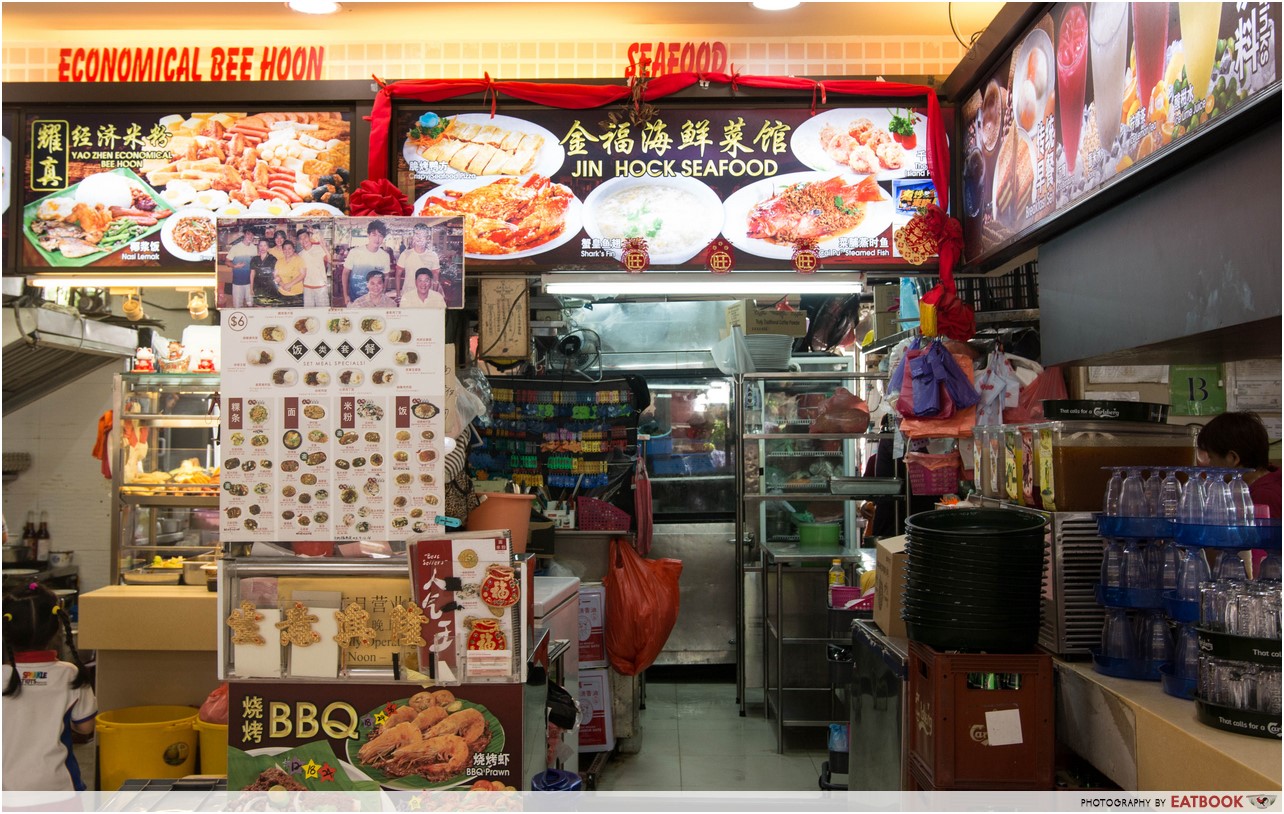 We visited Jin Hock Seafood's main branch, which occupies a small corner of Street 82 Coffee House. It's a few bus stops away from Tampines MRT Station. They also have three other branches in Ang Moh Kio and Chai Chee.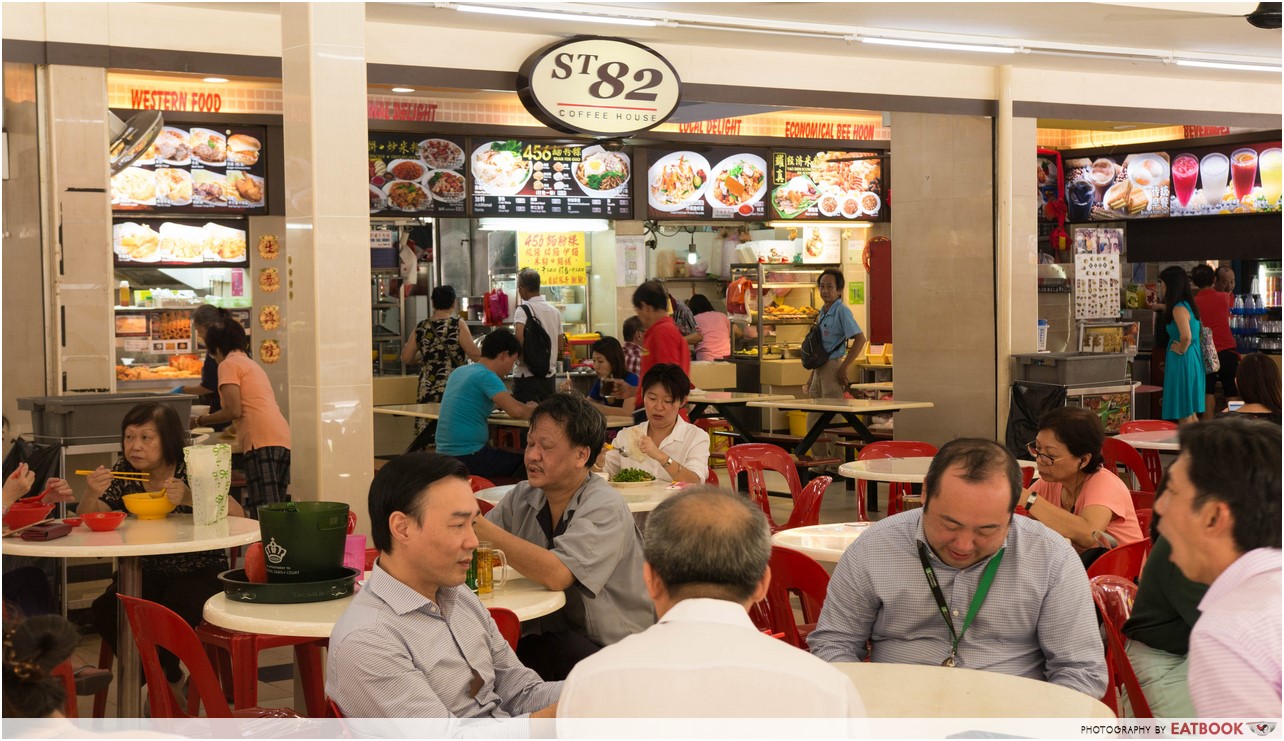 It was a hot afternoon but thankfully, the kopitiam didn't feel stuffy, and an iced drink easily cooled us down. The auntie who took our order was friendly, and we didn't have to wait long for our food. Perhaps it was because there wasn't much of a crowd. Reservations are allowed, so drop them a call before heading down to chope a table during peak hours!
Their menu also offers set meals for 10 people from $598 to $1088, and you'll have to order these one to three days in advance. The range features more extravagant dishes that aren't available on their daily menu. 
The verdict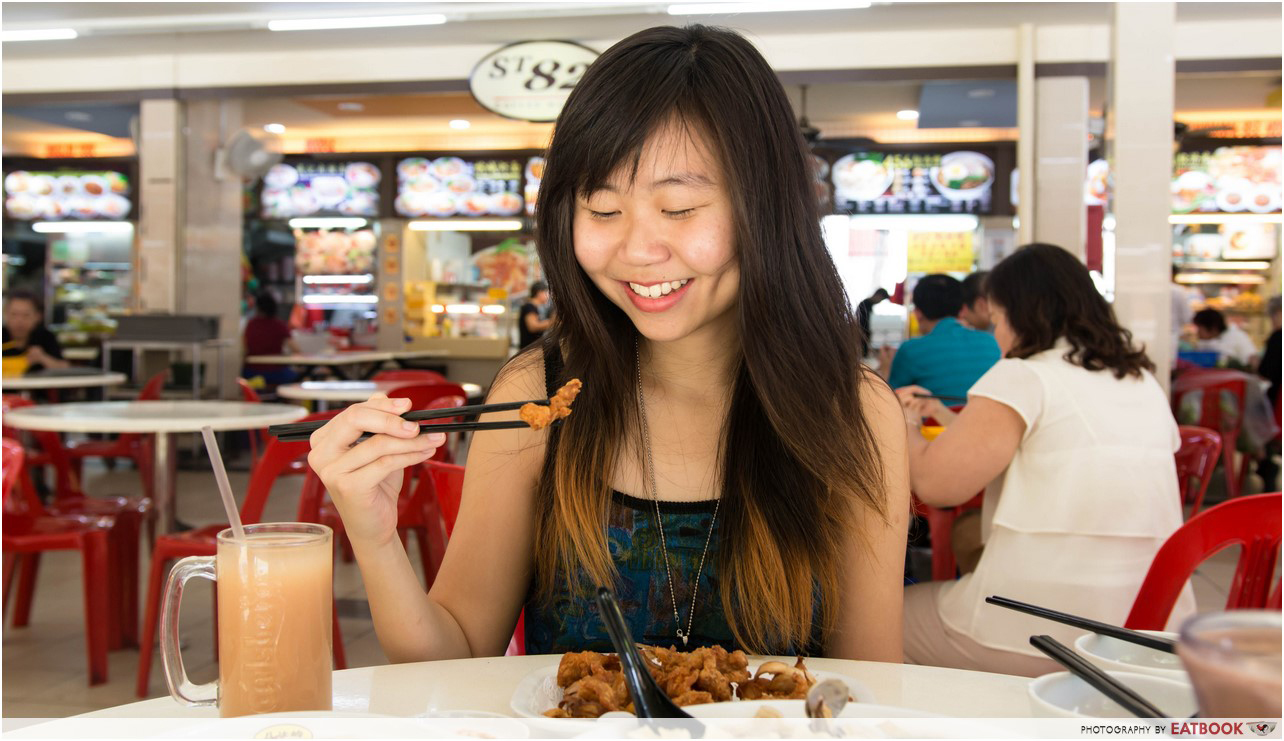 A good zi char meal is one that not only has satisfying food, but is enjoyed with good company. The dishes we tried at Jin Hock Seafood were tasty, with a creative twist, making it an interesting place to to bring friends and family to for a casual get-together. For more delicious zi char in the east, check out our east-side zi char guide! Alternatively, check out Seng Kee at Kembangan. 
Address: 844 Tampines Street 82, #01-131, Singapore 520844
Opening hours: Daily 12pm to 3pm and 4pm to 11:30pm
Tel: 6787 4255
Jin Hock Seafood is not a halal eatery.
This is an independent review by Eatbook.sg.
Summary
Pros
– Filling portions
– Creative and unique dishes
– Wok hei in Double Flavoured Hor Fun
– Friendly service
Cons
– Inconvenient location
Recommended Dishes: Double Flavoured Hor Fun ($15), Fried Egg Plant with French Bean ($12), Crispy Deep Fried Pork with Garlic ($12)
Operating Hours:
Daily 12pm to 3pm, 4pm to 11:30pm
Tel:
6787 4255
Address: 844 Tampines Street 82, #01-131, Singapore 520844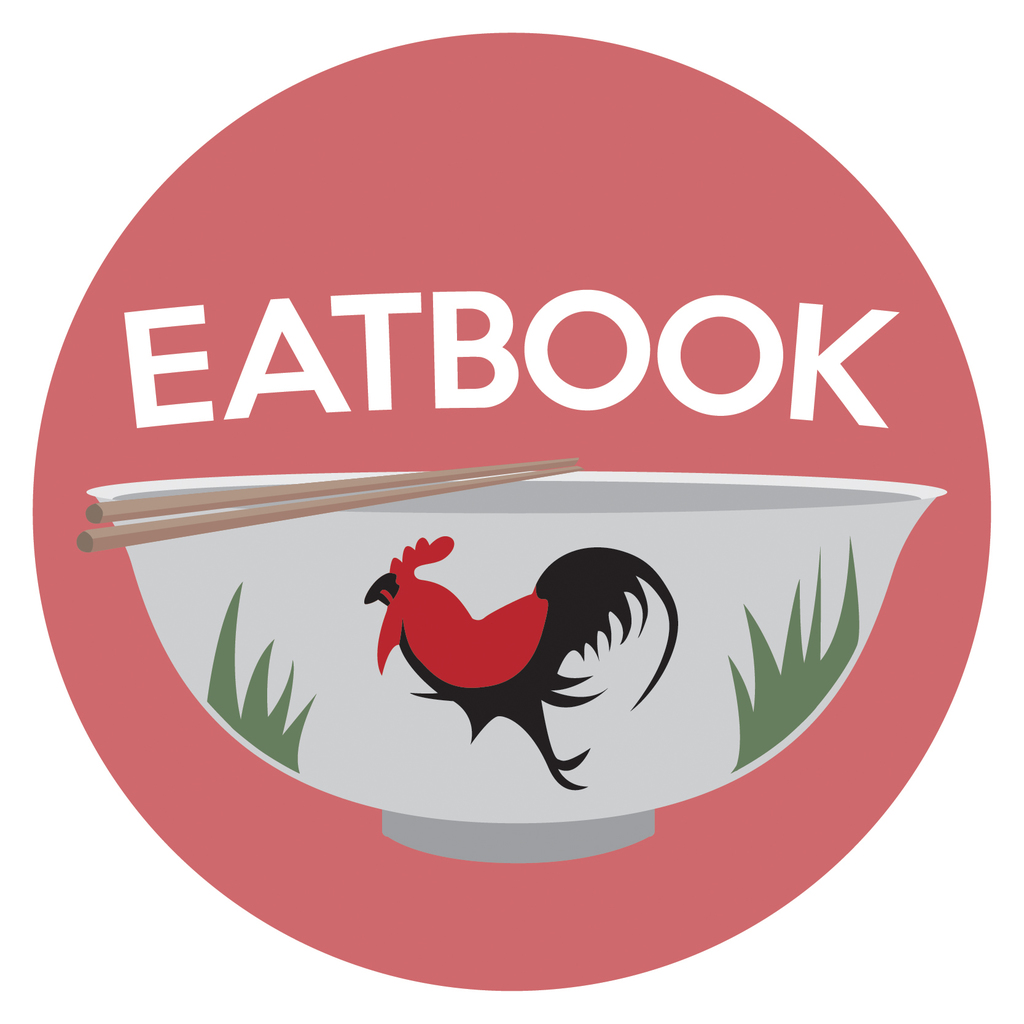 Drop us your email so you won't miss the latest news.