Botak Delicacy is a real hidden gem in Tampines

As I grew older and became increasingly exposed to a variety of new and novel cuisines, I found myself consuming more ma la xiang guo, Japanese ramen, and gourmet burgers.
Sometimes, I wonder when was the last time I slurped up a comforting bowl of fishball noodles? Or savoured the sweet familiar milky flavours of an ice-cold teh peng, instead of a hazelnut milk tea from Koi?
I've always had a soft spot for congee. Growing up in a Cantonese household, my mother would always whip up steaming bowls of thick and creamy congee on Sunday mornings. For me, Sunday is congee day.
All good things come to an end, and as time passed, we started to make simpler dishes – sometimes even popping a frozen pizza in the microwave. It seems like convenience is always the easier way out.
I've recently stumbled upon Botak Delicacy at the modern Our Tampines Hub Hawker Centre. And it wasn't long that I relieved a tiny part of my childhood at this humble store.
Food at Botak Delicacy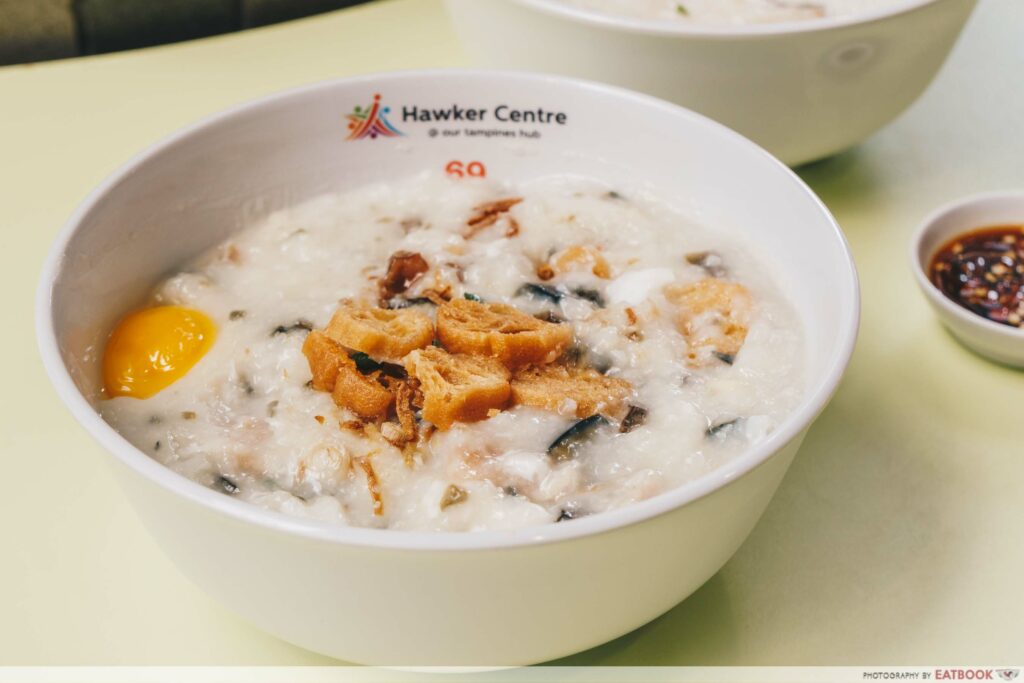 Their menu is kept simple with seven different porridge and an odd inclusion of Taiwanese braised pork rice. We started off with the Century Egg With Lean Meat Porridge ($3.50), which sits prettily in a large bowl. Like how all congee should be enjoyed, we added an egg ($0.50) to give a touch of creaminess.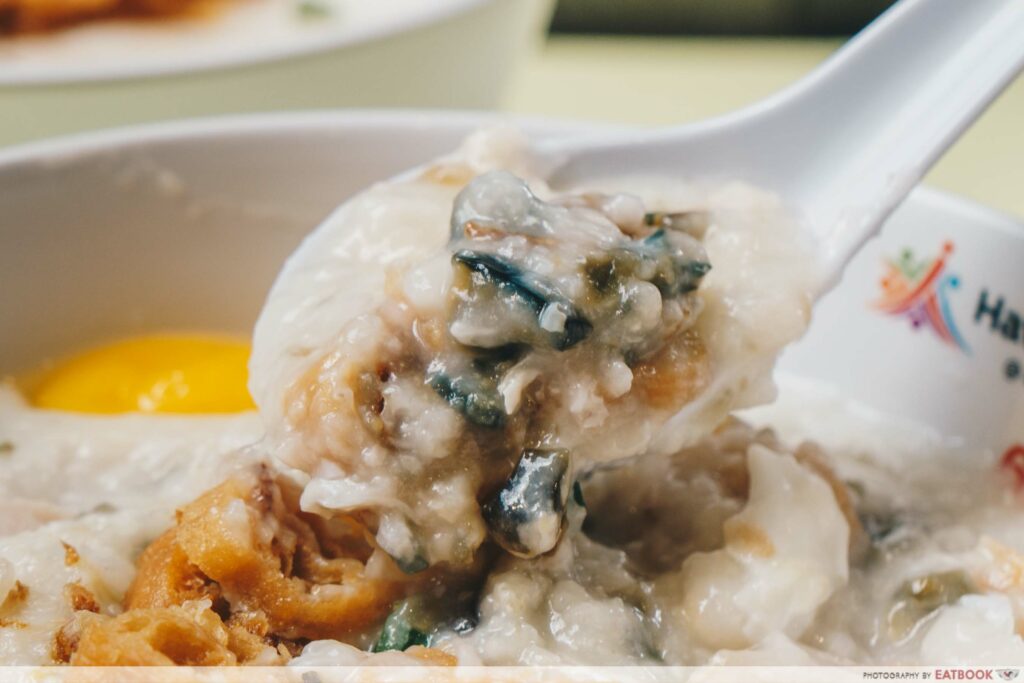 I was sold from the first bite. Unlike some stores where century egg is simply garnished atop the porridge, they mince and mix it in during the cooking process. This gives it a blended and rounder aroma, without the vulgar and overly sulphurous odour of century eggs.
Directly cooking the century egg with the porridge imbues everything with a constant stream of flavours, making me reach for more.
There was a right rice-to-stock ratio, giving everything a rich and creamy consistency. For me, viscosity is crucial when judging a good congee. The one here passes with flying colours.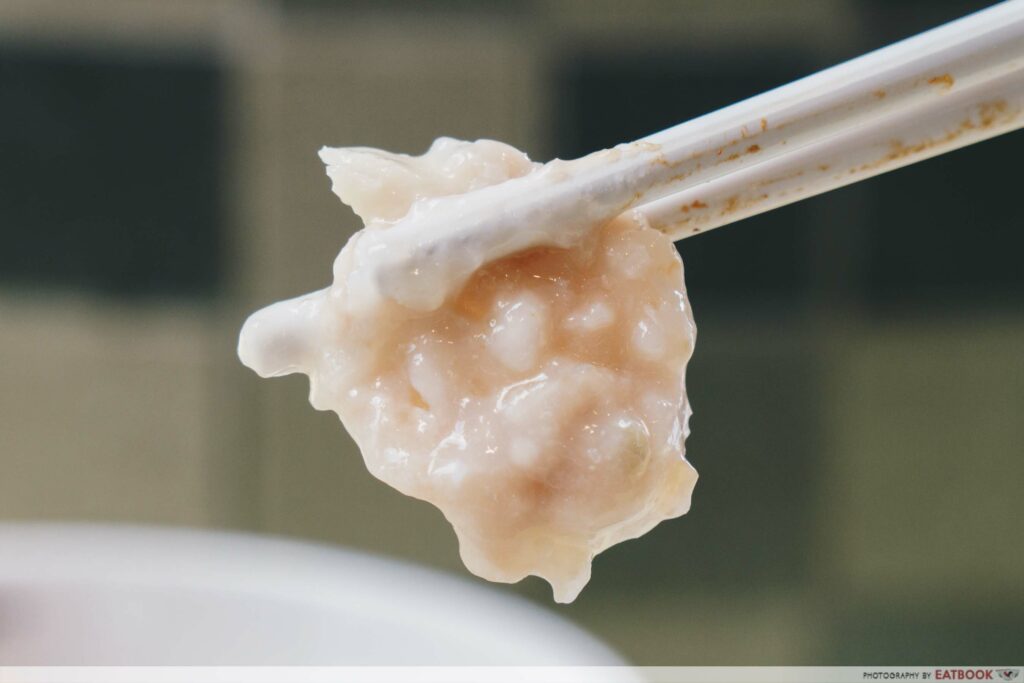 The lean meat porridge is cut to the right size, making it easy to pop in our mouths while retaining a nice and firm texture.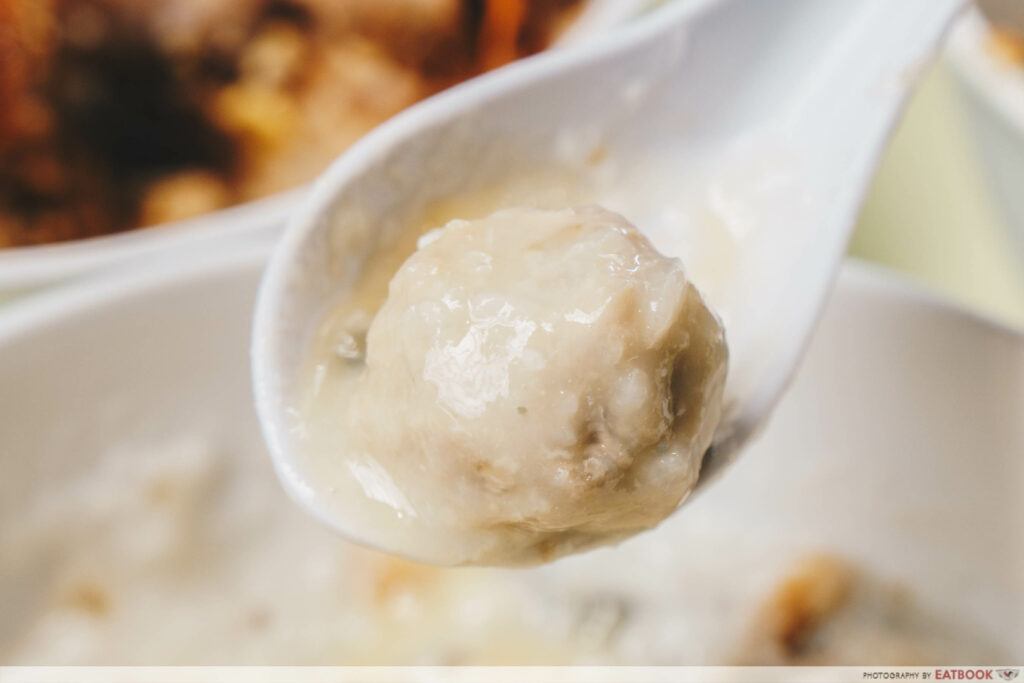 Two handmade meatballs are also tossed inside to give a good mix of meats. It's highly recommended to top up an addition $1 for more meatballs.
Made with fresh chunks of lean meat and a slight tinge of fats, these tiny spheres exploded with flavours. They were so smooth yet meaty, and I found myself taking a moment to pause and appreciate the simple but delicious flavours.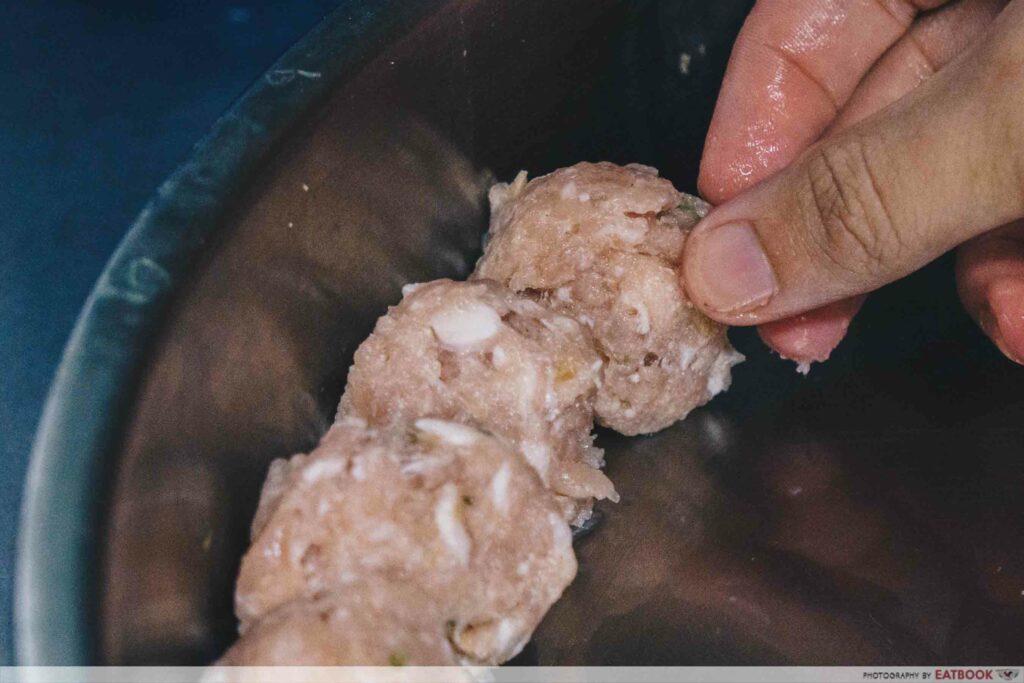 The meatballs are painstakingly shaped and kneaded by hand every morning.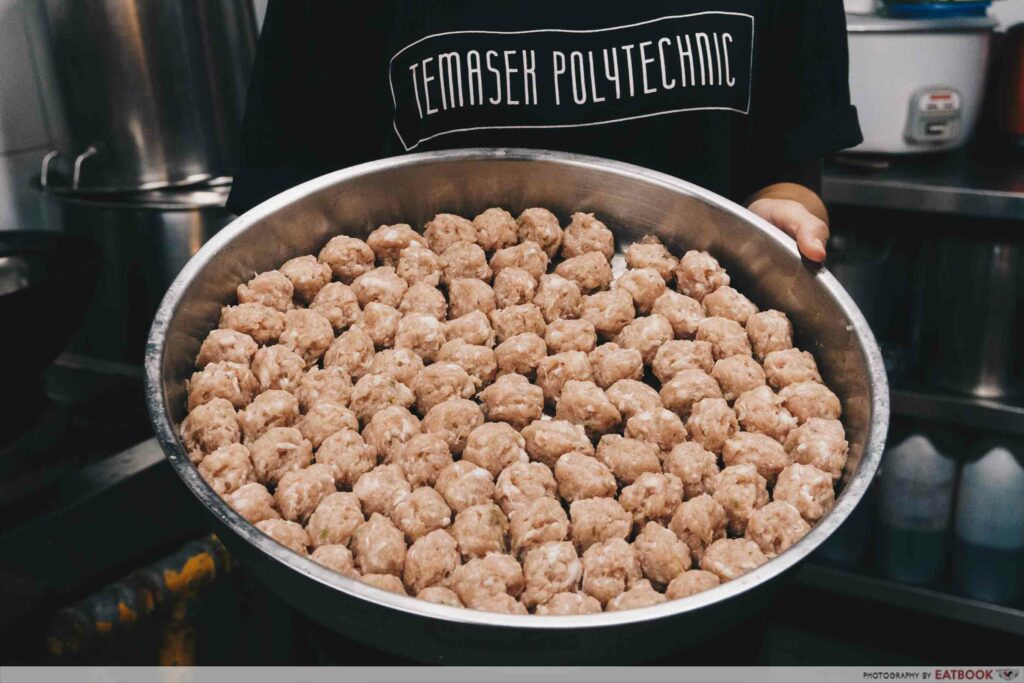 While it takes just half a second or more to expertly shaped each ball, hours and hours of prep work go into making sure that each ball tastes the same. I really appreciated them going the extra mile, especially when this labour intensive task is increasingly being replaced with machine-made meatballs that simply do not taste or look the part.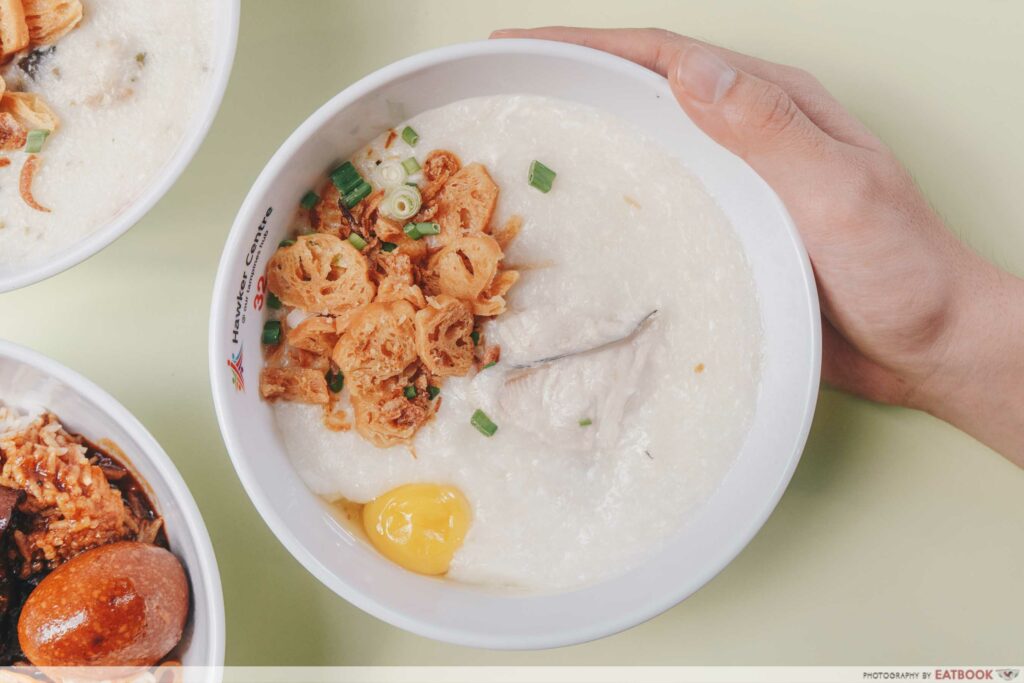 The Fish Porridge ($3.80) was just as impressive, coming with slices of Spanish mackerel or Batang fish.
Fish porridge can sometimes be too fishy, with the meat being too tough and dry. The ones here are nothing like that, giving off a nice brininess that provides an extra richness to the congee.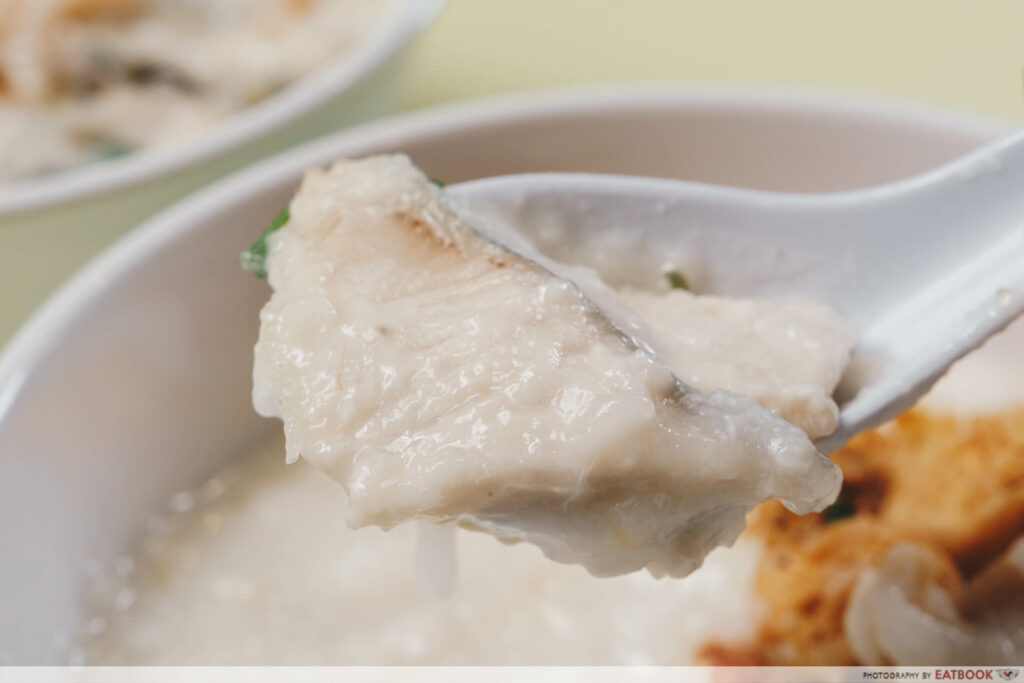 The fish are also sliced to the right size; neither too big nor too small. The portions are also pretty sizeable, with generous amounts of fish appearing with every scoop.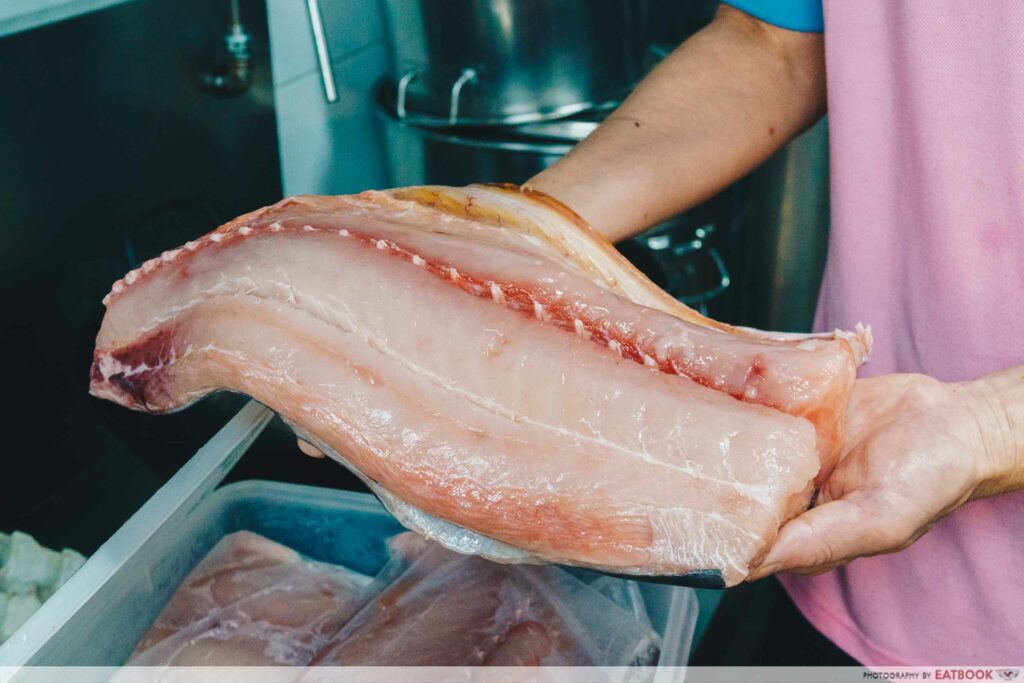 Only fresh grade A Batang fish is used. While it is much pricier, the owners have stood to their principle of using fresh and quality ingredients.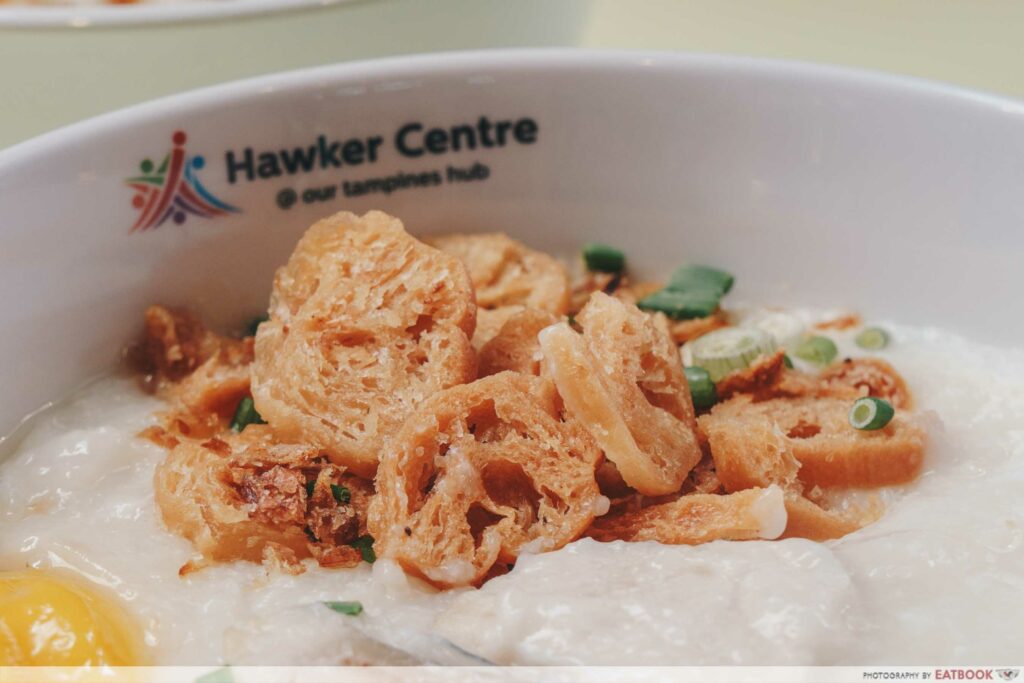 Instead of regular chunks of semi-soft you tiao, the dough fritters are thinly sliced and fried to give a crisp and crunchy consistency. A few drops of sesame oil are also drizzled to give a slight kiss of nuttiness.  
Simple as they sound, these garnishes act as a beautiful ribbon to tie everything up nicely.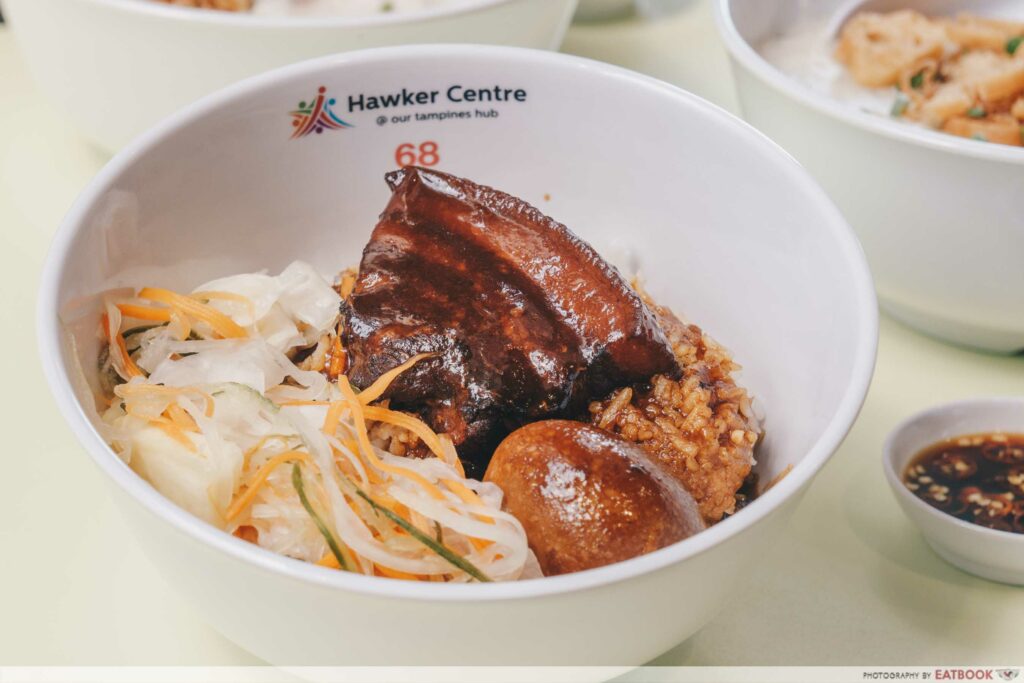 As tasty as congee might be, there's just one mini drawback – it doesn't fill up my stomach. Luckily, the store also offers Taiwanese Braised Pork Rice ($3.50) that comes with white rice, house-made pickled vegetables, hard boiled egg and a thick slab of braised pork belly.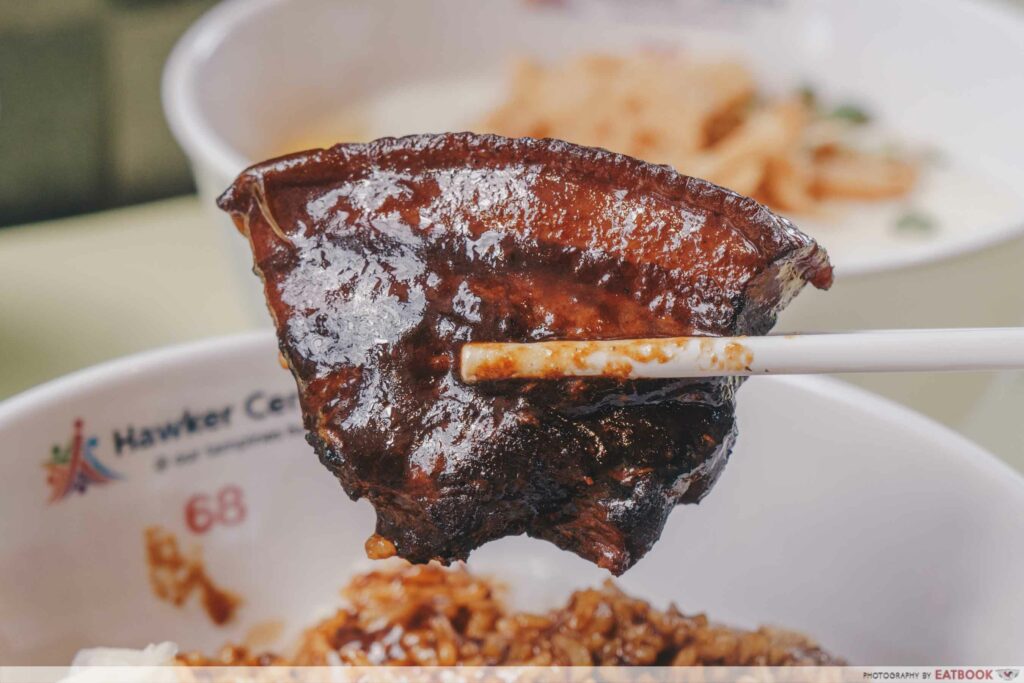 Glistening with a flavourful soy-based sauce, the pork belly is served in a whole chunk to give a more substantial texture and mouthful.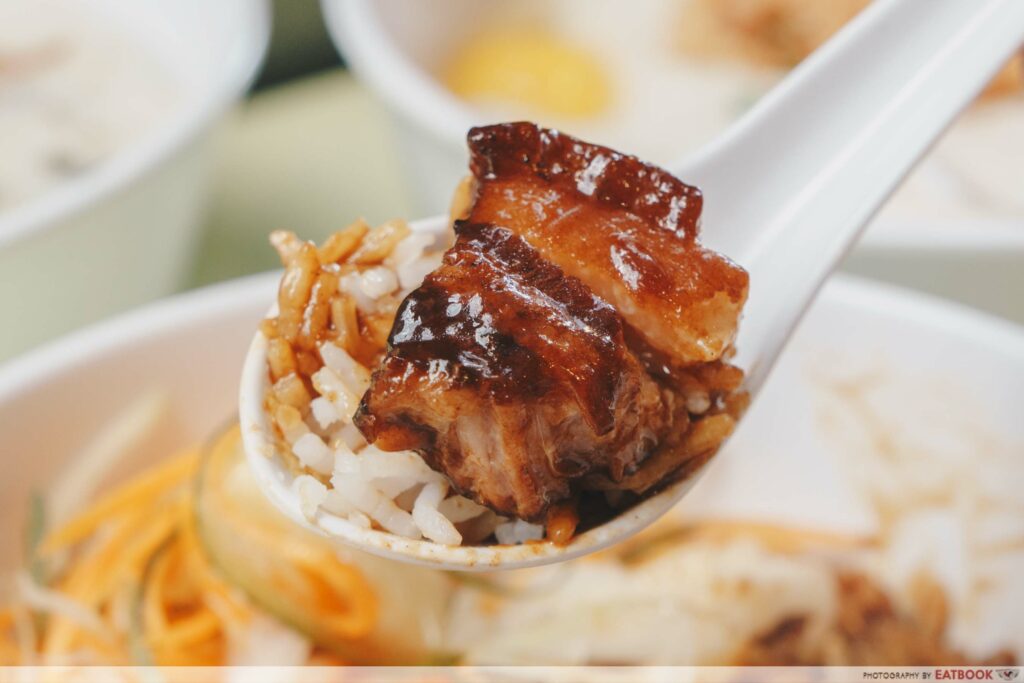 The meat easily melted in our mouths, with a copious amount of gelatinous fats. Well-seasoned and nicely seared, this is one fatty pork belly that is worth hitting the gym for.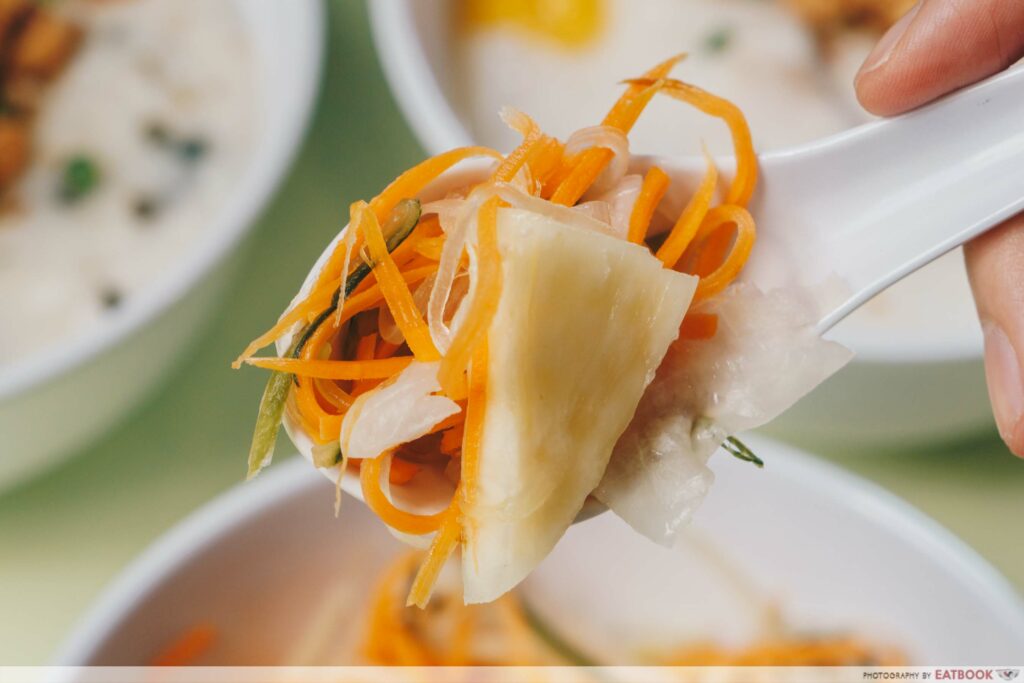 Pickled vegetables are also given to provide much-needed acidity to cut through the richness. My only gripe was that the pineapple chunks were too big, making it a little hard to gulp down in a single bite. Perhaps they could have been cubed to bite-sized pieces.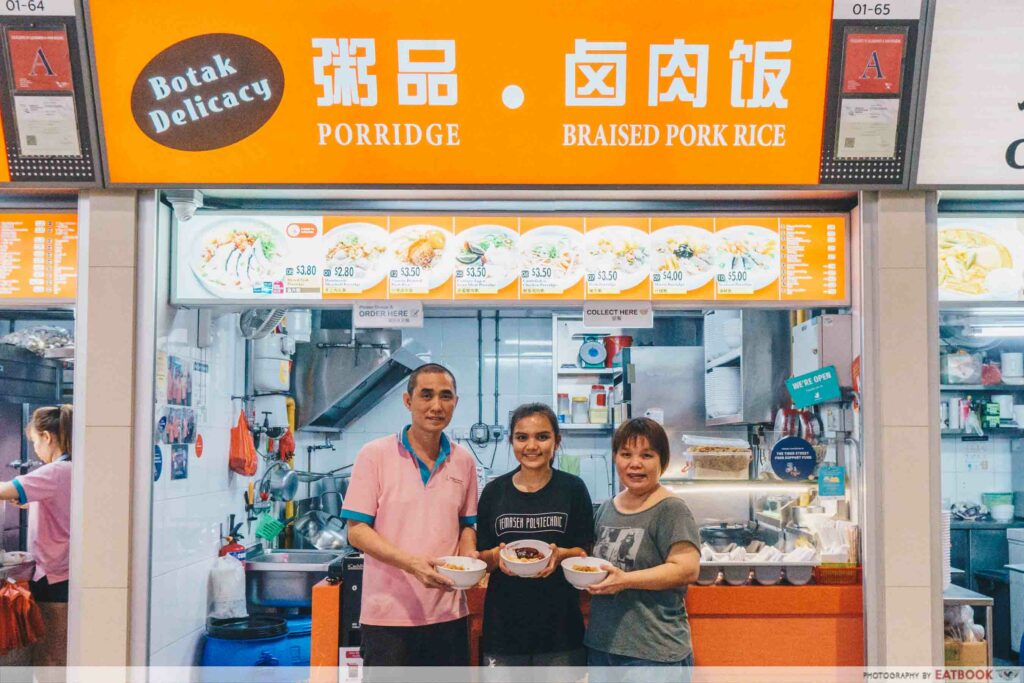 The people behind the food are none other than Ngoh Jook Guan, Lim Hwee Yi, and Ivy Lim who run the store in the morning. At night, the family business is manned by their relatives.
It's not every day that you run into a store selling congee and braised pork rice bowls, but the story behind this family store is quite interesting, with everything taking place at Golden Mile Hawker Centre. Back then, Jook Guan was manning a mixed vegetable rice store while Ivy was running a porridge store. As they both lived in Pasir Ris, they often went home together.
Romance slowly blossomed between them, and they got married afterwards. Botak Delicacy is a cumulation of their talents, with Ivy supplying her porridge expertise and Jook Guan dishing out the famous braised pork rice from his previous cai fan store.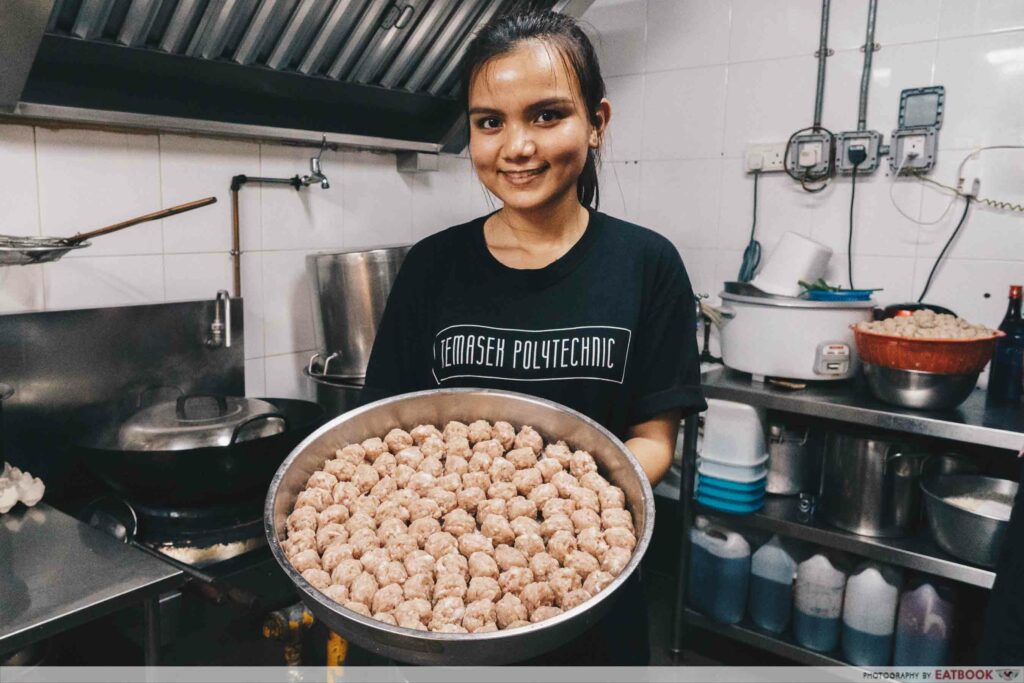 It might seem a little startling for a young and fresh face to be serving up hawker fare. But Hwee Yi, 21, is no stranger to hard work, having worked in her mother's porridge store when she was six-years-old.
She recounts an incident when she tripped and fell while delivering a tray full of porridge. The then seven-year-old didn't know what to do and went crying back to her mother instead.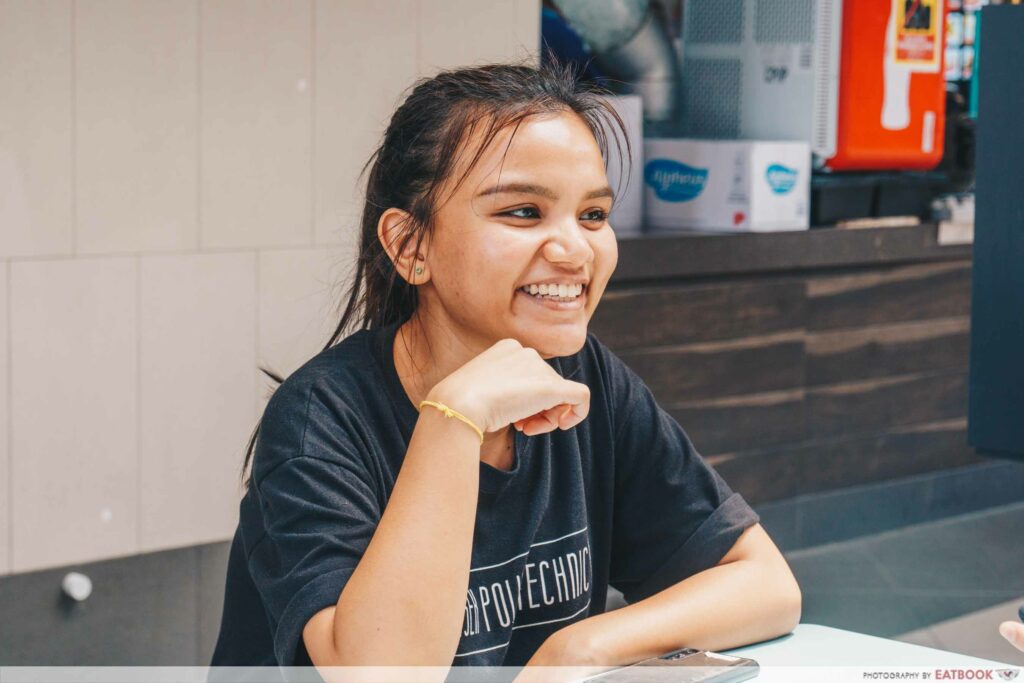 Now a full-fledged hawker, the graduate of Temasek Polytechnic's business programme has since come a long way. This spunky hawker is a fast learner, able to prepare all the porridge dishes by herself.
Fueled by her passion for keeping her family's heritage alive, this second-generation hawker toils on and is keen to make a name for herself in the hawker scene.
Ambience at Botak Delicacy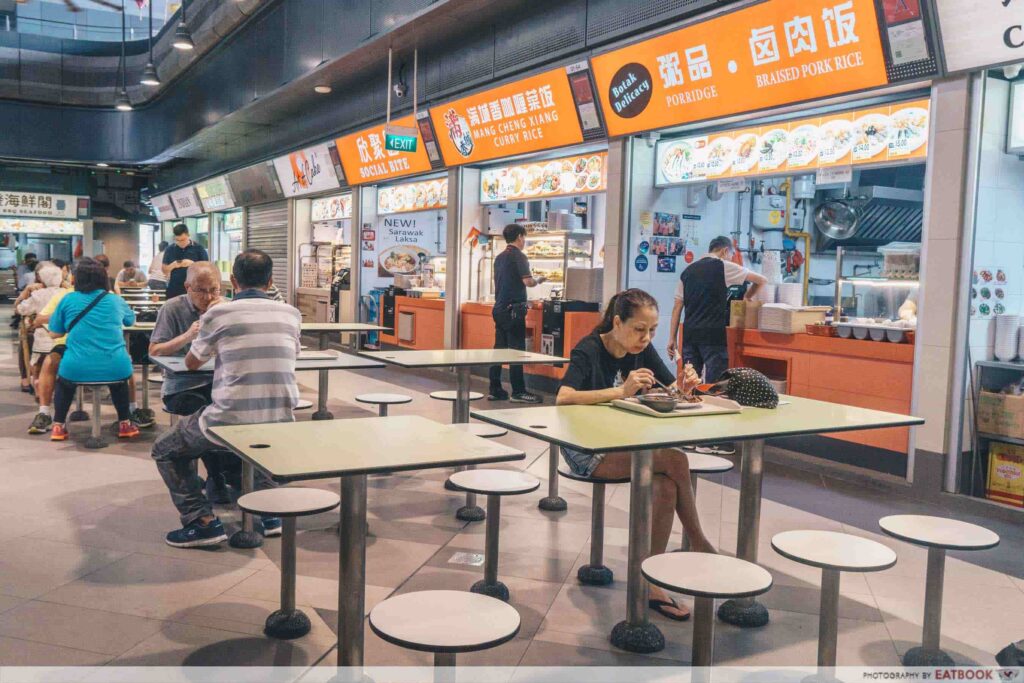 Located at Our Tampines Hub, this modern hawker centre is easily accessible by Easties. There are plenty of seats available and the area is relatively cooling.
Waiting time is short despite the steady flow of customers streaming in. The happy hawkers greet each customer with plenty of enthusiasm and even remember the favourites of their regulars.
The verdict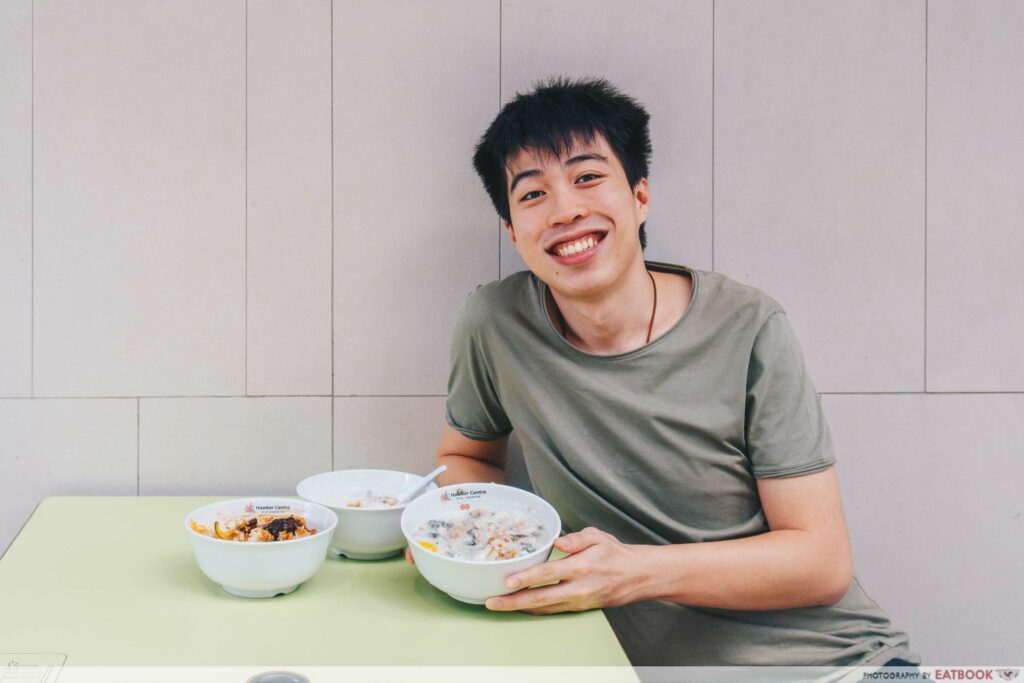 Despite the limelight being shined on hawker culture in Singapore, it's difficult to come across new hawker stores that are serving up local classics.
As I slurped on the simple but elegant bowl of congee at this humble store, I made a silent prayer. A plea for young hawkers such as Hwee Yi to uphold the legacy of our hawker culture. Just like a comforting bowl of congee, there's nothing more soothing than visiting a no-frills store that serves up a time-honoured classic. All the best Hwee Yi.
If you're heading to Tampines, be sure to check out Tipsy Penguin which is just a stone throw's away from Botak Delicacy. Or if you're in town and craving some authentic Cantonese congee, be sure to also check out Mui Kee Congee from Hong Kong.
Tipsy Penguin Review: Chillout Corner With Surprisingly Good Food Near Tampines MRT
Address: 1 Tampines Avenue, #01-65, The Hawker Centre @ Our Tampines Hub, Singapore 529684
Opening hours: Daily 6:30am to 11:30pm, closed on alternate Wednesdays
Website
Photos taken by Rae Fung.
This is an independent review by Eatbook.sg.
Botak Delicacy Review: Must-Try Cantonese Pork Congee By A 21-Year-Old At Tampines
Summary
Pros
– Simple but excellent congee
– Meatballs were very tasty
Cons
– Don't expect to be wow-ed by something novel and exciting
Recommended dishes: Century Egg With Lean Meat Porridge ($3.50), Fish Porridge ($3.80)
Opening hours: Daily 6:30am to 11:30pm, closed on alternate Wednesdays
Address: 1 Tampines Avenue, #01-65, The Hawker Centre @ Our Tampines Hub, Singapore 529684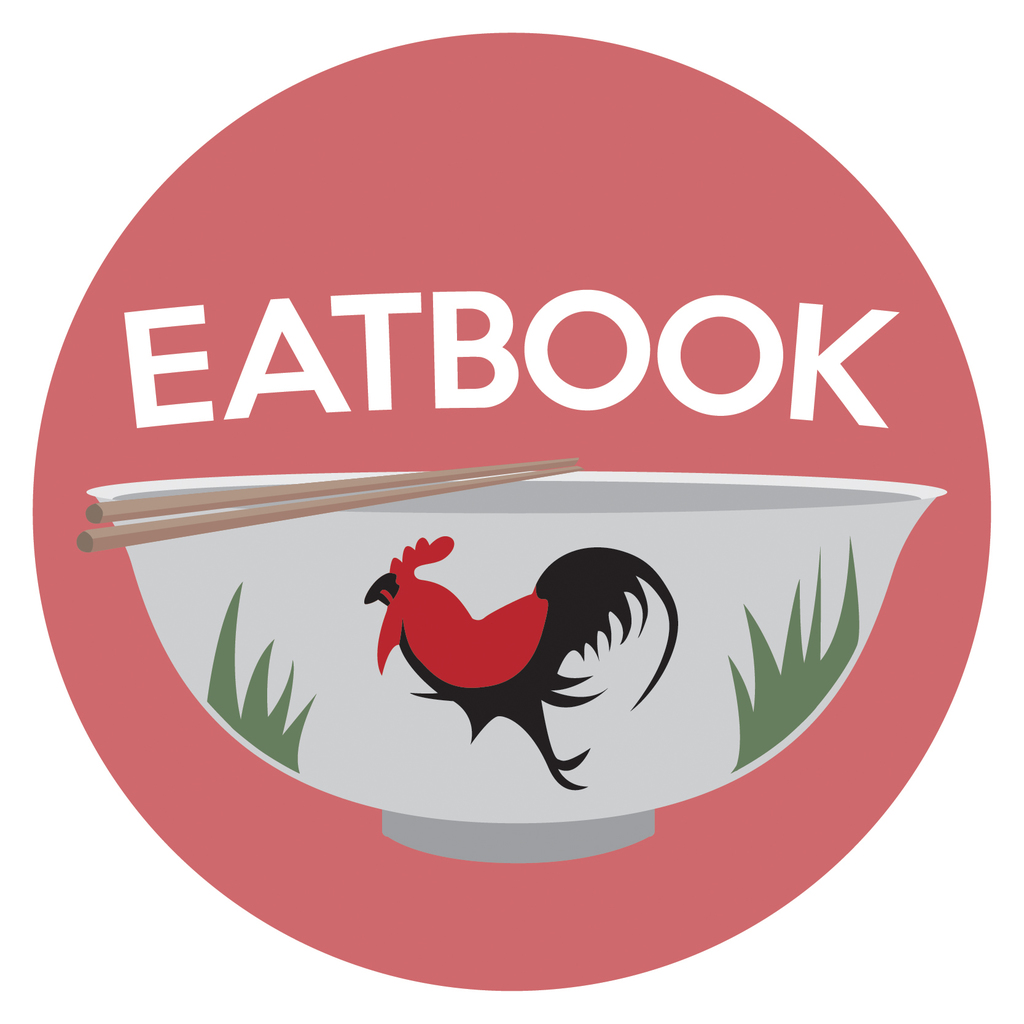 Drop us your email so you won't miss the latest news.