Choon Seng Teochew Porridge is a famous 90-year-old stall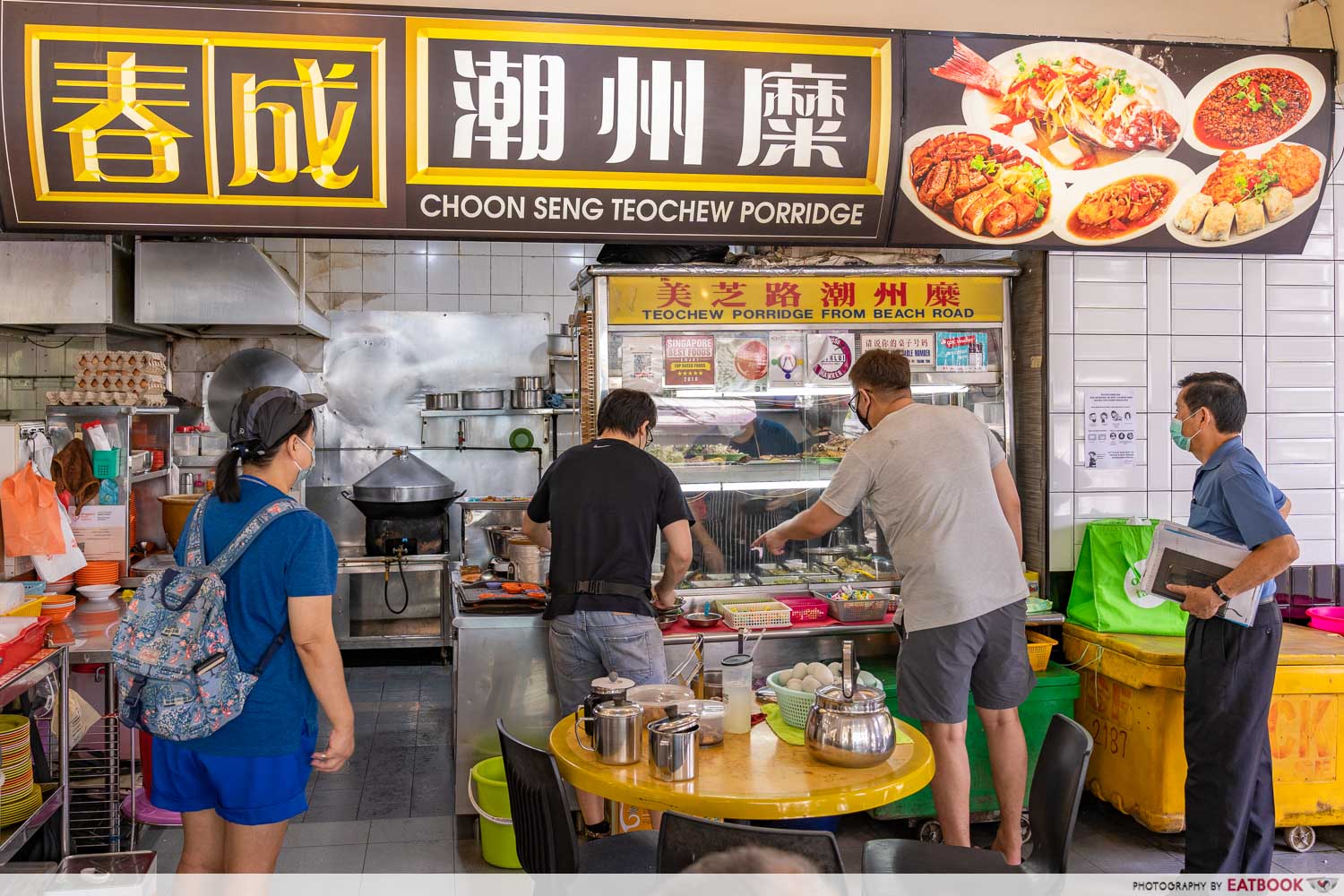 Jeremy Tan looked no older than 30. Dressed in a Nike dry fit T-shirt and wet market boots, the young man sat down with us after closing up shop for the day. And though he had spent the last half-hour vigorously cleaning the stall, he was at ease as we posed him questions regarding his family's nine-decade-old business, Choon Seng Teochew Porridge, a famous stall in Farrer Park whose existence can be traced back to before World War 2.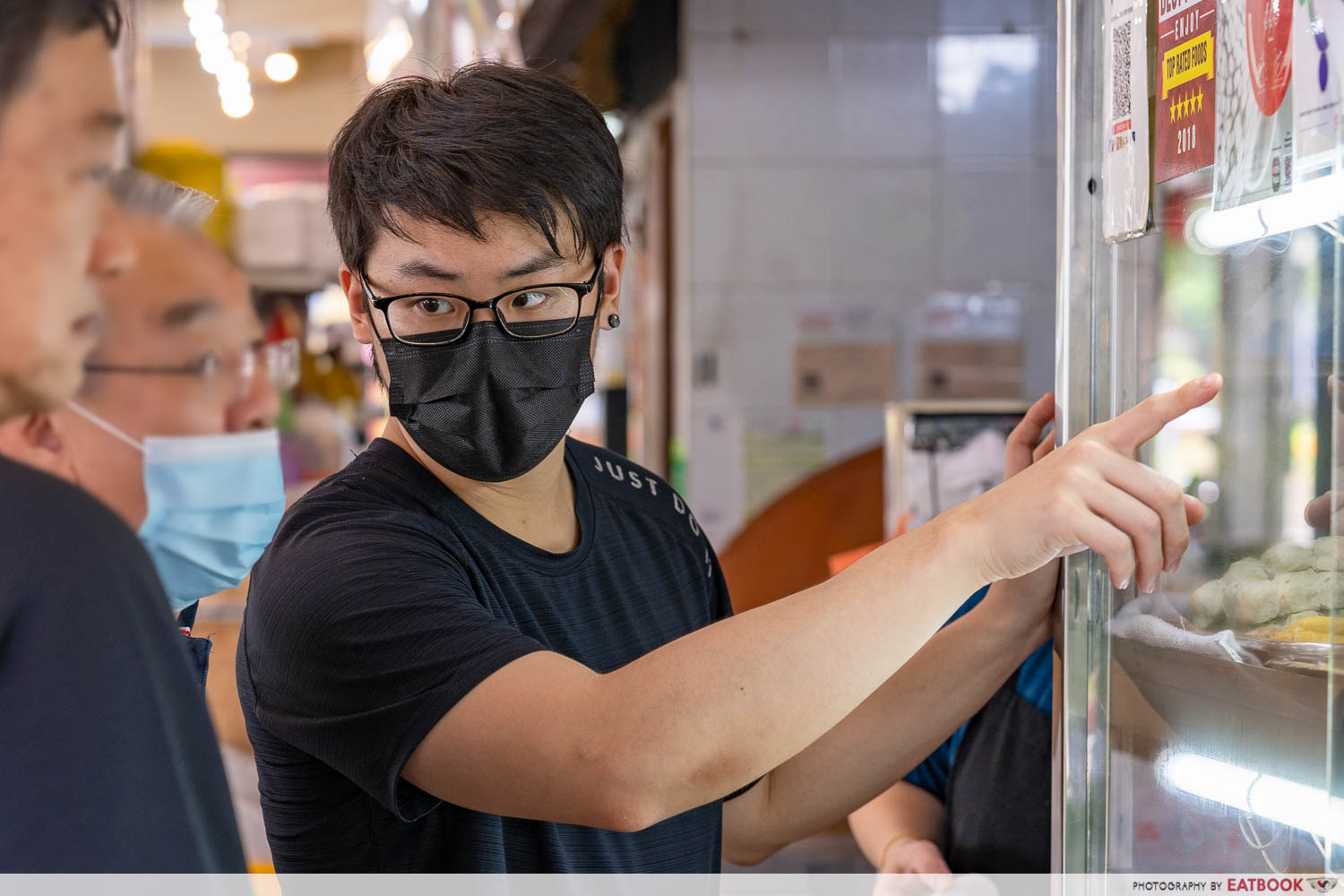 The 29-year-old breezed through most of our queries, but there was a momentary pause as he pondered the last one. Why, unlike so many in his situation, has he decided to join his parents in their hawker business?
"Because I am proud of it," he finally said, as if he couldn't be surer of anything in the world.
Jeremy is poised to be the fifth generation owner of the stall, carrying on a legacy that survived periods of social and economic instability to emerge with its core—a commitment to serving great Teochew porridge—intact.
To find out more about the stall's history, we spoke in-depth with Jeremy's parents and current Choon Seng owners, Thomas and Janet Tan.
15 Teochew Porridge Spots In Singapore For Affordable Feasts
The two upheavals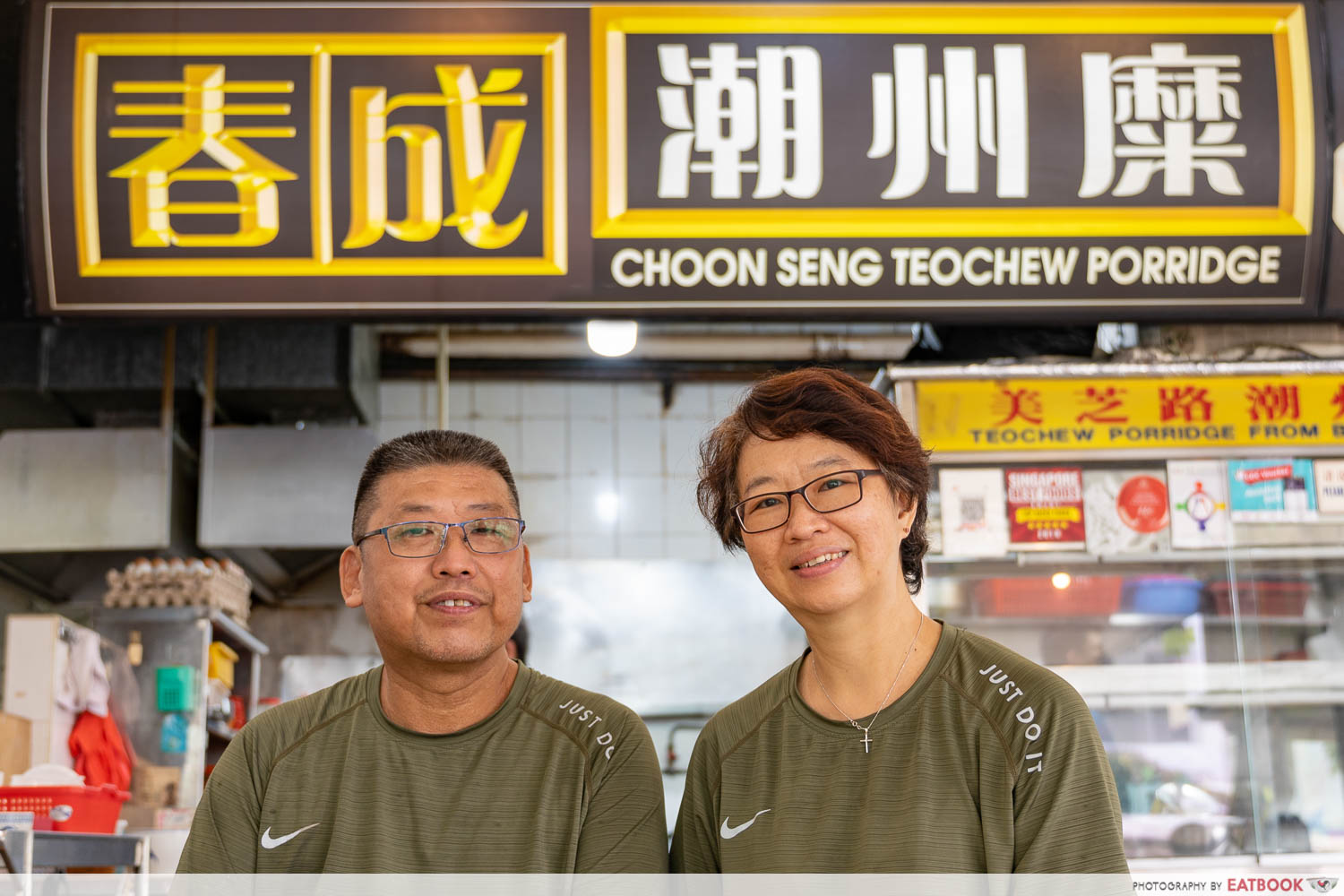 "I'm not sure when Choon Seng was first opened, so long ago already," Thomas chuckled. "I think at least 90 years ago. My dad, who is the third generation, is about 85 years old now. His uncle was the original owner of the stall."
I took a few seconds to place all the past owners on a mental timeline; such is the stall's mind-boggling lineage. That means, I noted to myself, the first generation owner was Jeremy's great, great granduncle.
"In the early days, the stall was set up on the roadside," he continued. "Customers would squat beside it and eat very simply. Porridge, with salted vegetables and tau pok—that's enough to make them happy!"
"Customers would squat beside (the roadside stall) and eat very simply. Porridge, with salted vegetables and tau pok—that's enough to make them happy!"

The roadside stall was quite popular in the 1930s, but everything changed when the Second World War arrived. Realising the threat to their safety, the Tan family put their Teochew porridge business on hold and fled to Malaysia, then known as Malaya. This was the first upheaval that threatened Choon Seng's existence.
Following the war, Choon Seng resumed operations and managed to find its footing once again. But as Singapore itself underwent significant change following its independence in 1965, another upheaval was on the horizon for the street hawker trade—and for Choon Seng, as well.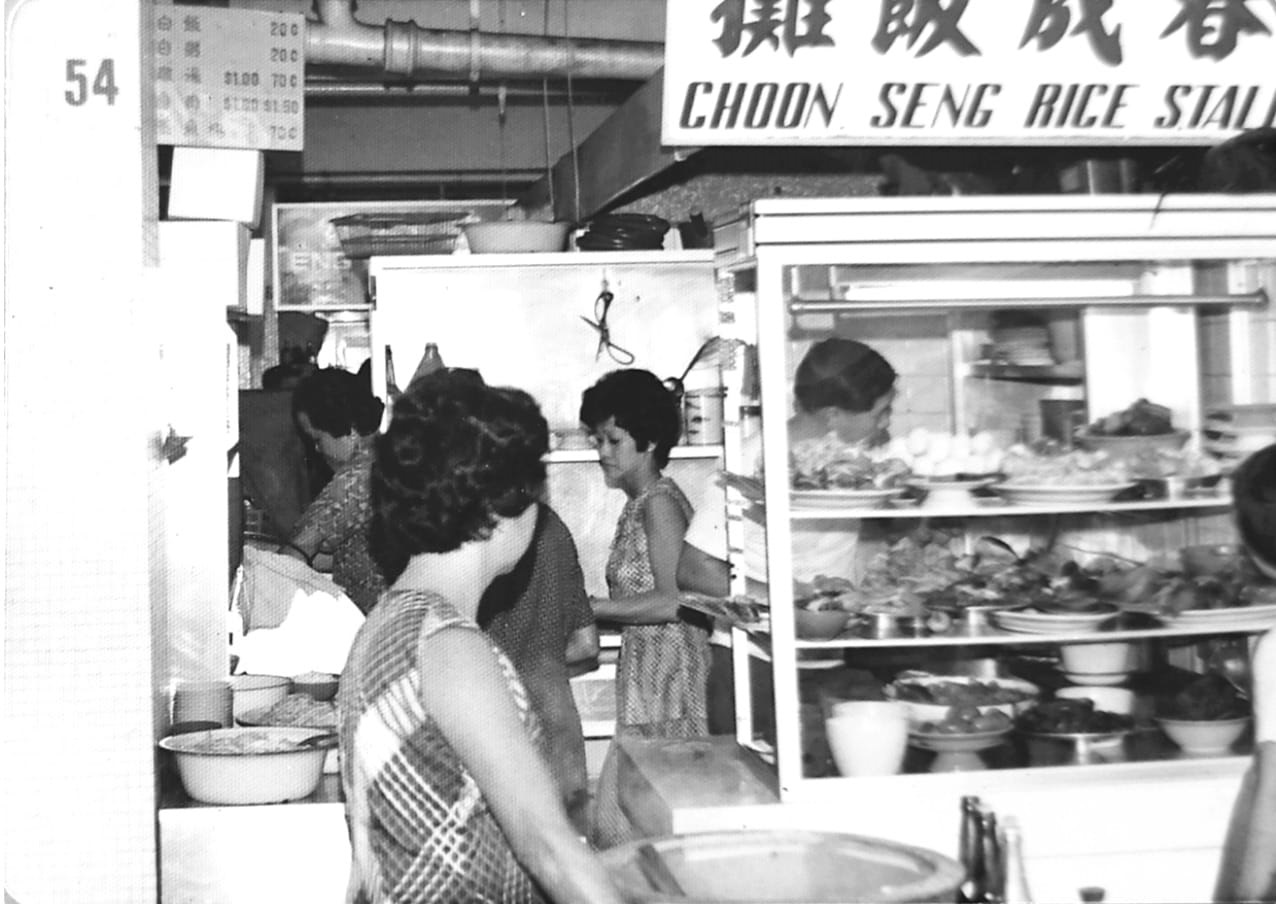 The old Choon Seng stall at Beach Road
In the 70s, the government began moving all street hawkers to hawker centres. "That was how we shifted to our Beach Road stall," Janet explained. "There were many issues with the location—always a lot of renovations going on, lack of car park, all these. Our business was quite affected."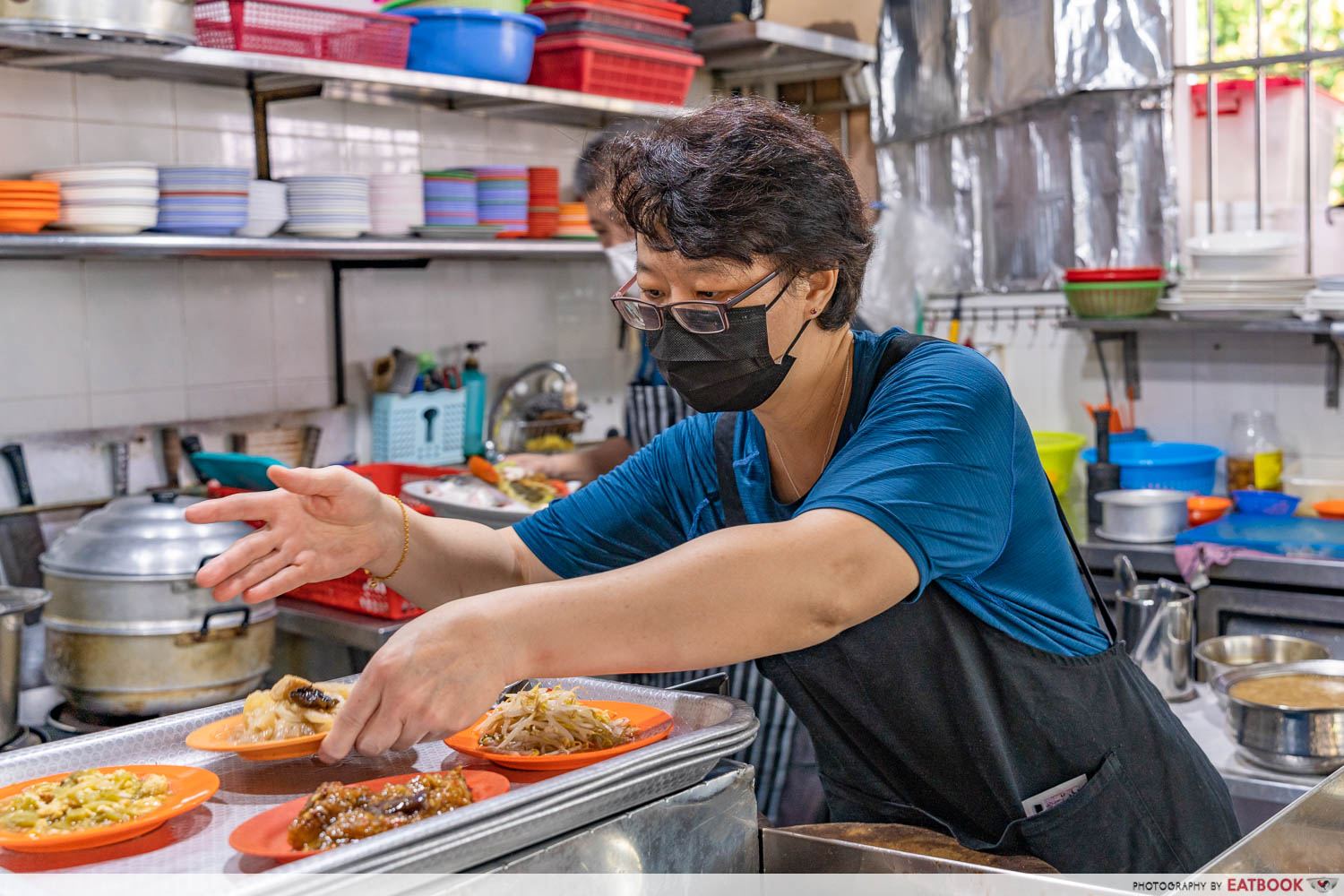 As financial difficulties loomed, the family thought about closing the stall a few times. But they persevered. In 1998, Choon Seng moved to its current Farrer Park location.
Thomas took over the stall from his father two years later.
Teochew porridge for modern times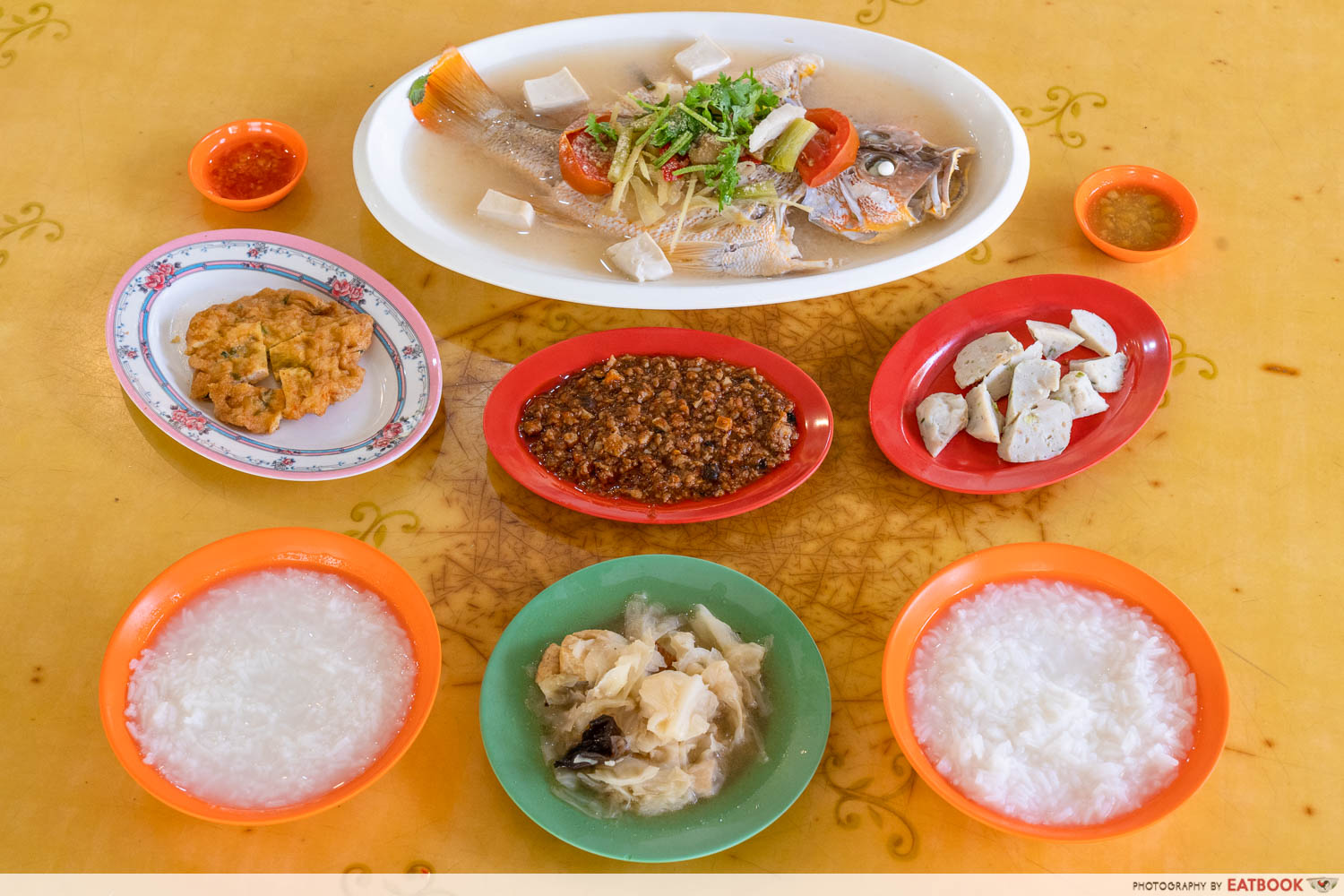 Thomas and Janet have been running Choon Seng for two decades now. They've seen the tastes and preferences of their customers change over the years, and like any eatery that wants to remain relevant, they've adapted to the times.
"Our customers come from all backgrounds nowadays," Janet observed. "Many of them are wealthier, like businesspeople, and they tend to order more expensive dishes such as Steamed Fish. We seldom had that at the Beach Road stall. Now, it's a star attraction."
The type of steamed fish varies by day, but some of Choon Seng's most well-received choices include the red grouper and humpback grouper.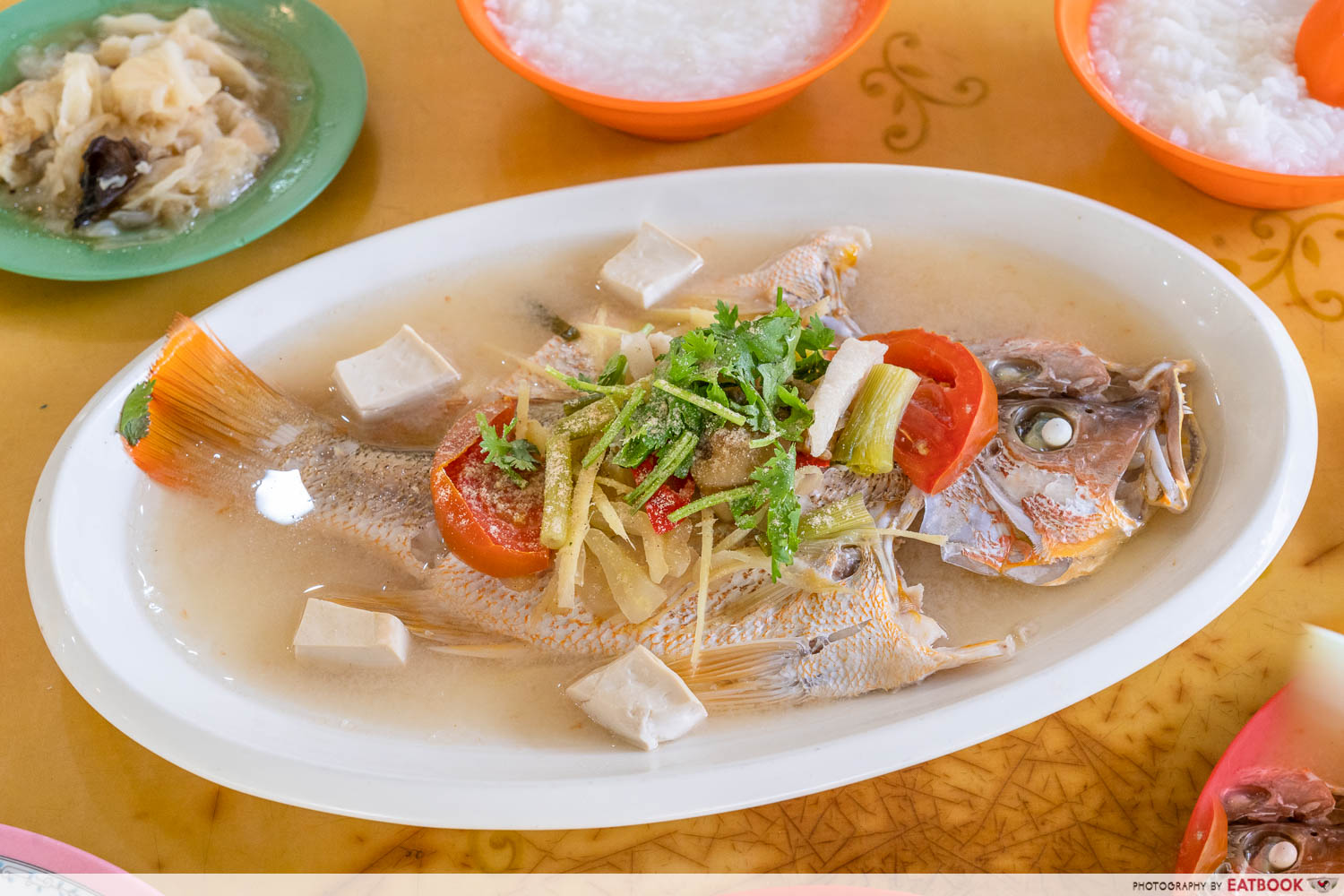 In order to secure the freshest fish, Thomas will be at the fish market in the dead of night, three times a week. "On a day where I have to buy fish, I would have to reach the market at 11pm, and slowly wait for the fishmongers to arrive with their catch," said Thomas. "Once I've bought all I need, I would only reach home at three in the morning. Then I go back to the stall at 5am."
I shuddered at the thought of those sleepless, late-night expeditions at the market. And yet, Thomas is so used to them that they barely bother him.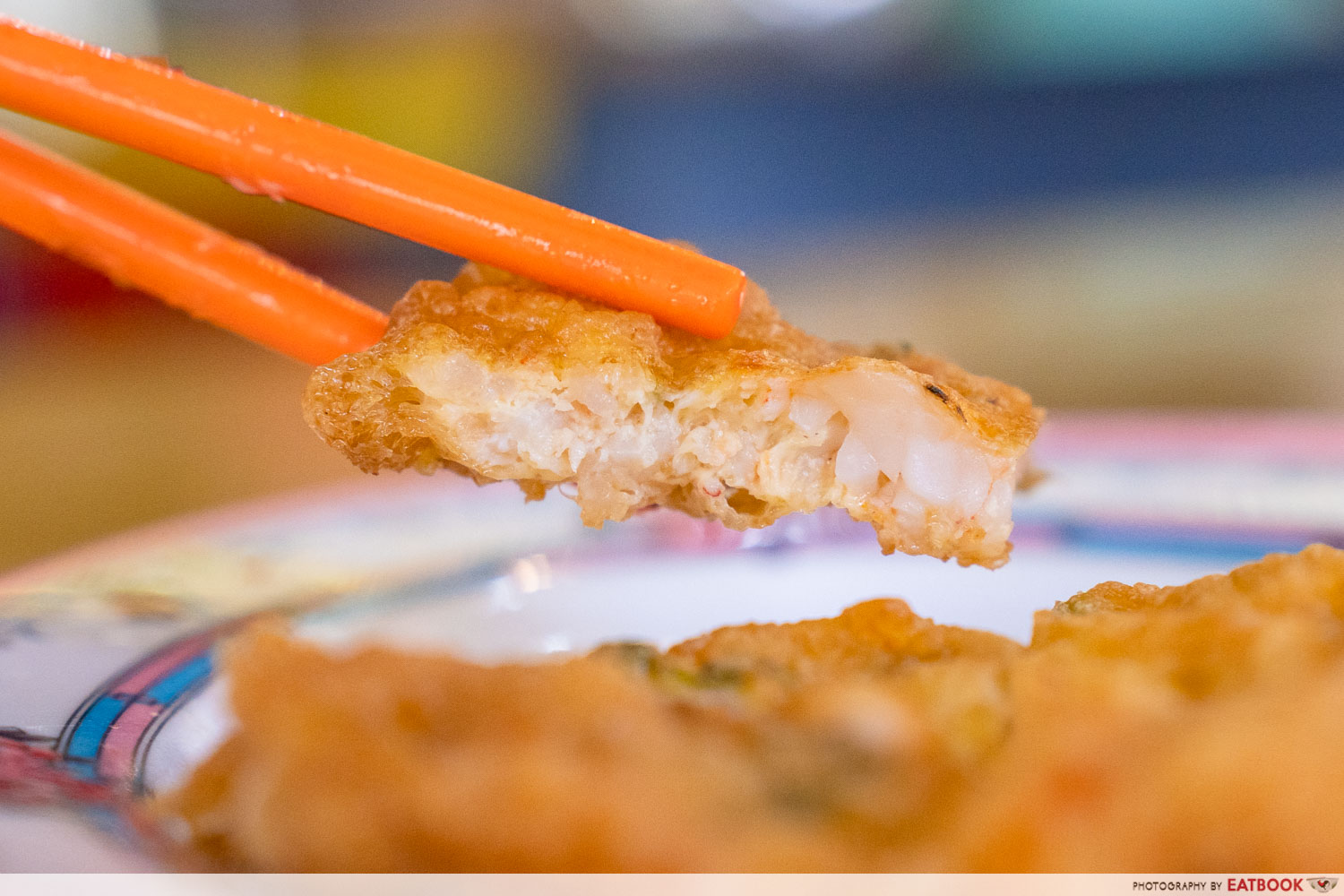 He is also there to buy fresh prawns, which are used for Choon Seng's noteworthy Prawn Omelette. Many reviewers have used the word "unique" to describe this dish, and I would agree with them. It was thin but densely packed, with juicy prawn bits that added a nice sweetness to the salty fried egg.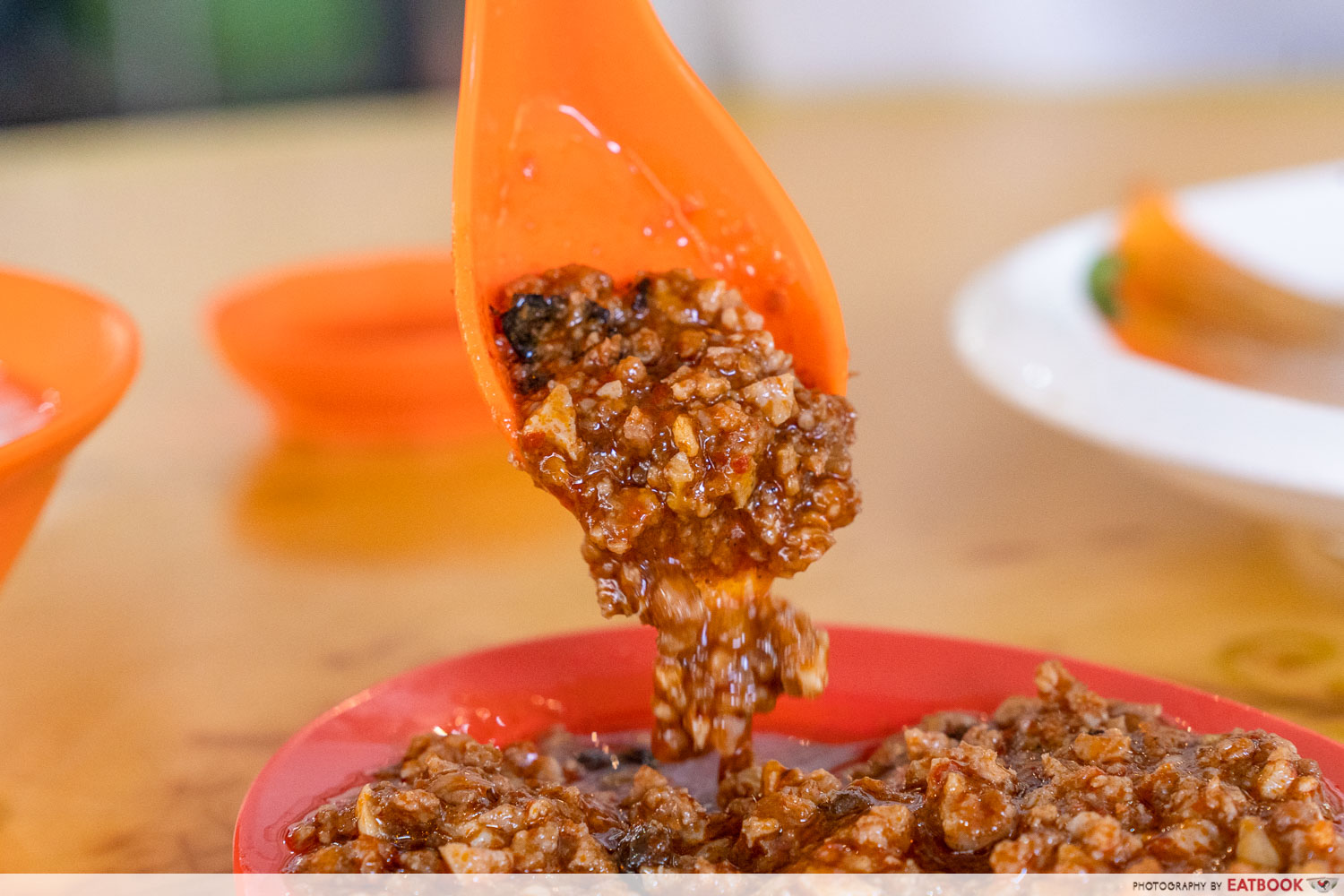 To me, however, the most important dish to get at Choon Seng is their Minced Pork. For those who complain about the blandness of Teochew muay, try mixing this dish into your bowl—its spicy kick and savouriness transform plain porridge into flavourful gruel.
If customers of the old roadside Choon Seng were to try this, the intensity of the minced pork would probably come as a shock.
A timeless purpose
For a man well-aware of his stall's rich heritage, Thomas is surprisingly bashful about Choon Seng's popularity.
"We are famous meh?" he replied when asked about the stall's iconic status.
I told him that many of the "best Teochew porridge" guides rate Choon Seng as one of the best Teochew porridge stalls in Singapore, so they must be at least a little famous.
"I don't feel we are," he insisted.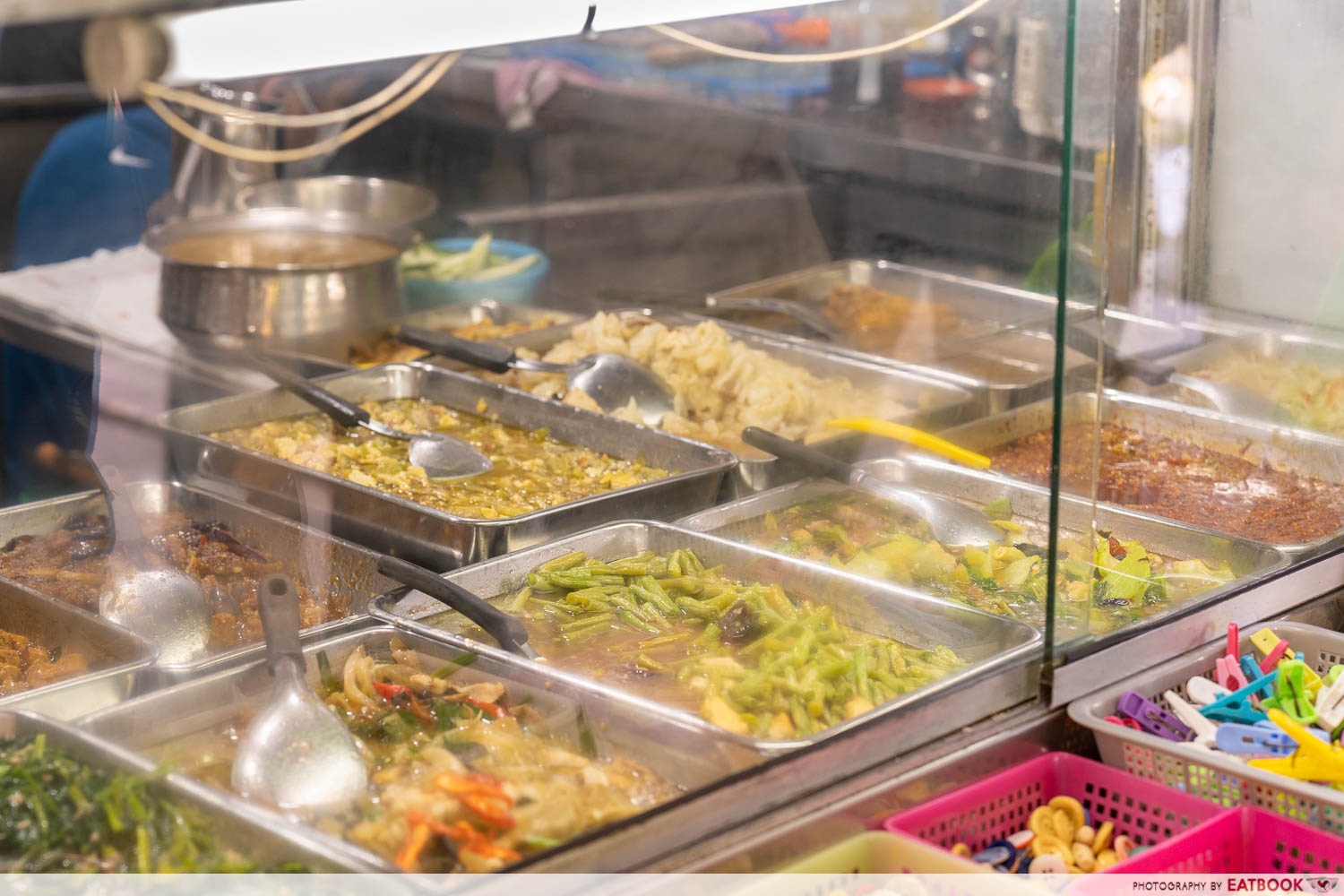 He did, however, concede that the stall has a lot of loyal customers. Apart from preserving the family's business, the desire to maintain strong relationships with their regulars is why Choon Seng is still going strong.
"We have this regular who's been eating our porridge since she was 13. She's now 80," Janet beamed. "Because of that, we've given her a nickname: 十三岁 (13 years old)!"
"When we run a stall for so long, we get to see our customers grow old with us. Eventually, they bring their children, then their grandchildren to the stall. This is one of the most satisfying things about the business."
"We get to see our customers grow old with us. Eventually, they bring their children, then their grandchildren to the stall. This is one of the most satisfying things about the business."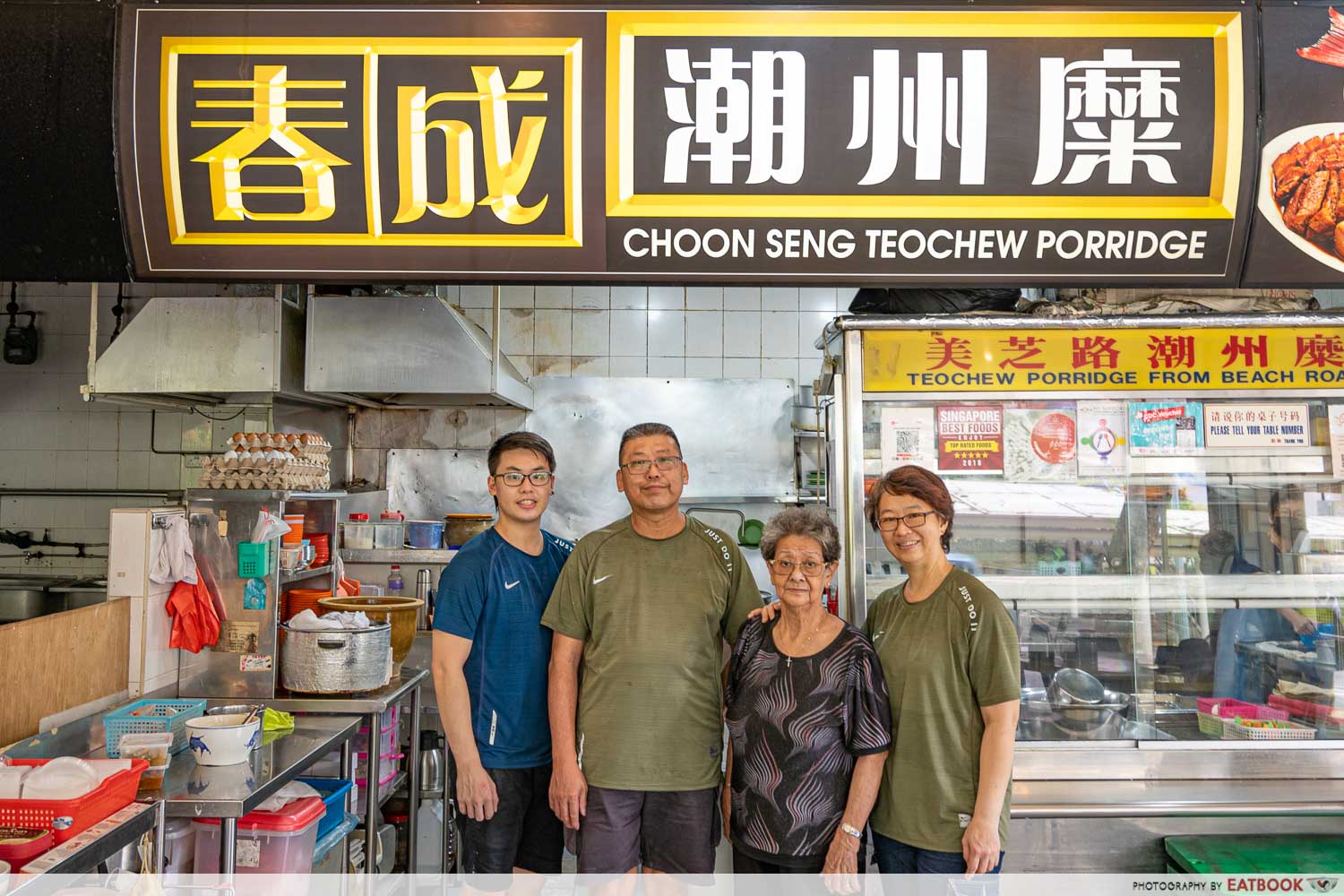 Three generations of Choon Seng (Thomas' mother is second from the right)
But in order to continue Choon Seng's purpose, a successor is needed. With Jeremy, Thomas and Janet have a son who is interested enough in the hawker trade to pursue a diploma in culinary arts at SHATEC. In an age where young people are less likely to become hawkers, Jeremy is a rare exception.
"Thankfully, our son says he is willing to take over," said Janet. "A lot of our customers say we are lucky that he is already helping us with the stall."
Eventually, when Jeremy is ready to take over, Thomas will duly step aside. But I was curious to know what it was like for Thomas himself to succeed his parents all those years ago.
"It was difficult, for sure," he stated simply. Then suddenly, a huge smile spread across his face.
"Luckily, I have my wife," he laughed. "I have family."
And he left it at that.
For a story about a legendary 70-year-old carrot cake stall, read our Bukit Merah View Carrot Cake feature. Also, check out our Che' Rose Nasi Padang feature, which tells the tale of a 60-year-old stall that's part of Singapore's nasi padang empire.
Address: 43 Cambridge Road, Singapore 210043
Opening hours: Mon-Sat 10:45am to 3pm
Tel: 6293 0706
Website
Choon Seng Teochew Porridge is not a halal-certified eatery.
Bukit Merah View Carrot Cake: The Legendary Chai Tow Kway Stall Around Since The 1950s
Photos taken by Melvin Mak.
This was an independent feature by Eatbook.sg.