Che' Rose Nasi Padang at Toa Payoh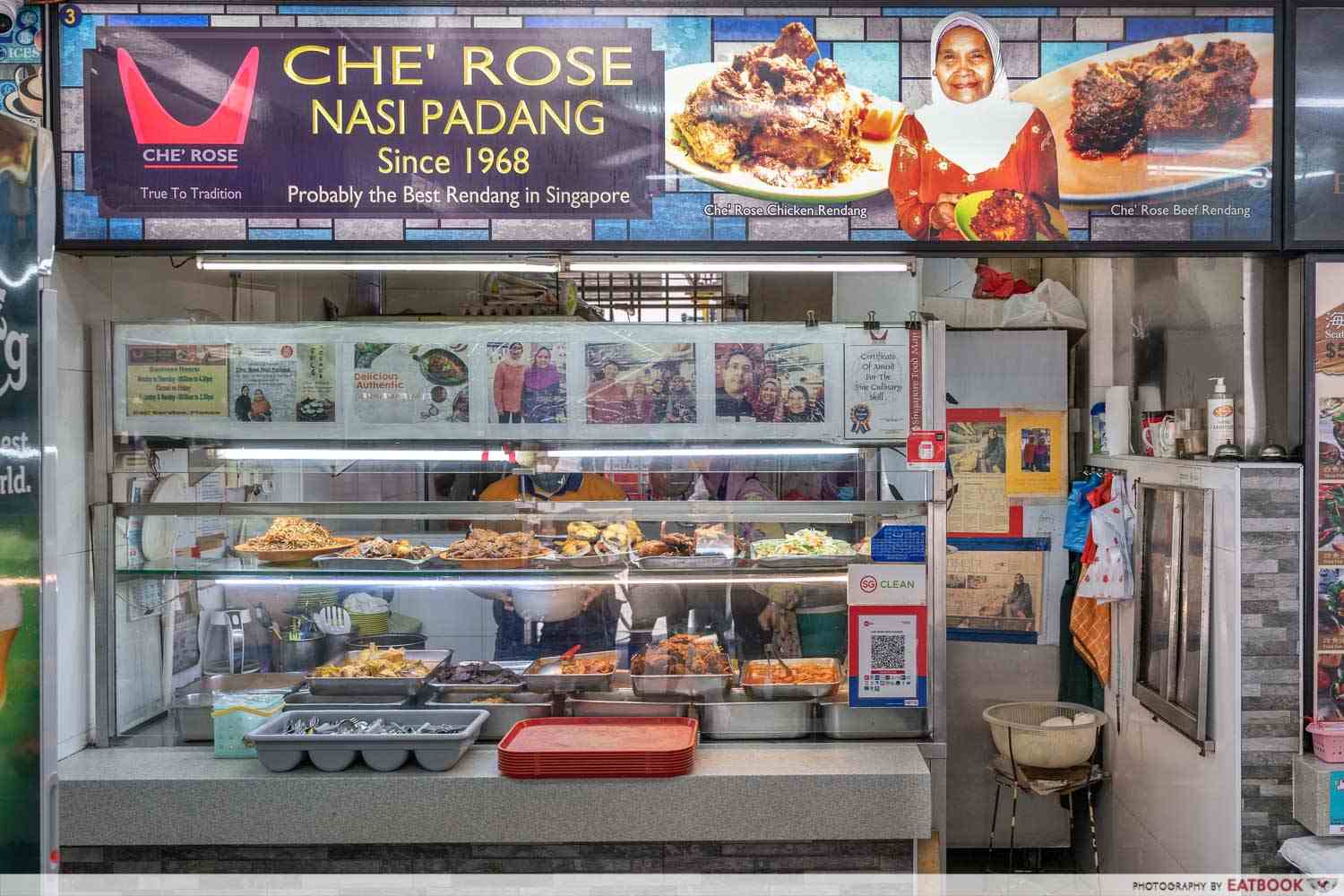 For a stall proclaiming to have "probably the best rendang in Singapore", Che' Rose Nasi Padang looks decidedly modest. The hawkers buzz about its narrow interior, churning out dish after dish to feed the queue that gathers whenever those window displays light up for the day.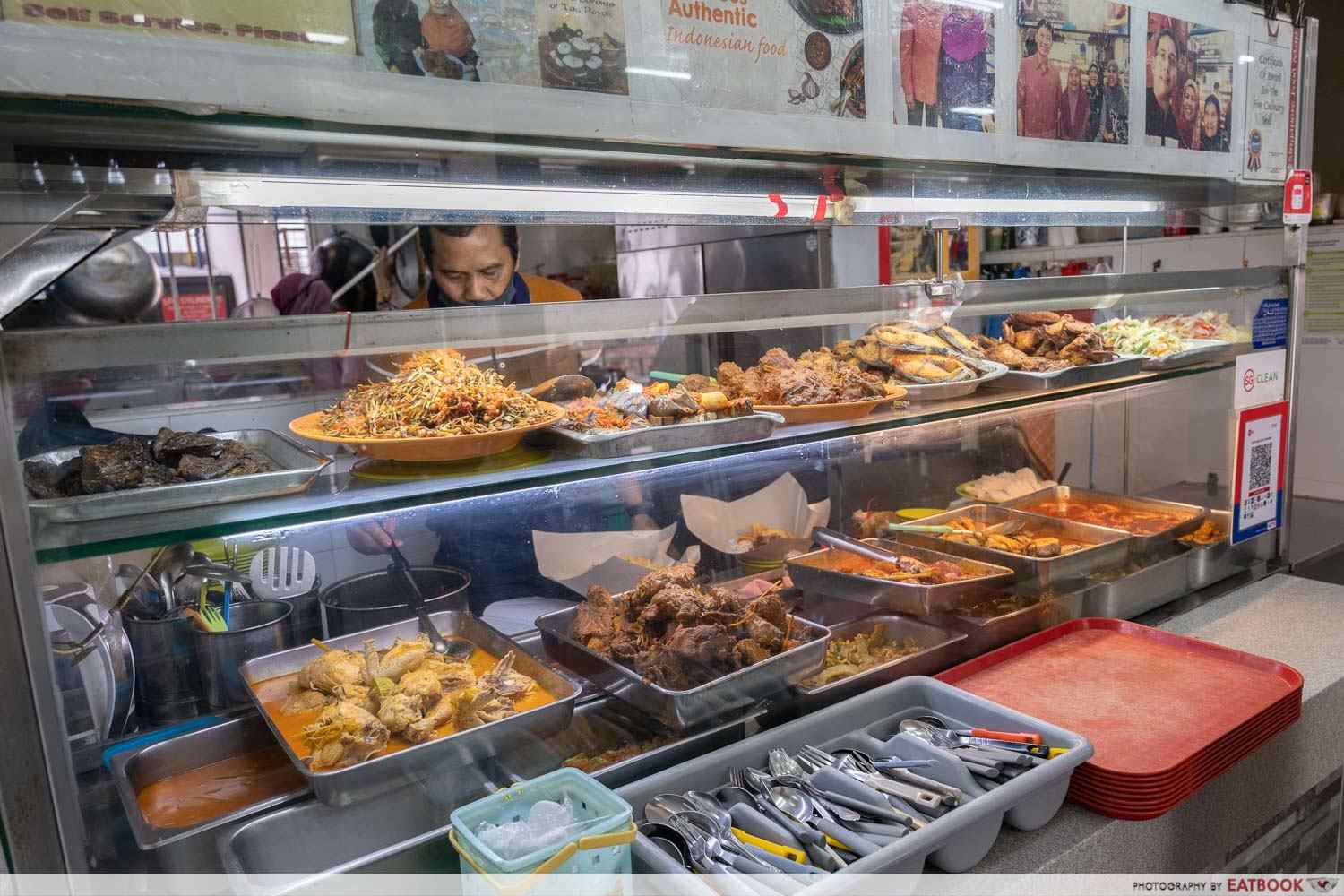 As you take in this quaint scene, you'd be forgiven for thinking Che' Rose Nasi Padang is a successful—but otherwise unassuming—nasi padang stall, one of the many of its kind. What you might not expect, however, is that it is connected to a great nasi padang empire that's been around for more than half a decade, dating back to when the Minangnese dish first appeared in Singapore.
Along with Che' Rose, Sabar Menanti II, Rumah Makan Minang, and Hajjah Ratna are each owned by sisters whose lineage traces back to the earliest known nasi padang hawkers in Singapore.
10 Best Nasi Padang In Singapore, Including Michelin-Approved And Late-Night Supper Stalls
Che' Rose and her family's legacy
The stall's 89-year-old owner, Rosmah Nidar Marlian, also known as Che' Rose, recounted to us her arrival on these shores from Padang, Sumatra all those years ago. She and her mother left their village to reunite with her father, Haji Marlian Athar, who had become a wealthy businessman in Singapore.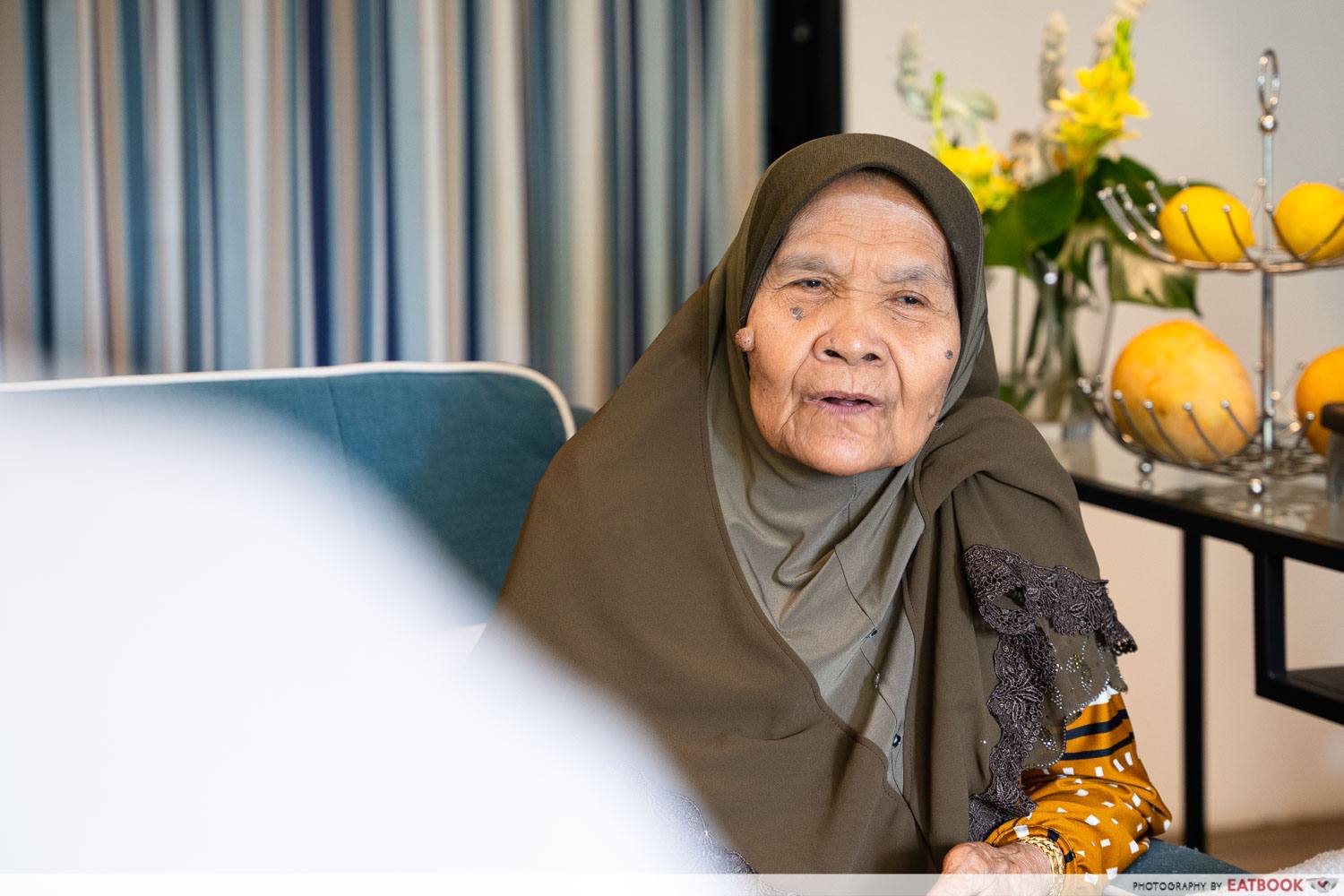 "My mother, who was the first of my father's wives, discovered upon arriving that he had taken a third wife," Che' Rose recalled. "This angered her, but she grit her teeth and began cooking at his no-name stall in Kampong Glam."
It was the 1940s, just after the war, and Singapore was teeming with traders and merchants from Indonesia. Haji Marlian's stall was one of the first to offer authentic Padang-style food, and it was there that Che' Rose worked alongside her mother, and got a taste of what running a hawker business was like.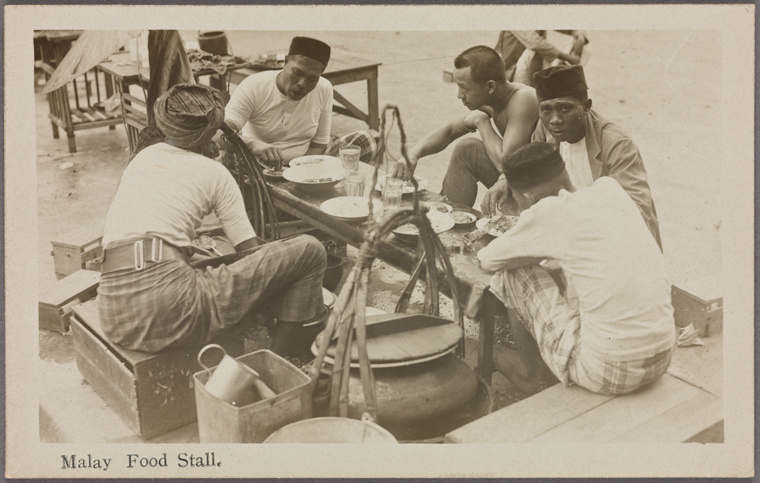 Image credit: The New York Public Library
The untimely death of the third wife, however, brought an end to the matrimonial ceasefire. Che' Rose's mother decided she had enough and was soon remarried to another man, while Haji Marlian had a fourth wife.
This was the sliding doors moment—the beginnings of the family's nasi padang empire.
"My father and his fourth wife were behind the original Sabar Menanti," Che' Rose said. "Two of their daughters went on to start Sabar Menanti II and Rumah Makan Minang, while my immediate sister opened Hajjah Ratna."
And when a businessman invited Che' Rose to open a nasi padang stall in the then-booming Toa Payoh, she too entered the picture.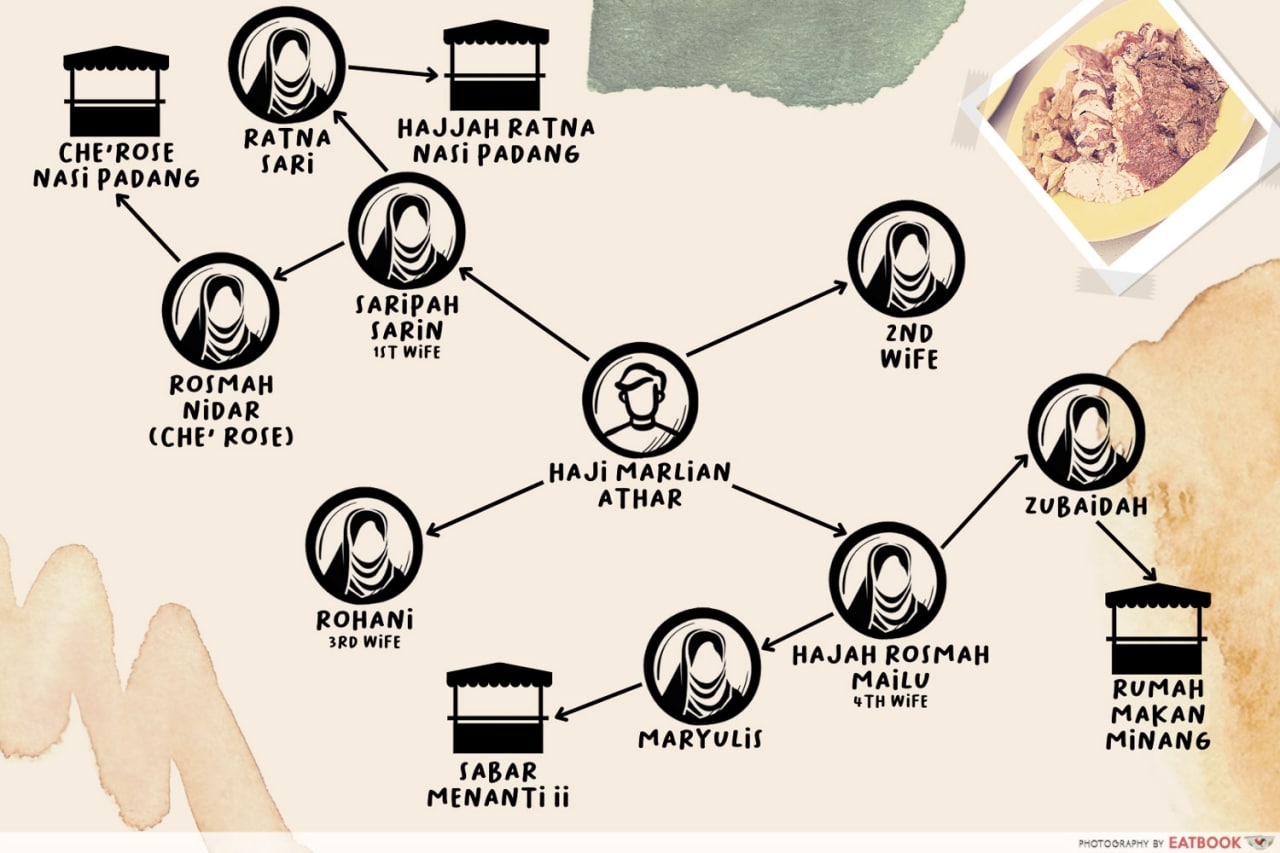 The empire's family tree
Inside Che' Rose Nasi Padang
In Che' Rose Nasi Padang's 54-year existence in Toa Payoh, the stall has become something of a favourite among the town's residents. Of the many delectable dishes offered there, the aromatic beef and chicken rendang are the most universally beloved.
"Chicken rendang is not commonly found at nasi padang stalls," explained Che' Rose's son Sukri Kadola, who up to this point was translating his mother's Malay speech. "It's usually more of a celebratory dish, eaten during special occasions such as Hari Raya."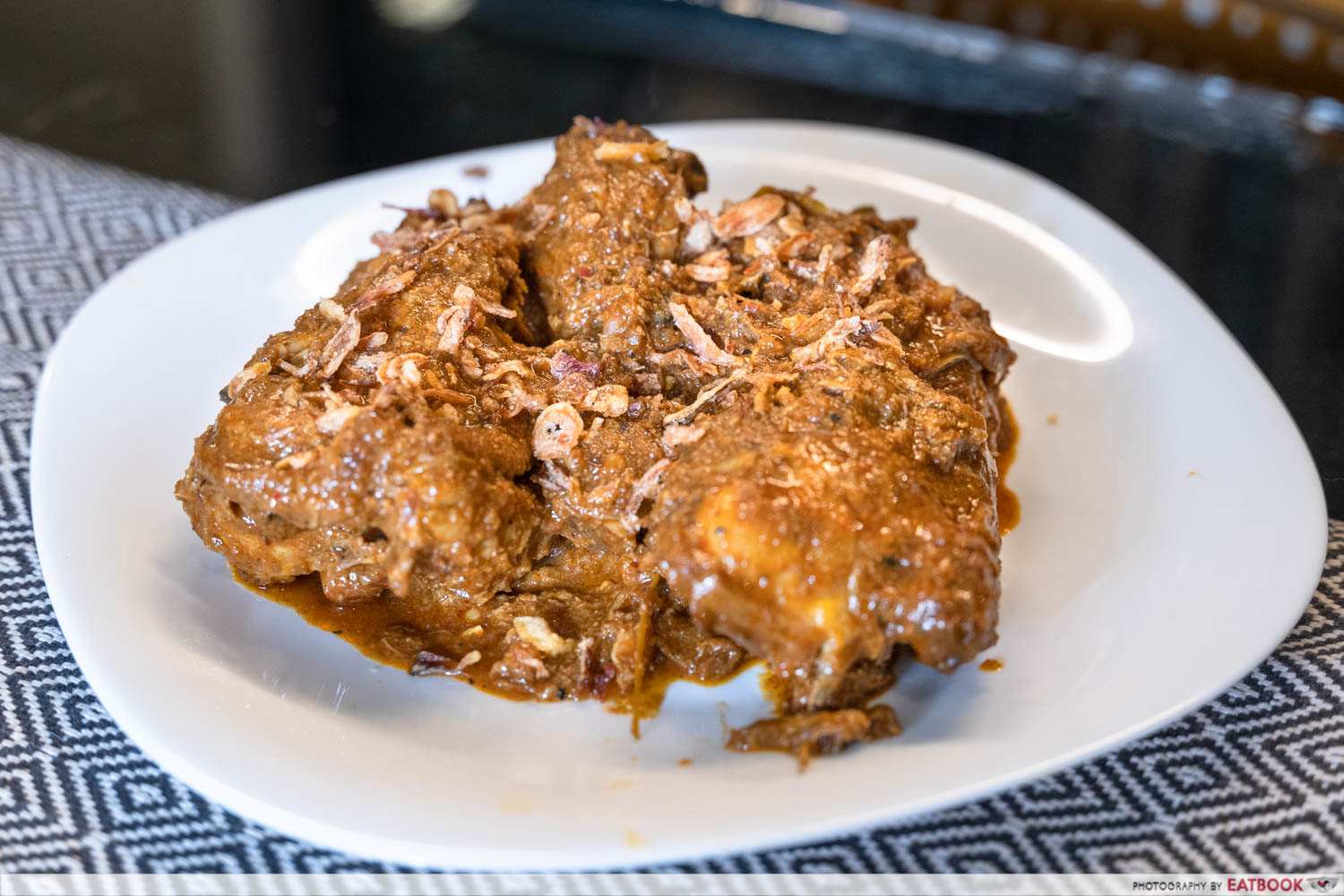 "So I suggested to my mother one day: 'since everyone looks forward to having chicken rendang on Hari Raya, why not offer it at our shop all year round?' We did it, and the dish soon became a hit with our customers."
Beef rendang, on the other hand, is usually a nasi padang stall's signature dish, so it is crucial to prepare it the right way. Che' Rose's version sees 14 kilograms of beef slow-cooked with coconut milk and various spices for three hours, all to achieve the dish's iconic texture and flavour. It's an arduous and complicated process, which is why people generally don't cook rendang at home.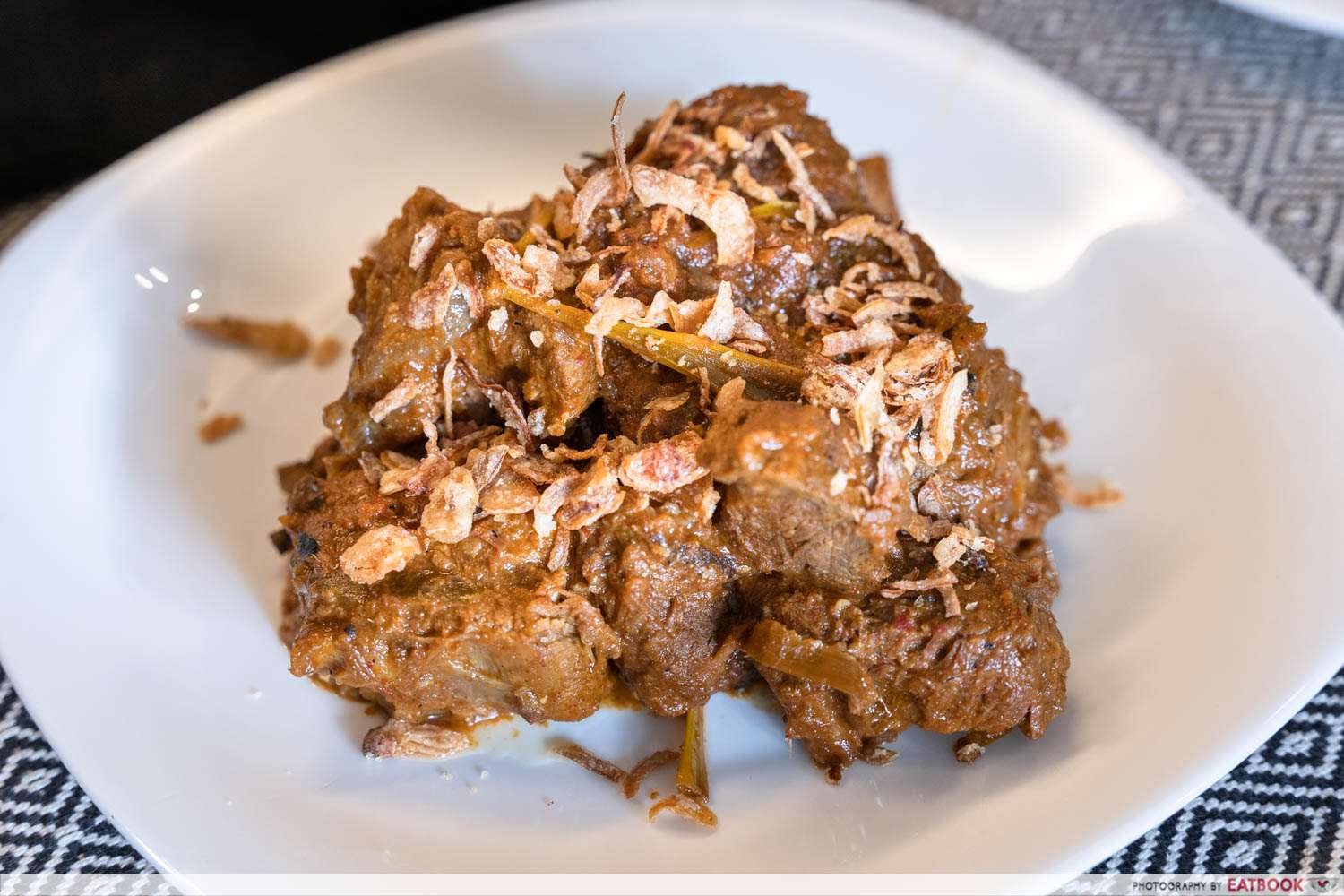 "There are no shortcuts to preparing rendang. It has to be cooked in large quantities or it wouldn't taste the same, and you cannot use ready-to-cook rendang sauces to compensate for this," Che' Rose noted.
According to Sukri, the way you can tell that a stall is authentically Minangnese, rather than a Malay stall that uses the nasi padang tag loosely, is whether they use sambal balado or not. Sukri tells us that you must get that when ordering at their stall. "If you go to a nasi padang stall and they don't have sambal balado, it's a fake."
"If you go to a nasi padang stall and they don't have sambal balado, it's a fake."
The piquant paste is peculiar to the Minang (Padang) people, and is made with ingredients including fresh chilli, tomato, and onions. Most interestingly, its base makes use of the seasoned oil left over from frying chicken or turmeric dishes.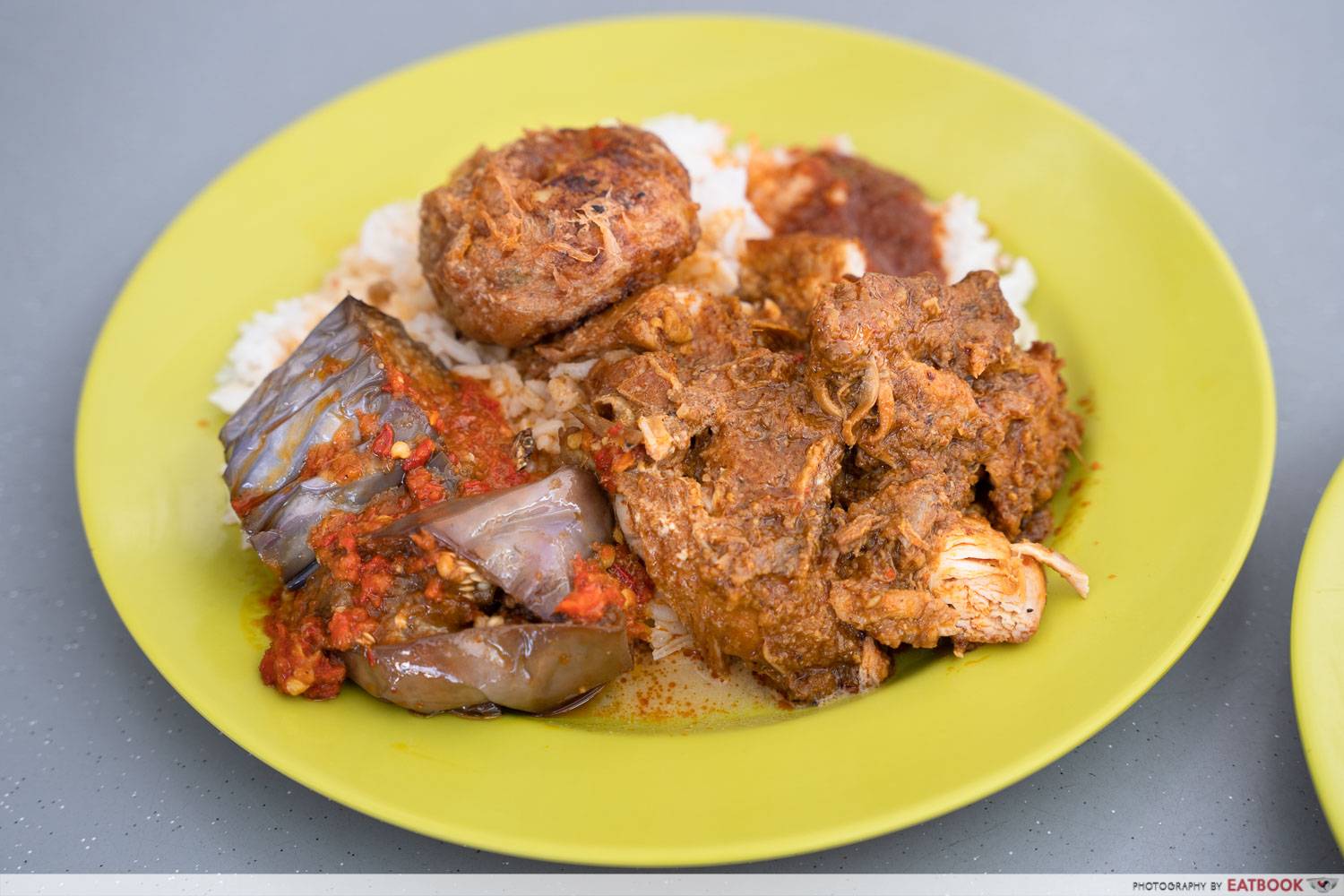 This adherence to tradition is a large part of why Che' Rose Nasi Padang's food tastes so good. But that doesn't mean there isn't room for innovation.
"Coming into the Toa Payoh market, we saw the need to cater to the large Chinese market there," Che' Rose said. "We noticed that the Chinese enjoy eating fishcake, so we drizzled it with sambal balado and made it one of our dishes."
13 Oldest Restaurants In Singapore Still Open Today, Including A Teochew Eatery From 1845
Blood is thicker than rempah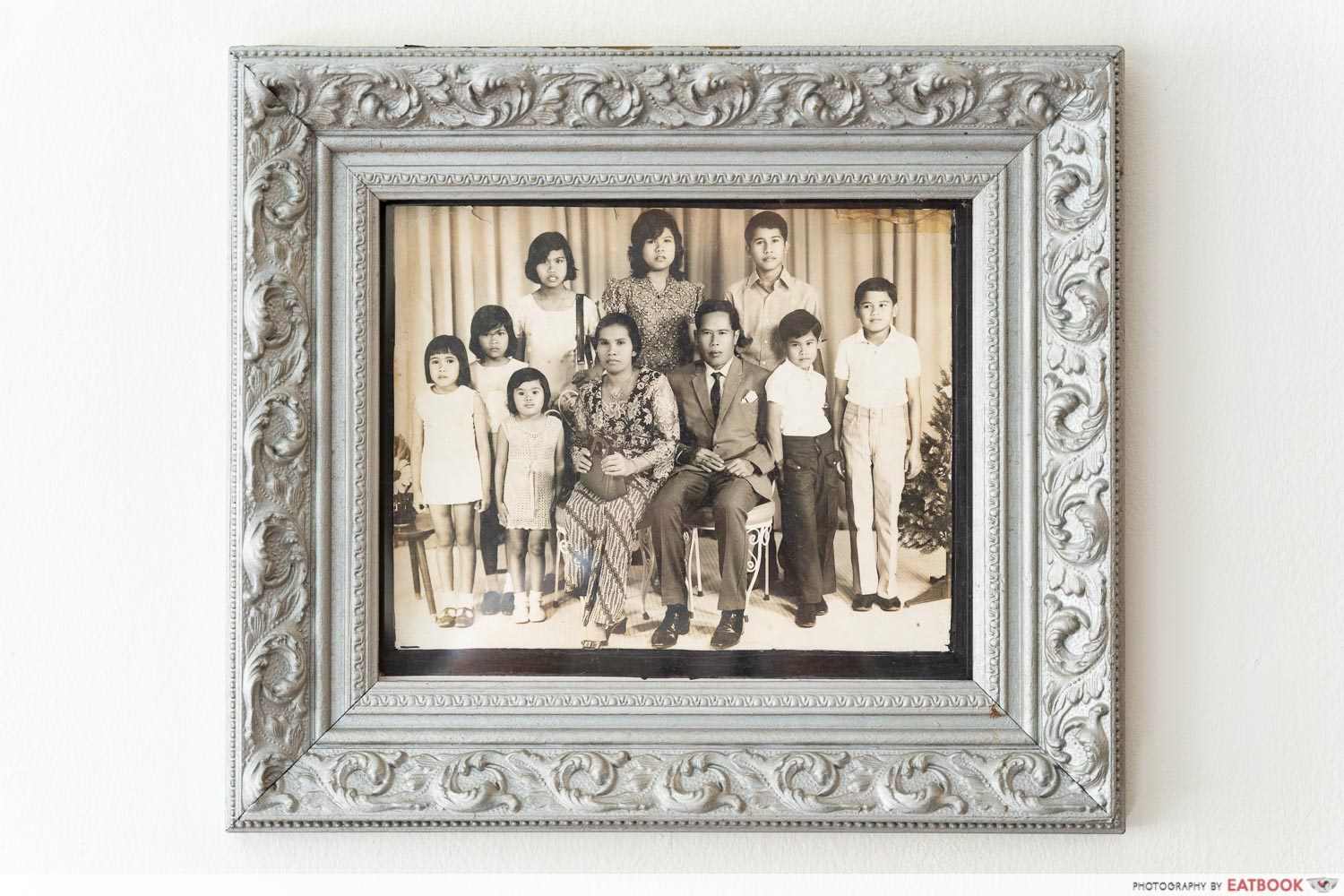 Che' Rose (front row, third from the left) and her family
Even before arriving in Singapore, Che' Rose was trained by her mother to prepare dishes in that uniquely Minangnese way. The Minang people are a matrilineal society, so the recipes, among other assets, are passed on to the daughters.
In keeping with those traditions, Che' Rose's second daughter will be the one inheriting the Toa Payoh stall. Presently, she handles all its money matters, while her mother continues to oversee general operations.
And the rest of Che' Rose's nine children? Some of them work at the stall full-time, while the others—who hold nine to five jobs—help out on the weekends. "This is our way of keeping the family together," Che' Rose said.
"This is our way of keeping the family together."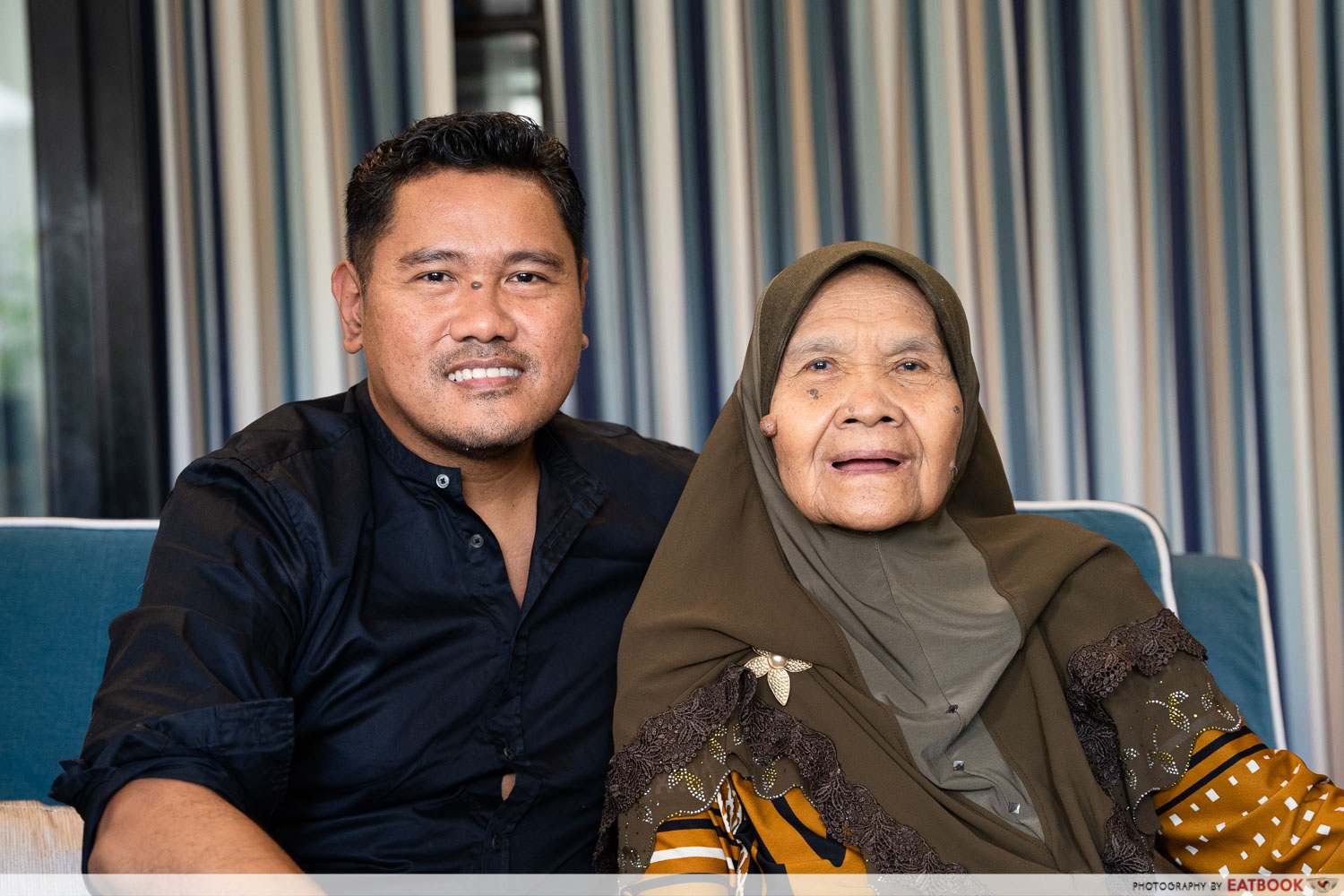 Sukri Kadola (left) and his mother, Che' Rose
Sukri no longer helps out at the stall as much as before, but he still contributes in his own way. Being a journalist, he handles all the media enquiries—one of which led to this article you are reading—and documents the stall's milestones on its blog.
8 Oldest Hawker Stalls In Singapore To Rediscover Our Multicultural Food Heritage
A lasting dynasty
Dynasties are known to rise and fall, but who's to say the one that sprung from Haji Marlian Athar all those years ago isn't here to stay for decades more? In the generations to come, we may yet see more eateries branching out of this complex and fascinating lineage.
Che' Rose's thoughts are now on the generation after: her grandchildren.
"We have these massive family reunions at my stall, so all my grandkids can try the food and get a feel of what the hawker trade is like," explained Che' Rose. "The key is to keep them emotionally invested in the family business, since it will eventually fall on them to take over."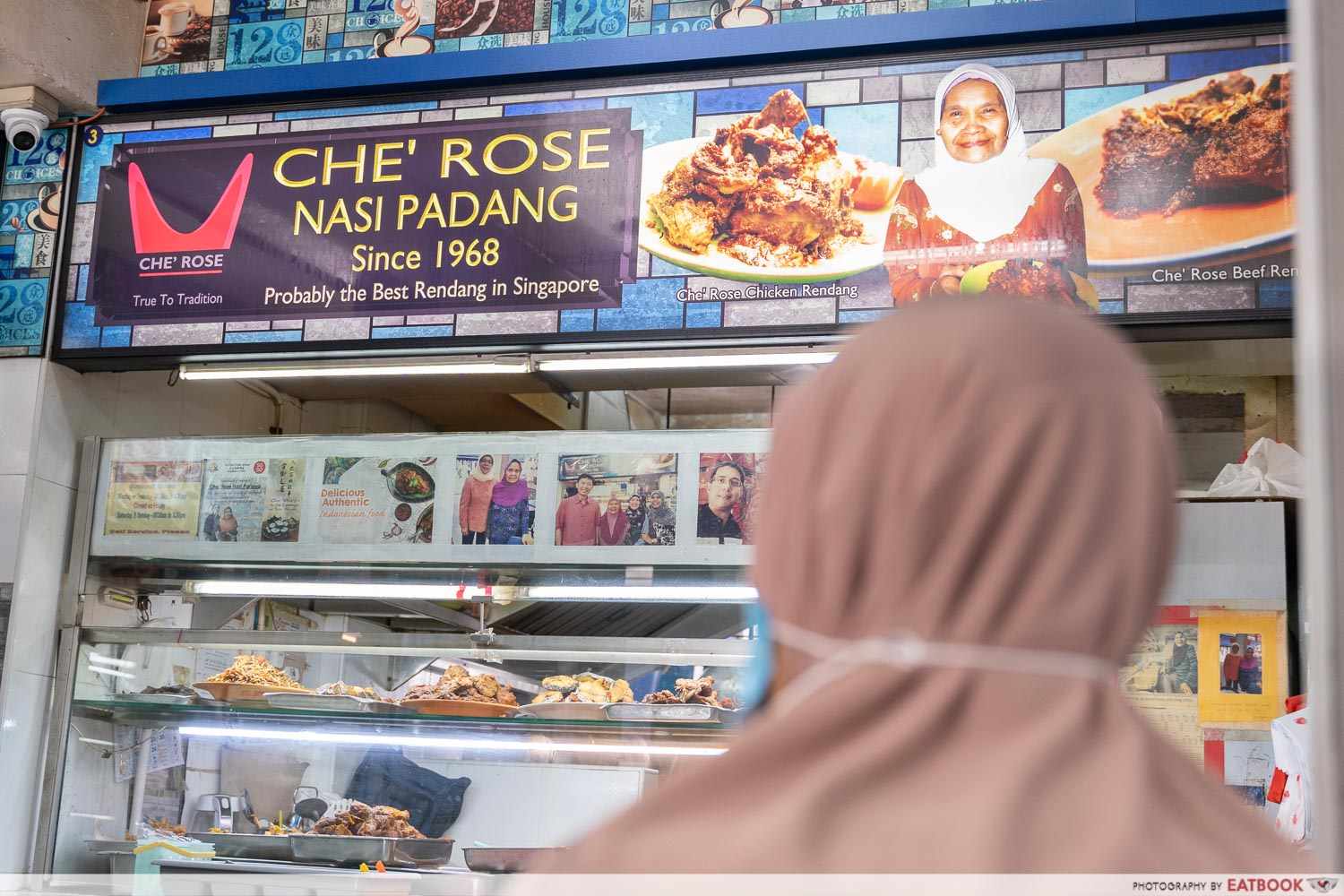 But for now, let us enjoy Che' Rose Nasi Padang for what it is: a humble Toa Payoh stall that serves exceptional nasi padang. It's also where you'll find the wisened Che' Rose, who is often seated at a nearby table, keeping an eye on proceedings as she occasionally drifts in and out of sleep.
For another story about a long-running hawker stall, read our Famous Eunos Bak Chor Mee feature. If you're looking for other nasi padang places to try, have a look at our best nasi padang in Singapore guide.
Address: 128 Lorong 1 Toa Payoh, Singapore 310128
Opening hours: Sat-Thurs 8am to 3pm
Website
Che' Rose Nasi Padang is a halal-certified eatery.
Famous Eunos Bak Chor Mee: Behind The 100-Year-Old BCM Stall That Inspired Bedok 85 And 511
Photos taken by Melvin Mak.
This was an independent feature by Eatbook.sg.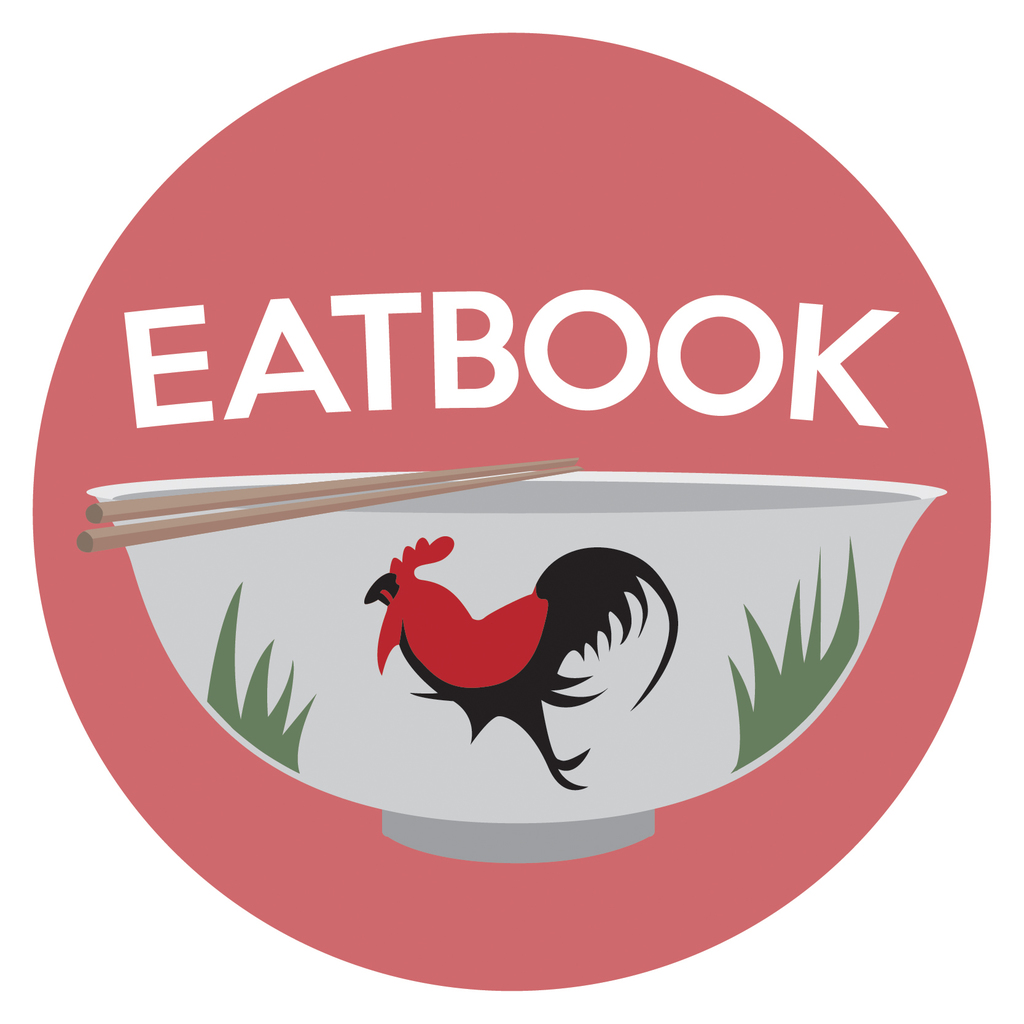 Drop us your email so you won't miss the latest news.