The story behind Famous Eunos Bak Chor Mee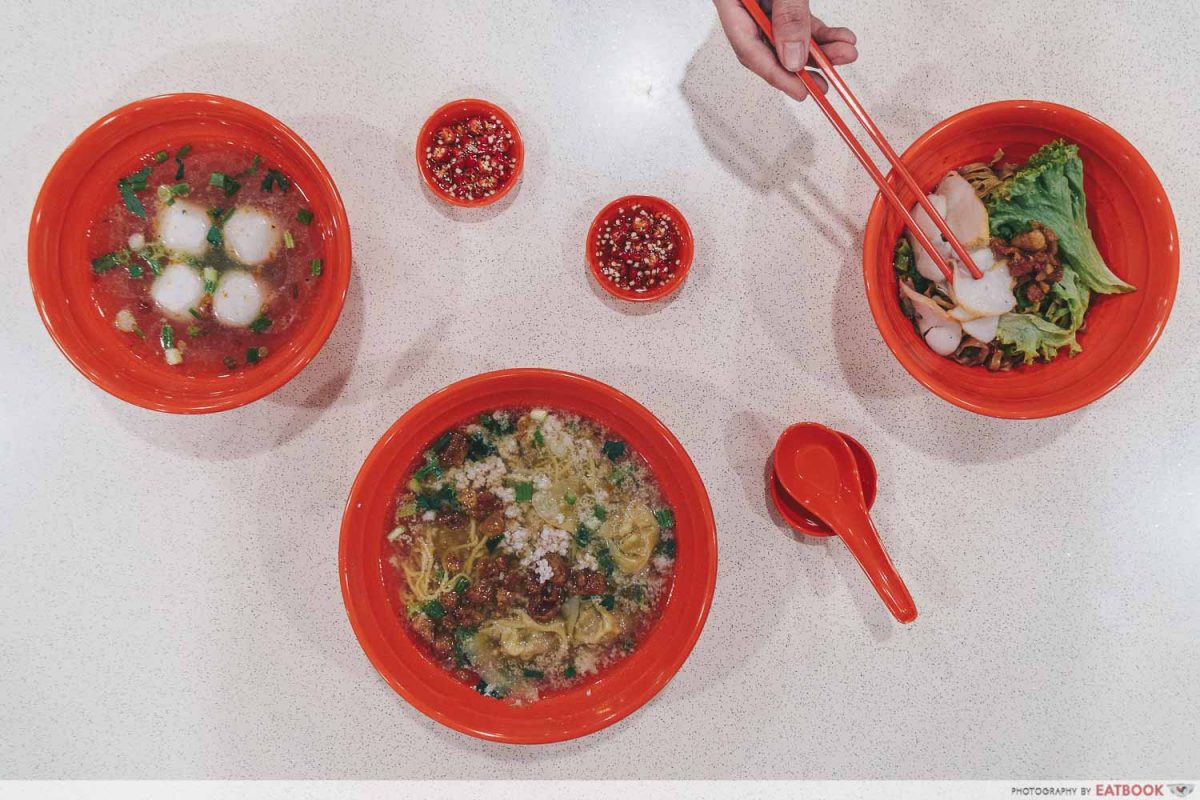 There's a bak chor mee stall that resides in a quaint Eunos coffee shop I often frequent, drawing a line of customers who want to get their hands on a warm, soupy bowl of bak chor mee. The signboard above reads 'Famous Eunos Bak Chor Mee'. Though this sort of clued me in on why the queue made sense, little did I know that behind this humble facade lay a long family history of pioneering bak chor mee in Singapore. In fact, it's one that dates back all the way to the 1920s─about 100 years ago. 
The origin of bak chor mee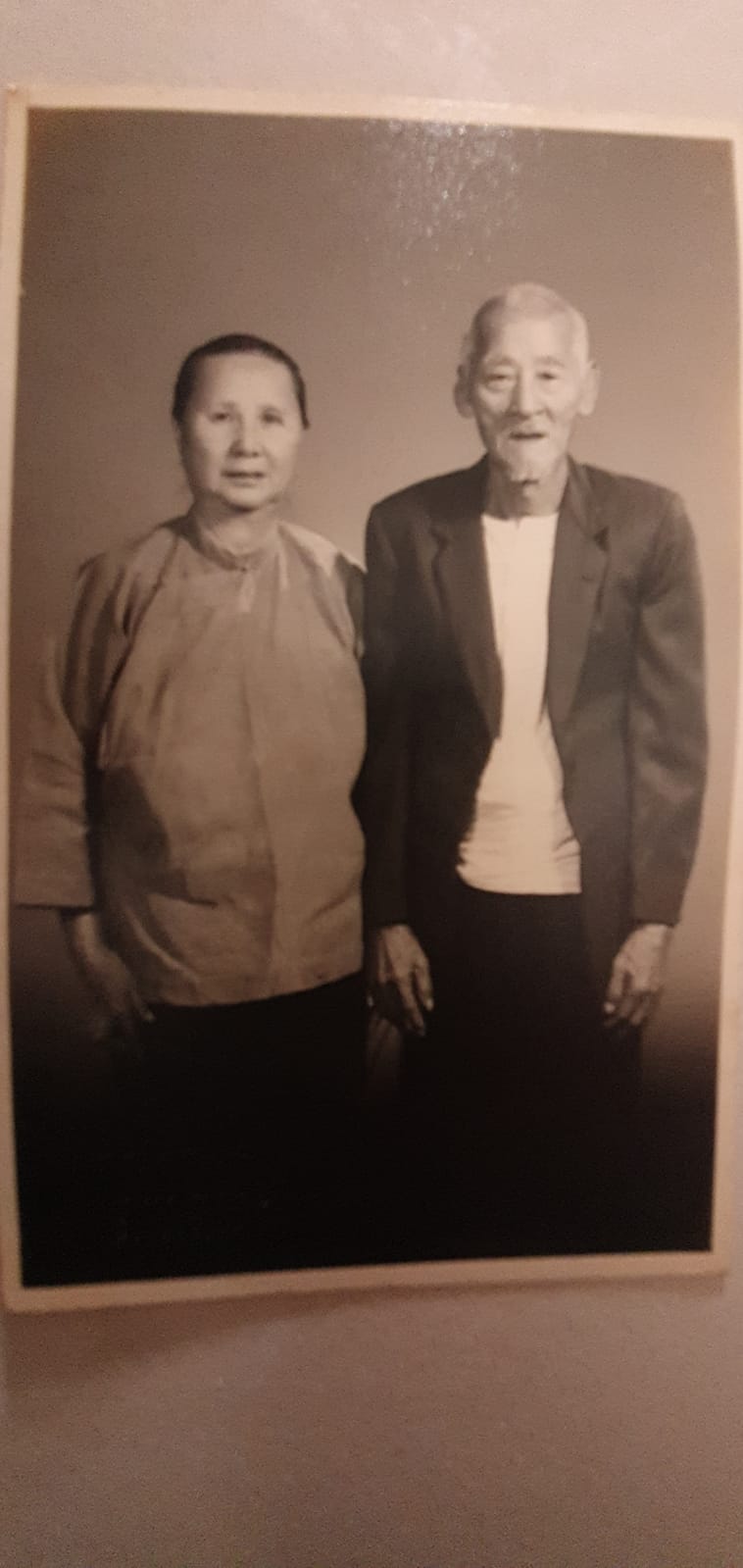 Image credit: Ler Jie Wei
Some would call famous Eunos Bak Chor Mee one of the original bak chor mee sellers in Singapore. The founding father sold bowls of noodles around the district of Kampong Chai Chee on foot in the '20s. Back then, times were simple but tough. There wasn't a brick-and-mortar stall; just a hardworking street peddler who precariously carried his makeshift portable kitchen on a bamboo pole. 
The noodles he sold were coined hunchback noodles, because of the literal burden on his shoulders that strained his back to the point that it developed a hunch. That man was the great-great-grandfather of Ler Jie Wei, a 35-year-old millennial who is currently the fifth-generation running the Famous Eunos Bak Chor Mee business.
The recipe has been handed down from generation to generation. Jie Wei shared that today, there are actually 10 bak chor mee businesses, apart from Famous Eunos Bak Chor Mee, that have descended from the same founder. They're all somewhat related to each other because of their connection to this core recipe. This includes the popular Bedok 85's Xing Ji and Bedok 511's Tian Nan Xing, both run by distant relatives of Jie Wei. 
Battle Of Bedok 85 Bak Chor Mee: We Asked The 2 Neighbours About The OG Stall
Running Famous Eunos Bak Chor Mee
Jie Wei is in charge of most of the business─retail, human resource, production, and marketing. Prior to this, he was in the banking industry for a couple of years, before he decided to switch careers and commit to the family business wholeheartedly. 
"I chose to pursue this path instead because it's my family's history, and I want it to survive through the generations," Jie Wei explained. 
Even though he decided on a more unconventional route, he believes that it's more important to go with what he wants, rather than what others think. 
"Everything is a gamble, no matter what you decide to pursue," he said.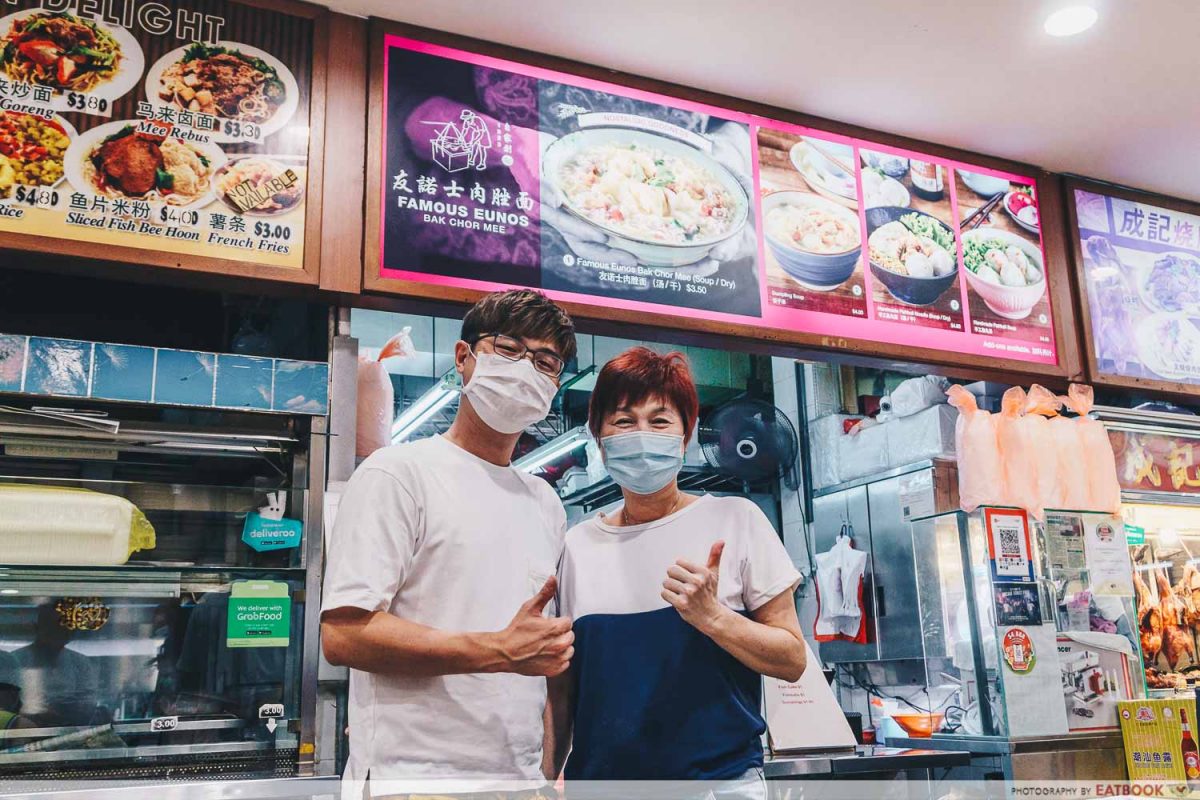 While most of his peers spent their childhood hanging out at mama shops, Jie Wei helped wash the dishes and make dumplings, as his mum tended the family's stall. He even had to go through a six-month internship before he was allowed to be involved full time. This was in order for him to learn the recipe, and that of its many handmade components, before he could take over the reins. 
10 Soup Bak Chor Mee Hawker Stalls In Singapore To Warm You Up On Sick Days
Taking over as a next-gen hawker 
Jie Wei had to learn the basics of the heritage recipe from his mum, and it was challenging since everything was done by intuition. Besides vague instructions, he wasn't given any sorts of measurements.
With his perfectionist tendencies, he couldn't comprehend how to create something consistently without structure, which his mum took as him being difficult. It was simply a battle of different cooking approaches─relying on a recipe, versus going with your gut. After getting the hang of it, Jie Wei ended up quantifying everything in the recipe, down to the last detail.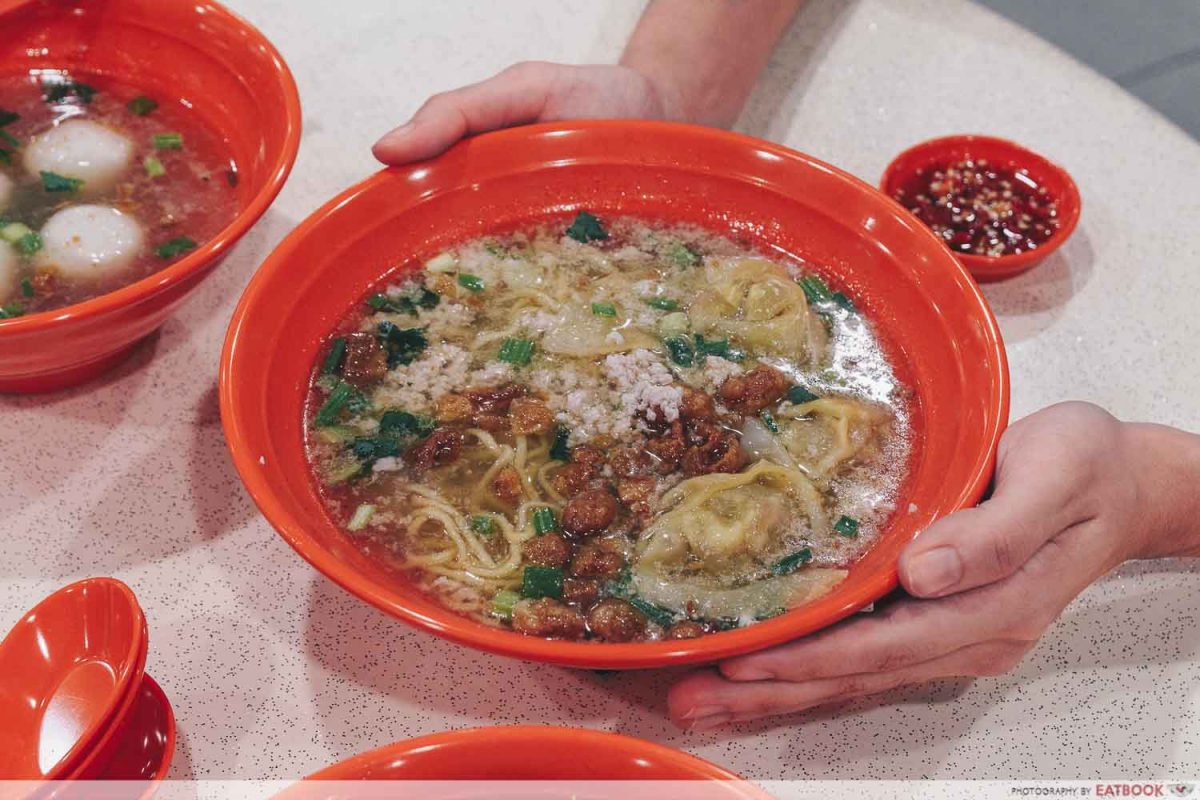 "Our bowl of bak chor mee is simplicity at its best," he shared.
Jie Wei thinks that 'bak chor mee' is an overused term. These days, you see stores throwing in lettuce, braised mushroom, fishcakes and calling it bak chor mee. To him, the name literally translates to pork noodles, which should only comprise pork dumplings, minced pork, noodles, and a pork and garlic broth. How it is served today at Famous Eunos Bak Chor Mee, is how it was served 100 years ago.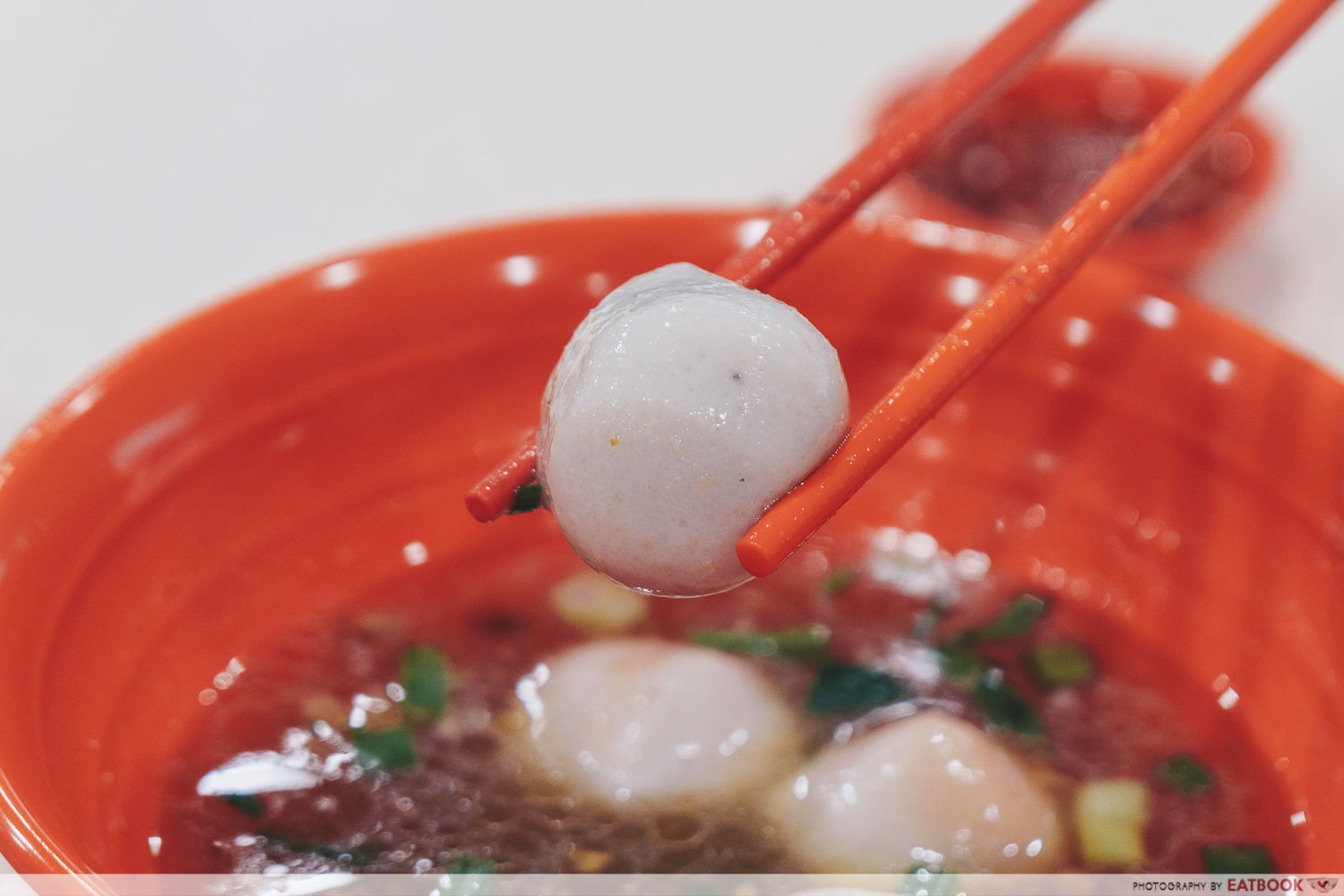 Their signature bowl is priced at $3.50, which was enough to leave me in a food coma after eating. The mee kia was springy and al dente, the minced meat was tender and flavourful, and their no-frills pork dumplings, handmade daily, were succulent and well-seasoned.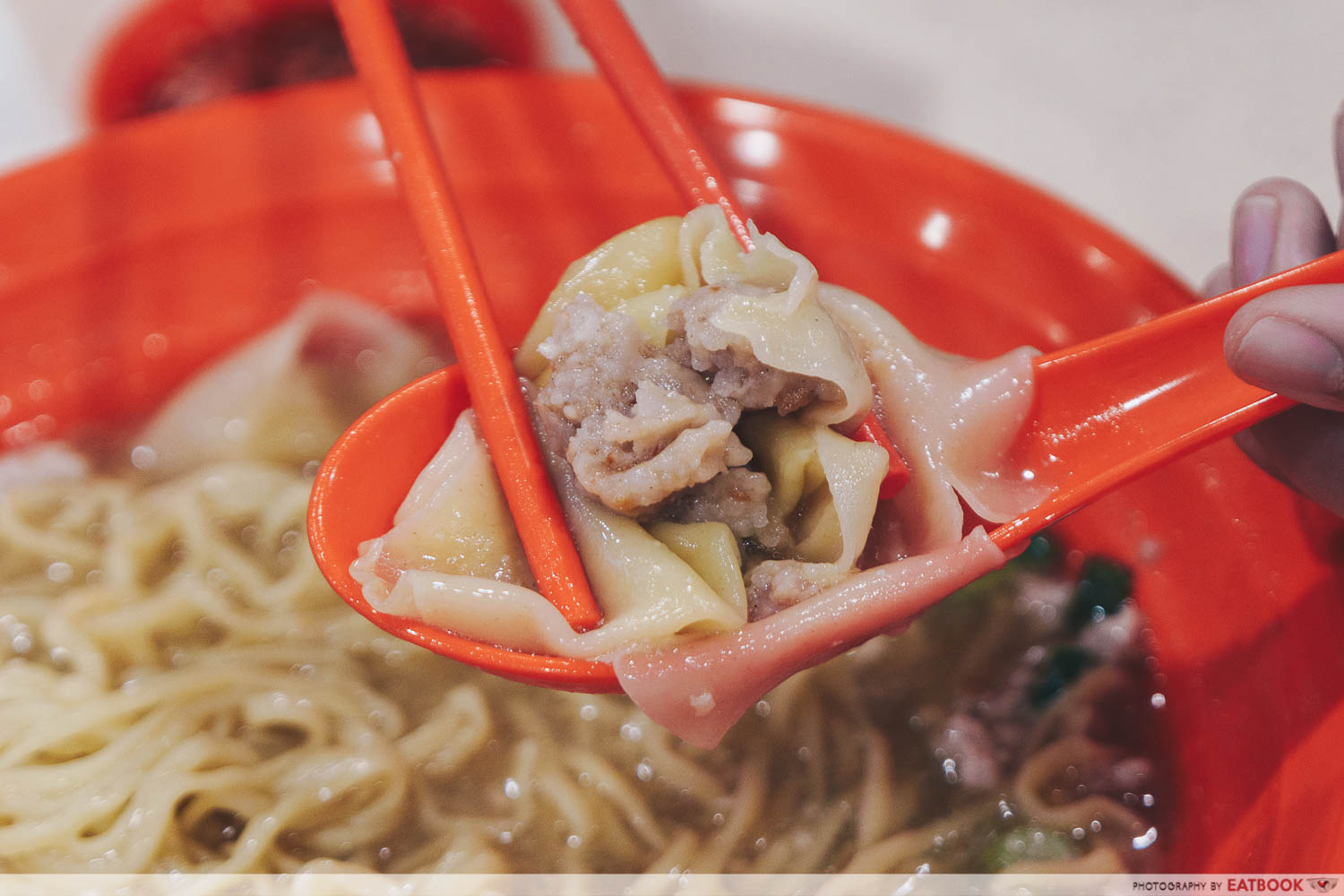 To Jie Wei, the pork and garlic broth is the key component of this dish. There's no denying that the soup here had a depth of flavour, considering the great quantity of pork bones braised slowly to achieve the rich stock.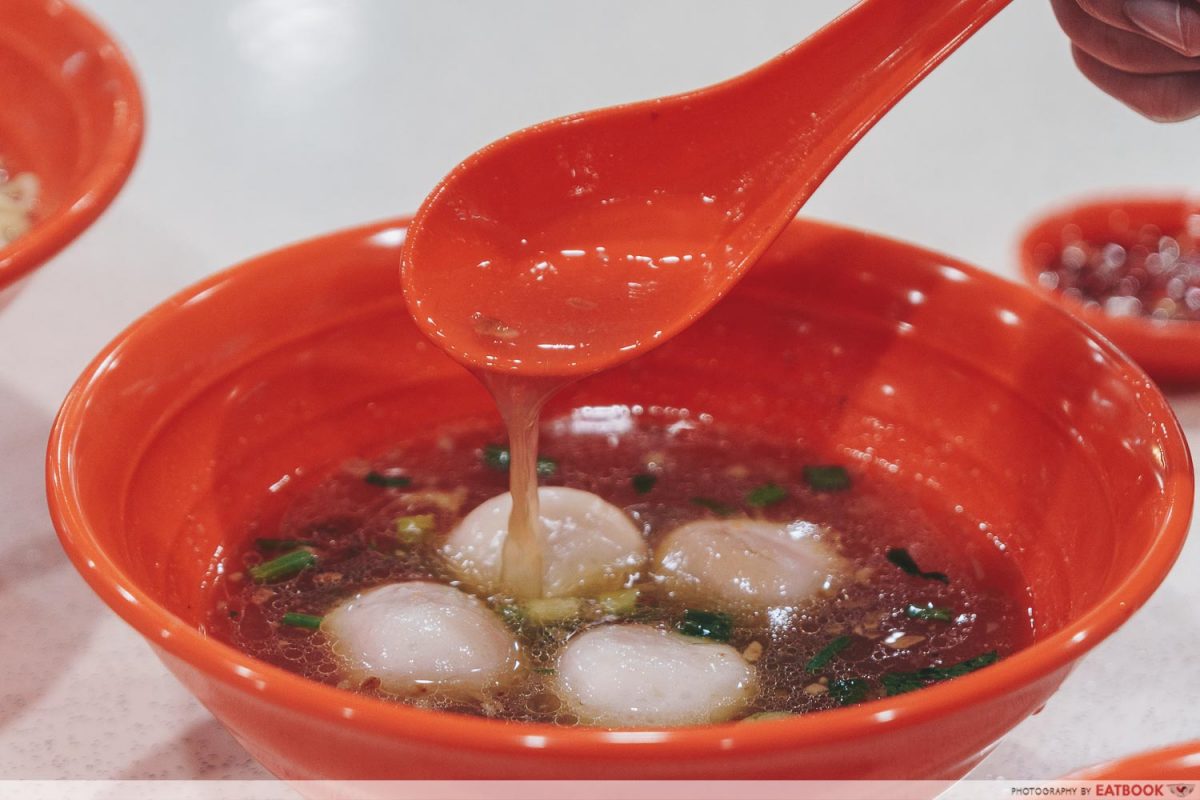 But what elevated the flavours was the addition of fried garlic and pork lard. When infused into the soup, they made the stock more aromatic, and I found myself continuously slurping the soup. Every element in the bowl was indispensable, even the parsley, which added a touch of freshness.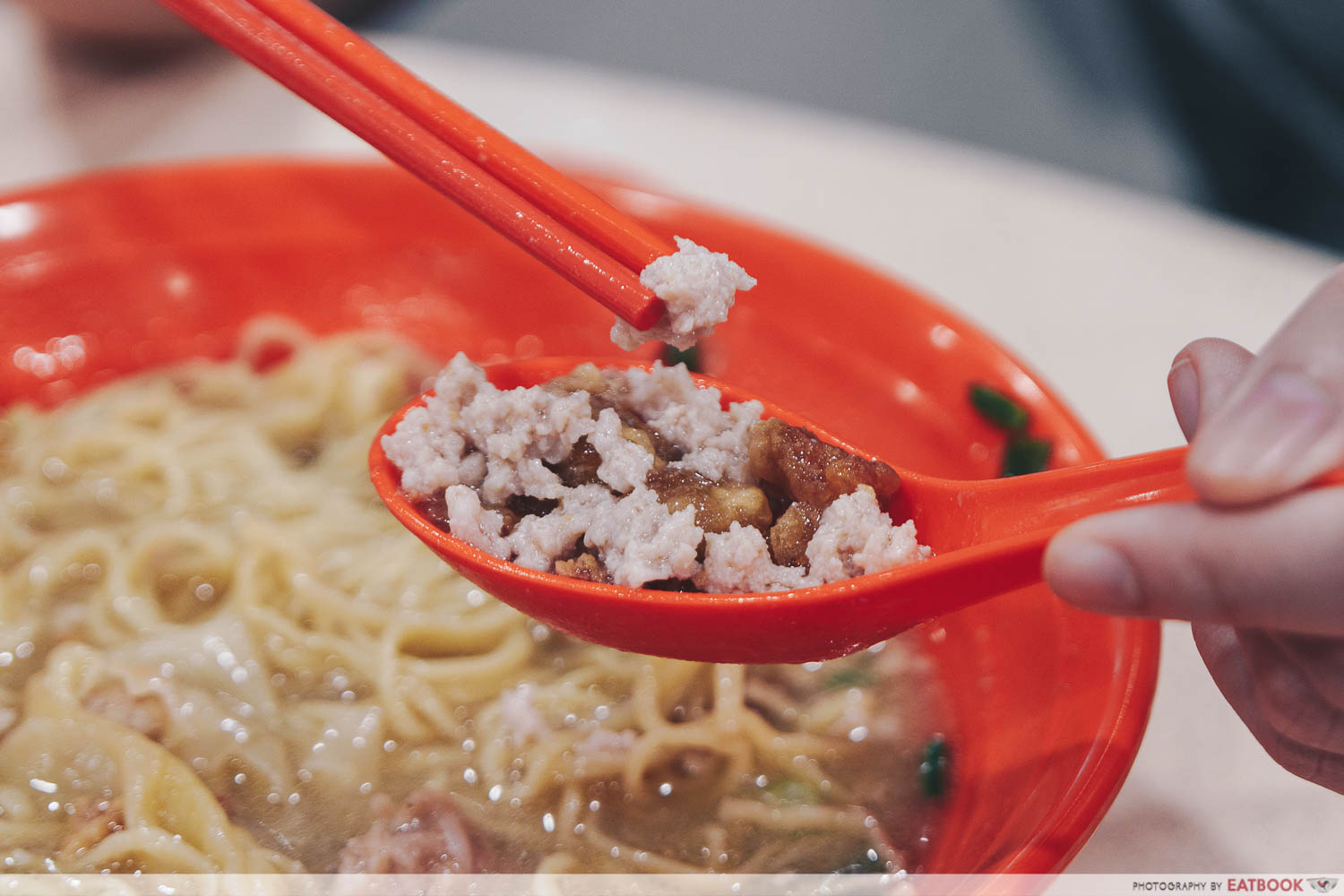 Struggles of being a next gen-hawker
Even though he had conquered the recipe, running the business demanded a whole different skill set. Most family businesses only involve their own kin because they want to keep the trade secrets within the bloodline. Jie Wei thinks otherwise. He feels that keeping the business within your family is a risk, because only your family members who are privy to the secrets can carry on the legacy, and there's no guarantee that they would. 
To solve this, Jie Wei decided to optimise the whole trade and create a standard operating procedure, so that the business can thrive even with external workers involved.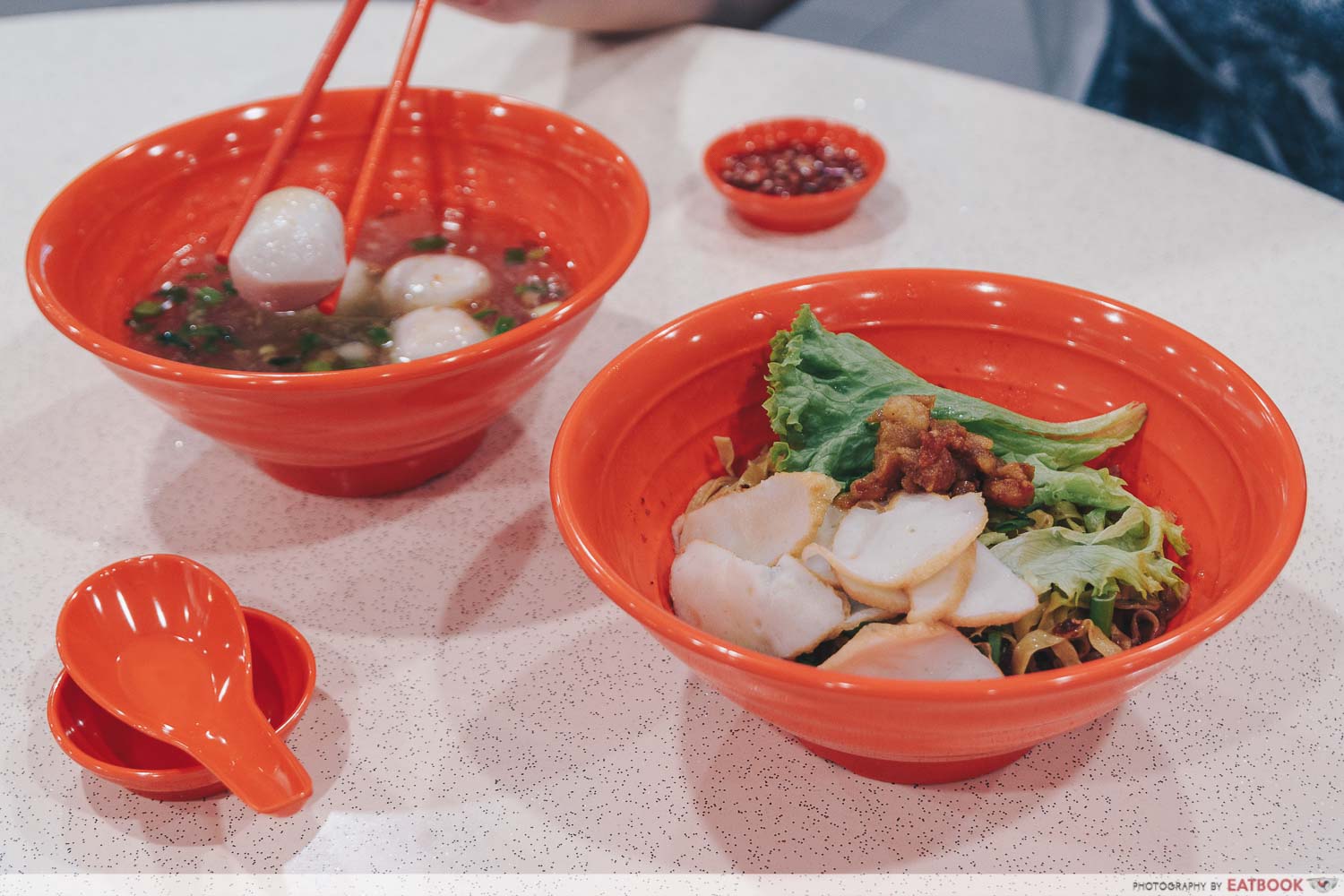 As much as there's a recipe for their bak chor mee, there is no recipe for success. Jie Wei had to overcome challenges and pressures while carrying the Famous Eunos Bak Chor Mee name. He mentioned mental struggles, which were inevitable, especially when the business wasn't concrete when he inherited it. 
There were moments of doubt and setbacks throughout his journey, but in this line, one has to persevere. When Jie Wei shifted his focus to the stall in 2017, he worked 15 hours daily, and there were times where fatigue caught up to him.
Fortunately, his efforts bore fruit as he managed to expand the business in the span of eight months. Besides the main branch at Eunos, there are also two new outlets at Lucky Plaza and Chinatown. Jie Wei plans to continue expanding, but to do so cautiously. His KPI for himself is not the number of stalls opened, but to represent and protect his heritage in the best way possible.
Star Yong Kwang BBQ Seafood: Secondary School Dropout Now Runs A Successful Zi Char Stall
The future of SG hawkers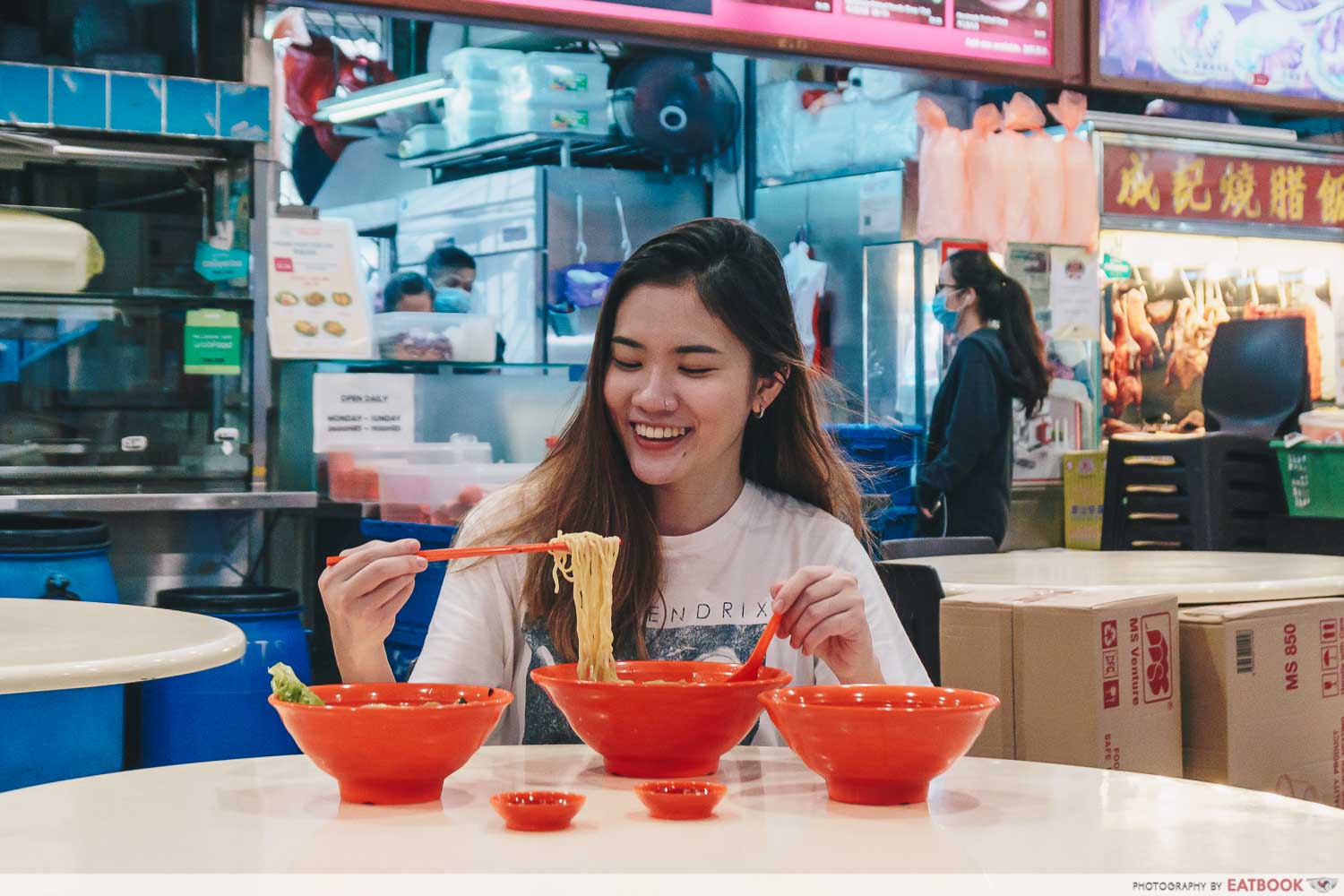 The hawker landscape is changing, especially with next-gen hawkers giving the scene a breath of fresh air. As a young hawker himself, Jie Wei feels that the debate isn't about whether there is a lack of entrants, but more on the long-term survival of new hawkers, as well as the changing hawker landscape. 
The reason why older hawkers could commit decades to the trade was purely because it was a means to survive. But these days, Jie Wei thinks that the hawker life is a choice, where people can hop in, or tap out of the scene if the going gets tough.
Jie Wei foresees more people joining the hawker industry, bringing with them fresh and modern food to the scene. However, as much as they offer a different perspective to the landscape, they would undoubtedly deviate from the unique hawker trade that we've all been so used to.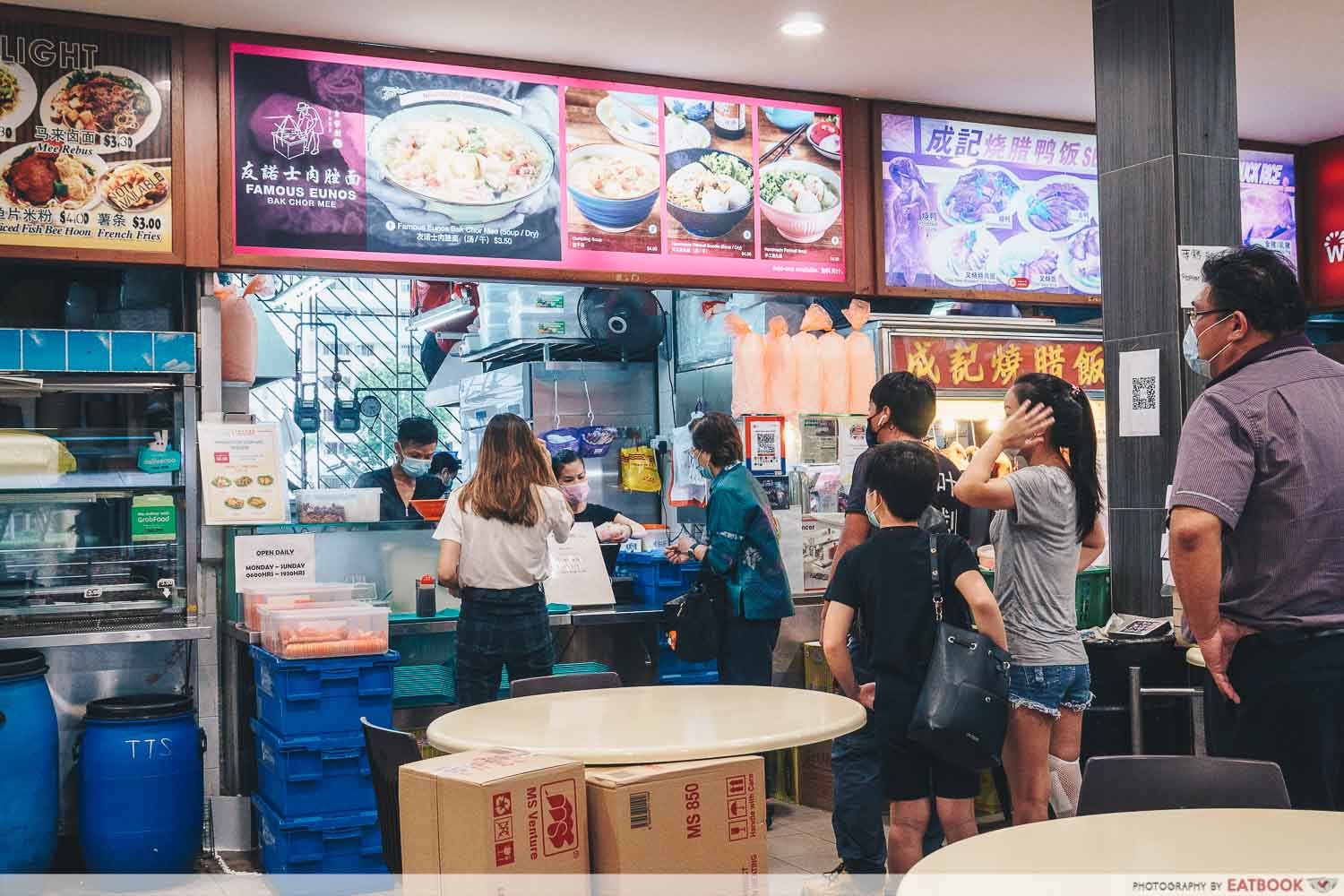 I asked Jie Wei to impart some lessons on hustling for those keen on pursuing a similar path. Though he admitted that there are too many to count, he spoke of three main aspects─leading by example, practising mental toughness, and knowing your unique selling point inside-out.
Jie Wei's mission to preserve his history is an admirable one. Family legacies like his stand a little different from new hawkers starting from ground zero, but nonetheless, the advice he shared can still be learnt from. One can also hope for more people to be inspired by the determination and passion of young hawkerpreneurs like Jie Wei, so as to sustain our national hawker legacy in the long run.
Who knows, there could be recipes from new hawker stalls today that could thrive for centuries more, and these can even pioneer new dishes in the same way that Famous Eunos Bak Chor Mee did, back in the '20s. I'm sure Singaporeans like myself would love to see that happen.
For more inspiring food stories in Singapore, read our feature on Eat My CB, a home-based business making curry buns after the whole family lost their income due to COVID-19. Also, check out our story behind Mr Ho's Tutu Kueh, a stall run by a 69-year-old hawker.
Address: 7 Eunos Crescent, Hong Lee Coffeeshop, Singapore 400007
Opening hours: Daily 6am to 7:30pm
Website
Famous Eunos Bak Chor Mee is not a halal-certified eatery.
Eat My CB: Family Starts Home Business Making Curry Buns To Survive Losing Jobs During Pandemic
Photos taken by Muhammad Hafiq.
This is an independent review by Eatbook.sg.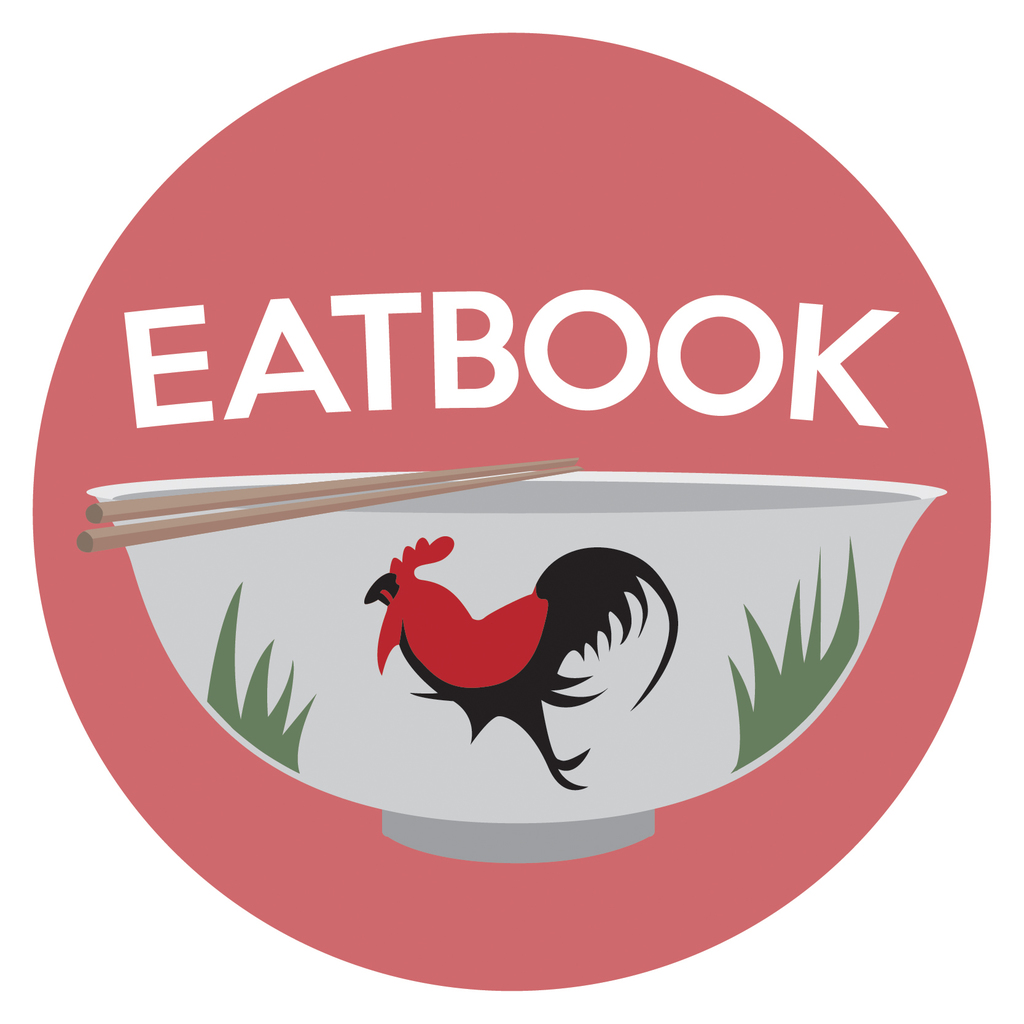 Drop us your email so you won't miss the latest news.