---
Bak chor mee in Singapore
---
Hands up if you could have bak chor mee every day for the rest of your life. There's just something addictive about slurping mee pok, braised mushrooms, and minced pork that's tossed in a heavenly mix of black vinegar, lard oil, pork stock, fish sauce, and chilli.
I, for one, am eternally grateful to the person who discovered this magical combination. Although bak chor mee is attributed to early Teochew immigrants to Singapore, this is a dish that's uniquely Singaporean. This humble bowl of noodles can be found in almost every kopitiam, but here's our shortlist of 10 stalls worth a try.
---
1. Hill Street Tai Hwa Pork Noodle
---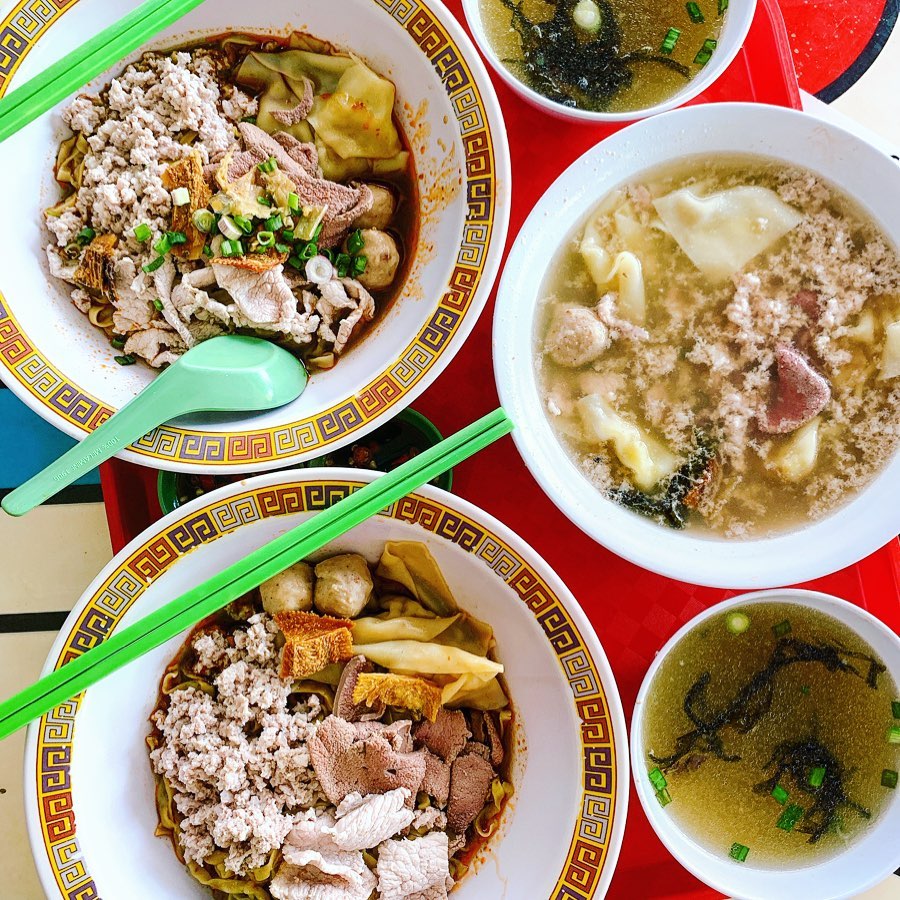 Image credit: @wcynthiaaa
Winning a Michelin Star did no favours for the waiting time at this bak chor mee stall. Hill Street Tai Hwa Pork Noodles has been around since the 1930s, and is said to be the OG creator of this dish. We've heard of people waiting two hours for a bowl here. Prices start from $6, but I'd recommend going for the $8 or $10 bowls to make the queueing worth it. The liver is said to be fresh and cooked just right. I also appreciate the handmade dumplings, meatballs, and slices of fried, dried sole fish (ti poh).
Address: Blk 466 Crawford Lane #01-12, Tai Hwa Eating House, Singapore 190465
Opening Hours: Tues to Sun 9:30am to 9pm
Website
New Bakery Sugar Toast Opens, Sells 15 Loaf Flavours Including Rainbow Cranberry And Matcha
---
2. Tai Wah Pork Noodle
---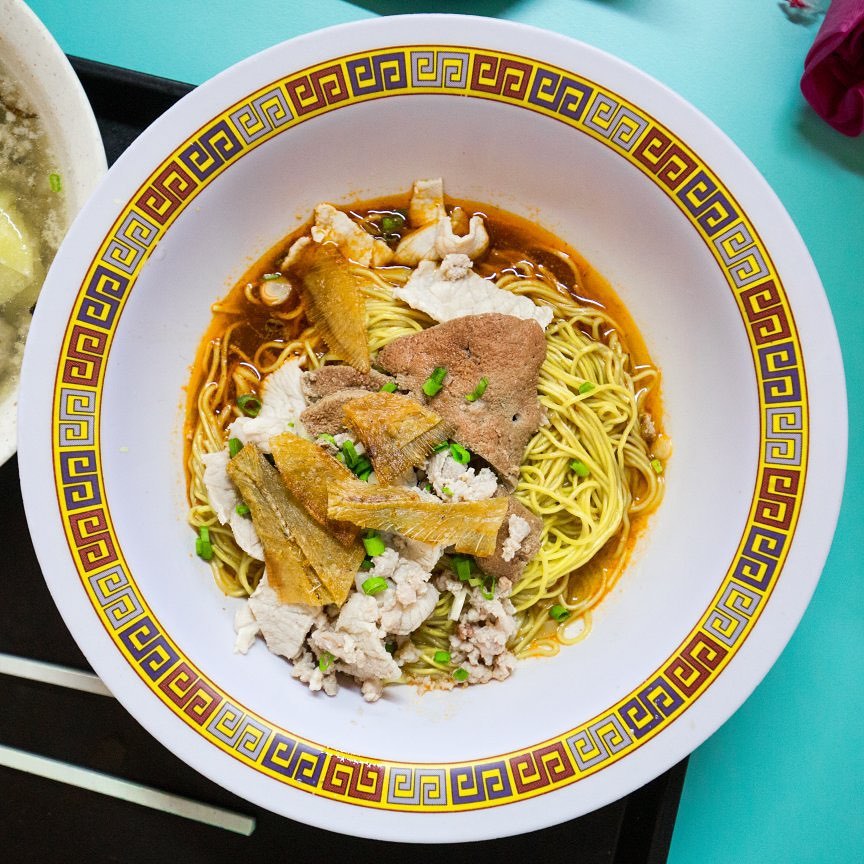 Image credit: @eyingoffyourplate
Tai Wah Pork Noodles, also the recipient of a Michelin Bib Gourmand award, is run by the same family behind Tai Hwa at Crawford Lane. The bowls of bak chor mee here are similarly priced at $6, $8, and $10, and features the same set of ingredients and a sauce mix that some claim is even better than at their sister stall. 
Address: 531A Upper Cross Street, #02-16, Hong Lim Food Centre, Singapore 051531
Opening Hours: Daily 8am to 7:30pm
Website
Suntec City Japanese Food Guide: 15 Places For Unagi, Shabu Shabu Buffet And More
---
3. Macpherson Minced Meat Noodles
---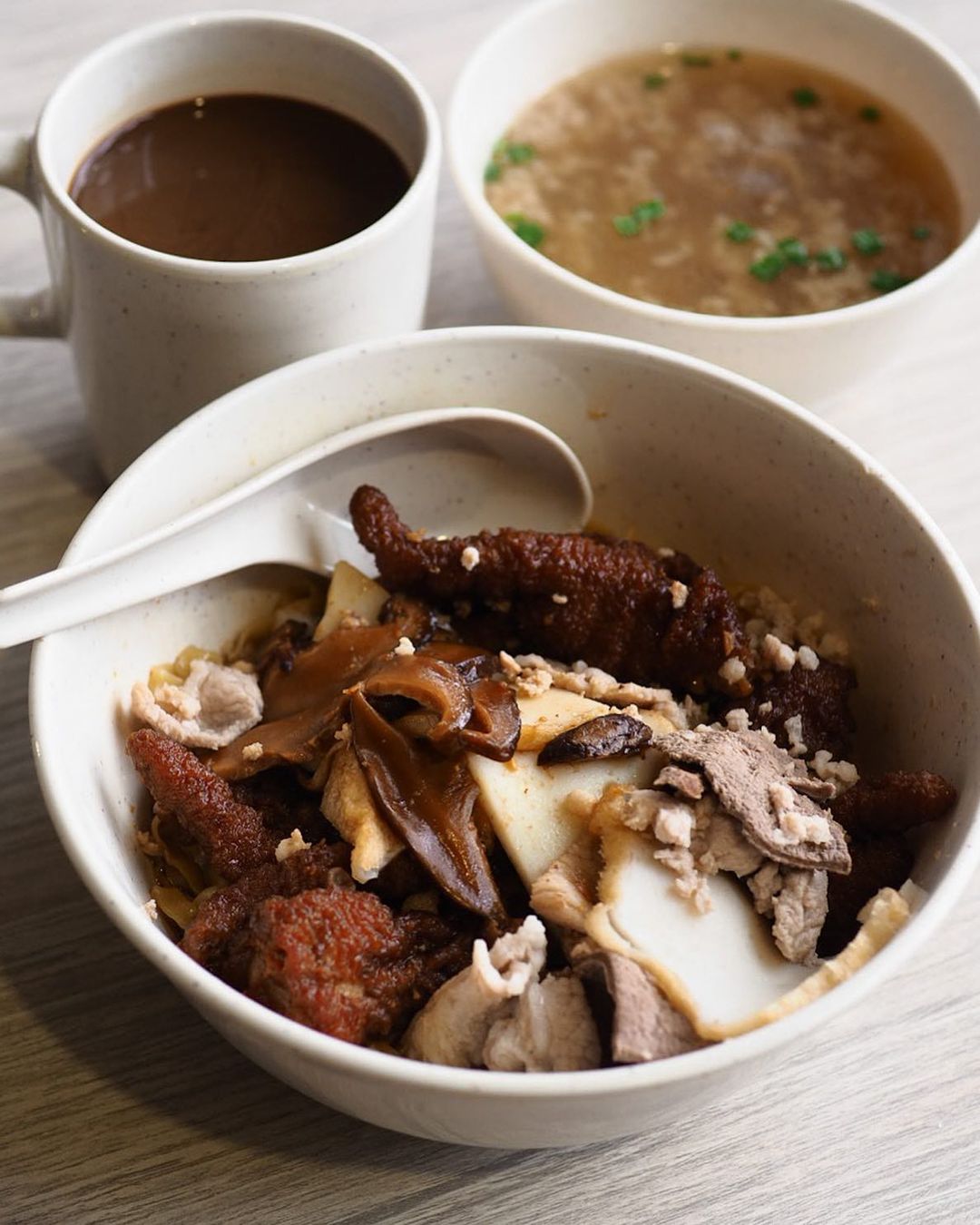 Image credit: @yongkaiiii
Macpherson Minced Meat Noodles used to be located in Upper Serangoon, but moved this year to Woodlands, where Uncle Yap continues to make his bowls of bak chor mee tirelessly from scratch each day. Fans love the balance of savoury, sour, and spice in his noodles, with a punch of umami from his braised mushrooms. A bowl of minced meat noodles here costs $4.50, with the option to add extra ingredients such as braised pig trotters or chicken feet, if they're available.
Address: 4 Woodlands Street 12, #01-18, Marsiling Mall, Singapore 738620
Opening hours: Fri-Wed 7:30am to 2:30pm
Website
---
4. Chun Seng Noodle House
---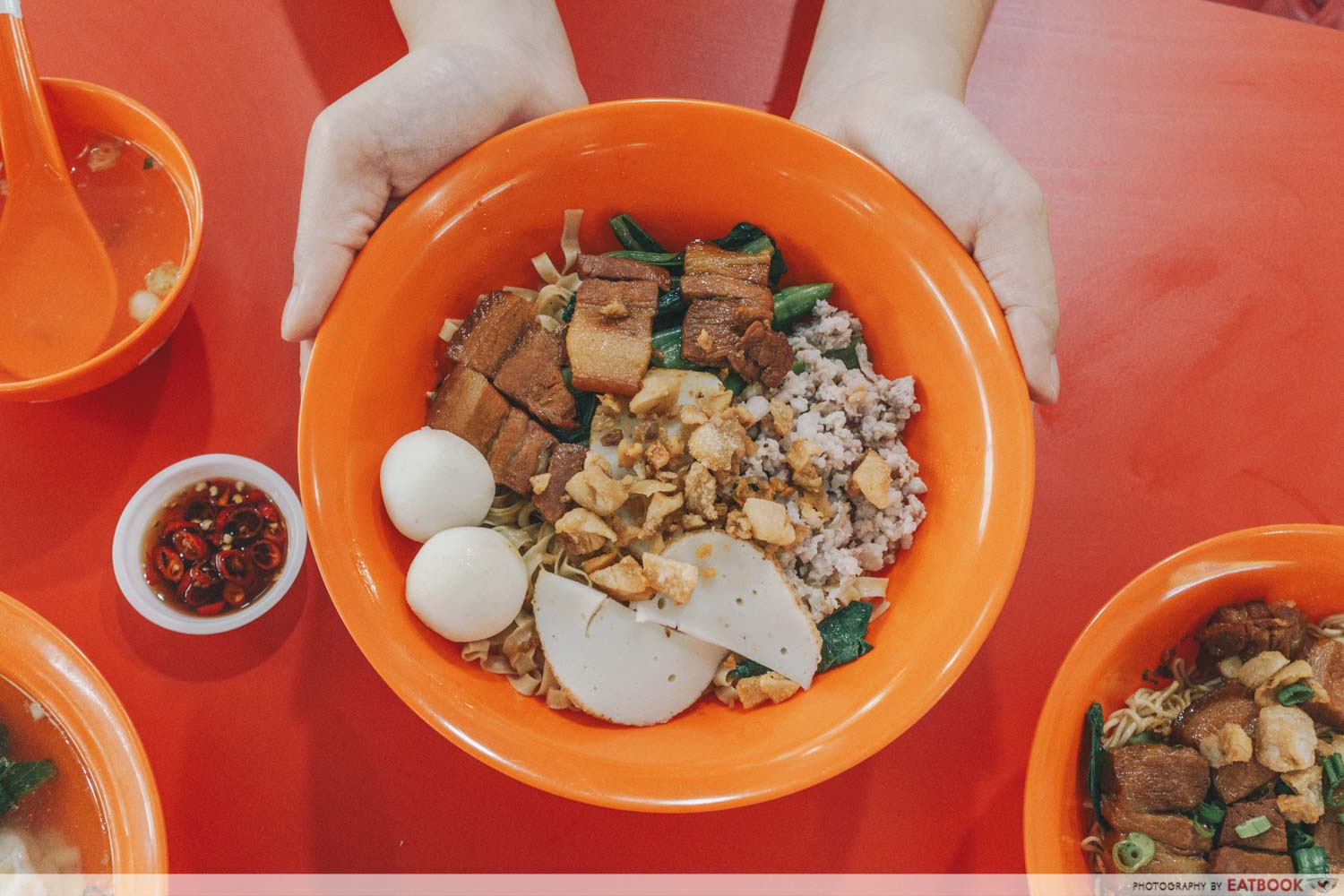 Chun Seng Noodle House makes a slightly less vinegared bowl of bak chor mee (from $3.50) that comes with the delightful addition of lor bak, or braised pork belly made with a family recipe. The bowls of noodles here are aromatic with a garlic-lard oil and a house-made chilli. They also come generously topped with a variety of ingredients.
Check out our full review of Chun Seng Noodle House.
Address: 6 Bukit Merah Lane 1, #01-113, ABC Brickworks Market, Singapore 150006
Opening hours: Sat-Thurs 5:30am to 2pm
Tel: 8189 3949
Website
---
5. Shiok Shiok Noodles
---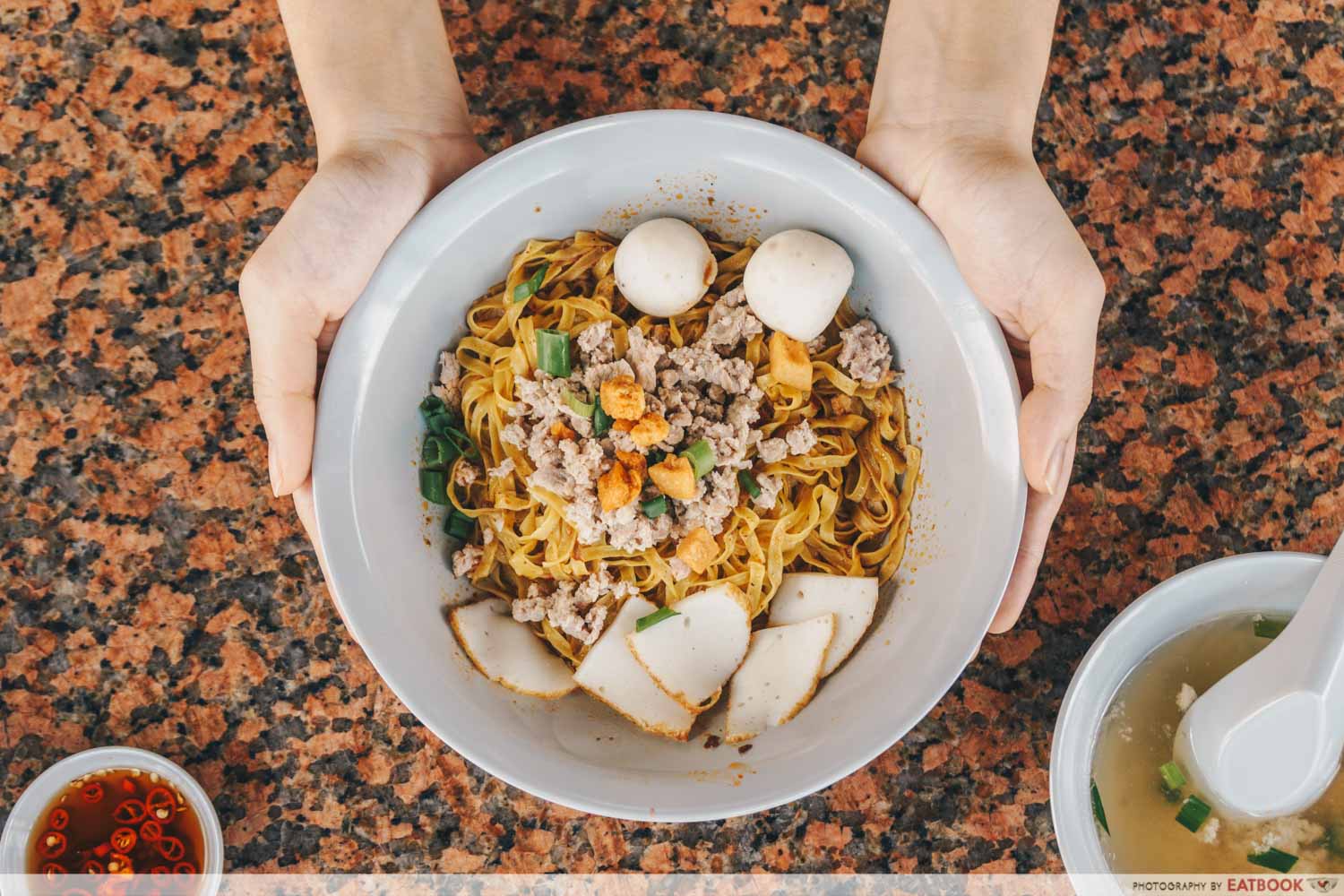 At this stall, you can expect a typical bowl of Authentic Minced Meat Noodle ($6), and what might be the only Spicy Mala Minced Meat Noodle ($4.50) you'll find in Singapore. The bowl of noodles here comes with mixed pig organs that aren't overcooked, so if you're into the offal side of things, pay Shiok Shiok Noodles a visit.
Check out our full review of Shiok Shiok Noodles.
Address: 18 Sin Ming Lane, #01-01, Midview City, Canteen Stall No. 2, Singapore 573960
Opening hours: Mon-Sat 7am to 4pm
Website
---
6. Seng Huat Mushroom Minced Meat Noodle
---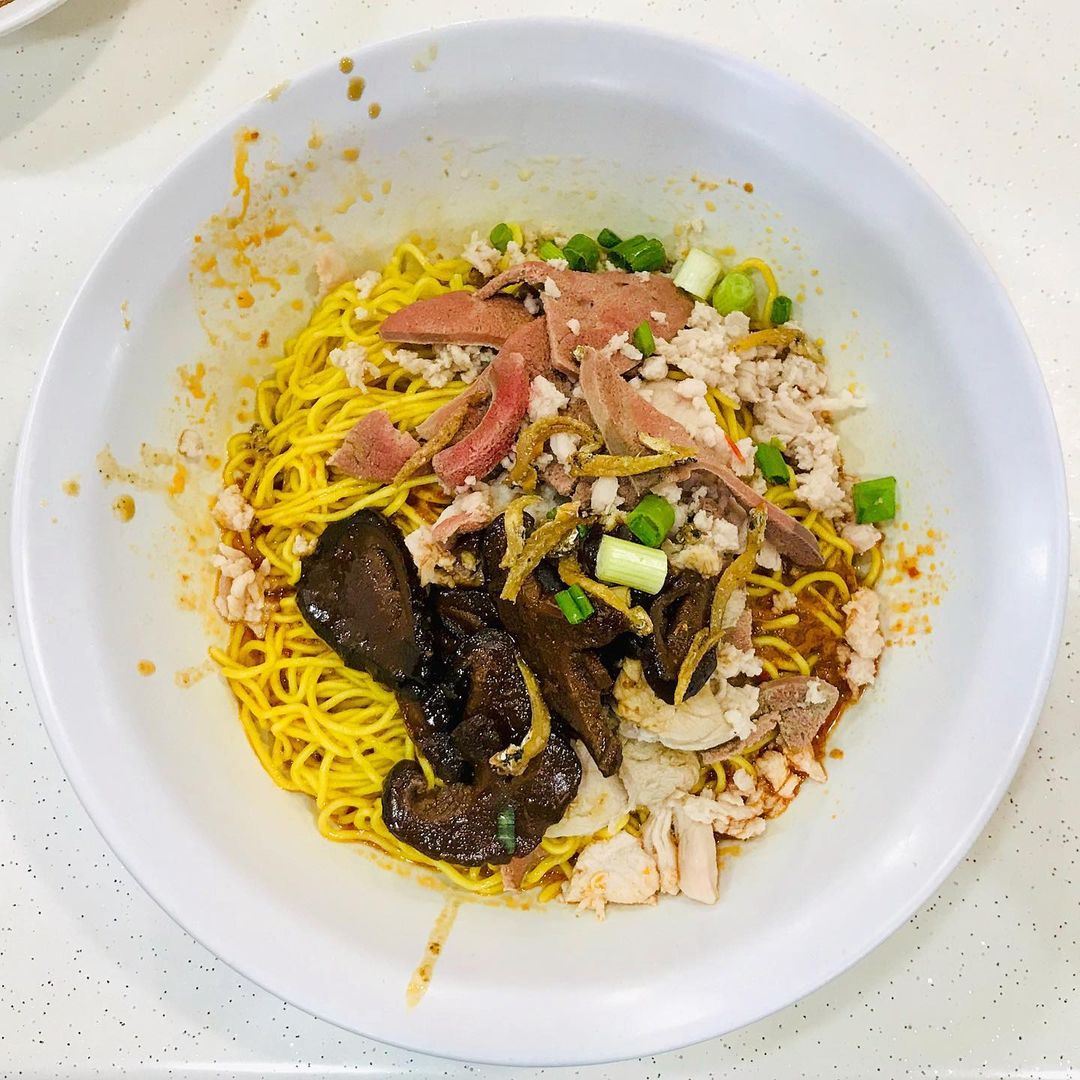 Image credit: @xmen1177
This family-run business has been around for more than three generations, and dishes up bak chor mee around the clock. A bowl of Mushroom Minced Meat Noodle ($4) comes with mushrooms, mince, and pink-hued liver, but the Specialty Mee Sua ($4) is where the money's at. The absorbent noodle is a great base for the flavoursome sauce, which clings to every inch of the mee sua.
Address: 492 North Bridge Road, Seng Huat Eating House, Singapore 188737
Opening hours: Daily 24 hours
---
7. Li Yuan Mee Pok (Previously Ah Hoe Mee Pok)
---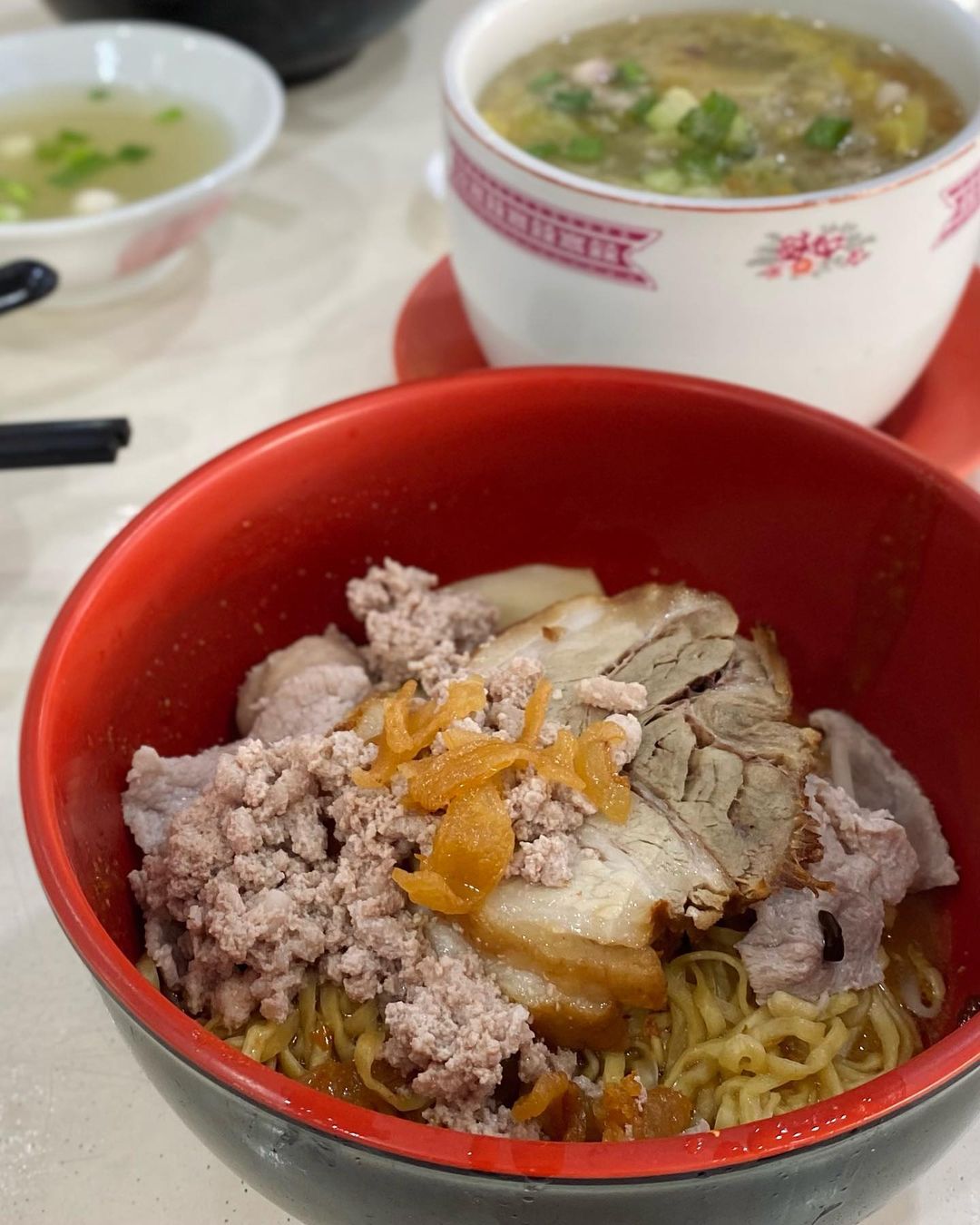 Image credit: @curiousfoood
Li Yuan Mee Pok, also known as Ah Li Mee Pok, is what used to be Ah Hoe Mee Pok. Confusing name changes aside, the stall made waves when it first opened because it was run by Mr Naoji Kuribara, a Japanese chef. He spent half a year learning how to make bak chor mee from the original Ah Hoe Mee Pok before taking over the shop, although it seems he no longer mans the stall.
Besides the traditional Mushroom Minced Meat Noodle (from $4), the stall's offerings are influenced by Japanese ramen. The Japanese Fusion Mee Pok series features a Miso/Shoyu (from $6) bak chor mee, and a luxe $10 version that has Japanese chashu. 
Check out our full review of Li Yuan Mee Pok.
Address: Blk 710 Clementi West Street 2, Rong Fa Coffee House, Singapore 120710
Opening hours: Tues-Sun 8:30am to 3pm
Tel: 8742 6540
Website
---
8. Ah Seng Bak Chor Mee
---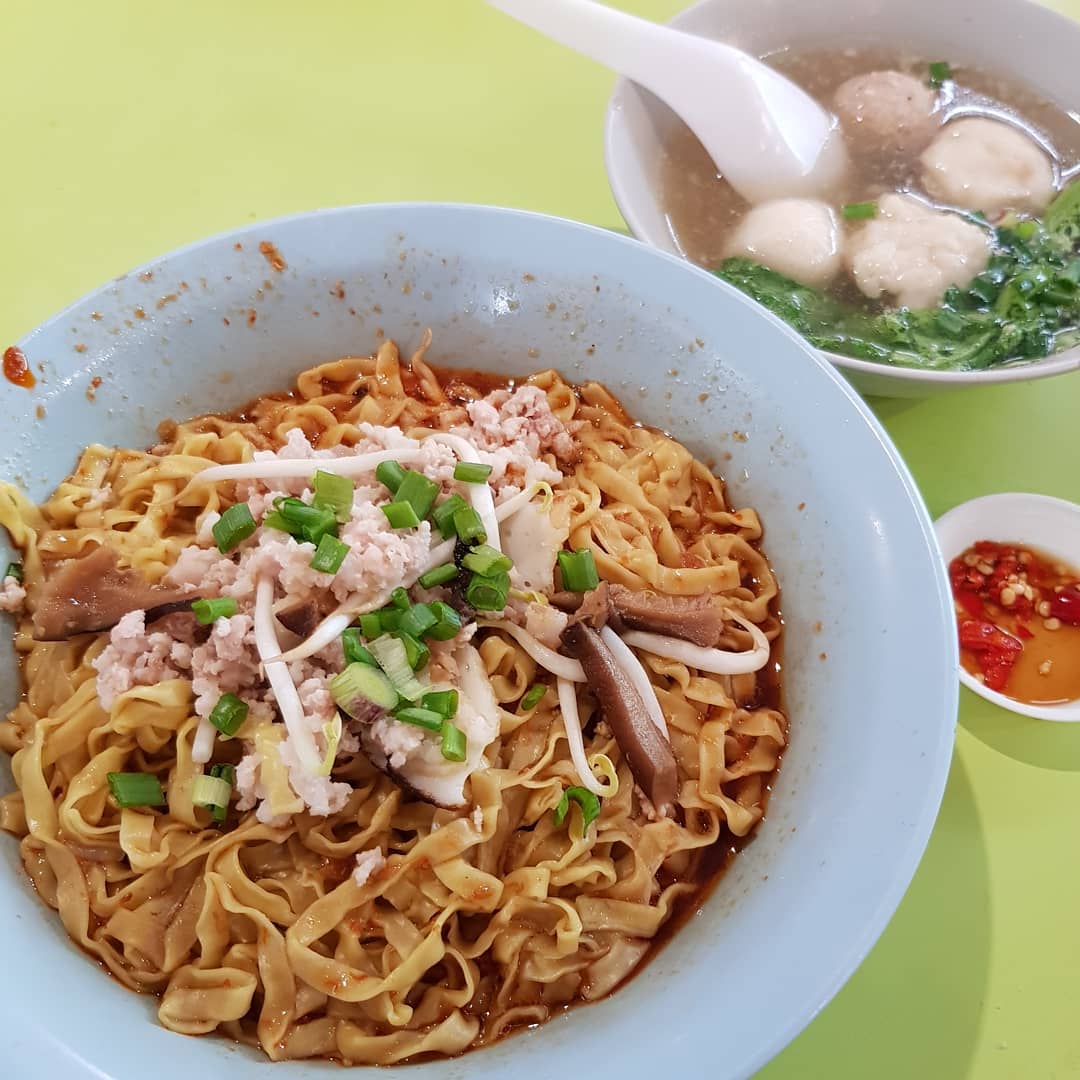 Image credit: @hhariyono
This unassuming stall near Bugis was awarded the Michelin Plate. Special mention goes to its homemade meatballs, which have cartilage and sinew blended in, giving it texture and crunch. The bak chor mee ($3) here is done the old school way, with a dash of ketchup thrown in for good measure.
Address: 270 Queen Street, #01-77, Albert Centre, Singapore 180271
Opening hours: Sun-Fri 7:30am to 4:30pm
Website
5 Ways To Zhng Up Your Instant Noodles With Just Luncheon Meat, Tomatoes, Scallions, Eggs And Cheese
---
9. Lai Heng Mushroom Minced Meat Noodle
---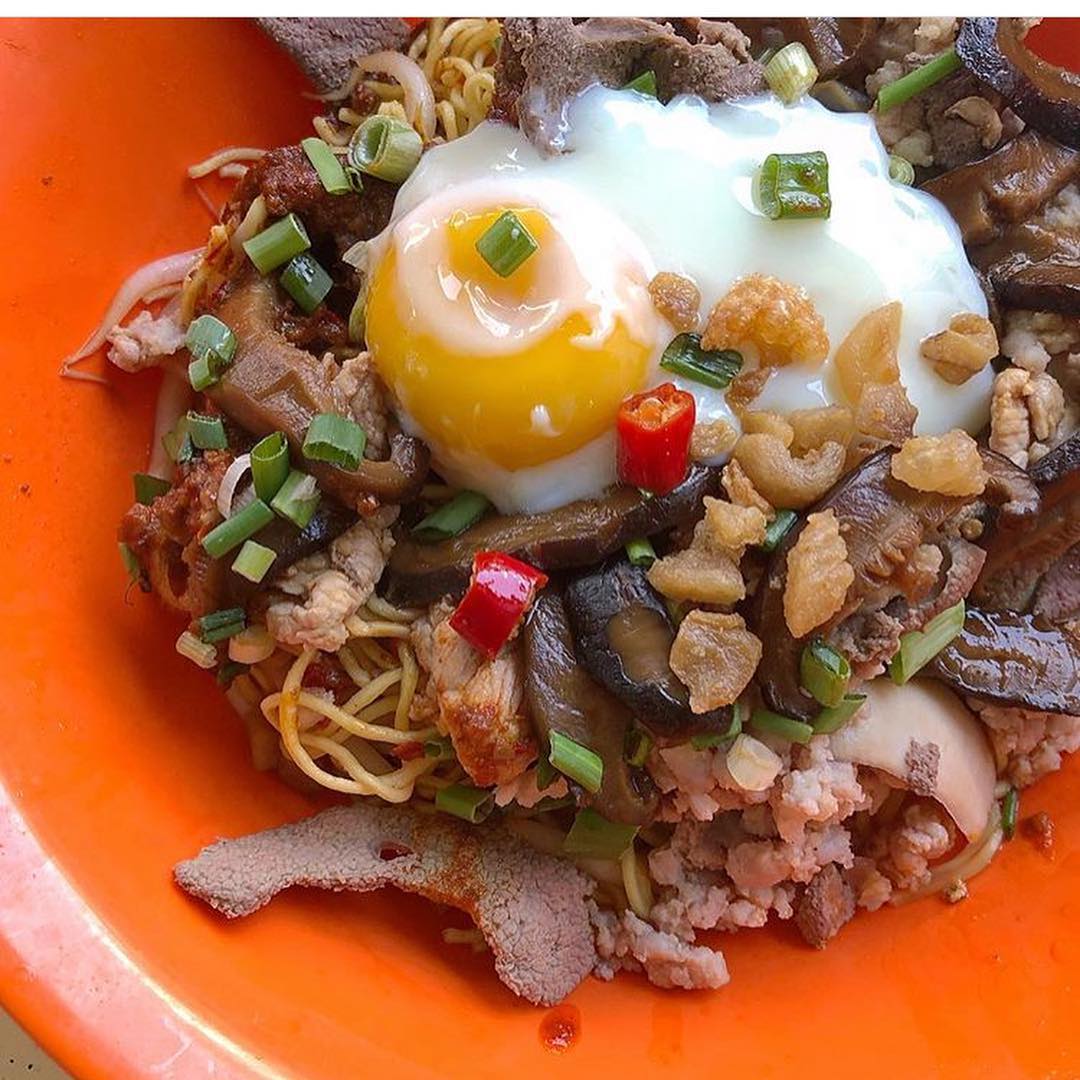 Image credit: @laihengmmmm
The bak chor mee (from $4) at Lai Heng Mushroom Minced Meat Noodle is popular enough that you have to get a queue number and wait for your bowl after you've paid. Social media is rife with images of noodles liberally sprinkled with lard because here, it's free for all. As you help yourself to the freshly fried, crispy lard and chilli, here's a hack: get a soft-boiled egg from the drinks stall to mix into the noodles for extra richness!
Address: Blk 73 Toa Payoh Lorong 4, #01-611, Singapore 310073
Opening hours: Thurs-Tues 8am to 4pm
Tel: 9620 2074
Website
9 Vietnamese Food Places In Singapore For Legit Banh Mi, Pho, Bun Cha And More
---
10. Yan Kee Noodle House
---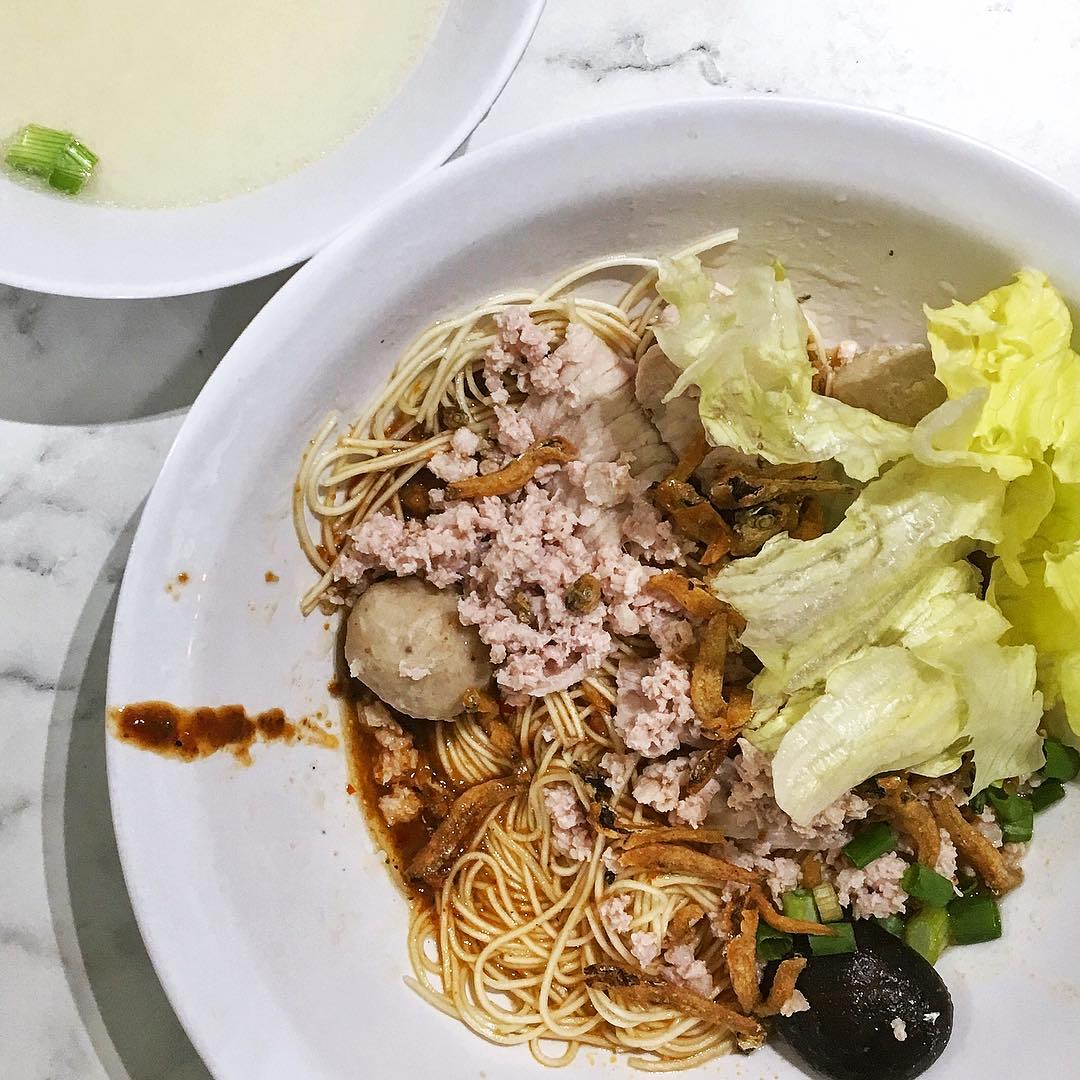 Image credit: @rayner.ng
Partygoers will be familiar with Yan Kee Noodle House's Dry Mee Sua ($4) from when they used to be at BK Eating House. They've now relocated to swanky new airconditioned premises just across from their old haunt, although an identical but unrelated stall has popped up at their old shop space. The mee sua here is never overcooked to mushiness. Rather, it retains an al dente bite, with a neutral taste that I much prefer to mee pok or mee kia. The chilli sauce is also a thing of wonder, with a good kick heightened by the salty ikan bilis. 
Address: No. 9 Circular Road, Singapore 049365
Opening Hours: Mon-Sat 7am to 11pm
Website
Reiwa Soba Review: Japanese Couple Sells Thai-Influenced Handmade Soba In A Food Court
---
10 bak chor mee in Singapore
---
Bak chor mee is everywhere, and shortlisting 10 for this article was a tall task. While some of these stalls do soup versions of this much-beloved bowl of noodles, here's our list of 10 soupy bak chor mee, and 10 bak chor mee with unique twists that you could also consider trying!
This post was originally published on 20 December 2015.
Feature image adapted from @rayner.ng, @laihengmmmm, @curiousfoood, @wcynthiaaa, @yongkaiiii and @eyingoffyourplate's posts.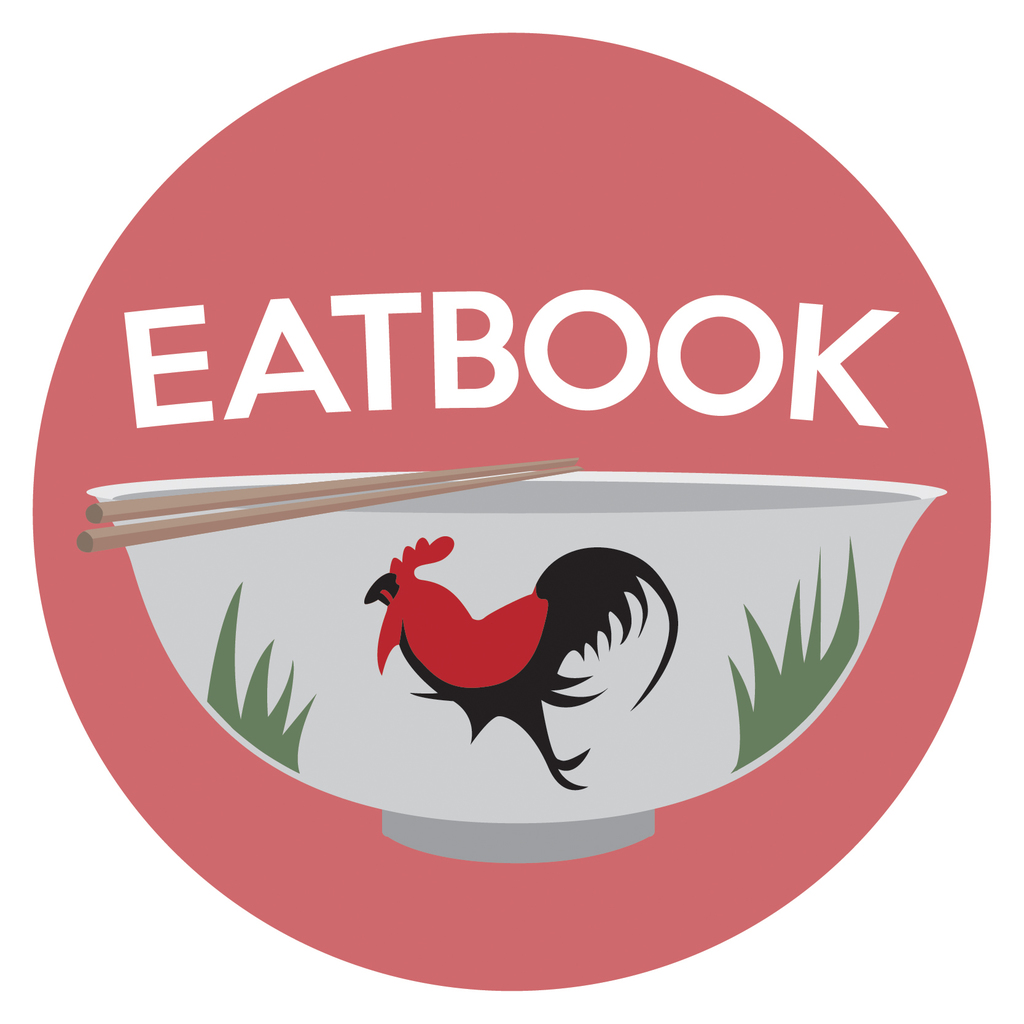 Drop us your email so you won't miss the latest news.