Minced Pork Bros has modern bak chor mee at Old Airport Road
Bak chor mee is my favourite local dish to have, but on one condition: it has to include pork liver. So when I found out that Minced Pork Bros, a stall by the owners of Roast Paradise, does not include my beloved cut of pork in their bak chor mee, I was a tad disappointed.
But as I took a closer look at the stall's signboard, I noticed that, instead of pork liver, the bowls on display featured ingredients such as abalone, ajitsuke eggs, and even ikura. Even the bak chor mee purist in me couldn't help but find this intriguing.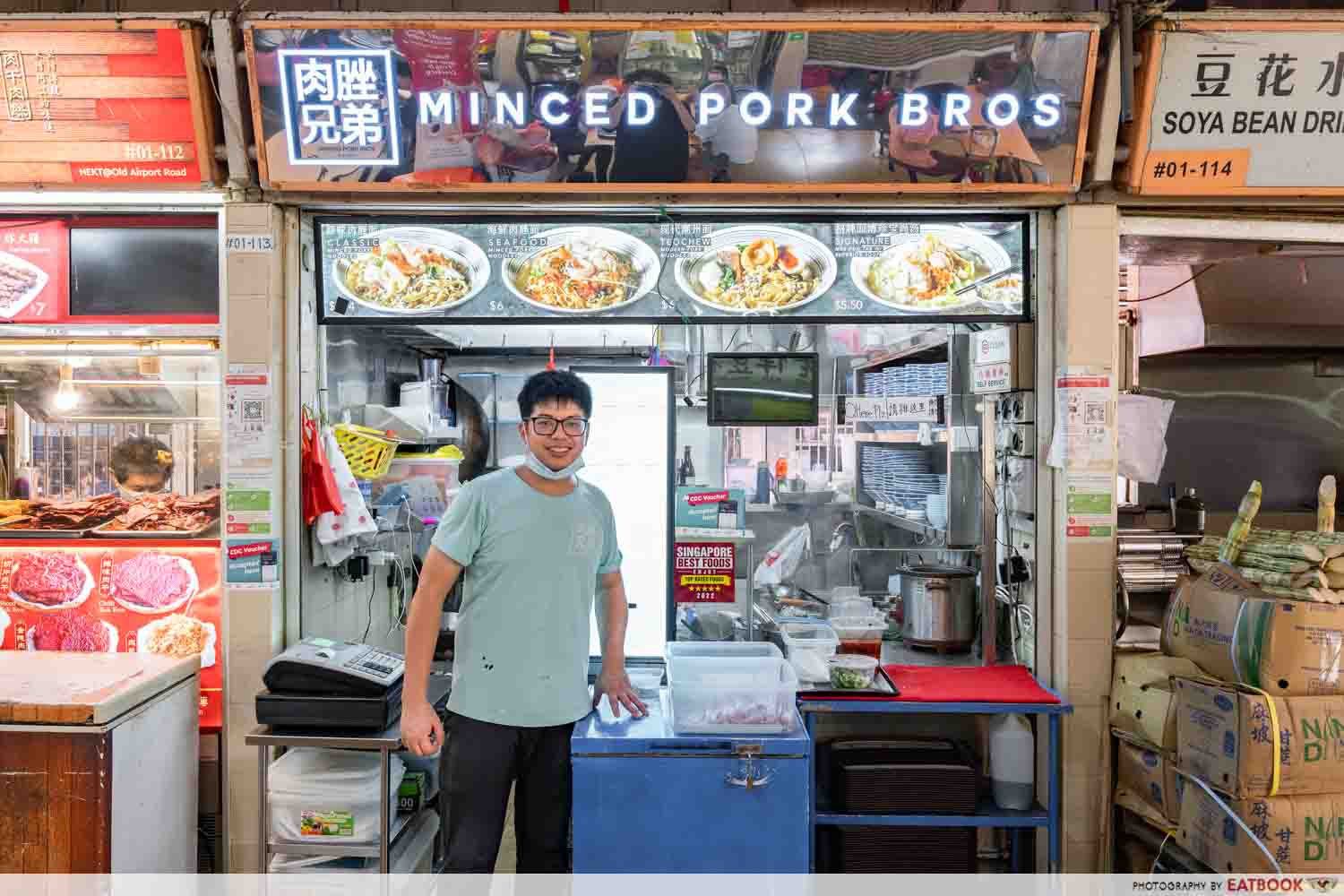 And so to sate my curiosity, I decided to give Minced Pork Bros a shot.
Roast Paradise To Open In Sengkang With Their Popular KL-Style Roast Meats
Food at Minced Pork Bros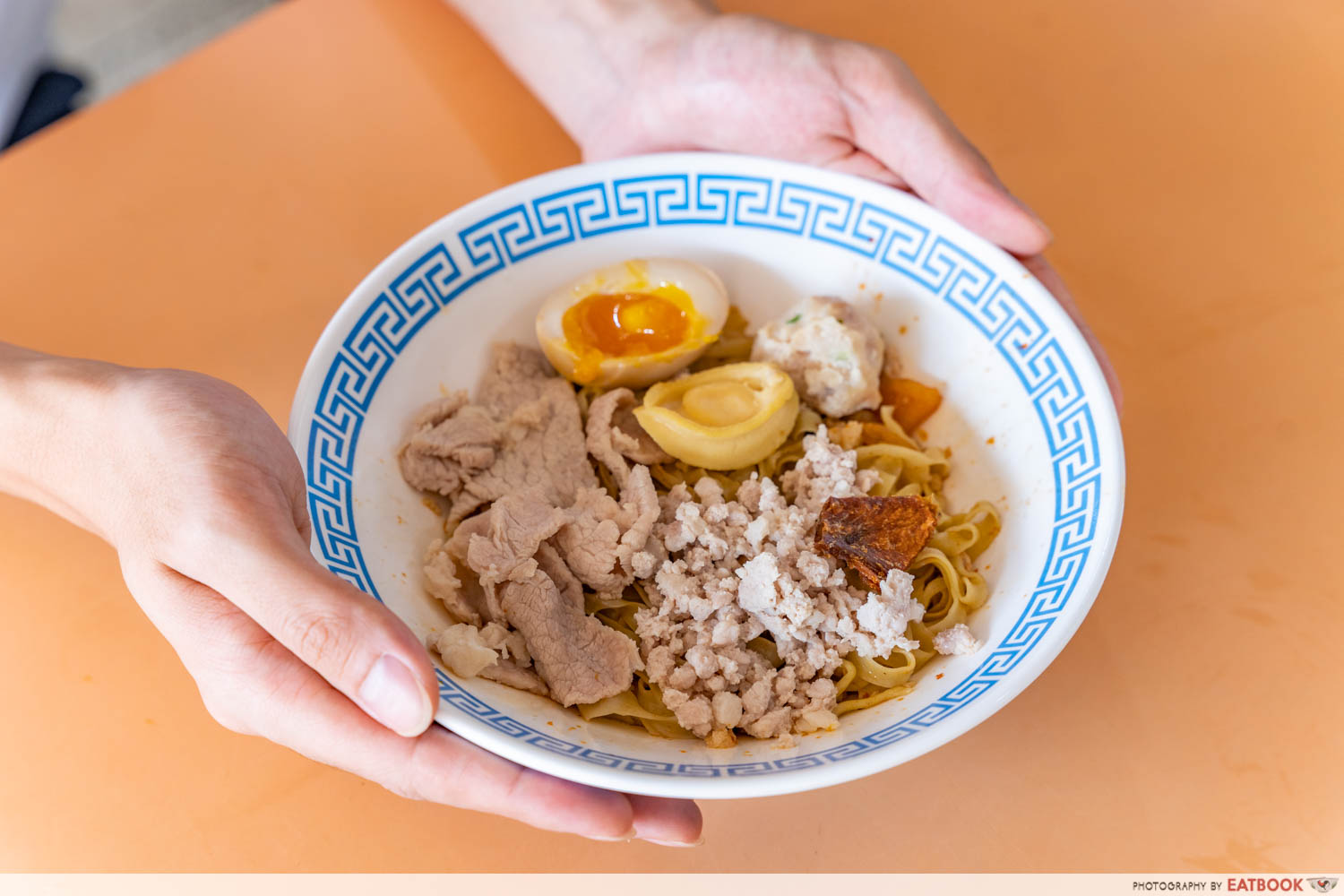 We started with the Teochew Modern Pork Noodles ($6), which was unmistakably bak chor mee: minced and sliced pork atop a messy pile of mee pok. They were also joined by more "modern" components such as half an ajitsuke tamago, a piece of abalone, and a Teochew-style meatball.
But no matter how innovative a bowl of noodles is, it has to be first judged on its most fundamental part: the noodles themselves.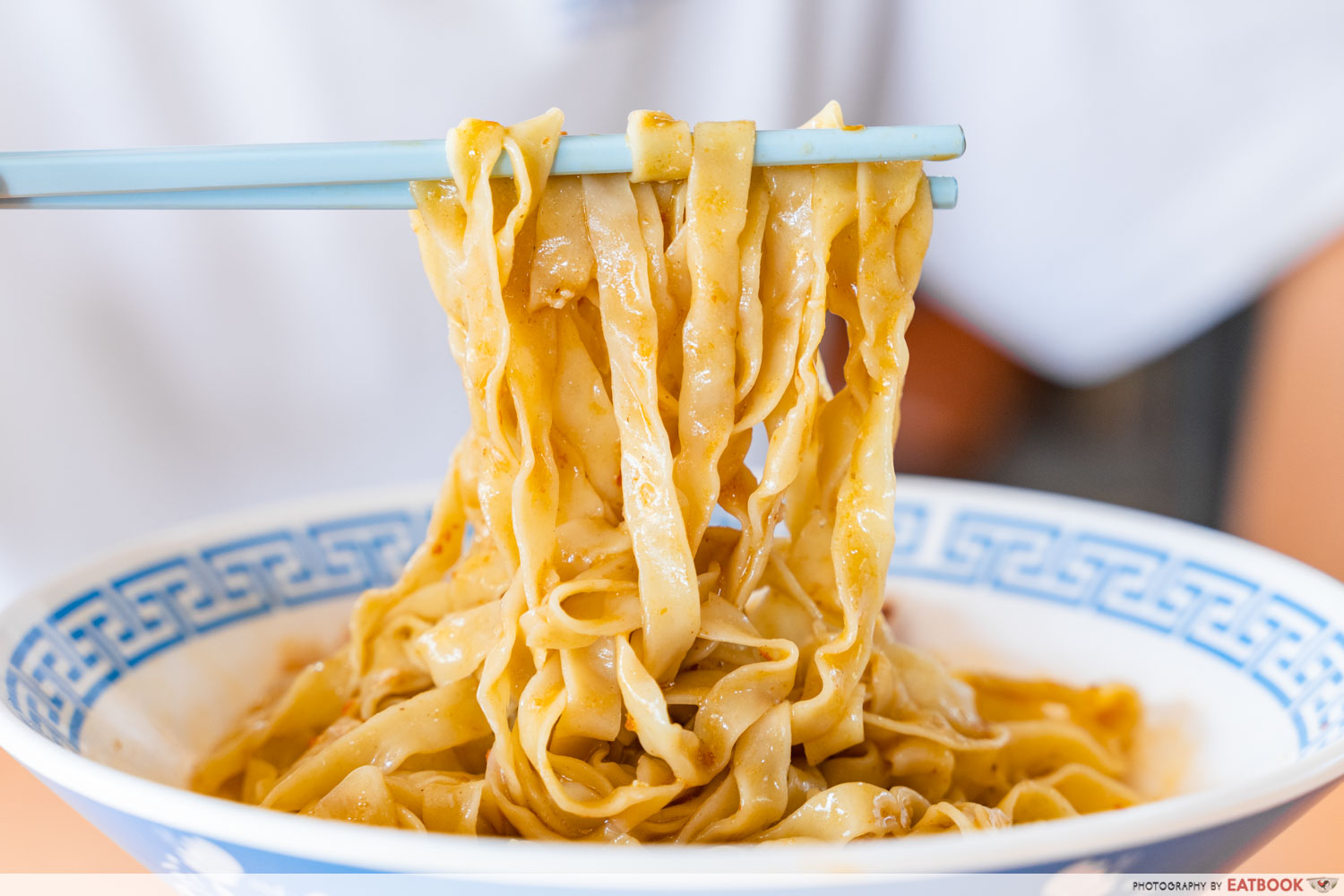 Thankfully, the ones here were excellent. Because they were springy and flatter than your usual mee pok, these noodles had a marvellous mouthfeel. They also didn't have a strong alkaline taste, which is always a plus.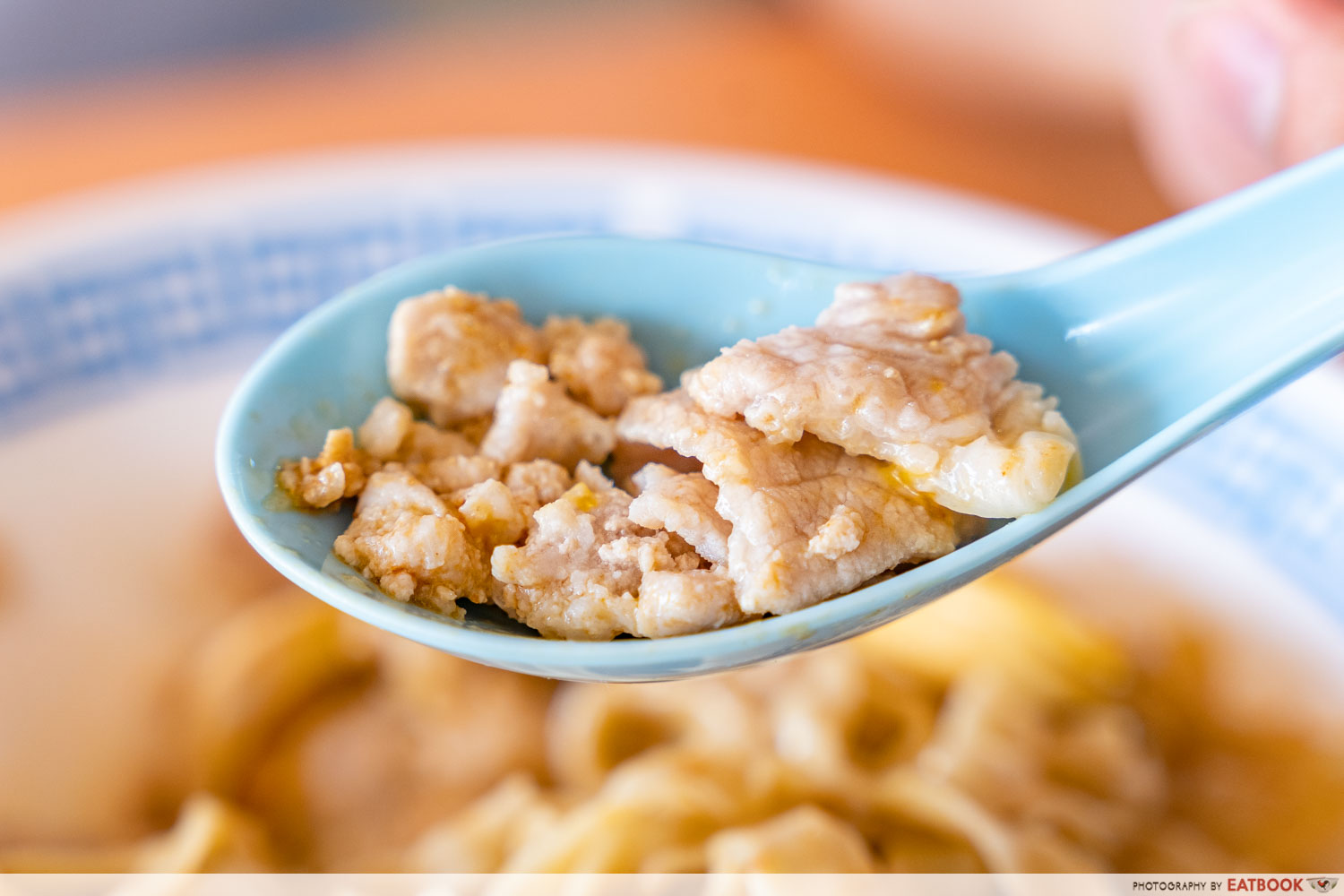 The chilli and vinegar combination here was actually milder than most—it was neither too spicy, nor particularly sour. Those looking for bold flavours in their bak chor mee might be let down, but I thought the sauces provided enough spark to the noodles and the copious amounts of pork.
As for the rest of the ingredients, I really enjoyed the umami ajitsuke eggs and bouncy meatball, while the piece of ti poh added an extra touch of savouriness. My least favourite bit was actually the abalone, which was a tad too rubbery.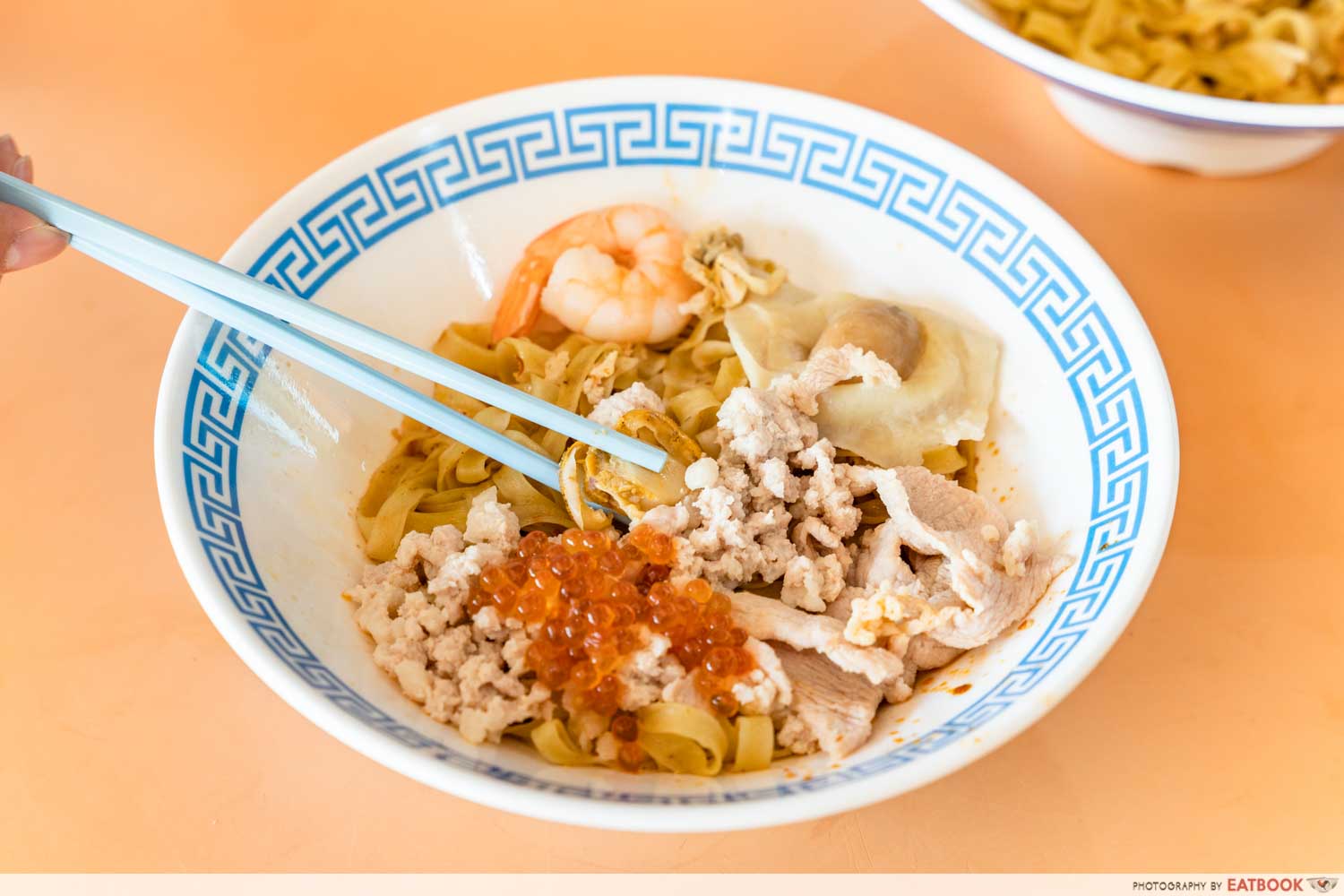 Next up was the Seafood Minced Pork Noodles ($6), which kept the pork and mee pok core of the previous dish while adding a bunch of seafood treats, such as a prawn, scallop, ikura, and fish dumpling.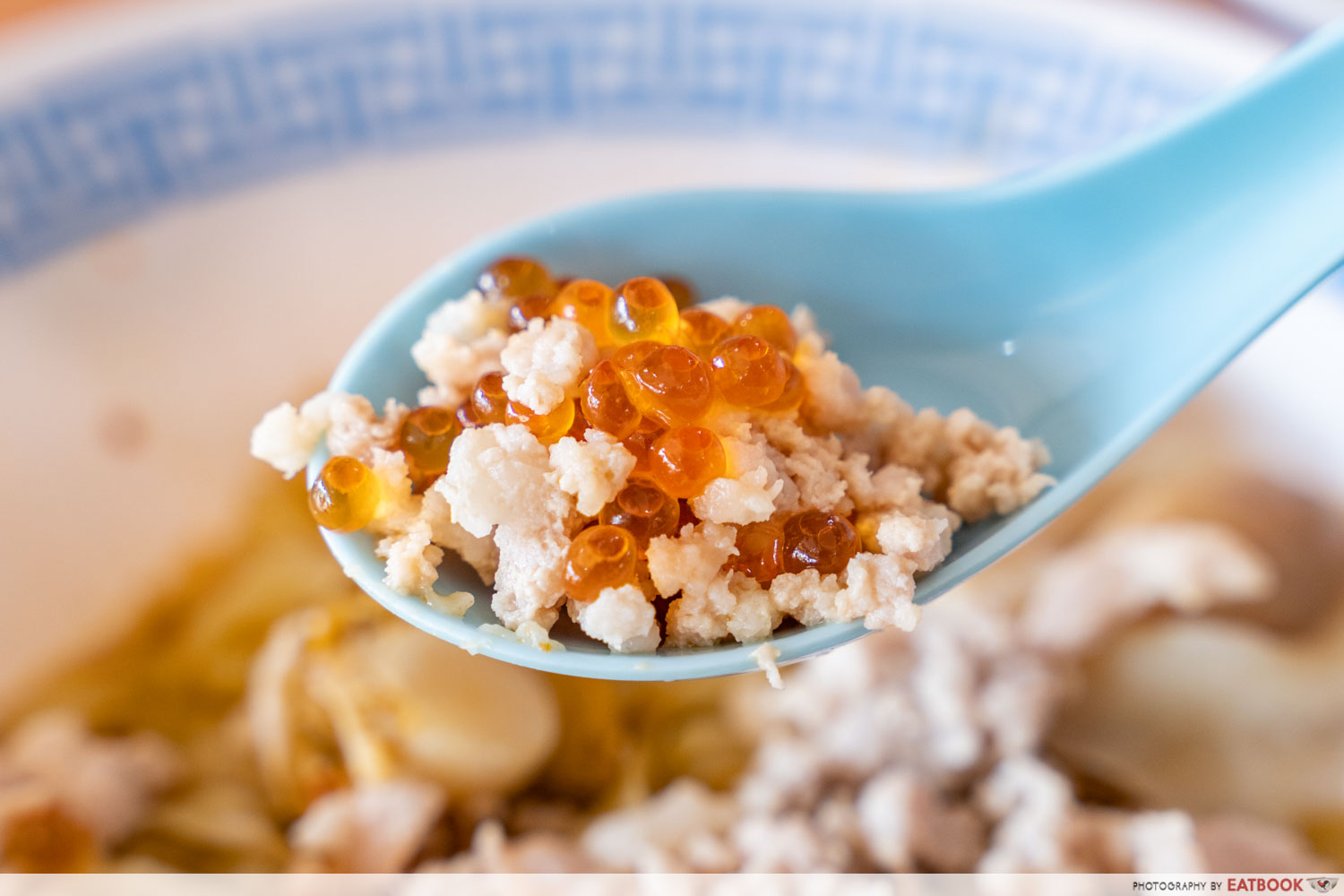 Minced pork and ikura is a surprisingly wonderful combination—the former's coarser texture and meaty flavour contrasted the ikura's burst of sweet-savoury to great effect.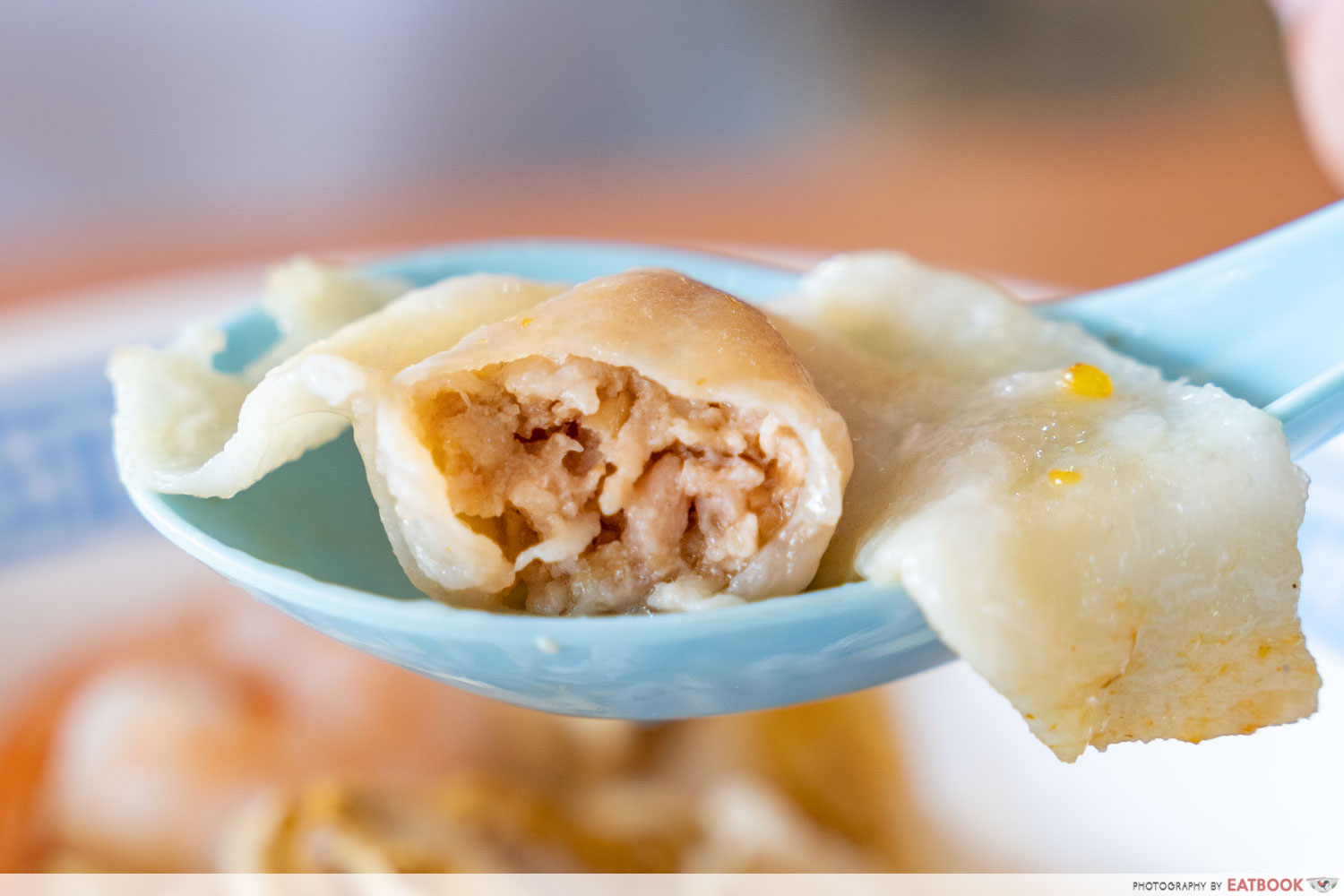 Special mention has to go to the fish dumplings, known as herh keow. Its chewy and savoury fish paste skin, not to mention the juicy meat on the inside, made it a delectable addition to this bowl of bak chor mee.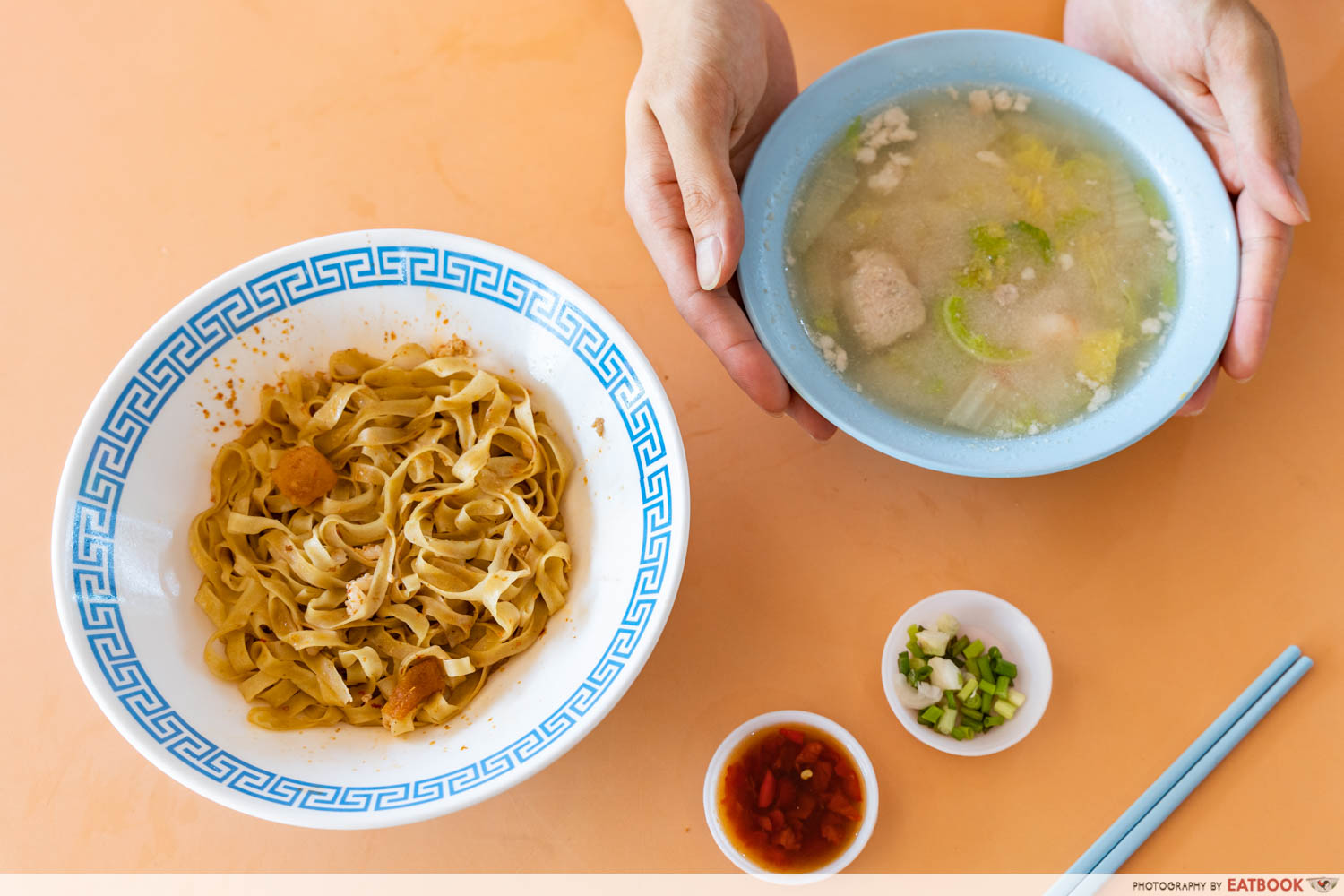 We ordered one more dish for good measure: the Signature Mee Pok Tar w/ Superior Soup ($5.50). Here, the mee pok was served separately from the minced meat and other ingredients, which were instead served in a pork-based soup.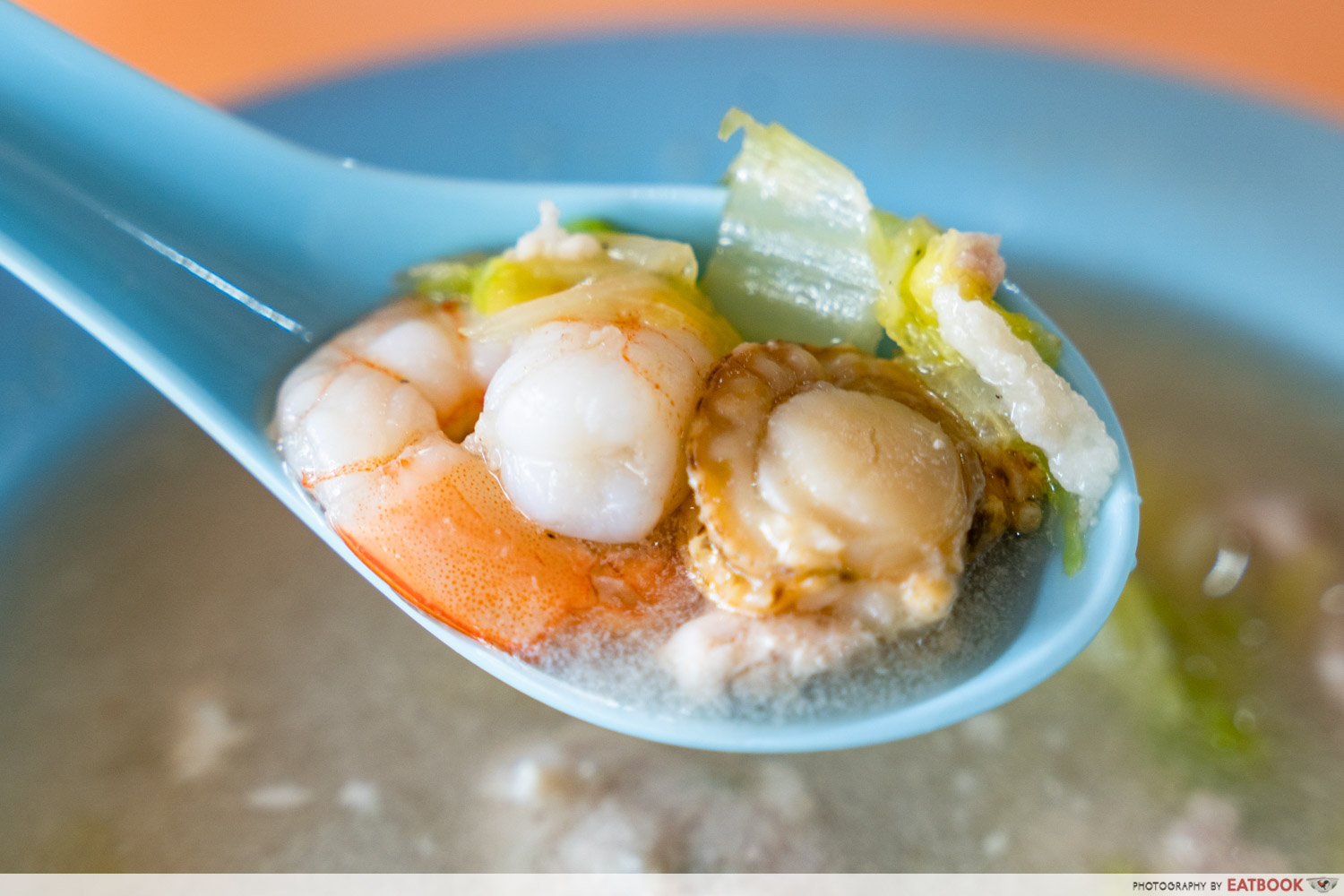 Many of the ingredients mentioned earlier, such as the prawn, scallop, and meatball, featured in the soup as well. Minced Pork Bros weren't kidding about the "superior" tag, as the broth here was more robust and flavourful than the ones that came with the previous bowls of bak chor mee. It packed a potent porky taste, while also possessing a subtle yet delightful sweetness.
Ambience at Minced Pork Bros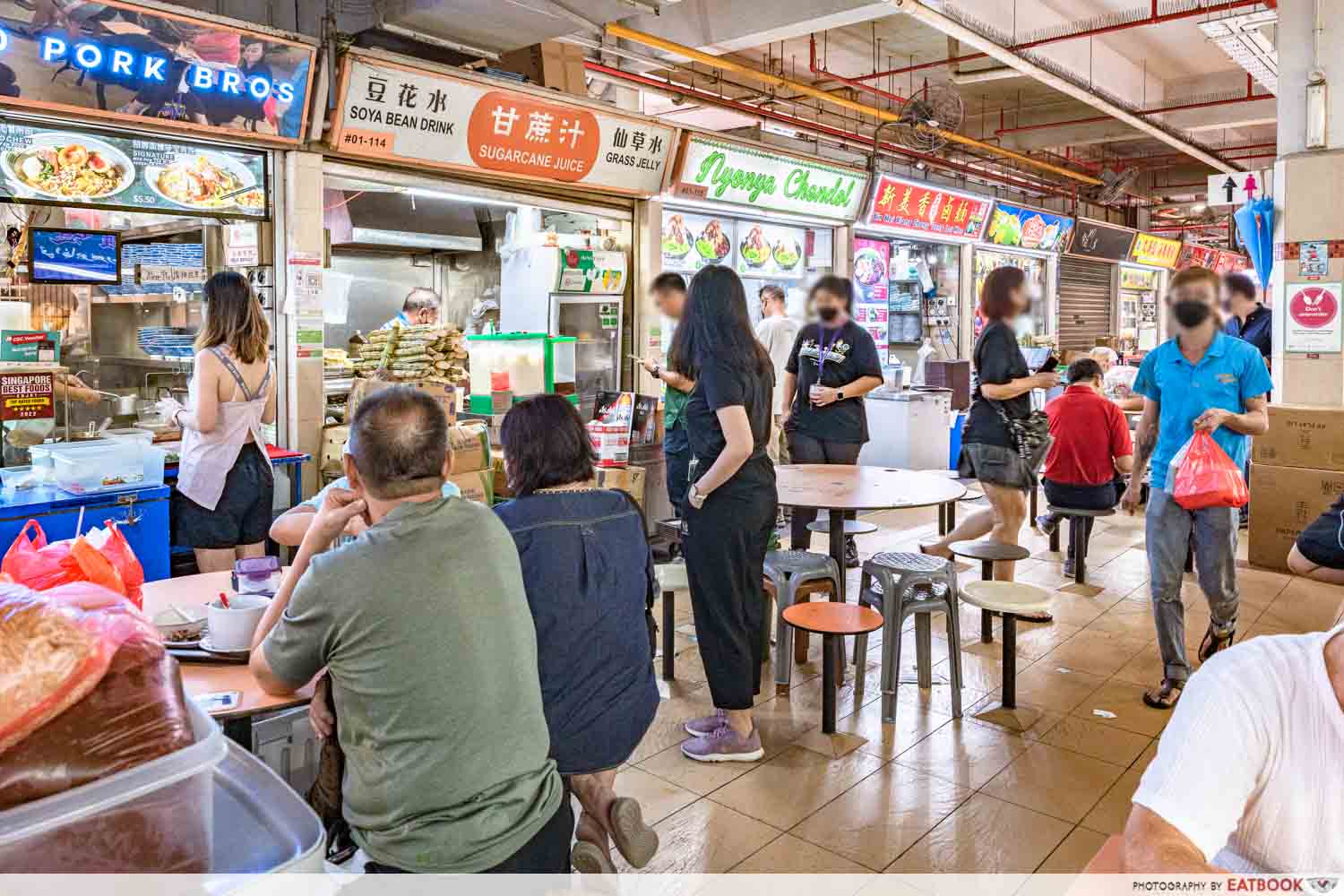 Minced Pork Bros is located in Old Airport Road Food Centre, one of the oldest and largest hawker centres in Singapore. Some may think the place looks a little rundown, but its nostalgic charm is hard to resist—in my opinion, at least.
Old Airport Road Food Centre is a five-minute walk from Dakota MRT Station.
25 Old Airport Road Food Centre Stalls To Eat At—Wagyu Beef Noodles, Famous Hokkien Mee And More
The verdict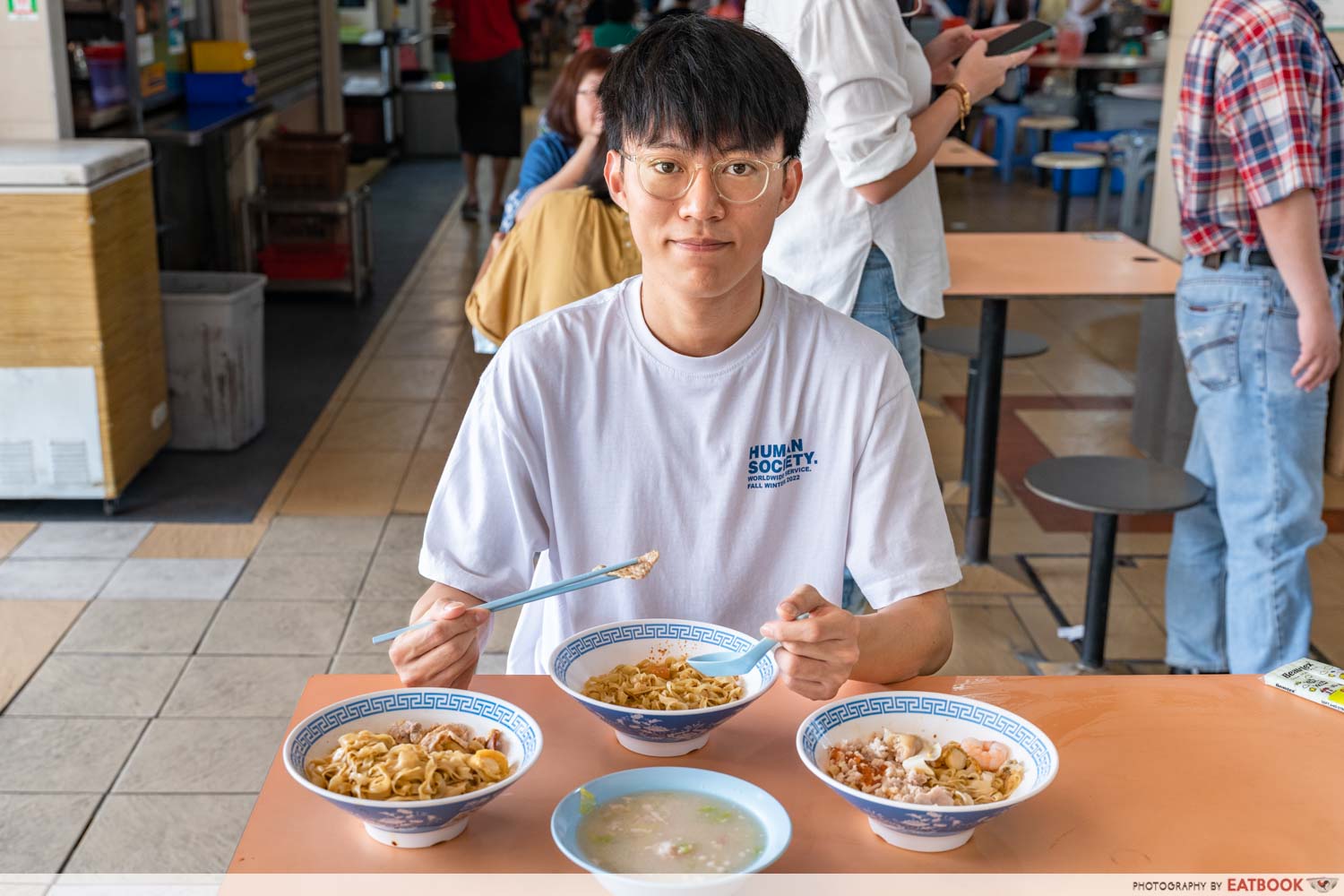 Minced Pork Bros did the impossible—they served up a delicious bowl of bak chor mee without pork liver. They nailed the basics of the dish, and had just enough innovation to help me forget that I was missing my favourite ingredient. Anyone who doesn't have my strange bias is likely to enjoy the food even more.
For another bak chor mee stall with an interesting concept, check out our Ah Gong Minced Pork Noodle review. Fans of chendol should read our Cendol Geylang Serai review.
Address: 51 Old Airport Road, #01-113, Old Airport Road Food Centre, Singapore 390051
Opening hours: Wed-Mon 9am to 5:30pm
Tel: 9786 7396
Website
Minced Pork Bros is not a halal-certified eatery.
Ah Gong Minced Pork Noodle Review: $2.50 Claypot Bak Chor Mee At Maxwell Food Centre
Photos taken by Hui Hui.
This was an independent review by Eatbook.sg.
Minced Pork Bros Review: Modern Bak Chor Mee With Abalone And Ajitsuke Egg At Old Airport Road
Minced Pork Bros Review: Modern Bak Chor Mee With Abalone And Ajitsuke Egg At Old Airport Road -

7.5/10
Summary
Pros
– Mee pok was excellent
– The modern interpretations of bak chor mee were interesting
– The ikura and minced meat combination in Seafood Minced Pork Noodles was awesome
Cons
– Abalone was a little rubbery
– Some may find the chilli to be on the milder side
Recommended dishes: Teochew Modern Pork Noodles ($6), Seafood Minced Pork Noodles ($6)
Opening hours: Wed-Mon 9am to 5:30pm
Address: 51 Old Airport Road, #01-113, Old Airport Road Food Centre, Singapore 390051