Ah Gong Minced Pork Noodles at Maxwell has $2.50 bak chor mee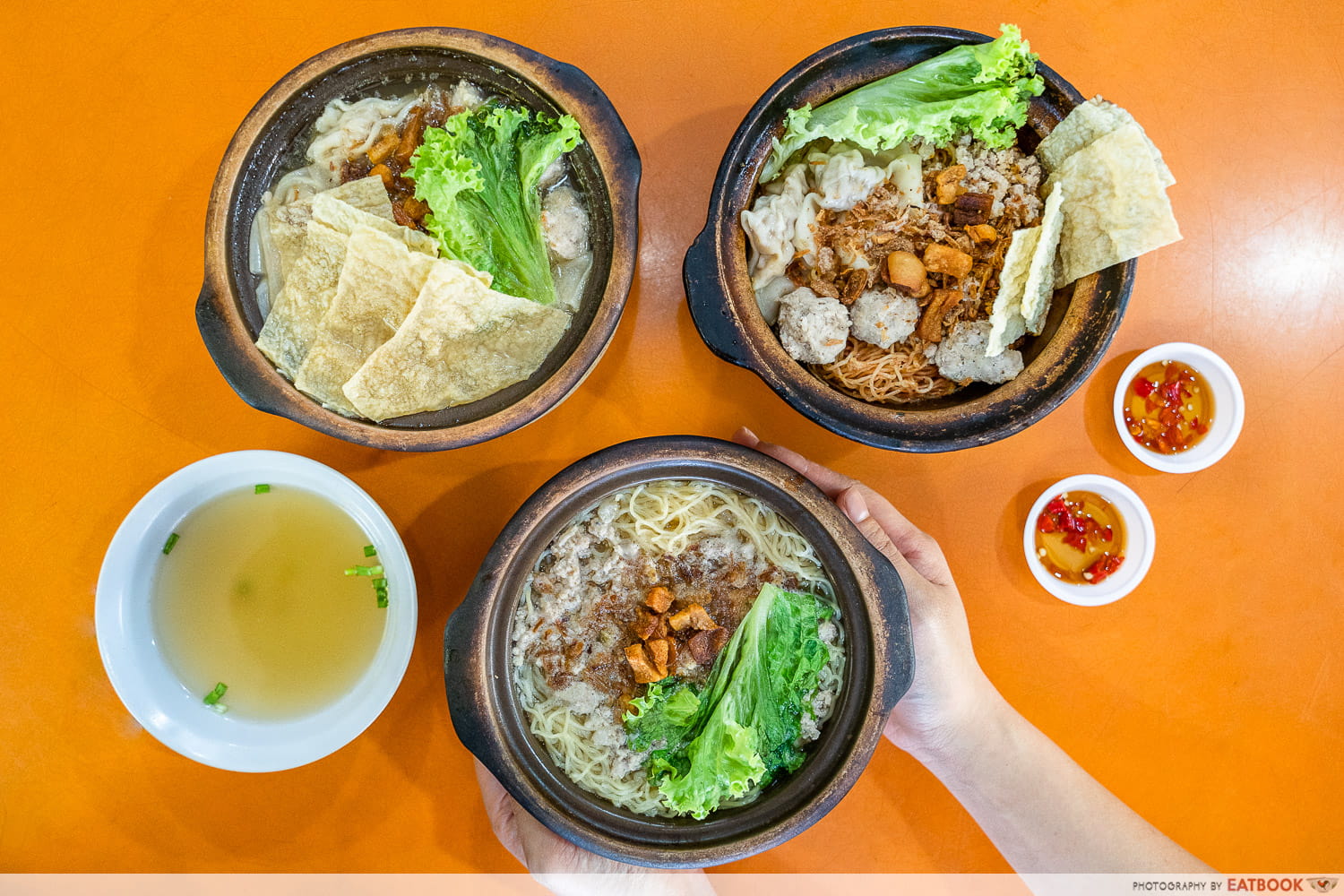 Finding a hawker stall that maintains low prices is like chancing upon a rare gem—in the CBD, that's an even more elusive thing to uncover. Ah Gong Minced Pork Noodles, with their $2.50 claypot bak chor mee in Maxwell Food Centre, is one such diamond.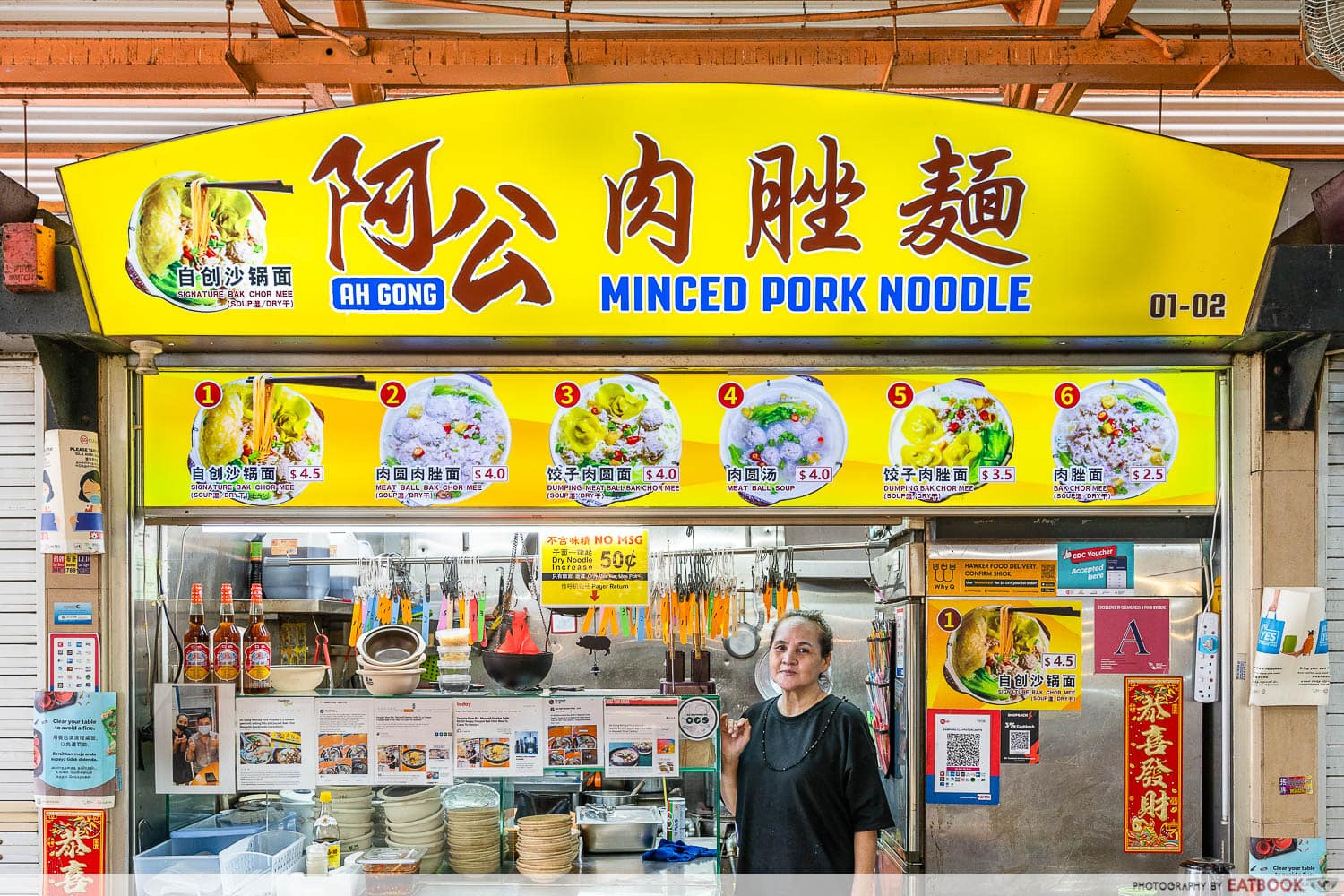 The stall is run by 67-year-old Elin Chow, who mostly manages it alone, after learning the recipes from a cook she'd hired when she first started the stall and tweaking them along the way. Like many other stalls, the business was hit badly during the pandemic, with sales only hitting 10 bowls on some days, so he left when she couldn't afford to keep him.
25 Maxwell Food Centre Stalls Including Green Chilli Chicken Rice And Famous Ondeh-Ondeh
Food at Ah Gong Minced Pork Noodle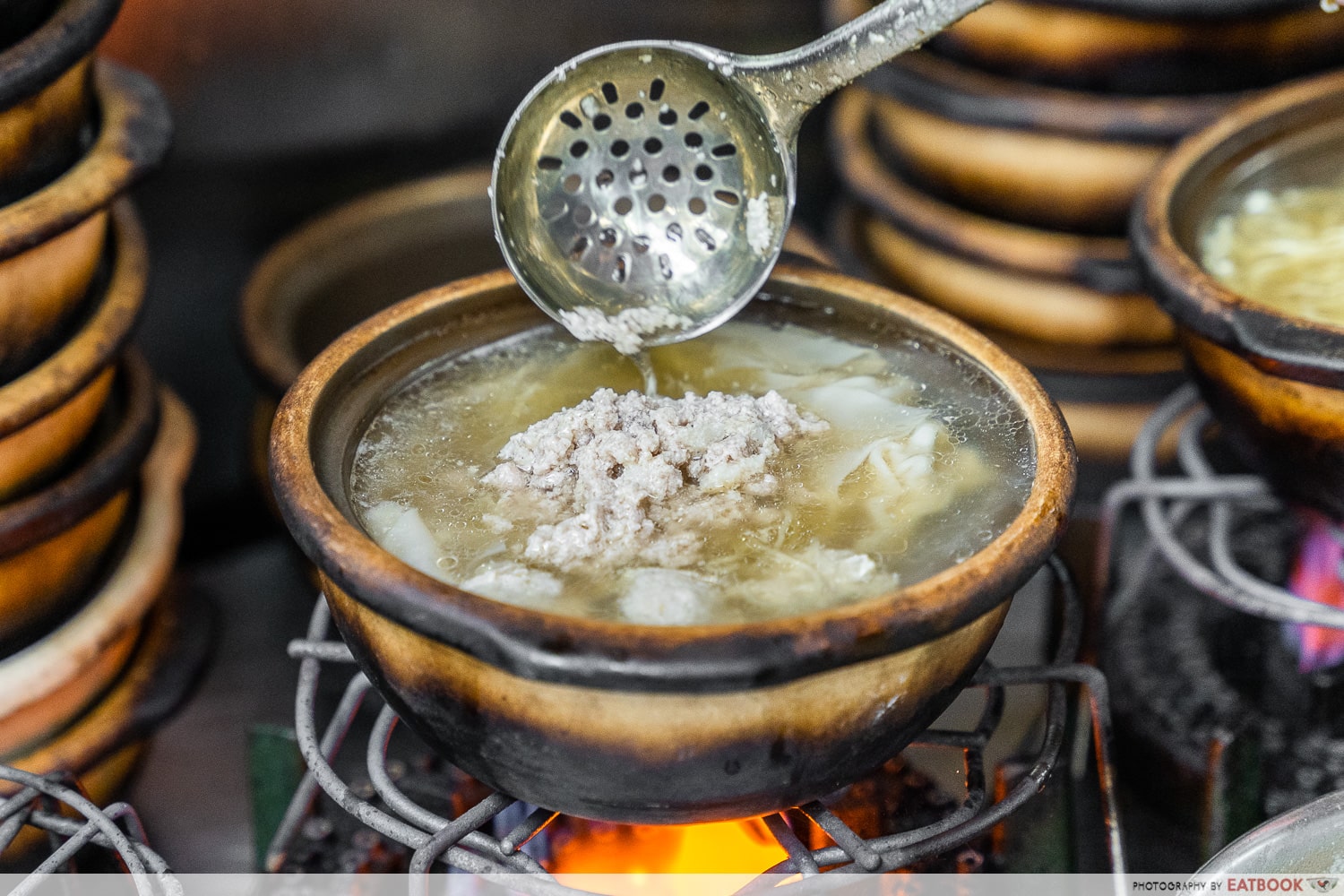 The bak chor mee at Ah Gong Minced Pork Noodle is made with no MSG, and comes with handmade meatballs and dumplings, as well as lard that Elin fries herself. She's even concocted her own sambal that goes into the dry-tossed BCM here! Elin used to fry her own shallots too, but the toll of DIY-ing everything, plus cooking, manning, and washing up at the stall, means she no longer has the capacity to do so.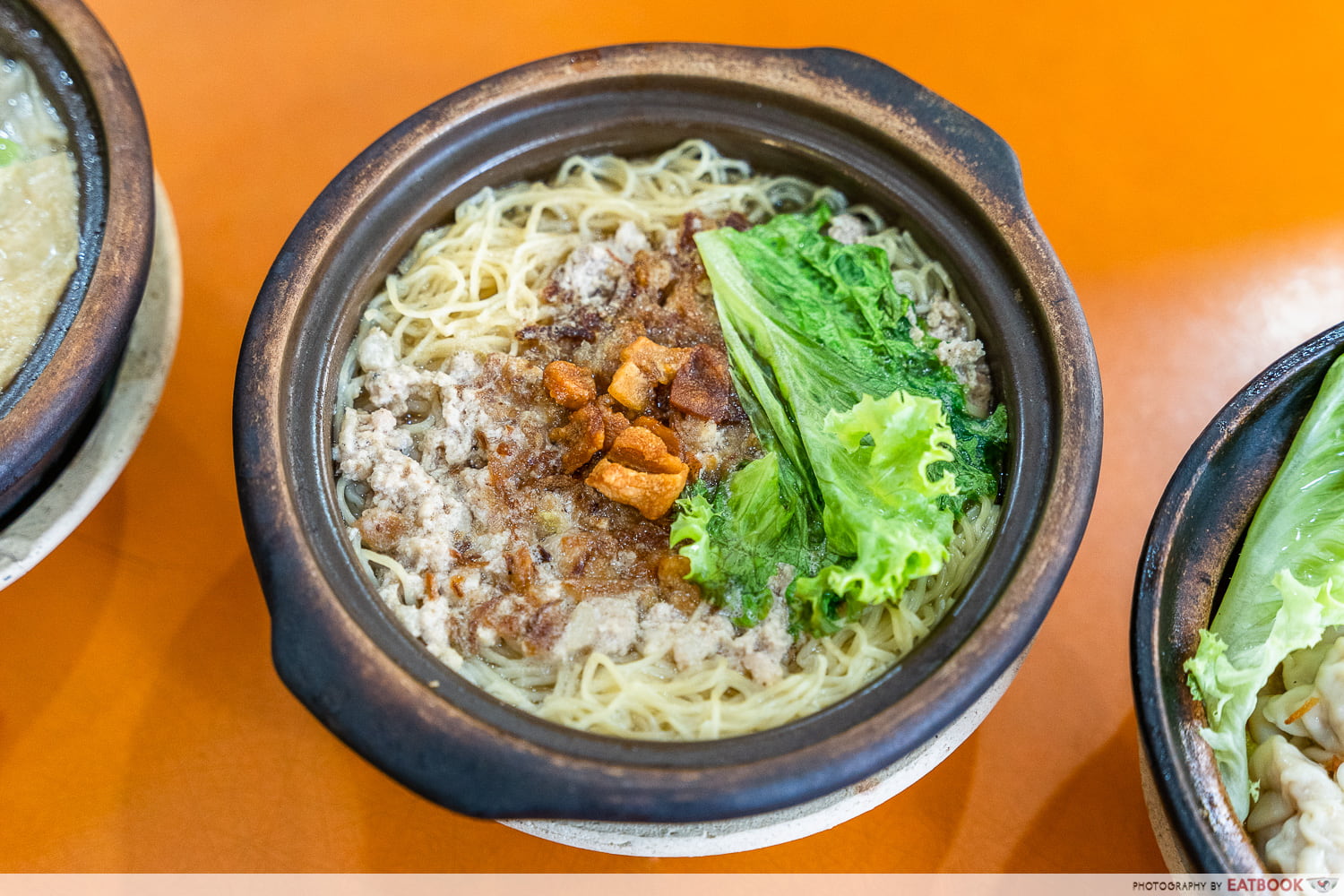 We started with the most affordable bowl of Bak Chor Mee ($2.50), which you can choose to have dry or in soup. We went for the soupy option, since that's what inspired Elin to start her own BCM stall. It's said to be reminiscent of the soupy BCM she used to have as a child, which she'd get from a pushcart near her home—in fact, Ah Gong Minced Pork Noodle is named after the ah gong who manned that very pushcart.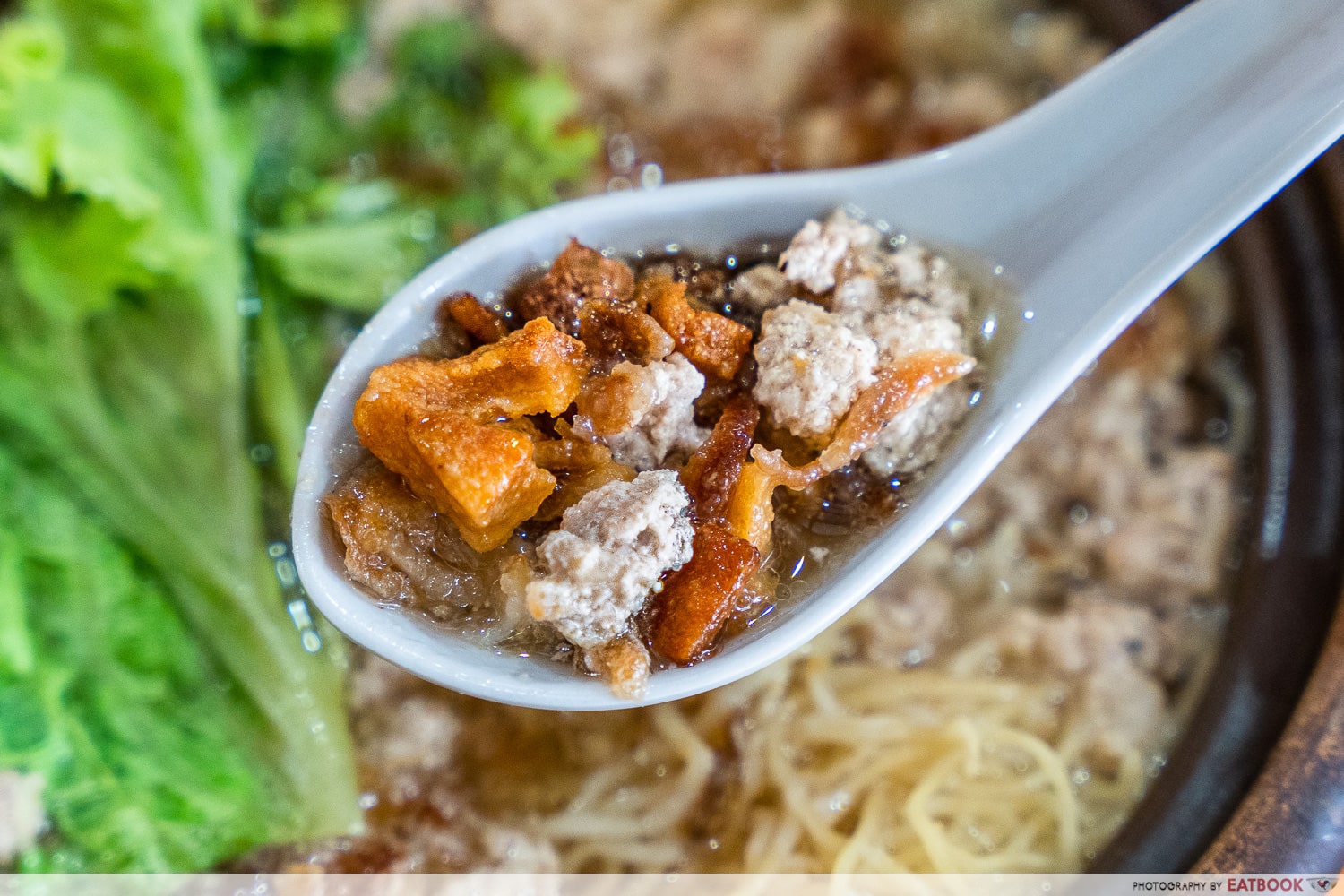 Every bowl of BCM here is served in a claypot, which keeps the food hot for a long, long time. This most basic bowl, being the most affordable on the menu, was a study in simplicity: it's mee kia in a clear broth, topped with lettuce leaves, minced pork, shallots, and lard. These last two truly made all the BCM here memorable for the fragrance they contributed.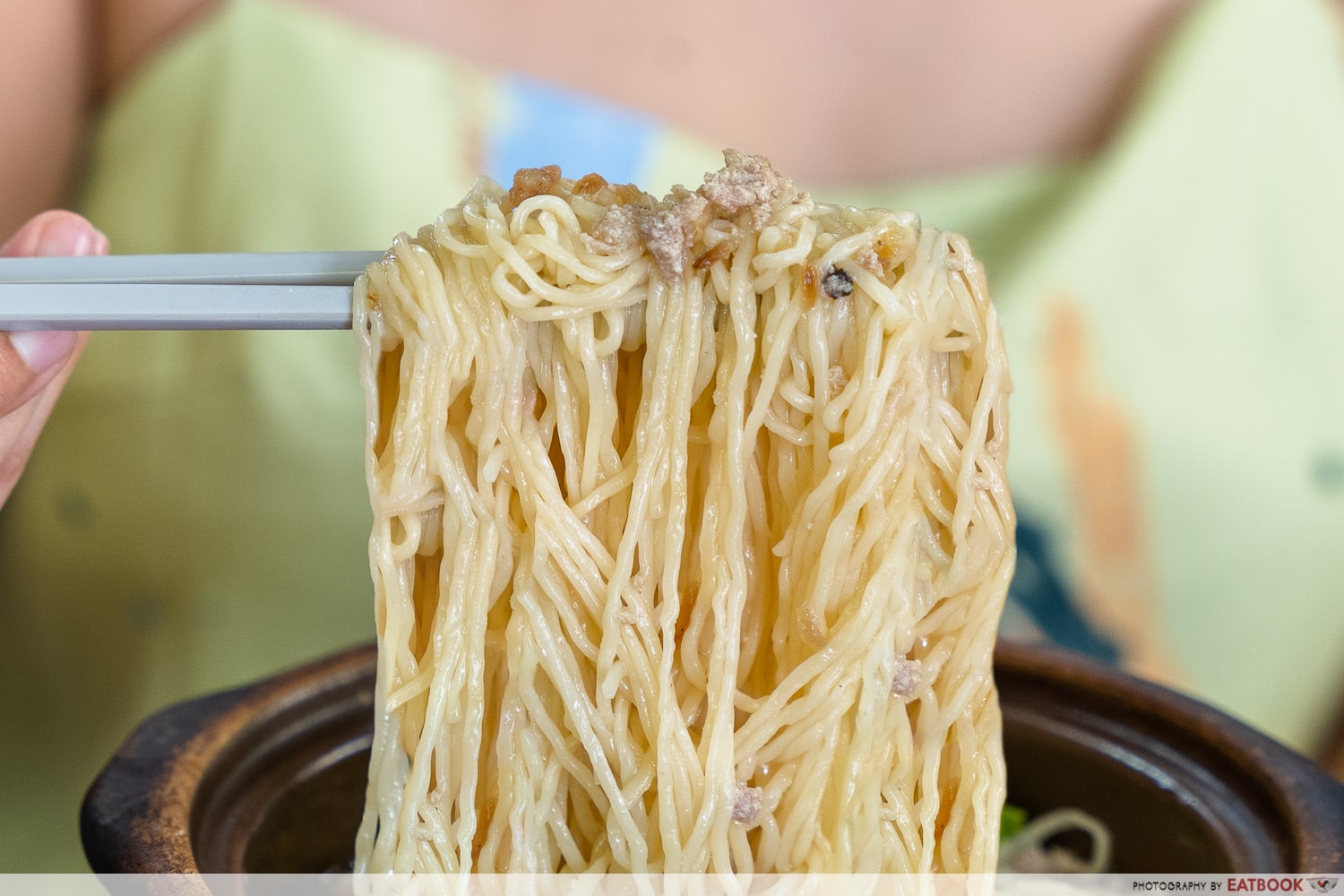 We had mee kia in all our bowls: it's the default, unless you request for mee pok. And there is a lot of it in the claypot. While we loved the idea of having piping hot food, it was detrimental to the dish, as the thin mee kia continued to cook, and cook, while we shot it. Resultingly, we found this bowl of noodles to be too soggy, and the soup was tinged with an alkaline note. What the noodles had going for them, though, was that they were super smooth.
This claypot of $2.50 bak chor mee is the most popular option among the elderly who patronise Maxwell, as well as the cleaning staff, which comes as no surprise—eating this felt a bit like digging into the magic porridge pot of our childhood fairy tale.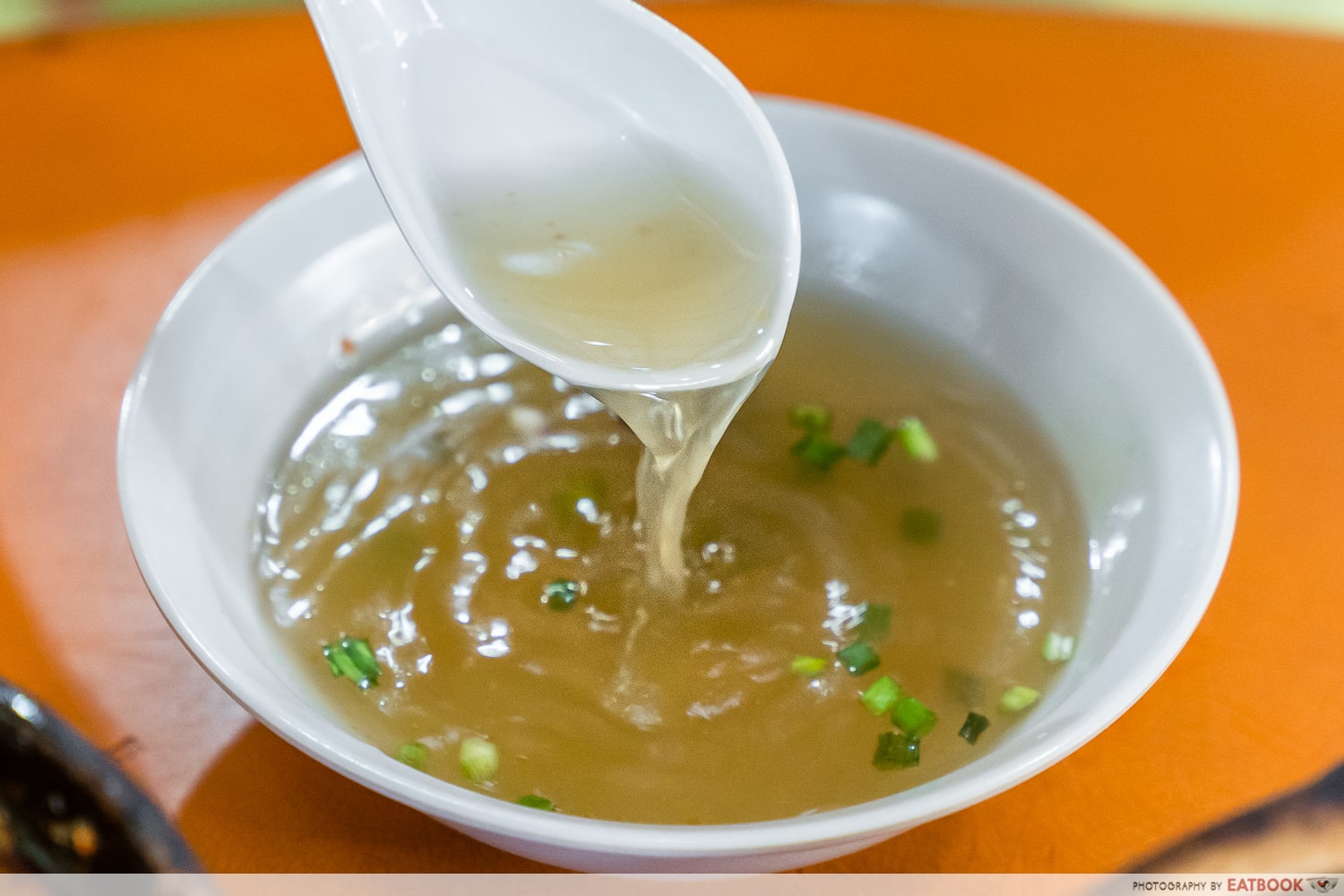 For a fair assessment of the broth, we sampled its flavour through the bowl accompanying our order of dry Signature Bak Chor Mee ($5). Unlike the garlic-laden soupy bak chor mee that we're familiar with at Famous Eunos Bak Chor Mee and the Bedok 85 stalls, this had a light, clean flavour, slightly sweet from the soya beans that are boiled with copious amounts of pork bone. The savouriness in this comes from ti poh, or dried sole fish, rather than MSG, so there's no guilt in finishing this bowl of soup.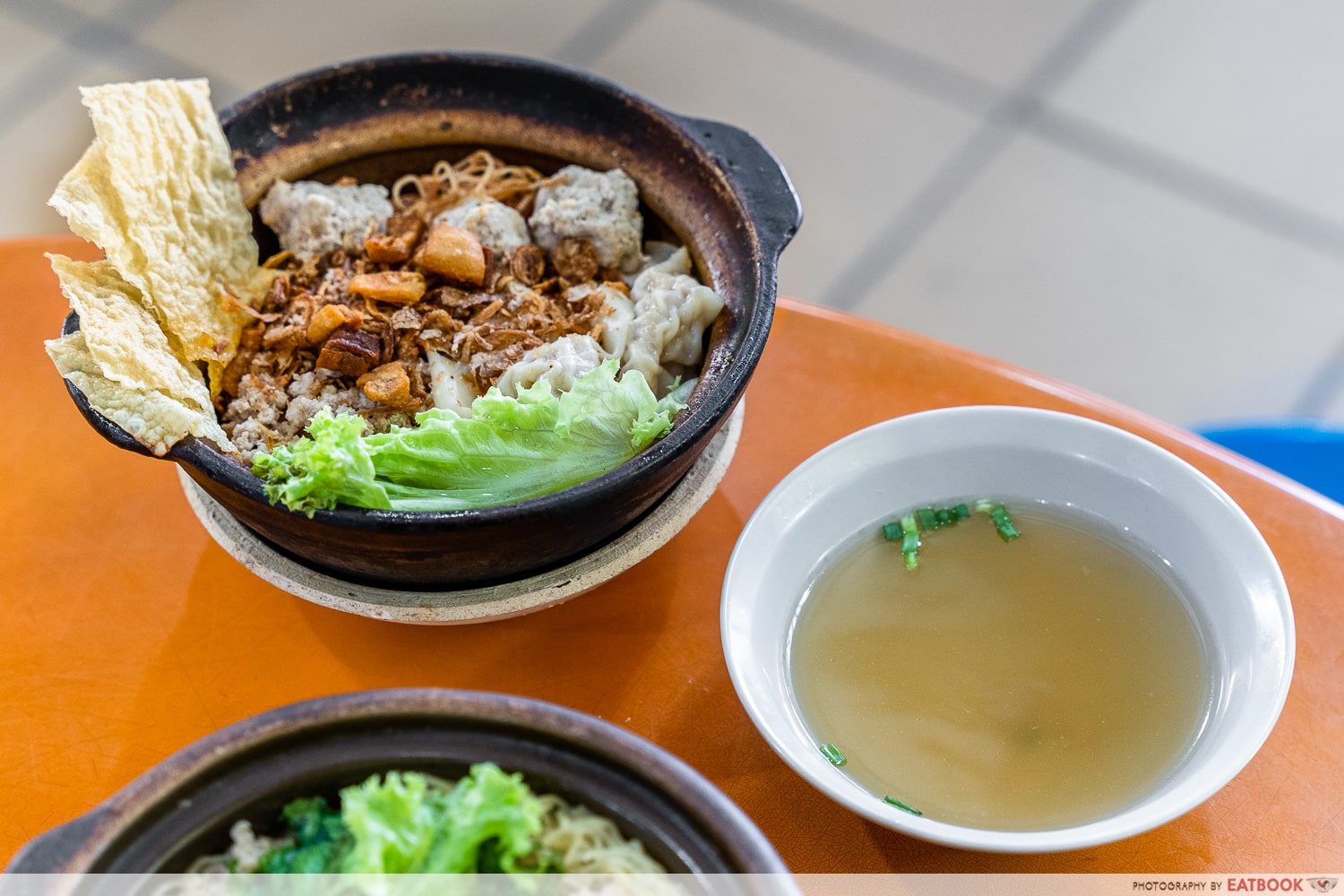 It was also a nice balance to the punchy chilli of the dry-tossed noodles. If you order any of the noodles dry, it's an additional $0.50 top-up.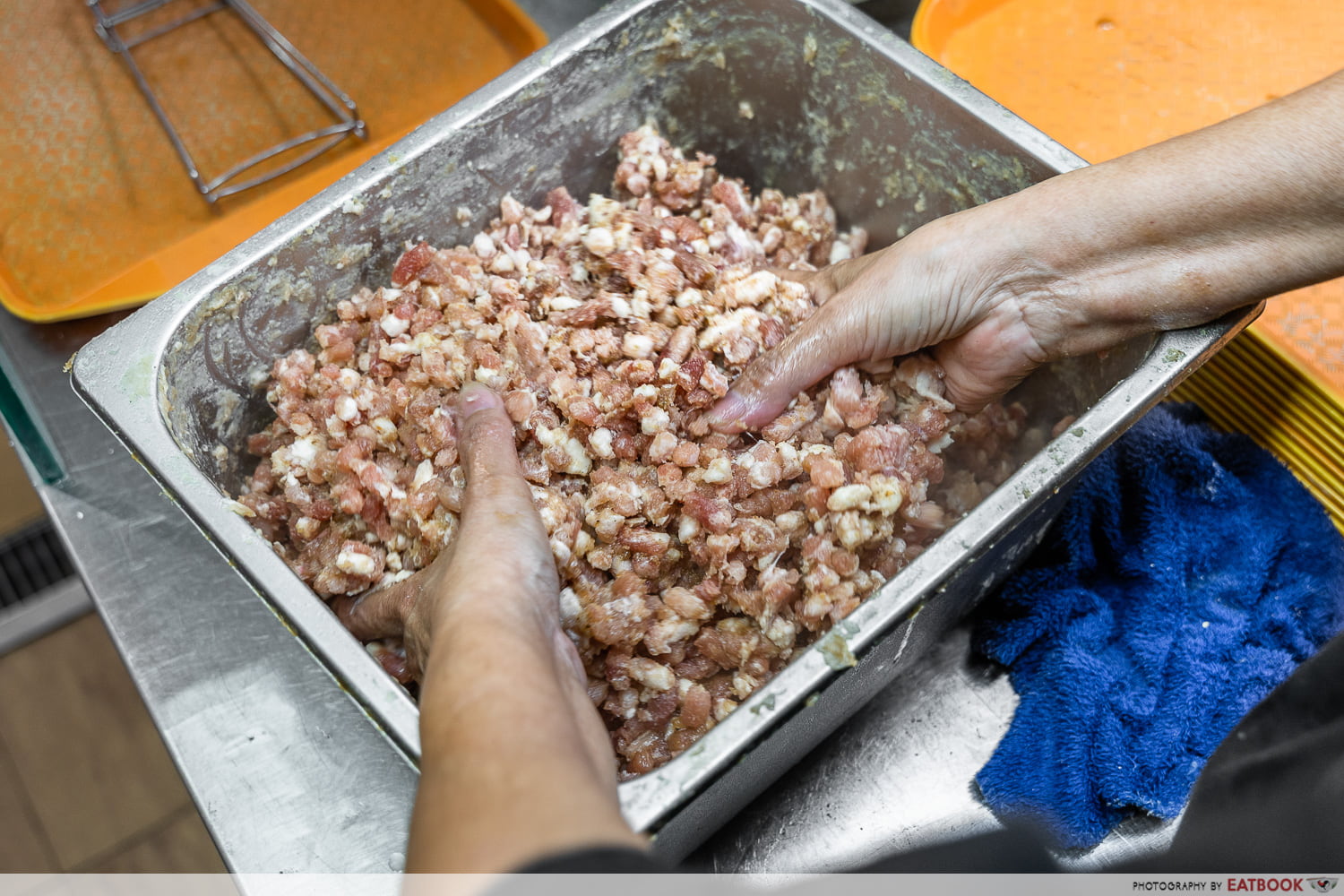 Both come with Elin's handmade dumplings and meatballs, plus some slices of fried beancurd skin. The handmade items are all seasoned and made in small batches; we also saw Elin slapping the meat against the counter—a process that's meant to make the meatballs springier. She also told us that she adds fish paste for this purpose.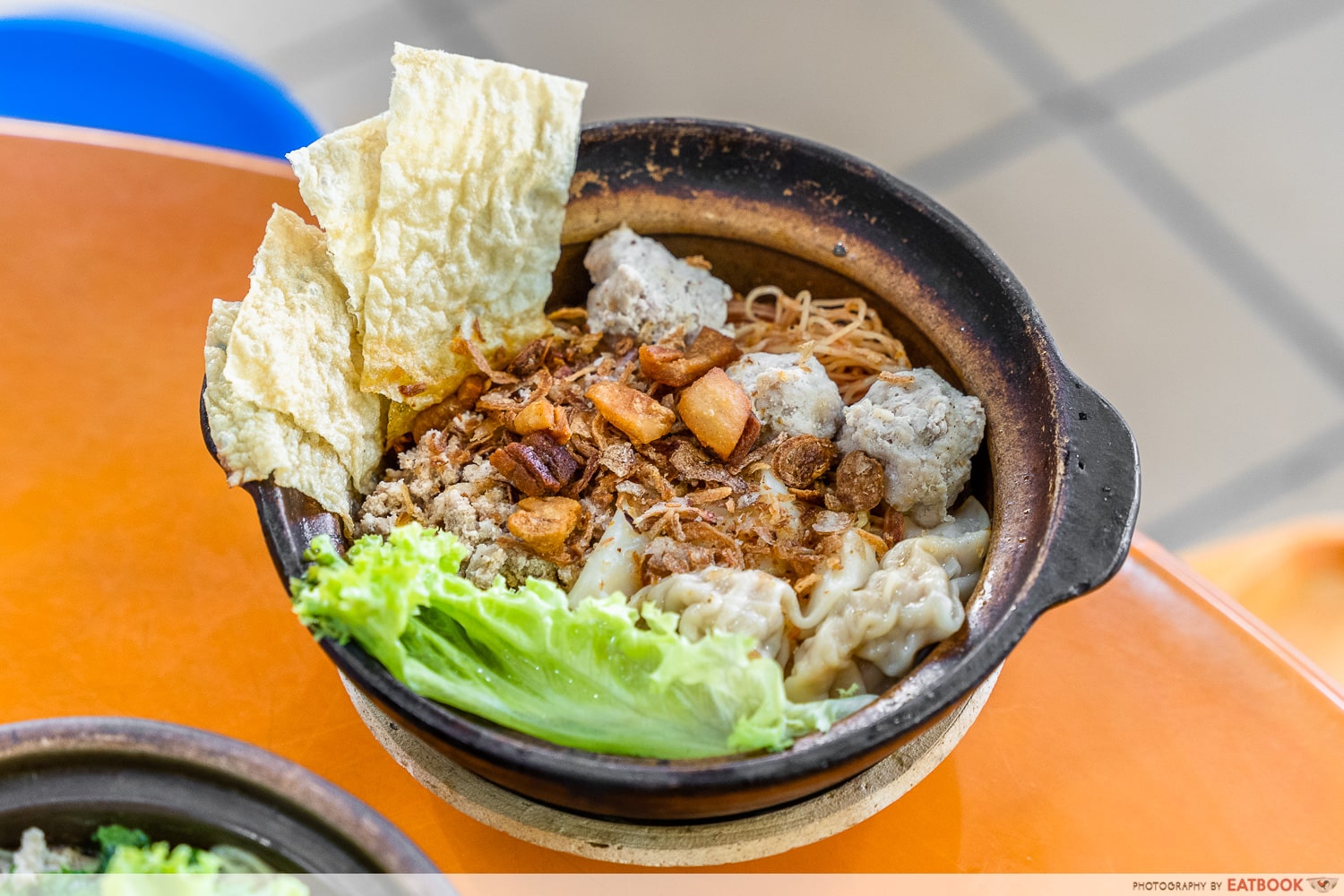 A point to note is that Elin doesn't add vinegar to her BCM, but provides a bottle at the stall so you can add as much, or as little, as you like. Thanks to the chilli padi she blends into her sambal, the dry-tossed noodles pack quite a piquant punch, but it's oh-so-shiok with the lard and shallots.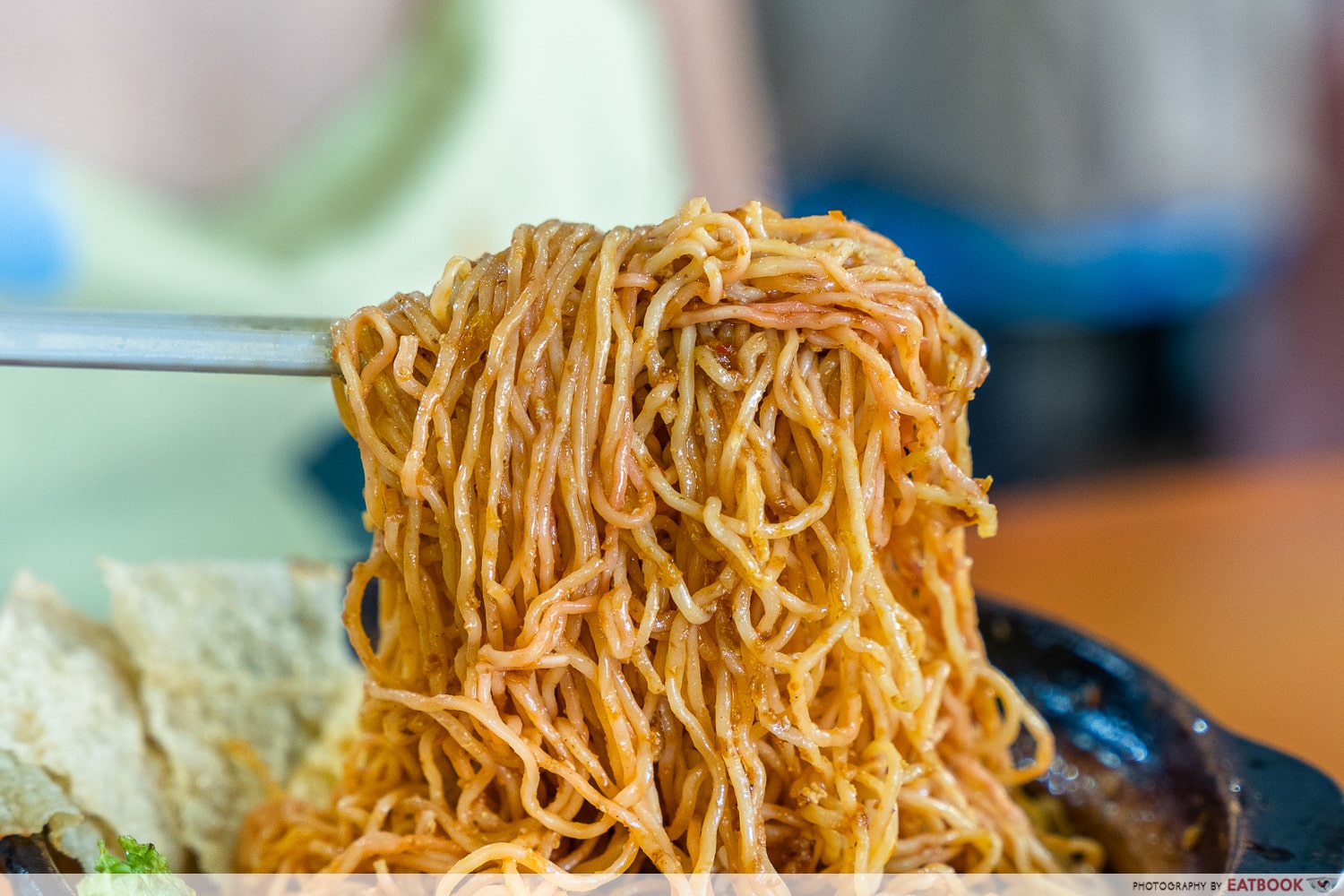 After the soggy noodles earlier, the dry-tossed noodles were a great improvement. As before, they had an ultra-smooth mouthfeel and a little bit of springiness, though we wished there was more bite to it. However, I do think this slightly softer noodle has a more rustic touch to it.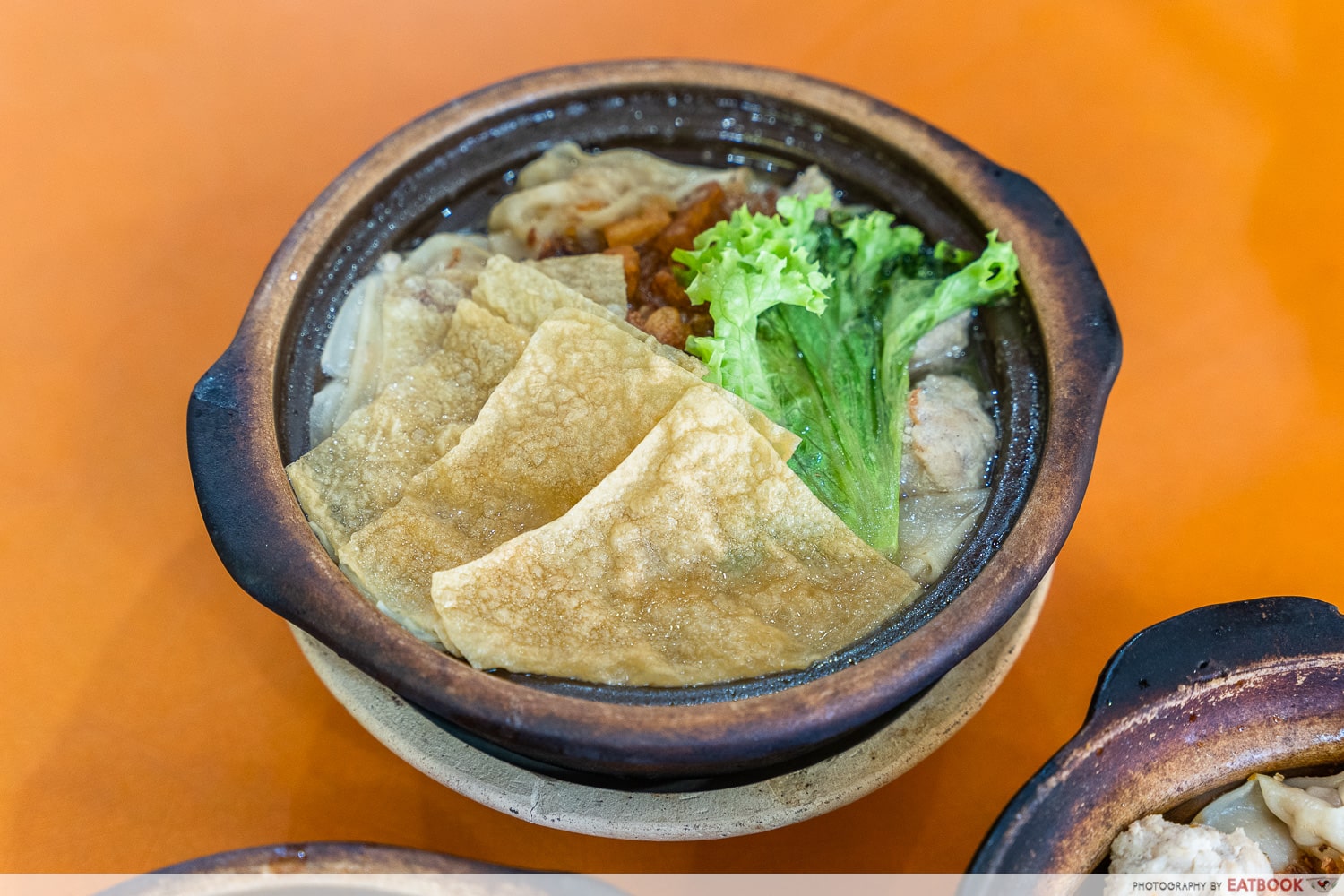 I'd actually ordered the Dumpling Bak Chor Mee ($3.50) in soup but was served the Signature Bak Chor Mee Soup ($4.50) instead. This, curiously, didn't end up as soggy as the $2.50 bowl, but we still much preferred the dry version.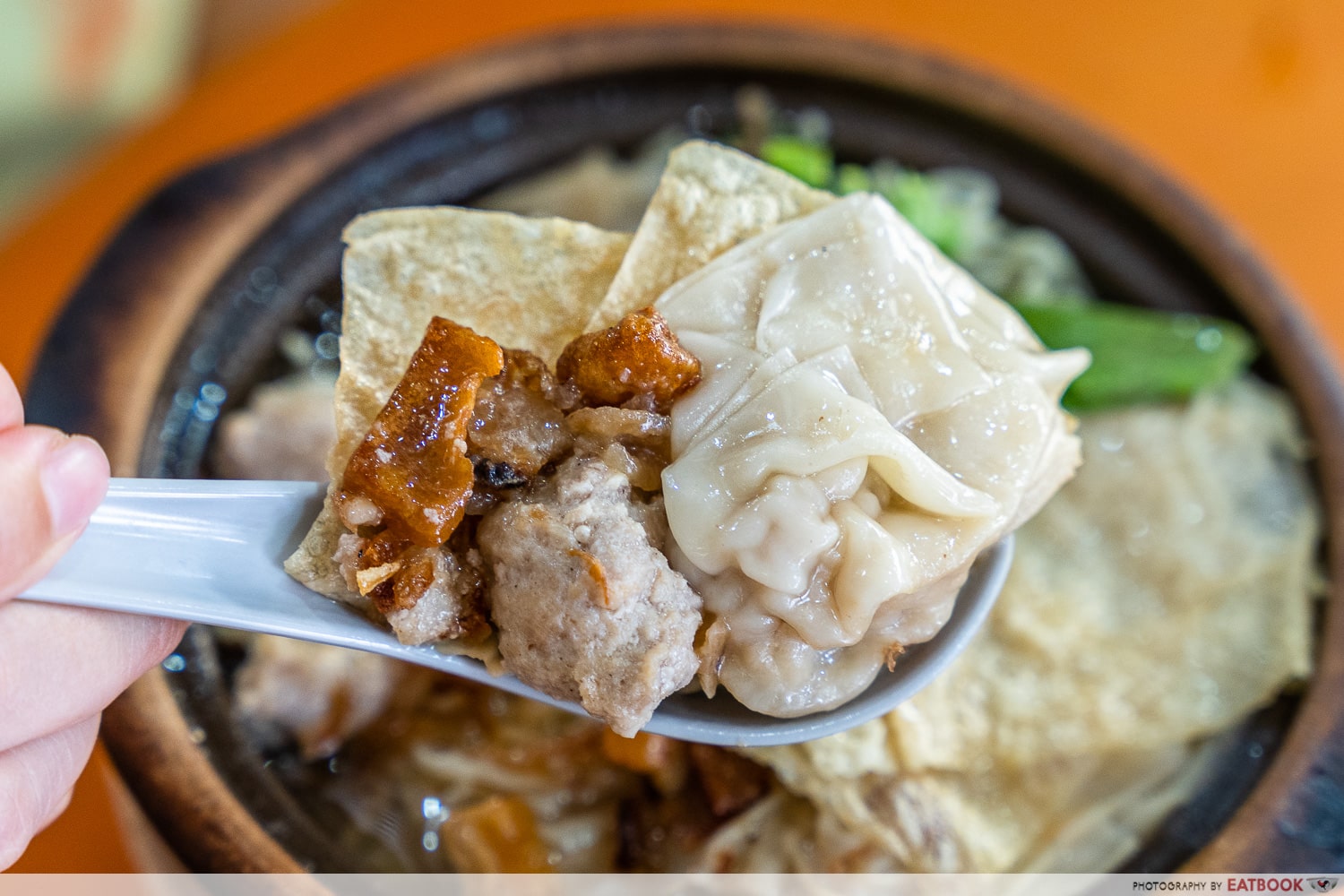 I actually enjoyed how the meatballs and dumplings were made in bite-sized pieces, which I imagine makes it more palatable to the elderly folk who Elin caters to.
As with the whole experience of eating the soupy BCM at Ah Gong Minced Pork Noodle, the meatballs and dumplings have a most rustic, homemade feel. They're well-seasoned, accented with the flavour of ti poh, and lack the polished smoothness of factory-made ones.
Ambience at Ah Gong Minced Pork Noodle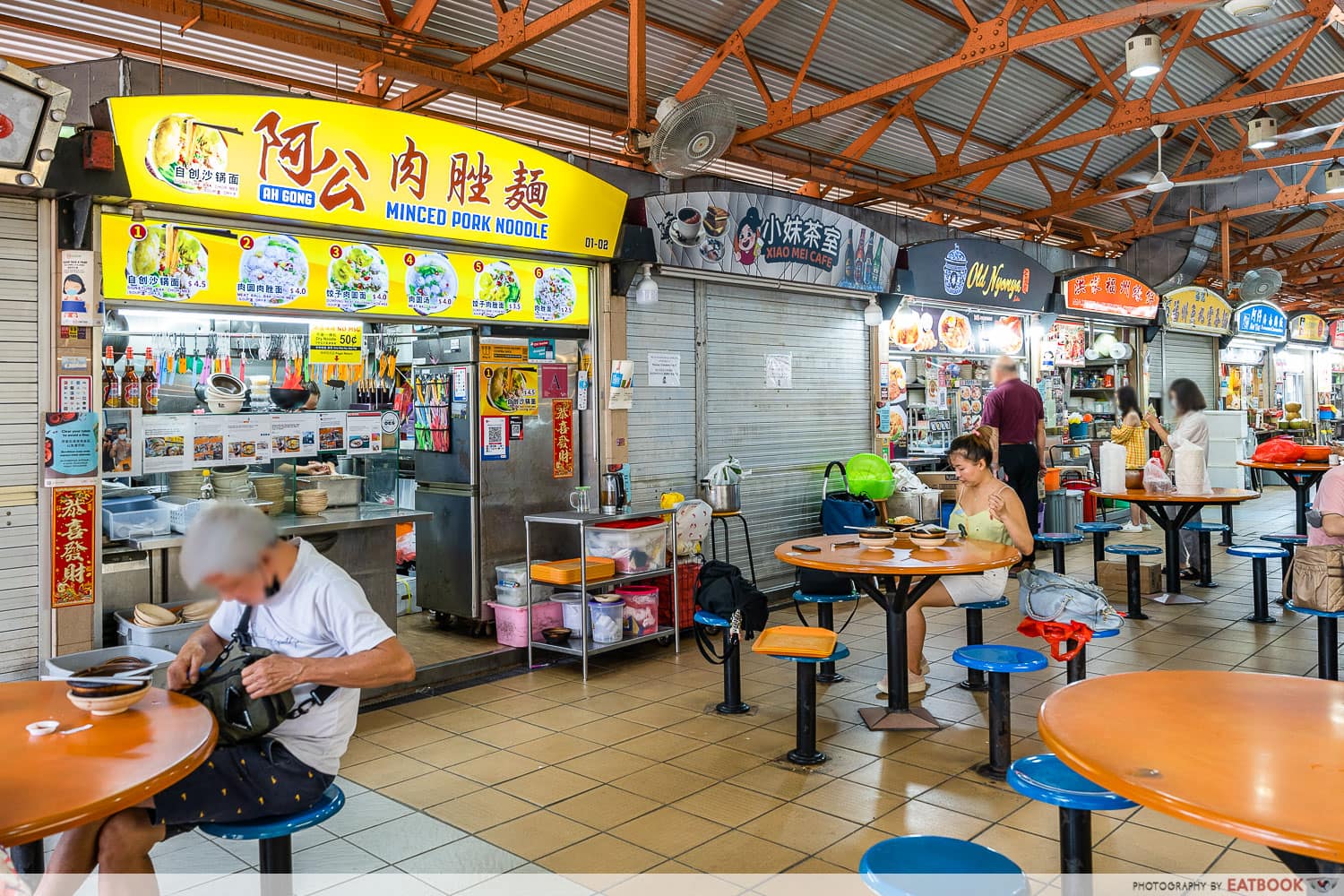 Maxwell Food Centre is a nine-minute walk from Chinatown MRT Station. It's five minutes on foot from Tanjong Pagar MRT Station, and when Maxwell MRT Station opens this Q4, that'll be right outside, barely a minute away! It's best to come here before or after the lunch hour, as the airy, well-ventilated hawker centre gets really crowded from 11am when the CBD crowd starts flocking out for their midday break.
10 Best Bak Chor Mee In Singapore Ranked—Tai Hwa, Tai Wah, Seng Kee And More
The verdict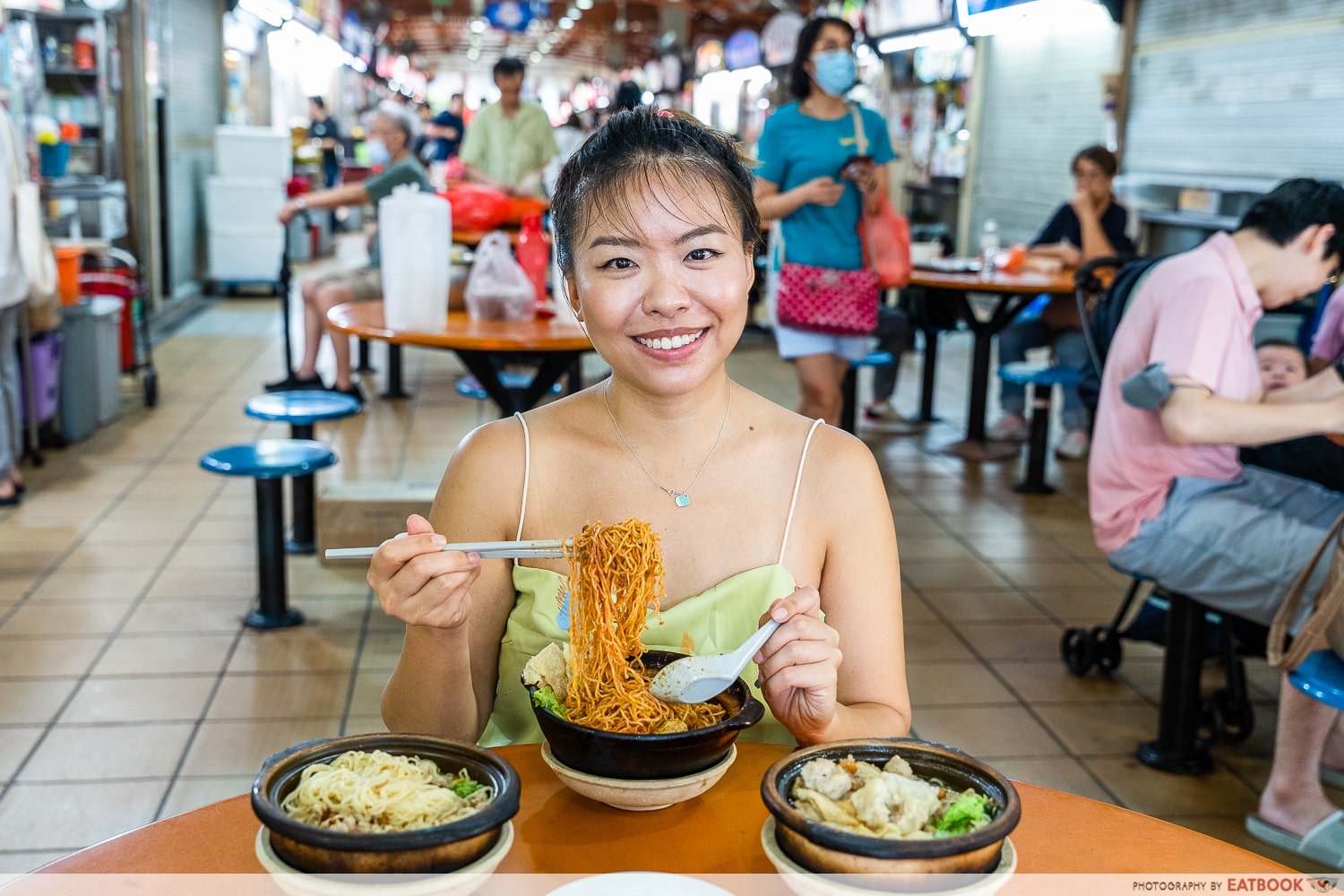 Should you be on a tight budget, the cheapest bowl of BCM here is well worth every cent. Even if you go for the slightly more expensive bowls, you're paying for the wider variety of ingredients, which shouldn't be an issue, considering how Elin makes most of this by hand. Plus, the portions are super generous. If you're going to order the soup versions, it's best to dig in ASAP; otherwise, you'll see me here again for the dry noods for sure.
If you're in the 'hood and trying out Ah Gong Minced Pork Noodles' $2.50 bowls of goodness, check out our Maxwell Food Centre guide for more stalls to try in the area. Otherwise, check out how we ranked some of the best bak chor mee in Singapore to satisfy your cravings.
Address: 1 Kadayanallur Street, #01-02, Maxwell Food Centre, Singapore 069184
Opening hours: Mon-Sat 10:30am to 3pm
Tel: 9234 4445
Website
Ah Gong Minced Pork Noodle is not a halal-certified eatery.
Photos taken by Tan Zi Hui.
This was an independent article by Eatbook.SG
Ah Gong Minced Pork Noodle Review: $2.50 Claypot Bak Chor Mee At Maxwell Food Centre
Ah Gong Minced Pork Noodle Review: $2.50 Claypot Bak Chor Mee At Maxwell Food Centre -

7/10
Summary
Pros 
– Very generous portions
– Affordable prices
– No MSG, house-made meatballs and dumplings
Cons
– Noodles get soggy quickly
Recommended dishes: Bak Chor Mee ($3), Signature Bak Chor Mee Dry ($5)
Opening hours: Mon-Sat 10:30am to 3pm
Address: 1 Kadayanallur Street, #01-02, Maxwell Food Centre, Singapore 069184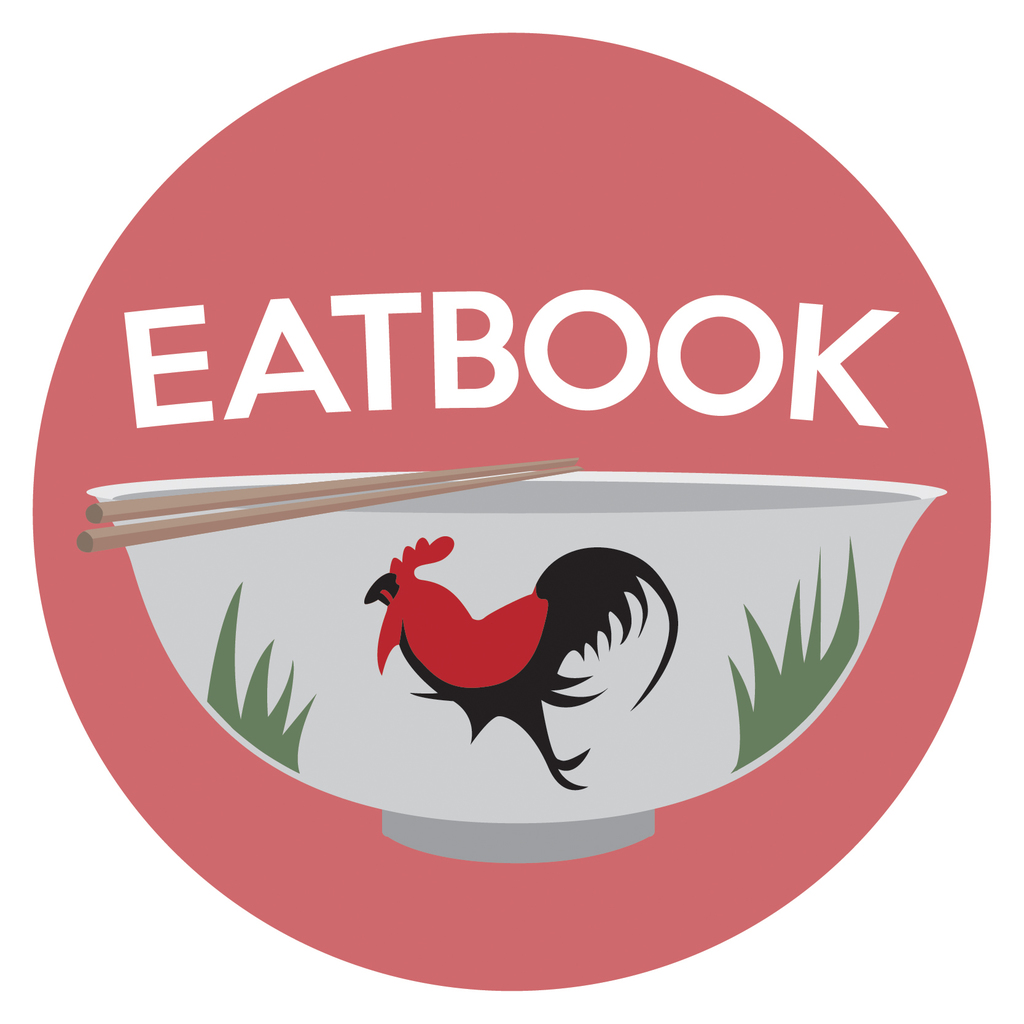 Drop us your email so you won't miss the latest news.