Bukit Merah View Carrot Cake is a legendary 70-year-old stall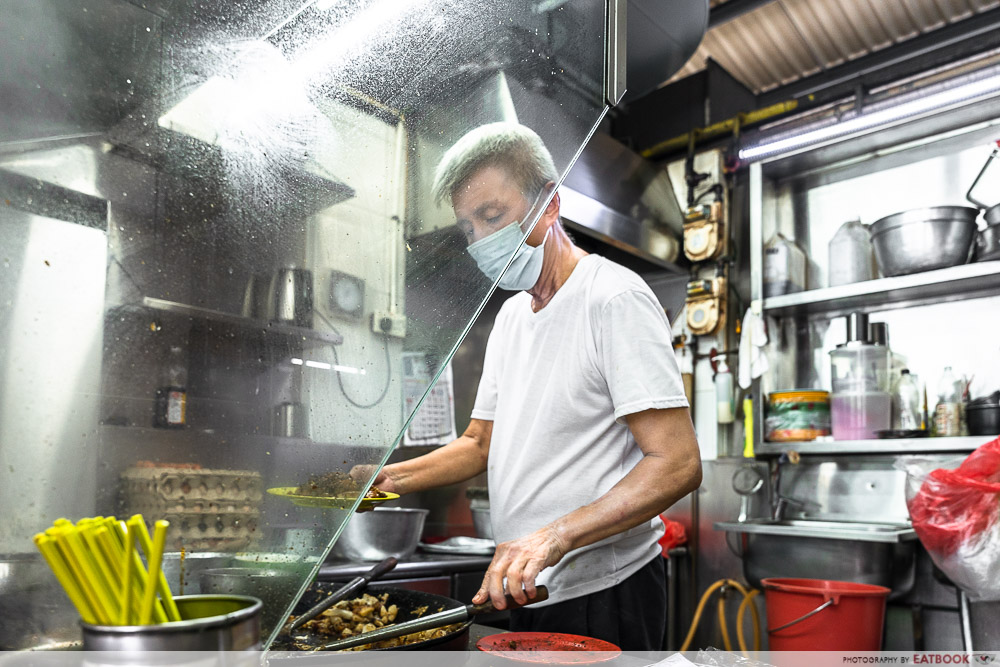 When I first saw Ng Kim Poh on the day of our interview, he was seated idly beside his carrot cake stall, his tired eyes gazing out at nothing in particular. Weariness seemed to lay heavy on the 66-year-old, so I was a little hesitant to approach him, lest I deprive him of a moment of rest.
I did eventually introduce myself, and almost instantaneously, Mr Ng's eyes took on an alert, steely look. "You're here for the interview?" he asked in Chinese.
Yes, I said, but we would like to have some carrot cake first. He made two plates for my colleague and I, one black and one white. We began snapping pictures of them at our table—but not for long, for as soon as Mr Ng realised what was going on, he stopped us.
"You didn't tell me you were taking pictures. Come, I'll make even nicer-looking ones for you," he said, his hands already busy preparing his ideal plate of chai tow kway.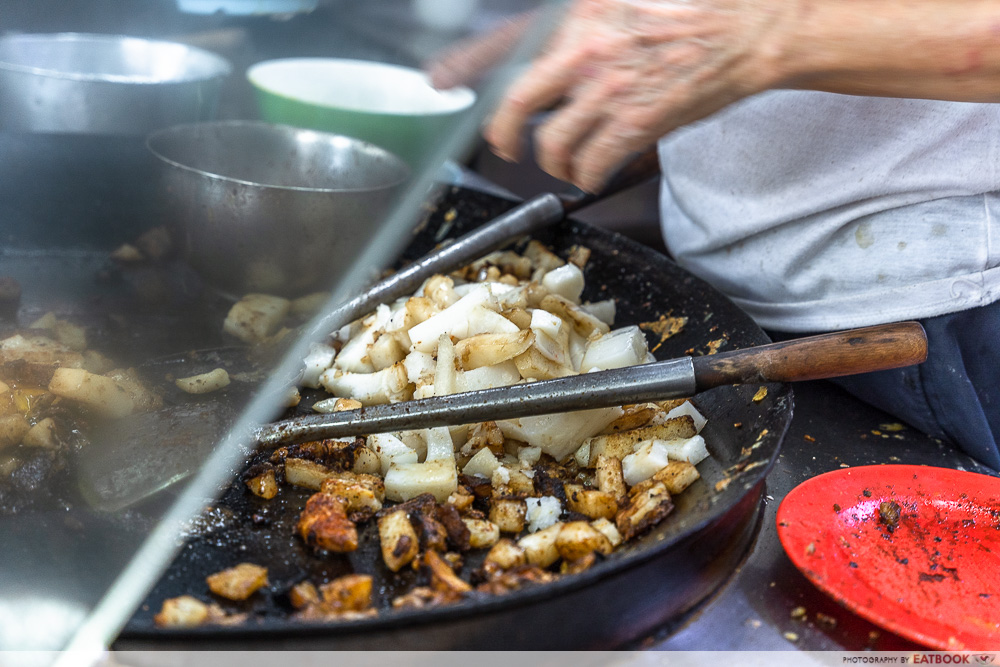 This attention to detail, even for a dish as messily put together as carrot cake, is a large part of why Bukit Merah View Carrot Cake has become such a legendary and long-lived stall—it's been around since the 1950s, making it one of the oldest of its kind. Mr Ng's craft stems from traditional techniques that have been passed down from generation to generation, including milling the rice flour for their kway.
15 Fried Carrot Cake Stalls From $2 So You Can Enjoy Chai Tow Kway For Breakfast
Carrot cake through the years
"My grandparents started selling carrot cake some 70 years ago, and were later succeeded by my parents," said Mr Ng. "I'm the third generation of this carrot cake tradition."
Since his family's business stretched back to before hawker centres were a thing, I was curious to learn how the dish had changed and developed over the years.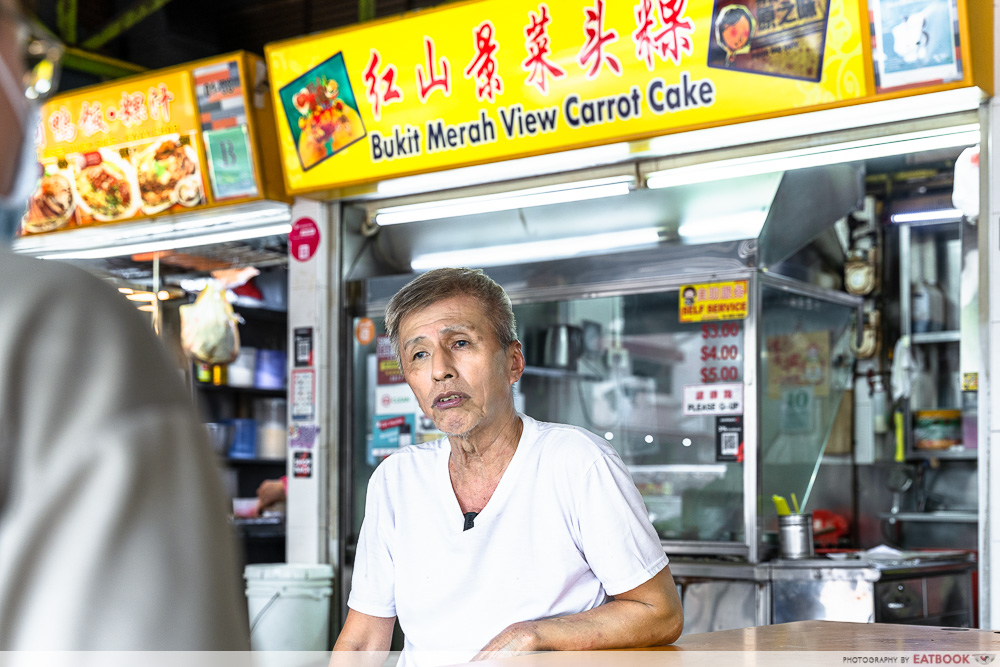 "Back in the day, the popular carrot cake looked very different from how it looks now," Mr Ng explained. "The black and white styles we know today didn't exist. Carrot cake was deep-fried and sold in triangular pieces for about two cents. Two cents!"
 "The black and white styles we know today didn't exist (back then). Carrot cake was deep-fried and sold in triangular pieces for about two cents."
A few stalls, such as Chai Chee Cai Tou Guo, still offer such old-school chai tow kway. But they're no longer widespread, and that's down to the carrot cake revolution that culminated in the 1980s.
"Somewhere along the line, the idea of adding dark soy sauce to cut up pieces of carrot cake caught on. So, white carrot cake was created to provide a healthier, less sweet alternative. By the 80s, most stalls were selling both options."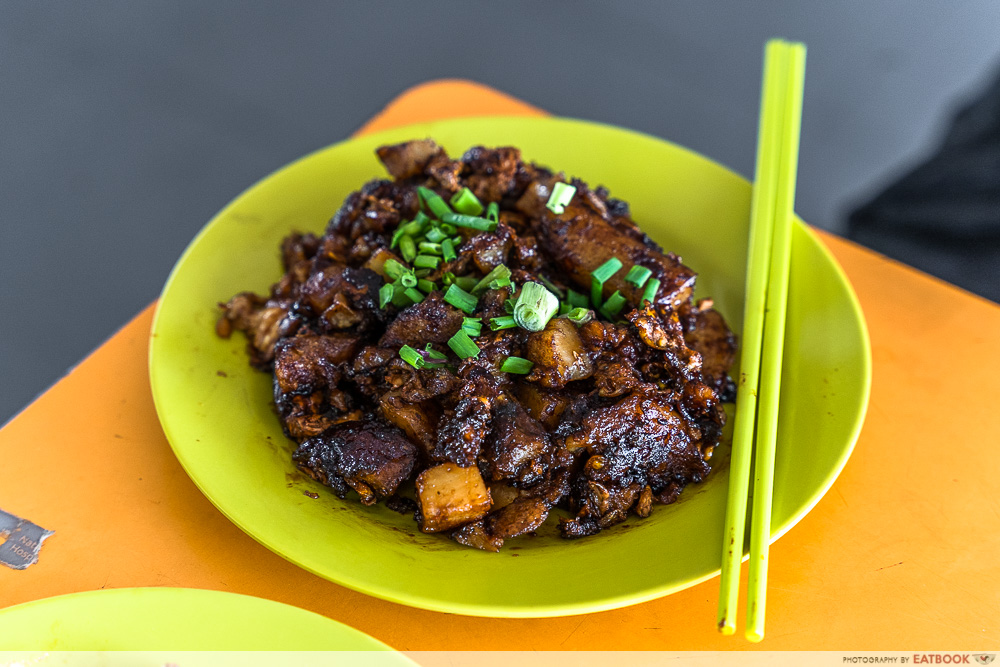 Another major change is how the "carrot" component is made. For those who don't know, fried carrot cake has no carrot at all—it usually consists of shredded radish and rice flour. In the past, hawkers had to mill the rice grains themselves, so for the sake of convenience, most have switched to exclusively using rice flour instead.
Not Mr Ng, though.
The Bukit Merah View way
Up until recently, Bukit Merah View Carrot Cake milled rice themselves to ensure that the texture of their chai tow kway remained the same. The labour was split among Mr Ng and his two brothers, with one brother in charge of milling the rice, while the other and Mr Ng would fry carrot cake in alternating shifts.
The milling process looked something like this: rice grains would be soaked for four hours, milled for an hour, steamed for four hours, then cooled. That's about nine hours of work at least.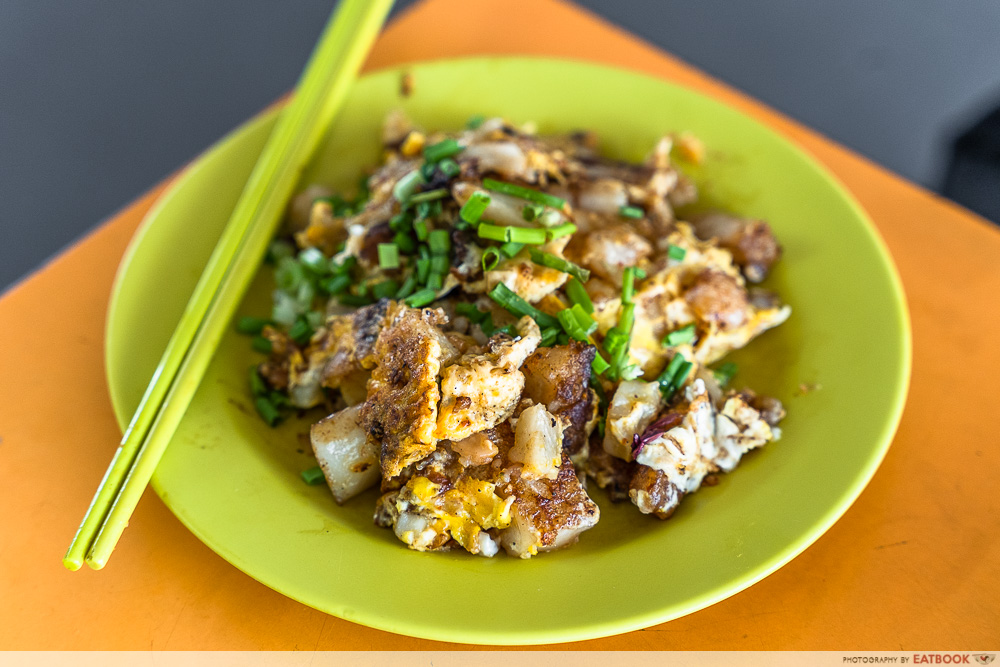 Both brothers no longer work at the stall, however, which means Bukit Merah View Carrot Cake is now essentially a solo act. That, and the fact that the years are catching up with Mr Ng, made him turn to factory-made carrot cake.
"My children told me: you're already so old, please don't exert yourself too much!" he said with a chuckle. "So I began ordering from a factory, but one that also mills the rice themselves. That's why my regulars still enjoy the texture of my carrot cake."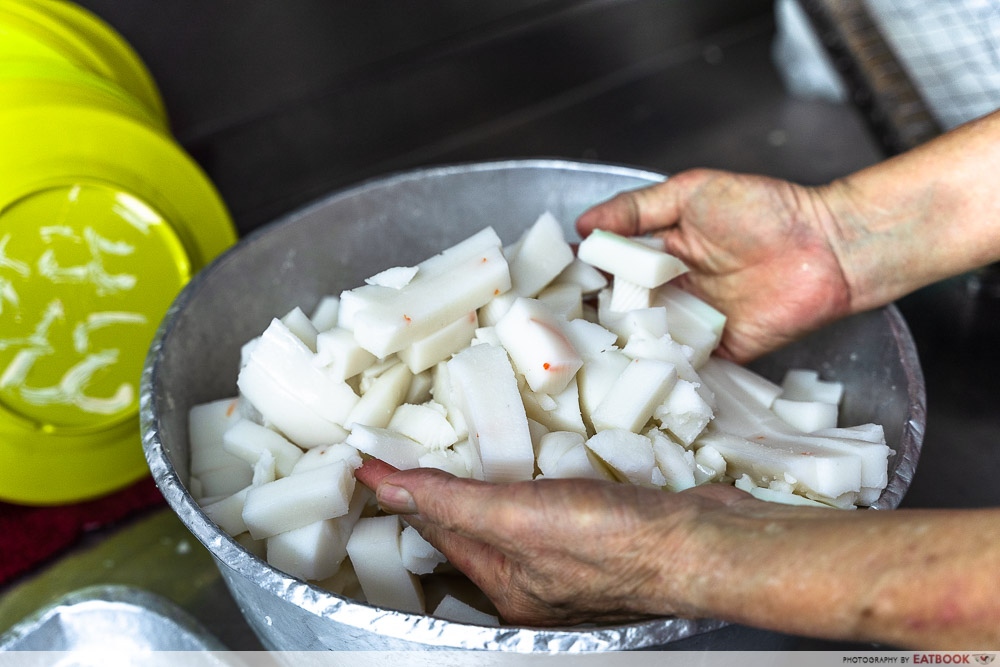 "A lot of stalls have carrot cake that comes out overly sticky and in tiny bits and pieces. I make sure that each chunk of my carrot cake is tender, but with a nice firmness."
I asked him if there's anything else that sets his chai tow kway apart from the competition, to which he proceeded to downplay his creations. "They're more or less the same as everyone else's," he said, as a sly grin began to form.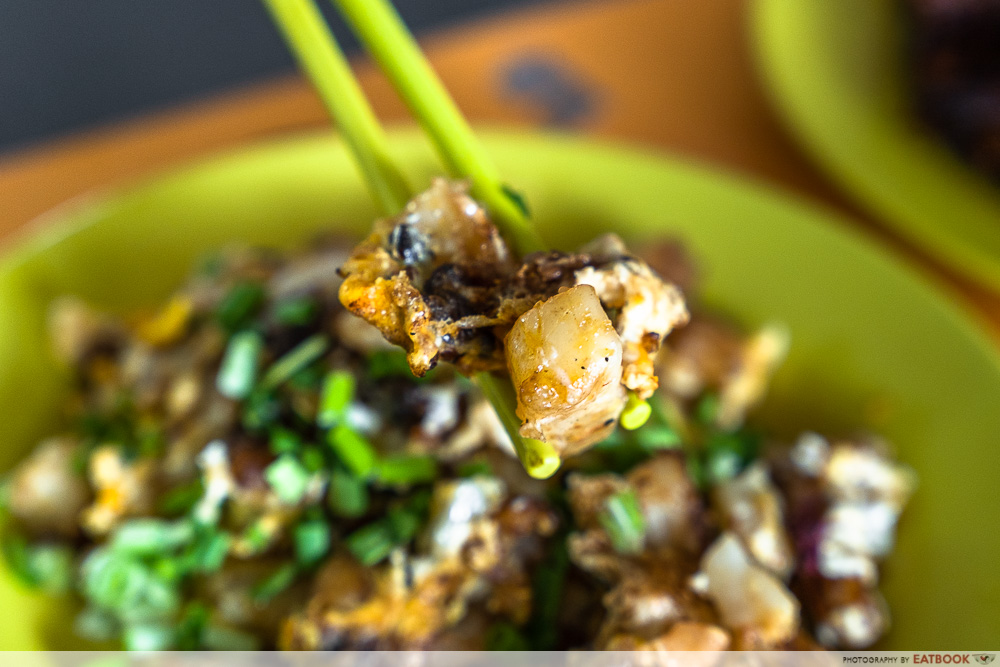 Personally, I thought his carrot cake was as good as it gets. Mr Ng was right about the texture, as the carrot cake cubes were firm yet pillowy, with a nice crust on the outside. The black version was remarkably well-balanced, with the right amount of sweetness and spiciness. Meanwhile, the white rendition was notable for its strong wok-kissed aroma and savoury flavour.
(Little) rest for the weary
Our interview with Mr Ng was twice interrupted by customers wanting to order from him. Each time, Mr Ng would whip up plates of carrot cake with such gusto, before returning to the interview in a daze. It was as if his flame burns brightly when working on his craft, but its intensity leaves cinders in its wake.
Does it ever get too tiring for you, now that you are running the stall entirely alone? I asked.
"The hours are certainly longer," Mr Ng said. "My stall opens at six in the morning, and I work till two in the afternoon. Then I go home to take a shower and nap for about one or two hours. After that, it's back to running the stall till 8pm."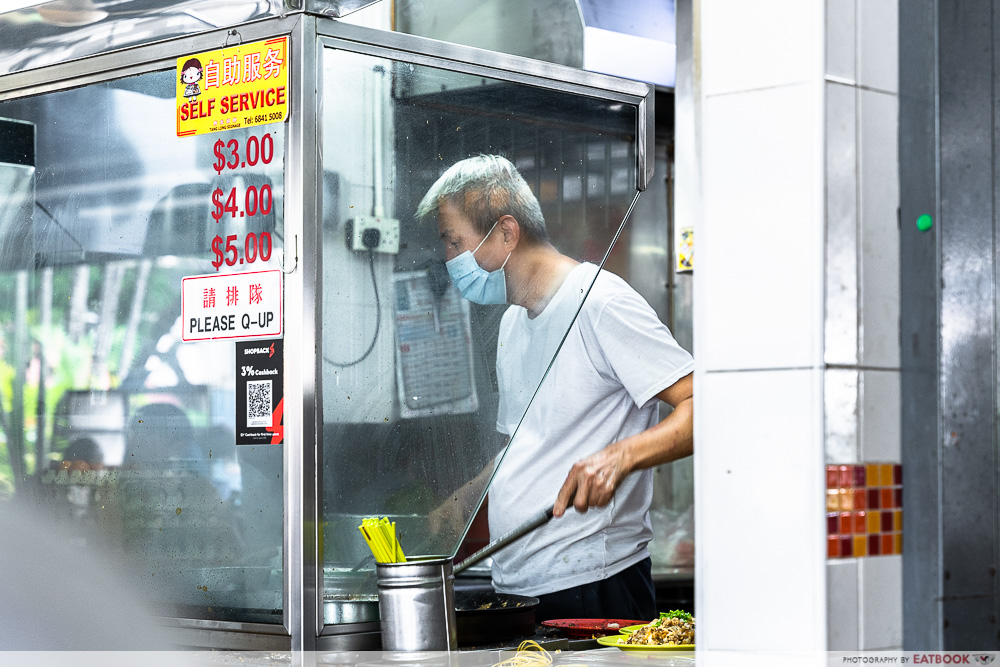 I wondered if his children could help him with the stall, to which Mr Ng explained that it is unlikely—all of them already have their own careers. One of them is even an Australian PR, and Mr Ng reckons he doesn't plan to return to Singapore for something like running a hawker stall.
He then gestured at the calluses and darkened spots on his feet—obvious signs of wear and tear. "It's a hard-knock life, anyway. I don't think they'd want to do it."
It was close to 2pm at this point, which is the time that Mr Ng usually returns home to get some shut-eye. But I couldn't resist asking him one last question.
Which do you prefer, black or white carrot cake?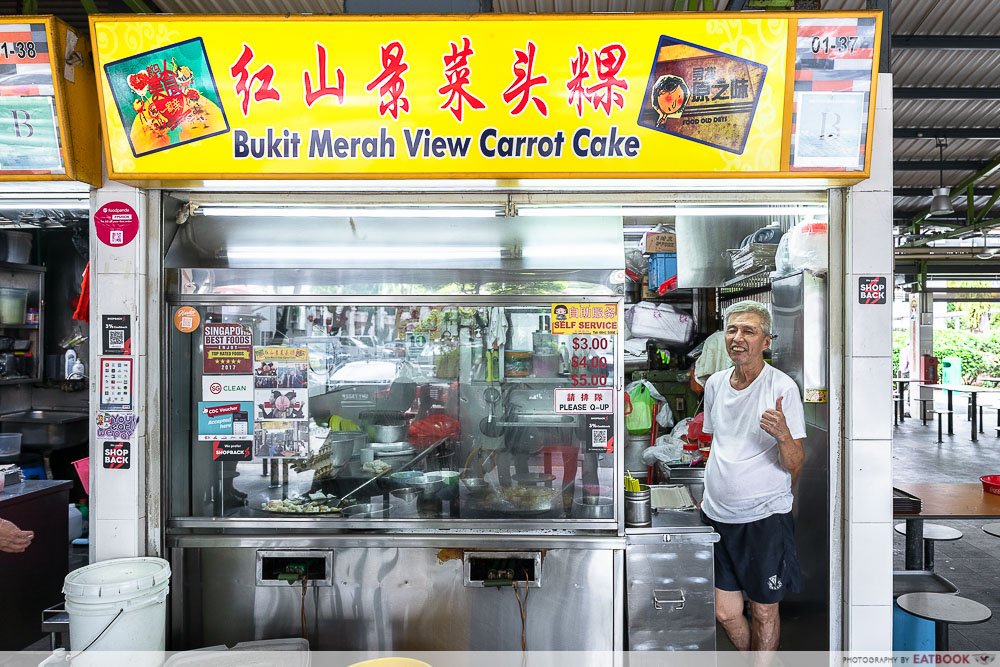 "Nowadays I prefer the white version, because you can taste the wok hei better. But most of my customers prefer black for its sweetness."
"I prefer the white version, because you can taste the wok hei better."
He gave us another reason for favouring white. "Because it's less sweet, it's better for my health, too. I'm getting old, after all."
For a story about a 60-year-old nasi padang empire, read our Che' Rose Nasi Padang feature. If a home-based business selling curry buns sounds interesting to you, check out our Eat My CB feature.
Address: 115 Bukit Merah View, #01-37, Bukit Merah View Market & Hawker Centre, Singapore 151115
Opening hours: Daily 6am to 2pm, 4pm to 8pm (hours may vary)
Website
Bukit Merah View Carrot Cake is not a halal-certified eatery.
Che' Rose Nasi Padang: The 60-Year-Old Toa Payoh Stall Part Of Singapore's Nasi Padang Empire
Photos taken by Chew Yi En.
This was an independent feature by Eatbook.sg.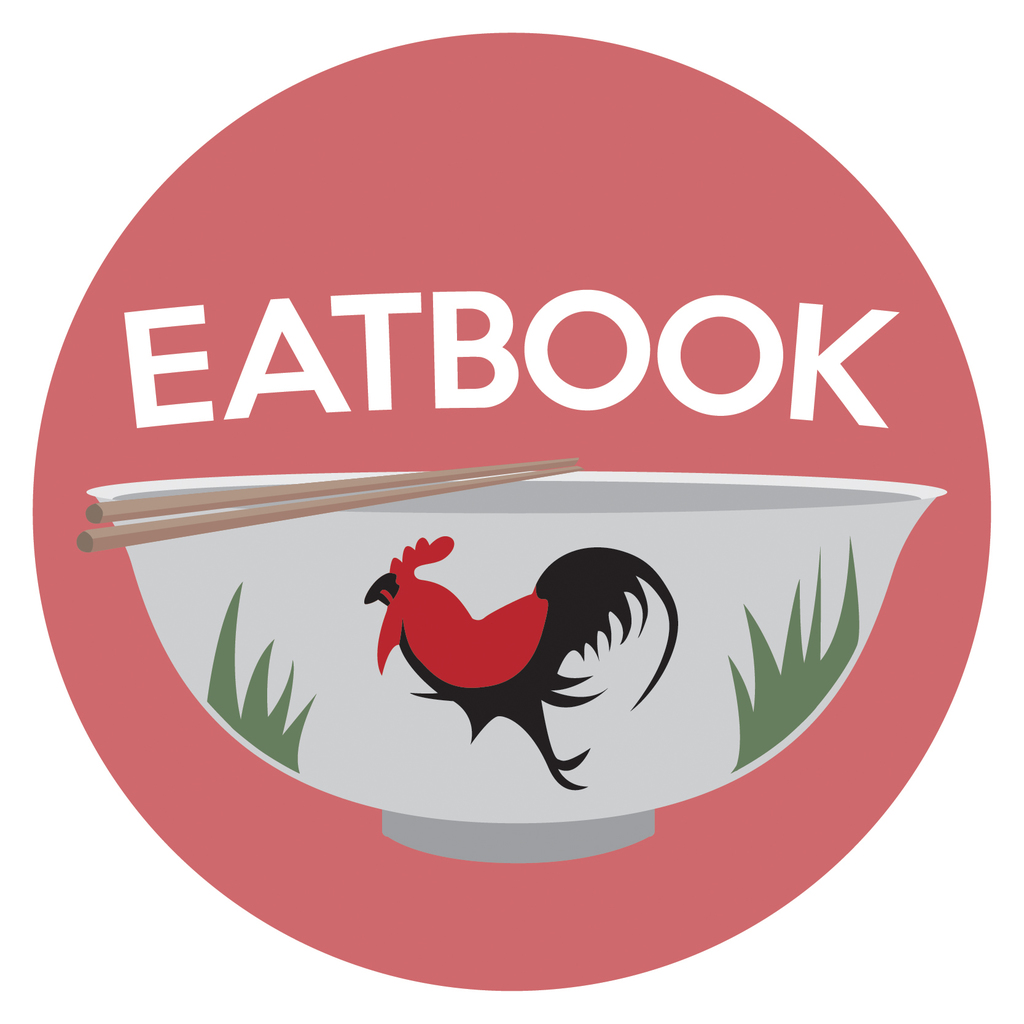 Drop us your email so you won't miss the latest news.