Al Mahboob Rojak in Tampines serves Indian rojak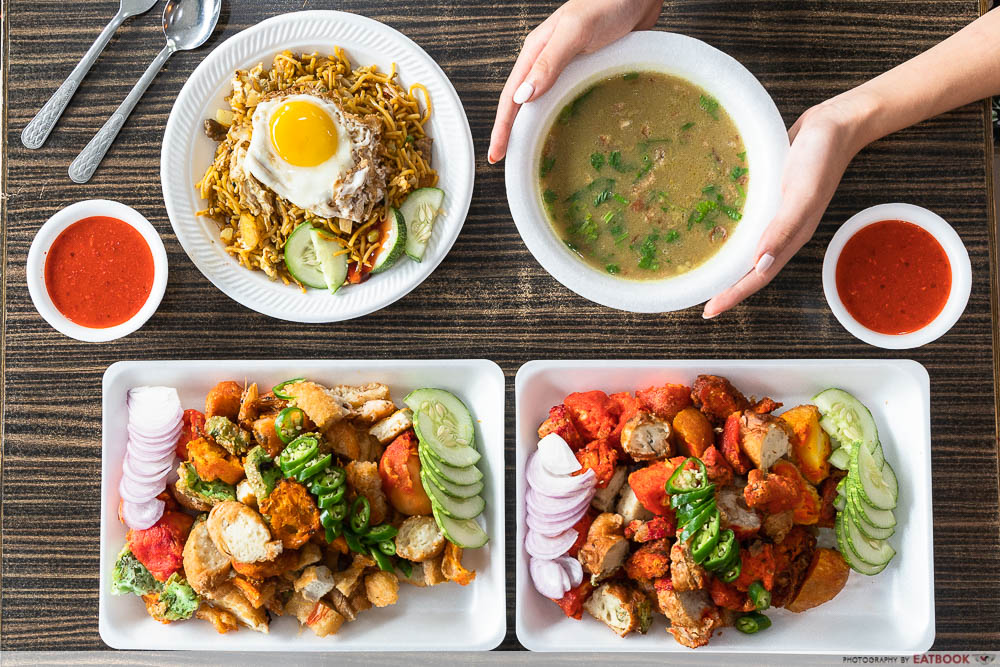 Many of us are familiar with Chinese rojak, the fruit-based salad tossed with a sticky, tamarind-shrimp paste sauce. Then there's Indian rojak, which is better described as a plate of fried fritters, served with a sweet potato-thickened, tomato-based sauce on the side.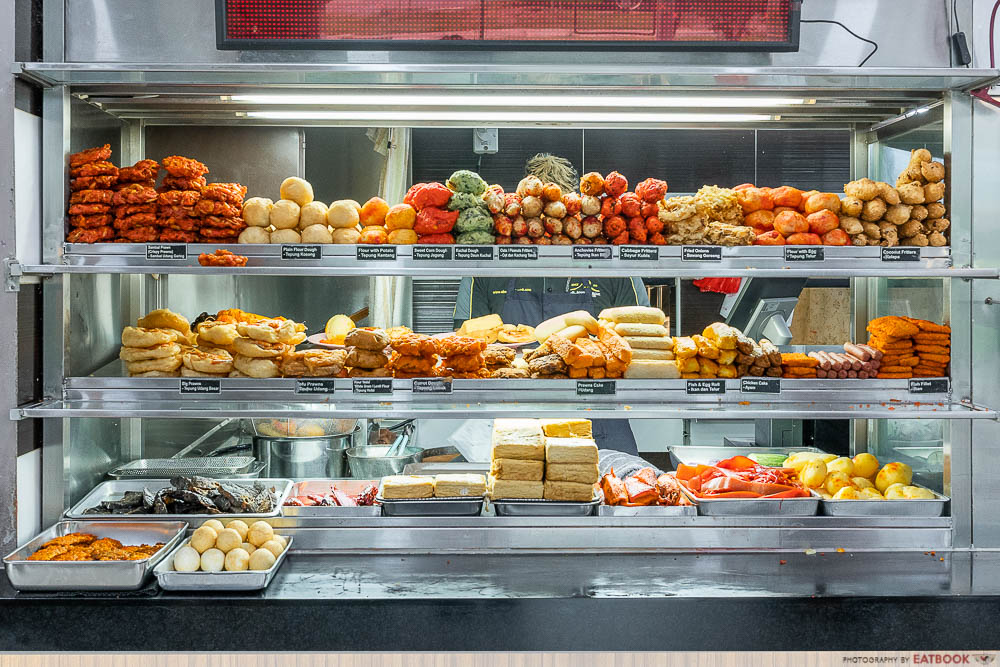 Al Mahboob Rojak, which has been serving Indian rojak for 30 years and counting, is a household name that many flock to. In an effort to familiarise myself with this alternate style of rojak, I headed down to their outlet with my colleague to have a taste of their fare. 
Food at Al Mahboob Rojak
We started off with two plates of Rojak (from $6+). The price of each plate of rojak depends on the fritters you choose; our choices came up to $11.60 and $13.50.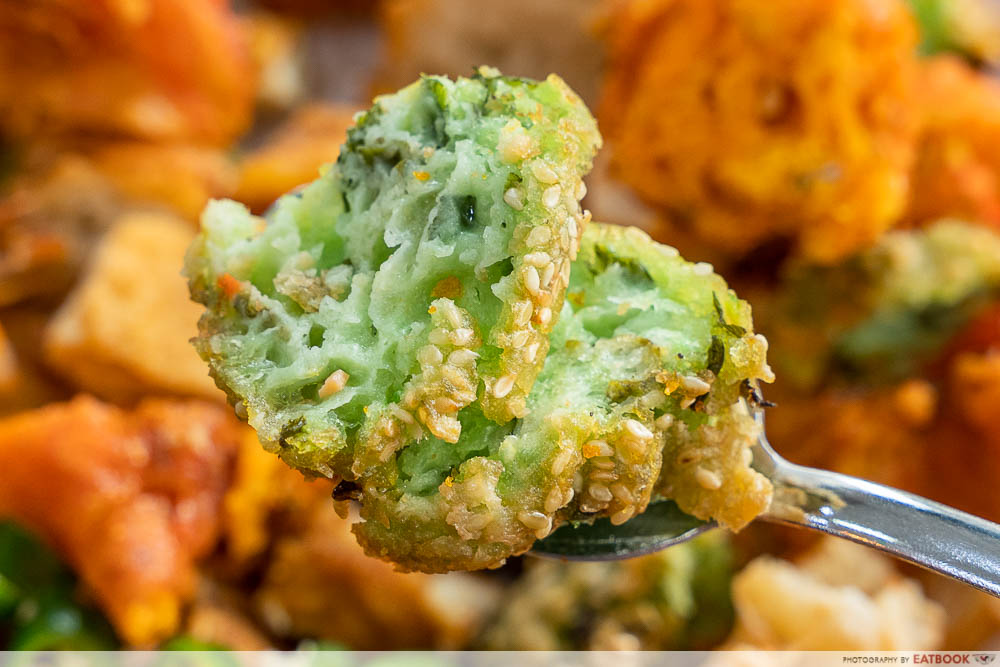 Of all the fritters we ordered, the Kuchai Dough ($1.90+) has to be one of the most interesting. For starters, it's insides were pale green in colour, a stark contrast from the bright reds and oranges that filled our plate. Though this fritter gets its colour from chives, the most pronounced flavour here is that of sesame seeds.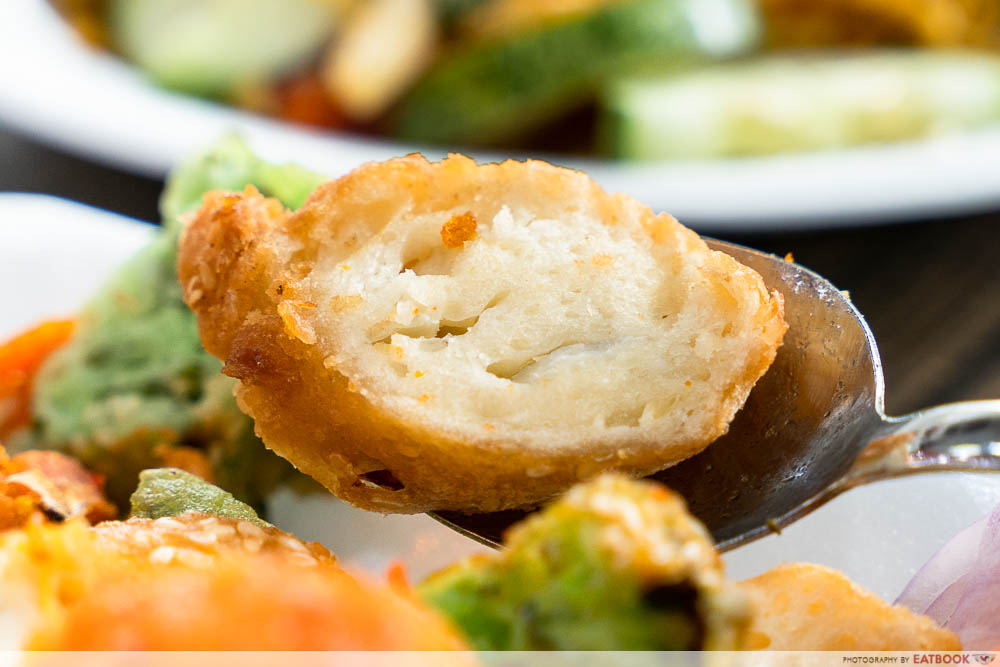 The Coconut Fritters ($1.30+) were certainly something new that I hadn't seen before. There's tiny pieces of embedded coconut flesh within the fritters, injecting a sweet punch in each bite.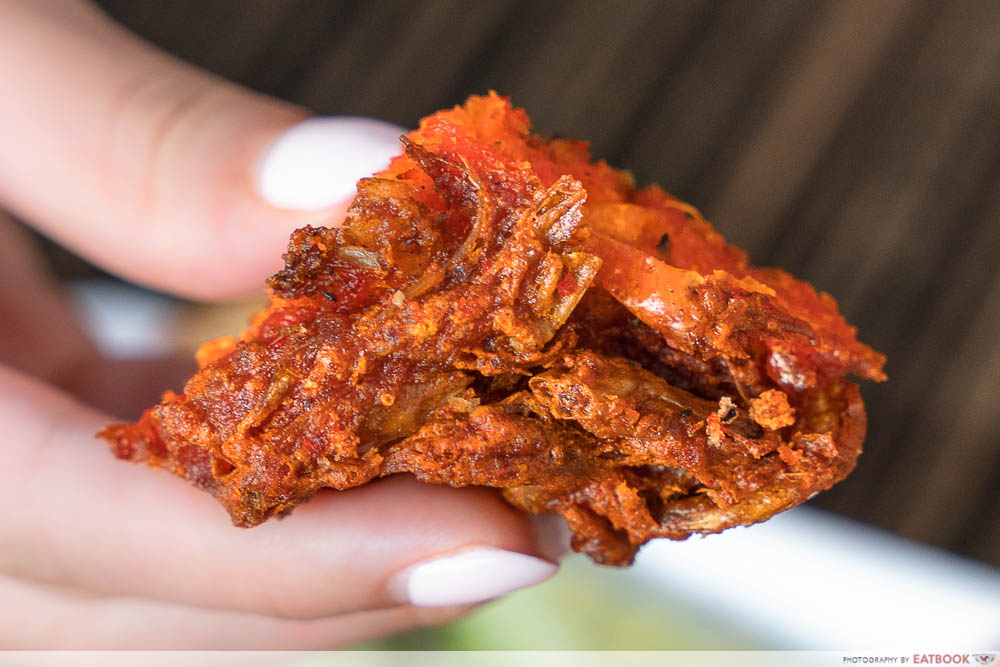 The Crispy Prawns ($3.30+) were another equally worthy contender. As the name suggests, each bite into these produced nothing but crispiness. I found them a delightful contrast to the chewiness of the other fritters. 
Besides Crispy Prawns, they also offer Big Prawns ($3.30+)—prawns surrounded by dough, and Tahu Prawns ($3.30+)—prawns with tofu.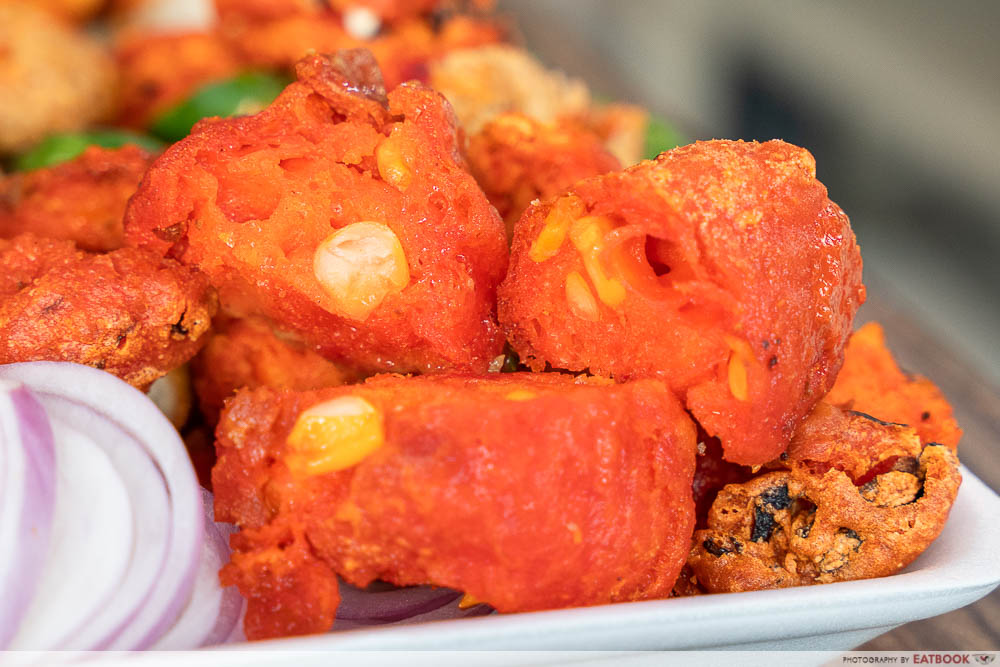 Honourable mention goes to the Sweet Corn Dough ($1.90+), which brought a pleasant sweetness to the table, though the taste and texture of the corn kernels wasn't really obvious.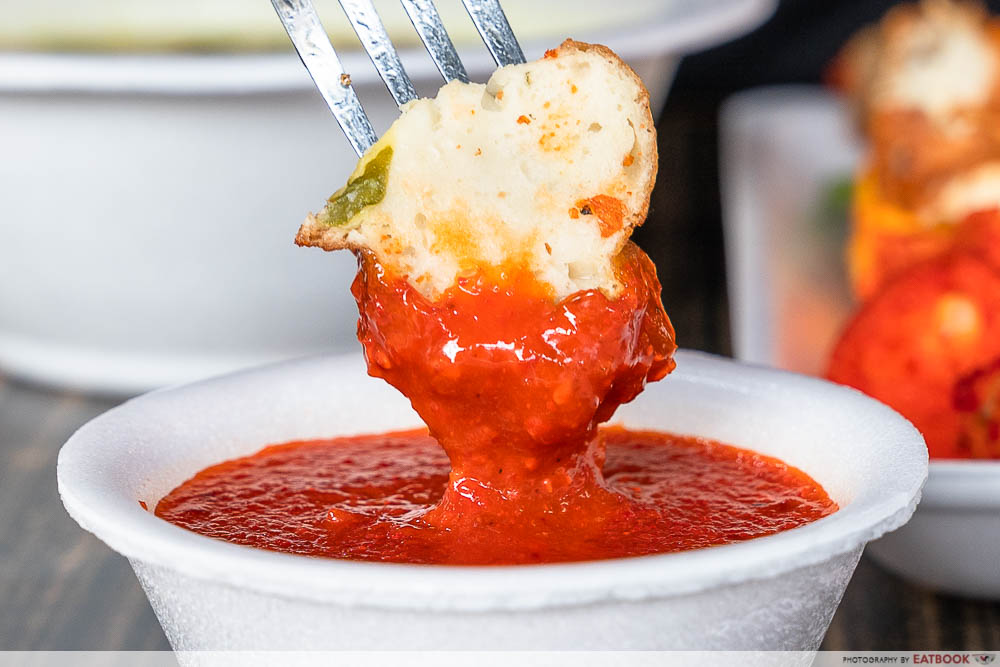 A huge part of what makes rojak work for me is the sauce, and here at Al Mahboob Rojak, they serve each plate of rojak with a bright red peanut sauce. Despite its fiery colour, the sauce hinted at no traces of spice or chilli, and I waited for a spicy kick that never came. Though I enjoyed its sweetness and nuttiness, I felt that I'd welcome a touch of spice in this. 
Aside from rojak, Al Mahboob Rojak also whips up other beloved local dishes, such as a Mee Goreng ($8.20+), which you can get at $7 without the fried egg. 
Typically fried with potato, egg, bean sprouts, and mutton, you can choose to substitute the mutton with ikan bilis, or omit both entirely. My colleague and I agreed that each mouthful of the noodles was addictively flavourful, with the lightest hint of wok hei. 
Al Mahboob Rojak actually offers many variations on this fried noodle dish, including Bee Hoon Goreng ($7+), Kway Teow Goreng ($7+), and Maggi Goreng ($7+).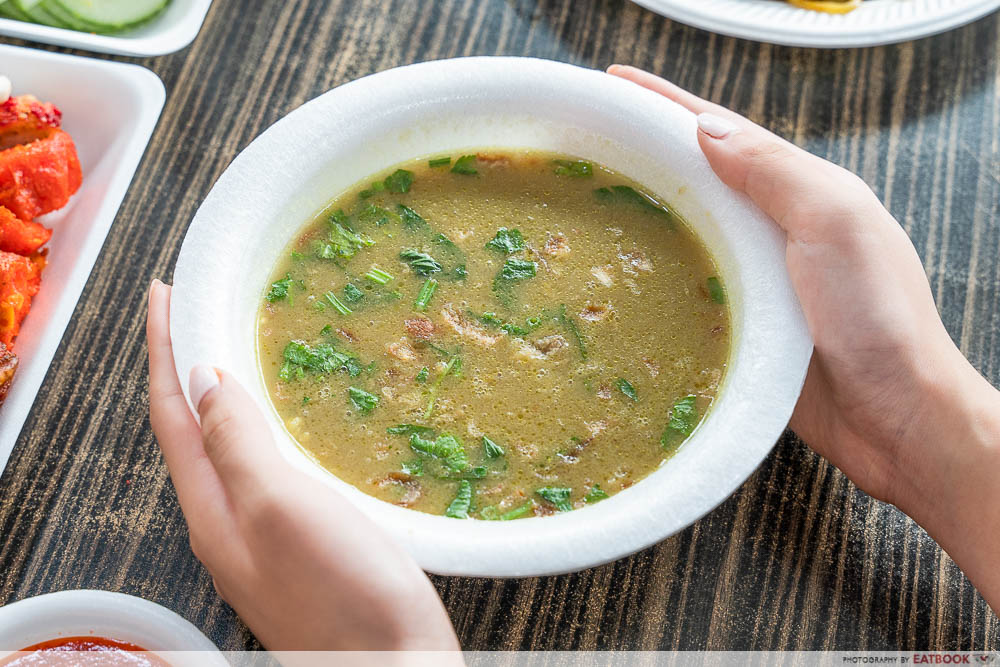 We also decided to try their Mutton Soup Flesh ($7+). I liked that you can choose to have it with Bone ($8.50+), or a mix of Flesh and Bone ($8.50+).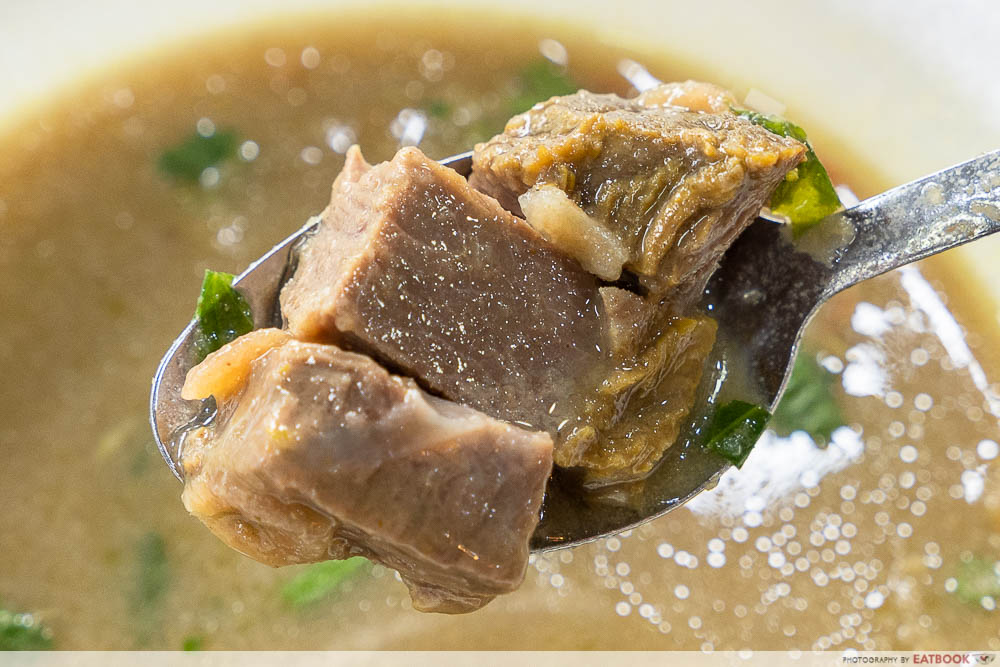 As a mutton lover, this dish was a pleasure to enjoy. The chunks of mutton were tender, and in my opinion, not gamey at all.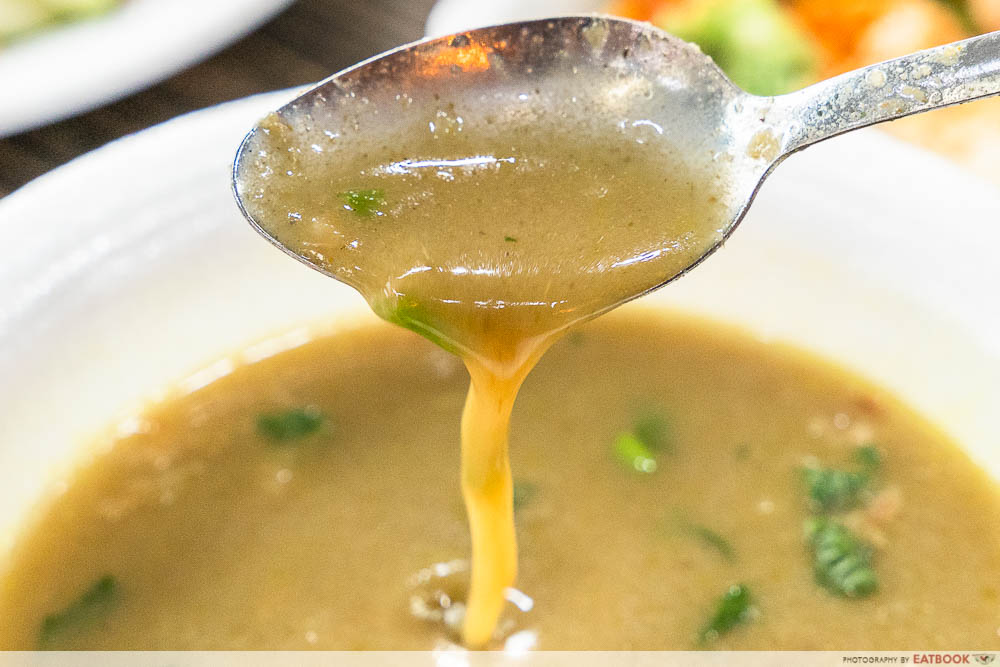 The soup was by far my favourite component of this dish. Viscous with a slight peppery taste, slurping this up was a hearty way to end our meal. 
Ambience at Al Mahboob Rojak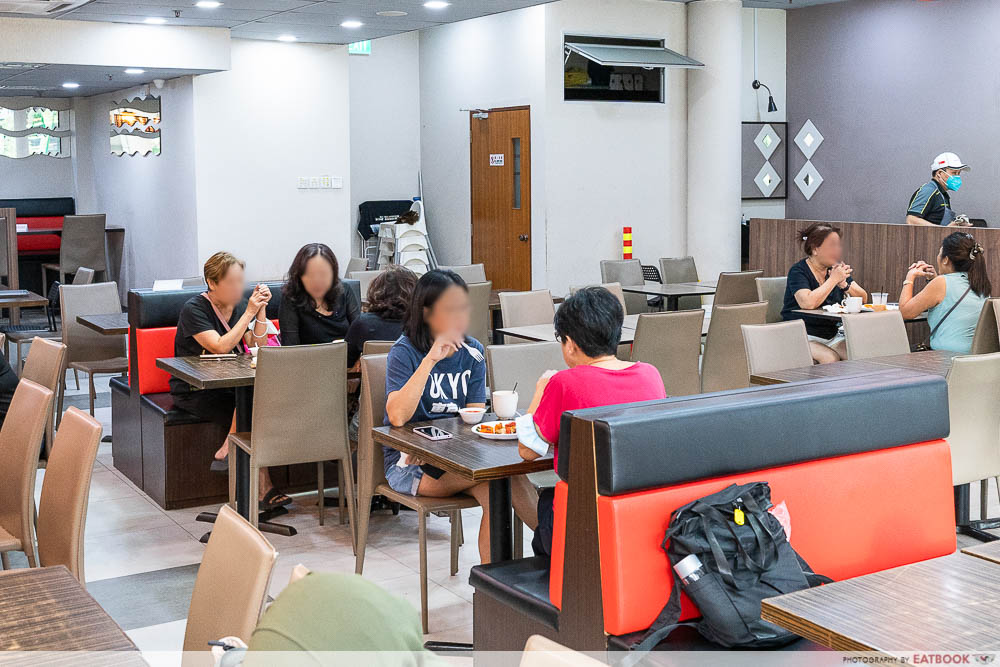 Stepping into Al Mahboob Rojak's air-conditioned space after a five-minute walk from Tampines MRT Station under the blazing sun was just the respite we needed. The space was clean and tidy, and surprisingly packed for 4pm on a weekday, which was when we got there. I guess that's just a testament to how popular they are. 
Like all other Indian rojak stalls, Al Mahboob Rojak operates on a self-service basis. Pick all the fritters you want, bring them to the counter for the staff to cut up and serve. For those who prefer to enjoy their rojak at home, they also offer delivery and takeaway options on their website. 
The verdict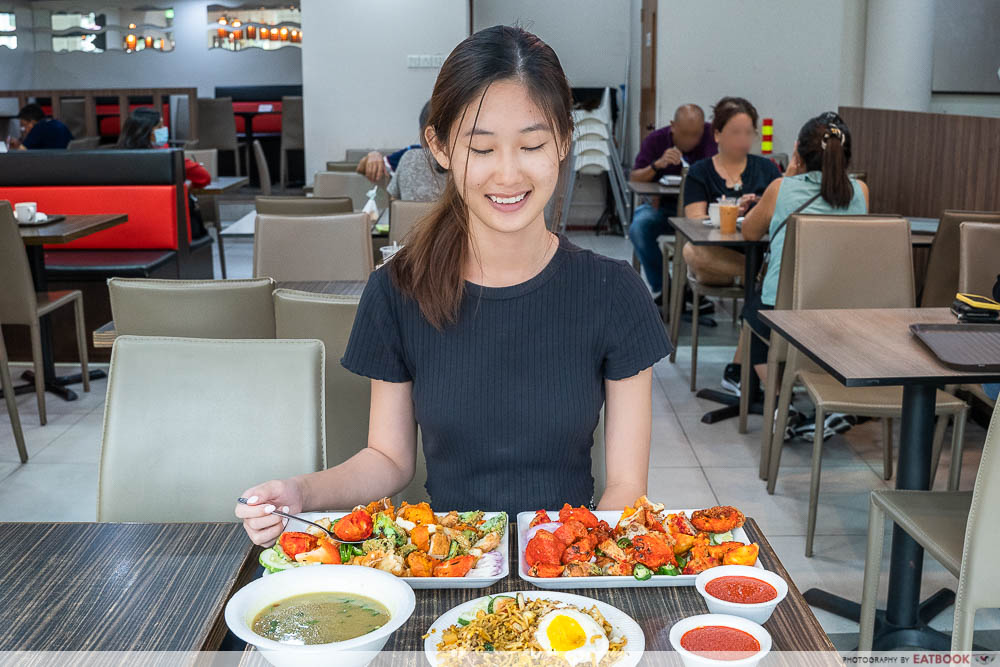 While I'm not the most well-versed with Indian rojak, I can see why Al Mahboob Rojak has established themselves as one of the more popular Indian rojak spots. With more than 30 fritters to choose from, you're basically spoilt for choice. It helps that you get to enjoy it all in air-conditioned comfort, too.
For more food in the area, check out our Buey Tahan See-Food review for a void-deck themed seafood restaurant with a mama shop. Alternatively, the nearby Our Tampines Hub has a wide variety of food to offer too, including halal beef noodles and Turkish kebabs. 
Address: 300 Tampines Avenue 5, #01-02, NTUC Income@Tampines Junction, Singapore 529653
Opening hours: Tue-Sun 11am to 8pm 
Tel: 6788 2257
Website
Al Mahboob Rojak is a halal-certified eatery
14 Our Tampines Hub Food Places For Halal Beef Noodles, Turkish Kebabs And More
Photos taken by Zadelin Wong. 
This is an independent review by Eatbook.sg.
Al Mahboob Rojak Review: Indian Rojak Stall In Tampines With More Than 30 Ingredients
Al Mahboob Rojak Review: Indian Rojak Stall In Tampines With More Than 30 Ingredients -

7/10
Summary
Pros 
– Wide variety
– Mutton soup was flavourful
Cons
– Sauce could've been spicier
Recommended dishes: Rojak (from $6+), Mutton Soup Flesh ($7+)
Opening hours: Tue-Sun 11am to 8pm 
Address: 300 Tampines Avenue 5, #01-02, NTUC Income@Tampines Junction, Singapore 529653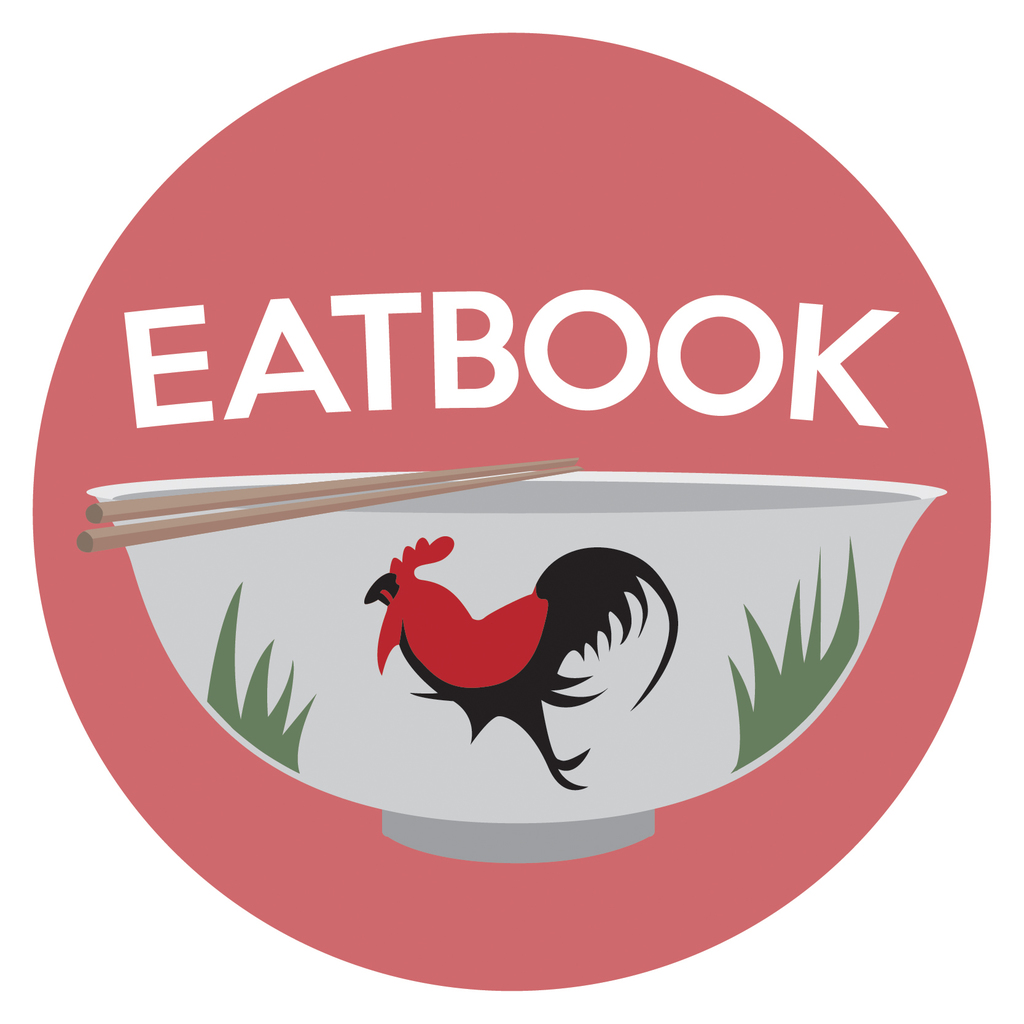 Drop us your email so you won't miss the latest news.