Buey Tahan See-Food in Pasir Ris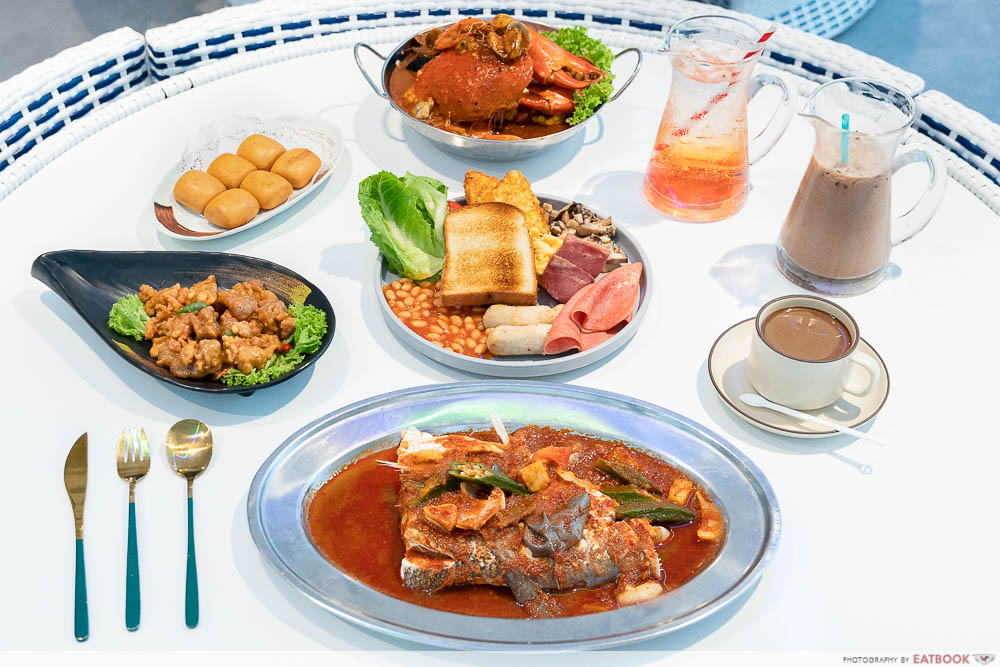 My family's go-to food for special occasions is seafood. Birthdays, national holidays, any special occasion: you name it, we celebrate it with a huge order of crabs, lobsters, and prawns. When I got the chance to visit Buey Tahan See-Food's new outlet at Downtown East, I made my way down, hoping to find a new seafood restaurant worth bringing my family to. 
Though Buey Tahan See-Food has multiple outlets islandwide, their newest one at E!Hub, Downtown East is their most IG-worthy one yet, with a void deck theme, mama shop, and brunch. 
Food at Buey Tahan See-Food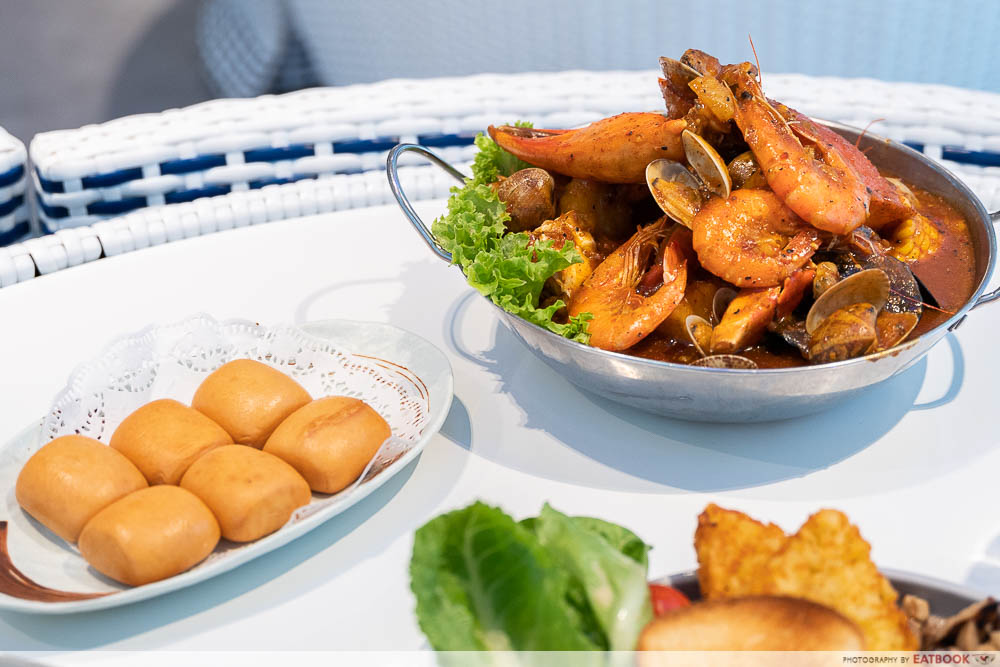 I was extremely tempted to get the Chapalang Seafood Bag ($178), which comprises 1kg of Sri Lankan crabs, 900g of crayfish, and 800g each of Boston lobsters, prawns, clams, mussels, potatoes and corn. However, I knew that my colleague and I would not be able to finish such a large serving on our own, so we settled for the Single Crab In Da Bag Imperial Pot ($49.90/$79.90).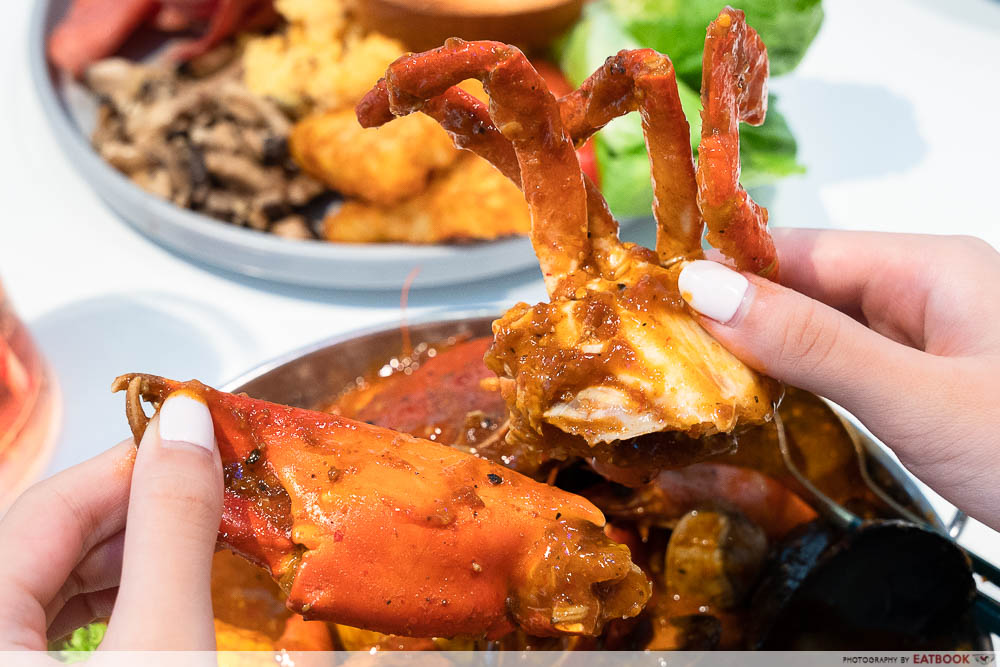 For 500g of Sri Lankan crab and 250g each of prawns, clams, mussels, potatoes, and corn, this is definitely a steal for the price.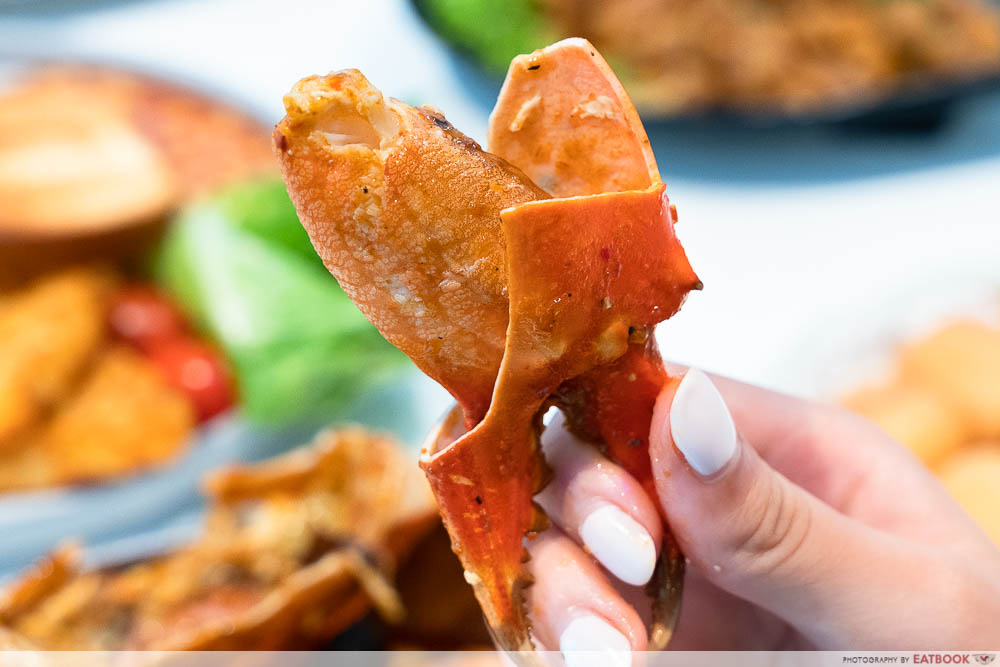 Rest assured that you'll be enjoying both quantity and quality here, as all their seafood is delivered to the outlet each morning to ensure freshness. 
My colleague found the crab to be her favourite item, mainly because of how plump and soft the crab meat was.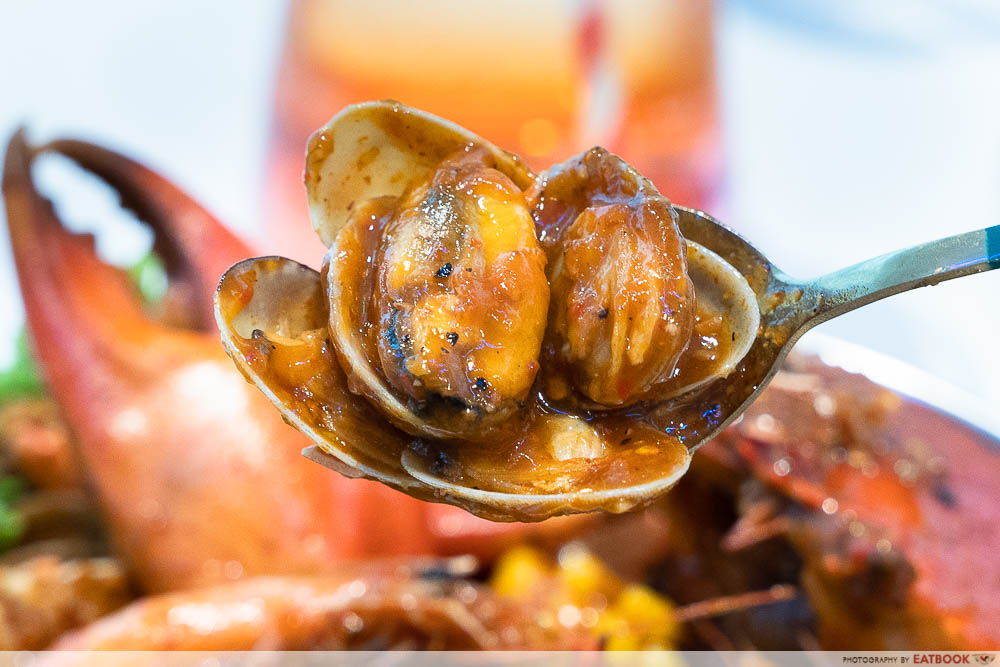 I, on the other hand, found myself digging into clam after clam. Each clam was smothered in their signature gravy, which, though had savoury and peppery notes, was mostly sweet.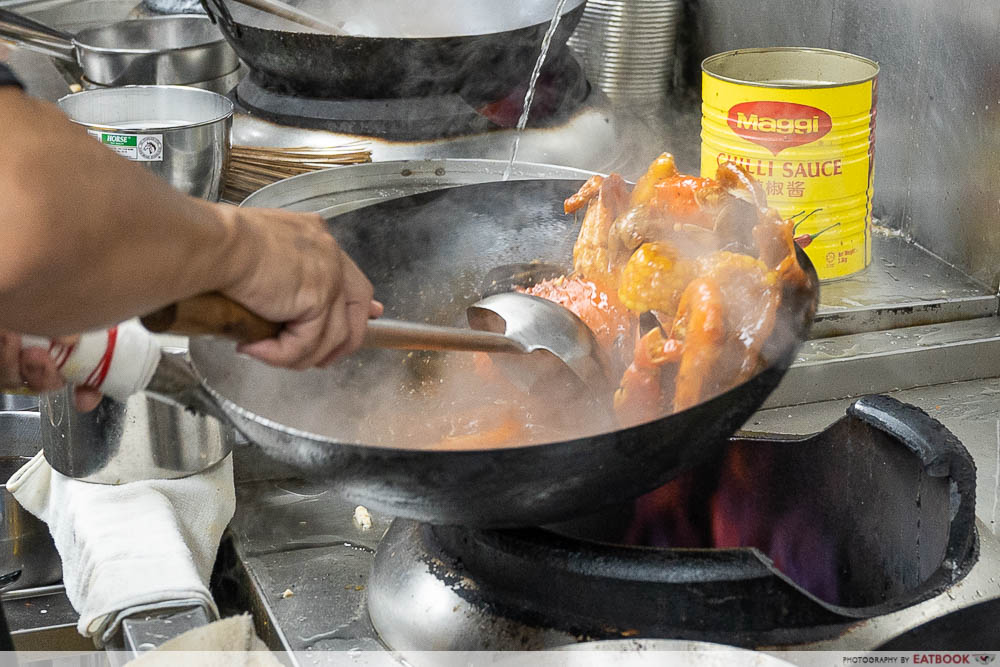 What sets Buey Tahan See-Food apart from other seafood restaurants is the gravy in their seafood pots. Here, their special recipe is prepared in a central kitchen before being distributed to all the outlets islandwide, so you'll get to enjoy it at whichever outlet you visit.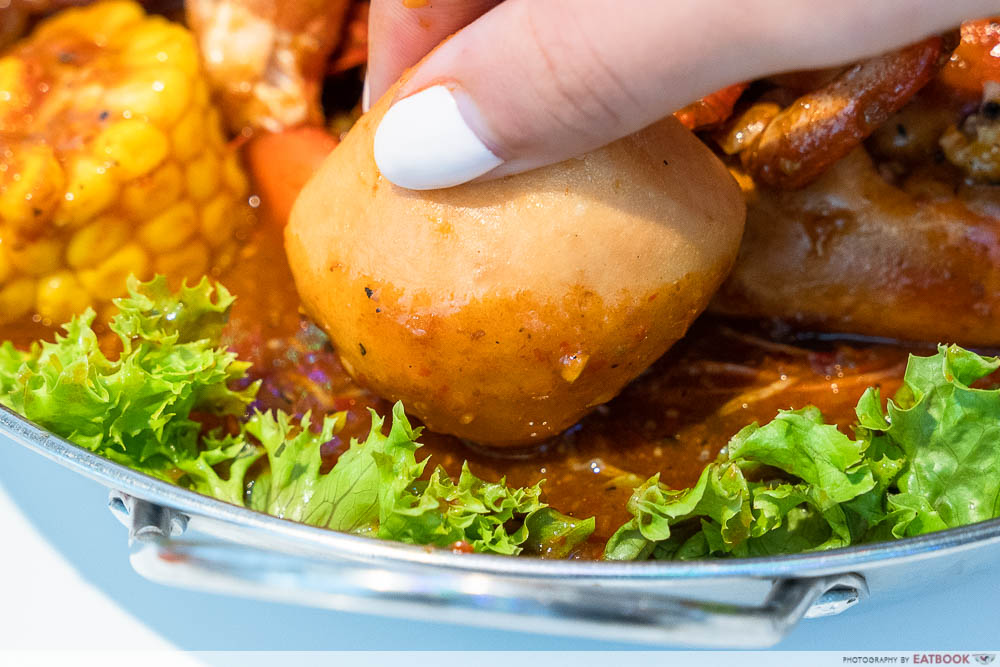 Enjoying seafood pots with mantou is a must, and I loved how the buttery Man Tou (from $3.60) here was fried to give it a nice, crispy exterior that went perfectly with the gravy.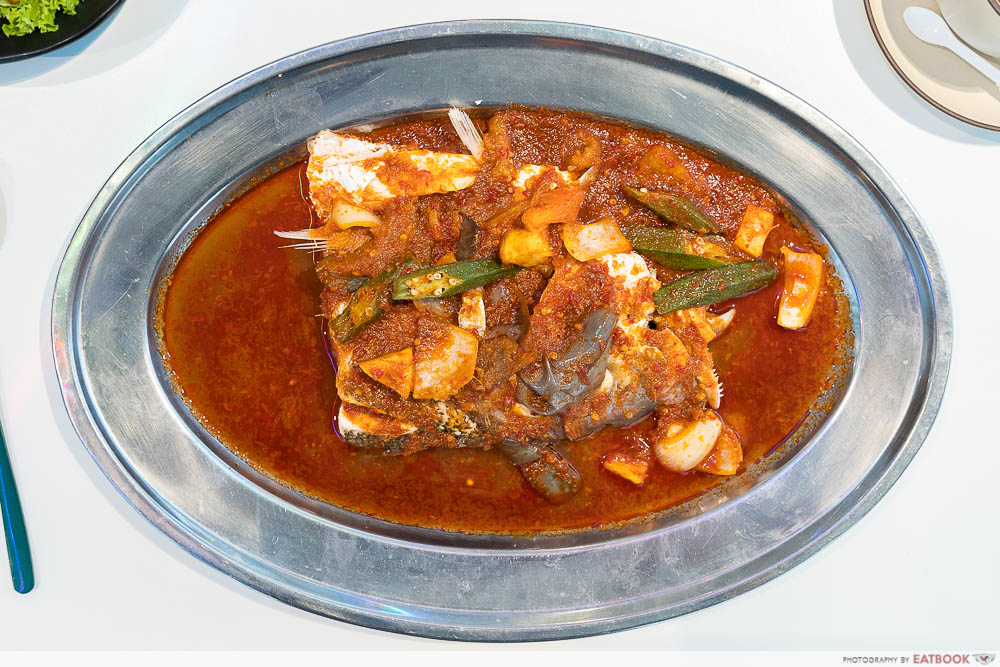 Another popular seafood dish available here is the Assam Fish Head ($24), which is also available with Curry ($24).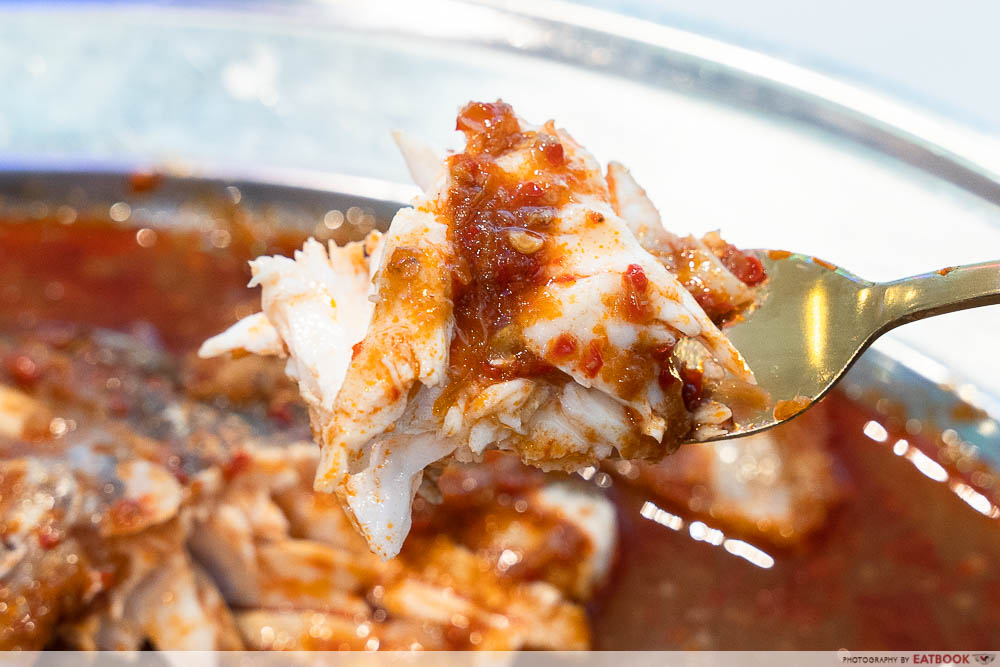 The mild-tasting Red Snapper complemented the assam sauce well, its soft and flaky flesh carrying the sour spiciness of the sauce.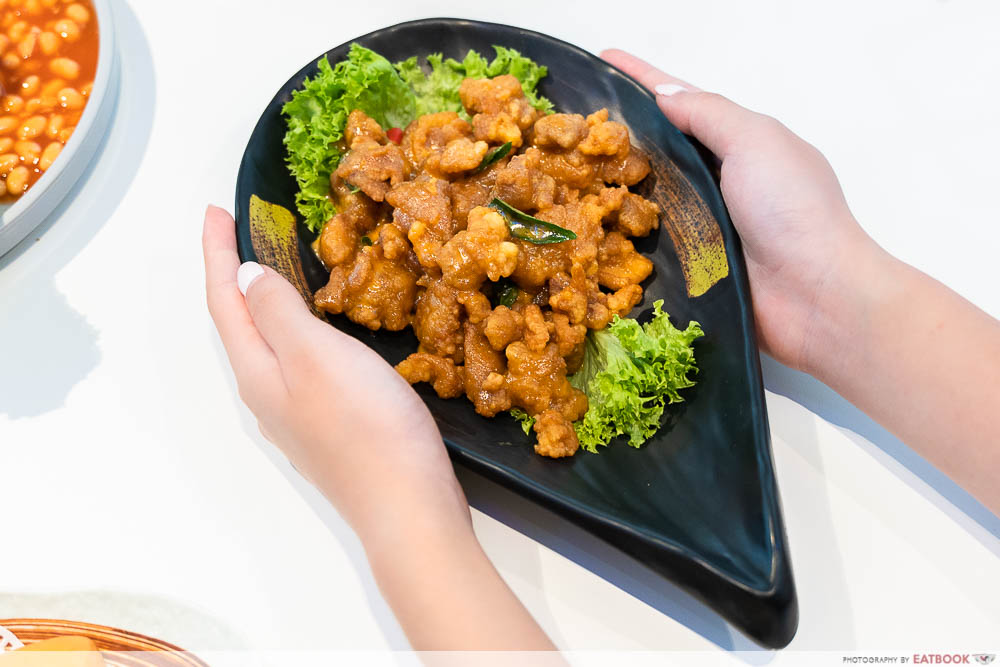 With a sprawling menu of over 100 items, Buey Tahan See-Food, of course, has non-seafood dishes as well. One of the many we tried was the Golden Chicken Cubes ($12/$17/$22).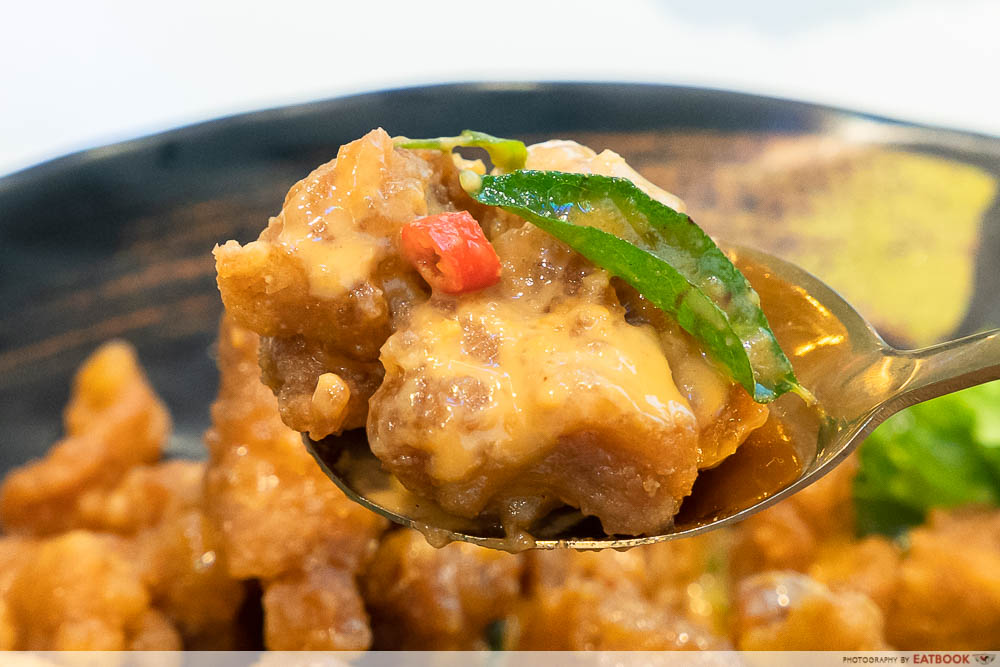 These bite-sized pieces of chicken were crispy, but I wished that the salted egg flavour was more prominent—maybe being more heavy-handed with the salted egg would've helped to enhance the flavour.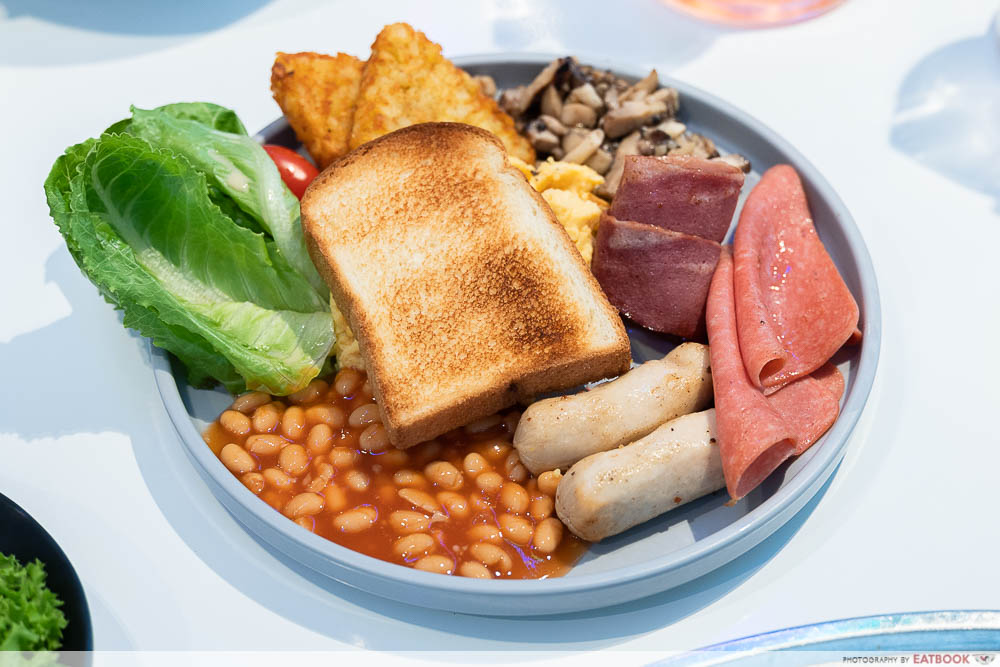 Buey Tahan See-Food's DTE outlet is the only one serving breakfast sets from 8am to 2pm. Besides stuffed croissants and breakfast plates, there's also the Champion Breakfast Set ($12.90). Modelled after the classic English breakfast, you'll get the quintessential baked beans, sauteed mushrooms, chicken chipolata sausages, turkey bacon, and a slice of toast, as well as scrambled eggs, hash browns, and chicken ham to complete the set.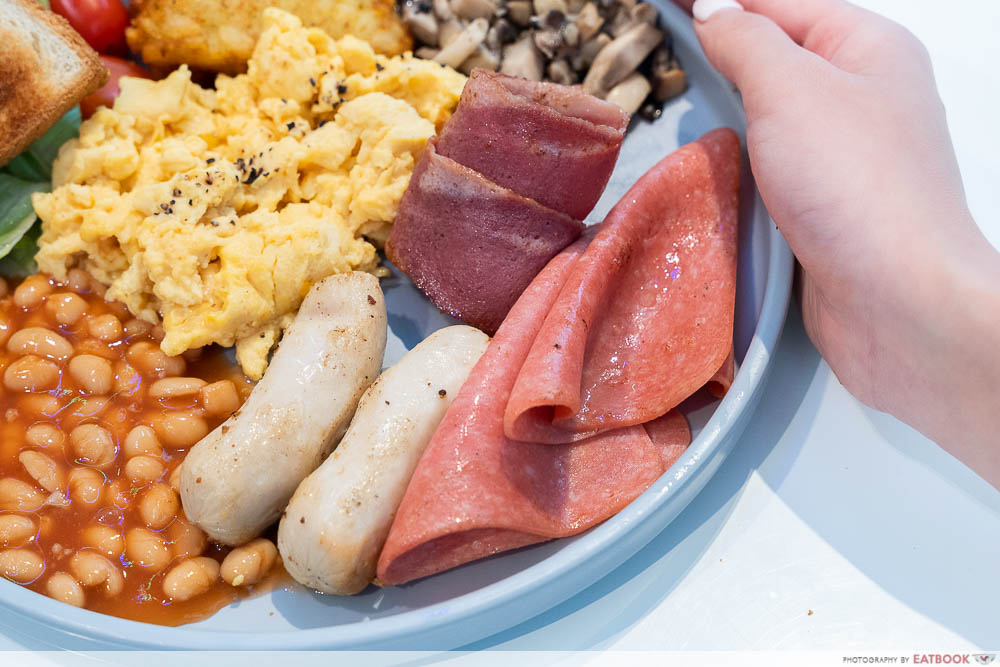 Given that Buey Tahan See-Food specialises in seafood, I wasn't expecting much from this breakfast plate. The components were certainly decent and filling, but if I were to visit again I would go straight for their seafood menu.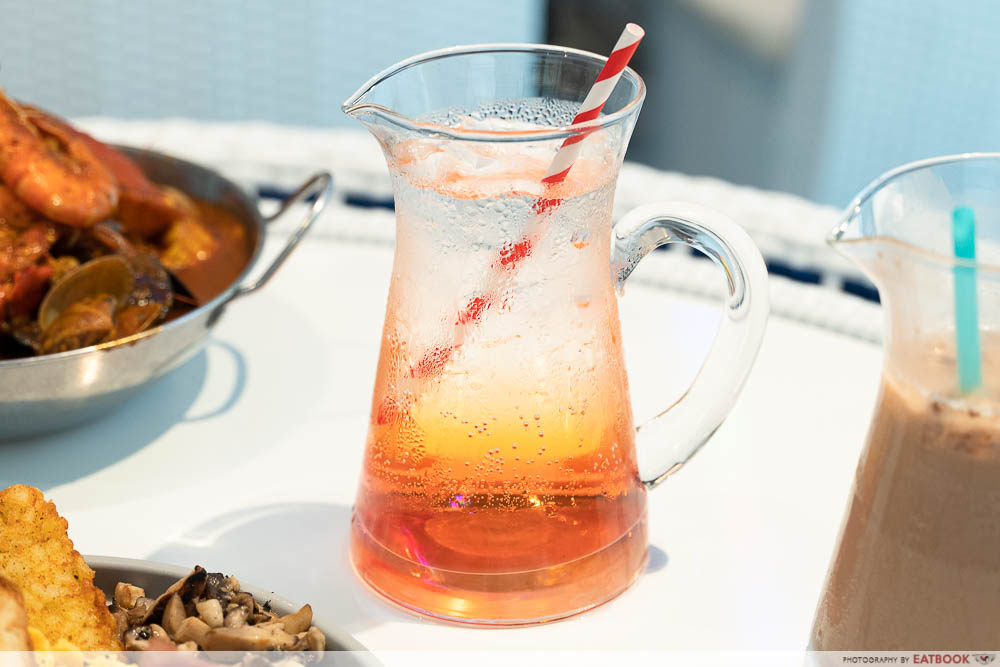 Another new addition to their menu at DTE is their series of mocktails, of which we tried the Madame Rose ($4.90). Served in a huge jug, this mixture of rose syrup, watermelon syrup, apple juice, and soda water was a refreshing end to the meal.  
Other available mocktails include the lychee-flavoured Marley B ($4.90), and the citrusy orange Granny's Tree ($4.90). 
Xian Dan Chao Ren To Open In Pasir Ris With Mala Salted Egg Fries And More
Ambience at Buey Tahan See-Food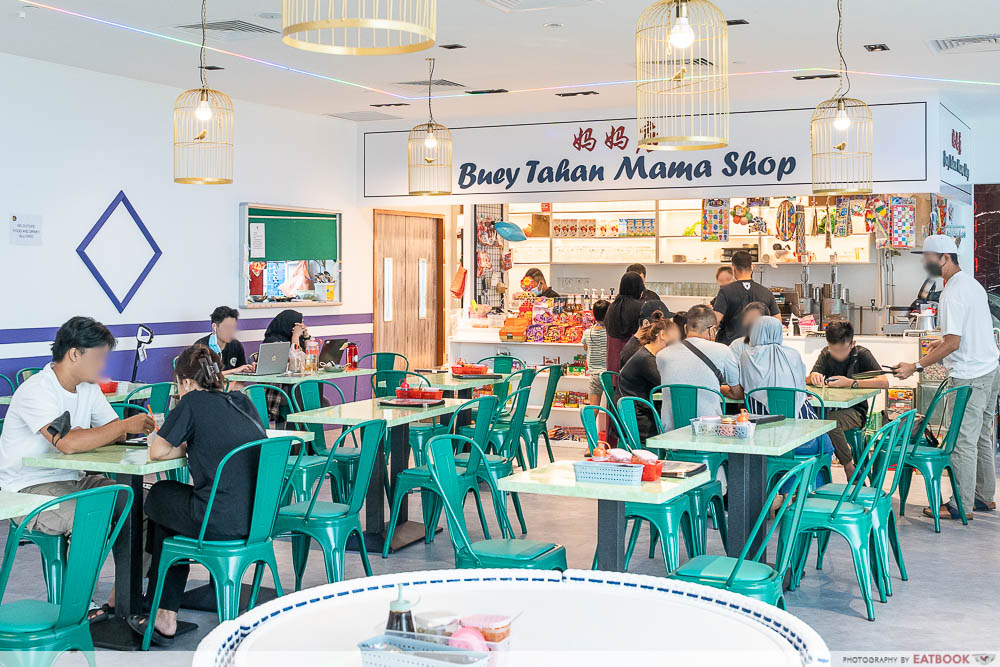 This outlet of Buey Tahan See-Food takes on a void deck theme, evident in the white walls and blue accents typical of that at many HDB blocks. There are large round tables for bigger parties, as well as smaller square ones.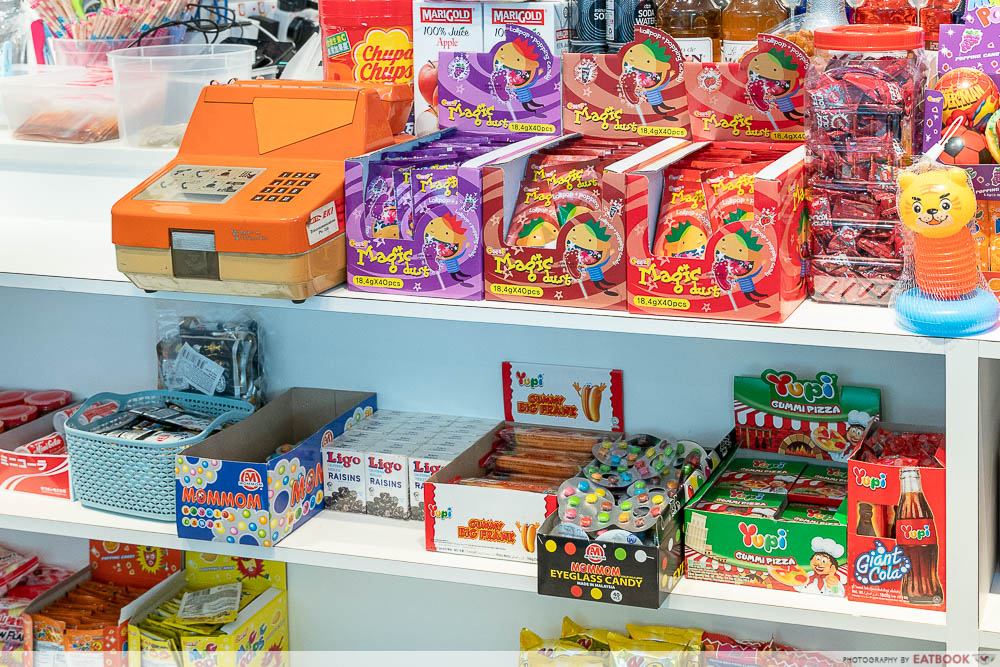 Unique to this DTE outlet is a mama shop not unlike the ones we used to visit after school. Complete with classic snacks and candy from our childhood, it was a real blast from the past seeing the old-school displays of Yupi, haw flakes, and even Khong Guan biscuits.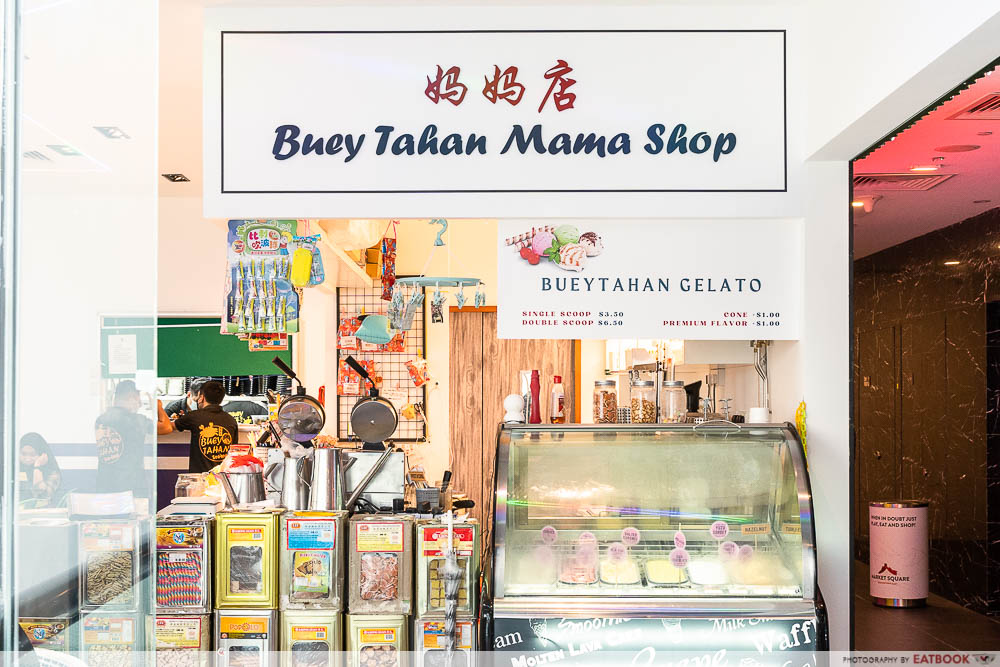 Admittedly, DTE is not the most convenient place to get to for those of us who don't stay around the area. Its location on the East coast of Singapore means that it's not that accessible by bus or train. 
To get here from Pasir Ris MRT Station, you can either choose to take a long 15-minute walk under Singapore's relentless sun or take a bus to the nearest bus stop and walk about 550m after—a distance that I still found too far and troublesome to walk. 
The verdict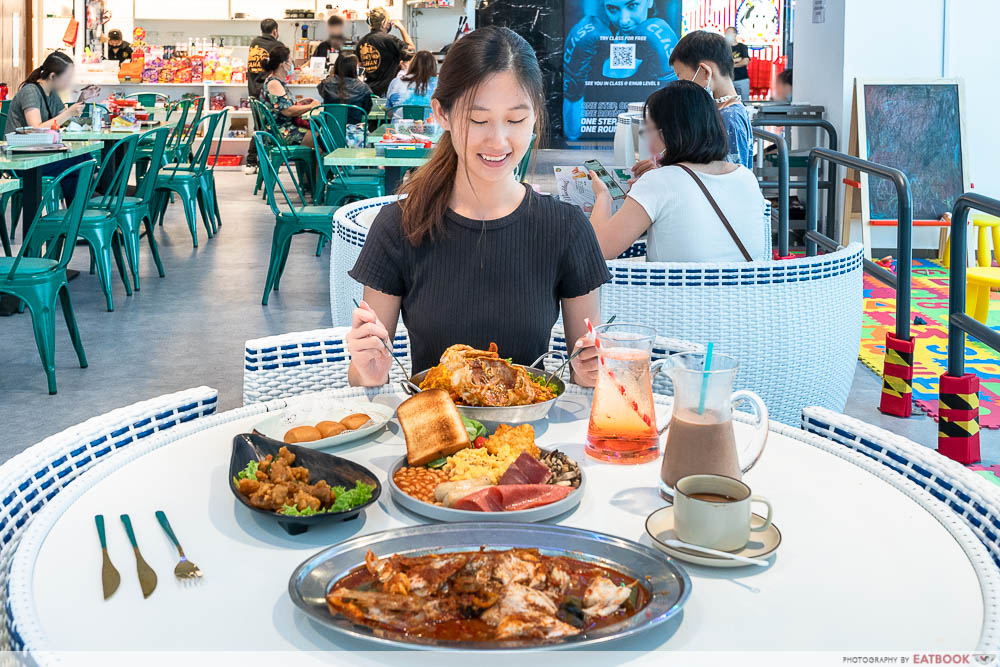 Overall, I was most impressed by the quality and range of seafood at Buey Tahan See-Food. Their seafood bags are definitely suited for large family gatherings, and there's bound to be something for everyone. Although the breakfast sets didn't really impress me, I'm sure it's enough to satisfy the young picky eaters who may not have learnt to appreciate seafood yet. Otherwise, there's a whole plethora of non-seafood zi char dishes too. All things considered, I know what I'll be suggesting to my family for our next gathering. 
If you're an Eastie looking for more food in your hood, Xian Dan Chao Ren and Creamier have just opened outlets at White Sands and Tampines 1 respectively. Our Tampines Hub also has a whole slew of eateries worth checking out, including halal beef noodles. 
Address: 1 Pasir Ris Close, #04-101, E!Hub, Singapore 519599
Opening hours: Daily 8am to 12am
Tel: 8815 2024
Website
Buey Tahan See-Food is a halal-certified eatery.
Photos taken by Zadelin Wong.
This was a media tasting at Buey Tahan See-Food.
Buey Tahan See-Food Review: Void Deck-Themed Seafood And Brunch Restaurant With A Mama Shop
Buey Tahan See-Food Review: Void Deck-Themed Seafood And Brunch Restaurant With A Mama Shop -

7.5/10
Summary
Pros
– Large menu
– Seafood was fresh
Cons
– Inaccessible location
Recommended dishes: Single Crab In Da Bag Imperial Pot ($49.90/$79.90), Assam Fish Head ($24)
Opening hours: Daily 8am to 12am
Address: 1 Pasir Ris Close, #04-101, E!Hub, Singapore 519599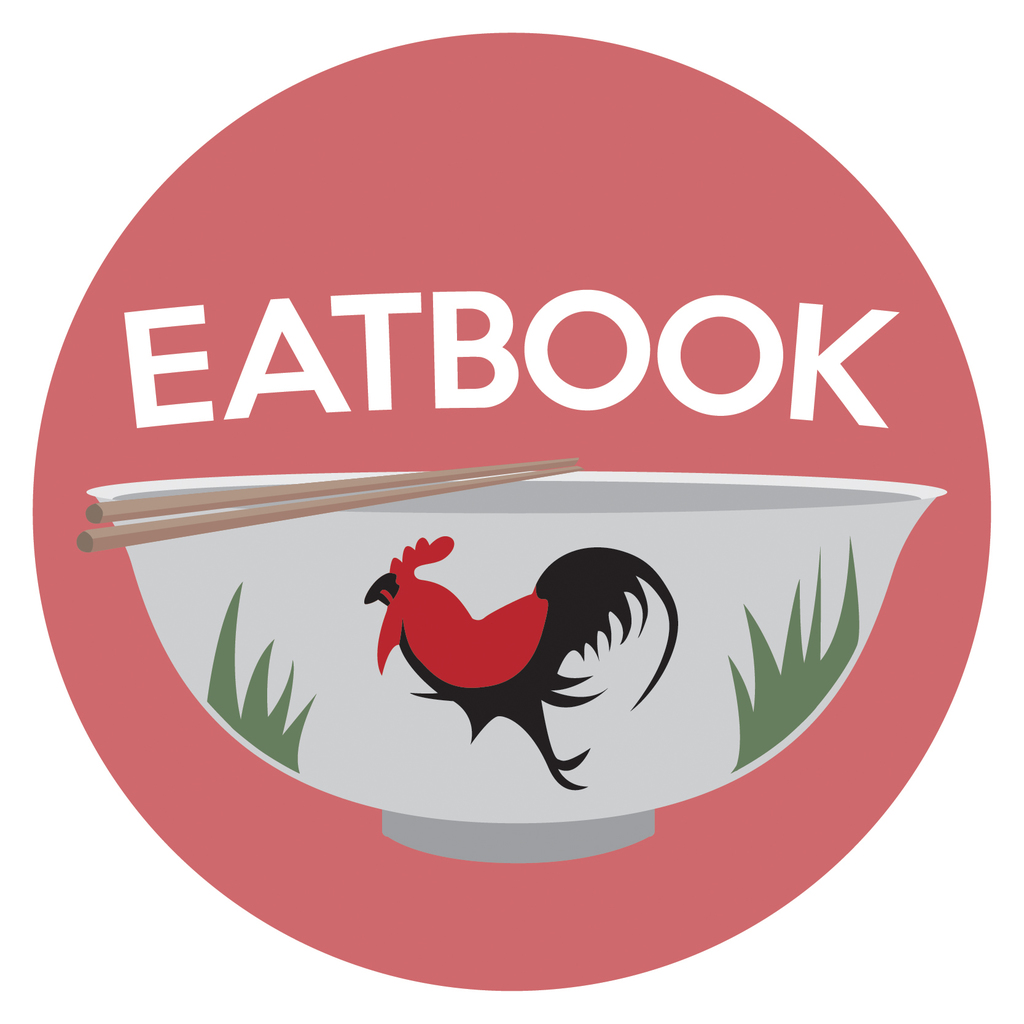 Drop us your email so you won't miss the latest news.