---
Our Tampines Hub food
---
It definitely seems as though the East has upped its rep as the best side with the plethora of new openings at Our Tampines Hub. The integrated lifestyle destination now boasts a multitude of much-loved food brands, housed under one roof. Explore dishes from around the world in the mall, with fare including ramen, mala, and more to choose from. Here are 14 Our Tampines Hub food options now in your 'hood, Easties!
---
1. Gong Yuan Ma La Tang
---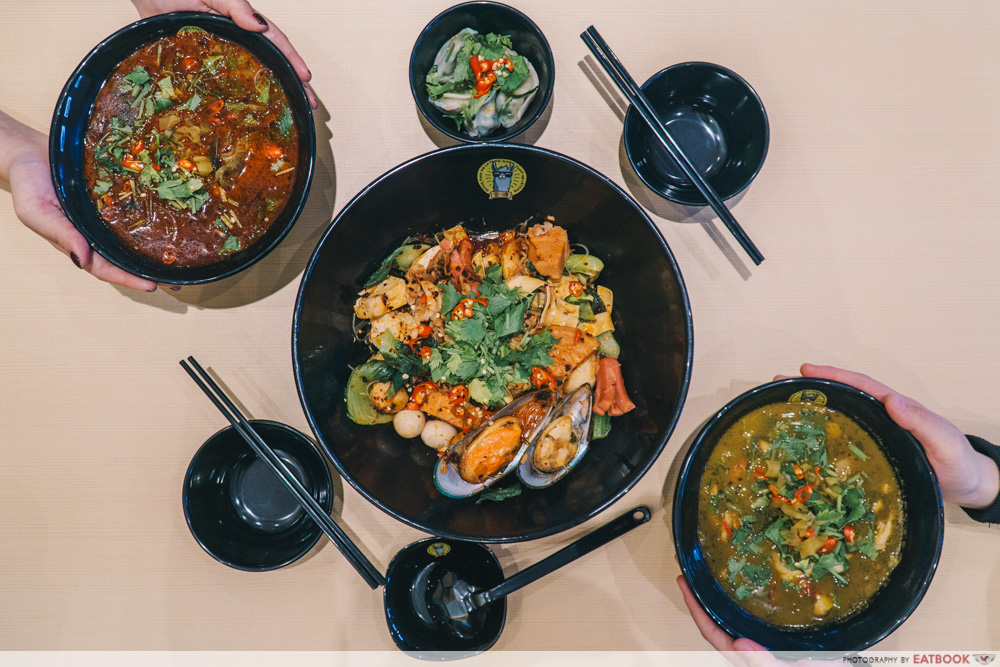 Gong Yuan Ma La Tang is one of the mala options available at Our Tampines Hub. Weigh your chosen ingredients, pick a base, choose your desired level of spiciness, and your bowl of mala is made to order. There are five soup and two dry bases here, both in spicy and non-spicy options. Whether you choose meat, fish, or vegetables, you're only charged according to the total weight of food picked.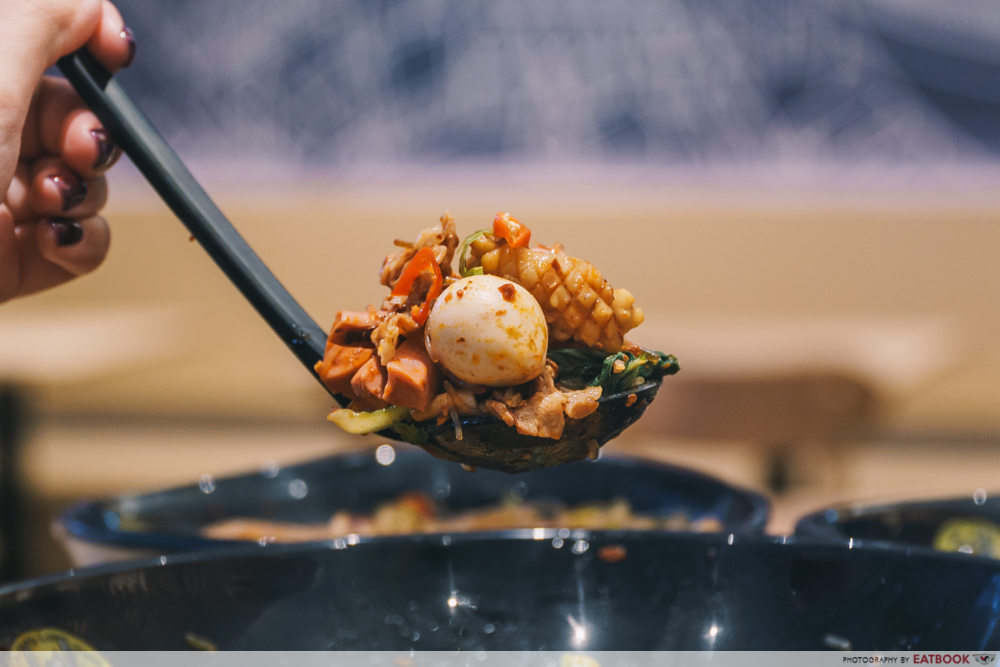 Popular soup options include Mala, Hot and Sour Pork Bone, and Tomato. If you're still feeling peckish, order a side of Chives and Chicken Dumplings ($3.50) or Hot and Sour Soup ($9.90) to share. 
Unit number: #01-96/97
Opening hours: Daily 11am to 9pm
Tel: 9880 9430
Website
---
2. Go Noodle House
---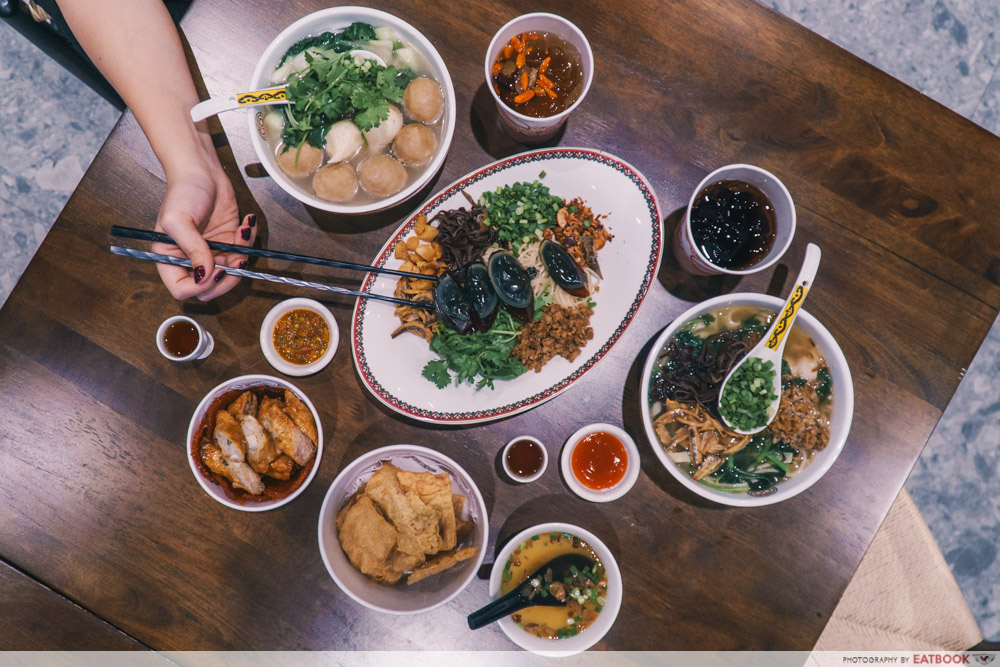 Go Noodle House is a famous Malaysian chain, known for its bursting meatballs. This is their second outlet in Singapore, and first in the East right here at Our Tampines Hub. We tried the Hakka Sauce Handmade Noodles with Century Egg ($10.80++), which came topped with molten-yolked century eggs. Toss it all together and allow the yolks to emulsify the Hakka sauce, adding richness to the mix.
To get more variety, add Signature Bursting Meatballs ($3.20++) to a bowl of Double Bursting Fish Ball ($14.80++). We had them with Go Noodle House's mixian, a rice noodle similar to thick bee hoon, in Superior Soup. This comes with a shot of Chinese yellow rice wine to pour into the soup, which enhances the aroma and freshness in the broth. Do note that the last order is 30 minutes before closing time at Go Noodles House.
Unit number: #01-103
Opening hours: Mon-Thurs 11:30am to 9:30pm, Fri 11:30am to 10pm Sat 11am to 10pm, Sun 11am to 9:30pm 
Tel: 6600 3323
Website
---
3. exppress by PappaRich
---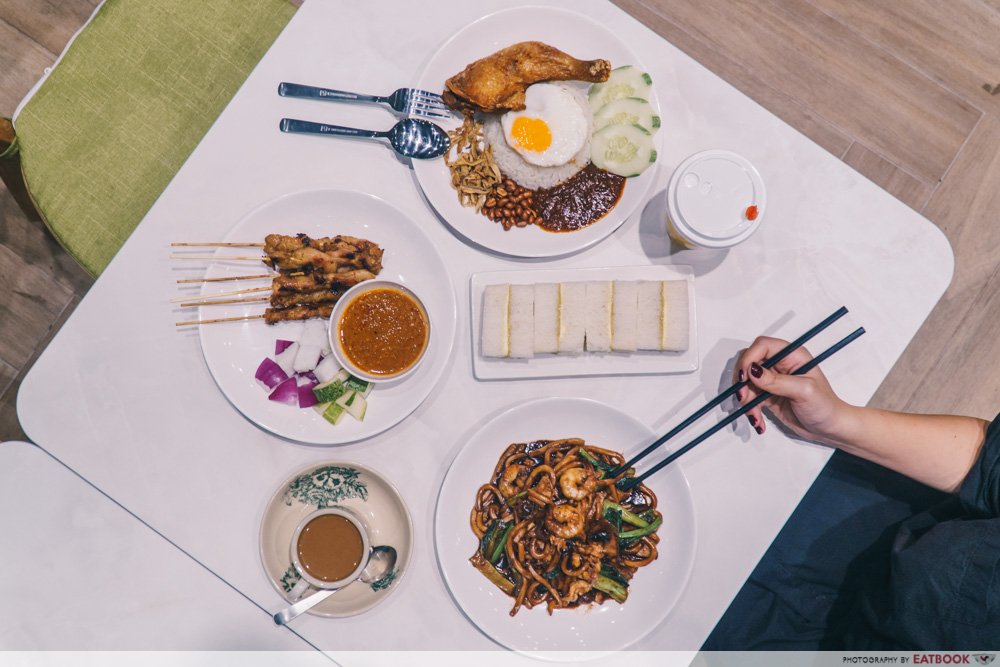 Adjacent to Go Noodle House is exppress by PappaRich, a halal option with Malaysian delights. Try the signature Hainan Bread ($3.80), which has a rich history of over 70 years. Have it steamed or toasted, both of which come with slatherings of coconutty kaya and butter. The KL Hokkien Mee ($10.80) is served fresh from the stove, perfumed with wok hei, and lip smackingly good.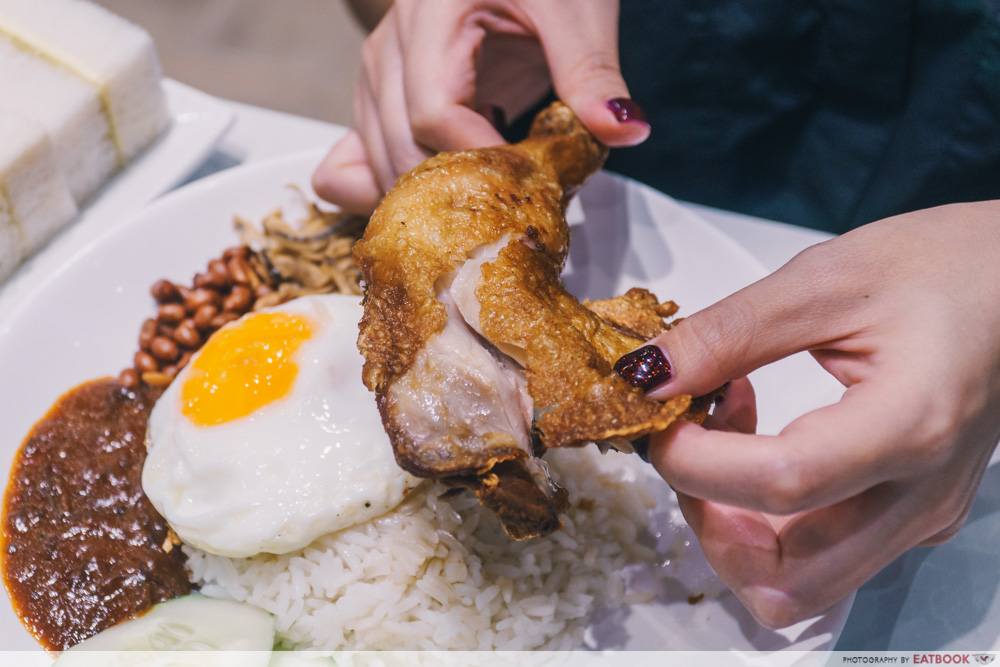 We couldn't leave without trying the Nasi Lemak with Fried Chicken ($8.80), which is another signature at PappaRich. Here's a curious fact: the fried chicken is not dipped into any batter! The story goes that rather than sell PappaRich the recipe for his fried chicken, the original maker decided to join the chain, and marinate their fried chicken for them instead. We tried it, and were floored by the super-crisp skin, and juicy meat within.
Unit number: #01-103A
Opening hours: Mon-Fri 10am to 9pm, Sat-Sun 8am to 9pm
Tel: 6498 3323
Website
---
4. Guzman y Gomez
---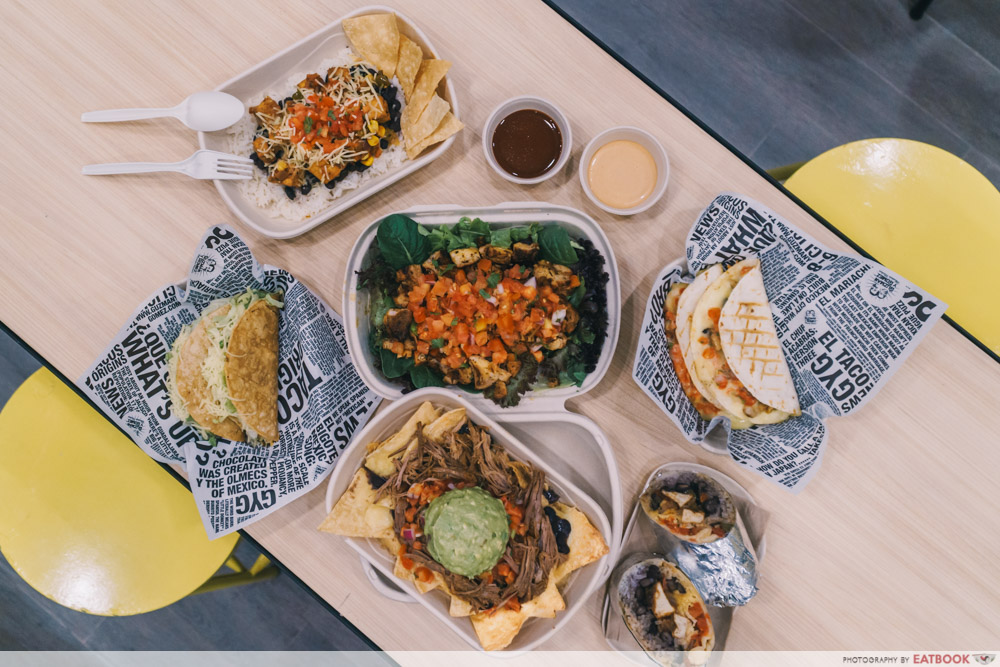 Get your Mexican fix at Guzman y Gomez's first outlet in the East, right here in Our Tampines Hub. Take your pick from their menu of Mexican classics like Quesadillas (from $4.50), Tacos (from $5), Burritos (from $10.90), and Enchiladas (from $14.90). Then, choose your filling from a selection of chicken, beef, fish, vegetables, and their newest option: tofu.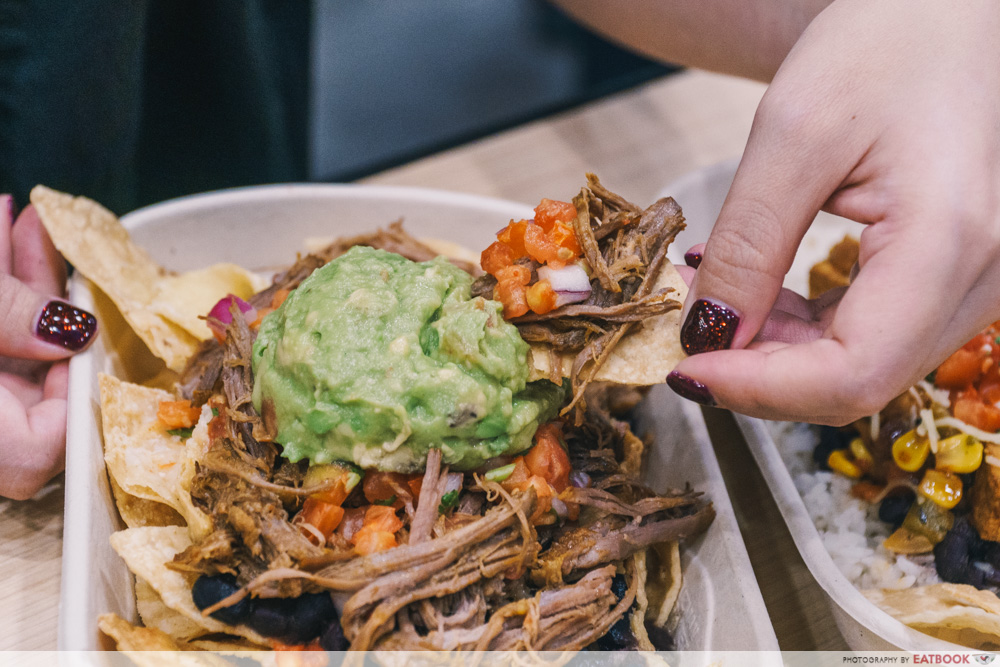 We had a pair of Quesadillas with Grilled Chicken ($8.50), which came toasty from the oven. Biting into this, we were greeted with oozing melted cheese, perfect for that cheese pull shot. Our favourite, hands down, was the Nachos topped with Slow Roasted Beef (top-up $1). The salsa and guacamole added a refreshing kick to the savoury, pull-apart meat. Altogether, this dish was a carnival of textures in the mouth, thanks to the crunchy corn chips.
Unit number: #01-99
Opening hours: Daily 10:30am to 9:30pm
Website
---
5. Penang Savour
---
A trip to nearby Penang seems unlikely in the near future, but Penang Savour brings the foodie destination to us. It doesn't get more authentic than Penang Chendol ($2.50), Penang Laksa ($4.50), and Penang Fried Kway Teow ($5). The chendol is memorable for the red beans, which still retains some bite, homemade pandan jelly noodles, and the caramel, earthy taste of gula melaka.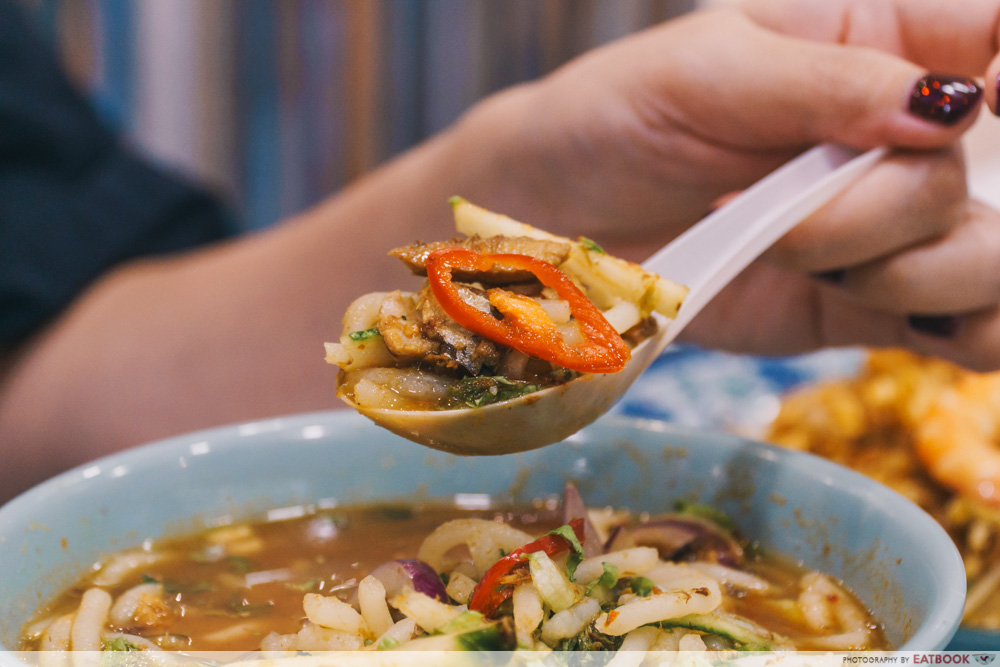 The highlight was definitely the Penang Laksa, which is less commonly found in Singapore. The broth here is rich with the use of shrimp paste, and the flaked fish topping that typifies this assam-based laksa. You'll be needing to stop yourself from slurping up all that toothsome soup.
Unit number: B1-K10/K11
Opening hours: Daily 9am to 9.30pm
Tel: 9856 0589
---
6. Hey Yogurt
---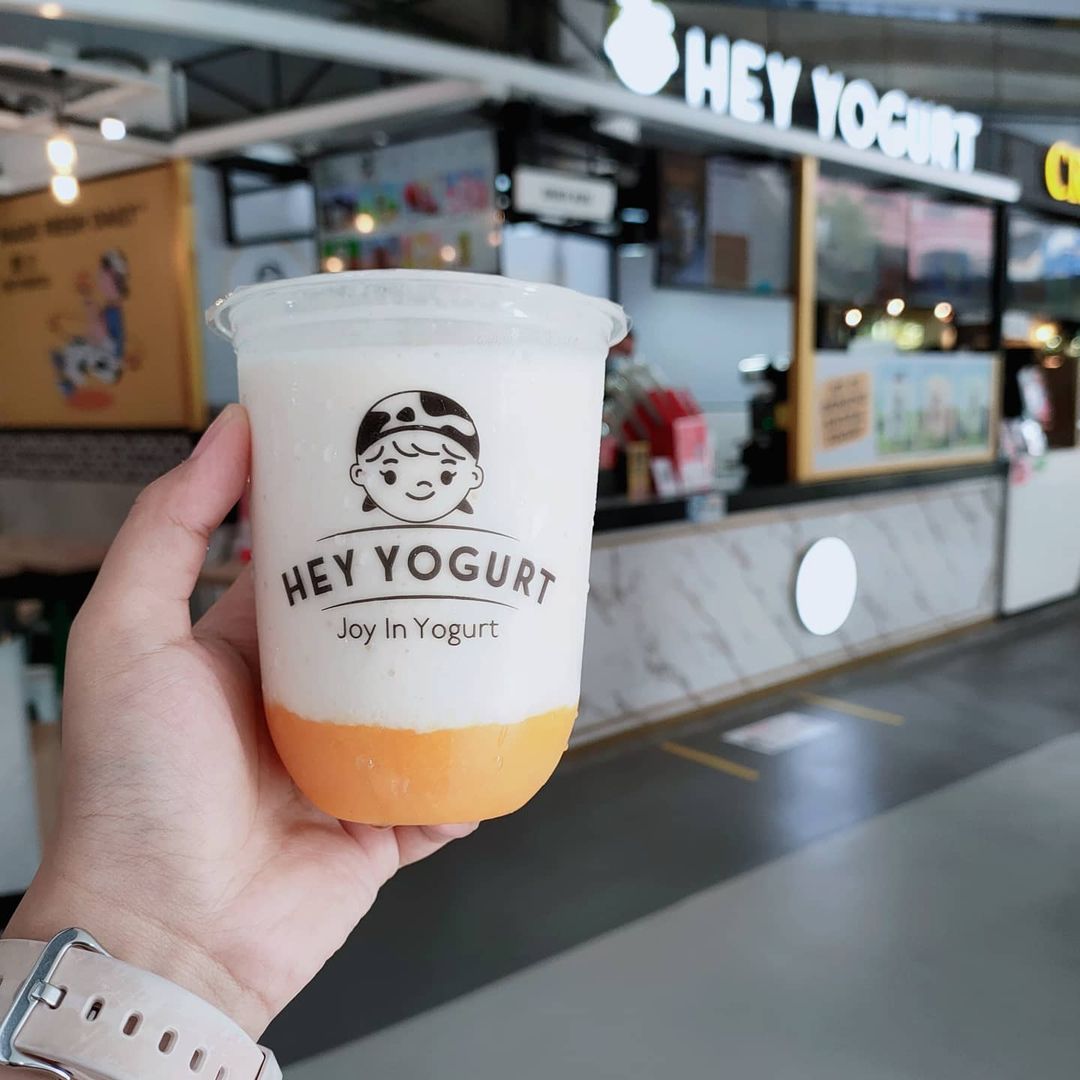 Image credit: @heyyogurtsg
Healthy living can start here at Hey Yogurt, the brand's first outpost in the East. They use premium Australian dairy here to make the thick yoghurt daily, and claims to be the world's first handmade yoghurt shake. 
The fruit and grains that go into each cup here are specially imported from Australia too! There are also local twists, including the Pulut Hitam ($6.50) and Lychee ($6.50) drinks. For bubble tea lovers looking for a healthier spin, the Brown Sugar Boba Yogurt ($8.80) should hit the spot.
Unit number: #01-106
Opening hours: Daily 11am to 9:45pm
Tel: 9386 0310
Website
---
7. Gado & Grill
---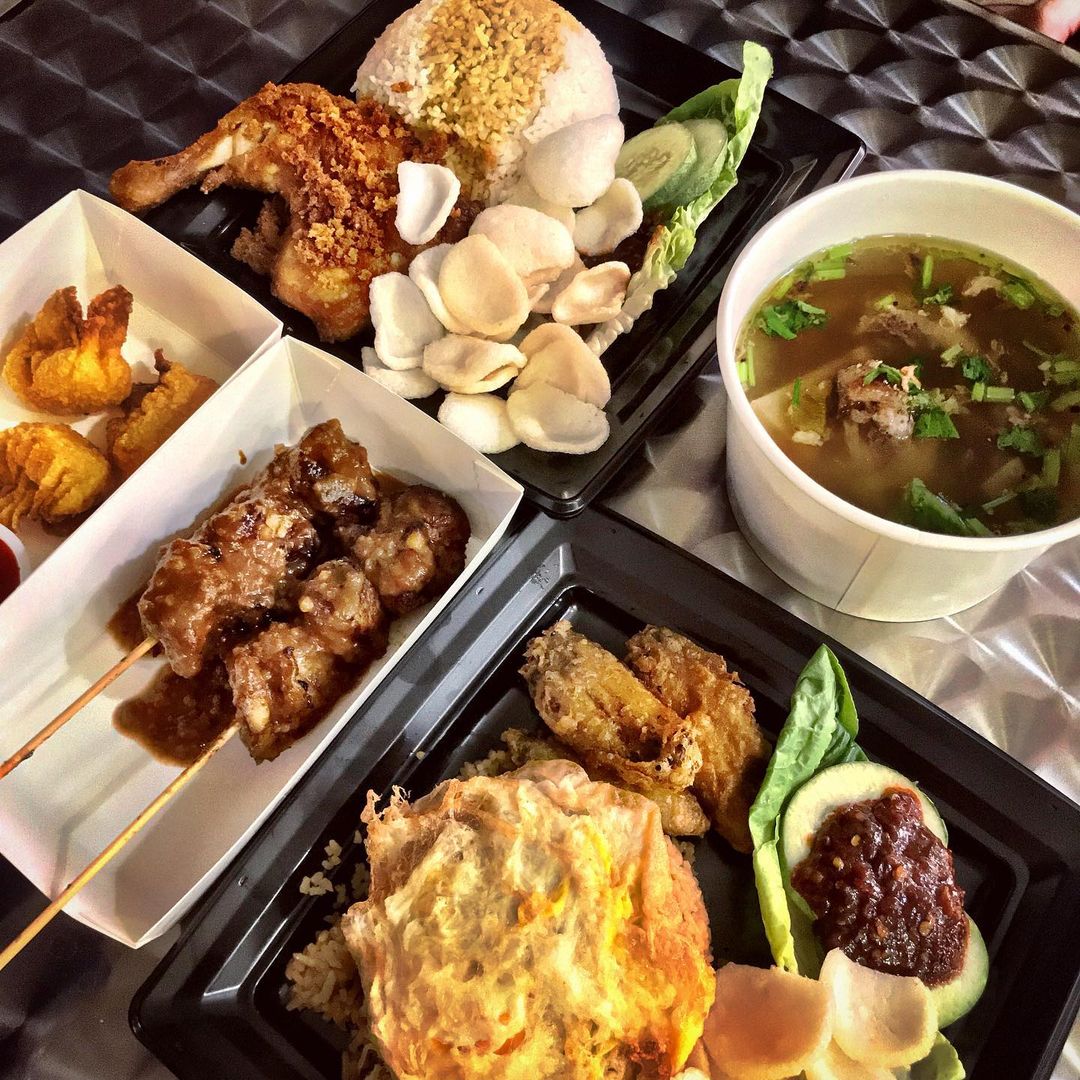 Image credit: @asfixiado
At Gado & Grill, you'll find Indonesian favourites such as Gado Gado ($6.20), and Bakso ($6.50), and the brand's very own GadoMie ($6.50) and NasiGo ($7.20)─mie goreng and nasi goreng, respectively. GadoMie, as its name suggests, is the best of both Gado Gado, and the all-time favourite mie goreng. Don't miss the Grilled Chicken ($7.20), a sticky sweet quarter chicken basted in kicap manis, and grilled. Finish the meal with Teh Botol ($2), and feel like you're on holiday in Indonesia.
Unit number: B1-K4
Opening hours: Daily 9:30am to 9:30pm
Website
---
8. Rumah Minang
---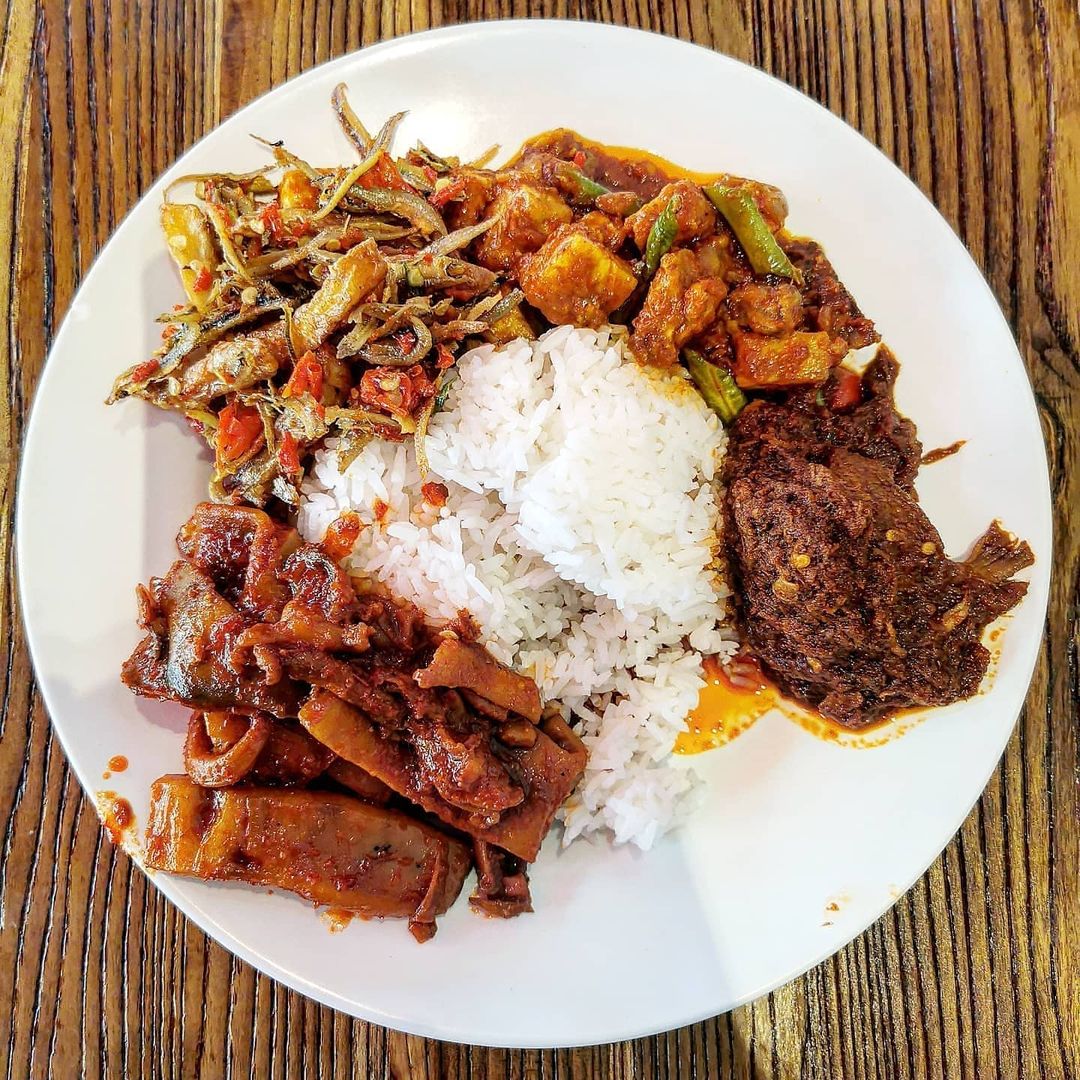 Image credit: @terenceongwh
Rumah Minang is a time-honoured, family-run institution. They've been around since 1954, serving Minangkabau cuisine that's ethnic to West Sumatra, Indonesia. We know it simply as nasi padang, and they're best known for their beef rendang. Pick your dishes, like this Green Chilli Fish Belado (from $3.50), to go with a plate of steaming rice, and have yourself a satisfying meal. You'll be surprised by the nuanced gravies and chillies that go with each dish on display. 
Unit number: B1-47A
Opening hours: Wed-Mon 9am to 7pm
Tel: 6977 7065
Website
---
9. Mr. Doner Kebab 
---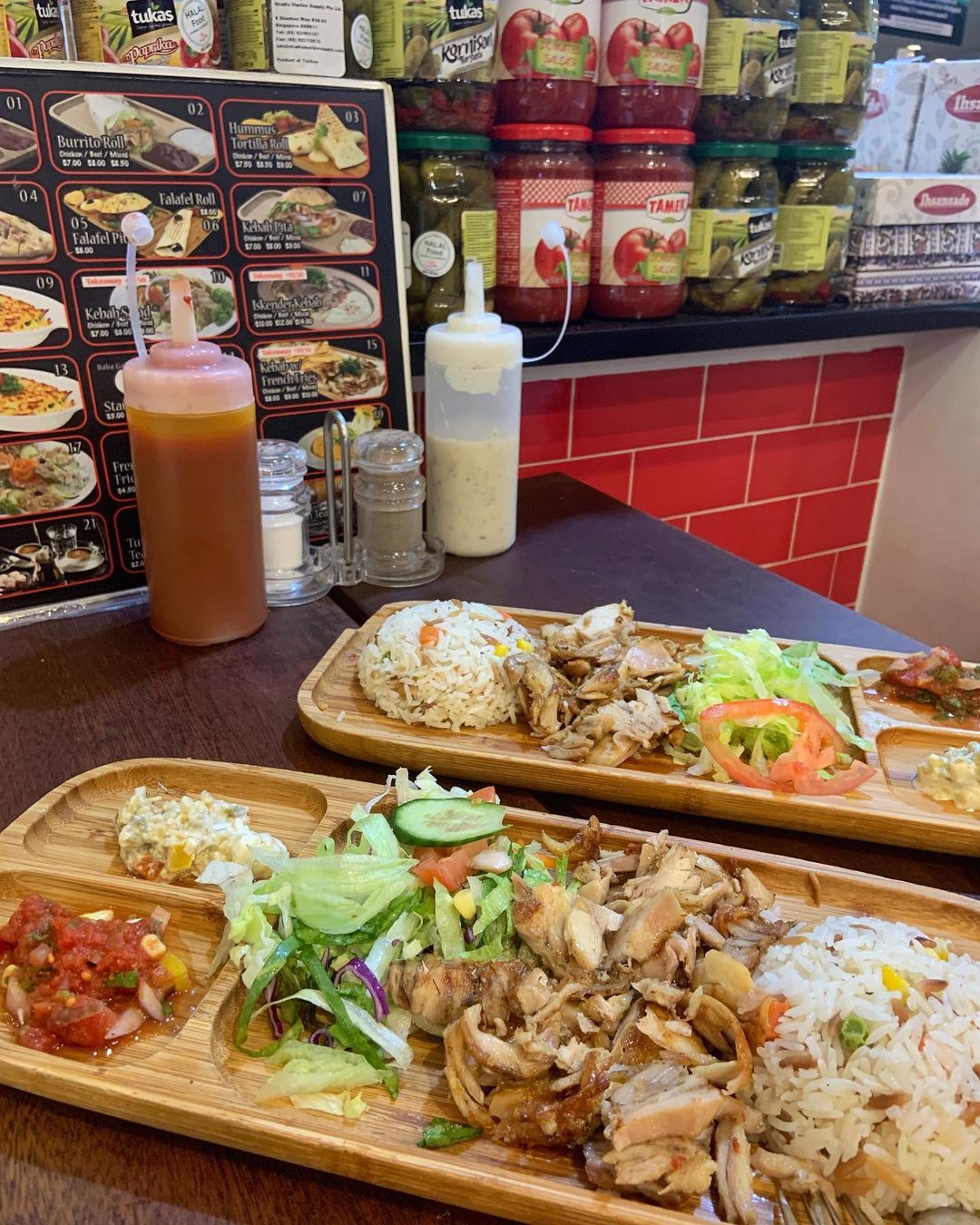 Image credit: @eatwhatah
If you like Turkish food, Mr. Doner Kebab is where you should go. This kiosk is run by Chef Mustafa Nergiz, whose Apple Tea ($2.50) and Kunefe ($10) are supposed to be worth the order. The latter is a Middle Eastern dessert of shredded filo pastry, soaked in sugar syrup, and layered with cheese and nuts. Of course, you shouldn't miss the mains here, such as the Chicken Kebab ($8) and Beef Moussaka ($10).
Unit number: B1-K24
Opening hours: Tue-Wed 11am to 9pm, Thurs-Mon 11am to 9.30pm
Tel: 6282 0705
Website
---
10. Ramen Hitoyoshi
---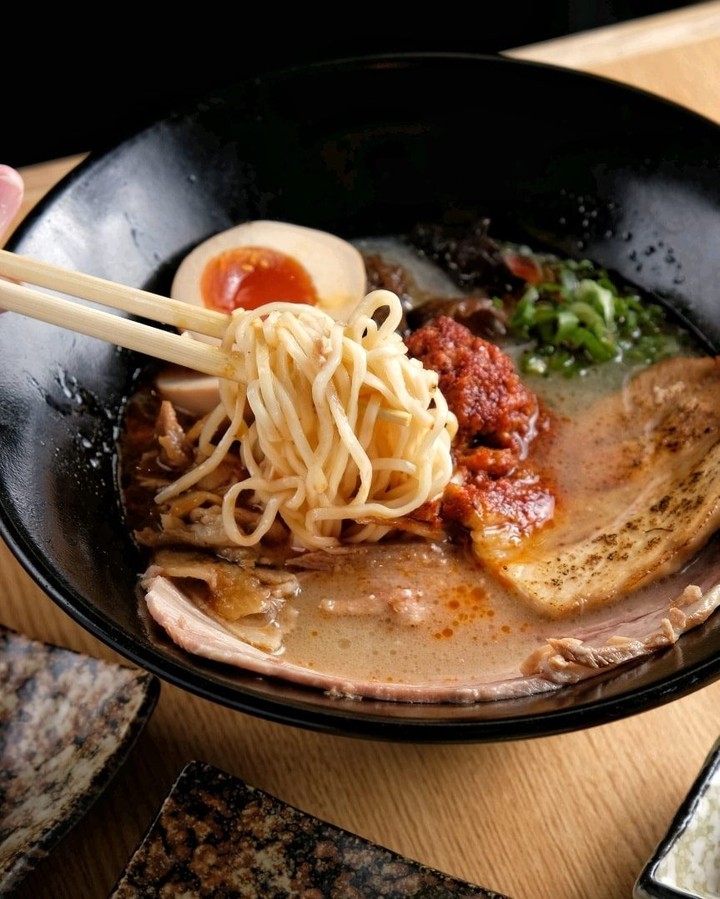 Image credit: @ramenhitoyoshi
Started by two ex-chefs who used to work for another famous Japanese ramen chain, this is Ramen Hitoyoshi's first Eastern outpost. They serve tonkotsu ramen in three variations: Original, Spicy, and Garlic, as well as a smattering of rice bowls and side dishes. A most basic bowl of Tonkotsu costs just $11.90, which comes with chashu. A Buta Shogayaki or Chicken Teriyaki Don, on the other hand, are priced at a wallet-friendly $11.90. 
Unit number: #01-94/95
Opening hours: Daily 11am to 10pm
Tel: 6513 6510
Website
---
11. Nuodle
---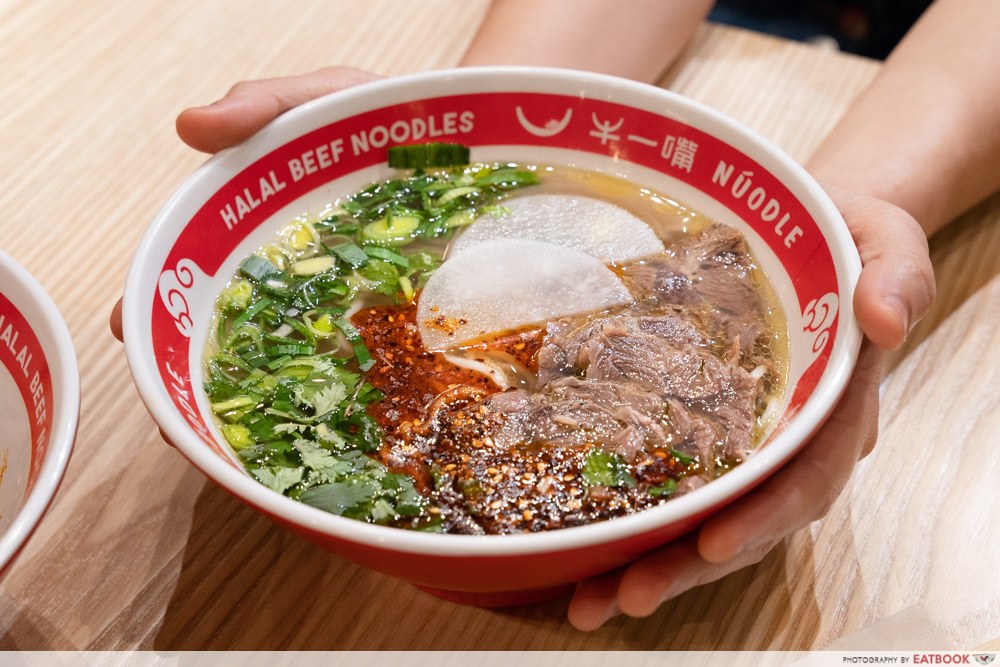 For a dose of hand-pulled noodles in a rich and hearty broth, visit Nuodle. The halal noodle chain has more than 10 outlets islandwide, including SingPost Centre, Plaza Singapura, and Our Tampines Hub. Tuck into their Signature Beef La Mian (from $8.60), which comes with marinated beef slices on top of noodles, in a robust soup cooked with beef bones, white turnips, and a secret blend of traditional Chinese spices.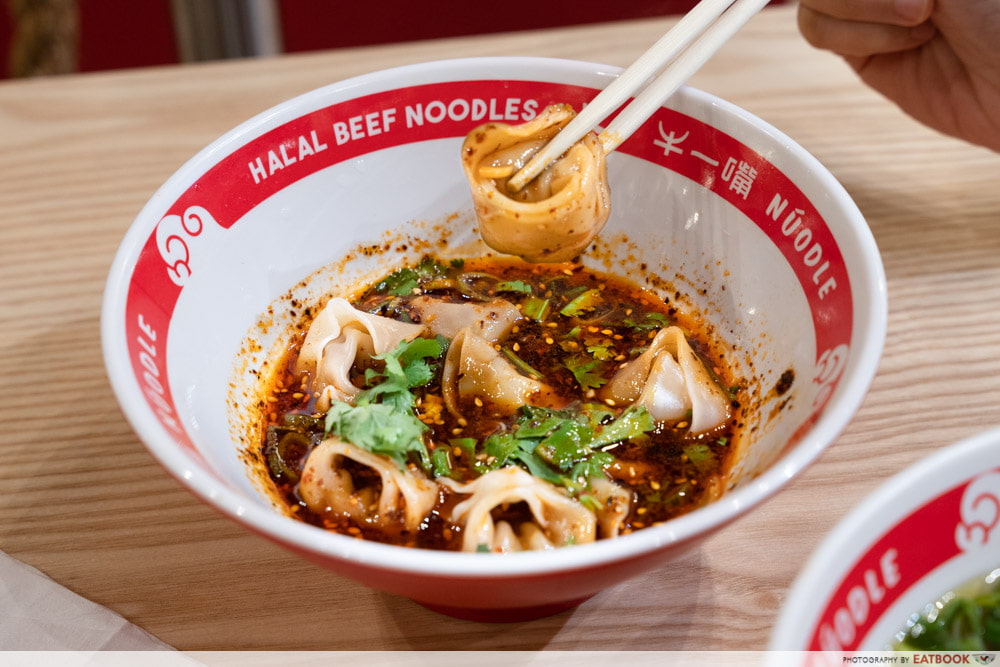 There's also a variety of sides to pick from, including the meaty Hot and Spicy Beef Wonton ($7.50 for 10 pieces), perfect for sharing with the table.
Unit number: #01-101
Opening hours: Daily 11am to 10pm
Website
---
12. Wingstop
---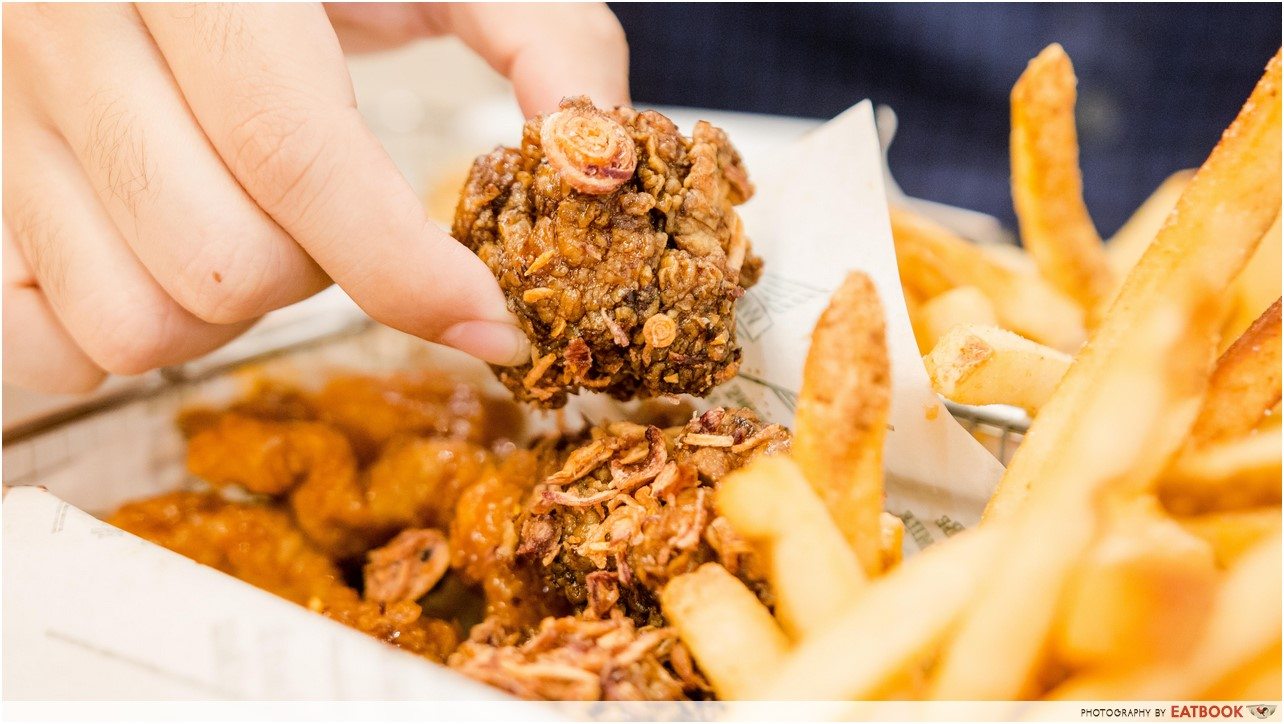 If you're craving fried chicken, make a beeline to American fast food chain Wingstop. Here you can choose from six seasoning flavours, including the classic Lousiana Rub, which features cayenne pepper and garlic, and the citrusy Lemon Pepper. Another must-try is the Kecap Manis, a spicy Indonesian soy sauce that's deliciously sweet and sticky. For a complete meal, get a 6 PC Boneless Wings Set ($8.45) or 6 PC Classic Wings Set ($9.45), both of which come with fries and a ranch dip.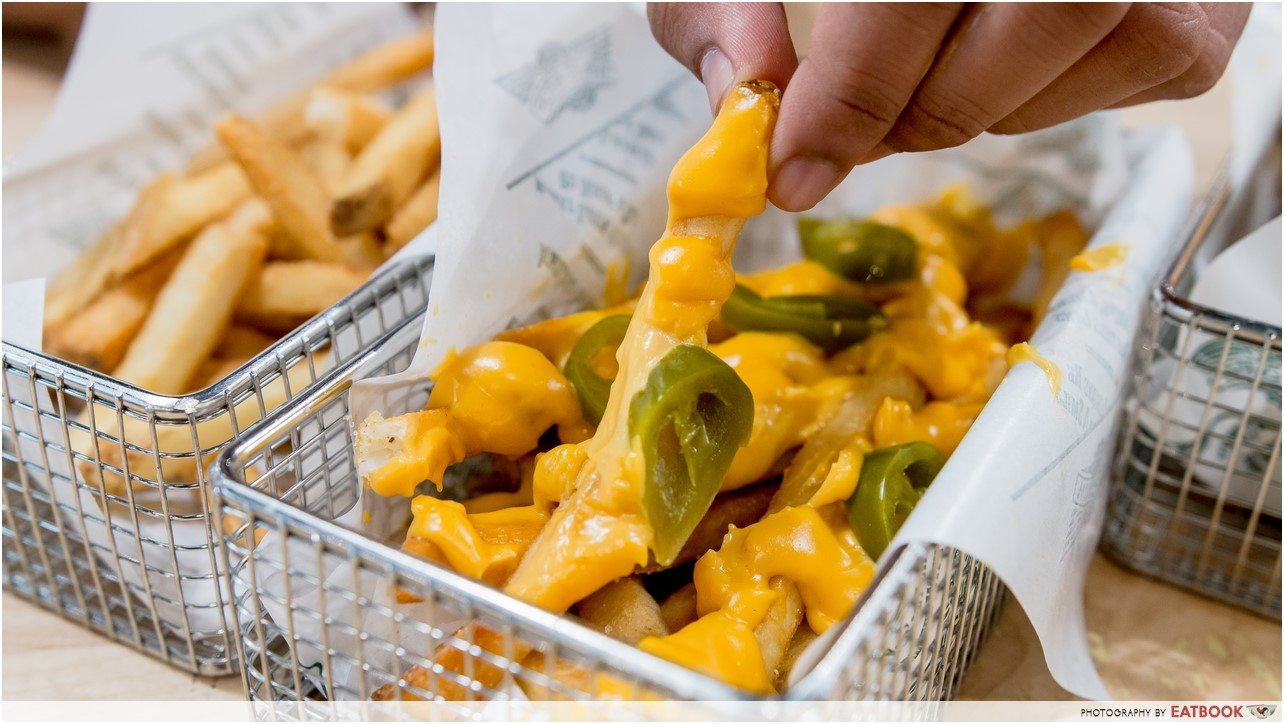 You can also top up $2 to upgrade your regular fries to Jalapeno Cheese Fries. These come with a generous drizzle of nacho cheese sauce, topped with jalapeno bits for extra heat.
Unit number :#B1-K5
Opening hours: Daily 11am to 10pm
Website
---
13. Saap Saap Thai
---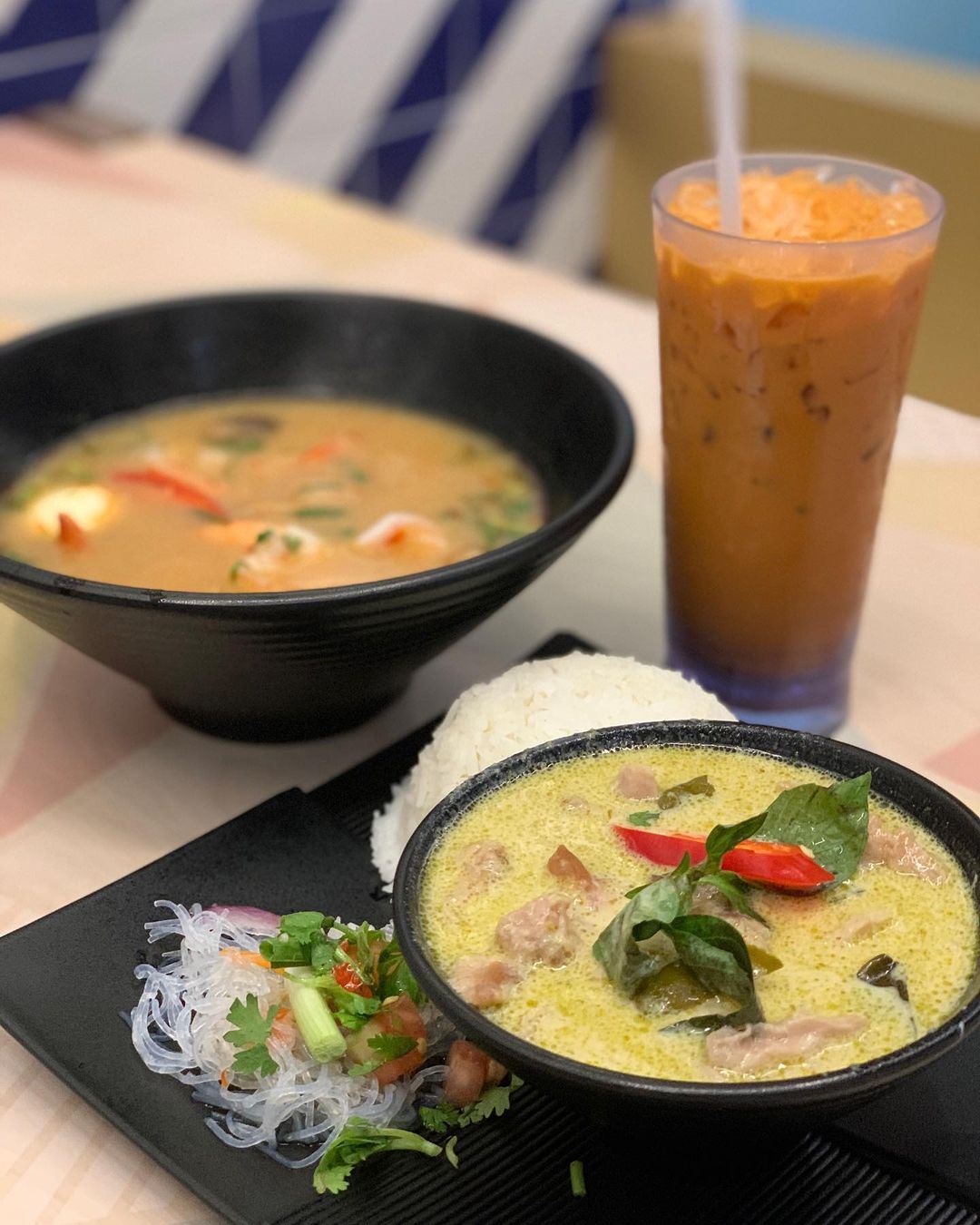 Image credit: @24.7fatty
Saap Saap Thai offers an array of comforting Thai rice staples including Basil Chicken with Rice ($7.90) and Green Curry Beef with Rice ($7.90), both served with a small glass noodle salad on the side. If you're up for something soupy, get the Tom Yum Soup (from $7.90), available with toppings such as prawns, chicken, and beef slices. If it gets too spicy, wash it all down with a classic Iced Thai Milk Tea ($3), or try the refreshing Soda Honey Pomelo ($3.60).
Unit number: #01-100
Opening hours: Sun-Thurs 11am to 9pm, Fri-Sat 11am to 9:30pm
Website 
---
14. Wok Hey
---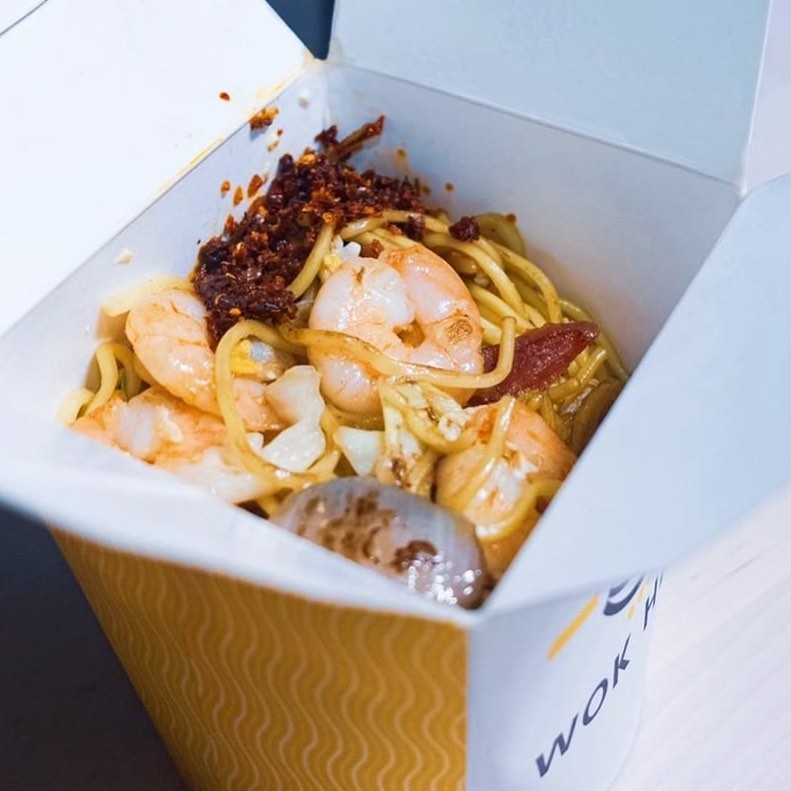 Image credit: @imyuxiang
Takeaway kiosk Wok Hey is popular for many reasons: everything is cooked-to-order, the dishes are affordable, and there are multiple outlets dotted across the island. They're known for their stir-fried dishes that come in handy takeout boxes, perfect if you're in a rush and need to eat on the go. Prices start at $5.50 for a basic Egg Fried Rice, but you can zhng-up your meal with extra toppings ($1) such as sous vide egg, shimeiji mushroom, and tobiko. For those who prefer noodles, get their Fresh Ramen (from $6.50) or Fresh Udon ($6.50). 
Unit number: #01-82A
Opening hours: Daily 11am to 10pm
Website 
---
Food at Our Tampines Hub
---
There's no excuse to head out of the East, with so many new additions to the dining scene at Our Tampines Hub. It's your turn to jio your friends to join you in Tampines now!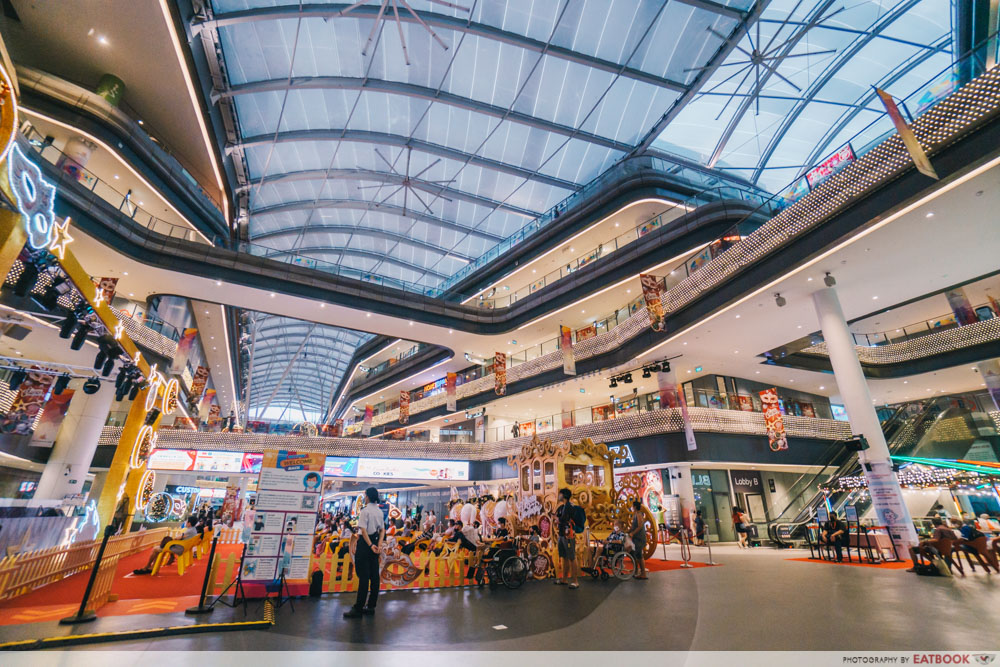 For more food in the area, check out our list of 25 hawker food places in Tampines. Alternatively, head to Changi Village for more popular eats!
Address: 1 Tampines Walk Singapore, Our Tampines Hub, Singapore 528523
Photos taken by Edmund Wong.
This article was originally published on 17 December 2020, and brought to you by Our Tampines Hub.
25 Tampines Hawker Food You'll Want To Travel Across Singapore For