Qing Feng Yuan in Tiong Bahru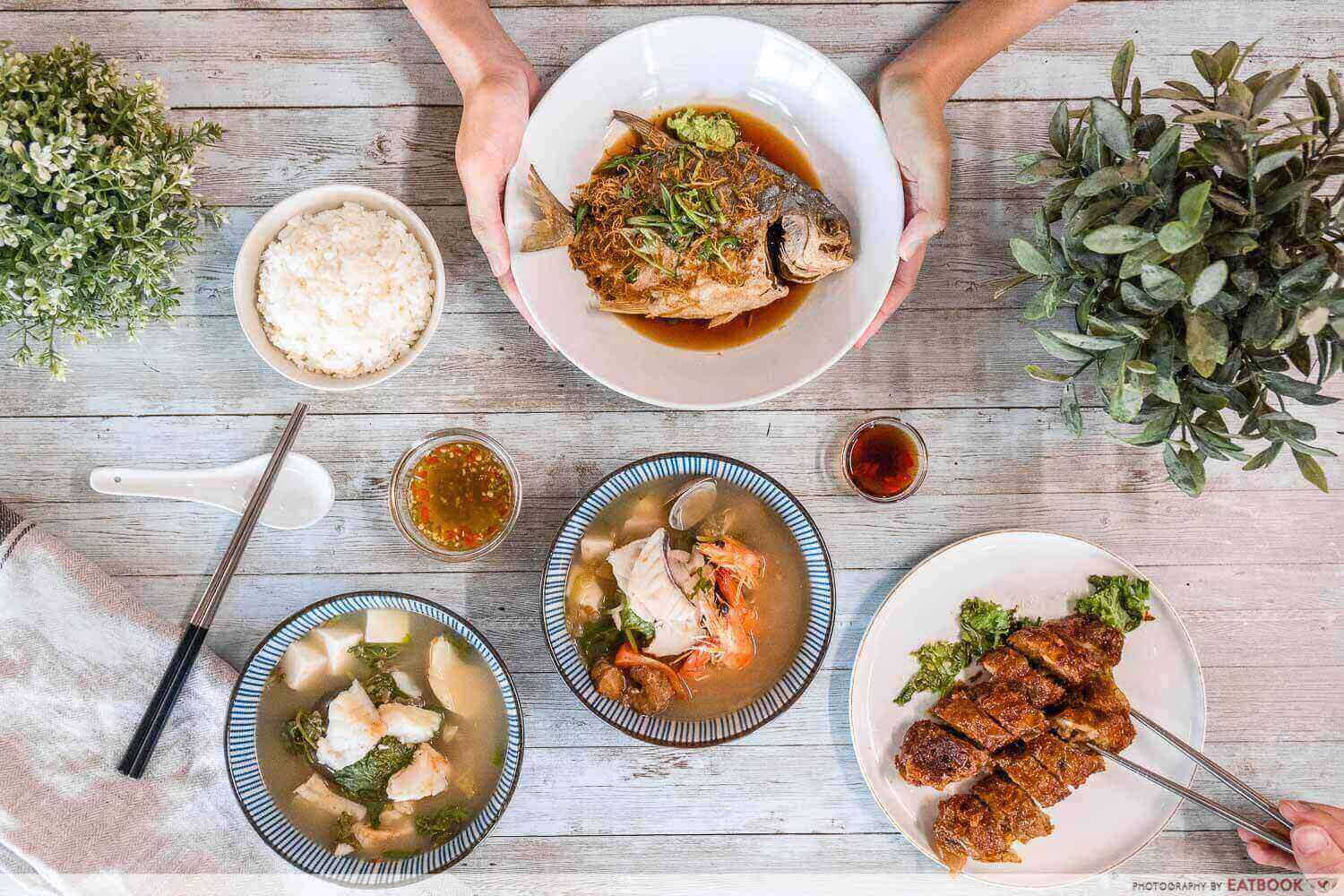 Having tasted the fresh seafood at Naked Finn, I was excited to try the food at Qing Feng Yuan, opened by an ex-Naked Finn chef. As I'm currently working as an intern, it's great to know that I might be able to get a comparable quality of seafood at a much more affordable price.  
10 Famous Fish Soup Stalls Worth Queuing Half An Hour At Even On Cheat Days
Food at Qing Feng Yuan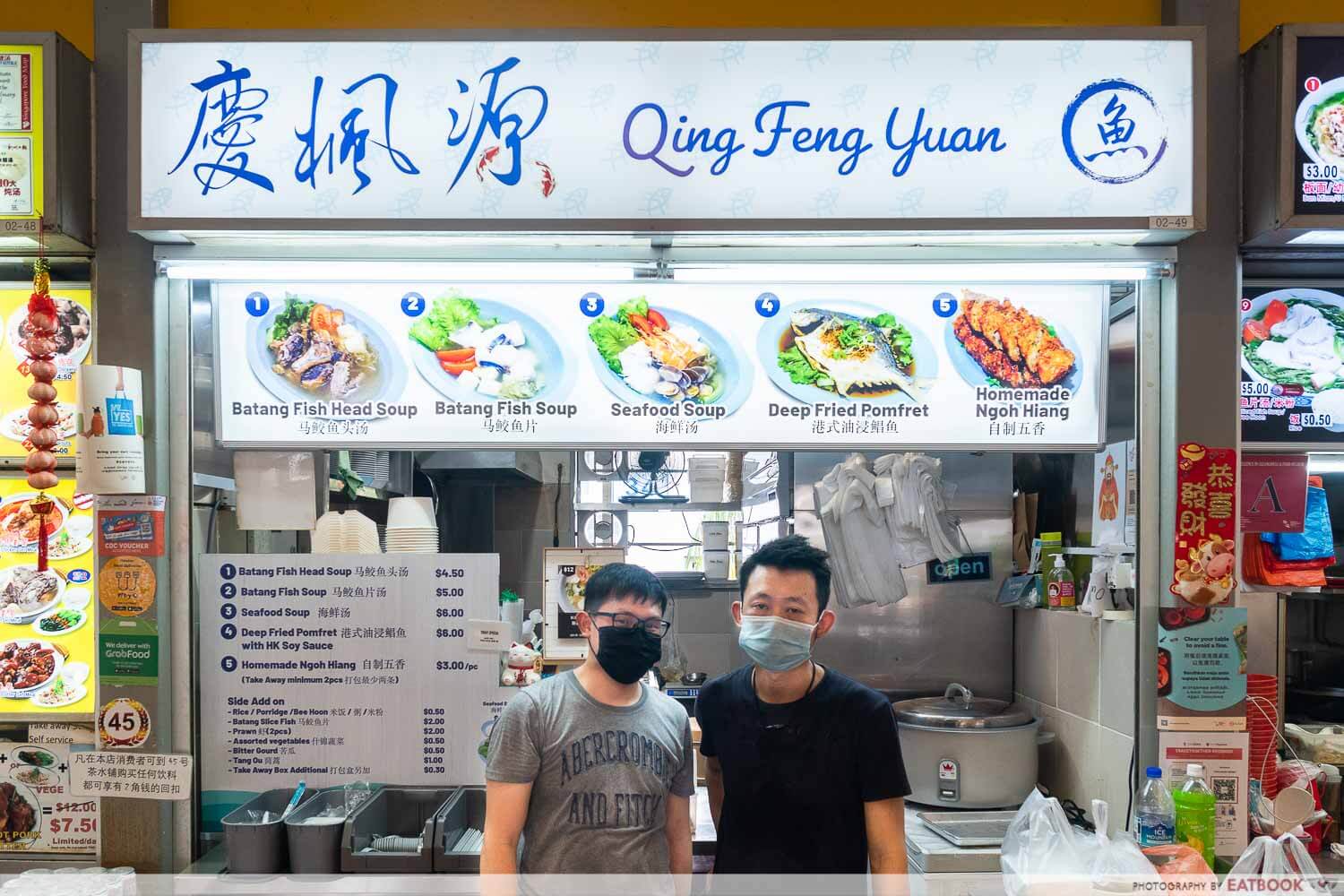 Opening up a stall in the hawker centre has allowed them to keep their dishes at affordable prices despite using premium ingredients including New Zealand cod fish, fresh and plump pomfrets and more.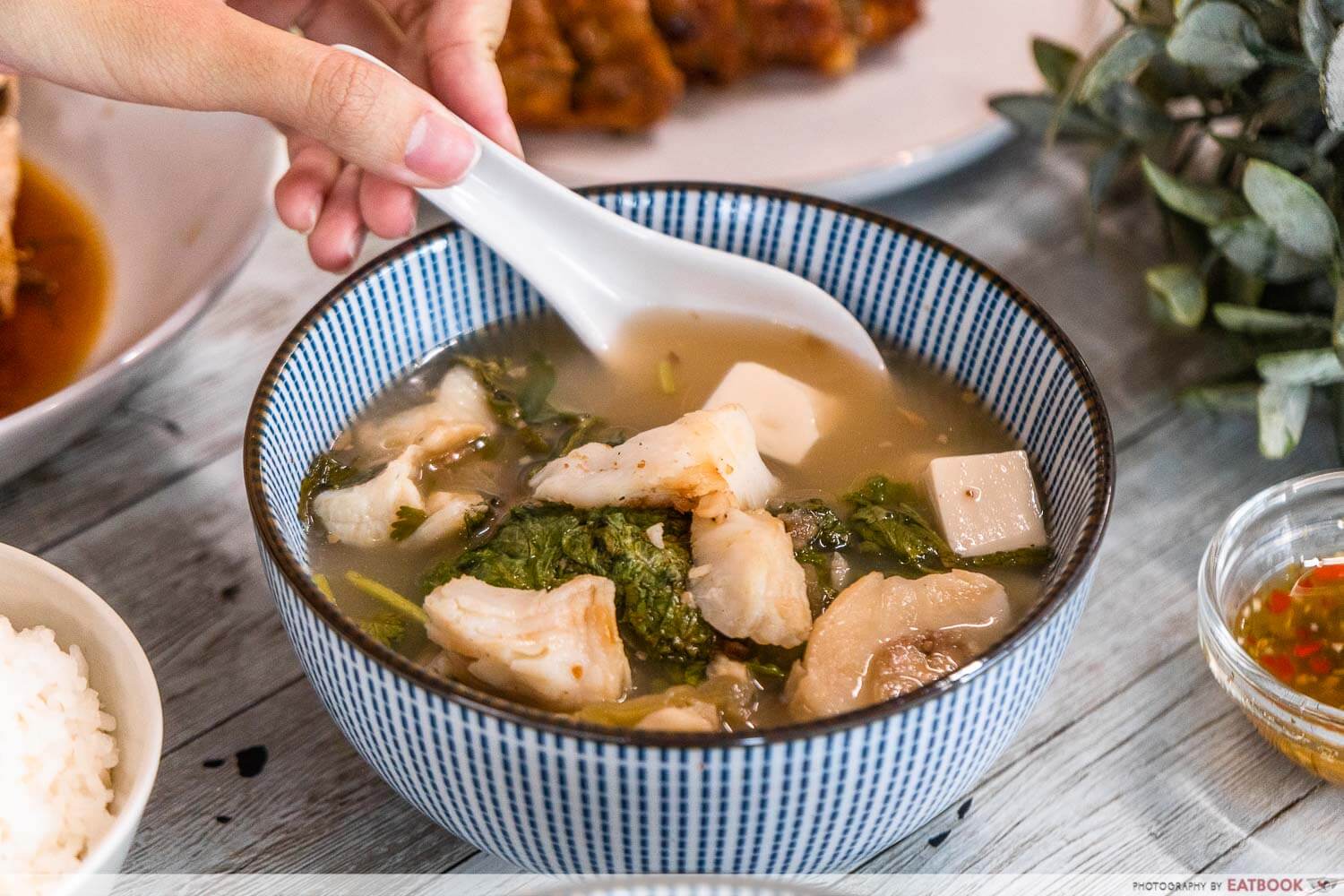 I went straight for their signature New Zealand Blue Cod Fish Soup ($12) and paired it with a bowl of rice ($0.50). At first glance, the soup had a darkish hue and looked extra gao. There were cubes of tofu, leafy green vegetables, and slices of cod floating in the tasty-looking soup.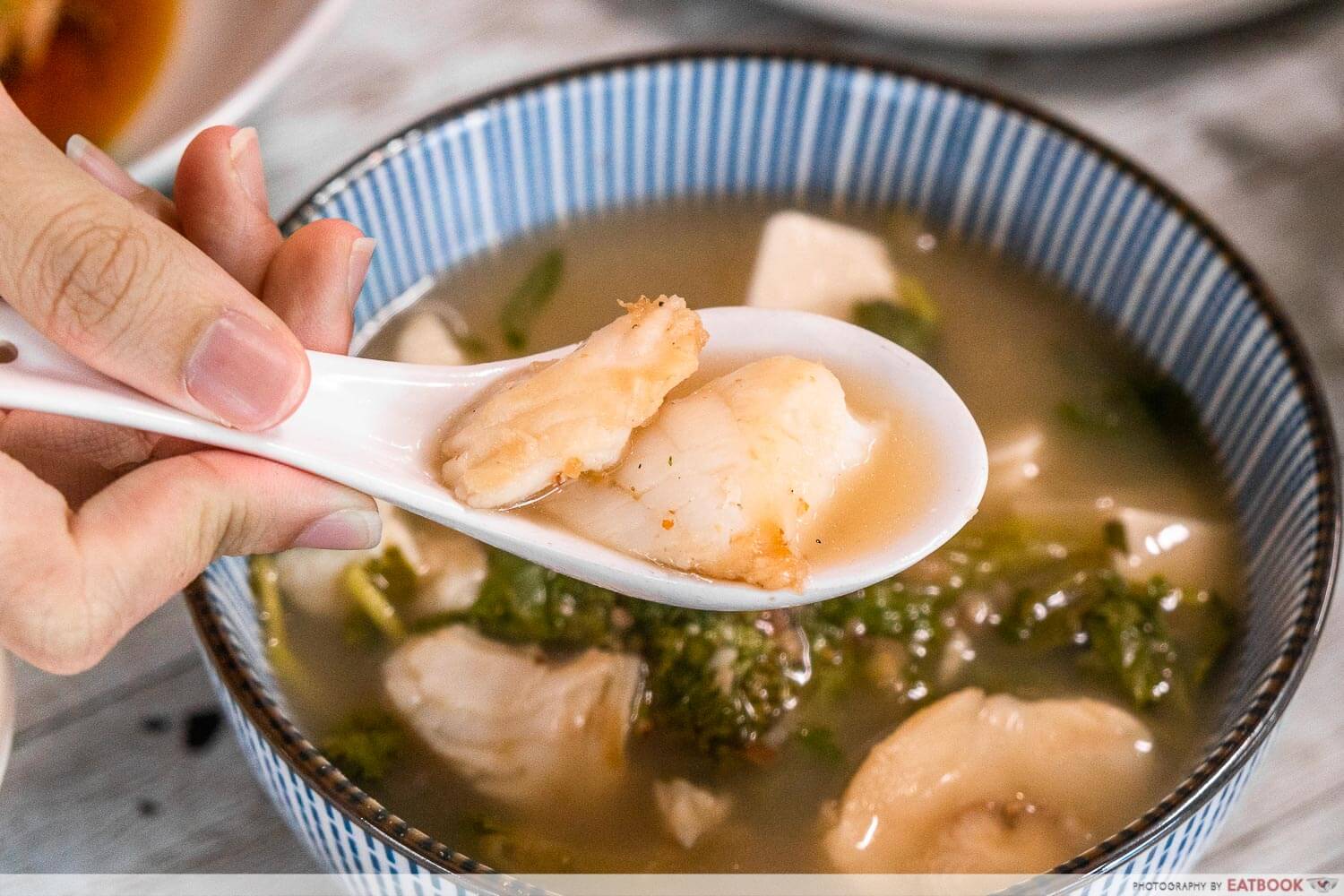 The blue cod really took me by surprise with its melt-in-your-mouth texture and delicate mouthful. It was also slightly sweeter than the usual batang fish that is normally used in fish soups, leaving me to conclude that the blue cod definitely zhnged-up what is known to us as an ordinary hawker affair.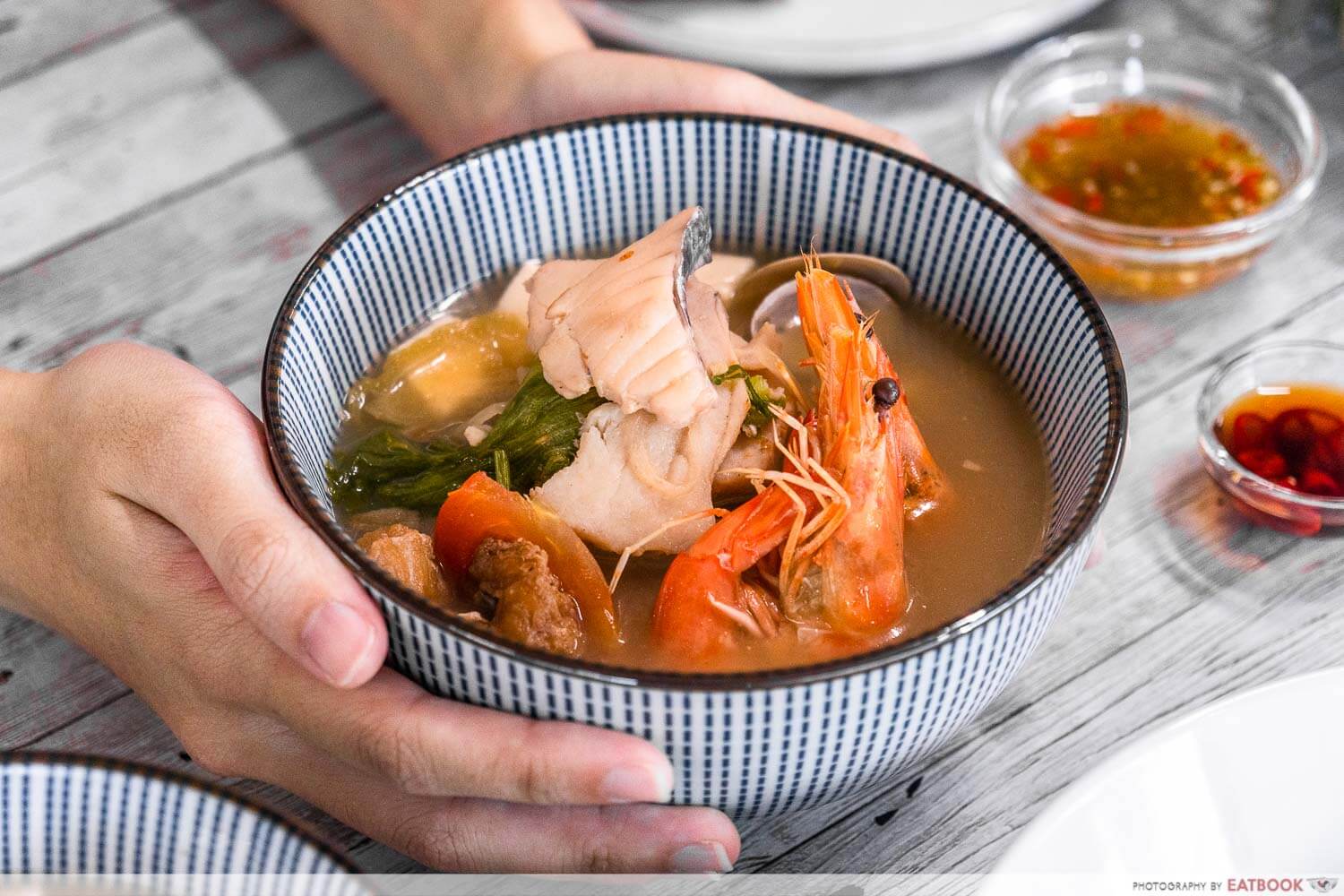 As someone who loves all kinds of seafood, I decided to give their Seafood Soup ($6) a go. It had a heavily pronounced sweetness that was starkly different from the blue cod soup. I concluded that it was probably due to the addition of other ingredients such as prawns and clams, which permeated the soup with their stronger flavours. 
A clever dash of "tee poh" is added to all their soups, giving it a kick of umami. Tee poh, AKA dried flounder fish, is the secret ingredient of this dish, and you can see it sitting at the bottom of your bowl when you're done slurping up the delicious soup.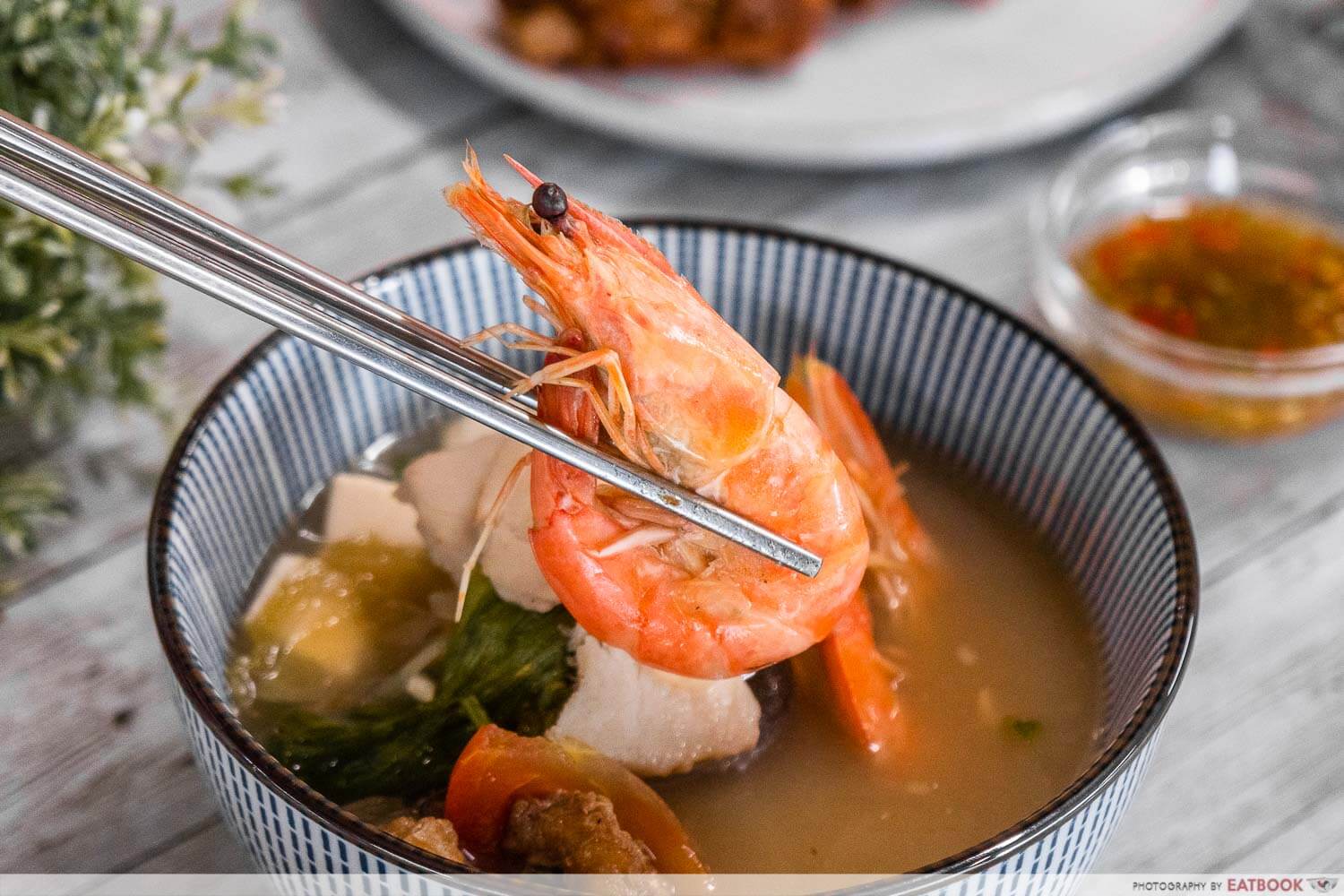 If you're a fan of variety, I would recommend this seafood soup as it comes with different kinds of crustaceans such as fresh prawns, as well as batang fish slices and clams.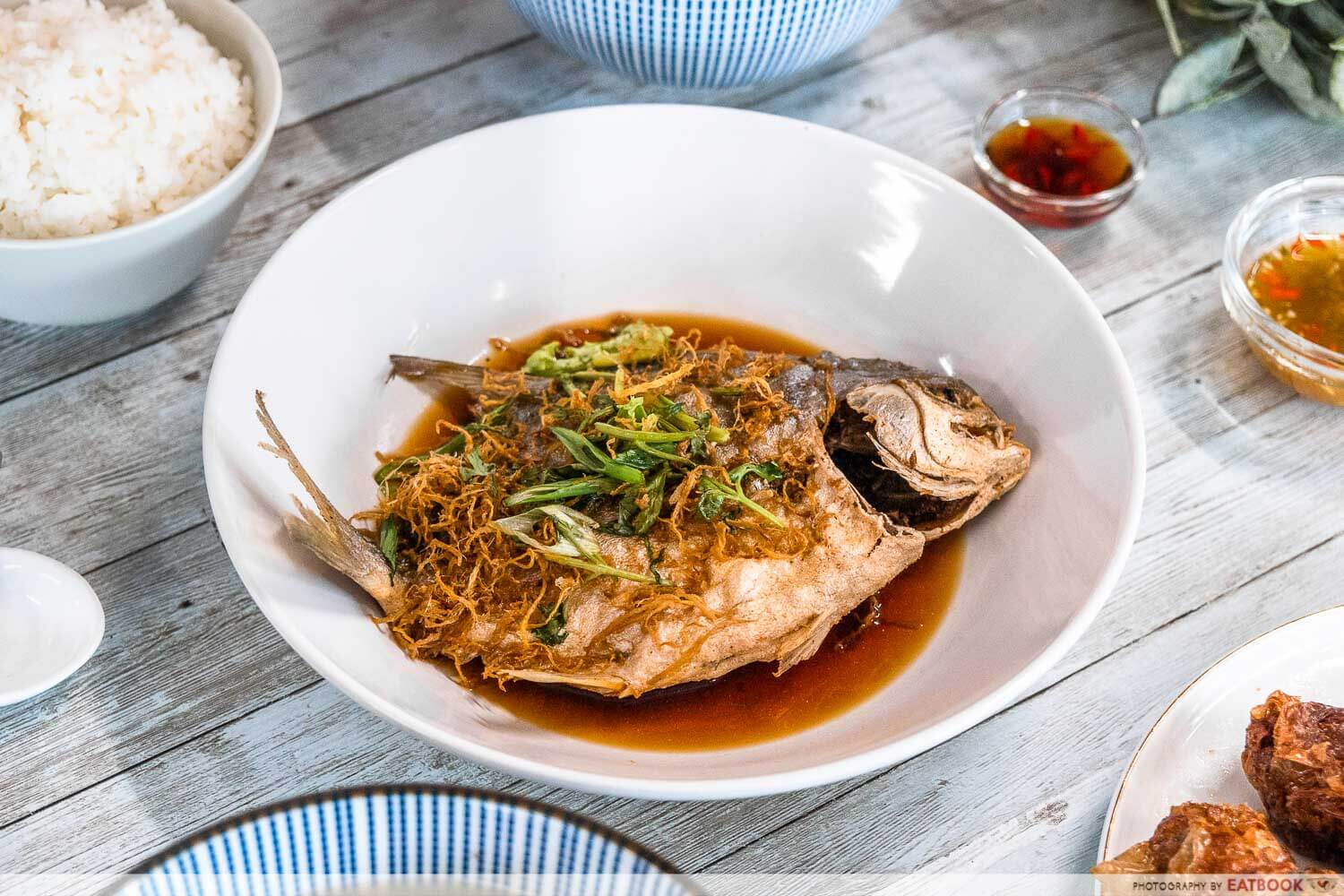 Laid on top of a bed of a sweet-savoury dark sauce is the Deep Fried Pomfret ($6). Topped with strings of fragrant and spicy fried ginger, the fish had a strong zesty kick with every mouthful.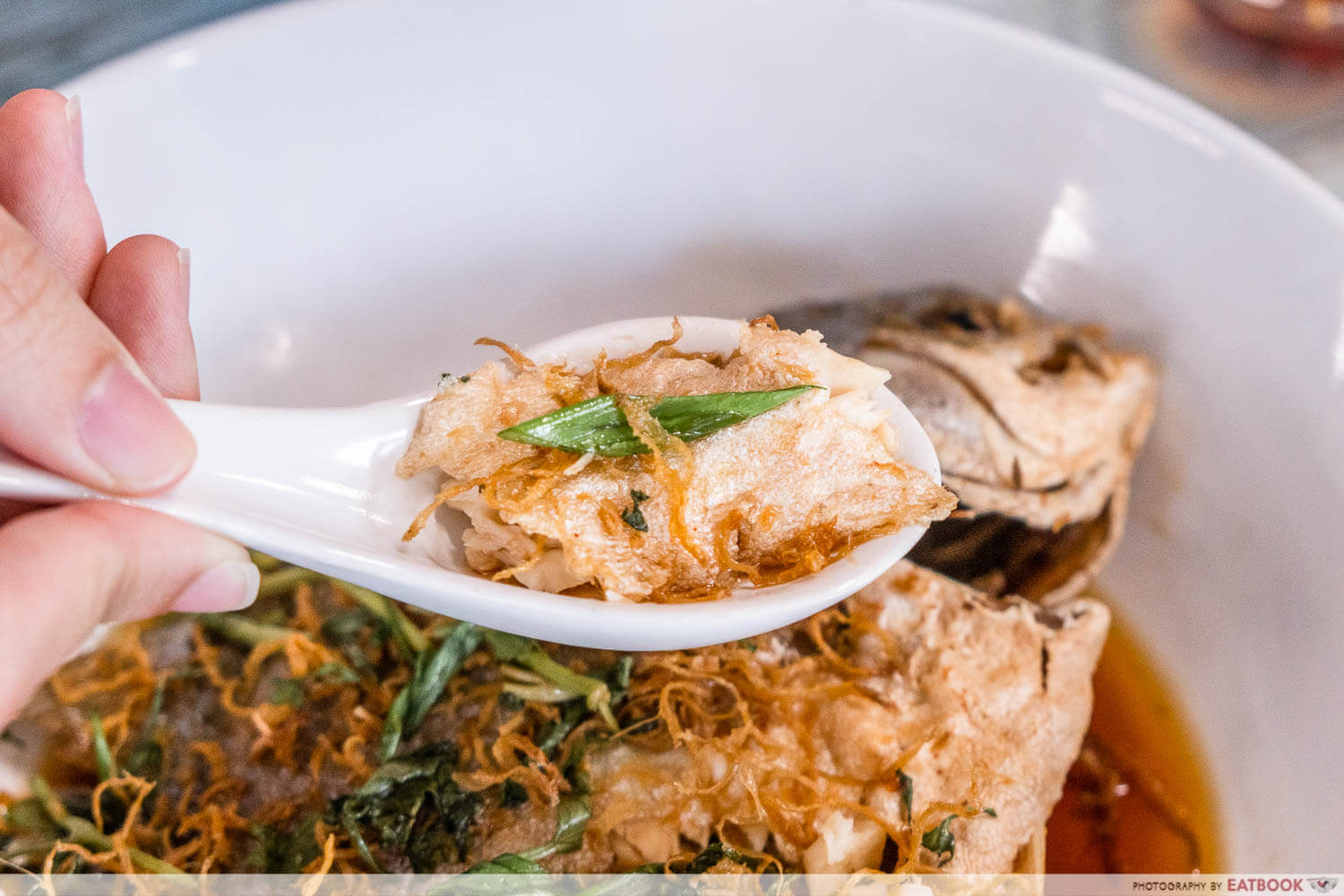 The skin was slightly crispy, while the meat was tender and almost disintegrated in my mouth. It tasted relatively fresh, and the sweetness of the fish meat made a suitable pairing with the savoury sauce and aromatic ginger. I highly recommend this affordable zi char-style dish to go along with a side of soup and rice.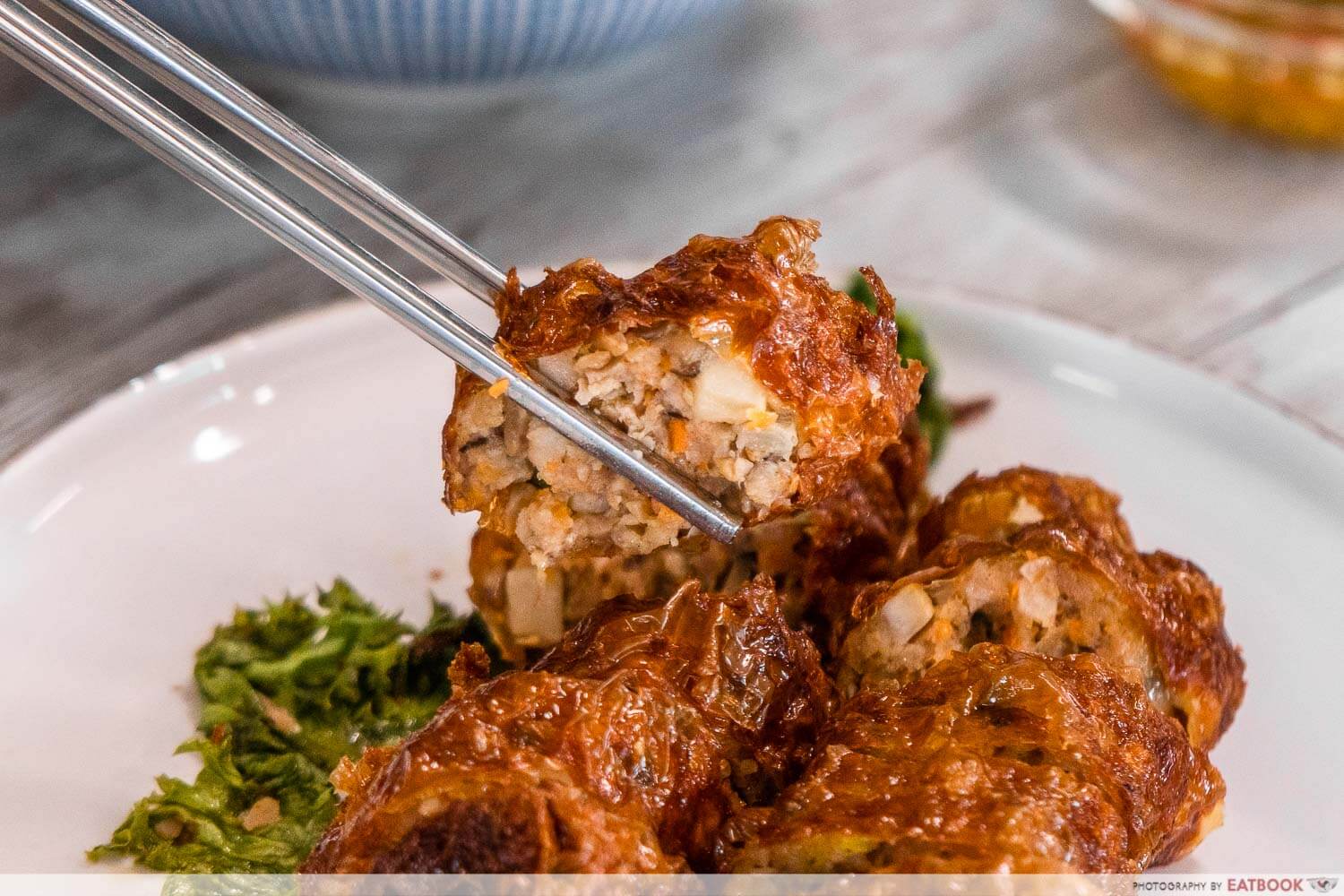 If you're looking for another side to share, their Ngoh Hiang ($3) is one that you can consider. It was packed to the brim with minced pork, water chestnut cubes, and bits of carrots and onions. The crunchy texture from the water chestnut and the strong flavour from the five-spice marinade made this dish extremely addictive to munch on. 
They were also quite generous with the portion, as each roll had decent length and thickness, enough to share between two people. 
Ambience at Qing Feng Yuan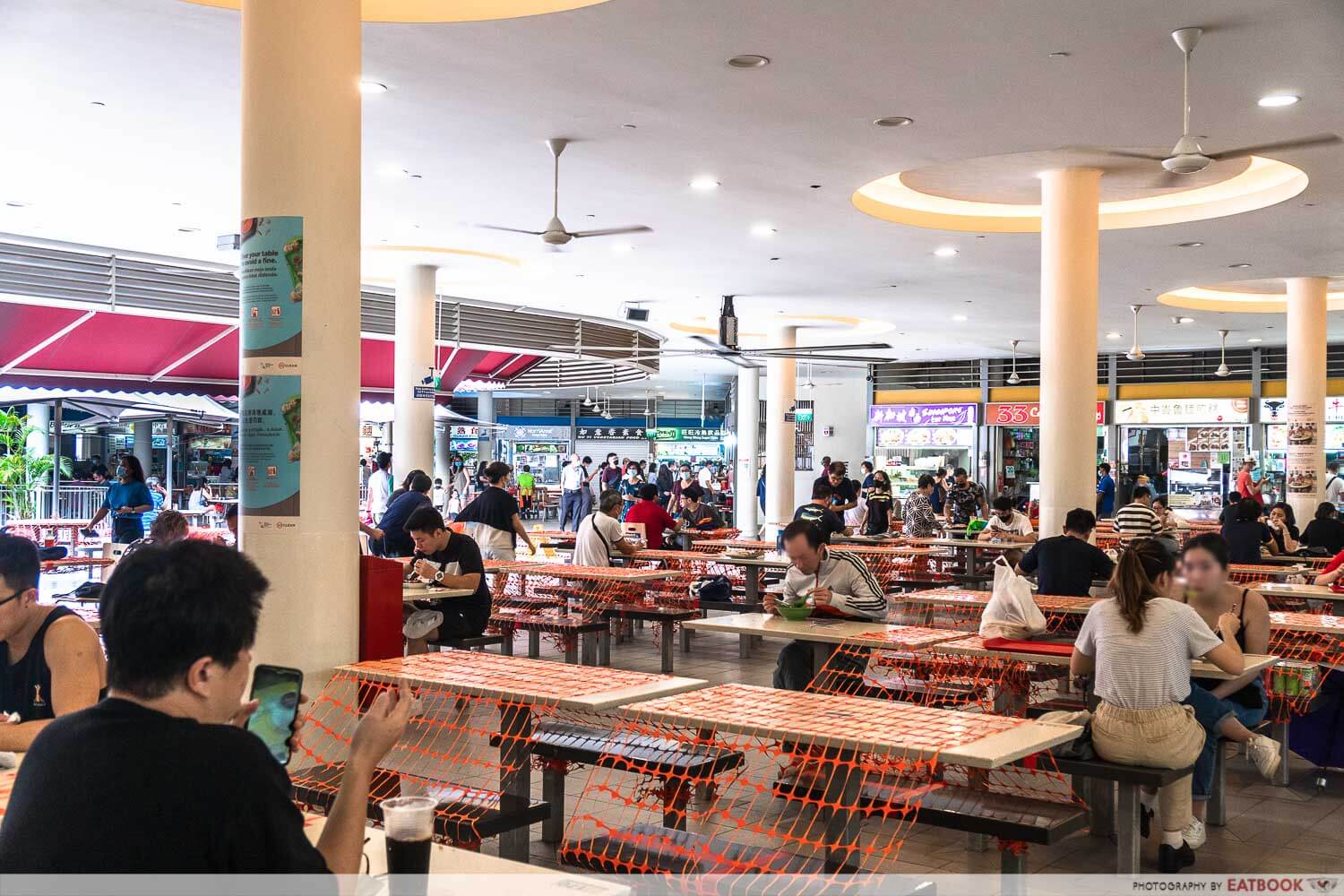 My only gripe about this place is its slight inaccessibility as it is a few bus stops away from Tiong Bahru MRT Station. Having said that, I would still recommend making a trip down to Tiong Bahru Hawker Centre for a bowl of levelled-up fish soup. 
Qing Feng Yuan sits amongst many popular hawker stalls with rich history, given that this hawker centre has been around since the 1930s. However, with its new and brightly lit storefront, this fish soup store definitely stands out from the rest. The place does get a little crowded during meal hours, so be sure to come down early! 
The verdict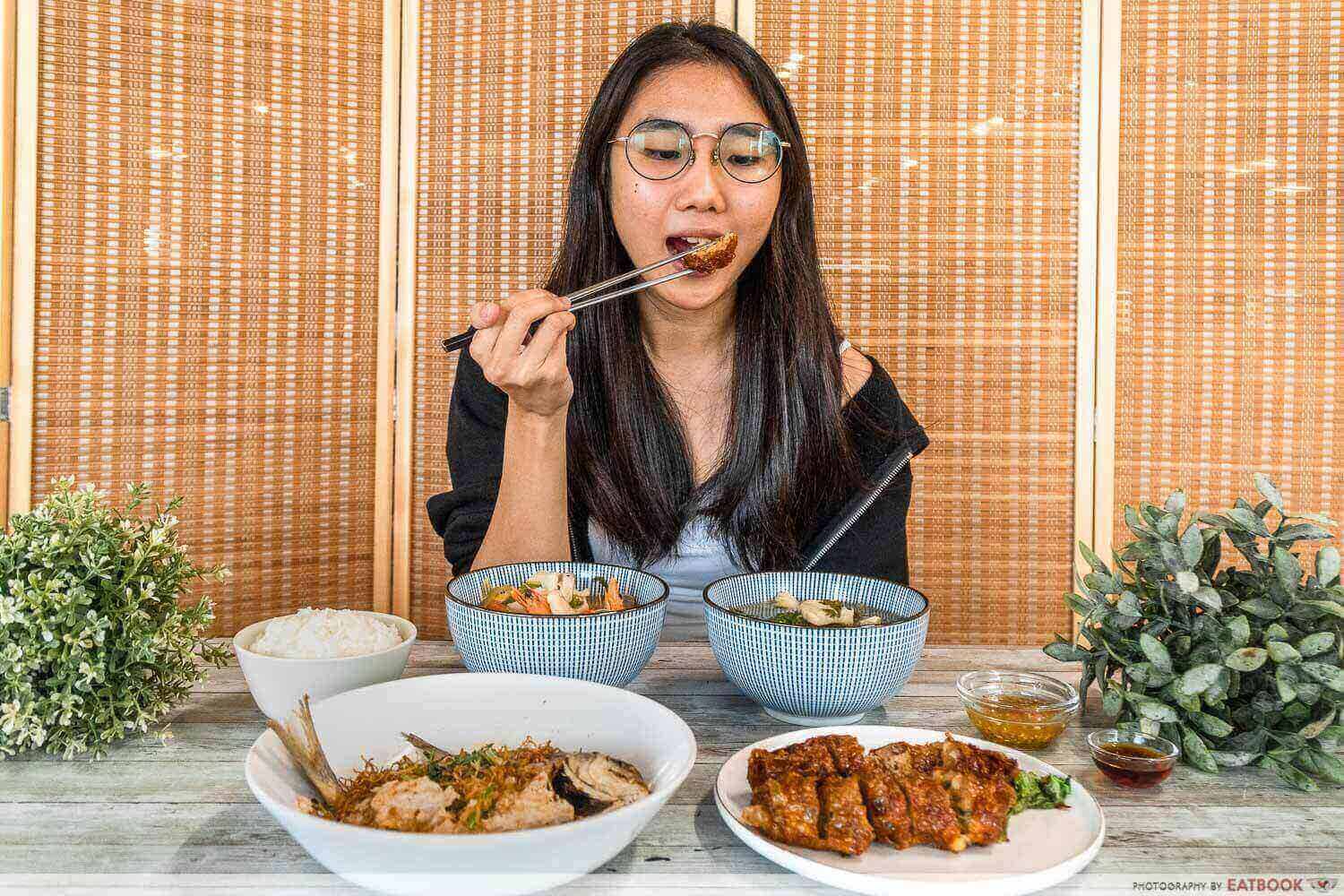 As an avid fan of Naked Finn, I was satisfied with the blue cod soup at Qing Feng Yuan. On top of that, the flavourful seafood soup and side dishes impressed me as well. I will definitely be returning for more hearty soup to warm myself up on a rainy day. 
Skirt & Dirt Review: Unique Cheese Skirt Burger Stall At Tiong Bahru Market
If you're looking for more food in the area, check out our Skirt & Dirt review for unique cheese-skirt burgers at Tiong Bahru! If not, there is also our Starter Lab review, where we reviewed a Muji-style cafe that serves delicious sourdough bread! 
Address: 30 Seng Poh Road, Singapore 168898
Opening hours: Tue to Sun, 9am-5pm
Qing Feng Yuan is not a halal-certified eatery.
Photos taken by Emily Teu.
This is an independent review by Eatbook.sg.
Qing Feng Yuan Review: Ex-Naked Finn Chef Opens Hawker Stall With Affordable Cod Fish Soup And More
Qing Feng Yuan Review: Ex-Naked Finn Chef Opens Hawker Stall With Affordable Cod Fish Soup And More -

8/10
Summary
Pros
– Deep Fried Pomfret was crispy and its meat was tender 
– Blue cod fish was fresh
– Seafood Soup was very flavourful 
Cons
– Slightly pricey for a hawker stall 
– Location is not close to an MRT station 
Recommended dishes: New Zealand Blue Cod Fish Soup ($12), Deep Fried Pomfret ($6), Ngoh Hiang ($3)
Opening hours: Tue-Sun, 9am to 5pm
Address: 30 Seng Poh Road, Singapore 168898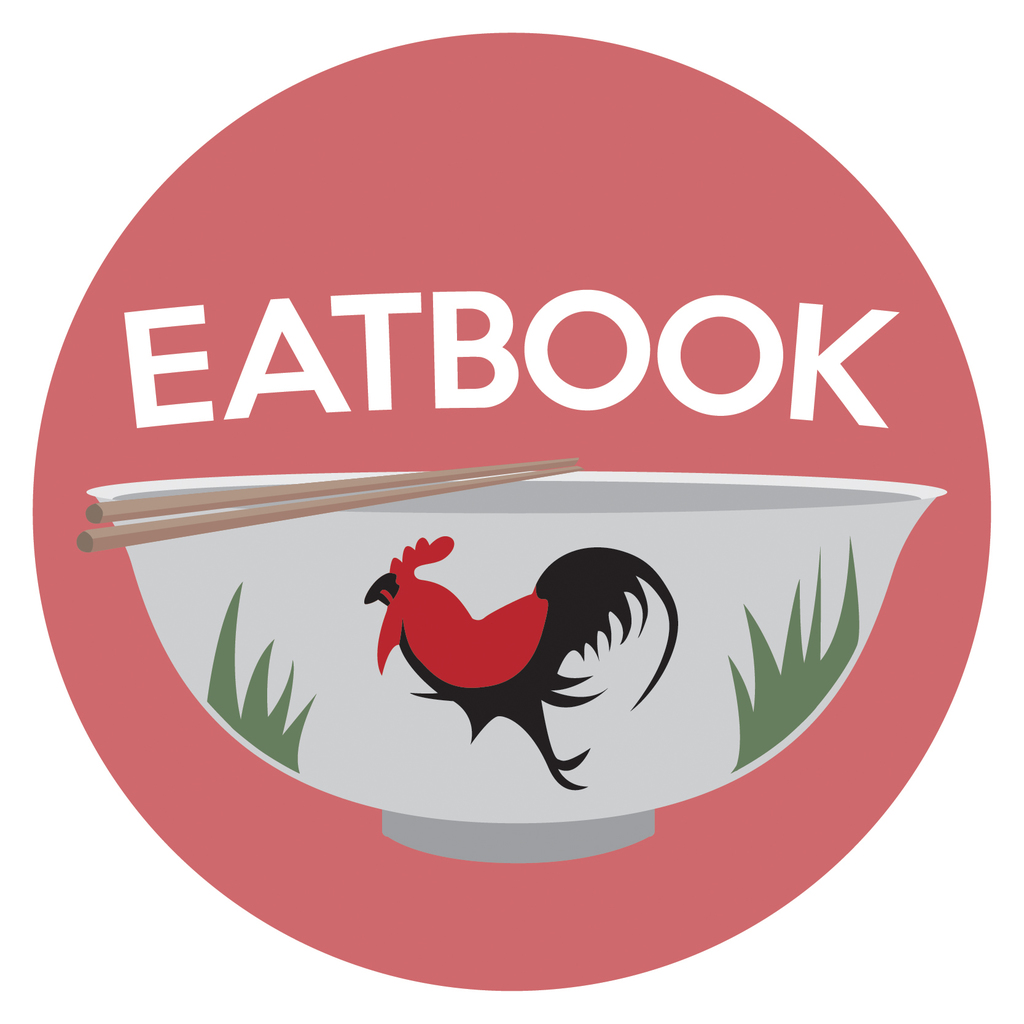 Drop us your email so you won't miss the latest news.