Big Bowls Project adopts a rice bowl concept
Update (19 Sept 2018): Prices have been updated.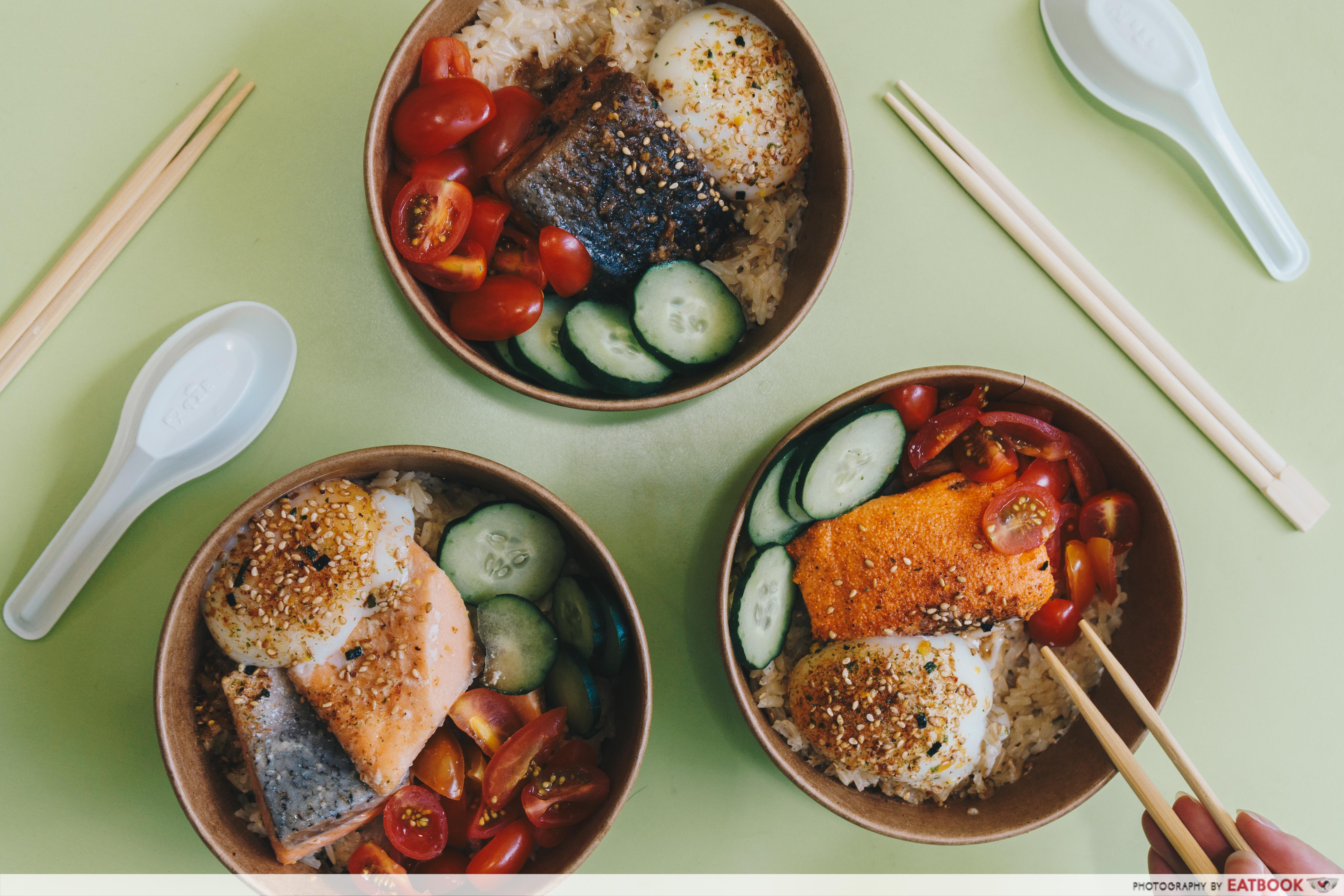 A new Muslim-owned stall, Big Bowls Project, has popped up at Amoy Street Food Centre, and it is run by a young, passionate team of cooks. These days, I'm beginning to develop an obsession with rice bowls. Maybe it's because they're just so pretty, with slices of meat stylishly arranged atop a flat surface of grains. Or maybe it's because they taste even better than they look. For the time being, Big Bowls Project serves only salmon bowls, but you can expect a larger menu, including poke bowls, towards the second half of the year!
Food at Big Bowls Project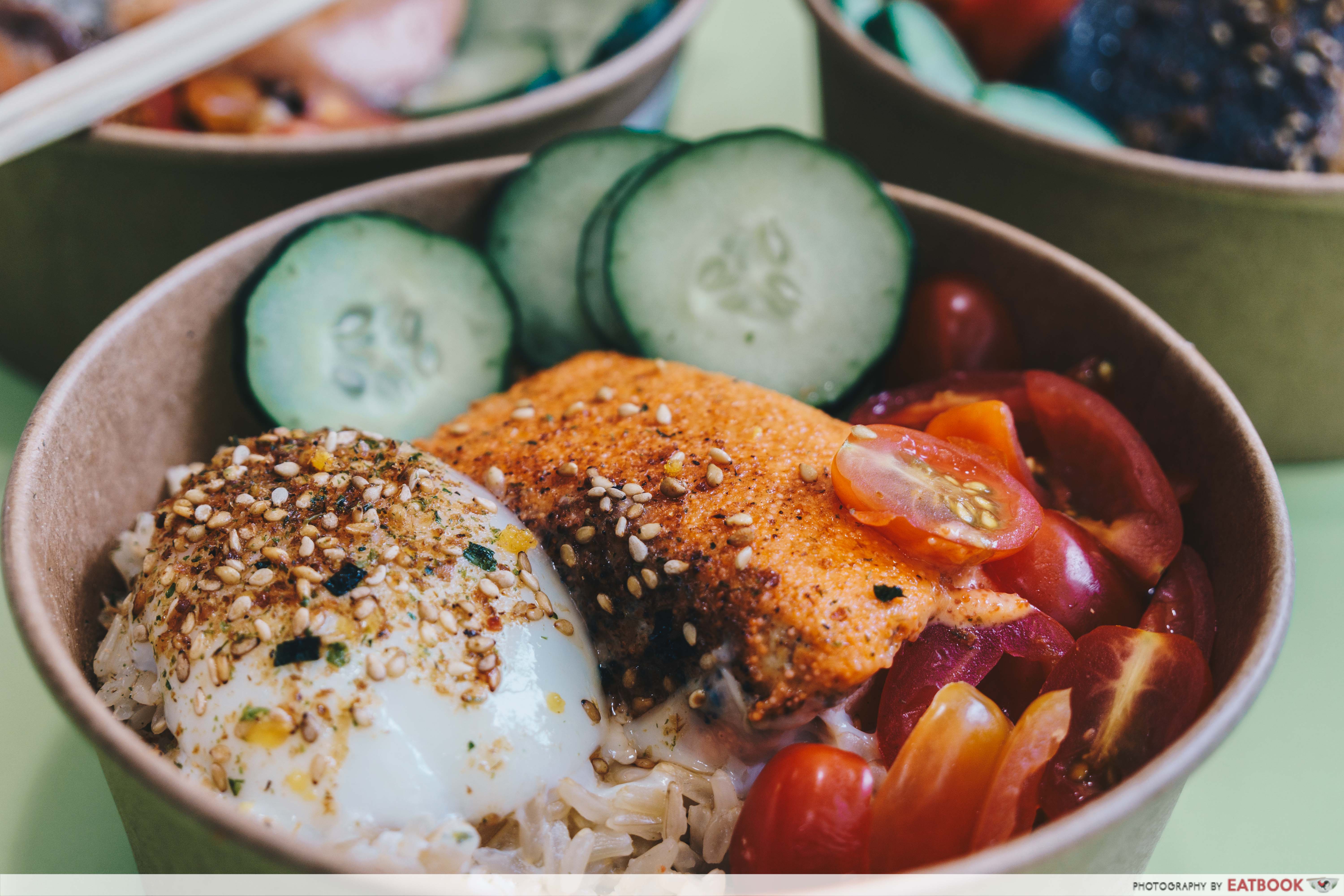 I ride on the waves of most food trends across our little red dot, so with the ever-present salmon mentaiko craze, you can probably guess which dish I was most eager to try. I was swooning over how good the bowl of Mentaiko Salmon ($9.50) looked.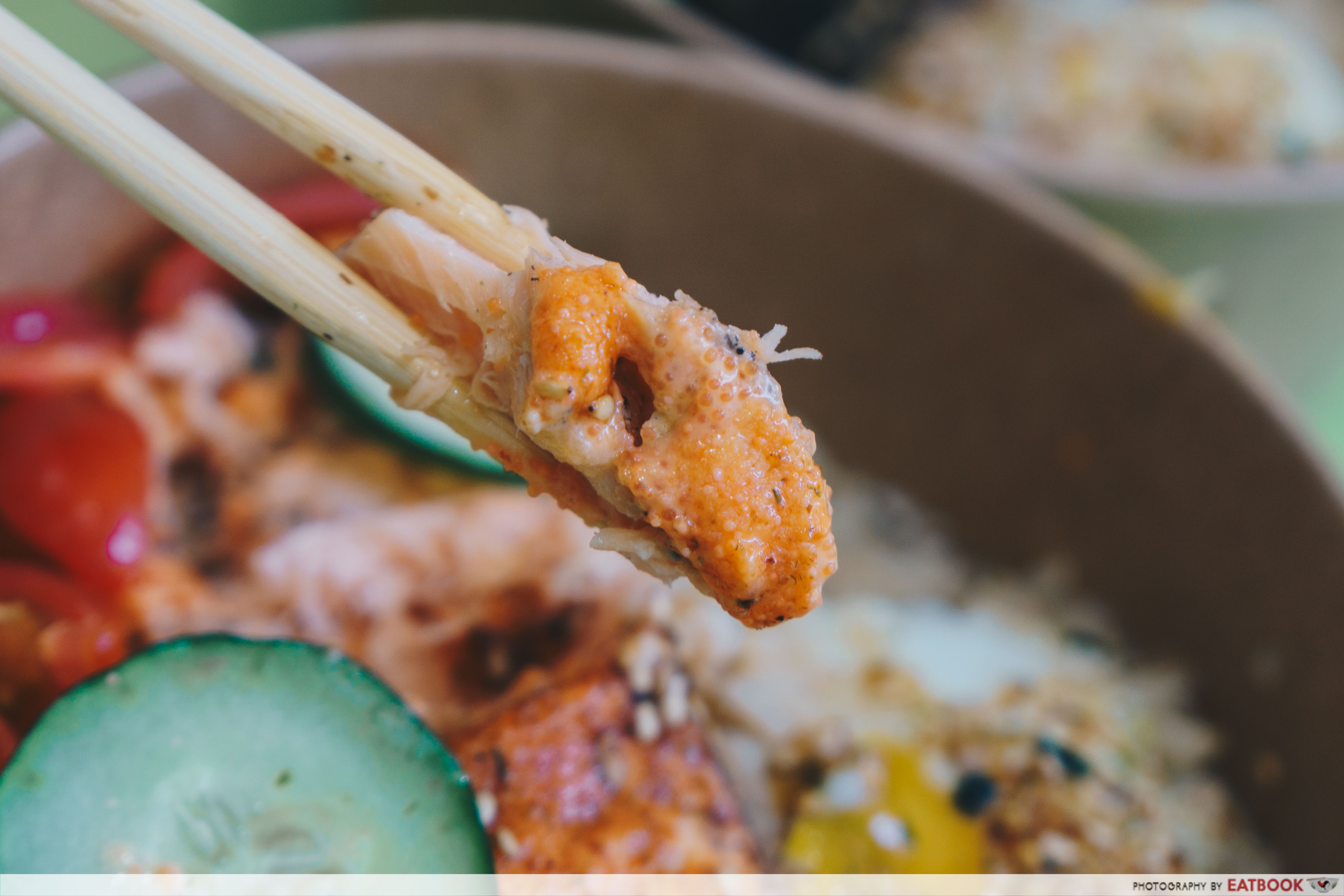 The glorious pollock roe blanketed a thick chunk of cooked salmon, and the bowl was garnished with fragrant sesame seeds, little bits of seaweed and bonito flakes. I thought the bright red and green from the cherry tomatoes and cucumber really helped the dish to pop as well. Meanwhile, the jiggly onsen egg at the side was begging to be split open.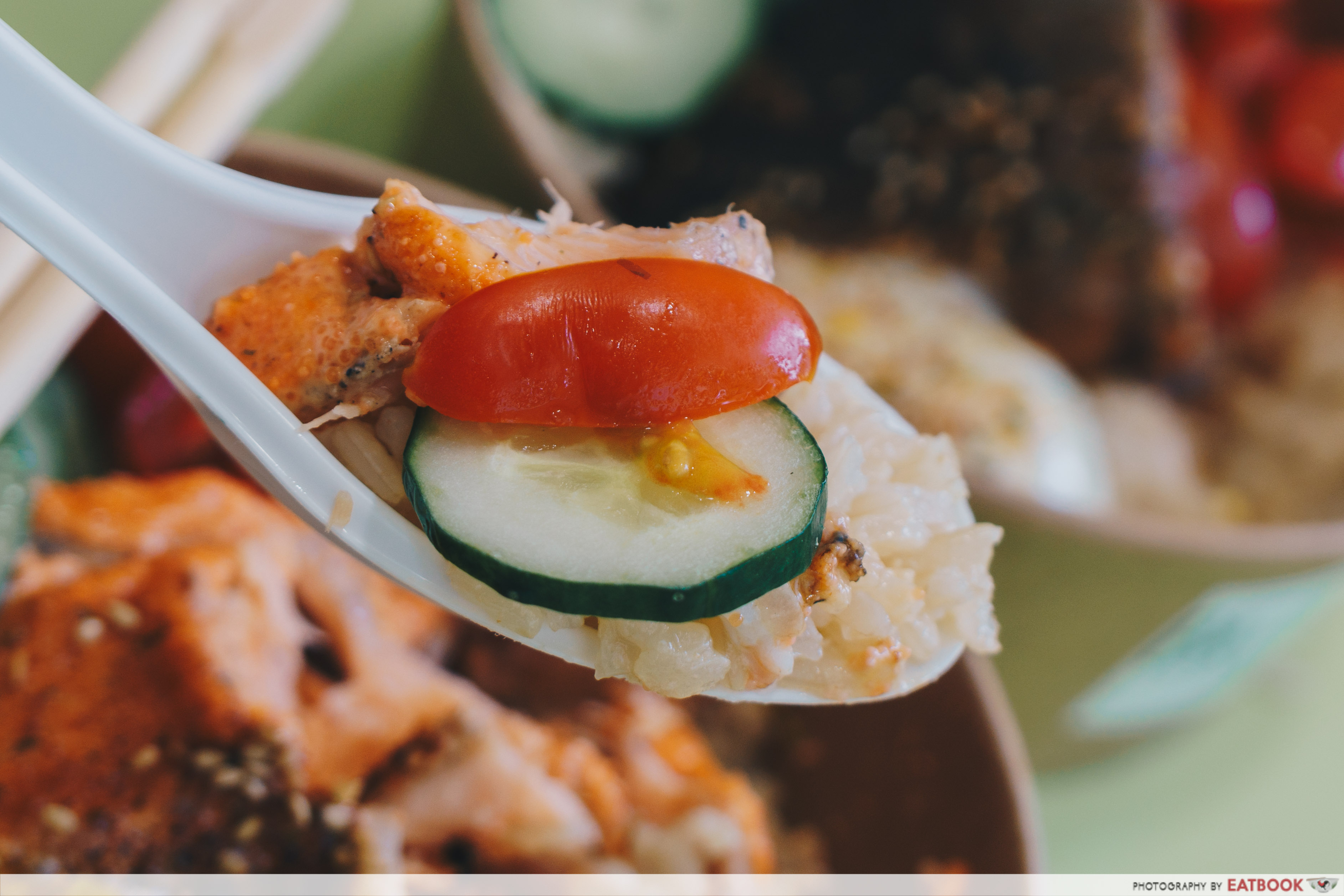 The salmon was served with jasmine brown rice. The rice had a slightly sweet, nutty taste. I'd recommend mixing your gooey egg into the rice to add more flavour to every spoonful. The fish meat was tender and well-marinated but I found myself wishing the mentaiko layer was a little thicker and smokier. I would have preferred if maybe it was torched longer. Very quickly, most of the mentaiko had been scraped away and I was left only with fish.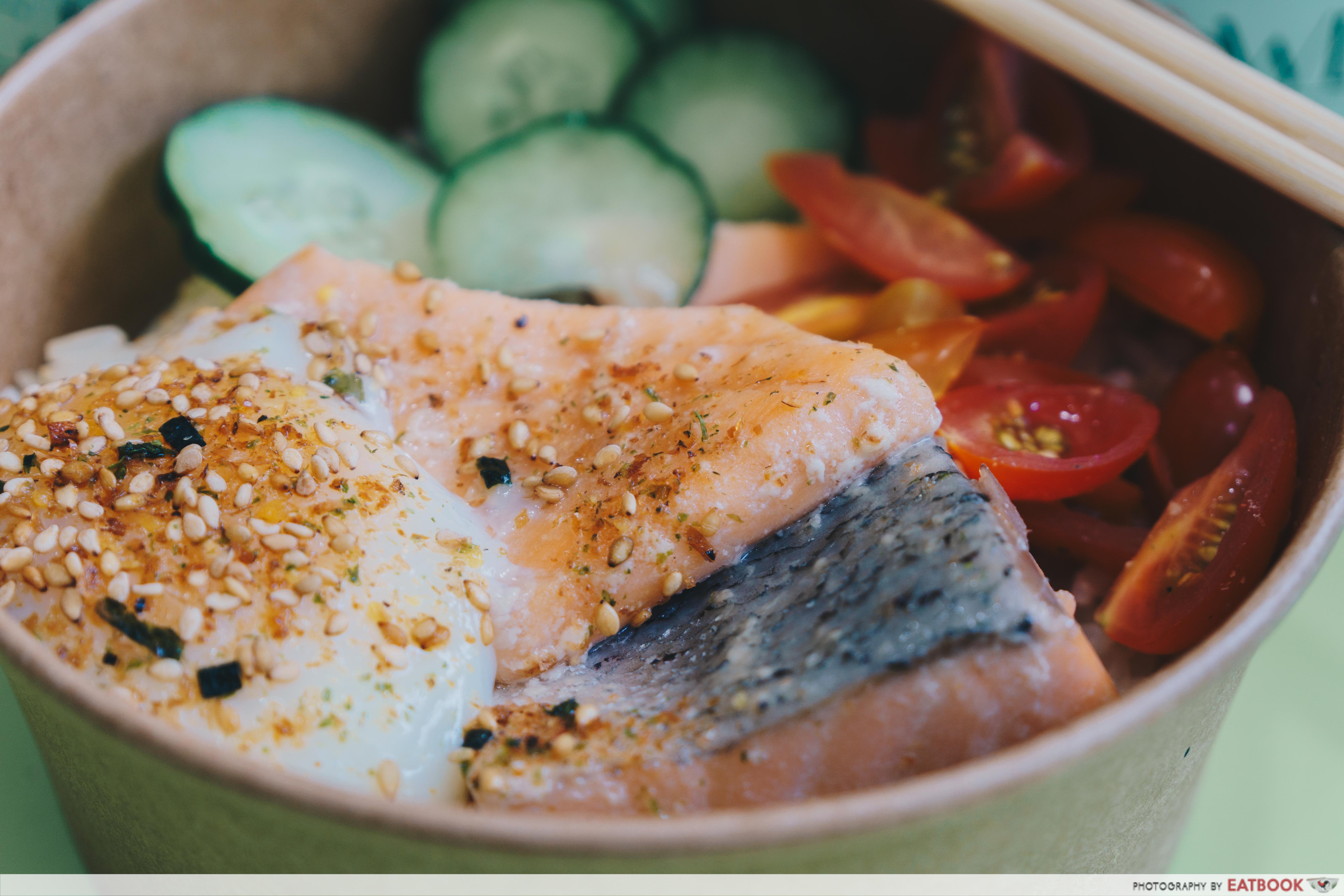 The earthy aroma emanating from the Truffle Oil Salmon ($9.50) blew my colleague and I away. Come to think of it, it was a little deceiving how ordinary and bare this chunk of salmon appeared, especially when it smelled so heavenly!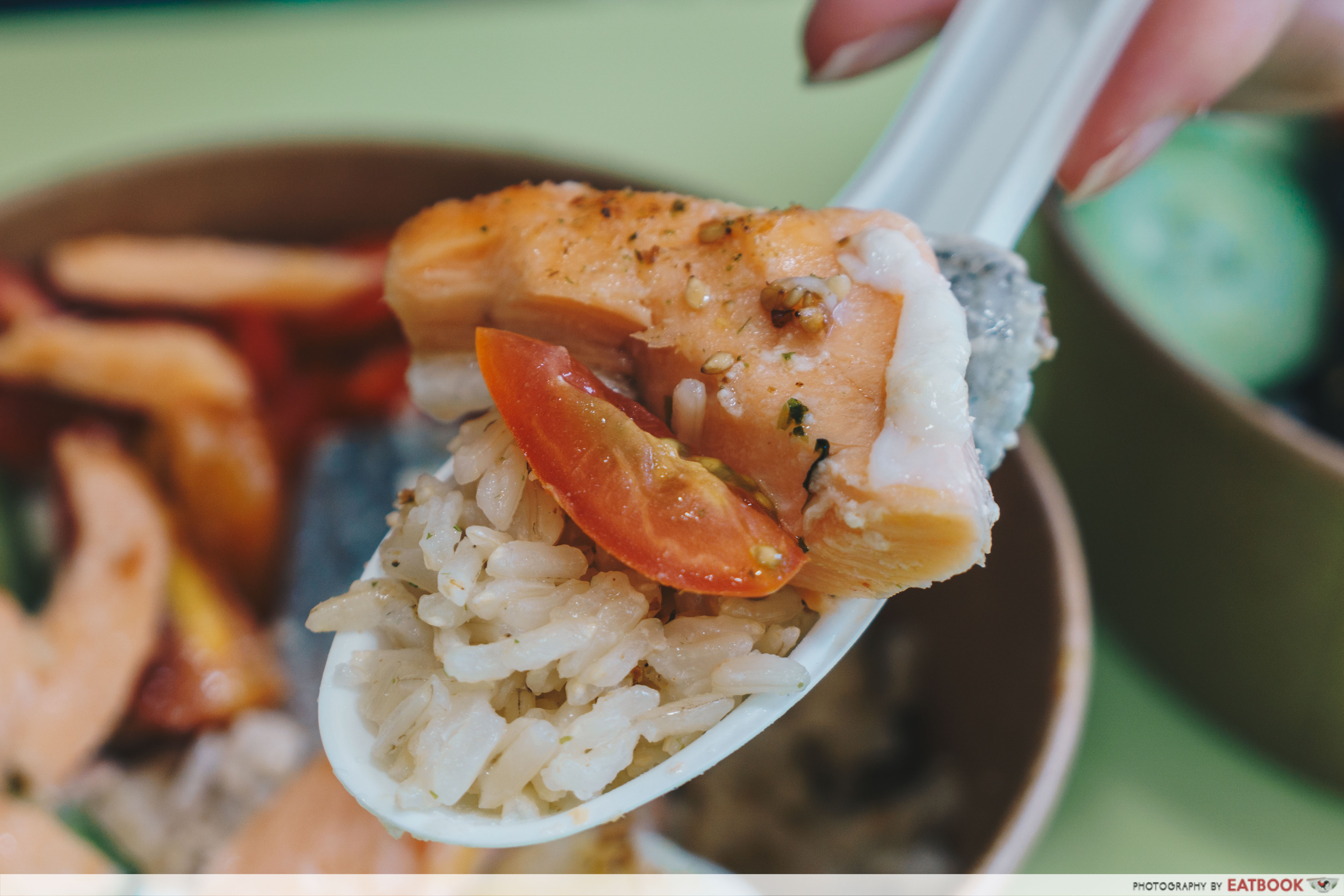 This bowl was my favourite of the lot. For a price so affordable, I'd honestly not expected much truffle flavour in my fish – but fortunately, the dish proved me wrong. As I bit into the salmon, I found the taste of truffle oil addictive and far from faint! I knew I'd order this dish again for sure.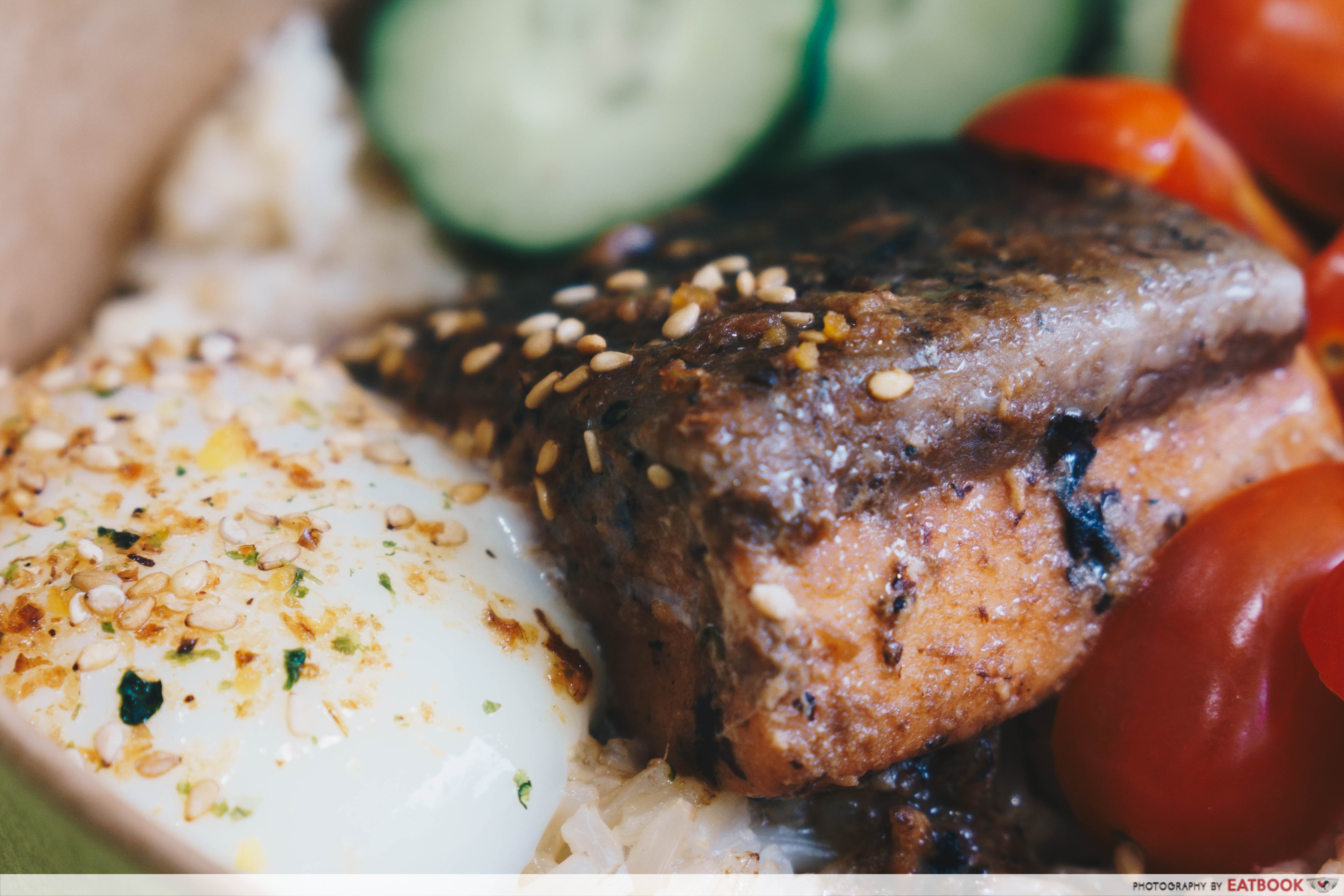 Big Bowls Project claims that their Szechuan Black Bean Salmon ($8) is a personal favourite of theirs. It's also one of the cheapest bowls on the menu.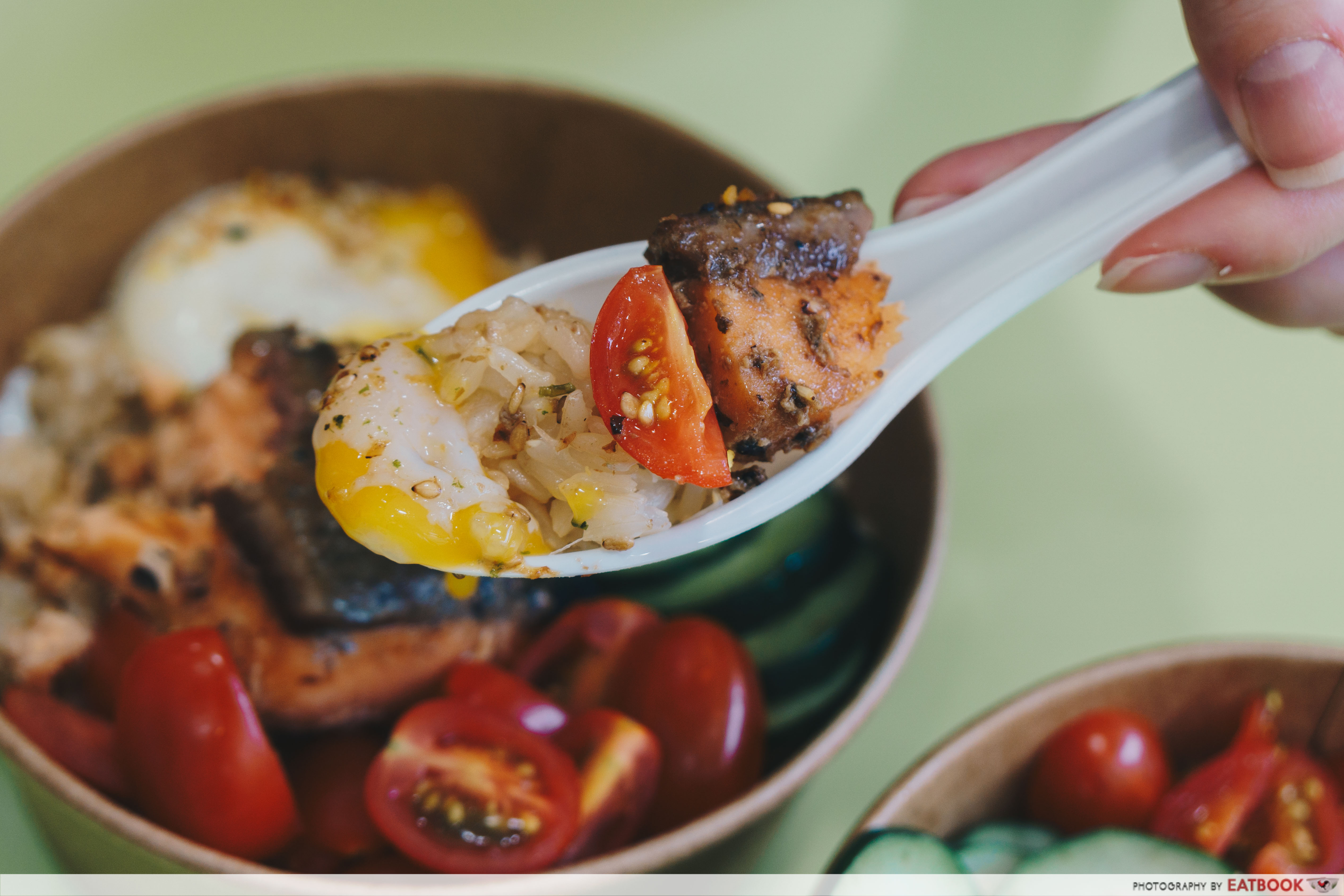 As I chewed on the salmon, I was struck with a pang of nostalgia. The salty marination reminded me fondly of my grandmother's home-cooked chicken in black bean sauce. I saw the familiar dish in my mind's eye and sappily felt a little homesick.  
If you prefer more veggies in your bowl, you can swap the jasmine brown rice for raw spinach leaves at an additional $0.50. If you have a lighter palate, opt for the stall's Big Bowl's Homemade Recipe ($7.90), the only dish we didn't try. It's said to have a lighter, healthier marination compared to its three other counterparts.
As Big Bowls Project is newly opened, the current prices of the salmon bowls are listed as 'Pre-Launch Special Prices' and are hence subject to change.
Ambience at Big Bowls Project
Big Bowls Project is located in the CBD. We arrived slightly before 12pm, so we were able to secure a good seat before it could be swallowed by the lunch crowd. Our food was prepared by the friendly owner, Miss Habibah Moszay, and her team of two. Fortunately, we were the first to order upon the stall's opening, overtaking the steady stream of office workers slowly adding to the line behind us.
The verdict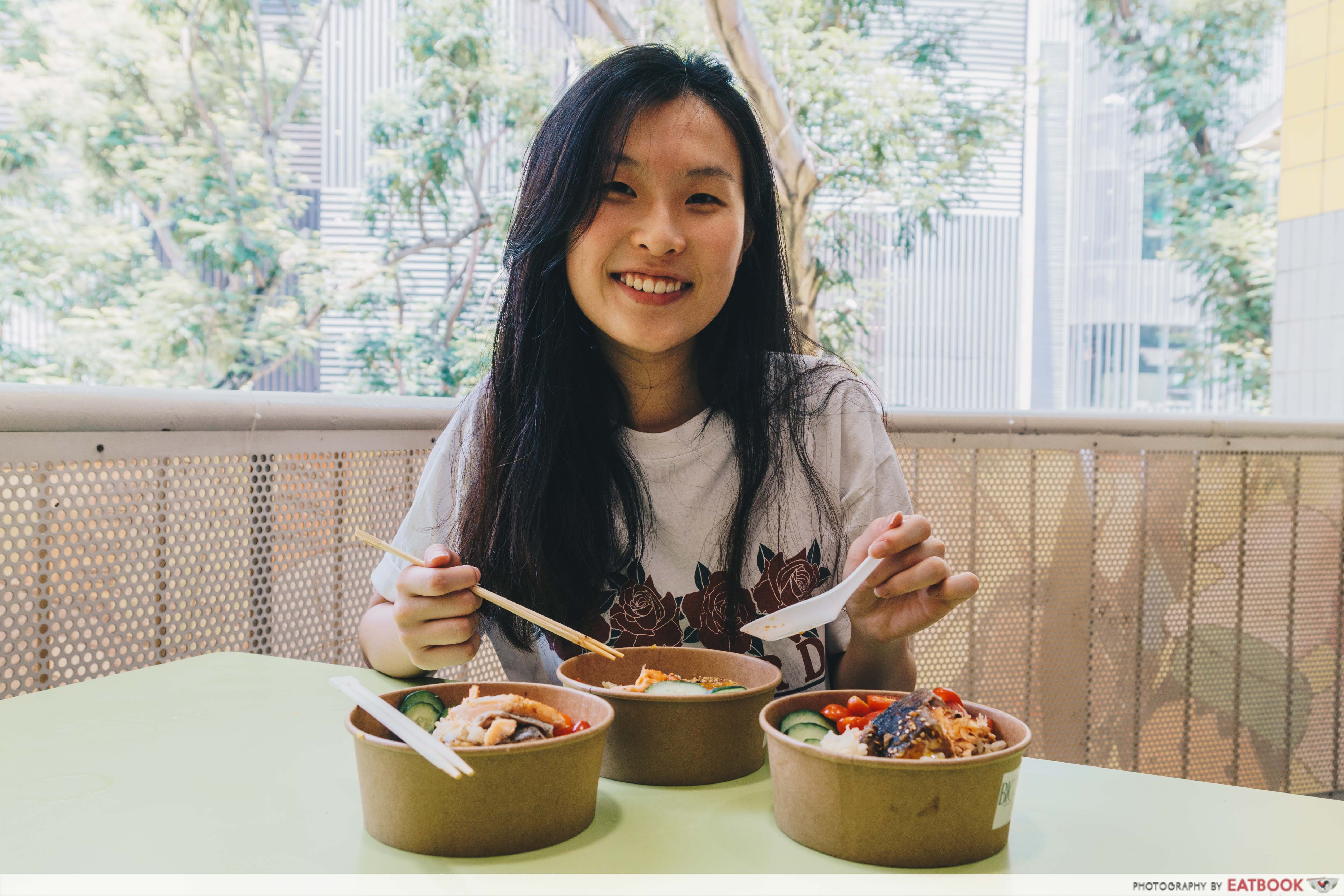 I can't begin to recall just how many people stopped by our table to glance at our food. One group even approached us to ask where our dishes were from. Presentation-wise, Big Bowls Project scores a neat ten out of ten. Taste-wise, well, let's just say I'd come back again for more.
For more interesting eats at Amoy Street Food Centre, check out Pepper Bowl and Gyu Nami!
Address: 7 Maxwell Road, #02-90, Amoy Street Food Centre, Singapore 069111
Opening hours: Mon-Fri 11:30am to 2:30pm
Tel: 8183 0250
Website
This is an independent review by Eatbook.sg. 
Summary
Pros
– Aesthetic and tasty bowls
– Value-for-money
– Good service
Cons
– Long queue during lunch hour
Recommended dishes: Mentaiko Salmon ($8.90), Truffle Oil Salmon ($7.90), Szechuan Black Bean Salmon ($7.90)
Opening hours: Mon-Fri 11:30am to 2:30pm
Address: 7 Maxwell Road, #02-90, Amoy Street Food Centre, Singapore 069111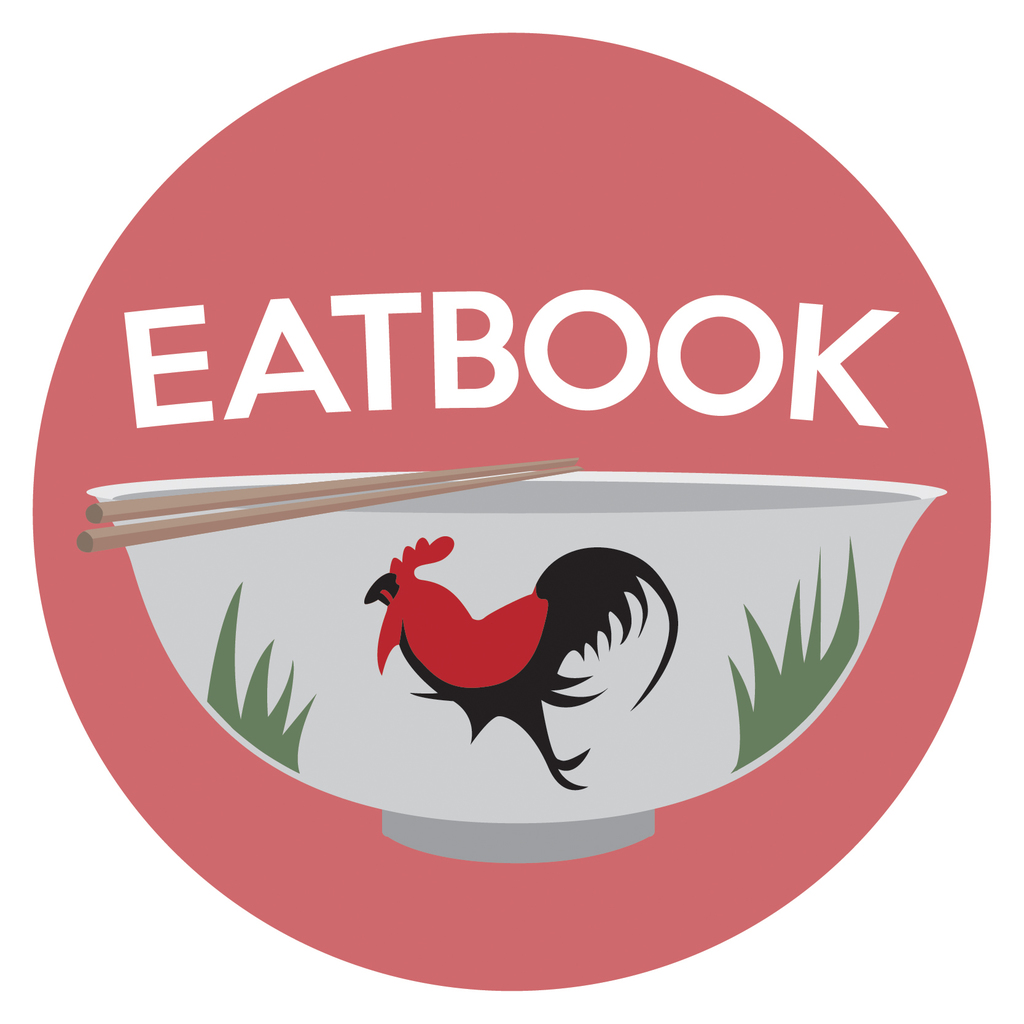 Drop us your email so you won't miss the latest news.