---
Yong tau foo in Singapore
---
Yong tau foo is to Singaporeans what salads are to ang mohs. It's a lunchtime favourite among office workers, providing a nutritious meal, with greens, protein and carbo all in one bowl. It's cheap too, and you can usually mix and match whatever ingredients you like. And while there are many YTF stalls all around in Singapore, these eight stand out with their range and quality of ingredients.
---
1. Fatty Aunt Yong Tau Fu
---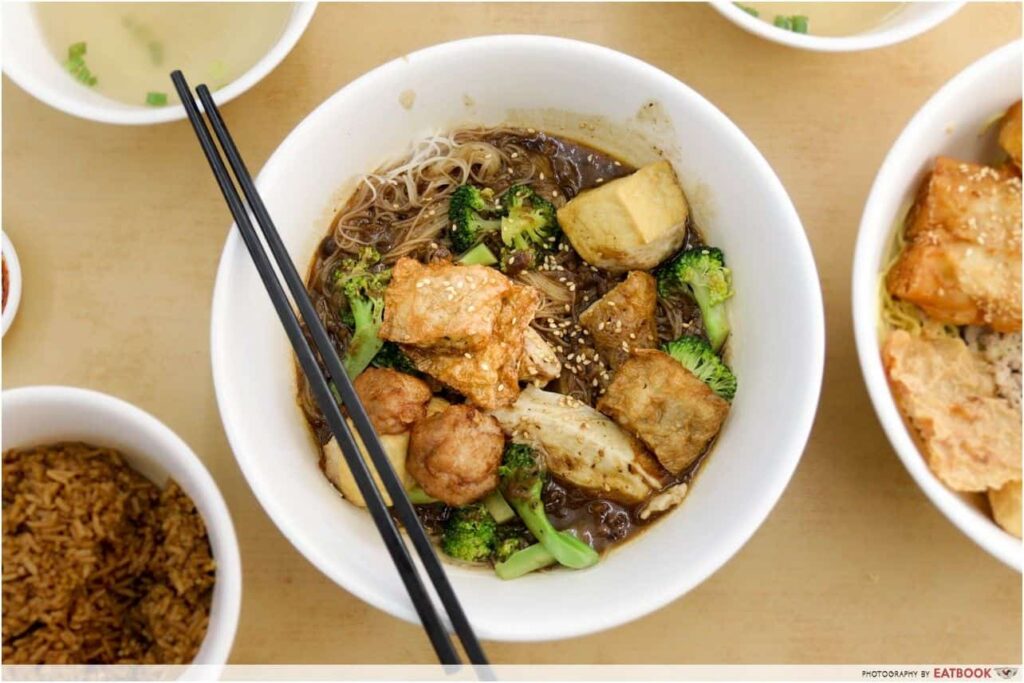 Boasting over 50 different ingredients from $0.50 per piece and 11 types of noodles, Fatty Aunt Yong Tau Fu is great for those who love variety. They also have unique sauces, such as bean sauce ($0.80) and bak chor mee ($1). The latter comes with a generous serving of minced pork. Must-haves in your bowl of noodles include their housemade meatball and fried pumpkin.
Address: 147 Silat Avenue, #01-26, Singapore 160147
Opening hours: Daily 9:30am to 8:30pm
Website
---
2. Fu Lin Fried Yong Tofu
---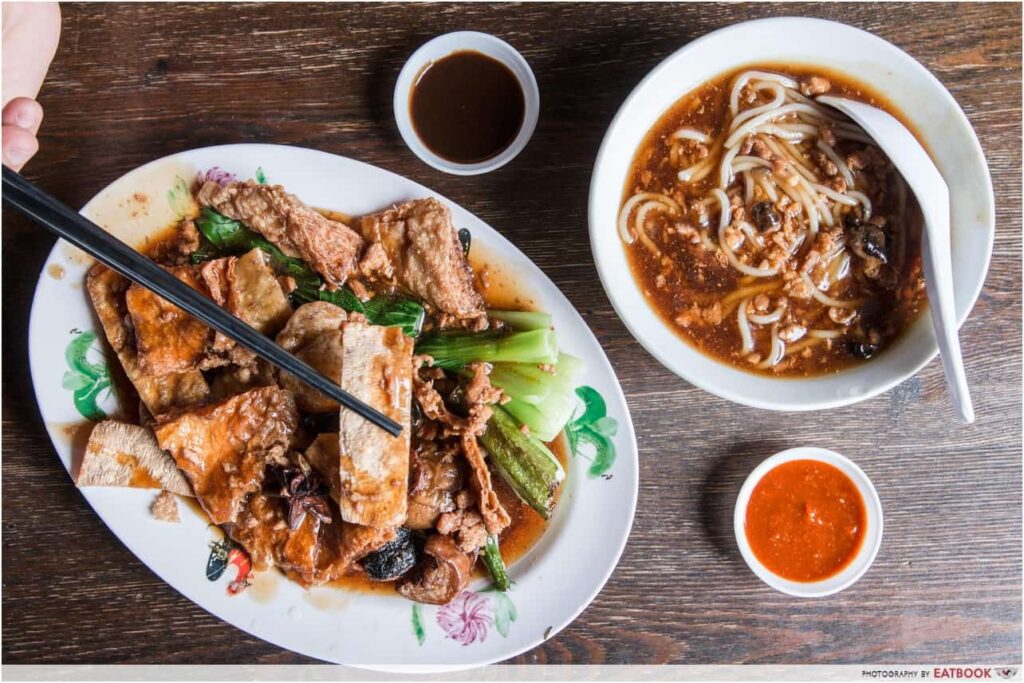 I'm bias towards Fu Lin Fried Yong Tofu, as it's my favourite YTF stall in Singapore. I am not a fan of healthy food, so the fact that their standard plate features fried goodies doused in a starchy meat sauce is a win for me. The noodles are also one-of-a-kind, featuring silky-smooth laksa noodles sitting in a pool of savoury minced pork sauce with mushroom bits. A bowl of six ingredients will set you back $6, which is a real steal.
Address: 127 Telok Ayer Street, Singapore 068596
Opening hours: Mon-Fri 11am to 12am
Tel: 6423 0311
Website
---
3. My Favourite Cafe
---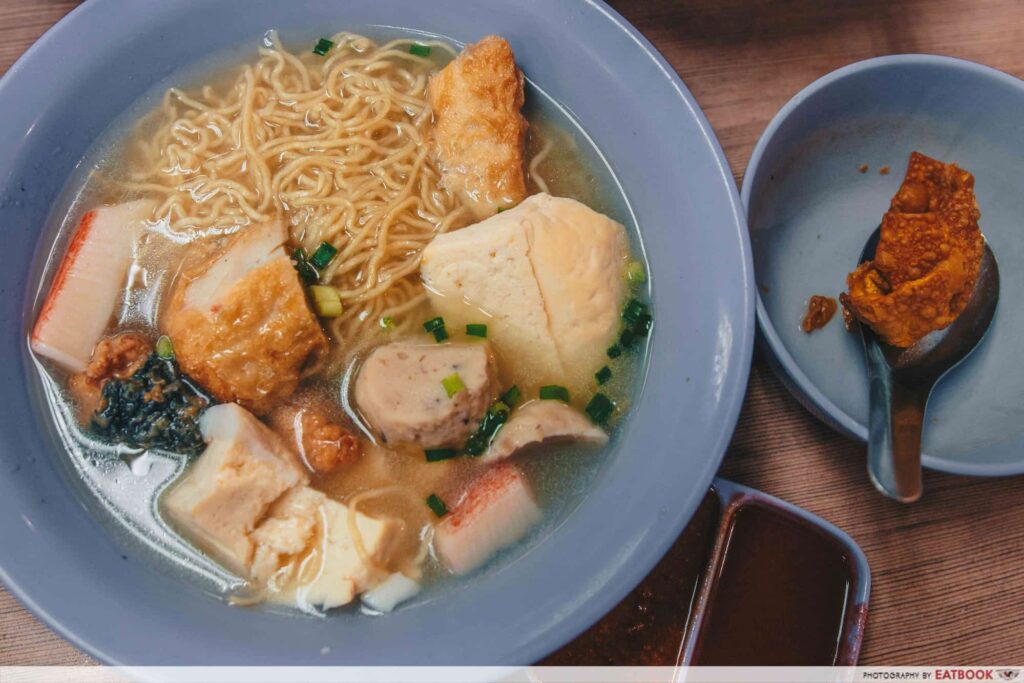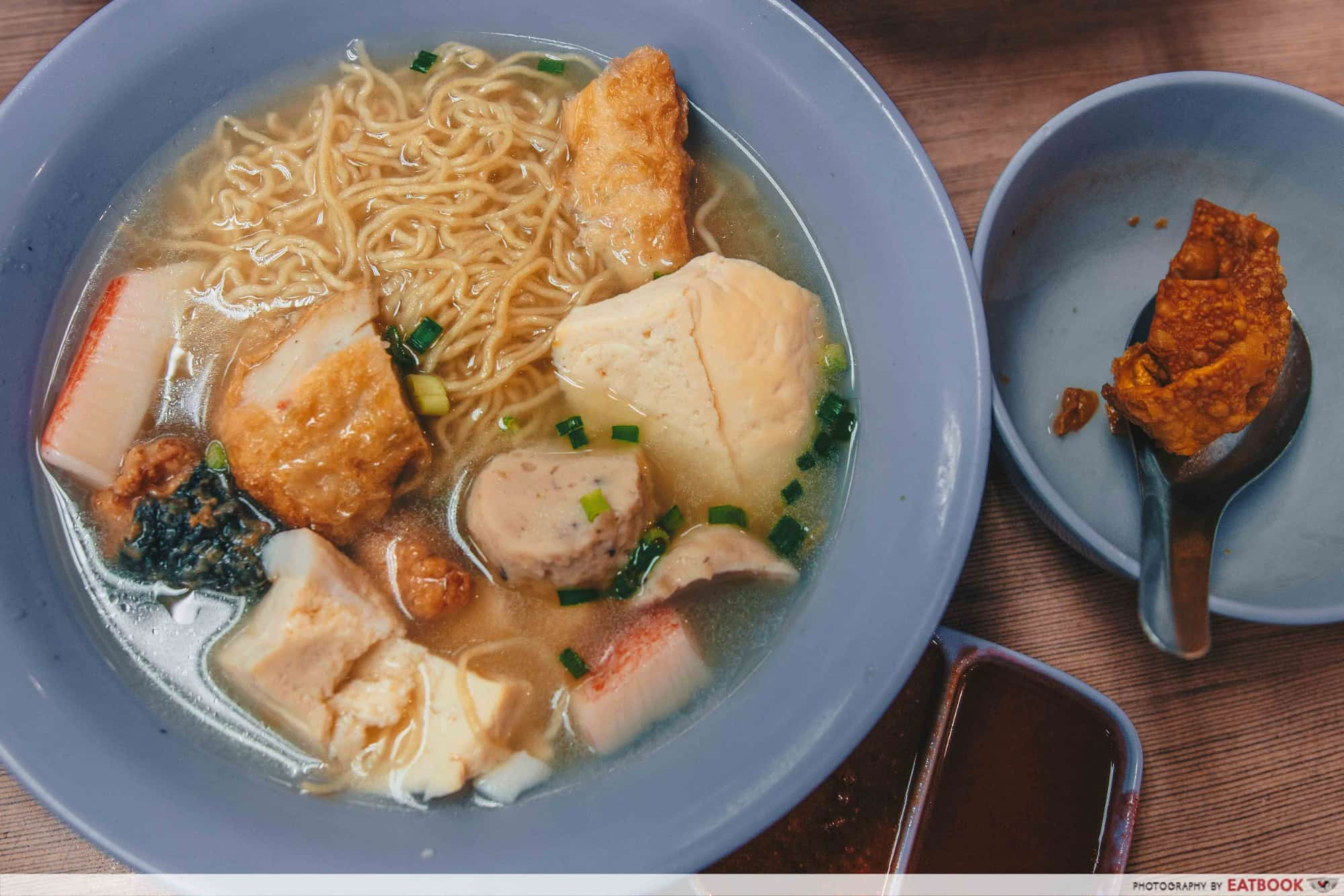 Do not be deterred by the grumpy aunties rushing you to pick your favourite ingredients at My Favourite Cafe. Cheap and good, a bowl of seven ingredients is priced at $4.90. One item to pile your plates high with is their pork meatball. The umami-rich parcel is crunchy on the outside and juicy within.
Address: 304 Orchard Road, #06-046, Lucky Plaza, Singapore 238863
Opening hours: Daily 8:30am to 6pm
Tel: 6734 6935
---
4. Xi Xiang Feng Yong Tau Foo
---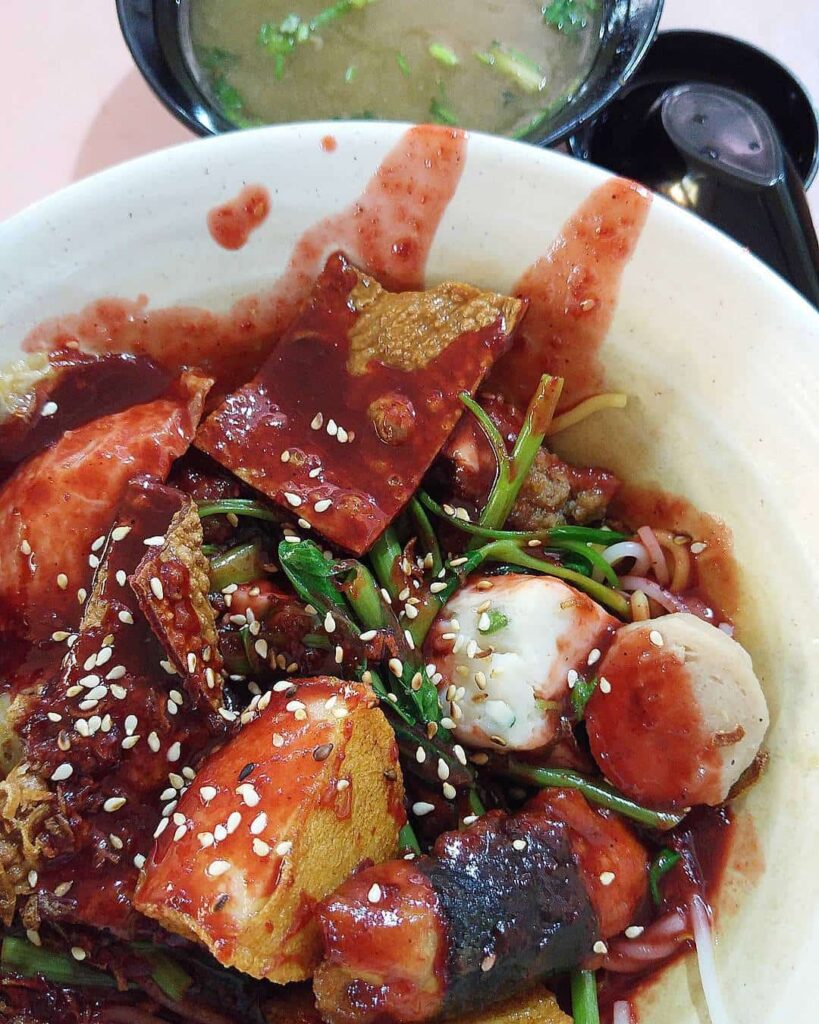 Image credit: @watchyoudoing
Long queues means good food. And for the case of Xi Xiang Feng Yong Tau Foo, this proves to be true. Proffering close to 40 ingredients, their YTF stands out thanks to the QQ bee hoon that's firmer than normal. This allows the noodles to better carry the scrumptious sweet sauce doused over it. If you prefer thicker noodles, they also have chee cheong fun to go with your fish balls and seaweed chicken. Prices start from $4 a bowl.
Address: 724 Ang Mo Kio Avenue 6, #01-23, Singapore 560724
Opening hours: Mon-Sat 7am to 8pm
Tel: 9455 1641
---
5. Tiong Bahru Yong Tau Fu
---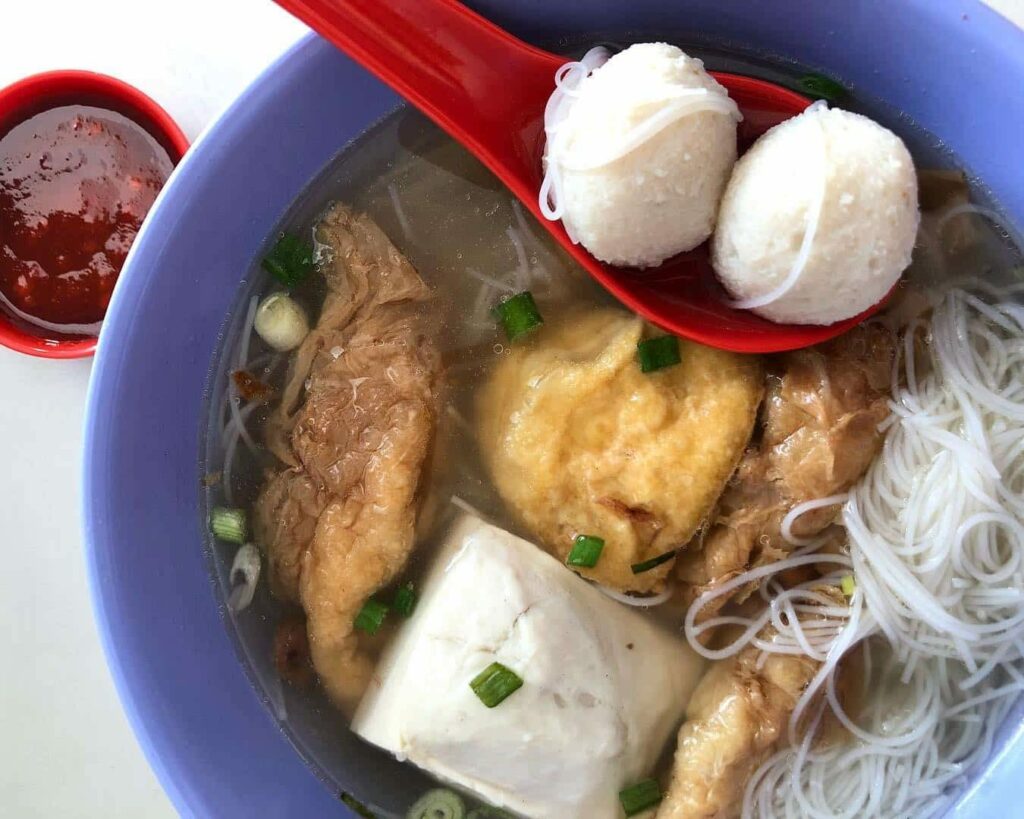 Image credit: @_vphang
The bouncy handmade fish balls at Tiong Bahru Yong Tau Hu are made of wolf herring and yellowtail, and is the main reason why people keep coming back. Unlike most places on the list, you don't have the liberty to choose your ingredients from a counter – only choices are $5, $6 or $7 bowl. That being said, you can request for a certain ingredient over another, if, for instance, you don't like tau kee and want more wonton.
Address: 56 Eng Hoon Road, #01-56, Singapore 160056
Opening hours: Mon-Sat 7am to 9:30pm
Website
---
6. Ampang Niang Tou Fu
---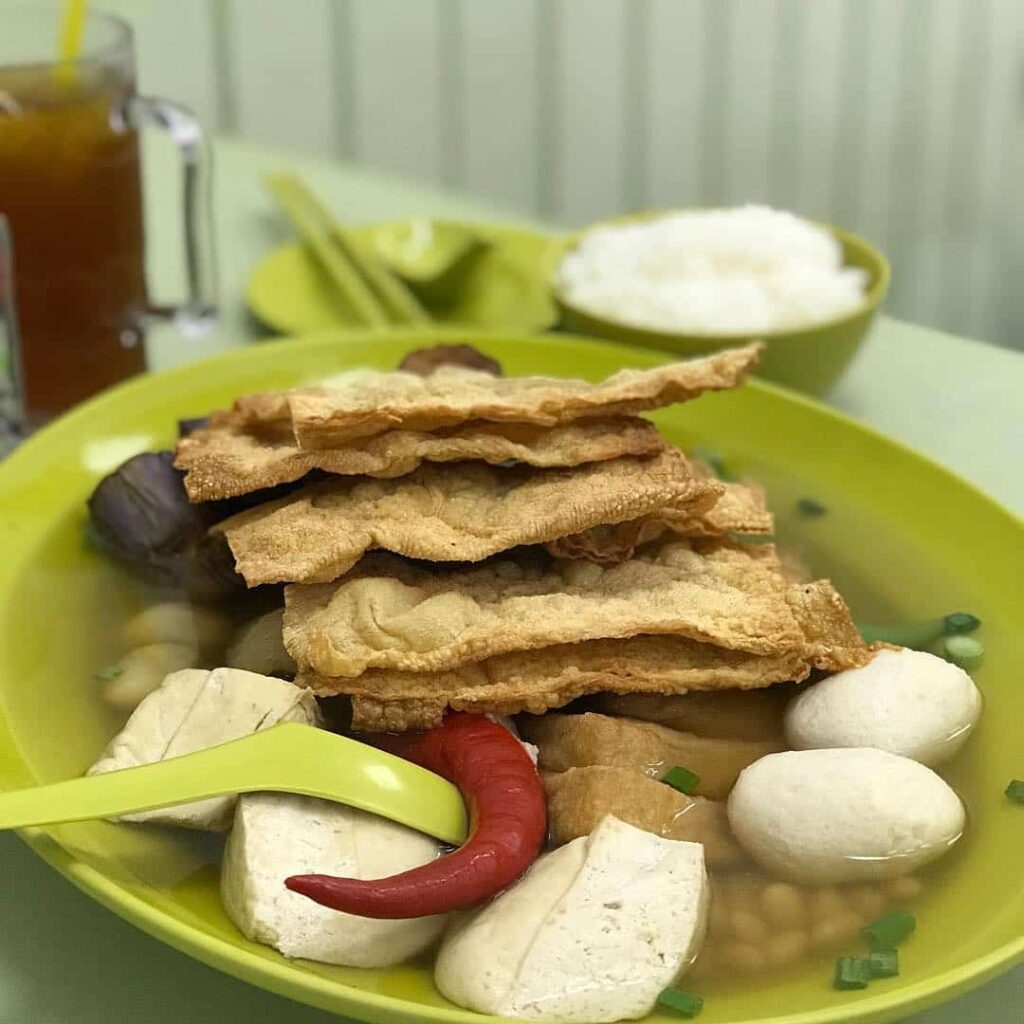 Image credit: @snowbunny1979
Head to Ampang Niang Tou Fu if simple is what you're looking for. The place is old-school, and the same applies for food they push out. Everything here is served in a clear stock broth with soya beans swimming within. The yong tau foo here are stuffed with a combination of minced fish and pork paste, and is very scrumptious. Do note that they don't serve noodles; only rice.
Address: 225A East Coast Road, Singapore 428922.
Opening hours: Mon-Tue, Thur, Sat-Sun 11:30am to 8:30pm
Tel: 6345 3289
---
7. Ngee Fou Ampang Yong Tau Fu
---

Image credit: @jo.wonder
Around for over 40 years, Ngee Fou Ampang Yong Tau Fu is a stalwart in Singapore's YTF scene. A plate of $4 gets you a generous portion of kang kong, fried bean stick, brinjal, okra, bitter gourd, fried wonton, fried quail egg, fish ball, tau kwa, and tau pok. All this is then drenched in their housemade gravy that's both sweet and savoury.
Address: 928 Upper Thomson Road, Singapore 787121
Opening hours: Tue-Sun 10am to 8pm
Tel: 6452 1801
---
Dine at these yong tau foo stalls
---
Healthy and yummy, there's a reason why this hawker dish is loved by many. Share with us some of your favourite yong tau foo stalls you like in the comments below!