Hawker-meets-Korean barbecue with a view at Pink Candy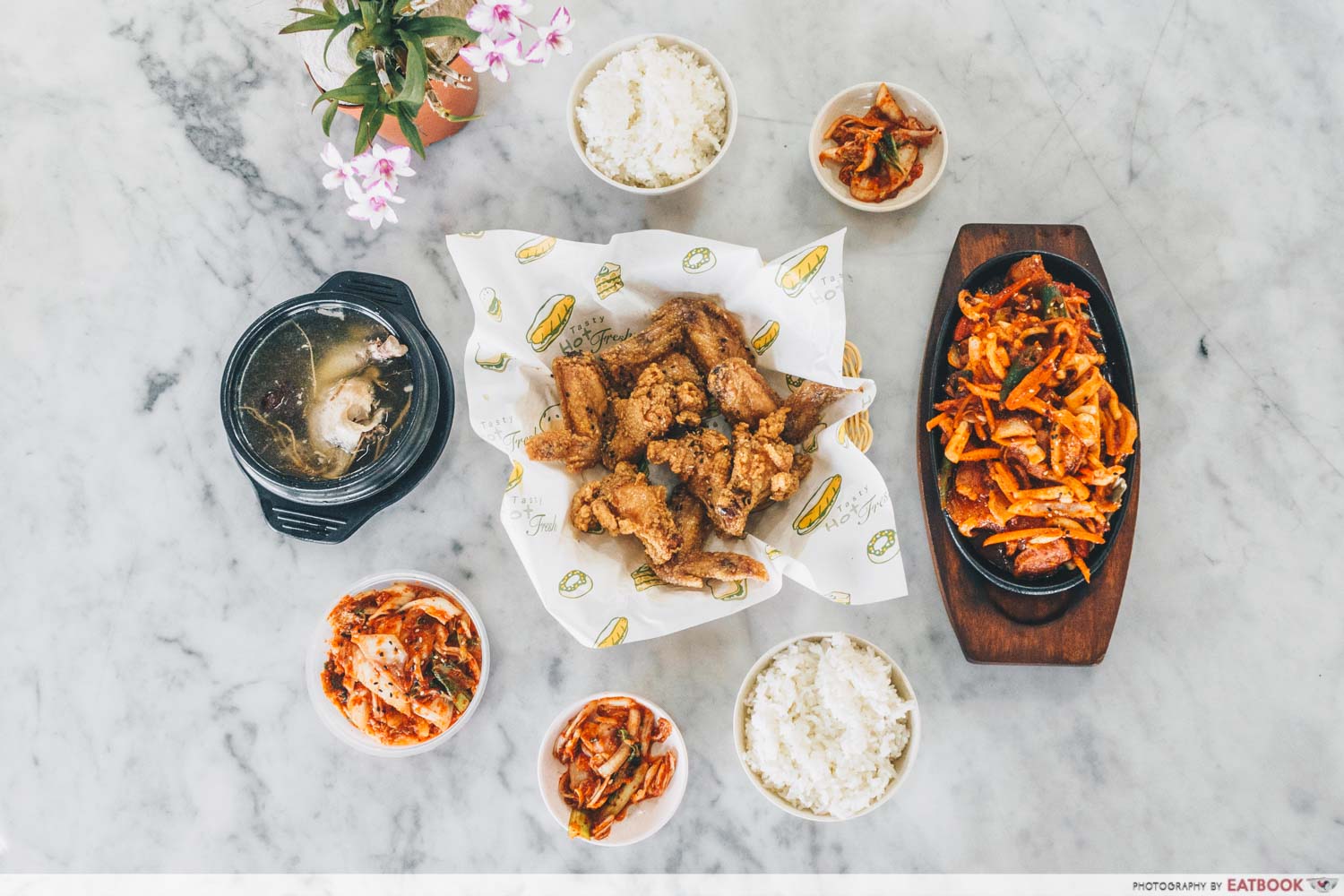 Korean restaurants are a dime a dozen in Singapore, so much so that you know what to expect the second you spot one a mile off. Army stew, smoky Korean barbecue, bulgogi on hotplates ─ these are all too common. For a Korean restaurant to really excite us, it has to go to the next level, and that's what Pink Candy does.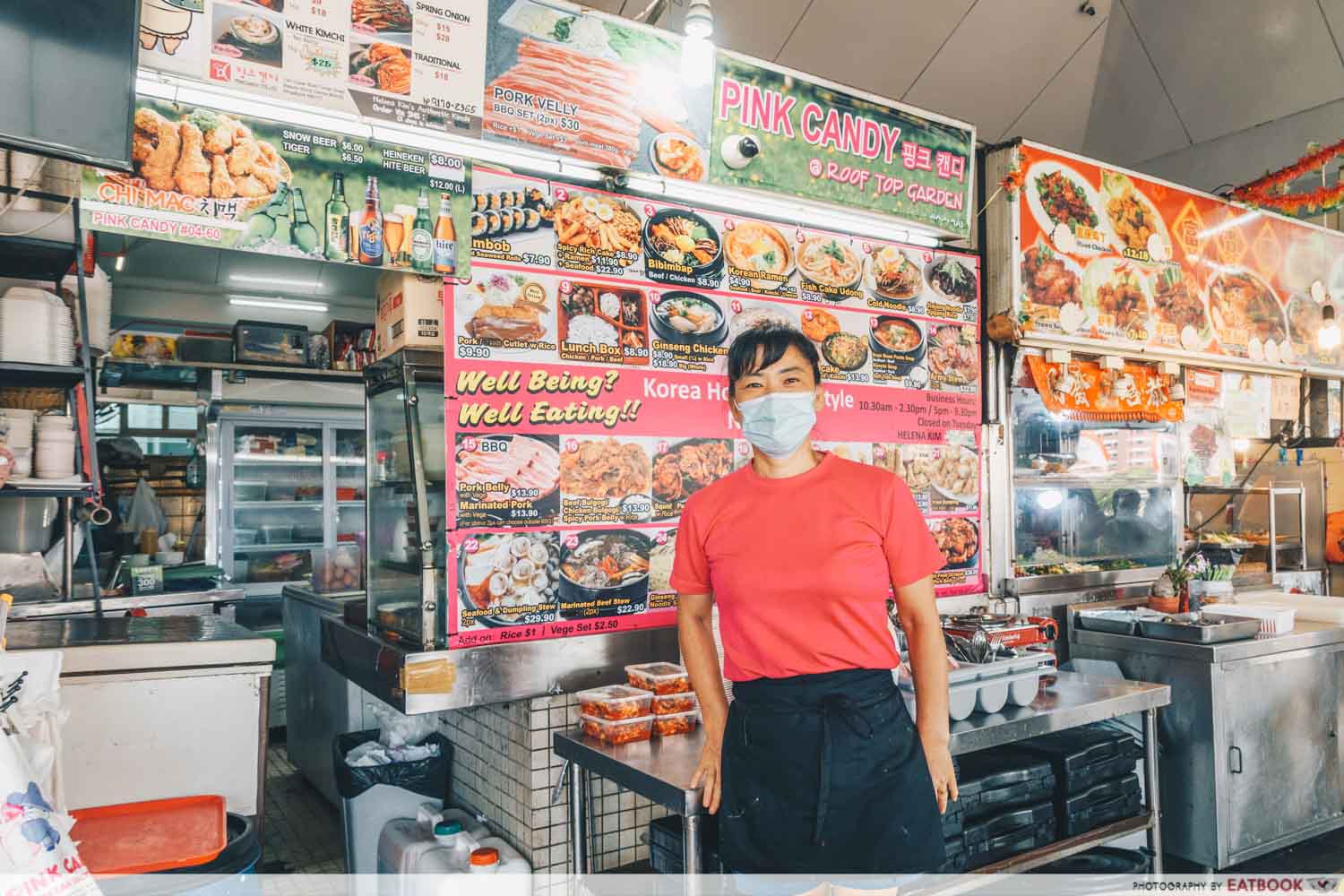 Parked on the fourth floor of Beauty World Centre amidst its open-air food court, Pink Candy looks at first to be just another Korean hawker stall. Once dusk settles, though, the stall's al fresco area is flocked by hungry crowds looking to enjoy affordable Korean food and rooftop views.
Food At Pink Candy
Owner Helena Kim brings the taste of Korea to Singapore at Pink Candy through a menu filled with "homemade style" dishes. There is plenty to choose from, especially if you're a Korean food fan, and servings are generous too. Though we were tempted to go straight for the Army Stew, which was seriously wallet-friendly at $22.90 for a portion that feeds two, we decided to try the crowd favourites.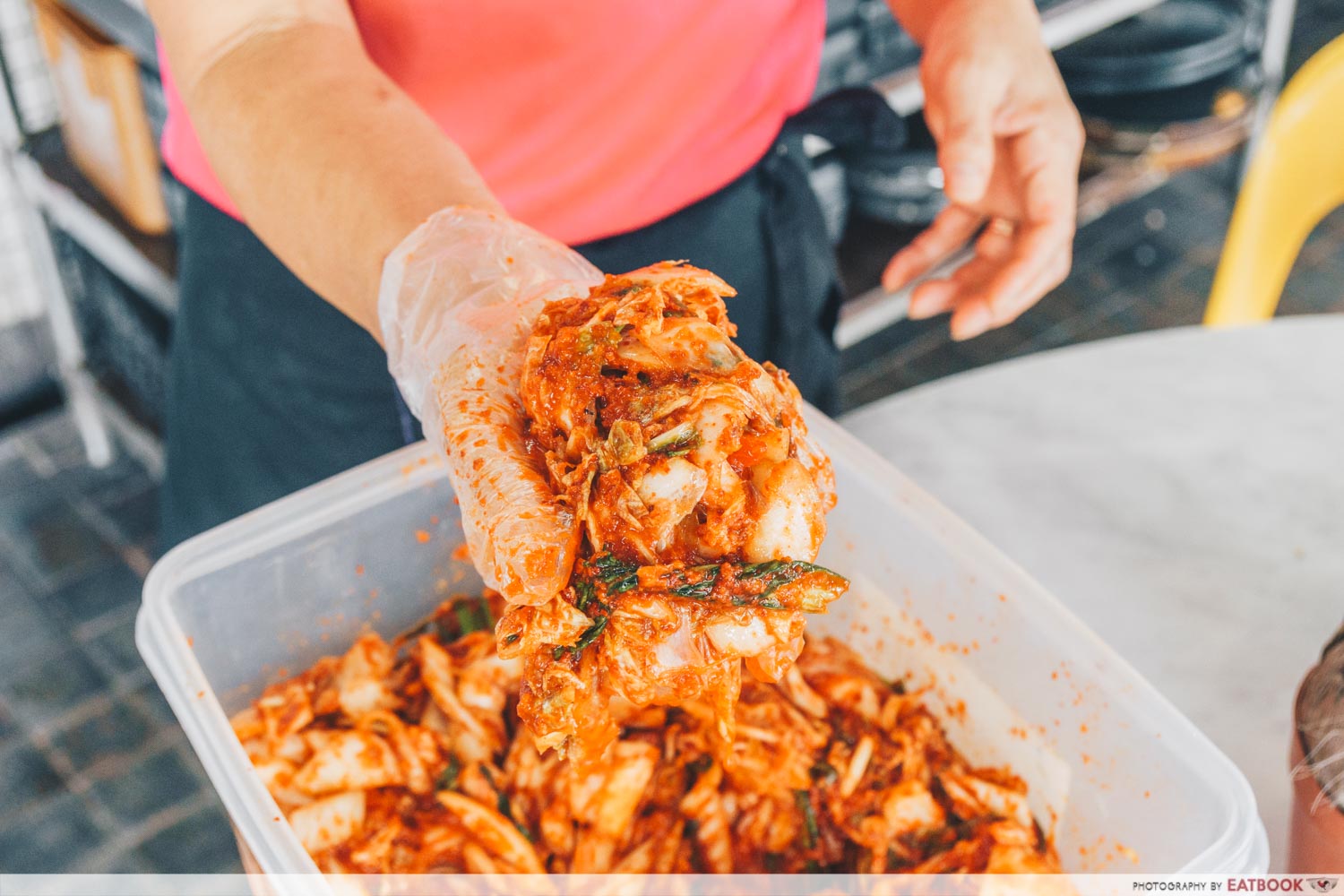 Start off with the kimchi. Pink Candy has some types of kimchi we've never come across before, made with cucumber, radish and also, spring onion. We ordered the Fresh Kimchi ($4), which was a sweeter spin on the typically salty and sour side dish. Kim uses mashed apples as a natural sweetener, adding it to the spicy brine and cabbage to ferment. During our time at Pink Candy, many regulars popped by to order tubs of kimchi to take home. The stall also has White Kimchi ($25/1kg), a no-spice option for those who can't deal with heat, but this is made-to-order.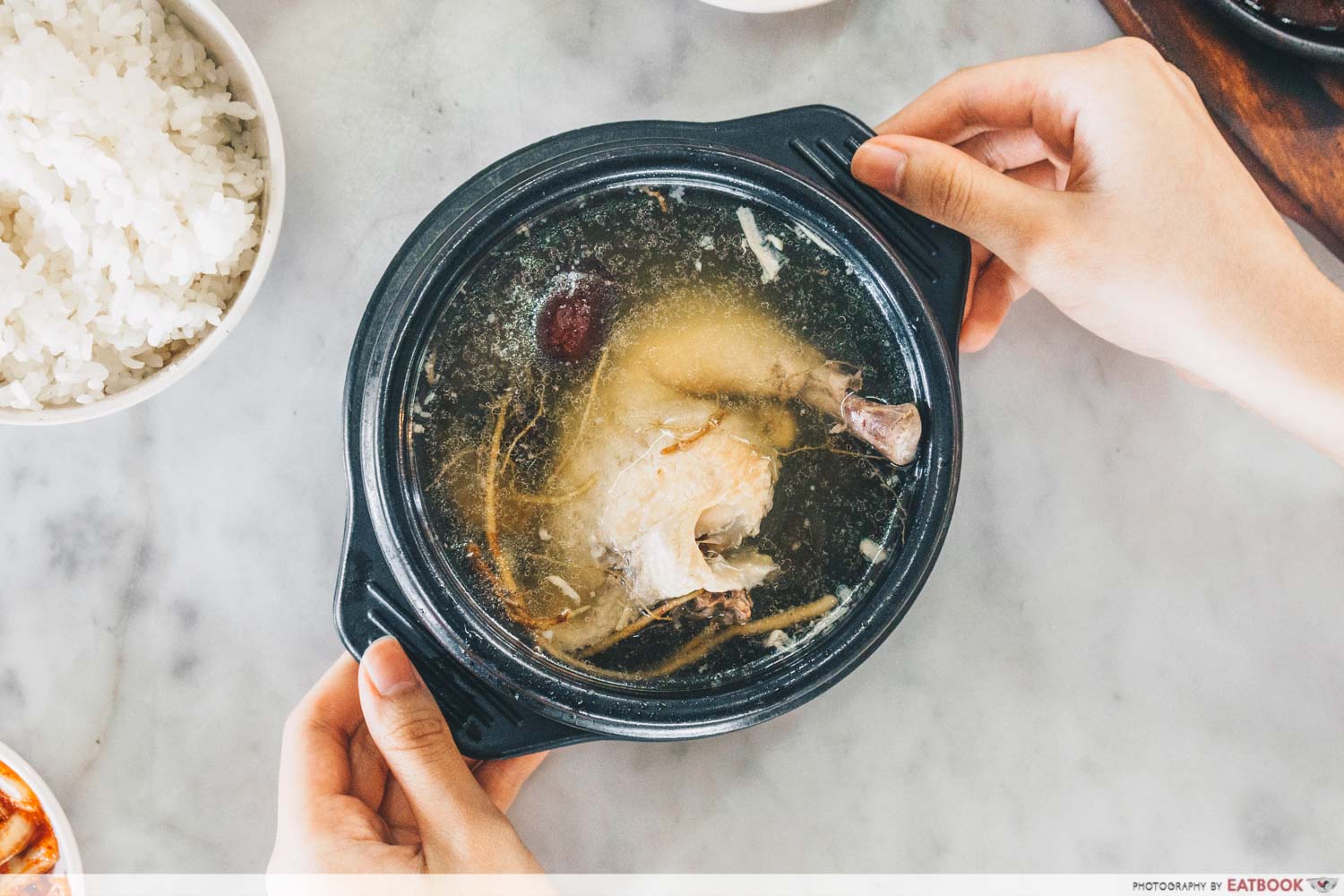 Ginseng Chicken ($8.90 for small) arrived next. The broth, shimmering with chicken fat, managed to be fragrant without being overly herbal or bitter, which many ginseng chicken soups are prone to. Small-sized orders are served with chicken legs boiled in the soup till they're so fork-tender, they fall right off the bone. This and a bowl of rice on a rainy day would hit every spot.
10 Korean Dishes To Try Instead Of Bibimbap, Tteokbokki, And Army Stew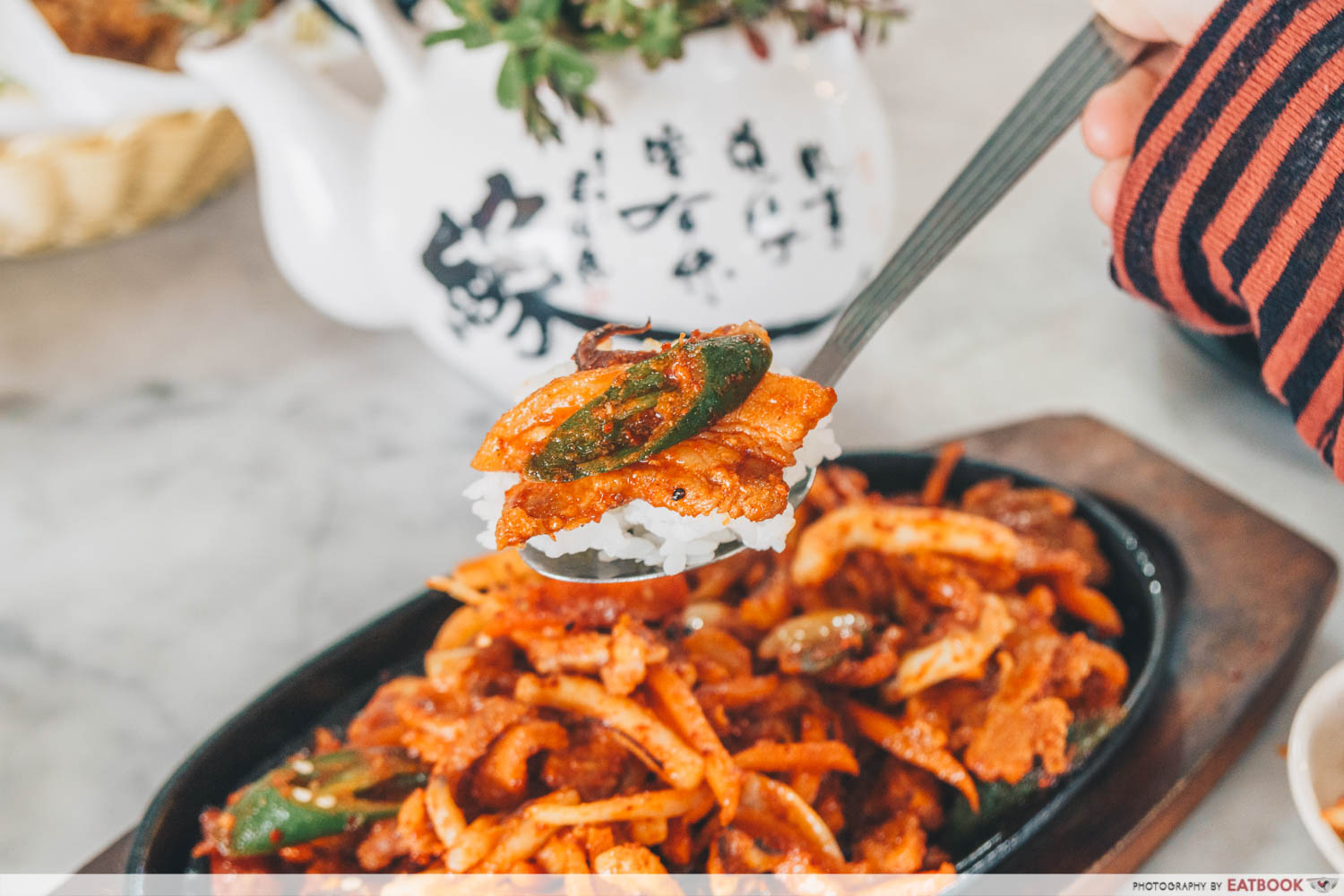 Pink Candy does not shy from mouth-watering spice. The Squid and Pork Belly Bulgogi ($13.90), a welcome departure from standard beef or chicken, is the stall's popular example. Generous amounts of chewy squid and wafer-thin pork belly slices are doused in a secret hot sauce, fiery enough that you'll keep coming back for more, even when you start to sweat. Seafood and meat are both heaped on the hotplate, so you're getting your money's worth, unlike other Korean hawker stalls where a mountain of onions disguise stingy proteins.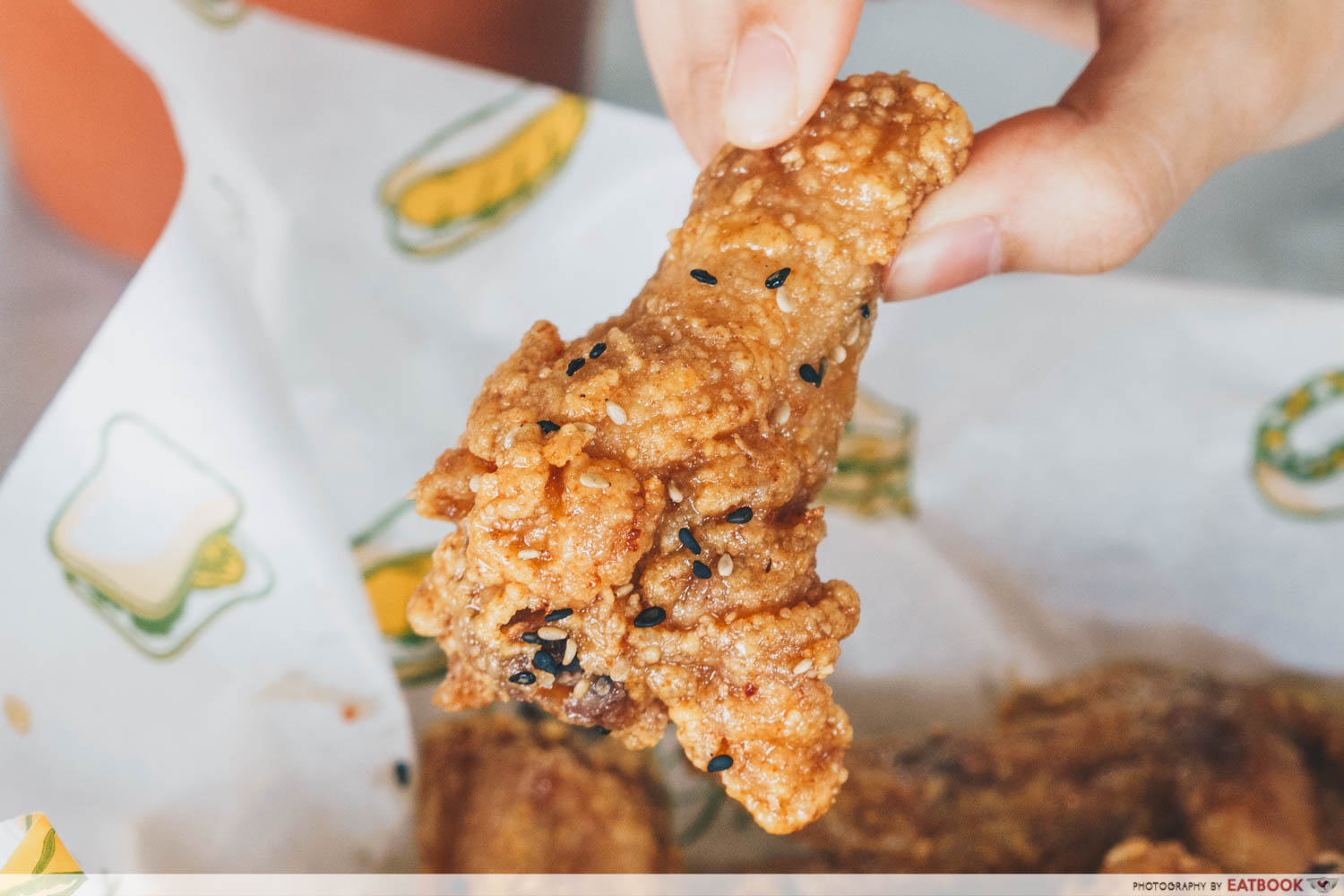 Also, no Korean meal is complete without a fried chicken order, especially if you're going to be enjoying your meal with soju or Hite beer. Pink Candy has three flavours: Soy Sauce, Original or Spicy Sauce, each priced at $13.90 for nine pieces, which is a steal. Soy Sauce Fried Chicken is their standout, each deep-fried, crispy wing glazed with a sweet soy sauce so moreish, you can easily finish a basket alone if you're not careful. 
15 Korean Fried Chicken Delivery Services During This Stay-Home Period
Ambience at Pink Candy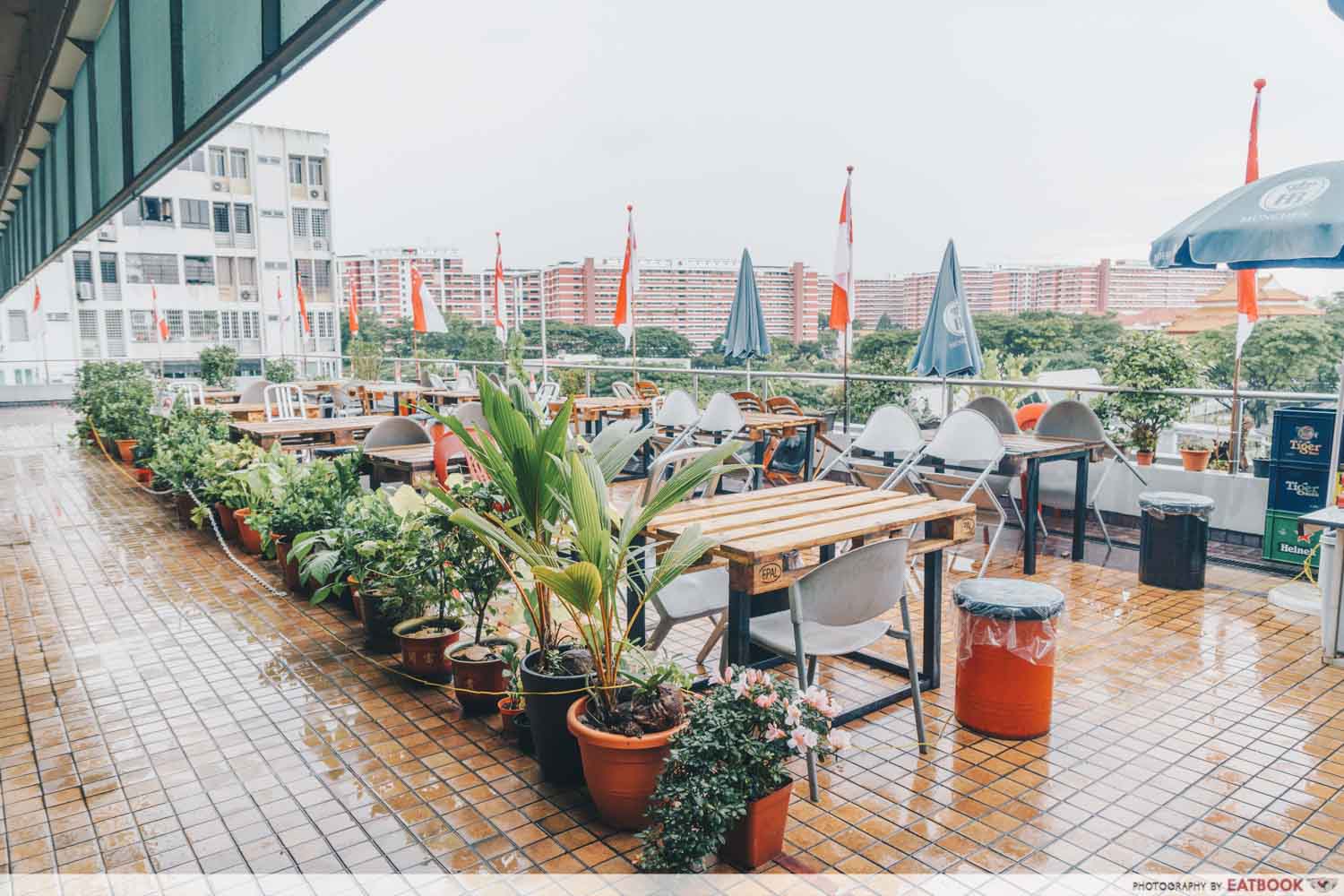 The fact that you get affordable Korean food in a rooftop setting is already a win with Pink Candy. The space is unpretentious, laidback, and surrounded by greenery. You can have your meal on one of the tables restyled from wooden crates, or opt to enjoy your barbecue around grill-top barrels.
Evenings, especially weekends can get busy, but the al fresco dining area doesn't feel stifling, so you'll still be comfortable.
Pink Candy is also conveniently located just a short walk away from Beauty World MRT Station.
10 Bukit Timah Korean Restaurants To Check Out The Next Time You're At This Mini K-Town
The verdict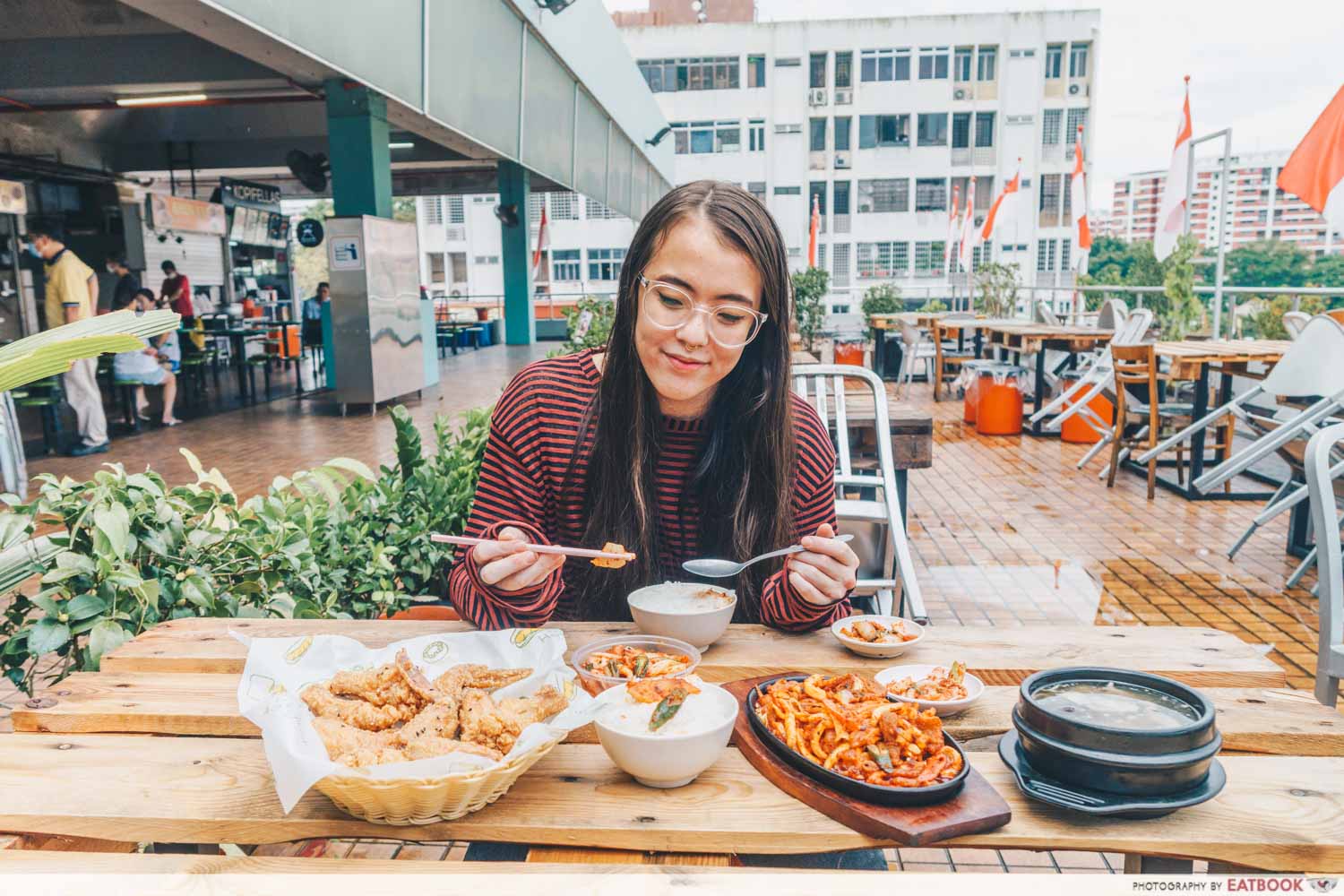 In a city saturated with Korean food options, Pink Candy still stands out. The ambience is great for dinner with friends or even a date, and the food is right on par. The fact that the owner has been running Korean restaurants in Singapore for over 10 years and is dedicated to making dishes from family recipes and kimchi from scratch is an extra mile that will get us coming back. Also, those chicken wings. We'll return for those any day.
Address: 144 Upper Bukit Timah Road, #04-60, Beauty World Centre, Singapore 588177
Opening hours: Mon, Wed-Sun 10:30am to 2:30pm, 5 to 9pm
Tel: 9170 2365
Website
Pink Candy is not a halal-certified eatery.
Photos taken by Hay Thi.
This is an independent review by Eatbook.sg.
Summary
Pros
– Authentic yet affordable Korean food
– Unique rooftop dining experience
– Freshly-made kimchi
Cons
– Outdoor dining is subject to weather
Recommended dishes: Soy Sauce Fried Chicken ($13.90), Ginseng Chicken ($8.90)
Opening hours: Mon, Wed-Sun 10:30am to 2:30pm, 5 to 9pm
Address: 144 Upper Bukit Timah Road, #04-60, Beauty World Centre, Singapore 588177