Ajiya Okonomiyaki Restaurant lets you DIY your okonomiyaki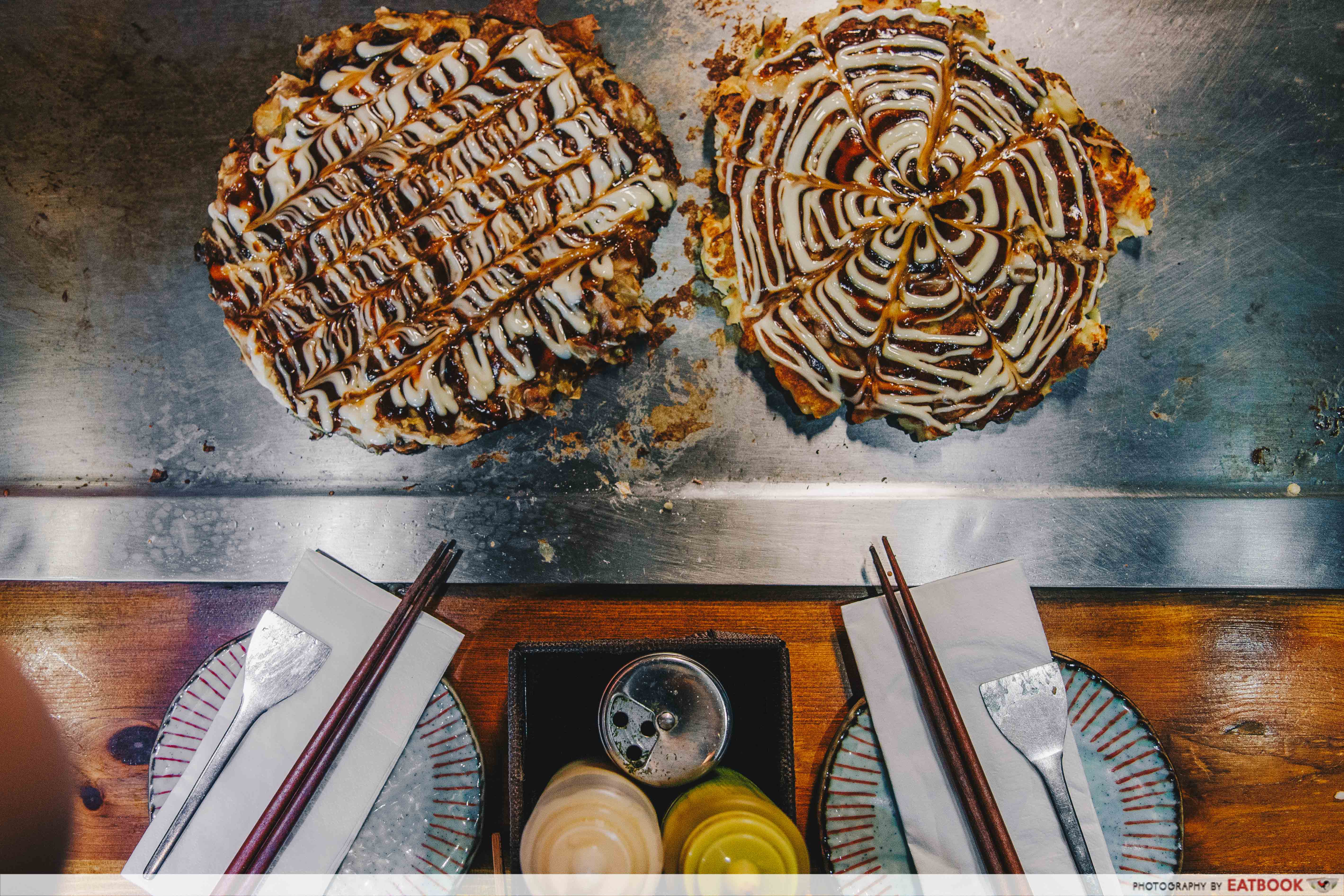 I first got to know about the existence of okonomiyaki at a Japanese fair held at a shopping mall. The signboard on the stall read "Japanese Pizza", and that instantly piqued my interest. Since then, I've been going on a hunt for good okonomiyaki around Singapore. Recently, I chanced upon Ajiya Okonomiyaki Restaurant, a Japanese restaurant that specialises in okonomiyaki. What's more attractive is that you are even allowed to cook it yourself!
Food at Ajiya Okonomiyaki Restaurant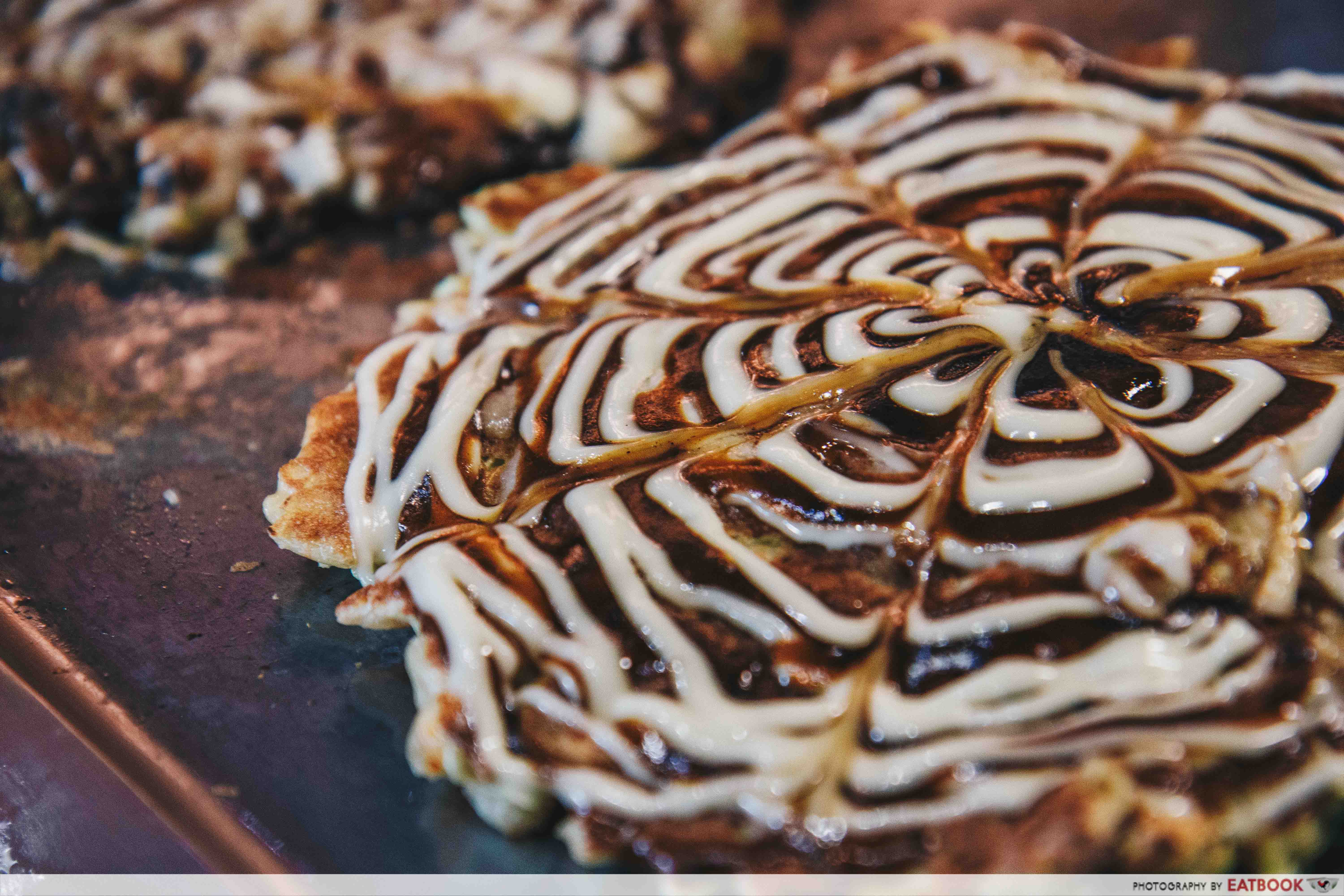 The okonomiyaki at Ajiya comes in four different types – Seafood Deluxe ($16+), Meat Lovers ($15+), Ajiya's Combo ($16+), and Veggie Delight ($13+). Customers can pick their ingredients based on the type they choose. I went for the Seafood Deluxe, and selected prawns, squid, and tobiko as my ingredients.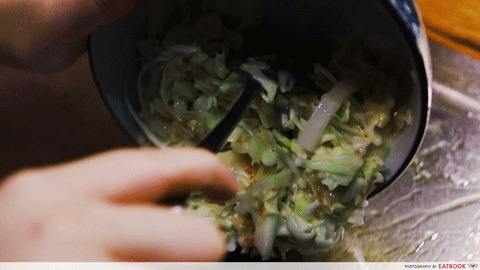 Fresh cabbage made up the bulk of the okonomiyaki. Before pouring everything onto the grill, I was told to mix the ingredients with okonomiyaki batter. After which, off to the grill it goes!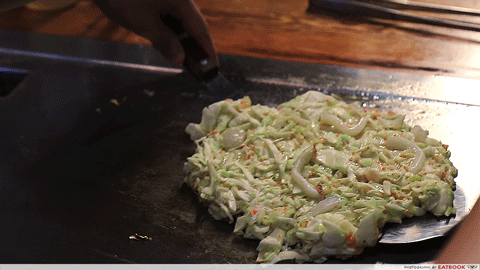 After shaping and flattening the okonomiyaki, the next thing you have to do is wait for a good 10 to 15 minutes before flipping it. If you are not confident of the Gordon Ramsay in you, the staff members are more than willing to be of help.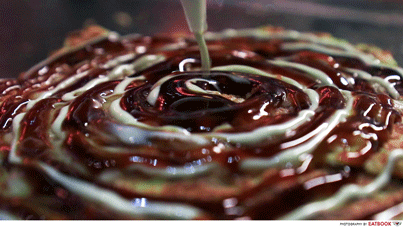 On every table, there is a basket containing sauces such as okonomiyaki sauce and Japanese mayonnaise, and toppings such as bonito flakes. It is time to unleash your inner Leonardo Da Vinci and decorate your okonomiyaki.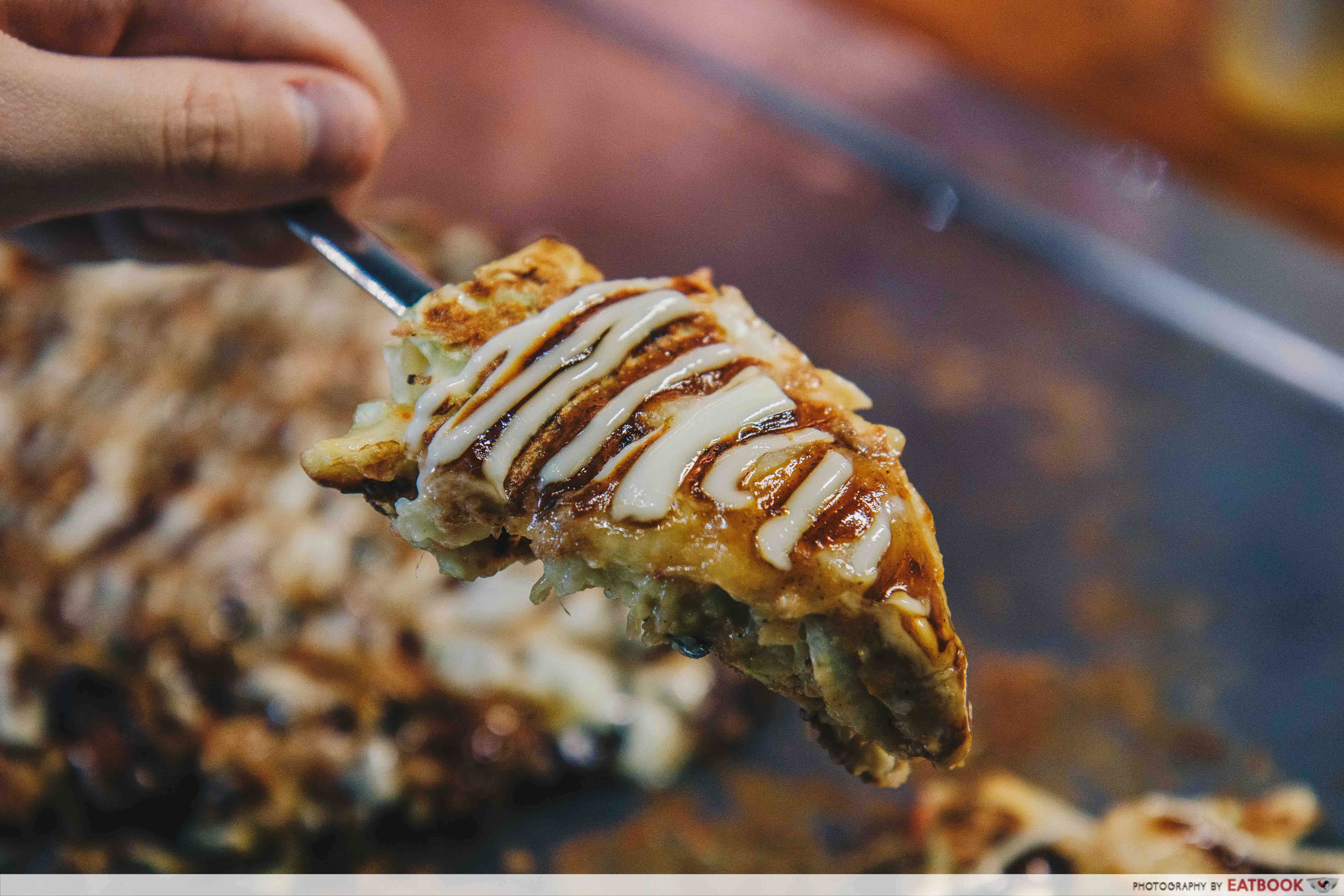 After a short delusional moment of being the best cook in the house, it was finally time to taste my own creation. The exterior of the okonomiyaki was grilled till crispy and brown, whereas the interior was relatively softer. As my teeth sank into the Japanese pancake, it gave off a good crunch due to the cabbage.
Both the okonomiyaki sauce and Japanese mayonnaise gave the pancake a boost in flavour. The former was savoury with a tinge of sweetness, while the Japanese mayonnaise was tangy and creamy. Though both sauces added different tastes, they complemented each other very well.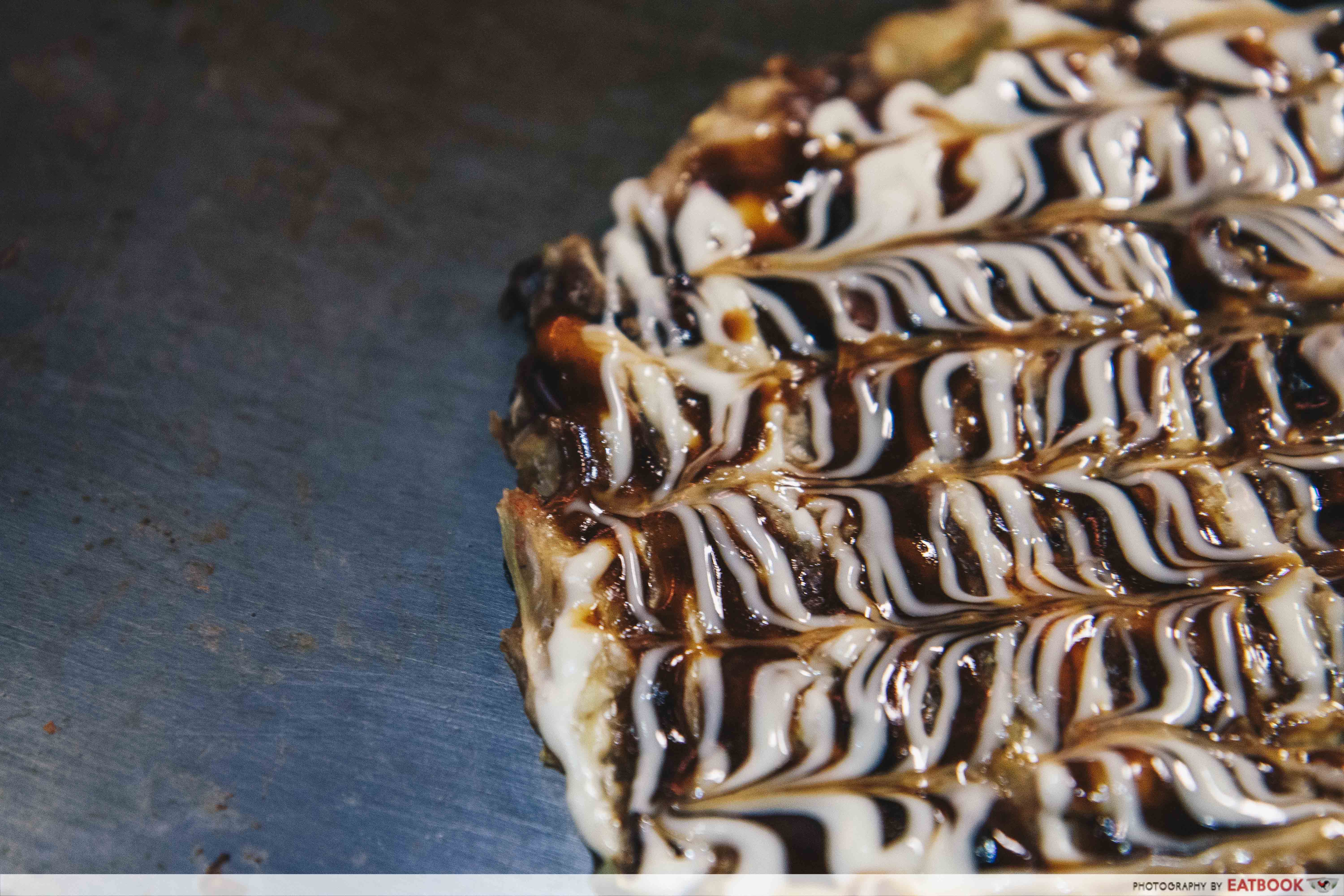 Right after wolfing down the okonomiyaki, it was time to be a chef again. This time round, we ordered Monjayaki. Monjayaki is a flatter and runnier version of okonomiyaki. In order to give it a try at Ajiya, a request has to be put in at least a day before your visit. The Monjayaki's prices are exactly the same as the Okonomiyaki's. I went for the Ajiya's Combo ($16+) by selecting one ingredient from each category.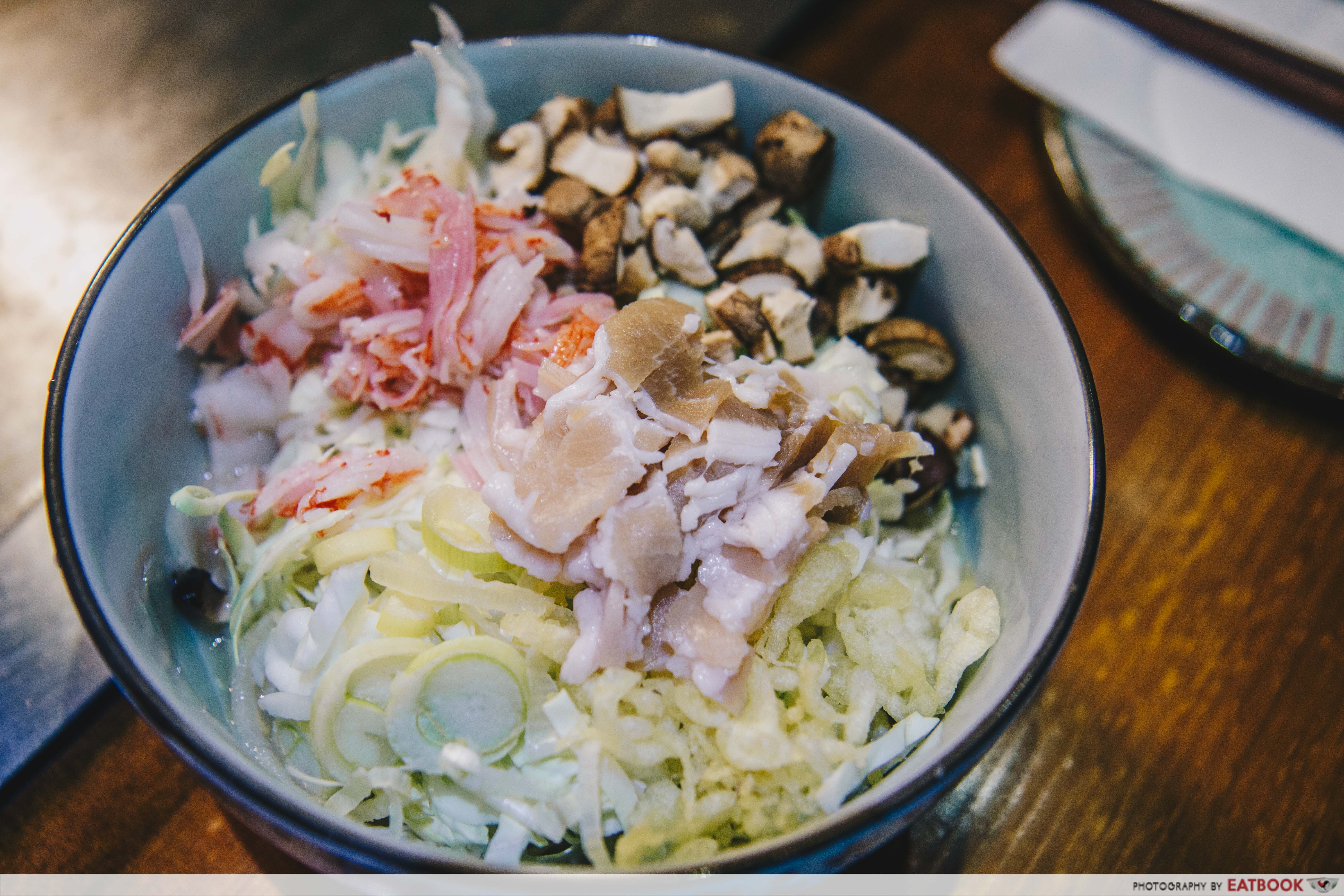 The ingredients I picked were crabmeat, pork belly, and shiitake mushrooms. Just like the okonomiyaki, this dish came with a bowl of fresh cabbage as well.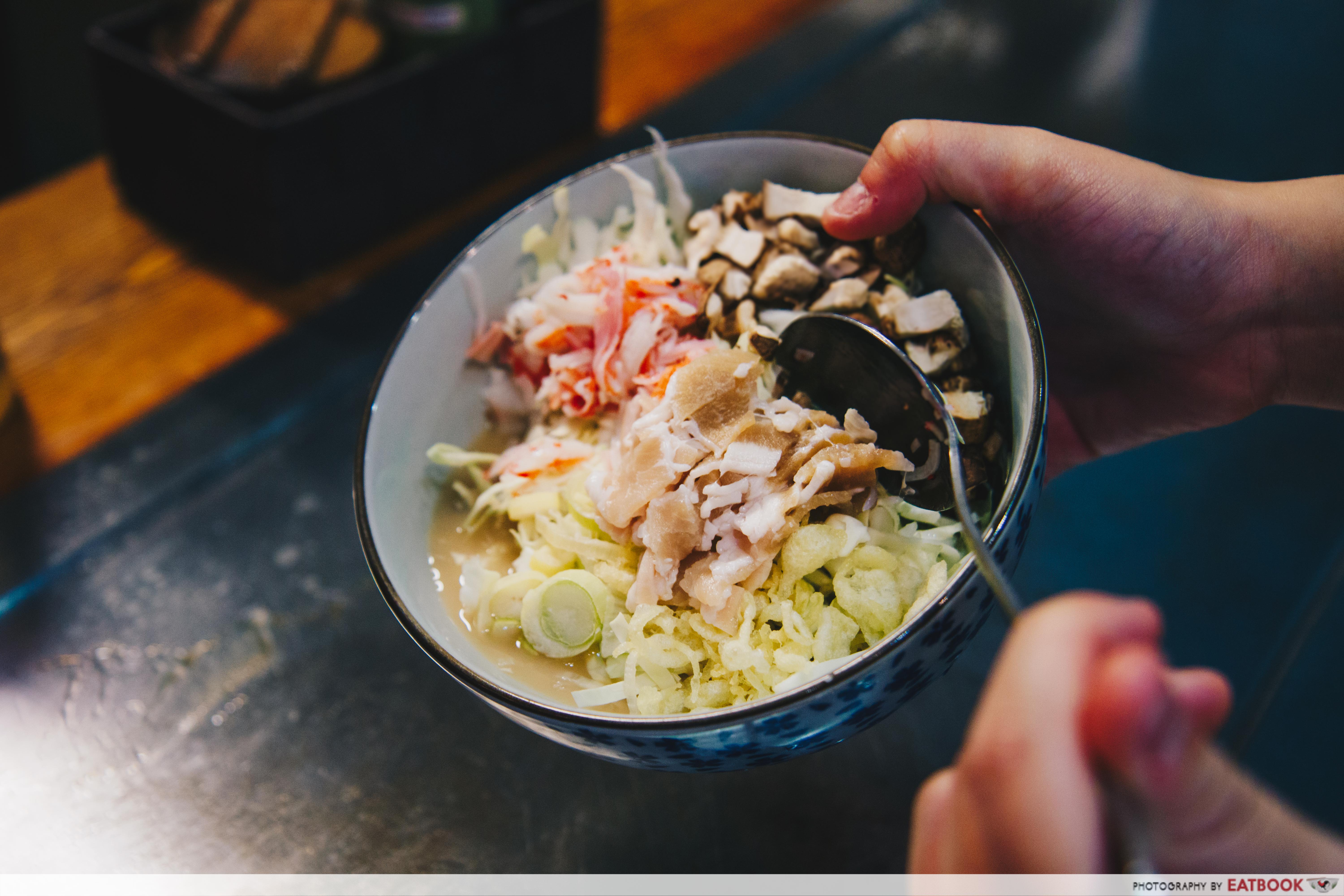 The cooking method for monjayaki is slightly different from the okonomiyaki's. Instead of mixing and pouring everything together onto the grill, the ingredients are cooked first before being drenched in monjayaki batter.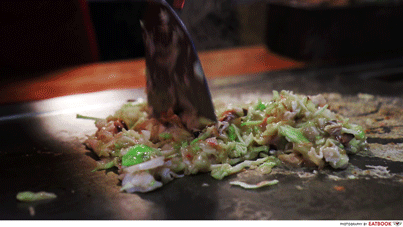 As the monjayaki batter is not as thick as the okonomiyaki's, cooking it was more of a challenge. That was when I decided to let an experienced staff member take over the spatulas.
Flipping a monjayaki would be difficult due to its runniness, thus it was left to cook on only one side. As such, the bottom was crispy, but the top was gooey. Due to it being too delicate, the staff member recommended scraping off the monjayaki with a mini spatula provided and eating it right off the grill. Besides the difference in appearance and texture, the monjayaki was pretty similar to the okonomiyaki in terms of taste.
Ambience at Ajiya Okonomiyaki Restaurant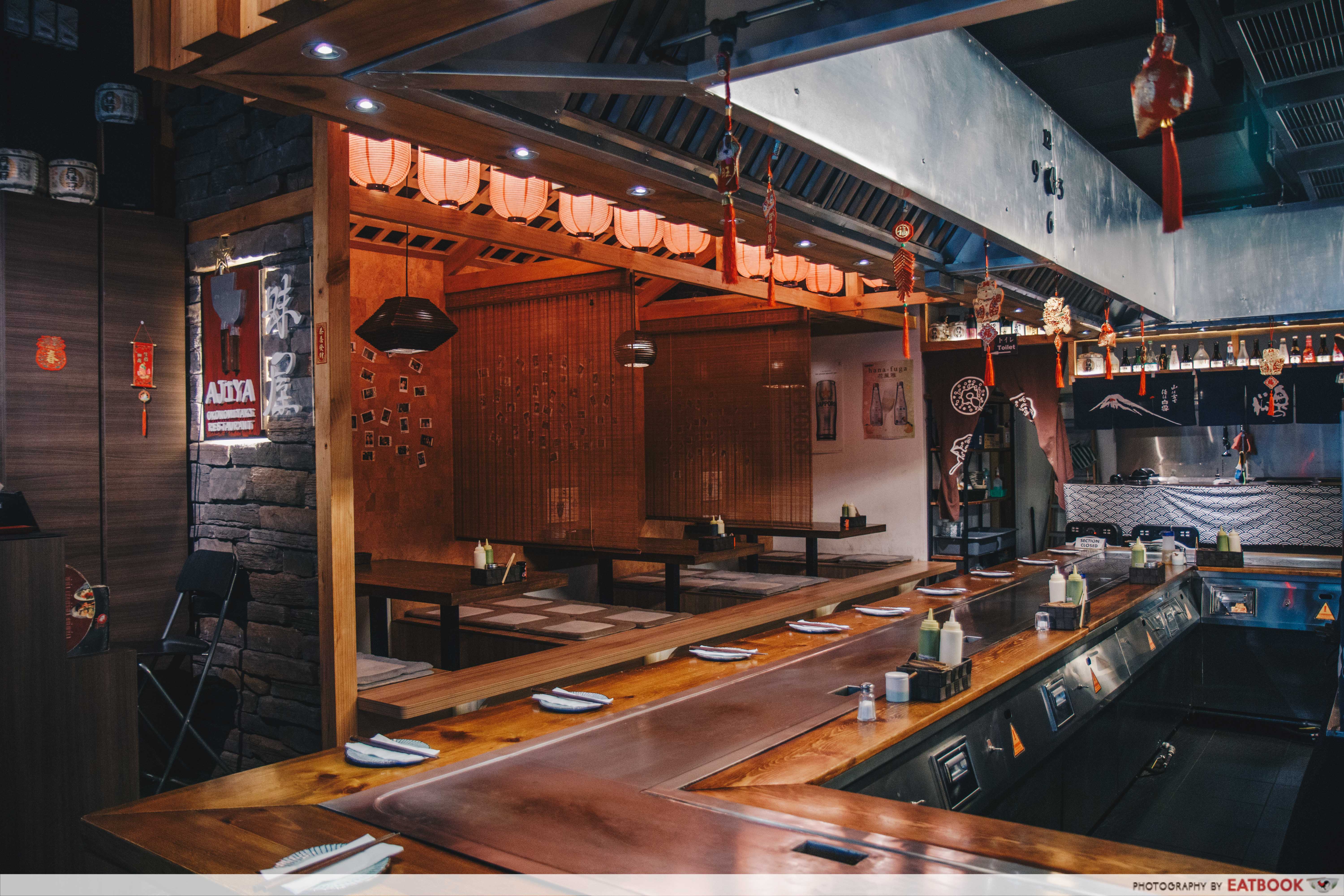 Ajiya is a small yet comfortable air-conditioned restaurant along Jalan Jurong Kechil Road. The interior design, together with the friendly staff who greeted us in Japanese made me feel like I was in Japan.
The tables, which do not have grills, are only for groups of four or more. For any group smaller than that, you'll be ushered to the counter seats instead.
The verdict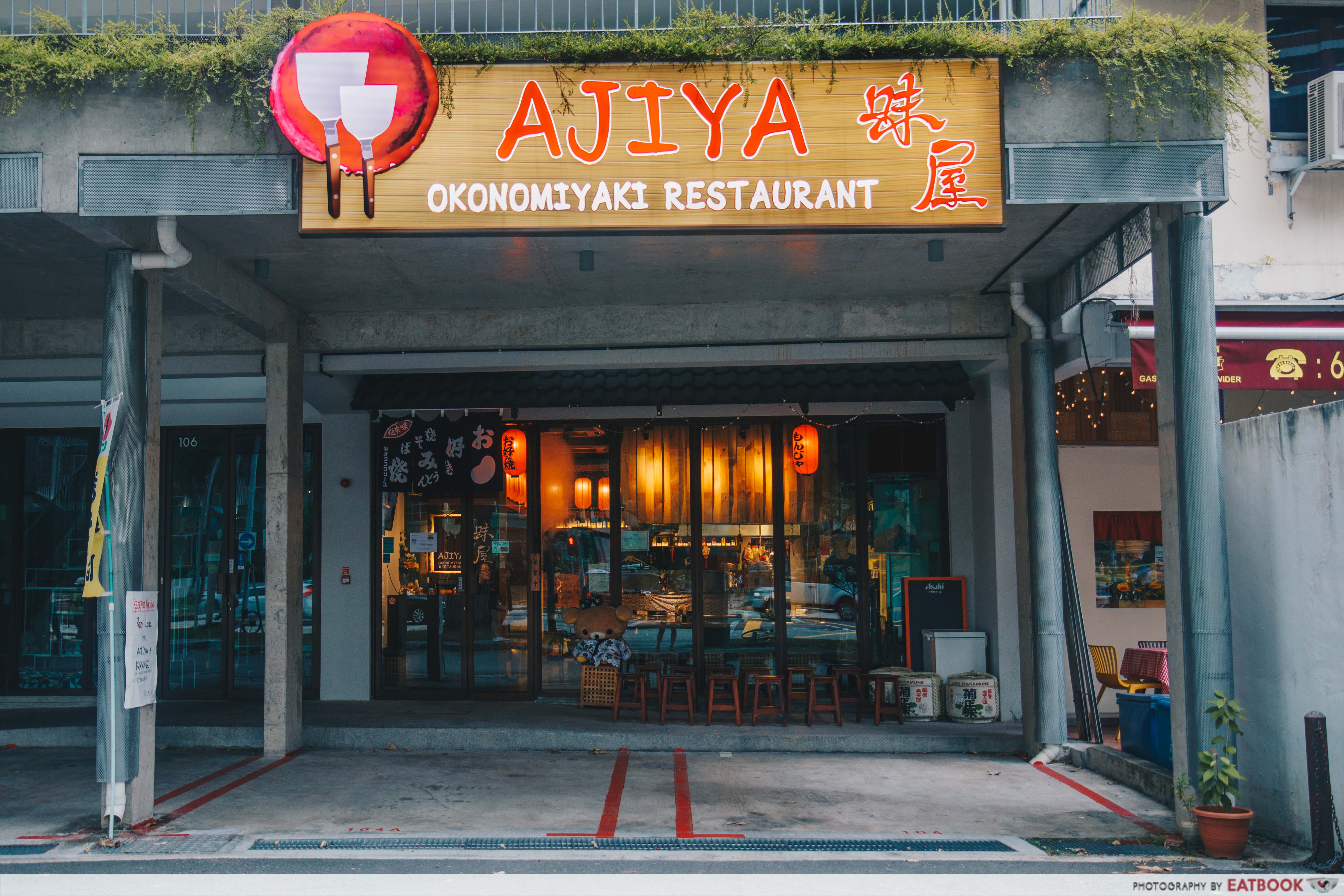 Right here at Ajiya Okonomiyaki Restaurant, I was able to get the best of both worlds by cooking and eating my own food. It is a great way to keep yourself entertained as you wait for your first okonomiyaki to be digested. Besides okonomiyaki, they have other grub such as Garlic Fried Rice ($6+) and Scallop Mentai ($14+) – dishes I would highly recommend as well.
If this place piqued your interest, check out our review on Seiwaa, a Japanese restaurant offering DIY okonomiyaki as well, and our list of stalls to try at Bukit Timah Food Centre, which is just a 10-minute walk away.
Address: 104 Jalan Jurong Kechil, Singapore 598603
Opening hours: Tue-Sun 12pm to 2:30pm, 5:30pm to 9:30pm
Tel: 6463 3461
Website
Ajiya Okonomiyaki Restaurant is a not a halal eatery.
This is an independent review by Eatbook.sg
Summary
Pros:
– Customers get to pick their own ingredients
– Customers get to cook okonomiyaki
– Free-flow of sauces and toppings
– Friendly staff members
Cons:
– Long waiting time for the okonomiyaki to cook
– Restaurant is unable to accommodate big groups
Recommended dishes: Seafood Deluxe Okonomiyaki ($15+)
Operating hours: Tue-Sun 12pm to 2:30pm, 5:30pm to 9:30pm
Address: 104 Jalan Jurong Kechil, Singapore 598603