---
Say
mashisoyo
to these Korean dishes
---
Most of us love South Korea for its endless array of makeup products, heart-wrenching K-dramas, dope K-pop groups, and the country's exciting food culture. Other than familiar dishes such as bulgogi and bibimbap, here are 10 other Korean dishes you should order the next time you're K-feasting!
---
1. Naengmyeon (랭면)
---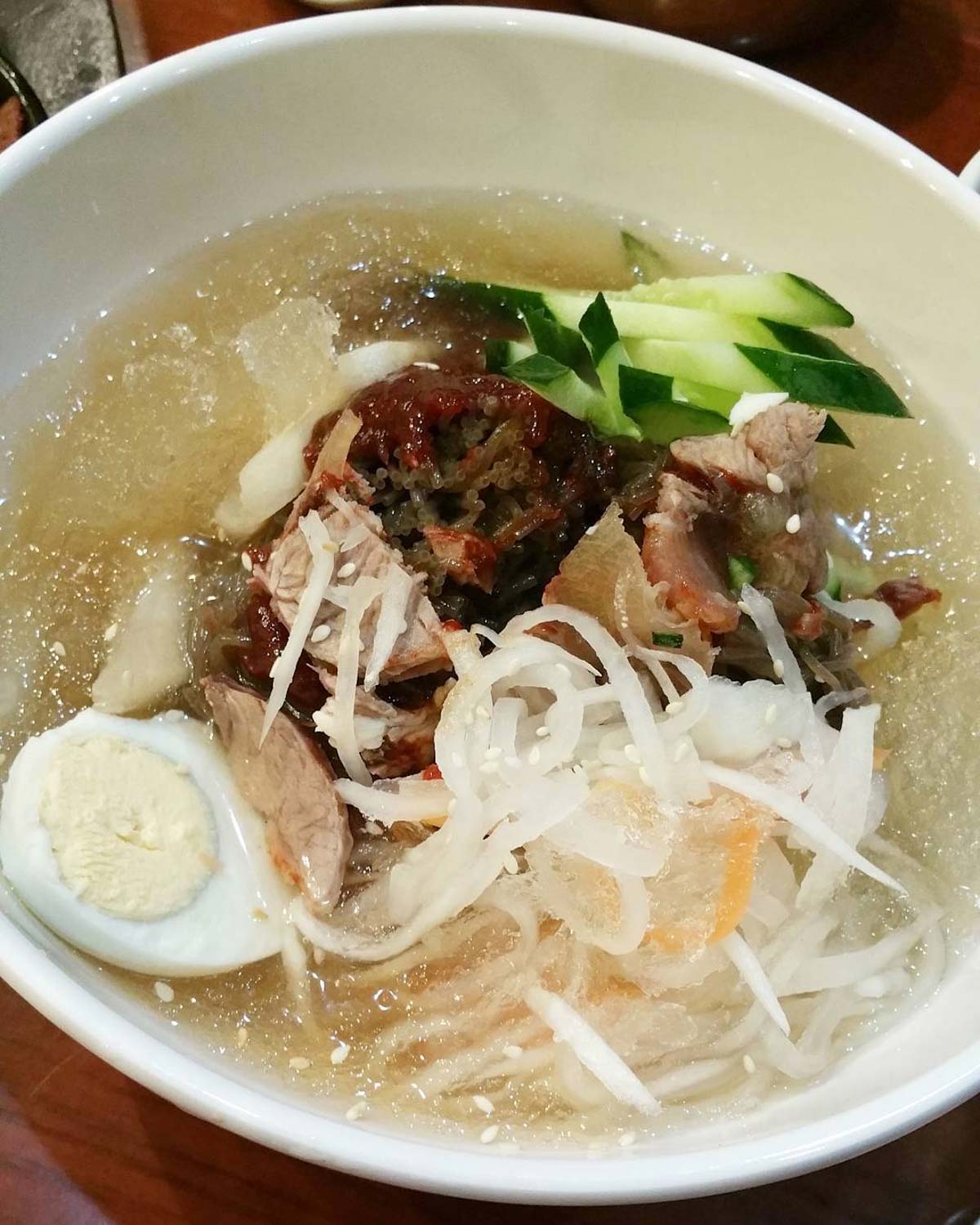 Image credit: @jo_essential
For wallet-friendly naengmyeon (cold noodles), check out the Cold Buckwheat Noodles ($9.99++) at Hansik Korean Restaurant. Not only does the chilled broth preserve the springy texture of the noodles, but it also undercuts the noodles with zesty accents of radish kimchi. There are sliced pears and cucumbers as well, which add another dimension to the noodles with their refreshing crunch.
Address: 205 Hougang Street 21, #02-00, Heartland Mall, Singapore 530205
Opening hours: Daily 11am to 10pm
Tel: 6288 2448
Website
---
2. Jokbal (족발)
---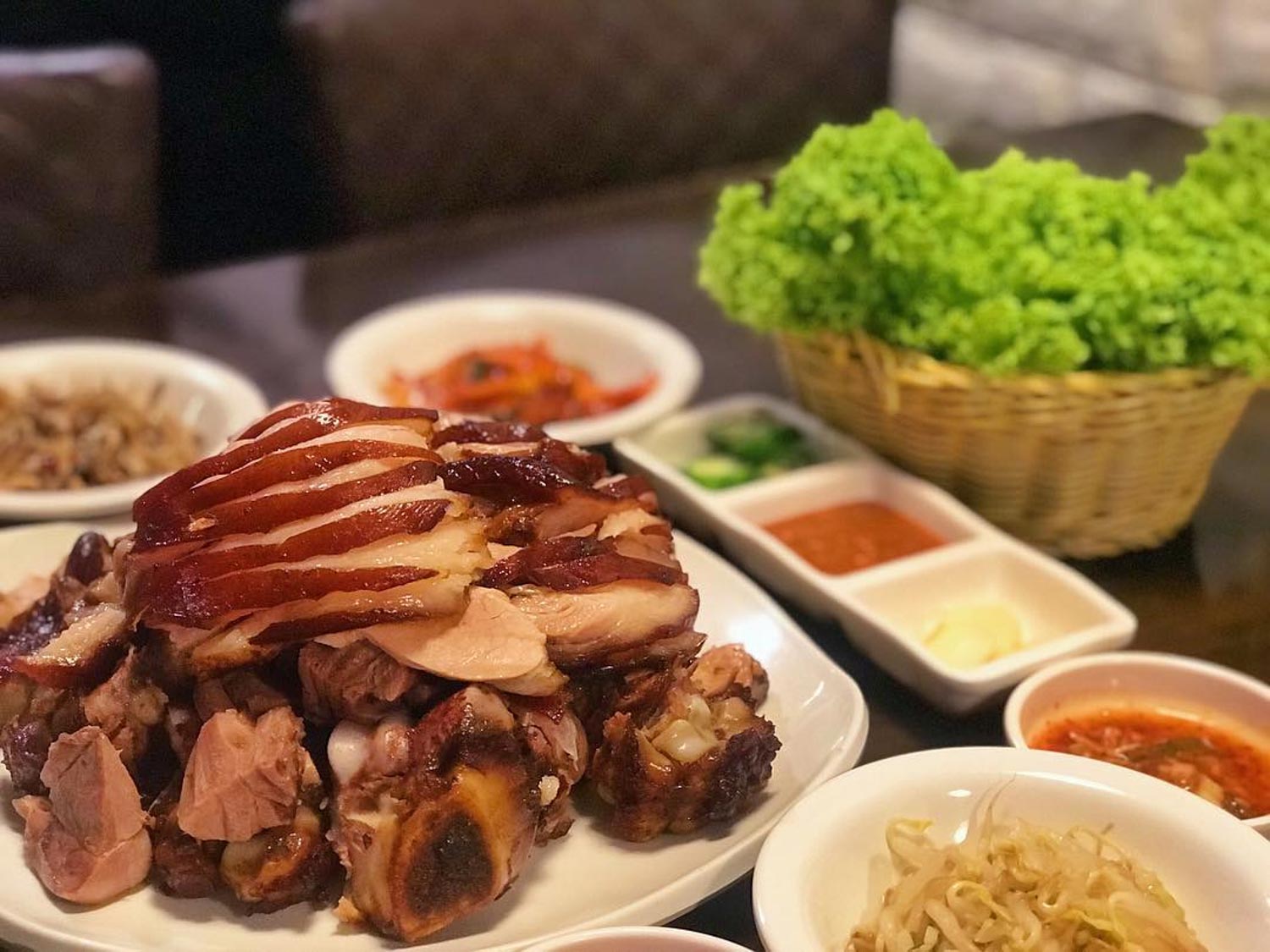 Image credit: @sara_atheniza
Unlike lor bak, the Jokbal ($38++/$43++) (족발) at DAL-IN carries whiffs of cinnamon and star anise. The pork trotter is best enjoyed as a wrap, with the medley of garlic, bean paste, and kimchi highlighting its rich taste. And since the jokbal has distinct layers of skin, fat, and meat, it has a more noticeable chewiness and less fatty aftertaste.
Address: 17 Boon Tat Street, Singapore 069618
Opening hours: Daily 11:30am to 3pm, 5:30pm to 2am
Tel: 6225 1006
---
3. Kalguksu (칼국수)
---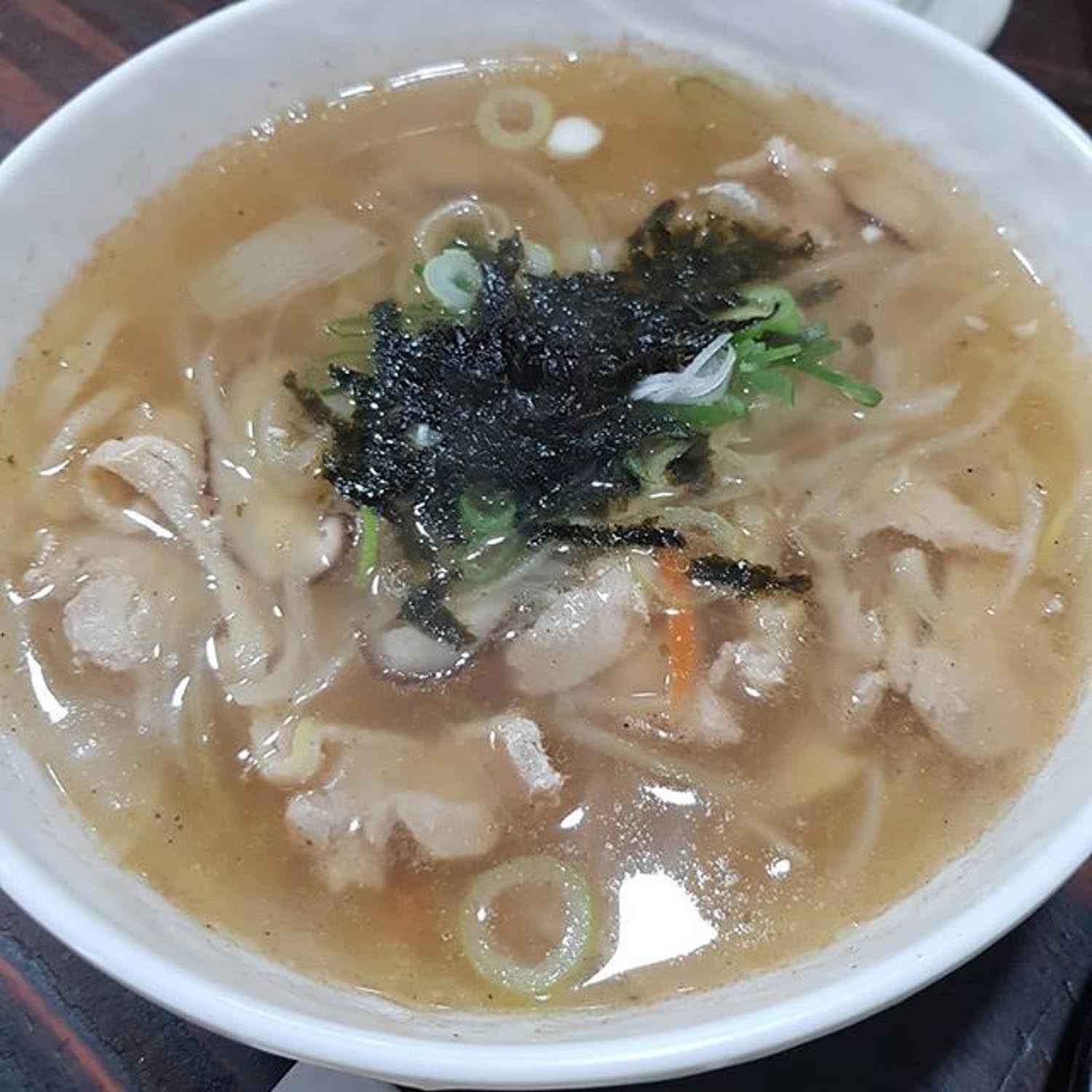 Image credit: @j3ss
Kalguksu are Korean knife-cut noodles, and the Haemul Kalguksu ($12.90) dished up at Myung Ga Il is a slurpalicious treat. You'll adore the unique texture of the noodles, which combines the springiness of ban mian with the smoothness of udon. Prepared from a robust base of anchovy broth, assorted vegetables, and garlic, the umami-rich soup enhances the light tang of the noodles.
Address: 1 Jalan Anak Bukit, #B1-55, Bukit Timah Plaza, Singapore 588996
Opening hours: Daily 12pm to 4pm, 6pm to 9pm
Tel: 6469 5123
---
4. Haemul Pajeon (해물파전)
---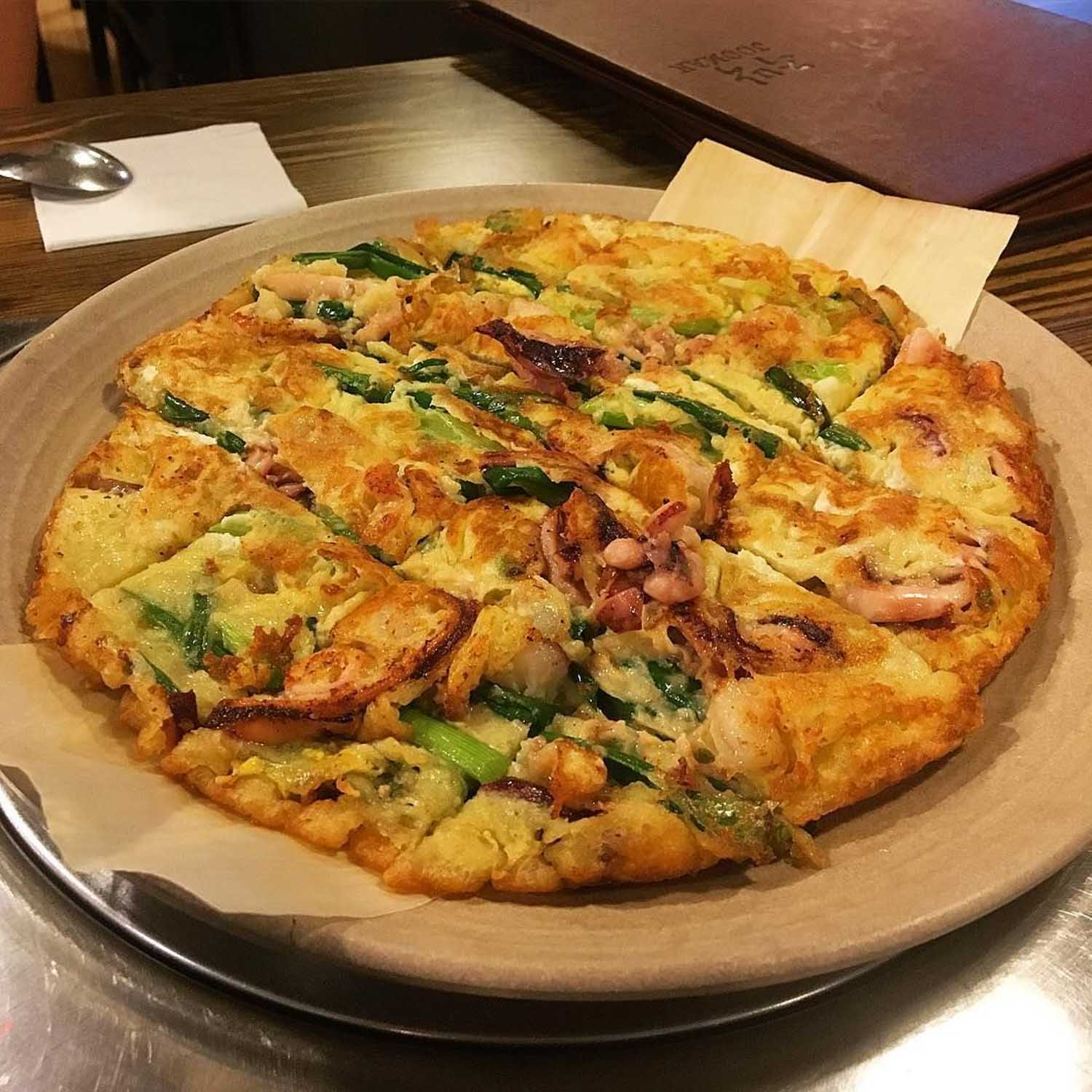 Image credit: @stayclearawake
Haemul pajeon, otherwise known as Seafood Pancake ($20), is a crowd-favourite at Joo Mak Korean Restaurant. A blend of rice flour and tempura flour is usually added to its batter, which makes the pancake fluffy on the inside and crisp on the outside. Furthermore, since the batter is added after lightly frying the ingredients, the pancake is infused with the sweetness from the spring onions and seafood.
Address: 144 Upper Bukit Timah Road, Singapore 588177
Opening hours: Mon 6pm to 10pm, Tue-Sun 12pm to 3pm, 6pm to 10pm
Tel: 6466 7871
Website
---
5. Tangsuyuk (탕수육)
---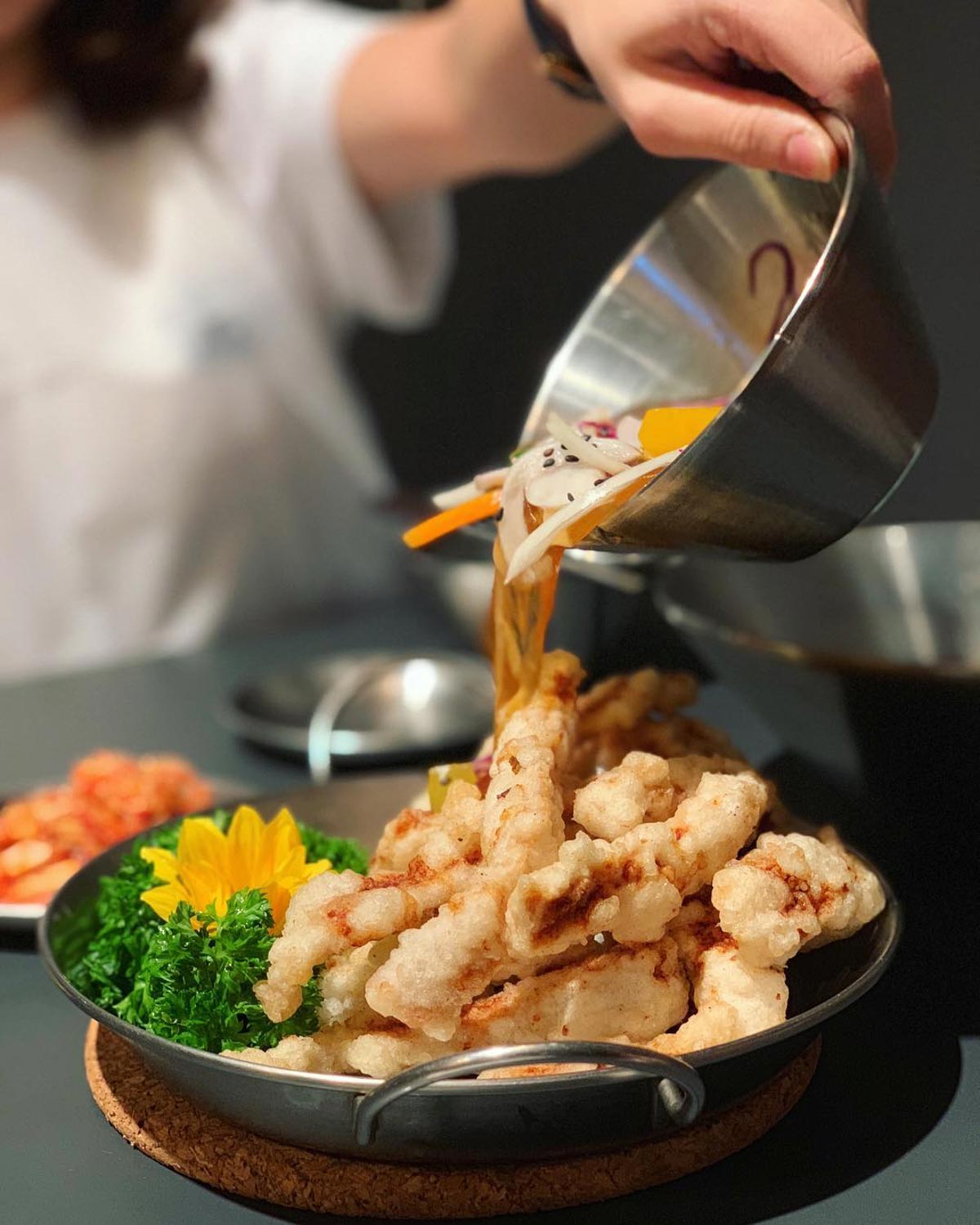 Image credit: @travellingwithpo
Don't be fooled by the Tangsuyuk ($23++) at Hong Jjajang. While the Korean rendition of sweet and sour pork may seem similar to the Cantonese version, the former features longer strips of meat and a lighter crust.  The sauce, which is a blend of sugar and vinegar, is peppered with julienned vegetables for an added crunch. The sauce is served on the side, so you have the liberty of either pouring it all over the meat or using it as a dip instead. 
Address: 93 Tanjong Pagar Road, Singapore 088514
Opening hours: Daily 12pm to 11pm
Tel: 6909 5171
---
6. Jjajangmyeon (짜장면)
---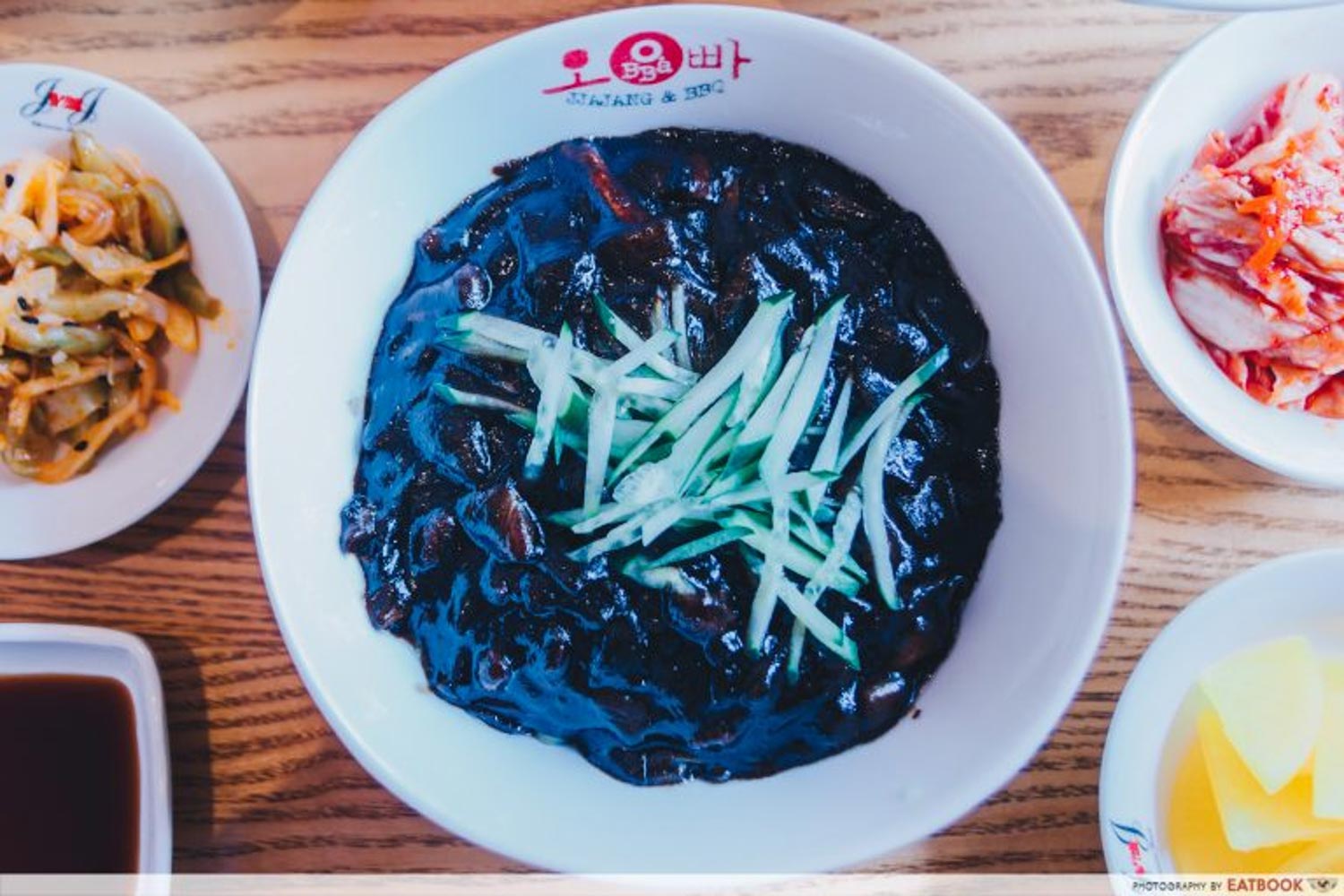 Don't wear a white shirt if you are intending to try the Jjajangmyeon ($12++) at Obba Jjajang! 
After all, these black bean noodles are best eaten messily. Draped in a savoury black bean gravy, their chewy noodles simply invite you to inhale them in voracious slurps, leaving your mouth and shirt with telltale black stains. Refresh your palate with alternating bites of the pickled radish, if you find the noodles rather jelak.
Check out our full review of Obba Jjajang!
Obba Jjajang Review: Korean Jjajangmyeong Spot That Opens Till 3am Daily
Address: 77 Tanjong Pagar Road, Singapore 088498
Opening hours: Daily 11:30am to 3am
Tel: 6221 8254
Website
---
7. Jjamppong (짬뽕)
---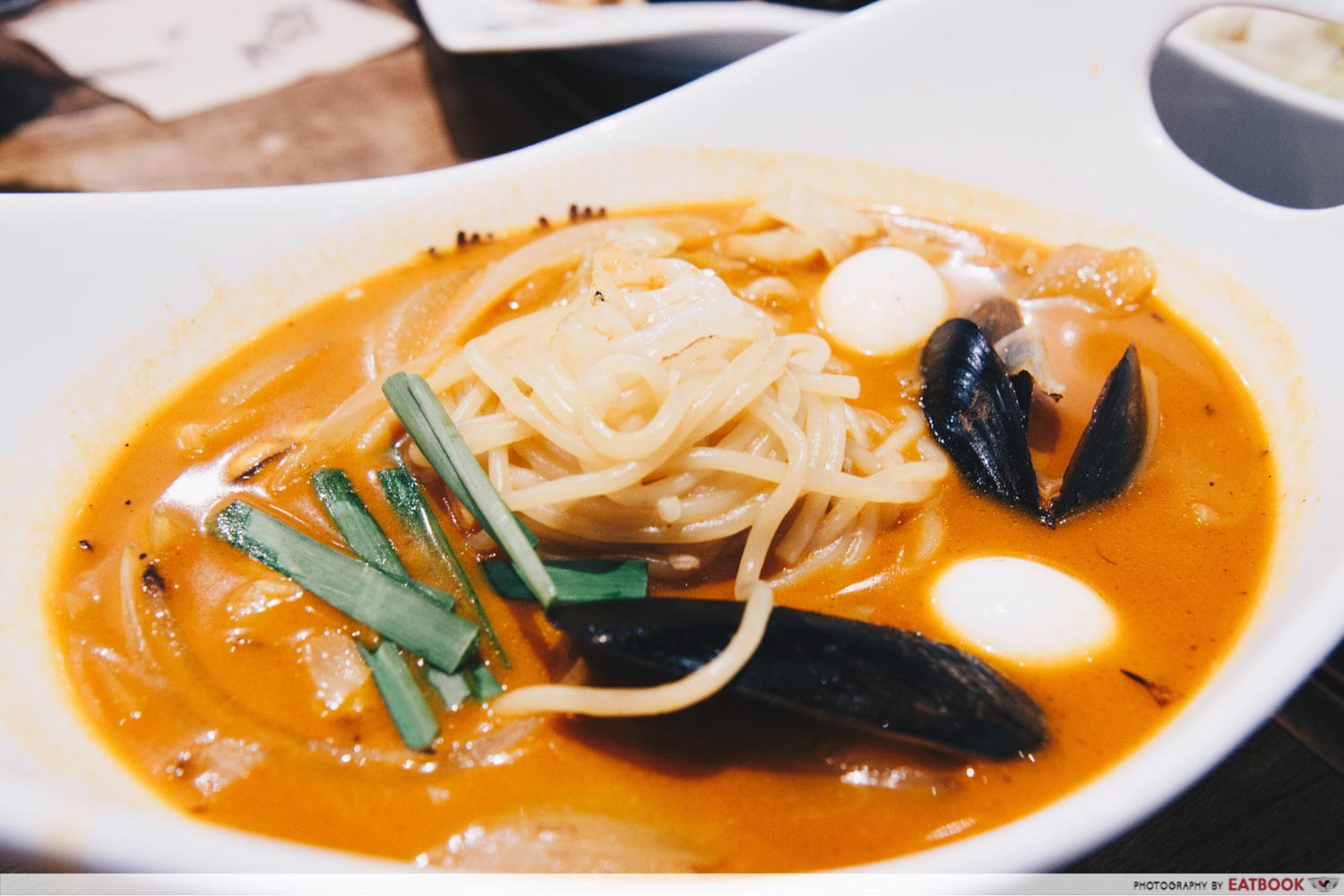 Singapore's only jjamppong specialist, Nipong Naepong is the go-to place for a bowl of spicy seafood noodles. The modern eatery surprises you with playful reinterpretations of the dish, including Vongole Ppong ($16.80++) and Ro Ppong-Roje ($17.80++).
For something closer to what you'll find along Myeongdong, try out their Cha Ppong ($15.80++)! Beware as their spicy broth leaves a devilish burn on your tongue. Thankfully, the spice doesn't dominate the broth's flavour, instead elevating the light seafood-esque sweetness.
Check out our full review of Nipong Naepong!
Nipong Naepong Review: New Korean Jjamppong Restaurant At JEM
Address: 50 Jurong Gateway Road, #01-16, JEM, Singapore 608549
Opening hours: Mon-Fri 11am to 10pm, Sat-Sun 11am to 11pm
Tel: 6262 4078
Website
---
8. Gilgeori Toast (길거리토스트)
---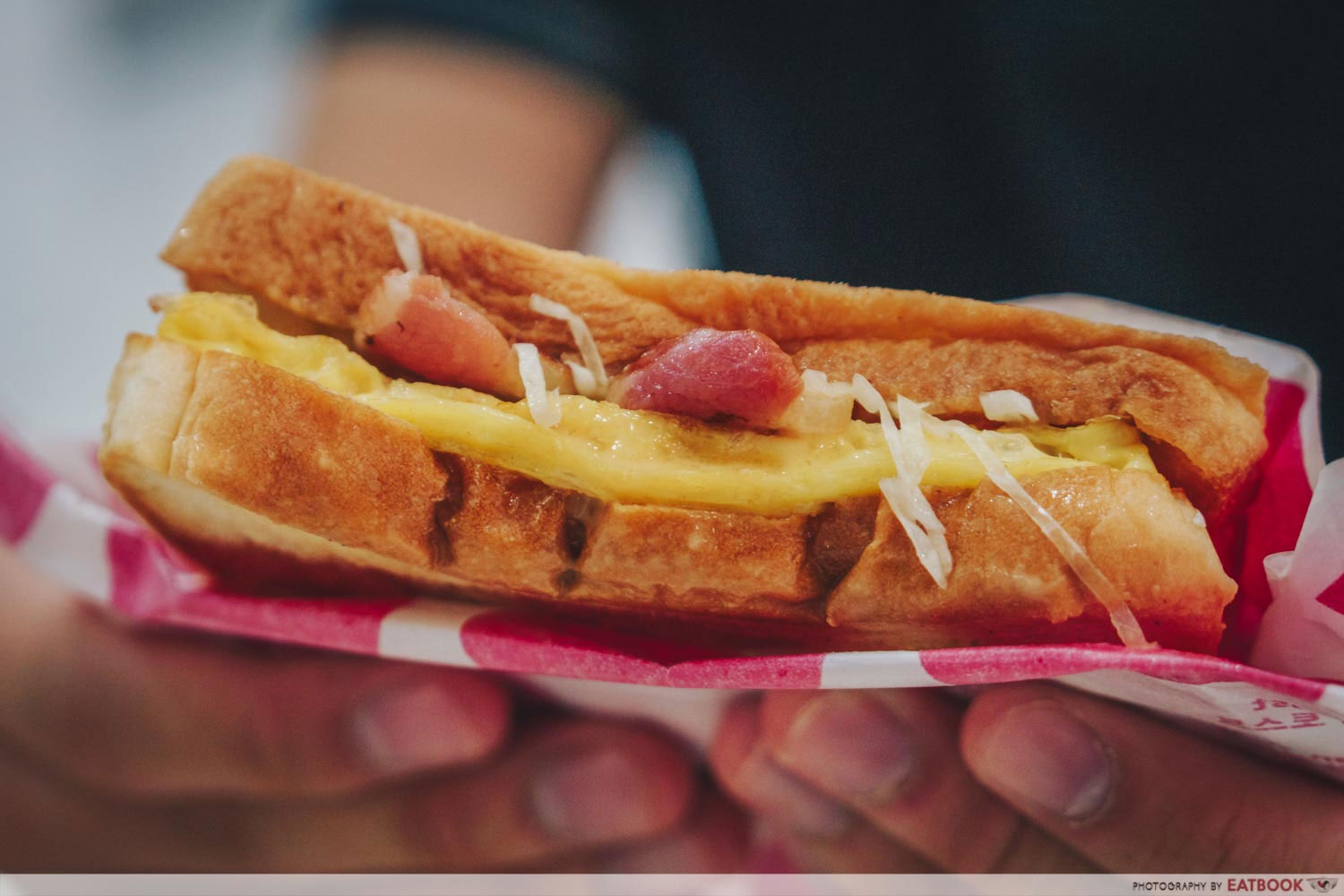 For a convenient and filling breakfast, check out the gilgeori toast at KToast.  Like us, you'll probably find yourself wolfing down their Bacon Toast ($3.90) in record time. The luscious house-made sauce harmonises well with the salty bacon strips and sour daikon, unfurling in a symphony of flavours on the tongue. 
Check out our full review of KToast! 
KToast Review: Legit $2.90 Korean Toast Cooked By An Ahjussi In The West
Address: 3151 Commonwealth Avenue West, #01-23, Grantral Mall, Singapore 129581
Opening hours: Daily 10am to 9pm
Tel: 9837 1578
Website
---
9. Sundubu Jjigae (순두부 찌개)
---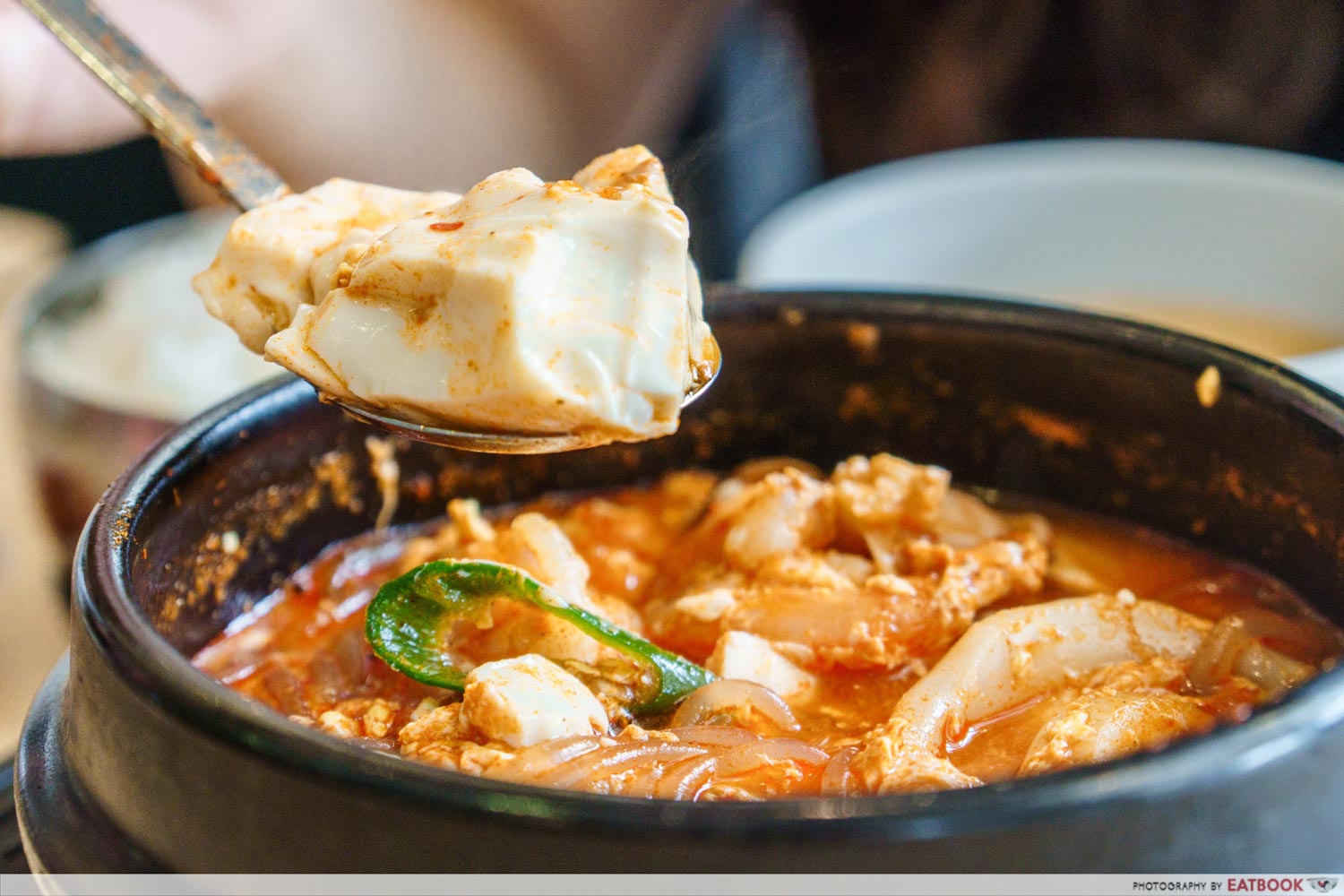 Tofu rarely takes centre stage in a dish but it's the star of the Spicy Seafood Tofu Soup ($8) at Daebak Korean Restaurant. The dish is inhaled—rather than eaten—as the silky tofu simply glides down your throat. Moreover, the beancurd sponges up the luscious seafood and the piquant broth before crumbling in a cohesive burst of flavours in your mouth. 
Check out our review of Daebak Korean Restaurant!
Daebak Korean Restaurant Review: Hidden Gem at Wilkie Edge Serving Cheap And Legit Korean Food
Address: 8 Wilkie Road, #01-18, Wilkie Edge, Singapore 228095
Opening hours: Mon-Sat 10am to 9pm
Tel: 6884 4620
Website
---
10. Jjimdak (찜닭)
---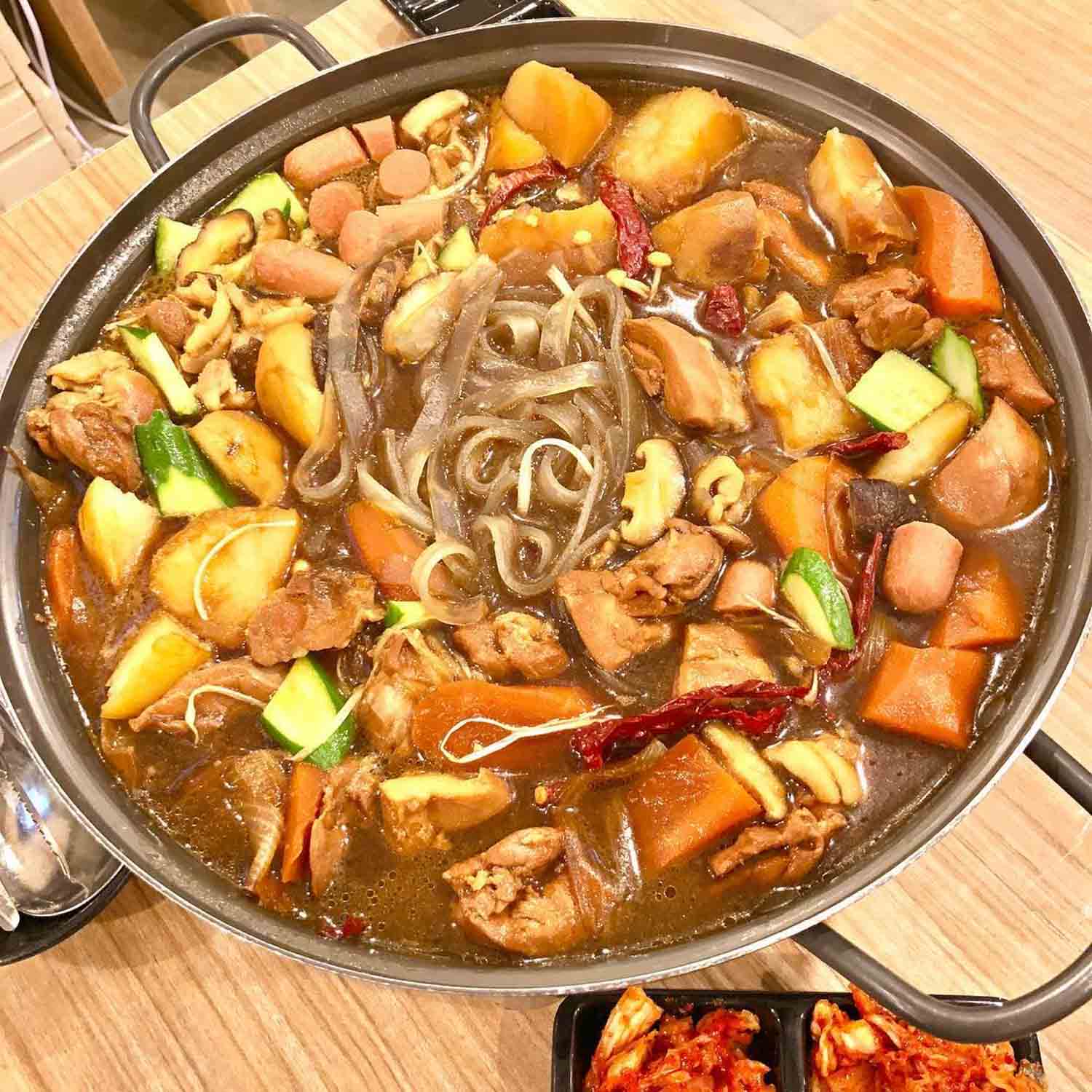 Image credit: @jusjasz
If you're a fan of army stew, you'll love the Jjimdak ($39.90++) at Seoul Jjimdak. Otherwise known as Korean braised chicken, the dish offers a potpourri of toppings, including zucchini, glass noodles, and hotdogs. Every mouthful of the stew greets you with a rush of savouriness, as tinges of spice and sweetness follow on its heels. Despite the hodgepodge of flavours, you can still savour the rich essence of the chicken.
Address: 180 Kitchener Road, #05-04, City Square Mall, Singapore 208539
Opening hours: Daily 11:30am to 10pm
Tel: 6634 2668
Website
---
Try these Korean dishes today
---
From jjajangmyeon to tangsuyuk, be sure to grab your friends and enjoy these must-try Korean dishes.
For more Korean food, check out our list of 10 Bukit Timah Korean restaurants. From BBQ buffets to Korean fried chicken restaurants, this mini K-town will satisfy the most intense cravings for Korean nosh.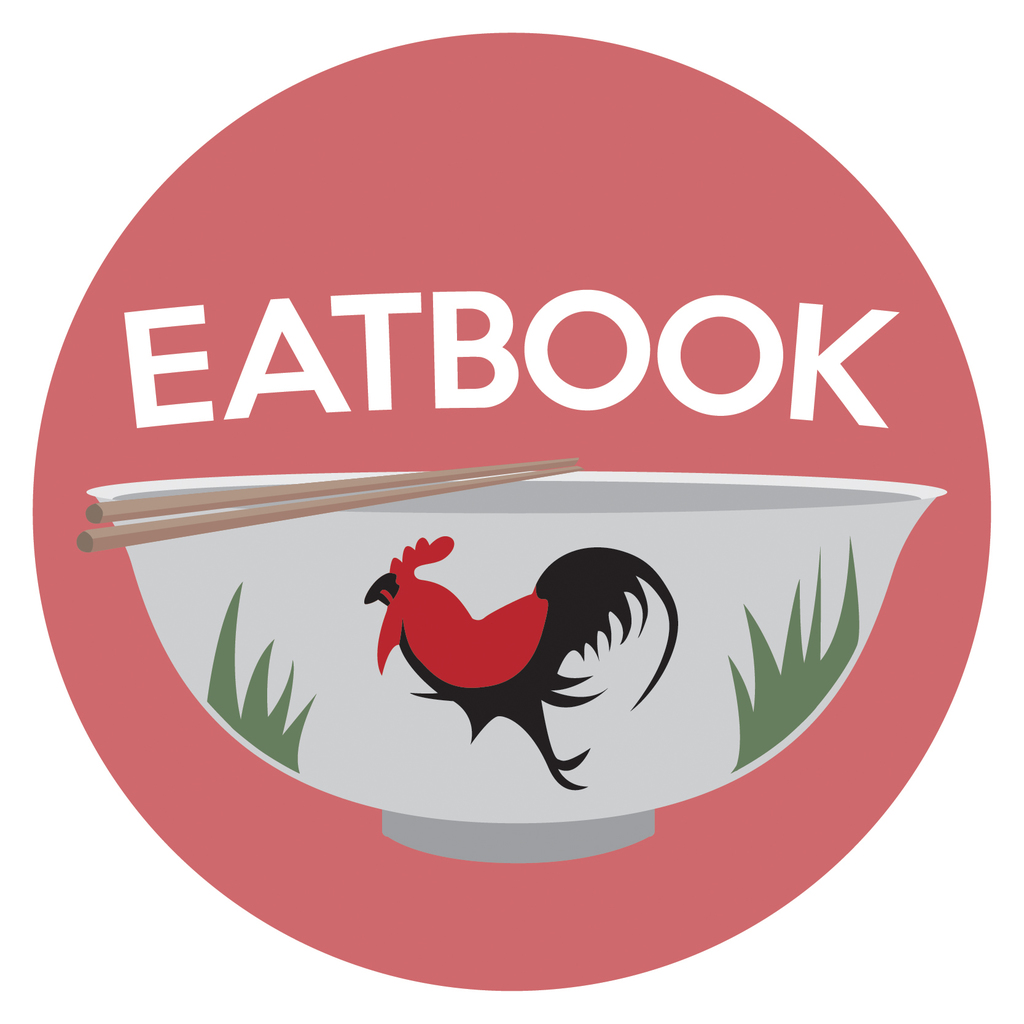 Drop us your email so you won't miss the latest news.