Tasty Korean stews and hot plates at Daebak Korean Restaurant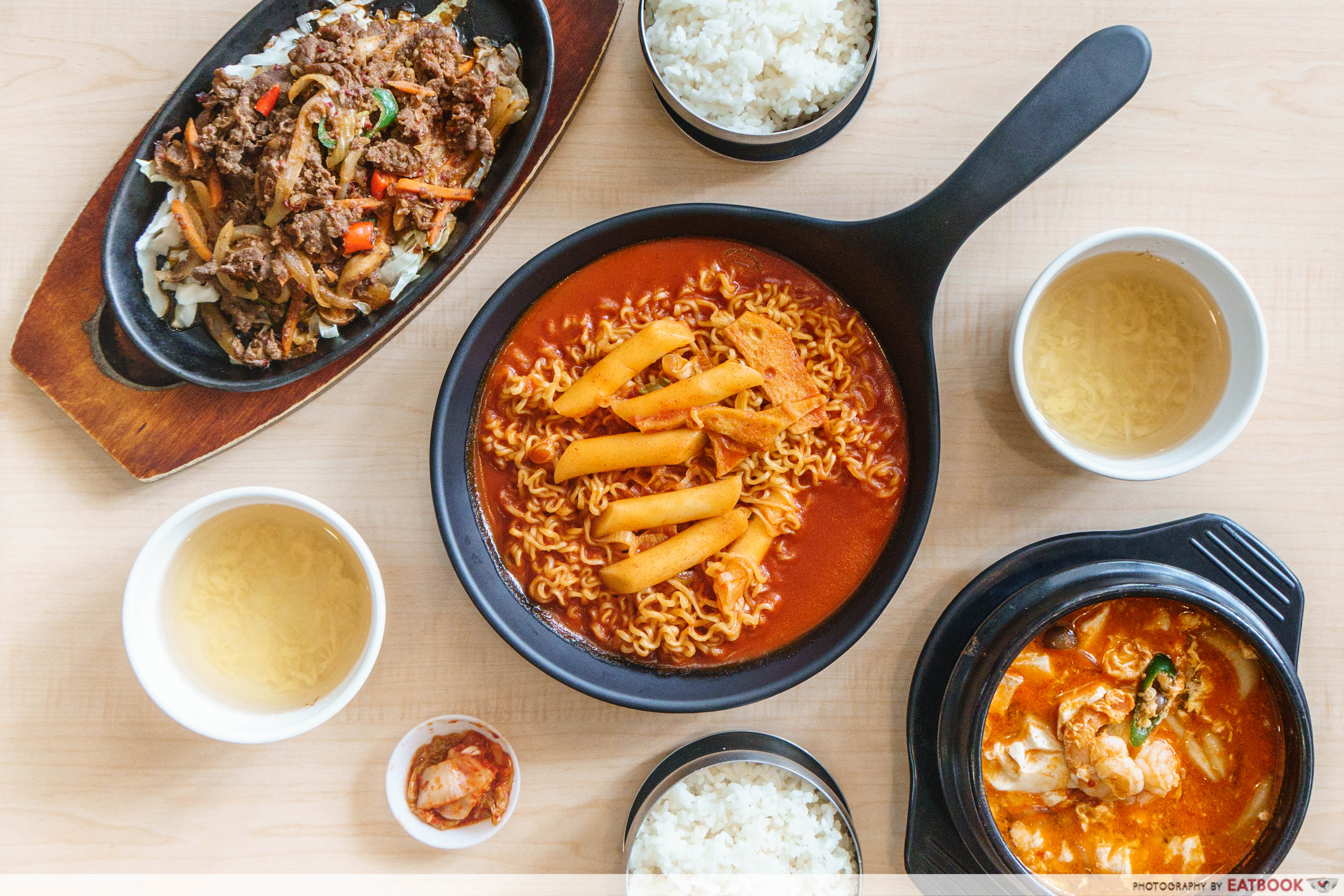 I first took an interest in Korean food when I was about 11 years-old and an avid fan of Korean girl group, Girls' Generation. Suddenly, in my eyes, tteokbokki became more than just chewy, mochi-like cakes, and kimchi was no longer only spicy, fermented cabbage. I began to see these delicious delicacies as a way to meld myself into the Korean culture. Despite the fact that my love for K-pop has dwindled over the years, I nevertheless remain on the lookout for tasty Korean food in Singapore, and newest on my list of hidden finds is Daebak Korean Restaurant.
Food at Daebak Korean Restaurant
I was excited to try Daebak Korean Restaurant's Spicy Seafood Tofu Soup ($8). This dish is said to be the restaurant's bestseller, so I dug in with high expectations and was pleased with the results. The stew was served together with a side of steamed rice, a bowl of soup and a small serving of kimchi. I found this rather filling, as the hearty broth also boasts a large variety of ingredients including glass noodles, prawns, baby mushrooms, egg, cuttlefish, and, of course, tofu.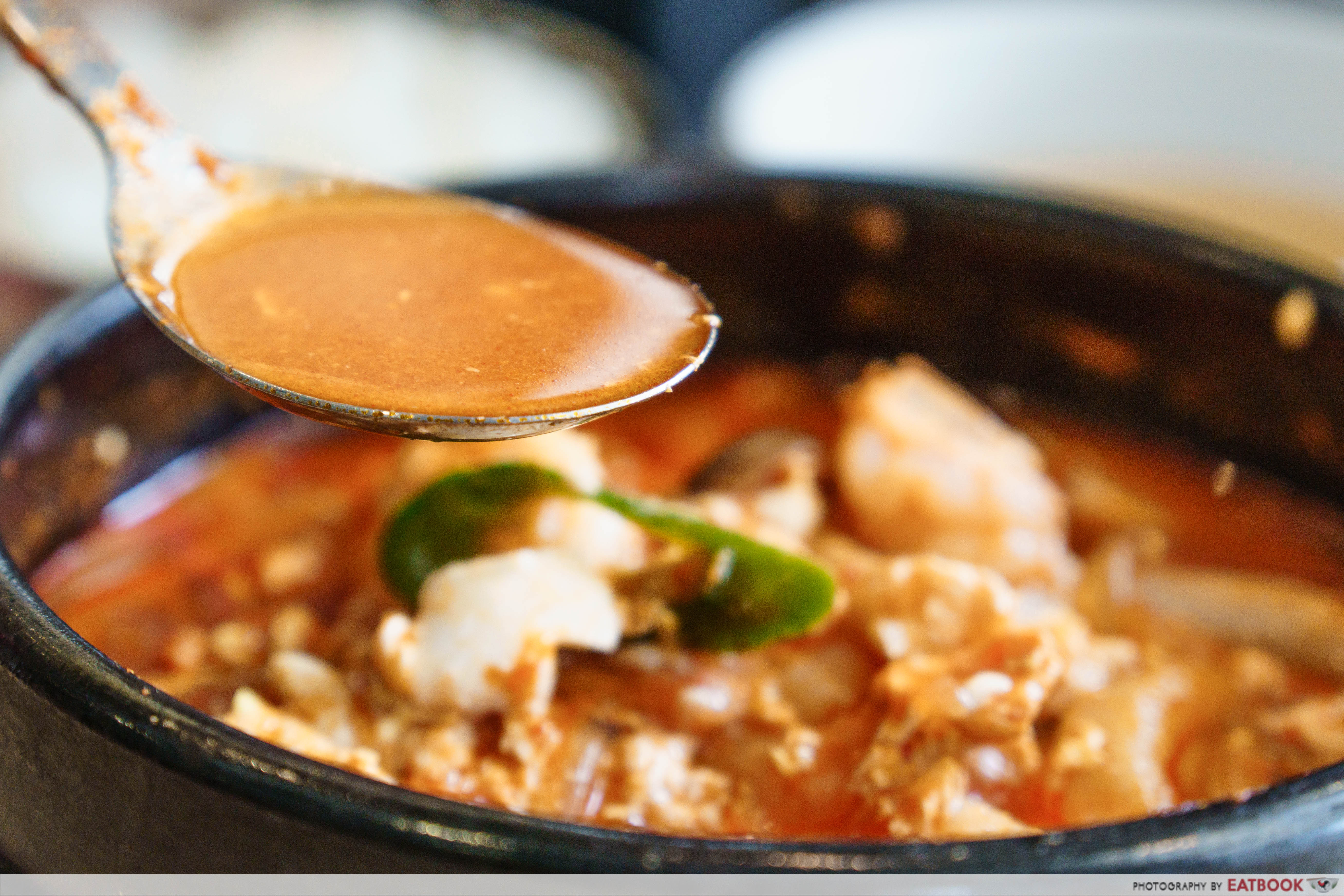 Surprisingly, the soup, which contains red and green chillies as well as black pepper, wasn't as spicy or rich as I thought it would be. Instead, the kimchi-based broth contained traces of seafood flavour, and was warm and light on my taste buds. It reminded me of my grandmother's soups – wholesome and comforting. Nonetheless, despite my initial impression that the soup would be flaming hot, I found that the light, sourish stew worked well.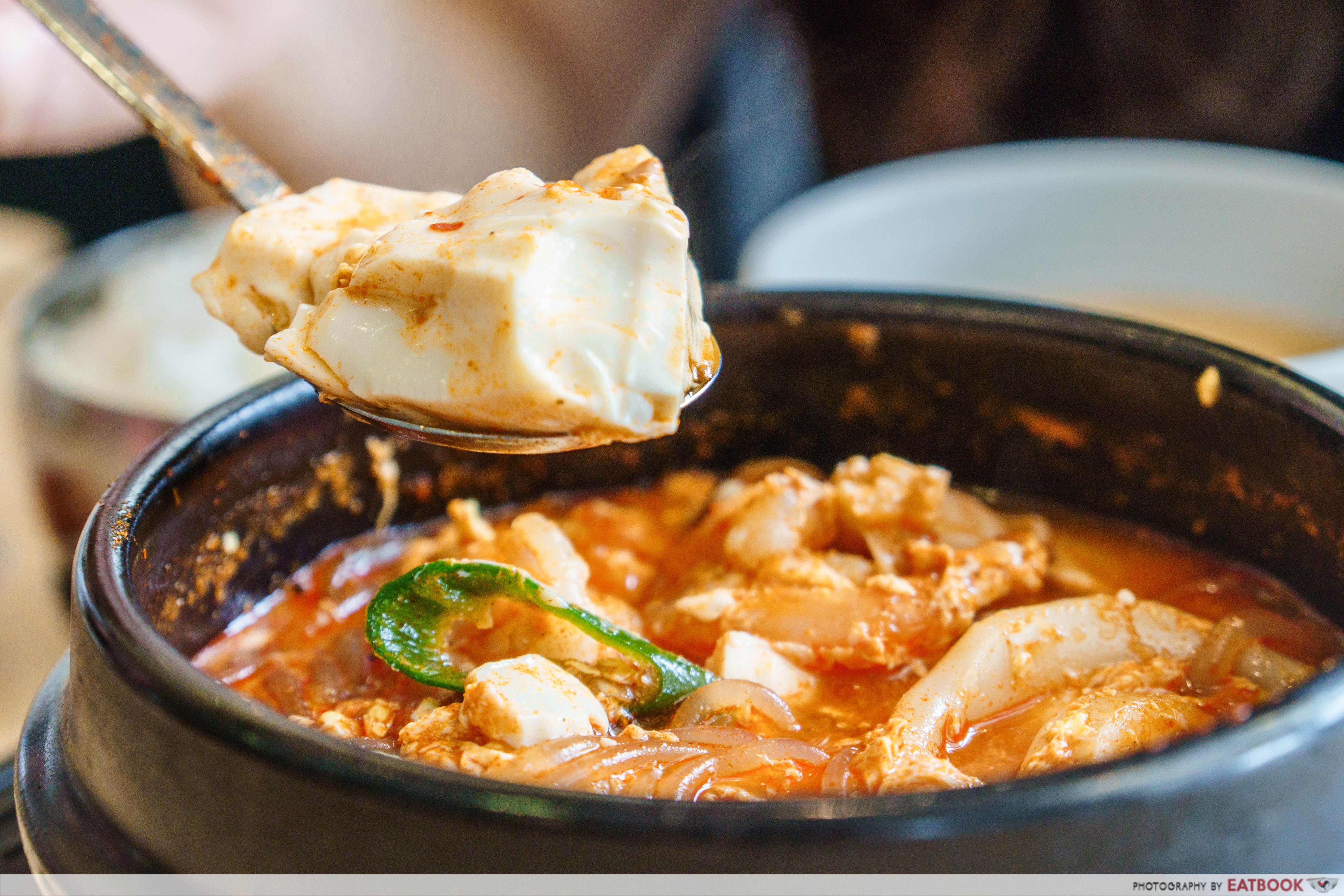 Tofu may be known for its bland taste, but the chunks in my soup soaked up all the tangy flavours of the broth and complemented the rest of the ingredients nicely.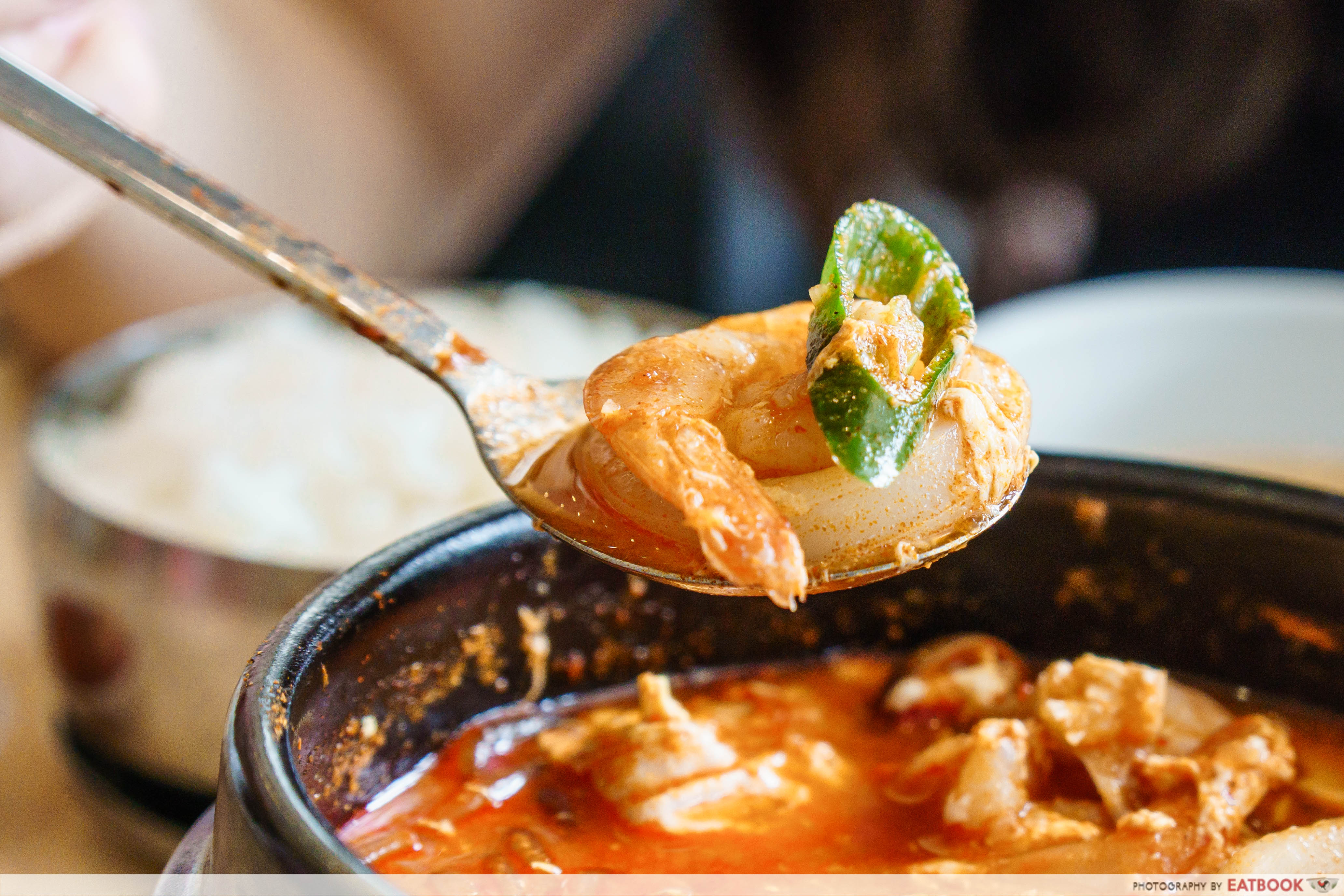 This dish came with the option of chicken or seafood; I decided on seafood, which consisted of prawns and squid. The prawns were fresh and crunchy, and helped enhance the umami tang of the tofu soup. However, I did find the squid a little rubbery and tasteless. Despite having to save space in my stomach to try out the rest of the dishes we ordered, I found myself constantly returning to this dish for more helpings. It was just too delicious!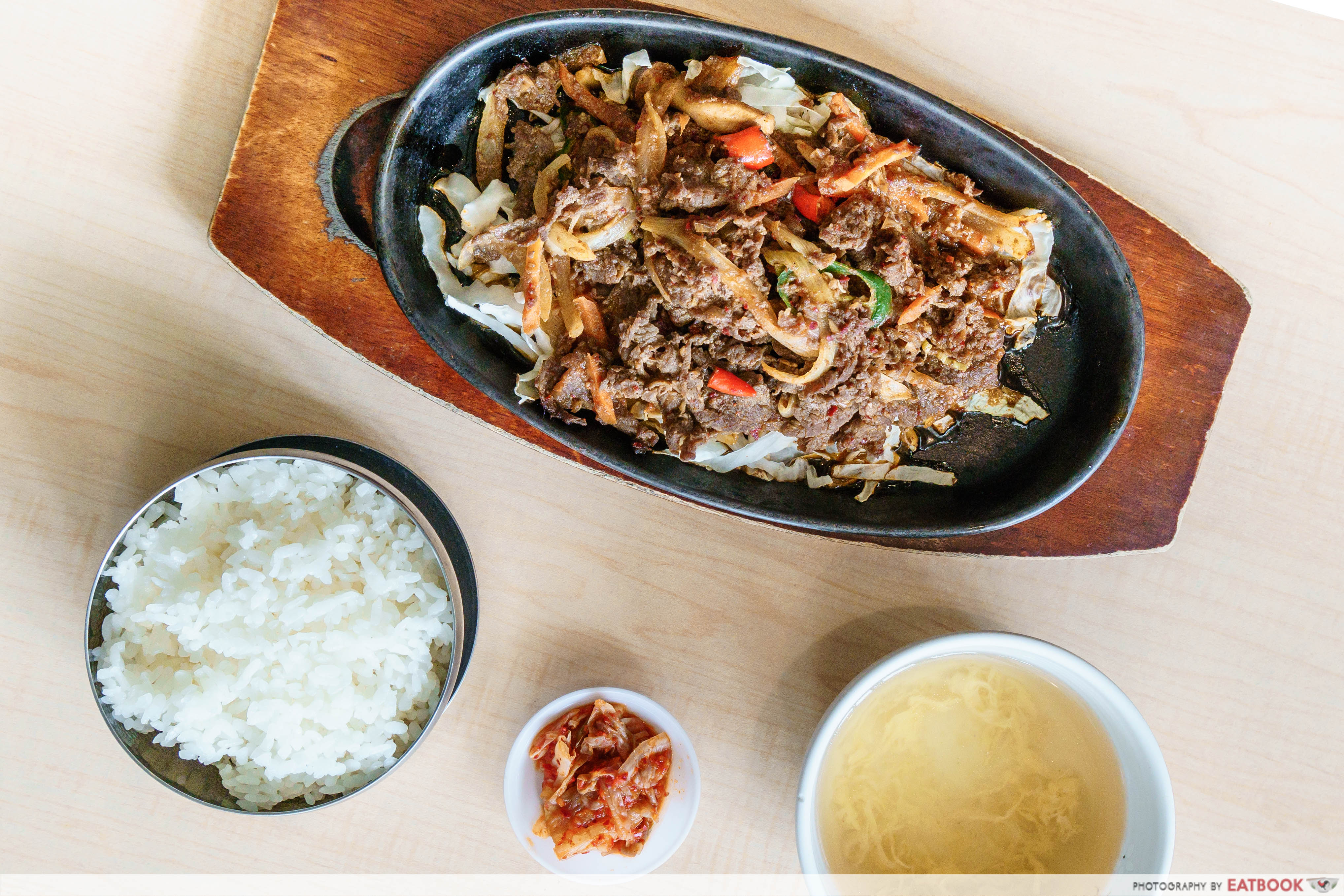 Not wanting to miss out on the hot plates, we ordered their Spicy Hot Plate Beef ($10). For my fellow foodies with a weaker tolerance towards spicy food, you will be comforted to know there's a version that comes without chilli. Bulgogi beef is a Korean specialty, and features thin slices of beef marinated in a sweet sauce before being stir-fried with a crunchy mix of onions, carrots and cabbage. I found the marinate a little too salty and cloying but pairing it with a scoop of plain rice settled the problem easily.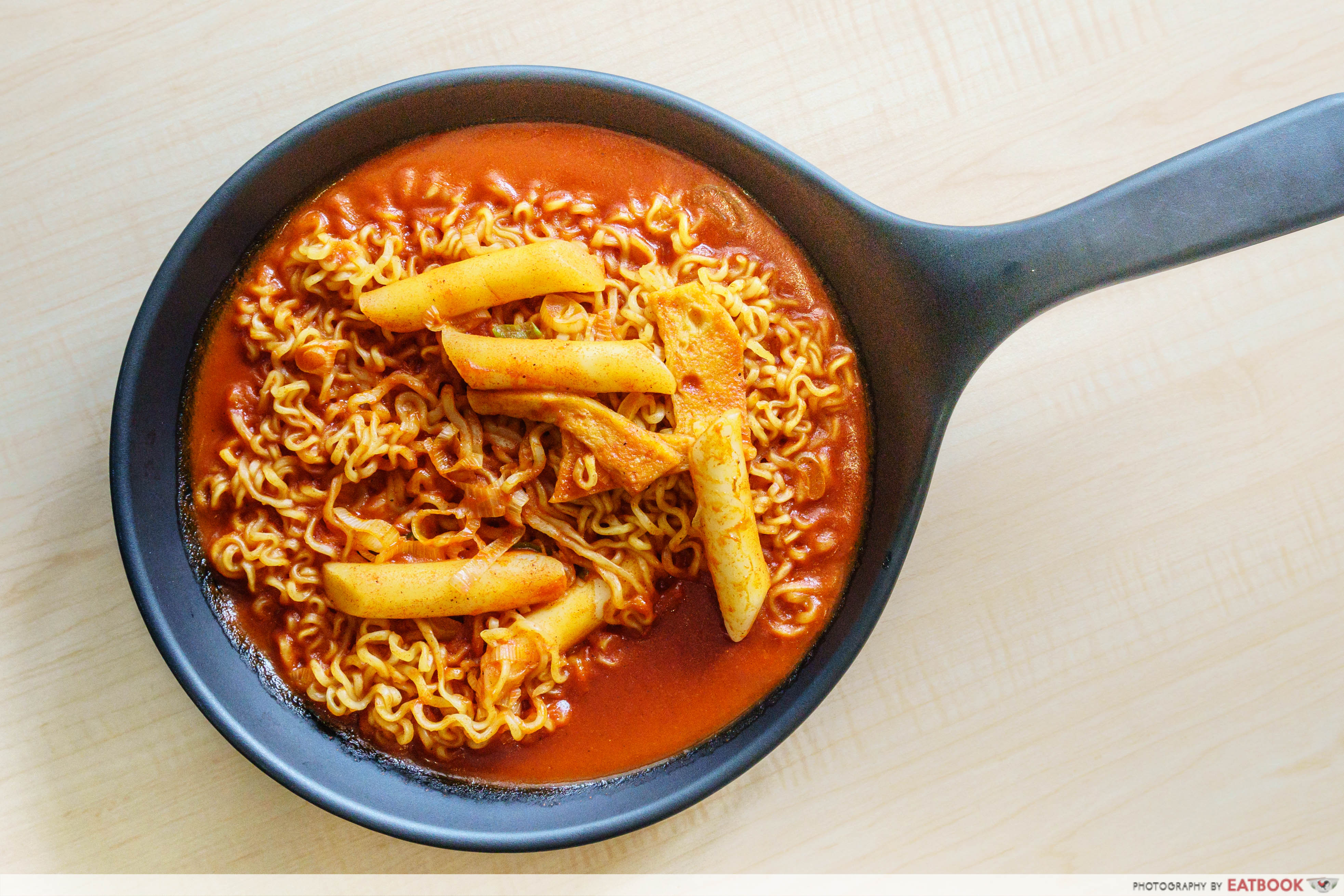 I saw on the restaurant's Facebook page that their Rapokki ($9) was new on the menu. This dish is a combination of ramyeon, fish cakes and tteokbokki drenched in a fiery sweet sauce. We rushed to take the required snapshots of this dish when we realised that within mere minutes, the noodles and rice cakes were beginning to harden. Sadly, the rice cakes were not impressive. They were thick and chewy enough to pose a challenge to my jaw strength. The tteok was probably of the frozen kind. As for the ramyeon, they tasted like typical instant noodles. All in all, I prefer my meals savoury over sweet, so this dish didn't cut it for me.
Ambience at Daebak Korean Restaurant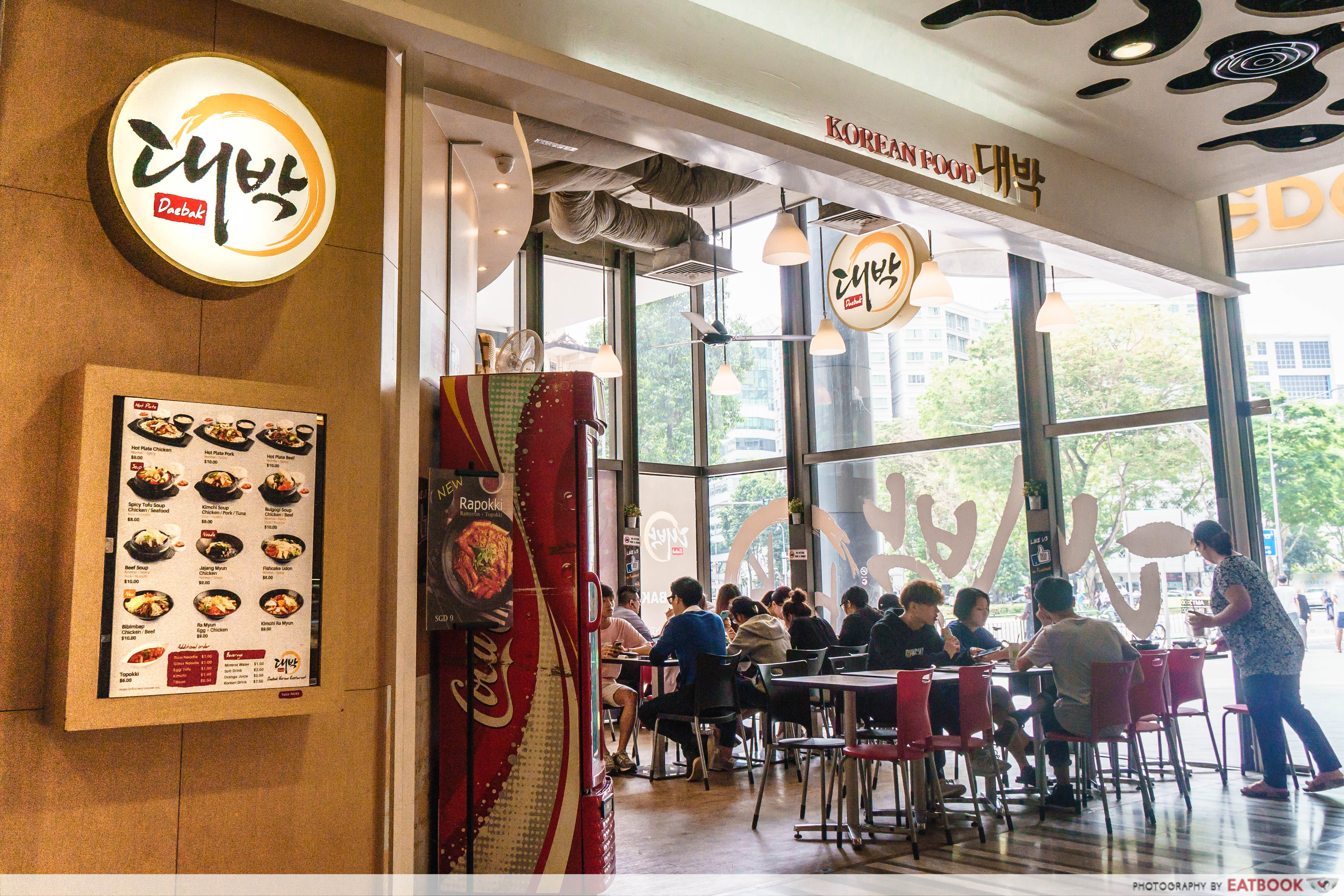 I found the atmosphere at the well-lit Daebak Korean Restaurant very relaxing. I admired how the walls of the restaurant are made of glass, allowing sunlight to stream in and brighten the place up. My only complain is that the tables are rather narrow, so if you're ordering more than one dish, you'll have to cram your food together.
We visited the restaurant in the morning when there were no customers yet. However, we had to speed up sometime around noon, as the place started getting really packed and the restaurant staff members were beginning to usher us away.
The verdict
I adore Korean cuisine in general, and out of all my experiences with Korean joints, this place is one of the better ones. For the moreish tofu soup alone, I'd give Daebak Korean Restaurant two thumbs up. Despite being nudged to leave when customers started streaming in, the stall owners did let us go about our business in the morning. But I guess you could say they were also pretty curious, as you might've noticed from the picture above.
If you're a fan of Korean food like me, you'll love this list of affordable Korean food places at $15+ or less, or our review of 8282 Korea, Singapore's cheapest Korean buffet at $9.90 nett!
Address: 8 Wilkie Road, #01-18, Wilkie Edge, Singapore 228095
Opening hours: Mon-Sat 10am to 9pm
Tel: 6884 4620
Website
This is an independent review by Eatbook.sg.
Summary
Pros
– Tasty Korean food
– Relaxing atmosphere
– Relatively affordable for Korean food
Cons
– Staff will chase you away when it gets crowded
Recommended dishes: Spicy Seafood Tofu Soup ($8) and Spicy Hot Plate Beef ($10)
Operating hours: Mon-Sat 10am to 9pm
Address: 8 Wilkie Road, #01-18, Wilkie Edge, Singapore 228095