8282 Korea serves free-flowing Korean dishes
Update: 8282 Korea is now permanently closed.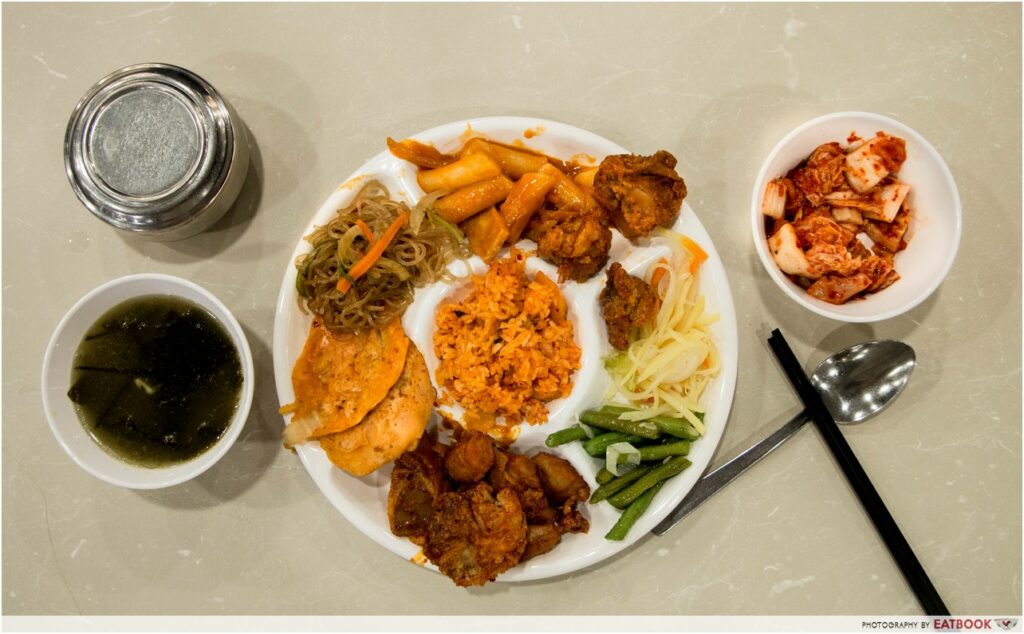 An endless supply of Korean dishes under $10 sounds too good to be true. So when we got wind of this new K-buffet in town, everyone was pretty much wary, even though we all love Korean food. Run by Koreans, 8282 Korea pushes out comforting, homey dishes in – wait for it – Great World City's Food Junction! Now, why 8282? Well, it's actually a Korean text abbreviation for "hurry up," which is apt, since you have to refill your plate within an hour to qualify for seconds.
Food at 8282 Korea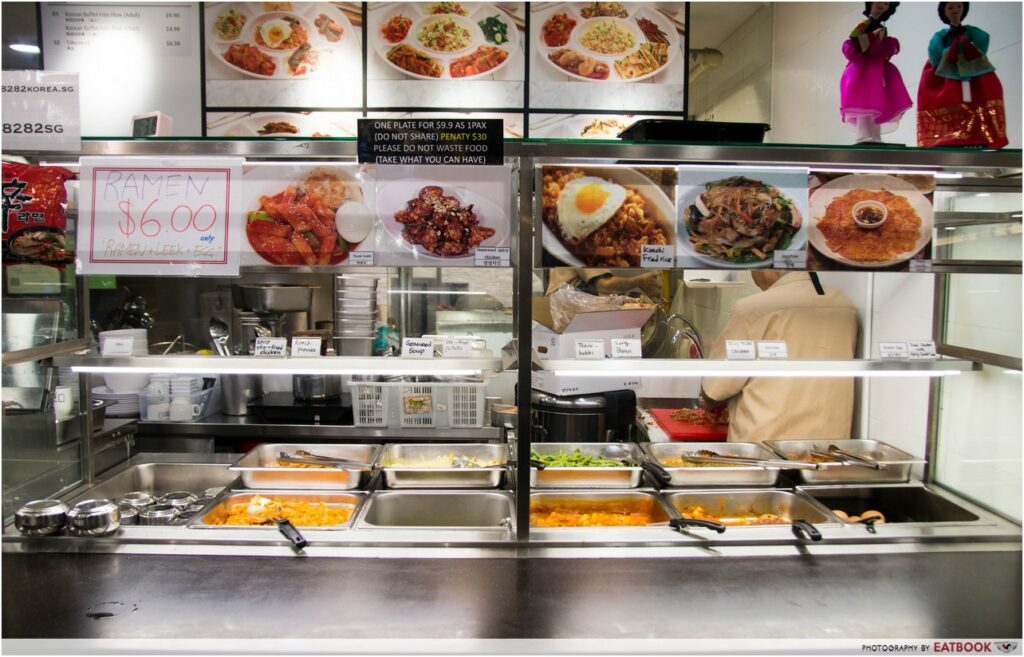 After paying $9.90 ($4.90 for children) to the friendly cashier, I was passed two bowls and a large plate with five compartments to fill up. Everything was free to take, although the food laid out was quite insubstantial. Maybe it was because we were there at 3pm, but we were missing out on kimbab and fried zucchini, both of which were written on their chalkboard menu. In replacement for that was a tray of spicy pork and tteokbokki.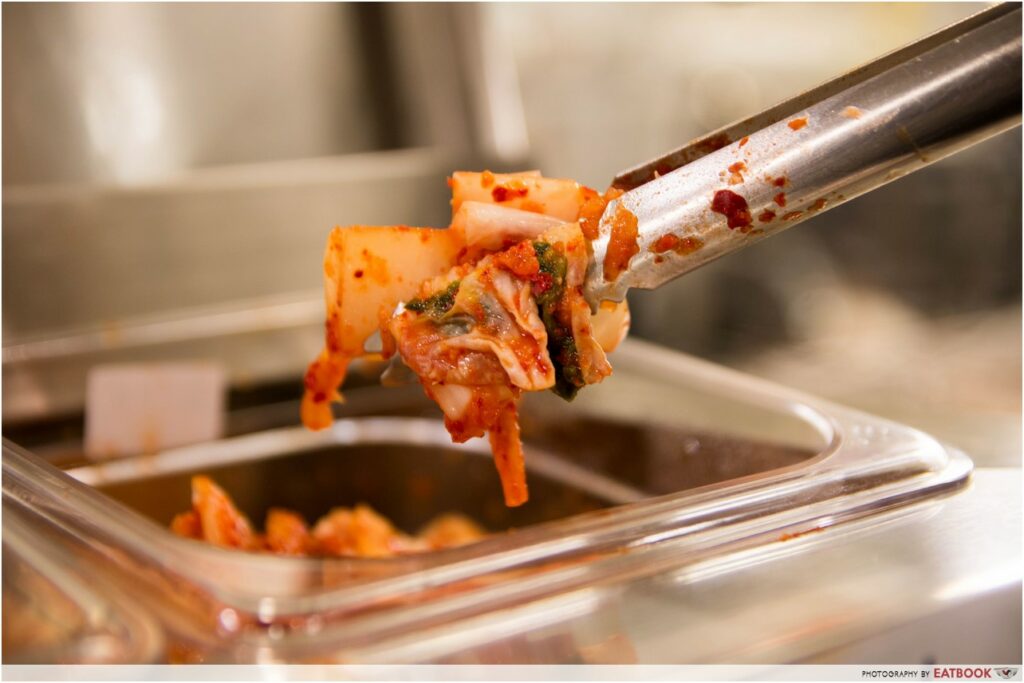 One of my judging criteria for a good Korean restaurant is their kimchi, and I was pleasantly surprised by how fresh their kimchi was. It had the right amount of spice, with a nice pungent tang that did not taste too pickled. Sadly, their kimchi fried rice was a totally different story. It was rather bland and I had to top each spoonful of rice with kimchi to make it more palatable.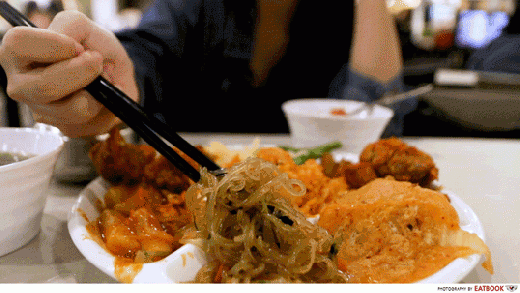 A dish that took me by surprise was the japchae. The Korean stir-fried glass noodles with vegetables had similar flavours to my favourite chap chye, but with a slightly sweeter tinge. It was evenly coated as well, and each mouthful hit all the right spots. The noodles were also springy, and not mushy at all.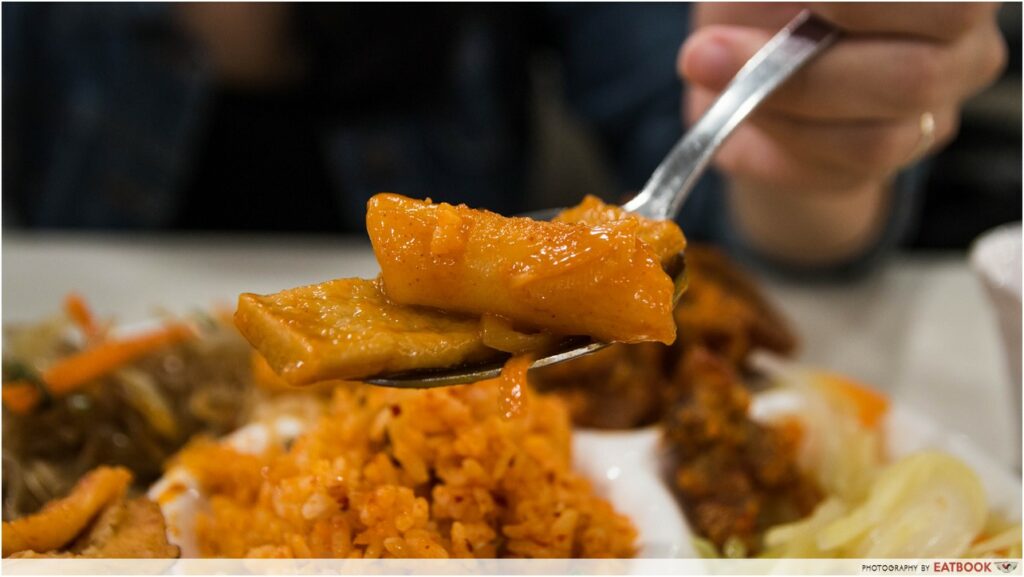 Another impressive dish was the tteokbokki. I half-expected it to be hard and stiff, but it was, thankfully, really chewy. Stir-fried together with sliced fish cakes in Korean red chilli gochujang, both ingredients soaked up the piquant sauce perfectly. The sliced fish cake was a tad too soft on its own, but paired well with the QQ tteokbokki.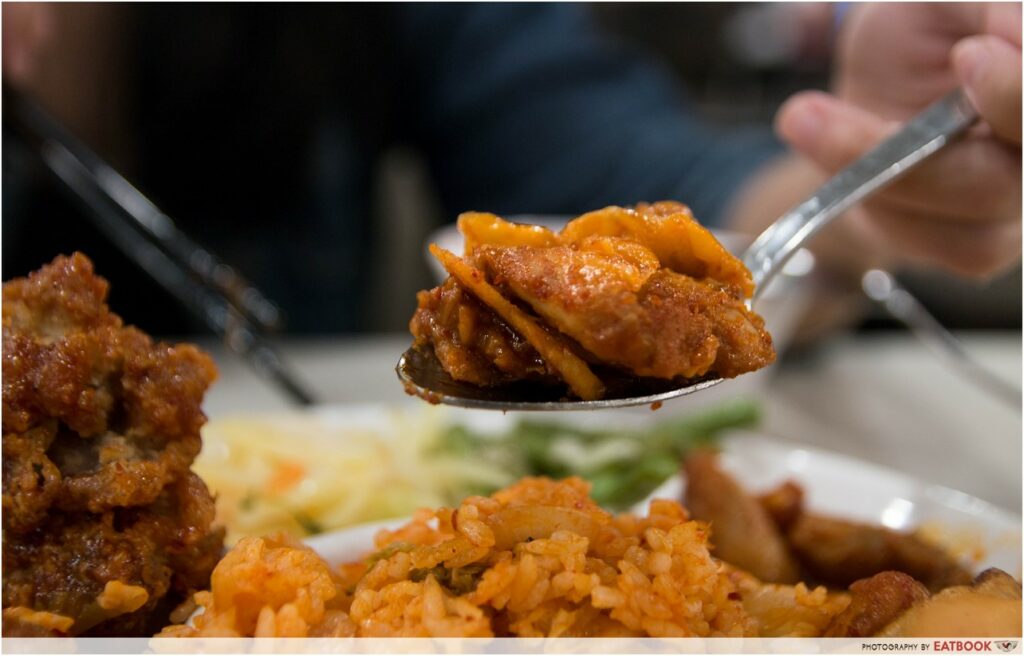 The stir-fried chicken featuring bits of sweet potato and onions was delicious too. Sumptuously soaking up the flavours of the gochujang, a slight honey flavour greets with every bite, and slowly develops into a tingling, fiery finish the more you chomp down. It helped that the creamy sweet potato added another textural dimension to the tender chicken.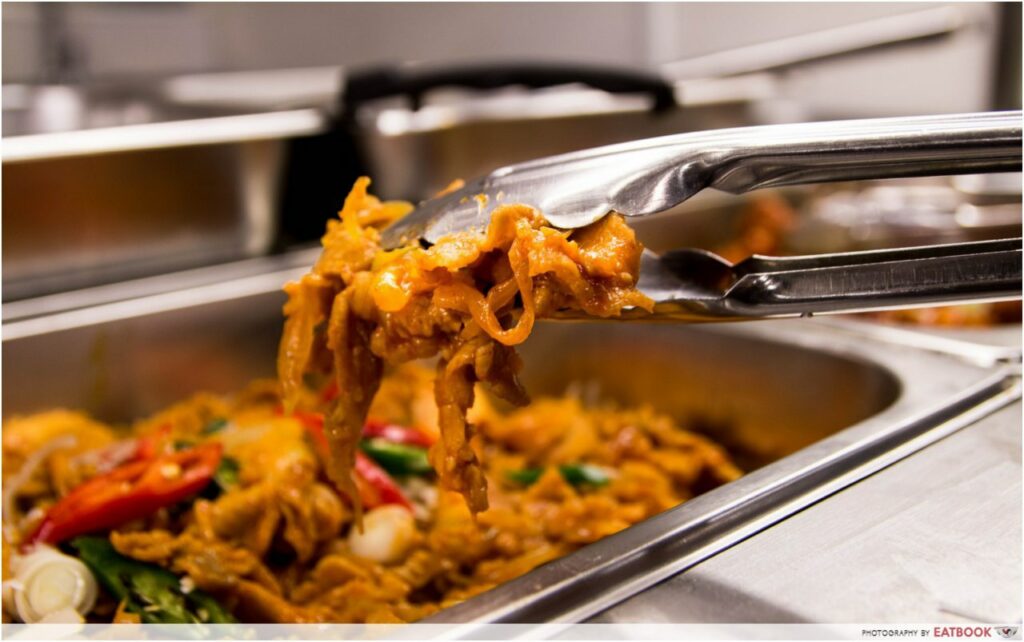 The stir-fried pork, while tasty, was cooked in the same Korean red pepper sauce. In fact, most of their dishes used the same sauce and it got boring fast, as nearly everything tasted similar.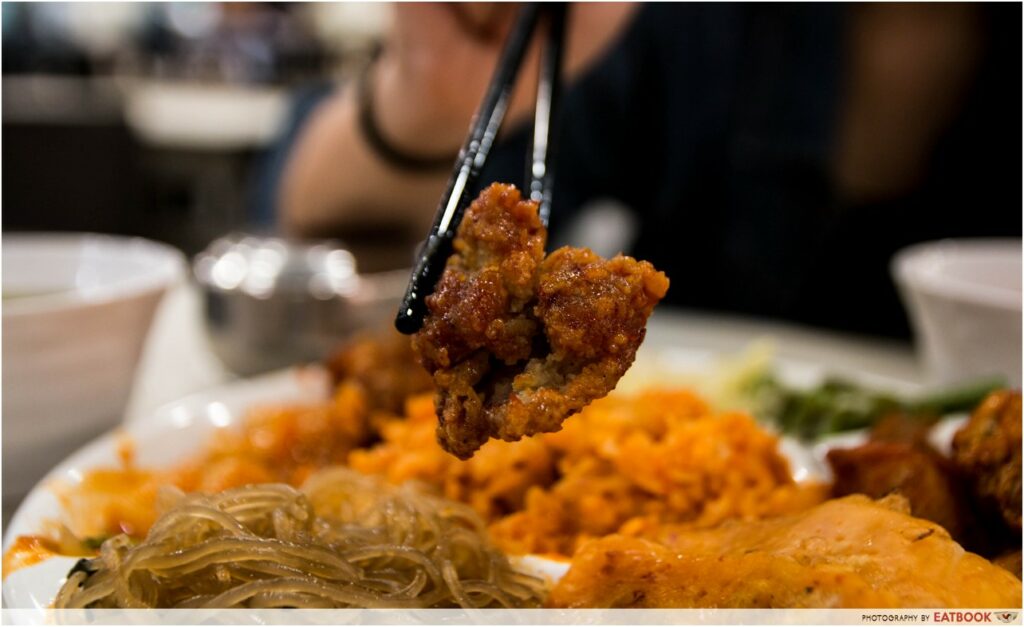 While the piquant sauce and inner juiciness of the chicken was acceptable, 8282 Korea's Fried Chicken with Spicy Sauce could have fared better in terms of crispiness. Initially, I blamed myself for coming late and thus having to settle for a stale, leftover batch from lunch. So I was overjoyed when a fresh batch came up just as I was about to clear my plate. Sadly, the outer coating was still too hard, and not crispy at all.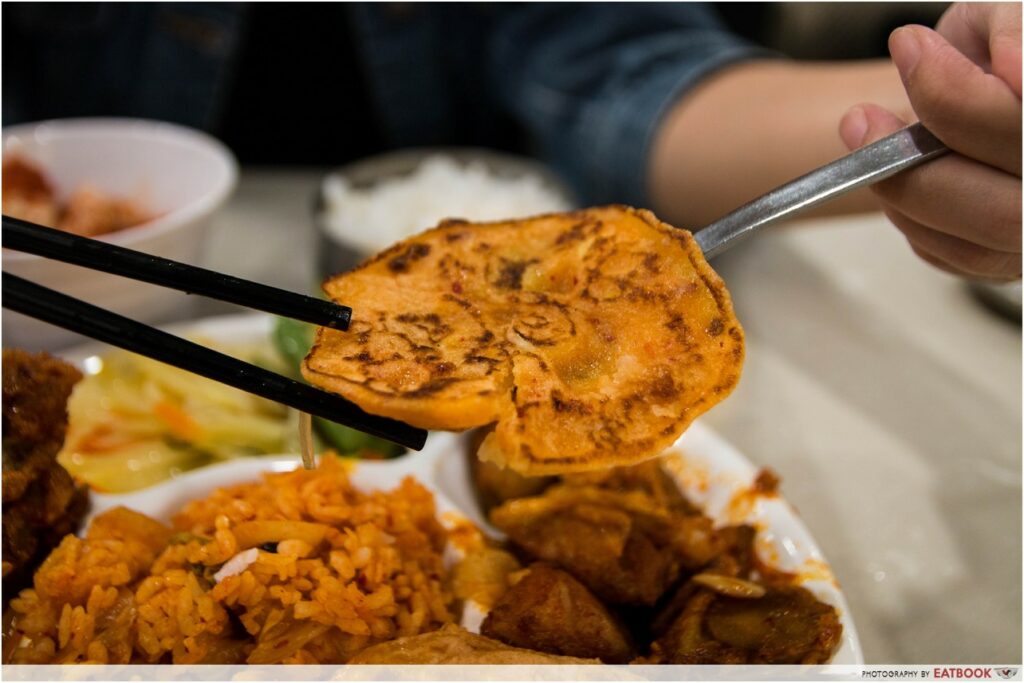 Don't be deceive by the kimchi pancake. While it looked good, its taste was left to be desired. There was little to no kimchi flavour and it just tasted like fried flour, leaving a bad taste in my mouth. The vegetables, such as the stir-fried potato and long beans, were tasteless too. I couldn't finish them, and I'm someone who enjoys her greens.
Ambience at 8282 Korea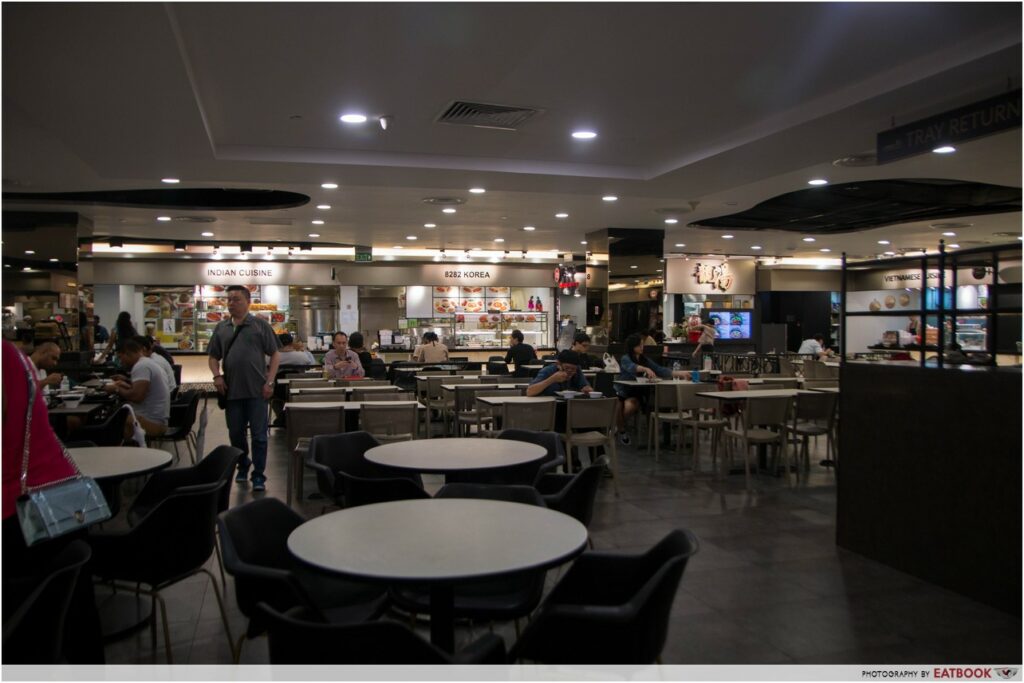 Like a chap chye peng stall, 8282 Korea displays their food in silver trays. But there's where the similarity ends. Here, you are given easy access to the food, and are invited to scoop out as much food as you want onto your plate. I do feel that their hygiene could be a bit better, and they should perhaps invest in a food cover to keep pesky flies away from their dishes. As it is located in a food court, seating is free for all, although I recommend seating near the stall so you can easily go back for subsequent helpings.
The verdict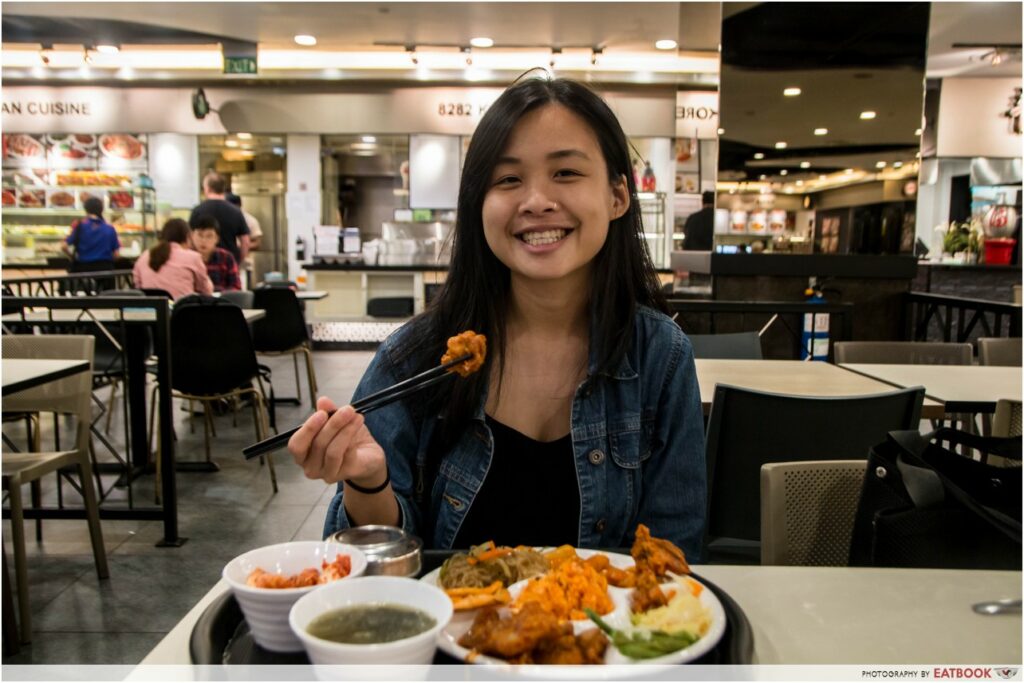 At $9.90 nett, 8282 Korea is definitely value for money. Sure, it's not the best Korean food I've ever taste, but for that price and quantity, who's complaining? Perhaps I came on a bad day or timing, as their food options were limited in comparison to the ones taken on their Instagram page @8282sg. The owner did tell me to come back again during lunch, dinner or on the weekends, so I can enjoy her food fresh off the stove. Aside from that, I daresay every famished soul on a budget should eat at 8282 Korea whenever they are craving for Korean food at Great World City. For more pocket-friendly Korean nosh, check out these affordable Korean food places! If you're just in for a feast, these cheap buffets can satisfy.
Address: 1 Kim Seng Promenade, #B1-16/17, Stall 2, Food Junction, Great World City, Singapore 237994
Opening hours: Daily 10am to 10pm
Tel:  9639 2831
Website
This is an independent review by Eatbook.sg.
Summary
Pros
– Cheap
– Free-flowing Korean food
Cons
– Food not the same as menu
– Similar flavours in dishes
Recommended Dishes: Kimchi, Japchae and tteokbokki
Tel: 9639 2831
Operating Hours:
Daily 10am to 10pm
Address: 1 Kim Seng Promenade, #B1-16/17, Stall 2, Food Junction, Great World City, Singapore 237994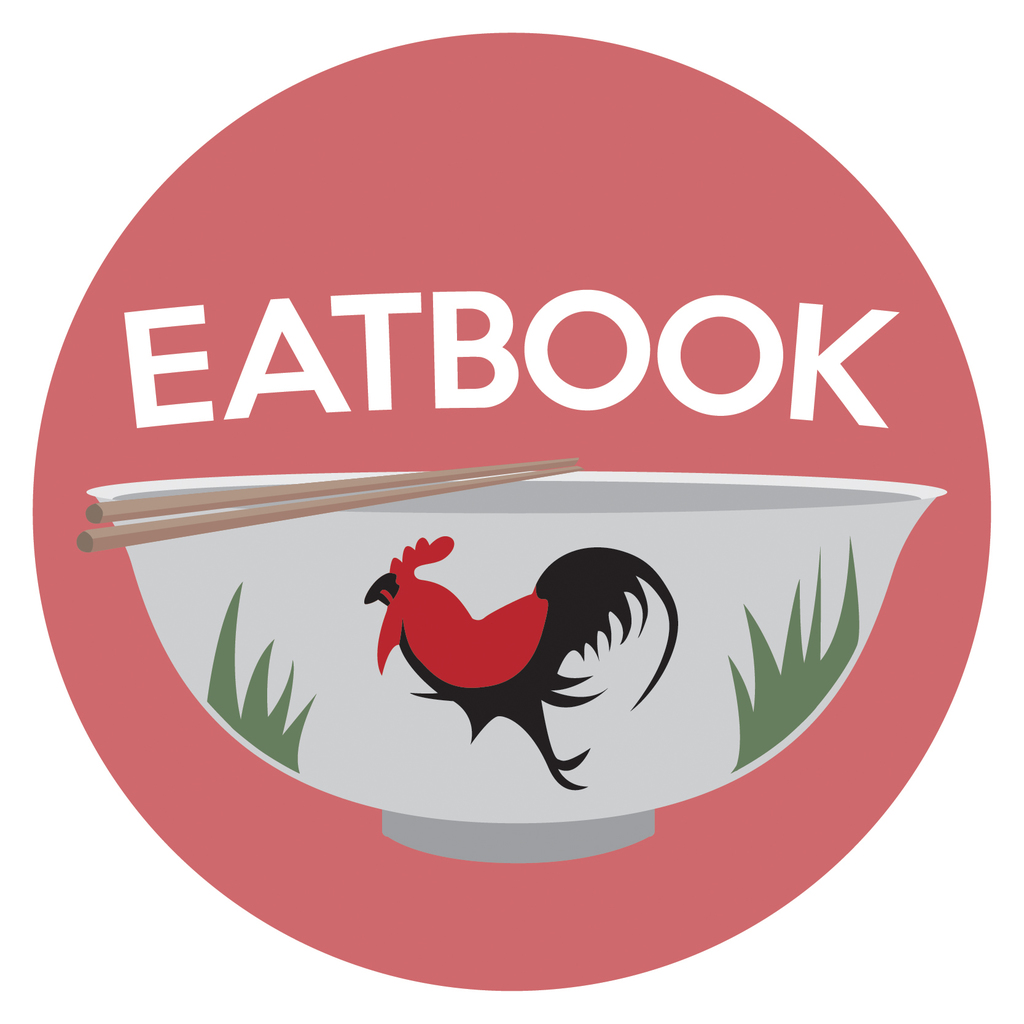 Drop us your email so you won't miss the latest news.