Michin Korean BBQ And Hotpot literally sparks joy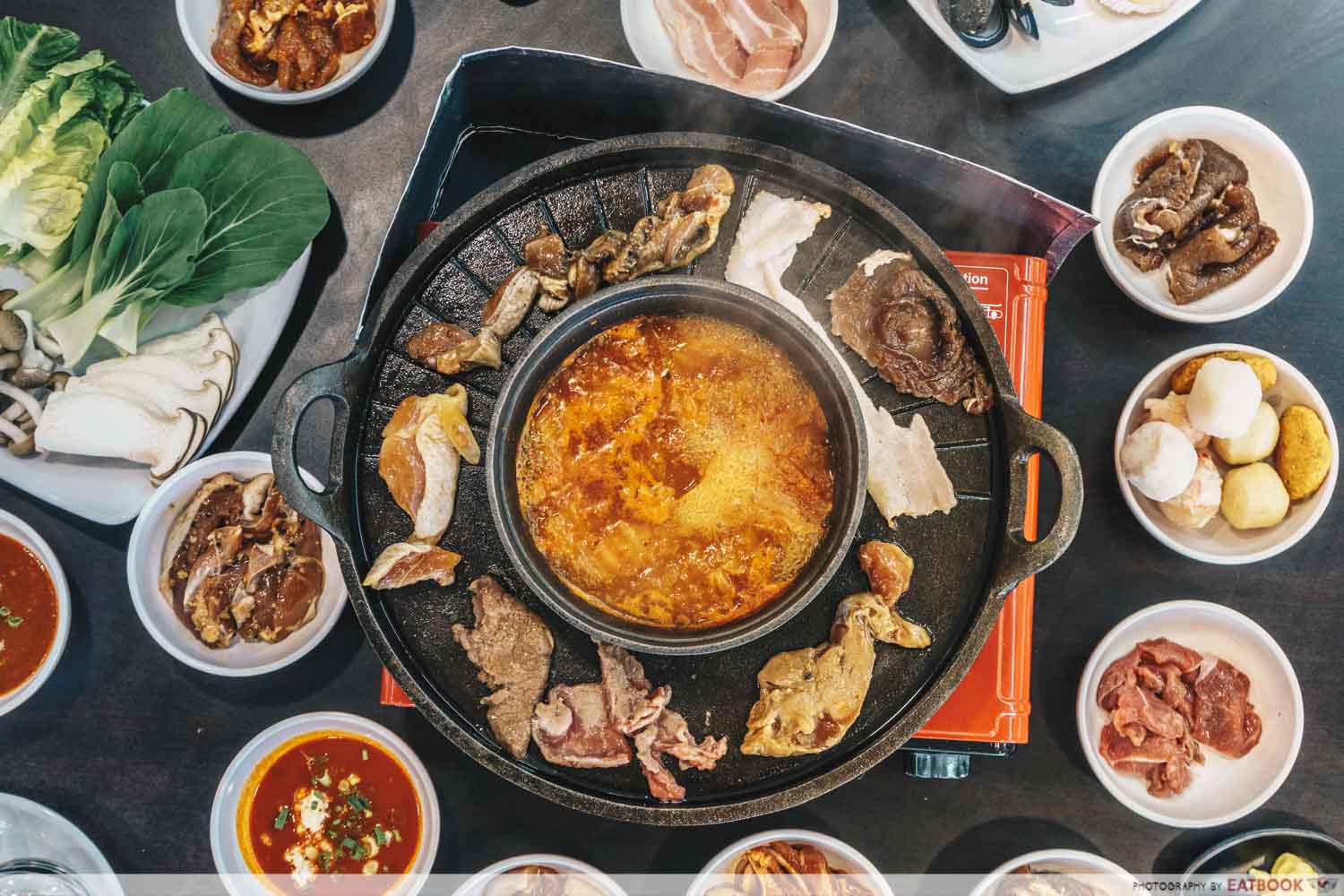 We're spoilt for choice when it comes to Korean barbecue these days. From budget buffets like Captain Kim to swankier joints like Wang Dae Bak, there's a plethora of choices to get your fix of smoky BBQ. That means it takes a lot for fresh blood to stand out in the KBBQ scene, and what better way to do so than by making a red-hot first impression.
Michin Korean BBQ And Hotpot takes that literally, doling out a $17.80 Korean barbecue and hot pot buffet on weekdays, and $19.80 on weekends. You can even opt for their hot pot to literally get set alight by a shot of Kweichow Moutai. This isn't just some budget Chinese liquor either, a 500ml bottle sells for upwards of $350. A shot of this strong stuff will cost $15 at Michin.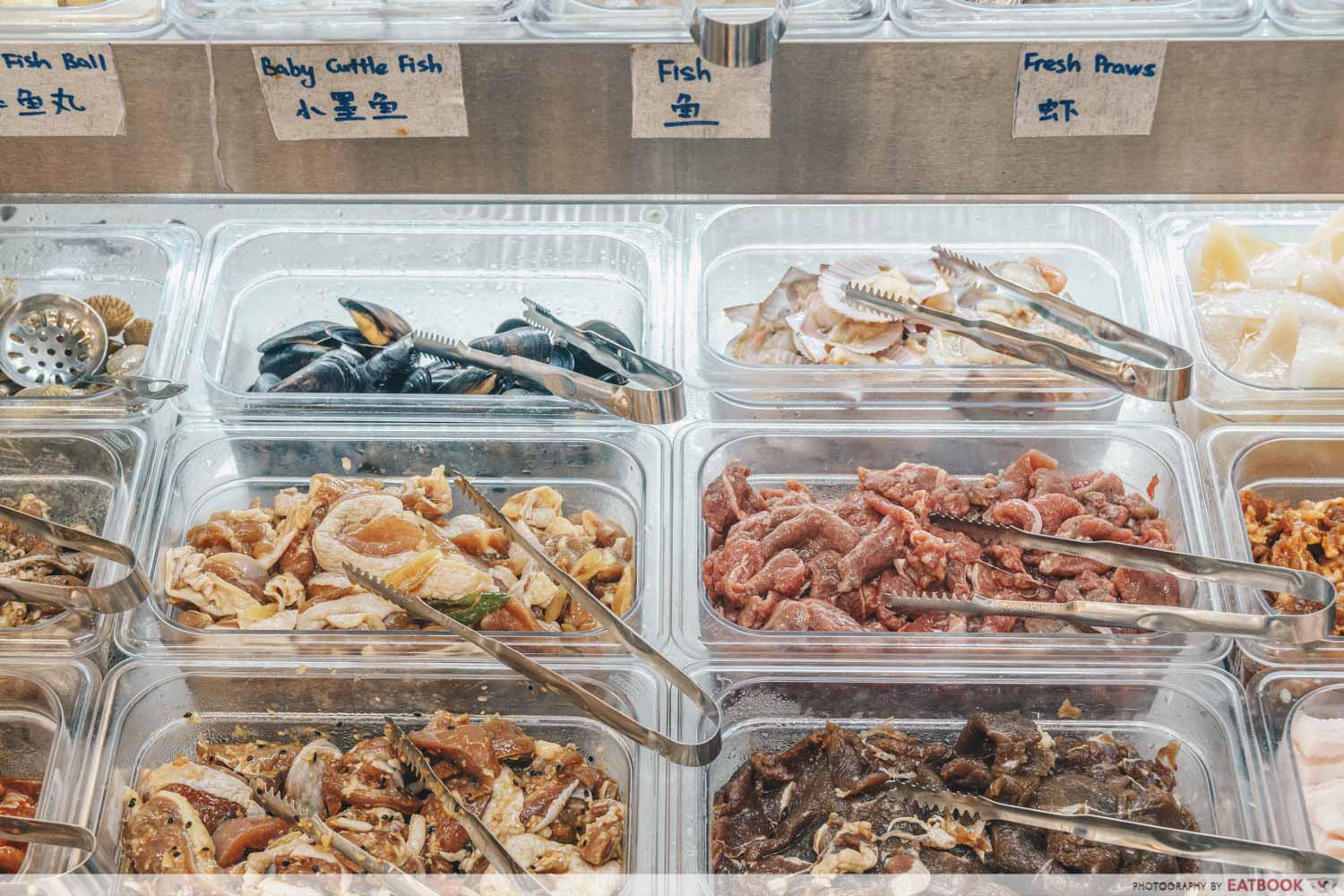 Good Korean barbecue and hot pots aren't really about theatrics and expensive alcohol though. Quality meats, a wide selection of ingredients, and a good soup base are essential boxes to tick. With that in mind, we headed down to check out whether this Sengkang newbie is a legit KBBQ contender or would go down in flames.
Food at Michin Korean BBQ And Hotpot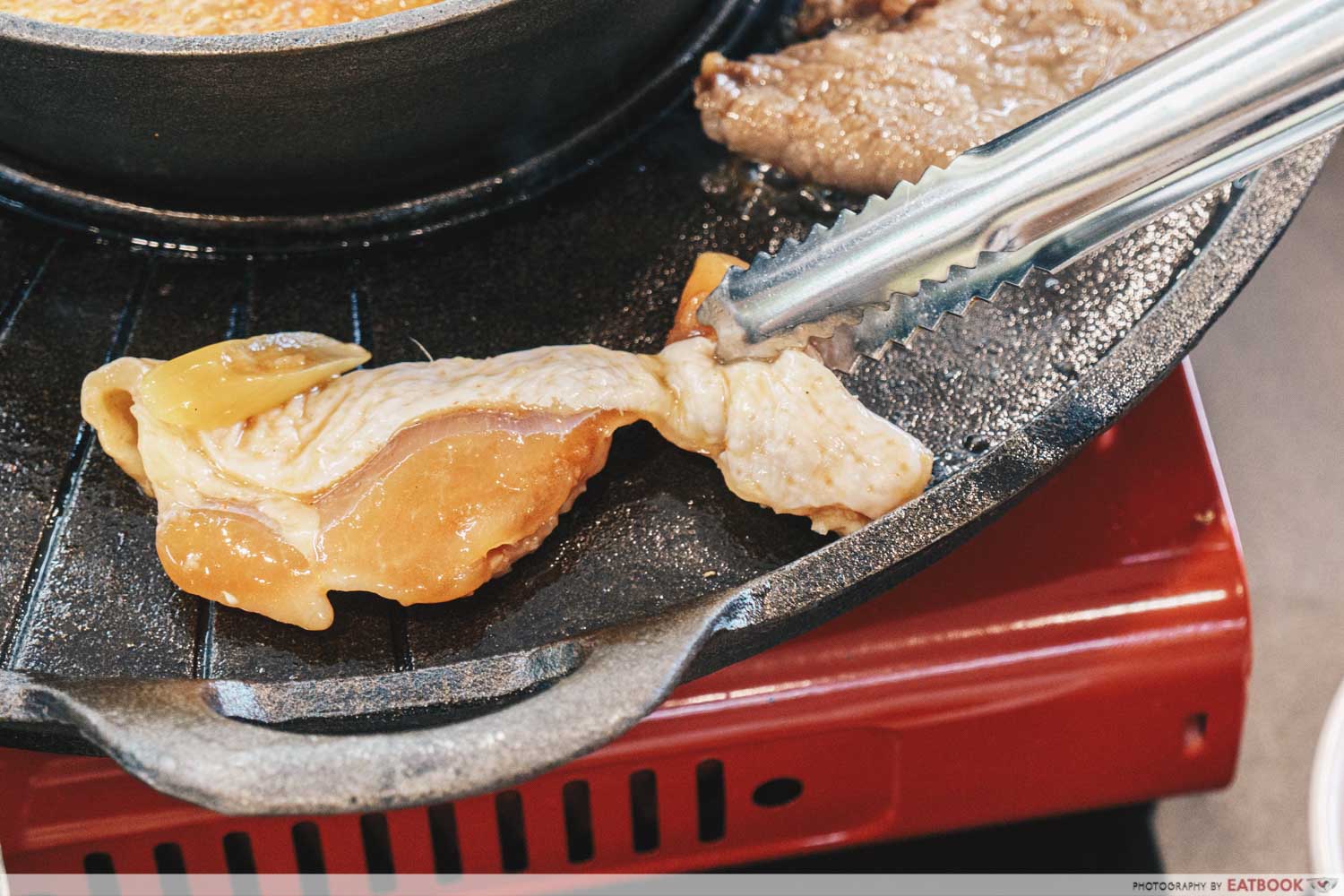 As we laid the first strips of meat on our grill, it was evident that one of our criteria had been fulfilled. Every piece sizzled enticingly, gaining nice sear marks no matter where it was placed on the grill, an indication of even heat distribution.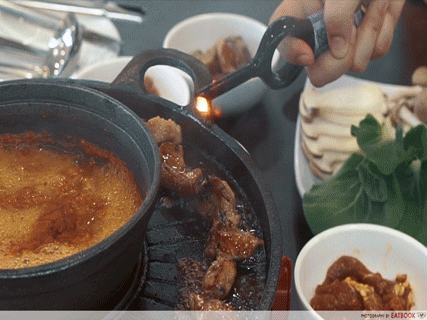 Options are aplenty when it comes to ingredients, but you can also choose between setting your hot pot or barbecue alight with the moutai shot. We elected to ignite our barbecued meats. Seeing a ring of fire appear on your barbecue pan—gimmick or not—is pretty darn thrilling; a spectacle fit for your IG.
Flames aside, the alcohol did add a flourish of fragrance. Our meats took on a strong, mirin-esque sweetness, giving them an unexpectedly Japanese flair. Overall, it was a welcome, aromatic bonus to our BBQ.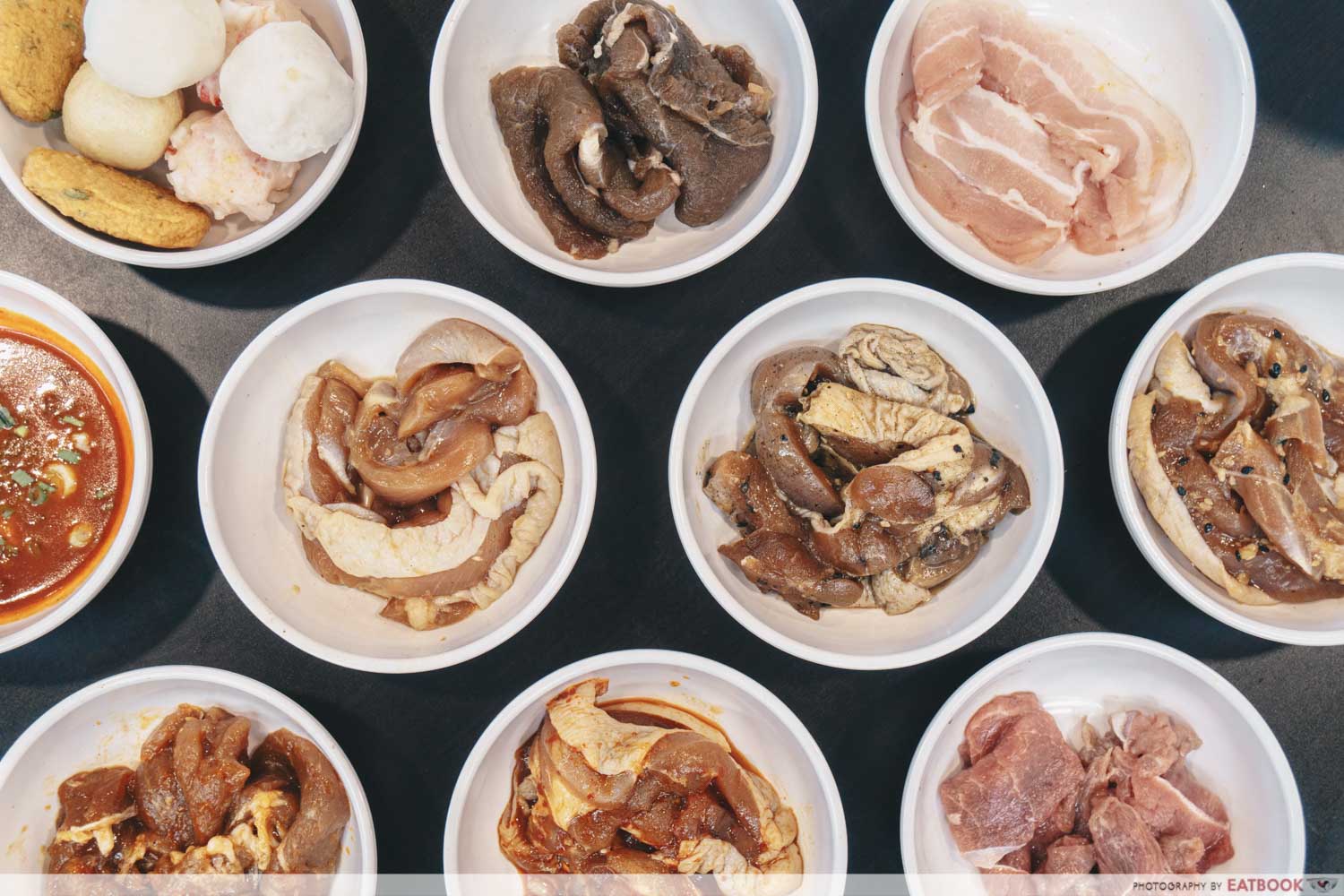 A total of eight types of meats are available for your char-grilling pleasure. We kicked off our barbecue experience by testing out four versions of their marinated chicken leg. These chickens clearly spent some time at the gym, because we were greeted by thick hunks of leg meat, each well-trimmed of cartilage and sinew. Quality control is difficult to maintain in buffets, but they put in the effort here.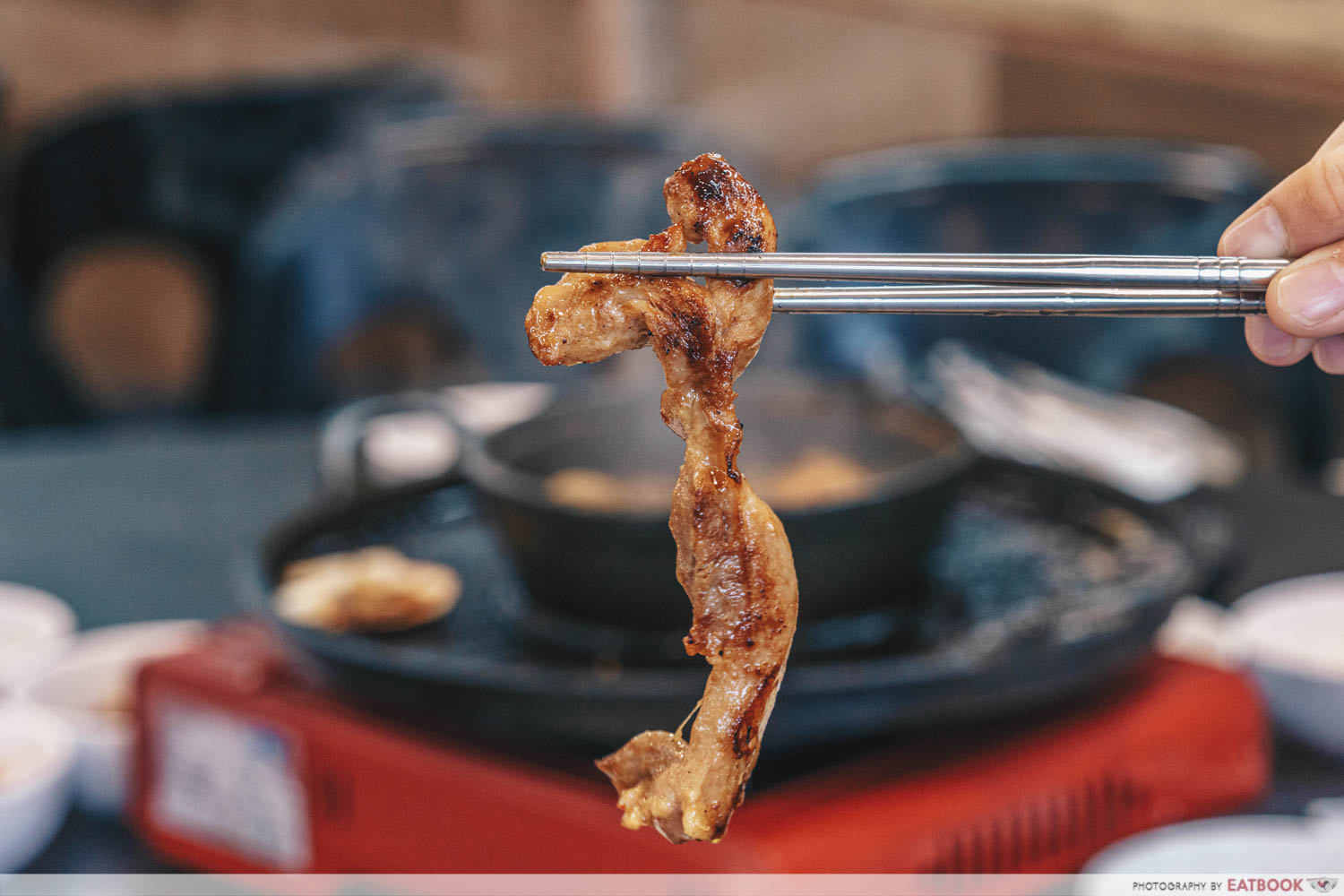 The Soya Chicken Leg was the most basic of the bunch. It delivered exactly what's on the label: juicy chicken leg, with a light, slightly sweet soy marinade. Despite us sticking each chicken chunk on the grill until nice streaks of char formed, the meat remained tender all the way through.
That juiciness was present throughout the marinated meat, as the soy mixture clearly had enough time to penetrate and soften the meat, while also imbuing it with flavour. A beautiful smoky crust also appeared—an intensely flavourful Maillard reaction that's the result of high heat acting on both meat and marinade.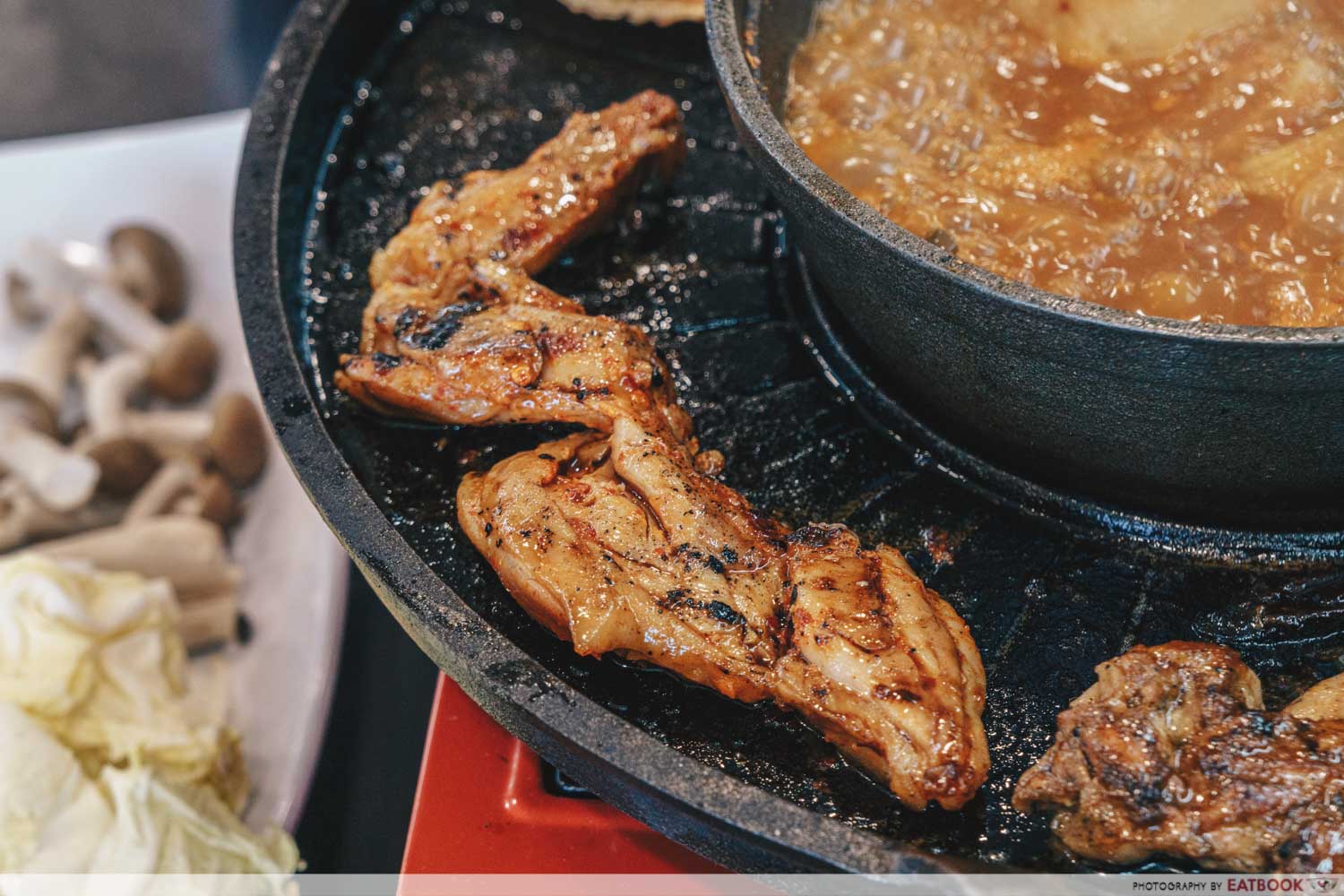 However, we did find the soy flavour slightly one-dimensional, which is why we preferred the Garlic Chicken Leg and Black Pepper Chicken Leg. Both complemented the mellow soy base with stronger flavours through the addition of zingy garlic and punchy black pepper. We particularly enjoyed the spicier of the duo, with its peppery bite providing fragrance and heat to the succulent chicken leg.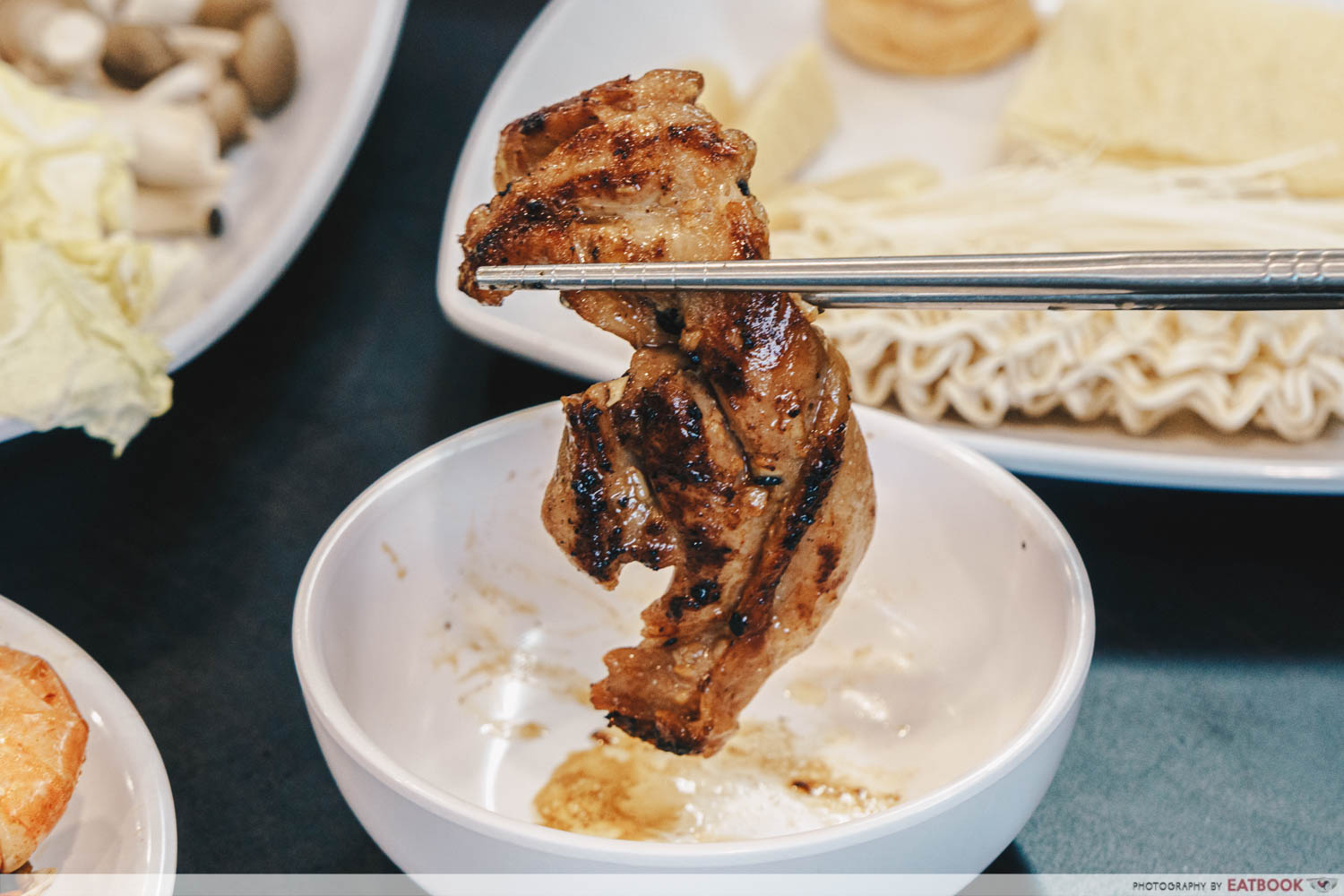 Korean influence is especially evident in the Spicy Chicken Leg, which boasts the recognisable back-of-the-mouth tingle of Korean chilli powder. While we slightly preferred its soy-based cousin, this is certainly good for injecting some heat into your BBQ.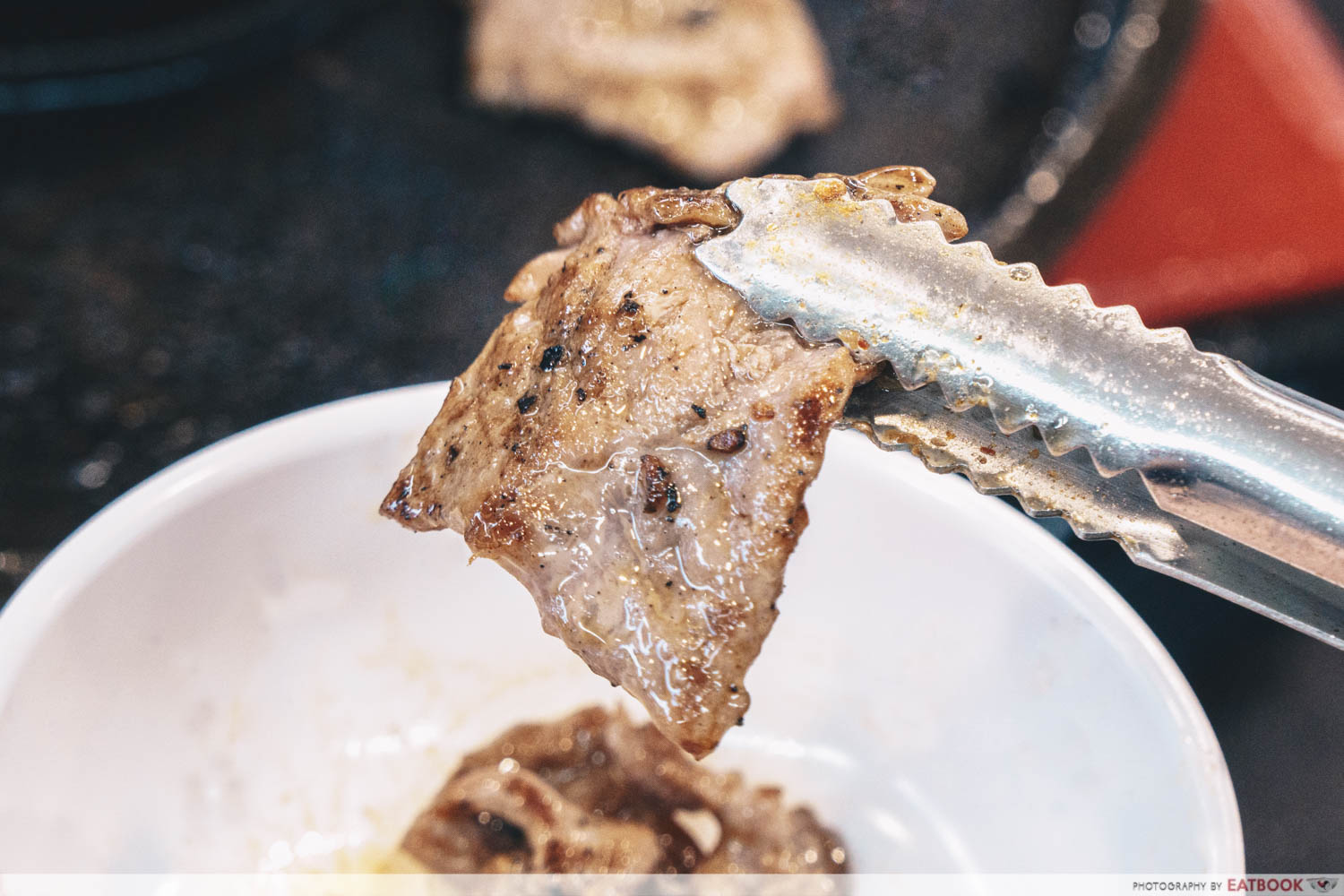 Similarly well-marinated were their two flavours of beef. Despite lacking marbling, both the Marinated Beef Slices and Garlic Beef Slices were enticingly juicy, without having a weirdly spongy texture from artificial tenderiser. The garlic variant was our favourite, sliced into larger pieces and flaunting bolder flavours than its counterpart.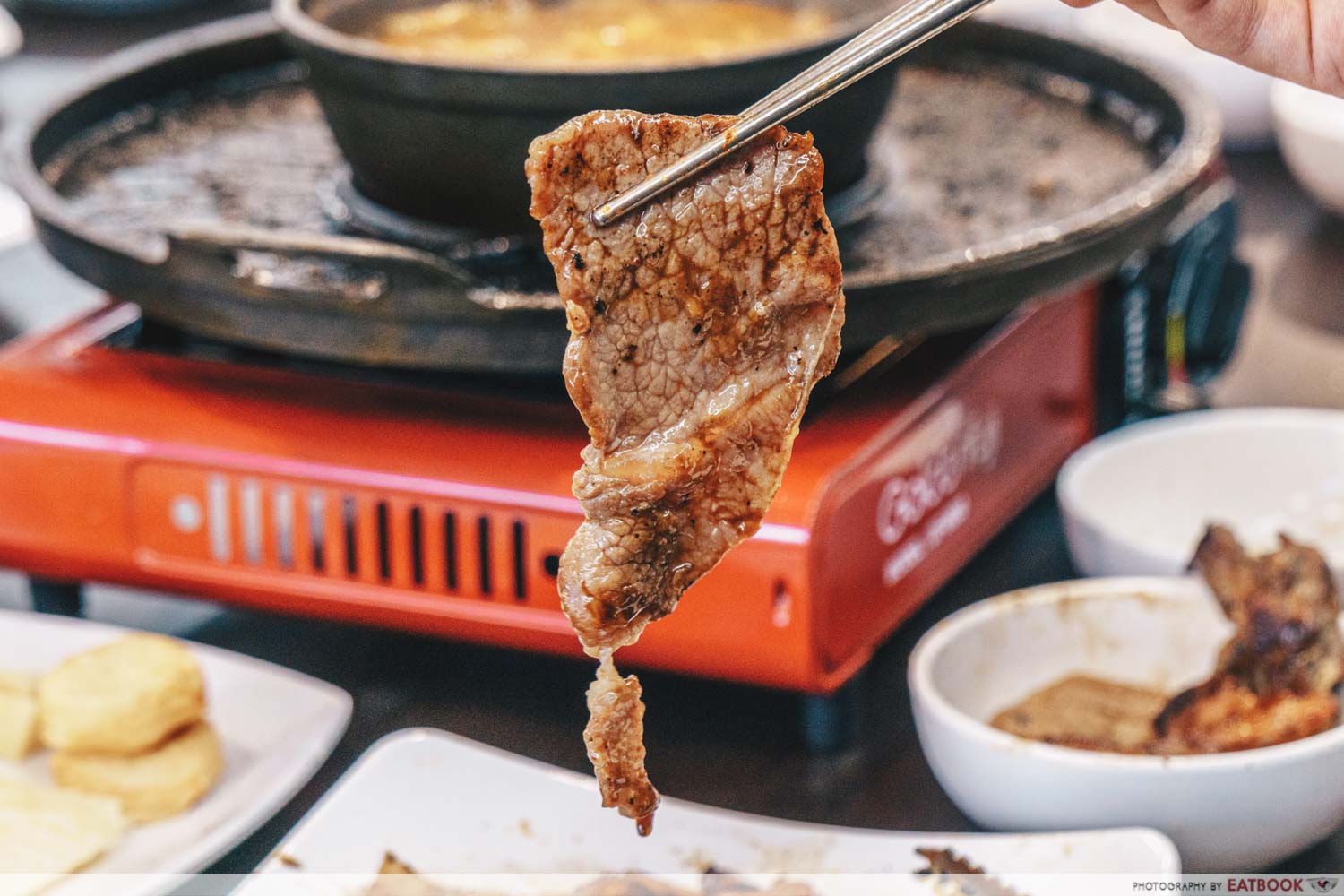 It was steeped in the familiar, yet consistently satisfying, soy garlic flavour that marks everything from Korean fried chicken to bibimbap. That potent combination of taste and meaty texture meant we didn't miss the fattier ribeye and short rib cuts you'd find at posher KBBQ joints for twice the price.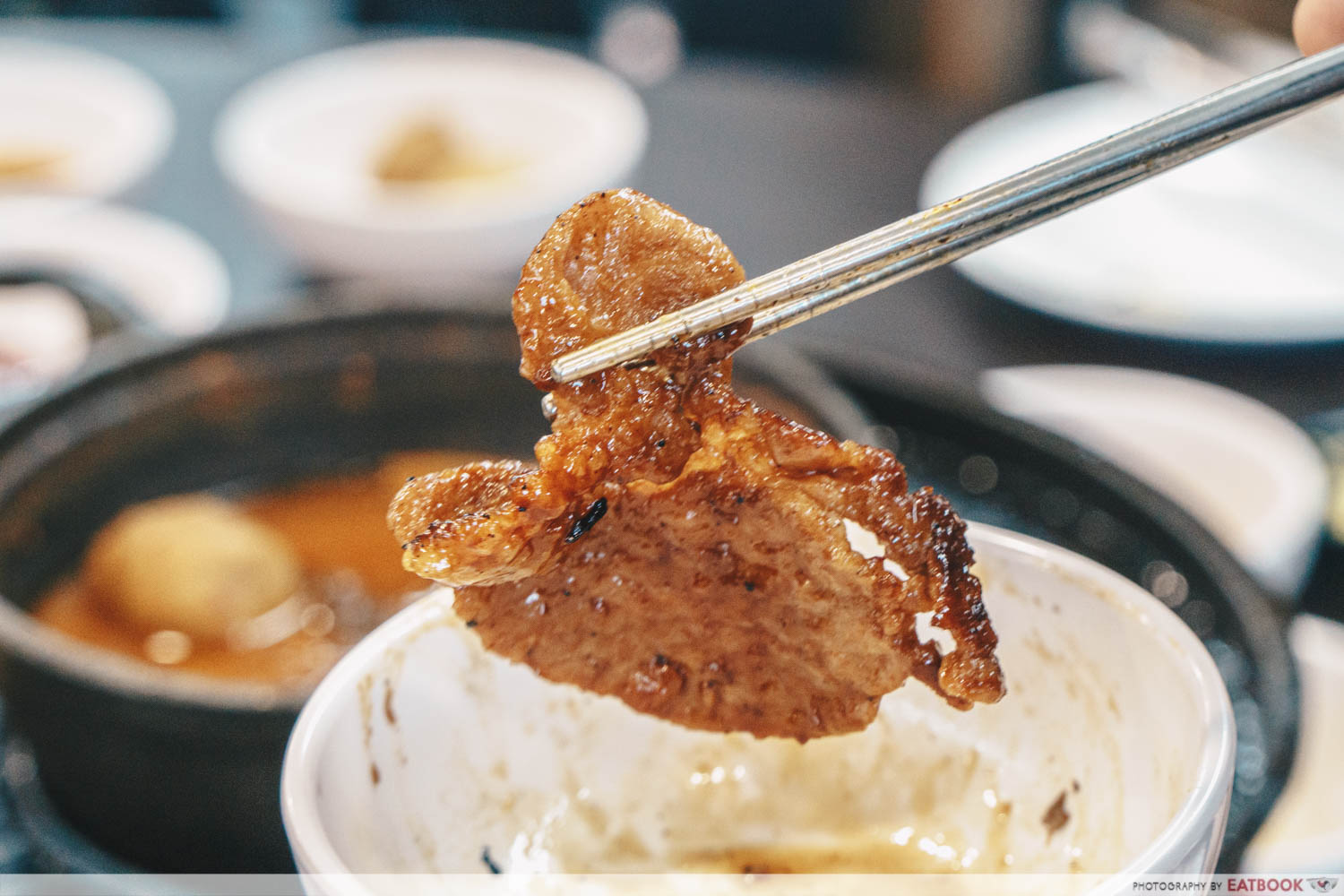 The Garlic Pork Collar fell short compared to the rest of their marinated meat range. Flavour-wise, it hit all the same notes as its beef and chicken cousins. Yet, it was slightly too soft, missing the resilient meaty bite we desired.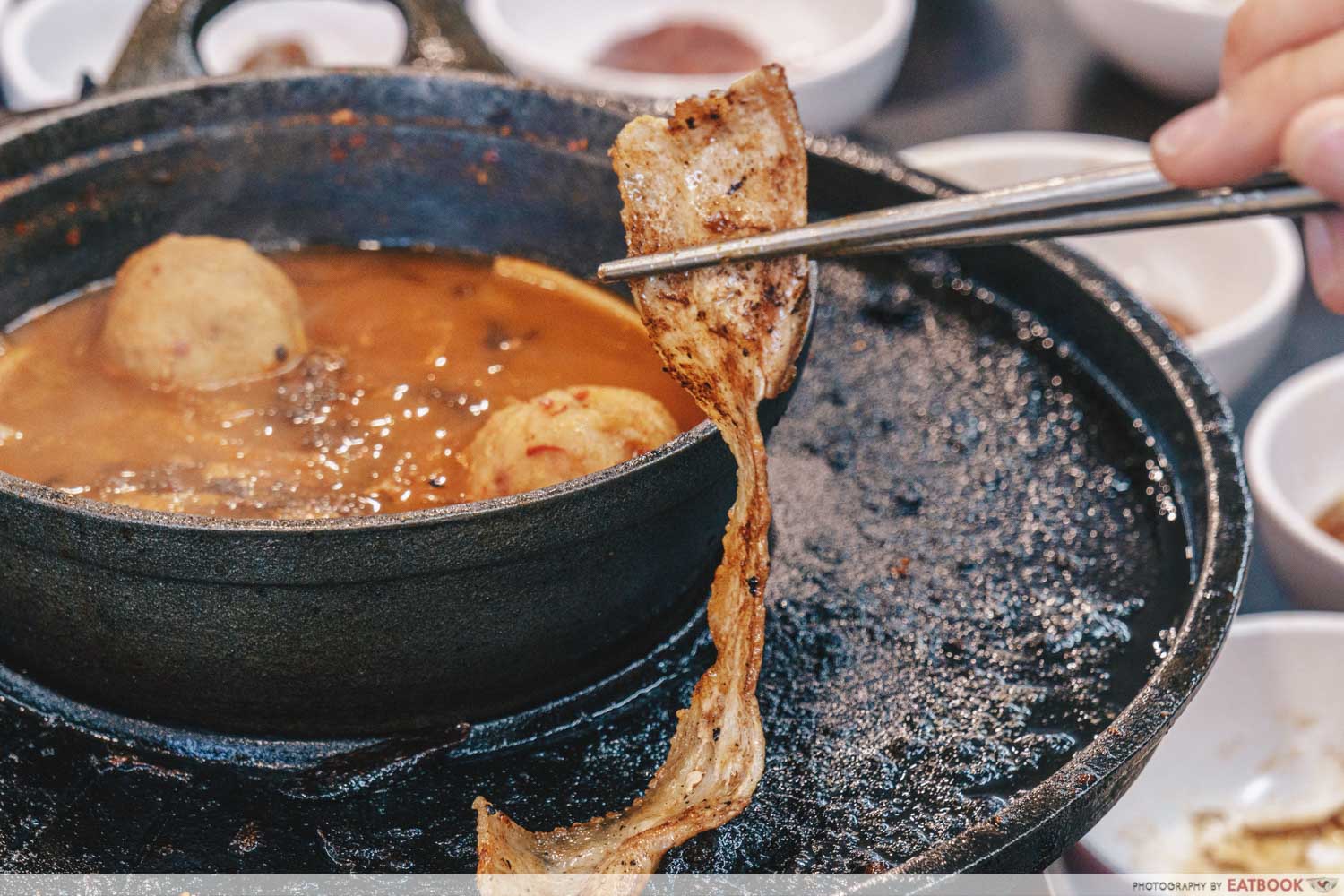 When it comes to barbecue, you can't really go wrong with Pork Belly. These were lengthy ribbons of meat too—a far cry from the pathetic translucent strips that grace most budget hot pot buffets. All that translates to predictably delicious barbecued meat, but note that this is the only non-marinated meat on offer, so a little more love is required.
This affection can come in the form of a kiss of margarine while cooking, or by dressing up your fatty strips with their lineup of sauces.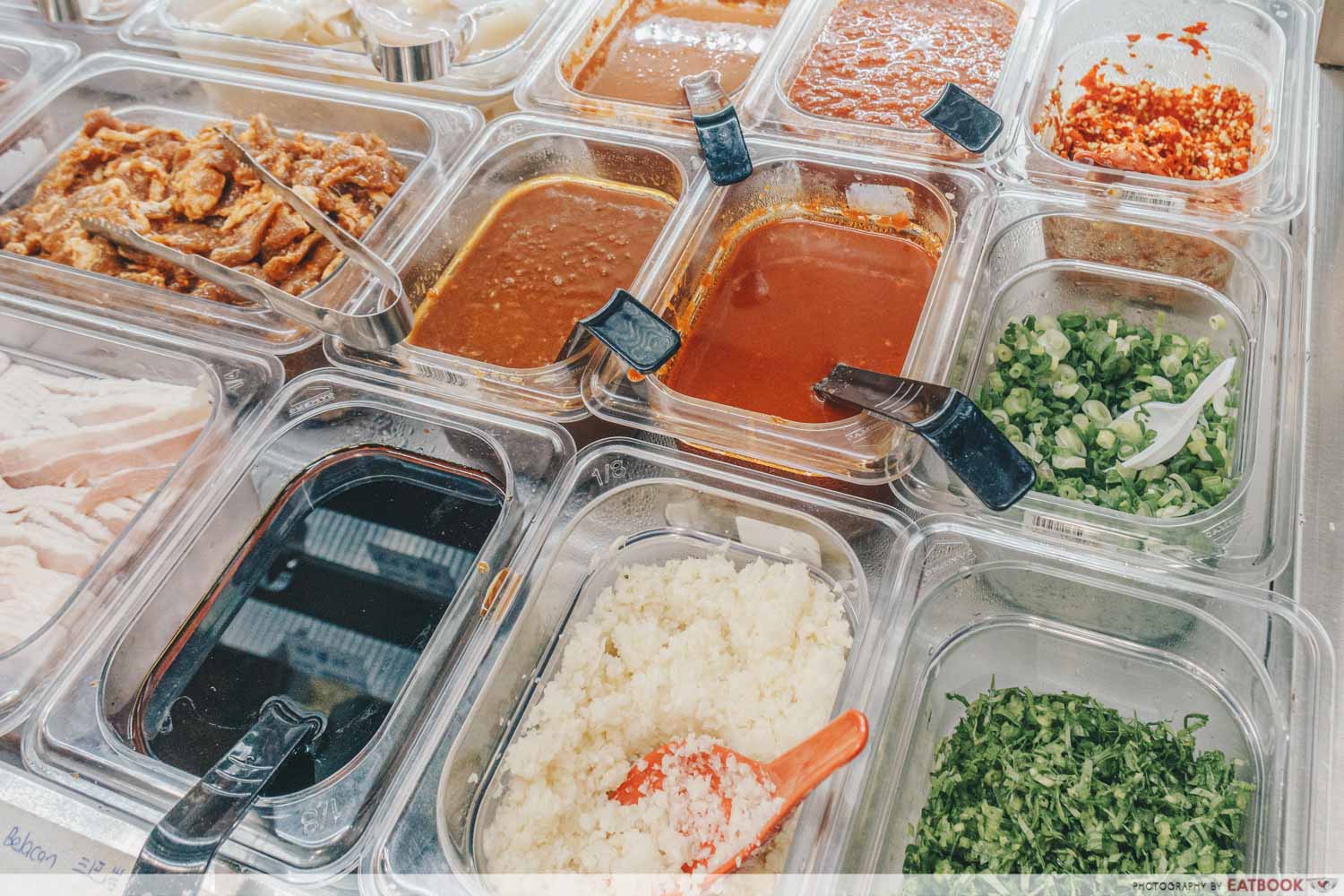 With options like Thai Chilli Sauce and Sambal Belacan, you can inject plenty of pan-Asian flair into your meal. But we decided to keep it Korean, sticking with the Ssamjang and Gochujang. Both were good options for sprucing up our meats, with the former granting miso-esque, umami-forward flavour, and the latter imparting licks of heat.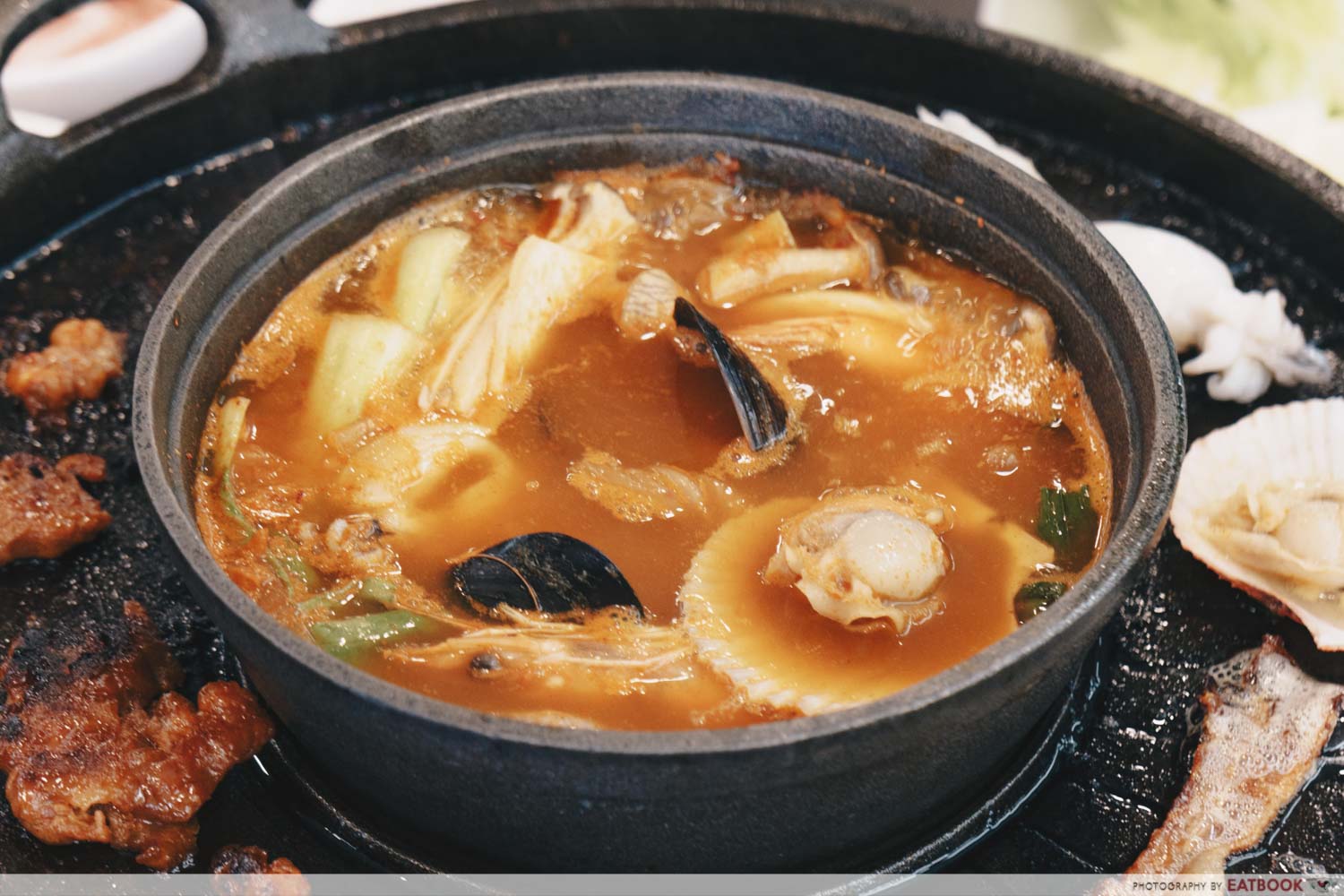 Six choices of soup base are available for your perusal, including Ma La and Tom Yum, but we stuck to the Korean theme, plumping for Kimchi, which came with a side of actual kimchi.
When it comes to hot pot, we want broths strong enough to flavour the ingredients while remaining drinkable. That wasn't quite the case here, as the kimchi soup base was super salty and definitely not suited for sipping. 
To be fair, that forceful flavour resulted in well-flavoured steamboat ingredients. However, we don't recommend sticking your meats in the hot pot, as their marinades clash with the strongly seasoned soup.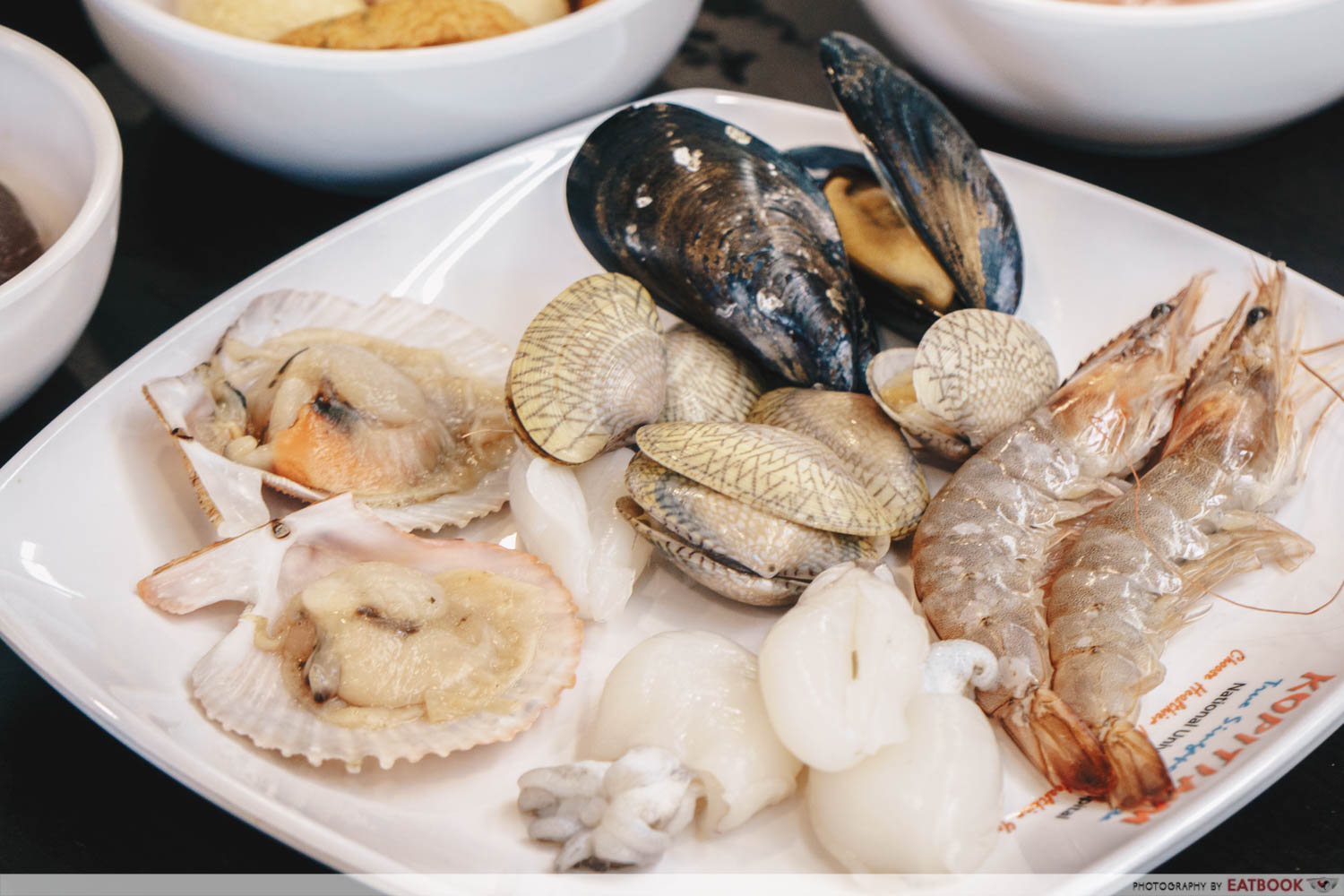 For under $20, it's impressive for the buffet to feature Mussels, Clams and Scallops. Out of this shelled trio, the scallops were the most worthy of our stomach space, boasting fresh and bouncy meat. In contrast, the clams were a distinct disappointment, shrivelling up into tiny pieces with barely any flavour.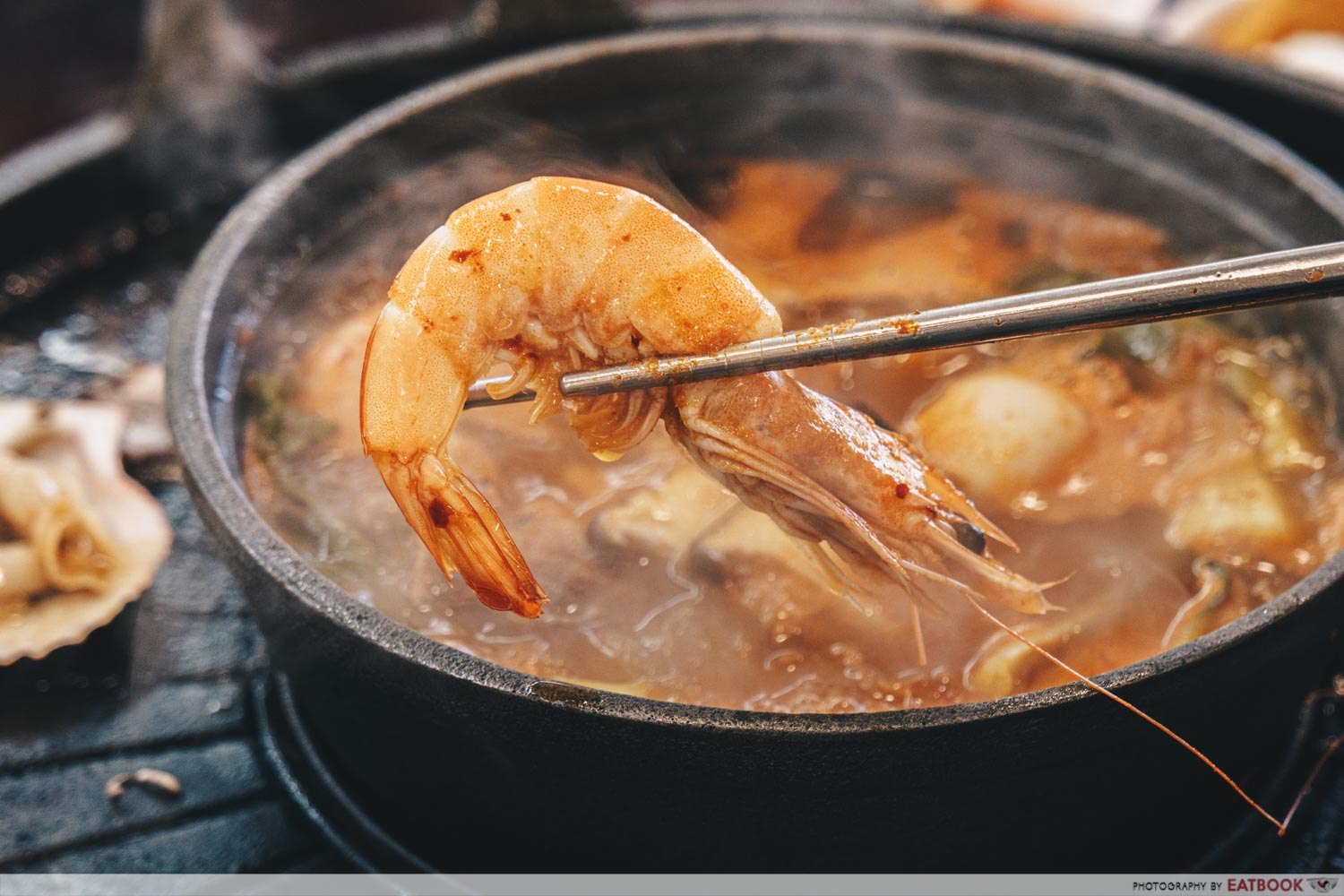 Also available were the seafood standards, Prawns and Baby Cuttlefish—both equally good given the grill or steamboat treatment.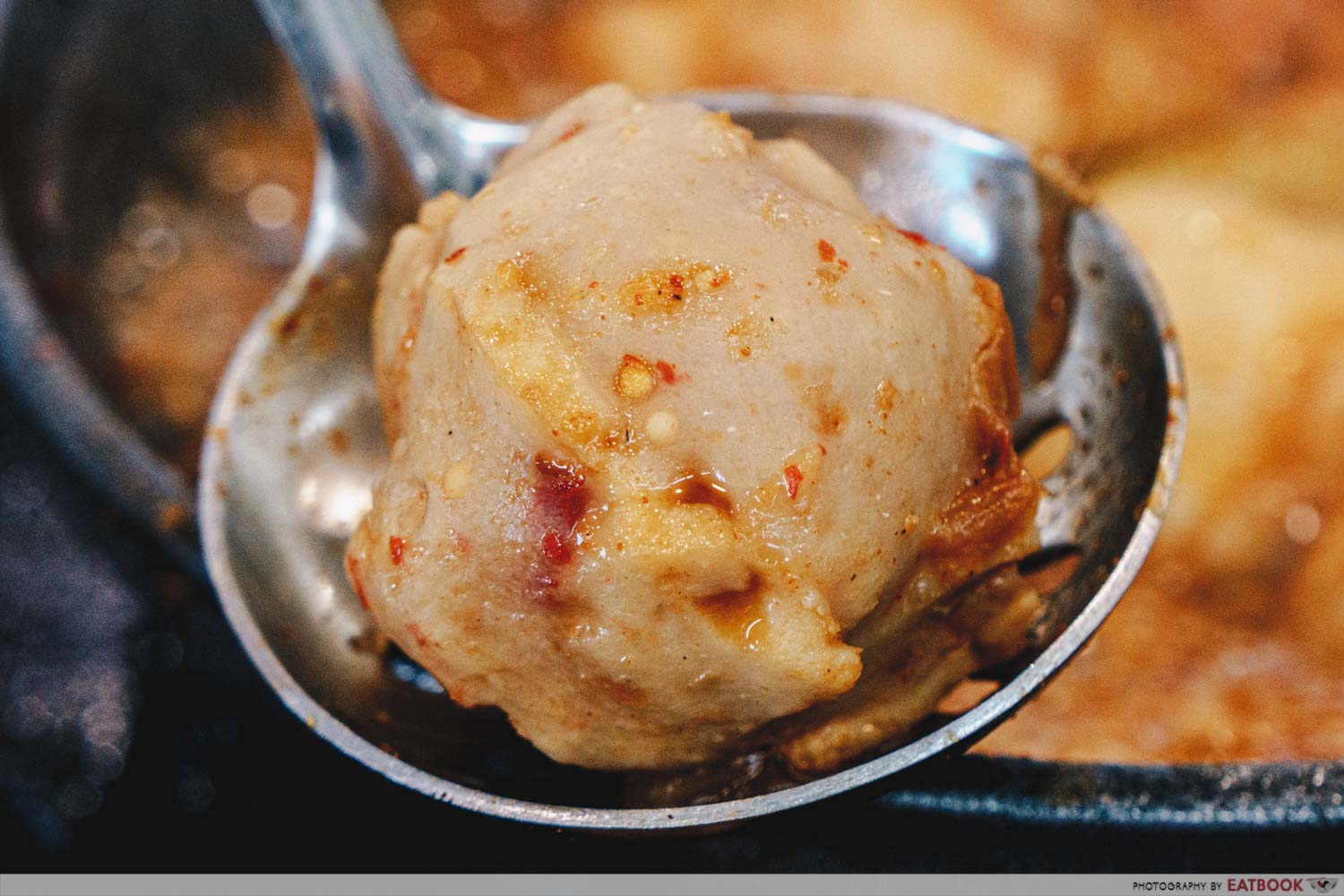 Frozen meat products are a hot pot mainstay, as they're usually ingredients you can just throw in and forget about. However, the Lobster Balls were better than an afterthought. Although there weren't any real lobster meat in these balls, the nice balance between supple and firm textures as well as a hint of sweet seafood flavour had us taking another bite. Also notable was the Thai Fish Cake, which was certainly an ingredient you wouldn't expect to find in Korean hot pot.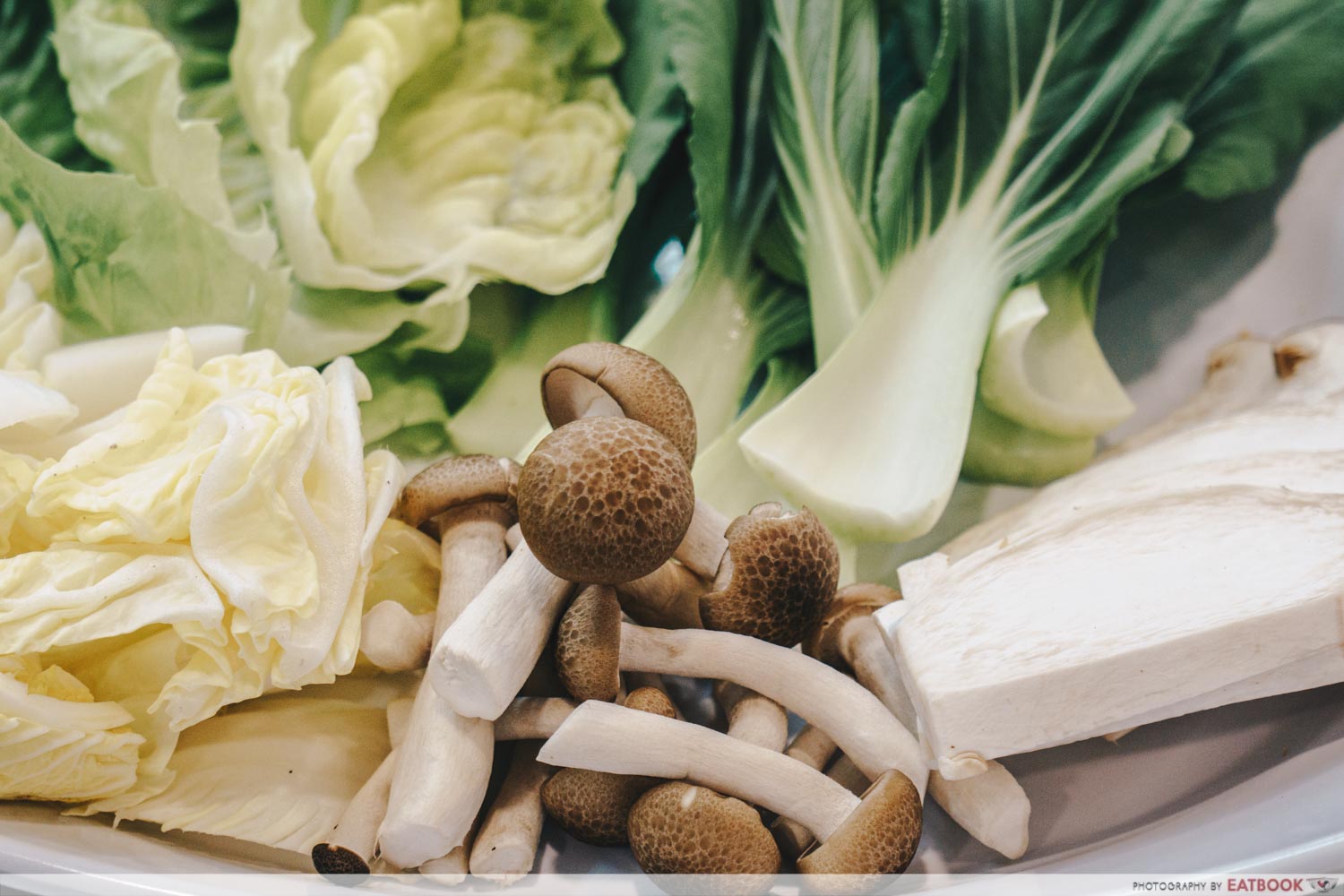 A standard plate of greenery, comprising typical items such as cabbage, shimeji mushrooms and king oyster mushrooms, accompanies every buffet order. You can top that up with items like lotus root, bamboo shoots and enoki mushrooms, all of which reside in the main ingredient fridge.
Ambience at Michin Korean BBQ And Hotpot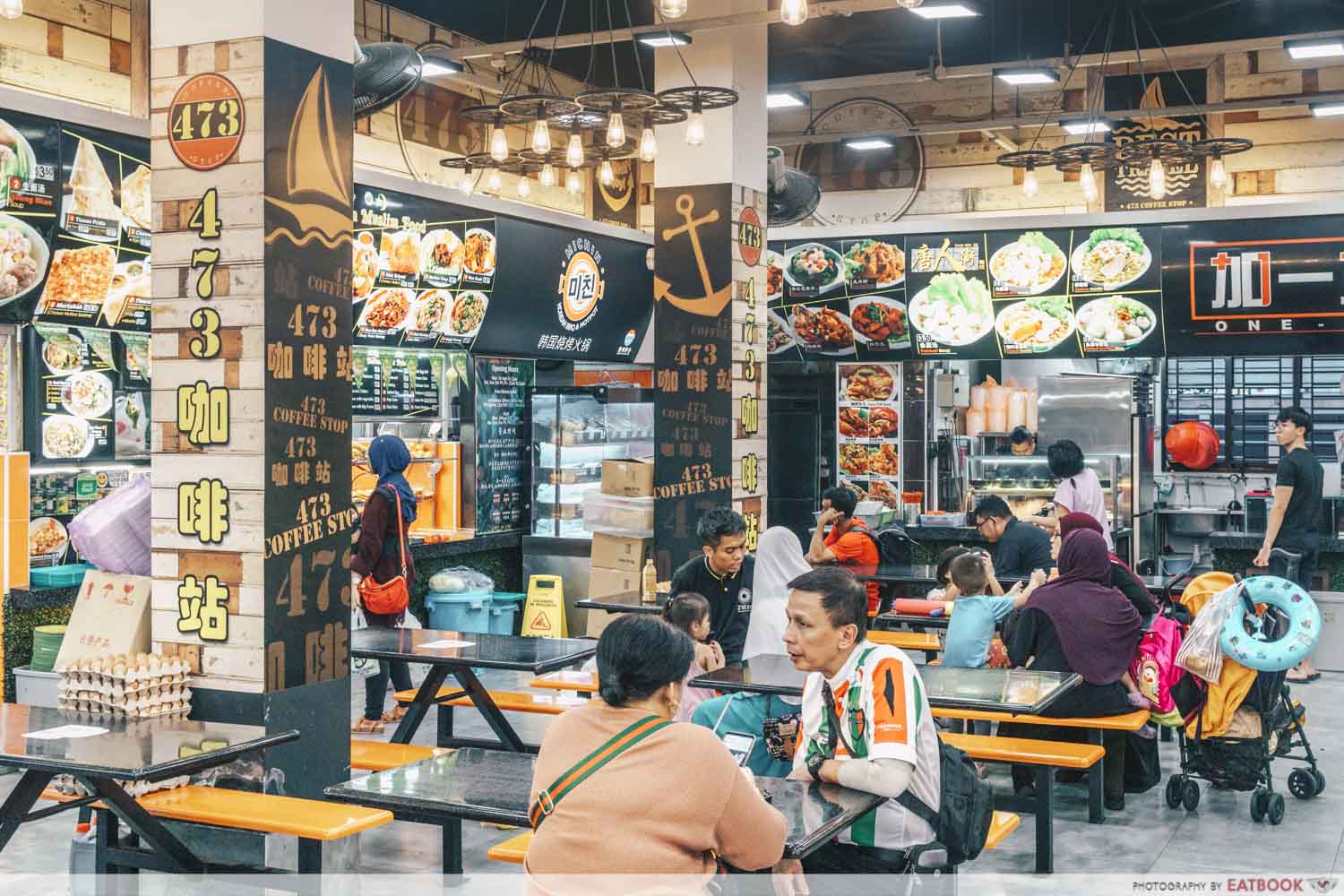 Located in an outdoor coffee shop at the heart of Sengkang, this small corner stall is set to move to a bigger space on the same premises soon. More space equates to more hot pot joy, because they're planning to use it to bolster their already formidable selection of ingredients.
They also have another stall in Toa Payoh, at 18 Lorong 7 Toa Payoh, Singapore 310018.
Shan Pin Steamboat Review: $19.80 Hai Di Lao-Style Buffet With DIY Sauce Bar At Toa Payoh
The service here was quick and amiable, with our bubbling pot of kimchi broth constantly topped up as if we were in a full-fledged restaurant. However, that coffee shop status comes with an inevitable downside: sweat. Despite the best efforts of a small air-con unit, the combined heat of a steaming pot of soup and sizzling grill meant beads of sweat were quick to form.
The verdict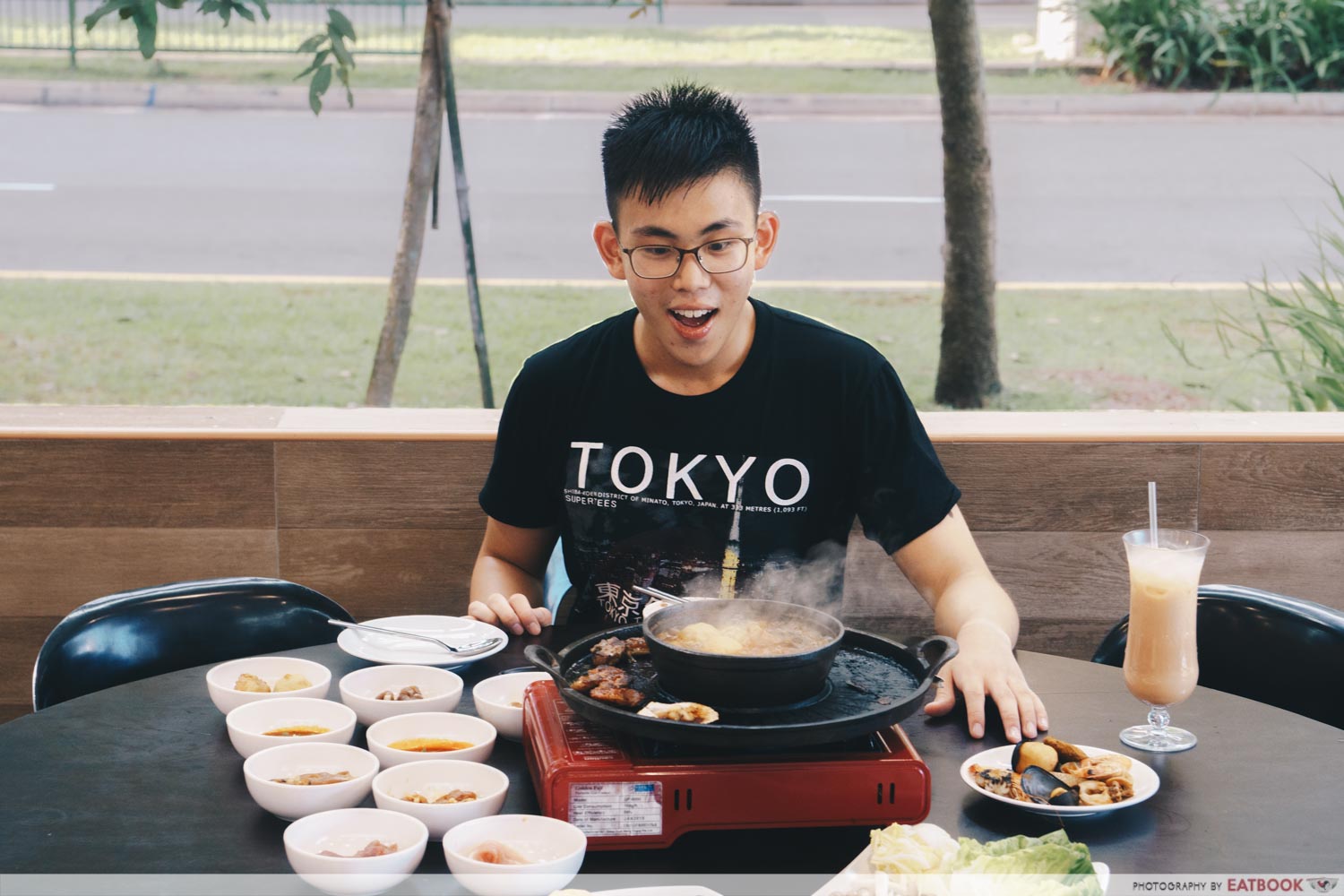 We don't need a facade of alcohol-induced flame to tell us that Michin Korean BBQ and Hotpot serves up solid buffet fare at an affordable price. Their soup bases leave something to be desired, but good meats, swift service and a generous selection of ingredients make this buffet worth your while if you're in the area. The plume of fire is just a bonus.
Get more smoky Korean BBQ goodness by looking at our list of 10 Korean BBQ Buffets, or slurp up more steamboat at Shan Pin Steamboat and Xiaocaoxiang Steamboat Buffet.
Xiao Cao Xiang Steamboat Buffet Review: New Hot Pot Buffet With Free-Flow Xiao Long Bao For $16.80+ At Toa Payoh
Let us know your favourite spots for steamboat in the comments below!
Address: 473 Fernvale Street, #01-05, Singapore 790473
Opening hours: Daily 5pm to 10:30pm
Website
Photos taken by Crystal Tan.
This is an independent review by Eatbook.
Michin Korean BBQ And Hotpot Review: Flaming Korean BBQ And Hot Pot Buffet For $17.80 At Sengkang
Summary
Pros
– Affordable
– Well-marinated meats
– Flaming spectacle
Cons
– Kimchi broth was too salty
– Gets pretty warm
Recommended dishes: Black Pepper Chicken, Garlic Beef Slice
Opening hours: Mon 4pm to 10pm, Wed-Fri 4pm to 10pm, Sat-Sun 11am to 10pm
Address: 473 Fernvale Street, #01-05, Singapore 790473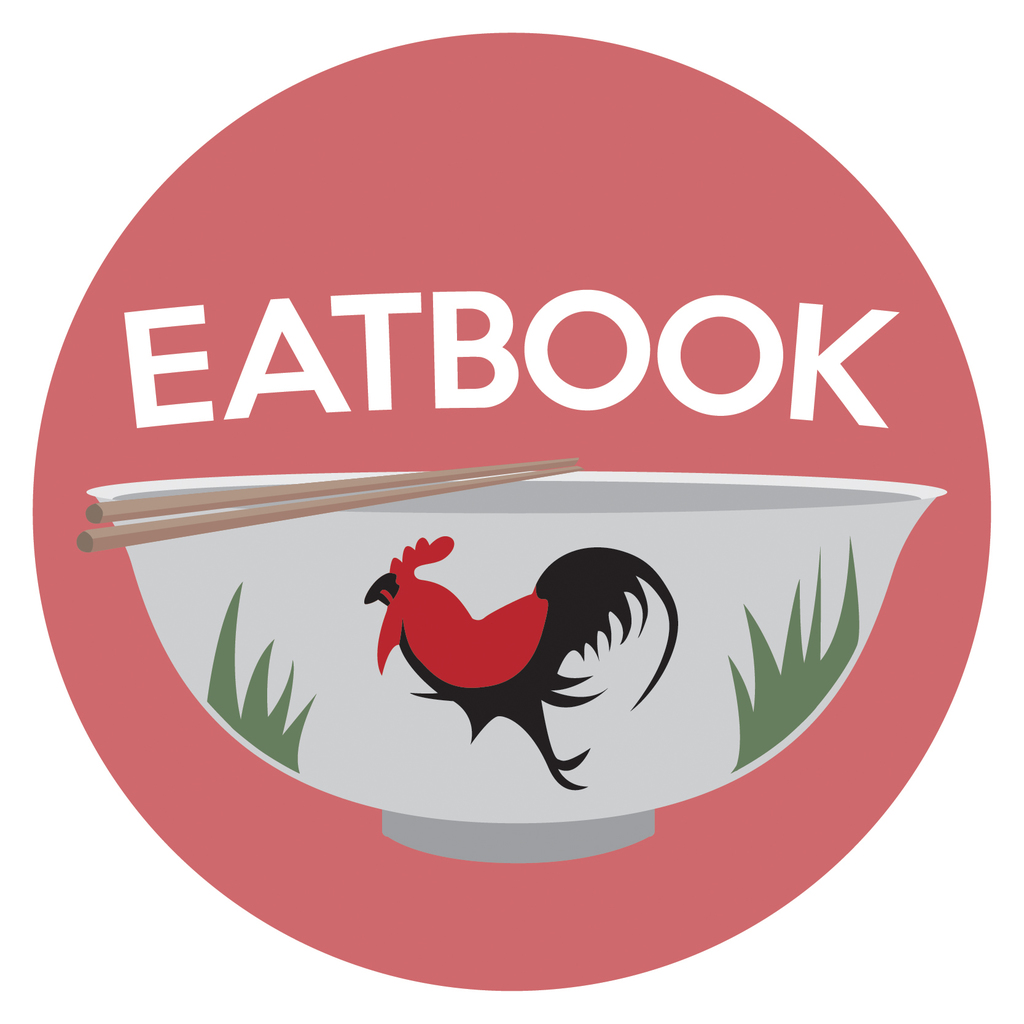 Drop us your email so you won't miss the latest news.