Rolling Rice at Marina Square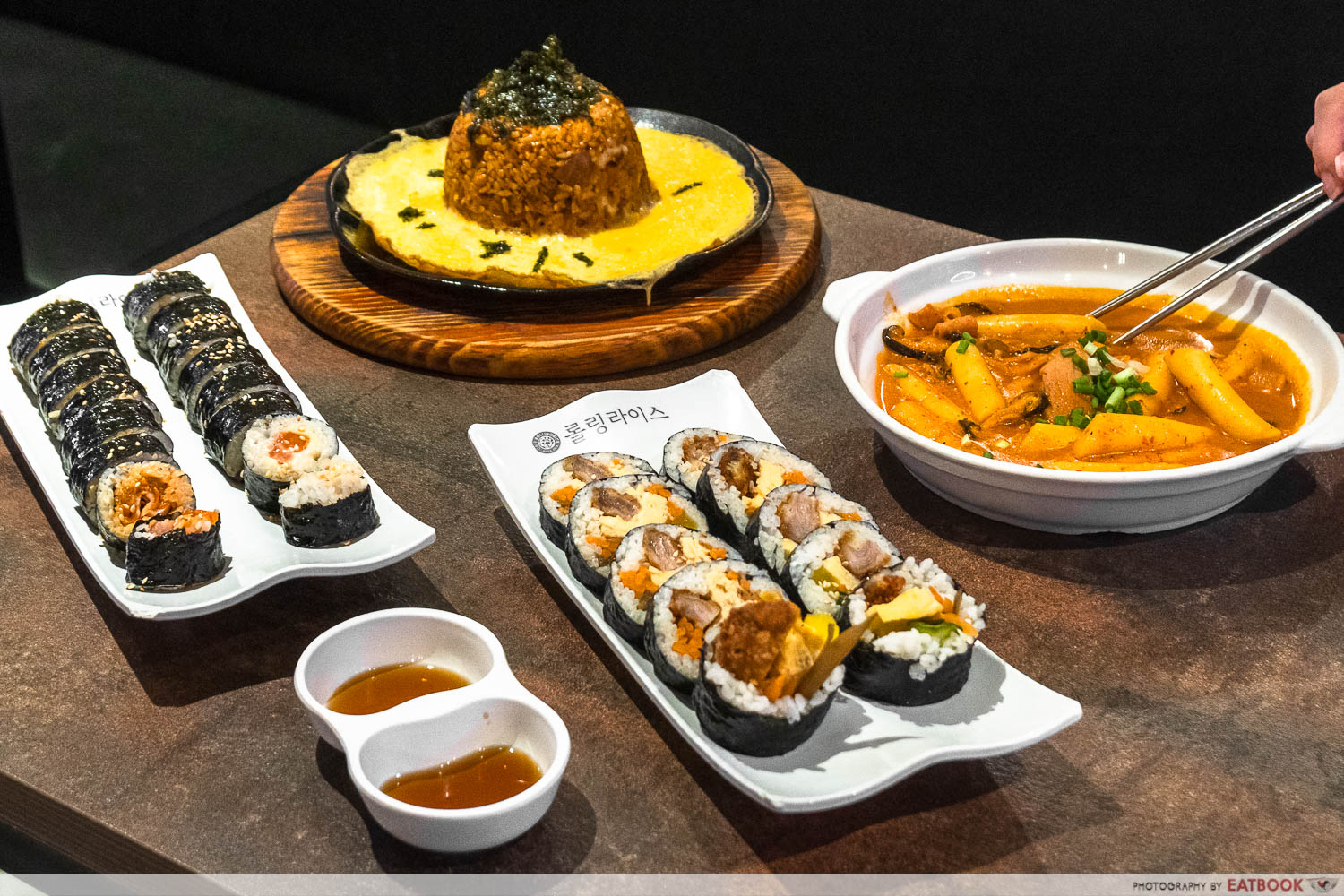 I may not be a lover of Korea's many K-dramas and K-pop bands, but I am definitely an ardent fan of their food. Like many, I enjoy Korean food for its balance of sweet and spicy flavours. Thus, I needed no convincing to pay a visit to Rolling Rice, a Korean restaurant that serves over 10 types of gimbap and tteokbokki. 
Food at Rolling Rice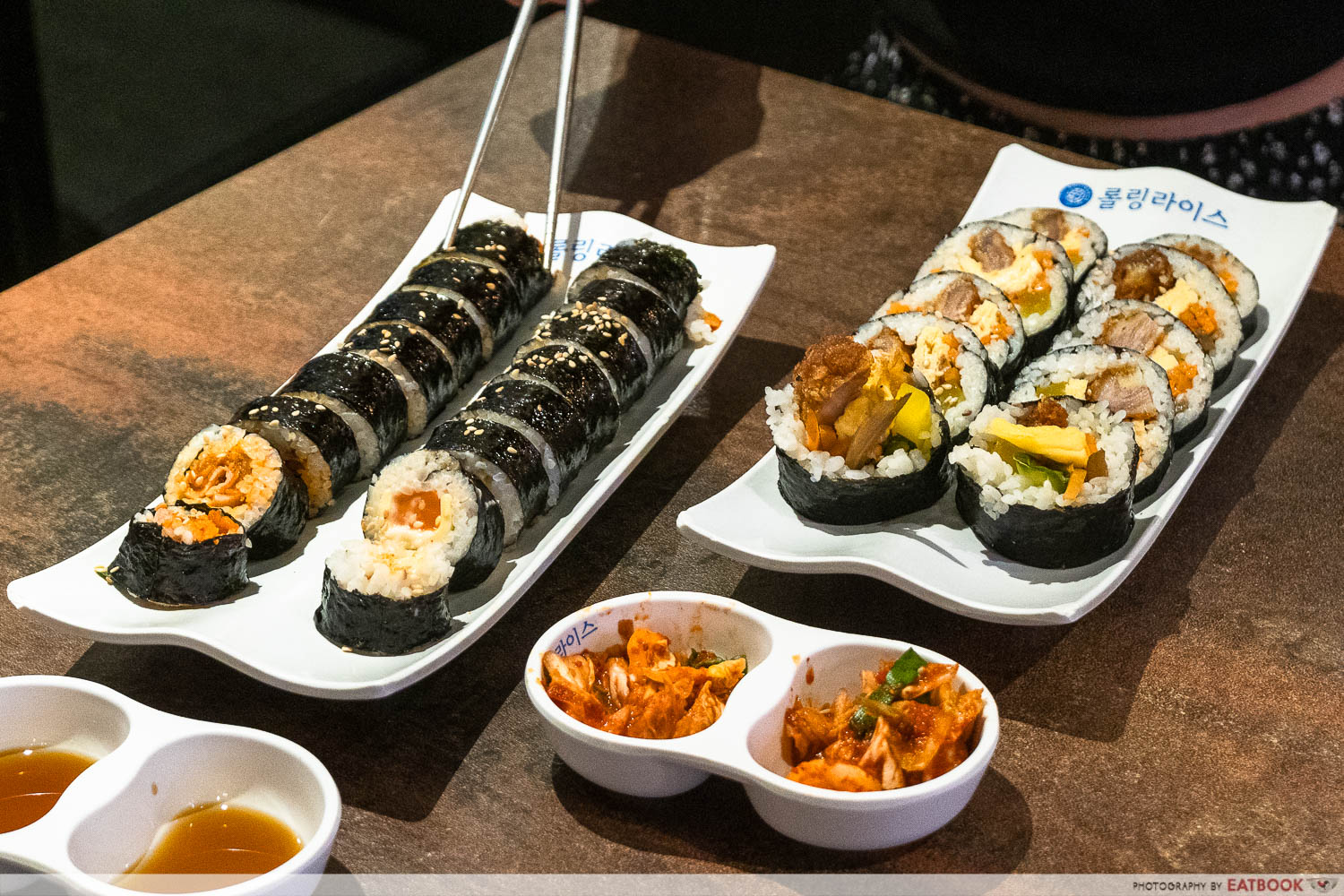 Each order of gimbap comes cut into eight, with the exception of the Traditional Gimbap which is sliced into 10. All their gimbaps also go for a dollar cheaper during Happy Hour—3pm to 5pm, and 8:30pm to 9pm Mondays through Thursdays.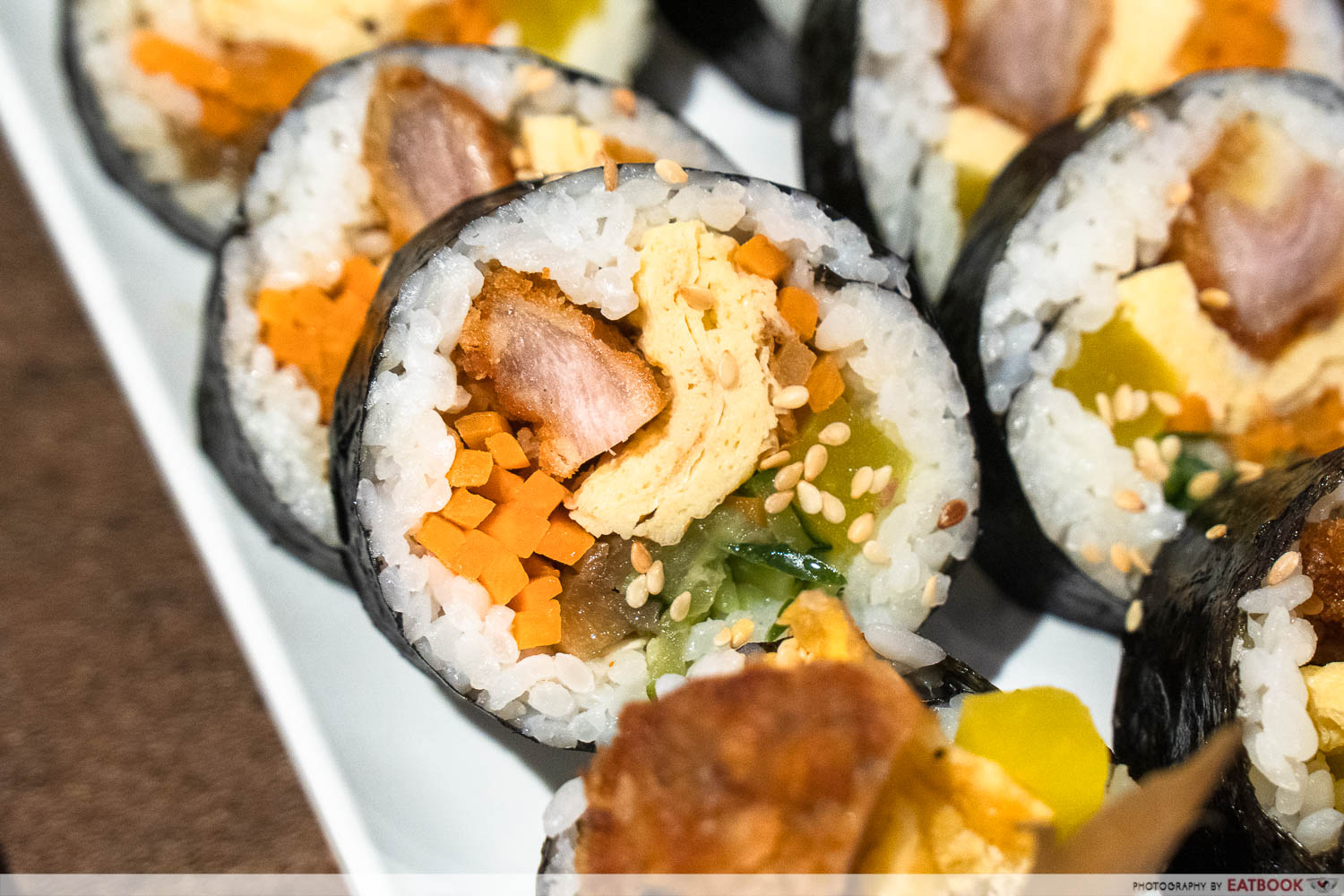 We began our Korean crusade with the Traditional Gimbap ($9.90+). Given the choice to add Beef, Spam, Tuna, Fried Chicken, and Fried Pork Cutlet, we went with the last option.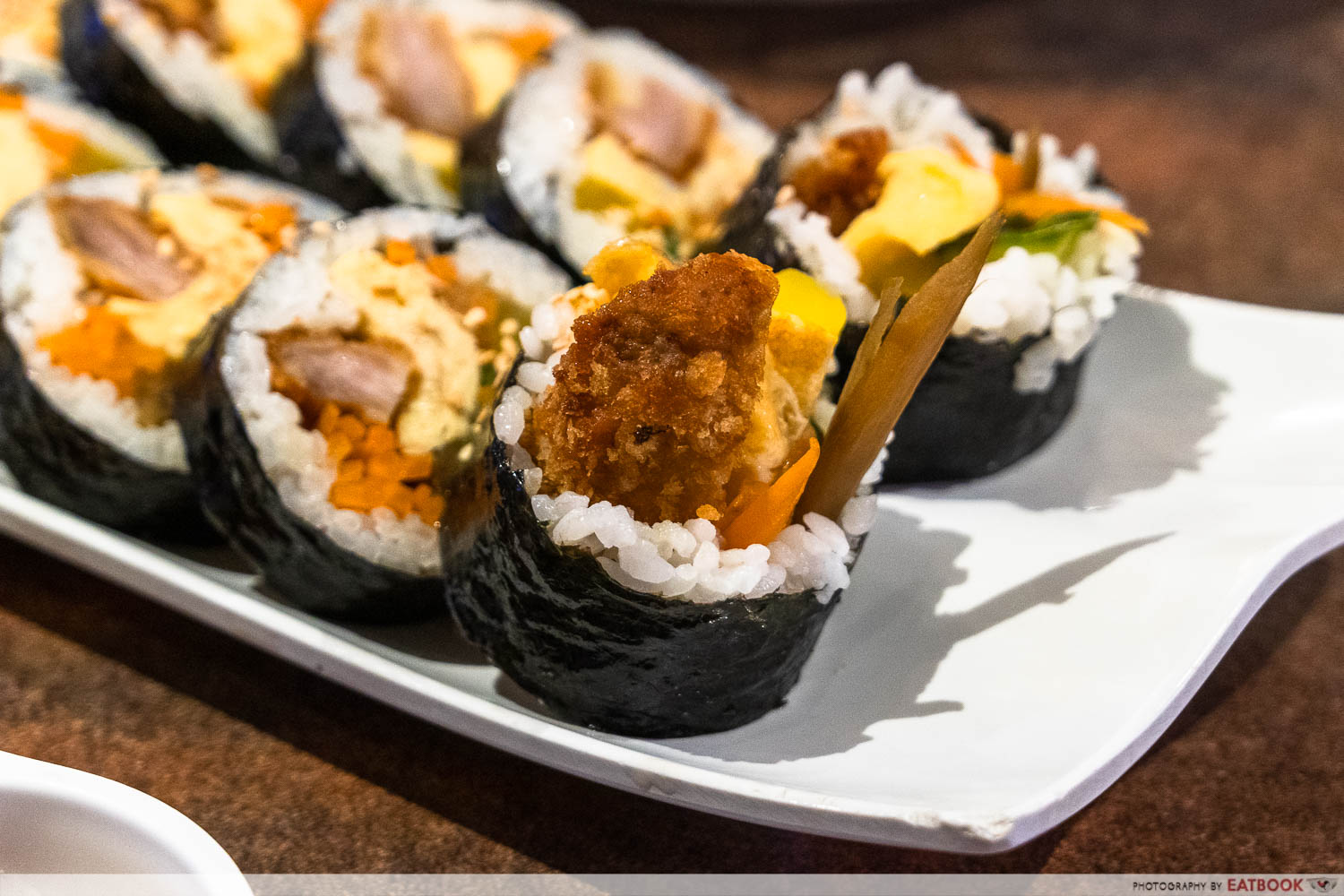 As Rolling Rice's most-stuffed gimbap, the different textures were certainly aplenty. The vegetables—carrots, cucumber, yellow pickled radish, and burdock, added a great amount of crunch to the softer rice and egg. 
I, however, found the fried pork cutlet a tad too tough, and felt that it would've benefitted from being crispier and more tender.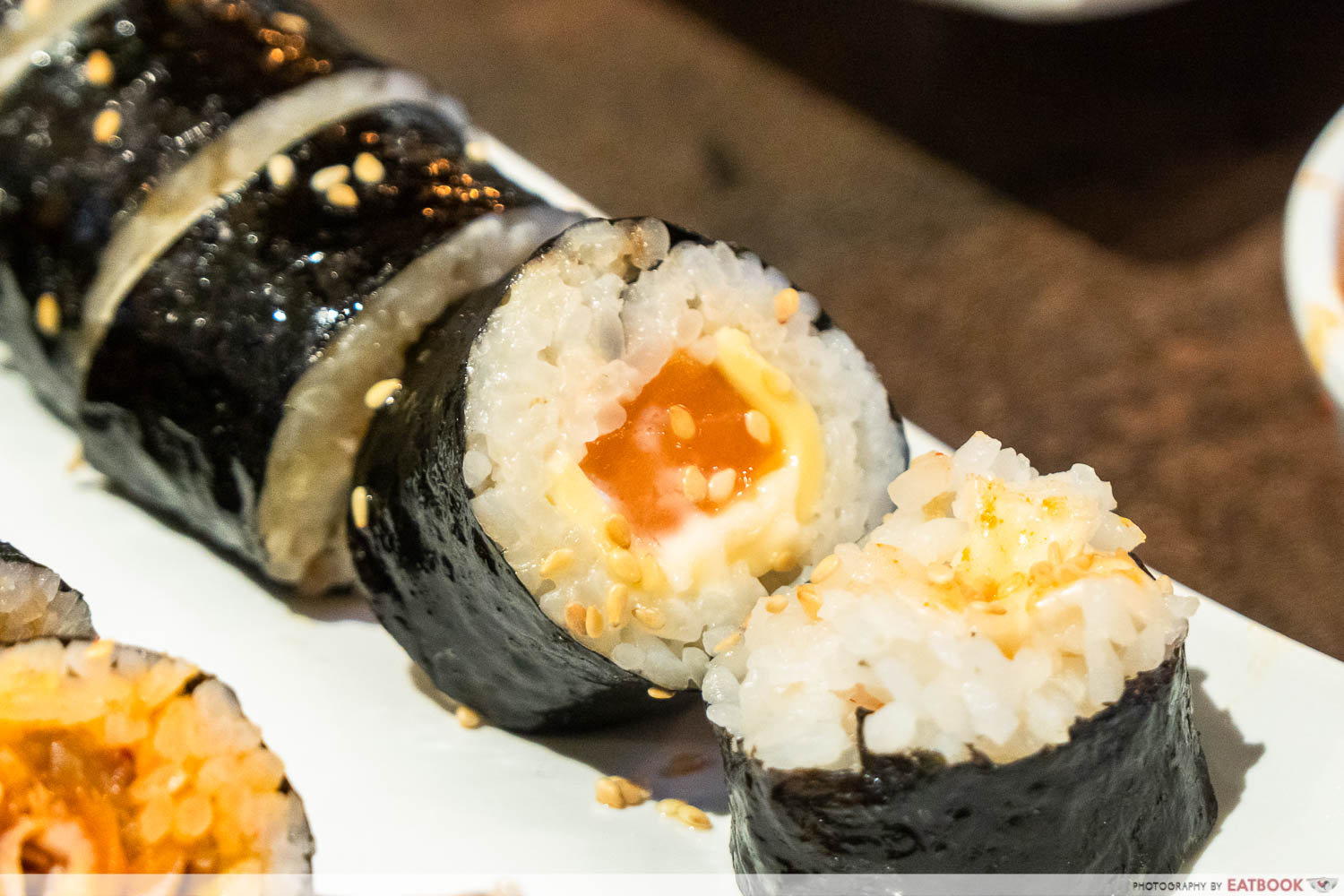 We also decided to opt for something a little more modern with their Salmon and Cheese Roll ($6.90+), which came with cubes of salmon sashimi, sliced cheddar cheese, and tartar sauce.
I believe that sashimi is best enjoyed when it's eaten on its own, and this dish has proved me right. The strong flavours of cheddar and tartar meant that the fresh taste of the sashimi was overshadowed.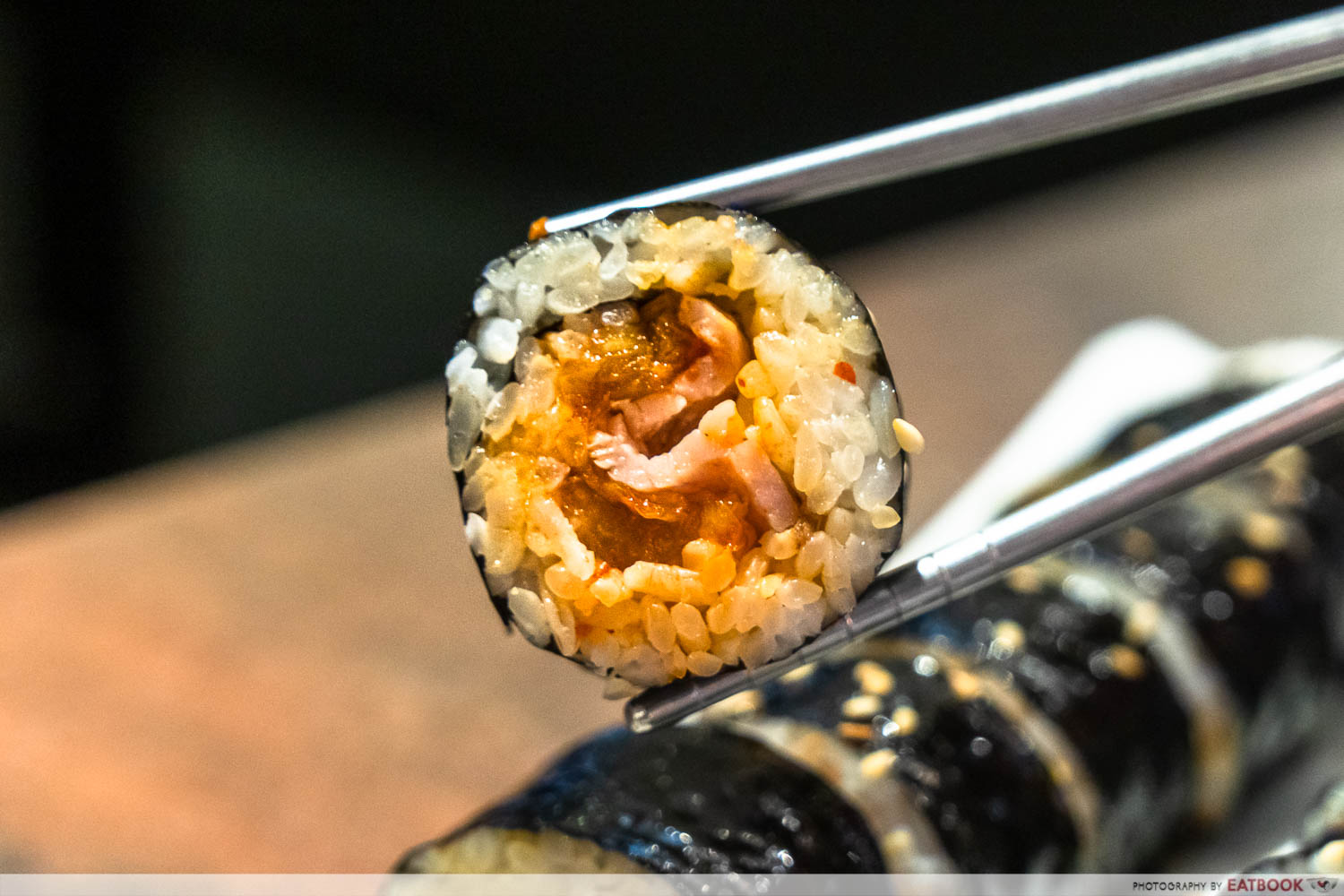 The last gimbap we tried was the Bacon and Kimchi Roll ($6.90+), filled with slices of bacon, and kimchi that stained the rice a striking orange. 
The naturally strong flavour of kimchi definitely dominated the flavour of this gimbap, as I struggled to identify the salty taste of bacon amidst the sourness.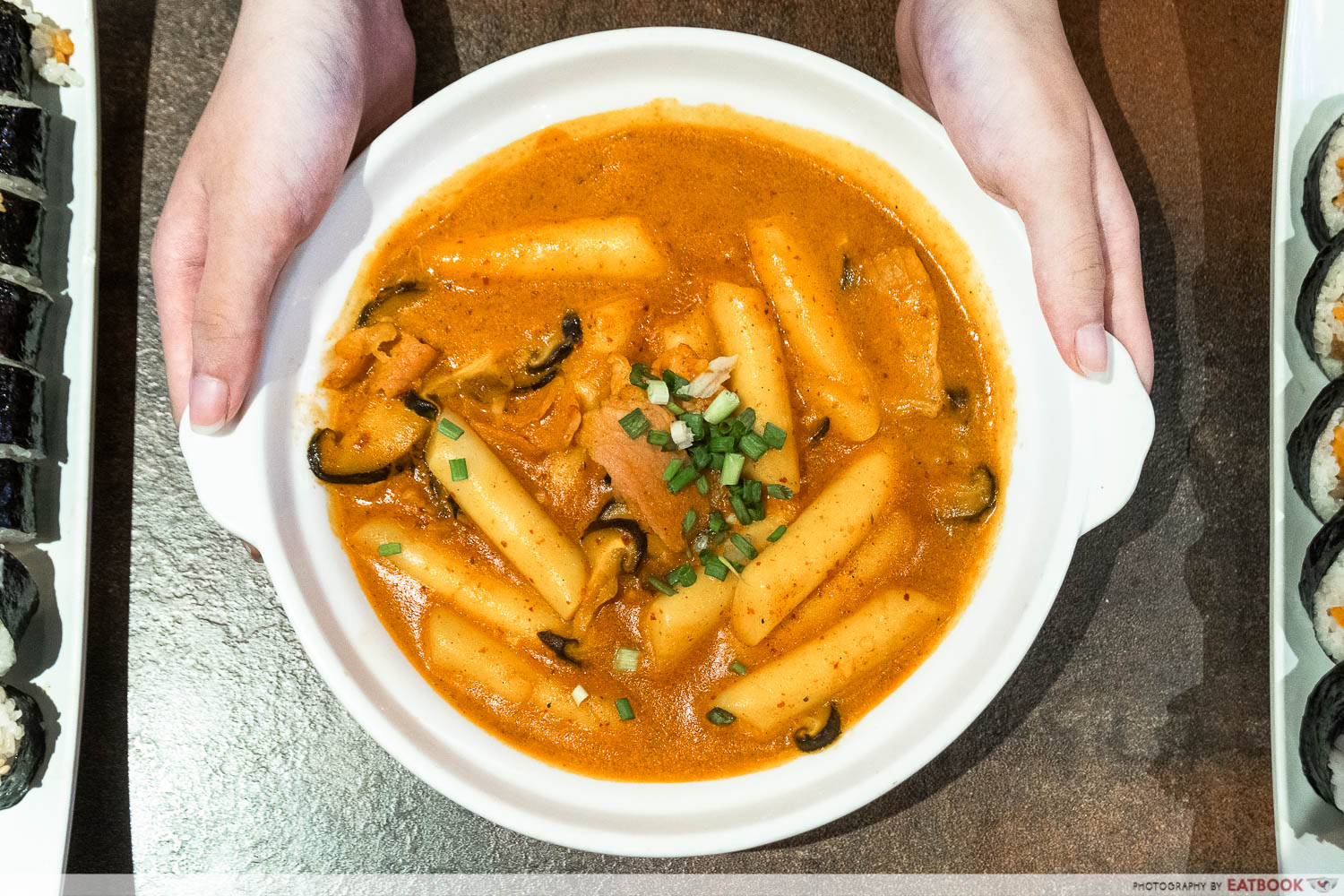 Of Rolling Rice's sprawling menu of tteokbokki and rabokki, we decided to go for the Spicy Cream Topokki ($11.90+). The beloved rice cakes, along with pieces of bacon and thin slices of mushroom, are cooked in a classic spicy tteokbokki sauce that's laced with cream.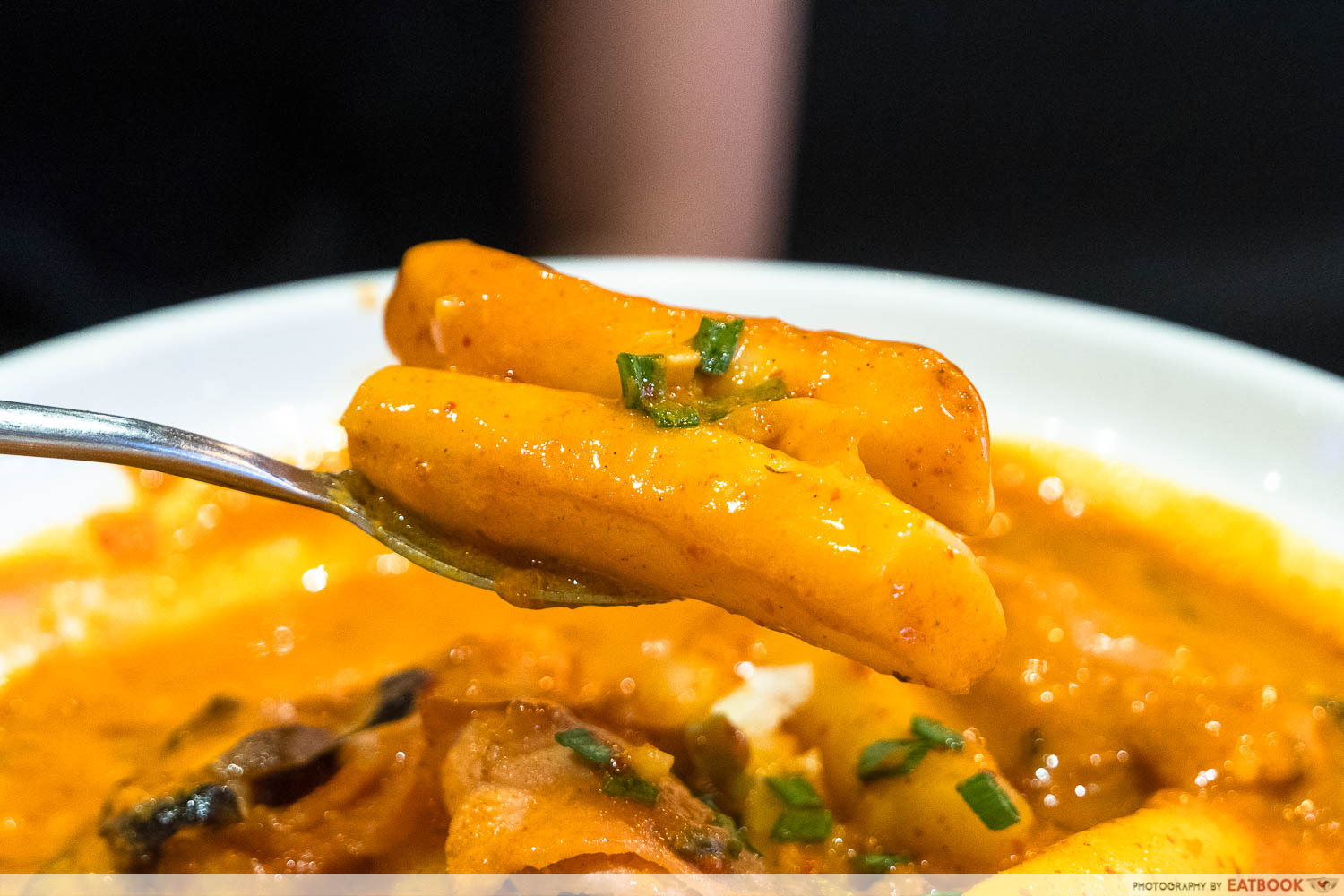 As with all good tteokbokki, these had a wonderful chewy QQ texture that was neither too soft nor unpleasantly hard.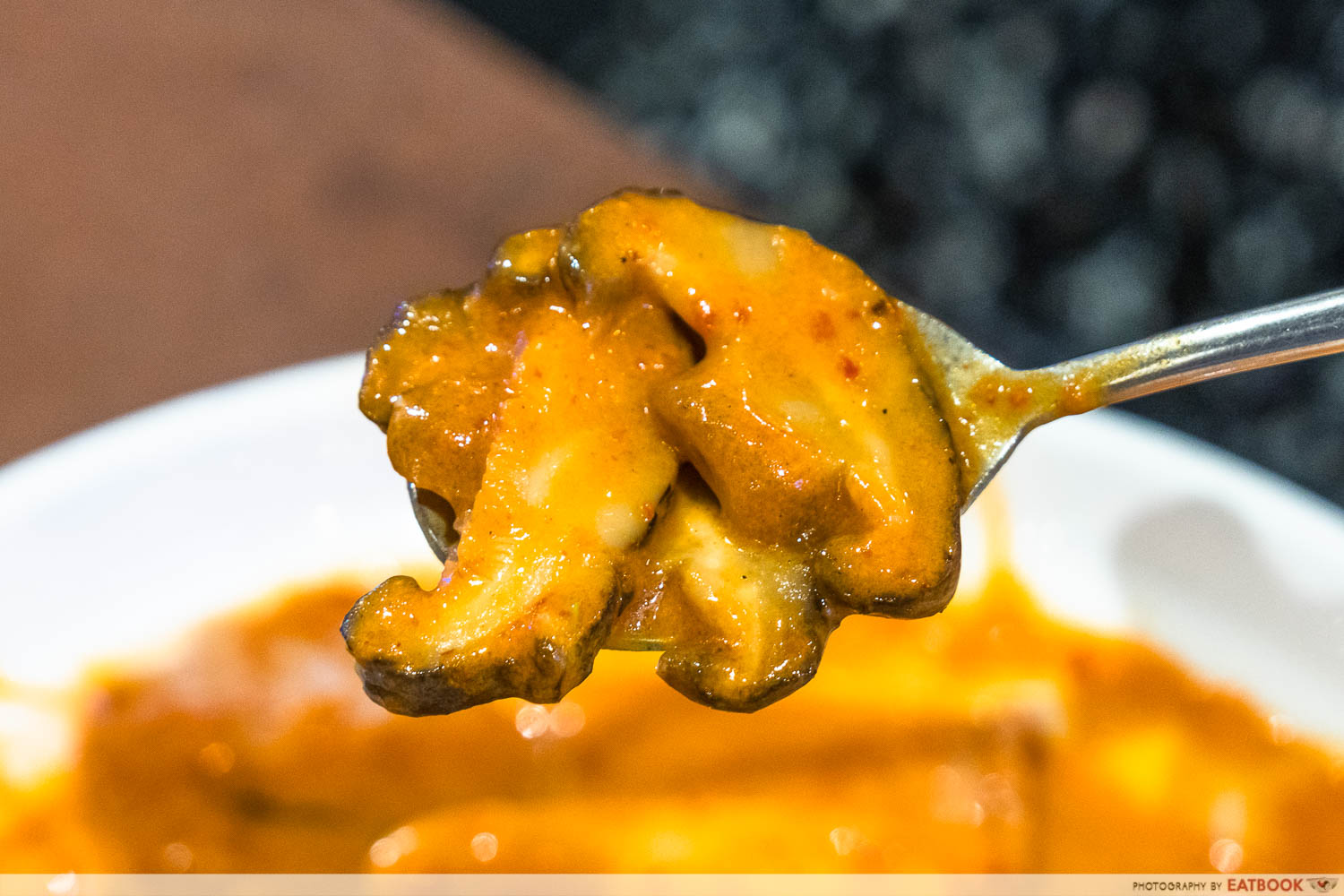 However, if you're someone who yearns for the punchy kick of spice, don't get your hopes up. This sauce is far from spicy, and I had no trouble gobbling this dish down, even as someone who can't handle spice well.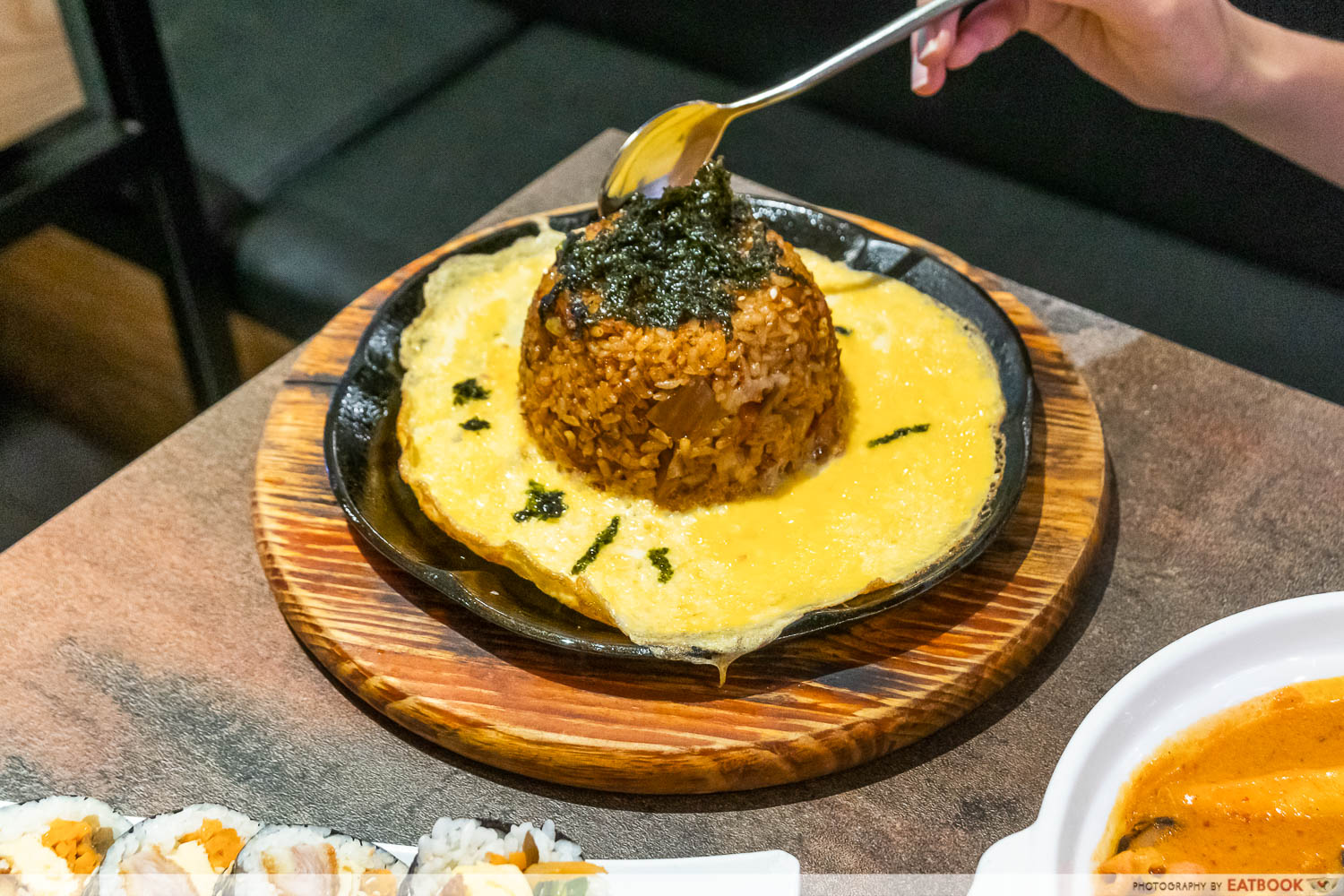 Moving on from the tteokbokki, we also tried kimchi fried rice. Rolling Rice's UFO Kimchi Fried Rice ($14.90+) isn't your typical rendition, served on a hotplate and surrounded by a moat of omelette and cheese.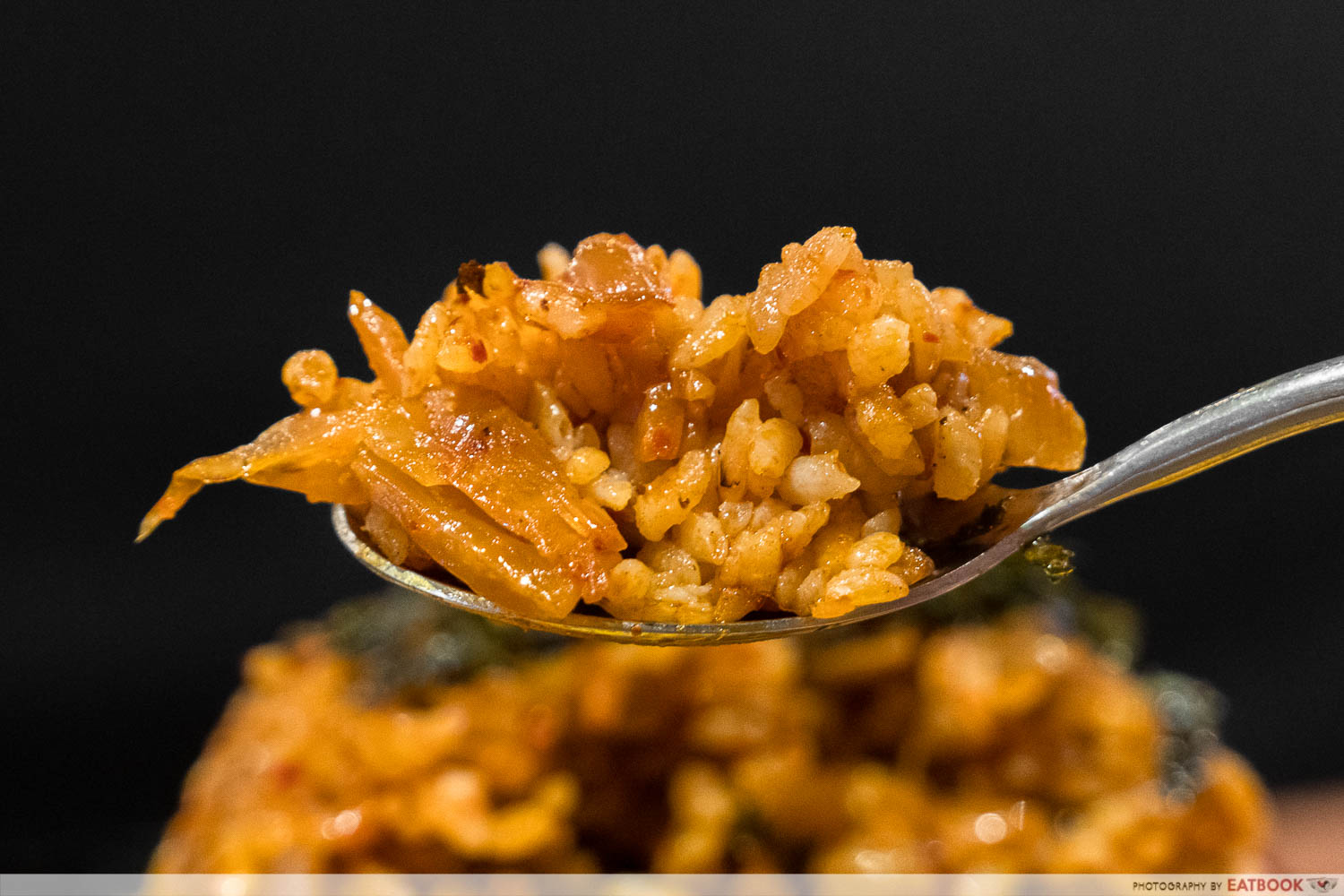 Unfortunately, both my colleague and I found the rice too salty, lacking the sour and spicy kimchi kick we were expecting. 
The omelette might've helped to balance out the salty flavour of the rice with its creaminess, but the lengthy time we took to complete our shoot meant that we were left with a rather firm and well-cooked omelette.  
Ambience at Rolling Rice
Located at Marina Square, Rolling Rice is within walking distance from Esplanade, Promenade, and City Hall MRT Station, though not directly connected. Upon entering, you'll notice hanging light fixtures and a brick-walled interior that create a rustic vibe. Despite the many tables in this restaurant, Rolling Rice still falls prey to the lunch crowd. So, if you're met with a 30-minute wait time, don't say we didn't warn you. 
The verdict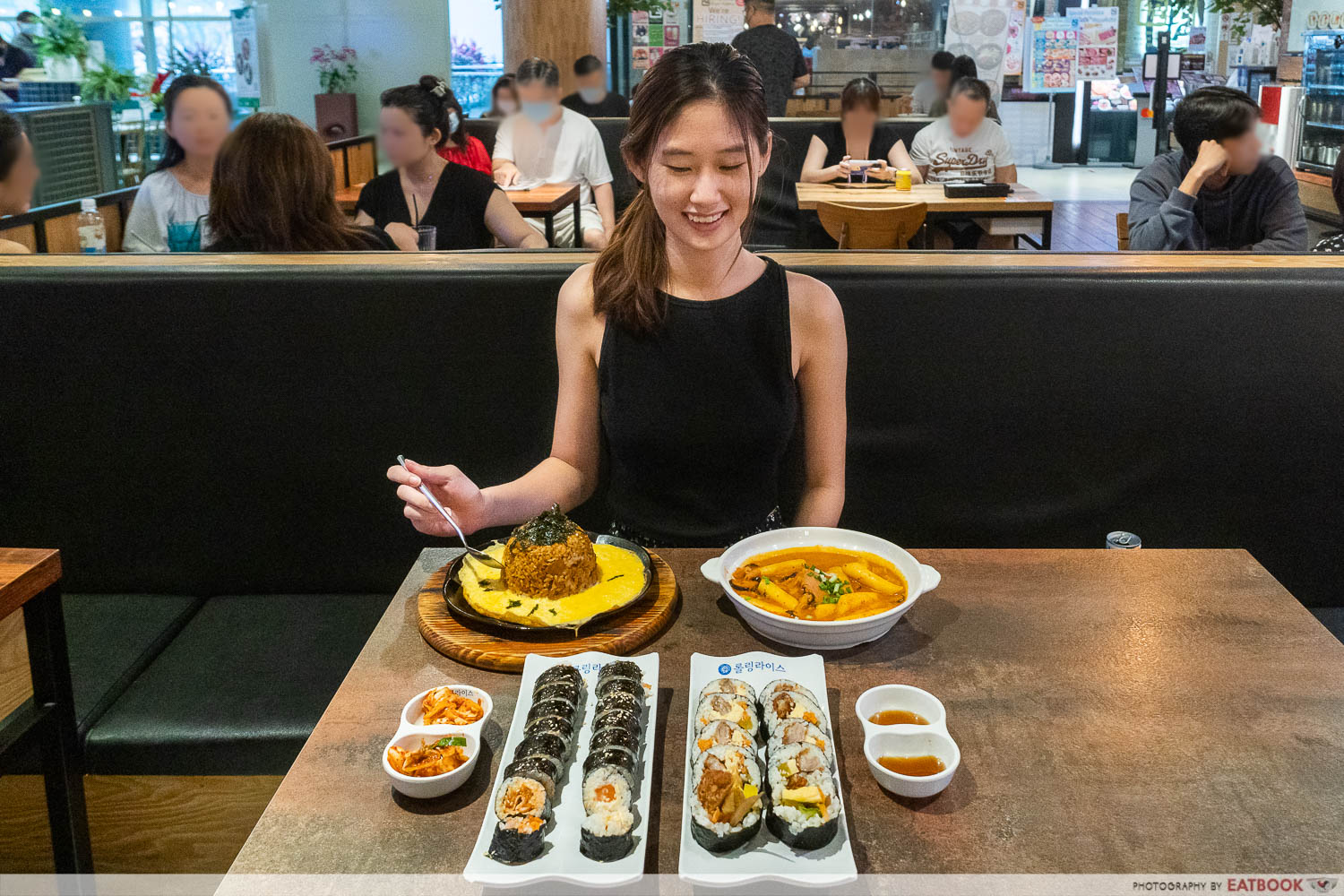 Rolling Rice's major pull factor is its sprawling menu, which doesn't fail to cater to everyone. We barely scratched the surface on our visit, as there are still stews, bibimbap, and ramen on the menu that we hadn't tried. 
Although the food here was decent enough, it definitely didn't come close to bringing me back to the streets of Myeongdong. I'll probably only be back if I'm in the area, and there isn't a long queue. 
If you're looking for more Korean food, check out our Itaewon Jjajang review for legit jjajangmyeon in Tanjong Pagar, or our Buk Chang Dong Soon Tofu review for $6 soondubu jjigae sets in AMK. 
Address: 6 Raffles Boulevard, #02-105A, Marina Square, Singapore 039594
Opening hours: Sun-Thurs 11:30am to 8:30pm, Fri-Sat 11:30am to 9pm
Tel: 6222 0801
Website
Rolling Rice is not a halal-certified eatery.
Itaewon Jjajang Review: Korean-Chinese Restaurant with Legit Jjajangmyeon In Tanjong Pagar
Photos taken by Zadelin Wong.
This is an independent review by Eatbook.sg.
Rolling Rice Review: 10 Types of Gimbap and Tteokbokki At This Marina Square Korean Restaurant
Rolling Rice Review: 10 Types of Gimbap and Tteokbokki At This Korean Restaurant At Marina Square -

7/10
Summary
Pros
– Extensive menu
– Spicy Cream Topokki was moreish
Cons
– Gimbaps were average, but cheap
– Kimchi fried rice was too salty
Recommended dishes: Bacon and Kimchi Roll ($6.90+), Spicy Cream Topokki ($11.90+)
Opening hours: Sun-Thurs 11:30am to 8:30pm, Fri-Sat 11:30am to 9pm
Address: 6 Raffles Boulevard, #02-105A, Marina Square, Singapore 039594