Ordinary Burgers brings extraordinary flavour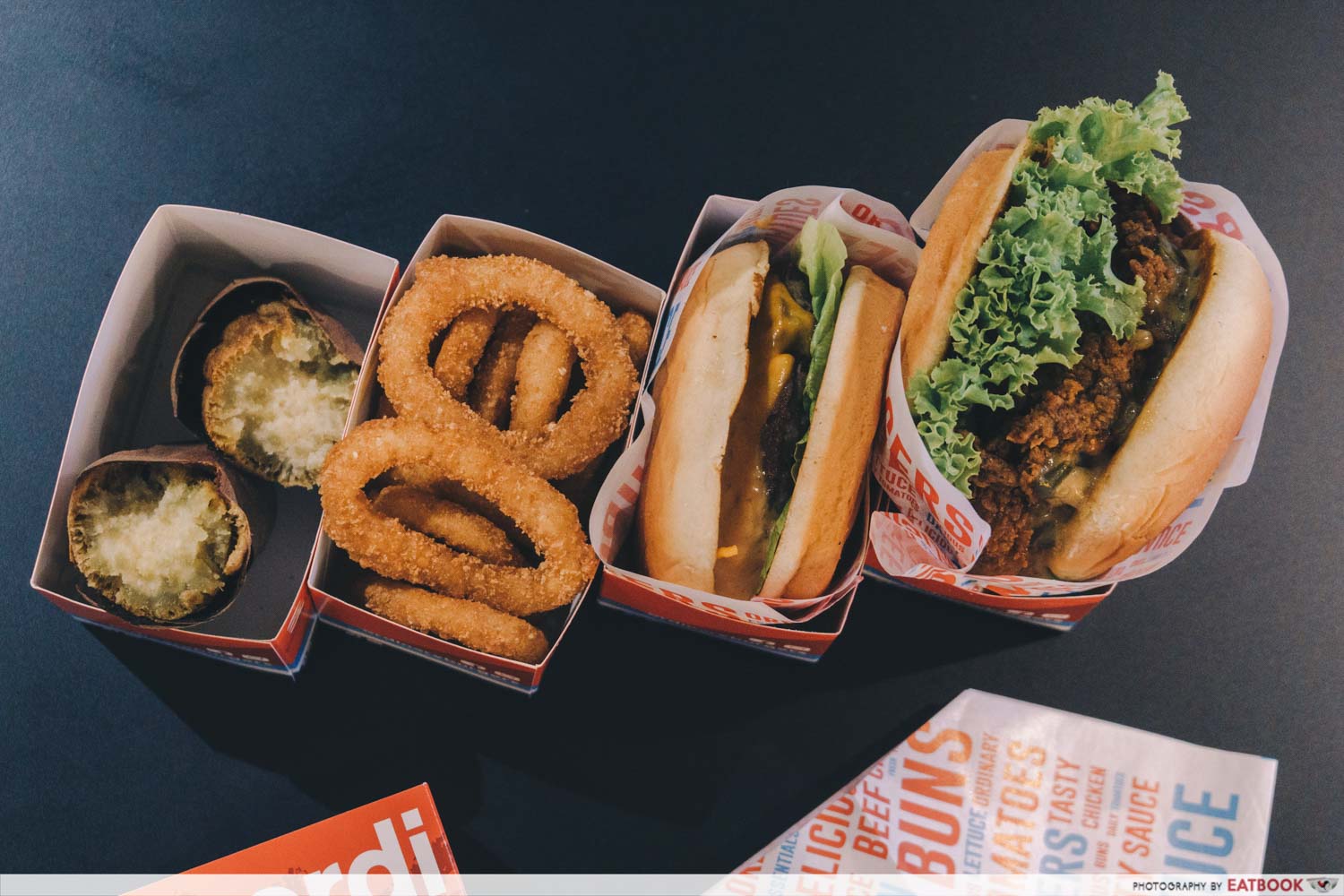 Stuff'd has become one of the most popular takeaway kiosks on the island, with snaking queues commonly seen at their outlets islandwide. Building on that success, they've branched out from burritos to burgers and juices, opening up Ordinary Burgers at City Square Mall in February 2019. This is adjacent to its sister smoothie stall, Common Heroes.
Honest burgers and indulgent smoothies are a proven age-old combo, and these two stalls hope to fuse that with the golden Stuff'd formula of fast and satisfying meals that don't compromise on quality.
Food at Ordinary Burgers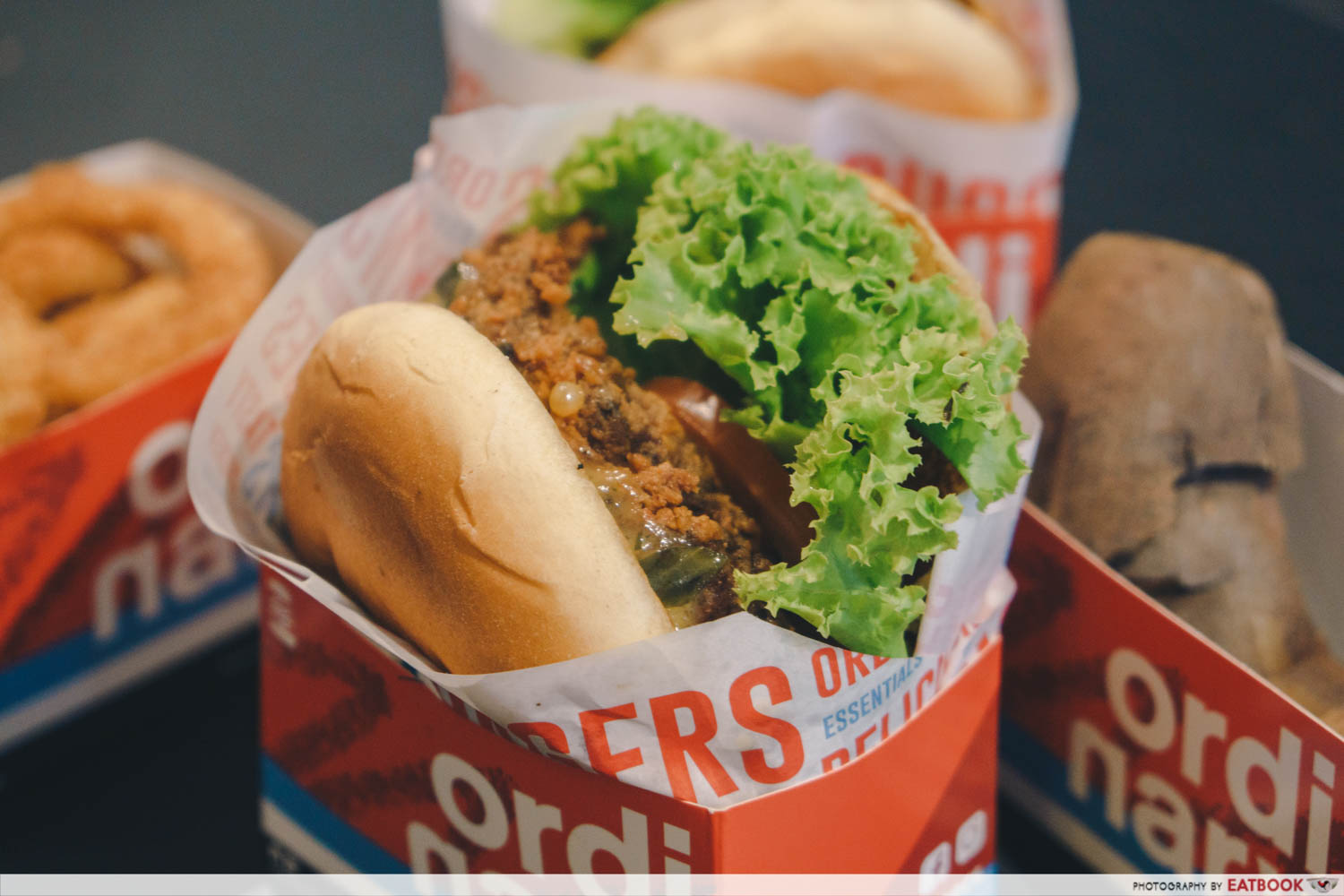 Appearing like a doppelganger of McDonald's Buttermilk Crispy Chicken Burger, the Ordinary Buttermilk ($5.90) was bound to provoke comparisons. Promising flavours similar to its famous cousin at a cheaper price, I was torn between scepticism and excitement as a devout McDonald's Buttermilk Crispy Chicken fan.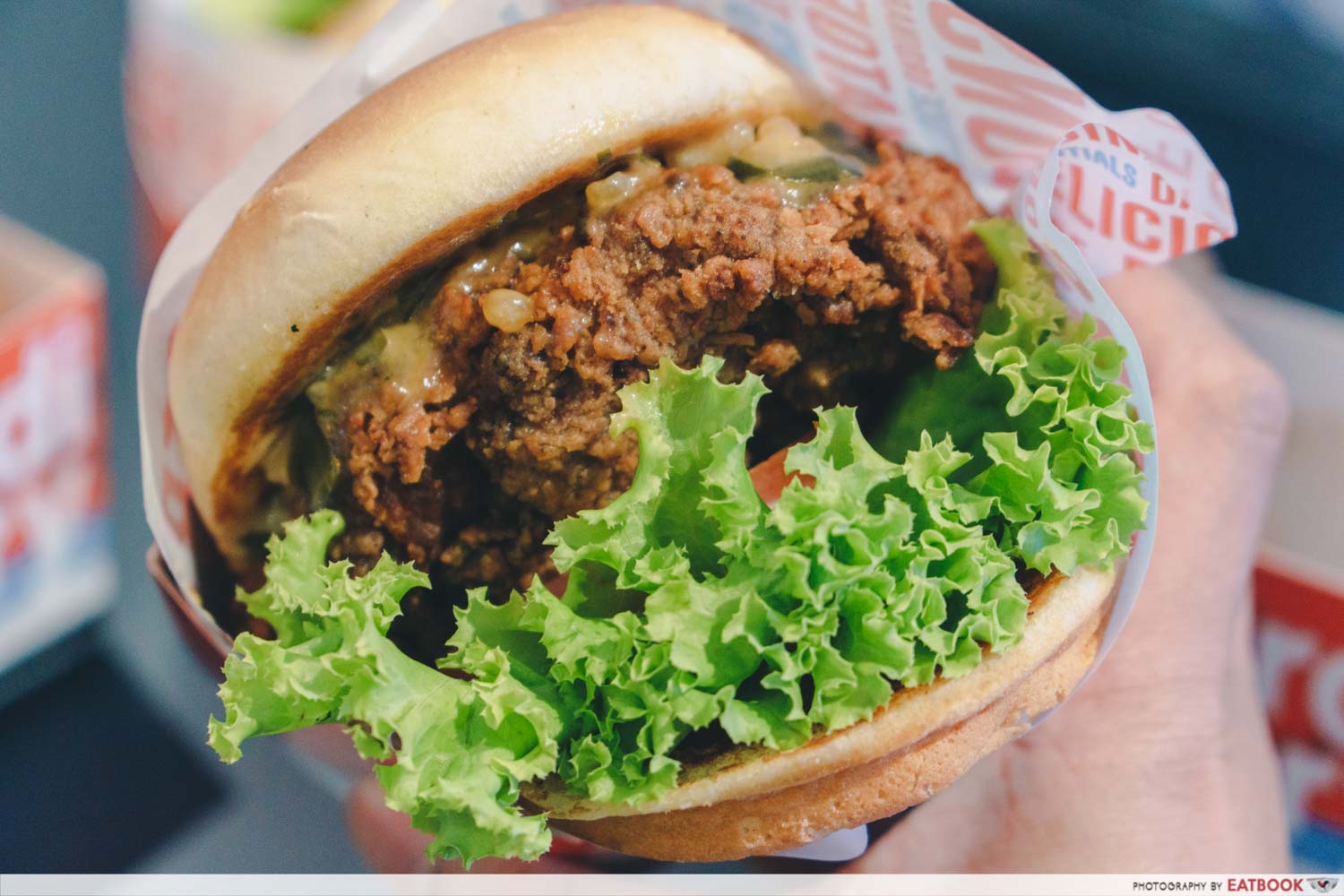 While the famous chain opts for cheese, shredded cabbage, grilled pineapple rings and pepper-based mayo, this upstart takes the traditional route. Lettuce, tomato, cheese and what looks suspiciously like curry leaf-loaded salted egg yolk sauce decorated our golden patty.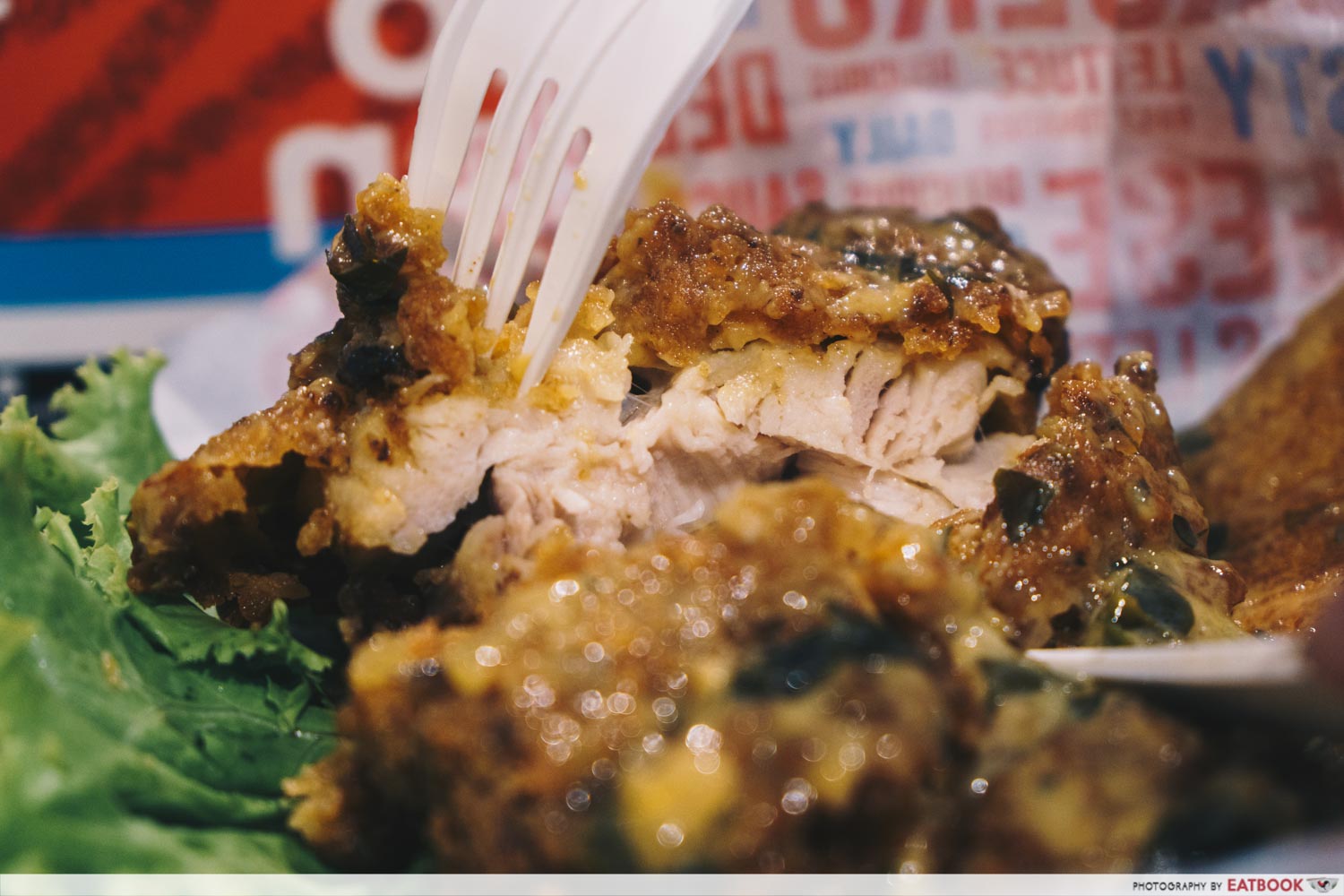 Shatteringly crisp skin is the allure of any fried chicken. This burger had that in spades, producing an emphatic crack as we munched down. The meat within was juicy and had a tantalising flavour, suggesting it had spent a spa day soaking in buttermilk. As far as chicken burgers go, this was a rock-solid interpretation, especially considering the price tag. 

Rather than salted egg, it was, in fact, buttermilk sauce that was slathered atop our chicken. Considering the copious amount of curry leaves, its aromatic musk was one of the most prominent flavours from the first bite. That distinctive spice gave an unconventional yet welcomed Asian dimension to our burger, cleverly infusing local flair without diving into the rabbit hole of fusion cuisine.
That spice then faded, giving way to the creaminess and mild sweetness imparted by the buttermilk. Mimicking the effect of grilled pineapple in McDonald's variant, the kiss of sugar helped balance out our savoury protein.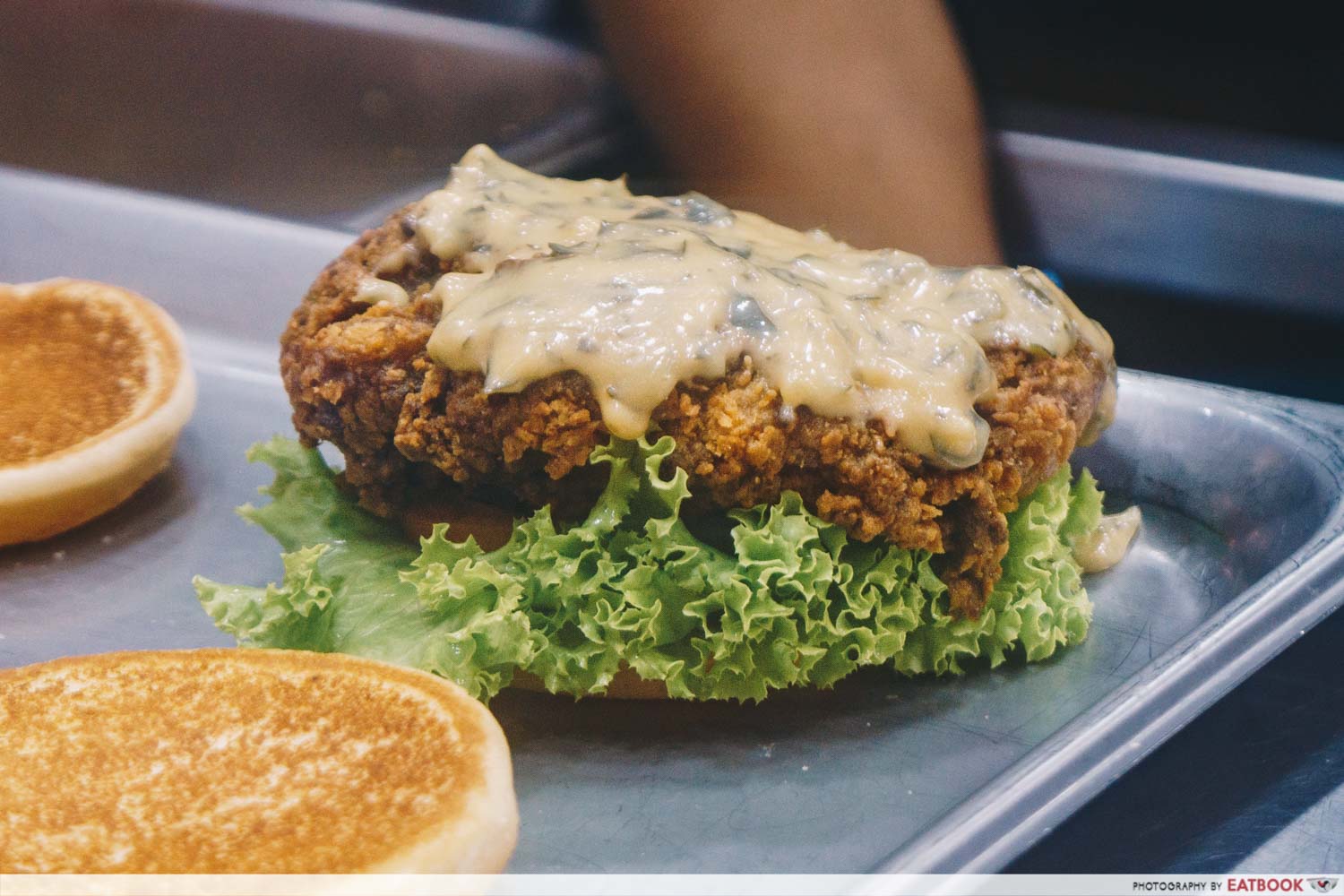 Rich and thick sauce with fried chicken may seem like an overly jelak combination, but it's a common partnership in Southern USA, where decadent mac 'n' cheese and buttery baked biscuits often escort succulent fried chicken.
That meant humble lettuce and tomato became vital components of our burger. Their freshness balanced out the fried chicken and buttermilk sauce, working overtime against their oiliness and creaminess.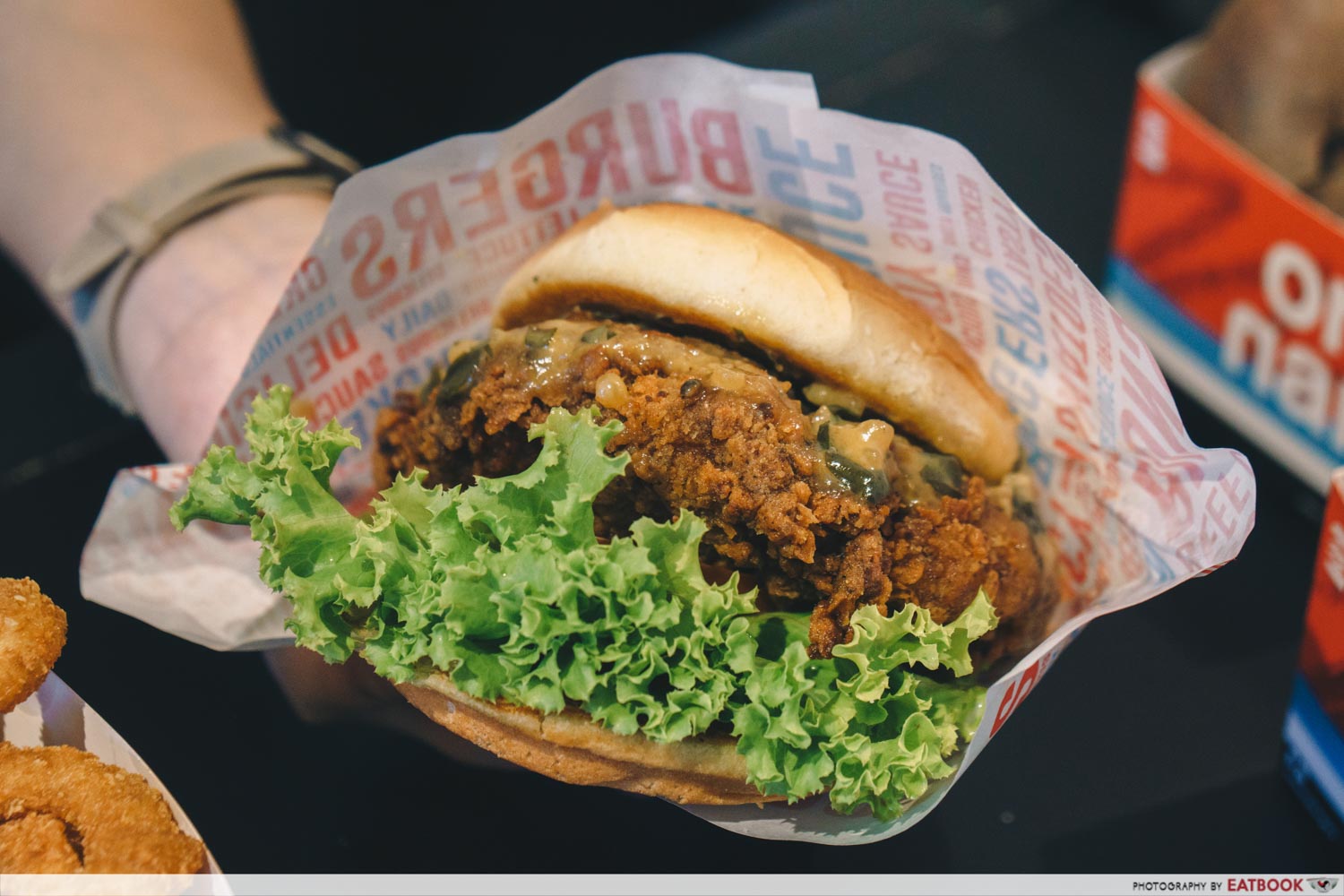 For a simple mall stand, we were impressed that they buttered and toasted their buns, affording a mild char that distinguished it from other fast food joints.
While simple in its composition, this burger nailed the basics and accomplished everything it set out to be – a worthy competitor against any fast food titan.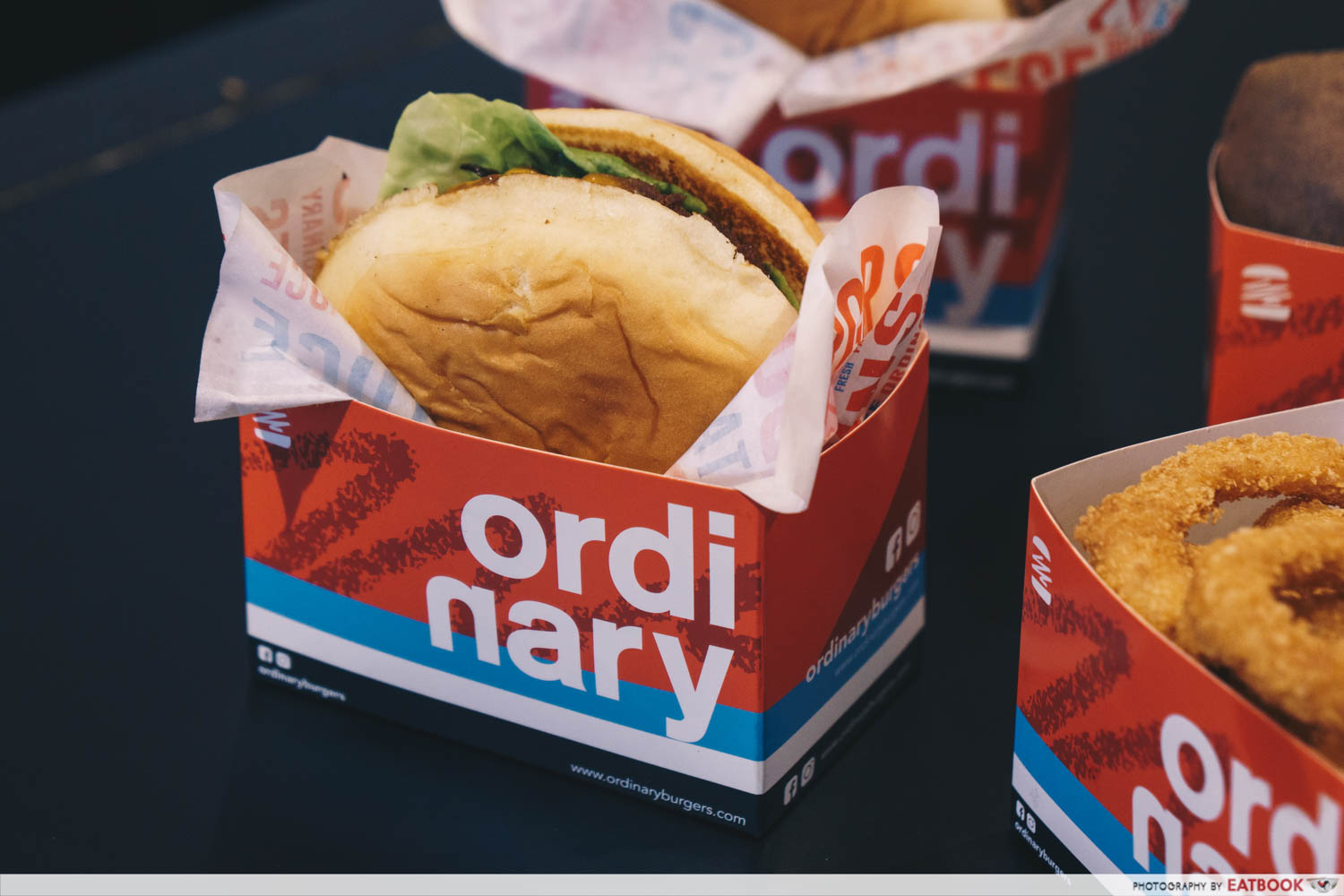 For those who inextricably link burgers with meaty bites of beef, Ordinary Classic ($6.40) should be your go-to order. It's everything you'd expect in a traditional cheeseburger, with lettuce, tomato, cheese and a house-made sauce decorating the simple burger.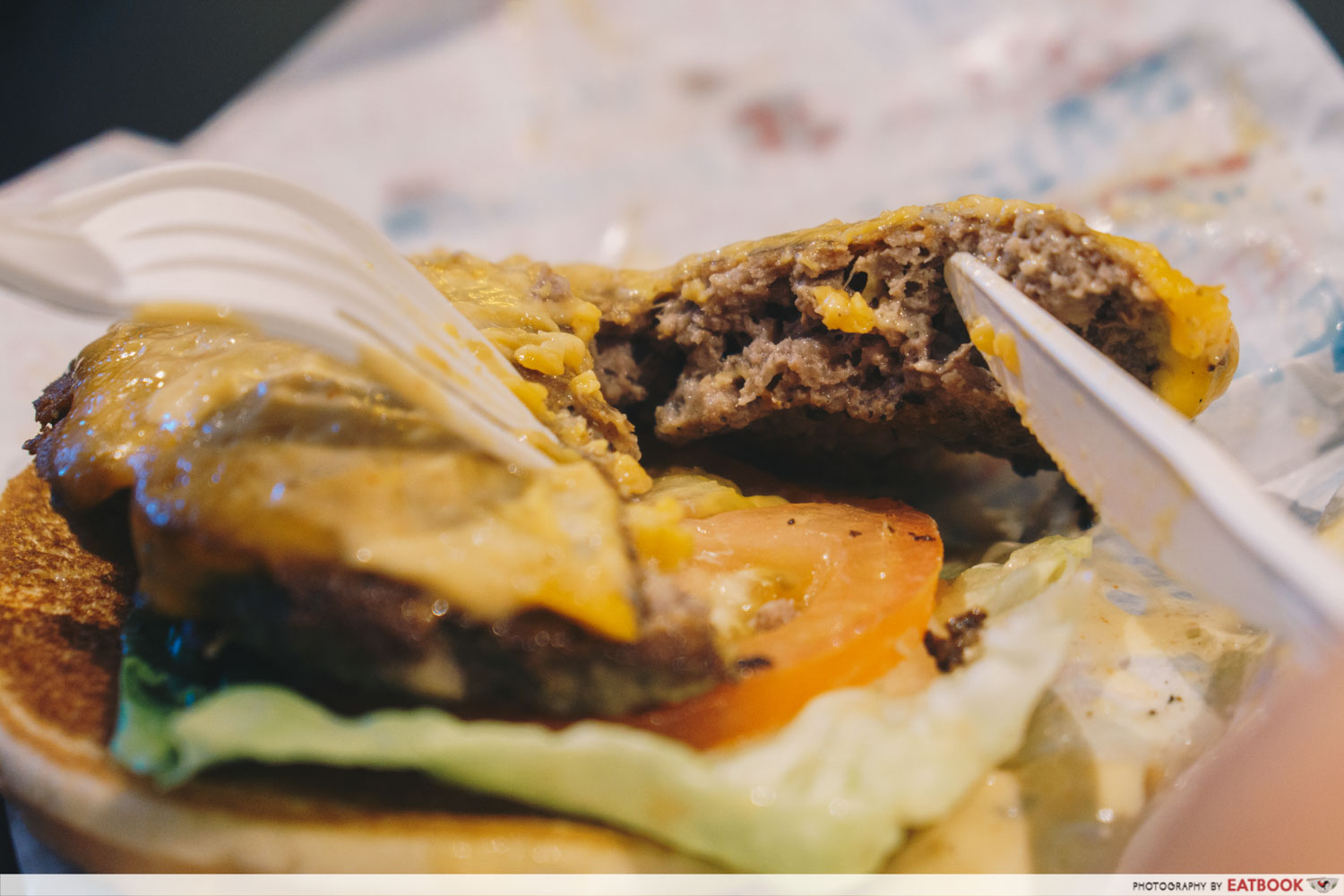 The beef patty was remarkably thick and clearly fresh, but was slightly overdone. While I do enjoy a meaty bite in my patties, this leaned slightly towards the tough side.
It was also a tad underseasoned. We're huge proponents for letting meat shine rather than masking its natural flavour and quality with spices, but a little salt and pepper can go a long way. That said, our burger certainly wasn't tasteless, especially with all the toppings that came with it.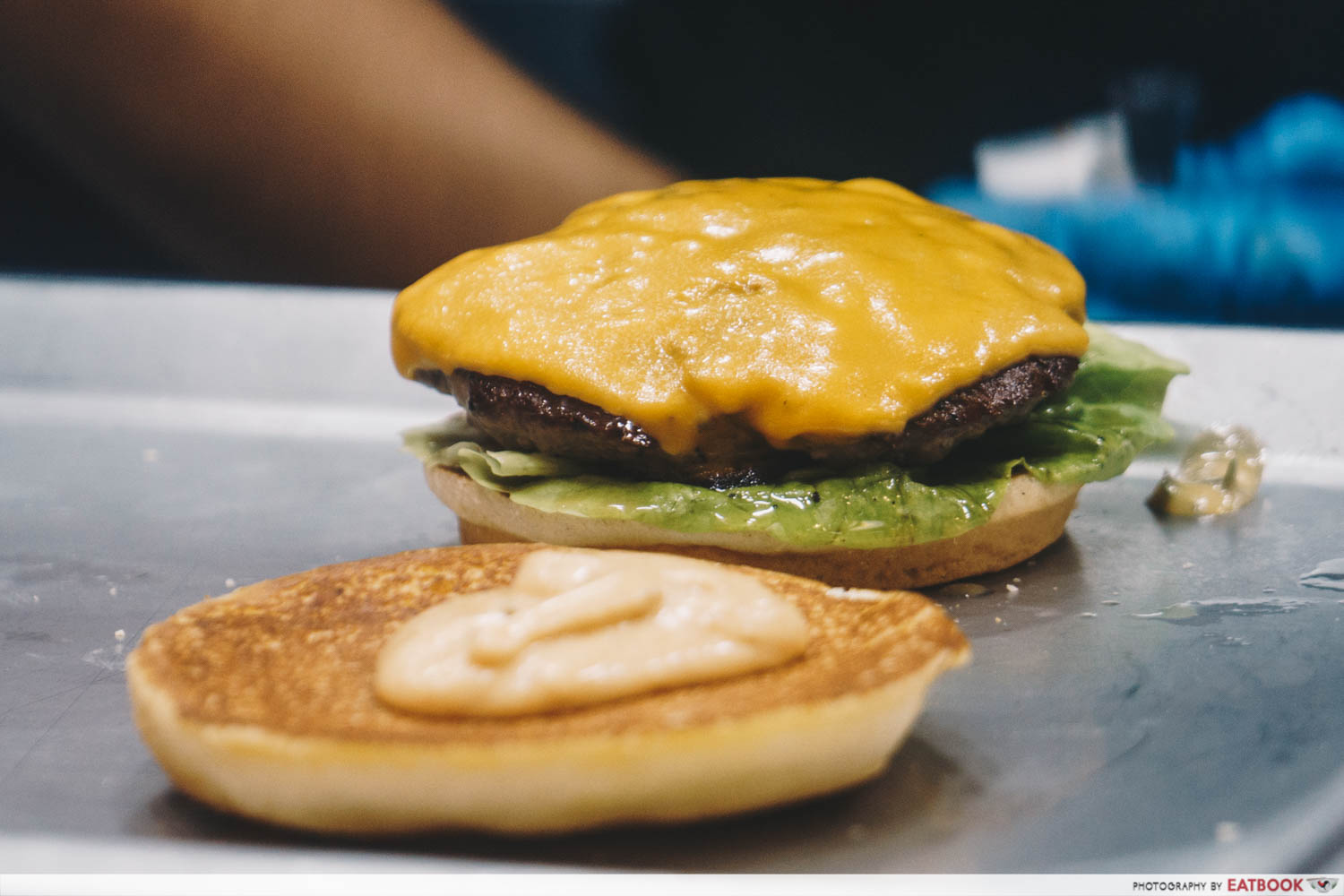 What intrigued us most were the pockets of nutty flavour that kept popping up. We weren't quite able to pinpoint the source, though I can confidently say that my editor's joke that this particular cow really loved nuts is inaccurate. Melted cheese or secret sauce makes a more likely culprit.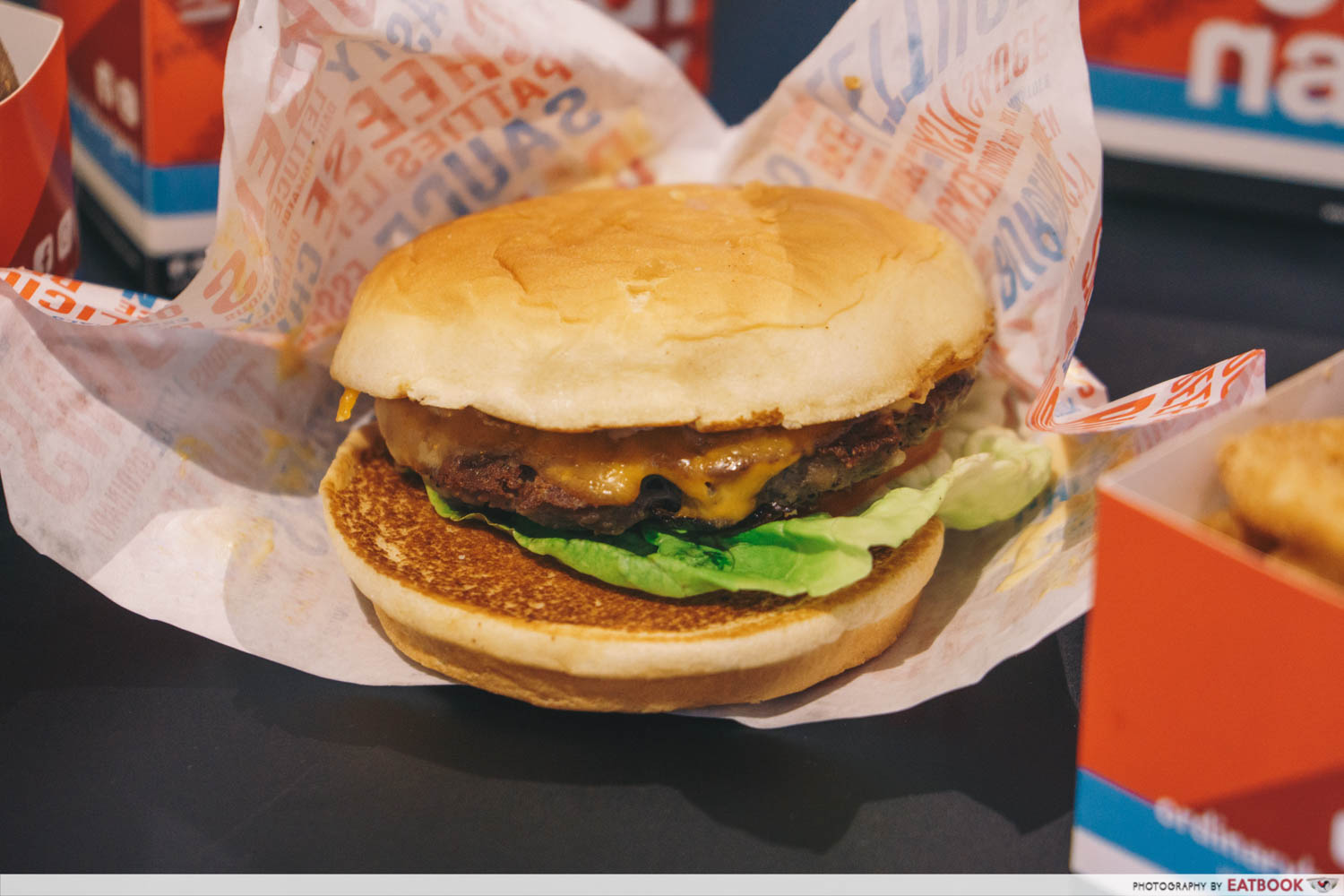 Speaking of the sauce, it was sour and salty, with a pickled zing. This meant actual pickle slices weren't missed. Think of it like a saltier, more tangy tartar sauce. In conjunction with the layer of cheese, this sauce was the burger's hub of flavour – its complexity covering the patty's weaknesses and enhancing its strengths.
Overall, at under $7, this sizable burger definitely gives a bang for your buck.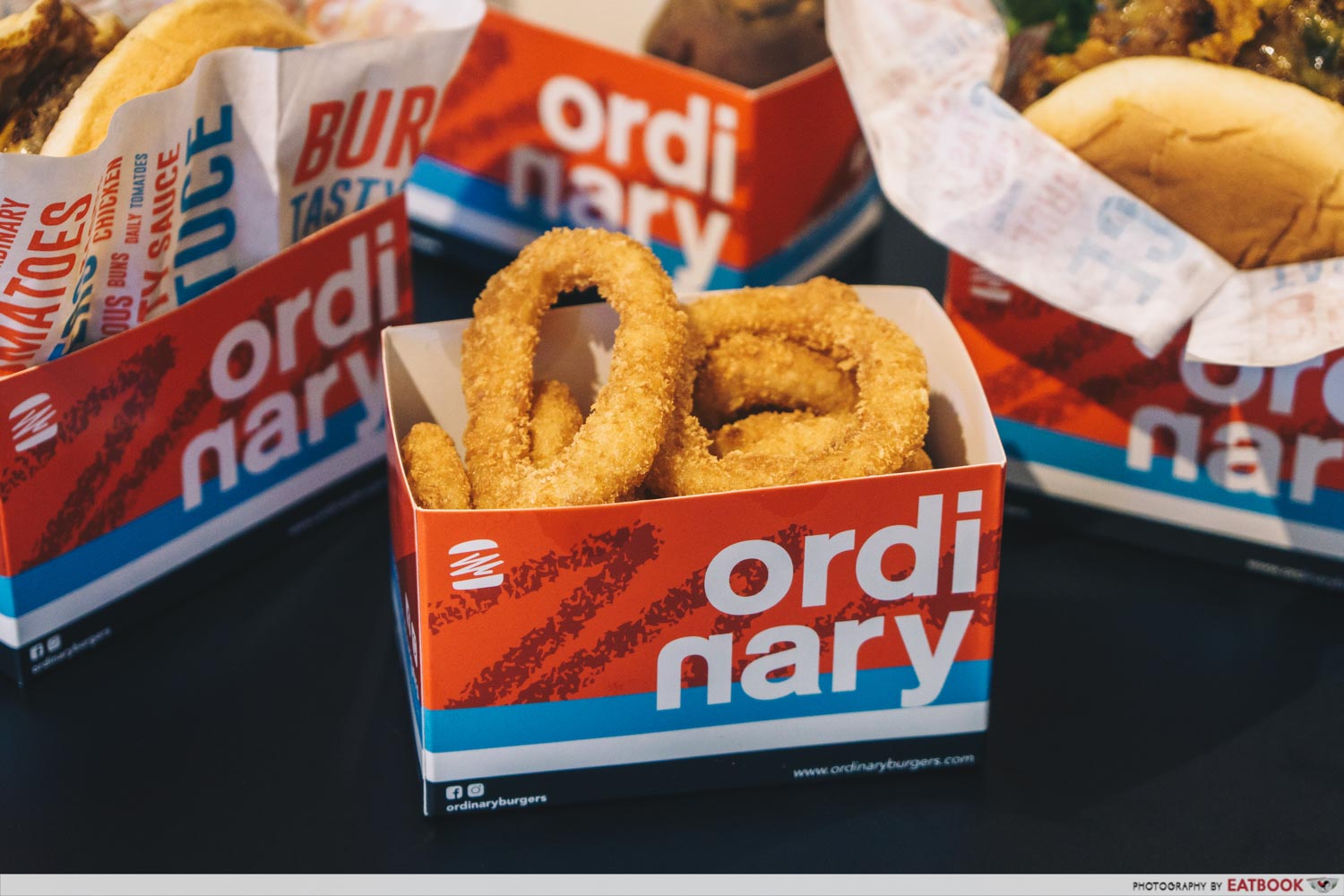 Fries may be a burger's favourite partner-in-crime, but they are an absentee here, not even making a cameo on the a la carte menu. Onion Rings ($2.80) are the closest you'll get. While they're perfectly normal and not overly oily, they didn't complement our burger experience as well as crispy fries would.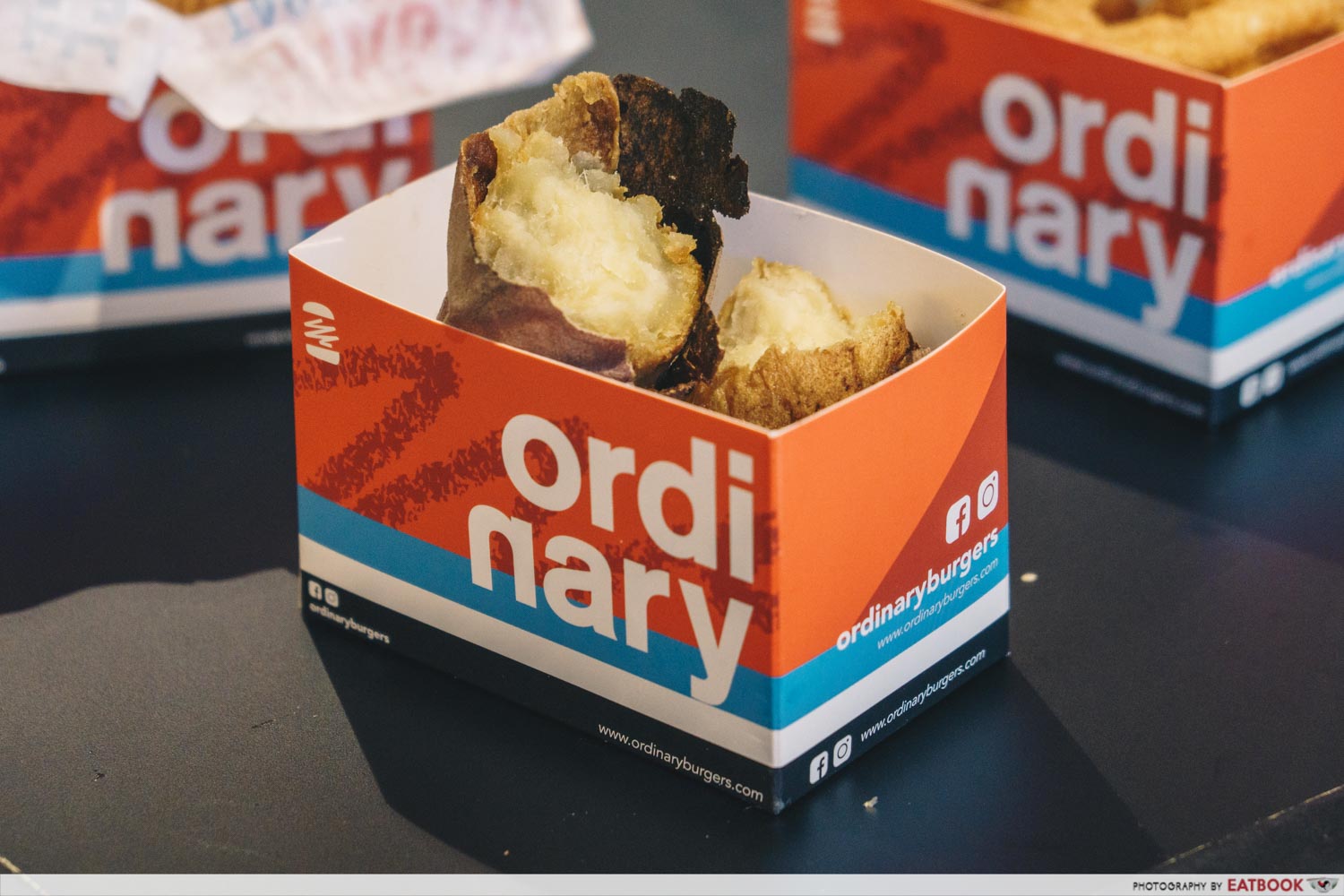 Your other option for sides is Japanese Sweet Potato ($2.80), which was frankly disappointing. $2.80 is a steep price to cough up for a steamed potato in any universe. But even disregarding the price, its taste was below expectations. 
We reckon you just head down to Don Don Donki below, for their sweet potatoes that are larger, sweeter and more moist at the same price. 
Ambience at Ordinary Burgers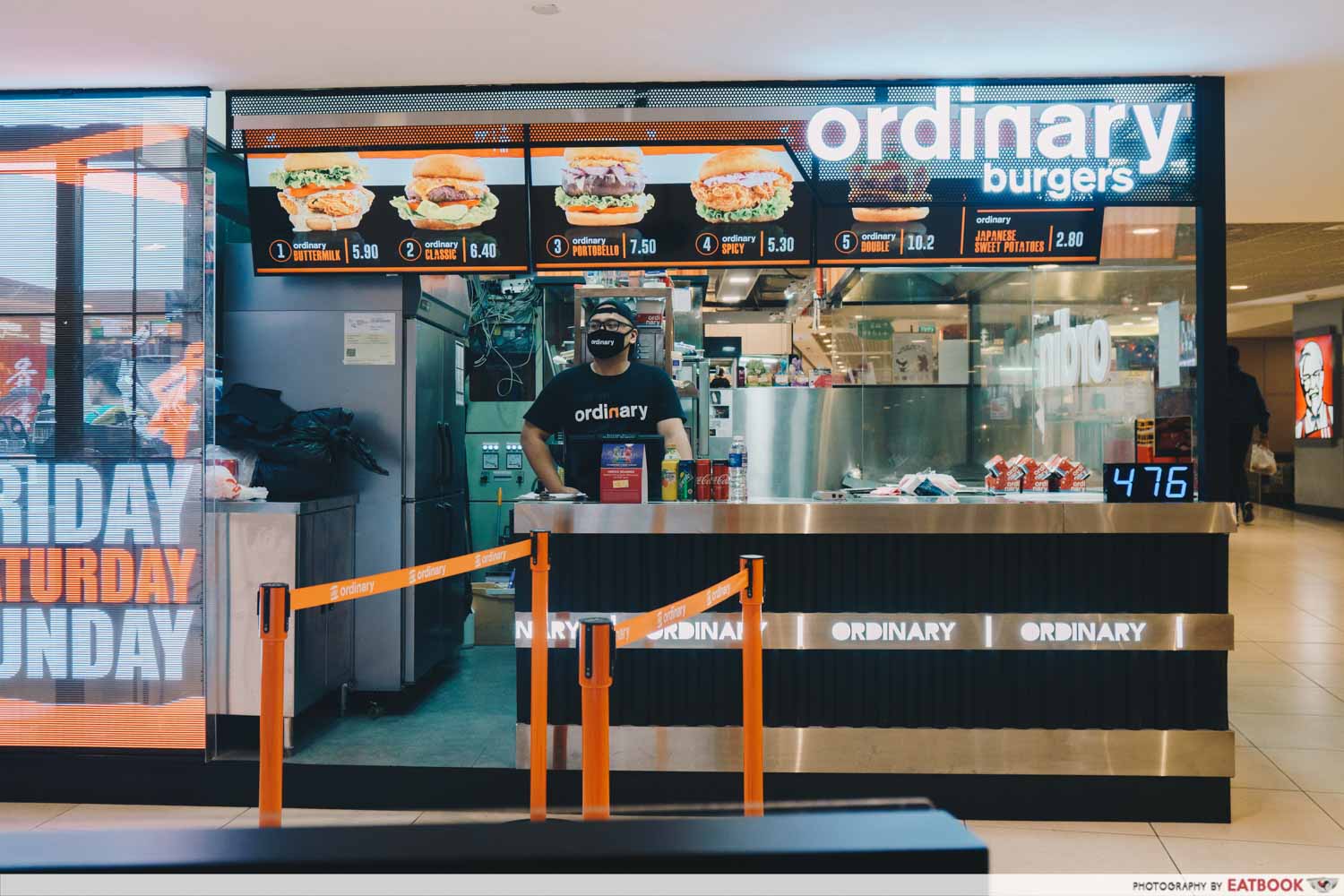 McDonald's is arguably the most popular fast food burger joint in Singapore. The owner of Ordinary Burgers clearly isn't afraid of them though, placing their burger venture directly adjacent to their illustrious counterpart.
Sitting in City Square Mall's basement, this stall is just a few steps away from the entrance to Farrer Park MRT Station. There's also a seating area nearby if you want to enjoy your burgers piping hot.
The verdict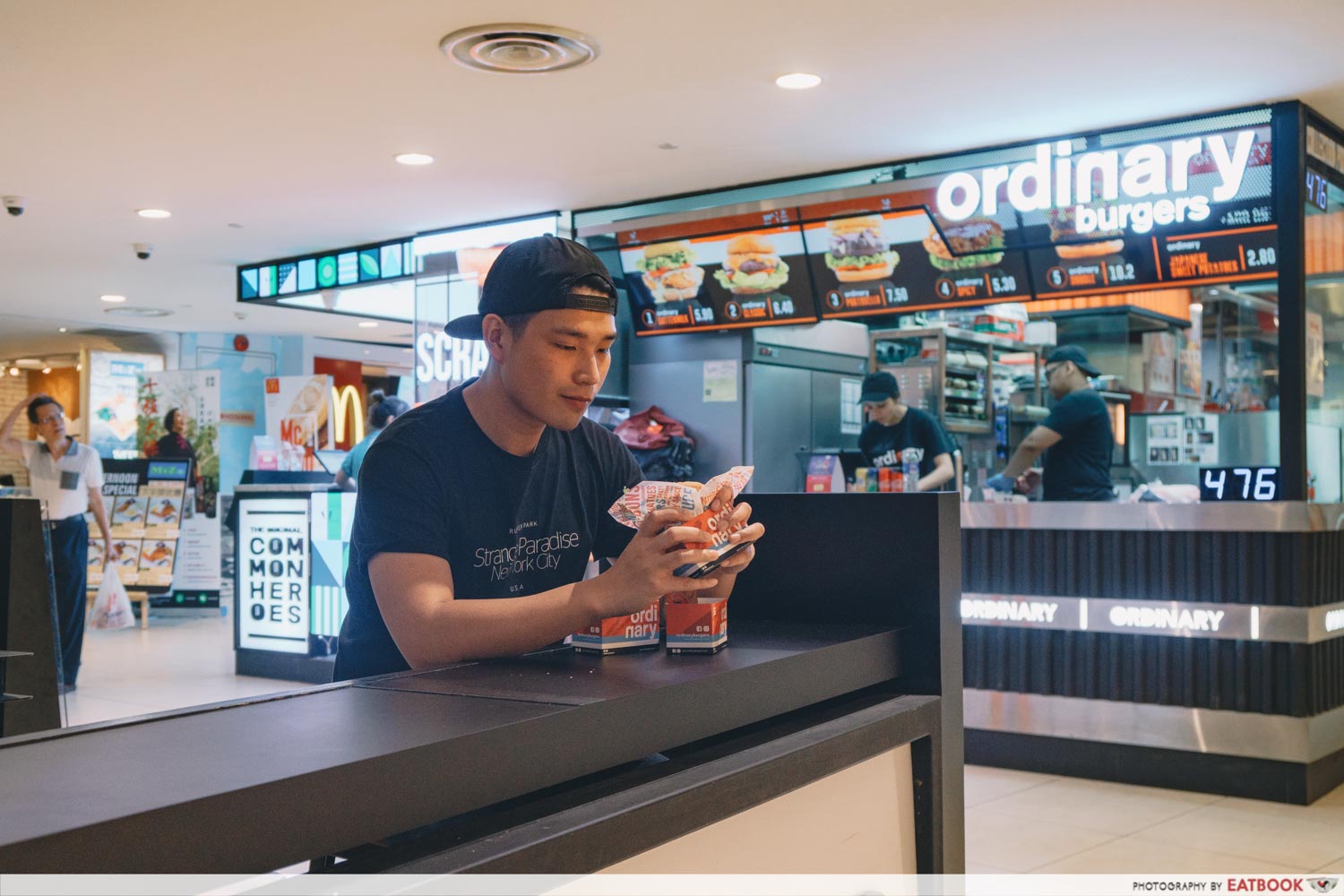 There's no shortage of burger stalls in Singapore, but Ordinary Burgers' affordable prices and better-than-ordinary burgers put them in the upper echelon. We would like to see that same effort and greater variety for their sides though.
Considering its convenient location and commendable quality, we wouldn't be surprised to see more outlets springing up across the island, with one set to open in Ang Mo Kio soon.
If your carnivorous urges are still running wild, more burgers might do the trick. Check out our reviews of Hammee's and Ministry of Burgers.
Hammee's Review: Juicy Handcrafted Burgers That Can Rival Hambaobao's At $6 Or Less
Let us know your favourite burger spots in the comments below!
Address: 180 Kitchener Road, #B1-K11/K13, City Square Mall, Singapore 208539
Opening hours: Daily 9am to 10pm
Tel: 9800 5878
Photos taken by Sharlene Lau.
This is an independent review by Eatbook.
Summary
Pros
– Affordable prices
– Great buttermilk chicken burger
– Convenient location
Cons
– Disappointing sides
– Beef patty could be slightly juicier
Recommended dishes: Ordinary Buttermilk ($5.90)
Opening hours: Daily 9am to 10pm
Address: 180 Kitchener Road, #B1-K11/K13, City Square Mall, Singapore 208539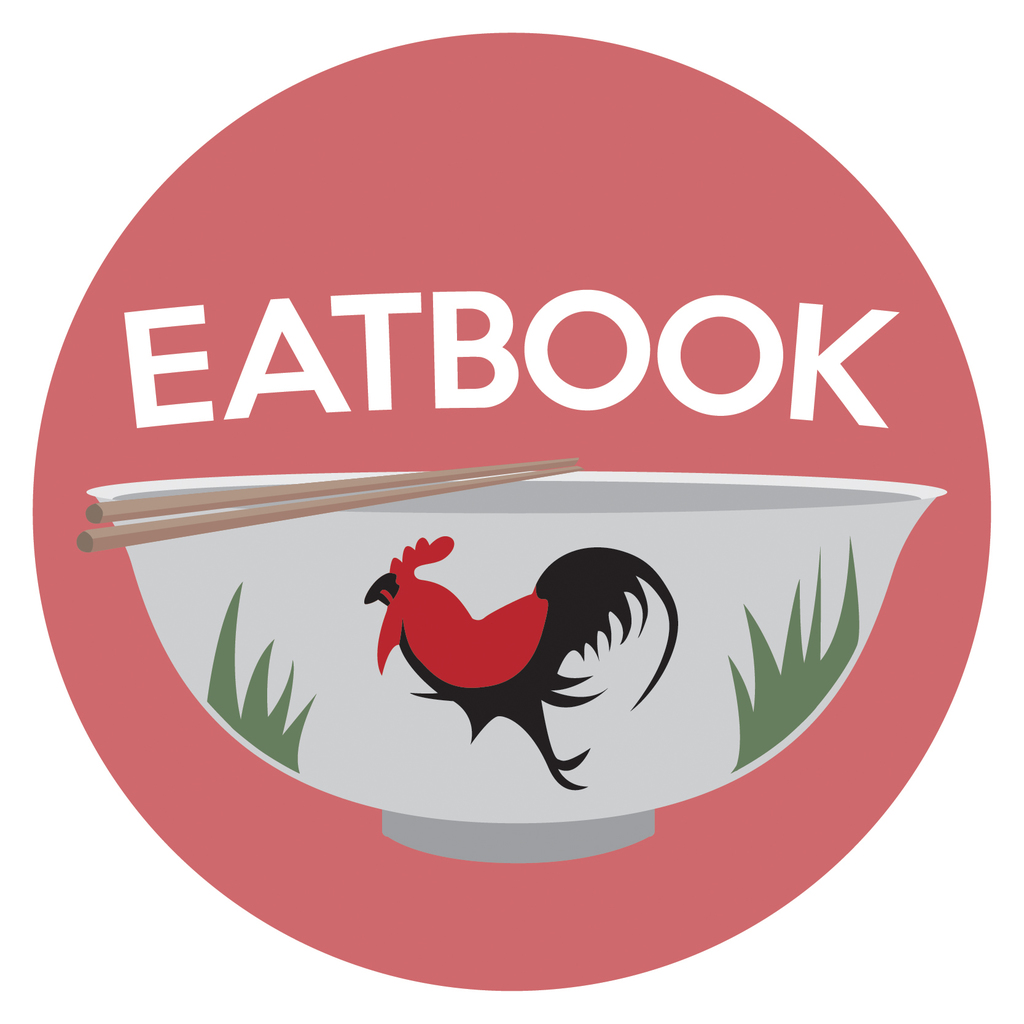 Drop us your email so you won't miss the latest news.