Shan Pin Steamboat offers honest hot pot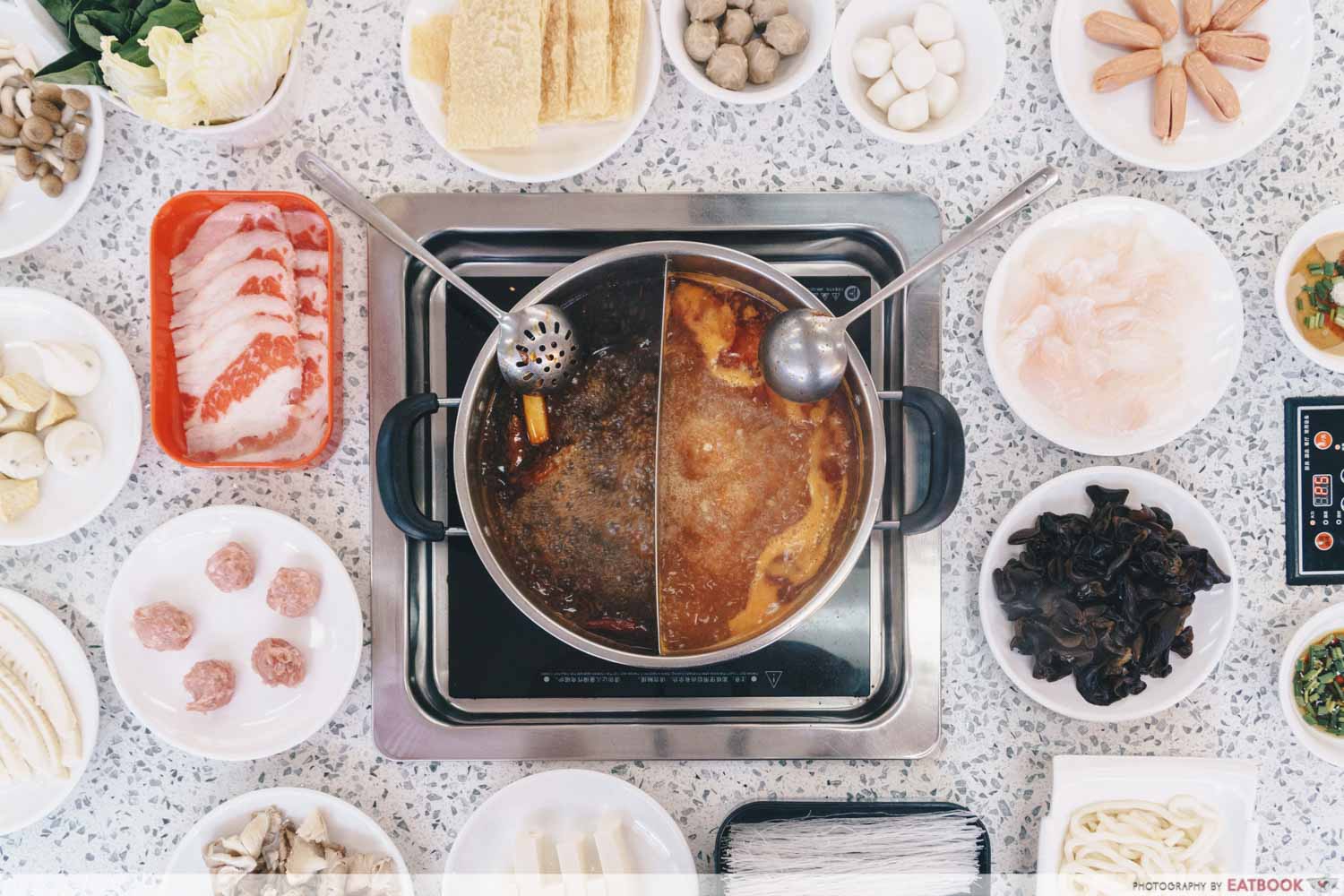 Hai Di Lao is an international phenomenon. At countless outposts across Asia, hordes of steamboat fans queue up every day for hours on end to get a taste of their famous hot pot. If you need any more indication of the chain's mind-blowing popularity, consider this – Haidilao owner Zhang Yong and his wife grew a staggering $7.58 billion richer in the first quarter of 2019. They've done more than hit the jackpot. They've unearthed a gold mine.
Hai Di Lao isn't exactly affordable though, so customers are always on the lookout for hot pot joints that serve up similarly good steamboat at wallet-friendly prices. It's understandable that our eyes lit up when we discovered Shan Pin Steamboat offering a $19.80 all-you-can-eat hot pot buffet.
Make no mistake, this is no David versus Goliath story. We aren't judging this Toa Payoh joint based on Hai Di Lao's standards. All we want is a really good hot pot for cheap.
Food at Shan Pin Steamboat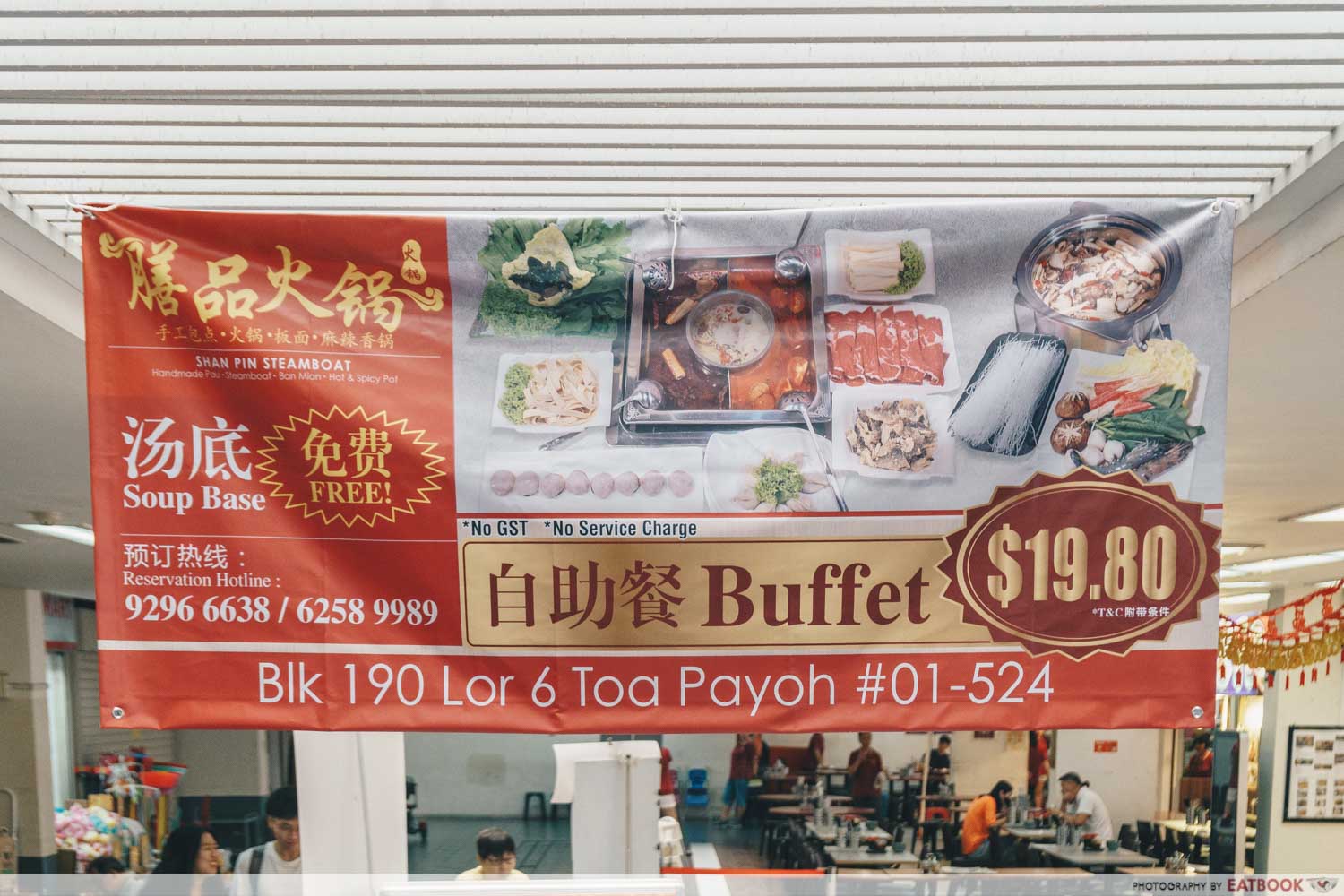 That $19.80 nets you two refillable soup bases and a decent variety of meat, veg, carbs and meatballs. The only caveat is the lack of seafood, as items like prawns and squid come at extra cost.
While it may seem tempting to order the entire menu, try and show some restraint. You only have 90 minutes to eat, and excessive waste is chargeable.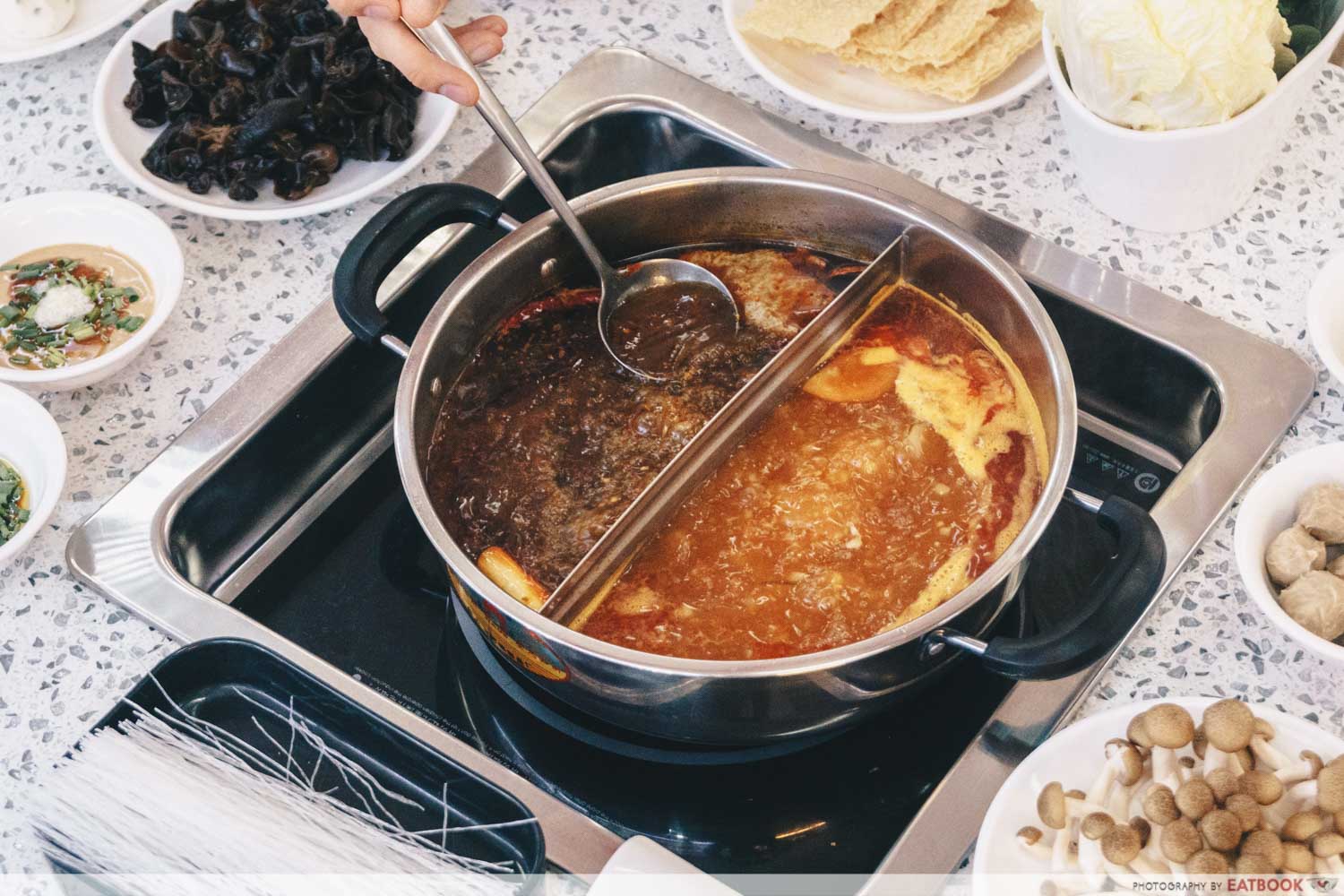 There are six house-made soup base options: ma la, pork bone, tomato, black chicken, tom yum and mushroom. We decided to torture our bellies with some fiery ma la before hopefully quenching the flames with soothing tomato broth.
The ma la stock is certainly intimidating on first look. Lemongrass stalks and plenty of dried chillies float on its surface, along with an angry red sheen of oil. That impression was backed up when we scooped the bottom of the pot, uncovering enough Sichuan peppers to strike fear in our hearts. Even when taking photos from a few metres away, our noses were infiltrated by the fragrant scent of peppercorns.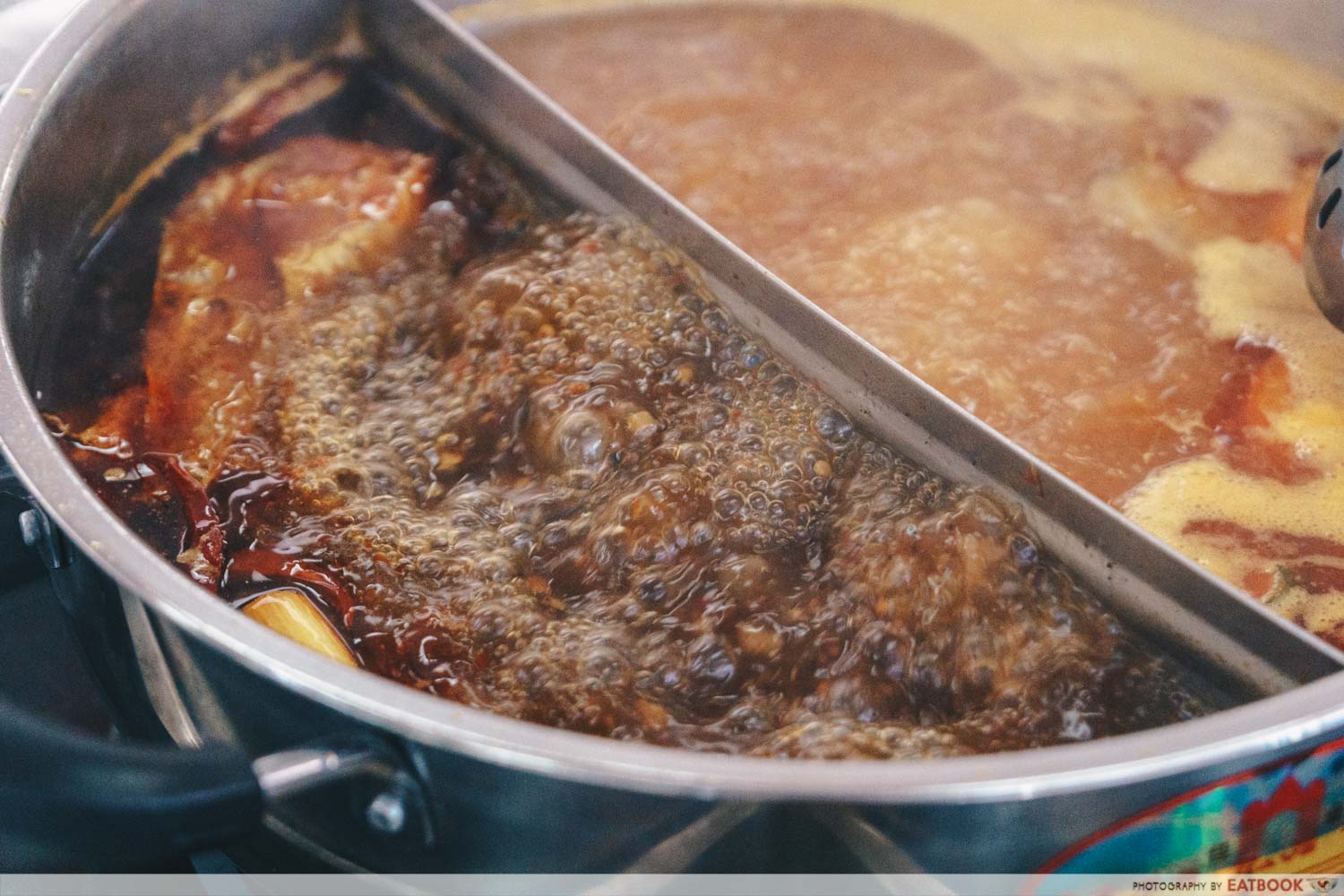 Fortunately, the broth wasn't one-dimensionally spicy. A bouquet of spices ensured that it was aromatic, imbuing everything with punchy flavour. Given its assertive nature, it's best to cook your red meat in this stock. Ingredients with milder flavours were drowned out by the broth and became unpleasantly oily.
That film and slow lingering burn of chilli heat also means you won't be downing this broth by the bowl. It's firmly suited to cooking meat.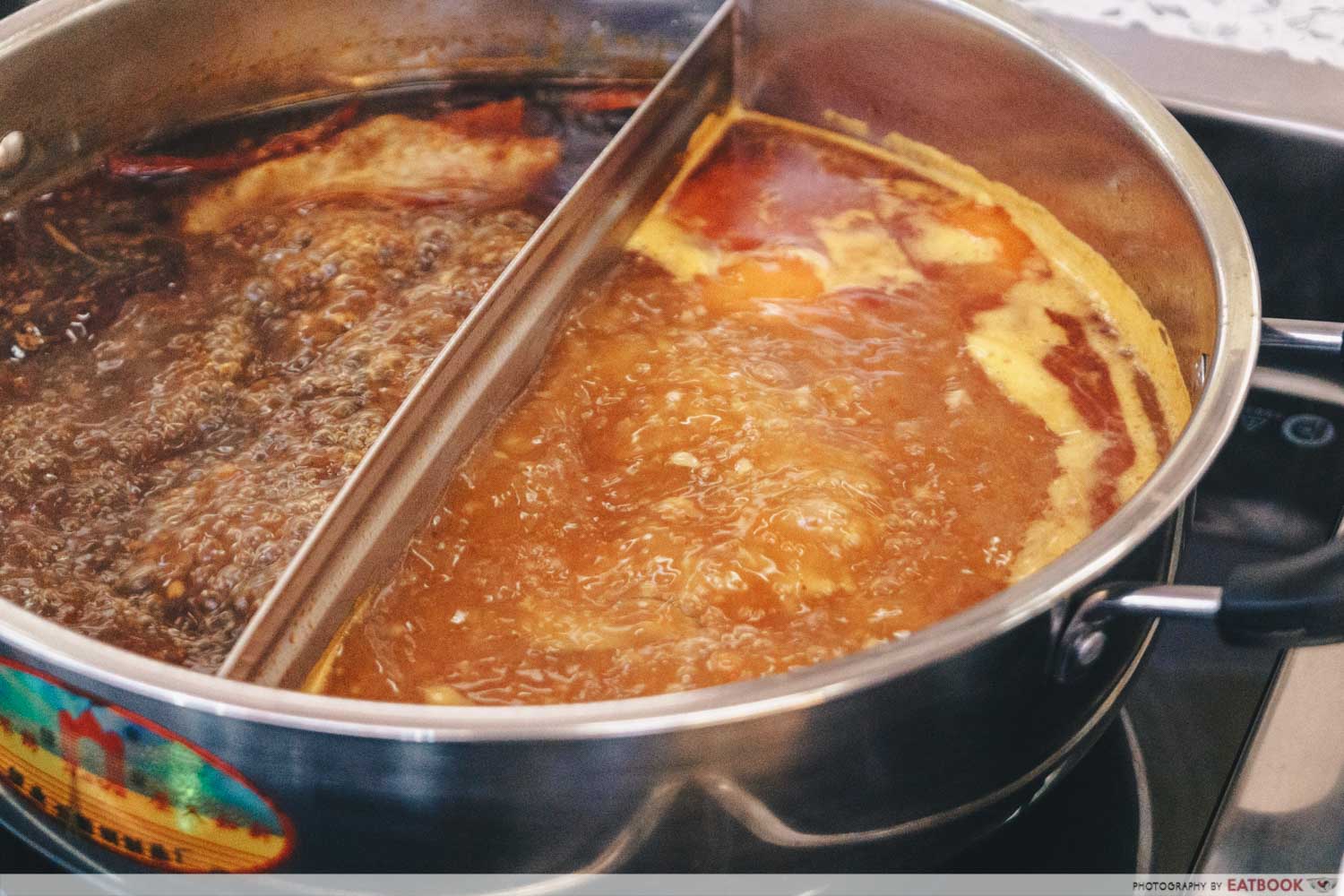 In contrast, we were happy to slurp up ladles of the tomato broth. Apart from a lower oil content, wedges of tomato and cucumber imparted a mellow sweetness that was given body by a generous supply of chopped garlic. They combined to form a broth that was pleasant to drink in its own right.
However, this broth proved slightly too sweet to cook our meats in. It fared much better for simmering ingredients with natural sweetness or light flavours, such as cabbage and bamboo shoots.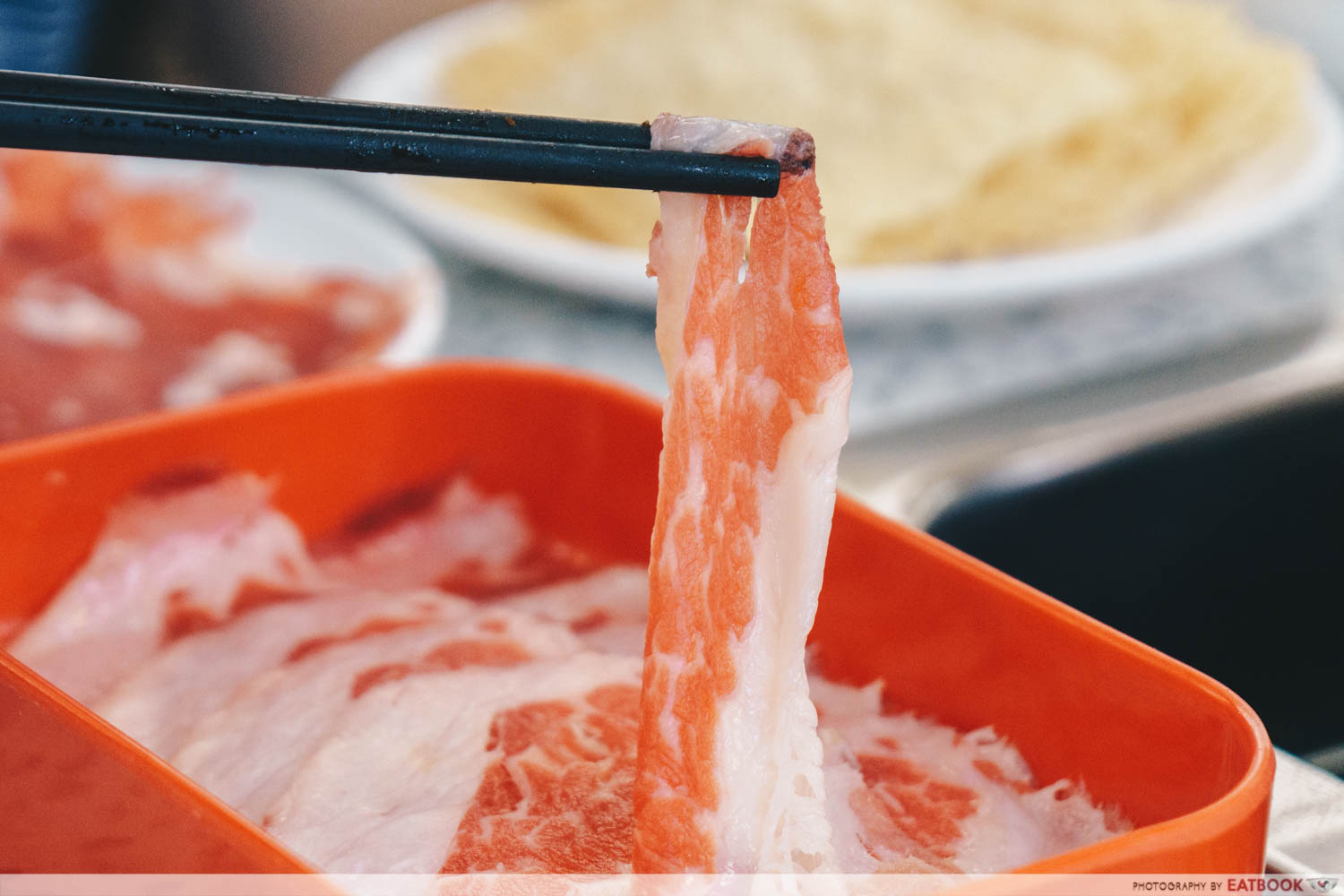 We were stunned by the amount of fat in each slice of beef. I suppose we shouldn't be surprised, considering the menu calls it Fat Beef. However, we didn't quite expect the red meat to be dwarfed by a sea of marble-white fat.
Don't get me wrong, fat equals flavour. But even for a bacon fanatic like myself, this seemed a little excessive. We'd have liked more meat and for each slice to be a touch thicker. This would create a meatier mouthfeel and stronger beefy flavour.
On the bright side, the fat content and thinness of each slice meant it was super tender after a momentary swim in the bubbling cauldron of stock. It absolutely disintegrated in our mouths, requiring minimal work from our jaw muscles.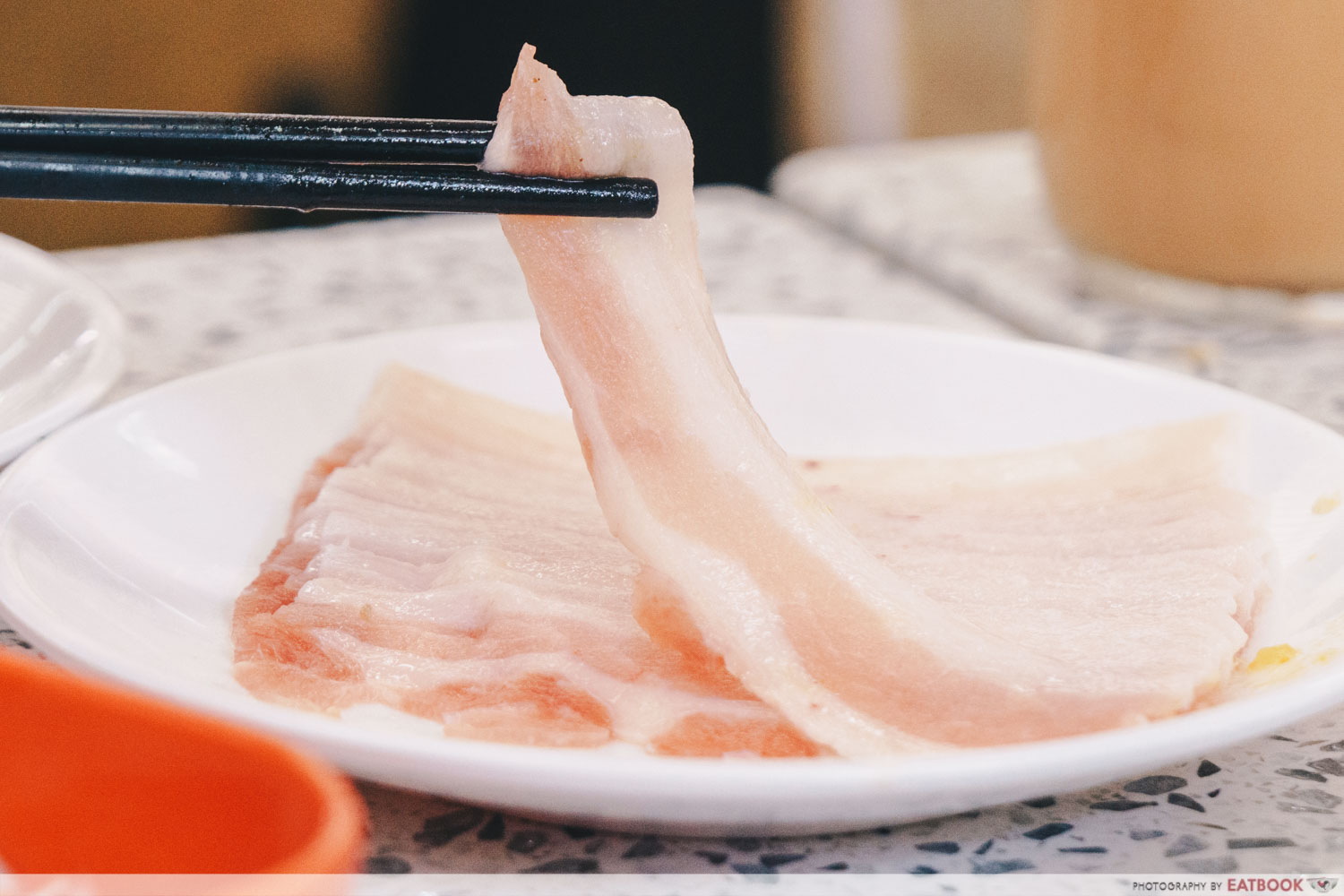 Our pork belly encountered a similar issue. The slices were shaved a little too thin, with light shining through as we held it up. However, you can't really go wrong with pork belly. Regardless of scrawny slices, we lapped up these porky strips after dousing it in tongue-numbing ma la stock for a few seconds.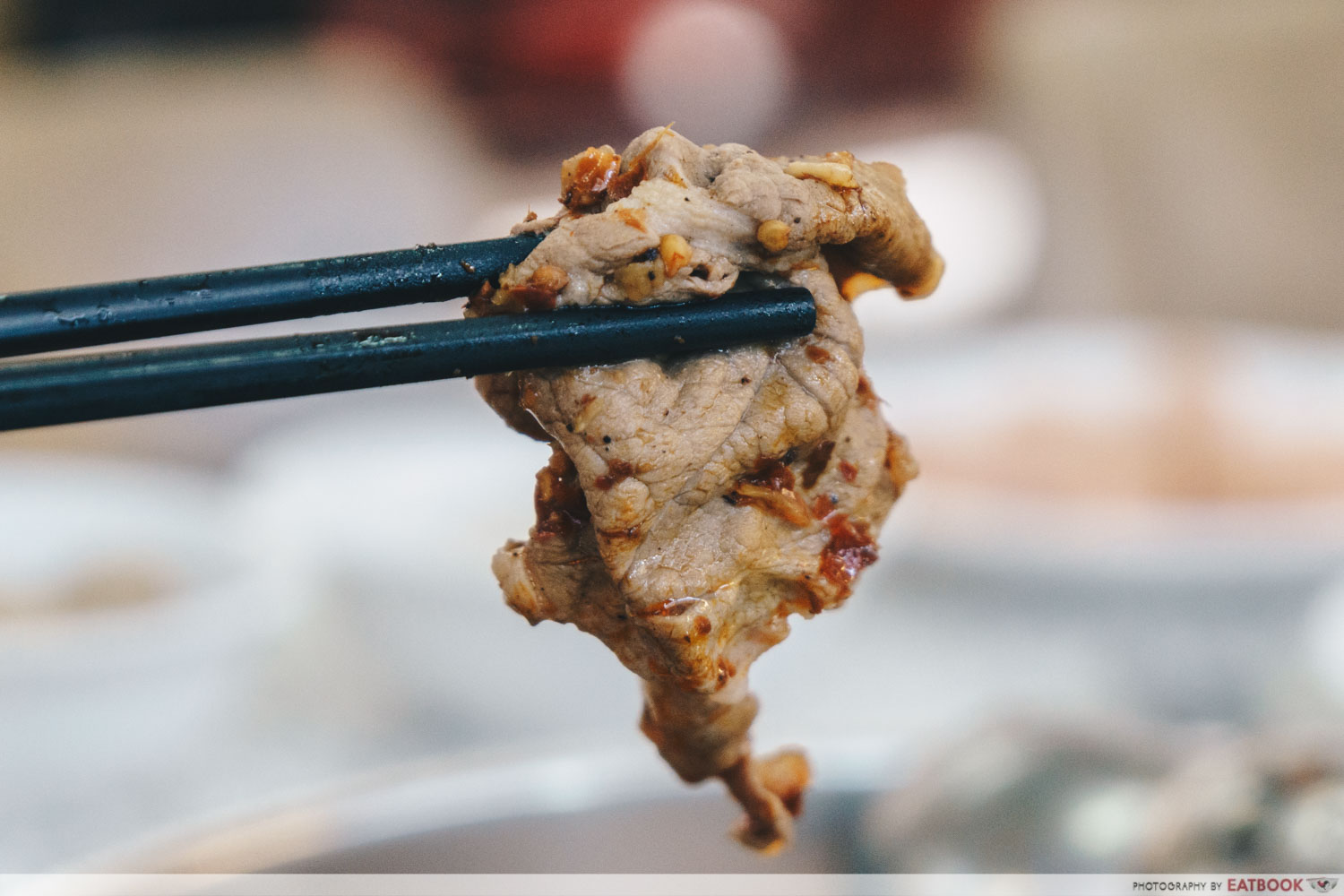 Fans of leaner meat should plump for the lamb. While these slices didn't have much fat content, they remained tender and flavourful. The strong gamey aroma of lamb means that it's best suited to broths with powerful flavours such as ma la. That aggressive spiciness masks most of the gamey flavour that some find unpalatable.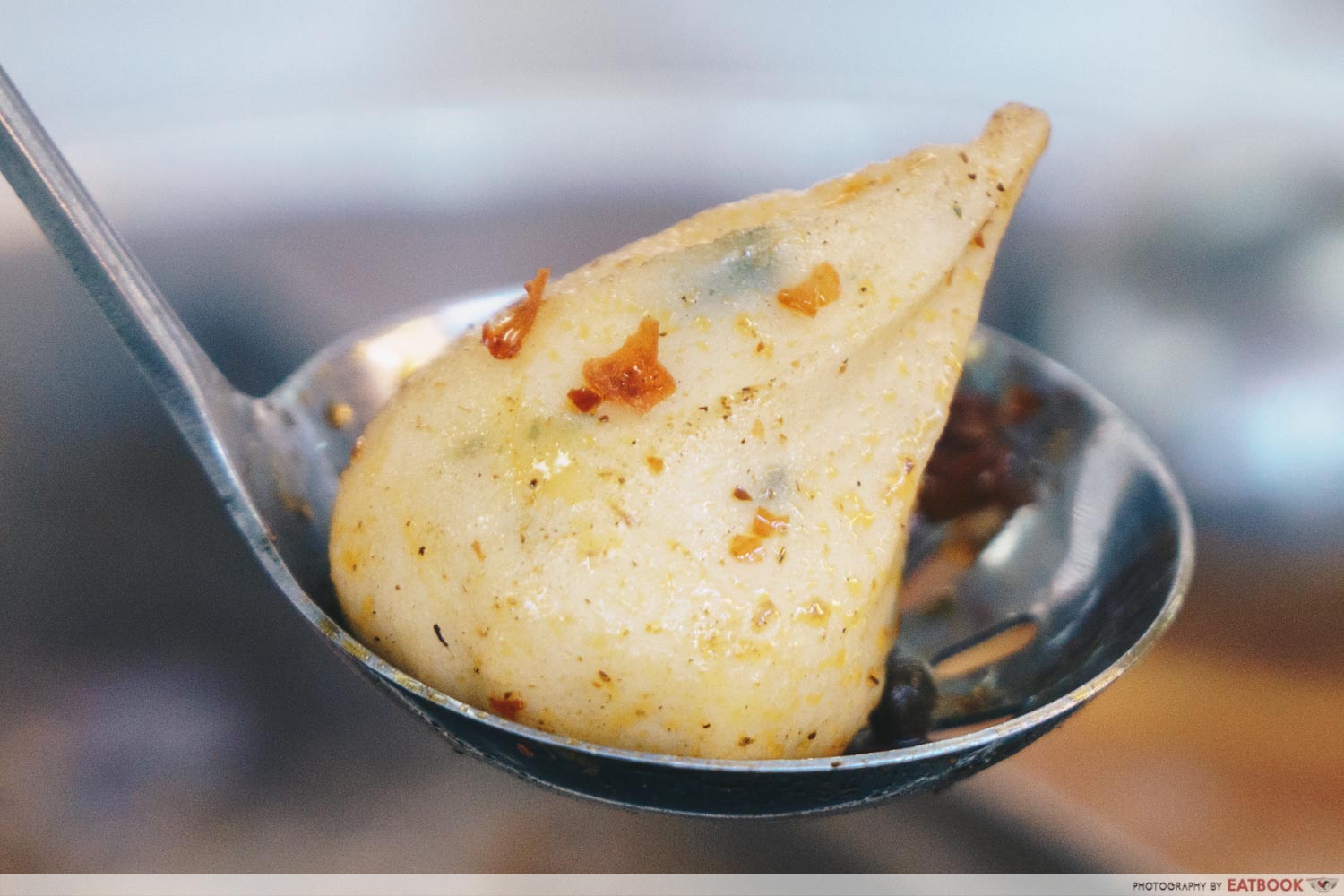 A standout in the meatball family of ingredients was the oddly named Fish Bag Egg, basically a Hershey's Kiss-shaped fishball filled with fish roe. Biting in, we weren't sure what to expect, but were greeted by golden fish roe lava. It was eerily similar to salted egg yolk in terms of colour, flavour and consistency, with the fish roe providing a slight briny edge.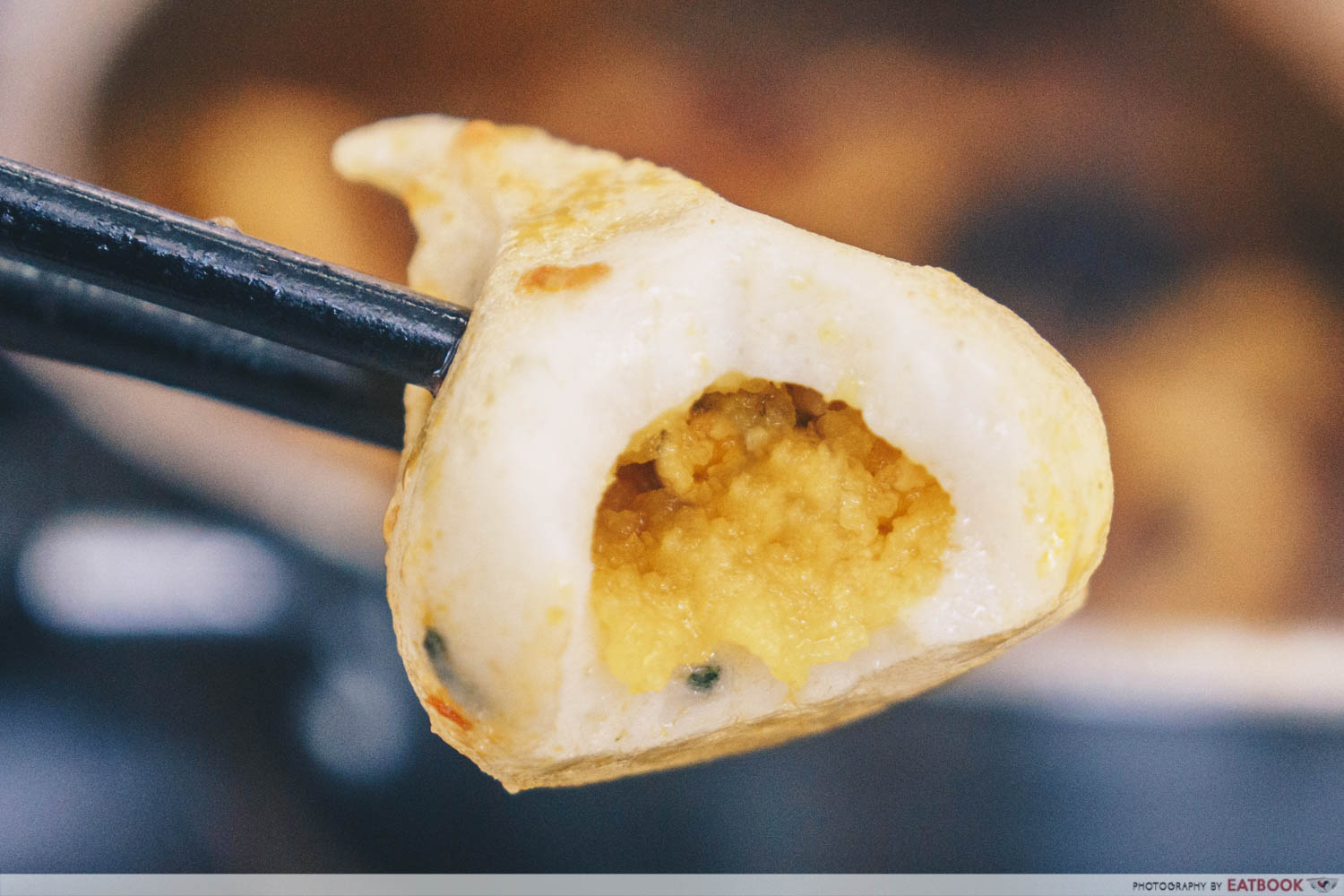 What disappointed was its fish paste coating, which was bland and rubbery, likely coming out of a packet. Unfortunately, this seemed to be a trend, as both our fish and beef balls had an unmistakably artificial look and lack of flavour to match.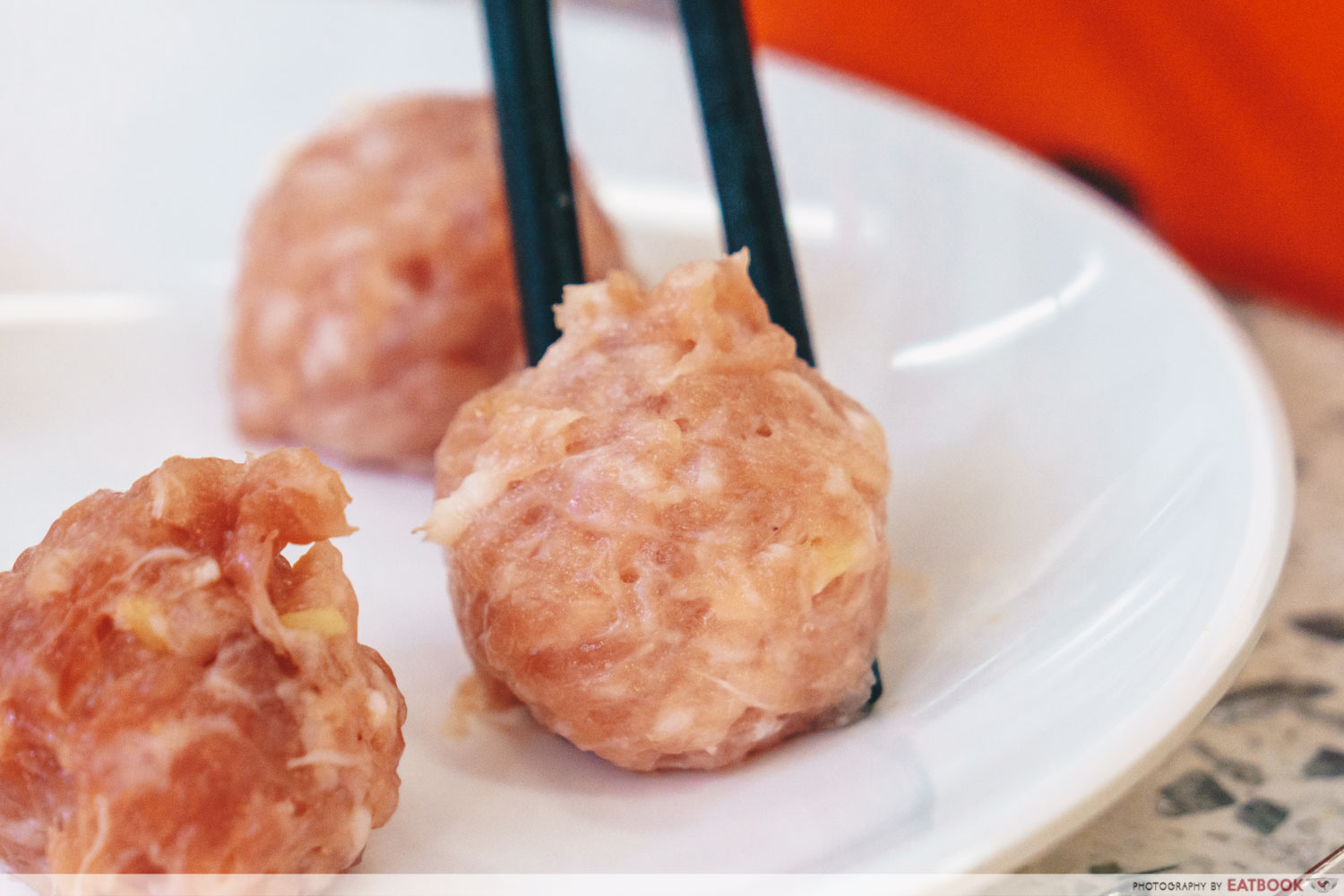 A saving grace was their house-made fresh pork balls. Bouncy and juicy, yet meaty, these were worlds apart from its fish and beef-based colleagues.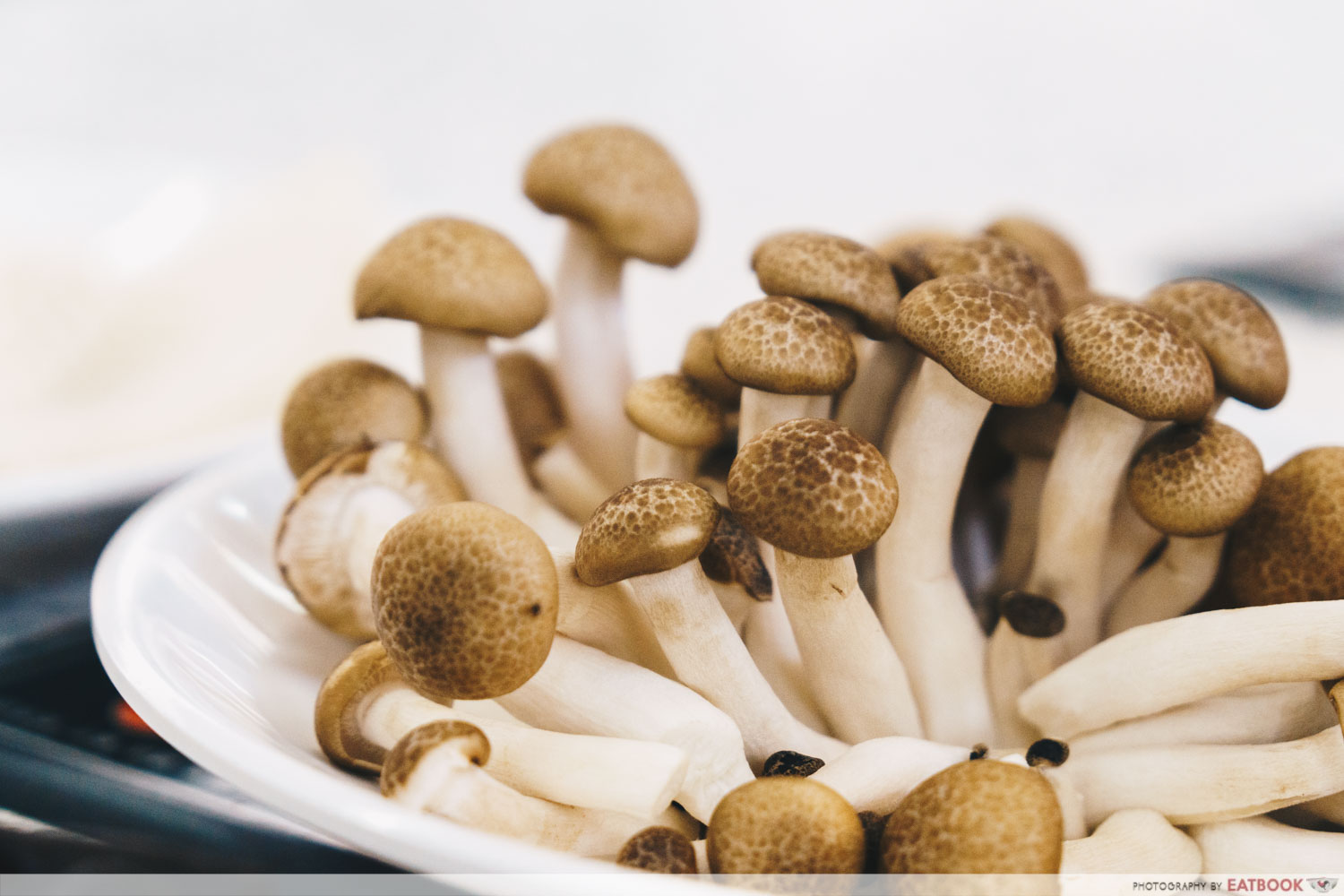 Aside from what we've touched on, the usual cast of hot pot characters is available here, with generous selections of mushrooms, green veggies, noodles and bean curd-based items up for grabs. One we particularly enjoyed was the bamboo shoots. These thick shards managed to absorb the stock's flavour without losing their snap or gentle sweetness.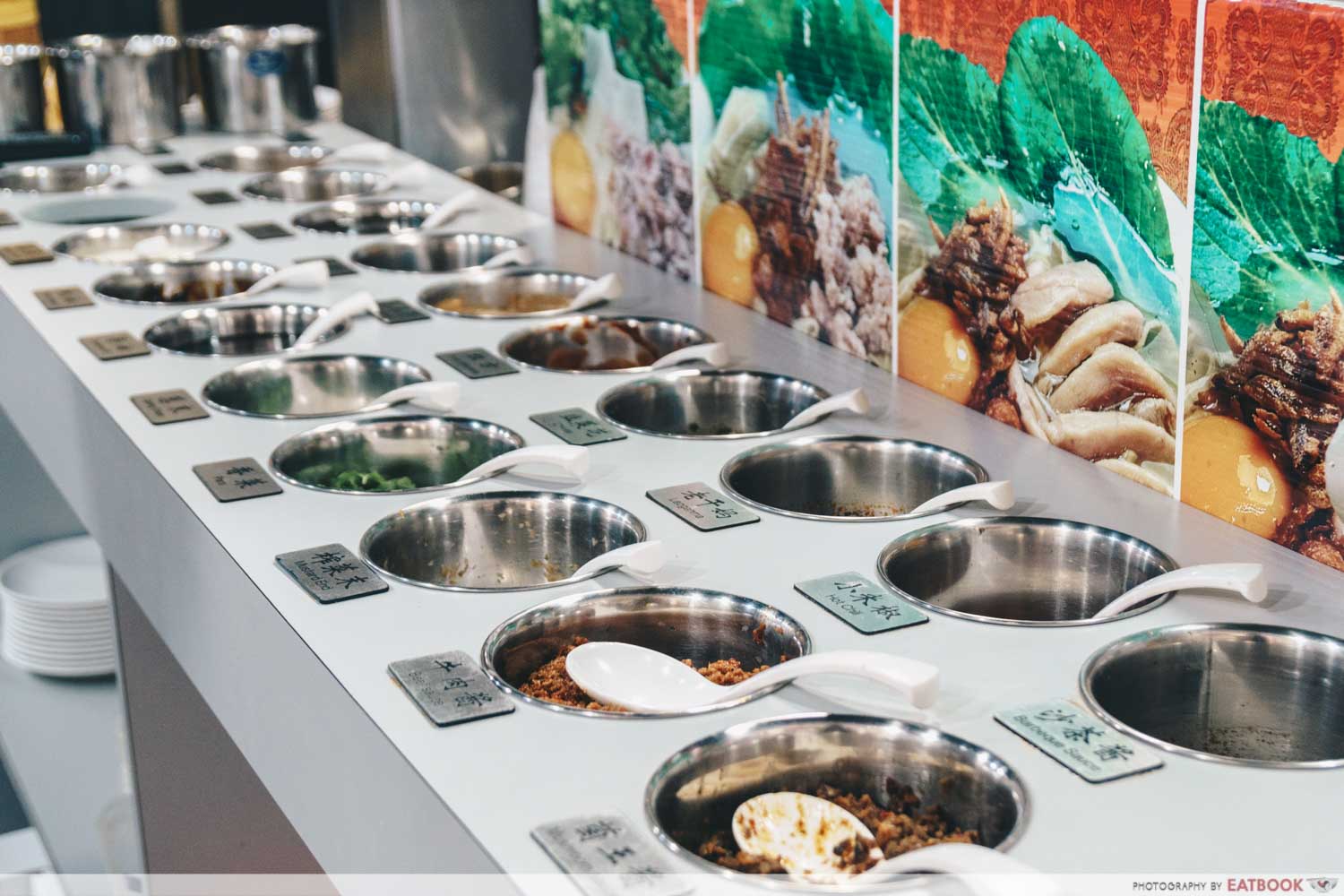 Another reason why people love hot pot is customisation. That's exemplified by the bewildering array of sauces available here. There's no right combination or secret formula of sauces – it's up to personal preference. But after asking the staff and a quick consultation with our trusty friend Google, we went down the classic route.
A combination of sesame paste, garlic and spring onions, given zing by red fermented tofu paste, formed our first saucer. This robust and slightly funky mixture paired well with meat. Meanwhile, a simple lao gan ma chilli paste with sesame oil and soy sauce concoction presented a spicy alternative more suited to lighter ingredients.
More adventurous diners can bring out their inner mad scientist by experimenting with options like oyster sauce, beef sauce, mushroom sauce and barbecue sauce. Just don't blame us if your results are more Frankenstein than Vision.
Ambience at Shan Pin Steamboat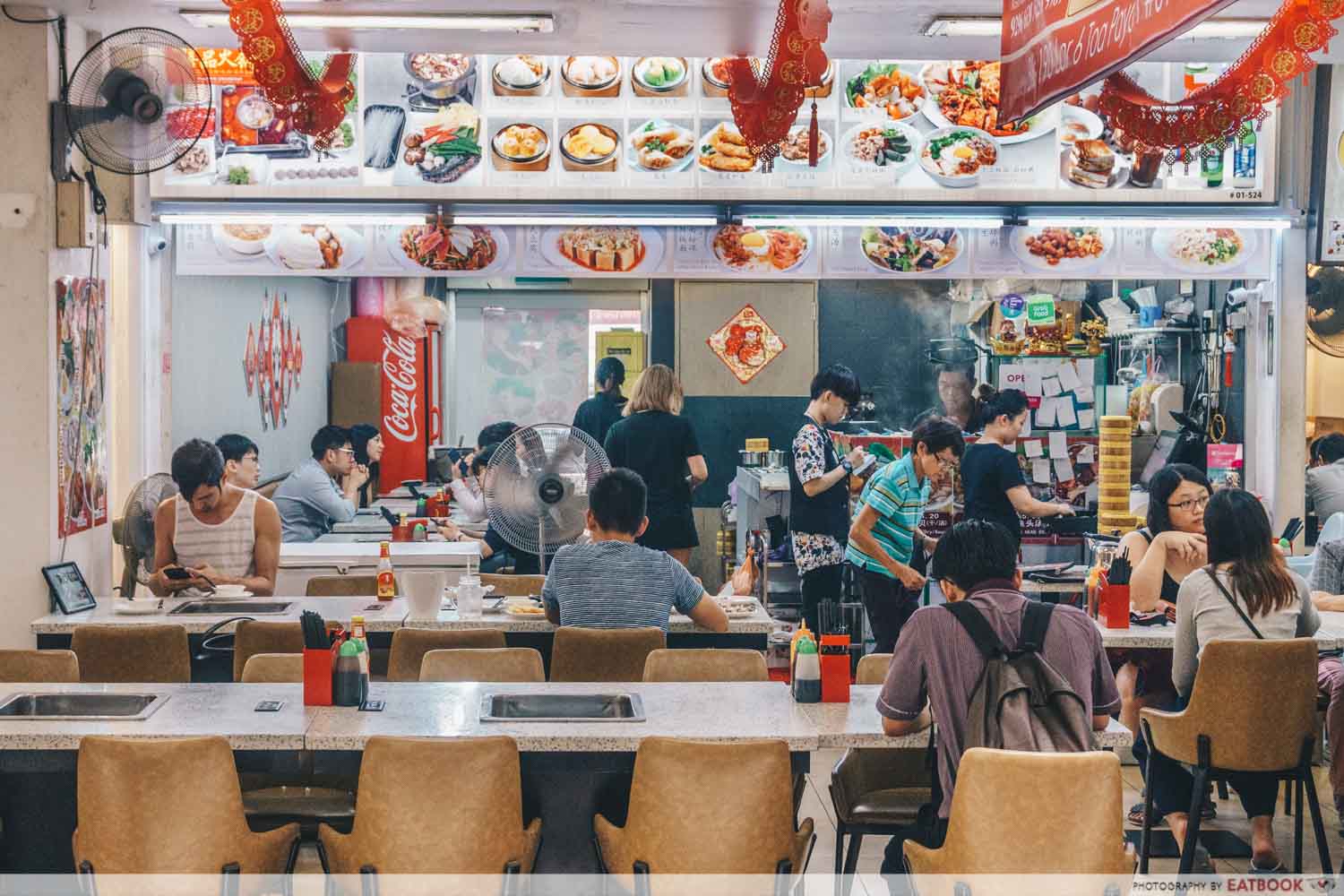 A 5-minute walk from Toa Payoh MRT and bus interchange, this compact restaurant is semi-hidden in an alley of eateries behind Gong Cha. In contrast to Hai Di Lao's sprawling spaces and cosy decor, the atmosphere is decidedly basic, with all focus on the food.
All orders were done through a convenient iPad system, similar to larger steamboat chains. Some entries don't have pictures and some English translations are odd, so check with a server if you want to be sure of what you're getting.
There's limited air-conditioned seating, so come early if you want to secure those spots. Otherwise, be prepared for a shower of sweat and steam as you devour your steamboat.
The verdict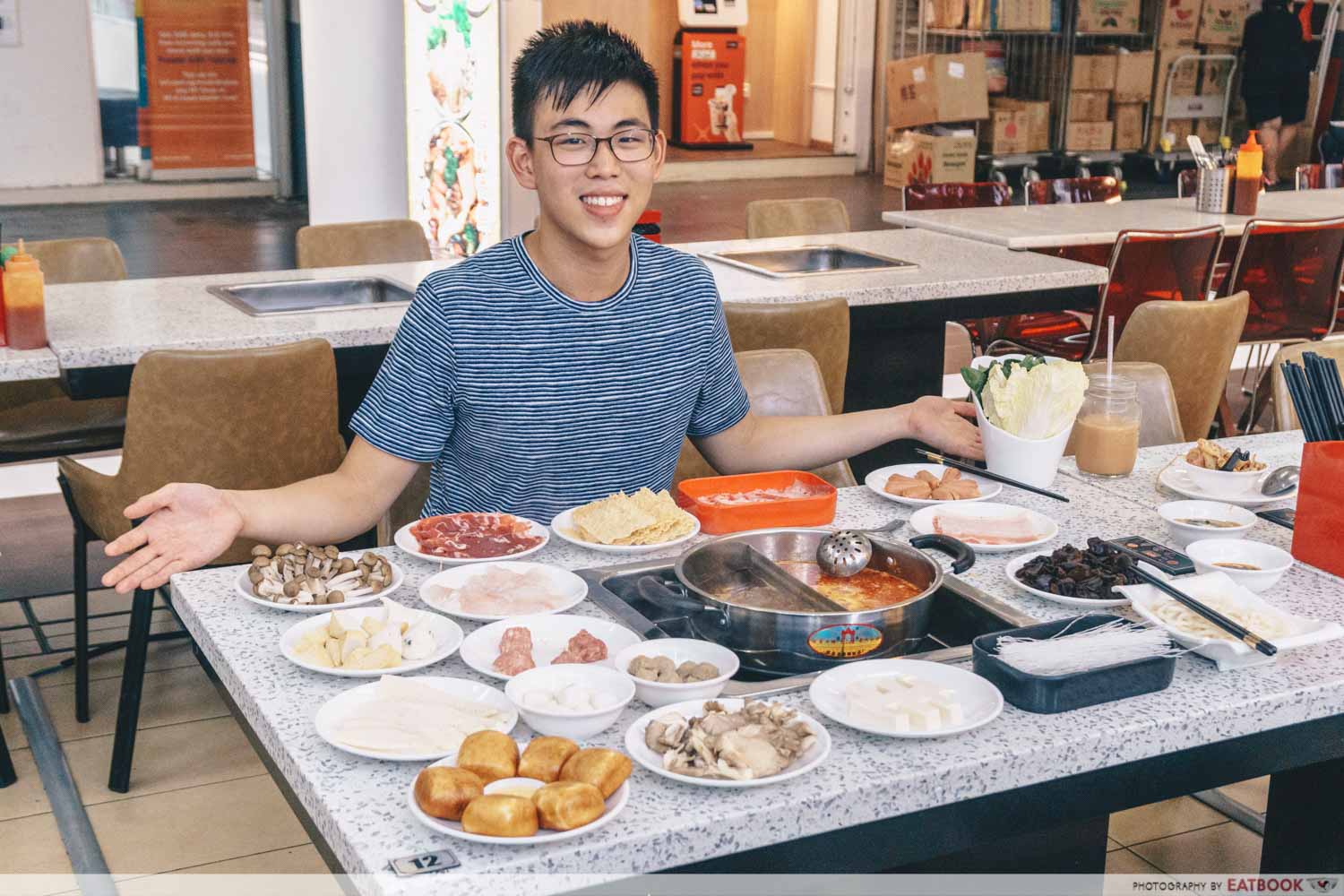 Don't come here expecting Hai Di Lao for half the price. We can't always have our cake and eat it. Half the attraction of heading to the steamboat giant is the service and atmosphere. A small, no-frills hot pot joint can never replicate that.
But what Shan Pin Steamboat delivers are robust broths, a wide selection of ingredients and great value. If you've got friends with big appetites and a hankering for hot pot, you won't be disappointed. We only wish they'd make all their meat and fish balls in-house.
Hot pot novices can level up their game by checking out our list of Hai Di Lao hacks, while experienced steamboaters can look for new options with our list of Hai Di Lao alternatives and our review of Steamov.
10 Hai Di Lao Alternatives With Equally Good Food And Service Sans Queue
Let us know your favourite hot pot spots in the comments below!
Address: 190 Lorong 6 Toa Payoh, #01-524, Singapore 310190
Opening hours: Daily 11am to 12am
Tel: 6258 9989
Website
Photos taken by Crystal Tan.
This is an independent review by Eatbook.
Summary
Pros
– Great value
– Well-marbled meats
– Surprising fish roe balls
Cons
– No seafood
– Artificial meatballs
Recommended dishes: Fat Beef, Fish Bag Egg
Opening hours: Daily 11am to 12am
Address: 190 Lorong 6 Toa Payoh, #01-524, Singapore 310190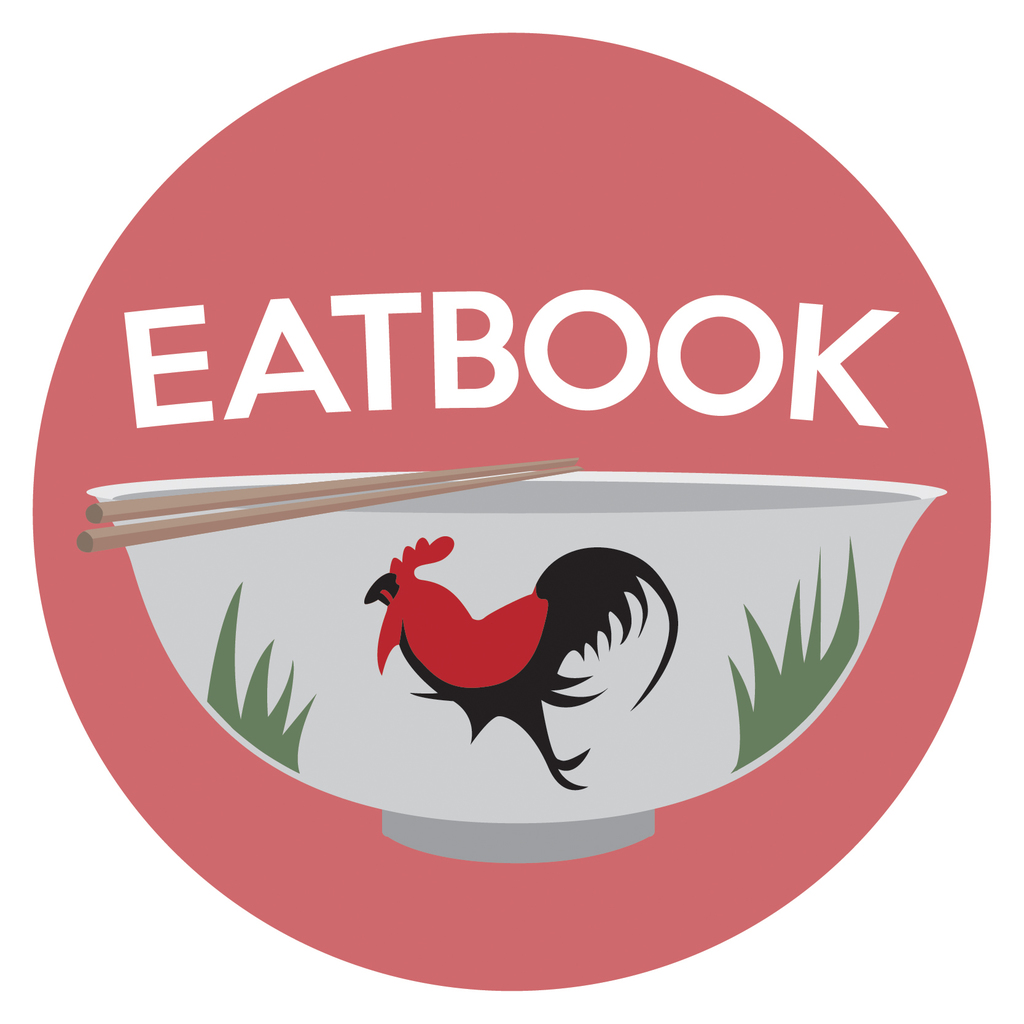 Drop us your email so you won't miss the latest news.