Nian Nian Fa Dim Sum in Ang Mo Kio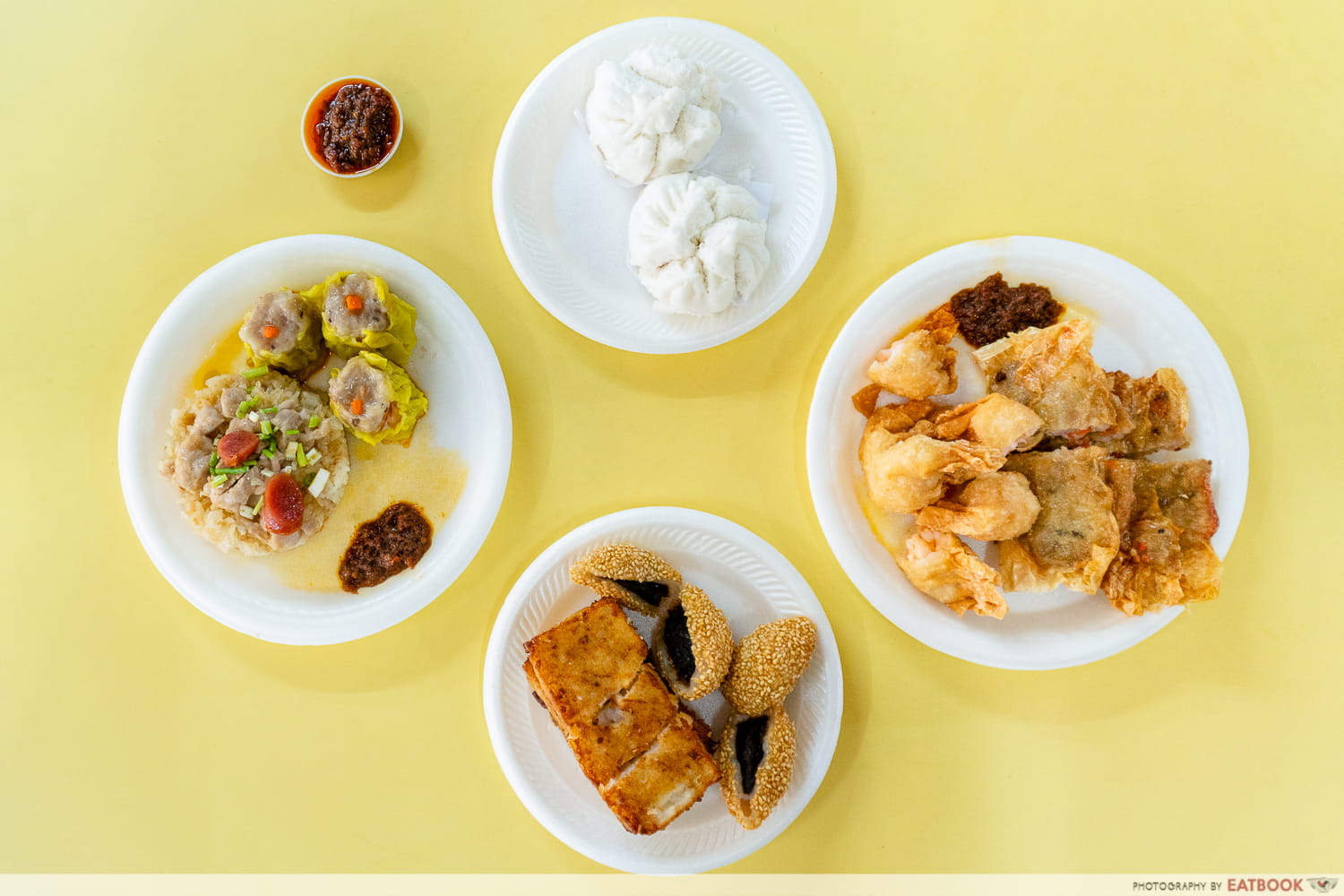 Dim sum is something I eat quite often with my family, be it buffet or a la carte-style. My go-to restaurants are Dim Sum Haus and Red House Seafood, but I'm always on the lookout for something better. When I came across Nian Nian Fa Dim Sum on a previous shoot in Ang Mo Kio, my interest was piqued.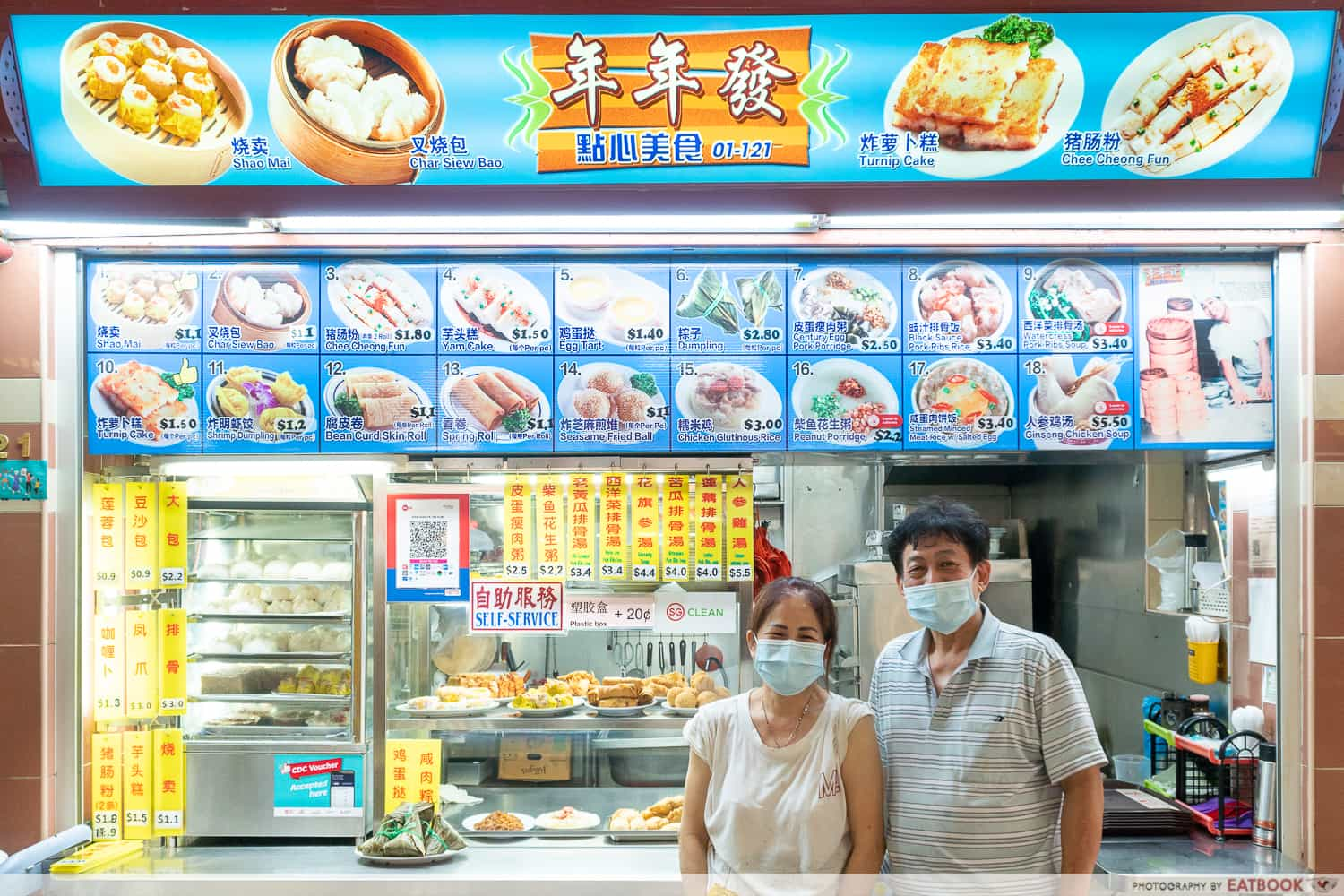 Mr Wong Tong and his wife start work at 4am every day without fail. Tapping on Mr Wong's wealth of experience from cooking in restaurants in both his native Hong Kong and Singapore, the couple has been serving affordable dim sum since 1999. They are now in their sixties and unfortunately do not have any succession plans. 
Red House Seafood Review: Dim Sum Seafood Buffet With 50 Items Including Birds Nest Tarts And Truffle Dumplings
Food at Nian Nian Fa Dim Sum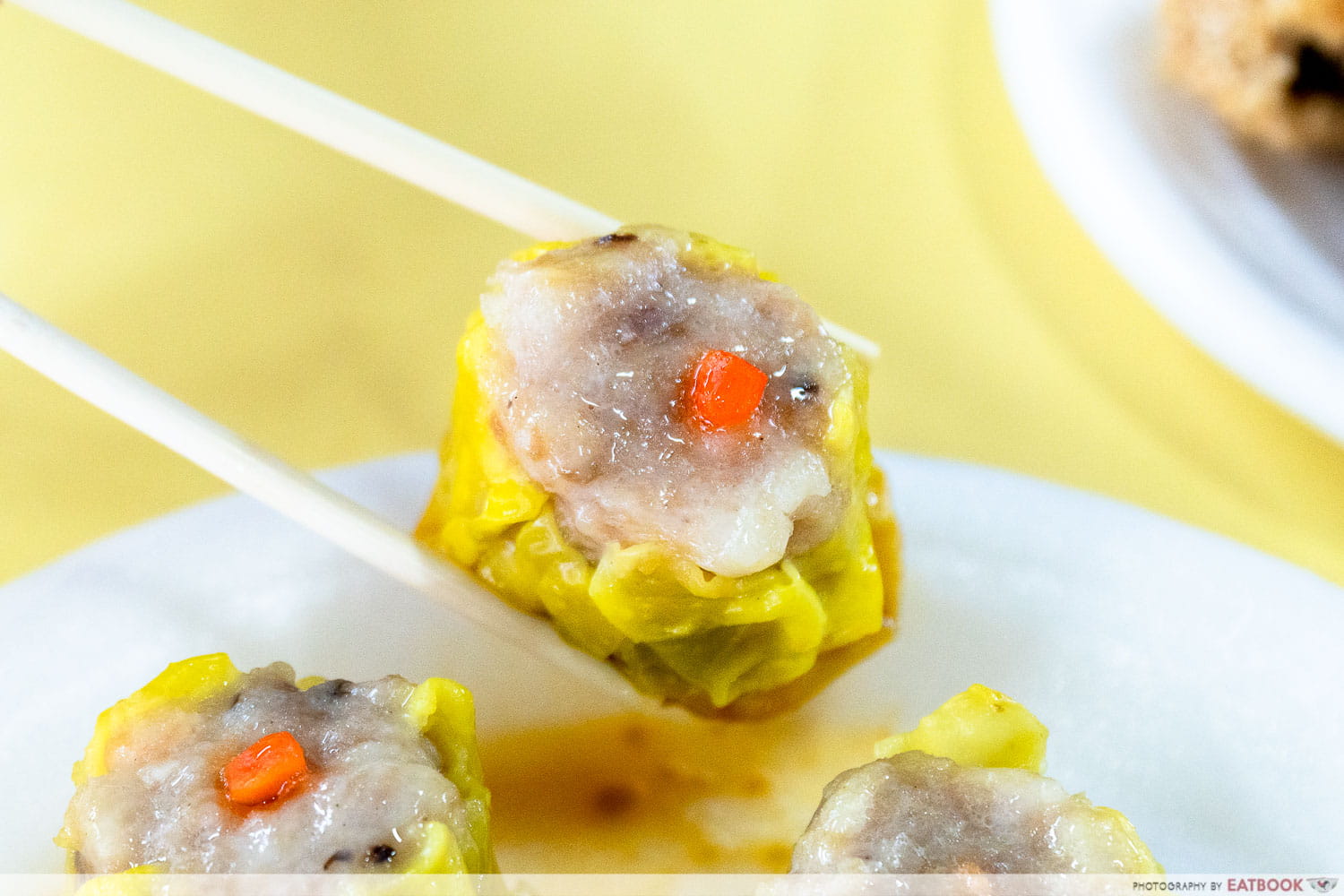 I'll be ready to admit that I might have been too enthusiastic in ordering for my colleague and myself, but in my defence, one simply doesn't only order a dish or two when having dim sum. I started my sampling with the classic Siew Mai ($1.10 each).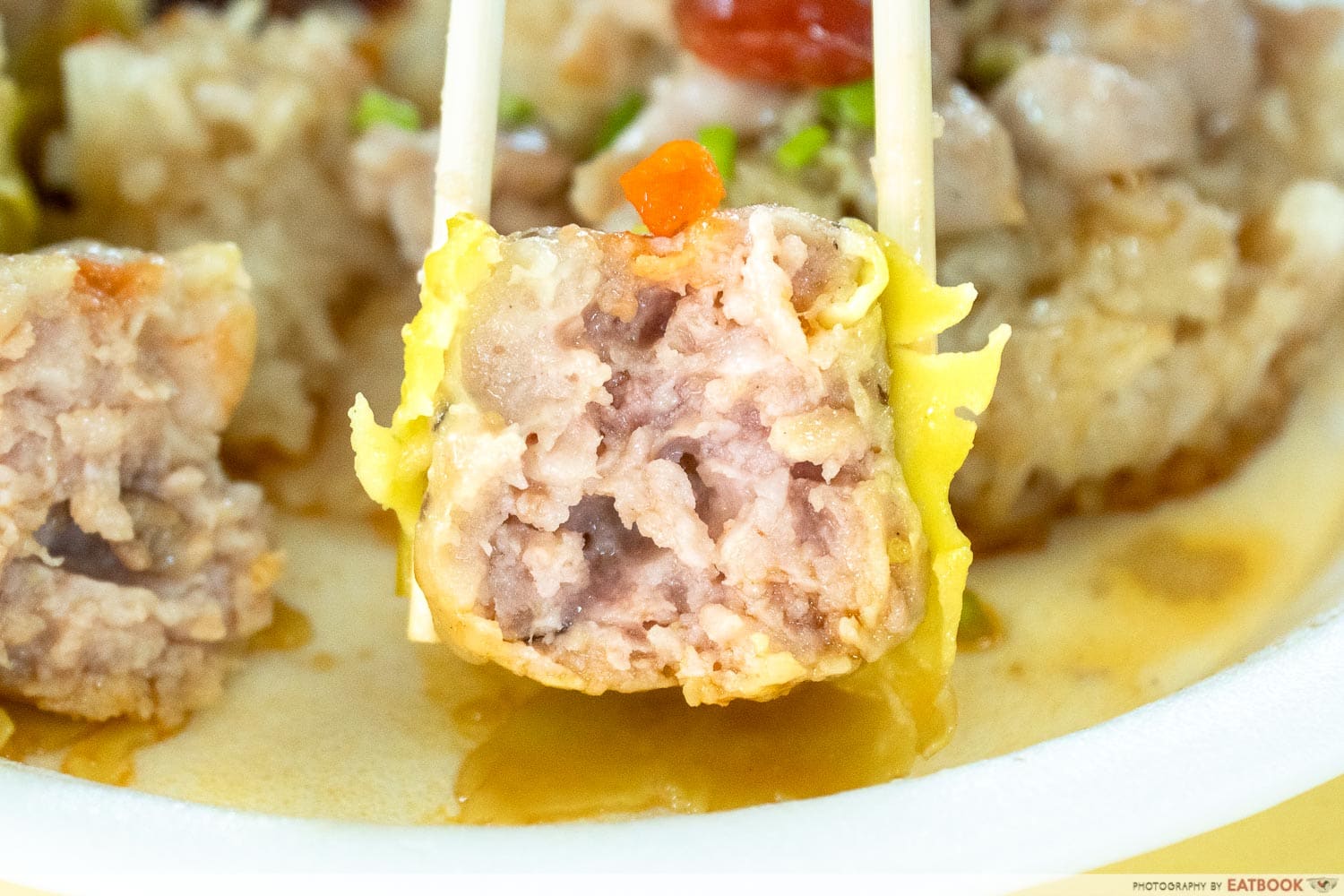 Generously stuffed with meat, the Siew Mai was juicy and did not have that undesired gamey and porky scent that siew mai can sometimes have━not bad at all for its price.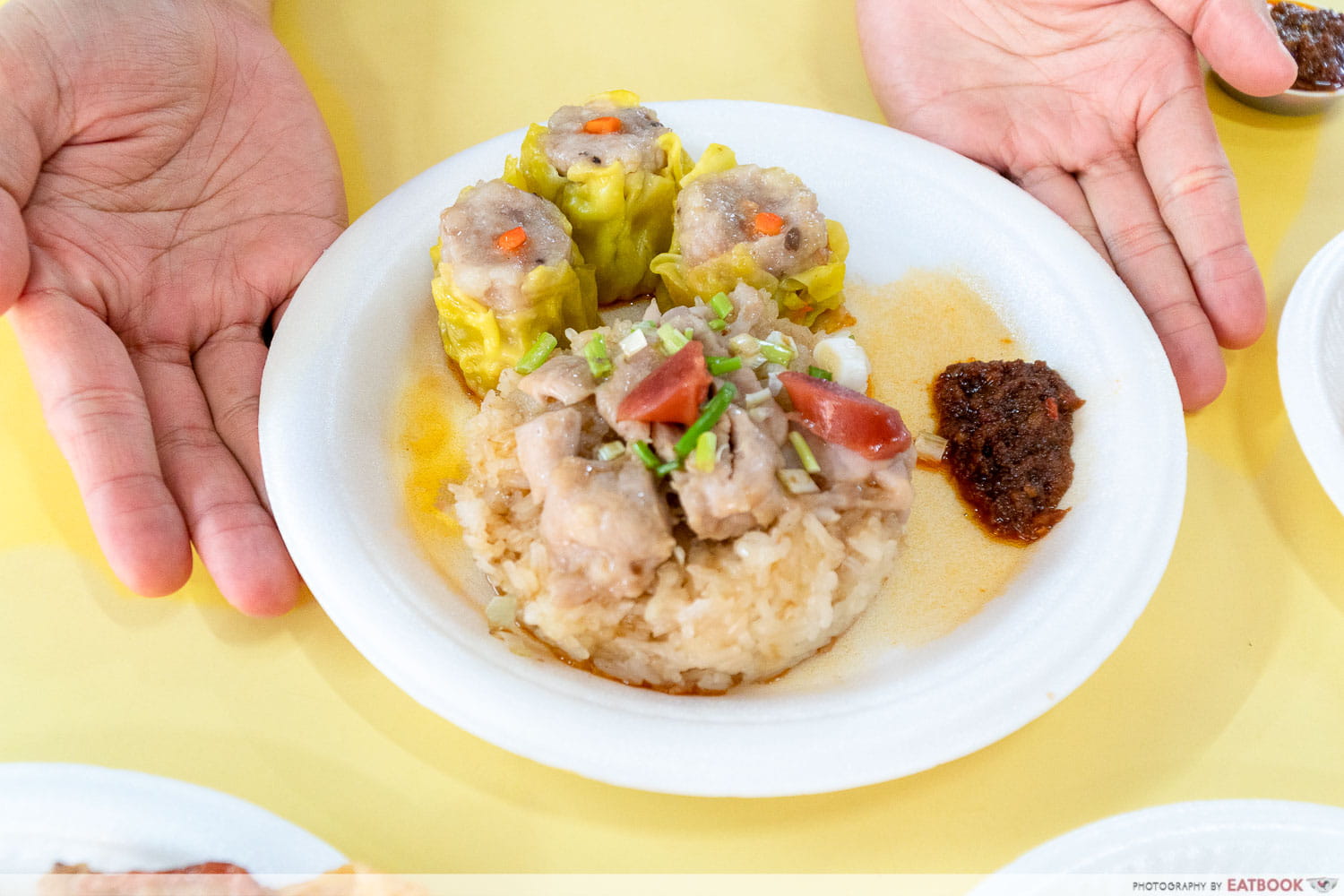 I had the Chicken Glutinous Rice ($3) next, as I didn't want the dish to go cold. Here at Nian Nian Fa Dim Sum, the lor mai kai comes in the white version, which I felt left the glutinous rice a little bland.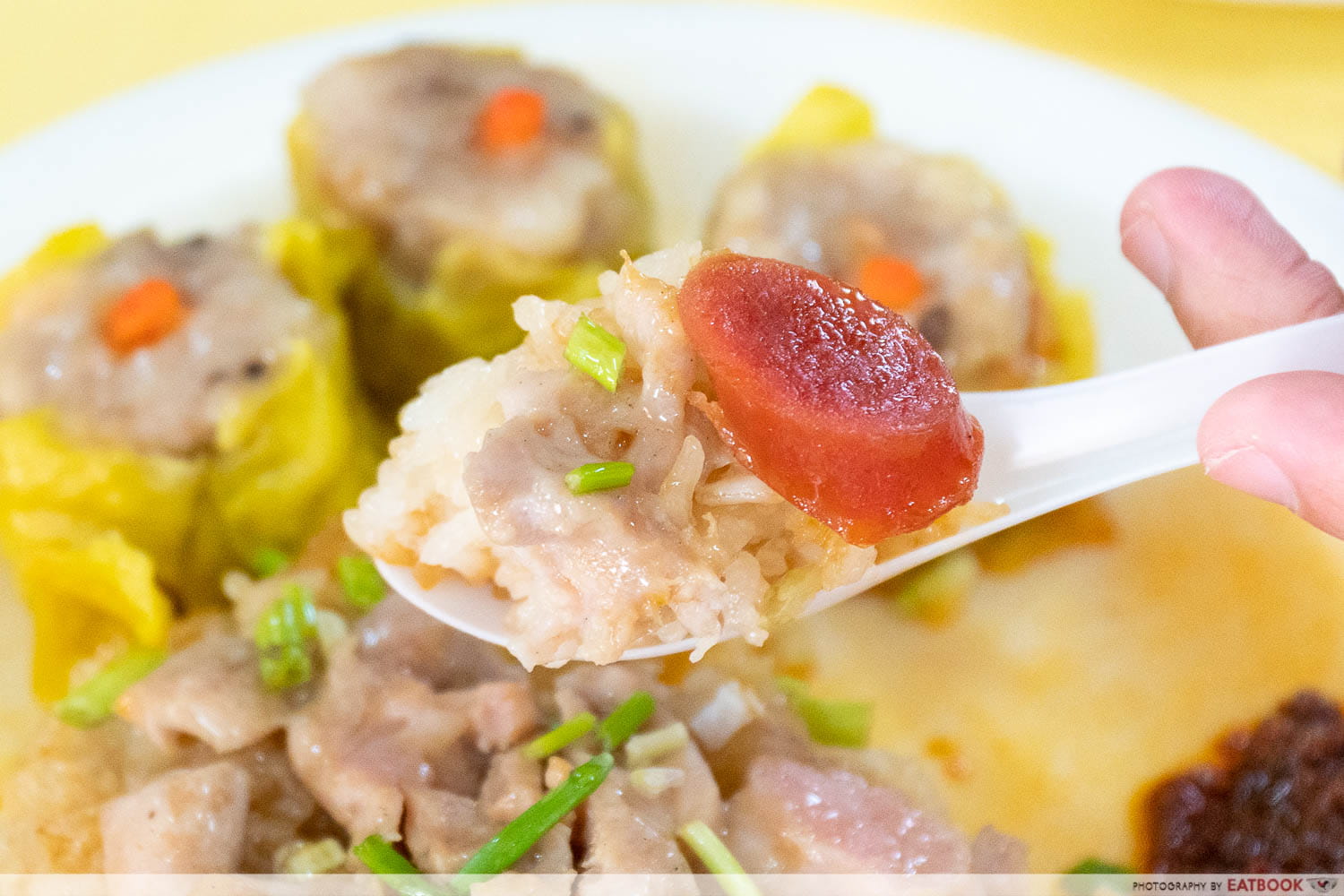 The lup cheong imparted some sweet and umami notes to the dish, although I thought that the chicken thigh meat could have been less dry.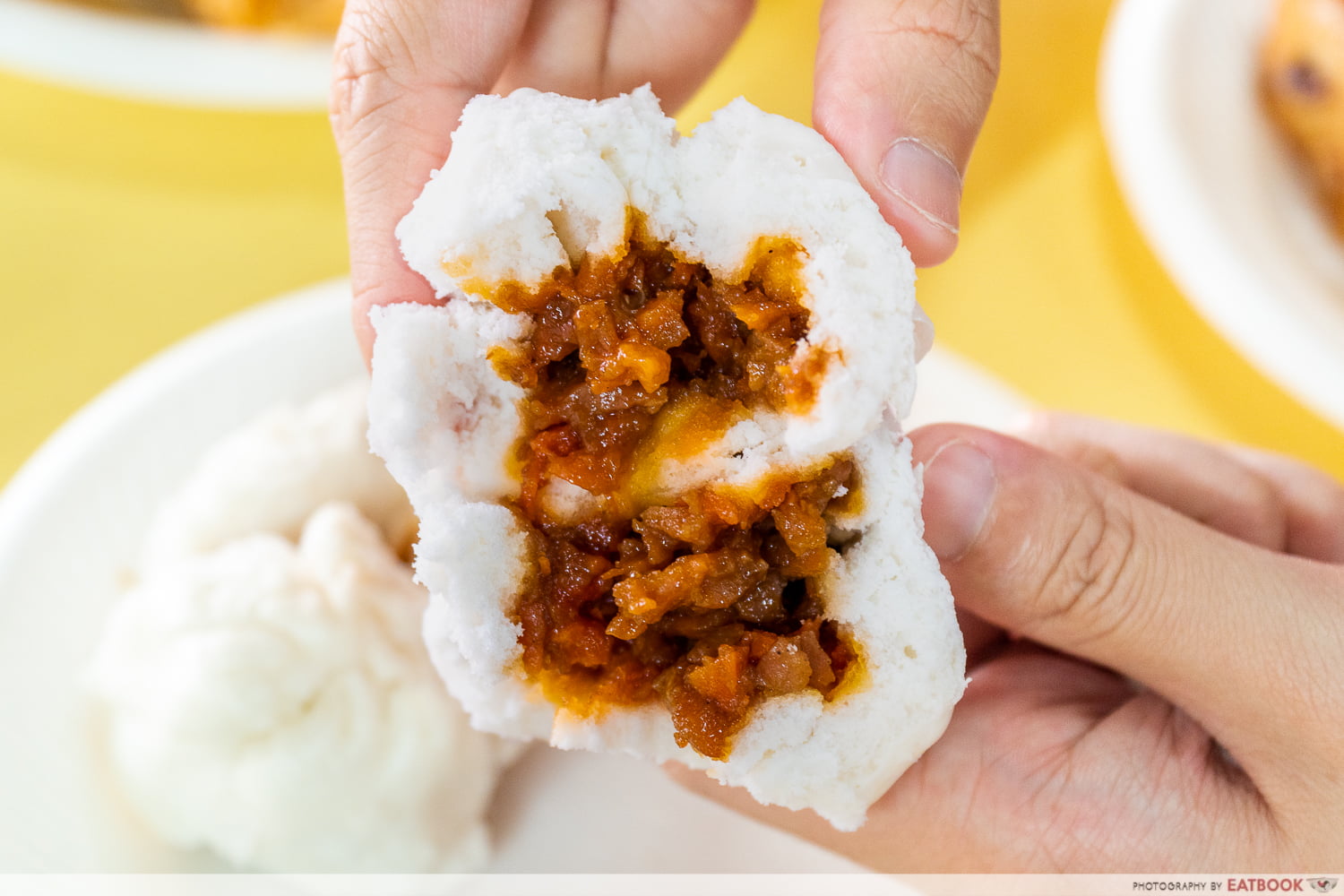 The last steamed item I tasted was the Char Siew Bao ($1.10 each). Of the three, this was probably my least favourite. Although the bun had seemed quite promising because it was rather soft, the ratio of meat to skin was too skewed. The filling leaned sweet, which was not bad in itself, had it not been for the fact that there was too little of it.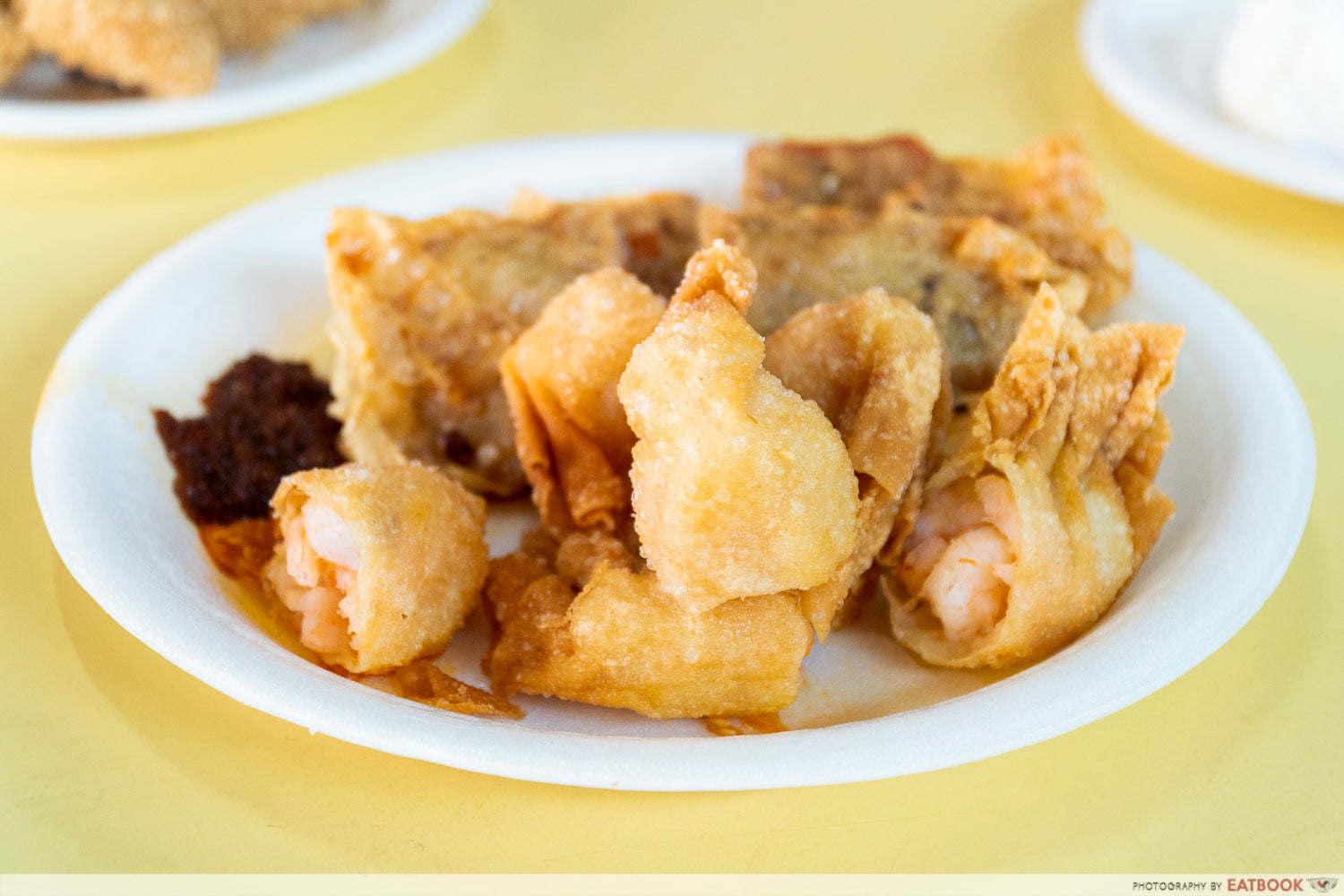 Moving on to the fried items, I attacked the Shrimp Dumpling ($1.20 each) first. Crispy wonton skin enveloped a mound of fresh and succulent diced prawn. Even without dipping this into any condiment, the Shrimp Dumpling was delicious on its own.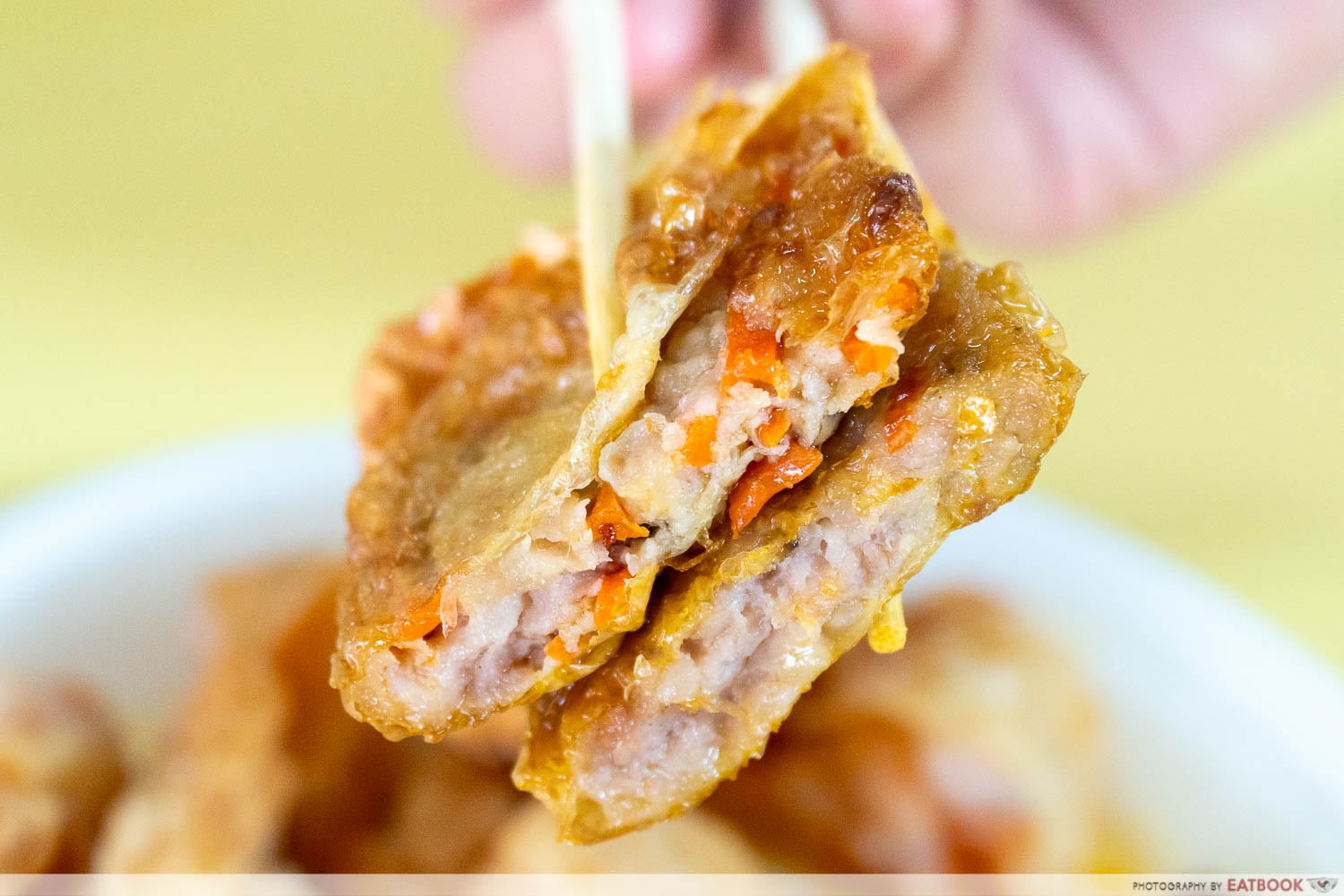 Other than the Shrimp Dumpling, I also had the Beancurd Skin Roll ($1.10), which was another prawn-based item. The prawn paste within was sweet and had a QQ texture, and came with strips of carrot for an extra crunch. 
Personally, I don't usually enjoy the flaky texture of beancurd skin, but I thought that this item was well-executed nonetheless.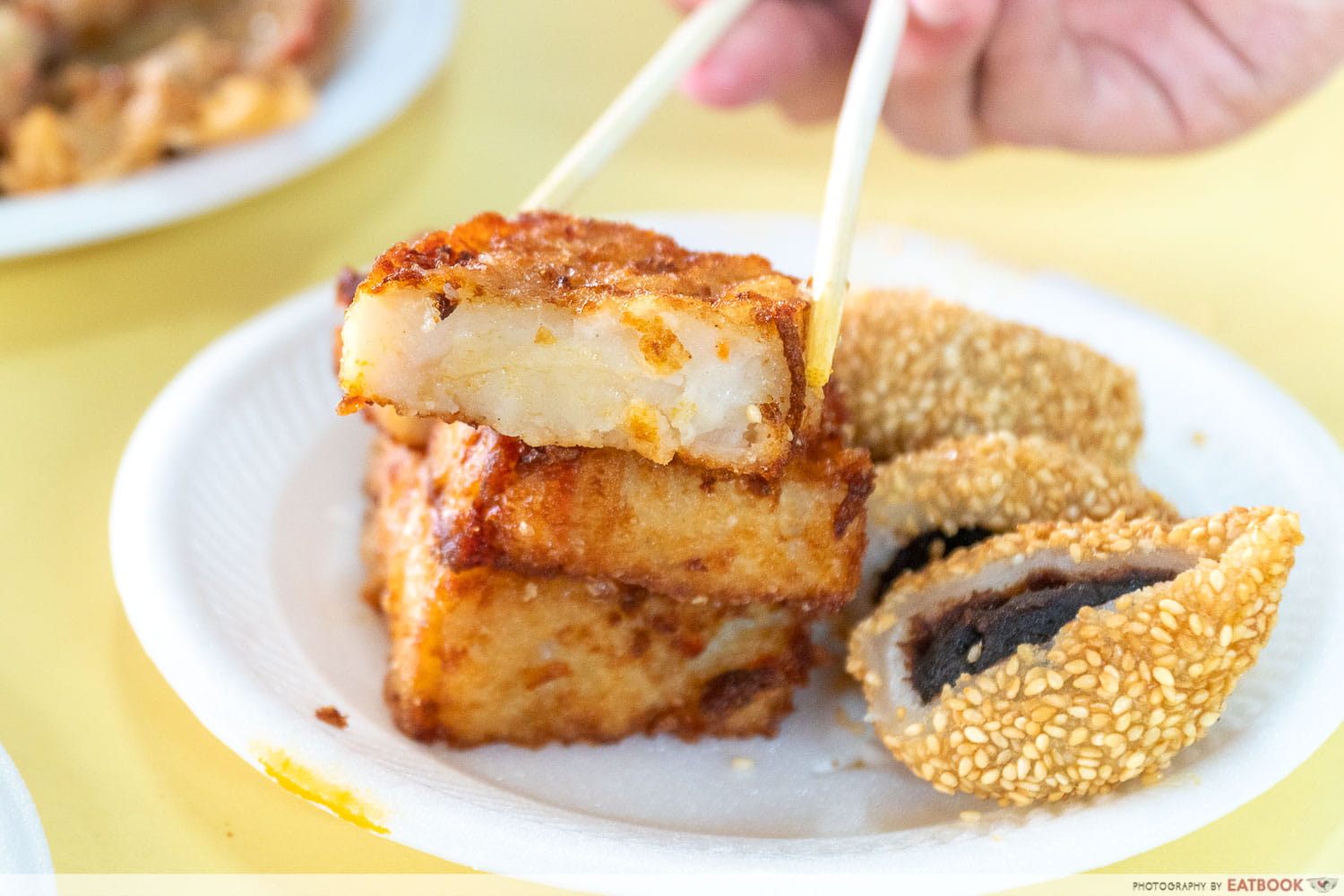 Carrot cake, in any shape and form, is one of my favourite Singaporean and Cantonese dishes. So when I saw Nian Nian Fa Dim Sum's Turnip Cake ($1.50) beckoning to me with its glistening golden exterior, I knew that I had to get it. 
As expected, biting into the Turnip Cake revealed a crispy crust. What I was not expecting however, was for how soft and gooey for the inside to be, which provided a contrasting mouthfeel.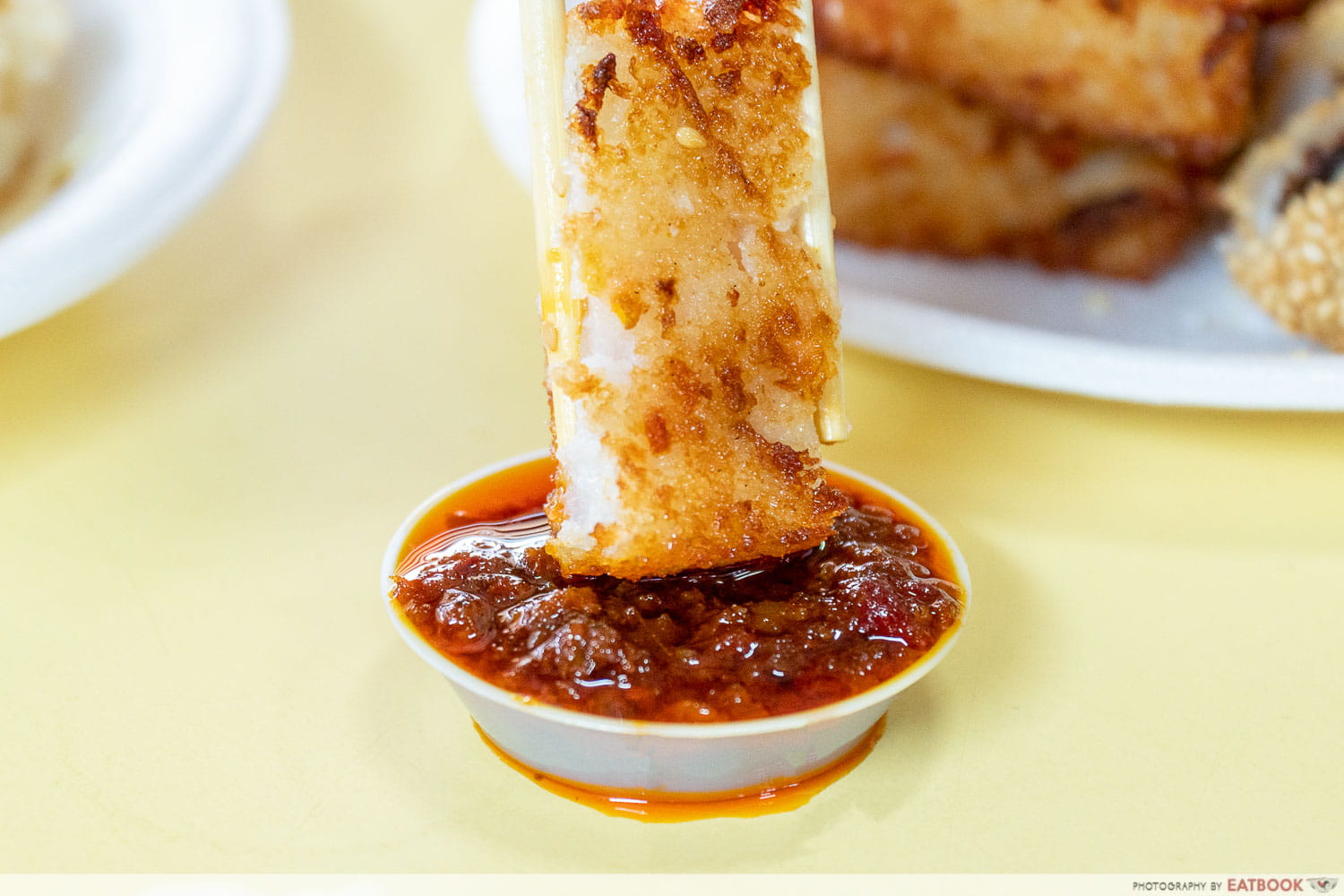 Although the carrot cake already emanates a strong radish fragrance, I strongly recommend having it with some of their specialty chilli. Fried with belacan and dried shrimp, the house-made chilli was intensely umami with a spicy aftertaste.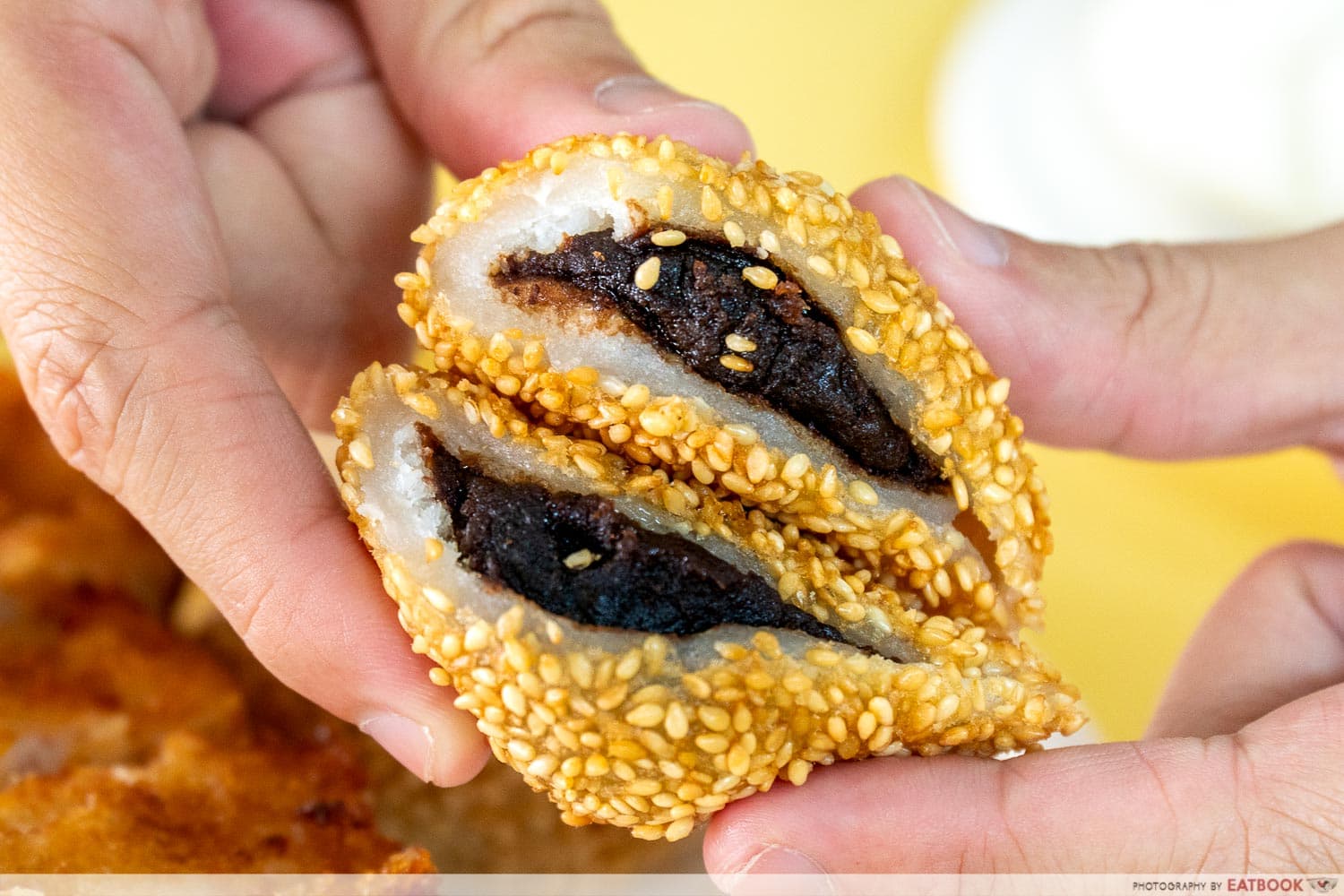 We rounded off our dim sum breakfast with the Sesame Fried Ball ($1.10), which had a red bean filling. Although I felt that the red bean paste was a wee bit too sweet, I appreciated that Nian Nian Fa Dim Sum had stuffed the glutinous rice ball full of it. 
The Sesame Fried Ball is also not too greasy, which makes it a satisfactory dessert option if you like things sweet. 
Red House Seafood Review: Dim Sum Seafood Buffet With 50 Items Including Birds Nest Tarts And Truffle Dumplings
Ambience at Nian Nian Fa Dim Sum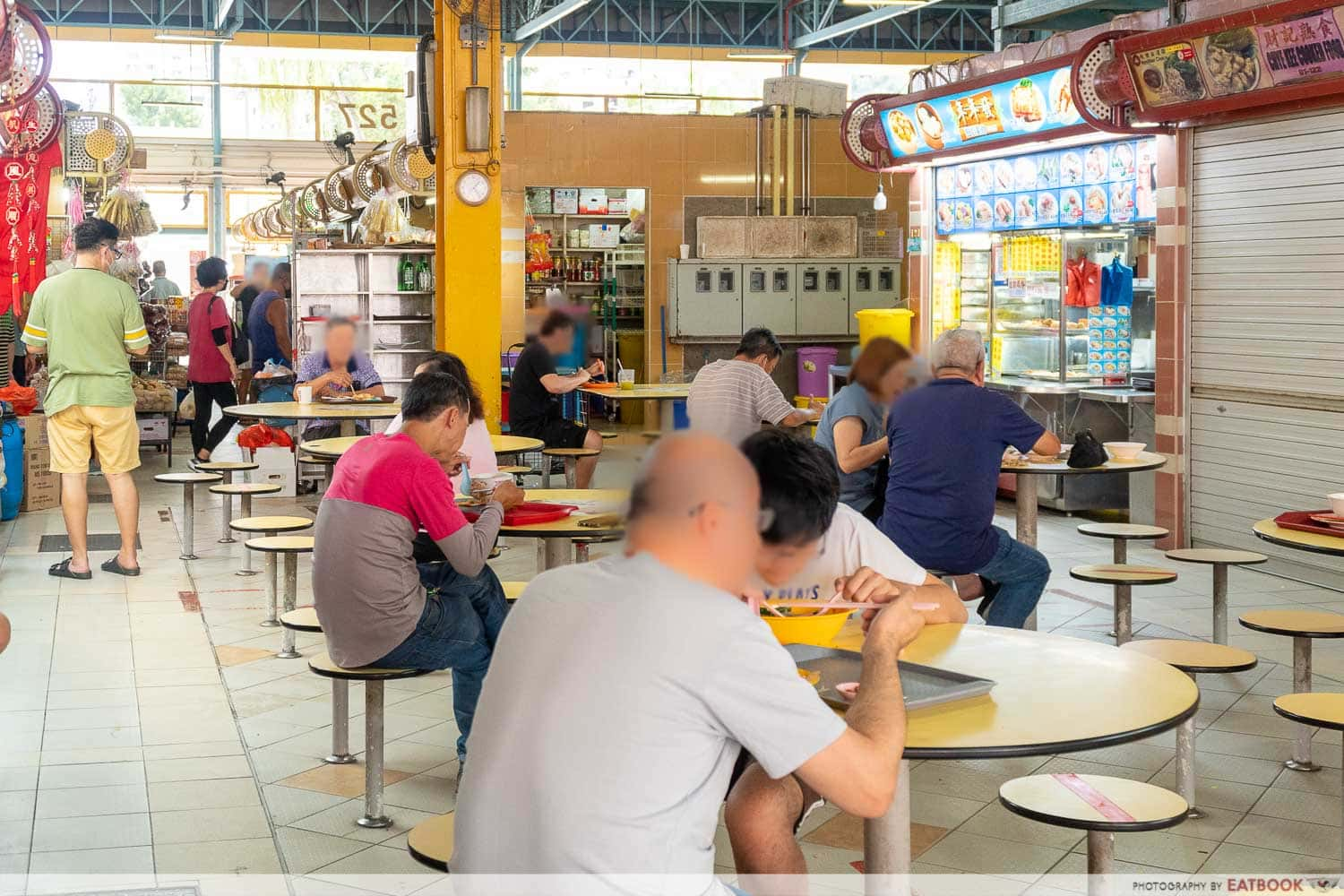 It's quite convenient to get to Nian Nian Fa Dim Sum. Simply hop onto bus 88 for four stops from Ang Mo Kio MRT Station and you'll find yourself at the doorstep of Cheng San Market and Cooked Food Centre. The hawker centre is quite small and mainly caters to the breakfast diners, so you can swing by in the afternoon if you want to avoid the crowd. 
The verdict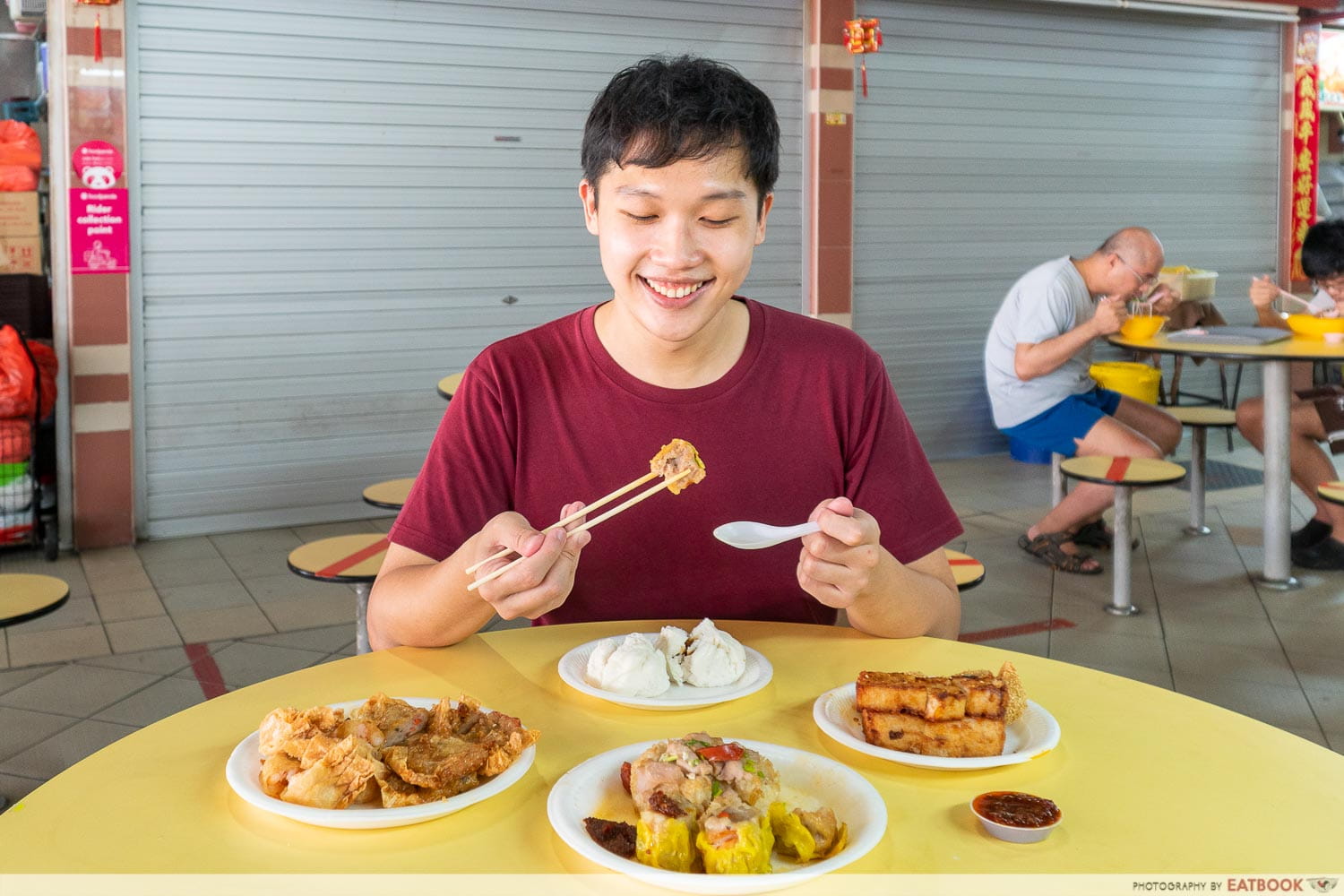 Most of the items that we tried were from the $1.10 selection, making Nian Nian Fa Dim Sum an affordable dim sum option for breakfast. Though I felt that some dishes such as the Char Siew Bao could have been better, there were more hits than misses. 
There really isn't much to complain about when your food is cheap, so I'd urge everyone to try the Turnip Cake and Shrimp Dumplings. They also sell porridge and double-boiled soups, if you want something else apart from dim sum.  
For more cheap dim sum, check our listicle with 16 recommendations! Magic Kitchen, around the corner from Nian Nian Fa Dim Sum, also has delicious egg mayo toasts and laksa chee cheong fun!
Address: 527 Ang Mo Kio Avenue 10, #01-121, Cheng San Market and Cooked Food Centre, Singapore 560527
Opening hours: Daily 6am to 4pm
Nian Nian Fa Dim Sum is not a halal-certified eatery.
Magic Kitchen Review: Cheap Thick Toasts And Laksa Chee Cheong Fun At This Ang Mo Kio Cafe
Photos taken by Tanya Tham.
This was an independent review by Eatbook.sg
Nian Nian Fa Dim Sum Review: $1.10 Dim Sum From Hong Kong Chef With Over 40 Years Of Experience
Nian Nian Fa Dim Sum Review: $1.10 Dim Sum From Hong Kong Chef With Over 40 Years Of Experience -

7.5/10
Summary
Pros
– Wide variety of affordable dim sum
– House-made chilli was spicy and moreish
Cons
– Char siew bun had little filling
Recommended dishes: Turnip Cake ($1.50), Shrimp Dumpling ($1.20 each)
Opening hours: Daily 6am to 4pm
Address: 527 Ang Mo Kio Avenue 10, #01-121, Cheng San Market and Cooked Food Centre, Singapore 560527