Xiao Cao Xiang Steamboat Buffet gives incredible value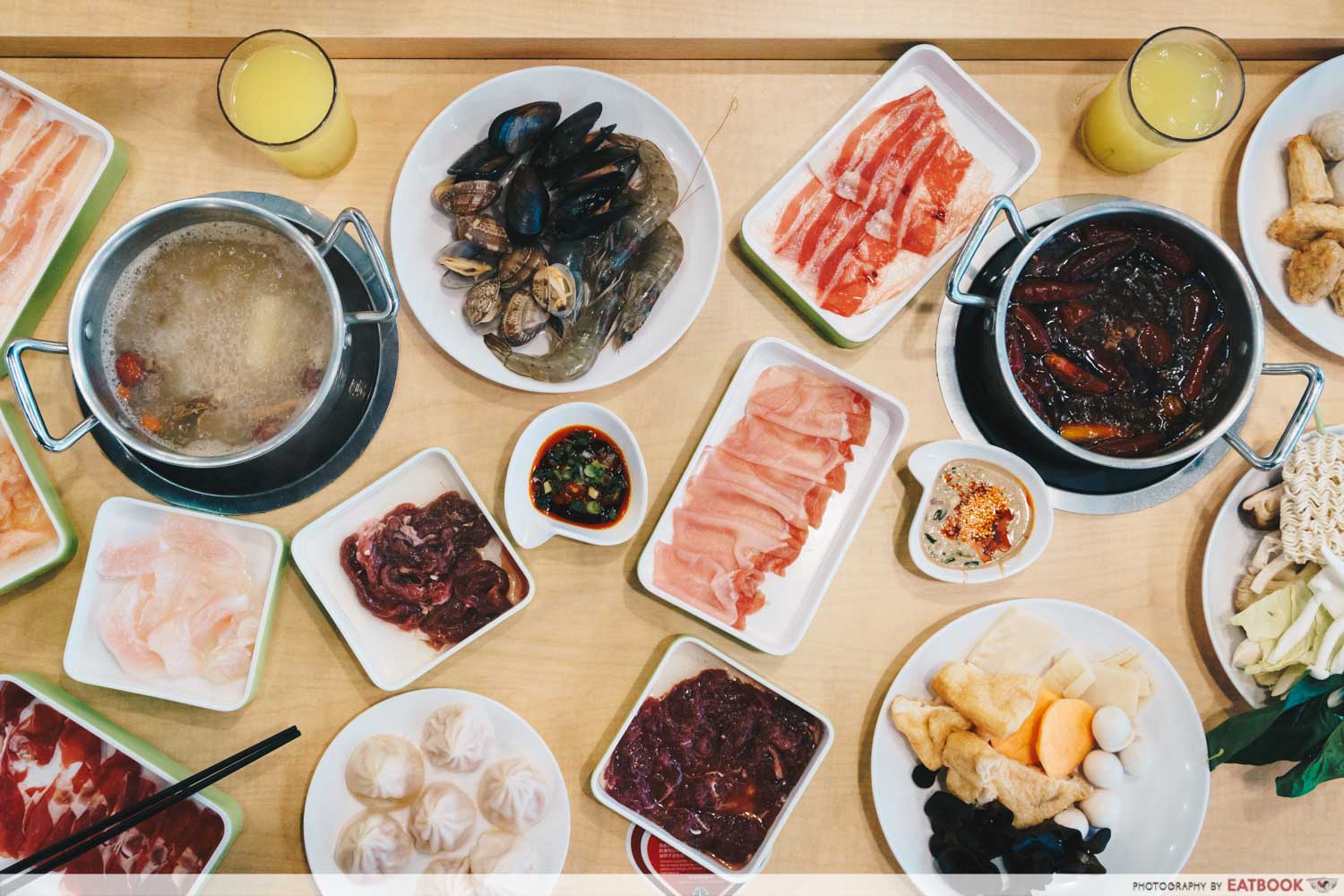 Xiao long bao and hot pot are two of the most popular Chinese dishes in Singapore. Long queues form at famous joints like Crystal Jade and Hai Di Lao every day, with locals willing to stand in line for hours on end. That explains why the steamboat and xiao long bao buffet at Crystal Jade's Holland Village outlet is so popular, with patrons more than happy to shell out upwards of $30 to get their fix.
That price point means it isn't very feasible to head down to HV and gorge on steamboat and XLB every week. Enter Xiao Cao Xiang Steamboat Buffet. Owned by the same folks who brought the adjacent Yunique Tea to Singapore, this spanking new restaurant offers a 90-minute all-you-can-eat buffet, complete with a personal steamboat pot, as well as free-flow xiao long bao and drinks at $16.80+.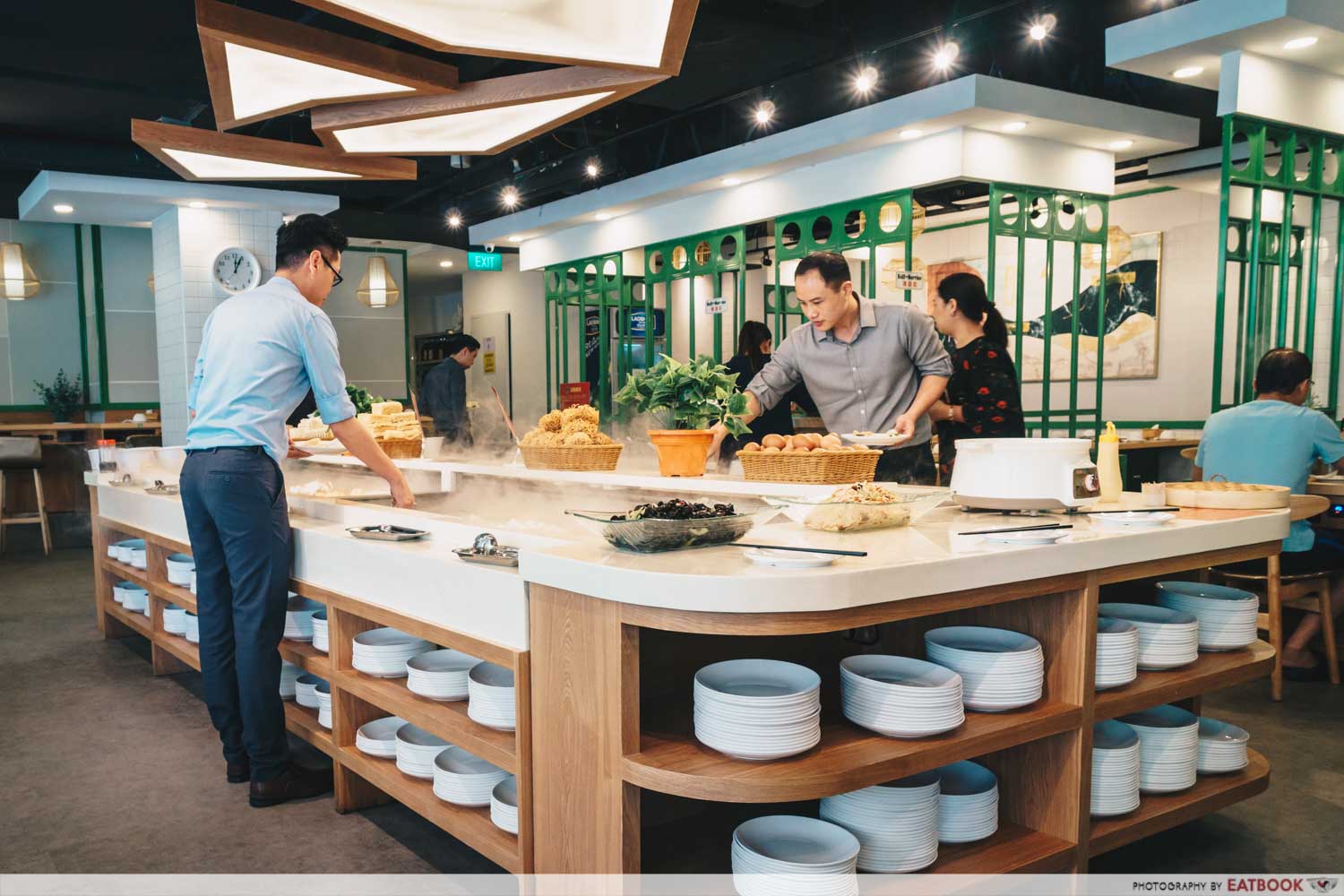 That's undoubtedly amazing value, and it has clearly been raking in the crowds. Despite being open for only a month, the restaurant was near full capacity during lunchtime, with a steady flow of customers streaming in.
Food at Xiao Cao Xiang Steamboat Buffet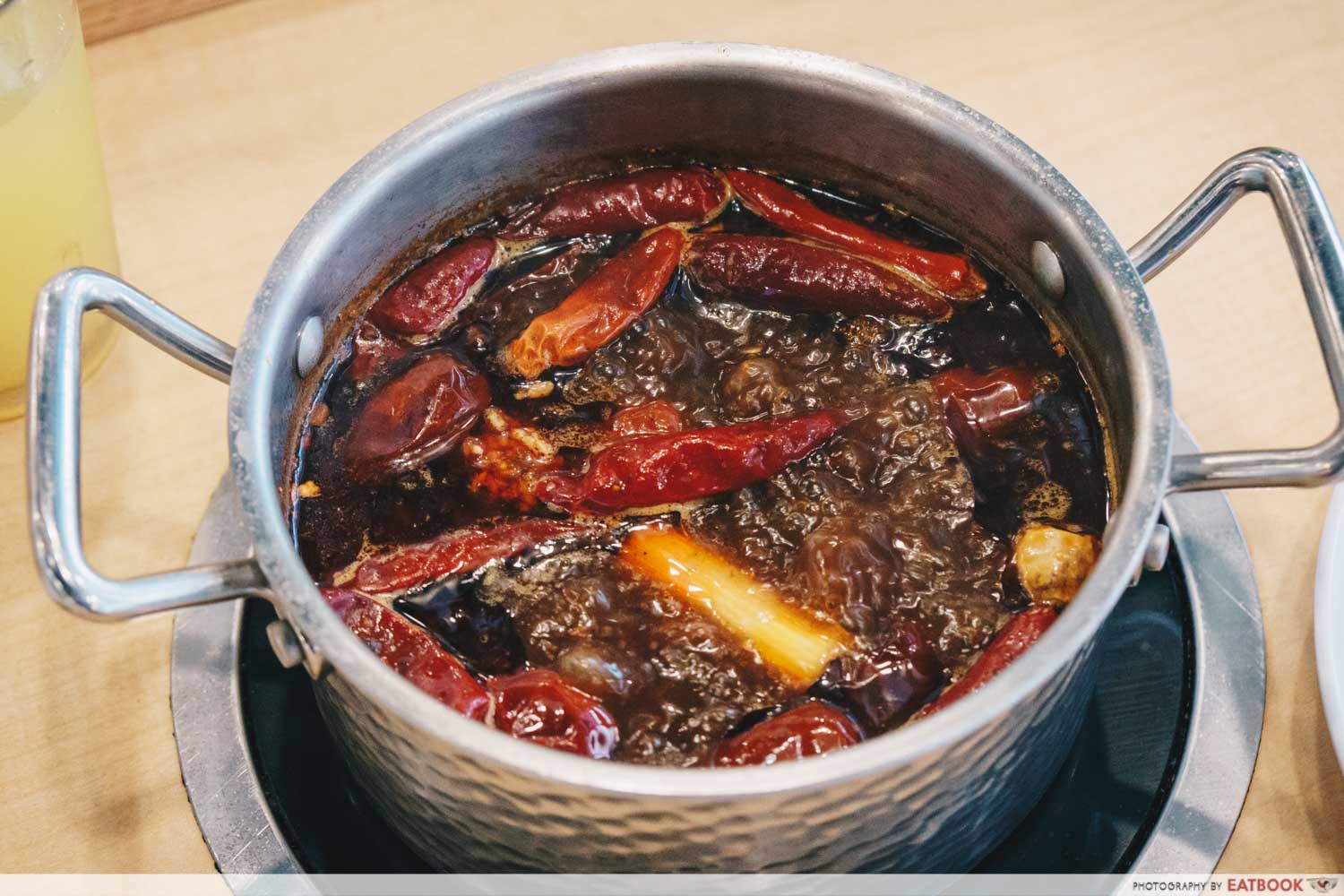 For our personal pots, we tempted fate by going for their sinister ma la soup base, which boasted a devilish deep red hue and ominous layer of chilli oil. We compensated by selecting the nourishing soup base as our second pot, hoping those fortifying properties would balance out its fiery counterpart.
Ma la has developed into a full-fledged craze on our shores. While numbing heat is a key tenet of any ma la-flavoured dish, a fragrant bouquet of spices is equally important. That crucial aspect was missing here, as the spicy soup base smacked us with straightforward spiciness from the get-go, without aromatic depth to back it up. While it was still decent for cooking meat, drinking this fearsome broth straight up won't do any favours for your tastebuds or digestive tract.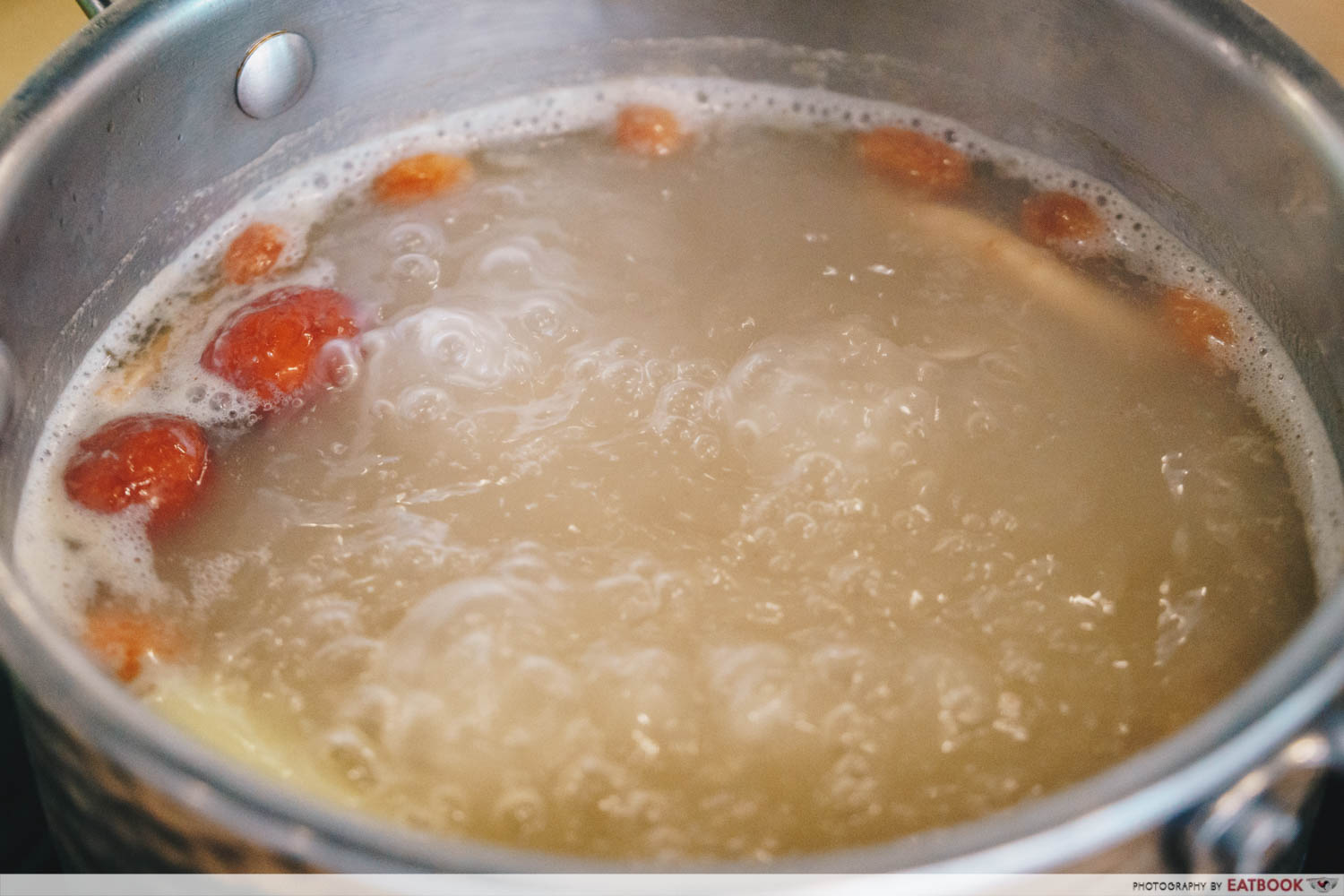 If the ma la broth was a raging storm, its nourishing companion was like a gentle breeze. Goji berries and dates lent mellow kisses of sweetness, warding off any overbearing herbal flavour. We especially enjoyed this broth after it had been imbued with some seafood brininess from cooking shellfish, which complemented it with an injection of umami flavour.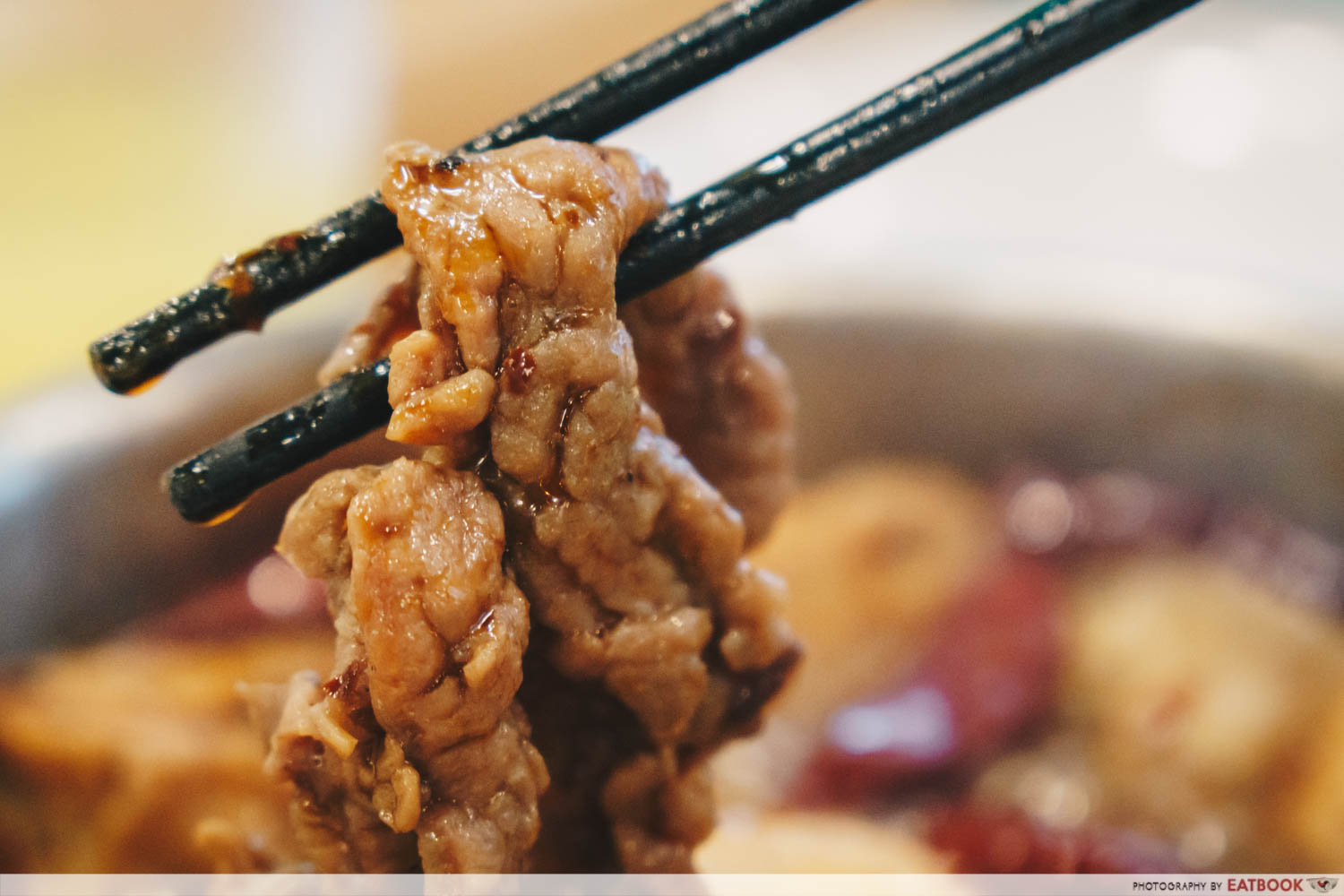 Billows of mist shrouded all the hot pot ingredients, keeping them cool while adding a vague sense of drama. A good range of meats was on show, but out of the eight, the Special Pickled Lamb and oddly-named Shangri-La Beef grabbed our attention.
Despite originating from two different animals, both meats tasted strangely similar. They both had a pleasantly robust meatiness, while possessing springy mouthfeel—a sign that a tenderiser had been used. The only major difference we could detect was that the beef came in large, meaty chunks, while the lamb had been chopped into finer, thinner slices.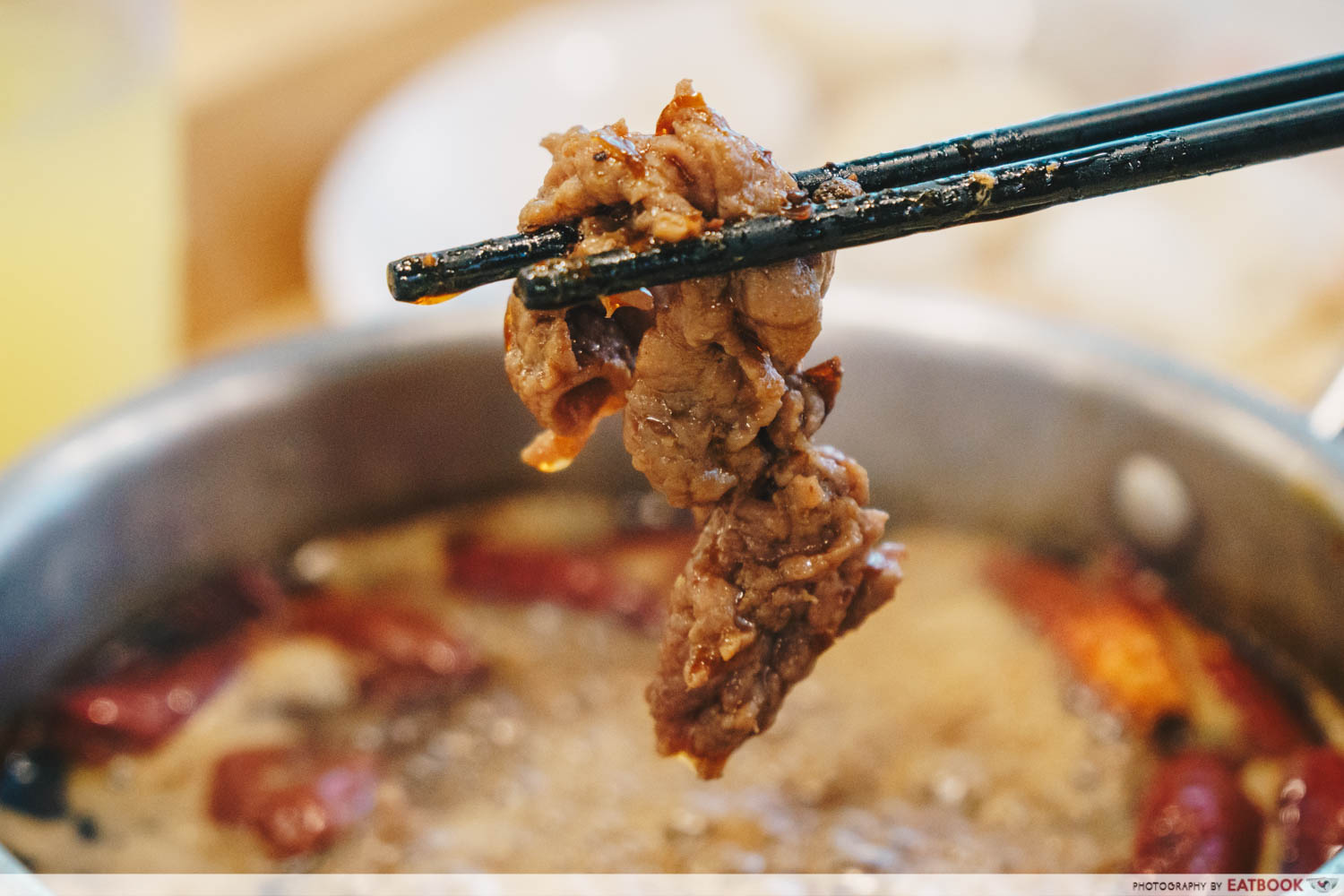 That's all good news for those who aren't fans of gamey meat. However, if we're taking lamb instead of beef or pork, it's because we want a bit of that gamey character, which was likely robbed by whatever was used as the tenderiser.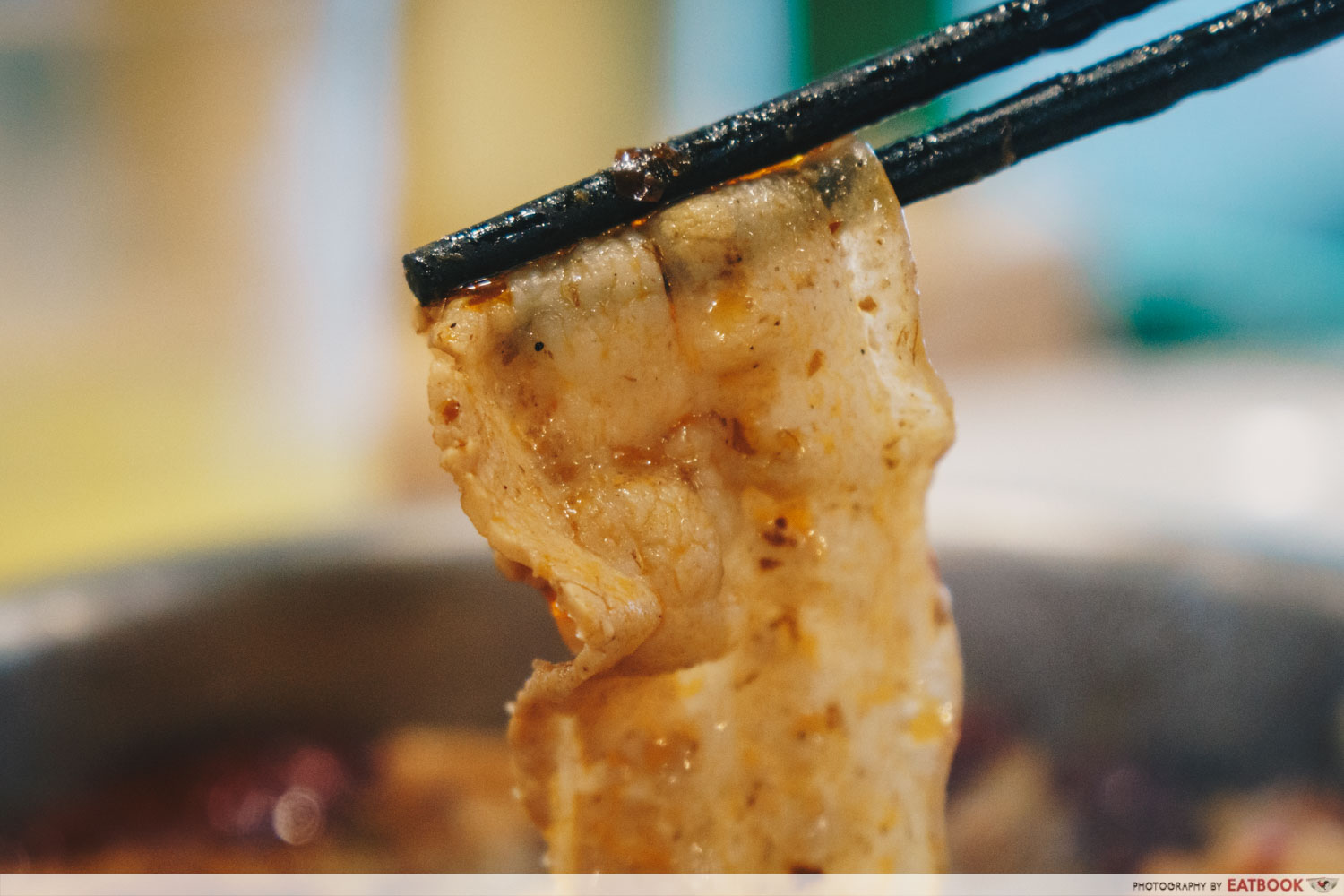 While those meats are still perfectly tasty, we'd rather stick with the tried and true steamboat ingredients—sliced pork belly and sukiyaki-style sliced beef belly. While sliced slightly thinner than we'd have liked, these belly cuts had that familiar balance of meat and fat, which makes them great for hot pots or ma la xiang guo.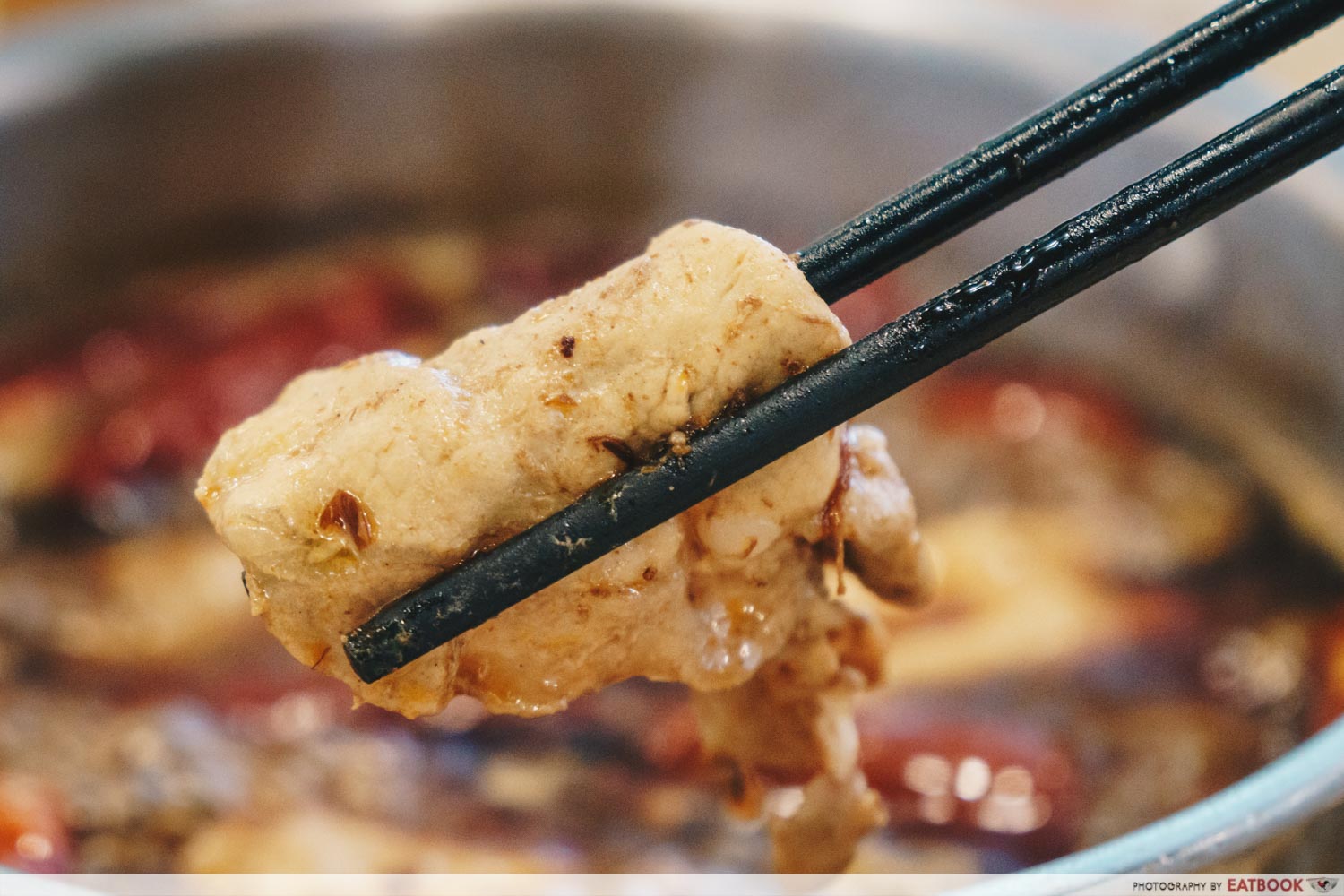 There are options for those looking for a leaner dose of protein too. Sliced Tender Chicken, Sliced Lamb, Sliced Fish and Sliced Pork Shoulder complete the gallery of available meats. This quartet is a safe and reliable choice, but nothing to shout about. Worth paying attention to, though, are the slices of lamb. They're clearly fresh and are furnished with strands of marbling, resulting in pleasingly tender meat.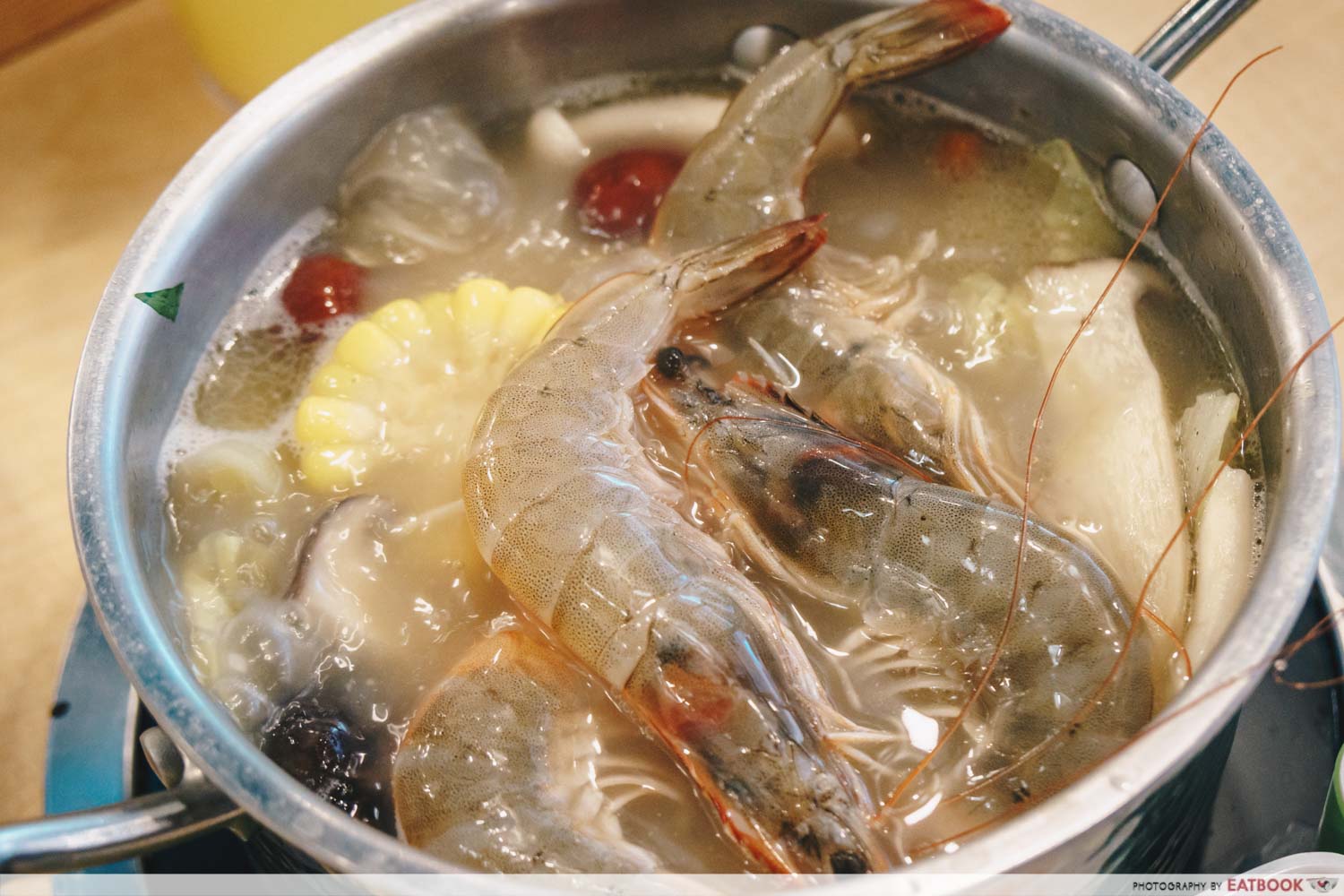 Their selection of seafood was what impressed us the most. While some similarly-priced buffets decline to offer shellfish, this Toa Payoh joint didn't leave us wanting, with numerous trays of squid rings, prawns, clams and mussels up for grabs.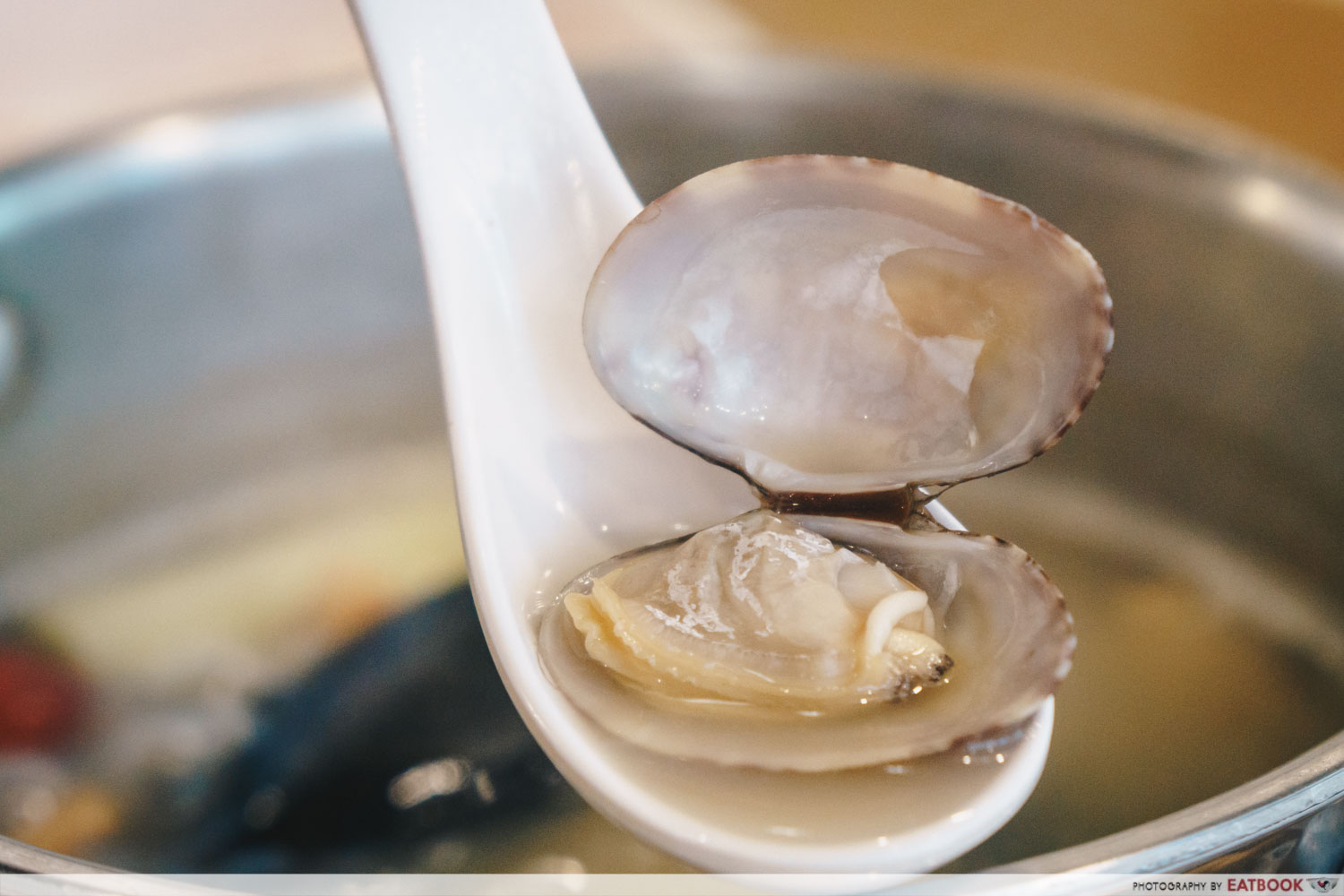 The squid and prawns are solid additions to your stable of hot pot of ingredients; the latter particularly handy for adding some umami depth to your soup base. However, it was the la la that had us going back for seconds. These shells were full of juicy meat, bursting with subtly sweet seafood notes and absorbing accents of flavour from the soup base.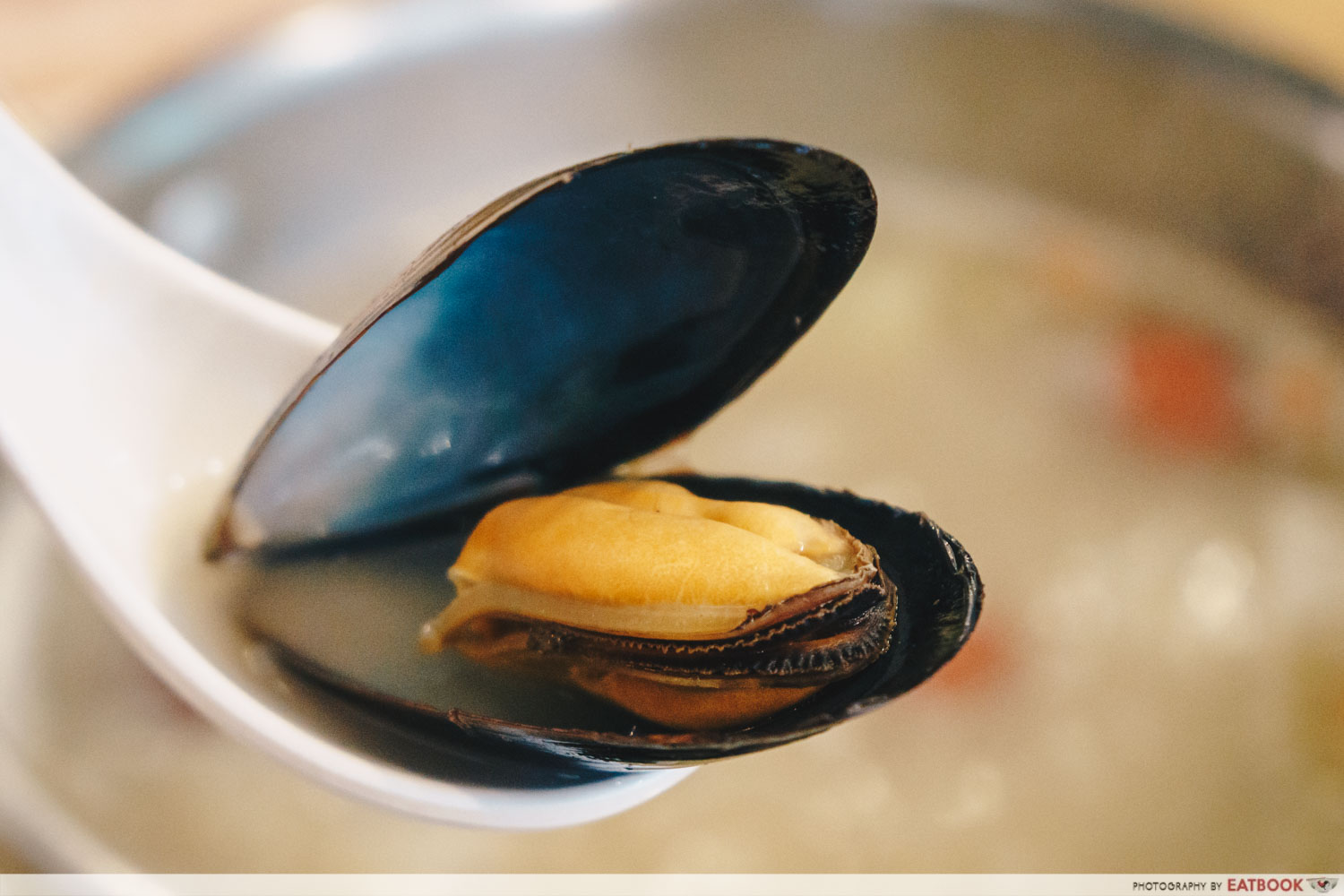 Perhaps equally attractive were the mussels, which were plump and well-cleaned. They wouldn't have looked out of place at an upscale Italian restaurant.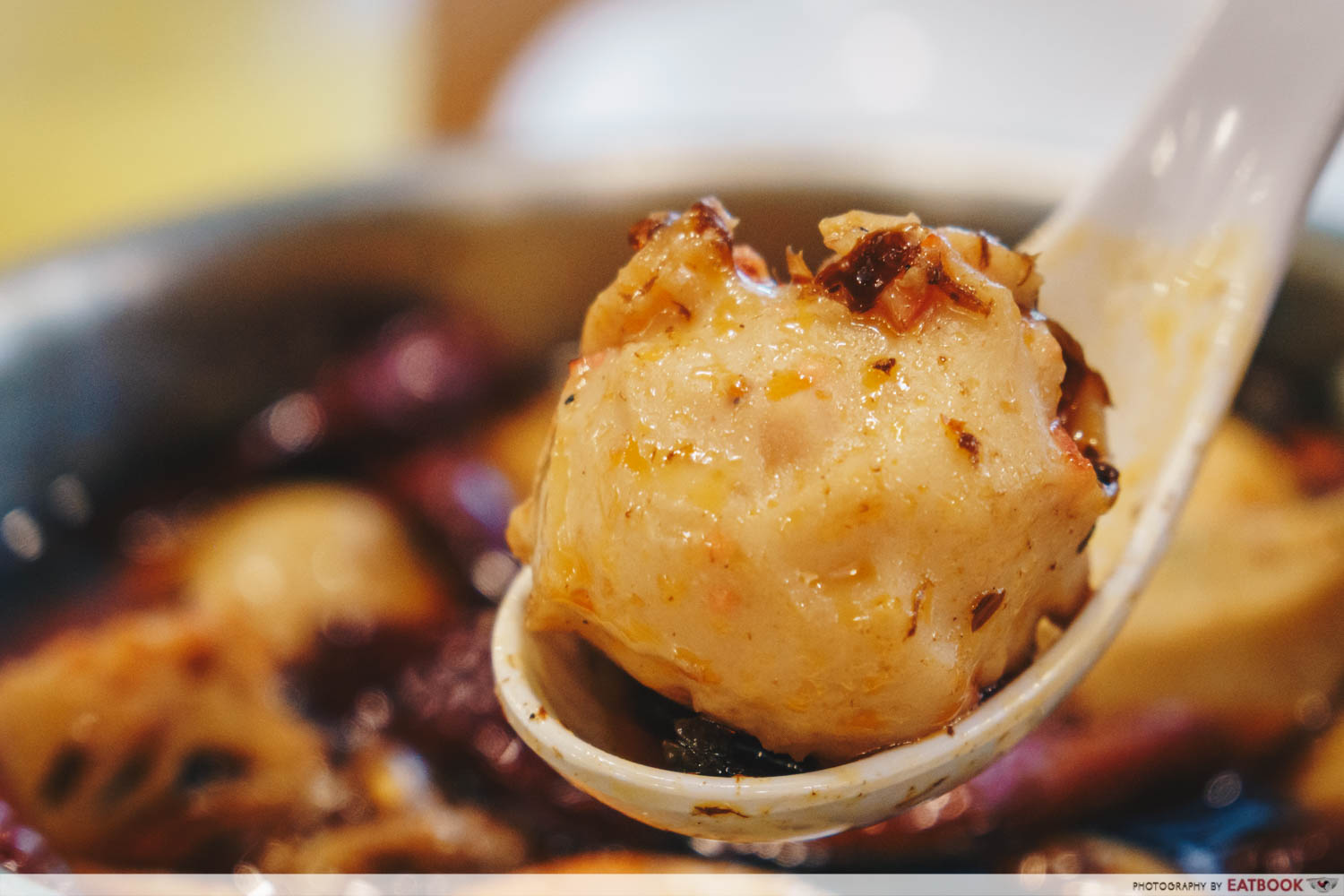 A generous spectrum of frozen meat products was up for grabs too. All the staples were in attendance: meatballs, cheese tofu, luncheon meat and crab stick to name a few. Among them was a handmade meatball studded with orange bits of carrots, which granted welcome sweetness to support the satisfyingly bouncy and tender meatball.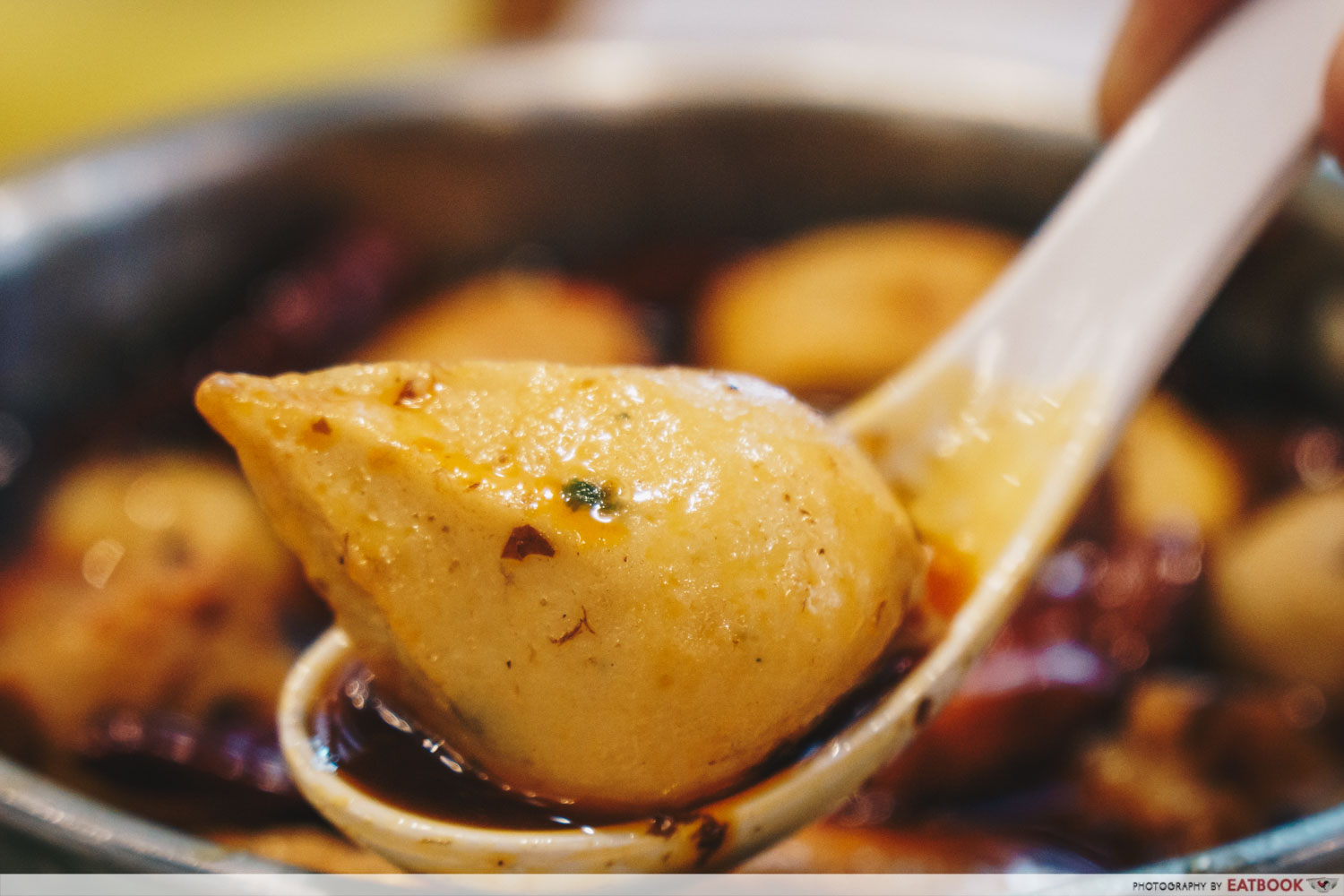 One of my personal favourite steamboat items is fish roe balls. While I don't enjoy the floury, artificial texture of the Hershey's Kiss-shaped outer layer, the golden fish roe lava that lurks within is worth biting through that wrapping. Salty and creamy, it's reminiscent of salted egg yolk in fish roe form.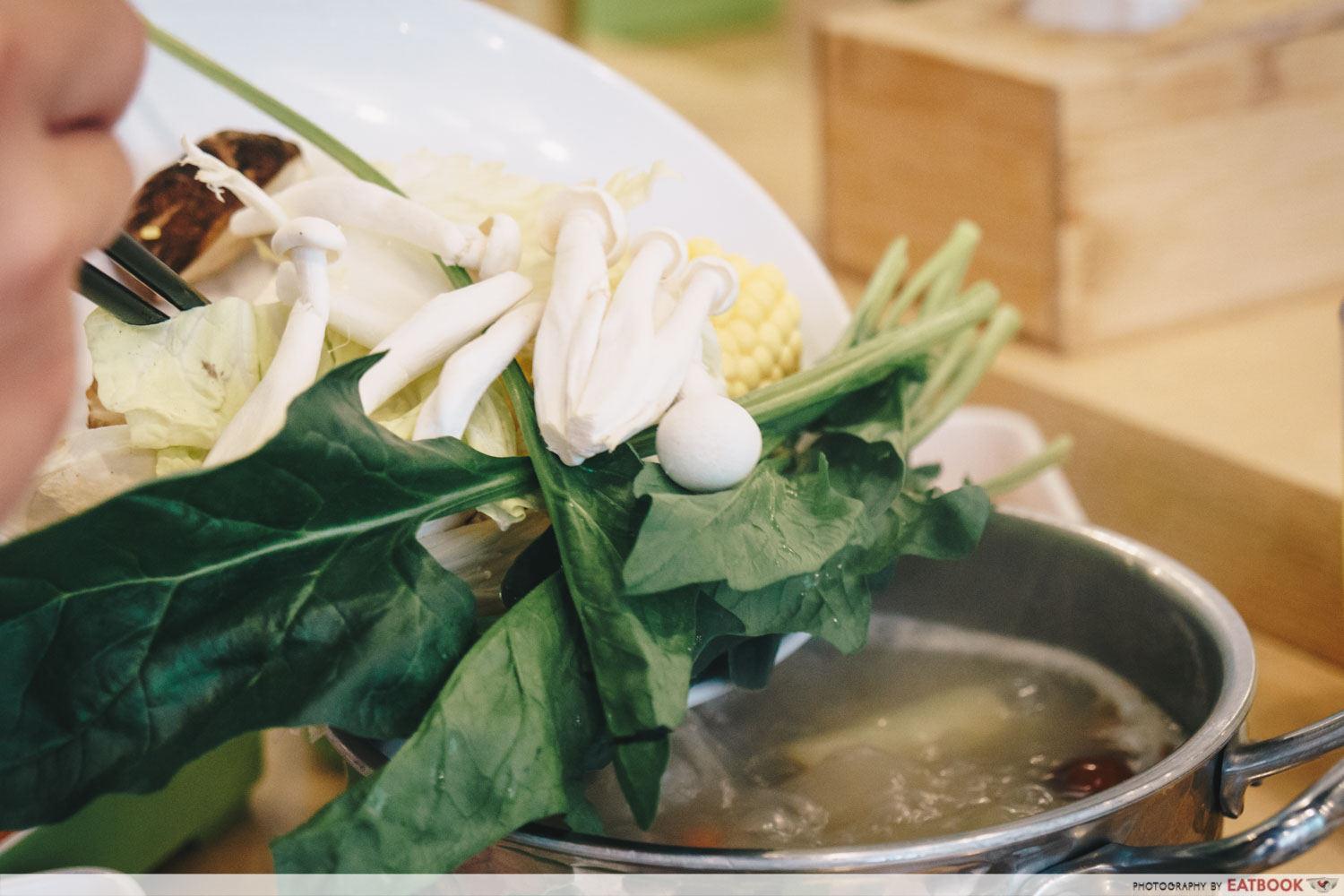 There's certainly no shortage of leafy greens or shrooms either, with two whole chillers of fresh veggies and beancurd items. Most vegetables won't hold up well in the oily and spicy ma la broth, but bamboo shoots are a welcome exception. These hardy slices won't wilt or lose their bite, while their mellow sweetness somehow manages to shine through all that chilli heat.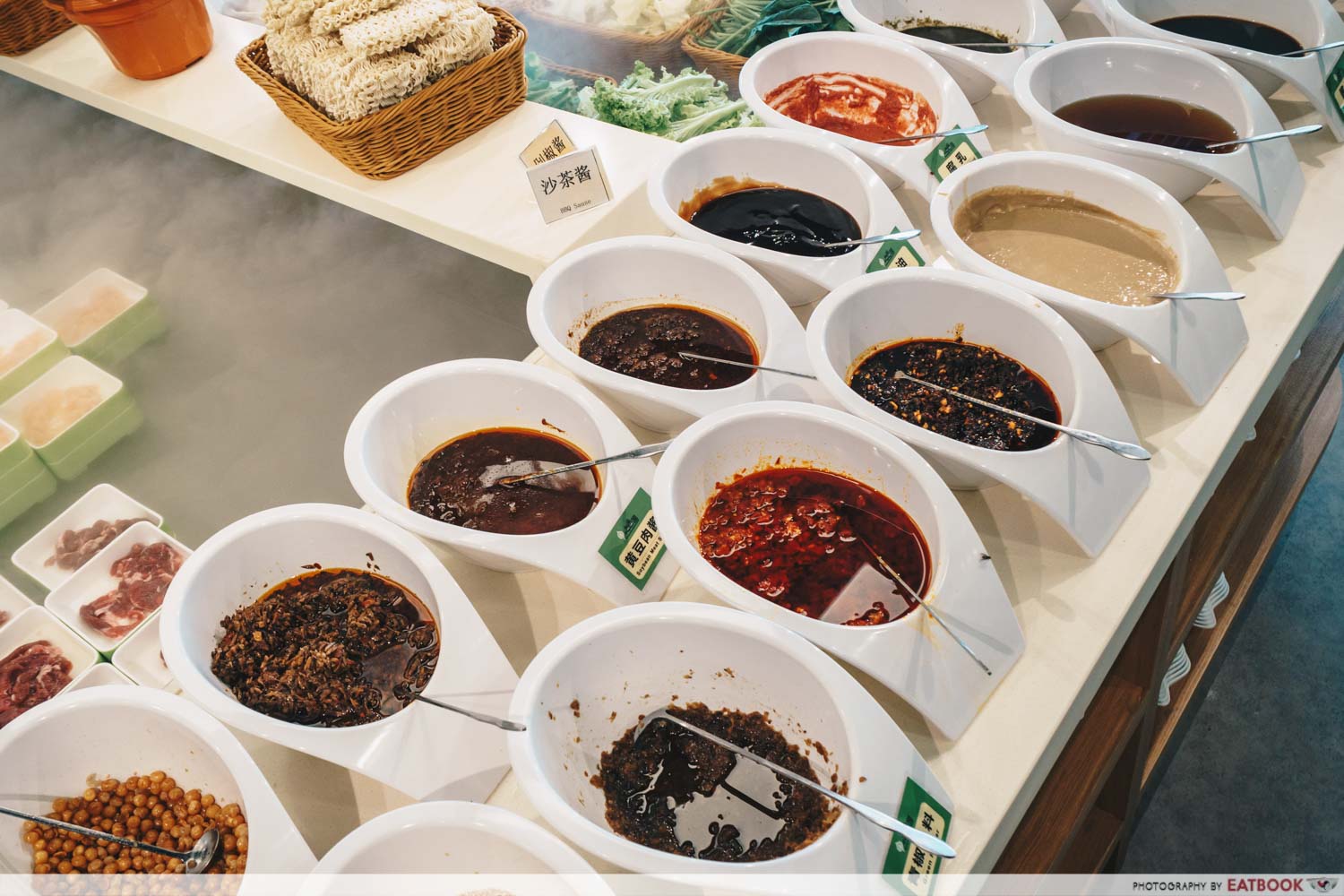 Hot pot is all about options—eating what you want, how you want it. That extends to the sauce table, with an intimidating lineup of sauces for you to mix and match. There's no right answer or surefire formula here, but I'm partial to a classic combination of sesame paste, garlic, fermented beancurd and chilli oil, garnished with some spring onions. This creamy, salty and zingy concoction is great for dunking meat in, while veggies are probably more suited for a gentler soy or oyster sauce-based mix.
There are more outlandish options like Chinese barbecue sauce, popcorn-esque soybean kernels and a myriad of chilli sauces, but we'll leave diners with more adventurous palates to test those blends out.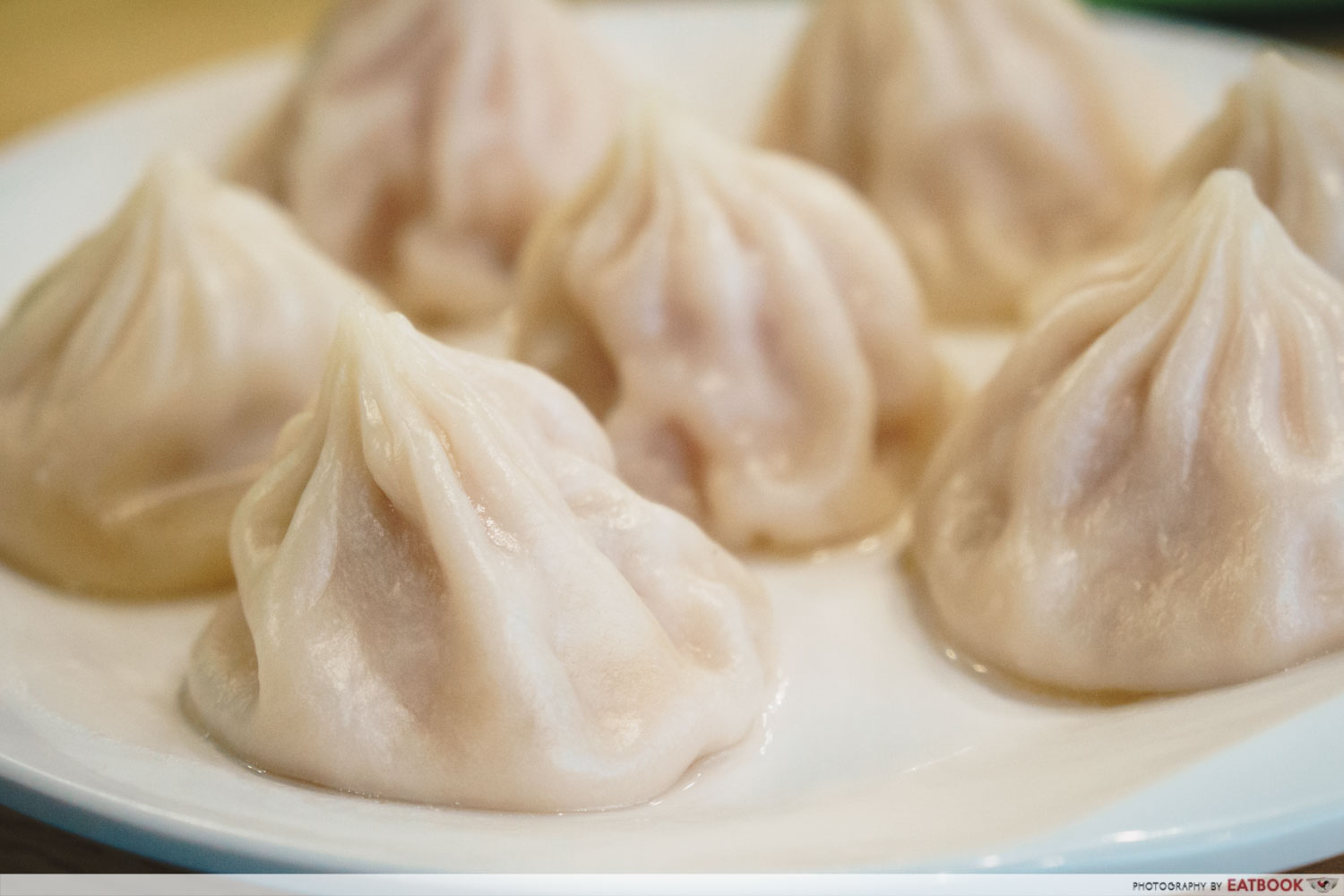 When we arrived at opening time, we were looking forward to chowing down on hot pot and mountains of xiao long bao. Unfortunately, we weren't really able to fulfill the second part of that fantasy. The first batch of xiao long bao was only ready an entire hour after the buffet began, only to be swiftly wiped out by a swarm of expectant customers. For a place that markets the free-flow xiao long bao, not having one of their flagship items for such an extended period of time is unacceptable.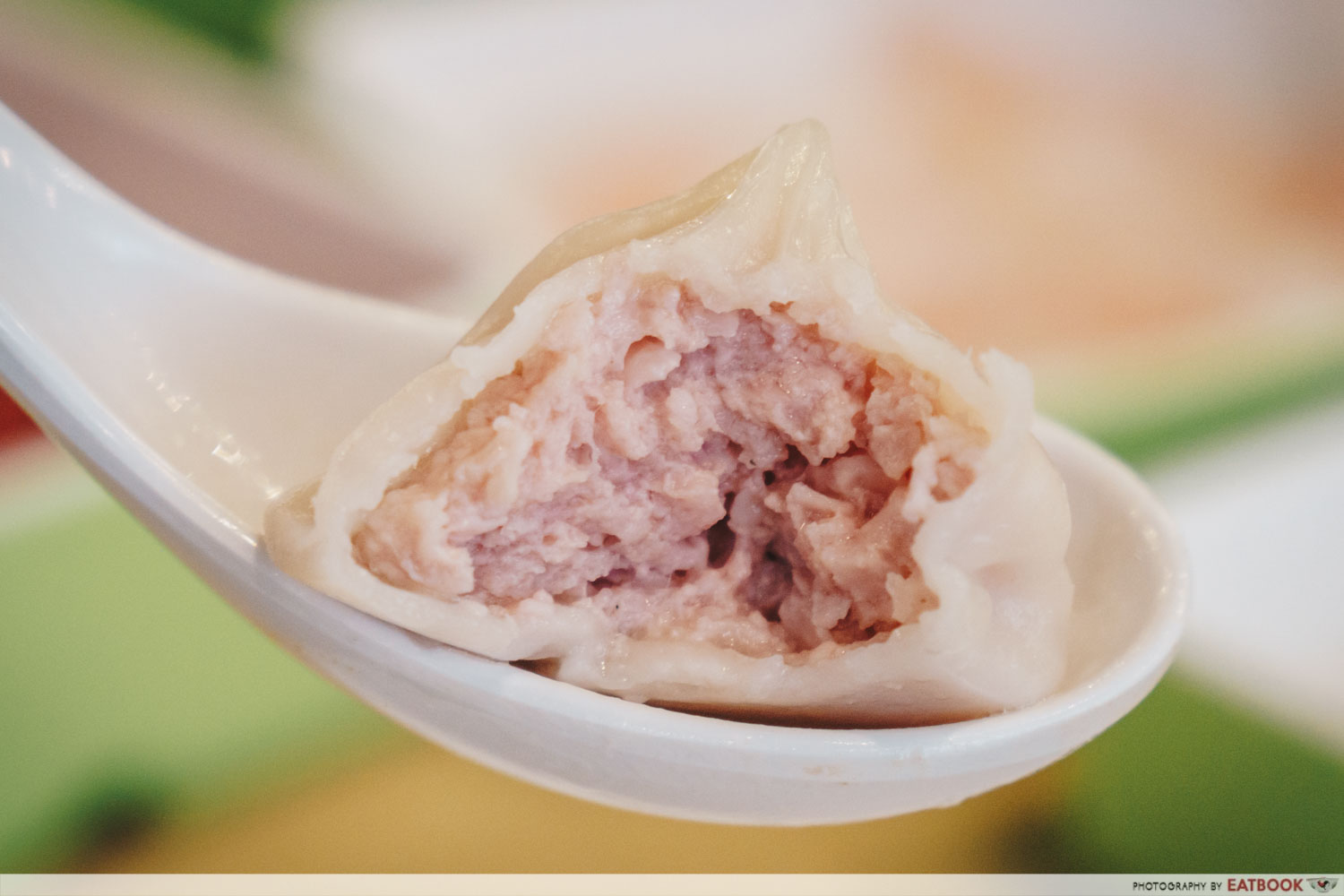 Waiting time aside, the xiao long bao were decent but unexceptional. The skins were nice and thin, sheathing a tender hunk of minced meat. That said, these XLB simply lacked that tantalising explosion of steaming soup when we sunk in. That's likely because the porky dumplings weren't as hot as they should have been, causing the broth within to dry up and making the skin a tad sticky.
Ambience at Xiao Cao Xiang Steamboat Buffet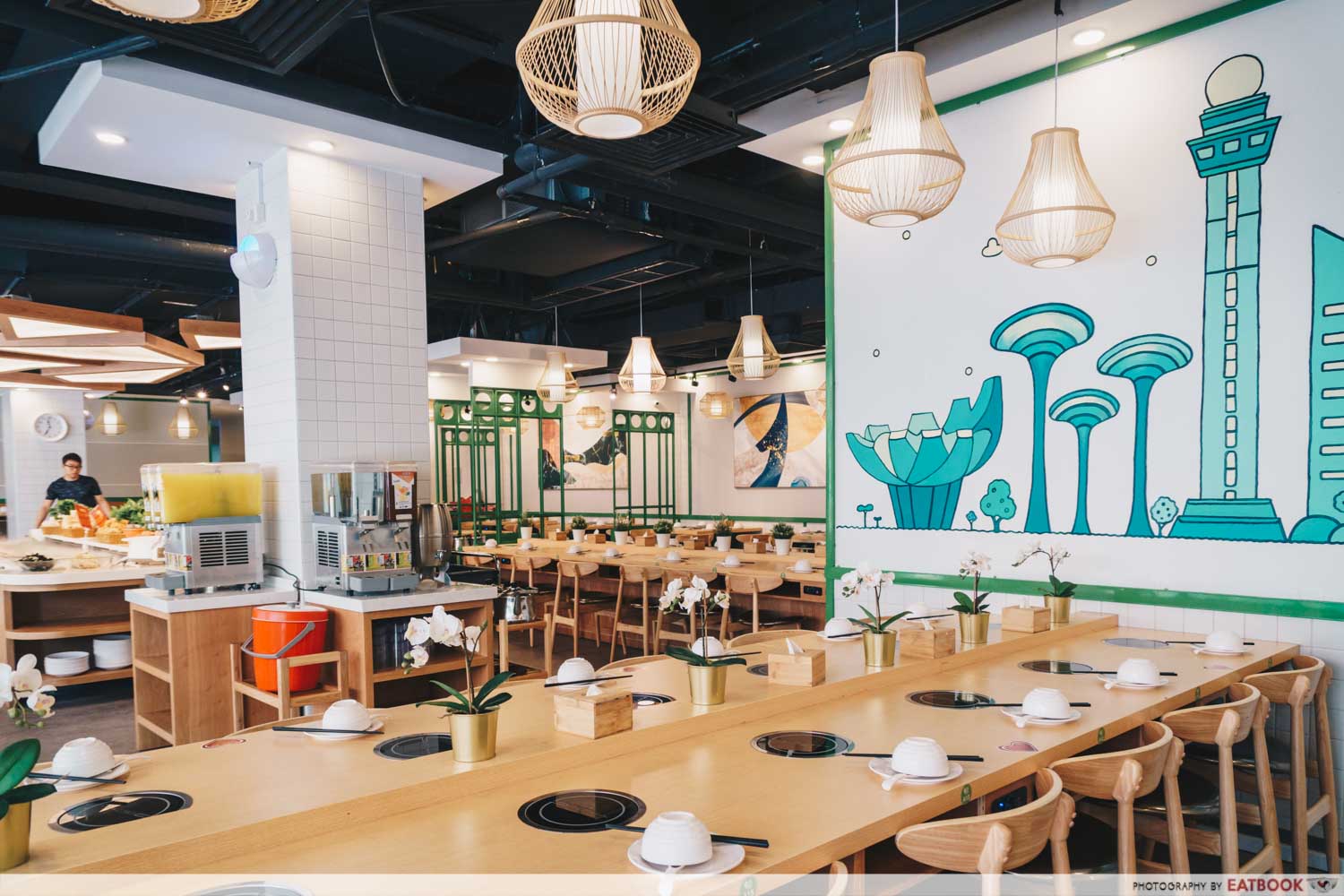 Sandwiched between HDB Hub and COURTS at Toa Payoh, this young restaurant has plenty of seating space. Multiple rows of wooden seats and booths encircle the drinks station and main island of ingredients, so finding a seat shouldn't be too difficult, even during lunch hour.
This isn't a bad spot to wallow in a hot pot-induced coma either, as plenty of natural light streams in, accompanied by bright swatches of wood, white and green. A cute aquamarine decal of notable local landmarks such as MBS and the Singapore Flyer adorns one wall, making you feel right at home in Singapore.
The verdict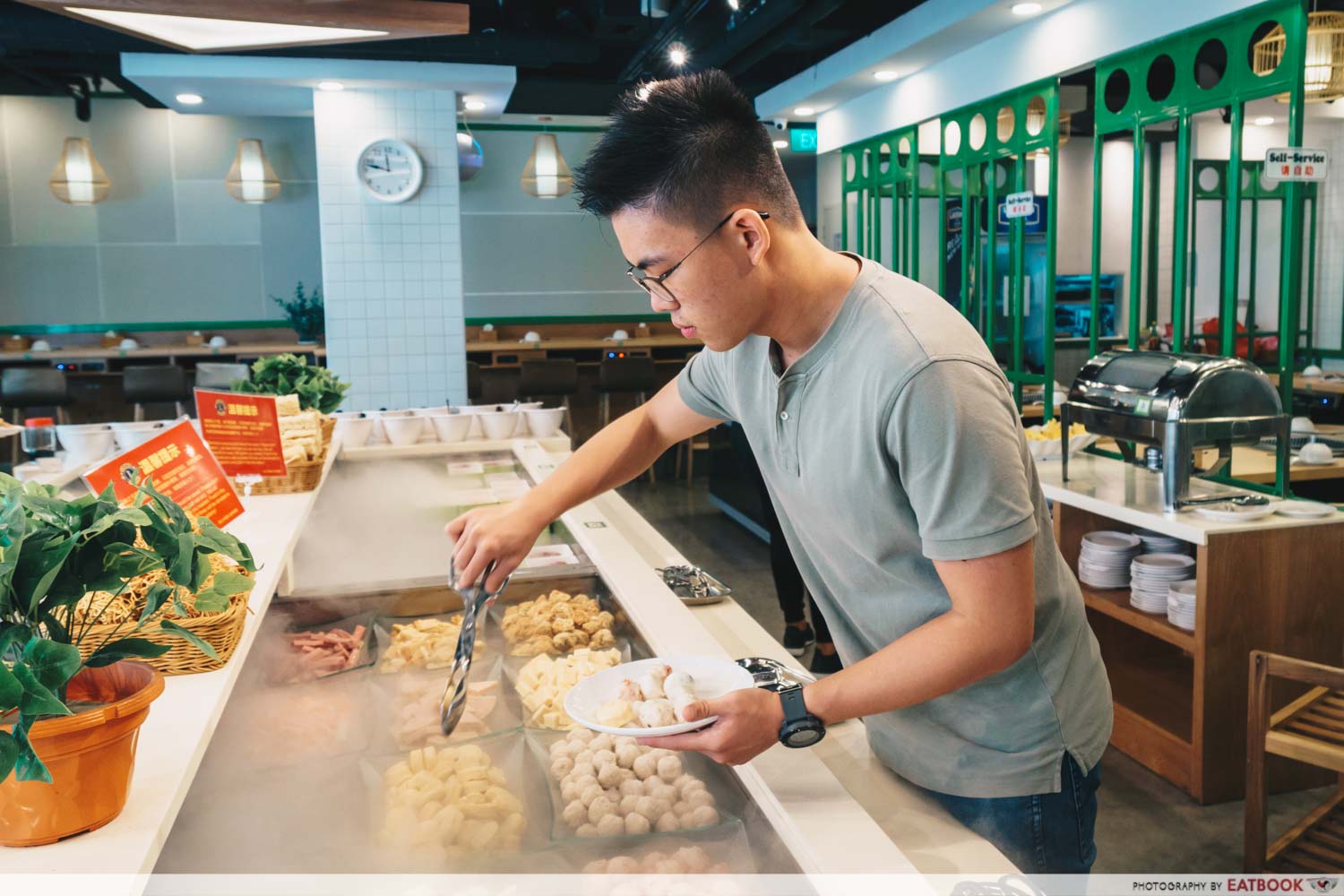 At $16.80+, we can't argue with the wonderful value that Xiao Cao Xiang Steamboat Buffet represents. Their considerable selection of ingredients, particularly fresh seafood, is remarkable, making this a good budget option when you want to grab some hot pot with your pals.
However, their broths could do with a little adjustment, and they need to do a better job in keeping up their xiao long bao side of the bargain. Perhaps give them some time to iron those issues out before heading over.
Take your hot pot game up a notch by checking out our list of Hai Di Lao hacks, or indulge your steamboat fantasies by looking at our reviews of Shan Pin Steamboat and Steamov.
Shan Pin Steamboat Review: $19.80 Hai Di Lao-Style Buffet With DIY Sauce Bar At Toa Payoh
Let us know your favourite spots for steamboat in the comments below!
Address: 470 Lorong 6 Toa Payoh, Singapore 310470
Opening hours: Daily 11:30am to 9pm
Tel: 6273 7488
Website
Photos taken by Maverick Chua.
This is an independent review by Eatbook.
Summary
Pros
– Affordable
– Good quality seafood
Cons
– Ma la broth had no depth
– Xiao long bao were unavailable for first hour
Recommended dishes: Clams, Mussels, Nourishing soup base
Opening hours: Daily 11:30am to 9pm
Address: 470 Lorong 6 Toa Payoh, Singapore 310470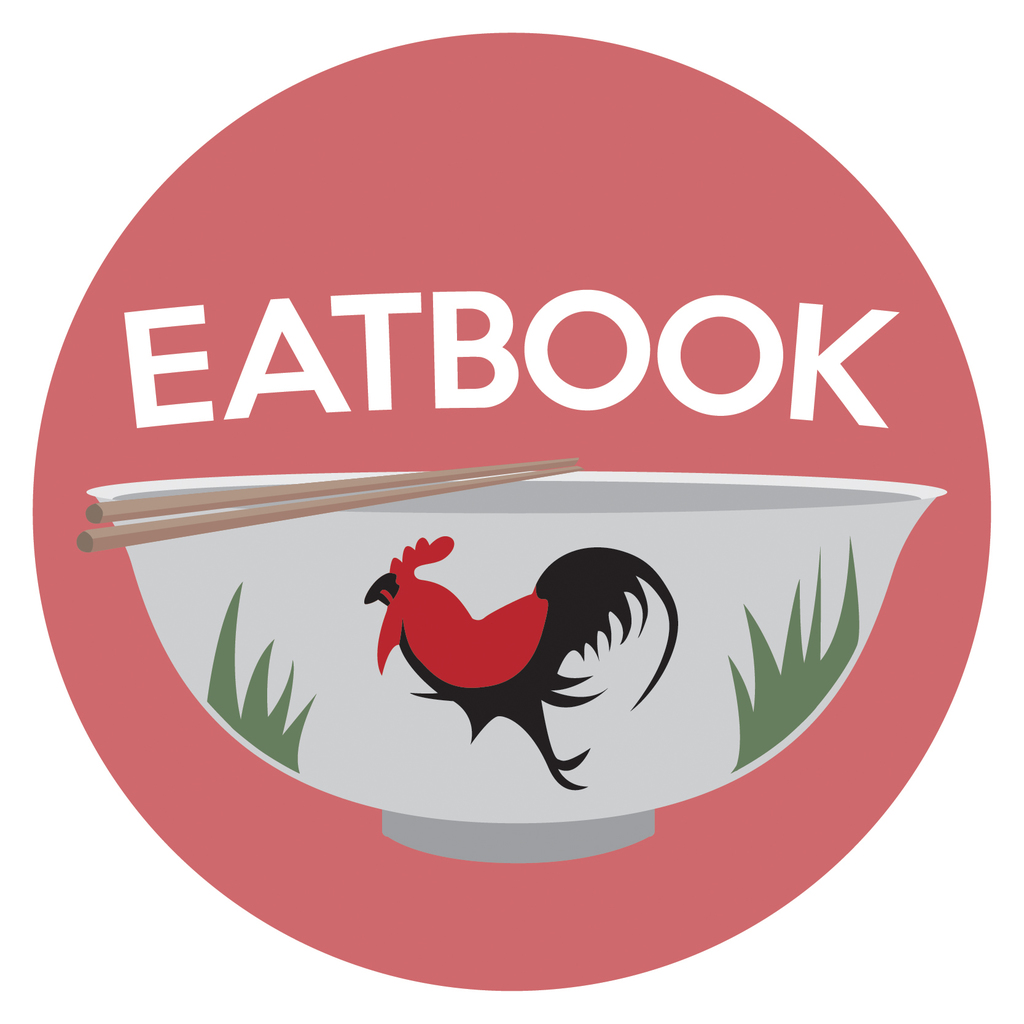 Drop us your email so you won't miss the latest news.