Tasty baked chicken wings at E1 Wingz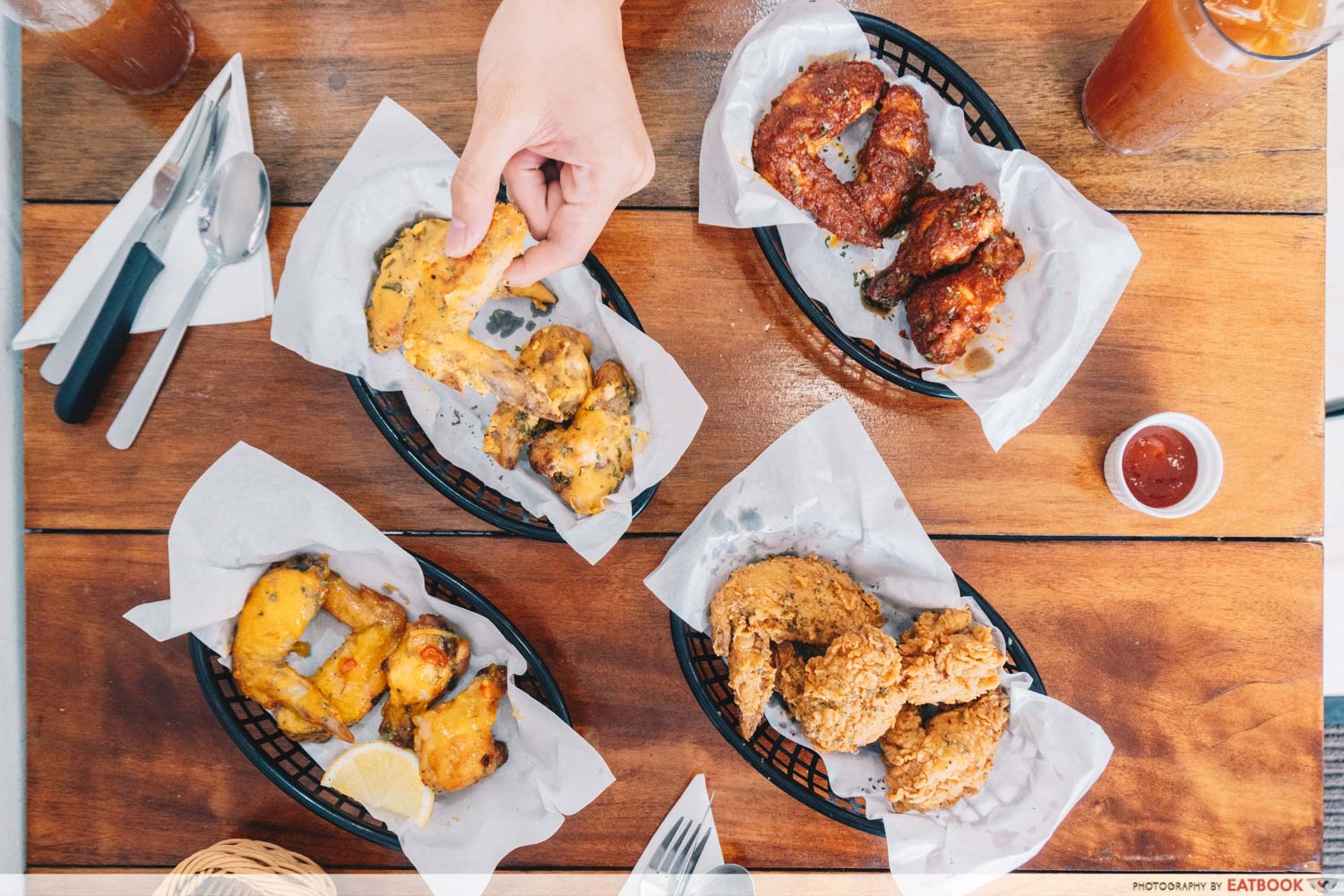 There's something almost symbolic about chicken wings. Plop them down on any table and all social conventions are a thing of the past, as everyone gets down and dirty with their hands to obtain tasty chunks of meat.
Chicken wings are mostly fried, and though popular, they're also very unhealthy. Unlike most joints, E1 Wingz aims to provide a healthier alternative to fried chicken. The restaurant serves baked chicken wings that come in many unique flavours, and no oil is used in the baking process.
Food at E1 Wingz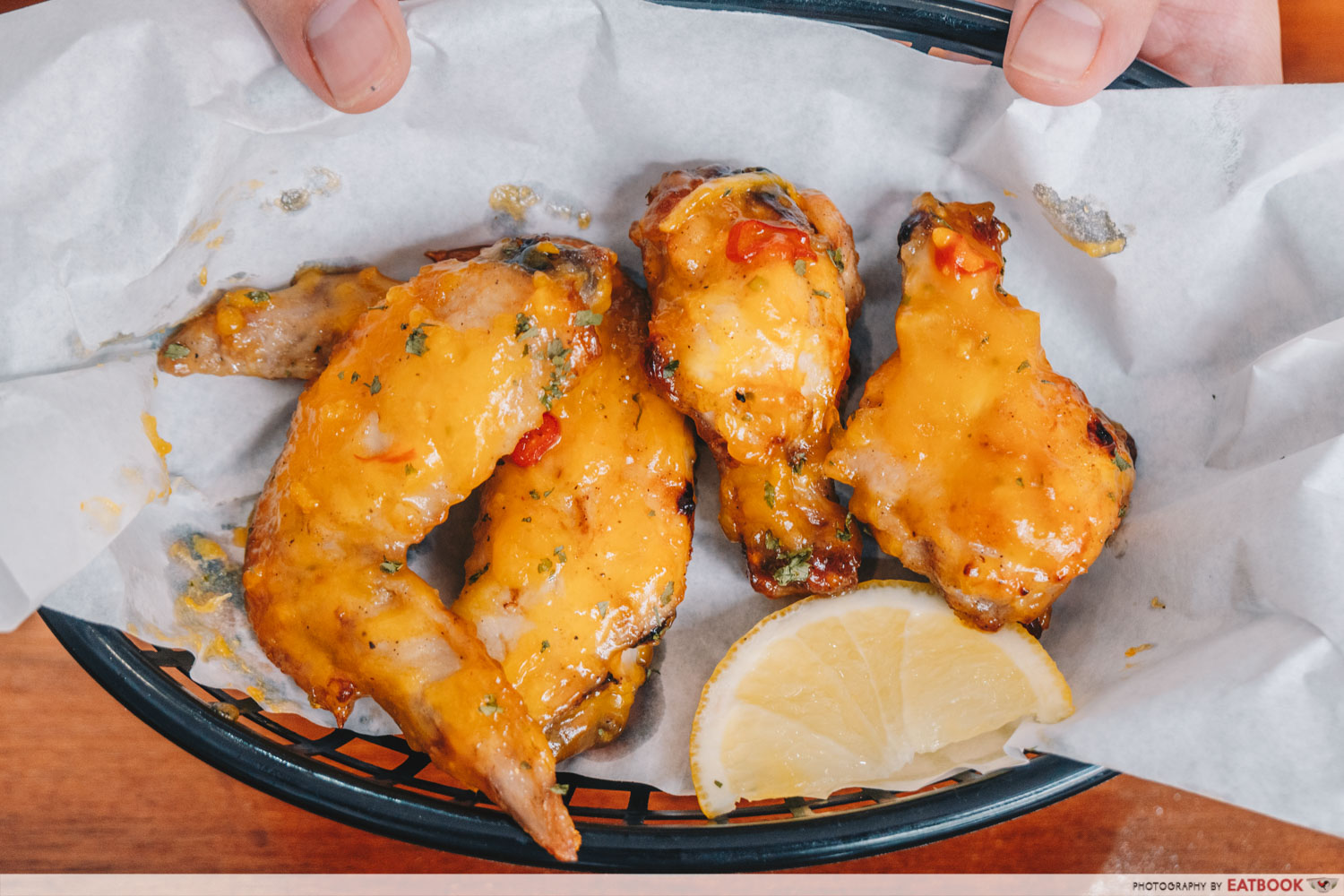 All of the 12 baked chicken flavours are of the same price, so we got their speciality Zesty Orange ($6.90 for four pieces) to start.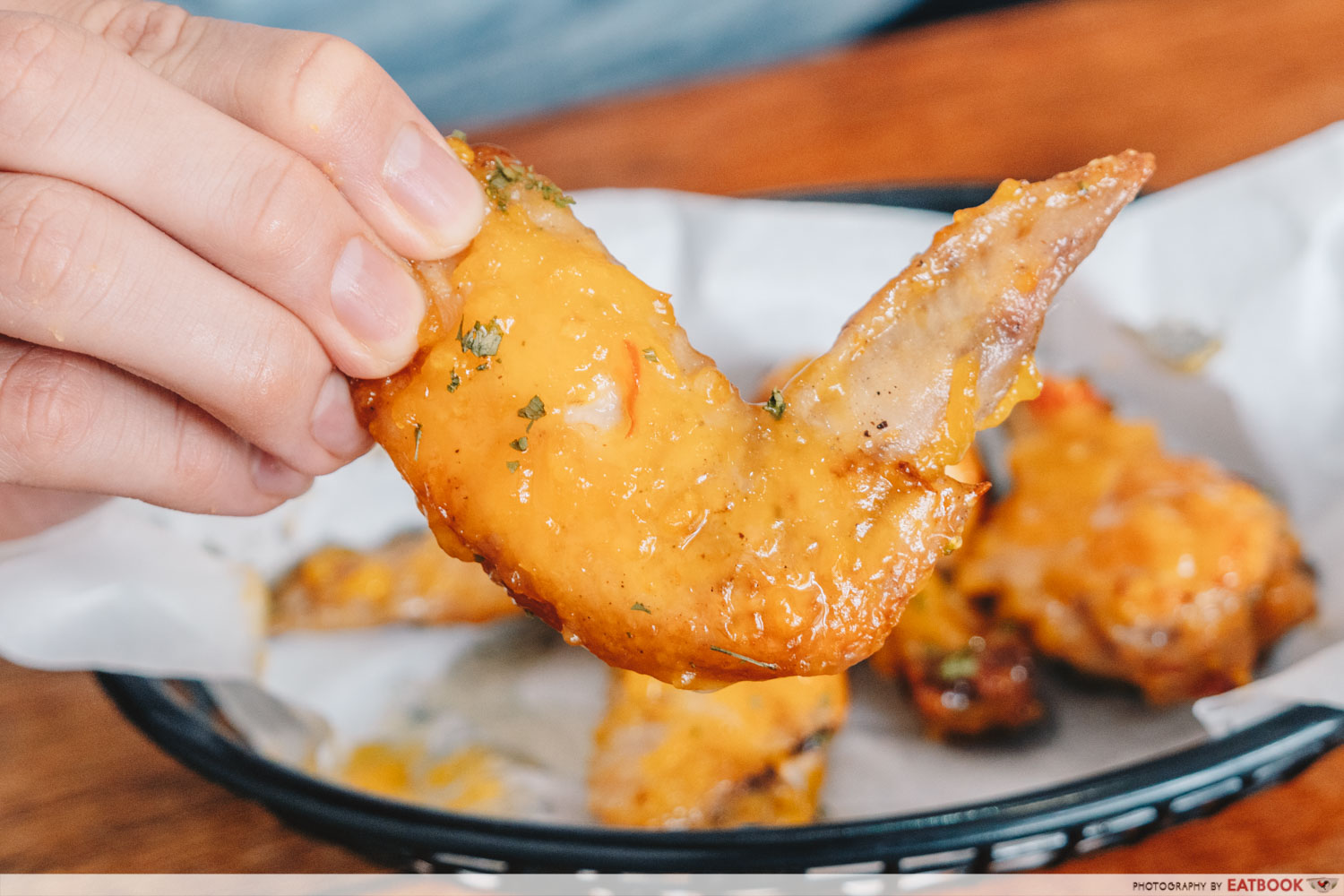 Each chicken wing and drumstick was slathered with generous amounts of orange marmalade. They are then oven-baked to allow that citrusy goodness to gradually seep into the meat to produce a deeper flavour. I've never heard of marmalade being paired with chicken, so I was excited to try E1 Wingz's rendition.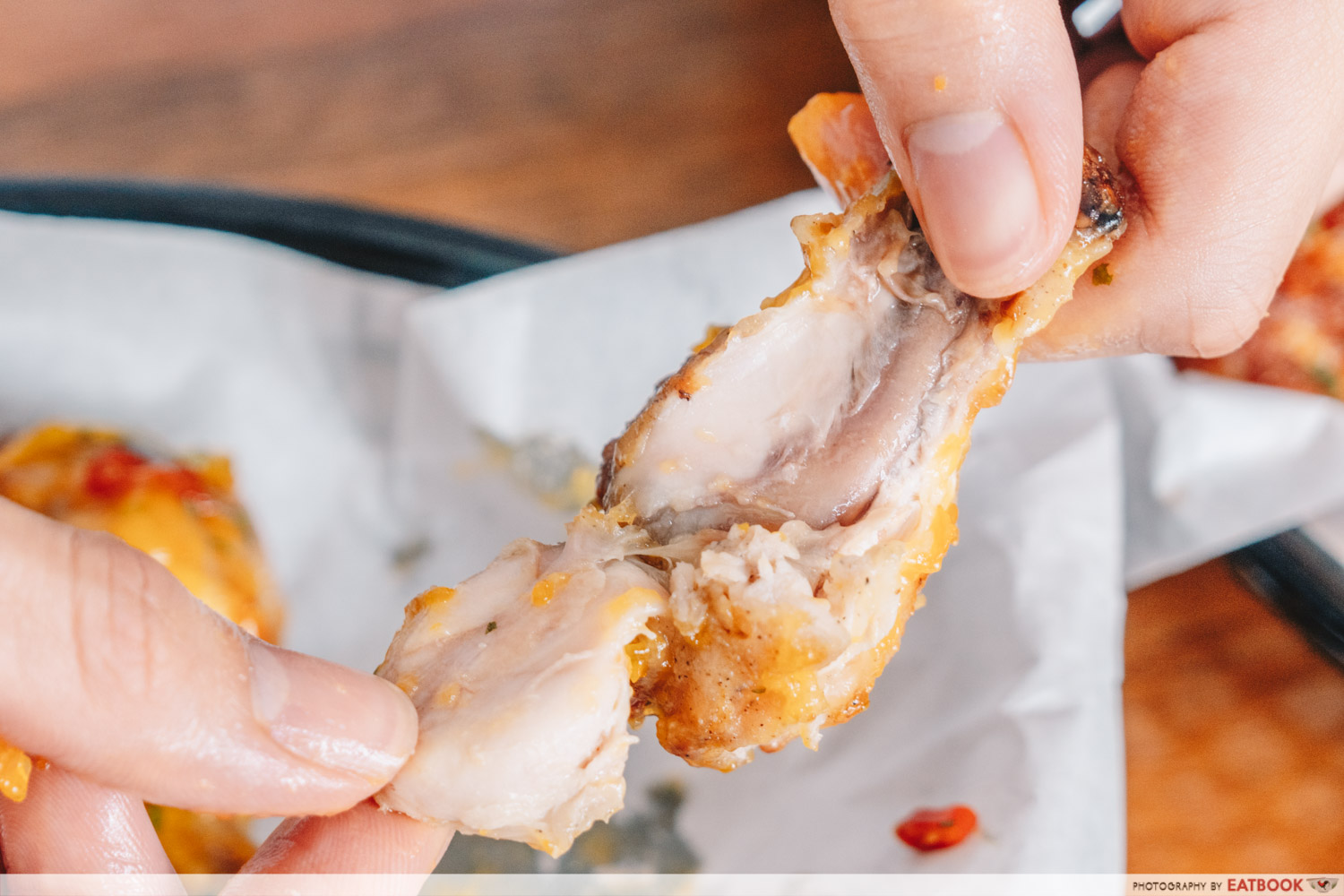 The chicken meat was succulent, and it came off the bone easily after a few gentle tugs. The richness of the chicken and the refreshing sweetness of the orange jam made for a comforting mouthful.
The dash of lemon juice from the lemon squeeze provided a welcome zestiness, and it further deepened the flavour profile of this dish.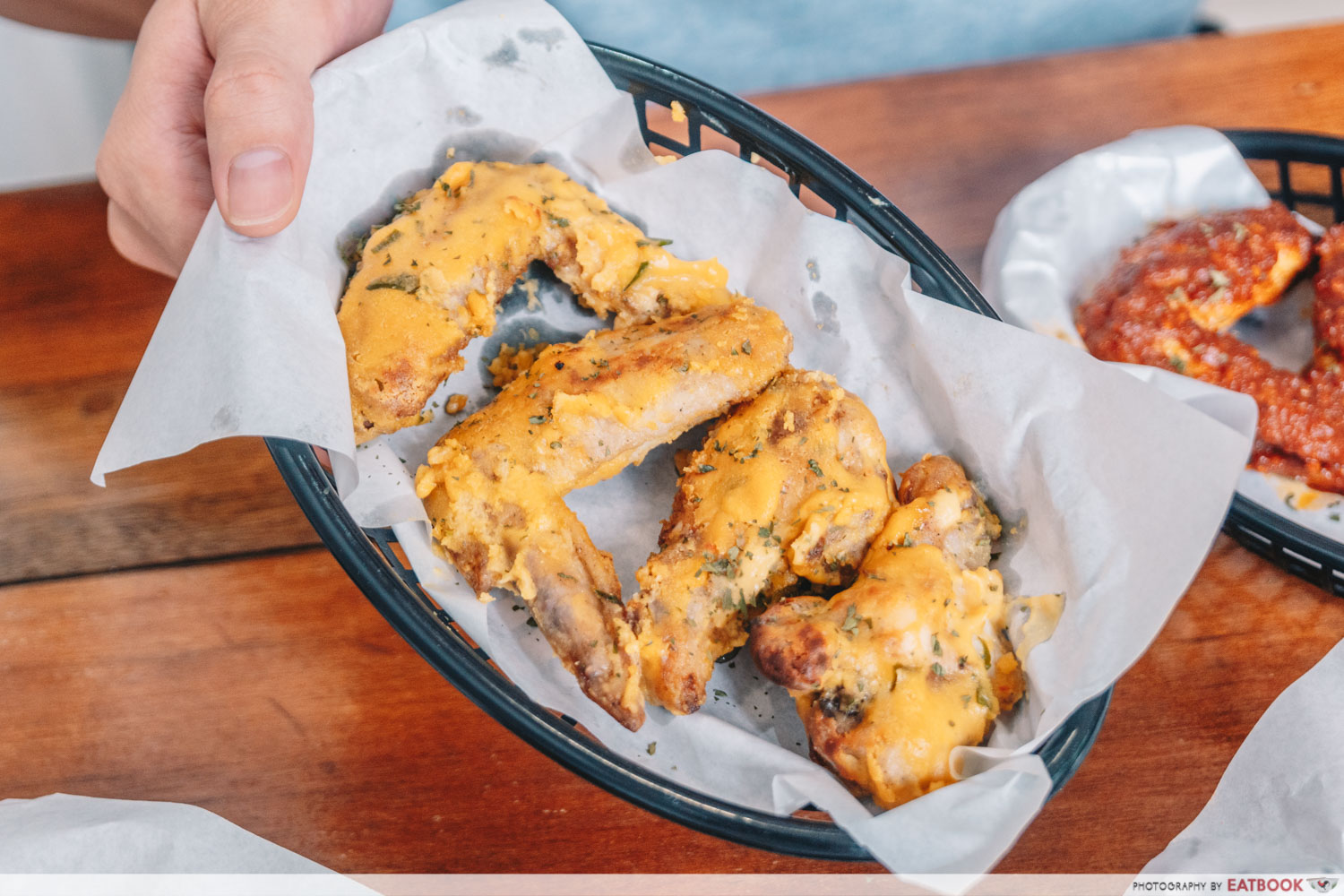 Anything related to salted egg seems to be popular, so we opted for the Salted Egg ($6.90 for four pieces). Its presentation was no-frills, as each piece was coated by a messy layer of golden salted egg yolk sauce.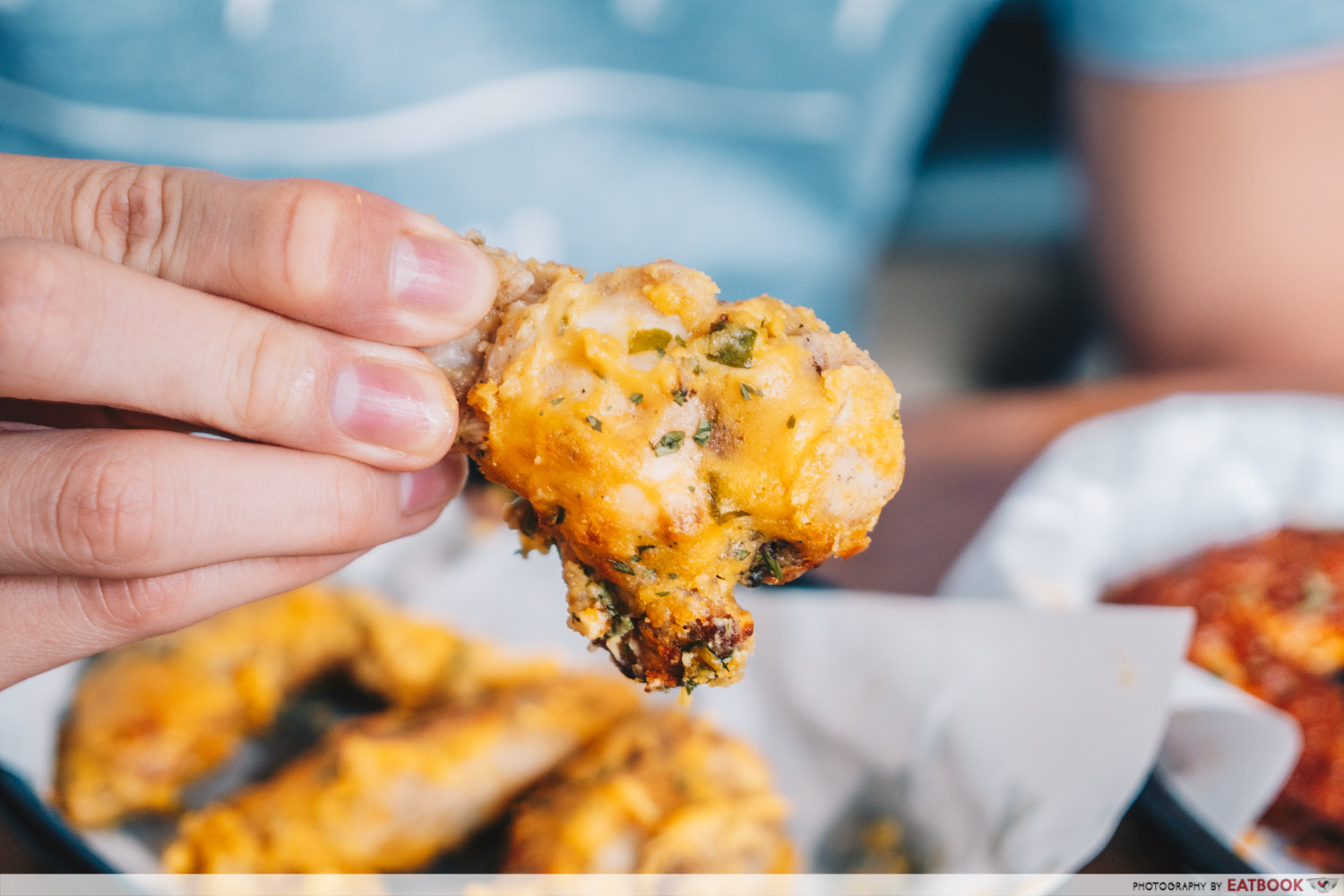 Sadly, instead of the creamy salted egg yolk sauce that we were promised on the menu, the salted egg yolk bits were dry. The wings lacked the salted egg yolk sauce's classic fragrant aroma, and I would've preferred more salted egg yolk bits as the taste of the sauce was rather mellow.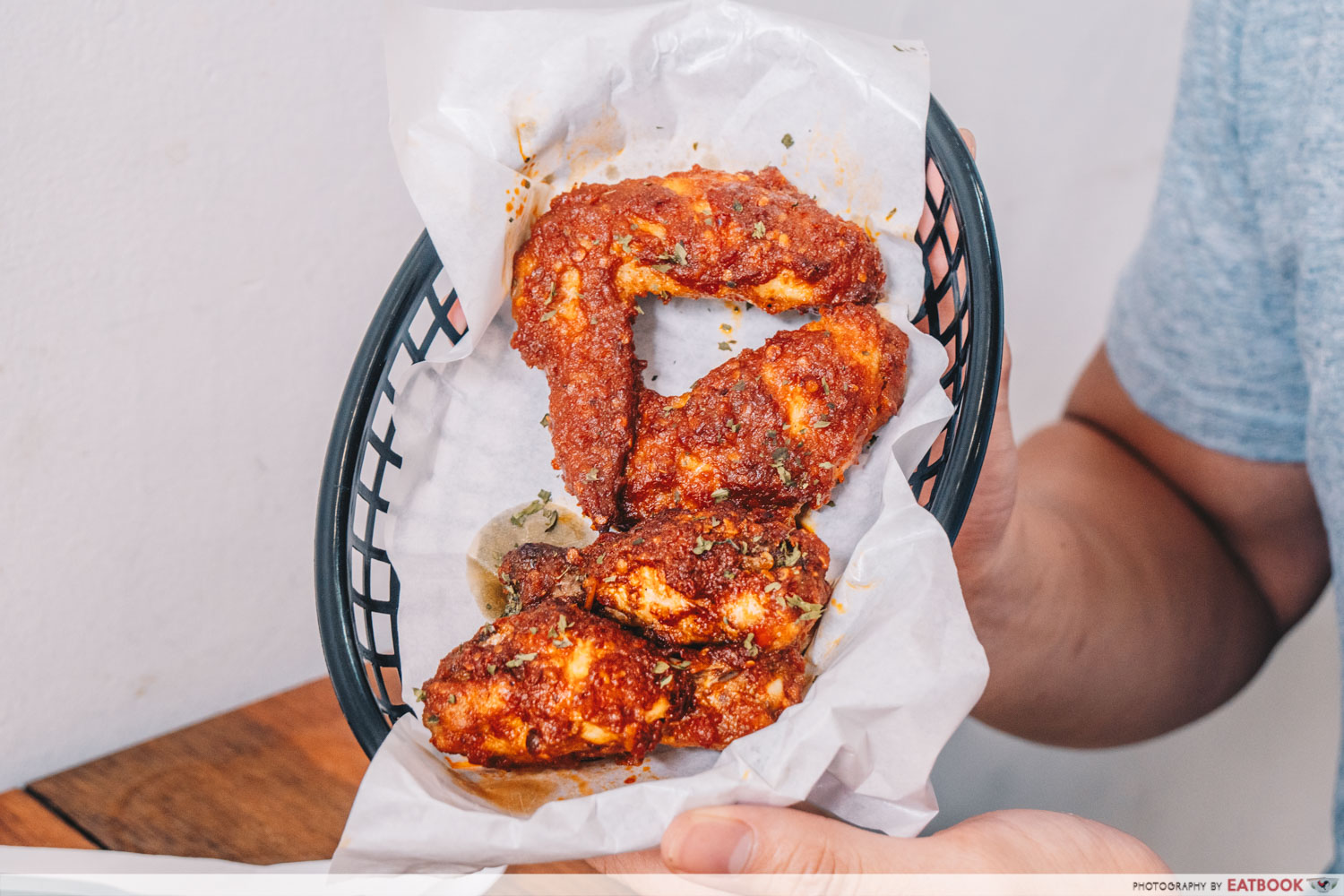 Catering to Singaporeans' love for spicy food, E1 Wingz's E1 Fiery ($6.90 for four pieces) is playfully feisty. Many diners have come down specially to tackle these hot wings, and it's the favourite of many, solely for its immense spiciness.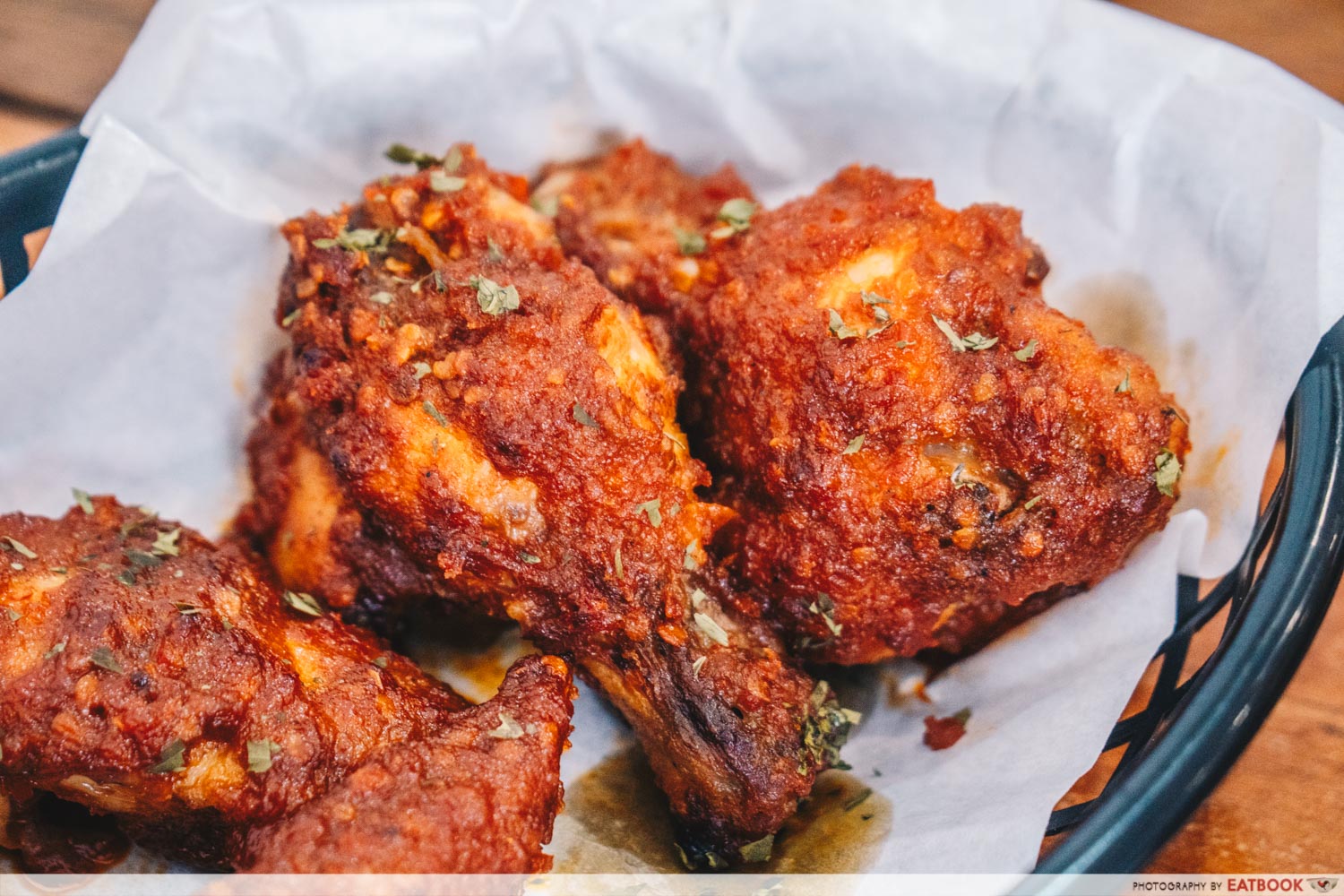 Not one with a high tolerance for spicy food, I stared in trepidation at the devilishly red chicken. I could detect the pungent smell of chilli padi in the air as I reluctantly reached for a bite.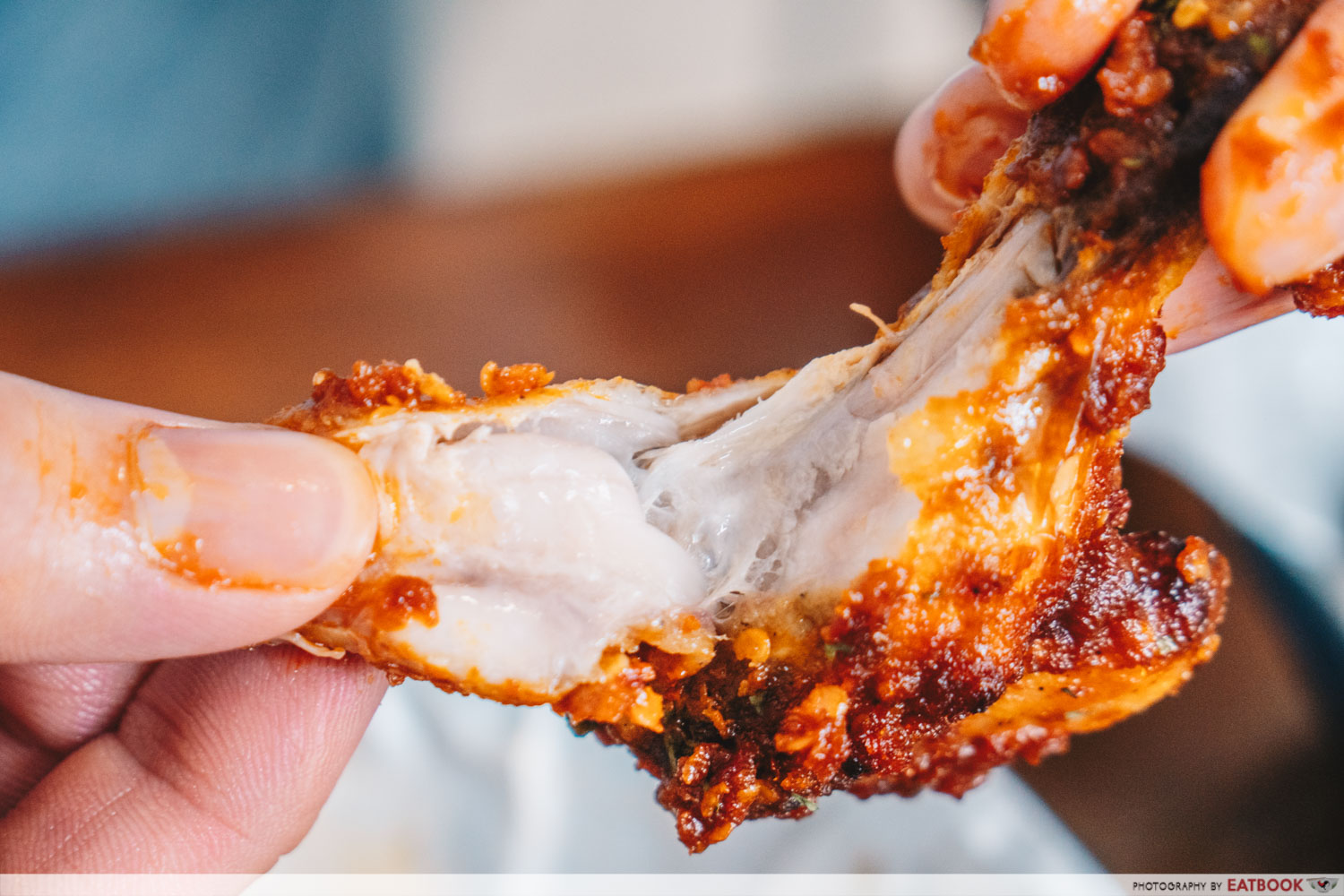 As expected, each bite of the E1 Fiery chicken was akin to setting my mouth ablaze. The spicy kick was not only intense, but it was also persistent, as the tingling sensation lasted for 10 whole minutes after my last bite. 
Aside from its painful, tongue-numbing kick, the meat was smooth and tender, and it wasn't as dry as the salted egg yolk wings. Each morsel of meat packed a huge punch, and spicy food lovers will surely relish it.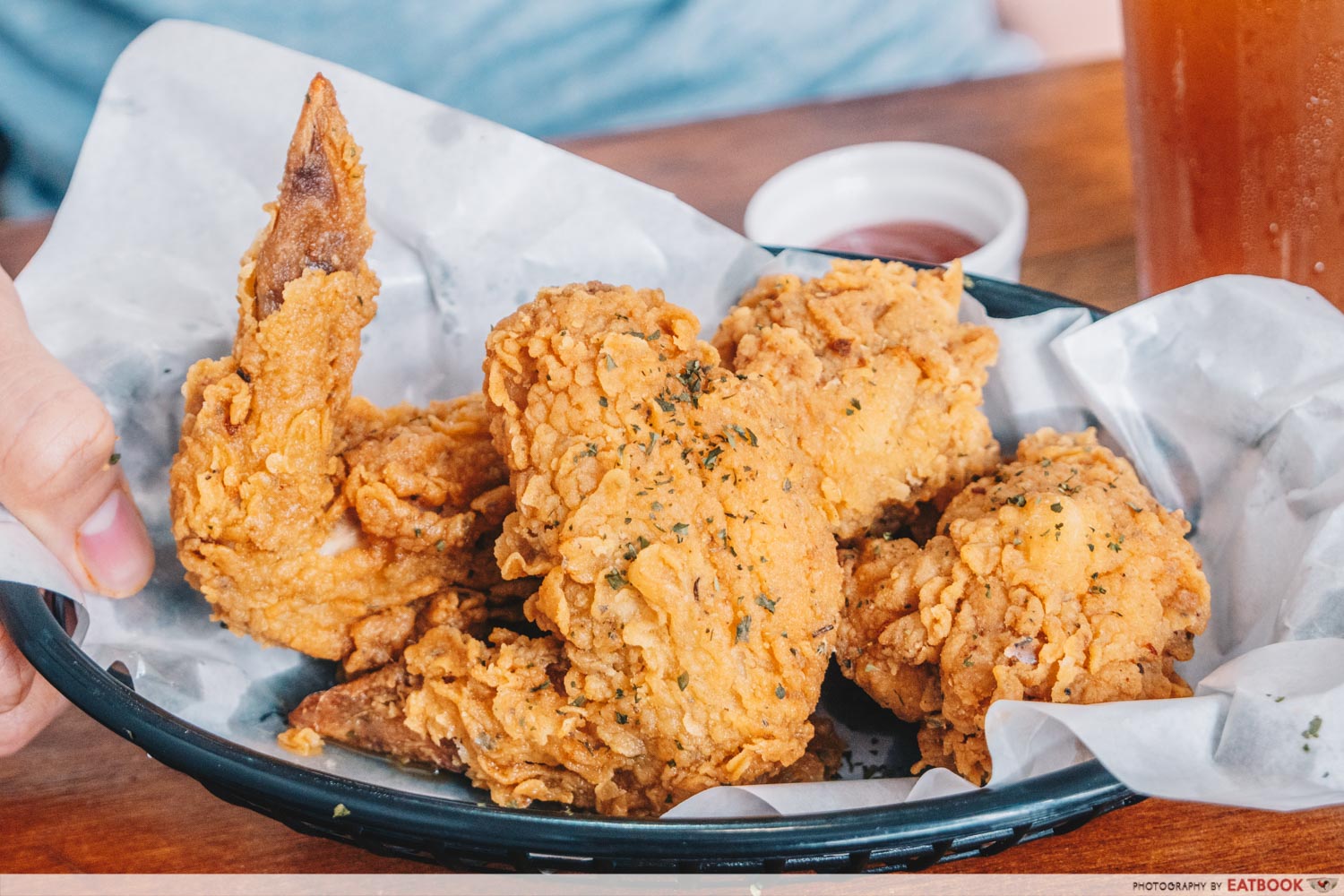 Even though the restaurant stands firm on their mantra of serving healthier baked wings rather than fried ones, many of their loyal customers have requested to get a taste of their fried chicken. Since February 2020, E1 Wingz has been selling Crispy Chicken ($1.90 per piece). I was initially skeptical of their decision to deviate from their words, but soon found out that these fried morsels were the deserving dark horse.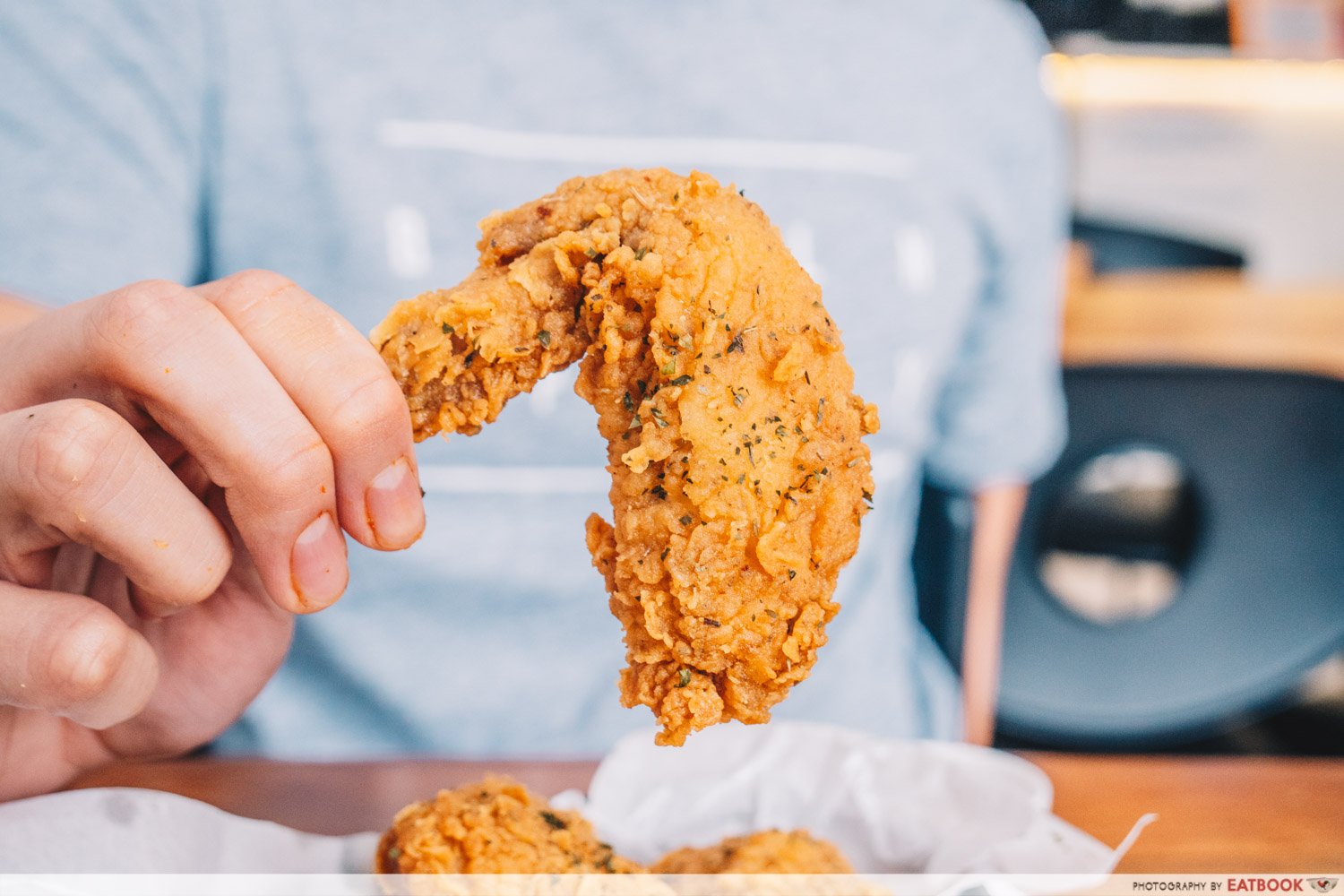 The wings gave off a nice golden hue, and biting into the crisp batter produced bursts of umami-licious oils that coated my tongue luxuriously. After shattering the delicate layer, I was met with warm, tender chicken meat. A good fried chicken has a nicely fried exterior, and a moist, juicy centre. I'm happy to report that the fried chicken possessed all these qualities.
Ambience at E1 Wingz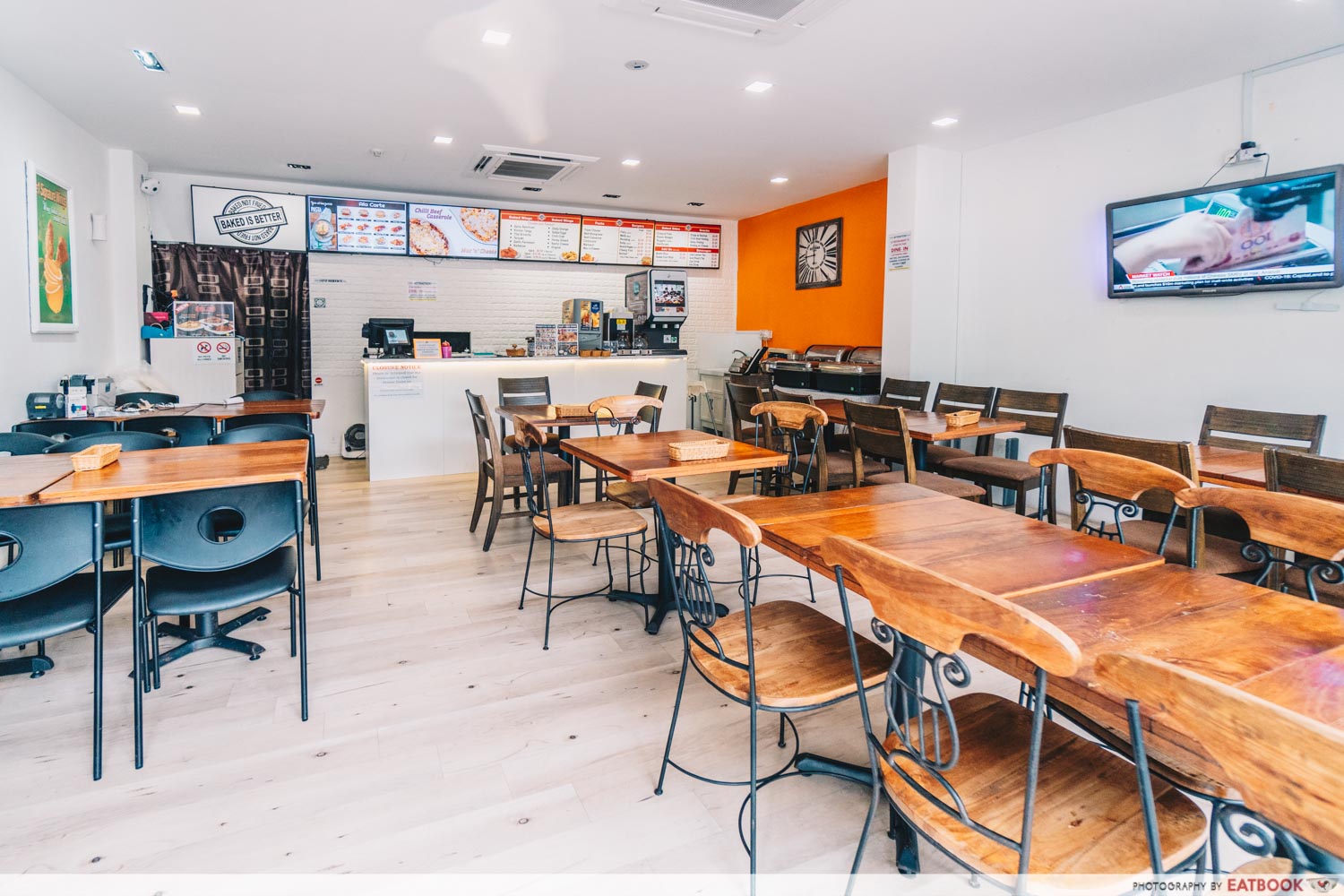 The restaurant mostly receives customers from the nearby Geylang Serai Malay Village, and it can get crowded during lunch hours. Nonetheless, it's spacious and due to the abundance of natural sunlight, it is rather well lit. The cool air-conditioning makes for a comfortable meal as well.
The verdict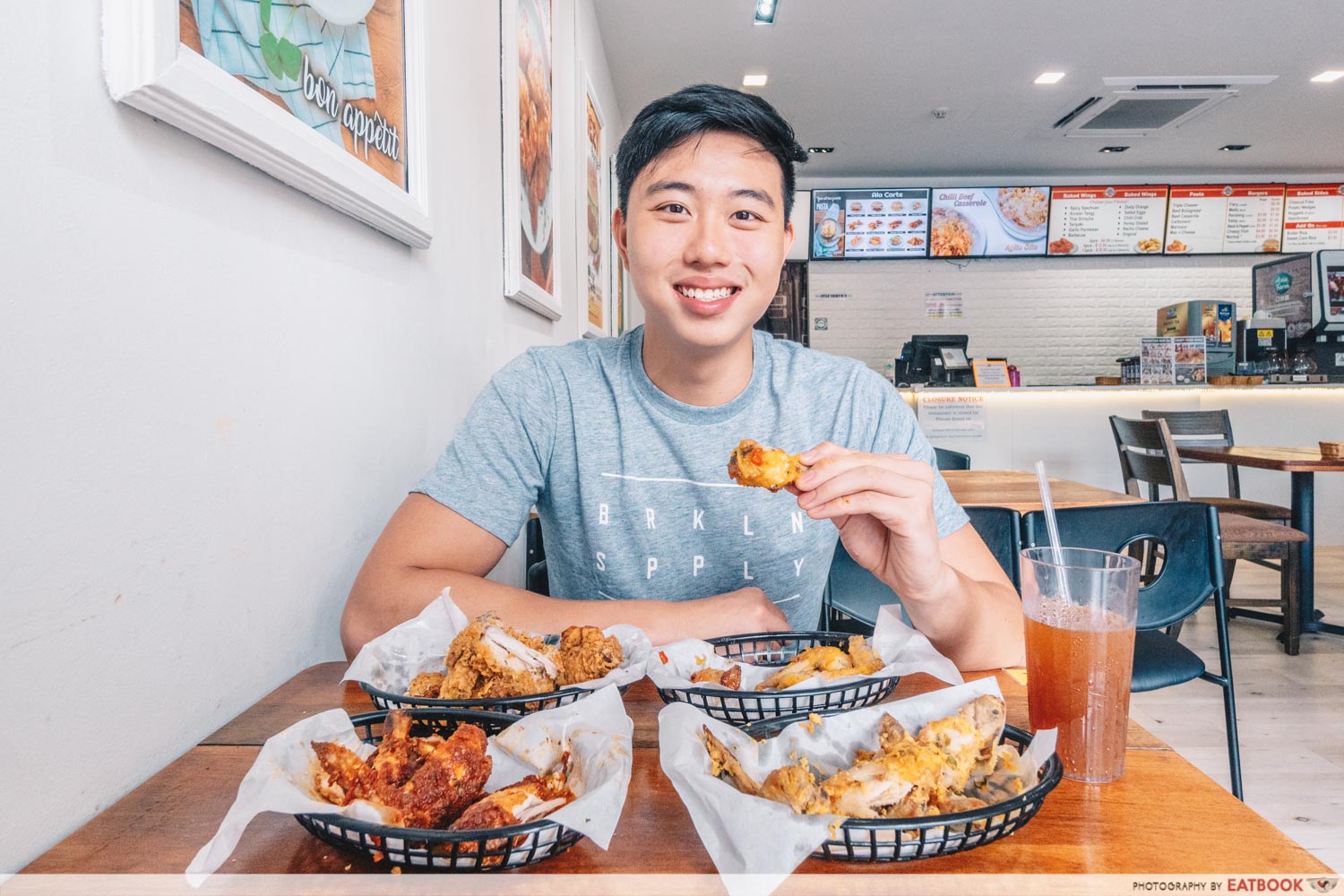 I appreciated the restaurant's unique take on baked chicken wings, and there were some hits and misses. Though the fried and zesty orange wings impressed me, unless I happened to be around the area, they were not enough to reckon a repeat visit to the restaurant. 
Victor Famous Review: OG Fried Chicken Wing Rice By Founder Of Famed Carona Fried Chicken
For more tasty chicken wings, check out Victor's Famous and Salt.
Address: 12 Joo Chiat Road, #01-03, Singapore 427353
Opening hours: Daily 11am to 9:30pm
Website
E1 Wingz is a halal-certified eatery.
Photos taken by John Lery Villanueva.
This is an independent review by Eatbook.sg.
E1 Wingz
Summary
Pros
– Delicious fried chicken
– Zesty orange sauce was refreshing
– E1 Fiery wings were satisfyingly spicy
Cons
– Salted egg yolk wings were dry
– No plastic gloves were provided
Recommended dishes: Zesty Orange ($6.90 for four pieces), E1 Fiery ($6.90 for four pieces), Crispy Chicken ($1.90 per piece)
Opening hours: Daily 11am to 9:30pm
Address: 12 Joo Chiat Road, #01-03, Singapore 427353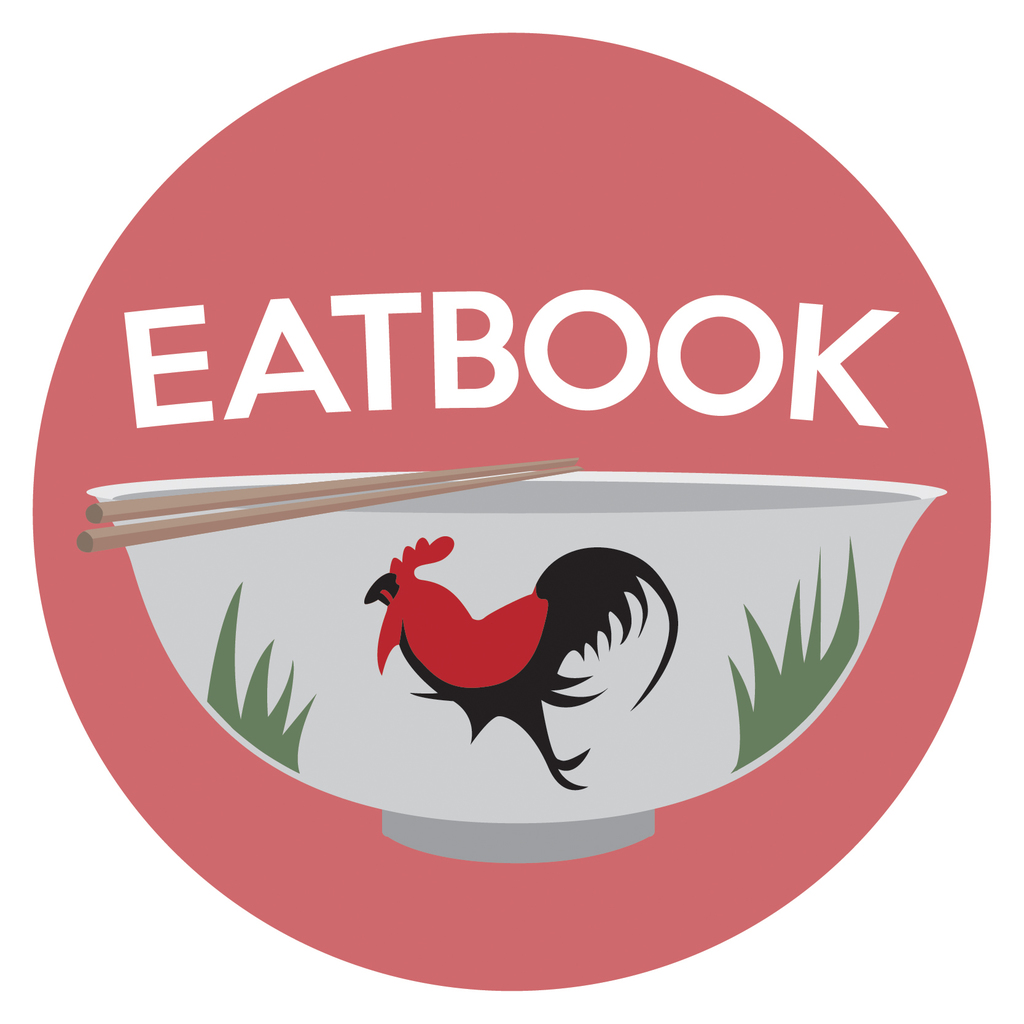 Drop us your email so you won't miss the latest news.