IRVINS new rice bowls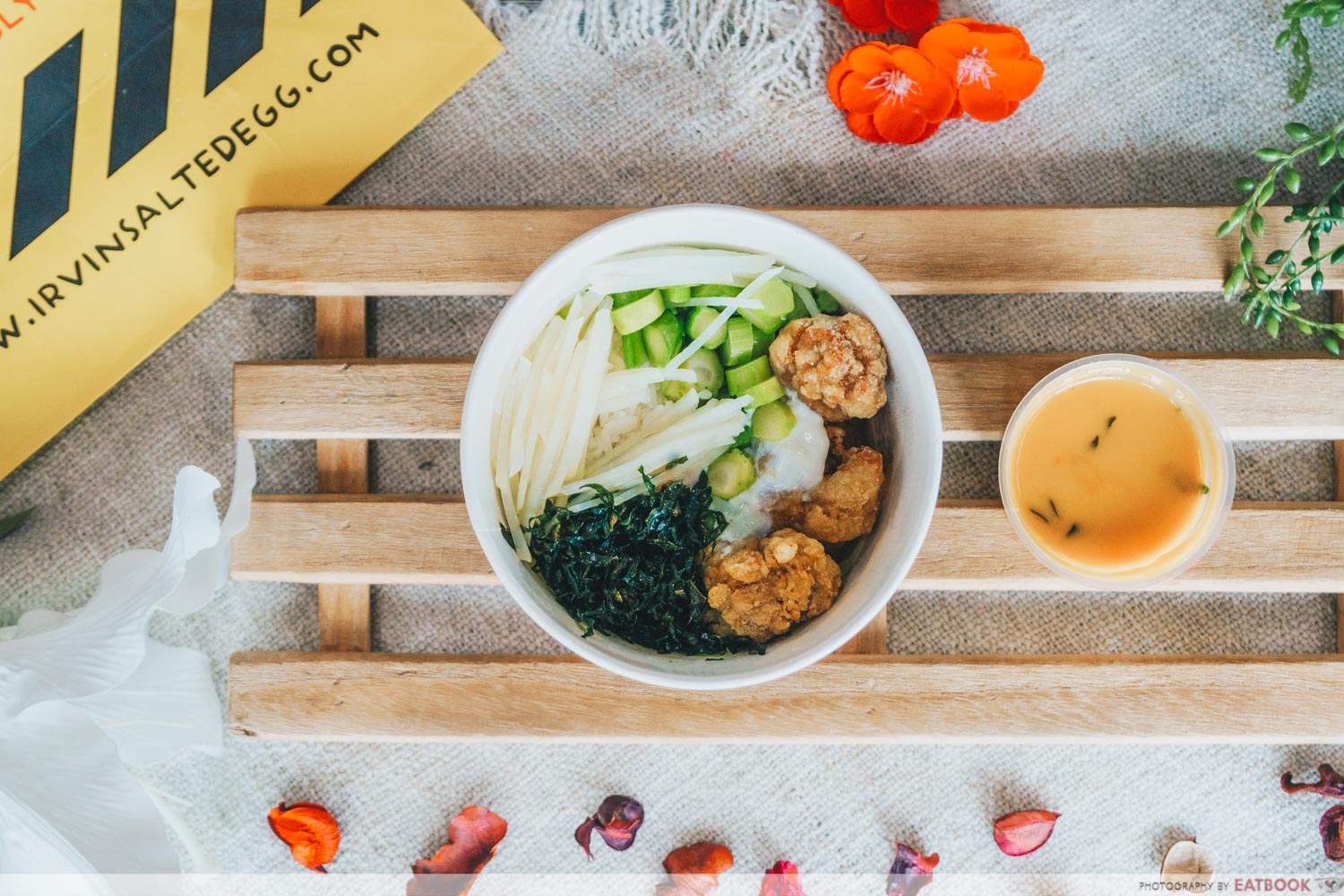 Most of us know IRVINS for their salted egg yolk treats such as fish skin, pineapple tarts, and mooncakes. However, true OGs know that they used to be a zi char stall at River Valley which is where their signature salted egg sauce took off. Those who've missed savouring various meats doused in that rich sauce will be glad to learn of IRVINS' latest concept, IRVINS Messy Kitchen.
5 Best Food Kiosks In Singapore For Wagyu Sandwiches, Spicy Fried Chicken And More – Eatbook Top 50 2019  
Located at the basement of Wisma Atria, this food kiosk serves takeaway bowls with three types of bases: Salted Egg Rice, Truffle Rice, and Truffle Noodles. These can be paired with various proteins such as chicken, clams, and prawns.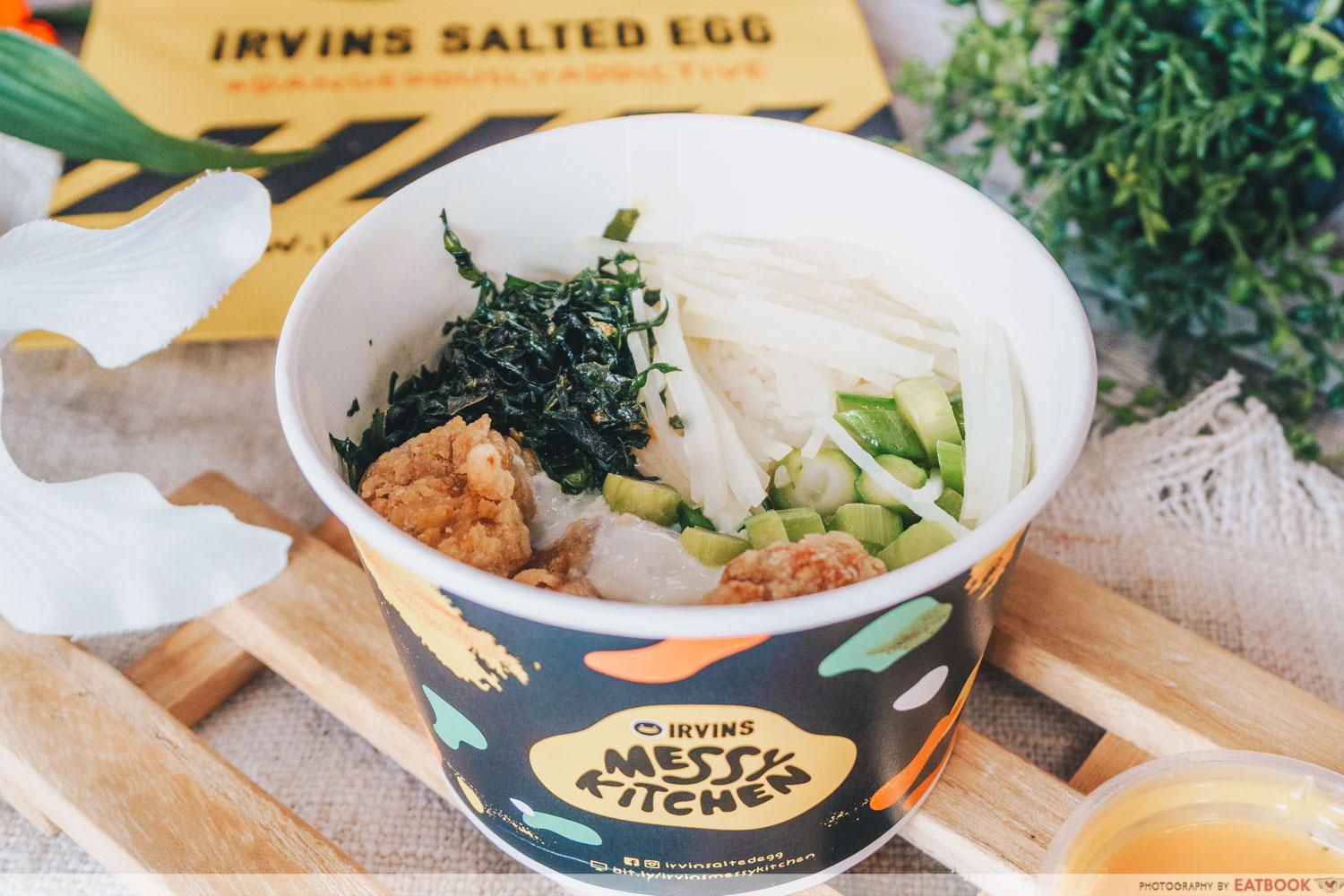 We managed to try the Salted Egg Rice with Chicken Messy Bowl ($11.50) which came with rice, kai lan stems and strips, fried chicken, and an egg. Thankfully, the salted egg yolk sauce was separated—preventing the mixture from coagulating.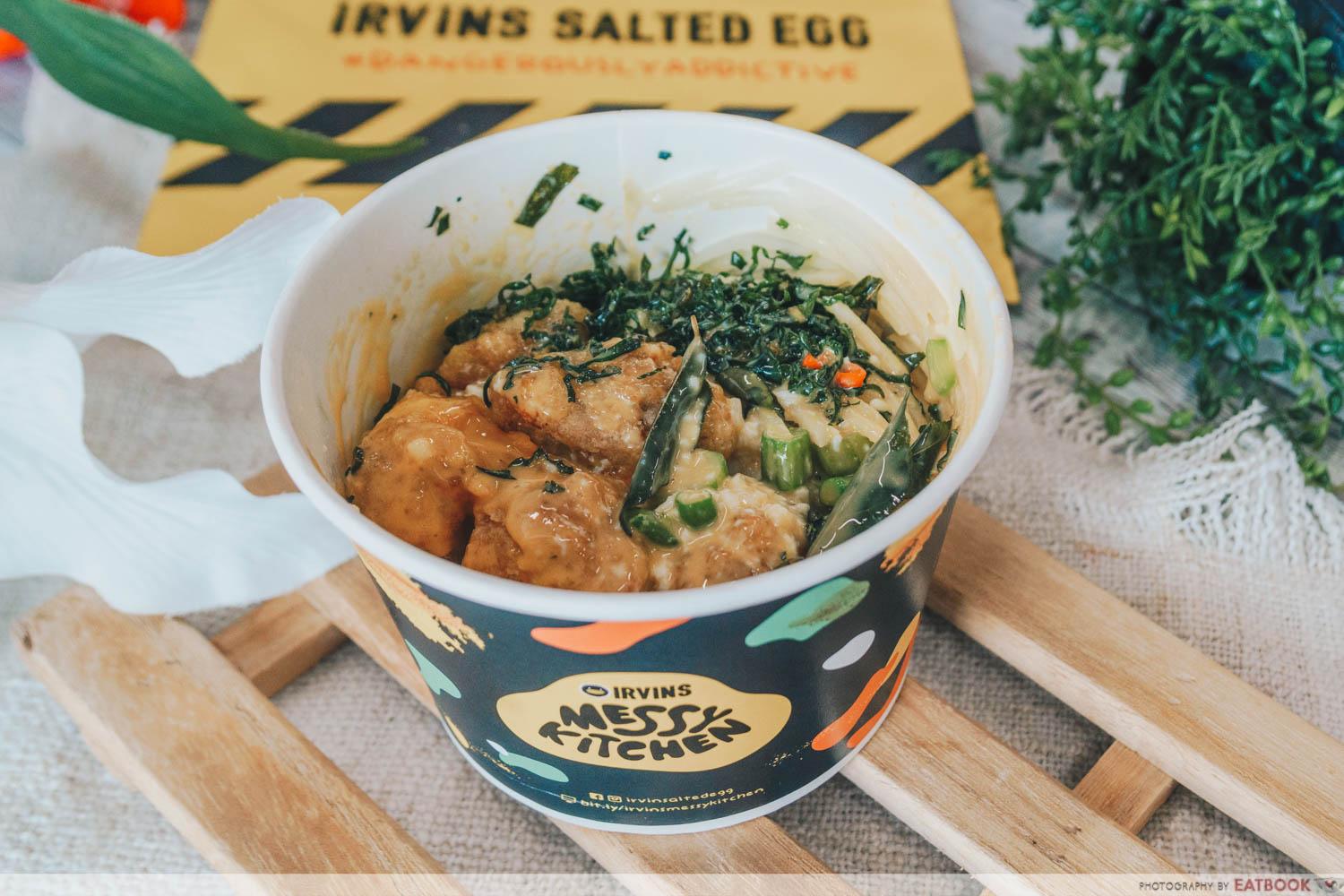 In terms of texture, every ingredient added something unique to the bowl—whether it was the crispness of the kai lan stem or the juiciness of the chicken. As a result, each mouthful was pleasant.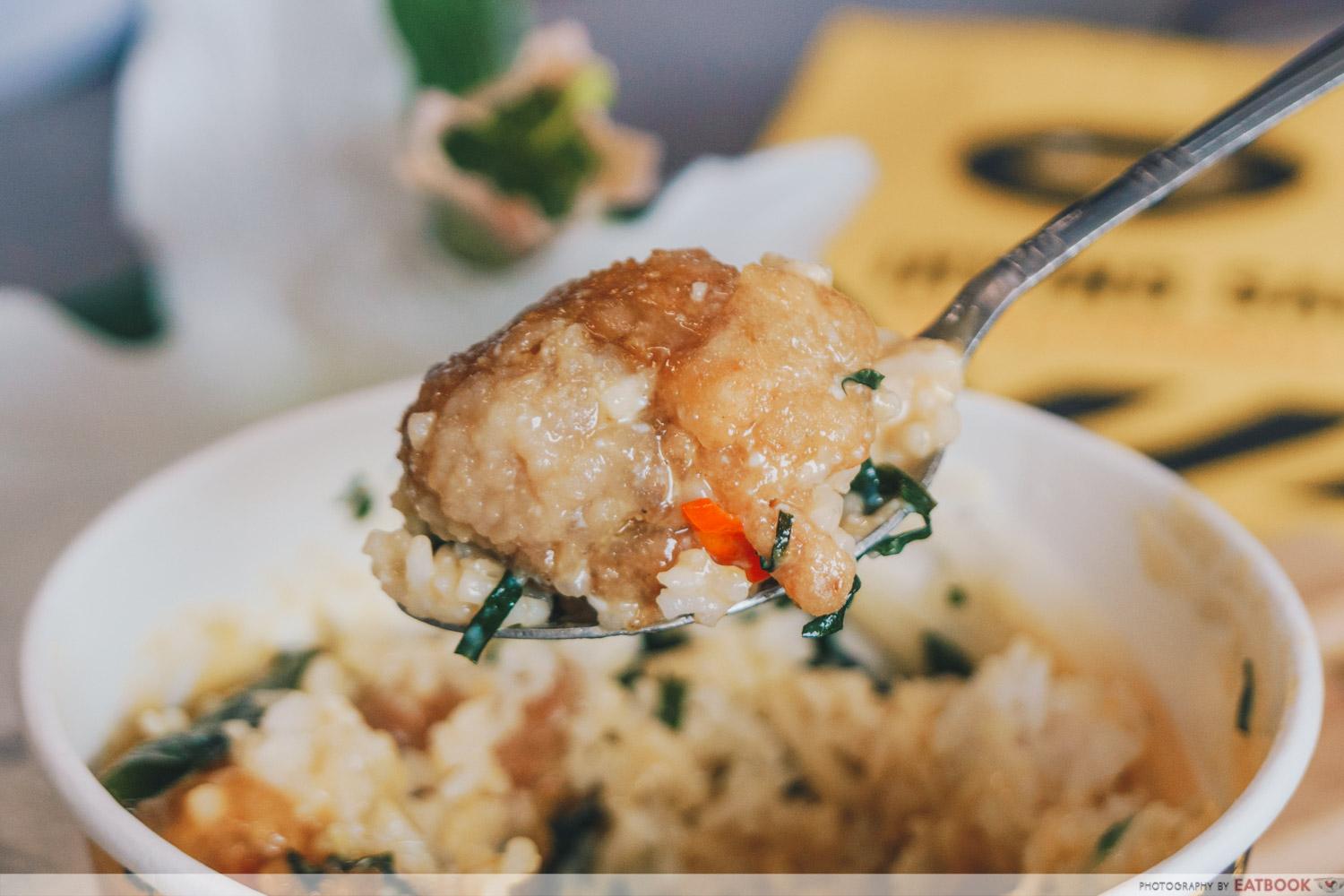 That being said, I wished the chicken was more flavourful as it was overpowered by the potent salted egg sauce. On that note, the salted egg sauce overpowered everything. Every inch of the bowl was drenched in sauce, which bodes well for hardcore SEY lovers. If you're a casual fan, however, be prepared for a wave of jelakness.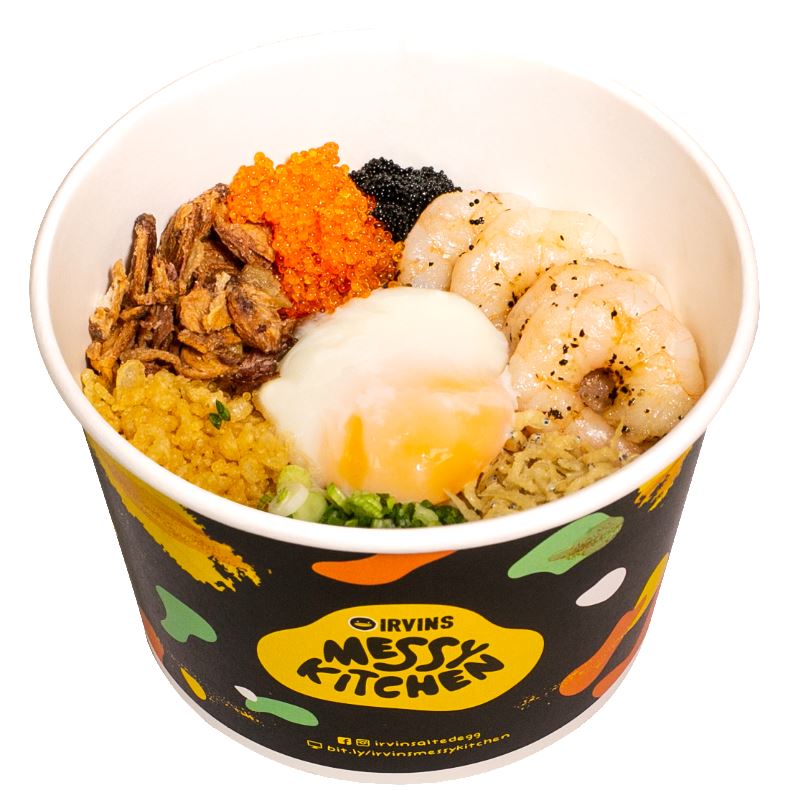 Image credit: IRVINS
The second base they have is Truffle Rice ($10) which can be paired by prawns or clams. Unlike the Salted Egg Rice, this base has a spicy variant which will mesh well with the briny seafood.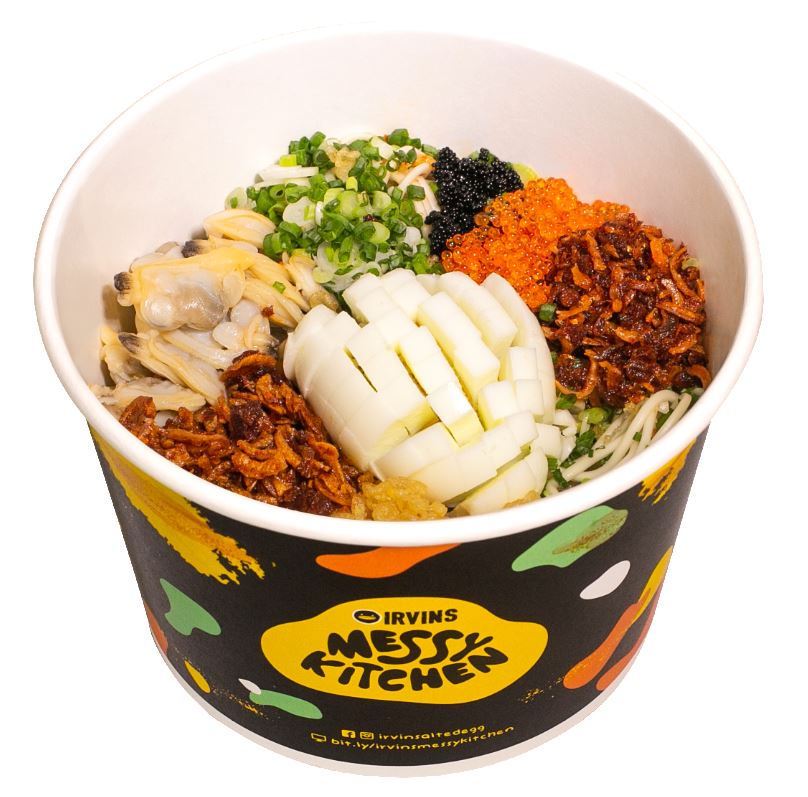 Image credit: IRVINS
IRVINS Messy Kitchen also has noodle options in the form of the Truffle Noodles ($10). Just like the Truffle Rice, it comes with seafood and a spicy option.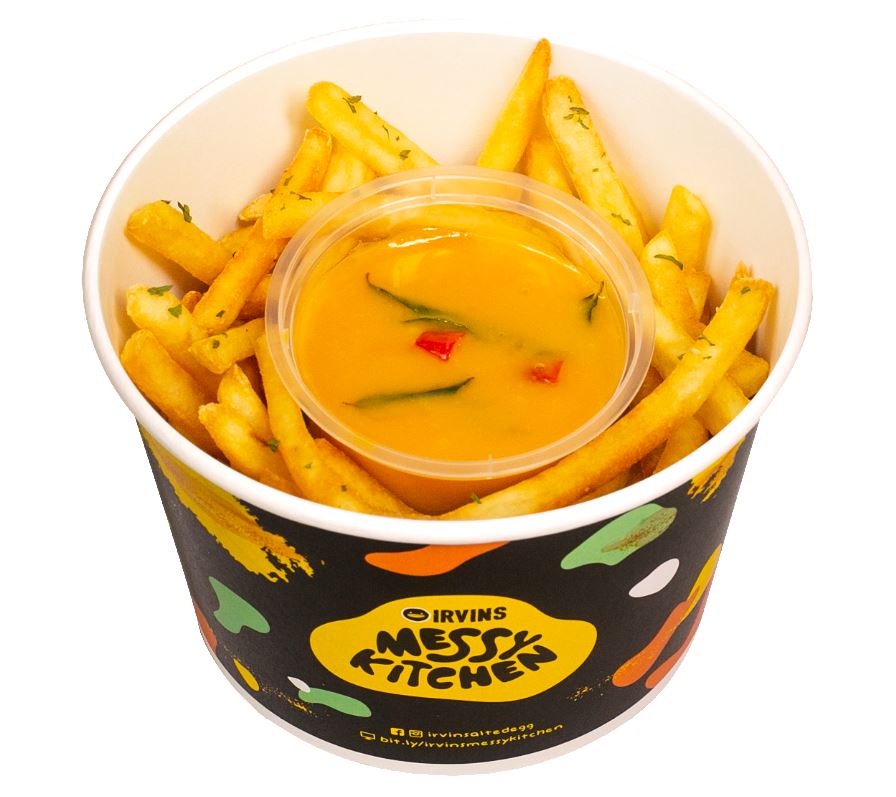 Image credit: IRVINS
Besides mains, you can also munch on delicious sides here including the Salt & Pepper Calamari ($7) and Salted Egg Fries ($6). The latter comes with a tub of salted egg yolk sauce which you can dip to your heart's delight. If you think that's not enough, feel free to top up $4 to get even more sauce.
So if you're looking for a salted egg yolk-filled meal in town that's affordable, make your way to IRVINS Messy Kitchen when it launches on 17 January 2020 at Wisma Atria. Here, you'll be able to score a slew of hearty takeaway bowls, sides, and even IRVINS' regular chips.
Address: 435 Orchard Road, #B1-59, Wisma Atria, Singapore 238877
Opening hours: Daily 10am to 9pm
Website
Photos taken by Ian Teoh.